This chicken a la king recipe doesn't require fancy ingredients to make. And, you certainly don't have to be a monarch to enjoy it either.
So, what exactly is this dish?
What Is Chicken a la King?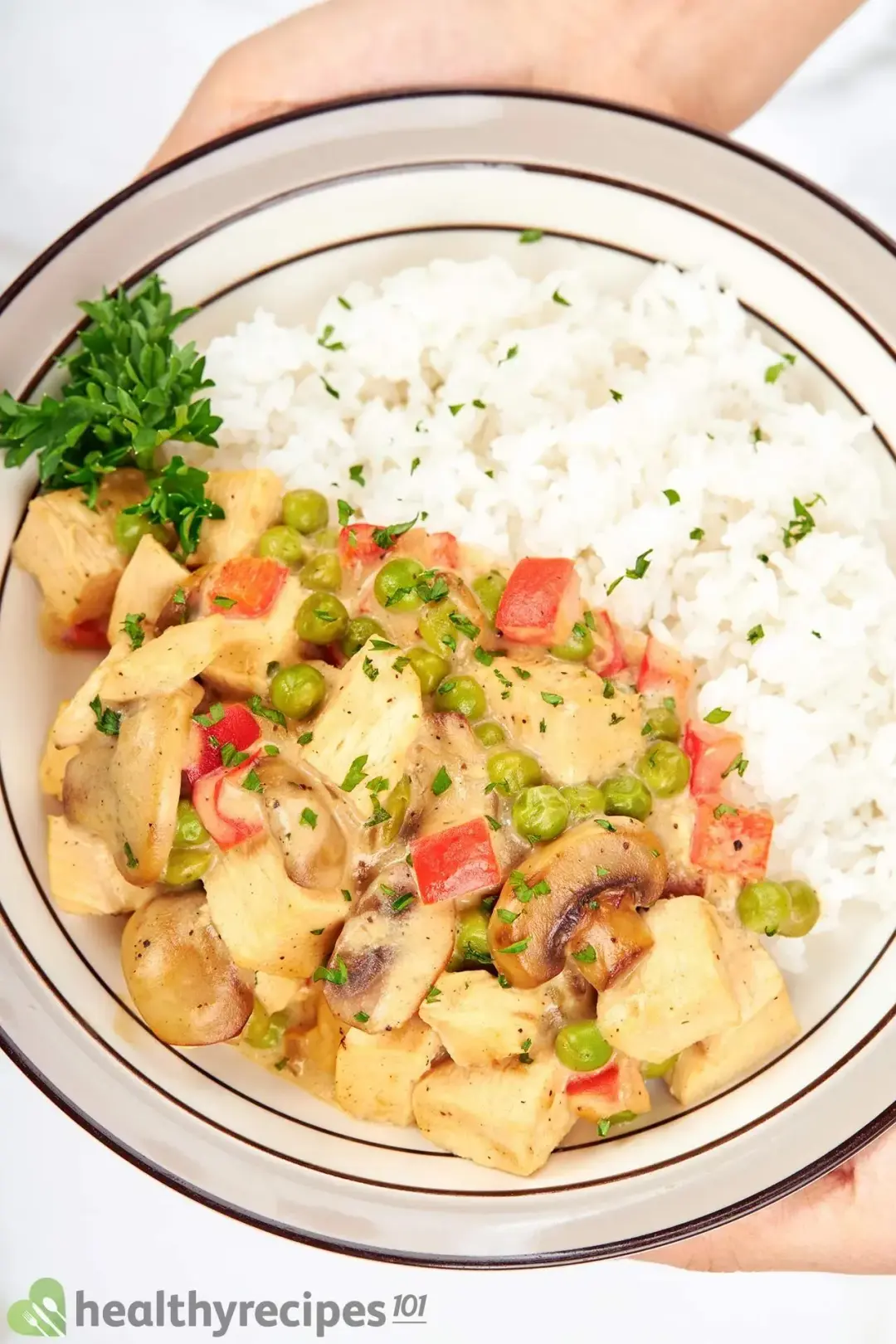 The actual name of today's dish is "chicken à la king". While "à la" is a French term that means "in the style of", it doesn't necessarily indicate the dish's origin.
It is believed that this is a European dish that dates back to the 17th century. On the other hand, some argue that it was created by American chefs in the early 1900s.
Despite its debatable origin, modern chicken a la king recipes all share these features:
Diced chicken and a creamy sauce.
Mushrooms, as they pair perfectly with the cream sauce.
Pasta, rice, or bread to serve it with.
In some variations, it can be served in a hollowed bread or pastry case, resembling a chicken pot pie.
Is Chicken a la King Healthy?
Yes, our chicken a la king recipe is healthy. Here are a few reasons why:
For starters, we're using boneless, skinless chicken breasts in this recipe. It's relatively low in calories, high in protein, and contains very little fat.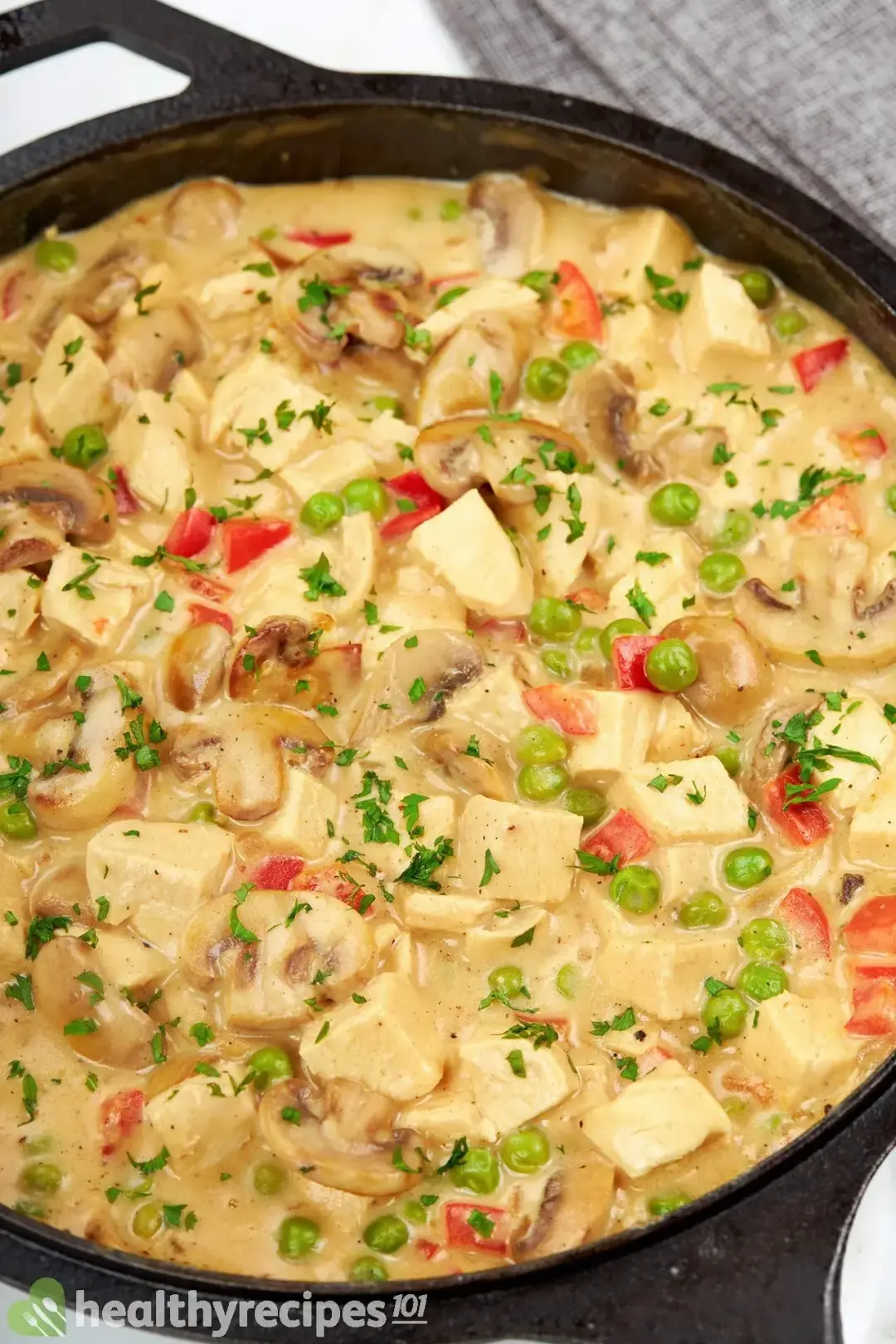 With nearly 38 grams of protein per serving, our chicken recipe would be the perfect option if you're planning to pursue a high-protein diet.
Secondly, we pay close attention to the amount of saturated fat.
While we still use heavy cream and other dairy products to give the chicken a rich flavor, we only use a small amount of each ingredient.
In addition, we boil the chicken instead of frying or searing it to minimize the use of fat. So, in the end, our chicken contains only 7 grams of saturated fat per serving.
Main Ingredients for Chicken a la King
Here are you need for today's chicken a la king recipe:
Meat: As mentioned, boneless, skinless chicken breast is our main source of protein of the day.
Sauce: This dish contains a rich, roux-based sauce that is made with flour, butter, chicken broth, milk, and heavy cream.
Vegetables: We're using white onions, frozen peas, button mushrooms, and red bell peppers for this recipe. Feel free to leave out the bell peppers if you're not a fan.
Spices: We're only using salt, black pepper, and Dijon mustard. If you want to add a little heat, include a pinch of cayenne pepper.
Herbs: As always, we love garnishing our food with freshly chopped parsley. However, thyme is a great alternative and suits this recipe well.
This recipe will give you a rich and creamy chicken dish, which is quite similar to our chicken and dumplings recipe.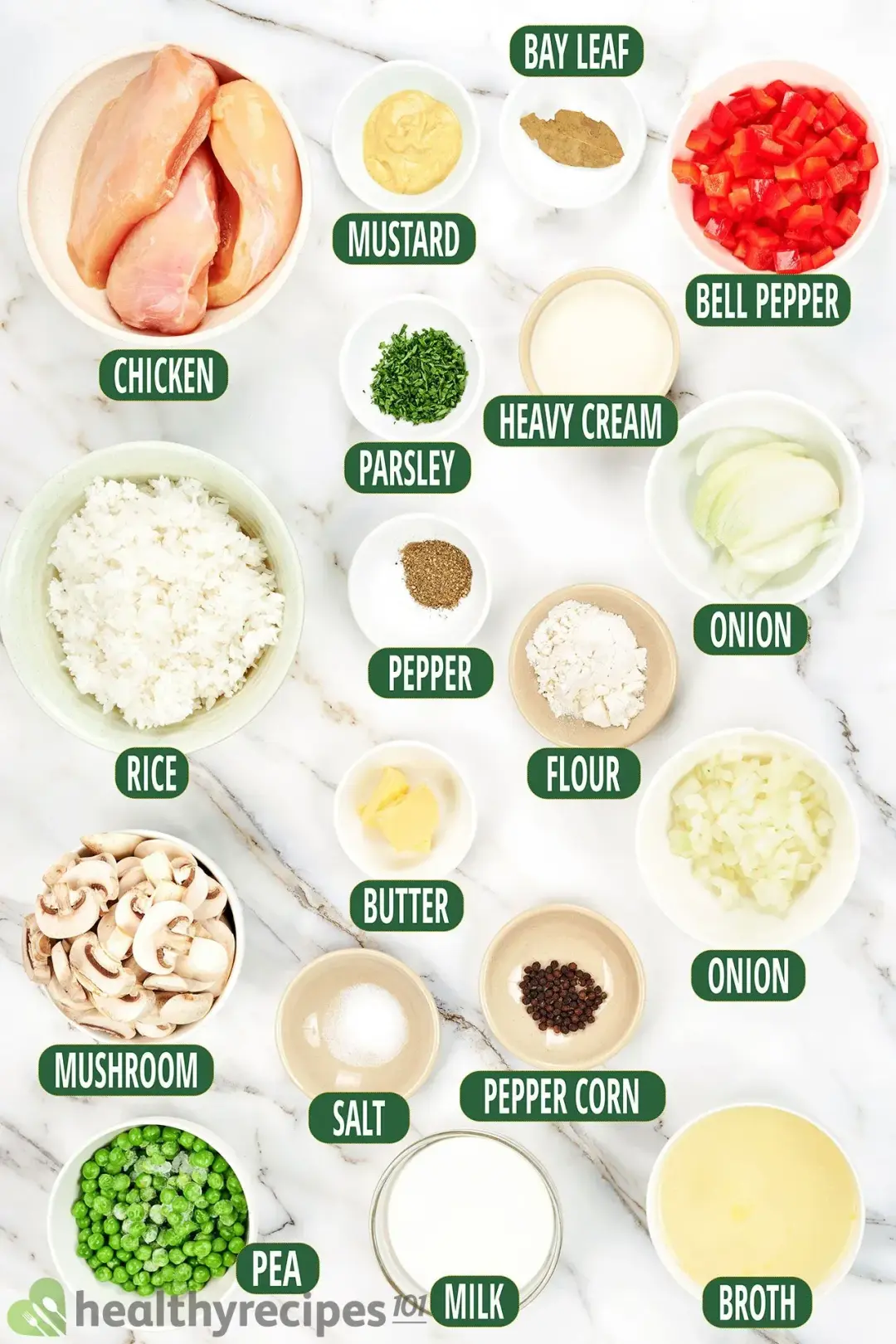 How to Make Chicken a la King
First, you'll need to bring a pot of water to a boil to cook the chicken. We're adding a bay leaf, some peppercorns, and sliced onions to infuse the water with their aroma.
Note: We're adding 1.5 quarts of water to a medium pot, but you may need to add more if your pot is bigger. Make sure there's enough water to almost submerge the chicken.
Once the chicken is cooked, remove it from the water and leave it to cool before dicing it.
Pro tip: Strain the cooking water through a sieve to discard the aromatics and/or any scum. You'll get a clear and delicious homemade chicken broth that can be used in many other recipes.
Next, sauté the vegetables in a cast-iron skillet to bring out their naturally sweet flavor. Then, stir in some flour to make a roux and whisk in the liquids to turn it into a sauce.
Return the cooked chicken to the skillet and cook it in the sauce. While the sauce is simmering and thickening, the chicken will absorb all the flavors from the seasonings and the vegetables.
Once the sauce is reduced, sprinkle parsley to garnish and enjoy the chicken over a bed of warm, cooked rice.
Here is a quick recap of our chicken a la king recipe: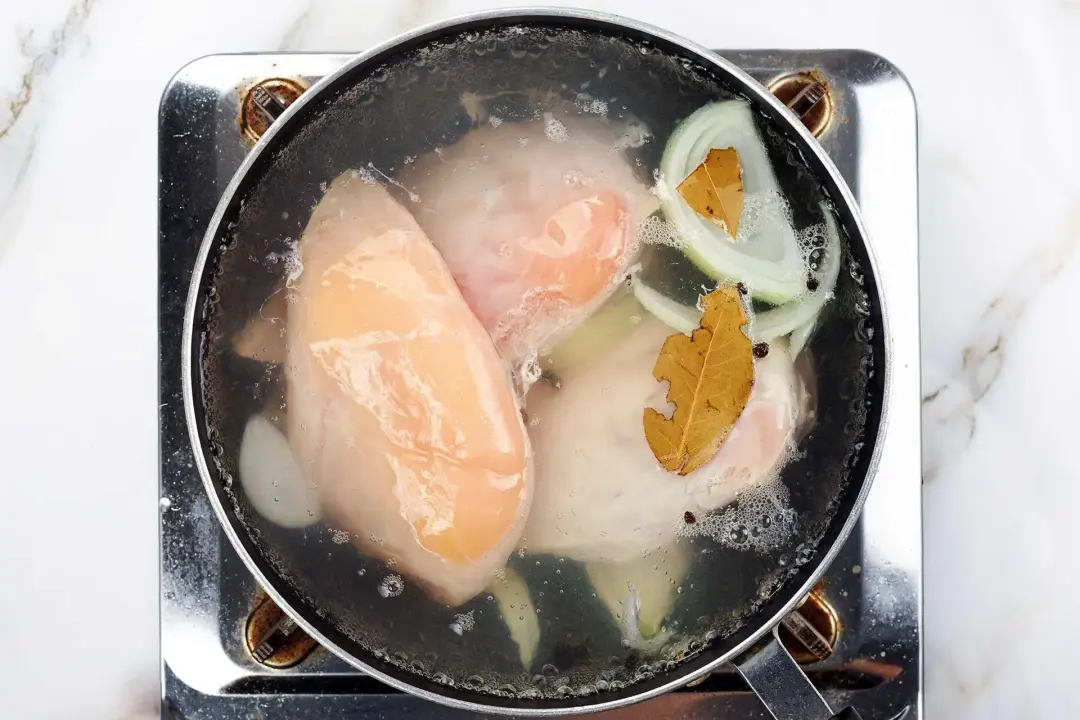 Boil the chicken.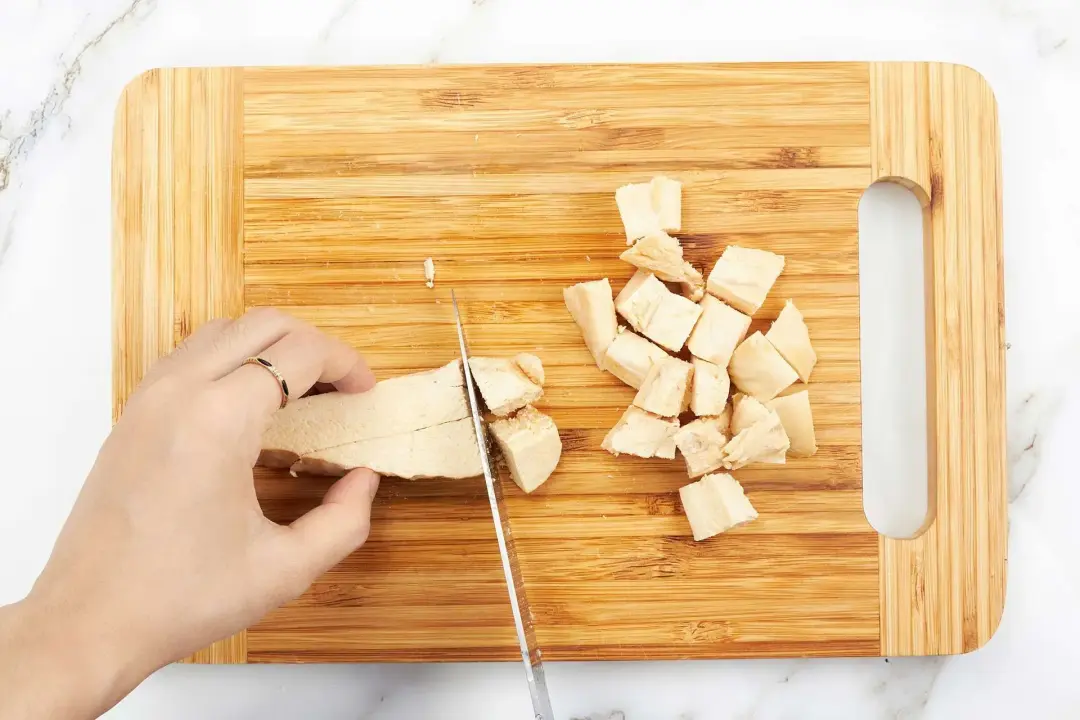 Cut the chicken.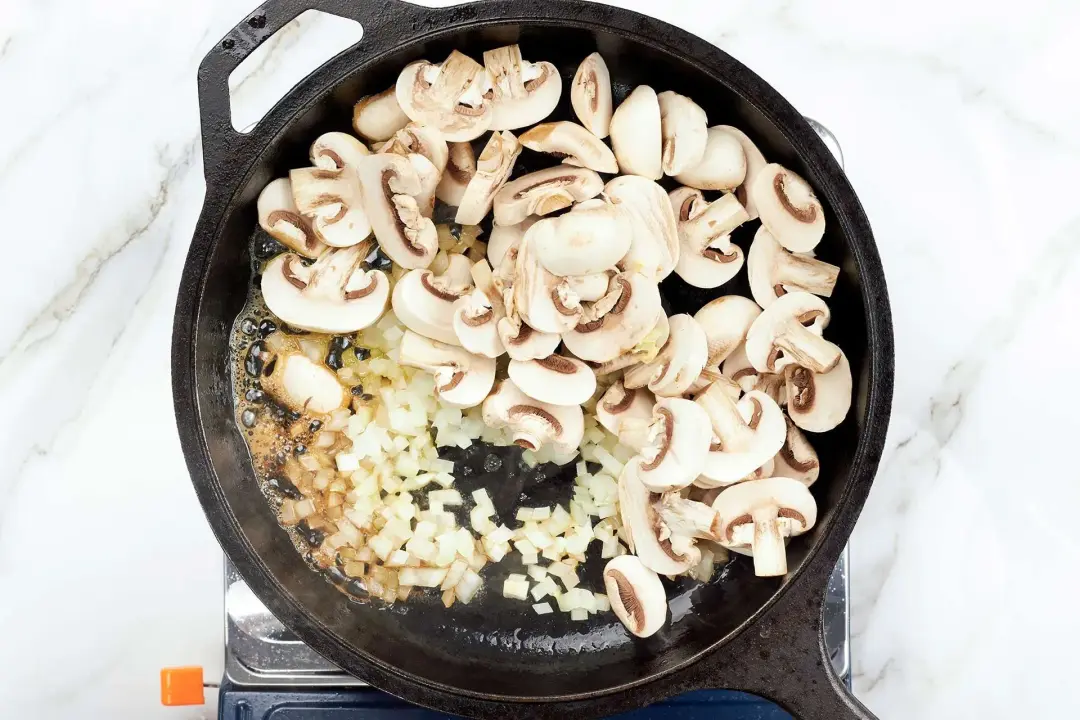 Sauté the mushrooms.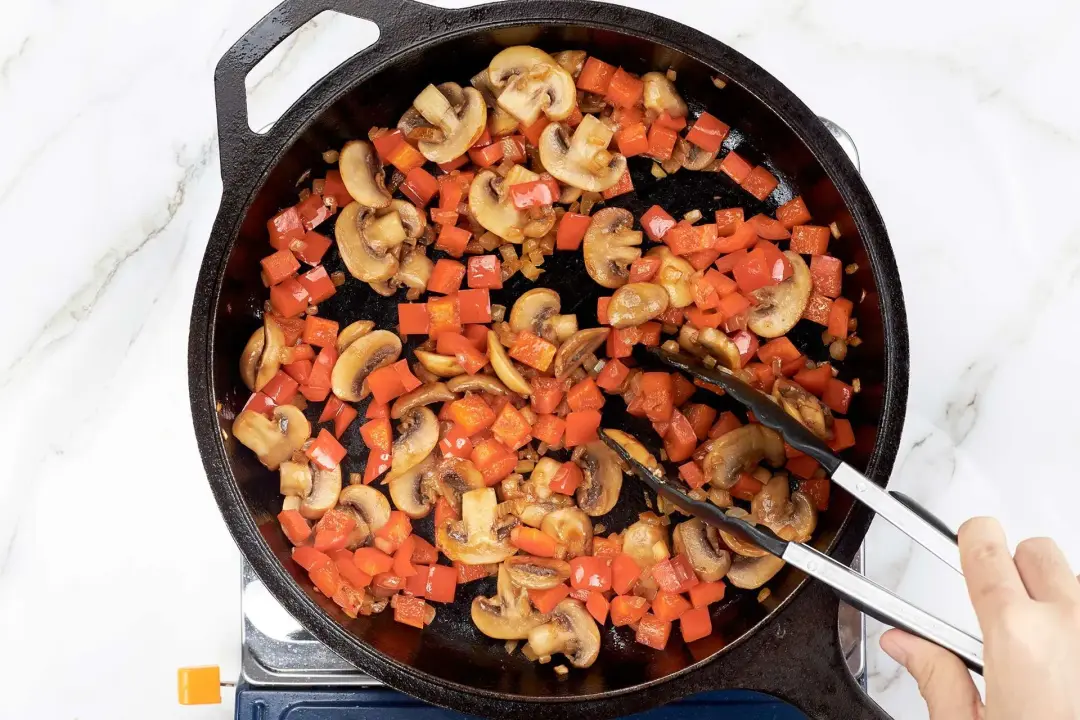 Sauté the bell peppers.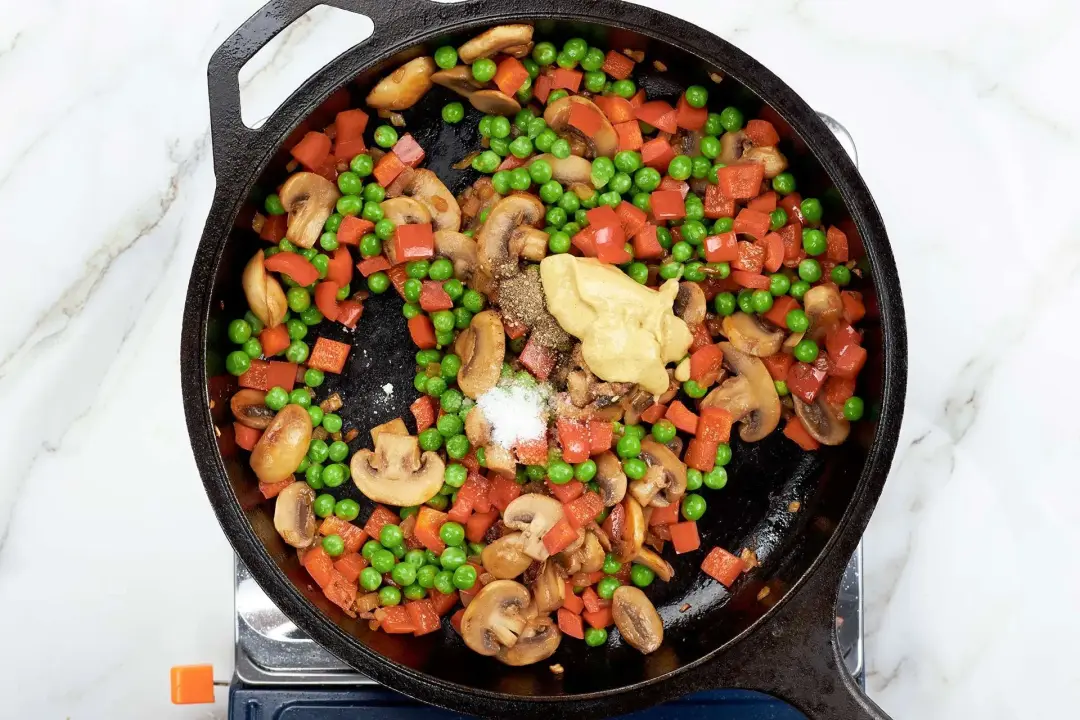 Add the seasonings.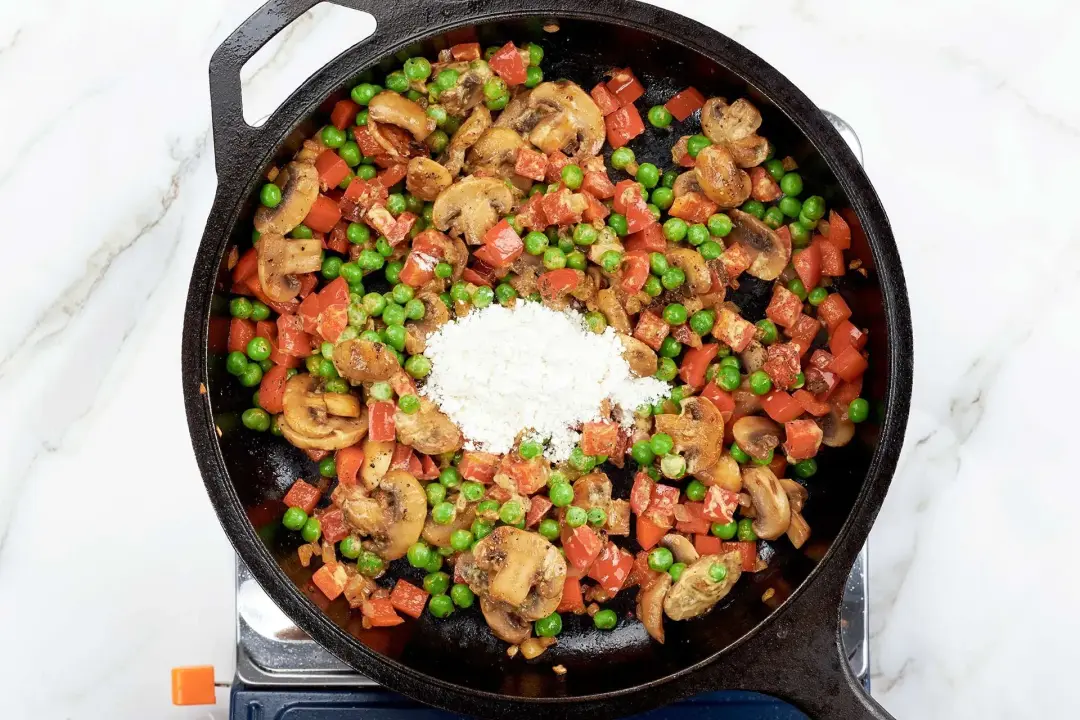 Make a roux.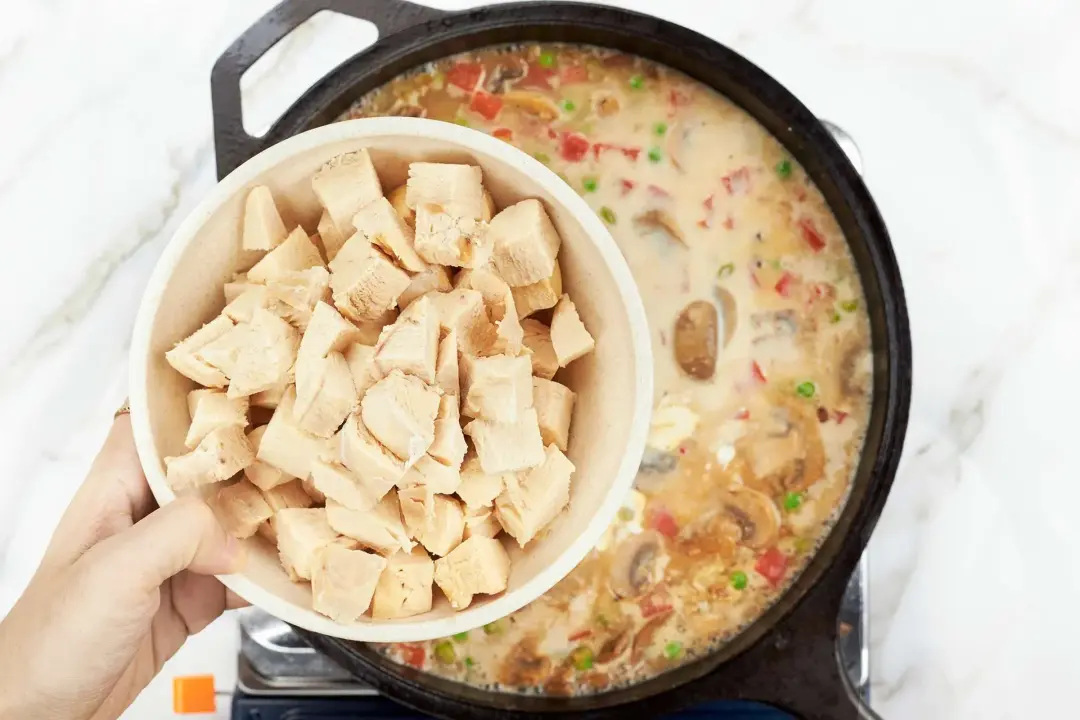 Add liquids and reduce.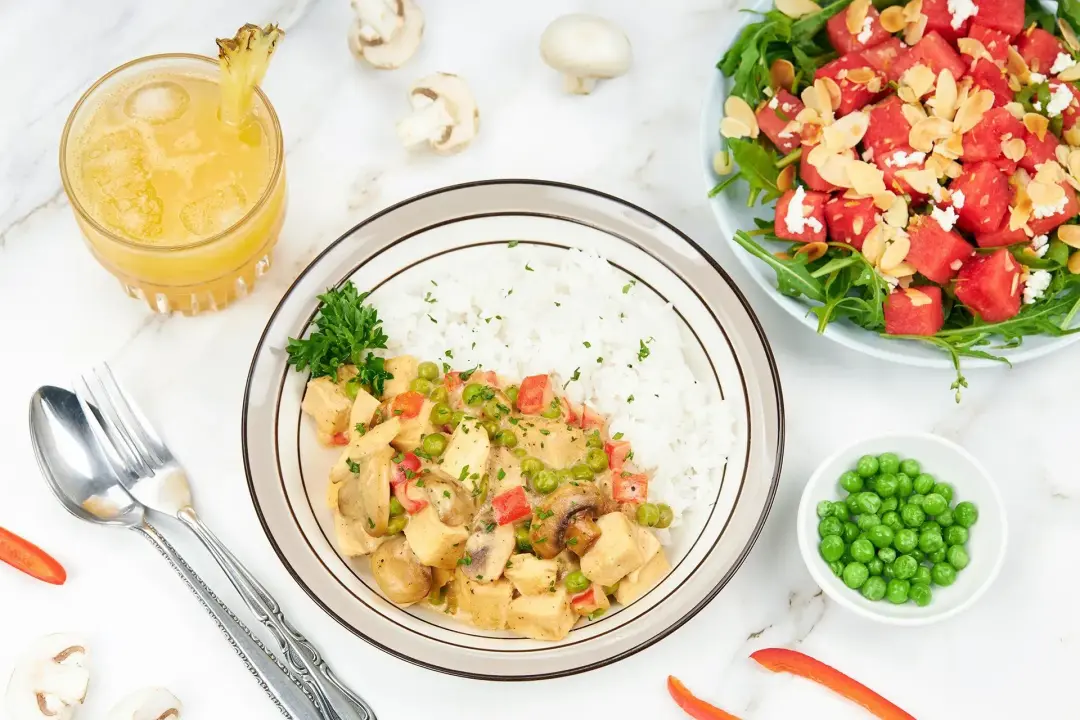 Garnish and serve.
Storage and Reheating
Normally, we would recommend you store your food items in separate containers, but that's not necessary for today's dish. You can keep a full serving of this chicken and rice in the same airtight container.
In the fridge, it will last for up to a week, meaning you'll have a healthy, meal-prep dish ready to eat any time or pack for lunch.
To reheat chicken a la king and rice, cover the container loosely with a lid and microwave for 2 minutes. Be sure to use a microwavable container.
Can You Freeze This Chicken Dish?
Yes, you can.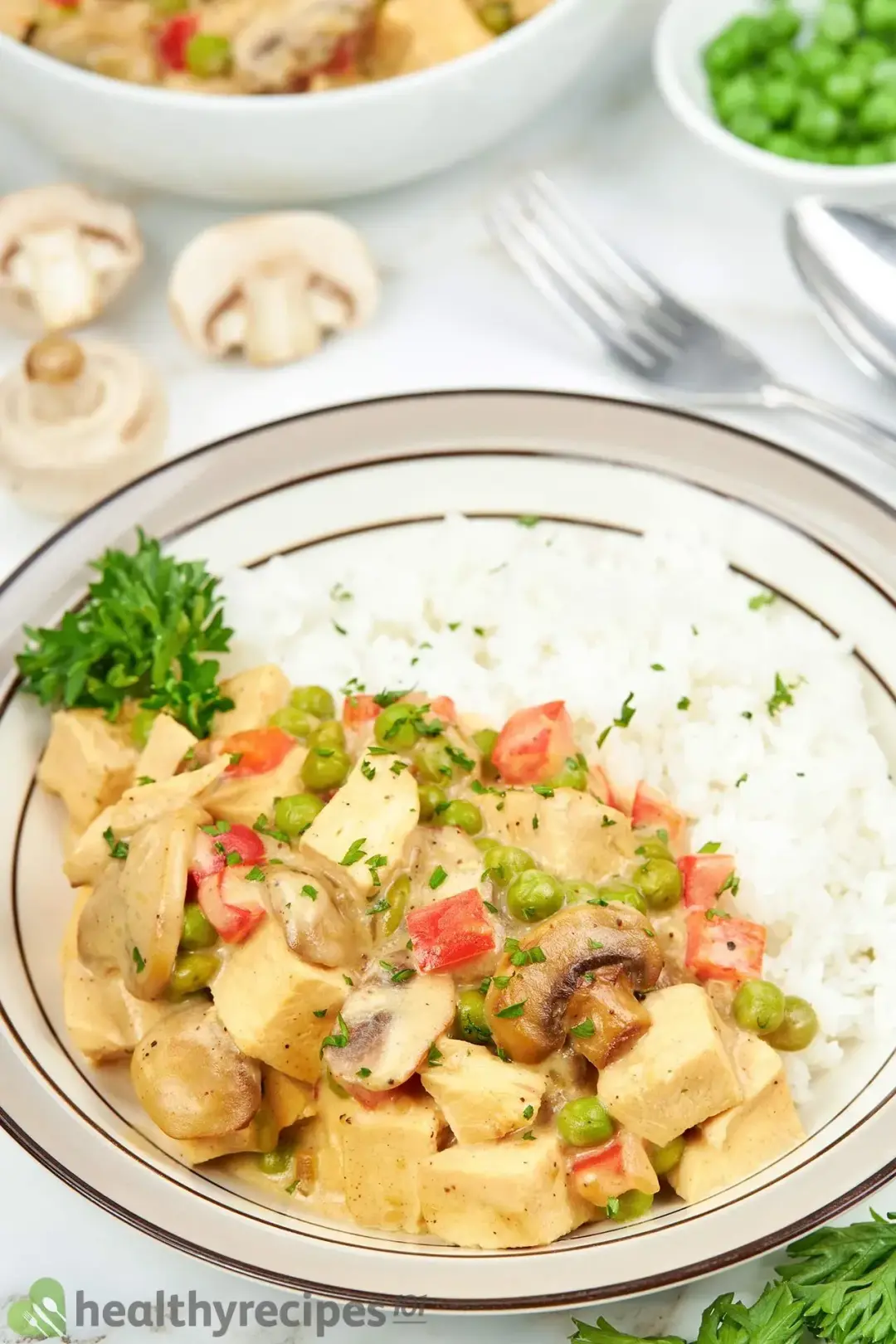 The best way to freeze chicken a la king is to put it in a Ziploc bag. It will last for three months, but we recommend eating it within four weeks to ensure food safety and quality.
If you don't have a Ziploc bag, a freezer-safe airtight container will work just fine.
What to Serve With Chicken a la King
Although our chicken a la king does contain some vegetables, it's only a little and not enough fiber for your body. We recommend adding a side of watermelon arugula salad to the meal to increase your fiber intake.
We also suggest serving a glass of orange pineapple juice with the meal. The fresh, tangy juice can stimulate your appetite and help you enjoy your food even more.
Here's a quick look at today's meal's nutrition facts: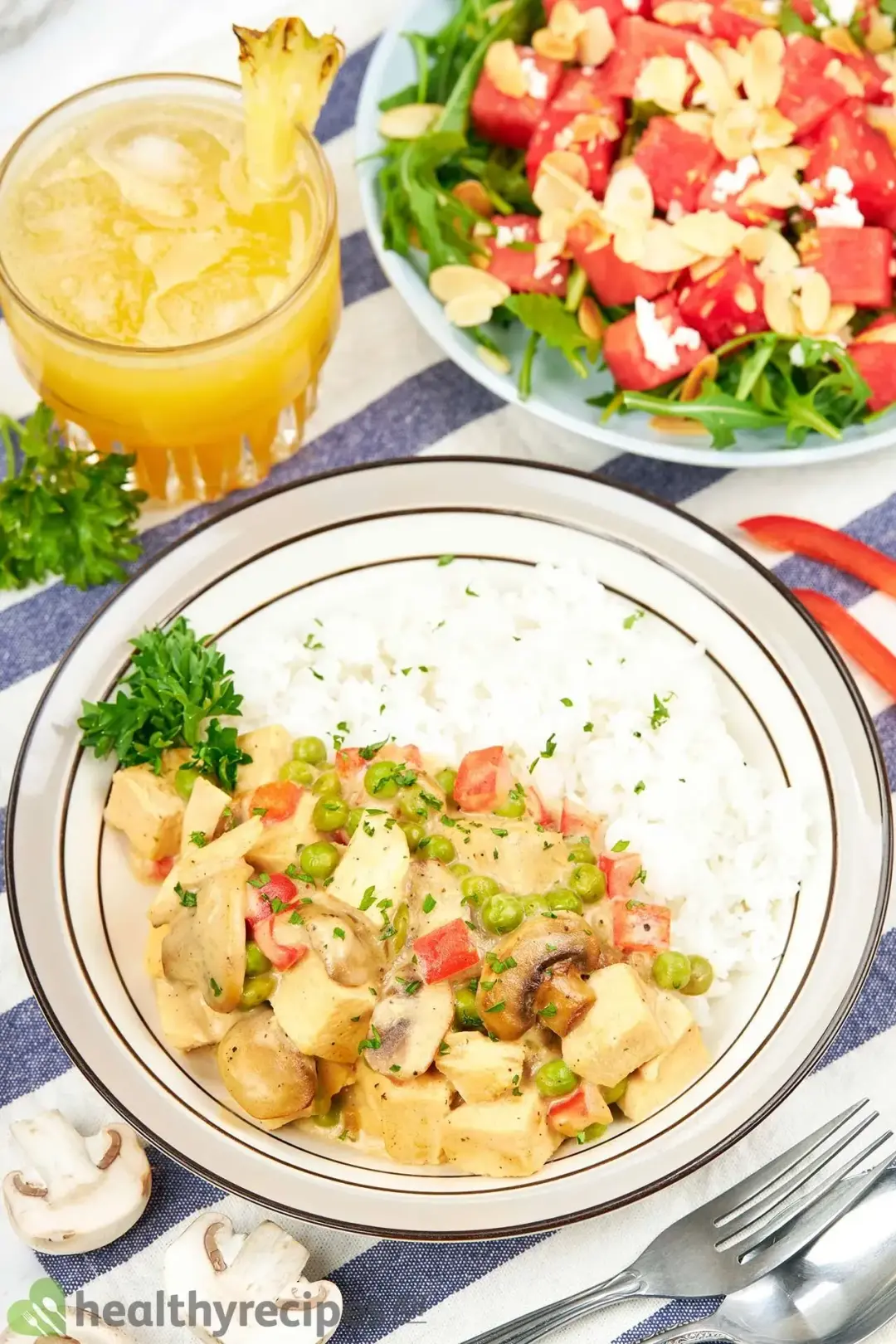 Some More Healthy and Tasty Chicken Recipes You'll Love
Trying to include more chicken in your meal plan? Save these delicious and easy chicken recipes into your list:
Chicken a la King Recipe
Today's chicken a la king recipe is showing you how to make a creamy poultry dish. Don't worry; you don't have to be royalty to enjoy it.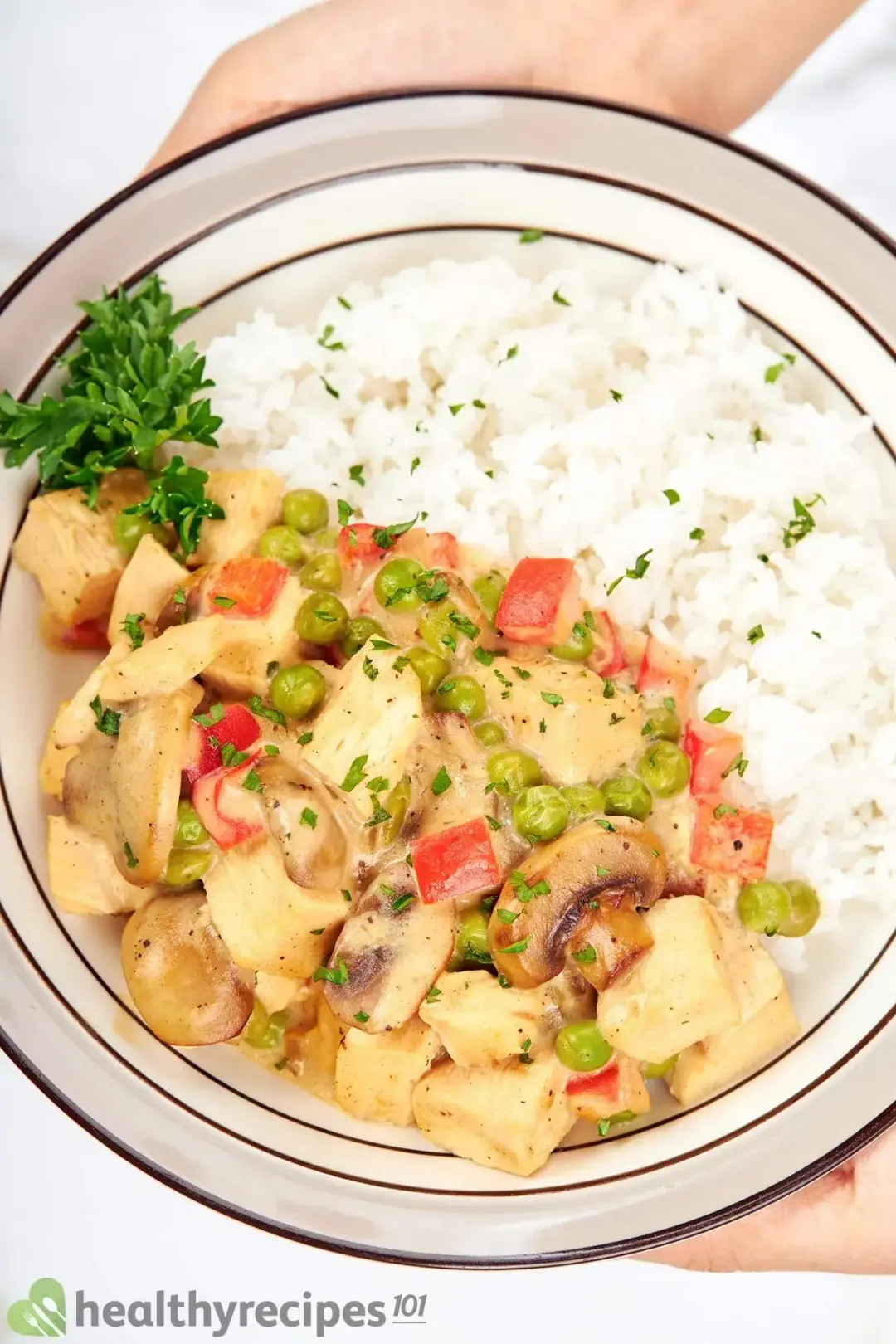 cook TIME

35 mins

prep TIME

10 mins

total TIME

45 mins
COURSE

Main Course

CUISINE

American

SERVINGS

servings

CALORIES

504 kcal
INGREDIENTS
18 oz

skinless boneless chicken breast (whole)

1.5 quarts

water (or more depending on the size of your pot)

1 tsp

whole peppercorns

1

bay leaf

4 oz

onions (divided into 2 oz sliced and 2 oz finely diced)

1 tbsp

unsalted butter

6 oz

white button mushrooms (sliced)

4 oz

red bell pepper (deseeded, diced)

4 oz

frozen peas

0.5 tsp

salt

0.5 tsp

black pepper (freshly cracked)

1.5 tbsp

traditional Dijon mustard

2 tbsp

all-purpose flour

1 cup

unsalted chicken broth

4 tbsp

heavy cream

0.5 cup

whole milk

2 tbsp

parsley (roughly chopped)

3 cups

cooked medium-grain rice
INSTRUCTIONS
1
Boil the chicken: Add 1.5 quarts water to a medium pot and bring to a boil over high heat. Once the water is boiling, add 18 oz chicken breast, 1 tsp whole peppercorns, 1 bay leaf, and 2 oz sliced onions. Cook for 12 minutes over high heat.
2
Cut the chicken: Once the chicken is cooked, remove it from the water (you can discard or keep the water for later use). Leave it to cool for at least 5 minutes. Then, cut the chicken into approximately 0.5-inch cubes. Transfer to a plate and set aside.
3
Sauté the mushrooms: Add 1 tbsp unsalted butter, 2 oz diced onions, and 6 oz button mushrooms to a cast-iron skillet. Cook for 4 minutes over medium heat or until golden brown.
4
Sauté the bell peppers: Add 4 oz diced red bell peppers to the same skillet. Cook and stir for an additional 2 minutes.
5
Add the seasonings: Add 4 oz frozen peas to the skillet and stir to combine. Then, add 1/2 tsp salt, 1/2 tsp black pepper, and 1 1/2 tbsp Dijon mustard. Stir to distribute the seasonings evenly.
6
Make a roux: Add 2 tbsp all-purpose flour to the skillet. Mix well so that the flour coats all of the ingredients.
7
Add liquids and reduce: Add 1 cup unsalted chicken broth, 4 tbsp heavy cream, and 1/2 cup whole milk. Add the cooked chicken back into the skillet and stir to combine. Simmer for 10 minutes over low heat, stirring occasionally, and turn off the heat.
8
Garnish and serve: Sprinkle 2 tbsp chopped fresh parsley on top of the chicken. Ladle the chicken and sauce into a bowl or deep dish and serve with 3/4 cup cooked rice per serving.
NUTRITION
Nutrition Facts
Chicken a la King Recipe
Amount Per Serving (1 serving)
Calories 504
Calories from FDA
% Daily Value*
* Percent Daily Values are based on a 2000 calorie diet.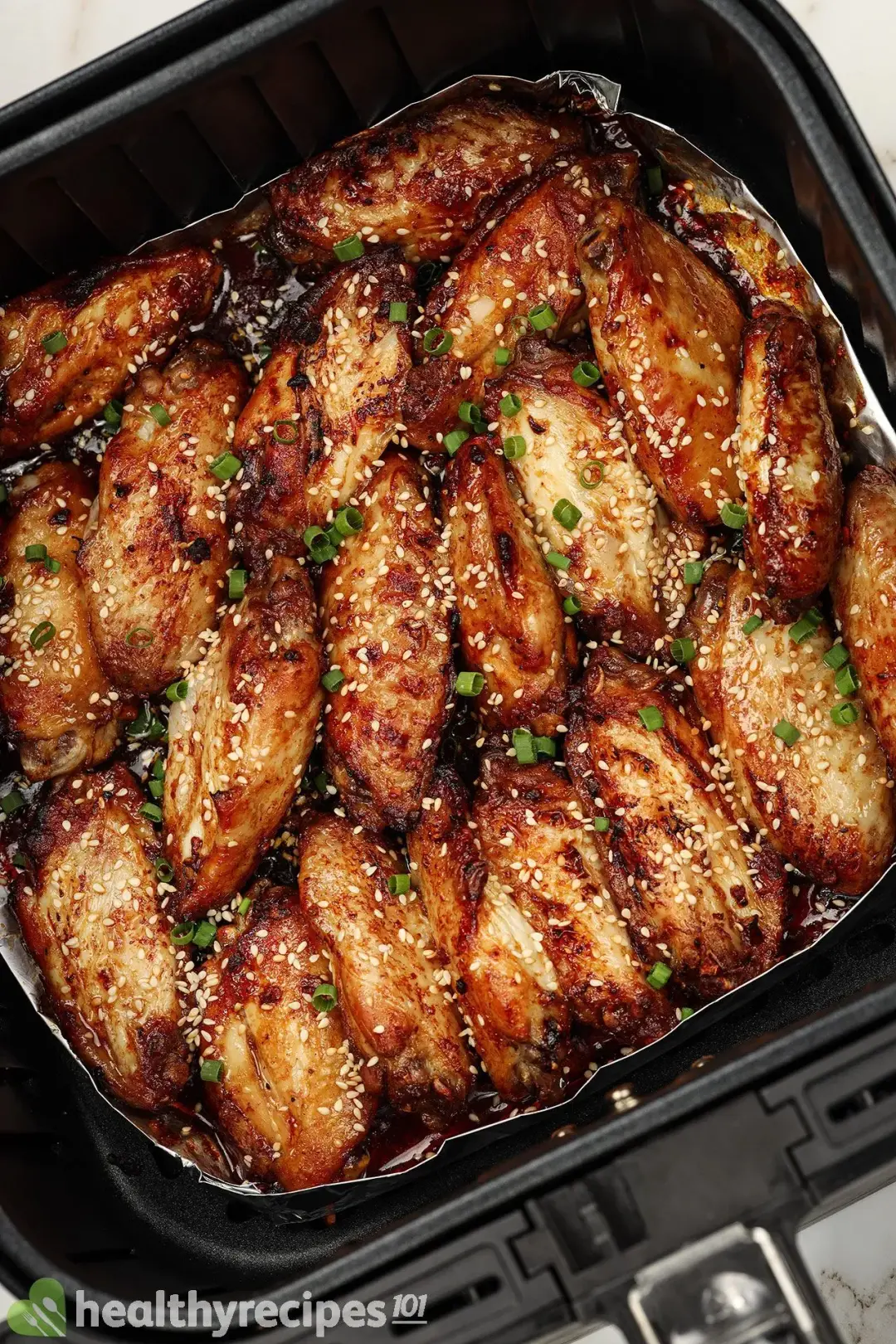 Previous Recipe
Air Fryer Honey Garlic Chicken
Air Fryer Honey Garlic Chicken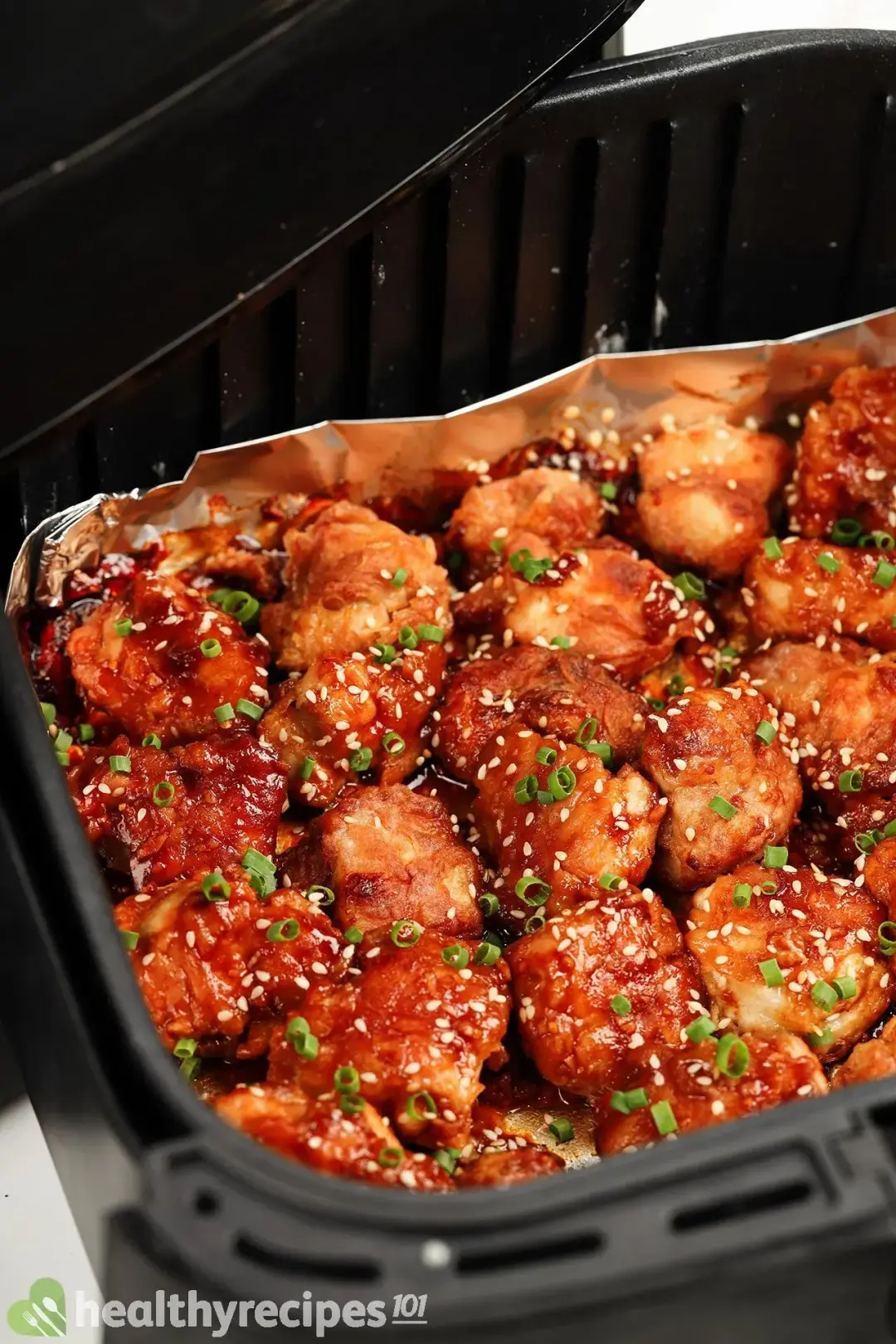 Next Recipe
Air Fryer General Tso's Chicken
Air Fryer General Tso's Chicken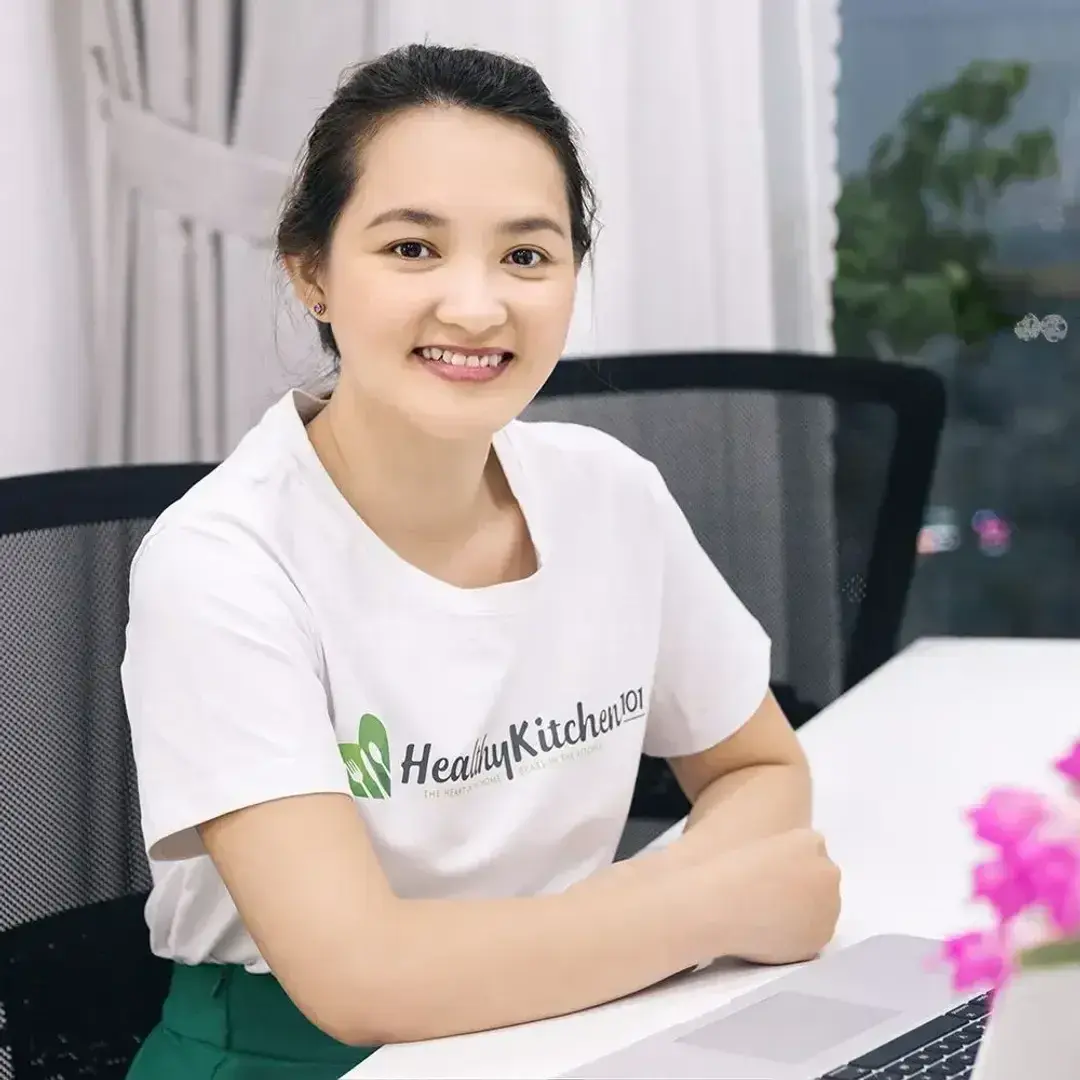 Founder
Luna Regina is an accomplished writer and author who dedicates her career to empowering home cooks and making cooking effortless for everyone. She is the founder of HealthyKitchen101.com and HealthyRecipes101.com, where she works with her team to develop easy, nutritious recipes and help aspiring cooks choose the right kitchen appliances.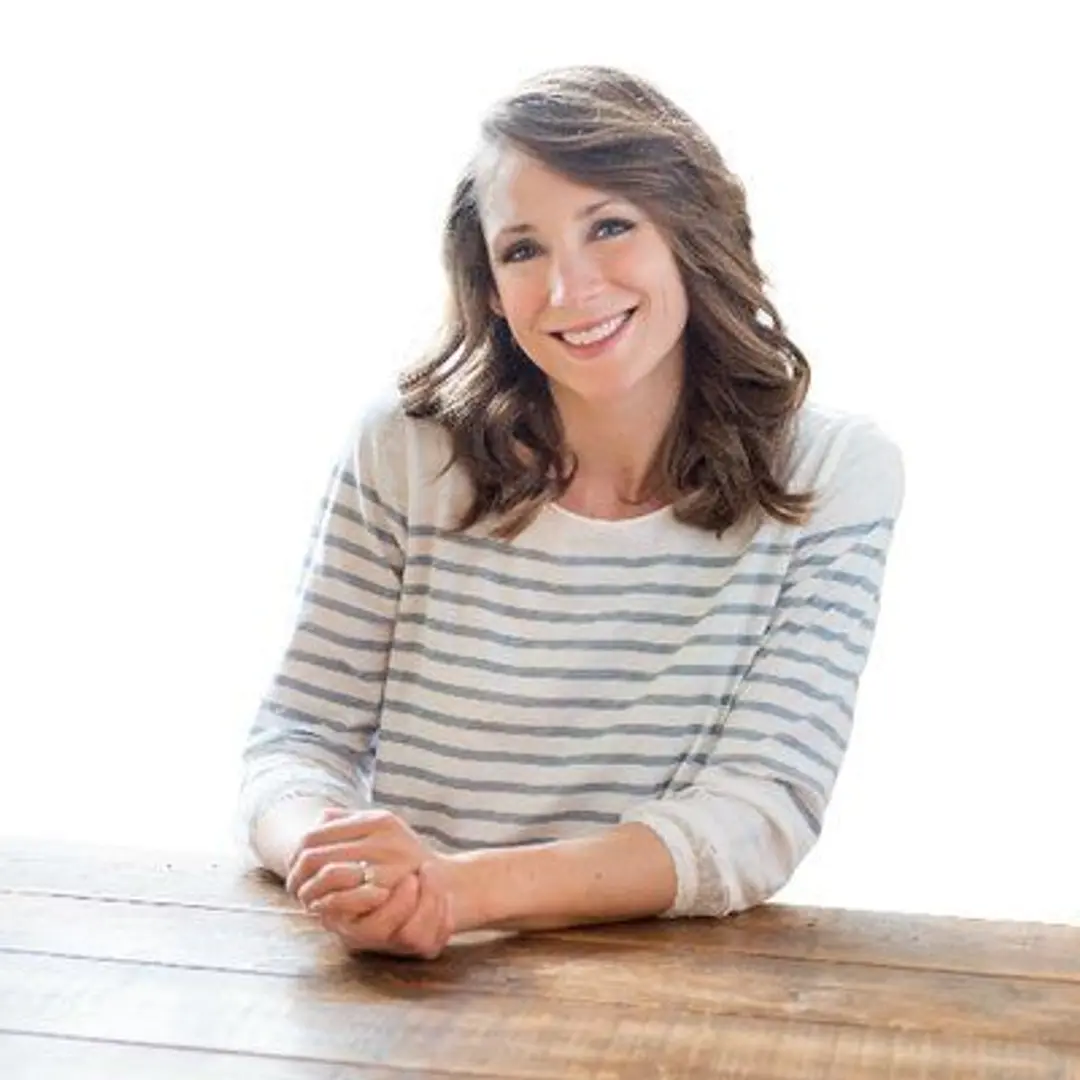 Nutrition Reviewer
Natalie is a registered dietitian nutritionist with a passion to help others live their best life through food, fitness, safer beauty and a healthy lifestyle. She has expertise with a variety of diets and diseases and believes that there is no one-size-fits-all approach for health.
Comments/ Reviews