This recipe for healthy Longhorn Parmesan crusted chicken is our reimagined take on the steakhouse's famous dish. Now you don't need to go to the sunshine state to try it out, and you have the perfect recipe for National Ranch Dressing Day (March 10th)!
What Is Longhorn Parmesan Crusted Chicken?
Longhorn Parmesan crusted chicken is a crunchy, buttered chicken dish with a breadcrumb and cheese crust. Layered beneath its golden exterior is a rich, creamy ranch sauce, and the dish is served with fresh vegetables.
"Longhorn" hints at the famous Longhorn Steakhouse based in Orlando, Florida. The dish features prominently on the restaurant's menu along with plenty of other delectables.
If you haven't already guessed, our Longhorn Parmesan crusted chicken recipe is based on the Floridian chophouse entree, but is altered to be much healthier! Don't worry, though — we've kept the flavors true to the steakhouse star.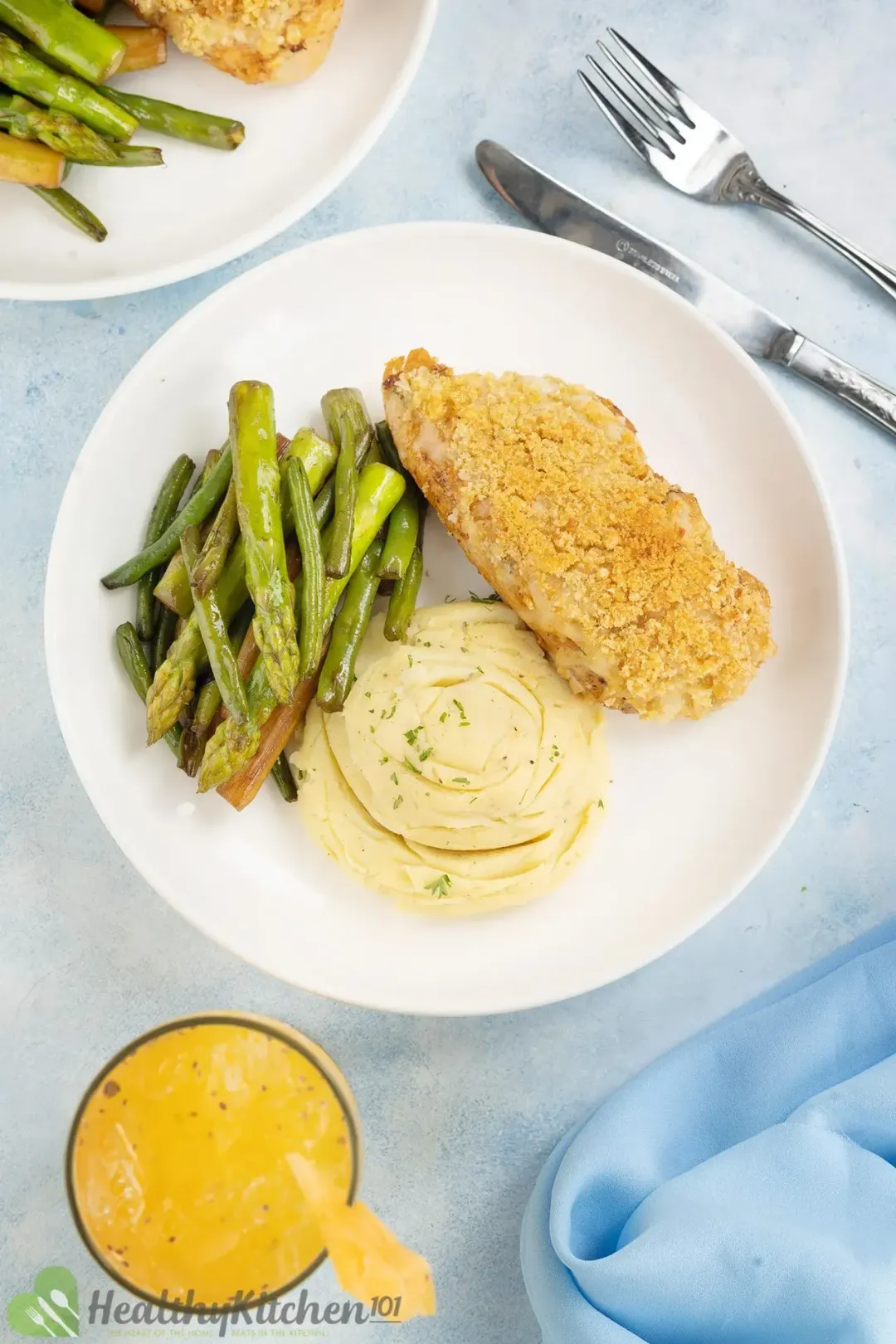 Is This Longhorn Parmesan Crusted Chicken Recipe Healthy?
Yes. Our Longhorn Parmesan crusted chicken recipe is healthy.
Using chicken breast results in a dish with less fat and fewer calories. A 3.5-oz skinless chicken breast can provide you about 31 grams of protein without adding much fat at all.
Your body breaks this protein down to form amino acids that eventually help replenish your muscles. You can see our air fryer chicken Parmesan or baked chicken breast recipe for more juicy details on chicken breast.
Main Ingredients
This recipe has five main ingredients:
Chicken: The main protein, seasoned lightly with salt, pepper, and paprika.
Ranch sauce: We made our own from scratch using Japanese mayonnaise, Greek yogurt, onion powder, garlic powder, and dill.
Provolone cheese: This mild cheese adds a nutty, savory flavor to the chicken.
Parmesan crust: The highlight of this dish is mixed with breadcrumbs to create a crispy, savory crumb garnish for your chicken.
Mixed vegetables: We used crunchy asparagus and green beans. You can substitute with broccoli or Brussels sprouts if you like and still maintain that ideal crunch.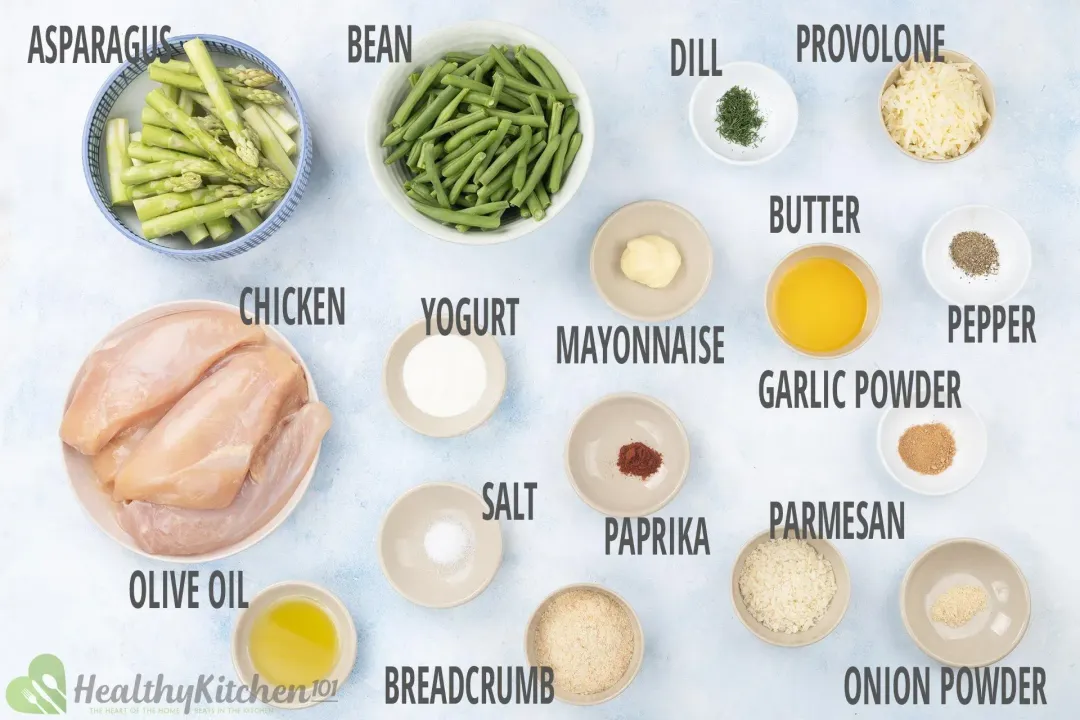 The full ingredient list, measurements, and detailed instructions are available in the recipe section below.
Check out our air fryer chicken roundup will give you quick, smart solutions to wholesome weekday meals.
What to Serve With Longhorn Parmesan Crusted Chicken
This Longhorn Parmesan crusted chicken tastes even better with any of the following dishes:
1. Roasted Vegetables
Veggies significantly boost the fiber content in your meals.
The best part is you can roast them ahead of time. Just leave them cooking in the oven.
In the meantime, start preparing your main dish — and maybe even dessert.
2. Meal Plan With Mashed Potatoes and Pineapple Juice
Seeing as this dish already comes with a small side of greens, we added carbs to round out a wholesome meal. Mashed potatoes are our pick — they're a great filler food and pair well with the crispy chicken.
Why not also include a glass of refined-sugar-free pineapple juice? It'll help wash down all that food and cleanse your palate along the way.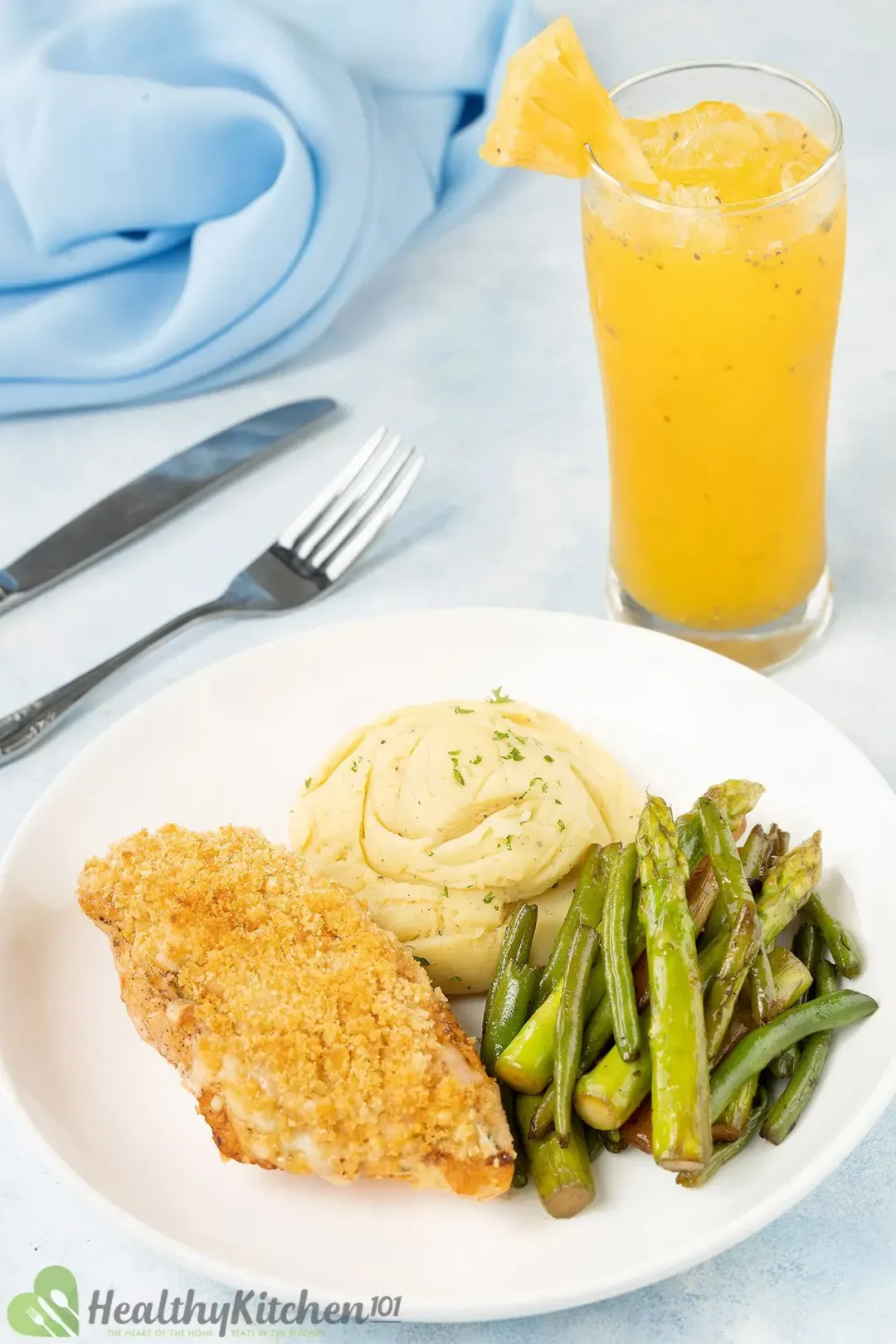 More Golden Brown, Sticky Chicken Thighs to Make
This bruschetta chicken recipe puts a twist on the classic Italian starter bruschetta and turns it into an impressive dinner that comes together in just 30 minutes. Instead of the crispy toast, we used tender chicken while still sticking to the original tomatoes, garlic, cheese, and balsamic combination.
In this recipe, roasted chicken thighs are marinated in a flavorful classic BBQ sauce and plated with potatoes, corn, and cherry tomatoes. This recipe provides a well-balanced meal suitable for any occasion.
FAQ
1. Tips
Slice and pound chicken breasts: You can save on time with a knife, meat mallet, and Ziploc bag. Simply slice the breasts horizontally, or butterfly them into two pieces.
Throw your chicken in the bag and pound the plastic-covered poultry until it's all an even thickness before seasoning and cooking. This significantly shortens the cooking time.
The finer you grate the cheese, the better: Smaller cheese pieces can easily attach to the fine breadcrumbs, helping create a crispy, crunchy exterior!
2. How to Store and Reheat Longhorn Parmesan Crusted Chicken
How to Store
You can store any leftovers in an airtight container.
Make sure the chicken has fully cooled. Warm food may release steam and create moisture inside the container. The last thing you want is a breeding environment for bacteria to grow and spoil your food more quickly!
How to Reheat
It's easier to ruin seared chicken than you think, especially after refrigerating it. Here's how you can avoid it.
If using a microwave to warm up your chicken, we recommend wrapping it in parchment paper. Put it in the microwave for 2 minutes to heat the chicken and allow the cheese to melt.
This method, however, may not revive the crispy crust. For that you need an oven.
Wrap your chicken in parchment paper or aluminum foil. Put it in an oven preheated to 375°F and warm it up for 8 minutes.
After that, cut the top of the wrap open to reveal the crust. Turn the heat to 400°F and put it back in the oven for 2-3 minutes.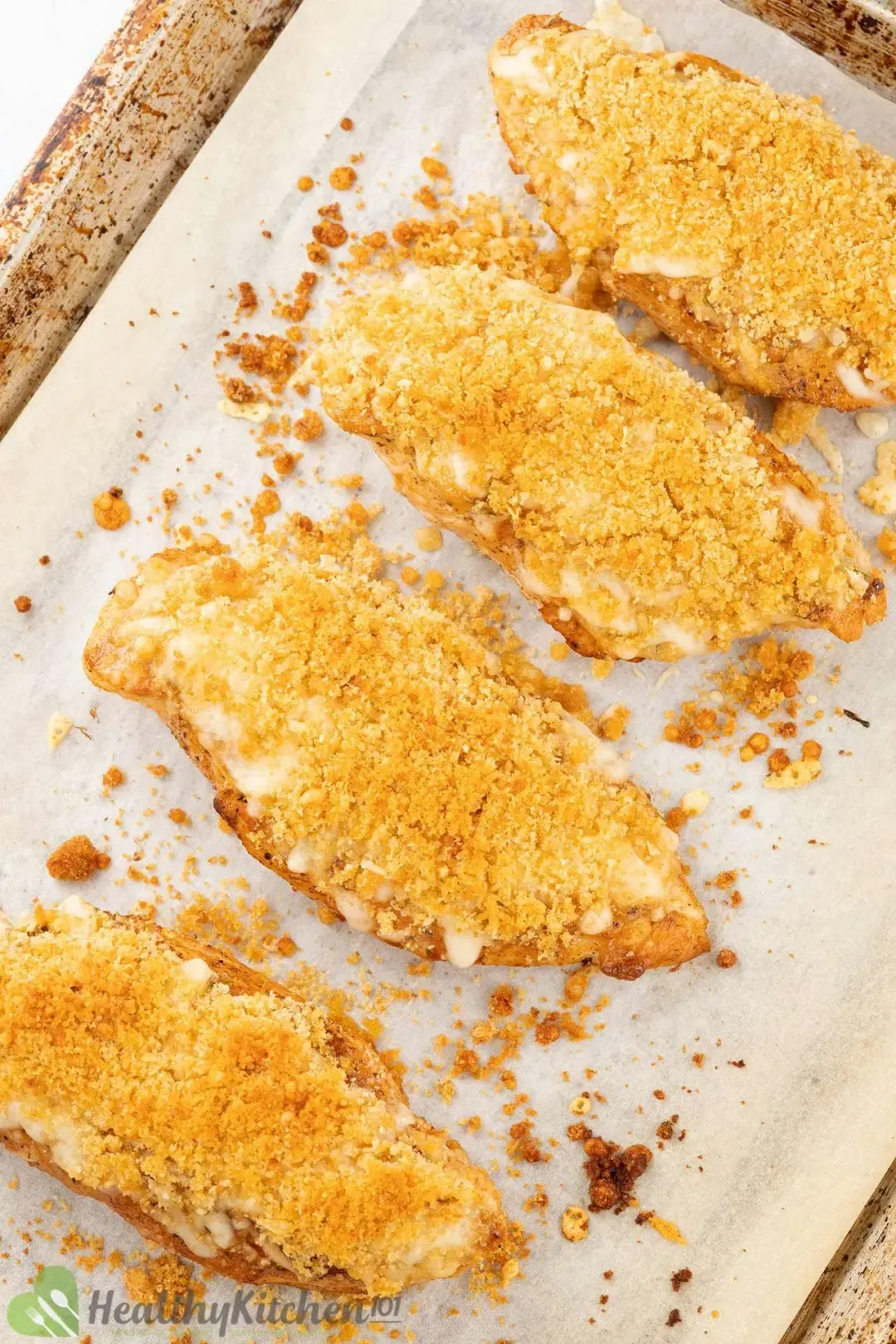 3. How Long Does Longhorn Parmesan Crusted Chicken Last?
Stored properly, your Longhorn Parmesan crusted chicken should last about one week in the fridge.
If you decide to hold on to it a bit longer, pop it in the freezer, and it'll store for up to six months.
Longhorn Parmesan Crusted Chicken
This Longhorn Parmesan crusted chicken recipe shows you how to replicate a restaurant favorite at home. Let's begin!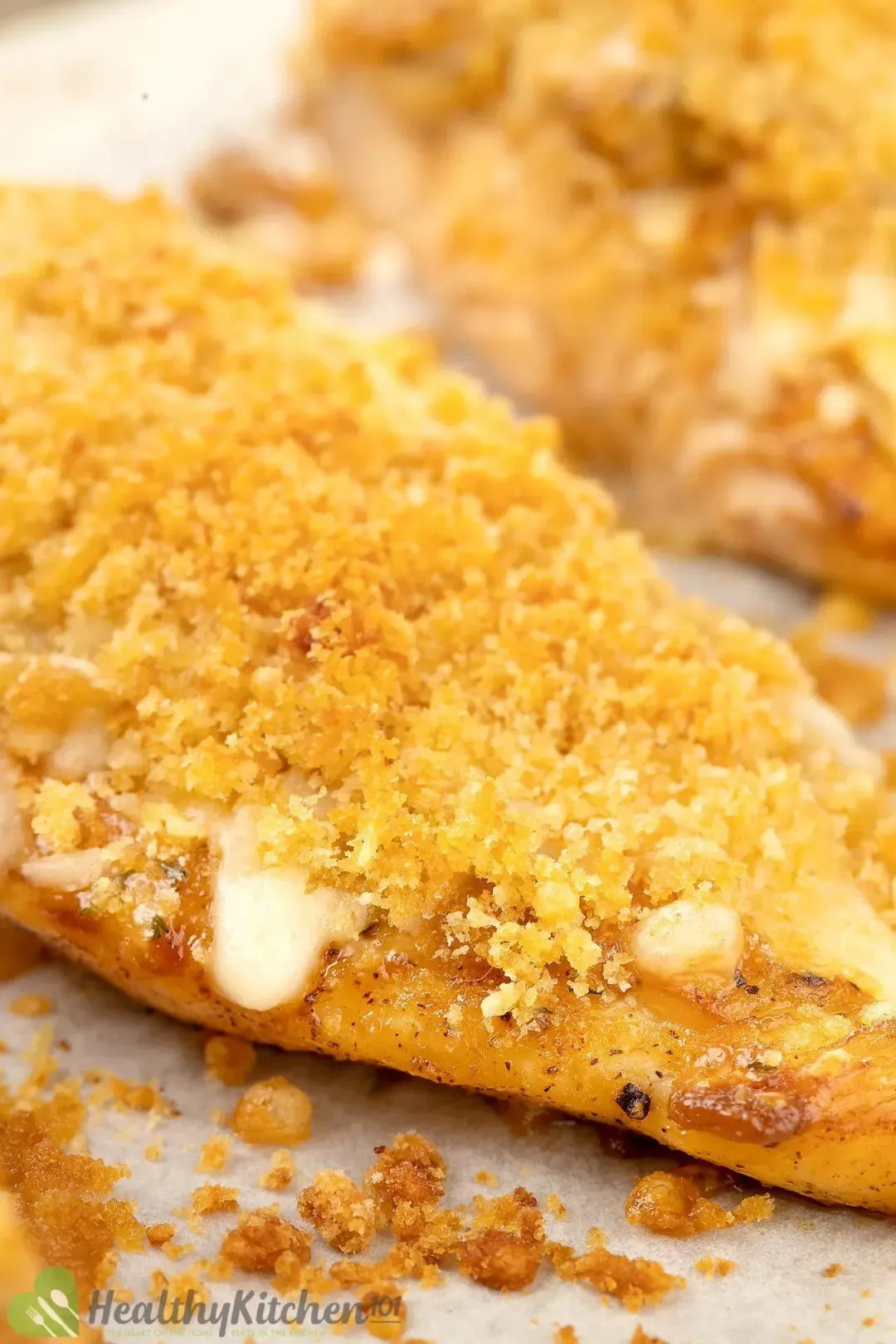 cook TIME

25 mins

prep TIME

5 mins

total TIME

30 mins
COURSE

Dinner, Lunch, Main Course

CUISINE

American

SERVINGS

CALORIES

459 kcal
INGREDIENTS
30 oz

skinless boneless chicken breast

1/4 cup

plain panko breadcrumbs

0.5 oz

Parmesan cheese

(grated)

1.5 oz

provolone cheese

(grated)

1 3/4 tbsp

unsalted butter

(melted, divided into 1/2 tbsp and 1 1/4 tbsp)

12 oz

asparagus

(cut into 2-inch pieces)

8 oz

green beans

(cut into 2-inch pieces)

3/8 tsp

salt

(divided into 1/4 tsp and 1/8 tsp)

1 tsp

dill

(finely chopped)

1 tbsp

Japanese mayonnaise

1 tbsp

plain Greek yogurt
INSTRUCTIONS
1
Preheat the oven to 375°F.
2
Season the chicken: Place 28 oz chicken on a baking sheet. Sprinkle with ¼ tsp salt, 1/4 tsp black pepper, and 1/4 tsp paprika. Rub the seasonings evenly on all sides of the chicken.
3
Sear the chicken: Add 1 1/2 tbsp olive oil into a cast-iron skillet over medium heat. Once the pan is hot, add the chicken and sear for 10 minutes or until golden brown on both sides, flipping halfway through. Transfer the chicken to a plate and set it aside.
4
Cook the vegetables: In the same skillet, add ½ tbsp unsalted butter, 12 oz asparagus, 8 oz green beans, and ⅛ tsp salt. Cook for 5 minutes. Turn off the heat and set it aside.
5
Make the ranch sauce: In a bowl, whisk together 1 tbsp mayonnaise, 1 tbsp Greek yogurt, 1/4 tsp onion powder, 1/2 tsp garlic powder, and 1 tsp chopped dill. Set aside.
6
Make the Parmesan crust: In a small bowl, combine 1/4 cup breadcrumbs, 0.5 oz Parmesan cheese, and the remaining 1 ¼ tbsp melted butter. Mix well and set aside.
7
Layer the chicken: Put the chicken on a baking tray — spread spoonfuls of the sauce over the chicken. Add 1.5 oz provolone cheese, then sprinkle the Parmesan crust on top.
8
Bake the chicken: Put the tray in the oven and bake for 10 minutes. Remove from the oven and set aside.
9
Plate and serve: Place a piece of chicken in the center of a serving plate. Arrange a hefty portion of the roasted vegetables next to the chicken and serve.
NUTRITION
Nutrition Facts
Longhorn Parmesan Crusted Chicken
Amount Per Serving (1 serving)
Calories 459
Calories from Fat 198
% Daily Value*
* Percent Daily Values are based on a 2000 calorie diet.
Keywords: how to make longhorn parmesan crusted chicken, Longhorn Parmesan Crusted Chicken, Longhorn Parmesan Crusted Chicken Recipe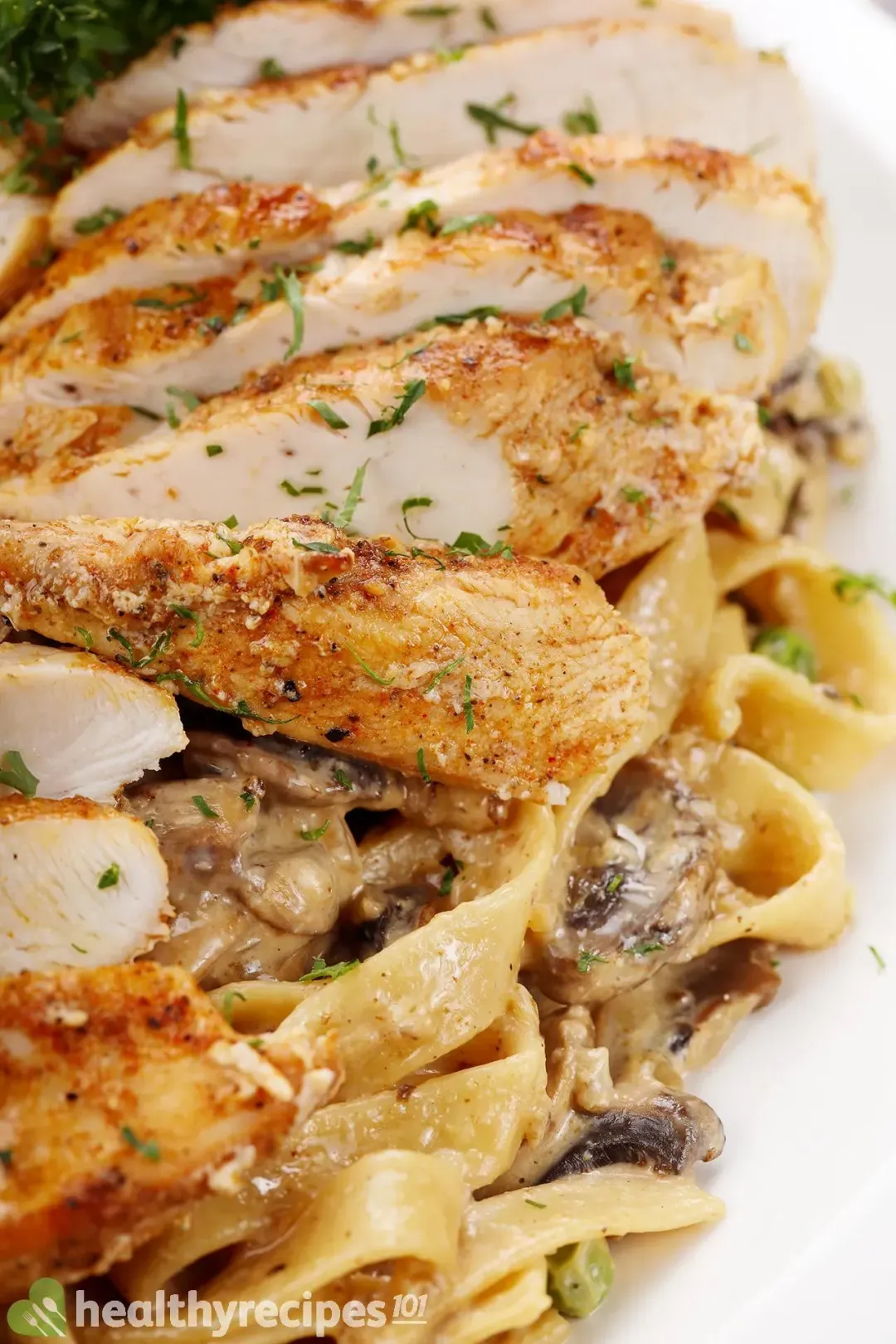 Previous Recipe
Instant Pot Chicken Alfredo
Instant Pot Chicken Alfredo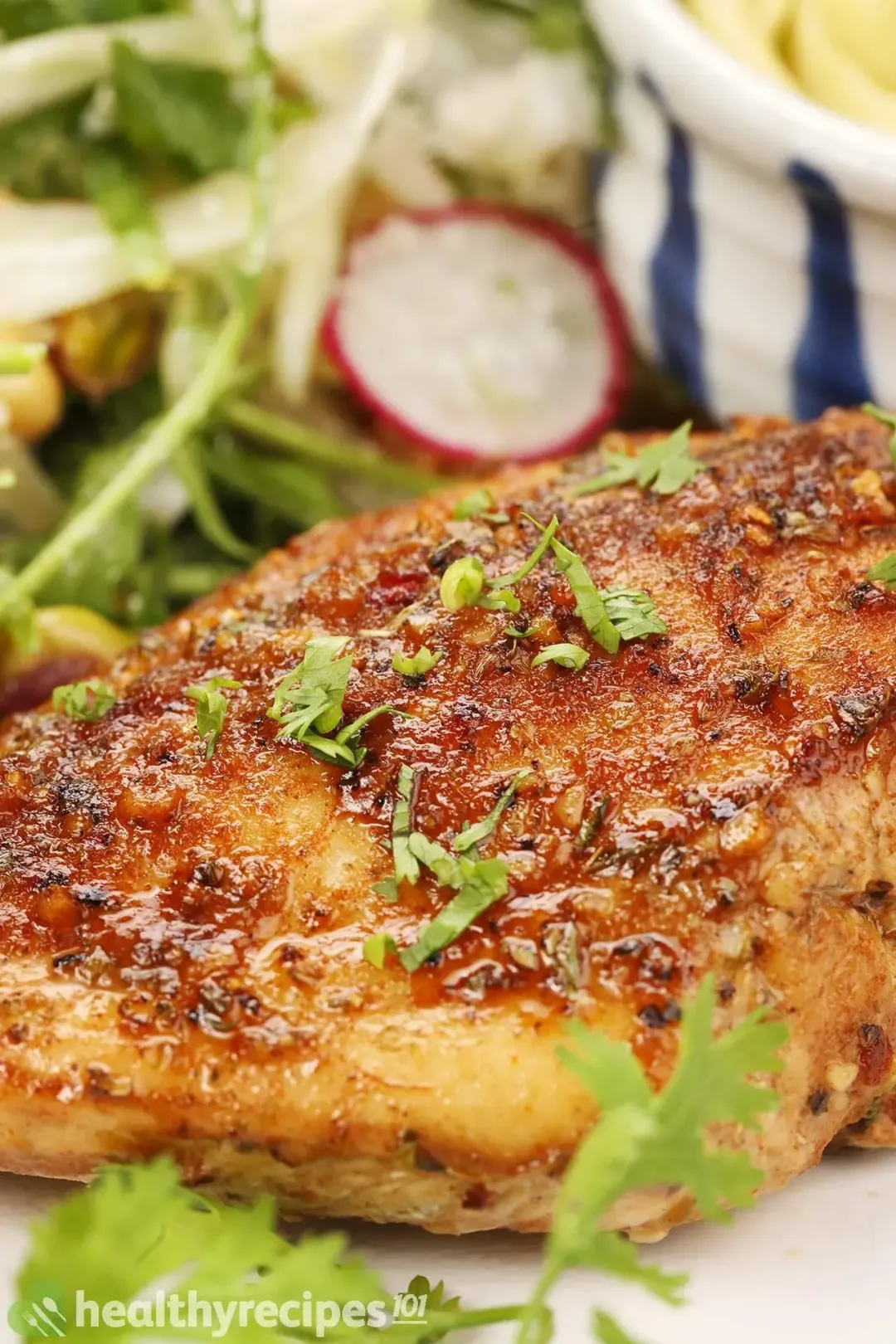 Next Recipe
Air Fryer Marinated Chicken
Air Fryer Marinated Chicken
The cooking instructions are clear and easy to follow, making this recipe a breeze to make.