These air fryer chicken recipes are simple to make, easy to follow, and guarantee succulent, golden crispy results. Most of them are also family-friendly and kid-friendly. Hopefully, you will find your favorites to bookmark to your list of best meals made in the air fryer.
Are Air Fryer Chicken Recipes Healthy?
The air fryer offers a faster, healthier, and more convenient way to cook chicken. Air frying is healthier than pan-frying, deep frying, or oven baking, because there's no need to use added oil or cooking spray to yield crispy results.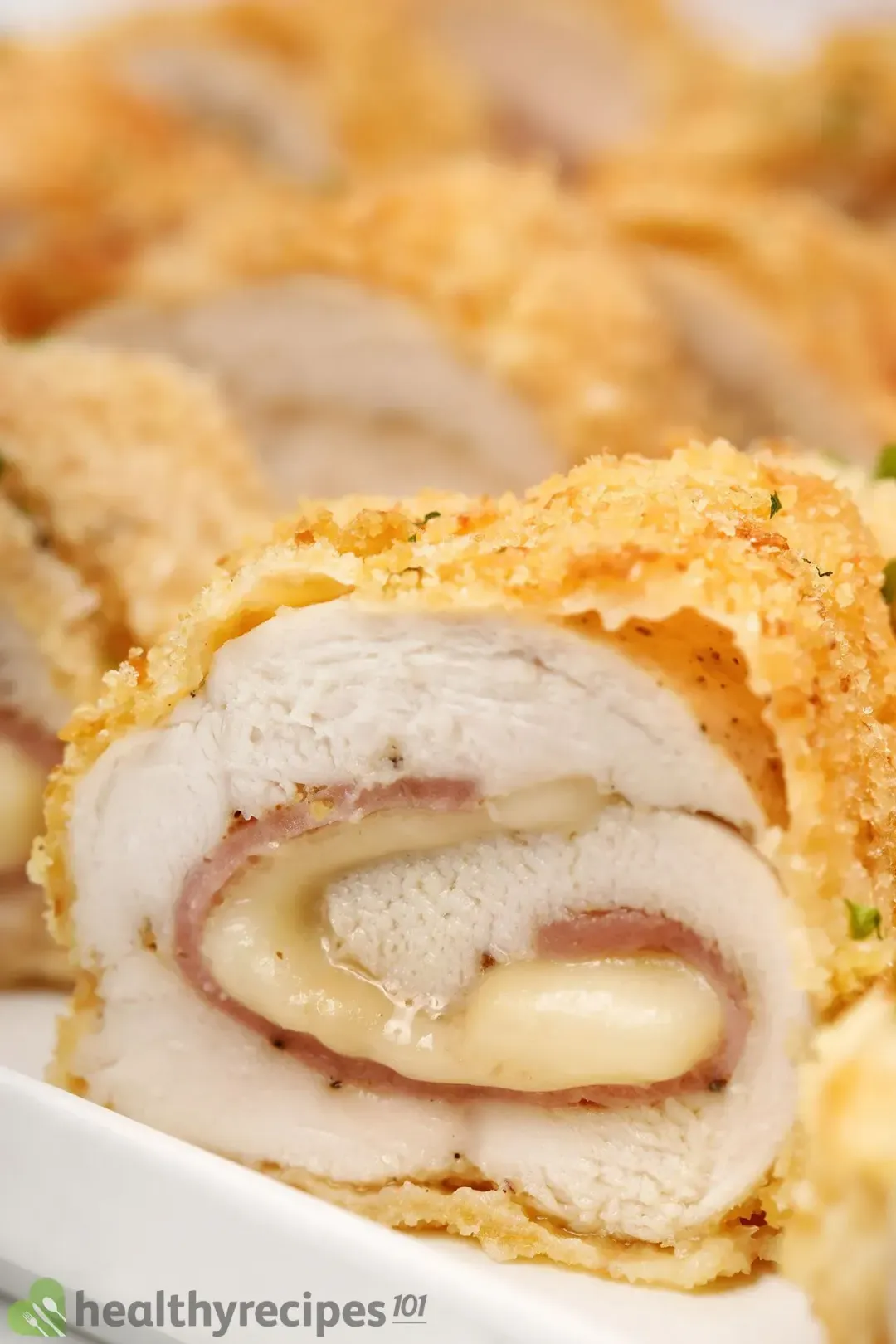 In the air fryer, the chicken is cooked in circulated hot air instead of hot oil. This helps cut out many calories and artificial trans fats from your dish.
You will see some recipes suggest keeping the chicken skin on so when it's cooking under intense and constant heat, the fat will leak out and fuse with the coating and the inside, making it extra crispy. This is another way to ensure juiciness and tenderness, especially for lean cuts like chicken breasts.
That being said, you can rub the chicken pieces with a little oil before placing them in the frying basket; it's really up to your personal taste. Otherwise, consider wrapping the chicken in aluminum foil to retain all the natural juices inside and protect it from drying out.
To sum up, with the air-frying method, you'll get delicious crispy skin just like the deep-fried version but with only a small amount of oil or none at all. The cooking process is simplified, the cooking time is reduced, and the kitchen is kept clean from splattering oil.
By frying food in an air fryer, you can also avoid consuming cancer-promoting substances. These substances are known to be formed when the starch in the food reacts with the hot oil for a long time.
How Long to Cook Chicken in an Air Fryer
1. For fresh chicken:
Cooking time and temperatures are definitely matters of concern when it comes to frying chicken, especially if you're working with a newly bought air fryer. They depend on many factors, including the type and size of chicken cuts, the set temperature, and also the air fryer model — yes, different models will heat up differently.
According to the USDA, poultry must reach the minimum cooking temperature of 165°F internally to ensure food safety. To do so, use an instant-read thermometer to check the internal temperature at the thickest part of the meat cut. If you don't have one, follow the specific recipe carefully through each step and you'll be fine.
With or without the skin, chicken cuts require the same amount of time to achieve doneness in an air fryer. The skin doesn't affect the total frying time, sometimes an additional 3-5 minutes can be added to create charring and crisp skin, but that's up to your taste.
For your reference, we've come up with the below table of cooking times for common types of chicken cuts at 400°F in the air fryer. Make sure that the chicken pieces are at room temperature before being added to the air fryer, so the inside and outside of the chicken can cook at the same rate.
| Type of chicken cut | Cooking time for the first side | Cooking time for the other side |
| --- | --- | --- |
| Whole chicken | 30 minutes | 15-20 minutes |
| Chicken breast | 10 minutes | 5 minutes |
| Chicken wing | 15 minutes | 8 minutes |
| Chicken thigh | 15 minutes | 10-15 minutes |
| Chicken leg (Chicken drumstick) | 10 minutes | 10 minutes |
2. For frozen chicken:
Not surprisingly, you can also create moist and juicy air-fried chicken out of frozen chicken. 
Chicken will freeze well for up to 3 months. To prepare and freeze the chicken ahead of time, put the marinated (or plain) chicken pieces into Ziploc bags, place them in the freezer, and they'll be readily available any time you want some tasty fried chicken.
Before cooking, allow the frozen chicken bags to defrost in the fridge overnight, then on the following day, take them out and let them thaw to room temperature.
After defrosting the chicken, you'll need to pat them dry as there will be excess moisture locked inside.
You can also cook chicken directly from frozen in an air-fryer — yes, air fryers are designed with a "defrosting" mode. Simply place the frozen chicken on a plate, put it in the frying basket, set the temperature to 200℉, and the timer for 5 minutes.
After 5 minutes check the meat, if it hasn't completely thawed, flip it and perform another round of defrosting. Next, proceed with the remaining cooking steps just like you would do with fresh chicken cuts, as fresh chicken and defrosted chicken cook at the same temperature for the same time. 
Air Fryer Chicken Breast Recipes
Cooking with the air fryer is easy, quick, and clean. It's a healthy way to fry chicken breasts to a crispy juicy finish in a fraction of the usual deep-frying time and with none or a very little amount of cooking oil. A healthy dinner with lean chicken breasts can now be made easily even on busy days!
We have some more air-fried chicken breasts like these in this roundup. Twenty-two, to be exact, and it will continue to increase as we add more.
Air Fryer Chicken Thighs Recipes
We've gathered the best air fryer chicken thighs recipes together in the list below for you to follow and create finger-licking good weekday meals. With just a simple rub with spices, you'll get well seasoned and heavenly crispy chicken thighs.
If you want to get more chicken thighs recipe, check out our list of amazing chicken thighs.
Air Fryer Chicken Wings Recipes
Air frying takes chicken wings to another level, as you'll get to enjoy crispy and flavorful fried wings with your favorite spicy sauce in a fraction of the time and no oil required!
1 of 2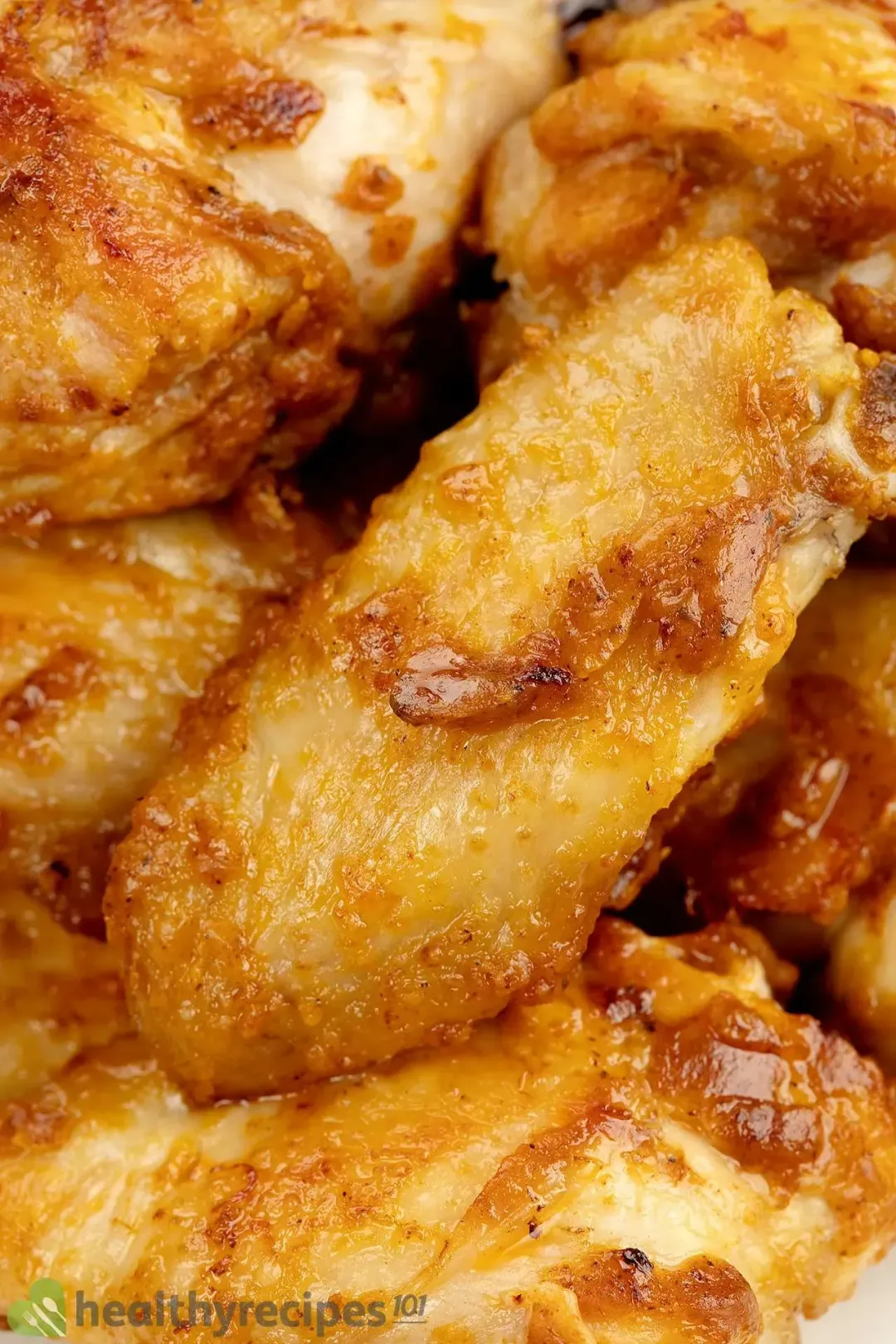 1 of 2
Air Fryer Chicken Wings Recipe
This air fryer chicken wings recipe makes crispy, succulent, saucy, and satisfying buffalo wings that taste like the real deal.
Get the
recipe
.
2 of 2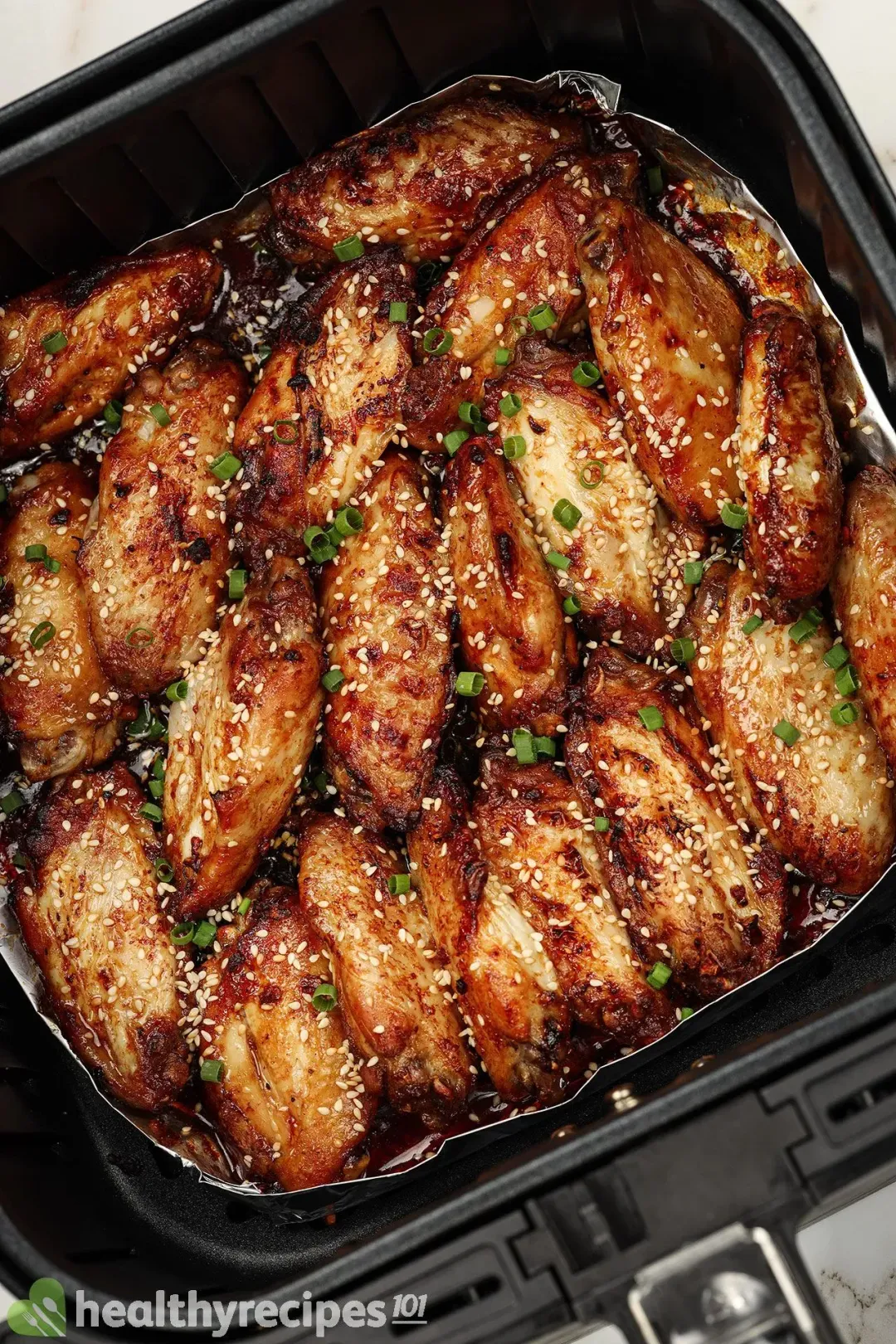 1 of 2
Air Fryer Honey Garlic Chicken Recipe
This air fryer honey garlic chicken recipe is a simple way to enjoy chicken wings with rice and vegetables. It's a wholesome meal in 37 minutes.
Get the
recipe
.
Air Fryer Chicken Legs Recipes
Chicken legs usually have more tendons than other cuts and the air fryer is the perfect tool to deal with them. These recipes we're about to introduce are easy to follow, even for air-frying beginners — some only require a simple marinade to flavor the chicken. Wholesome and juicy chicken drumsticks bursting with flavor can now be made in just half the time than stovetop cooking normally requires.
1 of 3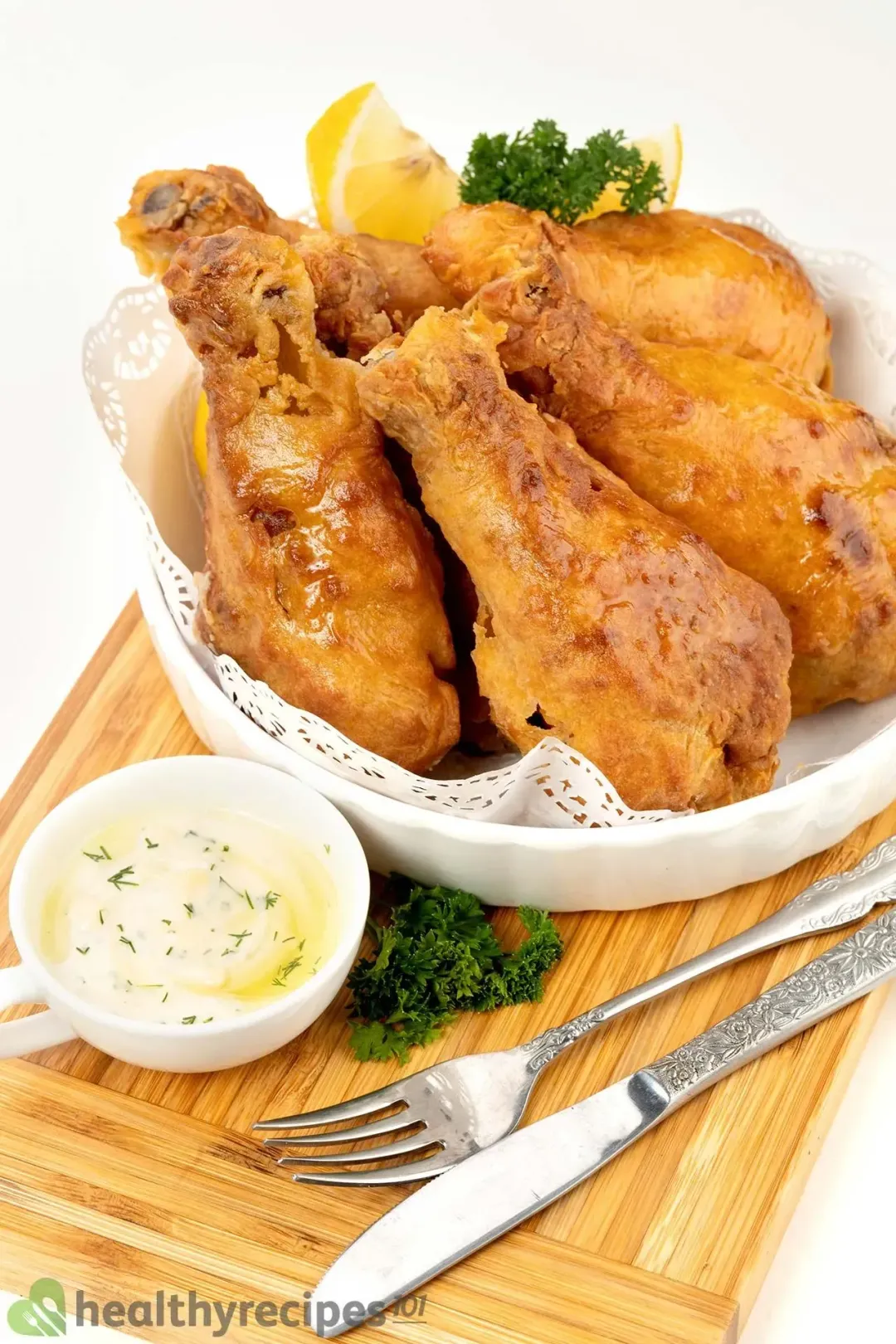 1 of 3
Air Fryer Buttermilk Fried Chicken Recipe
If you are bored of the standard oily deep-fried chicken, today's air fryer buttermilk fried chicken recipe will become a fast favorite.
Get the
recipe
.
2 of 3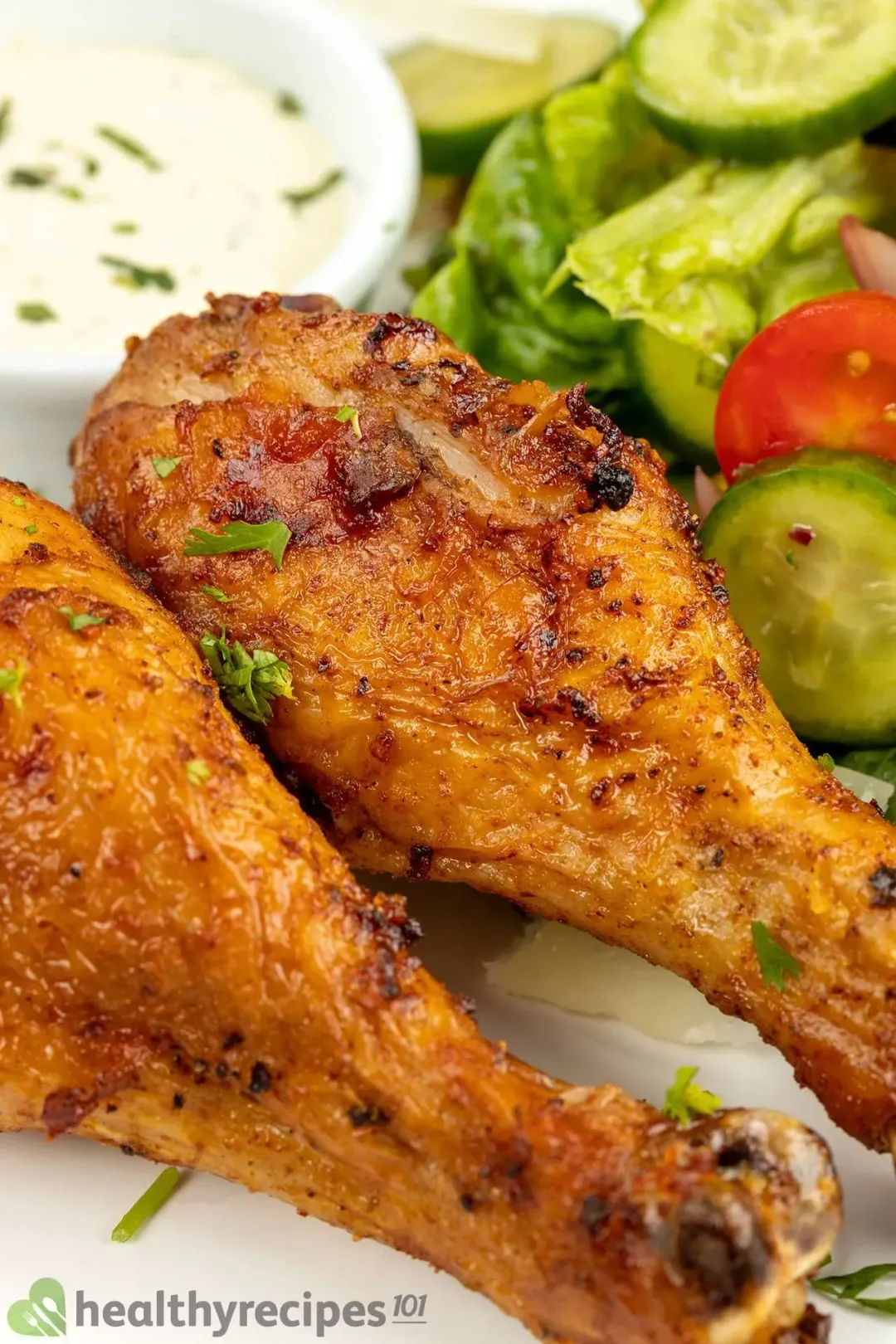 1 of 3
Air Fryer Chicken Legs Recipe
In today's air fryer chicken legs recipe, we kept the chicken skin on so you won't miss out on that golden and crispy exterior.
Get the
recipe
.
3 of 3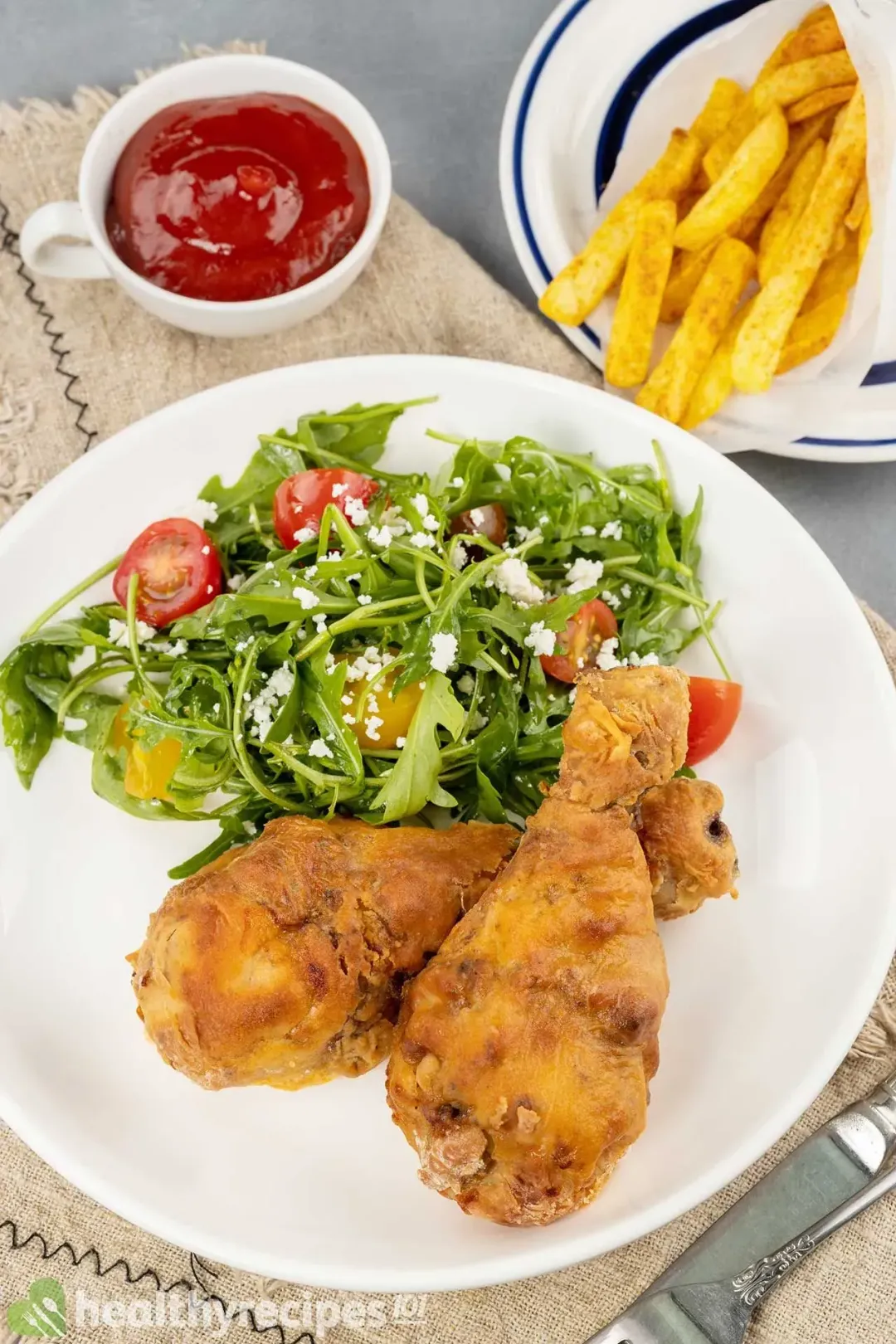 1 of 3
Air Fryer Fried Chicken Recipe
Our air fryer fried chicken recipe will help you make the perfect crispy-on-the-outside, juicy-on-the-inside chicken drumsticks.
Get the
recipe
.
Can You Fry Chicken in an Air Fryer?
An air fryer works in a similar way to a convection oven. You can either fry, bake, roast, or boil food in it.
Cooking with an air fryer is, so far, the easiest way to ensure evenly cooked food. The airflow system of an air fryer is designed to replicate the way the heat is distributed in deep-frying. But instead of using a sizzling pool of cooking oil to cook food, the air fryer circulates hot air around the frying basket so all the surfaces of your food are evenly cooked.
Here are the major reasons why we should use an air fryer to fry chicken:
Crispiness and juiciness for the meat:
Deep-frying was once the only way to achieve ultra-crispy skin for fried meats, but that's now no longer true. Not only can the air fryer achieve the same result but it also allows you to (largely or completely) cut out the excess oil that is necessary for deep-frying.
In general, the outside of the air-fried chicken is pretty much like roasted chicken, but the inside is slightly juicier and more flavorful. You can also create charring and nicely browned meat in the air fryer.
Time-saving and efficiency:
The cooking time can be reduced by up to half, compared to oven-baking or stovetop cooking. The hot air circulates rapidly, thus saving both time and energy, especially when cooking large cuts of meat or a whole chicken.
The air fryer also preheats fast (no more than 3 minutes) and doesn't heat up the kitchen space. Some recipes don't even require preheating an air fryer, and all you need to do is fill the frying basket and hit the buttons.
This is quite obvious, as the only thing that accumulates grease throughout the entire process is the interior frying basket. No extra utensils or cooking pots are required.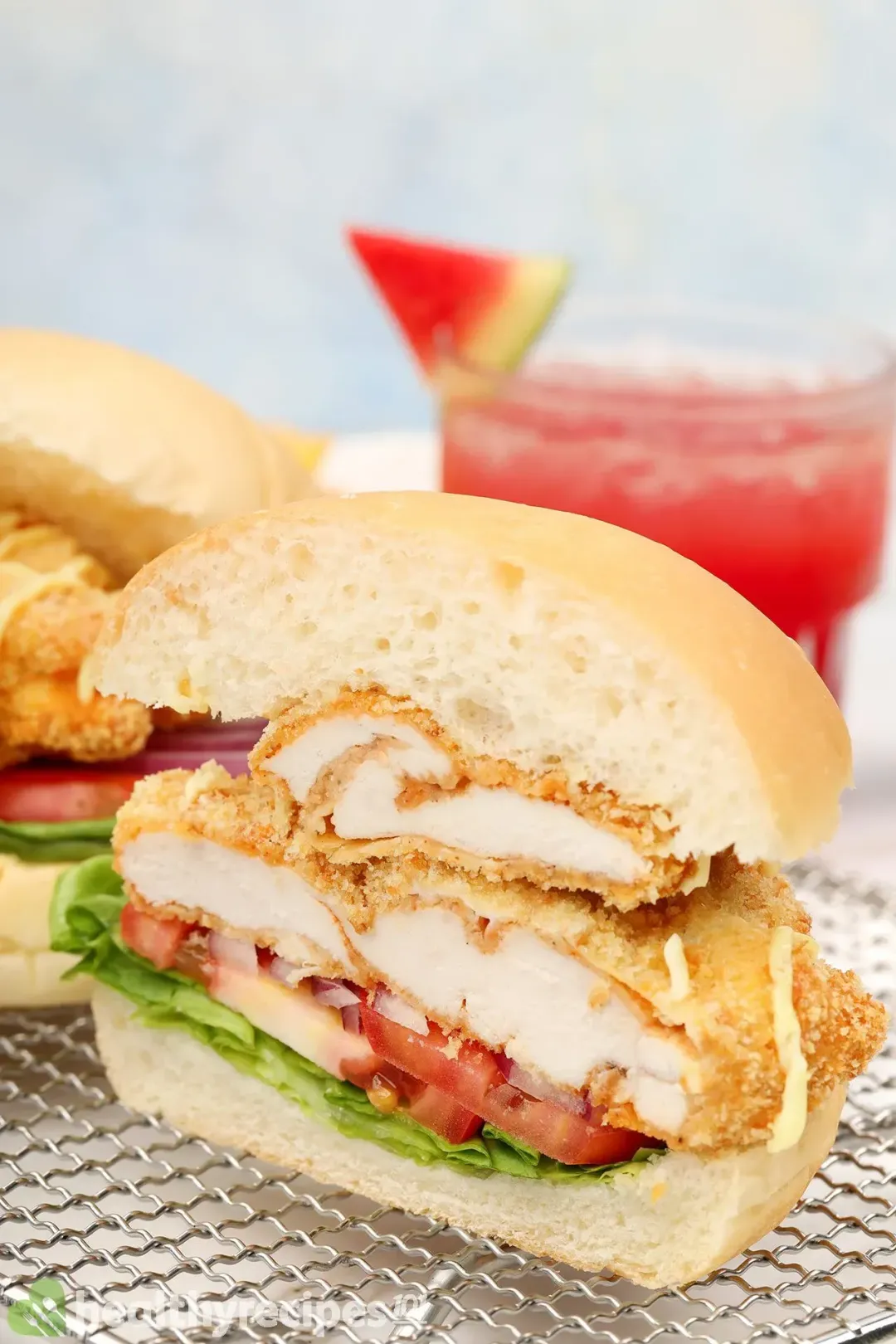 How to Cook Chicken in an Air Fryer
For all chicken cuts, the steps to cook chicken in an air fryer are:
Wash and rinse the chicken cuts. Pat them with a paper towel or let them drain dry. If you want to coat the chicken with spices, be sure not to pat them too dry, as a little bit of moisture helps the coating adhere to the surface.
Preheat the air fryer to the required temperature mentioned in the recipe. Simply turn the air fryer on and let it run for about 3-5 minutes, and in the meantime, you can continue to prepare other ingredients for your meal. If you skip the pre-heating altogether, simply add an equivalent time to fry the chicken later.
Season with spices (optional): If the recipe requires it or you feel like spicing the chicken up to your own taste, feel free to rub it with a spice mix of choice.
Spray or mist the chicken with cooking oil (optional): First, use an oil sprayer to mist the chicken, then use your hand to rub it all over the surface.
Add the chicken pieces directly to the basket of the air fryer. Cook until it reaches 165°F internally. All cuts of chicken require a halfway flip in the air fryer to ensure even cooking.
Further to these steps, as each type of chicken cut has different characteristics, read on to uncover more details on how to handle them.
1. Whole chicken:
A whole chicken cooked in the air fryer tastes like a rotisserie chicken: crispy on the outside and juicy and moist inside.
You won't need to separate the whole chicken into smaller pieces when cooking with an air fryer. Most air fryers can fit a whole chicken into the frying basket.
When placing the chicken in the frying basket, remember to place the breast-side down to protect the breast meat from drying out and to keep it juicy. By doing so, the thigh and leg parts, which are the dark meat, will be the first parts to be exposed directly to the hot air rather than the breast part.
After 40-50 minutes of air frying at 360°F, flip the chicken and continue to cook it for 10-20 minutes. As long as the thickest part of the breast reaches 165°F internally, you're good to go.
2. Chicken breasts:
Chicken breasts cook best at 375°F in the air fryer. They usually require a total of 15-20 minutes of air frying, including one flip halfway.
Never stack chicken breasts in the frying basket. Take it easy and handle them in several batches if you're making large meals. When you're about to serve, return all the previously cooked chicken breasts to the basket and reheat them quickly for about 2 minutes.
3. Chicken wings:
To prepare chicken wings to fry, first, cut into the joints and divide it into three parts: drumette, flat, and wing tip. Discard the wing tip and keep the other two.
Similar to air frying chicken breasts, try to cook chicken wings in batches so they barely touch each other. The chicken pieces need to lay in a single layer so each of them can crispen up evenly.
Chicken wings usually require two stages of air frying: the first stage at 350°F for 25 minutes, followed by a halfway flip, then the second stage at 400°F for 5 minutes. The second stage of frying is meant to give the chicken a deliciously crisp exterior.
4. Chicken thighs and legs:
If using chicken thighs and legs with skin, you'll probably want to add an additional 3-5 minutes of cooking time to crispen the skin.
Normally, these two types of cut cook best at 375°F and require a total of 25-minutes.
How to Reheat Fried Chicken in an Air Fryer
Normally, fried foods don't reheat well as they will be prone to losing moisture and texture. So when reheating pre-cooked chicken in an air fryer, you might need to spray some oil over the surface before putting them in the basket to cook at 350°F for about 10 minutes.
To keep the chicken moist and juicy, you can wrap the leftover fried chicken pieces in aluminum foil or parchment paper before air frying. The foil wrapping also keeps the frying basket less greasy, allowing for easier cleanup.
This collection of ours have more than just air-fried chickens. There are soups, pastas, grilled, saucy skillets, and tons more delicious recipes we've tried and loved.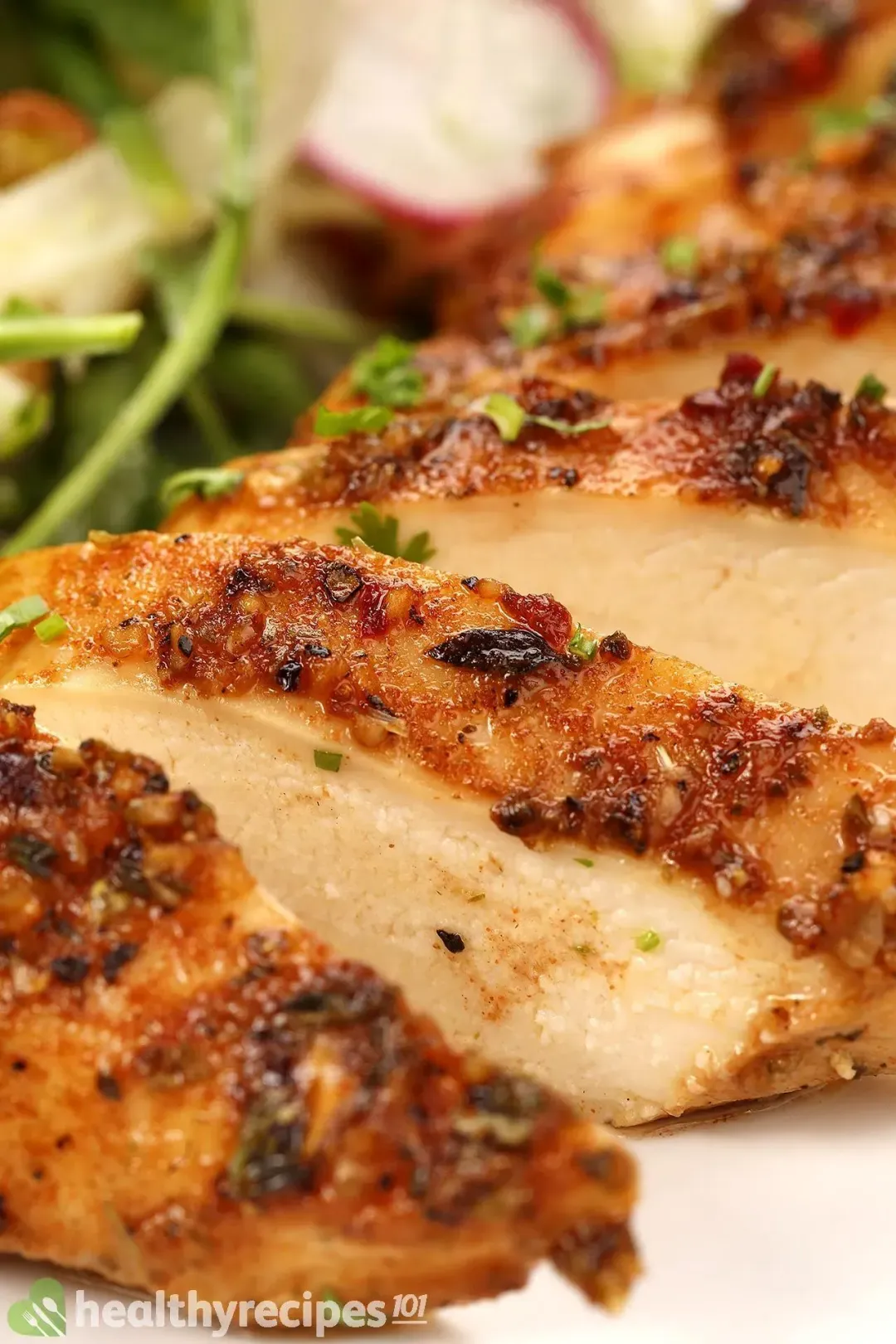 Air Fryer Chicken Recipes
We've gathered the best air fryer chicken recipes in this collection, providing a wide range of choices for healthy fried chicken for your reference.
Ingredients
Directions
Choose a recipe that you like.
Gather the ingredients.
Follow the instructions to give you incredibly tasty air fryer chicken recipe in less than 45 minutes!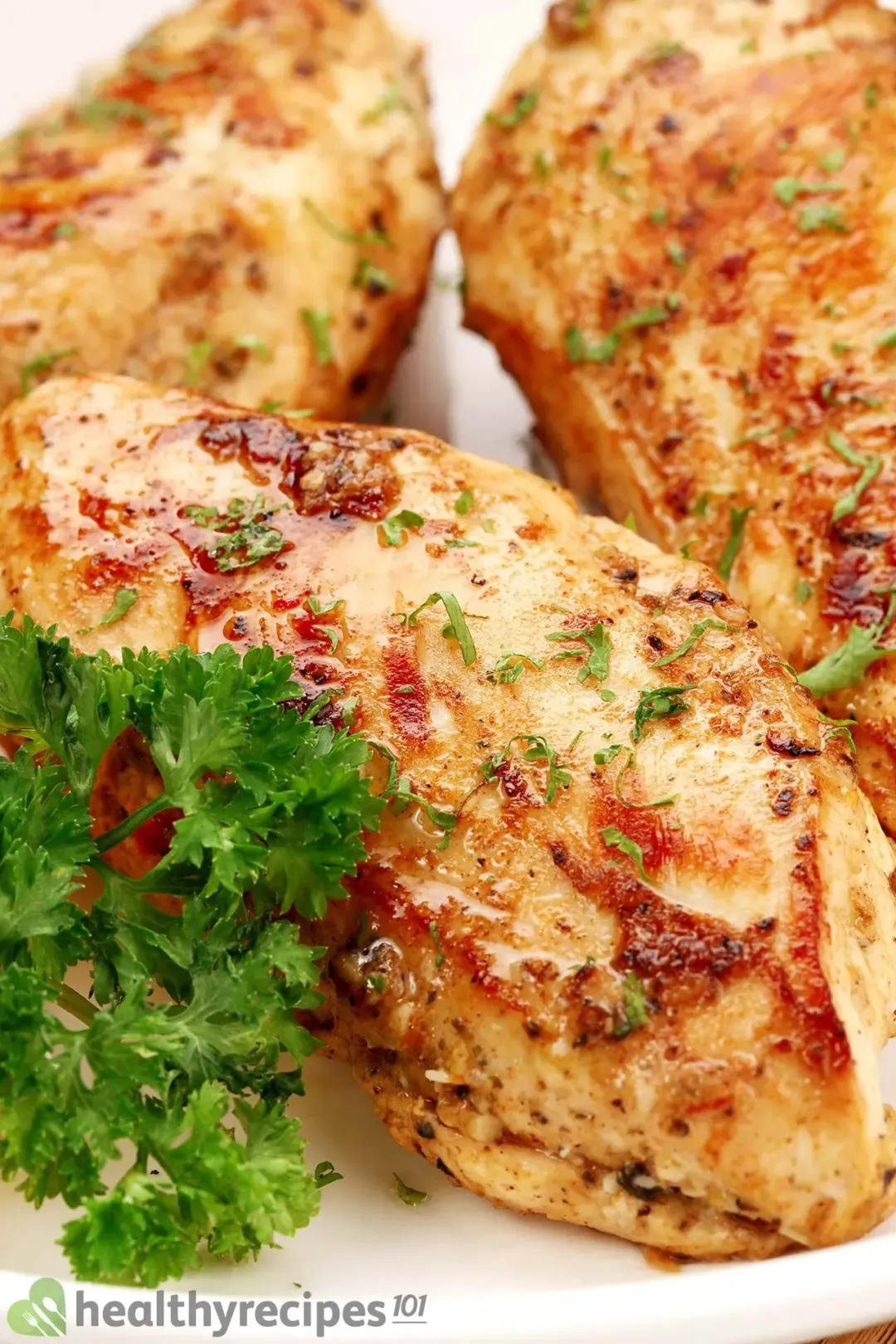 Next Recipe
Instant Pot Chicken Breast Recipes
Instant Pot Chicken Breast Recipes
Writer, Author
Luna Regina is an accomplished writer and author who dedicates her career to empowering home cooks and making cooking effortless for everyone. She is the founder of HealthyKitchen101.com and HealthyRecipes101.com, where she works with her team to develop easy, nutritious recipes and help aspiring cooks choose the right kitchen appliances.
Comments/ Reviews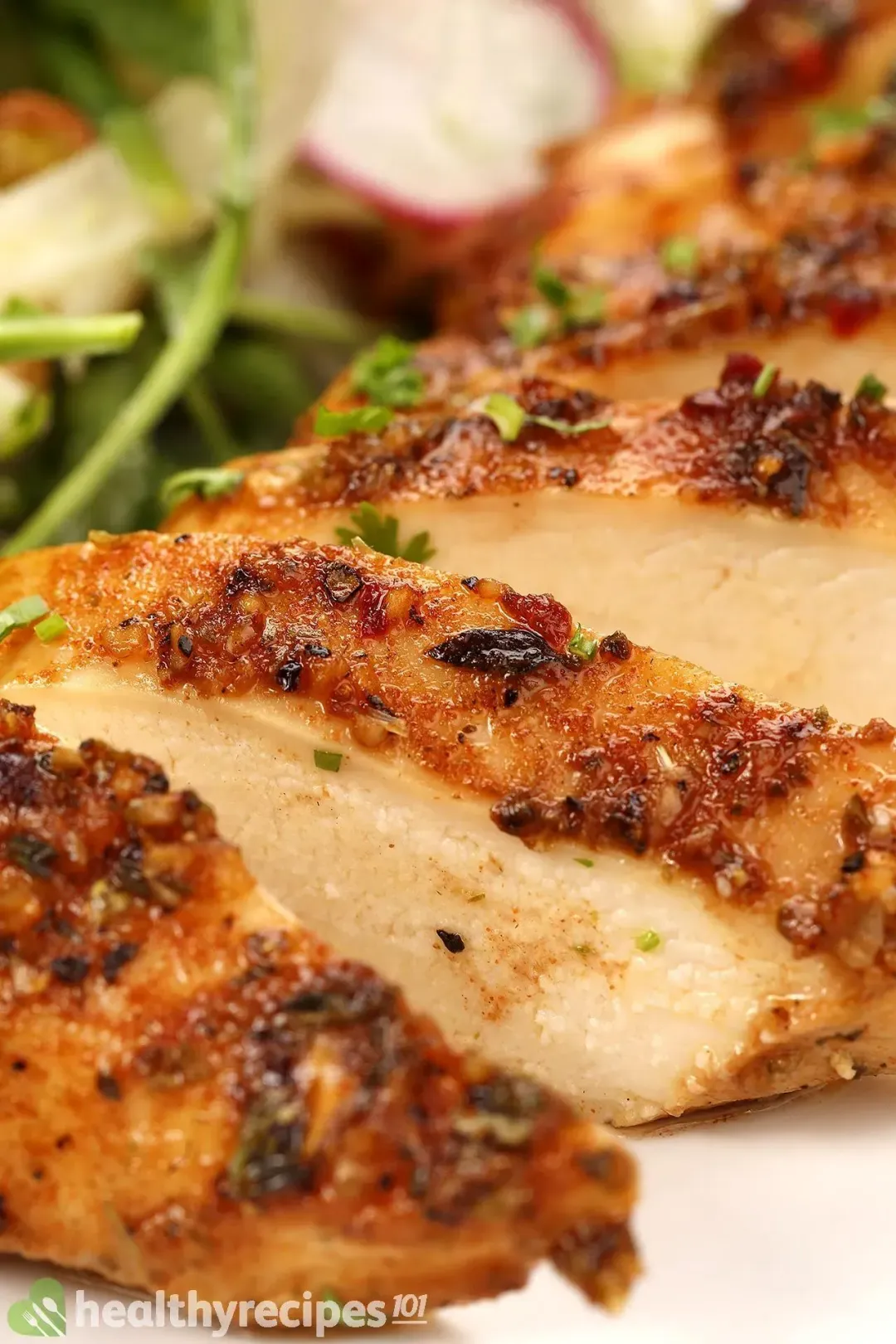 Made marinated chicken in air fryer, taste good. Spice is very simple and effective.