"What is in this honey sesame chicken recipe?" you might ask. Nothing more than bite-size chicken chunks coated in a savory sauce with crunchy toasted sesame seeds on top.
However, it's not the same as the chicken batches from chain restaurants or street vendors. With this recipe, you get 100% control over what's going into the dish.
If you're worried about having double the work making everything at home, worry no more! We promise the familiar taste of sesame chicken is easily achieved with only a few simple steps.
What Is Honey Sesame Chicken?
Honey sesame chicken is a dish of distinct taste and consistency. It involves a batch of fried chicken and a sauce mixture.
Sesame chicken is made simply with a few basic requirements. The chicken should be juicy and tender, while the coating should be smooth with a silky texture.
In this honey sesame chicken recipe, chicken takes center stage. Working in the background is the spicy-sweet glaze made of cornstarch, honey, garlic, ginger, and soy sauce.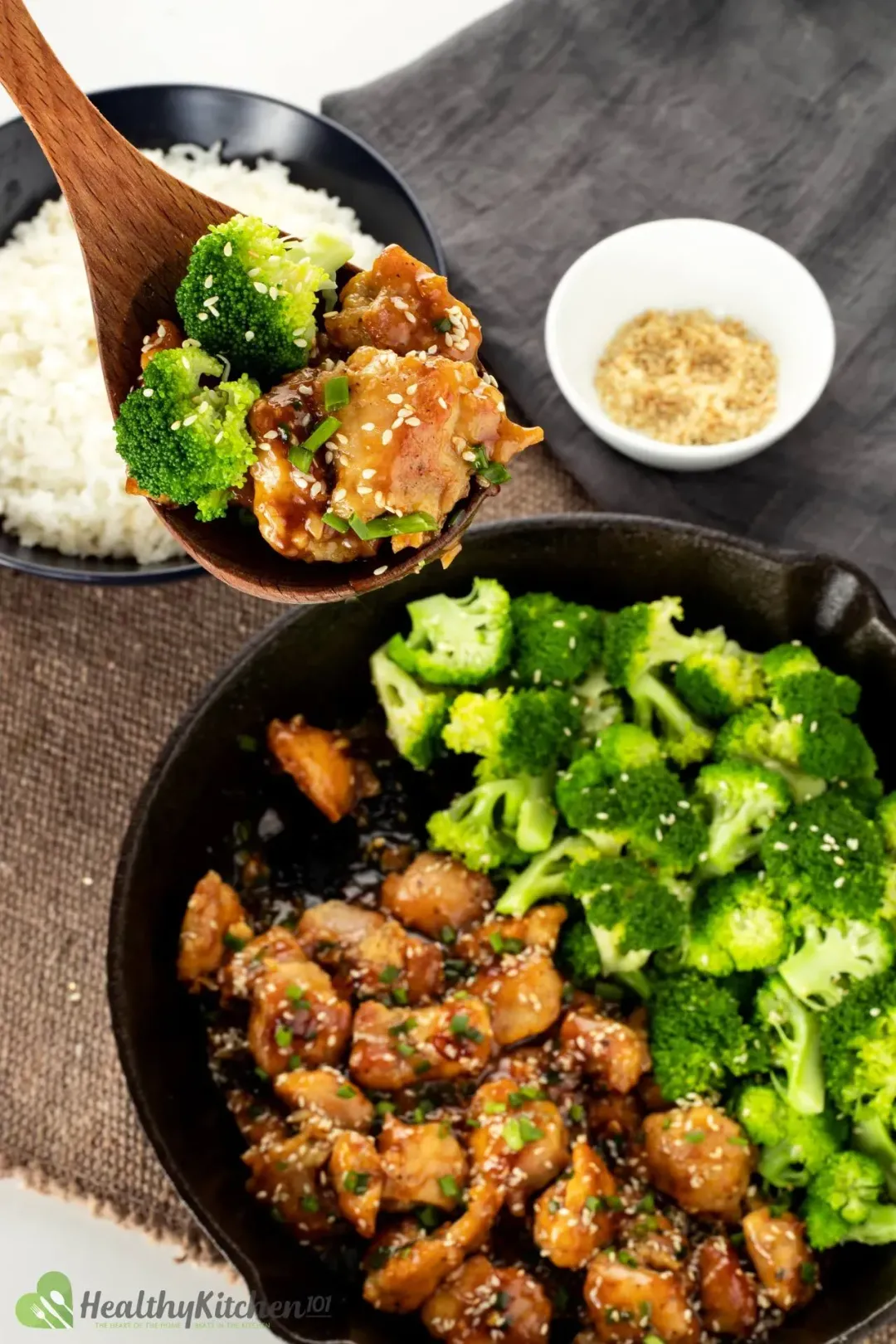 Honey Sesame vs General Tso Chicken
Though having similar features, sesame chicken and General Tso chicken are not the same. Sesame chicken is sweet, savory, and less spicy than General Tso chicken.
While sesame seeds are a must for sesame chicken, they are only one of the toppings in General Tso chicken.
The difference between these two is not so significant, and it's mainly the sauces that tell them apart. You would need only a few ingredient replacements to turn sesame chicken into General Tso chicken.
Many people also find that sesame chicken sauce is similar to teriyaki sauce. Truth be told, teriyaki chicken is actually sweeter and less nutty as it has no sesame seeds or sesame oil.
We also have a great recipe for teriyaki chicken. Take a look at it to spot more differences if you want… or just enjoy it's deliciousness!
Is This Recipe Healthy?
At HealthyRecipes101, we strive to create healthier versions of every recipe we come across. Honey sesame chicken is no exception.
The color and flavor of this dish are amped up by organic and low-sodium ingredients only. Moreover, these basic ingredients can easily be found in your kitchen and very quick to pull together.
1. Calories
One serving of this sesame chicken delivers you 496 calories. If you wish to cut down on the calories, simply skip the coating and omit cornstarch from the sauce.
2. Carbs
You'll get 57 grams of carbohydrate from one serving of this sesame chicken. In which, there are only 6 grams of sugar coming from honey, making this an ideal choice for low-carb dieters.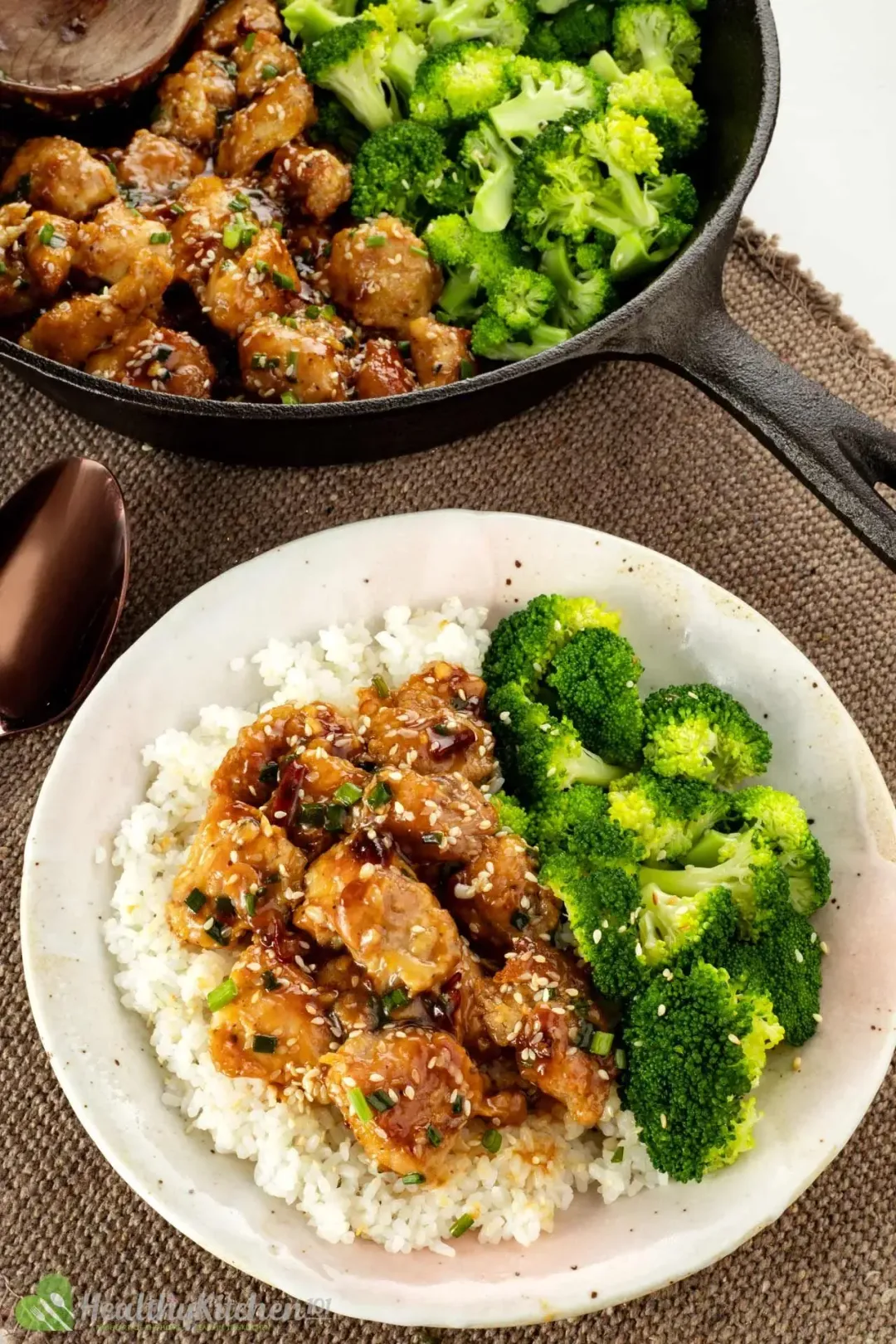 Substitutions
Chicken thighs and chicken breasts can be used interchangeably in this recipe. The same goes for oil— you can also swap avocado oil with olive oil or coconut oil.
1. Chicken Breast
Chicken breast will make this dish leaner as it's white meat. However, as chicken breast is low in fat, it dries out faster than chicken thighs.
For that reason, you might have to adjust the frying time and minus a minute or two. Otherwise, the chicken could be overcooked and become rubbery.
2. Chicken Wings
If it's chicken thighs or chicken breasts, the chicken must be cut into bite-size pieces to cook with the sauce. However, the preparation would get a bit simpler if chicken wings are used.
You can leave chicken wings as they are without chopping them small. Other than that, simply treat them as chicken thighs as these two cook in an equivalent amount of time.
Final note: as the skin is on, chicken wings will certainly add up calories and fat to the dish. Be careful not to let the nutrition values skyrocket.
For more delicious chicken thigh recipes, check out our amazing chicken thigh roundup.
Sauce
There are countless variations of this sauce as it's completely open for people to make alterations to suit their taste.
In this recipe, the sauce calls for garlic, ginger, olive oil, soy sauce, honey, chicken broth, and apple cider vinegar. We carefully tested and observed the ingredient ratios to ensure that the sauce consistency is just right. For a variation of this sauce, check out our Instant Pot Sesame Chicken Recipe.
How Can You Thicken the Sauce?
We get that sometimes it's hard to get the right consistency for the sauce. It can easily end up being too thick or too runny.
Therefore, we've come up with a couple of ways to adjust the sauce as you go.
If you want to fix a watery sauce, simply blend it with a mixture made of cornstarch and cold water. We suggest your cornstarch to water ratio should be 1:1.
Trying to fix a sauce that's too thick? Then you'll need to whisk in a few spoonfuls of water or chicken broth to dilute it.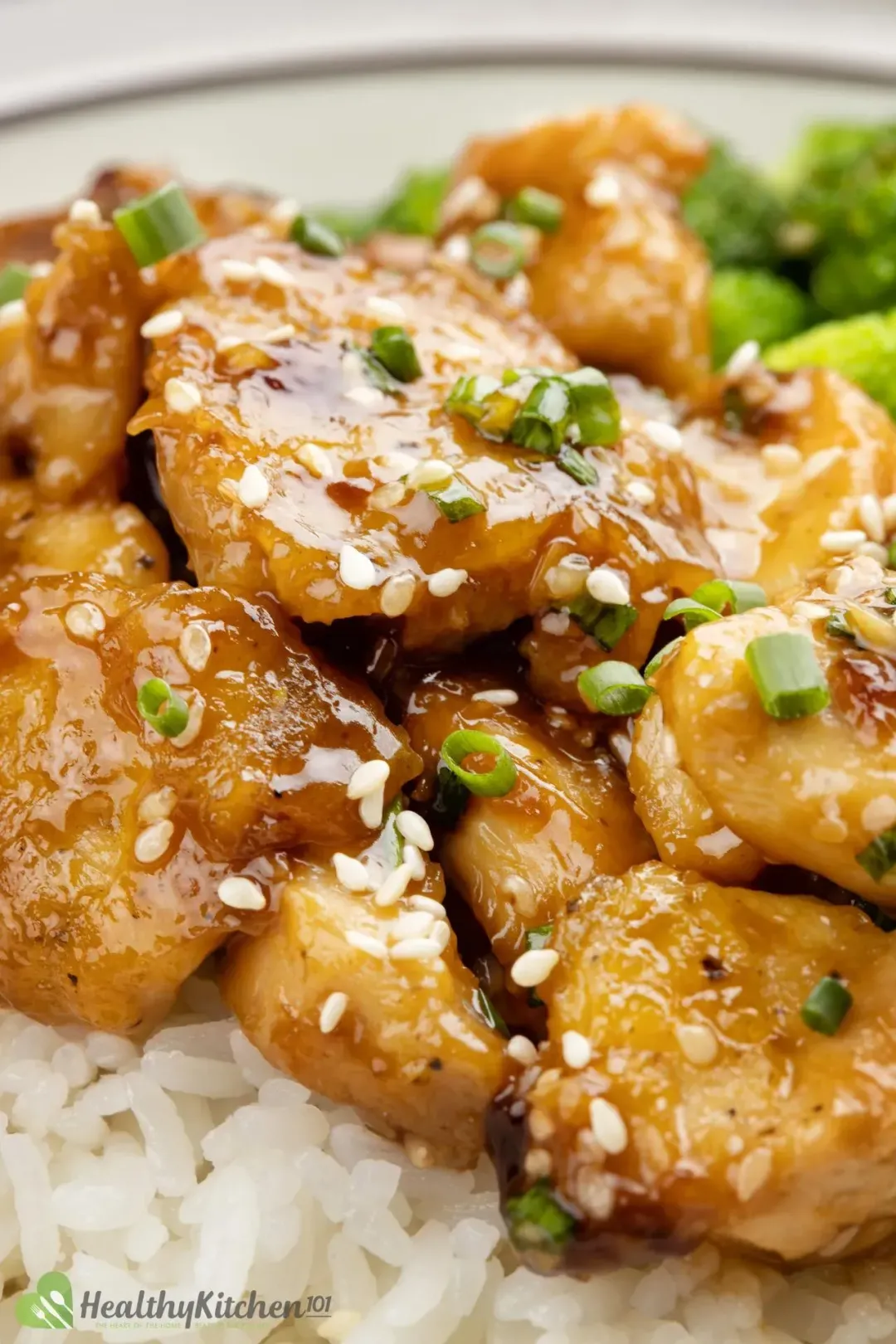 Please note that you should make adjustments while the sauce is still cooking. Make sure that you go gradually with one spoonful of liquid at a time to avoid over-thickening or over-thinning.
What Goes with This Dish
The combination of umami flavor from the soy sauce and spice mixture complements the crispy chicken beautifully. But we believe it's not truly complete without some of the following add-ons:
1. Broccoli
To help create a balanced meal, we came up with the idea of serving steamed broccoli alongside the sesame chicken.
However, broccoli will get soggy quickly when it sits in the sauce and absorbs all the liquid. Therefore, it shouldn't be overcooked.
You should leave the broccoli a bit firm, rather than steaming it to a soft and mushy texture. It's always better to be safe than sorry, right?
2. Honey
Honey adds a lovely touch of sweetness to the sauce and perfectly balances the dish's flavor. The key is to estimate just the right amount of honey.
3. Rice
A nice bed of hot steamed rice to serve along with sesame chicken is also a smart choice. Rice makes a neutral base for this dish as other ingredients have already given all the bold flavors.
4. Noodles
If cooked white rice doesn't appeal to you, consider noodles. To make it with noodles, simply steam them separately and serve alongside the sesame chicken.
You can also add noodles in the pan to cook with the chicken and enjoy it all together. However, in that case, you will have to alter liquid levels accordingly.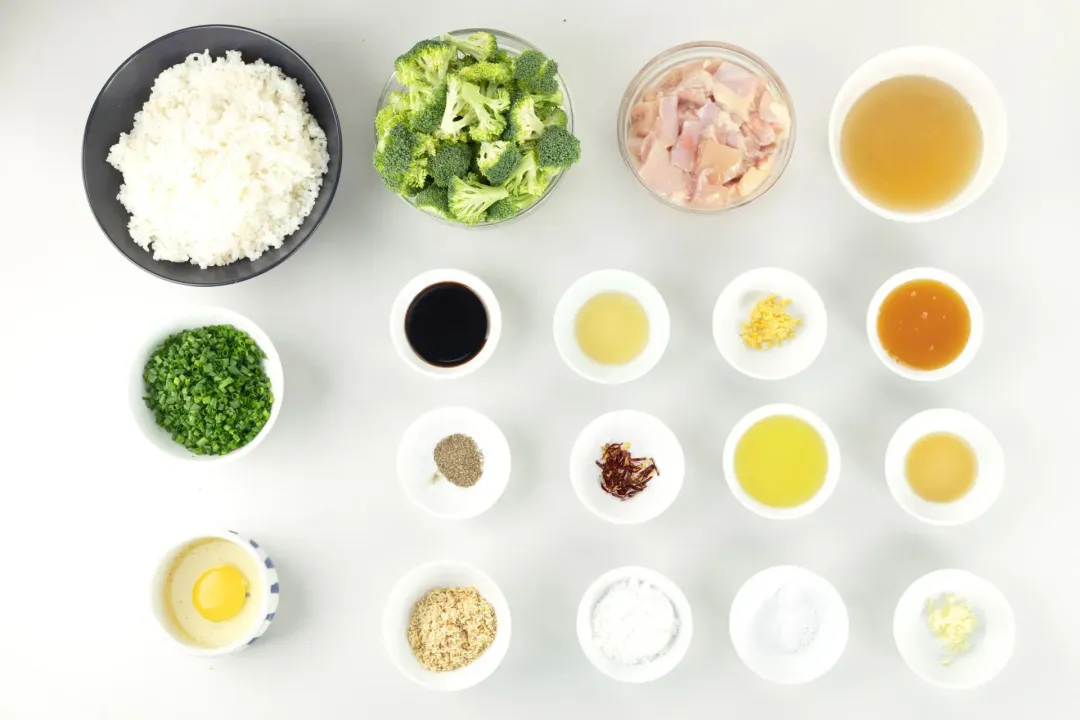 How Long Does It Last in the Fridge?
Sesame chicken starts absorbing the sauce right from the moment you remove it from heat. If left too long at room temperature, it will get soggy.
Therefore, our advice is it's good to gauge the meal size to cook just enough sesame chicken for one meal.
However, if you find yourself with leftovers, rest assured that it'll remain edible and tasty within 2 days under refrigeration. Though the crisp could hardly be the same as when it's newly cooked, its marvelous flavor still stays unaltered.
How to Freeze
To freeze sesame chicken, simply transfer it to an airtight container and cover tightly with a lid. Pop it into the freezer and the leftovers can last up to 2 months that way.
To have perfectly cooked chicken every time, this healthy and delicious chicken roundup have a bunch of ideas.
What to Serve with
We added extra flavors to sesame chicken by serving it alongside miso soup and a refreshing milk and orange juice. We hope that you'll find this combination as enjoyable as we did!
1. Miso Soup
To make it an Asian-style combo meal, miso soup is our top choice of side for sesame chicken. This traditional Japanese soup is warm, comforting, and bursting in flavors with soft silky tofu, seaweed, salmon, and shrimp.
2. Milk and Orange Juice
There are a lot of different flavors coming together in this dish so far. Though it may sound odd, this milk and orange juice really can round them off nicely.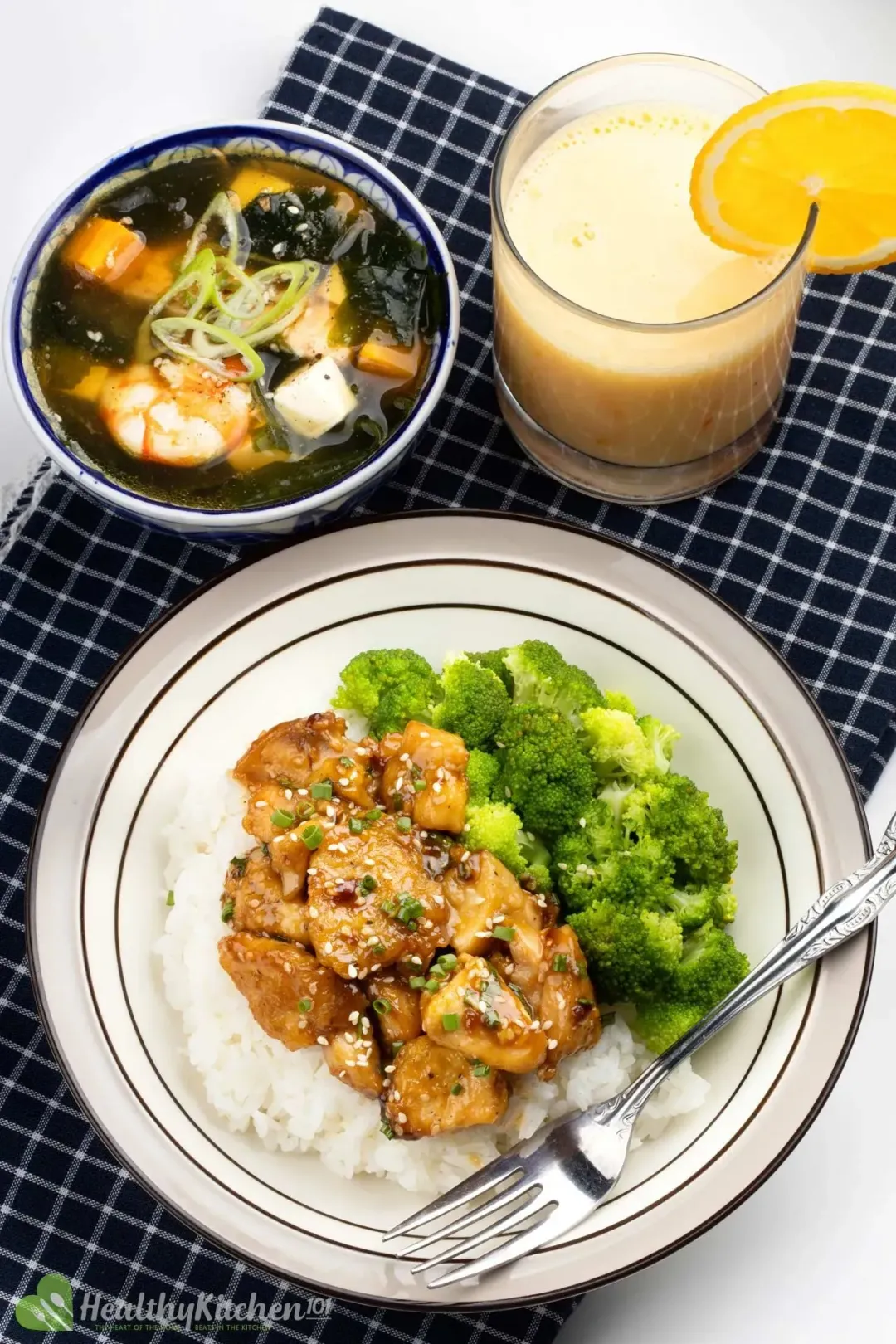 Try it and tell us what you think!
Sprinkled with lots of sesame seeds as well, these honey-glazed chicken nuggets are also to die for. The sauce is thickened soy sauce, honey, and ketchup for that red-ish, delicious color. The whole meal of chicken, cooked rice, and steamed bok choy comes together in just 20-30 minutes.
This recipe also cooks chicken and serves it with rice, but it's a curry. A Thai curry, with not just spices but also tons of Asian aromatics. It's got all the flavors, and when it cooks, your kitchen will be all warmed up.
In case you want more rice and chicken but cooked together, we have this fried rice collection you may find interesting. It also has chewy sausages, all tossed in plenty of flavors.
Honey Sesame Chicken
With the cooking process done in 35 minutes, this honey sesame chicken recipe is here to save you time and make your dining companions rush to the table. Fast cooking, easy cleanup, family-friendly, with healthy ingredients— feel free to have the food you love without fearing a food coma!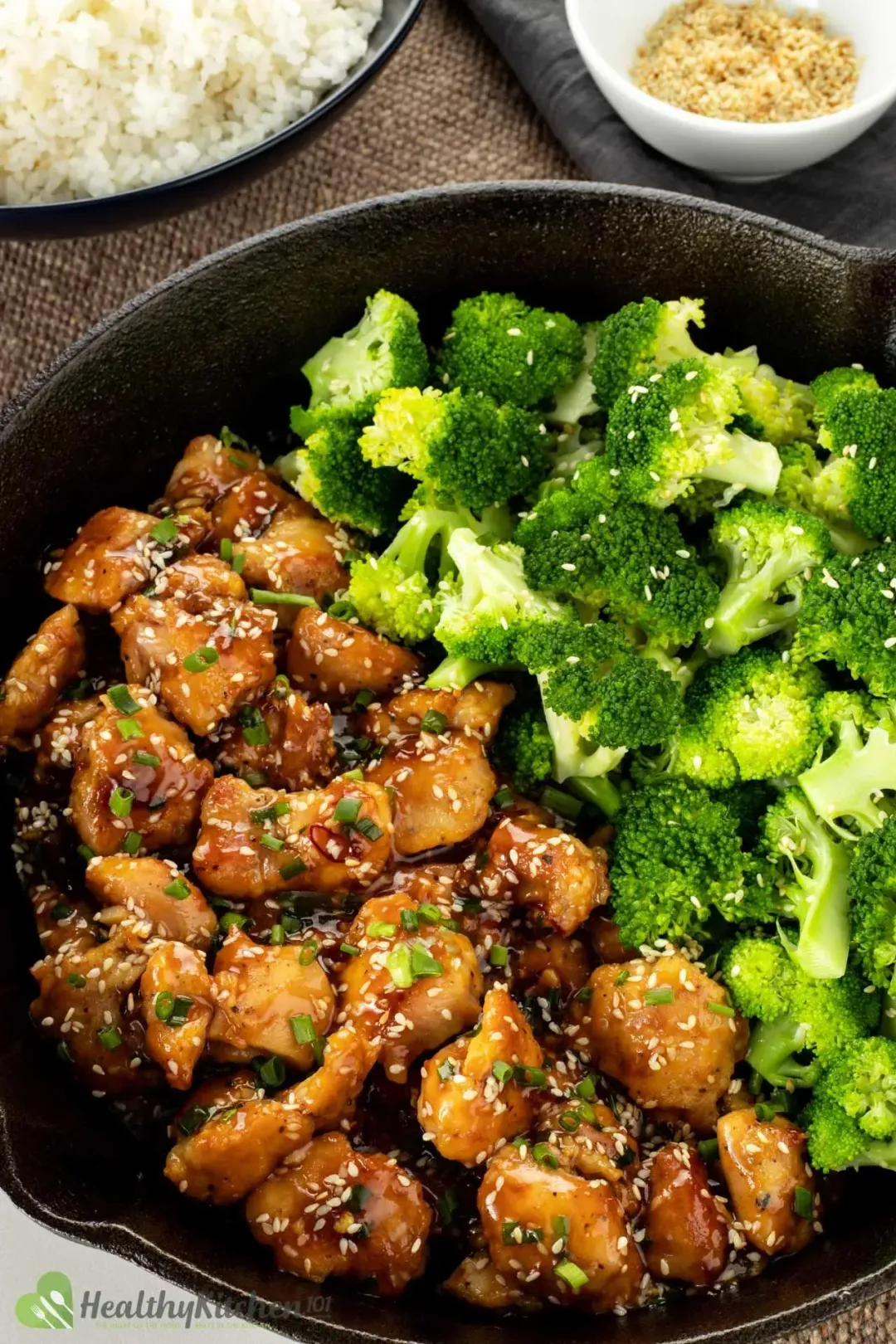 cook TIME

20 mins

prep TIME

10 mins

total TIME

35 mins

INACTIVE TIME

5 mins
COURSE

Main Course

CUISINE

Asian, Chinese

SERVINGS

CALORIES

475 kcal
INGREDIENTS
12 oz

skinless boneless chicken thighs

(chunked)

0.35 oz

sesame seeds

(roasted)

3 cups

cooked medium-grain rice

(1 cup uncooked)

1/2 cup

unsalted chicken broth

5/2 tbsp

olive oil

(divided)

3 tbsp

cornstarch

(divided)

2 tbsp

reduced sodium soy sauce

1 tbsp

apple cider vinegar

1/4 tsp

ground black pepper

1/2 tsp

red pepper flakes
INSTRUCTIONS
Prep
2
Steam the broccoli until tender.
Cook
1
Mix together 1 egg, 1/4 tsp salt, 1/4 tsp ground black pepper, and 2 tbsp cornstarch in a bowl. Add 12 oz chicken to marinate. Let it sit for 5 minutes.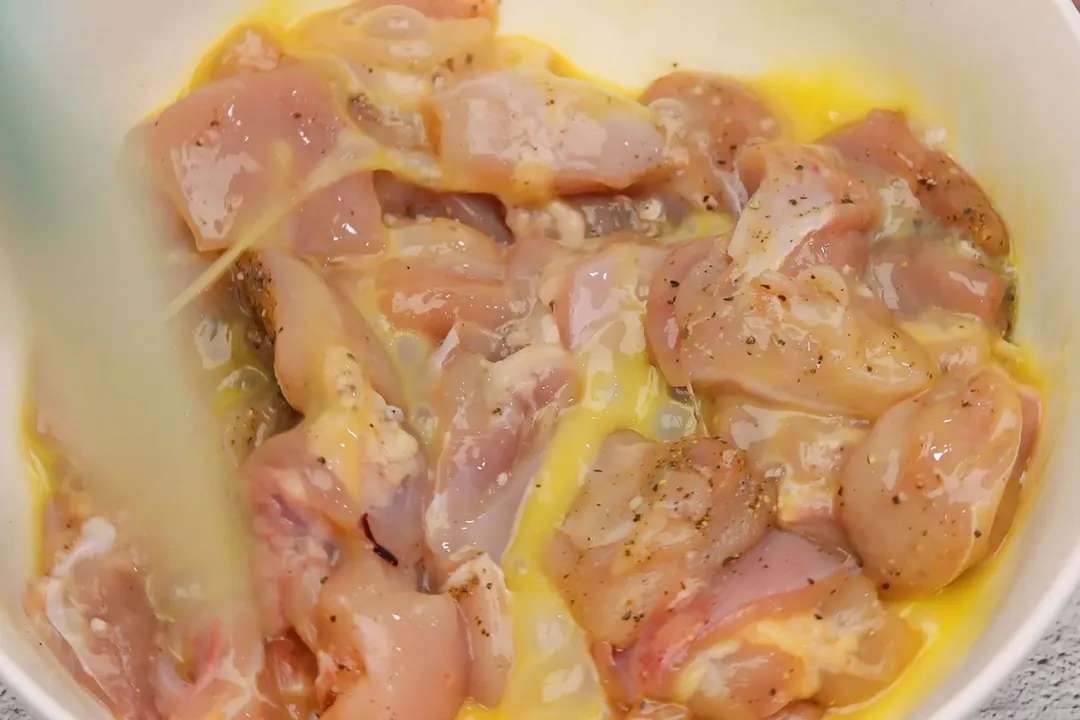 2
Heat 2 tbsp olive oil in a nonstick skillet over medium-high heat to sauté the marinated chicken. Stir frequently for 10 minutes until they're browned on all sides.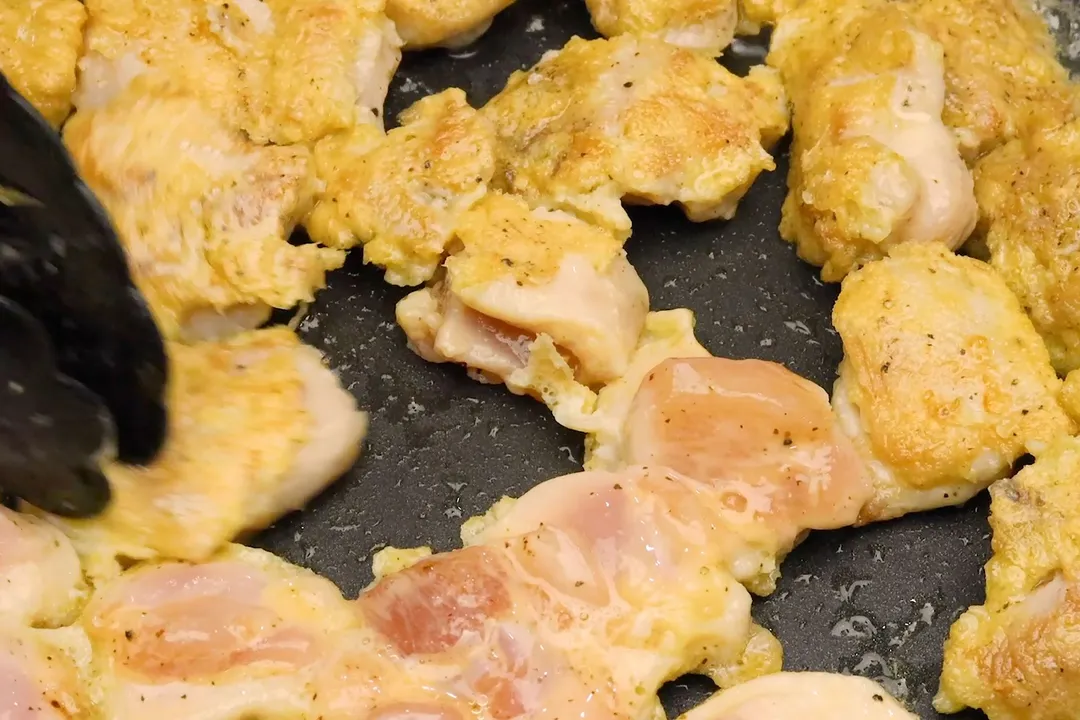 3
After the chicken is cooked, transfer it to a large bowl and set aside.
4
In the same skillet, make the sauce mixture: Turn on medium heat, add 1 tsp garlic, 1 tsp ginger, and 1 tbsp olive oil. Stir.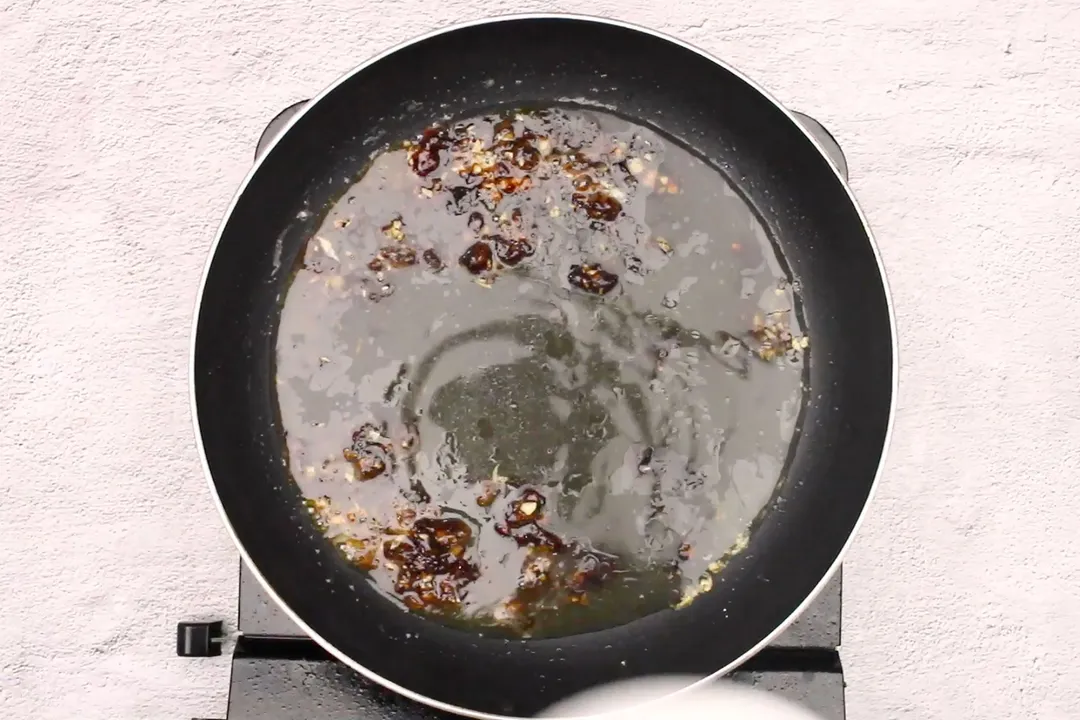 5
Continue to add the following ingredients to the skillet successively: 1 tbsp cornstarch, 2 tbsp soy sauce, 1 tbsp honey, and 1/2 cup chicken broth (it's important that it is done in this order, otherwise the sauce will be muddy). Let it simmer and stir frequently until it starts to bubble and thicken.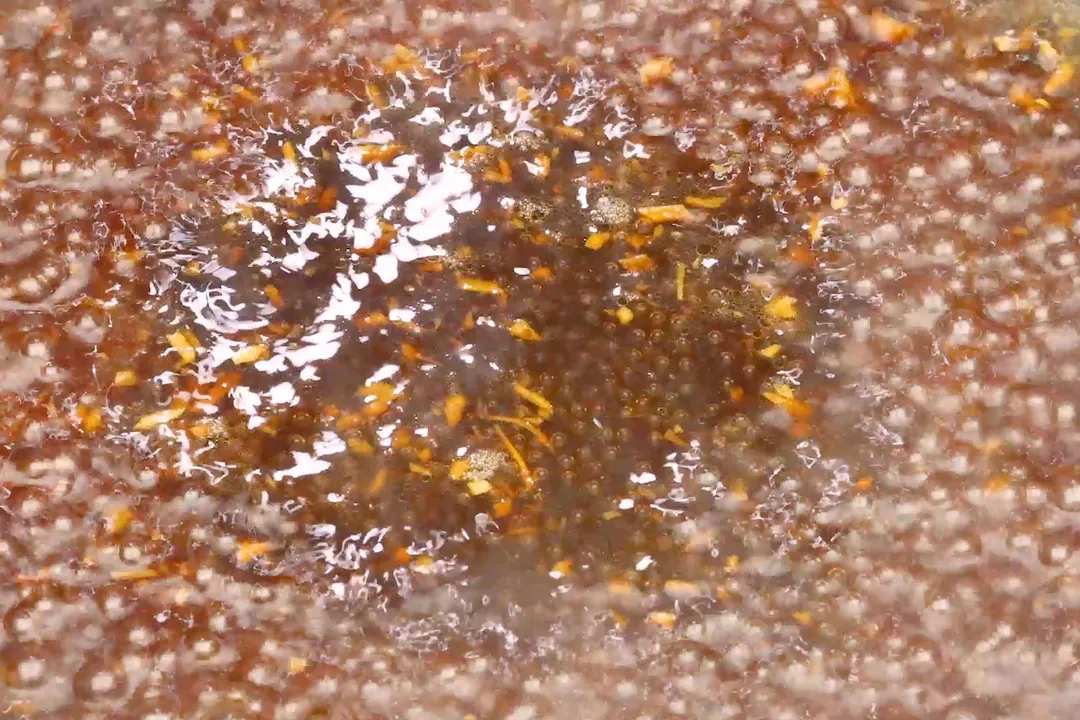 6
Stir 1 tbsp apple cider vinegar in and transfer the cooked chicken back into the sauce mixture. Stir to coat the chicken chunks evenly.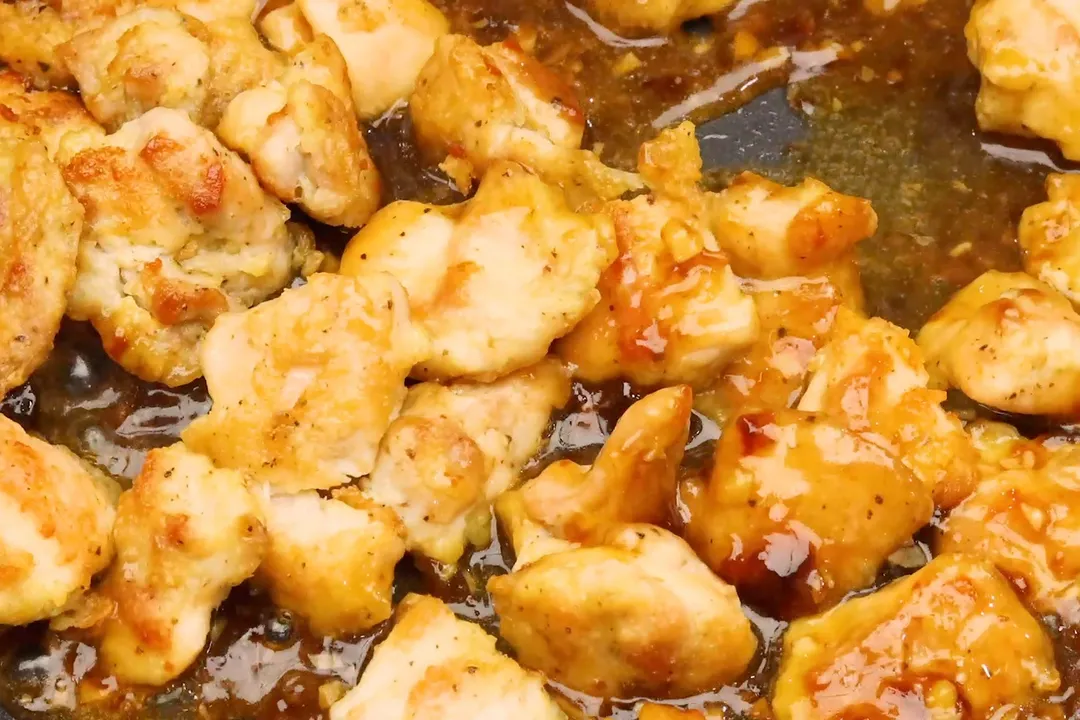 7
Sprinkle in 1/2 tsp red pepper flakes, 1 oz chopped scallions, and 0.35 oz roasted sesame seeds. Finally, add 1 tsp sesame oil and give it one last stir.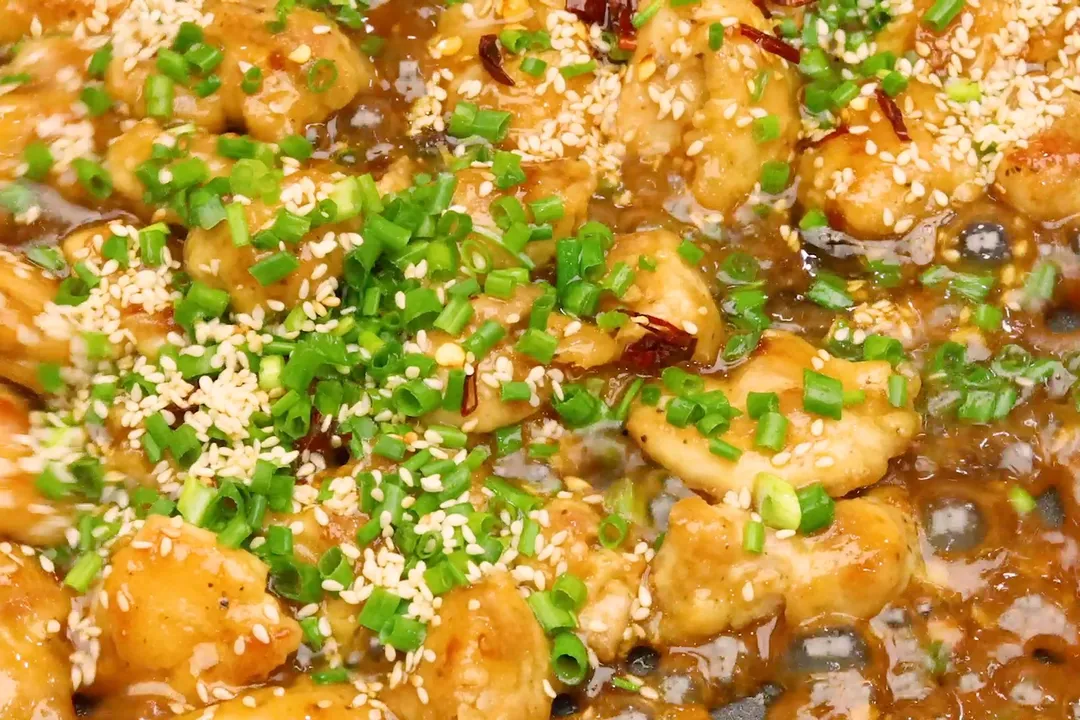 8
Remove the skillet from the heat.
9
Serve sesame chicken over a bed of 3 cups hot cooked rice and 10 oz steamed broccoli, sprinkle a few pinches of roasted sesame seeds and chopped scallions on top. Enjoy!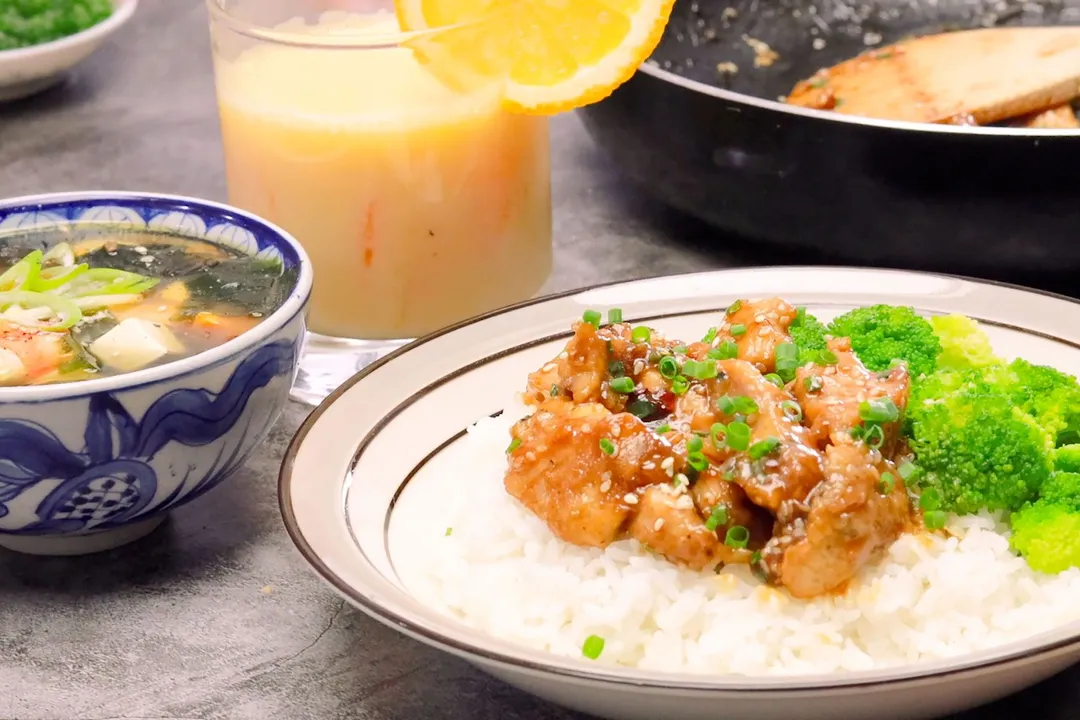 NUTRITION
Nutrition Facts
Honey Sesame Chicken
Amount Per Serving (1 serving)
Calories 475
Calories from Fat 144
% Daily Value*
* Percent Daily Values are based on a 2000 calorie diet.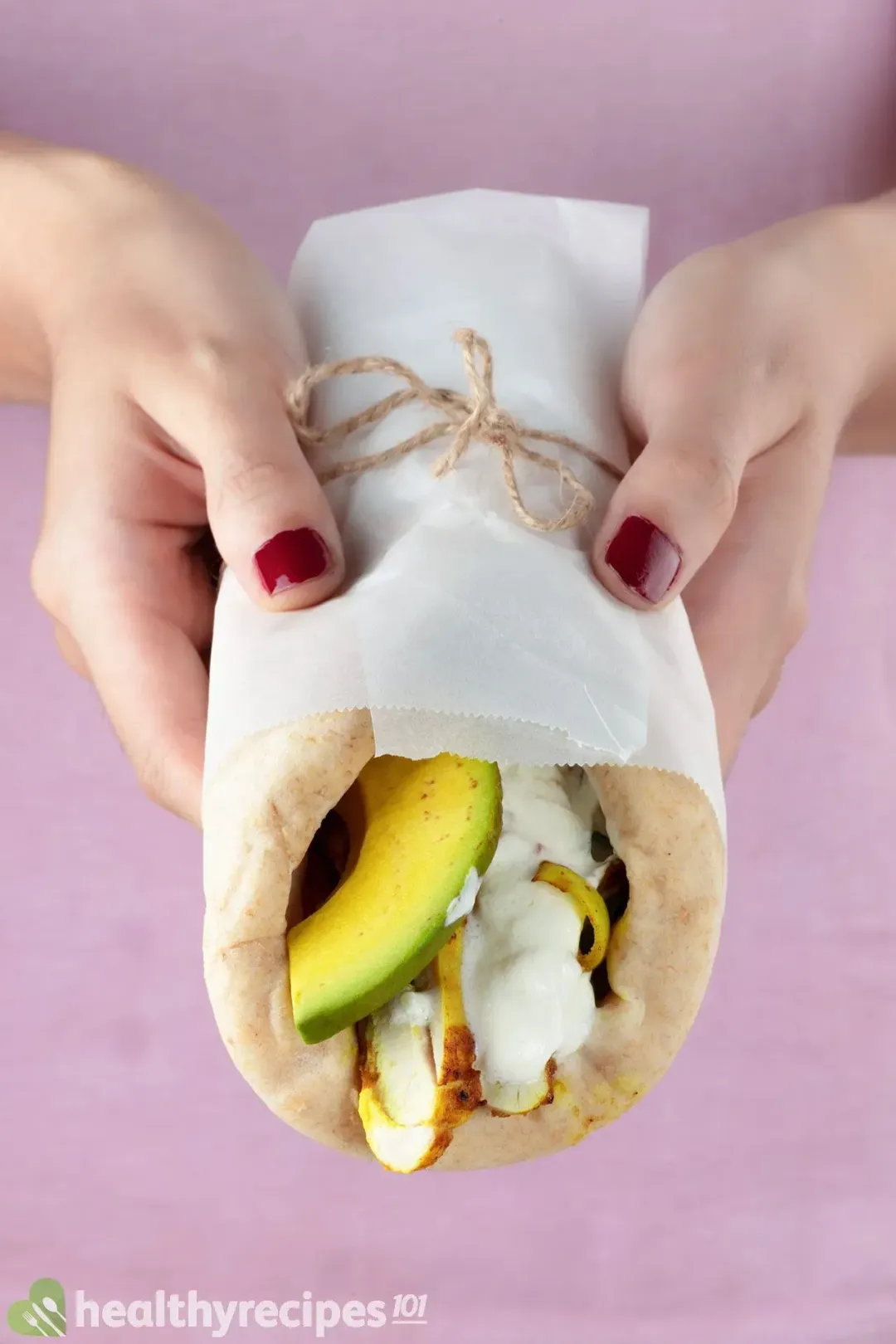 Previous Recipe
Healthy Chicken Shawarma
Healthy Chicken Shawarma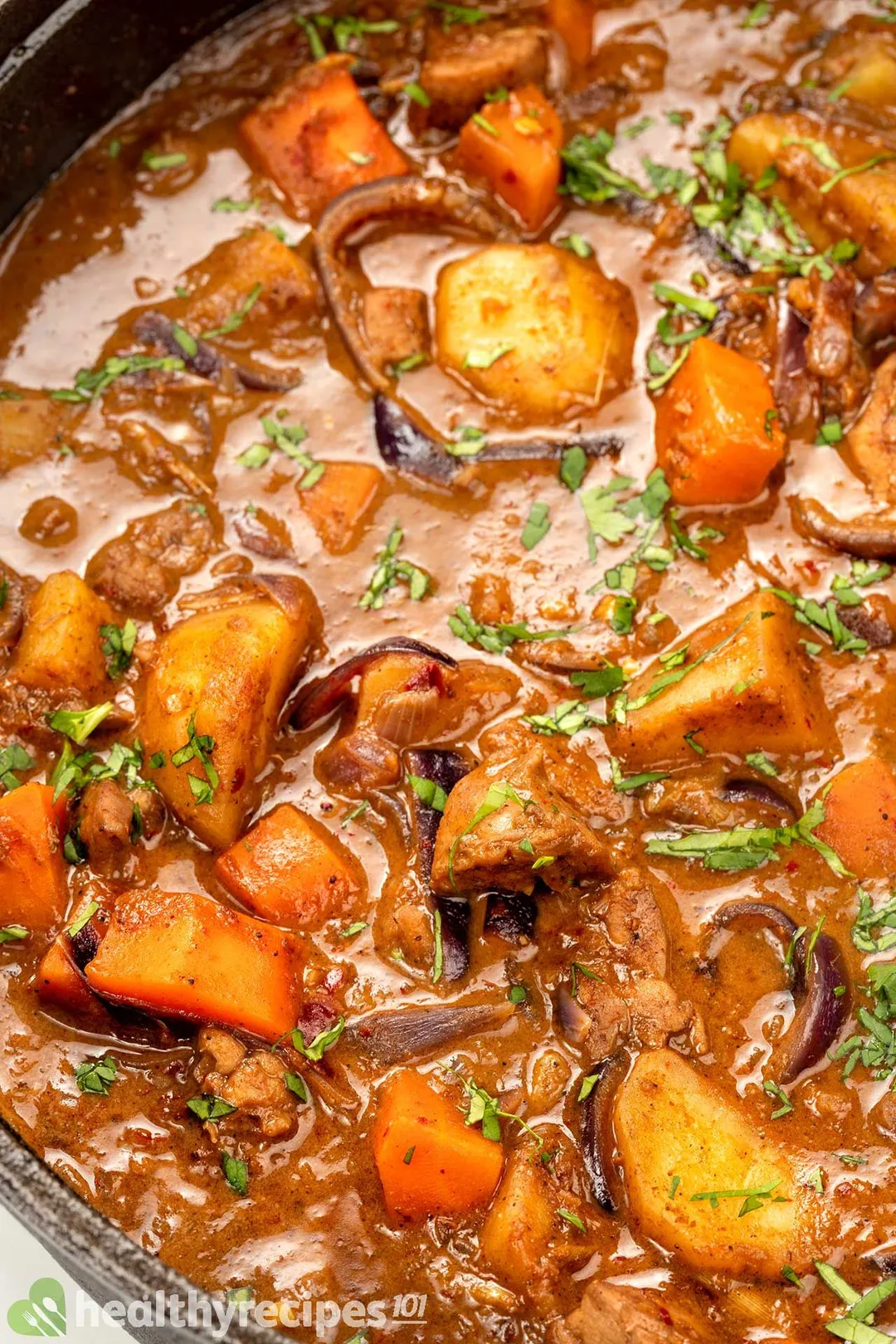 Next Recipe
Chicken Massaman Curry
Chicken Massaman Curry
Head Chef, Culinary Consultant
Tuyet Pham is an award-winning Saigonese chef who believes that joy is the secret ingredient to delicious food. At Healthy Recipes 101, Tuyet personally tests and simplifies every recipe, ensuring maximum flavor with minimal effort. With a background at prestigious French restaurants P'TI Saigon and Le Corto, Tuyet knows how to make every dish exceptional.
Writer, Author
Luna Regina is an accomplished writer and author who dedicates her career to empowering home cooks and making cooking effortless for everyone. She is the founder of HealthyKitchen101.com and HealthyRecipes101.com, where she works with her team to develop easy, nutritious recipes and help aspiring cooks choose the right kitchen appliances.
Nutrition Reviewer
Lizzie Streit is a Minneapolis-based dietitian and founder of It's a Veg World After All. She completed her MS in Human Nutrition from Drexel University, and is an expert in culinary nutrition, recipe development, and nutrition communications. Lizzie's philosophy is centered around making nutrition recommendations, and especially the advice to eat more vegetables, approachable and realistic. She is excited to be working with the team at Healthy Recipes 101 to ensure that their recipes are both nutritious and delicious.
Very easy to make and to eat. The flavor is not as strong as I thought it would be, how nice.

Mouth-watering. Very quick work night meal.