As the name suggests, today's Buffalo chicken thighs recipe features Buffalo sauce—one of the most popular sauces in the world. Its bold flavor is a great addition to the tender chicken thighs, giving you a delectable dish to enjoy.
Reasons to Love
Buffalo sauce can pack a ton of flavor into a dish; this one is no exception. The seared chicken thighs are flavorful thanks to the crispy caramelized edges and succulent meat. Buffalo sauce does a great job elevating the chicken with its savory, tangy, and spicy flavors.
This recipe takes about 40 minutes from start to finish, with only half an hour of cooking time required. It is a decent choice for a fairly quick weeknight dinner or a make-ahead meal for the next day.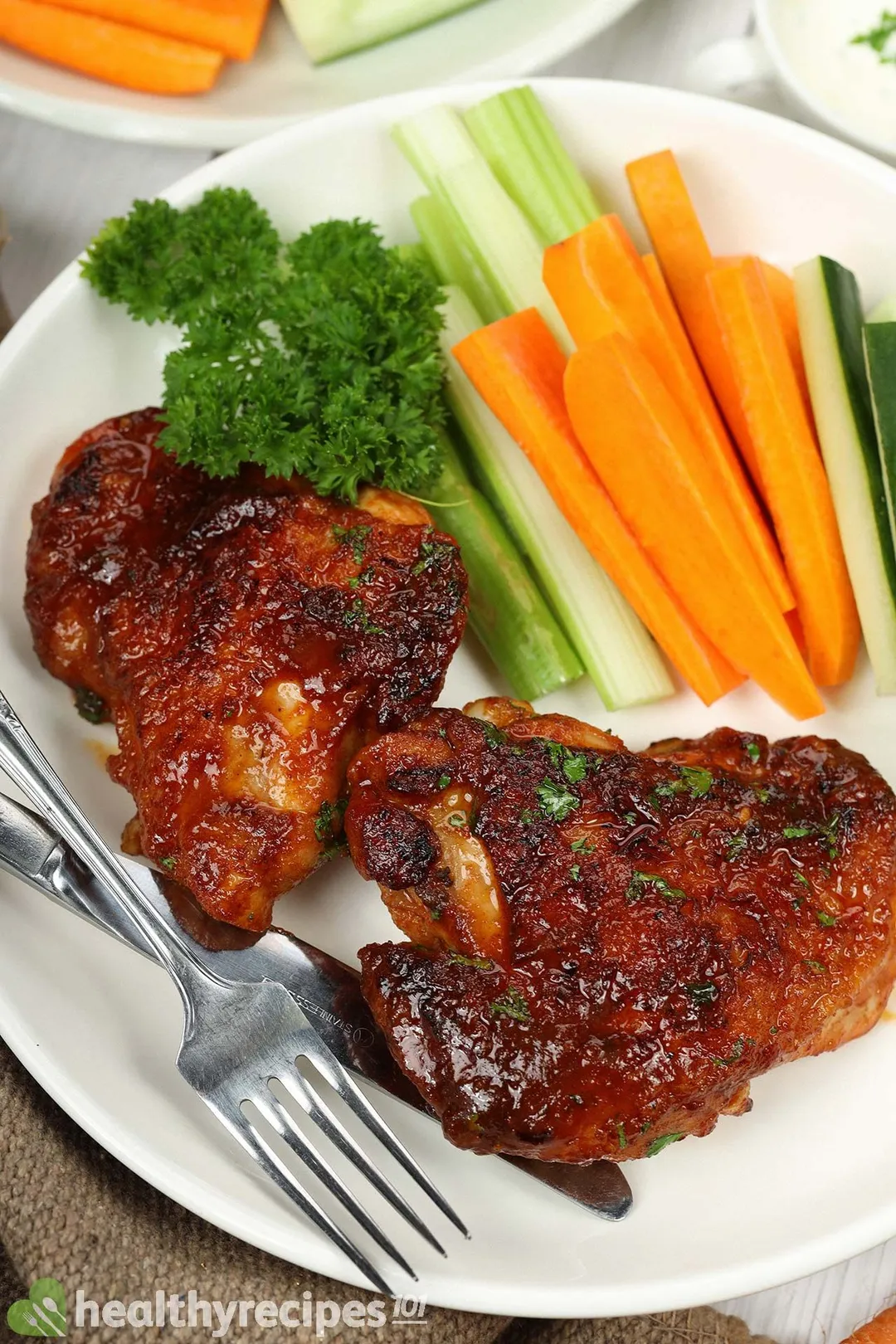 Is This Dish Healthy?
This Buffalo chicken thighs recipe is a great option for a healthy diet as it includes multiple nutritious ingredients, such as chicken thighs, carrots, cucumbers, and celery.
Chicken thighs are an excellent source of protein, providing 26.1 g of protein per serving. This cut can be a bit fatty but don't worry: We've reduced the use of oil to only ½ tablespoon, thus cutting down the total fat content of the dish as much as possible.
Carrots, cucumbers, and celery are great sources of dietary fiber and antioxidants, especially vitamins A and C. These three vegetables are served raw in this recipe, allowing them to retain more of their nutrients.
The flavorful Buffalo sauce may be a concern due to the number of seasonings used. However, we make sure to use them moderately to keep the sodium level in check.
Overall, there are 8.5 g of saturated fat and 604 mg of sodium in each 464-calorie serving, all within the limits of our nutrition guidelines.
Ingredients You'll Need
1. Chicken
Chicken thighs: We use skin-on and bone-in chicken thighs for their tender and flavorful flesh. Score the chicken lightly to help them absorb the seasonings better.
Seasonings: You only need to season the chicken lightly. We recommend using garlic powder, paprika, and salt to subtly enhance the flavor and add color.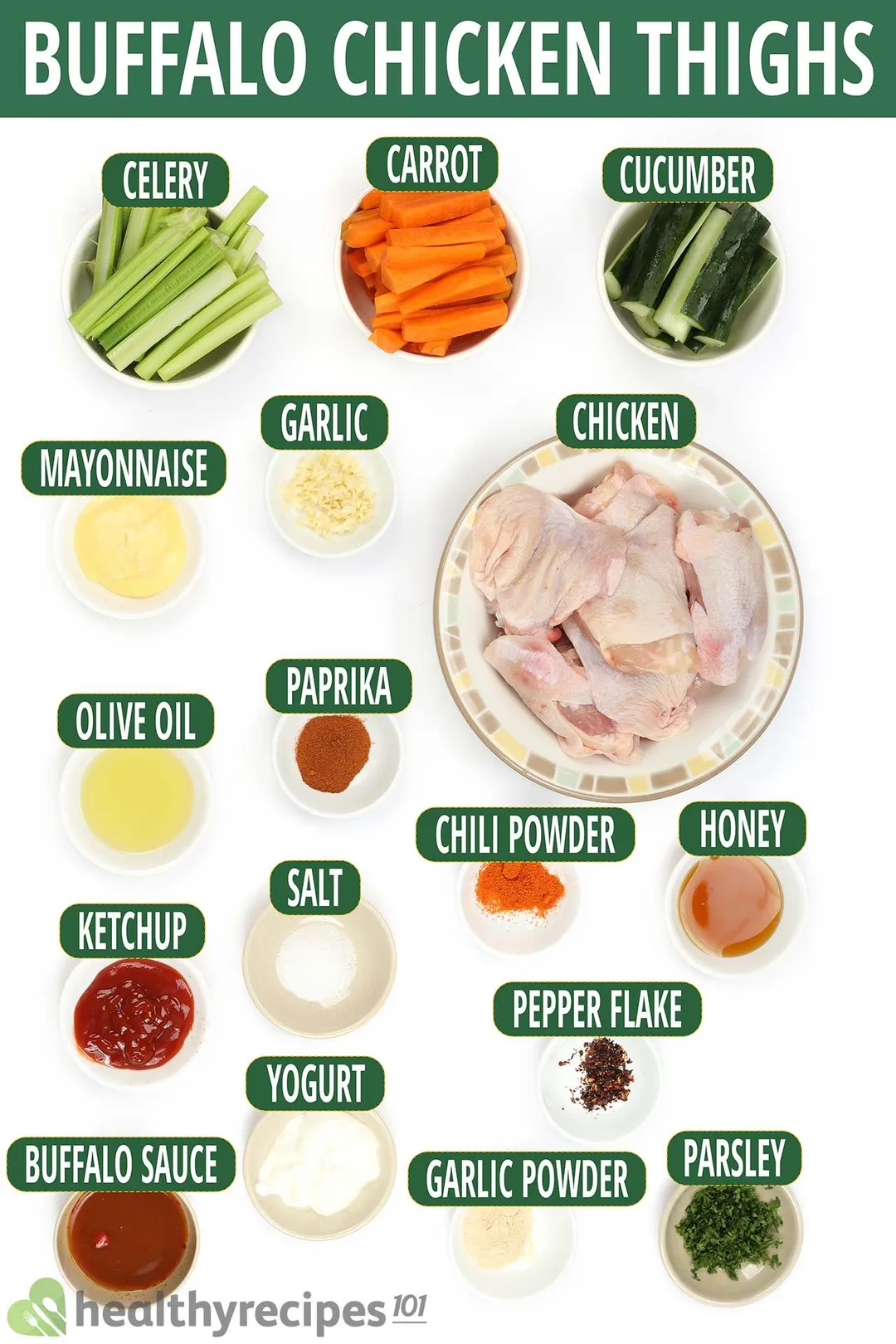 2. Buffalo sauce
Homemade Buffalo sauce: We use our variation of Buffalo sauce for this recipe. It features melted butter, rice vinegar, garlic powder, Worcestershire sauce, two types of chili (jalapeño and bird's eye), and some additional seasonings. 
Ketchup: Right off the bat, you can tell that the Buffalo sauce is rather spicy on its own, so we add some ketchup to balance out the heat with its sweet taste.
Honey: Honey serves the same purpose as ketchup, mellowing out the spicy and sour taste and adding its signature fruity sweetness.
Red pepper flakes and chili powder: These two ingredients can be used together or interchangeably; it's up to you. If you can't handle the heat, reduce the amount or leave them out.
3. Vegetables
Carrots: Raw carrots have a slightly earthy and sweet taste.
Cucumbers: Cucumbers add a refreshing note thanks to their mild flavor and high water content.
Celery: Celery has the most distinctive taste out of the three. It is slightly sweet with aromatic, herby undertones with the slightest hint of bitterness.
4. Vegetable dip
Japanese mayonnaise: This brings in some much-needed richness and sweetness to make the raw vegetables more palatable.
Greek yogurt: We double down on the creaminess with Greek yogurt with an extra tanginess.
Garlic: The pungency of garlic works harmoniously with the wholesome richness of mayonnaise and Greek yogurt, essentially turning this dip into a quick aioli.
Parsley: It adds an herby note and some color to the sauce.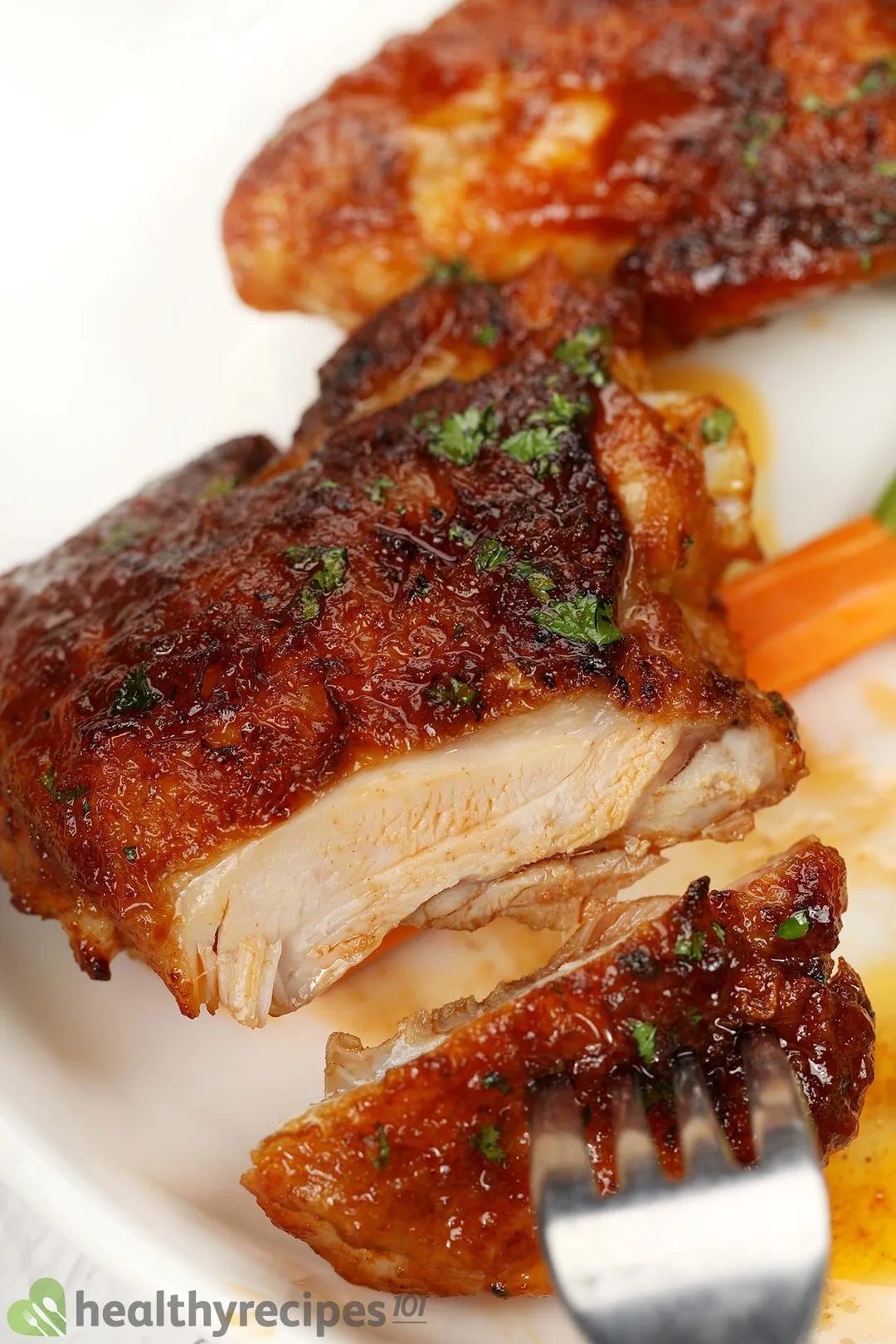 How to Store and Reheat
If you're planning a meal prep, we recommend only preparing the vegetables and dip right before serving to preserve their best quality. For the chicken, however, you can make it ahead of time.
Buffalo chicken can last for three days in the fridge and up to 3 to 4 months in the freezer. Store the leftovers in an airtight container or freezer-safe Ziploc bags.
To reheat the chicken, put them in a baking tray and bake in a preheated oven at 400 °F for 15 minutes or until warm.
You can also use the defrost program of a microwave to thaw the chicken before reheating it.
What to Serve With
Check out our favorite side dishes to serve alongside this main course:
FAQ
1. What Is The Sauce Made of?
A Buffalo sauce recipe often contains melted butter, hot sauce, and cayenne. However, you can replace these ingredients with similar spices and condiments.
Also, you are welcome to add other ingredients to the sauce and adjust its flavor to your liking.
2. Is Buffalo Chicken Spicy?
Yes. One of the most appealing things about Buffalo flavoring is the heat.
If you're not good with spicy food, however, you can reduce the amount of hot sauce, chili, or chili powder in the recipe. Also, adding ketchup, honey, or vinegar can help tone down the heat.
3. What Are Methods for Cooking This Dish?
There are numerous ways to make a delicious Buffalo chicken dish.
If you're looking for a quick meal, consider cooking in a skillet on the stovetop like this recipe.
You can also cook the chicken in the oven or air-fryer.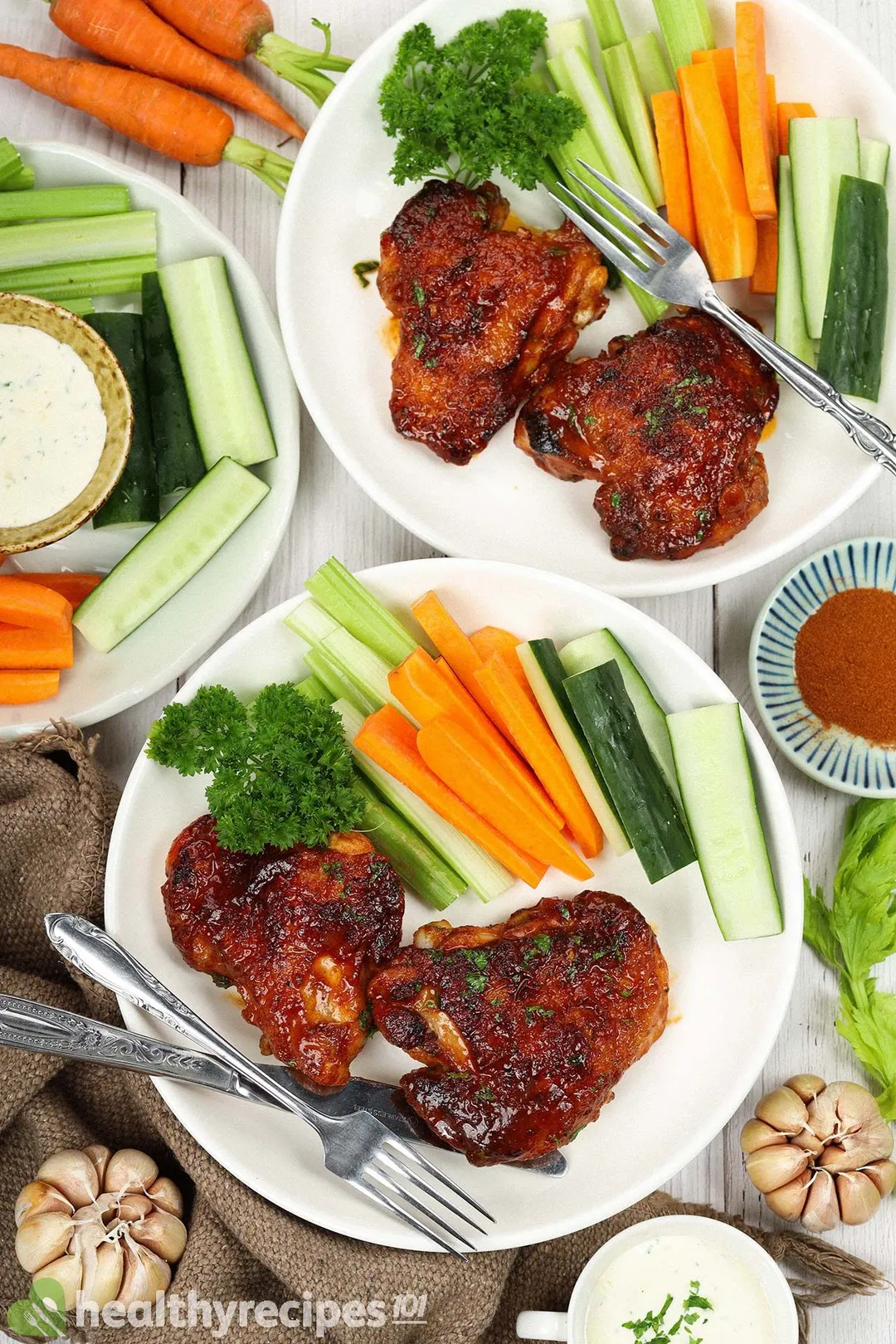 More Delicious Chicken Recipes to Try
This recipe is guaranteed to provide you with a diverse experience of flavors and textures. It features succulent chicken, fork-tender squash, meaty mushrooms, browned onions, and starchy chickpeas that are seasoned and baked to perfection, resulting in an earthy and savory dish.
As mentioned in the name, this dish is a simple combination of chicken and zucchini, with some mashed chickpeas on the side. The chicken is seasoned with a variety of spices, resulting in a delicate and sunny flavor combination that instantly brightens the taste buds.
Buffalo Chicken Thighs
Today's Buffalo chicken thighs recipe features succulent chicken thighs and crunchy vegetables. Enjoy this simple yet flavorful dish on a game night with family and friends.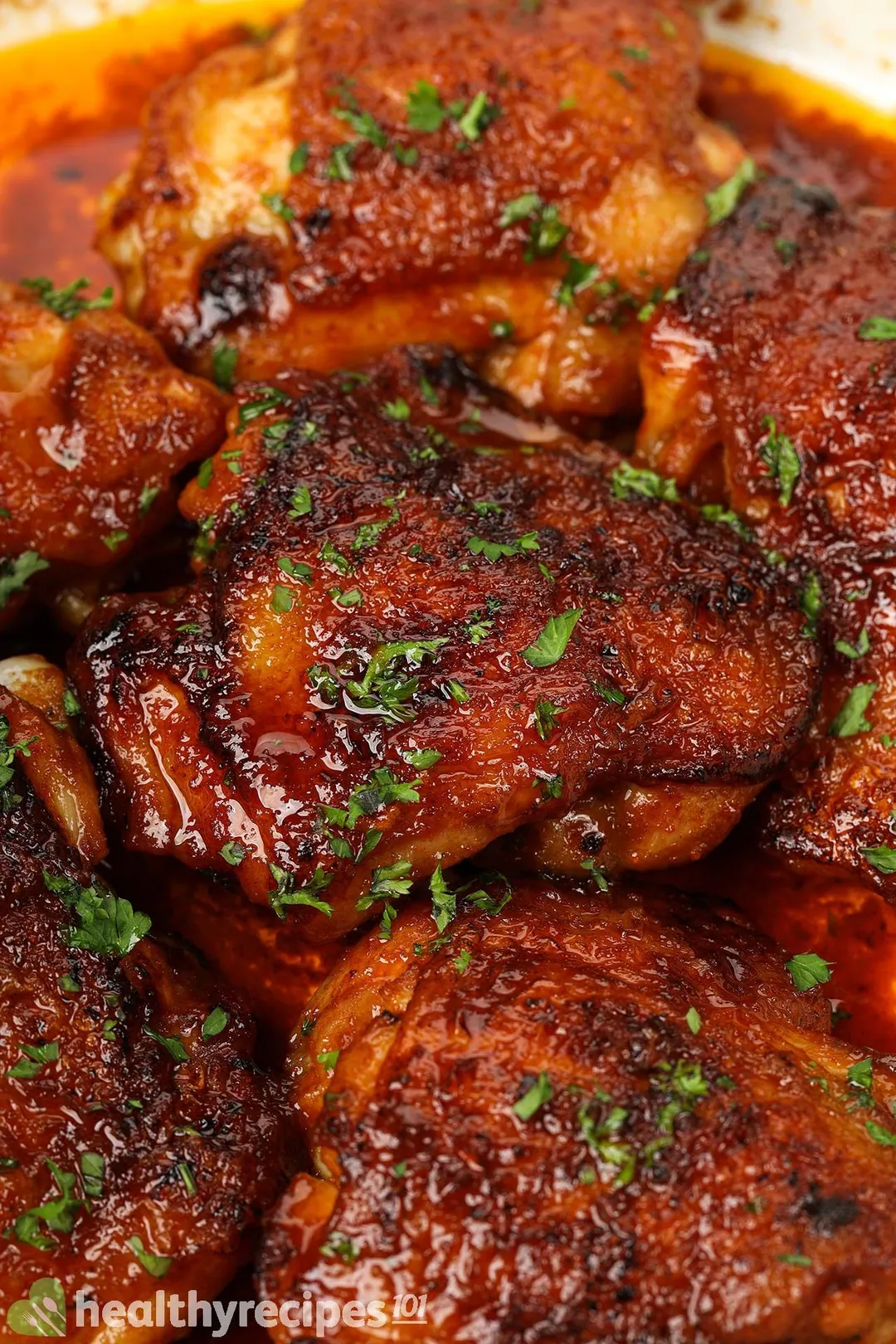 cook TIME

30 mins

prep TIME

10 mins

total TIME

40 mins
COURSE

Main Dish

CUISINE

American

SERVINGS

CALORIES

461 kcal
INGREDIENTS
20 oz

skin-on and bone-in chicken thighs

3 tbsp

homemade Buffalo sauce

1/2 tsp

red pepper flakes

8 oz

carrots

(cut into sticks)

8 oz

celery

(cut into batons)

6 oz

cucumbers

(cut into batons)

2 tbsp

plain Greek yogurt

2 tbsp

Japanese mayonnaise

2 tbsp

parsley

(finely chopped)
INSTRUCTIONS
Prep:
1
Prepare the chicken: Pat the chicken thighs dry with paper towels and score them diagonally with a knife.
2
Cut the carrots: Cut off the top part and peel the skin. Cut the carrot crosswise into 2 to 3-inch-long chunks. Cut each chunk into 1/2-inch thick batons.
3
Cut the cucumbers: Cut the cucumbers in half lengthwise and scoop out the seeds using a spoon. Cut the cucumber halves into 1/2-inch thick and 3-inch long batons.
4
Cut the celery: Separate the stalks, then trim, wash them carefully, and leave them air-dry. Cut each stalk into 1/2-inch-thick sticks. Cut the sticks into 3-inch long batons.
5
Mince the garlic: Slice off the root of the cloves and peel the skin. Mince the cloves with a knife or garlic press.
6
Chop the parsley: Separate the leaves from the stems. Gather the parsley into a small bundle and chop finely.
Cook:
1
Season the chicken: Add 1 tsp garlic powder, 1/2 tsp paprika, and 1/4 tsp salt to 20 oz skin-on and bone-in chicken thighs. Rub the seasonings all over the chicken and let them marinate.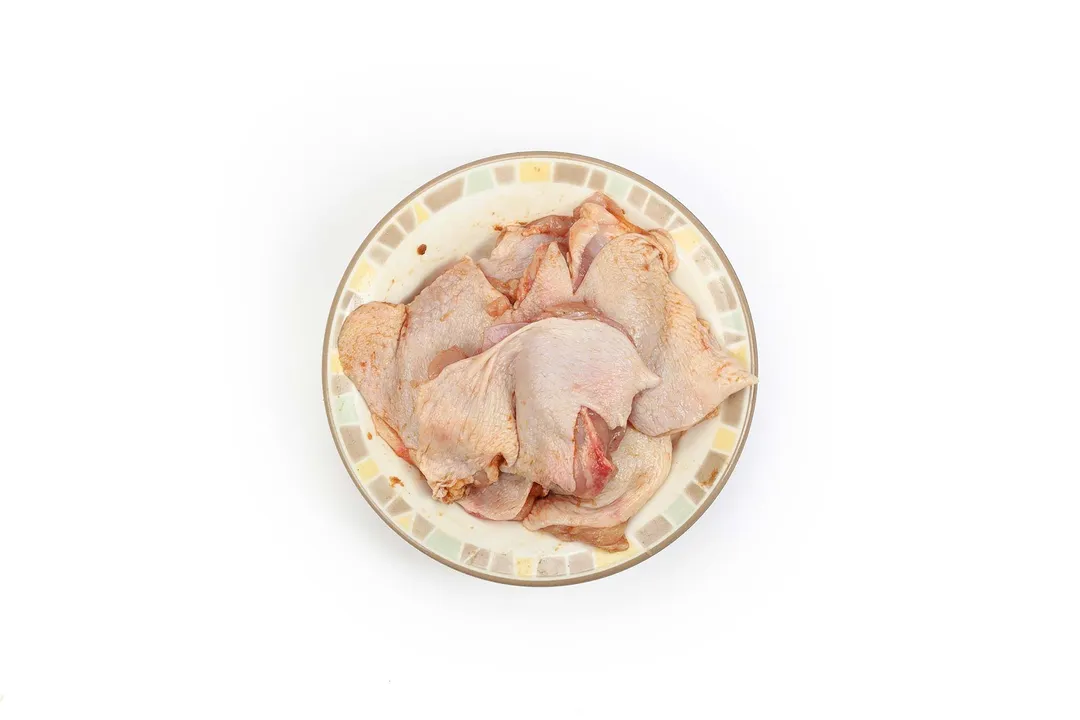 2
Make the vegetable dip: Combine 2 tbsp plain Greek yogurt, 2 tbsp Japanese mayonnaise, 1/4 tbsp garlic, and 1 tbsp parsley. Mix the ingredients thoroughly.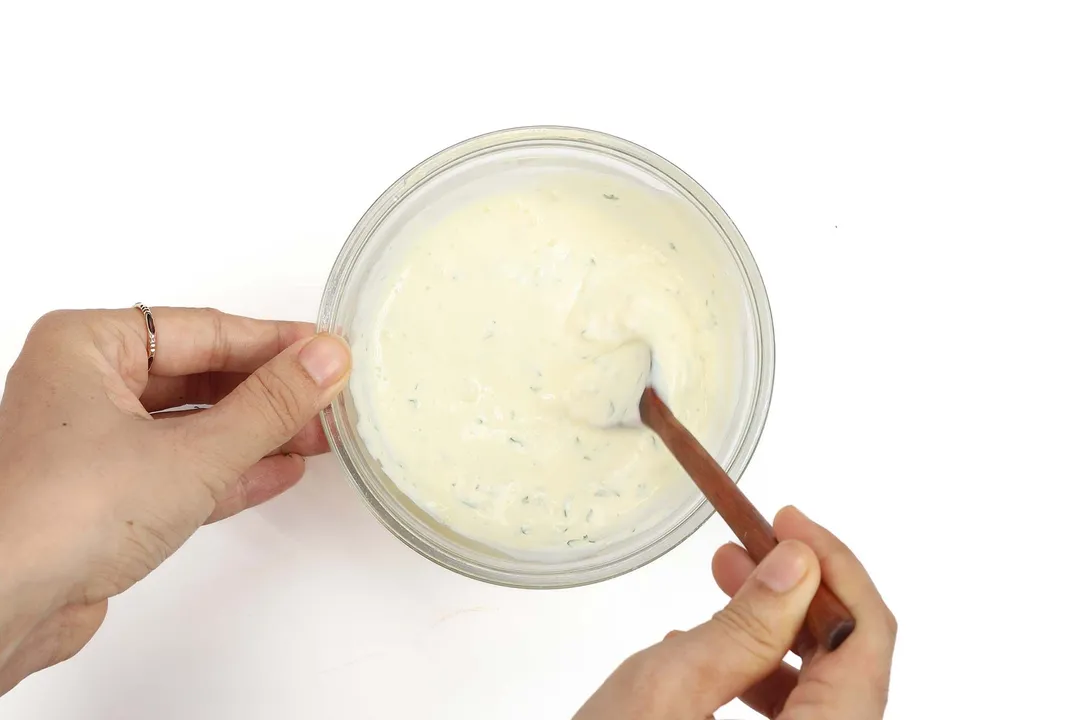 3
Make the Buffalo sauce: Add 3 tbsp homemade Buffalo sauce, 2 tbsp Heinz ketchup, 1 tbsp honey, 1/2 tsp red pepper flakes, 1/2 tsp chili powder, and 1/2 tsp paprika into a small bowl. Stir the mixture to combine the ingredients.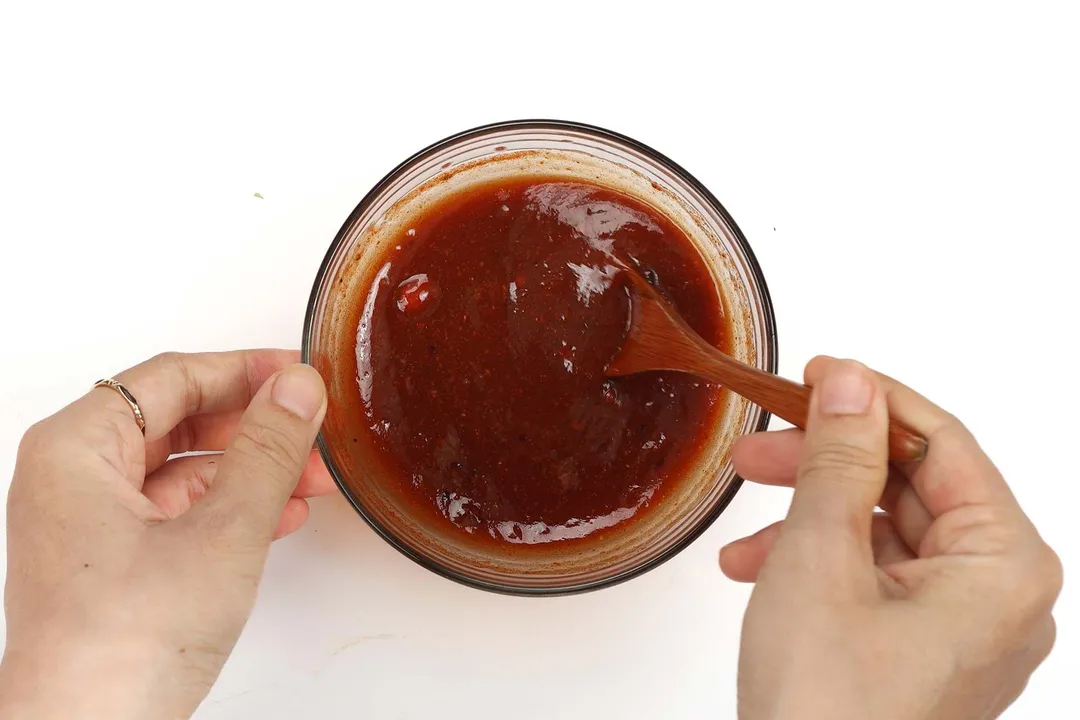 4
Sear the chicken: Prepare a pan over low heat. When the pan's hot, add 1/2 tbsp olive oil and 1/4 tbsp garlic. Add the chicken to the pan and sear both sides (skin-side down first) for 12 minutes.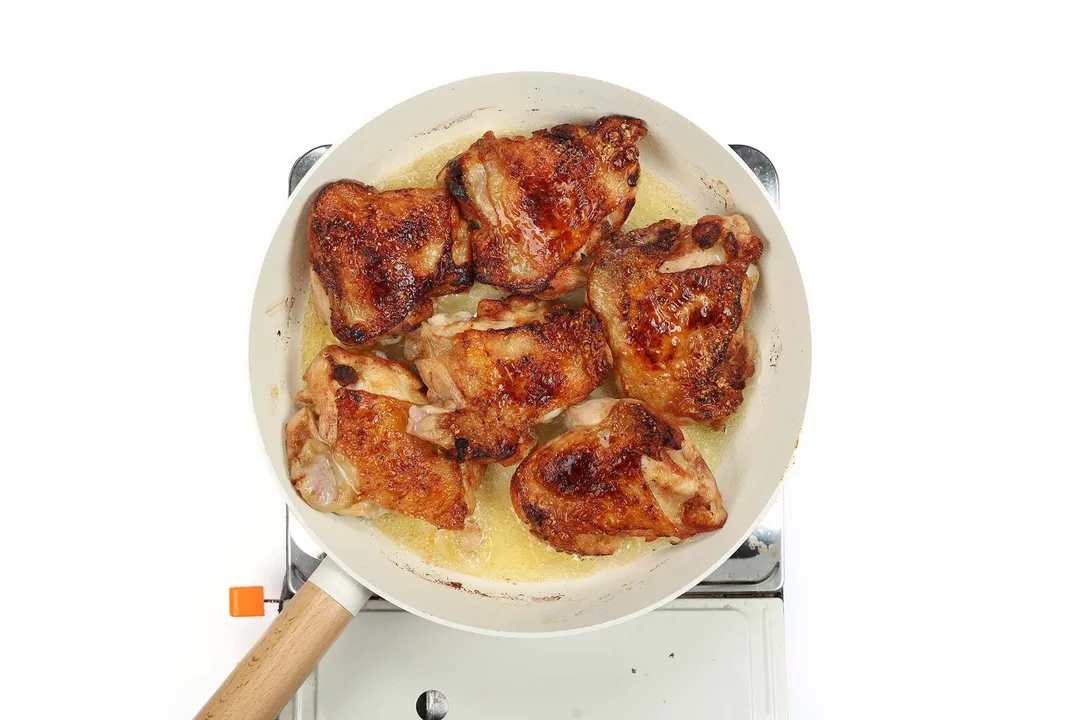 5
Stir in the sauce: Add the Buffalo sauce and cook for another 5 minutes.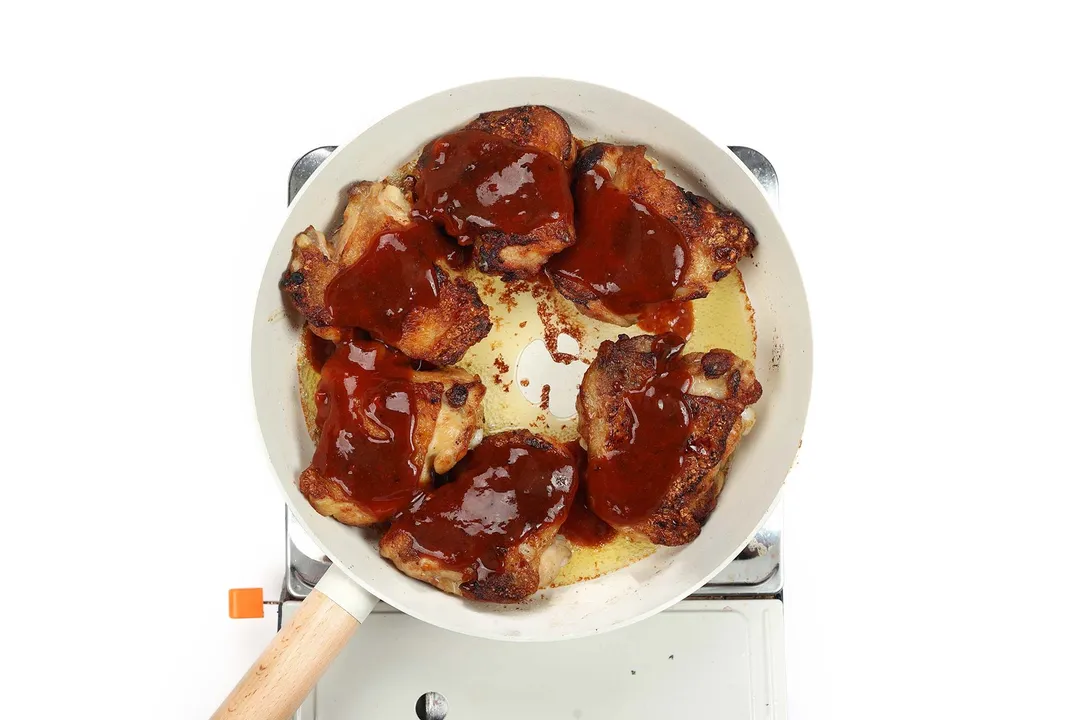 6
Garnish: Sprinkle with 1 tbsp parsley.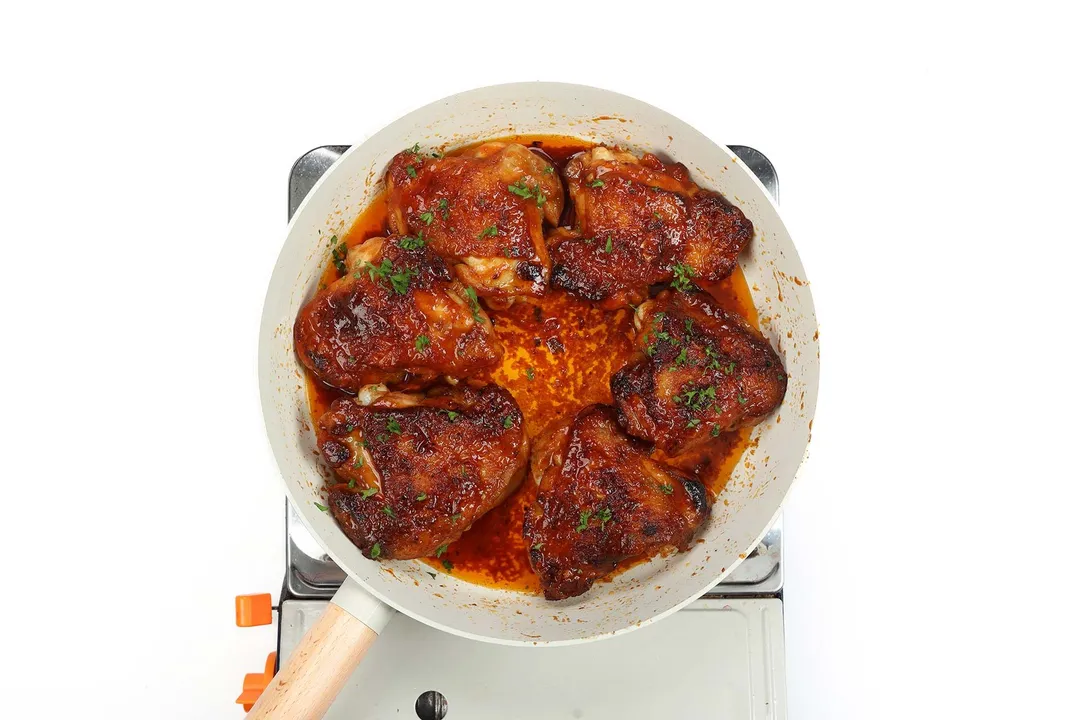 7
Serve and enjoy: Serve the chicken with 8 oz carrots, 8 oz celery, and 6 oz cucumbers alongside the vegetable dip.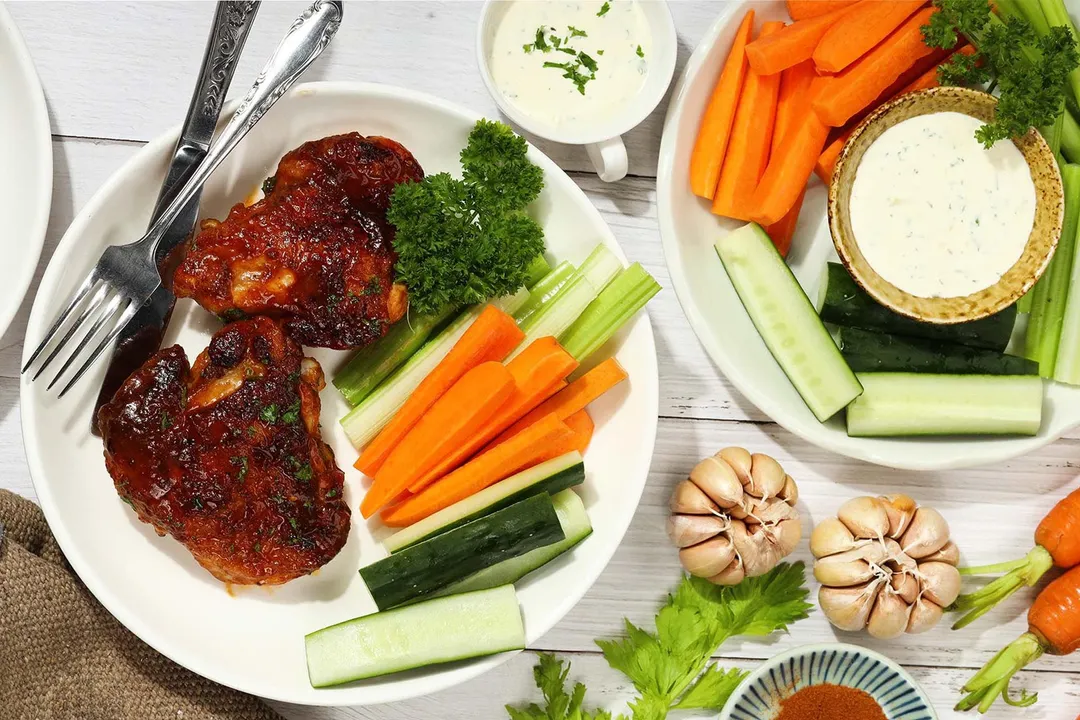 NUTRITION
Nutrition Facts
Buffalo Chicken Thighs
Amount Per Serving (1 serving)
Calories 461
Calories from Fat 288
% Daily Value*
Monounsaturated Fat 11.1g
* Percent Daily Values are based on a 2000 calorie diet.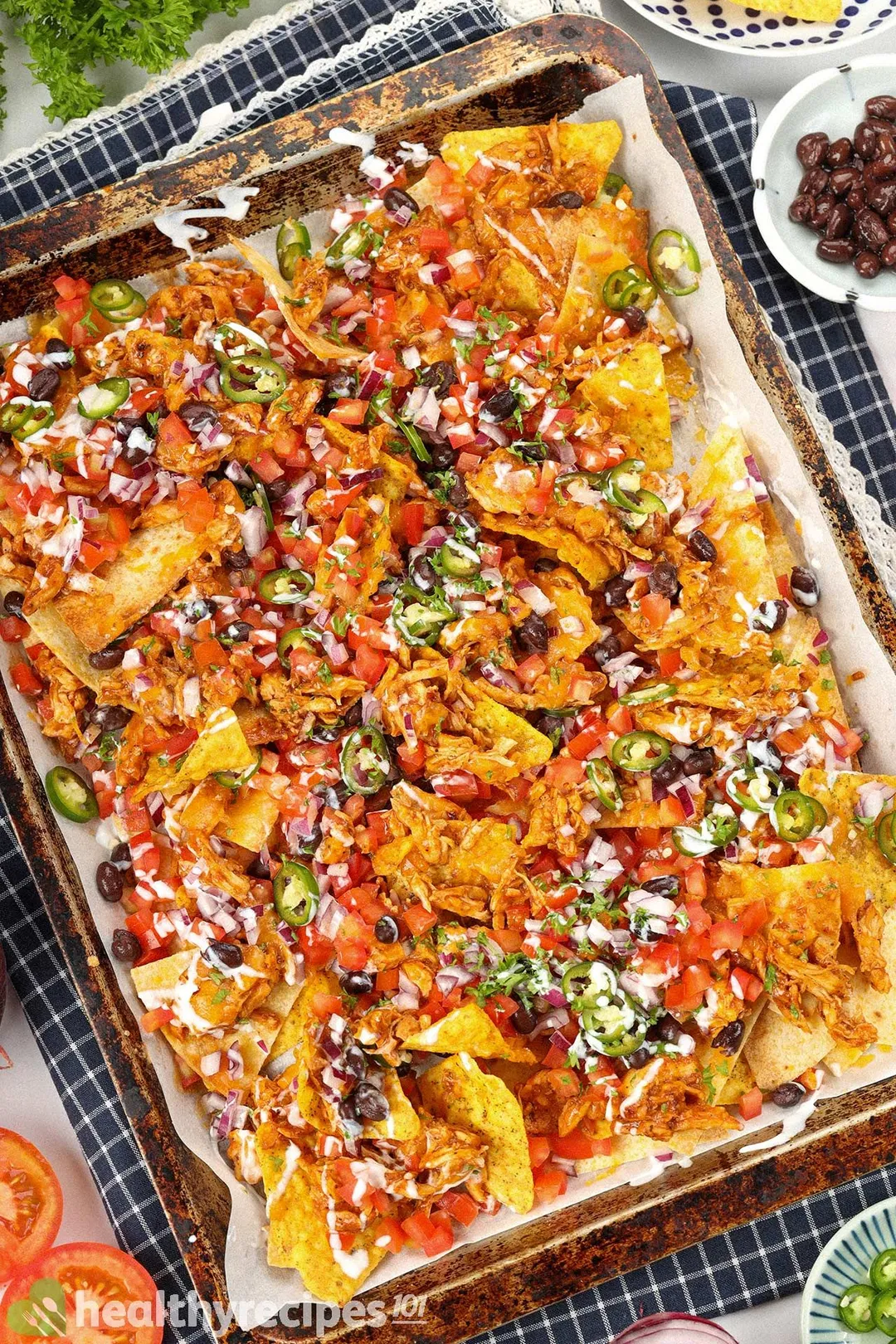 Previous Recipe
BBQ Chicken Nachos
BBQ Chicken Nachos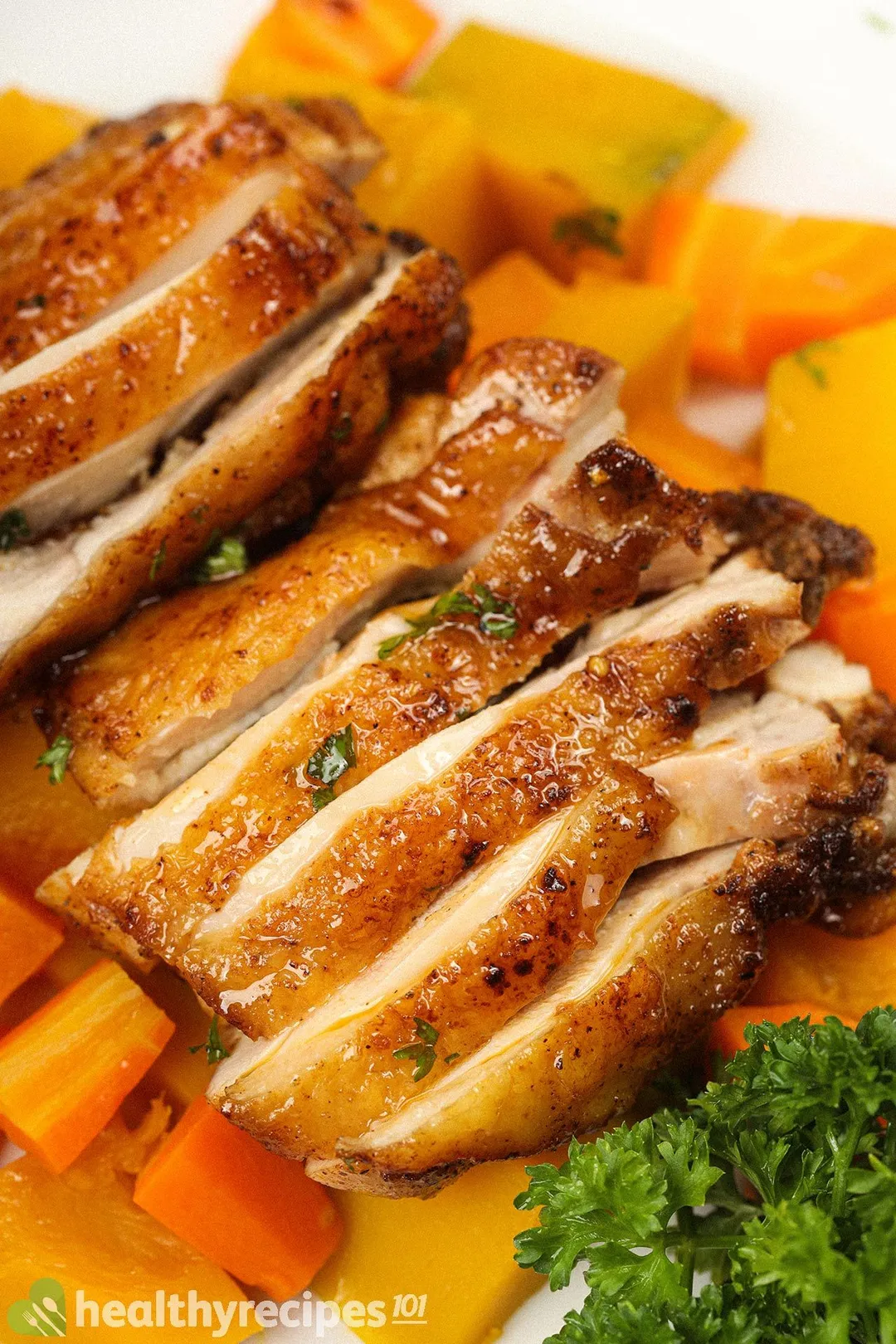 Next Recipe
Pan-Seared Chicken Thighs
Pan-Seared Chicken Thighs
Head Chef, Culinary Consultant
Tuyet Pham is an award-winning Saigonese chef who believes that joy is the secret ingredient to delicious food. At Healthy Recipes 101, Tuyet personally tests and simplifies every recipe, ensuring maximum flavor with minimal effort. With a background at prestigious French restaurants P'TI Saigon and Le Corto, Tuyet knows how to make every dish exceptional.
Writer, Author
Luna Regina is an accomplished writer and author who dedicates her career to empowering home cooks and making cooking effortless for everyone. She is the founder of HealthyKitchen101.com and HealthyRecipes101.com, where she works with her team to develop easy, nutritious recipes and help aspiring cooks choose the right kitchen appliances.
This recipe is easy to make and is sure to be a hit with anyone who loves chicken and spicy food.