Loaded nachos are an extravagant dish with numerous ingredients covered in melted cheese. We lean into this flexible formula and add a small twist to make our BBQ chicken nachos recipe.
Nachos have captured the hearts of many for several different reasons: their diversity, versatility, and handiness. Embracing those qualities, this recipe packs a ton of flavors into the shredded chicken to take this tasty snack to another level.
Is BBQ Chicken Nachos Healthy?
The answer is yes.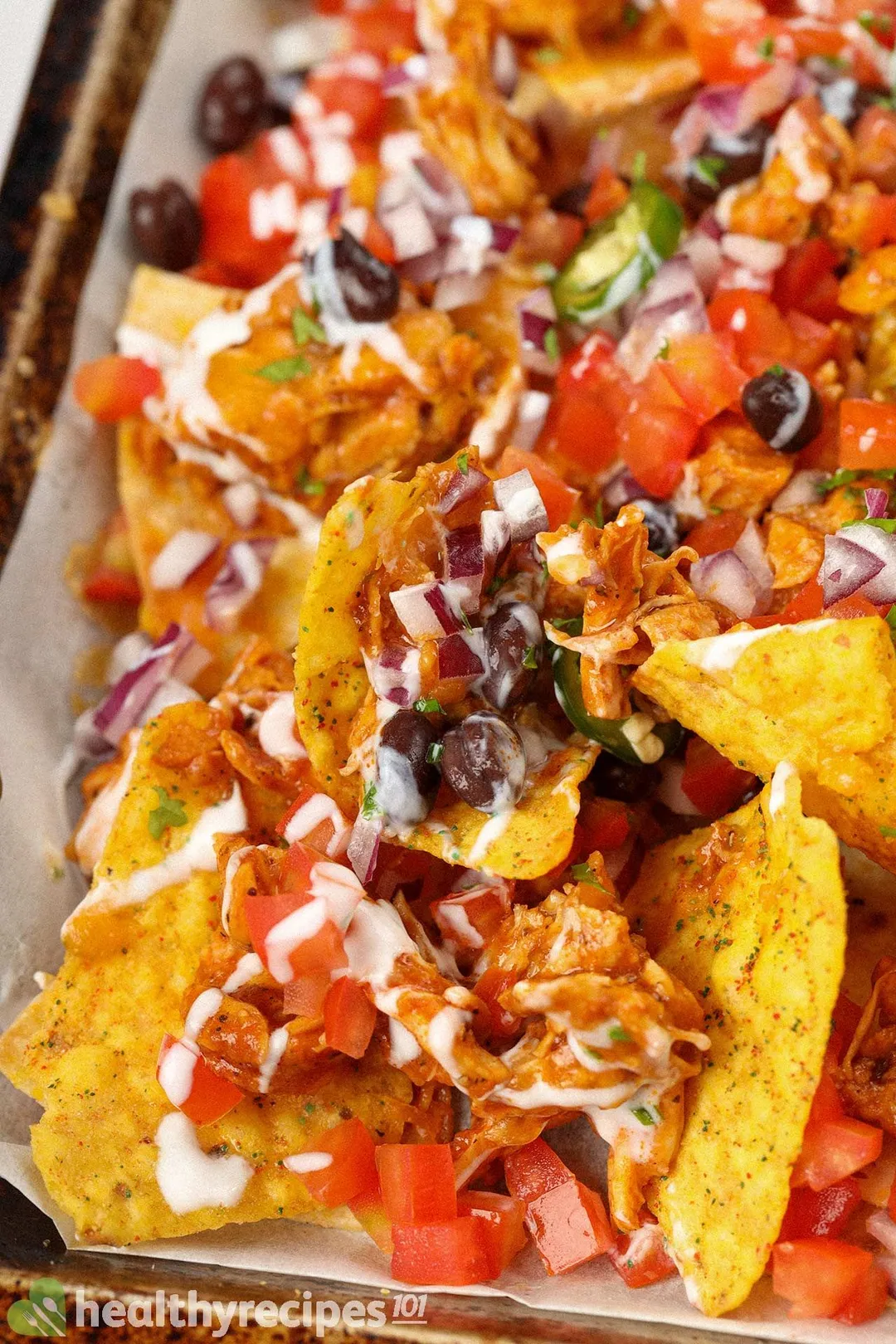 Each serving of BBQ chicken nachos contains 491 calories, 6.2 g of saturated fat, and 598 mg of sodium. We use moderate amounts of seasonings to ensure this dish adheres to our nutrition guidelines.
This nacho is also balanced nutrition-wise thanks to its diverse ingredients.
The multiple sources of protein in this recipe, namely chicken breasts and black beans, add 35.7 g to each serving. Other vegetables like tomatoes, red onion, jalapeno, and parsley provide you with valuable nutrients such as fiber and antioxidants.
Ingredients
We choose skinless and boneless chicken breast to save some preparation time and cut down on the fat content from the skin.
Cooking chicken breasts on the skillet requires you to keep an eye on the heat to prevent the chicken from drying. You can switch to chicken thighs for a more forgiving and flavorful cut.
We make a simple BBQ sauce with ketchup, tomato paste, all-purpose flour, Worcestershire sauce, paprika, red pepper flakes, brown sugar, chili powder, garlic powder, ground black pepper, and salt.
These seasonings make a savory, sweet, acidic, and spicy sauce that elevates the mild flavor of chicken breasts. Lastly, we reduce the sauce with chicken broth to add more moisture to the chicken breasts.
Channel your creativity to choose the vegetable lineup for the nacho. We have juicy tomatoes, soft black beans, crunchy red onions, spicy jalapenos, and fresh parsley. These vegetables make this dish more diverse thanks to their flavors and textures.
Feel free to replace the vegetables in this recipe with your favorites. Some options for you to pick from are corn, olives, bell peppers, zucchini, cauliflower, etc.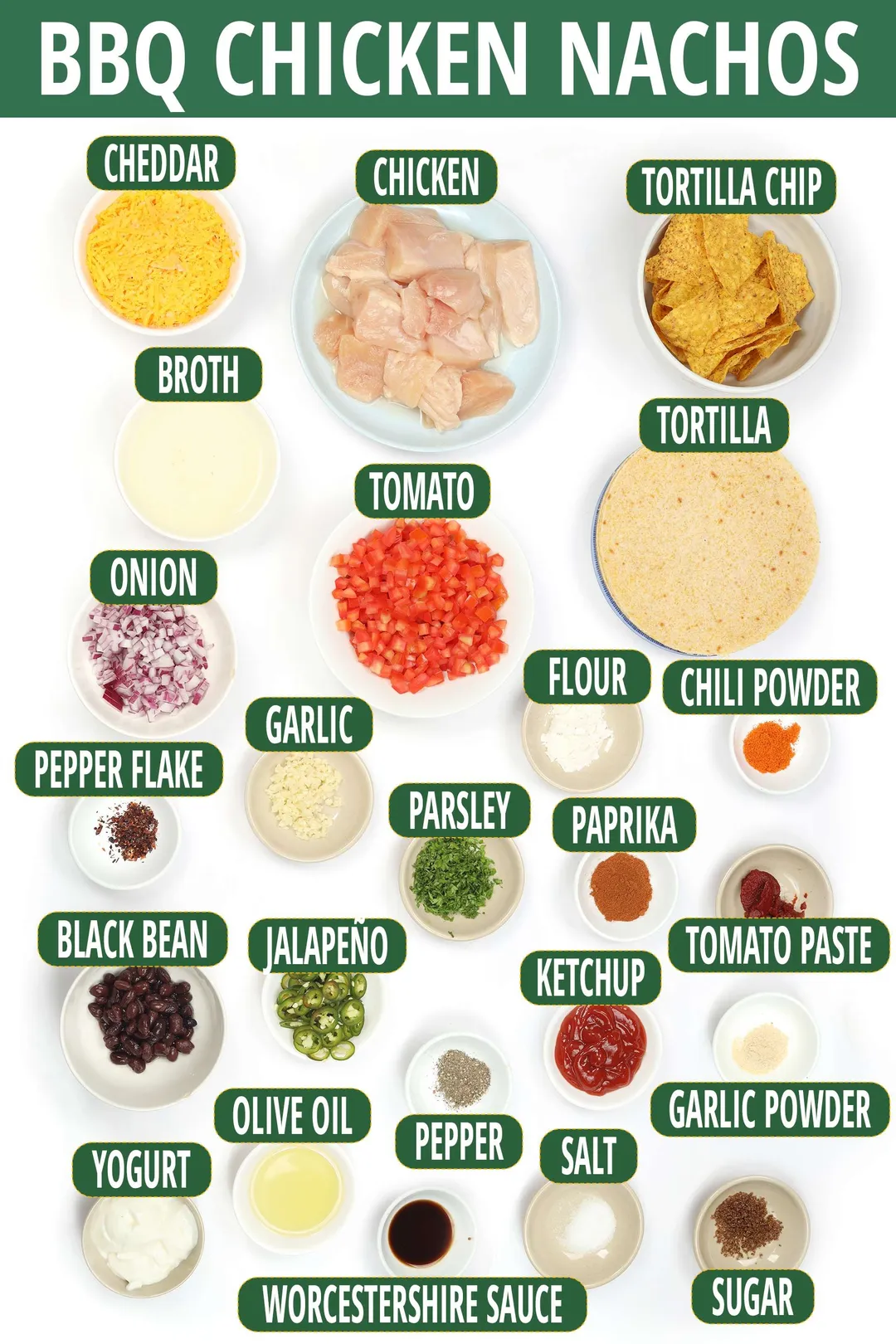 We have a mix of homemade and processed tortilla chips in this nacho. Homemade chips require more time, but you can control the amount of seasonings. Meanwhile, processed ones are more convenient, but may be high in sodium.
Cheese is the heart and soul of nachos. It will combine the ingredients and add a ton of flavor with its signature richness. We choose cheddar because it is the go-to choice for many of our recipes. You can replace it with Monterey Jack or Pepper Jack.
The last finishing touch isn't any less important. We keep it simple by drizzling Greek yogurt on top of the baked nachos. This will give the dish a light creaminess that works well with the bold flavors of cheese.
How to Cook
You may think of a grill when we mention BBQ, but it's not the case. There are a lot of ways to perfect shredded BBQ chicken.
If you have the time to fire up the grill, go ahead and do so. This will give the chicken a nicely charred exterior that makes it more flavorful.
But if you're like us and want to make a quicker meal, cooking the chicken on the skillet works just as well.
Lastly, if you want to kick your feet up and relax while the chicken is cooking, there are a few kitchen appliances to assist you. We recommend using a slow cooker or Instant Pot.
How to Store and Reheat the Leftovers
We advise you to assemble the nachos only when you're ready to serve. The ingredients should be stored separately because of their varying textures. Also, the vegetables and tortilla chips should only be prepared right before serving to maintain their best condition.
Shredded BBQ chicken can last for 3 to 4 days in the fridge and up to 3 months in the freezer. Store the leftover chicken in airtight containers or freezer bags.
Thaw the frozen leftovers before reheating. Warm up the leftovers in a 425 °F oven for 20 minutes.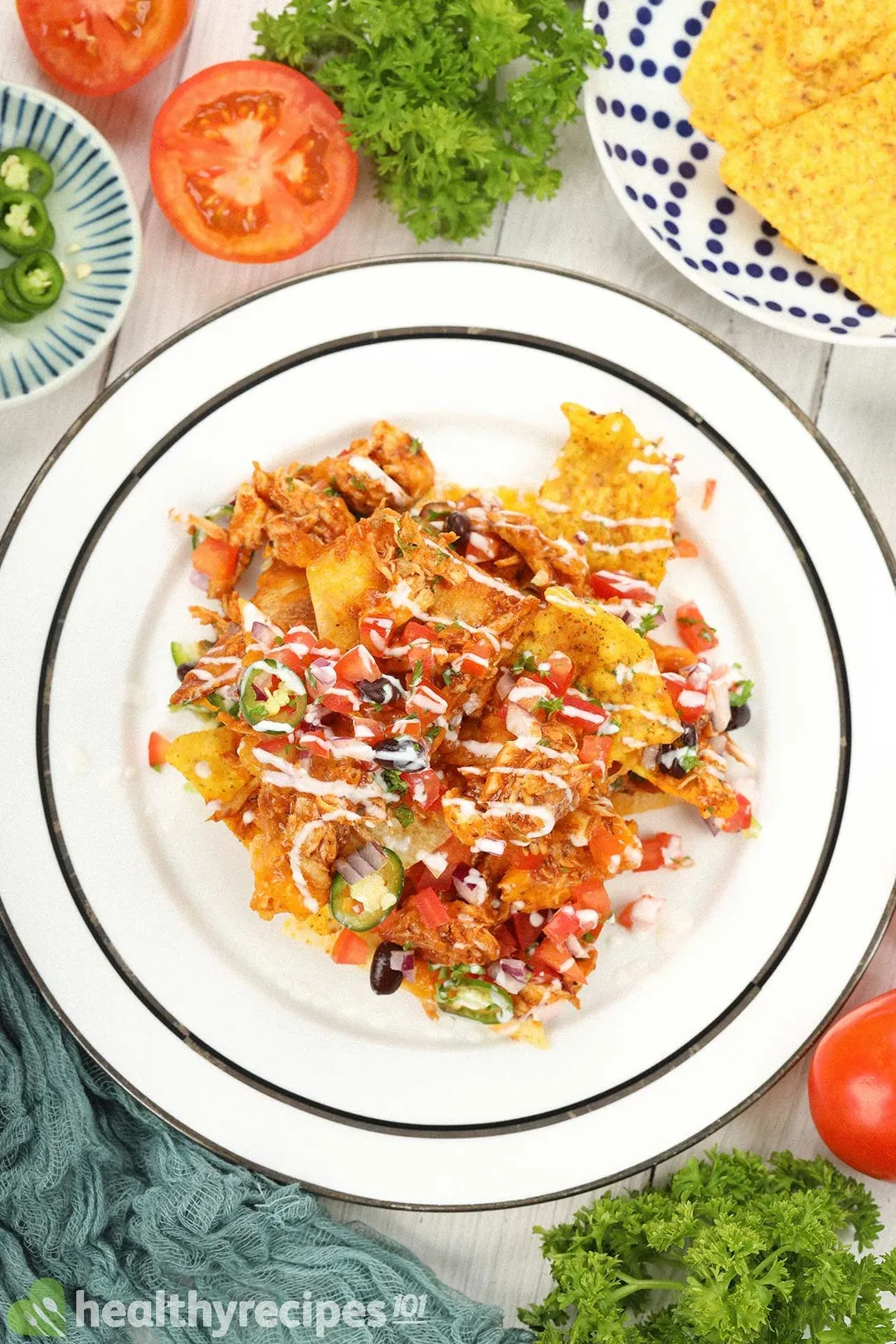 What to Serve With
A nacho will benefit greatly from a unique dip. Here are some of our recommendations plus an extra salad for your viewing pleasure:
Other Delicious Fingerfoods
This Chicken Larb recipe elevates the flavor of ground chicken breast to new heights. It's a Lao's staple of thoroughly-seasoned ground chicken served with crisp lettuce.
With our baked chicken taquitos, you can make a crispy delicious treat in a large quantity with ease. It's also air-fryer friendly and quick to prepare.
BBQ Chicken Nachos
Our BBQ chicken nachos recipe brings you an iconic Mexican finger food dish with flavorful shredded chicken and various fresh vegetables.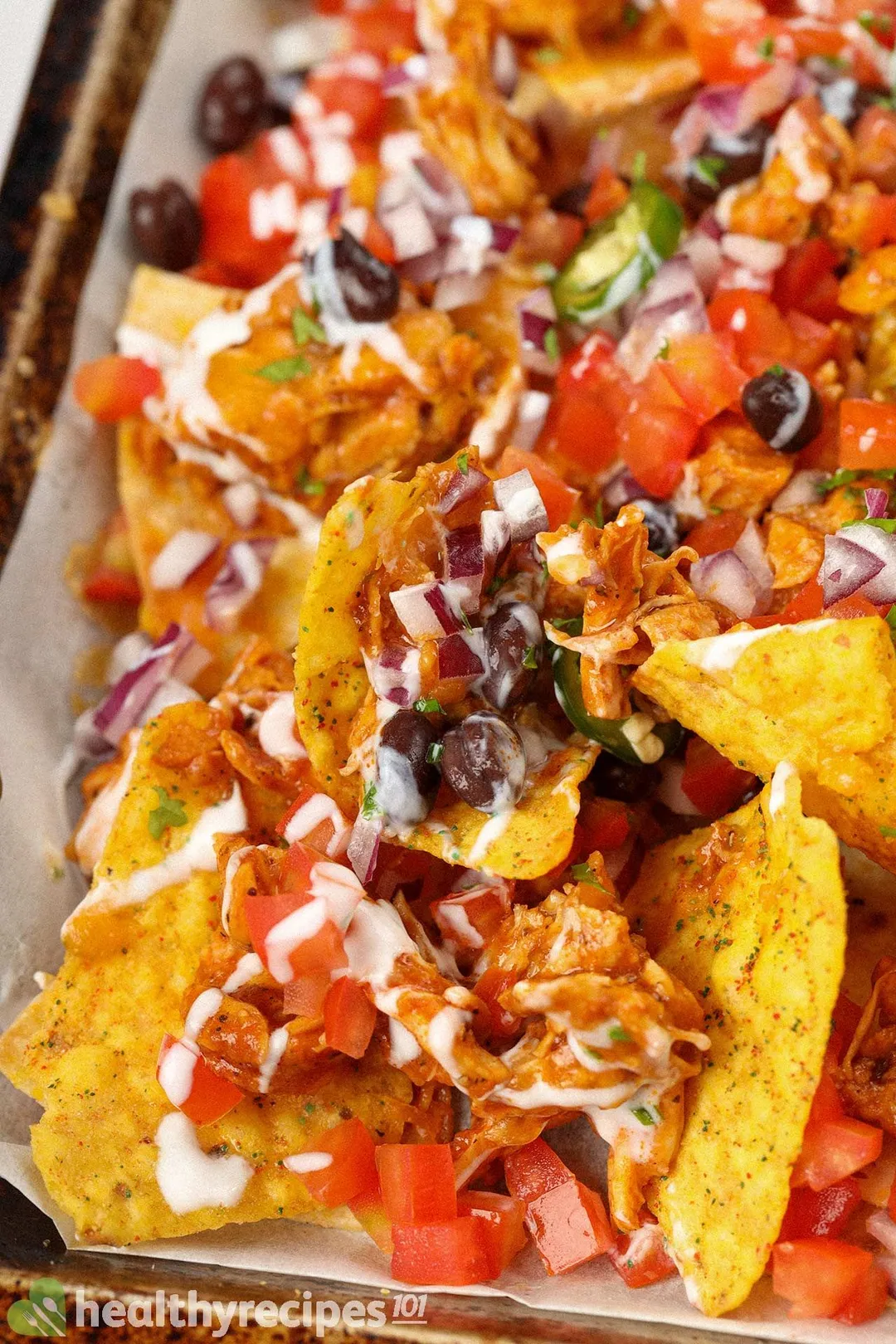 cook TIME

35 mins

prep TIME

10 mins

total TIME

45 mins
COURSE

Main Dish

CUISINE

Mexican

SERVINGS

CALORIES

483 kcal
INGREDIENTS
16 oz

skinless boneless chicken breasts

3 oz

cheddar cheese

(grated)

2 tbsp

parsley

(finely chopped)

1 tbsp

Hunt's tomato paste

1/2 tbsp

all-purpose flour

1 tsp

Worcestershire sauce

1/2 tsp

ground black pepper

1/2 cup

unsalted chicken broth

3 tbsp

plain Greek yogurt
INSTRUCTIONS
Prep:
1
Dice the tomatoes: Cut the tomatoes in half, slice off the stems, and scoop out the seeds. Cut the tomato halves into 1/4-inch strips, then cut the strips crosswise into dice.
2
Dice the red onion: Cut the onions in half and peel the skin. Keeping the root intact, make vertical cuts 1/4-inch apart from each other. Turn the onion 90 degrees and make horizontal cuts 1/4-inch apart to form a crosshatch pattern with the previous cuts. Slice the onion to dice.
3
Prepare the black beans: Drain the canned black beans and set aside.
4
Slice the jalapeño: Cut off the stem of the chili and cut it crosswise into thin slices.
5
Chop the parsley: Bunch the parsley together and chop finely.
6
Mince the garlic: Cut off the root and peel the skin. Mince the garlic cloves with a knife or garlic mincer.
7
Grate the cheddar cheese: Place the grater firmly on a cutting board. Press the cheese block against the surface of the grater and slowly push downwards until you yield enough cheese.
Cook:
1
Cut the tortillas: Cut 6 6-inch tortillas into triangular chips.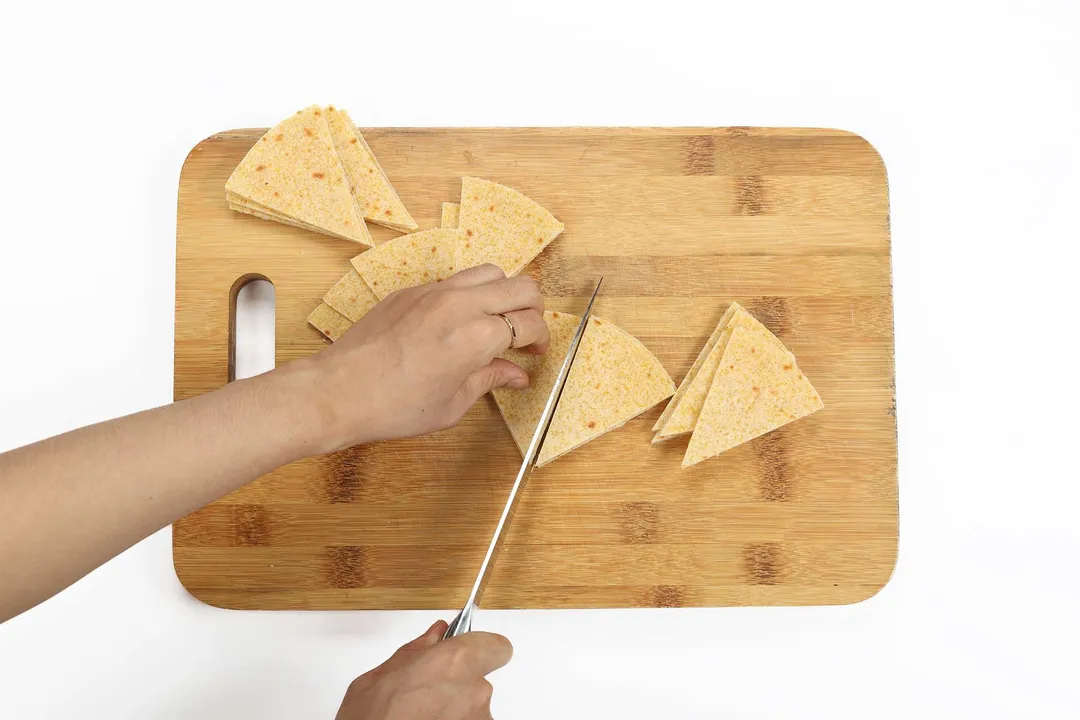 2
Arrange the tortilla pieces on a baking tray: Spread the chips onto a lined baking tray.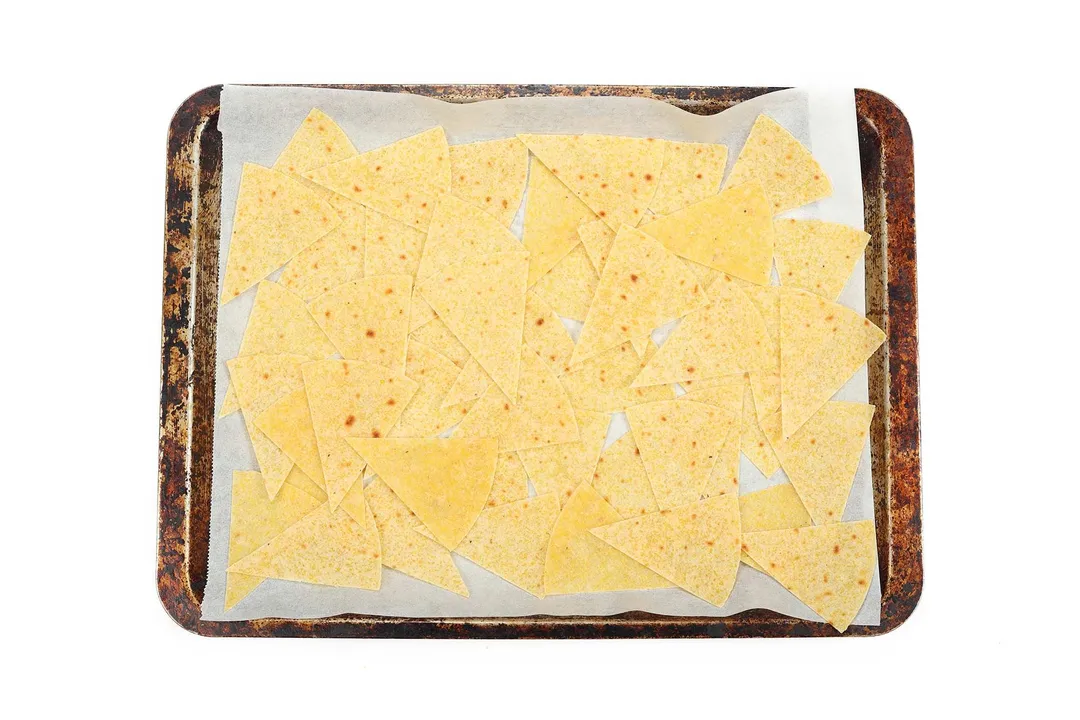 3
Bake the tortillas: Bake the chips at 350 °F for 5 minutes.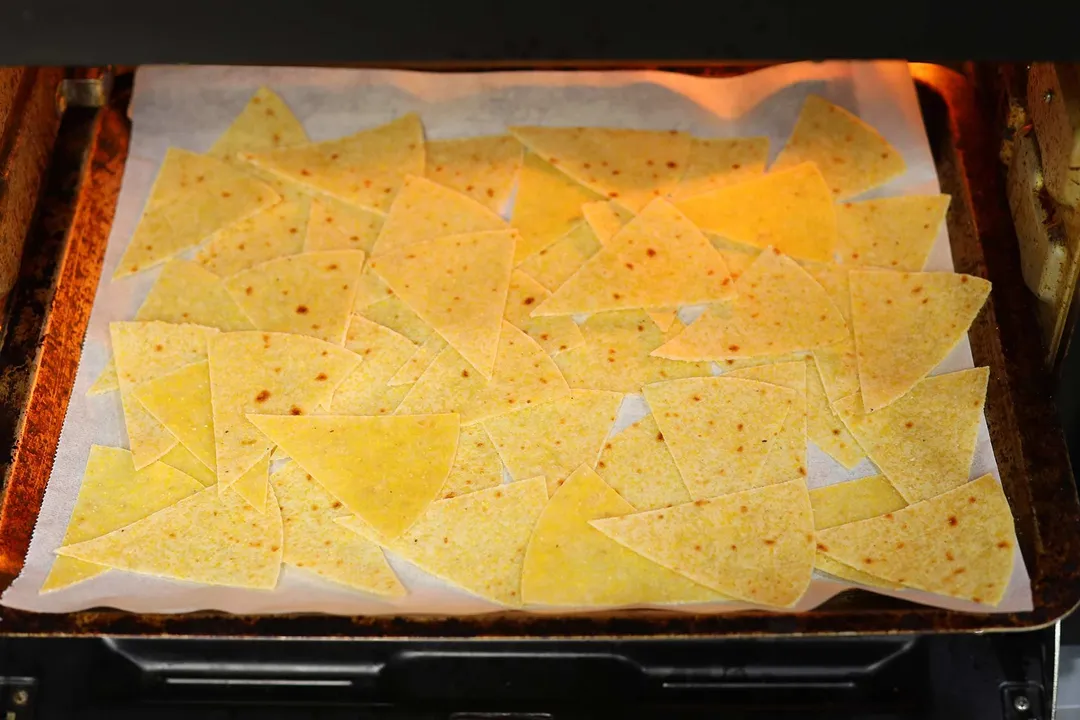 4
Caramelize the garlic: Prepare a hot pan over medium heat. Add 1 tbsp olive oil and 1 tbsp garlic. Stir for 30 seconds to caramelize.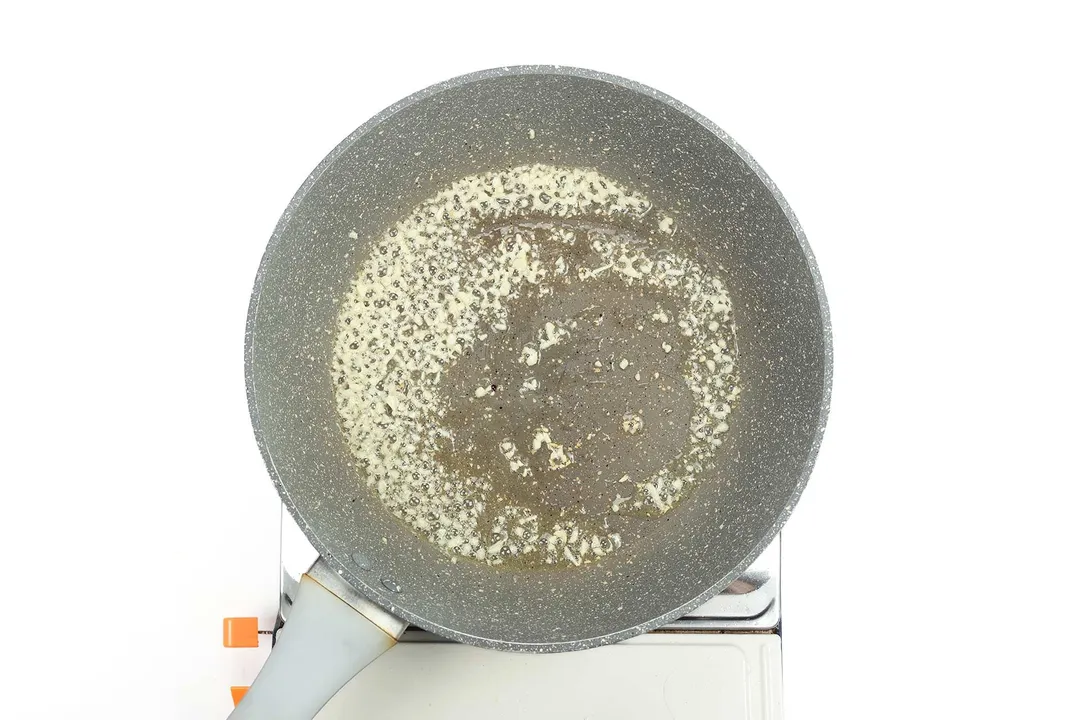 5
Sauté the chicken: Add 16 oz skinless boneless chicken breasts. Stir for 2 minutes.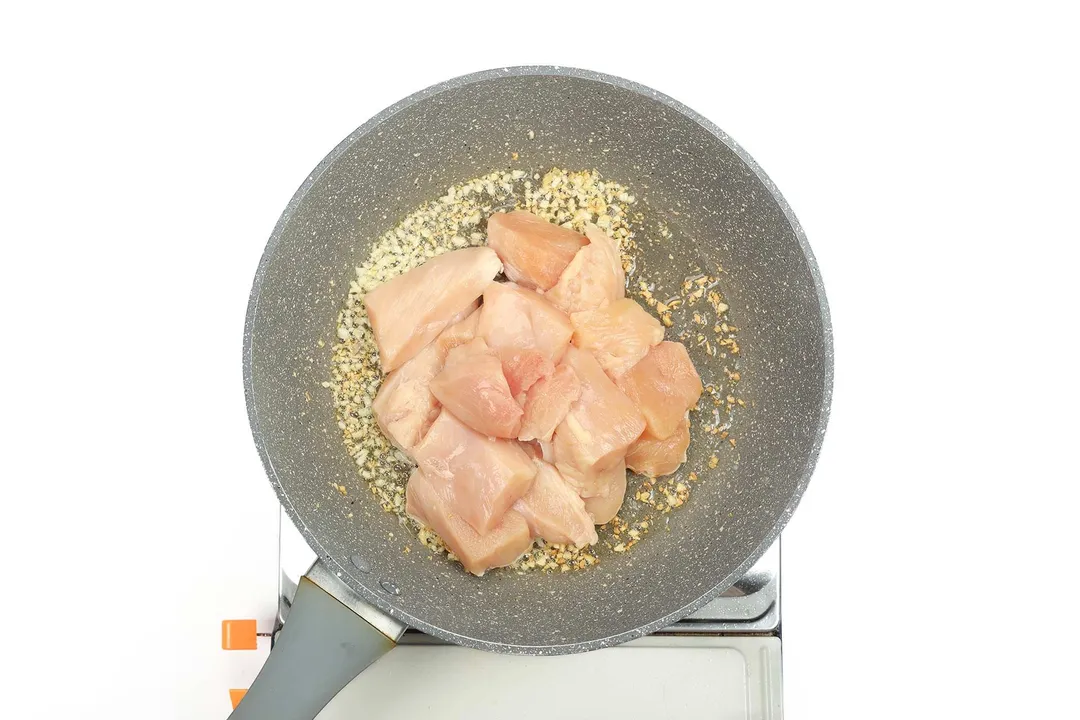 6
Season the chicken: Add 2 1/2 tbsp Heinz ketchup, 1 tbsp Hunt's tomato paste, 1/2 tbsp all-purpose flour, 1 tsp Worcestershire sauce, 1 tsp paprika, 1 tsp red pepper flakes, 1 tsp brown sugar, 1/2 tsp chili powder, 1/2 tsp garlic powder, 1/2 tsp ground black pepper, and 1/4 tsp salt. Mix for 2 minutes to let the chicken absorb the seasoning.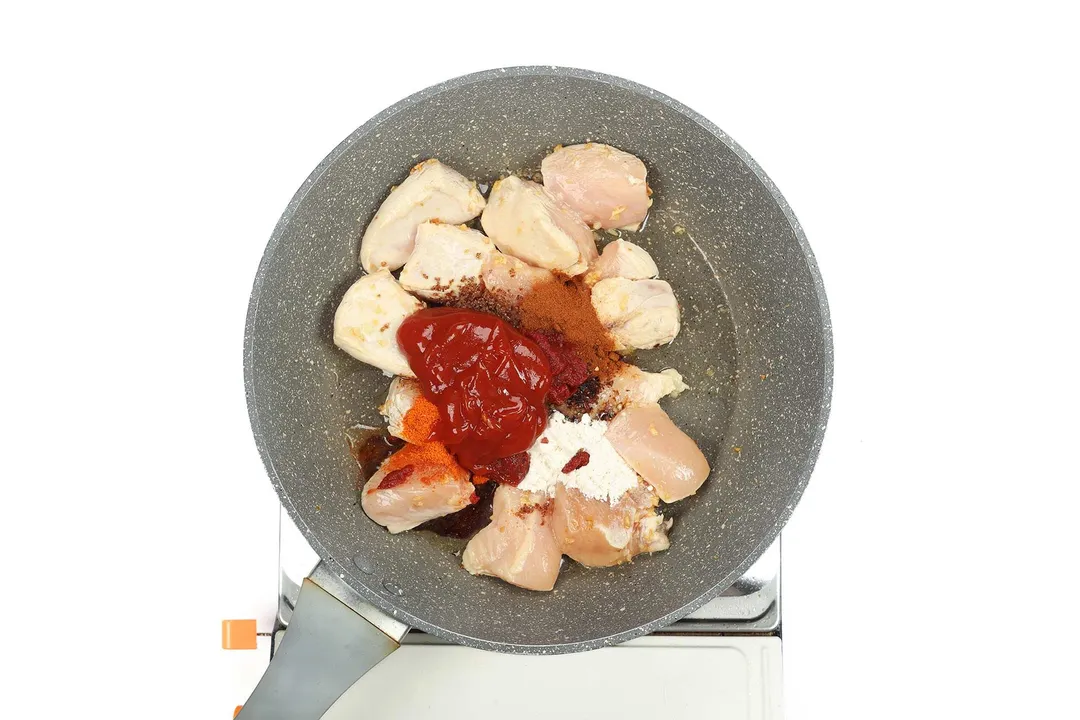 7
Reduce the sauce: Add 1/2 cup unsalted chicken broth. Mix well, turn the heat to low, and let it simmer for 10 minutes.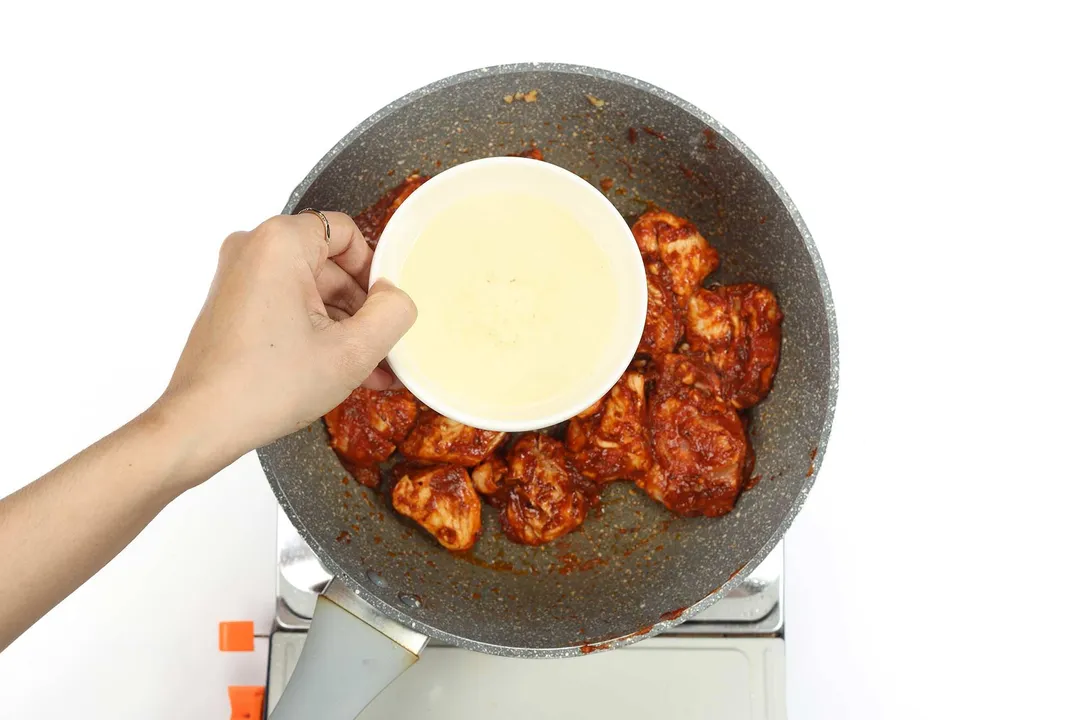 8
Shred the chicken: Turn off the heat and shred the chicken breasts with forks.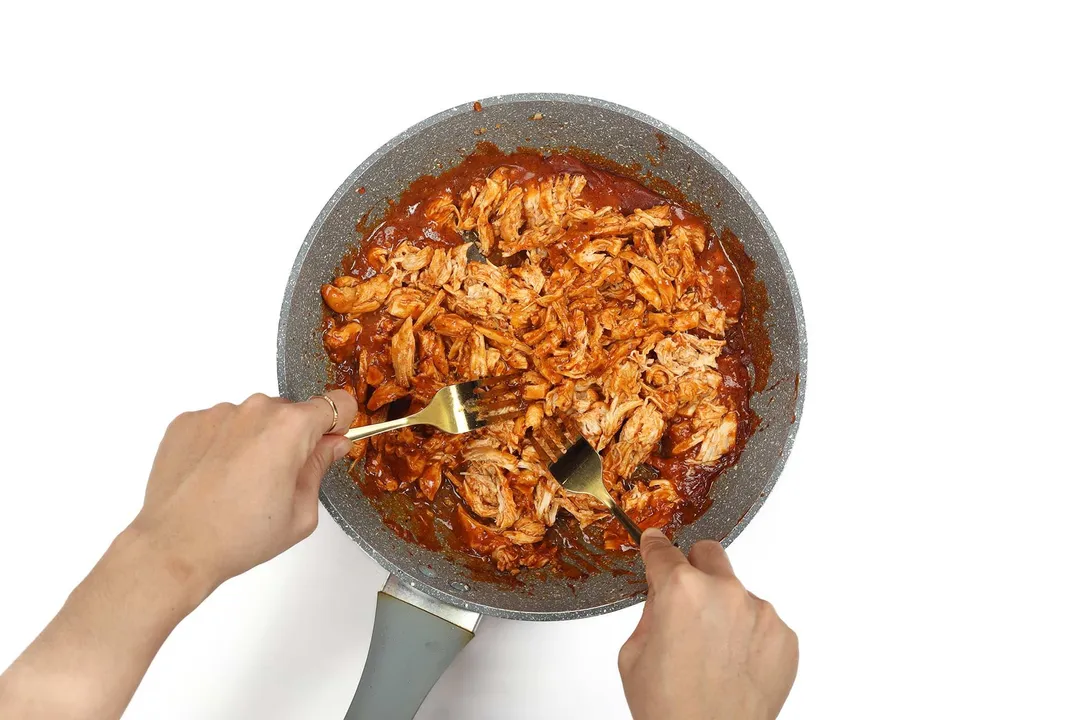 9
Add the tortilla chips: On the tortilla baking tray, add 2 oz tortilla chips.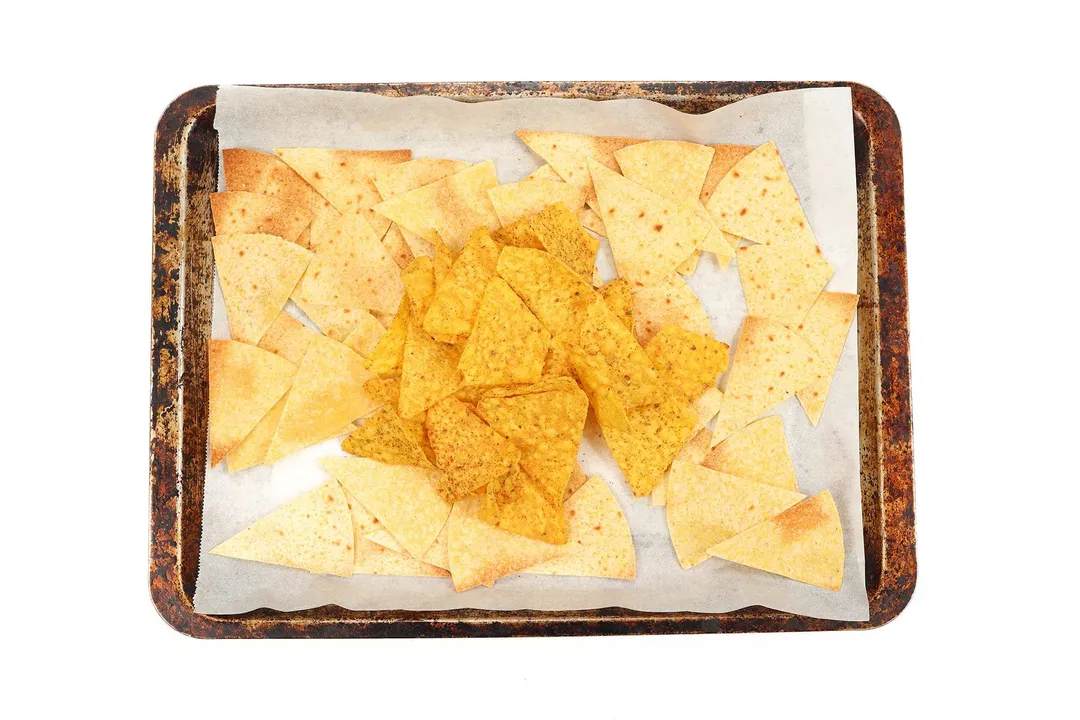 10
Add the chicken and cheese: Add the shredded chicken and sprinkle 3 oz cheddar cheese over the chips.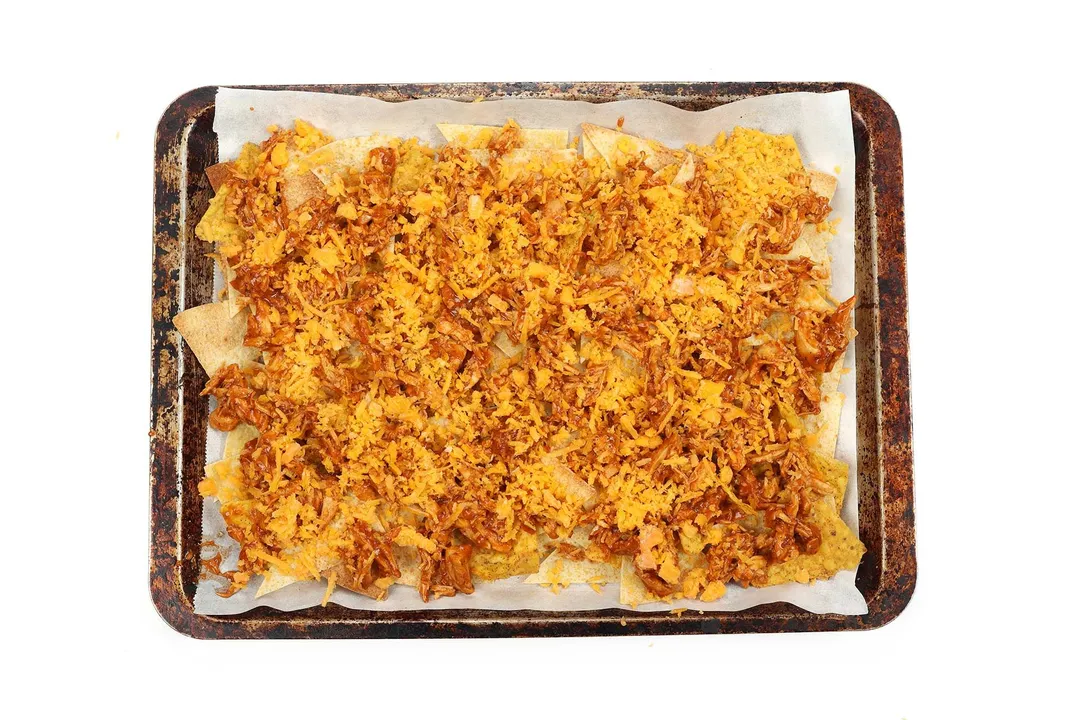 11
Melt the cheese: Place the baking tray back into the oven. Cook at 450 °F for 5 minutes to melt the cheese.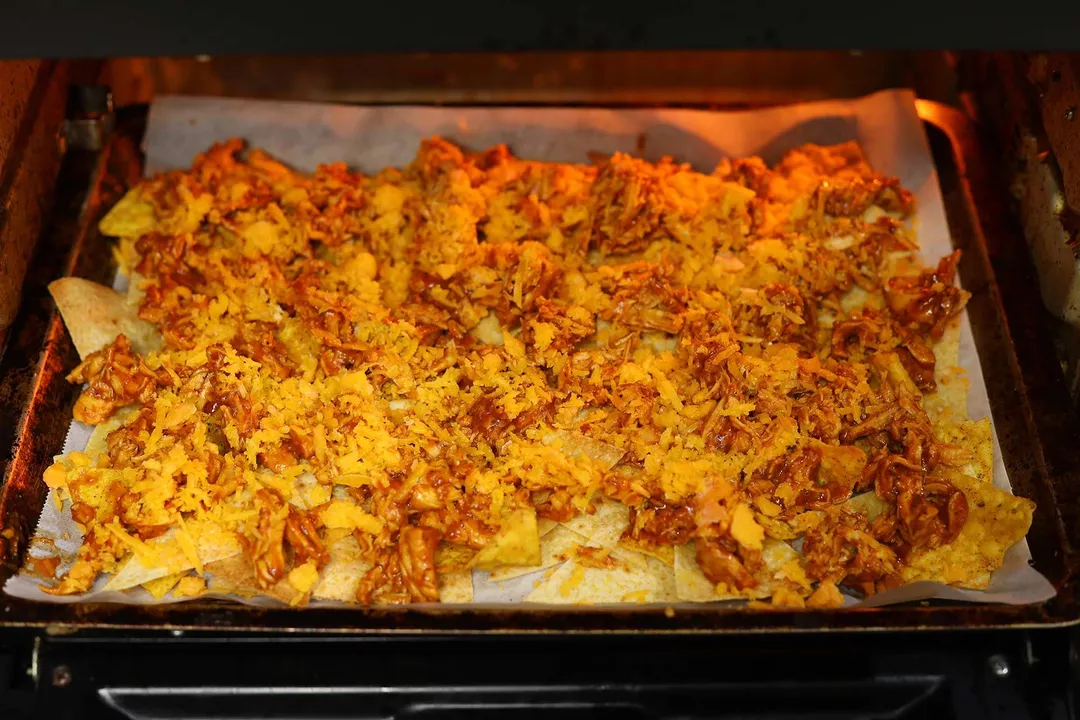 12
Build the nachos: Remove the tray from the oven when done. Add 6 oz tomatoes, 2 oz red onion, 2 oz canned black beans, 1 oz jalapeño, and 2 tbsp parsley.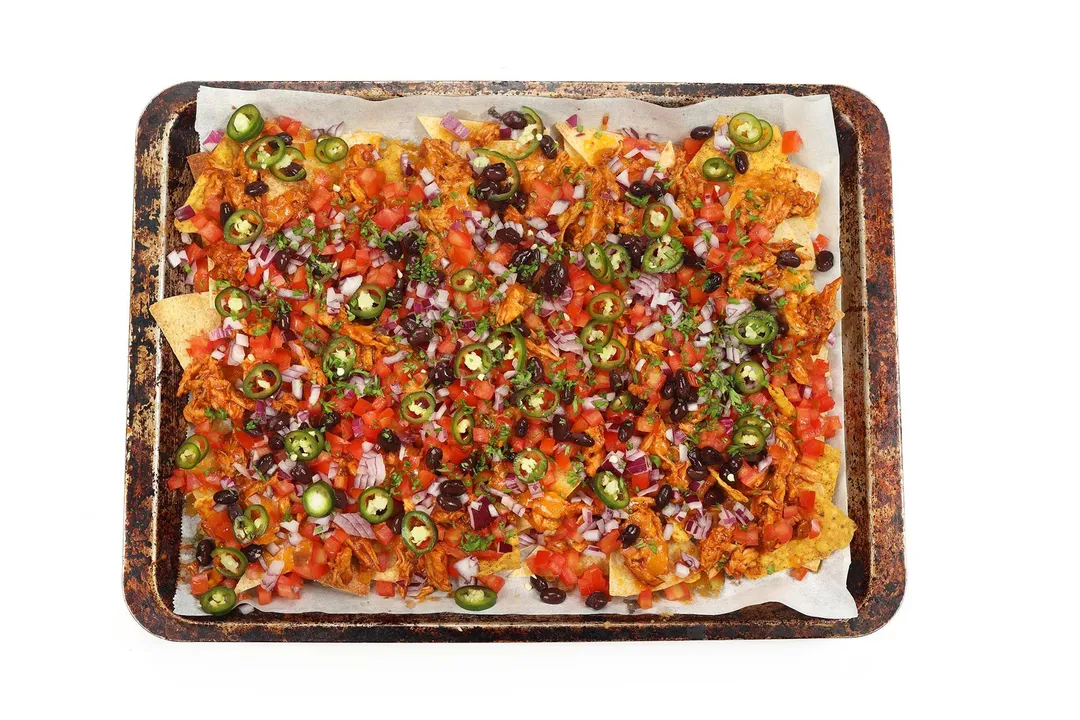 13
Drizzle the sauce and serve: Drizzle 3 tbsp plain Greek yogurt on the nachos. Enjoy!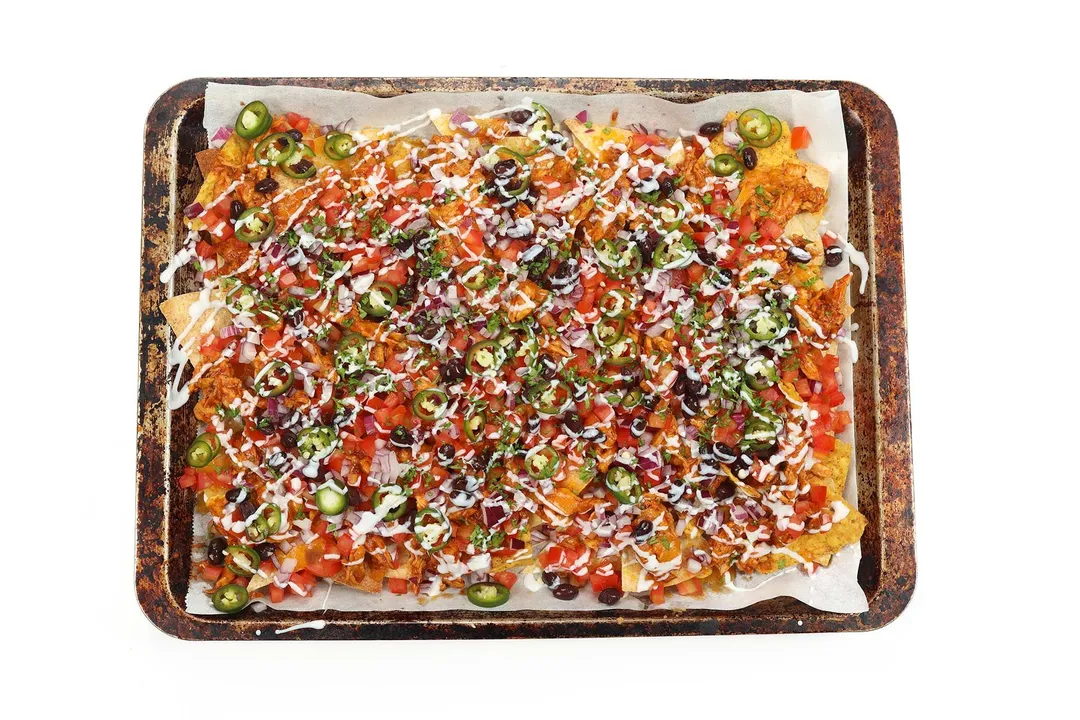 NUTRITION
Nutrition Facts
BBQ Chicken Nachos
Amount Per Serving (1 serving)
Calories 483
Calories from Fat 181
% Daily Value*
* Percent Daily Values are based on a 2000 calorie diet.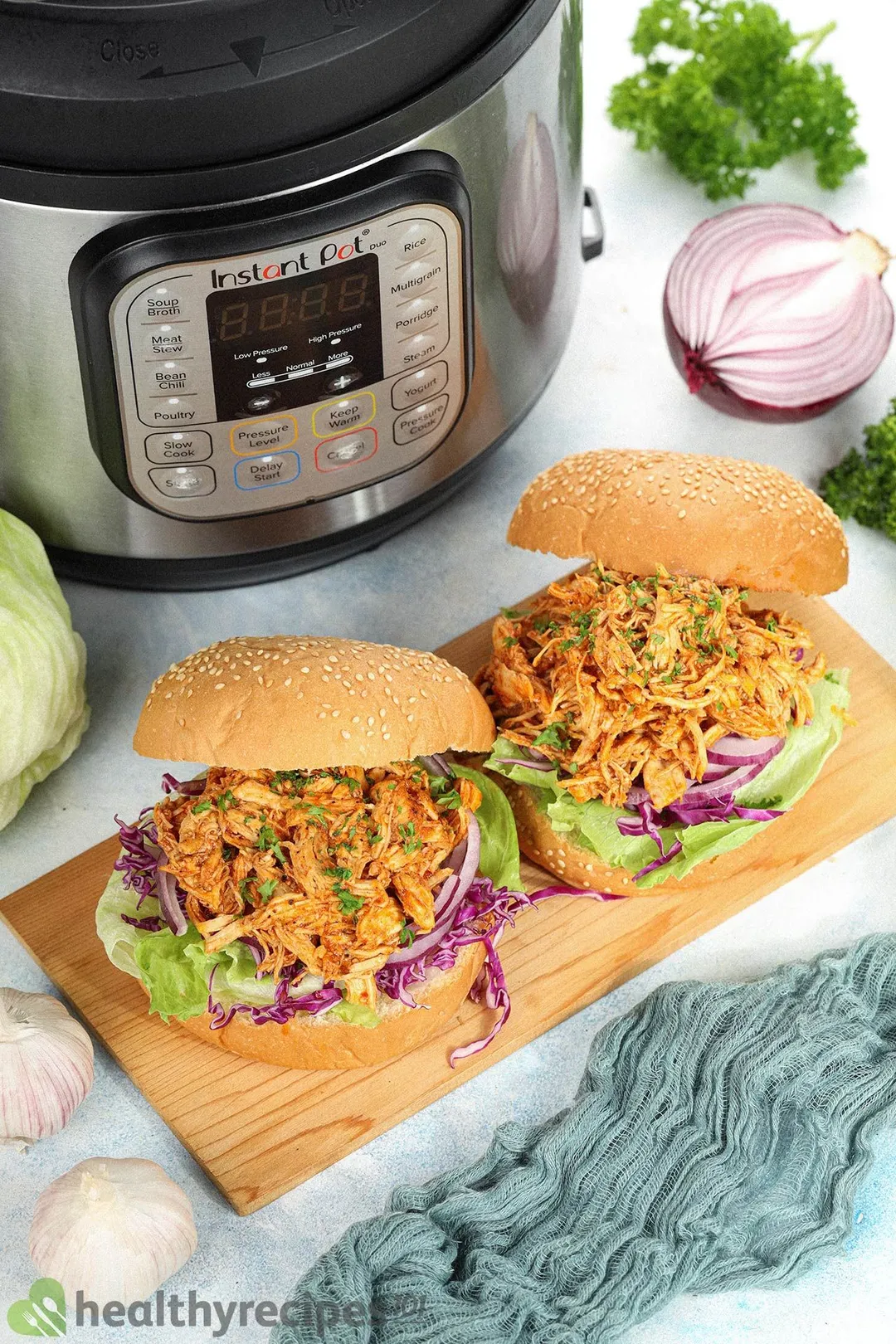 Previous Recipe
Instant Pot BBQ Chicken Sandwich
Instant Pot BBQ Chicken Sandwich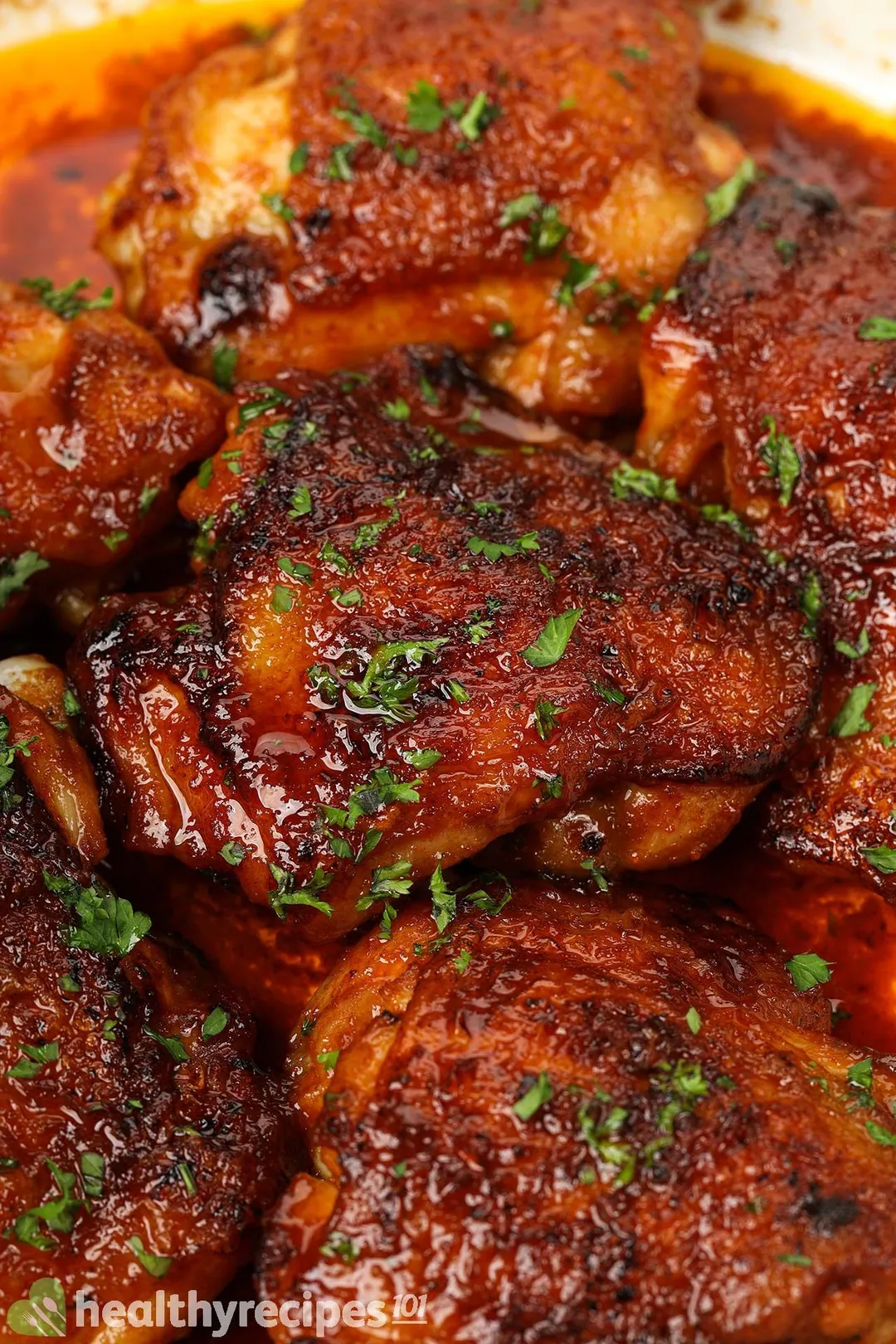 Next Recipe
Buffalo Chicken Thighs
Buffalo Chicken Thighs
Head Chef, Culinary Consultant
Tuyet Pham is an award-winning Saigonese chef who believes that joy is the secret ingredient to delicious food. At Healthy Recipes 101, Tuyet personally tests and simplifies every recipe, ensuring maximum flavor with minimal effort. With a background at prestigious French restaurants P'TI Saigon and Le Corto, Tuyet knows how to make every dish exceptional.
Writer, Author
Luna Regina is an accomplished writer and author who dedicates her career to empowering home cooks and making cooking effortless for everyone. She is the founder of HealthyKitchen101.com and HealthyRecipes101.com, where she works with her team to develop easy, nutritious recipes and help aspiring cooks choose the right kitchen appliances.
A delicious and easy-to-make snack that's perfect for game day or movie night.