This chicken cacciatore recipe is a star in Italian cuisine. We make the classic version of the sauce – crushed tomatoes, sauteed vegetables, and finished with a touch of parmesan.
You get everything in one bite – savory chicken, sweet tomatoes, fresh onion, and mushrooms. There is no better comfort dinner and no better answer to National Chicken Cacciatore Day (October 15) than this chicken cacciatore recipe!
What Is Chicken Cacciatore?
The word "Cacciatore" means "hunter" in Italian. Meanwhile, "Alla cacciatora", which is the original Italian name of Chicken Cacciatore, is a term referring to a hunter-style meal.
Chicken cacciatore is simply prepared with meat (chicken or rabbit), herbs, vegetables, and wine.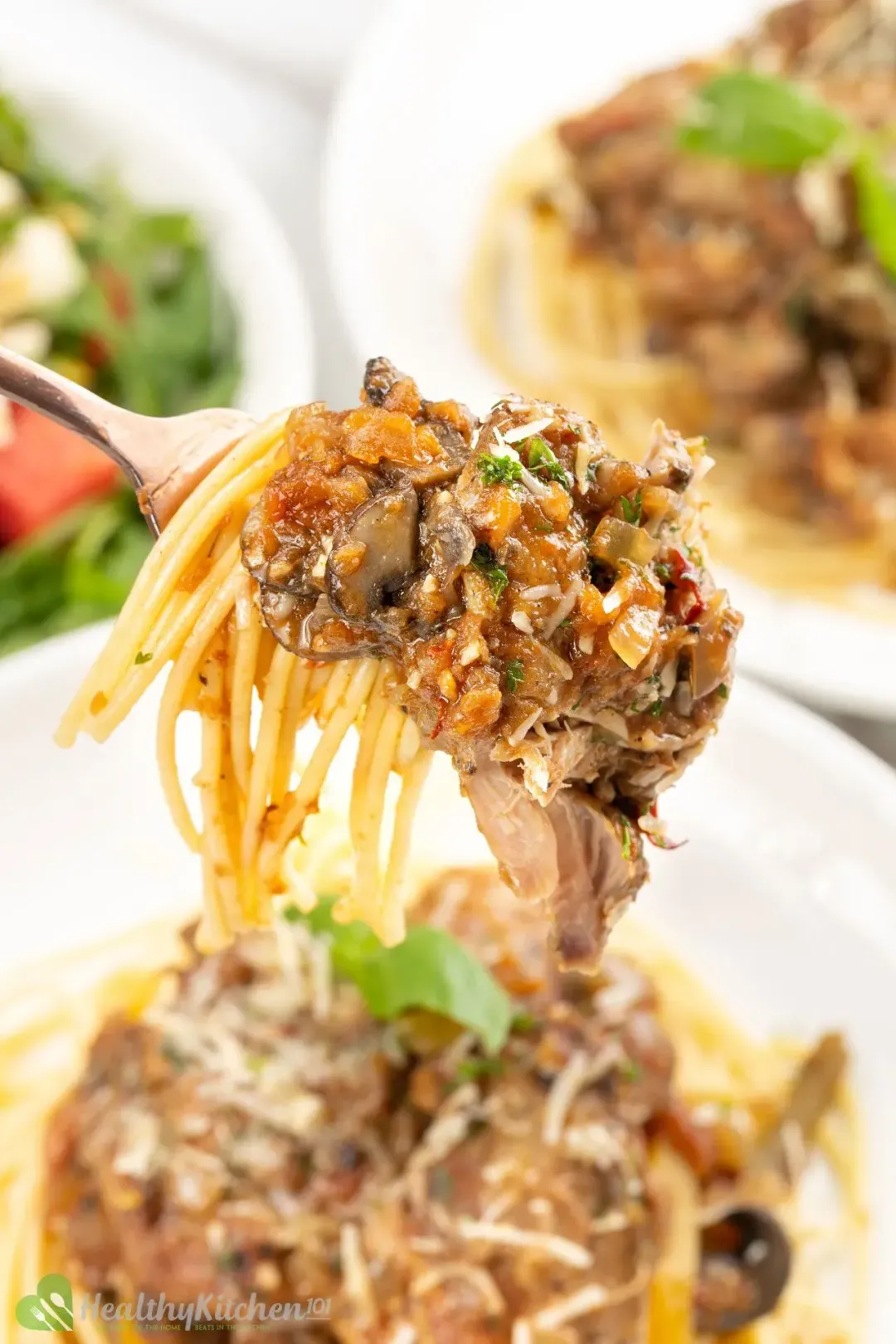 Coming from Tuscany and Umbria, this authentic Italian dish was built on what people could find back then – wild animals. In time, Alla Cacciatora kept up with the cross-cultural craze of dining, and arrived in American cuisine as Chicken Cacciatore.
Is Our Recipe Healthy?
This classic Italian dish could easily have a thousand versions because each home cook has secret ingredients and ways of cooking (see our Instant Pot Chicken Cacciatore Recipe). We came up with our own version that is a bit lighter, healthier and has a bunch of vegetables. Some healthful ingredients we added are:
Mushrooms: low in calories and high in protein, mushrooms are packed with nutrients such as vitamins B and D. Eating this vegetable daily can help in boosting the immune system and improving digestion. 
Bell peppers: peppers come in different sizes and colors – red, orange, yellow, and green. All of them are an excellent source of vitamins A and C, fiber, and potassium.
This wonderful veggie brings about many health benefits from enhancing your eye health to preventing cancer. Their vibrant color, sweetness, and crunchiness can also give an explosion of flavor for any dish.
Tomatoes: tomatoes are referred to as a magical food since beyond being tasty, they provide many basic nutrients. One of them being lycopene – an antioxidant that can enhance health and protect from prostate cancer.
Containing vitamins C, A, K, and carotenoids, tomatoes provide a vitamin boost, protect our skin, and lower the risk of sunburn.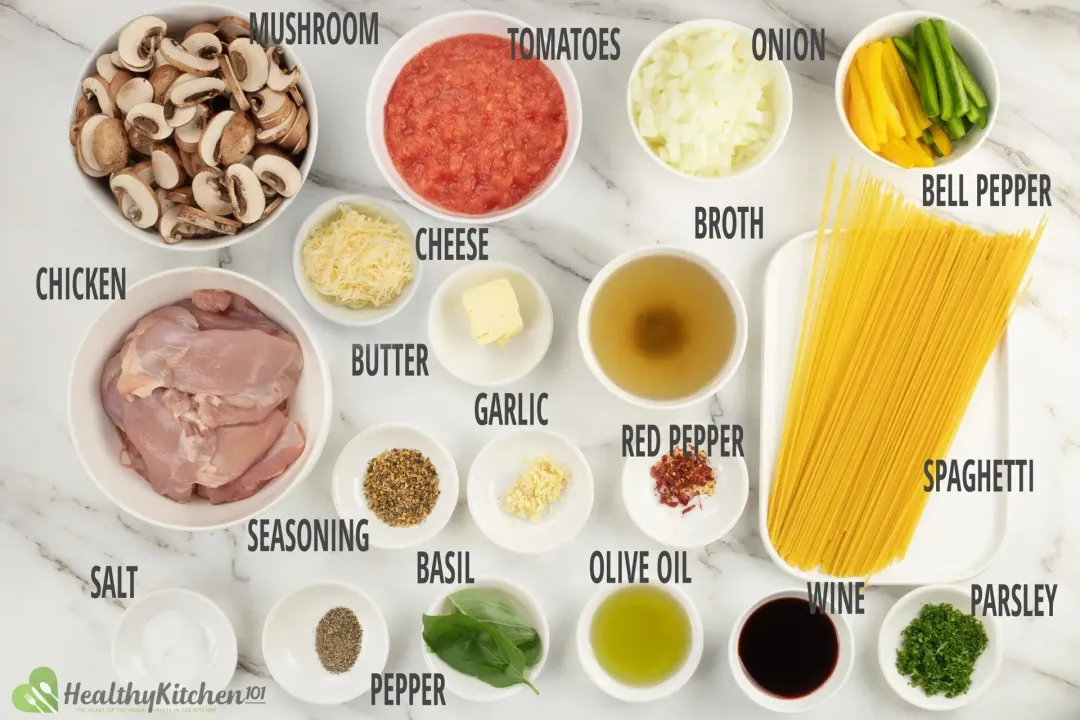 Cacciatore with Chicken Breast
Most chicken cacciatore recipes use chicken thighs for their tender meat and juicy texture. However, for those who want to cut down calories for this recipe, chicken breast is a nice option.
Sauce
Chicken cacciatore recipe appears on many family weekly meal rotations for a simple reason. It's rich, hearty, and easy to make at home with restaurant-quality.
Cacciatore sauce can be made from canned tomatoes, but we believe that nothing can't beat the fresh ingredients. The sauce is simply kicked up with the vibrant tomatoes, you can taste the sweetness and juiciness in every bite.
Tomatoes
Homemade tomato sauce from scratch isn't hard to make, but it requires a little attention.
Let's start by picking fresh tomatoes. Any kind of tomatoes works beautifully in this chicken cacciatore recipe, as long as they are of high quality.
Then you should add a tablespoon of olive oil to the pan before placing the fresh tomatoes in it. Squeezing or chopping tomatoes finely helps them break down faster.
You can return other ingredients like chicken, vegetables to the pan and bring to a simmer. Cook the sauce until you get the desirable consistency.
What Wine Goes with This Recipe?
Adding wine is a simple way to add richness to the dish. Chicken cacciatore is basically chicken thigh cooked in a tomato-based sauce, garlic, pepper, and onion.
In Southern Italy, red wine is the most favored in use, while it's usually dry white wine that's preferred in Northern Italy. To name a few:
1. Red Wine
Some wine that can provide the best flavor for this chicken cacciatore recipe: Chianti Classico, Pinot Noir and Lambrusco.
2. White Wine
You can always replace red wine with wine one in its place. Pinot Grigio, Sauvignon Blanc and Chardonnay are some of our favorites.
One last note: If you opt for wine, keep it in mind that alcohol will always dilute the sauce, so it's better to be careful on the amount. You know what they say, an ounce of prevention is worth a pound of cure.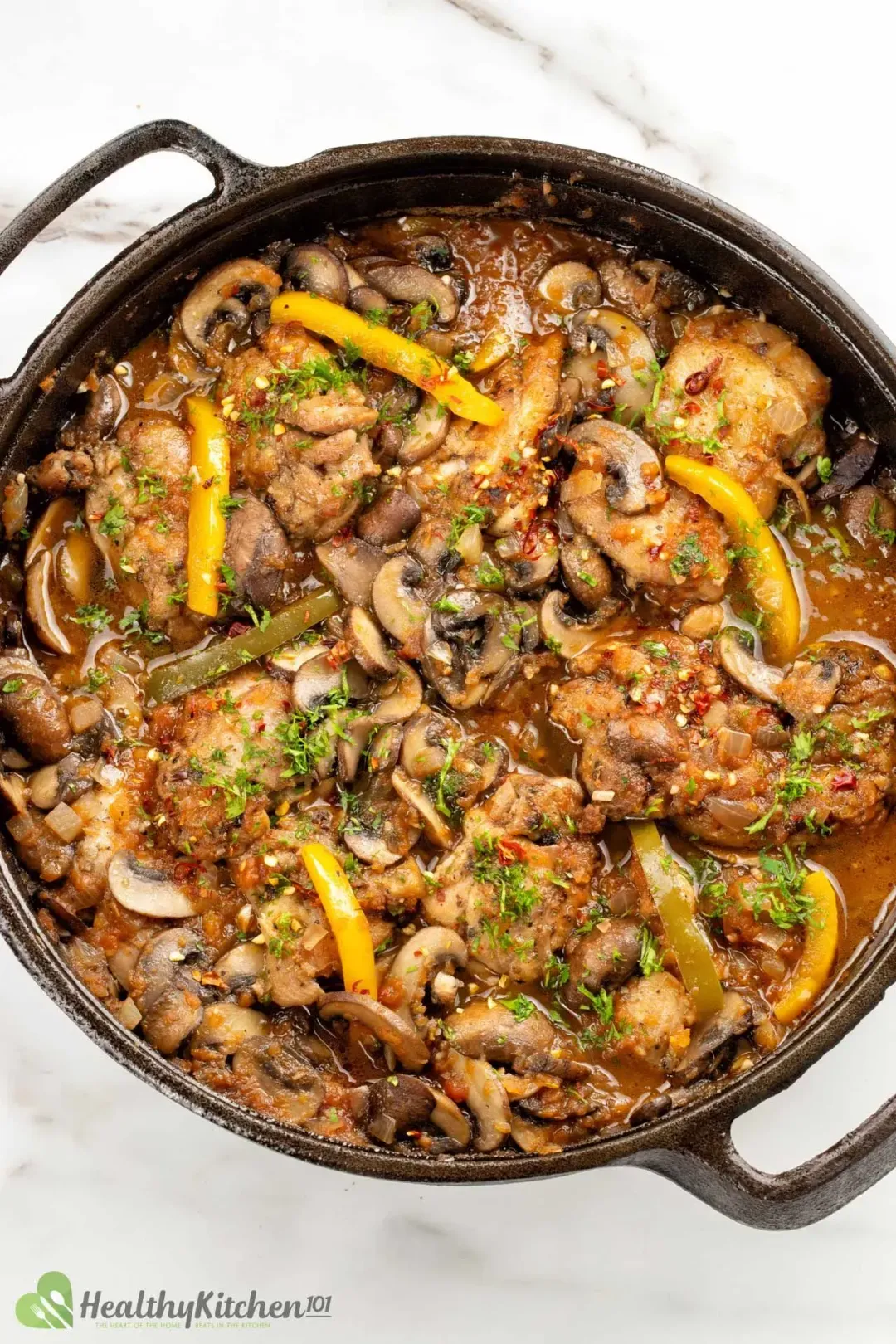 What Goes with This Chicken
There are many ways to customize this recipe to your own preference. Here are a few additions you can make:
1. Olive
The flavor of olives stewed with chicken and vegetables is interesting and irresistible. We prefer kalamata olives, but both black and green olives work beautifully in this recipe. 
2. Mushrooms
Cremini mushrooms add a nice texture and an earthy flavor to the sauce. You also can try button mushrooms instead of cremini mushrooms. 
3. Pasta
Pasta always goes well with Italian dishes, and we recommend spaghetti or fettuccine for this recipe. They can soak up the juices from the sauce and provide a good amount of carb as well.
4. Rice
Some people serve chicken cacciatore over rice instead of pasta, and it's an ideal alternative. Dipping the spoon of rice in the sauce and taking a bite of succulent chicken, you feel all the goodness of the dish.
How Many Calories
Our chicken cacciatore recipe provides 503 calories, including cooked spaghetti. Serving the dish with salad to balance out the creamy flavor and also add a dose of vitamins is a great option.
This chicken cacciatore is a complete meal that is going to satisfy your palate and keep you full until the next meal.
If you are craving some chicken dinner ideas, our chicken piccata is definitely worth a try. It's simple, tasty and healthy, as with all recipes on our website!
What to Serve with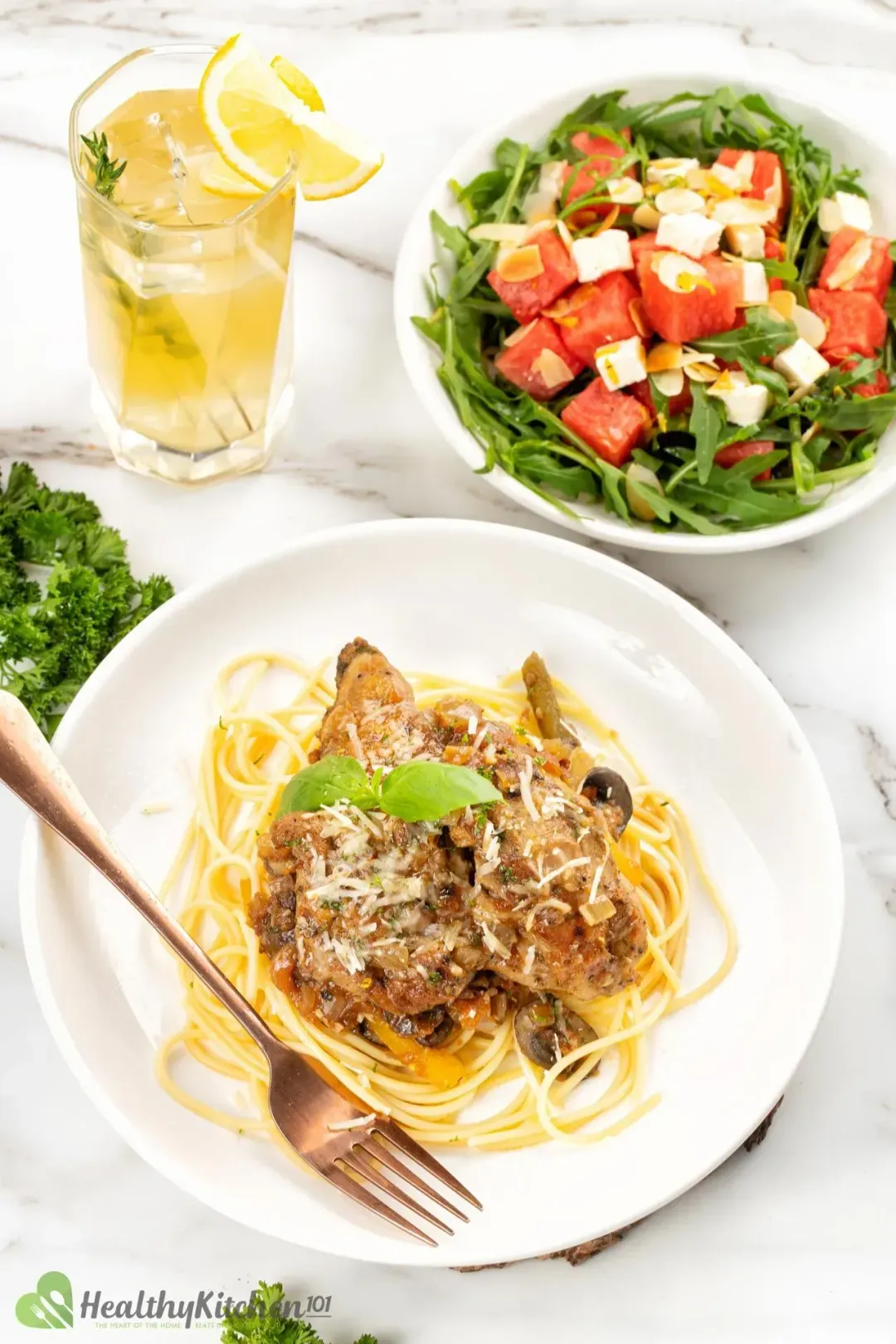 Of course, it is indisputable that the blend of garlic, bell peppers and Parmesan cheese support the flavor of this dish beautifully. But, know what else would go well with it? A bed of well-cooked pasta or rice for your cacciatore to rest on. If that's not your suit – how does creamy mashed potatoes or polenta sound to you?
Some of the quickest and easiest side options are cauliflower rice and steamed vegetables (spinach is typical). Especially if you're in a hurry for a hearty but tasty meal, all you need is something vegetal – easily chopped, prepped and cooked through.
Veggies are always the best choice to satisfy both the appetite and "healthy" requirement. Today, we recommend serving this chicken cacciatore recipe with watermelon arugula salad and fresh lime juice.
Easy, Saucy Chicken Skillets to Try
In case you're looking for alternatives to this saucy chicken skillet, we have a few candidates we think you'd love.
Rich and bursting with flavors, this coconut chicken is a pretty odd combination that happens to turn out nicely. Each serving features a large chicken breast that is golden brown and swimming in sauce, with chunks of mushrooms and asparagus served over rice.
This chicken and mushroom skillet is a more traditional take, with browned chicken breasts and cream of mushroom. The rich, succulent sauce pairs phenomenally with homemade potato mash.
We have tons of similarly easy chicken skillets here. Go see and pick out your favorites.
Chicken Cacciatore
This chicken cacciatore recipe is so simple. Prep, brown, sauté – that's all you'll need to do. Requiring minimal time and effort but is still full of rich flavor, this dish is a delicious way to bring people together.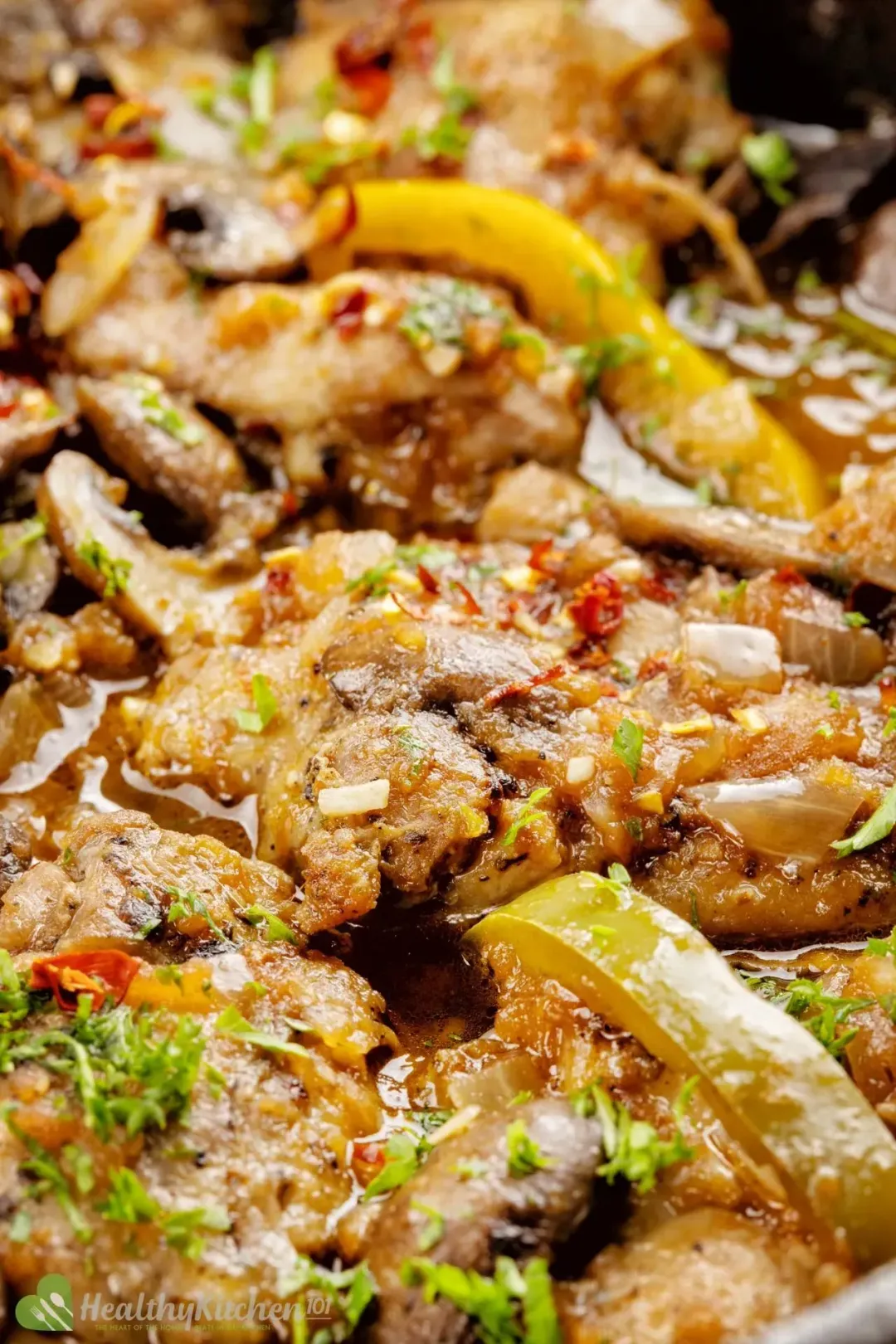 cook TIME

30 mins

prep TIME

20 mins

total TIME

50 mins
COURSE

Main Course

CUISINE

Italian

SERVINGS

CALORIES

508 kcal
INGREDIENTS
24 oz

skinless chicken thighs

4 oz

red bell pepper

(cubed)

2 cups

unsalted chicken broth

1 1/2 tbsp

unsalted butter

1 1/2 tsp

Italian seasoning

1/2 tsp

red pepper flakes
INSTRUCTIONS
1
Season 24 oz chicken thighs with 1/8 tsp of salt, 1/4 tsp of pepper, and 1 tsp of Italian seasoning. Set aside for 10 minutes.
2
Bring a large pot of water to a boil. Put in the 24 oz tomatoes and cook them for 1 minute. Then transfer them into ice water so that they can cool quickly. Use a sharp knife to remove the tomato skins.
3
In a cast-iron pan, heat 1 tbsp olive oil over medium-high heat. Sear the chicken thighs on each side for 10 minutes in total. Set aside.
4
In the same pan saute 10 oz crimini mushrooms for about 5 minutes. Remove mushrooms from the pan and set aside.
5
Add 1 1/2 tbsp butter to the pan along with 2 oz onion, 1 oz tomato paste, 4 oz bell pepper, and 2 tsp garlic. Cook for about 5 minutes over medium heat or until vegetables have softened.
6
Once the vegetables are cooked, add 1/4 fl oz red wine and cook down for 1 minute. Then add in the tomatoes, 1 oz parmesan, the remaining 1/8 tsp salt, 1/2 Italian seasoning, and 1/4 tsp pepper.
7
Return the chicken to the pan. Add 2 cups chicken broth, vegetables, 1/2 tsp red pepper flakes, and 1 tbsp basil. Stir well and simmer for 5 minutes.
8
Turn the heat off. Sprinkle in the remaining 1 oz parmesan and 2 tbsp parsley. Serve over spaghetti.
NUTRITION
Nutrition Facts
Chicken Cacciatore
Amount Per Serving (1 serving)
Calories 508
Calories from Fat 171
% Daily Value*
* Percent Daily Values are based on a 2000 calorie diet.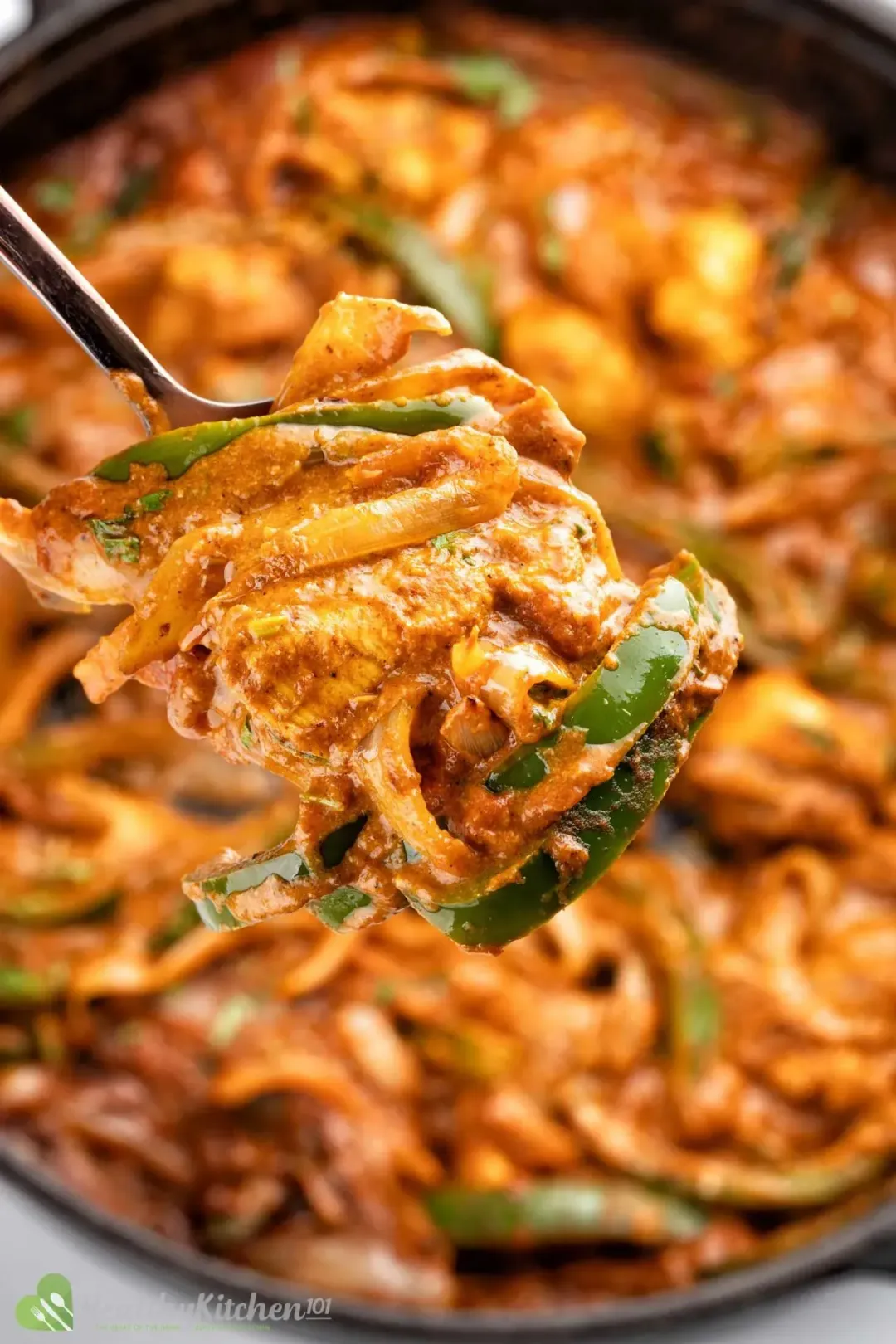 Previous Recipe
Chicken Tikka Masala
Chicken Tikka Masala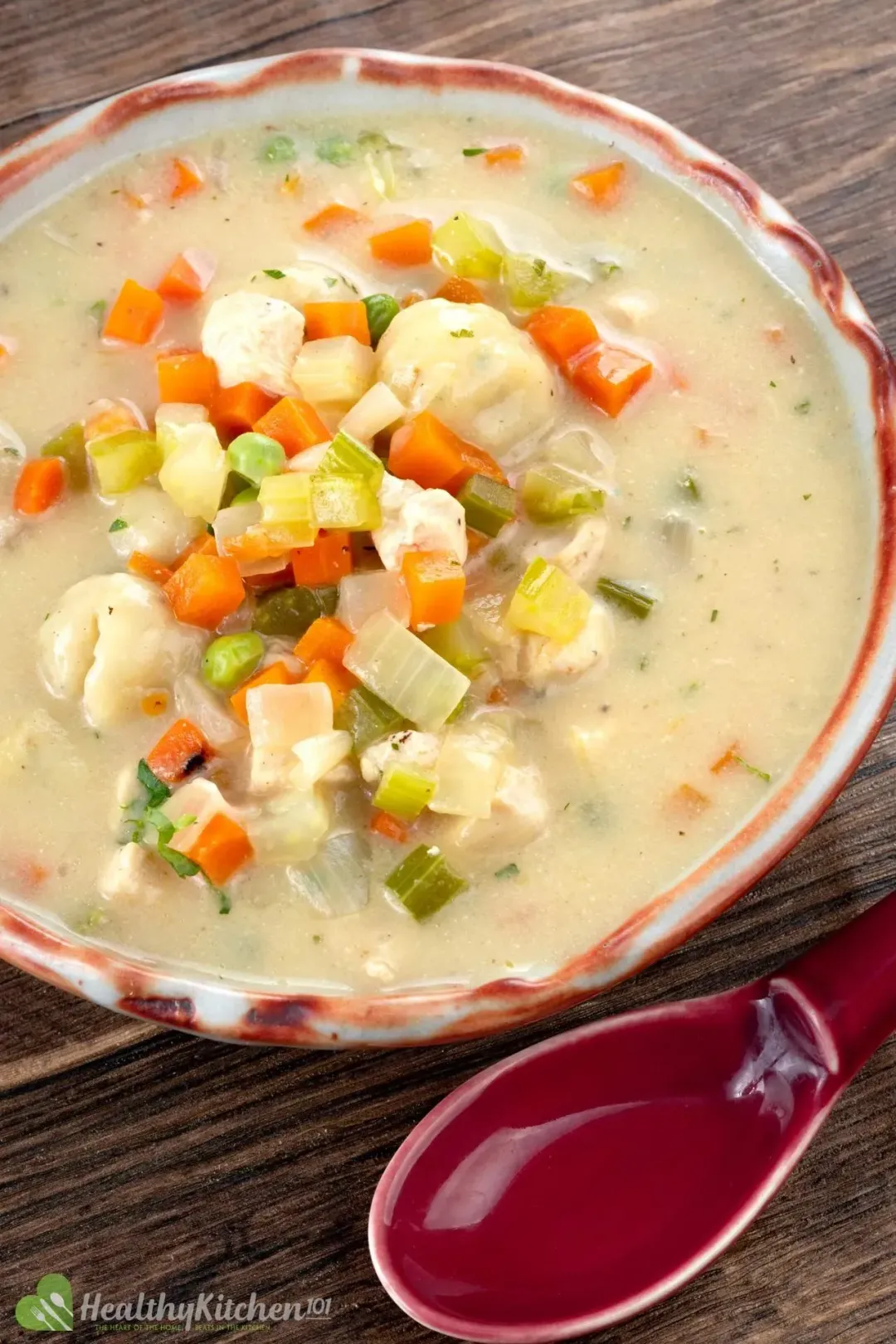 Next Recipe
Easy Healthy Chicken and Dumplings
Easy Healthy Chicken and Dumplings
Head Chef, Culinary Consultant
Tuyet Pham is an award-winning Saigonese chef who believes that joy is the secret ingredient to delicious food. At Healthy Recipes 101, Tuyet personally tests and simplifies every recipe, ensuring maximum flavor with minimal effort. With a background at prestigious French restaurants P'TI Saigon and Le Corto, Tuyet knows how to make every dish exceptional.
Writer, Author
Luna Regina is an accomplished writer and author who dedicates her career to empowering home cooks and making cooking effortless for everyone. She is the founder of HealthyKitchen101.com and HealthyRecipes101.com, where she works with her team to develop easy, nutritious recipes and help aspiring cooks choose the right kitchen appliances.
Nutrition Reviewer
Lizzie Streit is a Minneapolis-based dietitian and founder of It's a Veg World After All. She completed her MS in Human Nutrition from Drexel University, and is an expert in culinary nutrition, recipe development, and nutrition communications. Lizzie's philosophy is centered around making nutrition recommendations, and especially the advice to eat more vegetables, approachable and realistic. She is excited to be working with the team at Healthy Recipes 101 to ensure that their recipes are both nutritious and delicious.
I cooked this chicken cacciatore and it was so delicious! The combination of herbs, tomatoes, and peppers gave this dish a really unique flavor.