This stovetop healthy chicken carnitas recipe guarantees a quick and flavorful weeknight meal. It's a caramelized chicken dish with fresh vegetables that comes together in a flash.
Life always seems like a balancing act; trying to complete daily necessities as well as trying to keep healthy. As nine-to-five people, we completely get the struggle of striving for healthy long-term goals when there's so much to do!
Sometimes, shopping for enough ingredients for the whole week seems to be challenging enough. Sometimes you don't want to cook or wonder what to cook.
As a matter of fact, the question of a nutritious and convenient meal isn't that hard to solve. Keep scrolling down for some inspiration.
What Is Carnitas?
Originating in Michoacán, Mexico, carnitas is traditionally made by cooking pork meat in its own fat or the cooking liquid. Then adding seasonings that caramelize when on heat so the meat can reach a perfect tender texture and beautiful taste.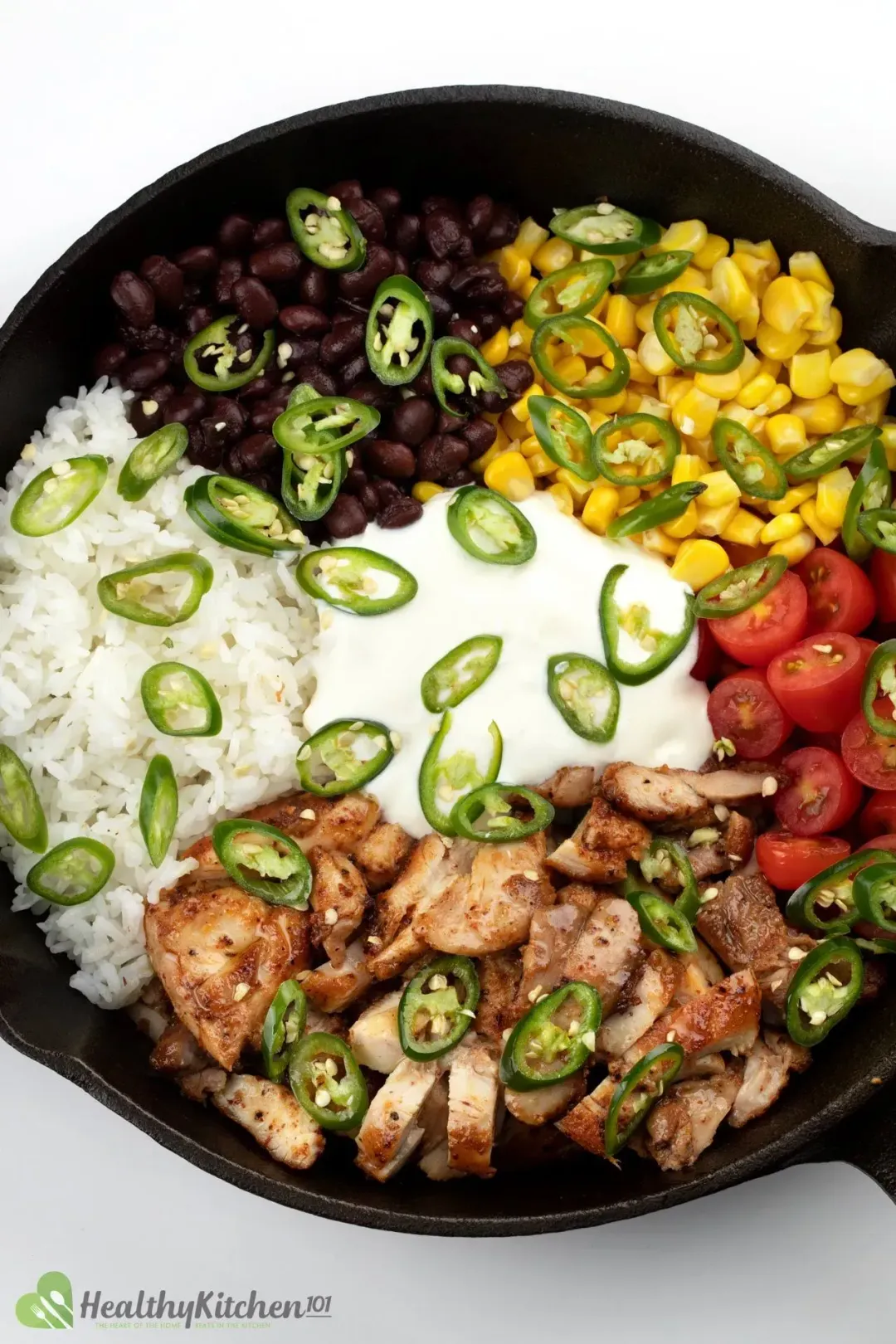 In Romanian, the word "carnitas" means "meat pieces".
In Mexico, most of the multi-indigenous languages are derived from Latin (including Romanian). Therefore, it is no surprise that chicken carnitas recipe also accrues a Latin term.
In actuality, it doesn't always have to be pork. You can still braise boneless skinless chicken breasts or thighs and call it chicken carnitas.
Is Chicken Carnitas Healthy?
Our chicken carnitas recipe is packed with clean and natural ingredients. This includes chicken thighs, rice, black beans, sweet corn, baby tomatoes, and Greek yogurt.
For that reason, these crispy tender chicken carnitas are super fresh and clean. We believe it'll make an ideal choice to satisfy your taste buds during dieting days without going off the track.
How Many Calories?
This chicken carnitas recipe is made as a main dish and provides 494 calories per serving. Enjoy it together with a portion of guacamole for a complete meal.
How Long Do You Cook?
This chicken carnitas recipe is a prep-friendly dish without exotic ingredients. 35 minutes of cooking time on the stovetop is all you need to make this delicious meal.
We also leave about half an hour to let the chicken rest in the marinade. However, you need not follow this time amount precisely.
If you're in a rush and your meal can wait no more, it's okay to cut down the marinating time. Make it 10 minutes rest for the chicken pieces and you'll be good.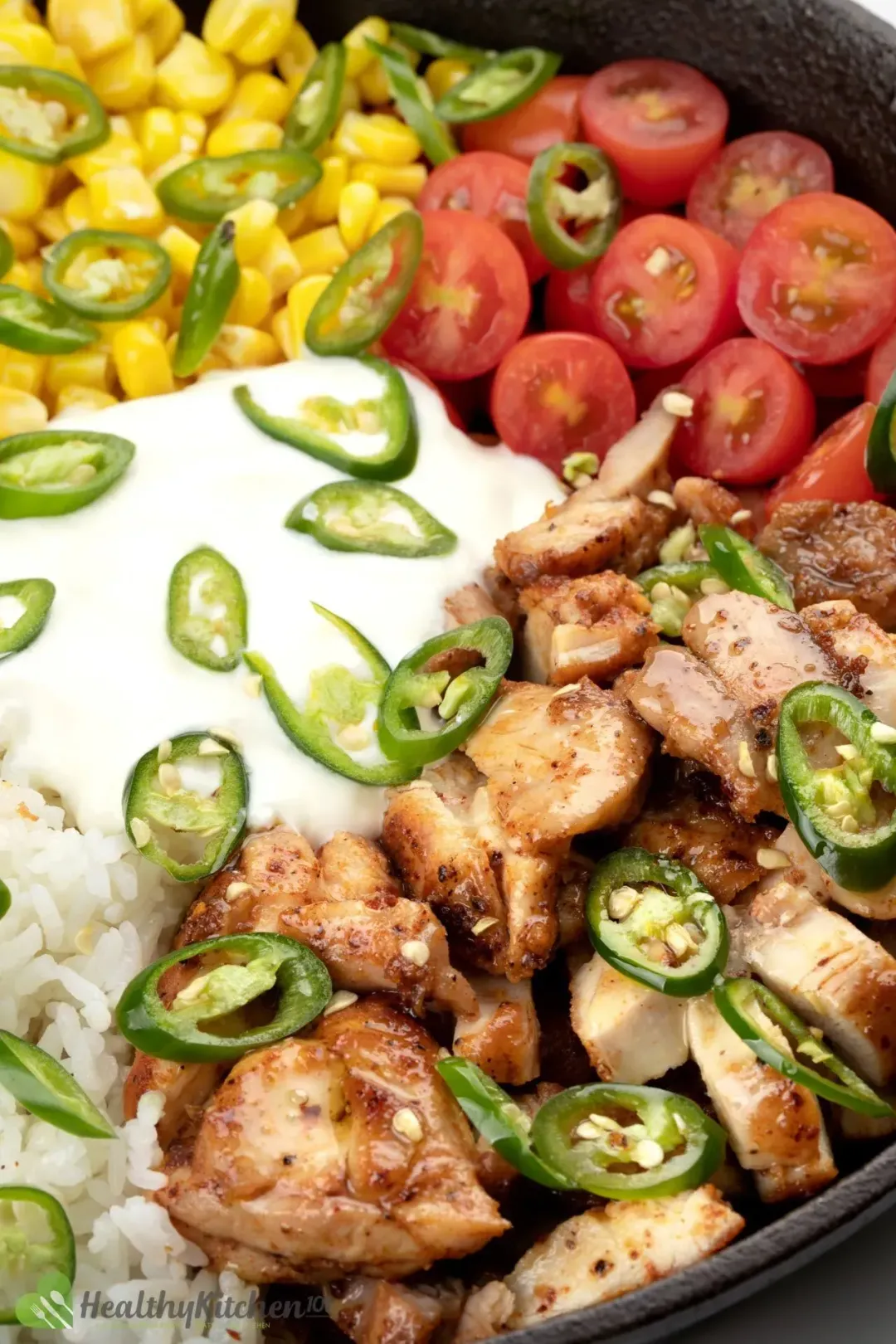 What Goes with This Recipe
Besides good dashes of Latin spices, chicken carnitas goes fabulously well with classic Mexican food. These crispy chicken shreds also work as a nice way to add protein to your salads.
1. Tacos
Tacos can be made all the more easily with chicken carnitas.
These tender juicy meat strips with browned edges make a perfect pair with crispy taco shells. Add it to almond flour tortillas if you're looking for a healthier version of tacos.
Another rolled dish with chicken filling that's pretty identical to tacos is chicken taquitos. Be sure to pay it a visit if fried chicken enclosed within tortillas appeals to you.
2. Nachos
Aside from eating chicken carnitas in tacos, you can also pile it up on nachos. We highly recommend topping it with Chipotle sauce, chimichurri sauce, or Parmesan cheese to make this combination extra tasty.
3. Rice
Steaming rice takes little effort, as the cooker does most of the work. Season the rice a little and it'll make a combination that's as interesting as others.
If you're afraid of piling the carbs too high, simply go for a cauliflower rice bowl instead.
If you are craving some chicken dinner ideas, our baked chicken breast is definitely worth a try. It's simple, tasty and healthy, as with all recipes on our website!
How Long Does It Last in the Fridge?
If stored in an airtight container and put into the fridge, chicken carnitas can stay good for three days. To extend this period to three months, simply transfer the sealed chicken carnitas to the freezer.
Reheating will take no more than 15 minutes on the stovetop over medium heat.
What to Serve with
Chicken carnitas is an easy and delicious dish that takes only a few minutes to assemble.
Chicken is crisped up with Mexican spices on the skillet to create savory browned meat shreds. A combination of vegetables and a nice bowl of guacamole are then put together as complementary side dishes.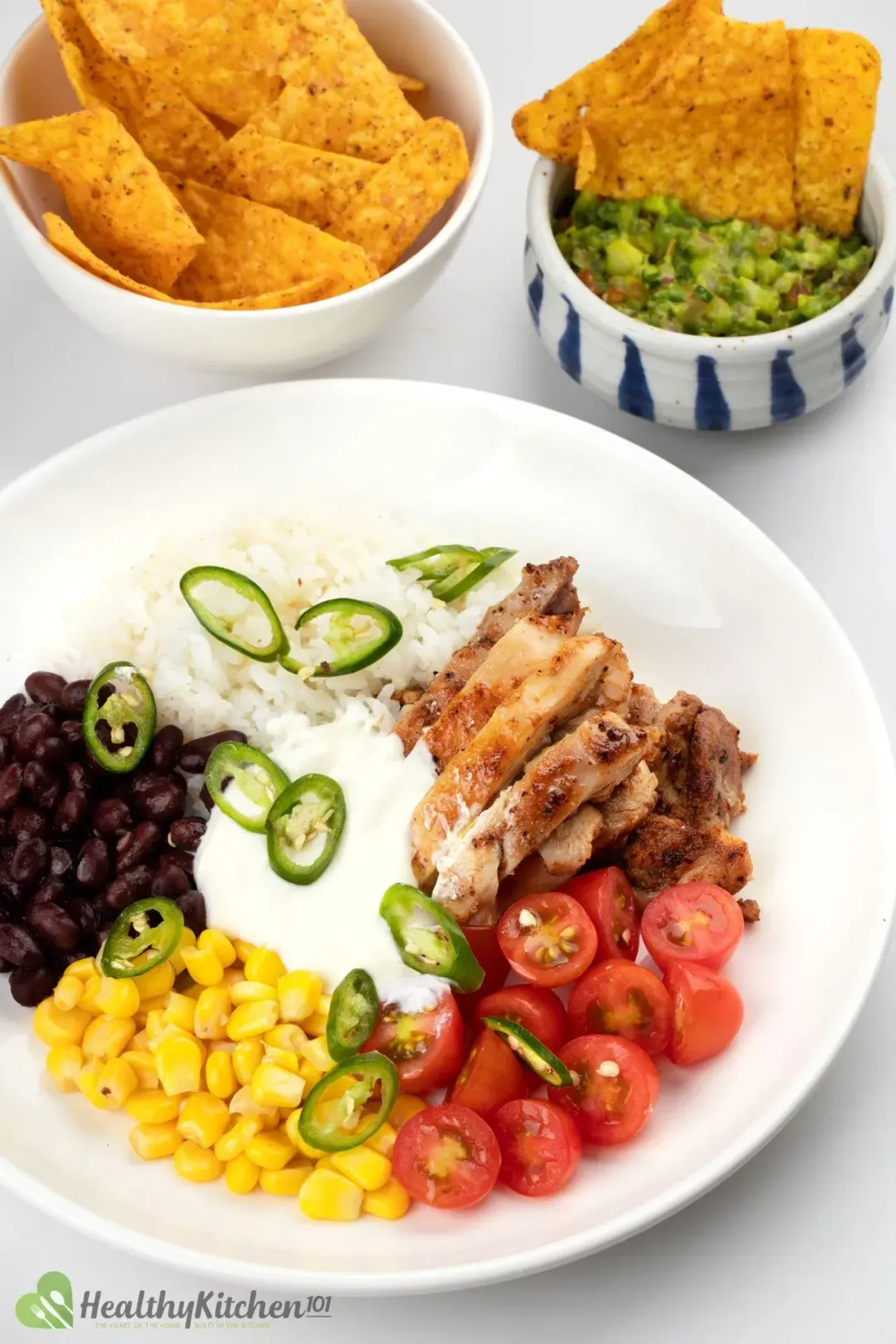 Below are the nutrition values for this meal. Now, enough talking, time to go into action!
More Saucy Grilled Chicken Dishes to Try
Our chicken marbella cooks in the oven, and takes on this beautiful color that clearly shows how tasty it is. There's chicken and plums in the tray along with a savory sauce with red wine and capers that add amazing flavors.
That similar result can be taken to another level. Prior to the baking, we seared our chicken skin side down until golden to achieve a better texture of the skin. You can see that there's just a few ingredients, but thanks to this technique it doesn't need a lot either.
Healthy Chicken Carnitas
Every crispy bit of this healthy chicken carnitas recipe is worth devouring. It's effortless to throw things together, and perfect to add a bit of variety to your regular weeknight meals.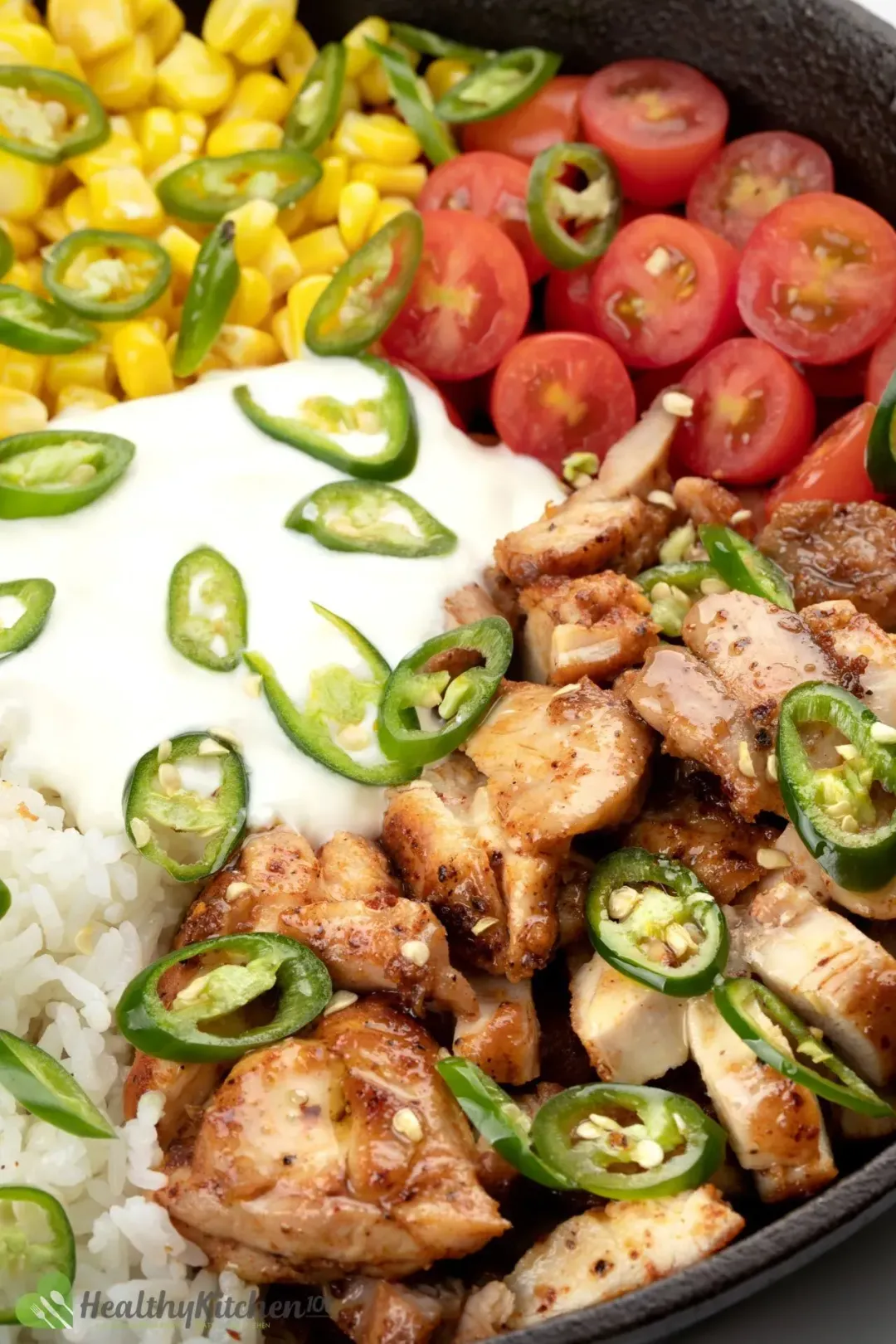 cook TIME

35 mins

prep TIME

10 mins

total TIME

1 hr 20 mins

INACTIVE TIME

35 mins
COURSE

Main Course

CUISINE

Mexican

SERVINGS

CALORIES

494 kcal
INGREDIENTS
16 oz

skinless boneless chicken thigh

4 oz

baby tomatoes

(chopped in half)

1/2 cup

plain Greek yogurt

2 1/2 tbsp

olive oil

(divided)

3 cup

cooked medium-grain rice

(equals to 1 cup uncooked)

1/4 tsp

ground black pepper

Side together with guacamole in one plate.
INSTRUCTIONS
Prep
1
Marinate 16 oz chicken thighs with 1/4 tsp paprika, 1/4 tsp cumin, 1 tsp chili powder, 1/2 tsp garlic powder, 1/2 tsp onion powder, 1/4 tsp ground black pepper, 1/2 tsp salt, 1 tsp white wine vinegar, and 1 tbsp of olive oil. Toss to combine.
2
Let the chicken sit for 30 minutes.
Cook
1
On a cast-iron skillet, heat 1 1/2 tbsp of olive oil over medium heat. Add the chicken thighs in.
2
Fry the first side of the chicken for 10 minutes, and the second side for 8 minutes. Remove from heat.
3
Transfer the fried chicken thighs onto a cutting board, let them cool down for 5 minutes.
4
Slice the fried chicken meat in thick strips.
5
Assemble the chicken strips on a large plate (can also put them on a shallow skillet if you don't have any plate large enough) together with 3 cups hot cooked rice, 4 oz black beans, 4 oz sweet corn, 4 oz baby tomatoes, and 1/2 cup Greek yogurt.
6
Add guacamole together onto the plate to side along.
7
Sprinkle 1 oz chopped jalapeno on top. Serve immediately.
NUTRITION
Nutrition Facts
Healthy Chicken Carnitas
Amount Per Serving (1 serving)
Calories 494
Calories from Fat 144
% Daily Value*
* Percent Daily Values are based on a 2000 calorie diet.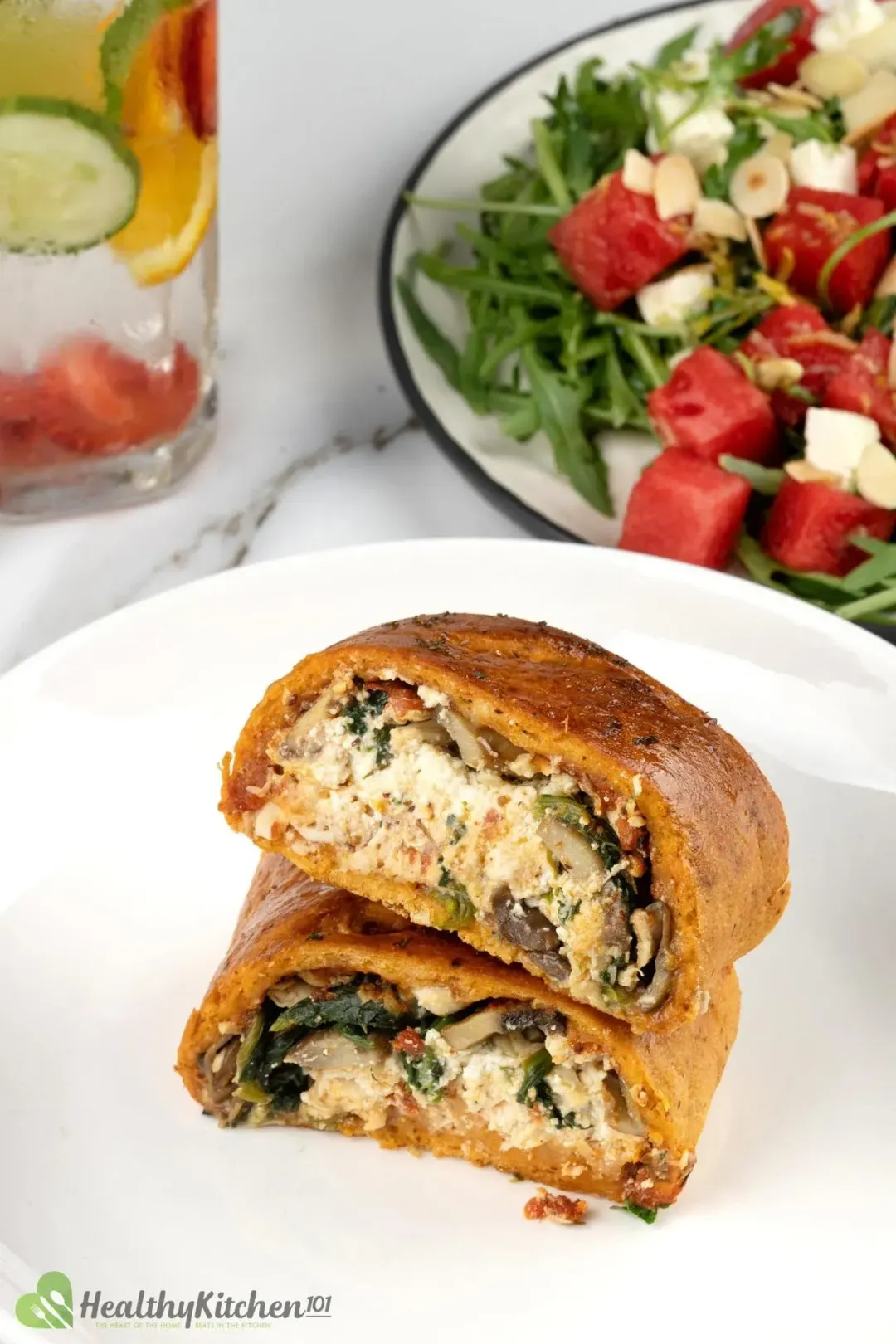 Stromboli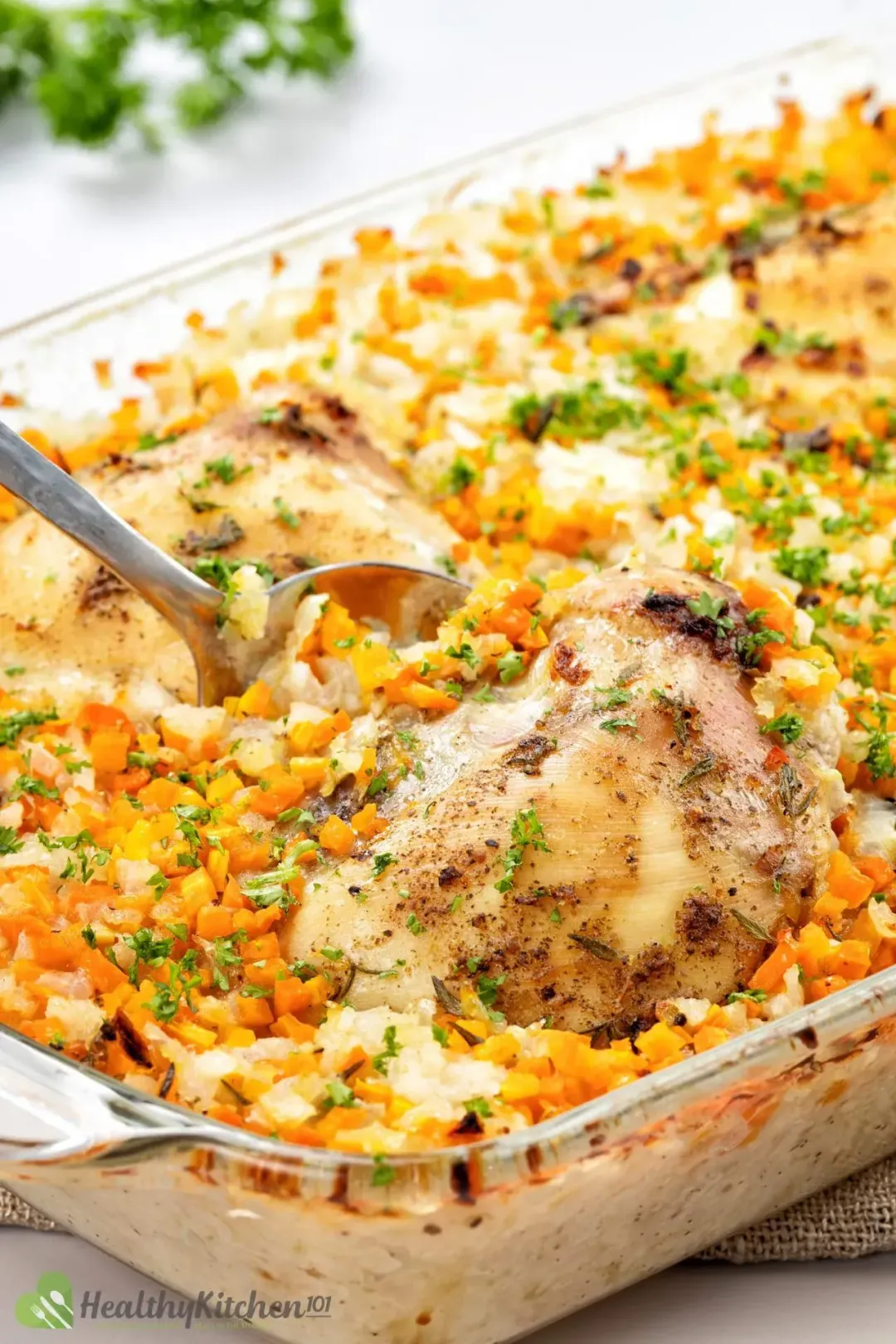 Next Recipe
Healthy Chicken And Rice Casserole
Healthy Chicken And Rice Casserole
Head Chef, Culinary Consultant
Tuyet Pham is an award-winning Saigonese chef who believes that joy is the secret ingredient to delicious food. At Healthy Recipes 101, Tuyet personally tests and simplifies every recipe, ensuring maximum flavor with minimal effort. With a background at prestigious French restaurants P'TI Saigon and Le Corto, Tuyet knows how to make every dish exceptional.
Writer, Author
Luna Regina is an accomplished writer and author who dedicates her career to empowering home cooks and making cooking effortless for everyone. She is the founder of HealthyKitchen101.com and HealthyRecipes101.com, where she works with her team to develop easy, nutritious recipes and help aspiring cooks choose the right kitchen appliances.
Nutrition Reviewer
Lizzie Streit is a Minneapolis-based dietitian and founder of It's a Veg World After All. She completed her MS in Human Nutrition from Drexel University, and is an expert in culinary nutrition, recipe development, and nutrition communications. Lizzie's philosophy is centered around making nutrition recommendations, and especially the advice to eat more vegetables, approachable and realistic. She is excited to be working with the team at Healthy Recipes 101 to ensure that their recipes are both nutritious and delicious.
I love the idea of chicken carnitas. This bowl looks so fresh, delicious and healthy. I'm bookmarking for the new year — when I'll be eating clean. 🙂

Awww I'm super glad it'll help on your clean-eating diet 😉 I promise it's the dose of freshness you'll need 😉

This looks so amazing. But I guess the key here is to make sure you buy really quality ingredients.

Yes, it is indeed what concerns me everytime I'm in the middle of the food aisle. So glad to hear your thoughts, Elizabeth 😀

I'm confused. The description talks about oven braising and broiling and yet the cooking directions don't involve either.