Just like the calzone, stromboli is a sensational spinoff of the prized pizza. It's a heartwarming favorite. This stromboli recipe features a thin, golden pizza crust, with layers of fresh mozzarella melted over the moist chicken center. And as a bonus, it packs some healthy greens too!
What is Stromboli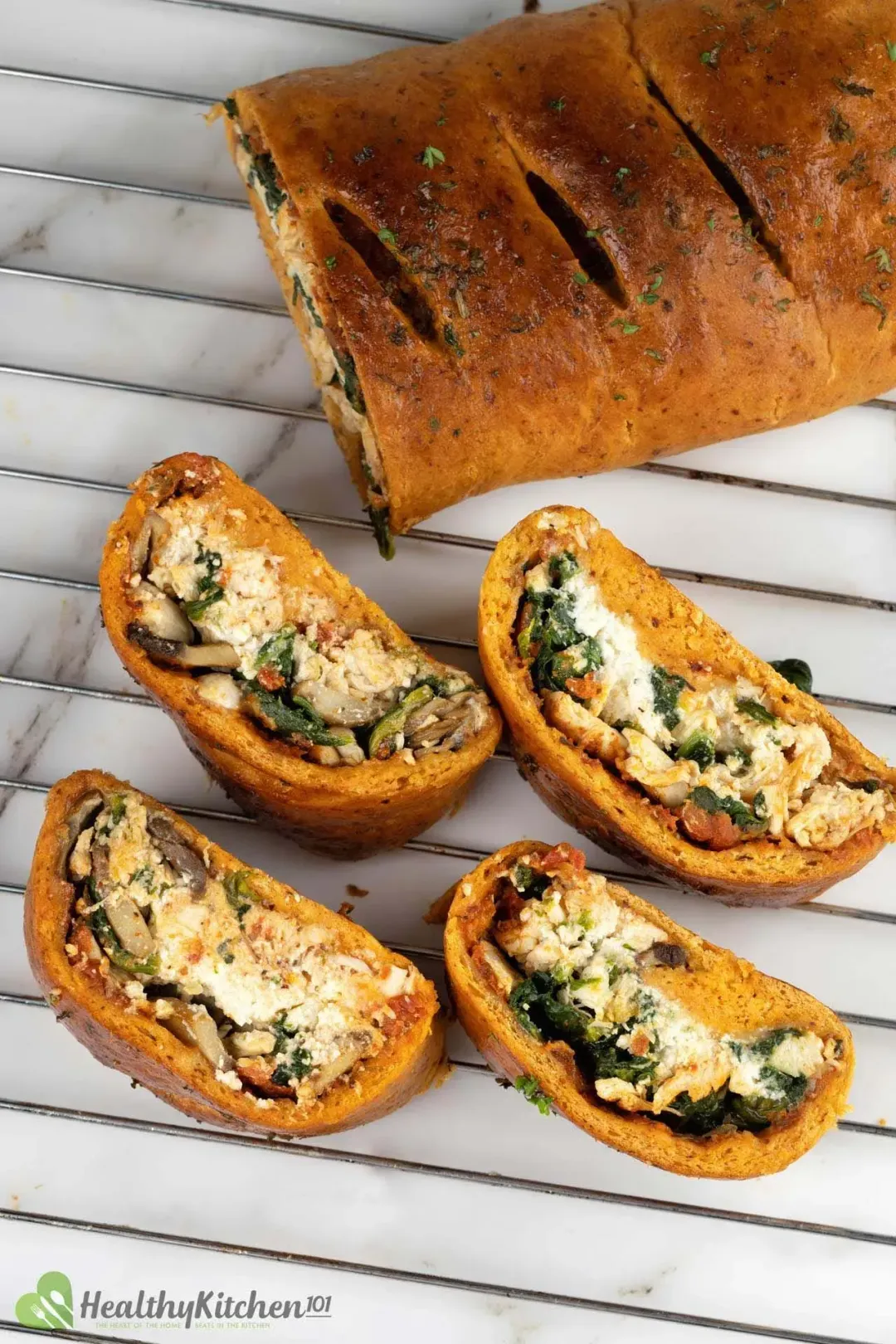 Stromboli is a rolled-up version of pizza. It's an Italian-American turnover. The savory pastry features a filling made of cold meat cuts and ricotta cheese. 
A typical stromboli has pizza ingredients like pepperoni, pizza sauce, and ricotta. They're added as a filling to pizza dough and rolled into a sort of wrap. Finally, the stromboli is baked and served piping hot.
Differences Between Stromboli and Calzone
Stromboli and calzone are closely related. But a better look at the dough, filling, and origins distinguishes the two.
1. Origins
Stromboli originated in America. However, it's open to debate on where exactly, or who invented the dish. A calzone, on the other hand, is 100% Italian street food.
2. Dough
Though both Stromboli and Calzone are made from pizza dough, stromboli has a rectangular shape. You then roll it up with the filling, like a log, and bake it. Whereas, calzone dough is circular. You fill and fold it into a crescent shape before baking.
3. Filling
It gets a touch tricky here. Some think a stromboli filling should include the sauce. While others believe, just like a calzone, the sauce should be a dip. We, however, think it's up to you. If you appreciate a messy, sauce-dripping bite, which delivers an avalanche of flavors— by all means, go for it! 
Tips for Making the Dough for Stromboli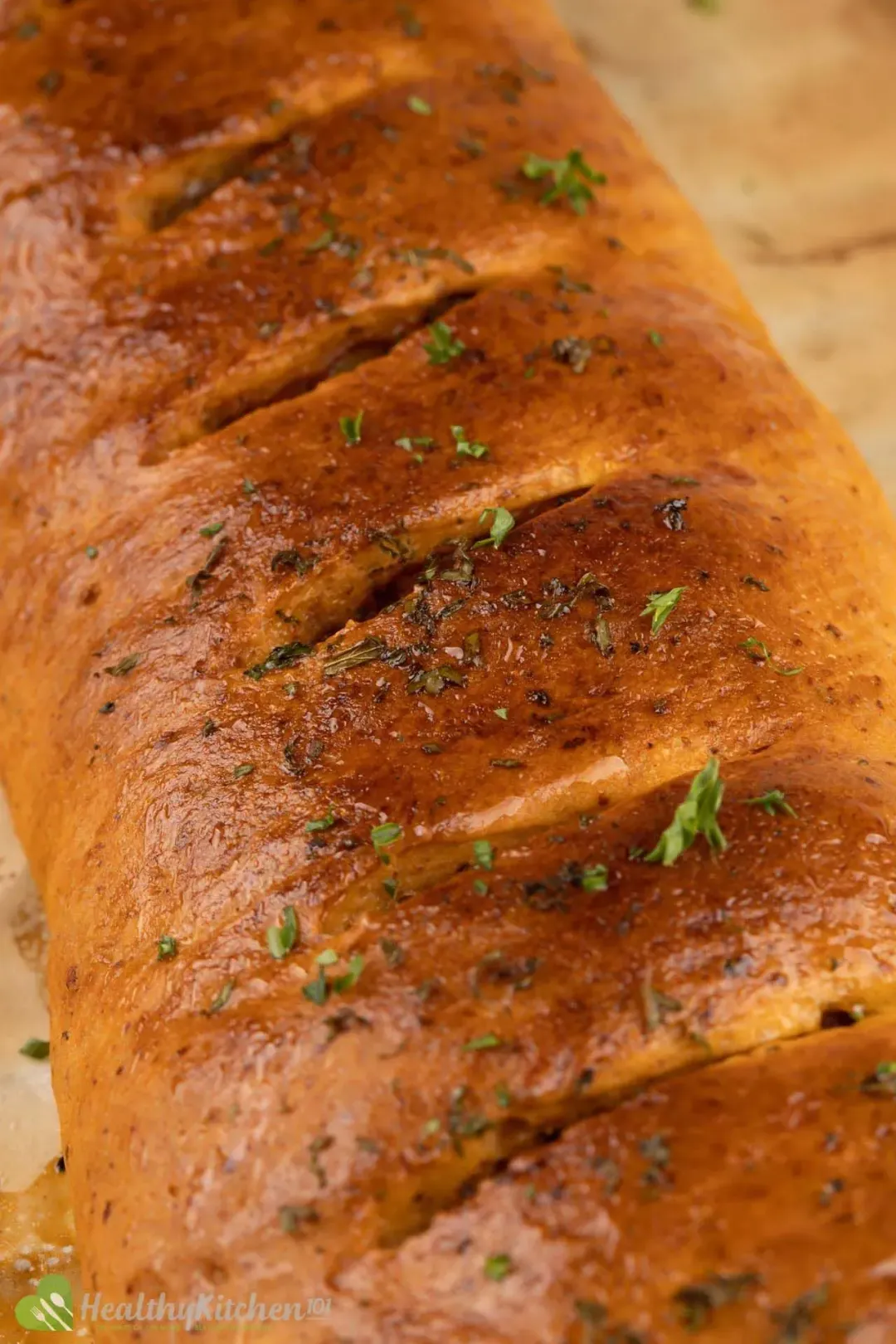 Stromboli typically features a pizza dough crust. In this stromboli recipe, we've gone for simple pizza dough. It's easy to make and produces a light crust that complements the rich flavors from the filling. Making dough can be therapeutic, and you have the added bonus of knowing exactly what's in your food!
When making the dough, a warm environment for the yeast to rise is essential. Foolproof this step by preheating your oven to 140-160°F. When the dough is ready to proof, turn off the oven and pop the dough in. 
Though optional, you can mix the salt with the already proofed yeast. This dissolves the salt to make for a smoother dough. Just don't add it to the yeast mixture before it has fully proofed, as this could risk killing the yeast.
A final tip is to transfer the dough onto the sheet pan before adding the fillings. Not to say your attempt to quickly place a thin, full, heavy-packed and rolled dough onto a baking sheet will fail, but it definitely eases the process.
How Healthy is Stromboli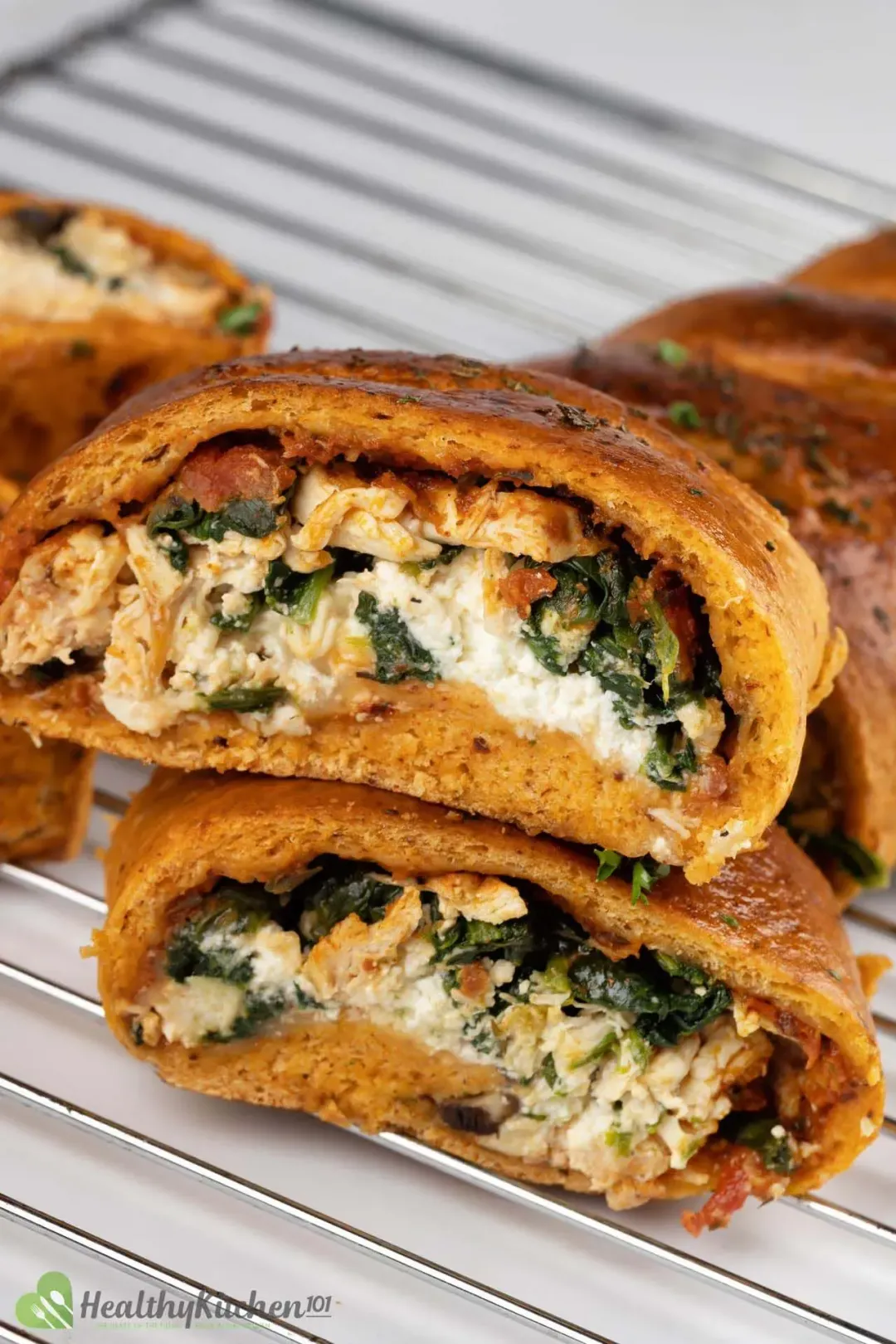 Stromboli doesn't usually take a front seat in the 'healthy' section. There's plenty of room for improvement. So we've made a more nourishing stromboli recipe. One that monitors the fat and replaces them with healthy, beneficial calories.
Our dough recipe is not only delicious but lower in sodium content, too. Monitoring sodium in food and restricting it to levels under the recommended daily intake (2300mg) may help improve disease associated with kidneys, blood pressure, and heart disease.
Combining mozzarella and ricotta cheese enriches the flavors of the stromboli. They're also a monitored way to up the healthy calories. Cheese, in moderation, is beneficial in building bone strength. It's a high-energy, flavorful tie to all the elements. 
A mixture of chicken and spinach makes a healthful, meaty center. In addition to iron, spinach is high in vitamin K, which contributes to growing stronger, healthier bones. Plus, it's extremely enjoyable when eaten with cheese and bread products like this stromboli crust. 
For this stromboli recipe, swap the typical cold cuts for chicken instead. Compared to salami or ham, chicken has a significantly lower sodium content. It's also a low-fat, high-protein substitute, so a little really goes a long way.
Best Side Dishes
Because stromboli is a rich, creamy-centered dish, we propose a mild side dish to round up the texture and flavors. Healthy side dishes like salads or homemade sauces are the best way to go. Here are some suggestions that complement stromboli beautifully: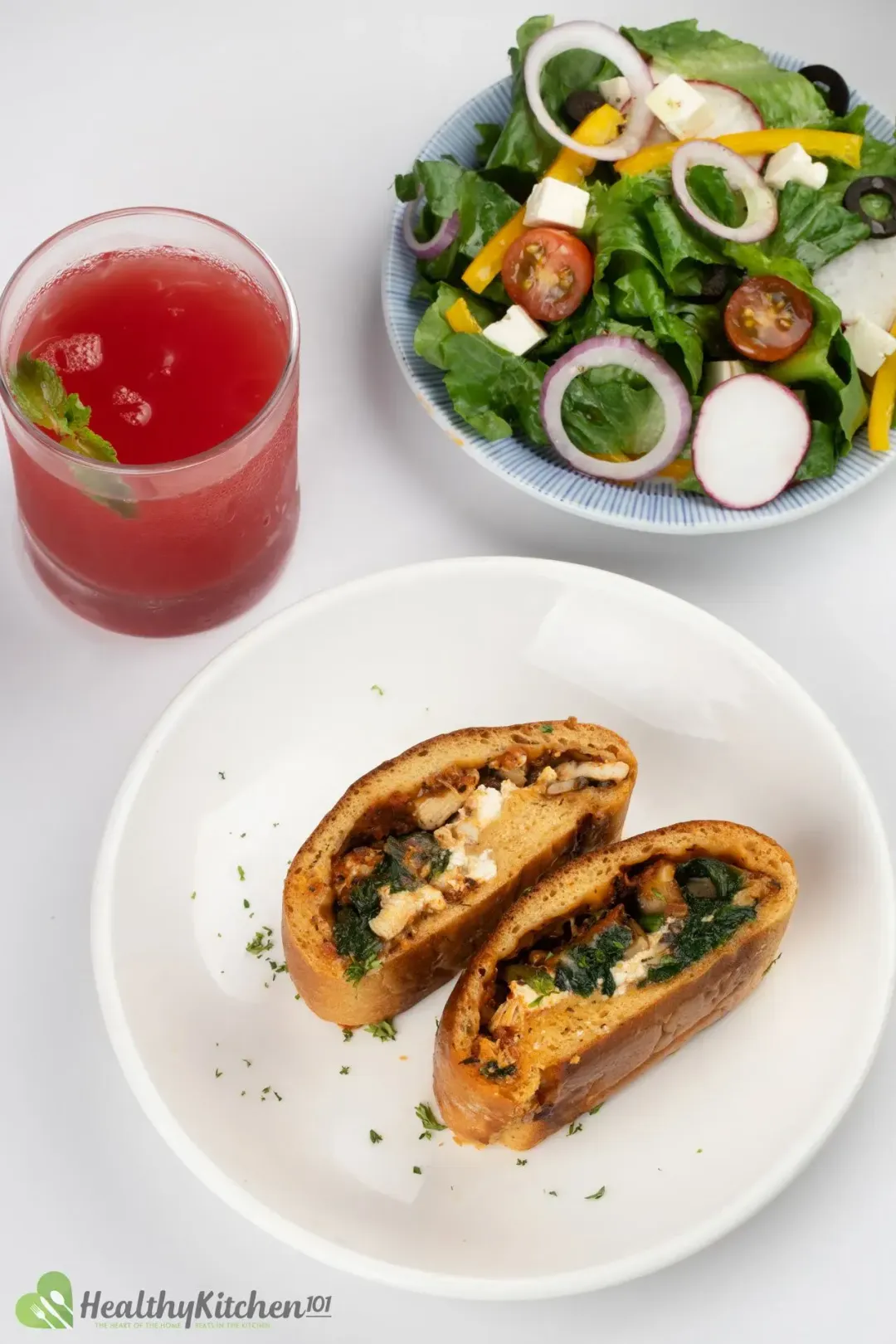 1. A Healthy Greek Salad
Including a healthy salad is always a bonus. Not just for added texture, but also because it's a nutritional powerhouse. Romaine lettuce, for instance, is significantly low in calories and provides recommended nutrients like vitamins A, C, and fiber; an ingenious way to finish this meal.
2. Garlic Pesto Sauce
To add a punch of pungency, you can whip up a simple garlic and herb sauce. With most ingredients readily available, it's a quick, low-cost option. Herbs like basil and parsley are naturally high in vitamins A and K, and help to defend the immune system.
3. Broccoli and Tomato Roast
If you're keeping the theme of a warm meal throughout, a light vegetable roast could be a fitting way to do it. Both broccoli and tomatoes are low-starch veggies. So they're a low-calorie, fibrous addition of nutty and intense roast flavors.
Chicken and Pastry Ideas
If you're a big fan of pizza, we have two tasty ones for you that we make from scratch, even the dough.
I'm not usually this excited about pizzas, but this BBQ chicken pizza really had me. There's chicken shreds and cheese, the usuals, but the sauce was something else. I literally looked at the chef in awe.
This buffalo chicken pizza really combines the true essence of the two iconic dishes. We used our homemade buffalo sauce, which we're really proud of because it tastes so good.
Stromboli
This stromboli recipe features a light, appetizing crust with a healthy protein and vegetable filling. The crust is rolled with a chicken, spinach, mozzarella, and ricotta filling atop a pizza sauce that adds a spicy kick of flavor. You can make the dough the day before. Roll it out, bake, and enjoy stromboli for lunch or as a hot dinner!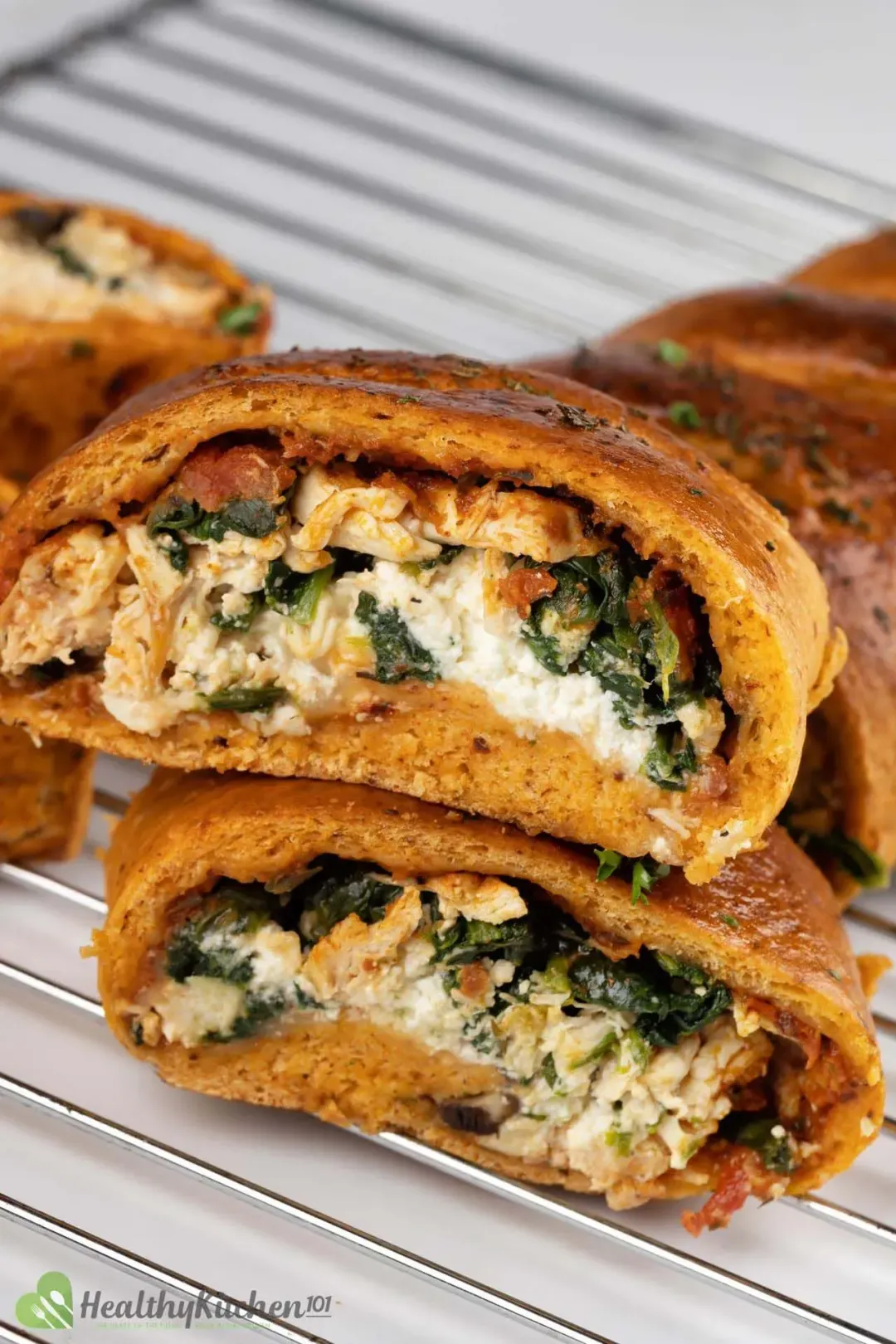 cook TIME

35 mins

prep TIME

10 mins

total TIME

1 hr 20 mins

INACTIVE TIME

35 mins
COURSE

Dinner, Lunch, Main Course

CUISINE

American-Italian

SERVINGS

CALORIES

511 kcal
INGREDIENTS
Pizza Dough

1 7/8 cups

all-purpose flour

(divided (1 3/4 cup + 2 tbsp))

1/4 tbsp

olive oil

(for greasing)

Pizza Sauce

4 oz

tomatoes

(peeled and finely chopped)

2 tbsp

Hunt's tomato paste

1 tsp

fresh garlic

(minced)

1/4 tsp

ground black pepper

1 1/2 tsp

red pepper spice

Filling

6 oz

skinless boneless chicken breast

(cut into cubes)

3 oz

fresh mozzarella cheese

(shredded)

8 oz

spinach

(coarsely chopped)

1 tsp

fresh parsley

(chopped)
INSTRUCTIONS
2
In a pan over medium heat, heat 2/3 cup water to between 105-110°F, or until just warm enough to dip your finger in. Transfer to a bowl and add 1 tsp yeast and 1/2 tbsp sugar, leaving the yeast mixture to proof for 5 minutes.
3
In a medium bowl, add 1 3/4 cup flour, 1/4 tsp salt, 1 tsp paprika, 1 tsp cayenne pepper, 1 tsp onion powder, 1 tsp garlic powder, and 1/4 tbsp olive oil, and mix. Pour the yeast mixture into the bowl and mix until the dough forms a ball.
4
Using 2 tbsp flour, transfer the dough onto a floured surface and knead it for 3-4 minutes. Add more flour if it's too sticky. Use the poke test to check for readiness; the dough should bounce back when you poke it. If it doesn't, continue to knead.
5
Grease a bowl with 3/4 tbsp olive oil and place the dough inside the bowl. Cover with cling wrap.
6
Turn the oven off, place the bowl with the dough inside and close the oven door. Leave the dough to rise for 1 hour, until it doubles in size. Leave it for a further 30 minutes if it hasn't doubled in size.
7
Prepare ingredients for the pizza sauce and filling.
8
Start by preparing the pizza sauce. In a small saucepan, add 1/2 tbsp olive oil and 1 tsp garlic and cook for 1 minute over medium heat.
9
Add 2 tbsp tomato paste and cook for 30 seconds before adding 4 oz tomatoes, 1/4 tsp black pepper, 1/2 tsp sugar, 1/4 tsp oregano, and 1 1/2 red pepper spice.
10
Finally, add water and leave to simmer for 2 minutes at medium-low heat.
11
Preheat the oven to 470°F.
12
To make the filling, heat a skillet on medium-high heat and add 1 tbsp butter. Once melted, add 6 oz chicken and cook for 7 minutes. Remove from the skillet and transfer the chicken into a bowl. Cling wrap the bowl to trap steam (this makes the chicken softer and easier to shred).
13
In the same skillet, sauté 3 oz mushrooms and 8 oz spinach at medium heat for 2-3 minutes. Set aside.
14
Use your hands (or forks) to tear the chicken into small, shredded pieces. Add it into the skillet with the mushrooms and spinach. Turn down to low heat, add salt and mix the ingredients for 15 seconds.
15
To assemble the stromboli, knead the dough with your hands for 1 minute to loosen it. On a floured surface, use a rolling pin to roll the dough into a 16x18 inch rectangle.
16
With the longer end close to you, leave ⅓ of the strip bare and spread the pizza sauce evenly across the dough. Following this order, sprinkle half the mozzarella cheese (1.5 oz) followed by the chicken filling, the 3.5 oz ricotta cheese, the remaining mozzarella cheese(1.5 oz), and finally 3/4 tsp parsley.
17
Beat the egg and brush onto the bare strip. Roll the dough starting with the end nearest to you. Once all the dough is rolled, tuck the ends in underneath and brush the egg white all over the dough. Sprinkle the remaining parsley (1/4 tsp) on top and bake in the oven for 15 minutes until golden brown.
18
Remove from the oven and serve hot with a healthy salad and some cucumber water.
NUTRITION
Nutrition Facts
Stromboli
Amount Per Serving (1 serving)
Calories 511
Calories from Fat 171
% Daily Value*
* Percent Daily Values are based on a 2000 calorie diet.
Keywords: How to make Stromboli Recipe, Stromboli, Stromboli Recipe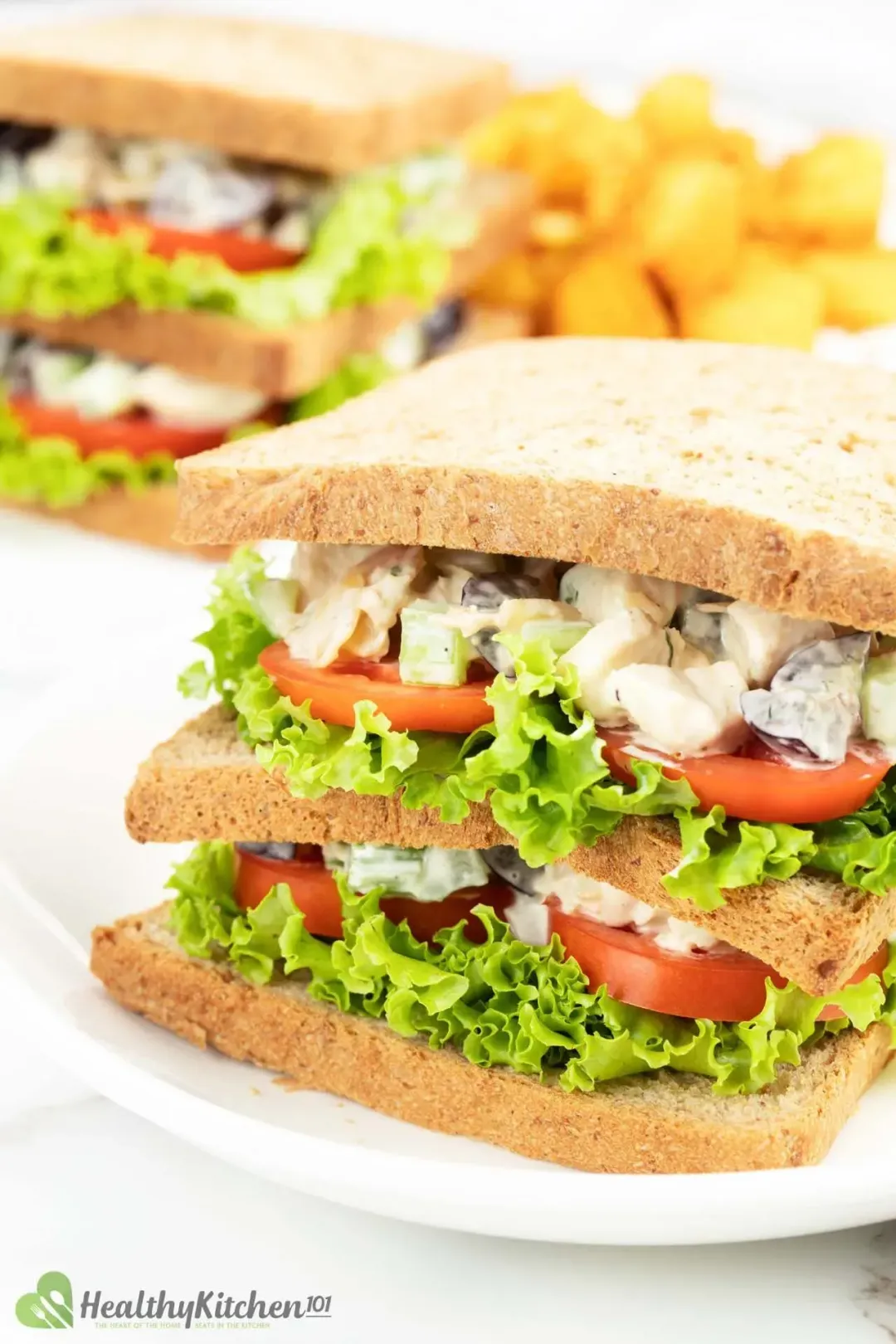 Previous Recipe
Chicken Salad Sandwich
Chicken Salad Sandwich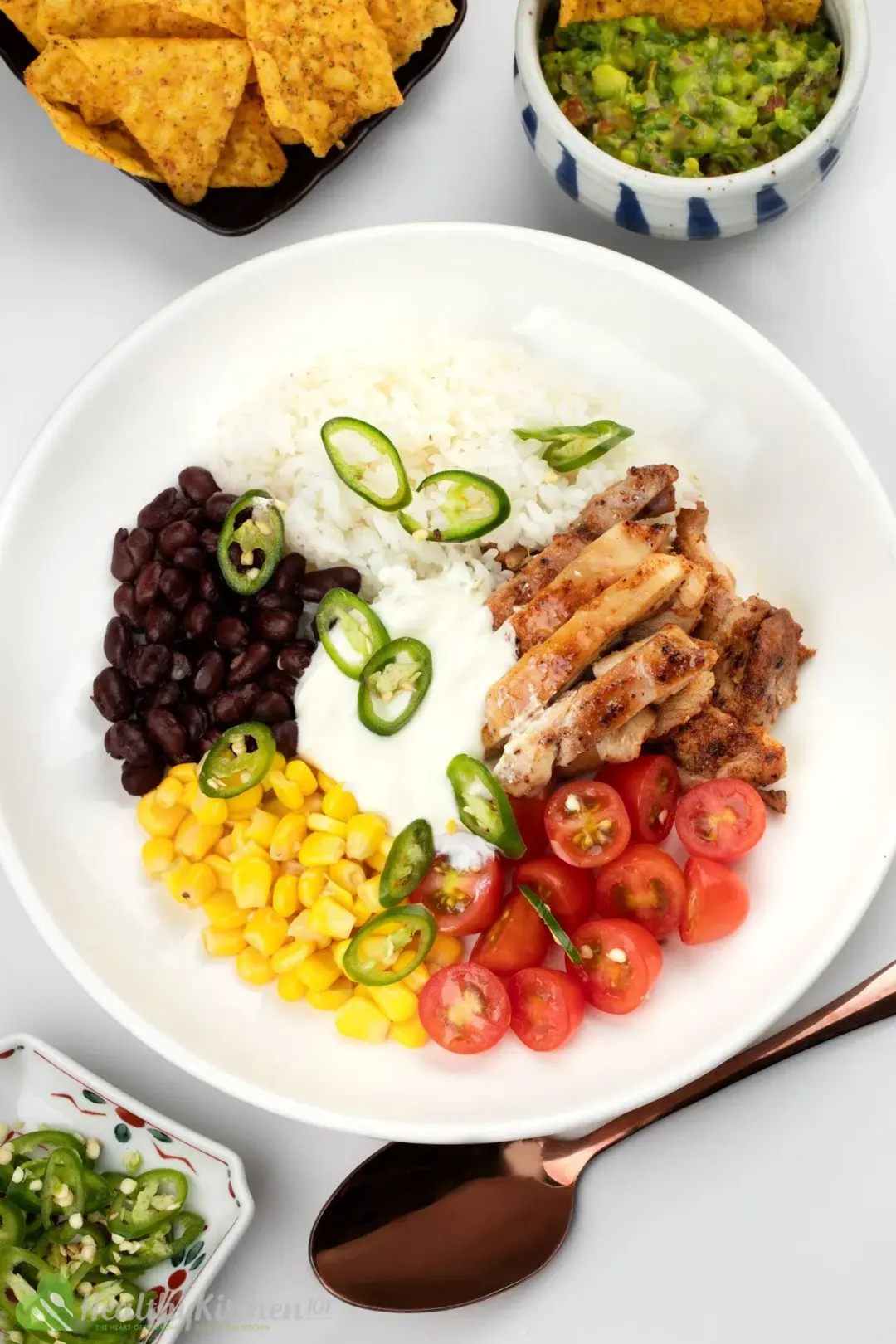 Next Recipe
Healthy Chicken Carnitas
Healthy Chicken Carnitas
Head Chef, Culinary Consultant
Tuyet Pham is an award-winning Saigonese chef who believes that joy is the secret ingredient to delicious food. At Healthy Recipes 101, Tuyet personally tests and simplifies every recipe, ensuring maximum flavor with minimal effort. With a background at prestigious French restaurants P'TI Saigon and Le Corto, Tuyet knows how to make every dish exceptional.
Writer, Author
Luna Regina is an accomplished writer and author who dedicates her career to empowering home cooks and making cooking effortless for everyone. She is the founder of HealthyKitchen101.com and HealthyRecipes101.com, where she works with her team to develop easy, nutritious recipes and help aspiring cooks choose the right kitchen appliances.
Yum! The flavor combos are amazing and it was easier to make than I expected. Going to make it again!