Eating veggies doesn't always have to feel like a chore, not with this chicken lettuce wraps recipe. With a balanced mixture of stir-fried meat and veggies laid inside a lettuce leaf, each bite is an exciting array of flavors and textures. 
Ground chicken is stir-fried in a sweet-savory Asian sauce that, when paired with fresh veggies, creates a mesmerizing flavor combination. The diverse textures vary between tender and crispy, tantalizing the taste buds with a contrasting yet captivating mouthfeel.
The best part? As gorgeous as these lettuce boats look, they're incredibly easy to make, too. It will take you very little effort to put together a plate of colorful veggies to brighten your meals in less than 20 minutes.
Is This Recipe Healthy?
Yes, they are.
Featuring chicken as the main ingredient, these lettuce wraps come with an abundance of protein. Each 453-calorie serving provides approximately 42.5 g protein, while the saturated fat and sodium amounts are limited to around 3.8 g and 588 mg, respectively. These portions were moderated to comply with the standards set by our nutrition guidelines.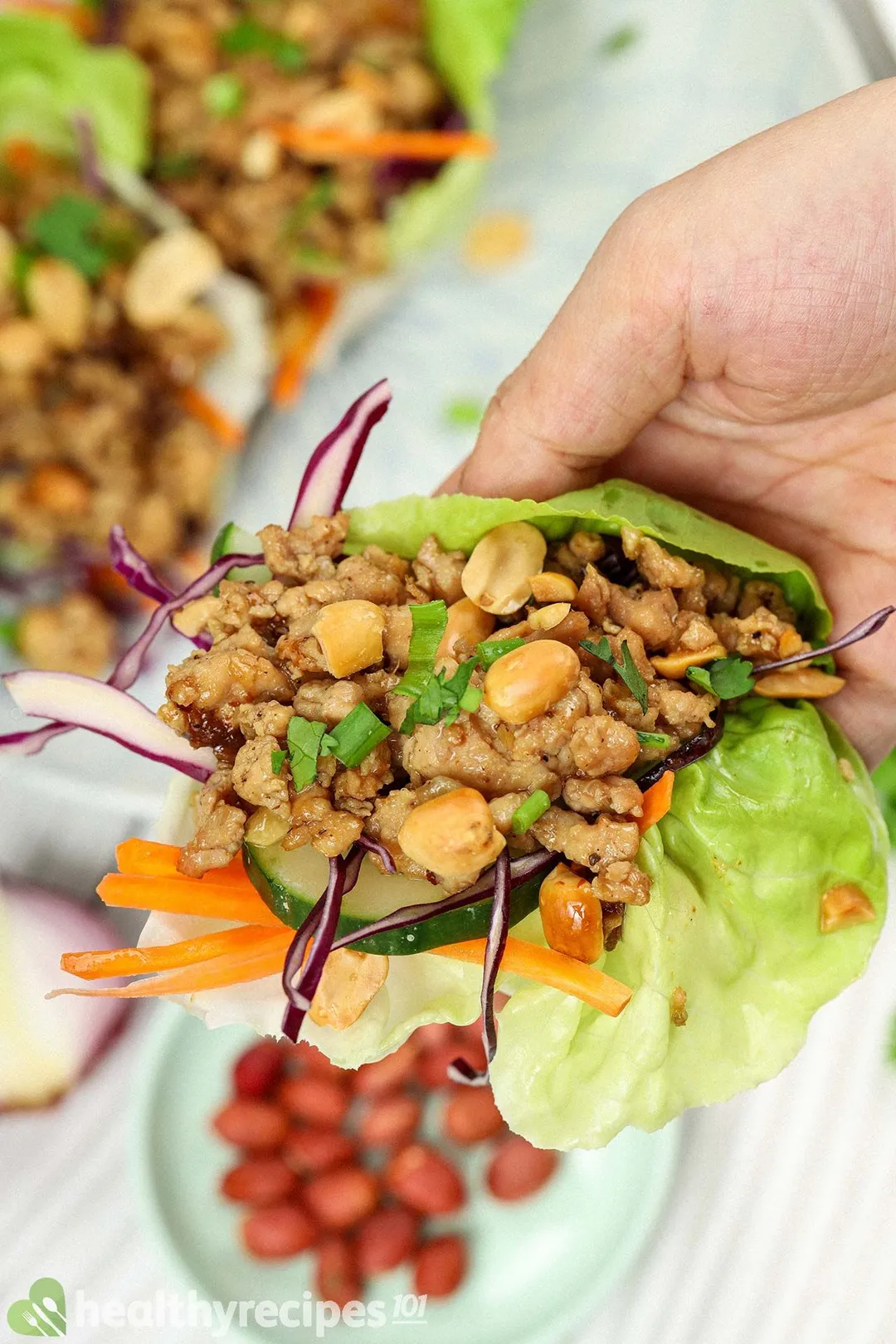 As evident from the name, this dish is loaded with lettuce, along with other veggies like carrots, red cabbage, and cucumbers. These veggies are good sources of vitamins A and C, fiber, folate, beta-carotene, and various minerals like potassium, magnesium, and calcium.
Ingredients
This recipe does require quite a few ingredients, especially when it comes to veggies and condiments. However, they're all easily available. The veggies, especially, are customizable, so you should have no trouble assembling everything to make this dish.
Chicken: Ground chicken is most commonly used for this dish. You will find it readily available at most supermarkets and butcher shops. If not, don't worry, because our recipe also includes instructions on how to make ground meat from skinless, boneless chicken thighs.
Lettuce: We recommend using lettuce varieties whose leaves are sturdy and large, so there's enough space to hold all the meat and veggies. We went with green leaf lettuce, but you can also use romaine, iceberg, Bibb, Boston, or butterhead.
Other Veggies: This part is entirely customizable, so you can choose whatever veggies you like to fill up the lettuce boats. For a pop of colors and flavors to bring versatility to the dish, we chose carrots, cucumber, and red cabbage.
Aromatics: The chicken is stir-fried, so we couldn't go without a few aromatics like shallots, ginger, garlic, and onion to give it a much-needed fragrant kick.
Sauces: This dish's main flavor depth lies in the rich and sweet-savory sauce used to stir-fry with the chicken. It's a blend of hoisin sauce, soy sauce, and a few other condiments. As simple as it seems, you'd be surprised by the refreshing range of flavors it offers.
Condiments: To add a hint of smoky spiciness to the sauce, we kept it simple and used only some paprika and pepper flakes. For a caramelized sweetness that will deepen the flavor and thicken the sauce's texture, we also added some brown sugar.
Garnishing: Taking inspiration from Asian cuisine, we garnished this dish with crunchy peanuts and aromatic cilantro.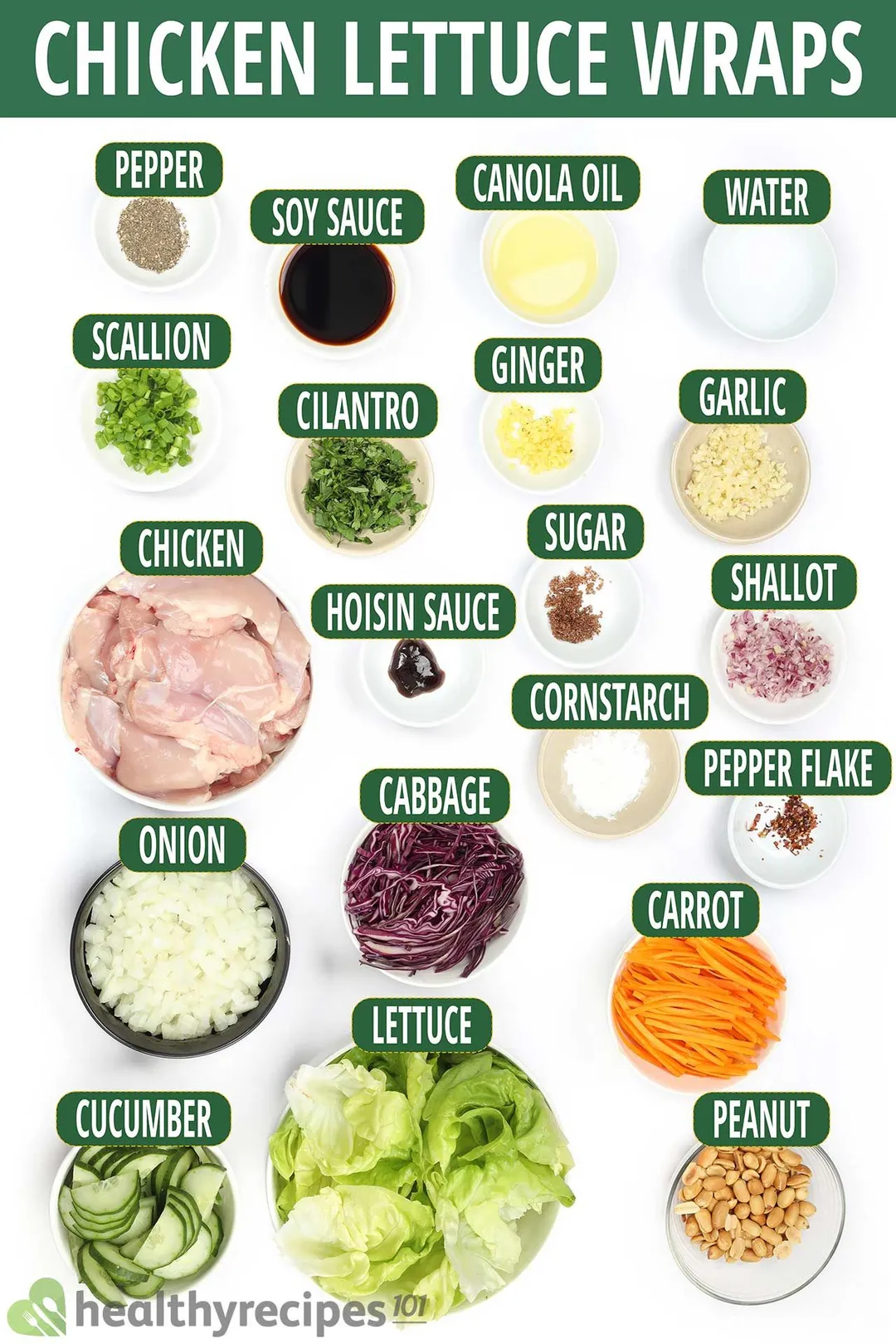 Variations and Substitutions
With flexible ingredients and a straightforward cooking method, this recipe offers a lot of room for you to get experimental. Here are some ingredient variations you can try out:
Ground beef or ground turkey will bring a deeper savory taste to these lettuce wraps. For something light and sweet, consider going for shrimp. If you want to make the meal vegan, tofu is an excellent choice.
Knock yourself out with whatever your heart desires. Go for bell peppers and cherry tomatoes if you want a little sweetness, or mushrooms, bean sprouts, and bok choy for an earthy, grassy touch. You can also go for a special twist with a fruity "salsa", featuring mangoes, pineapples, and more.
How to Store and Reheat
These chicken lettuce wraps could last for up to 3 days when kept in airtight containers in the fridge. Remember to keep the veggies separated from the meat so they don't become soggy.
When you want to eat it again, you can give the meat a quick stir on the stovetop or reheat it in the microwave. The veggies can be enjoyed straight from the fridge.
What to Serve With
You can enjoy these chicken lettuce wraps in a variety of ways. They work great as sides for fried rice, steamed rice, and noodles, or as an appetizer to give an enticing start to the meal.
That being said, it would also make a fantastic main dish. For a complete meal, here are a few of our side-dish suggestions: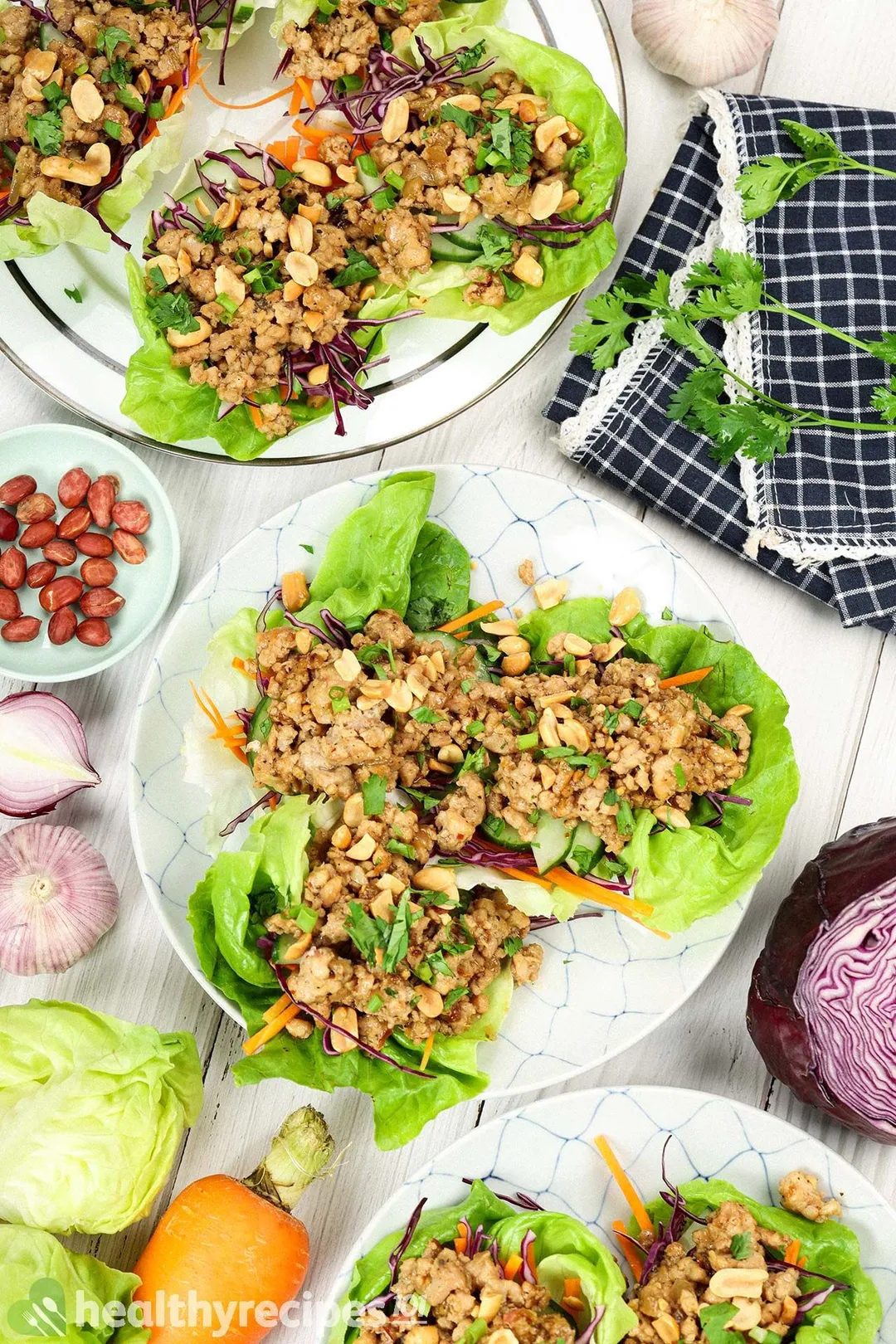 Chewy Wraps Packed With Flavorful Chicken
These chewy enchiladas rolls are packed with meat, beans, corns, and a whole bunch of flavors. They're sealed with a good amount of tomato sauce and cheese on top before mingling in the oven.
These rolls are densely packed with spiced chicken breasts and laced in a thick layer of creamy white sauce. They are served on a bed of avocado and lettuce salad, which provides fiber and vitamins.
Chicken Lettuce Wraps
With a balanced mixture of sweet-savory meat and fresh veggies, this chicken lettuce wraps recipe offers an incredibly exciting way to eat your greens. It comes together in 20 minutes, bringing together a healthy dish that bursts with flavors.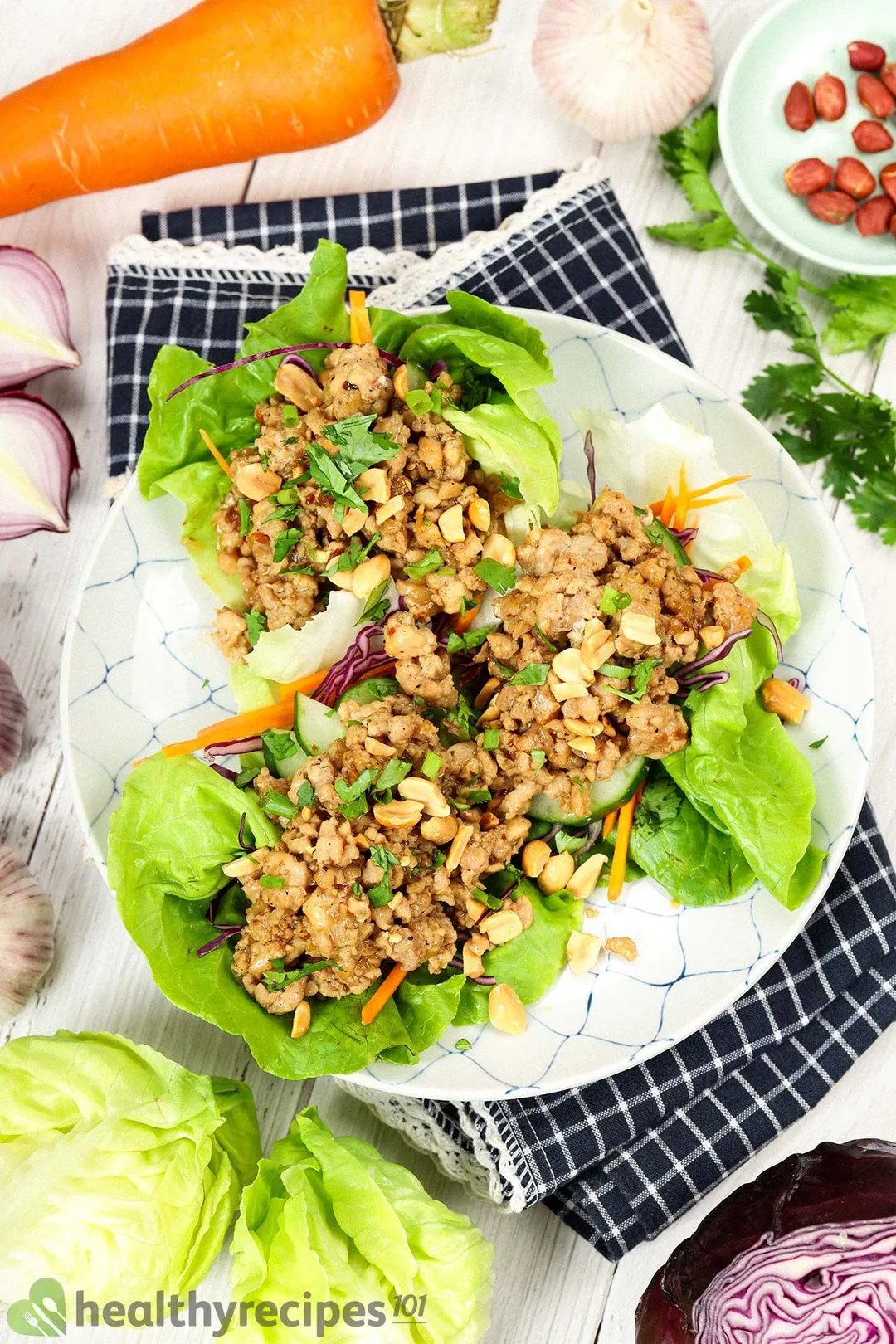 cook TIME

10 mins

prep TIME

7 mins

total TIME

17 mins
COURSE

Main

CUISINE

Asian

SERVINGS

CALORIES

453 kcal
INGREDIENTS
26 oz

skinless boneless chicken thigh

6 oz

cucumber

(half-moon sliced)

2 oz

red cabbage

(sliced into ribbons)

1/4 tsp

scallion

(chopped)

2 oz

unsalted roasted peanuts

2 1/2 tbsp

reduced-sodium soy sauce
INSTRUCTIONS
Prep:
1
Slice the Chicken: Pat the chicken thighs dry, then slice them into similar-sized cubes, around 1 inch.
2
Prepare the Lettuce: Cut off the core and separate the leaves.
3
Slice the Cucumber: Slice the cucumber in half lengthwise, then slice each half crosswise into thin, half-moon slices.
4
Julienne the Carrots: Use a peeler to remove the skin; cut and discard the ends. Cut the carrot crosswise into thirds. Thinly slice each third lengthwise, then stack the pieces and slice lengthwise again into matchsticks.
5
Slice the Cabbage: Slice the cabbage lengthwise in half. Lay the half flat on the chopping board and thinly slice crosswise into thin ribbons.
6
Dice the Onion: Slice the onion lengthwise in half, then lay it vertically and thinly slice downward, leaving the roots intact. Turn the onion horizontally and cut crosswise into the slices. Then, slice further into small cubes
7
Dice the Shallots: Remove the papery skin, then repeat the same steps as followed for the onion.
8
Mince the Garlic: Press the flat side of the knife onto the cloves to remove the peel, then thinly slice them into pieces. Using a rocking motion, slice the cloves further with the knife, till they're finely minced.
9
Mince the Ginger: Remove the peel, either with a spoon or a peeler. Thinly slice the ginger crosswise and stack the pieces to continue slicing lengthwise into thin strips. Gather the strips and slice them lengthwise till finely minced.
Cook:
1
Grind the Chicken: Put 26 oz skinless, boneless chicken thigh into a food processor, and blend until the meat is finely ground. If you have time, work in batches.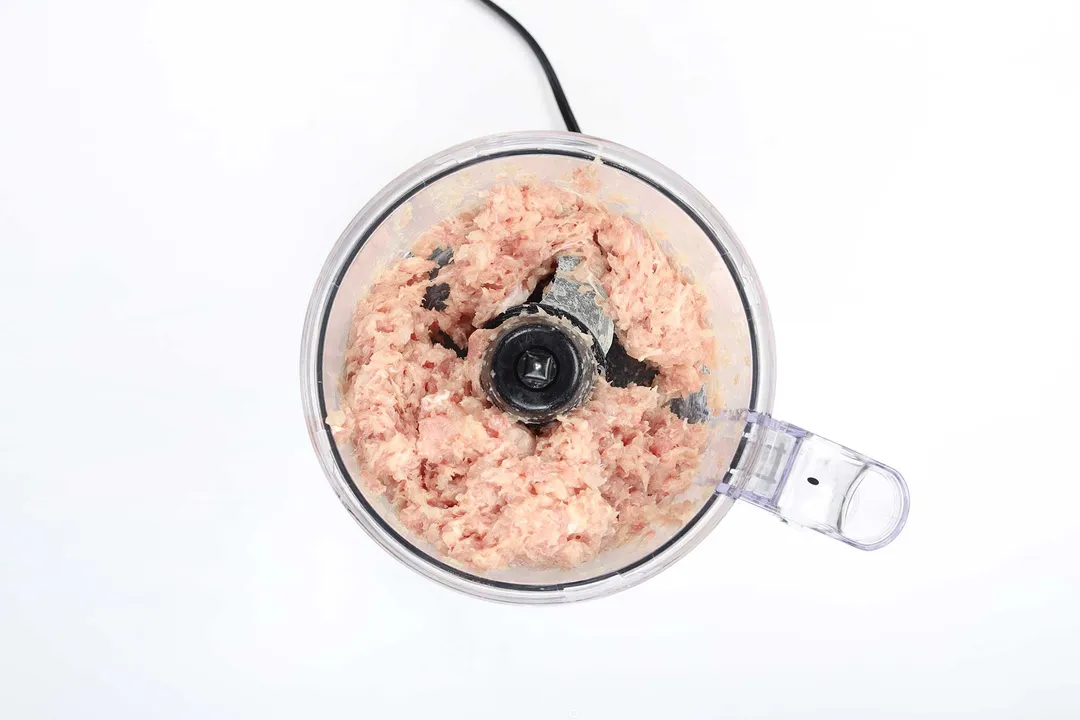 2
Make the Sauce: In a small bowl, mix 1 fl oz water, 1/2 tsp cornstarch, 1/2 tsp hoisin sauce, 2 1/2 tbsp reduced-sodium soy sauce, 1/2 tsp paprika, 1/2 tsp pepper flakes, and 1/2 tsp brown sugar until the mixture is dark red, with a slightly thick, syrupy consistency.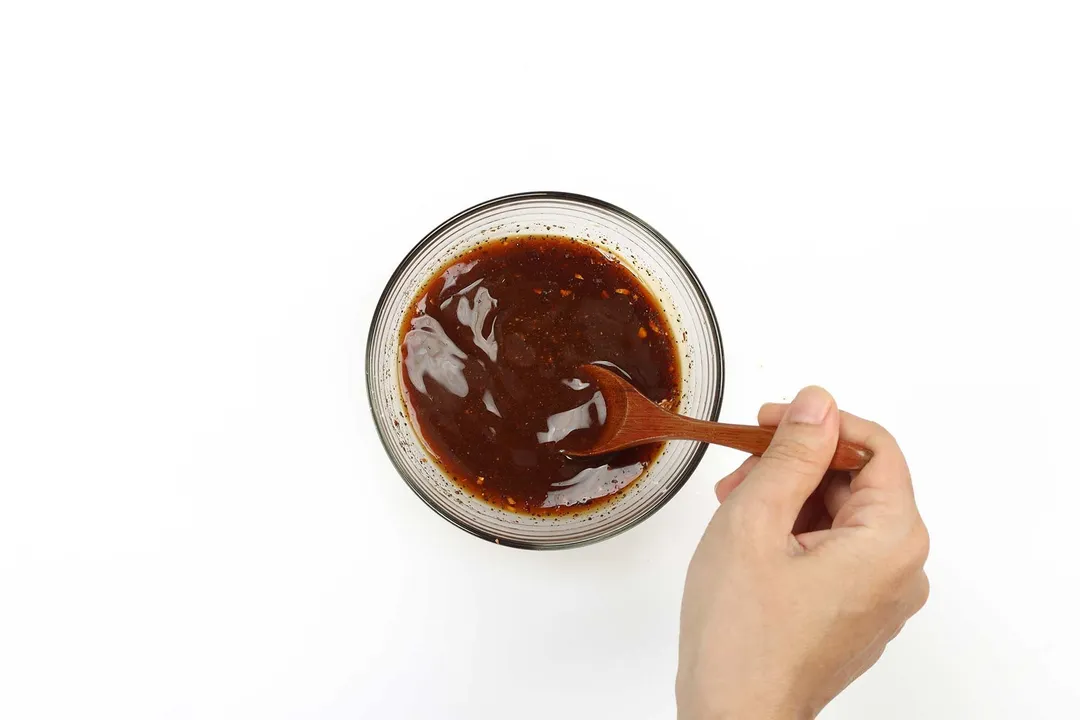 3
Stir-fry the Aromatics: Place a skillet over medium heat. Add 2 tbsp garlic, 1/2 tsp ginger, and 0.5 oz shallot in 3 tbsp canola oil. Stir-fry for 30 seconds, until fragrant.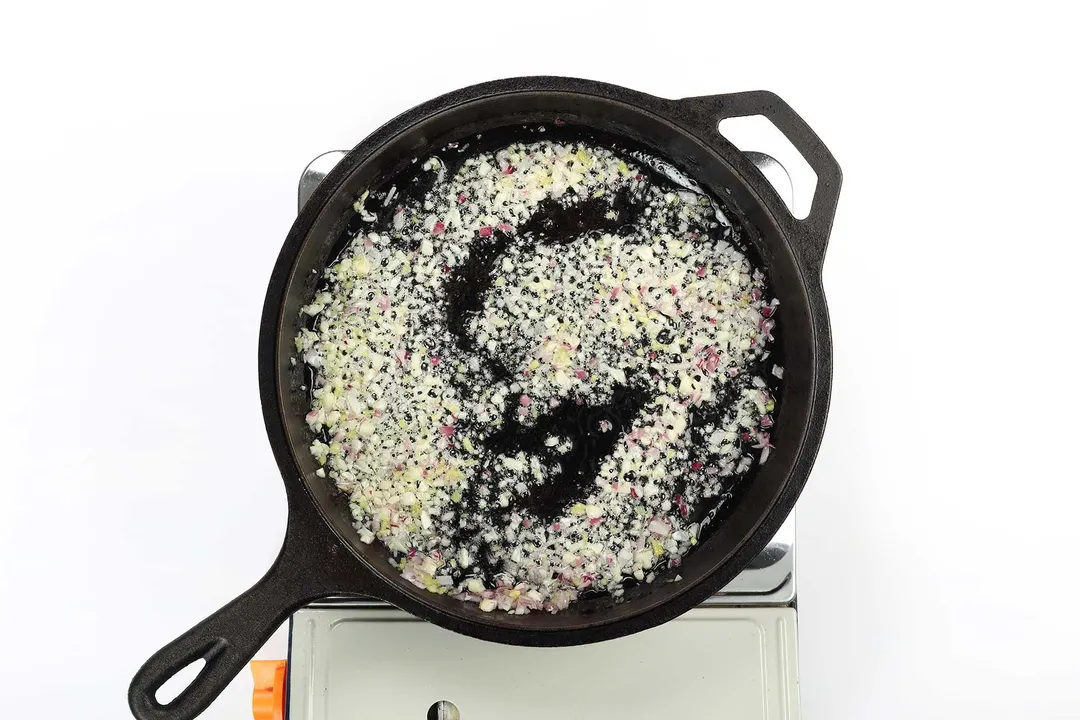 4
Add the Onion: Add 4 oz onions and continue stir-frying for another minute.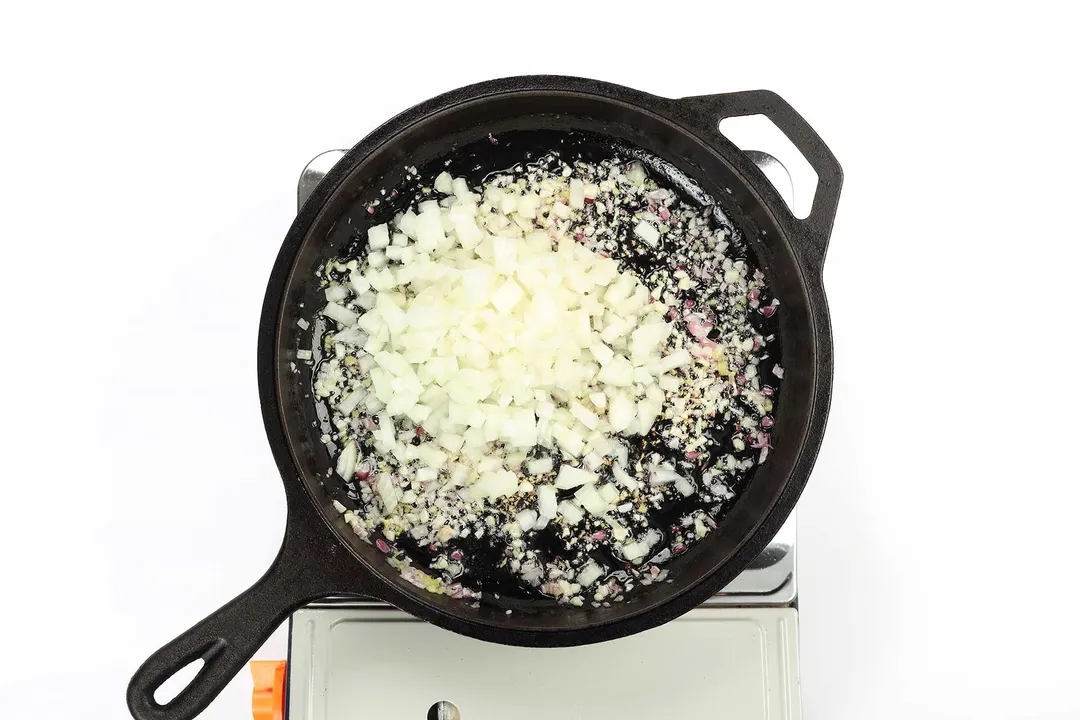 5
Add the Chicken: Add the ground chicken to the skillet, and stir-fry for 5 minutes until the meat turns white.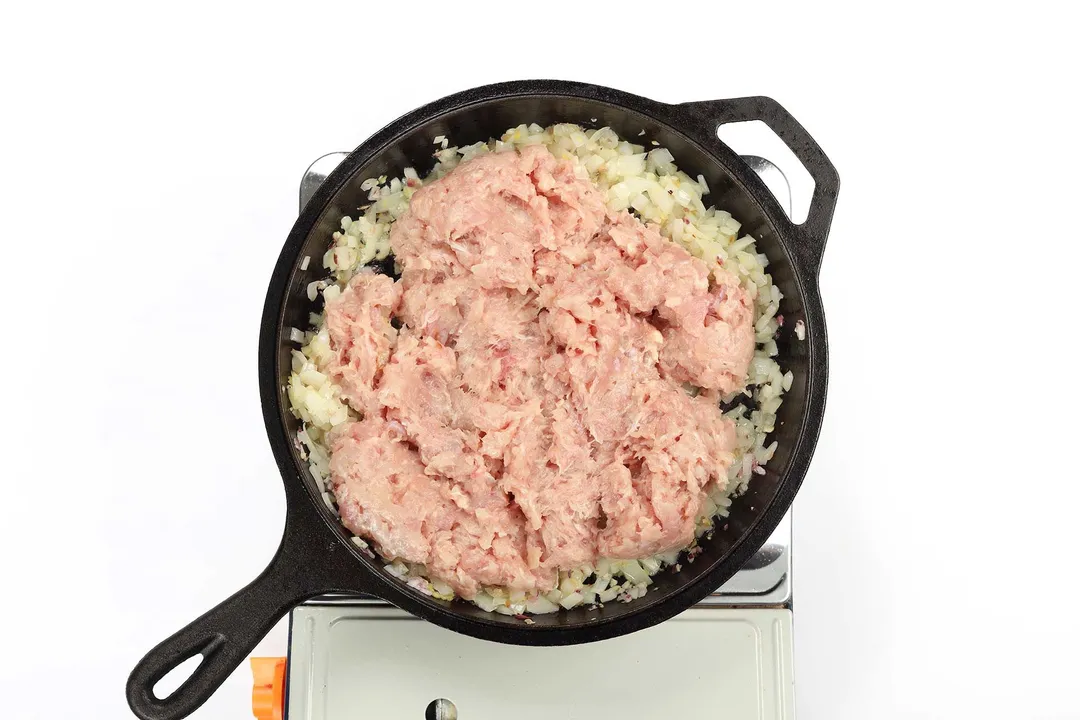 6
Add the Sauce: Add the mixed sauce made earlier to the skillet and continue stir-frying for another 3 minutes until the ingredients are evenly coated with the sauce.
7
Take the Food off the Heat: Remove the skillet from the heat and leave it to cool down for a bit.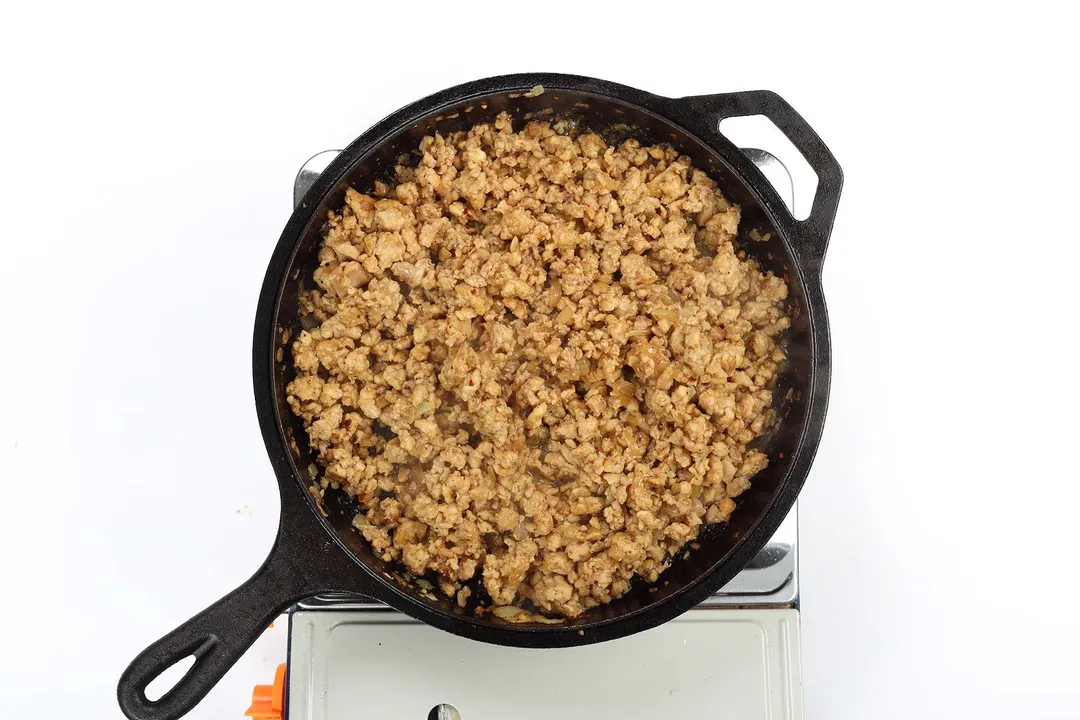 8
Assemble the Lettuce Boats: Lay the cooked chicken onto 6 oz green leaf lettuce, along with 6 oz cucumbers, 2 oz carrots, and 2 oz red cabbage. Garnish with 1/4 cup cilantro, 1/4 tsp scallion, and 2 oz unsalted roasted peanuts. Serve.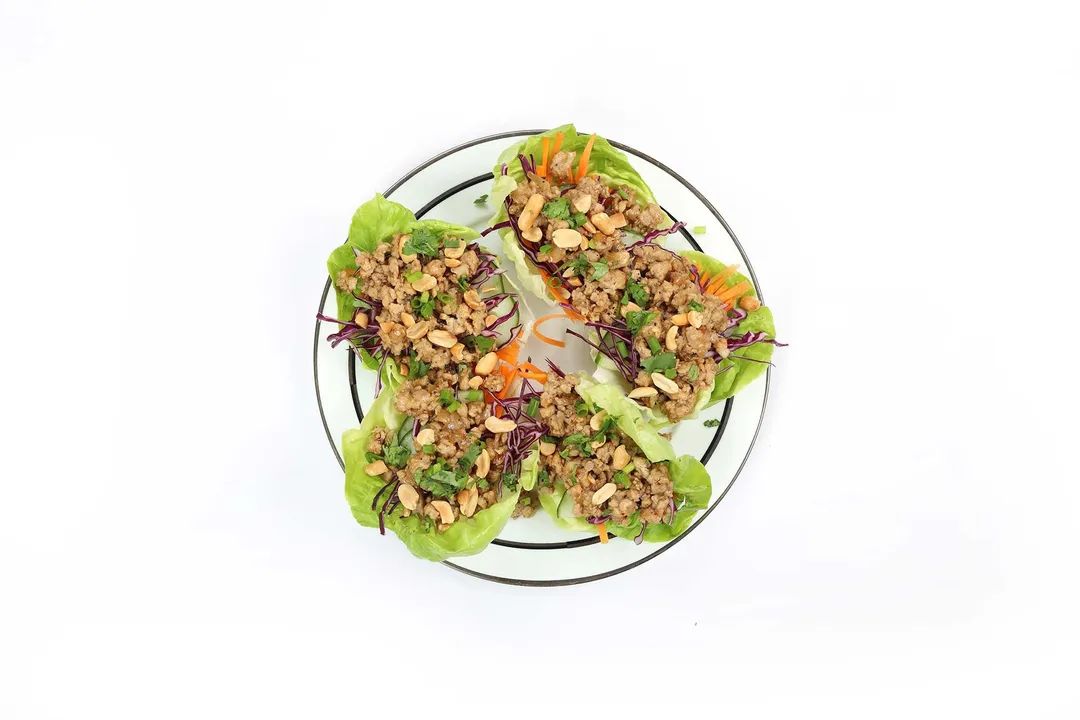 NUTRITION
Nutrition Facts
Chicken Lettuce Wraps
Amount Per Serving (1 serving)
Calories 453
Calories from Fat 229
% Daily Value*
Monounsaturated Fat 13.1g
* Percent Daily Values are based on a 2000 calorie diet.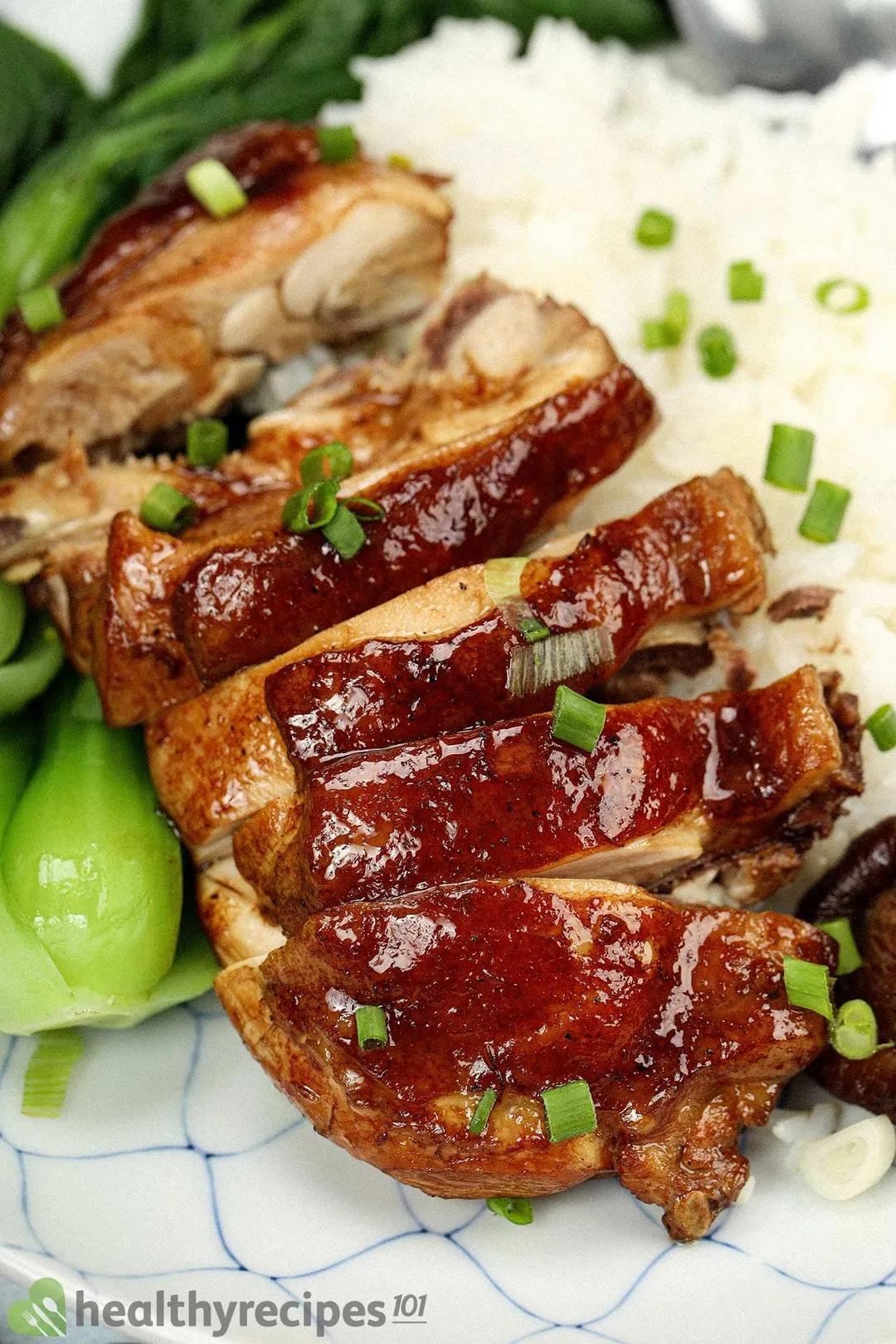 Previous Recipe
Soy Sauce Chicken
Soy Sauce Chicken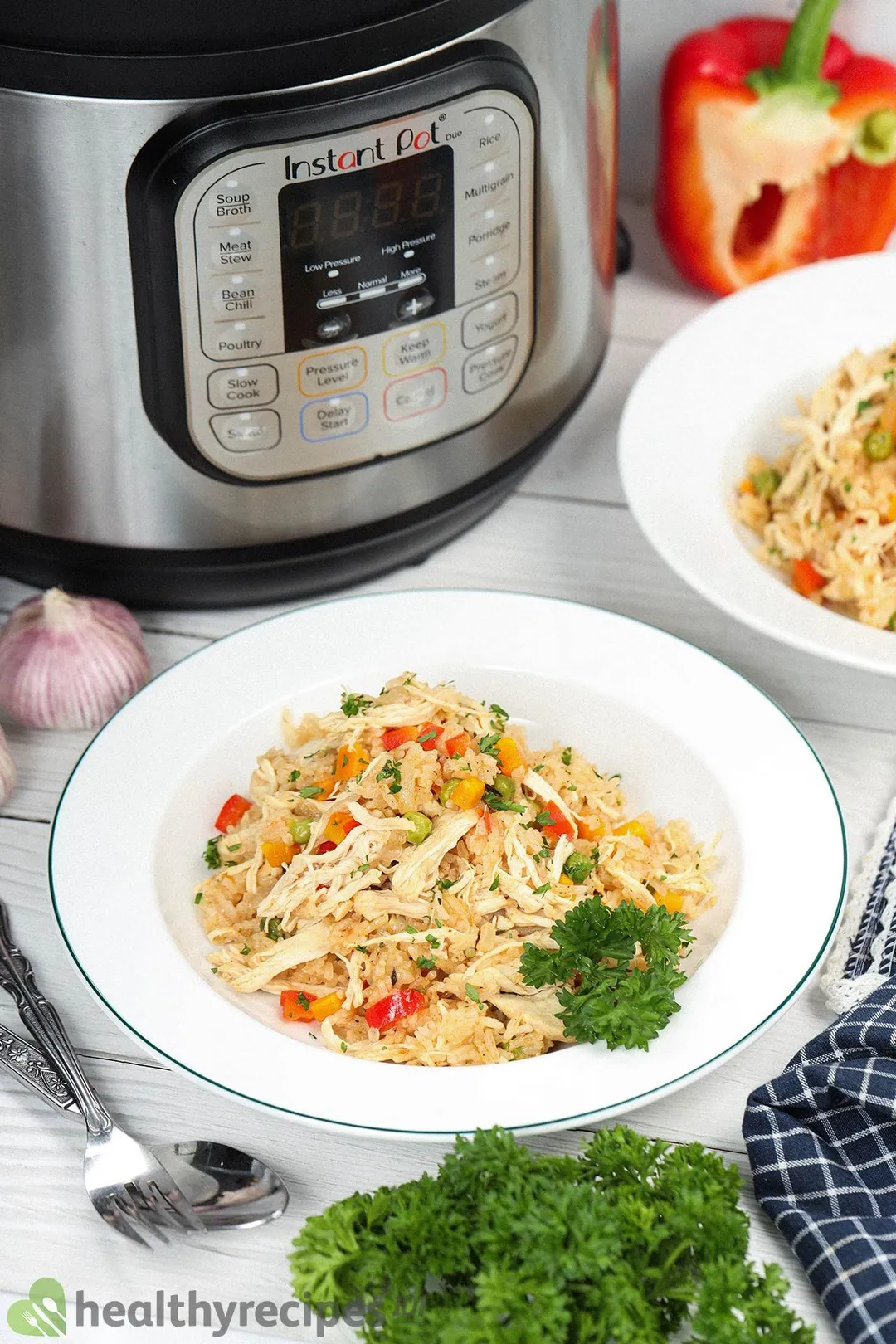 Next Recipe
Easy Instant Pot Chicken and Rice
Easy Instant Pot Chicken and Rice
Head Chef, Culinary Consultant
Tuyet Pham is an award-winning Saigonese chef who believes that joy is the secret ingredient to delicious food. At Healthy Recipes 101, Tuyet personally tests and simplifies every recipe, ensuring maximum flavor with minimal effort. With a background at prestigious French restaurants P'TI Saigon and Le Corto, Tuyet knows how to make every dish exceptional.
Writer, Author
Luna Regina is an accomplished writer and author who dedicates her career to empowering home cooks and making cooking effortless for everyone. She is the founder of HealthyKitchen101.com and HealthyRecipes101.com, where she works with her team to develop easy, nutritious recipes and help aspiring cooks choose the right kitchen appliances.