Our chicken nacho recipe will firm up the loaded nacho's position as one of the most delectable party foods.
This recipe has shredded chicken breast, tortilla chips, and vegetables covered in melted cheddar cheese, serving up a diverse meal with multiple flavors, colors, and textures.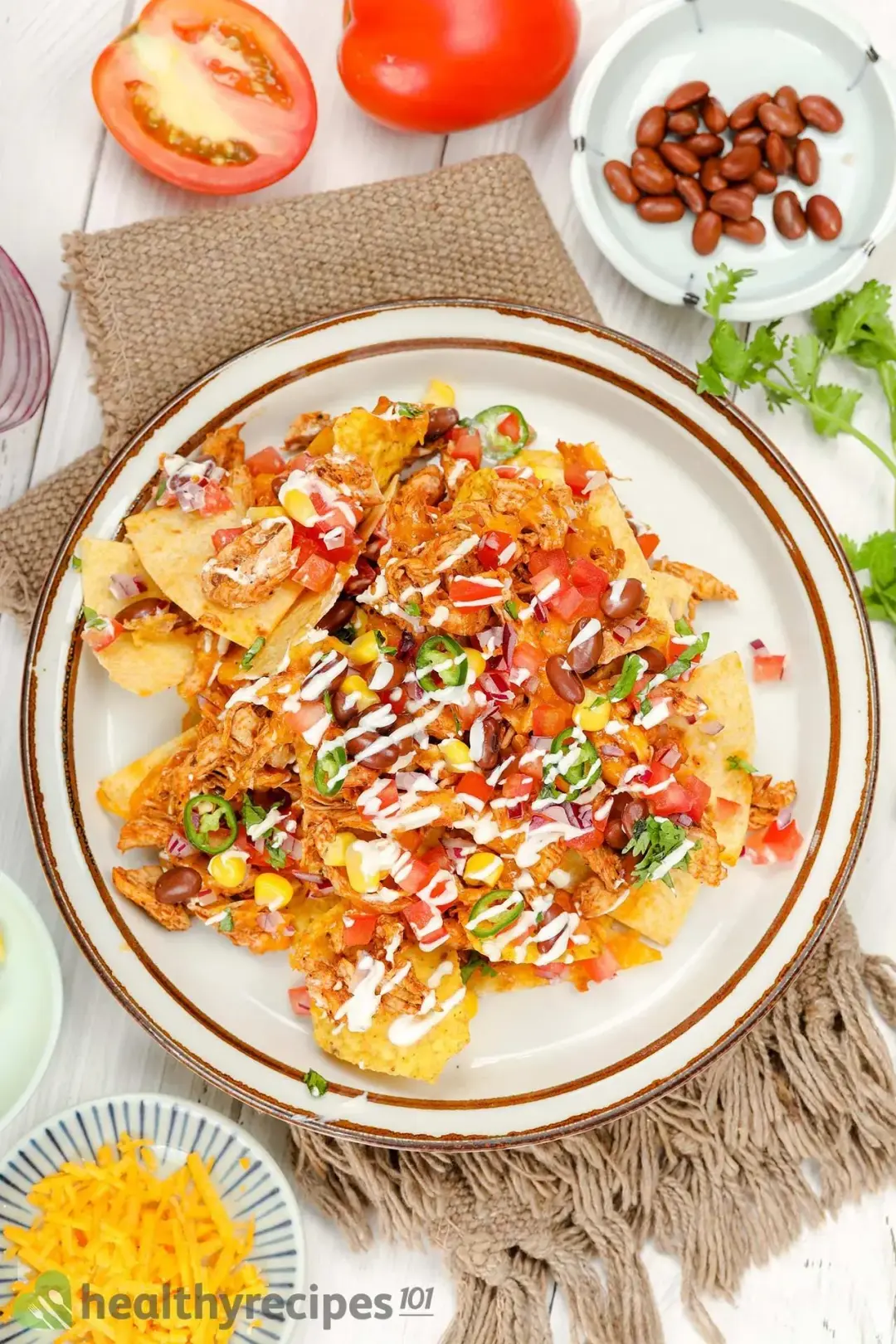 Chicken nachos can be a worthy show-stealer at a gathering or a fulfilling late-night pick-me-up snack.
Is Chicken Nacho Healthy?
Chicken nachos have had a long-standing reputation as a guilty pleasure and a cheat-day meal, but this recipe can actually be part of a healthy diet.
According to our nutrition guidelines, the calorie count of this nacho is a bit on the heavier side, with 507 calories per serving.
However, the other nutrients are all kept in moderate amounts. This dish has 6.7 g of saturated fat and 483 mg of sodium in each serving.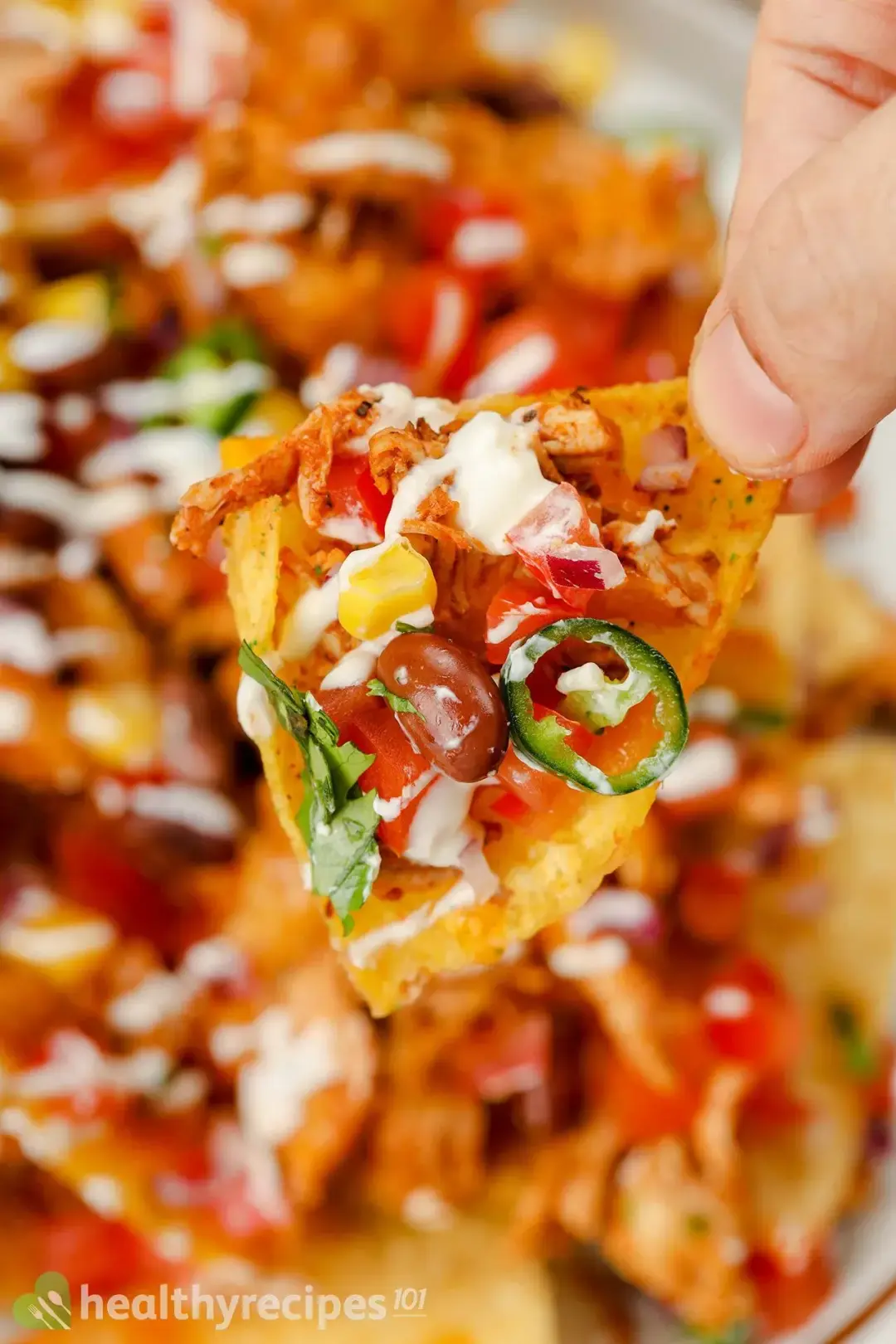 Chicken breast provides you with 35.8 g of lean protein. The vegetables (tomatoes, corn, black beans, red onion, and jalapeño) are decent sources of minerals and antioxidants.
Ingredients for Chicken Nacho
Chicken: We need a lean cut for this recipe, so skinless and boneless chicken breast is our go-to option. It helps reduce the fat content of the entire dish and holds together when shredded. To make the chicken more flavorful, we season it with salt, pepper, paprika, chili powder, garlic powder, cumin, dried oregano, and tomato paste. We cook it down in chicken broth to help it absorb the flavors.
Tortillas: We can't make a proper nacho without crispy tortilla chips. We use a combination of toasted corn tortilla pieces and Doritos tortilla chips.
Vegetables: The toppings of this nacho include some frequently used vegetables like tomatoes, corn, black beans, red onions, and jalapeños. We cut these colorful vegetables into small pieces for easy scooping with the tortilla chips. These vegetables add a variety of flavors like sweet, sour, and spicy to this loaded nacho.
Other: Cheese is the ingredient that can make or break your nacho. Our choice for this recipe is grated cheddar. Melted cheese coats all the other ingredients and adds its signature richness. We add Greek yogurt alongside the cheese for a light and refreshing note.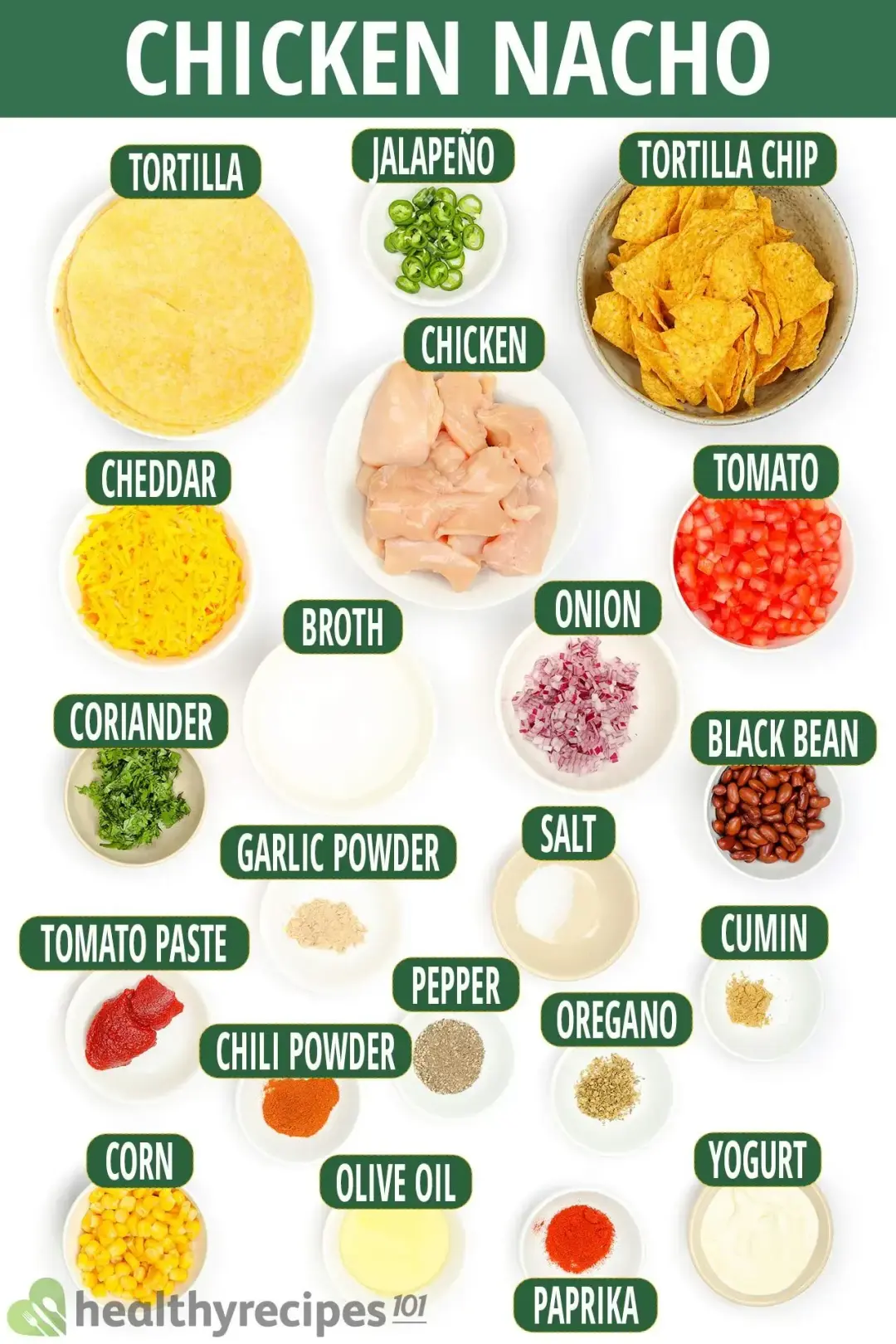 What Toppings Do You Put On Nachos?
Nachos use many ingredients, most of them customizable. The only two ingredients that you need are tortilla chips and cheese. We can choose from several types of cheese for nachos, including cheddar, mozzarella, and Monterey Jack.
You can replace chicken breasts with thighs or another protein like beef or pork. For fruits and vegetables, bell peppers, avocados, green onions, and olives are some of the top favorites.
Last but not least, we opt for a simple sauce with plain Greek yogurt, but you can spice up your dish with salsa, hot sauce, sour cream, or lime juice.
How to Store and Reheat Leftovers
Chicken nachos can be refrigerated for 3-4 days. Make sure that you separate the chips, sauce, and toppings before storing them. Put the ingredients in airtight containers to refrigerate.
It's not easy to reheat nachos because the chips can turn soggy. We recommend reheating the ingredients separately and then building the nacho again after reheating.
You can warm up the other ingredients using the oven or microwave.
What to Serve With Chicken Nacho
We have some cauliflower and potato side dishes for you to pair with this nacho.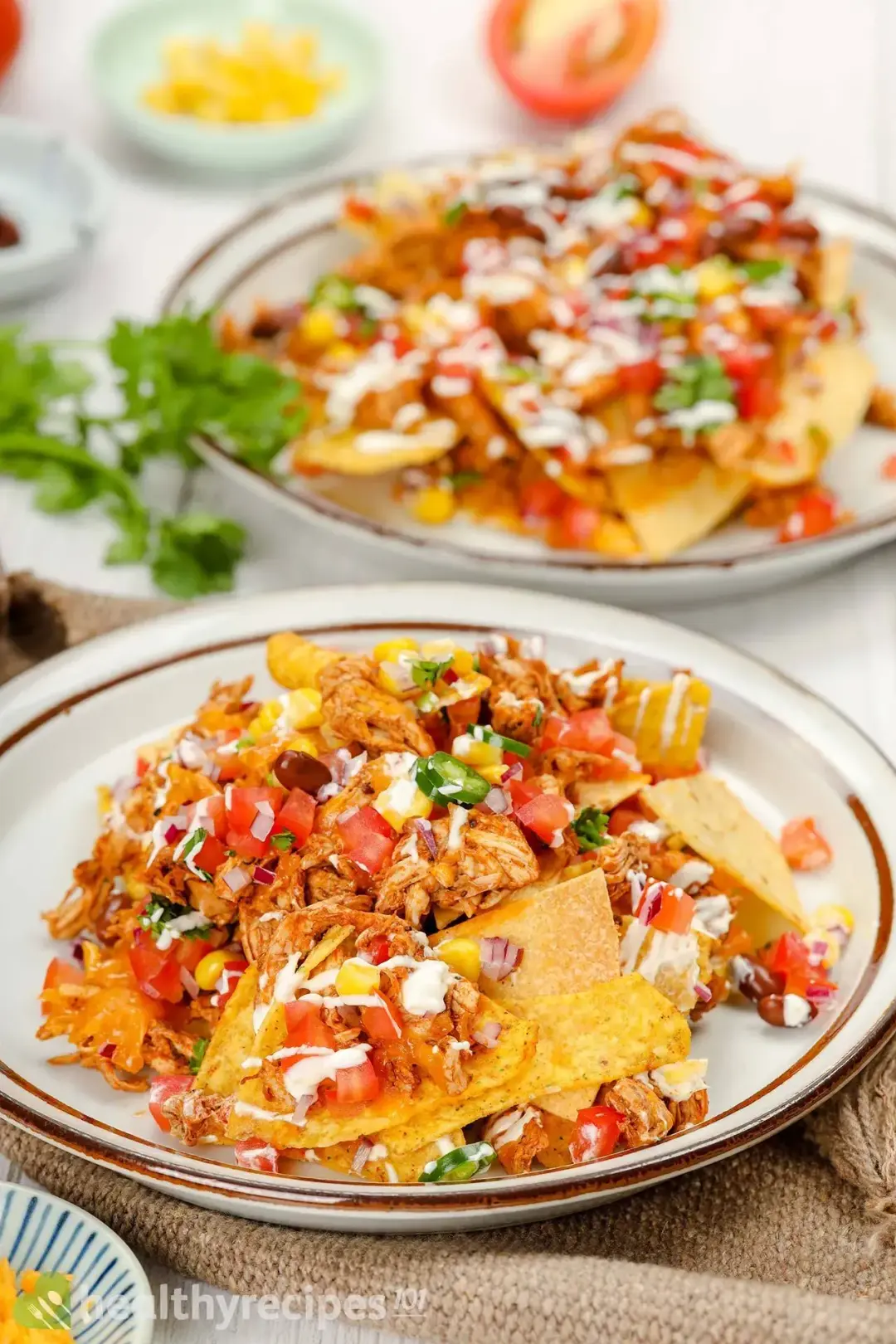 How to Make Chicken Nacho
Our chicken nacho recipe, loaded with chicken, cheese, vegetables, and tortilla chips, helps you prepare an excellent dish to treat your guests at a house party.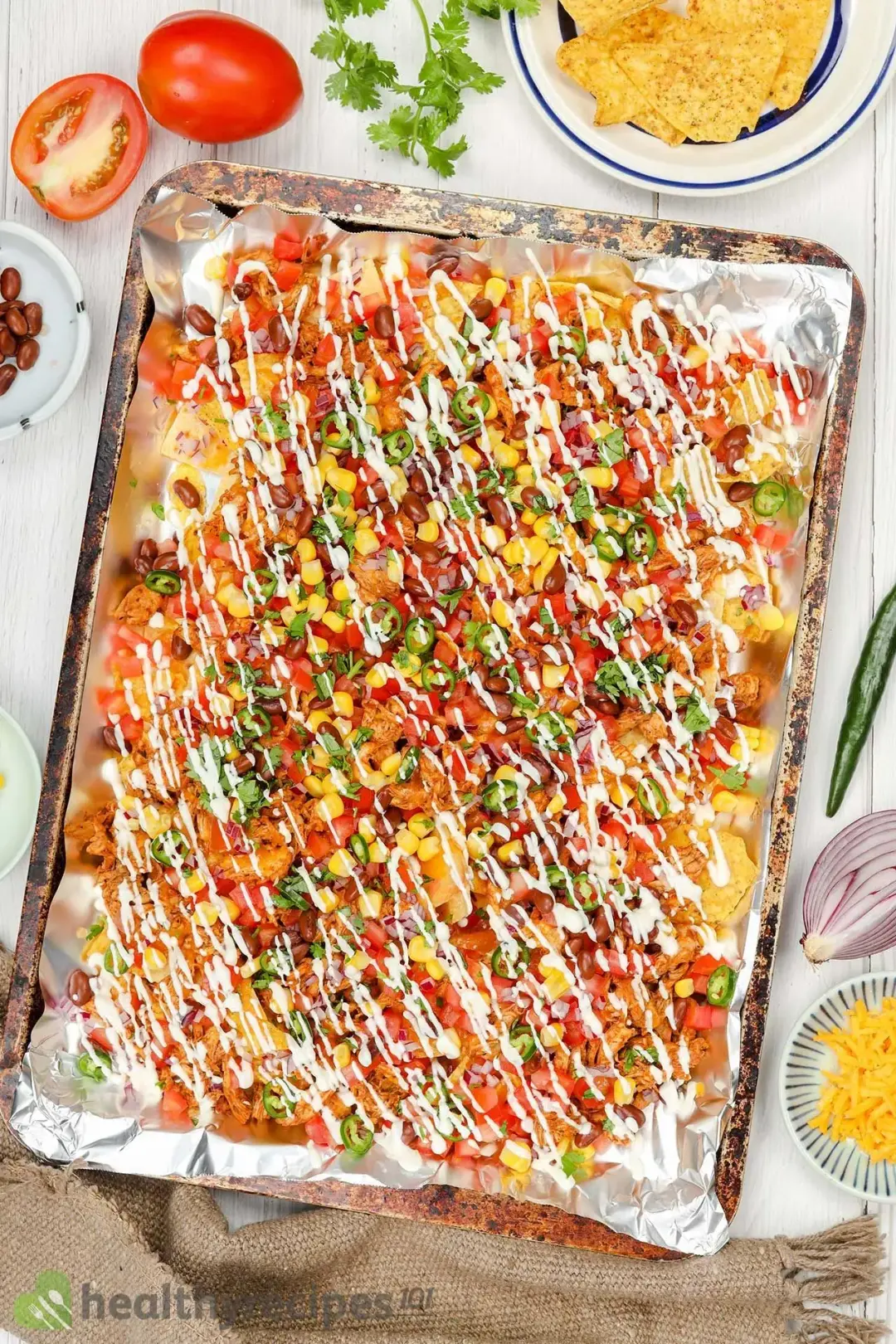 cook TIME

23 mins

prep TIME

7 mins

total TIME

30 mins
COURSE

Main Course

CUISINE

Global

SERVINGS

servings

CALORIES

507 kcal
INGREDIENTS
6

6-inch corn tortillas

2 oz

tortilla chips

16 oz

skinless boneless chicken breasts (cut into large chunks)

6 oz

tomatoes (diced)

2 oz

corn

2 oz

canned black beans

1 oz

red onion (diced)

1 oz

jalapeño (sliced)

0.3 cup

coriander (finely chopped)

2 tbsp

olive oil

1 tbsp

Hunt's tomato paste

1 tsp

paprika

1 tsp

dried oregano

0.5 tsp

chili powder

0.5 tsp

garlic powder

0.5 tsp

ground black pepper

0.3 tsp

salt

0.3 tsp

cumin

0.5 cup

unsalted chicken broth

3 oz

cheddar cheese (grated)

3 tbsp

plain Greek yogurt
INSTRUCTIONS
Prep:
1
Cut the chicken: Cut the chicken breasts crosswise into large chunks.
2
Cut the corn tortillas: Cut 6 6-inch corn tortillas into 48 small triangular pieces (8 pieces per tortilla).
3
Dice the tomatoes: Cut the tomatoes in half, then remove the stems and scoop out the seeds. Slice the halves into 1/4-inch strips, then cut the strips crosswise.
4
Dice the red onions: Cut the onions in half and peel off the skin. Keeping the root intact, make vertical and horizontal cuts 1/8 inch apart on the onion halves. Slice the onion into small cubes.
5
Slice the jalapeño: Slice off the top end and cut the jalapeño into thin, round slices.
6
Chop the coriander: Bunch the coriander together and chop it finely.
7
Grate the cheese: Place the cheese grater on the cutting board, and press the cheese block firmly against the grating surface. Gradually push the cheese downwards to grate.
Cook:
1
Prepare a baking tray: Arrange the tortilla pieces on a baking tray lined with aluminum foil.
2
Bake the tortillas: Bake for 5 minutes at 350 °F. Remove from the oven when done, and set aside.
3
Stir-fry the chicken: Place a pan over medium heat until hot. Add 2 tbsp olive oil and 16 oz chicken breasts. Stir-fry for 3 minutes.
4
Season the chicken: Add 1 tbsp Hunt's tomato paste, 1 tsp paprika, 1 tsp dried oregano, 1/2 tsp chili powder, 1/2 tsp garlic powder, 1/2 tsp ground black pepper, 1/4 tsp salt, and 1/4 tsp cumin. Stir for 1 minute to combine.
5
Stir in the chicken broth: Add 1/2 cup of unsalted chicken broth and reduce it over low heat for 5 minutes.
6
Shred the chicken: Use two forks to shred the chicken chunks into small pieces.
7
Build the nacho: On the baking tray, spread 2 oz tortilla chips, shredded chicken, and 3 oz grated cheddar cheese.
8
Melt the cheese: Bake the ingredients at 375 °F for 5 minutes. Remove the tray from the oven when done.
9
Add the prepared vegetables: Add 6 oz tomatoes, 2 oz corn, 2 oz canned black beans, 1 oz red onion, 1 oz jalapeño, and 1/4 cup of coriander.
10
Add the sauce and serve: Drizzle 3 tbsp plain Greek yogurt on the nachos. Enjoy.
NUTRITION
Nutrition Facts
How to Make Chicken Nacho
Amount Per Serving (1 serving)
Calories 507
Calories from FDA
% Daily Value*
* Percent Daily Values are based on a 2000 calorie diet.
Previous Recipe
Indian Butter Chicken
Indian Butter Chicken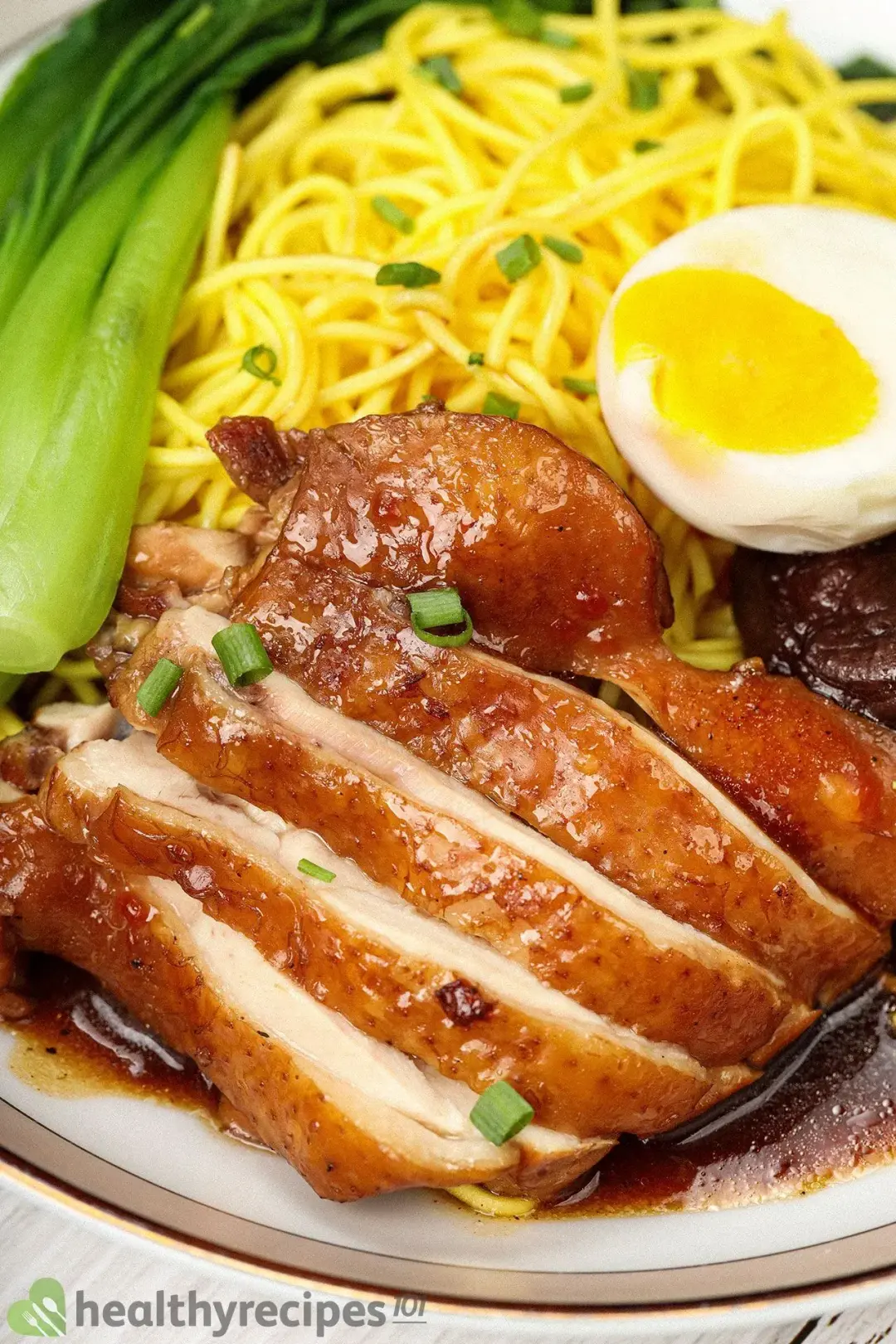 Next Recipe
Chicken Noodle
Chicken Noodle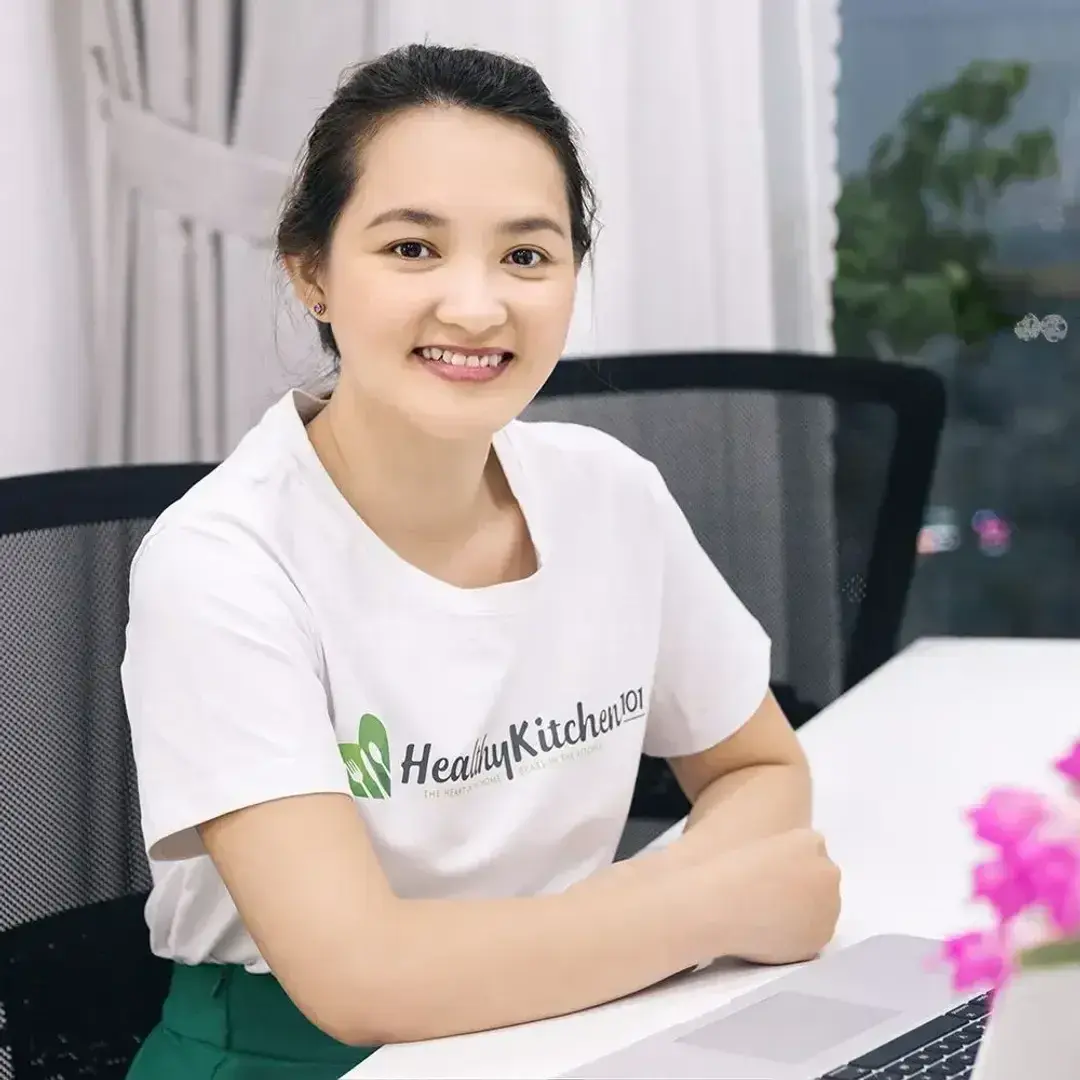 Founder
Luna Regina is an accomplished writer and author who dedicates her career to empowering home cooks and making cooking effortless for everyone. She is the founder of HealthyKitchen101.com and HealthyRecipes101.com, where she works with her team to develop easy, nutritious recipes and help aspiring cooks choose the right kitchen appliances.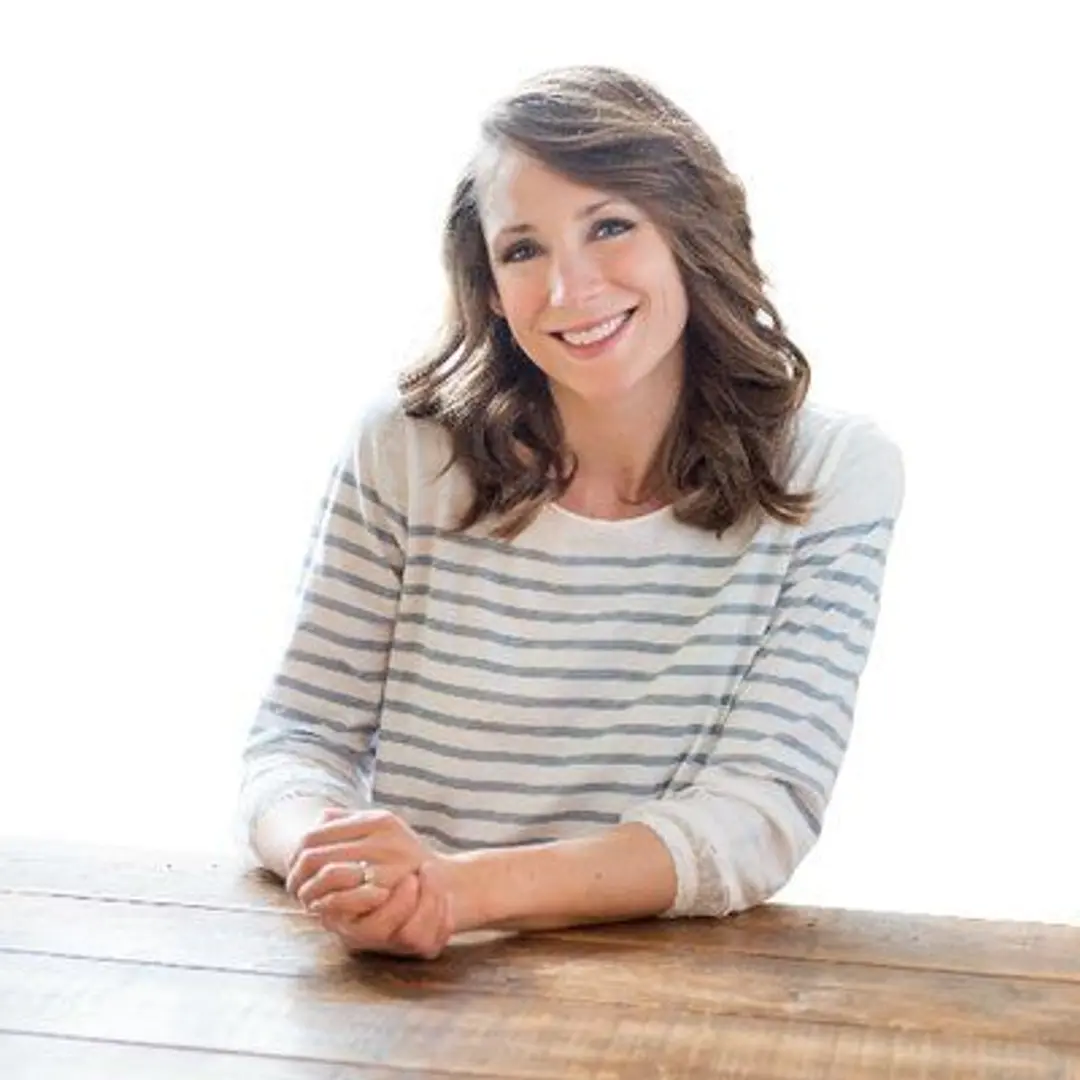 Nutrition Reviewer
Natalie is a registered dietitian nutritionist with a passion to help others live their best life through food, fitness, safer beauty and a healthy lifestyle. She has expertise with a variety of diets and diseases and believes that there is no one-size-fits-all approach for health.
Comments/ Reviews