Comforting and addicting, this chicken noodle recipe is the perfect choice for casual dinner nights. It's a homemade classic, consisting of tender chicken, earthy bok choy, and soft egg noodles—all immersed in a deeply savory sauce. Everything comes together in just half an hour, creating a golden dish filled with a distinct warmth and coziness that can be found in most Chinese dishes.
Is Our Recipe Healthy?
It sure is.
We balanced the ingredients so that the dish's overall nutritional value meets the standards set by our nutrition guidelines. As a result, each serving contains approximately:
6.4 g saturated fat 
606 mg sodium
508 calories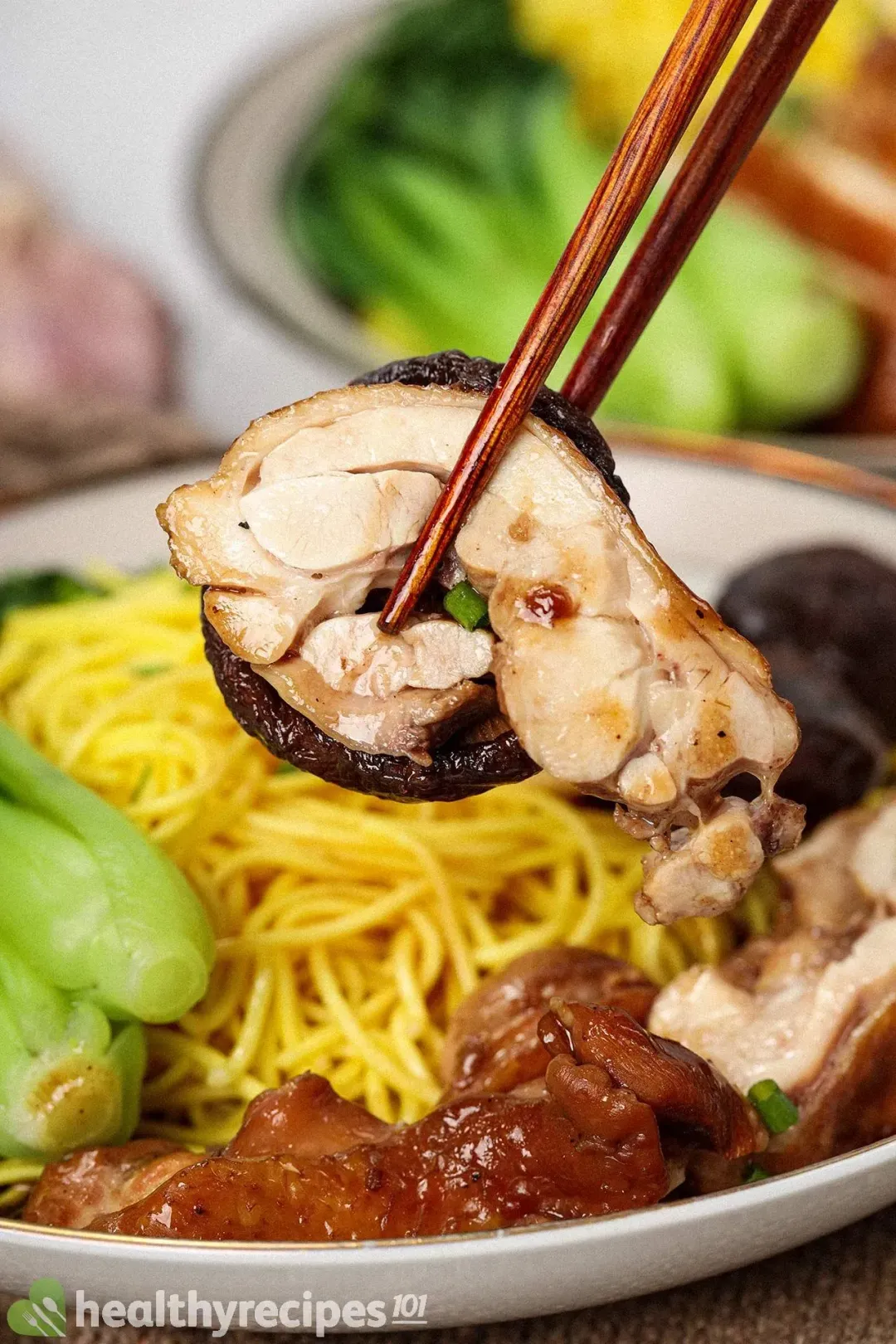 Chicken being its main ingredient, this dish is loaded with complete protein. Chicken is also a great source of other nutrients, such as vitamins B6 and B12, heme iron, zinc, and choline.
This noodle dish is served with a side of bok choy. The leafy green is full of fiber, antioxidants, and various minerals, which have multiple potential health benefits for the heart, eyes, and bones, and play an instrumental role in reducing inflammation in the body.
Main Ingredients
Here is everything you'll need to cook up a comforting and wholesome dish of chicken noodles:
Chicken: Chicken thigh is the best choice for this recipe. Since it's dark meat, the flavors are incredibly rich and savory, while the texture stays tender even when it's overcooked. Some chicken noodles recipes use shredded chicken meat, but we believe cooking the whole piece with the skin on is better. The exterior becomes incredibly eye-catching, thanks to its perfectly cooked glossy brown skin. Meanwhile, the sliced meat has more space to absorb the flavors and offers a more substantial mouthfeel.
Bok Choy: This Chinese cabbage is a staple ingredient in many Chinese dishes. It has a lettuce-like taste—mildly grassy with a subtle, bitter undertone; the bitterness tends to be more pronounced in matured bok choy.
Mushrooms: Since the sauce calls for depth in flavor, we added a handful of shiitake mushrooms to the mixture. We used the dried variety for convenience. It retains the earthy, umami taste you'd often find in fresh ones, but with a smoky accent that gives it a deeper undertone.
Eggs: Each serving comes with a hard-boiled egg, which helps to diversify the textures and subtly enrich the flavors.
Noodles: Go with egg noodles for the most authentic taste. You can find them at most Asian markets, supermarkets, and specialty stores.
Aromatics: Chinese dishes typically use a wide range of aromatics to infuse fragrance and give them a light flavor kick. For our recipe, we went with classics like garlic and shallots, with the addition of star anise—a Chinese staple with a mildly spicy taste and licorice-like aroma.
Condiments: Much like aromatics, condiments are also heavily utilized in Chinese dishes to infuse the foods with a diverse range of flavors. Sticking to this principle, we used ingredients like brown sugar, white pepper, and five-spice powder, along with sesame oil, soy sauce, and hoisin sauce.
White Wine: We went with Sauvignon Blanc, which adds a delicate undertone to lighten the sauce's savory taste and subtly sweeten it with floral and herbaceous notes.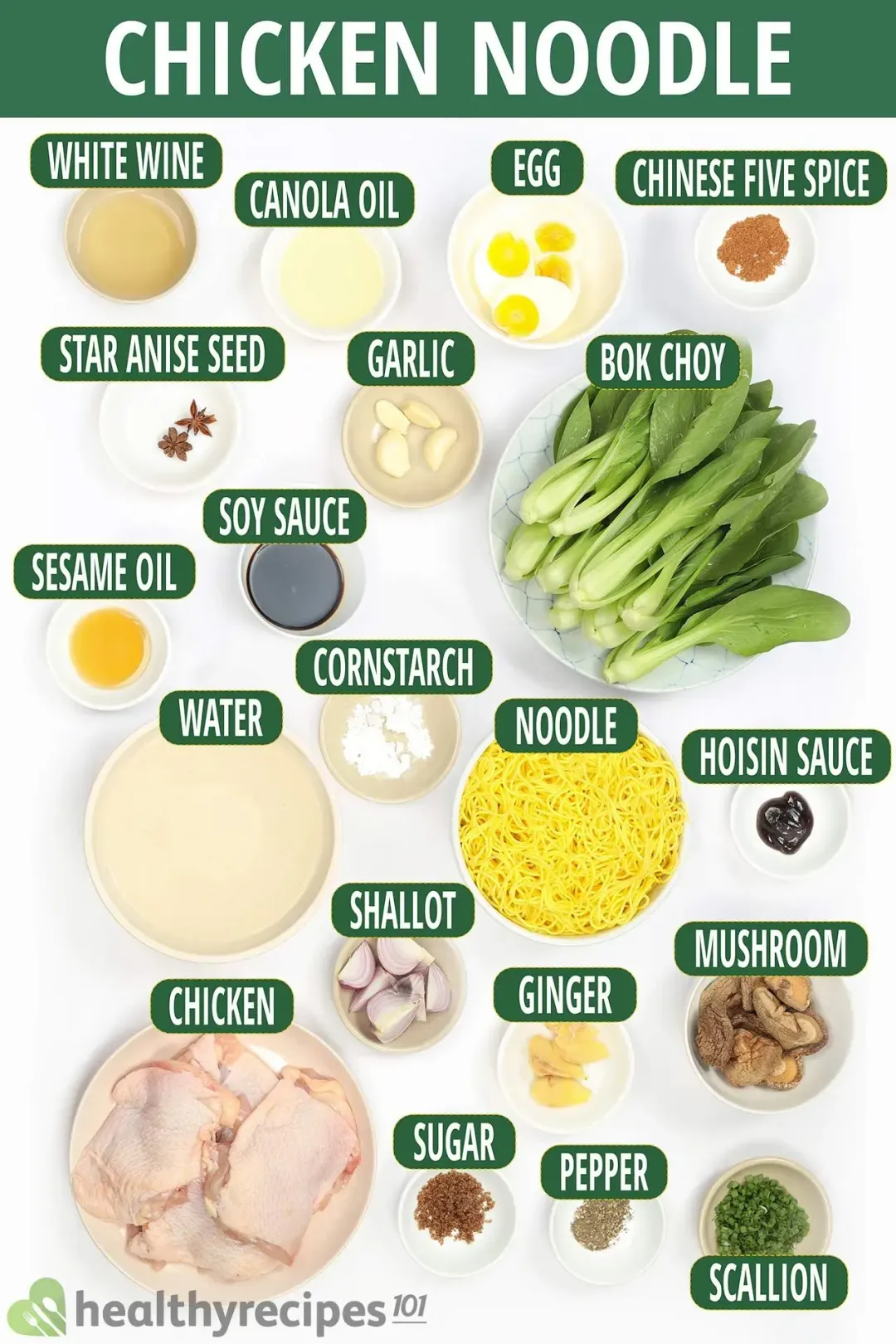 What Kind of Noodles Are Used in Chicken Noodles?
When it comes to chicken noodles, egg noodles are undoubtedly the preferred choice. Their springy texture and light egg scent pair quite well with the chicken's soft taste, delivering extraordinary flavors in every bite.
Egg noodles are often recognized by their long, round spaghetti-like strands. However, they also come in other shapes and textures. Depending on your preference, you can use flat wonton noodles for a smooth mouthfeel, or chow mein and lo mein noodles for a bit of crispiness and a chewy texture.
If egg noodles aren't readily available, you can substitute them with pasta. Long-strand varieties like spaghetti, bucatini, linguine, fettuccine, or pappardelle would produce a similar—although not identical—mouthfeel.
How To Store and Reheat the Leftovers
This chicken noodle tastes best within the first 2 days. Store it in airtight containers or tightly wrap the plates with plastic wrap to maintain the flavors and textures. However, they will inevitably change a little, like the noodles drying out and the bok choy turning slightly soggy.
As for reheating, microwaving the dish for 1 minute is a quick and easy option. A quick stir on the stovetop over medium heat would also work just fine.
How To Make [Video]
What to Serve With
Pair this chicken noodle with one of the following dishes for a homemade meal filled with warmth and comfort: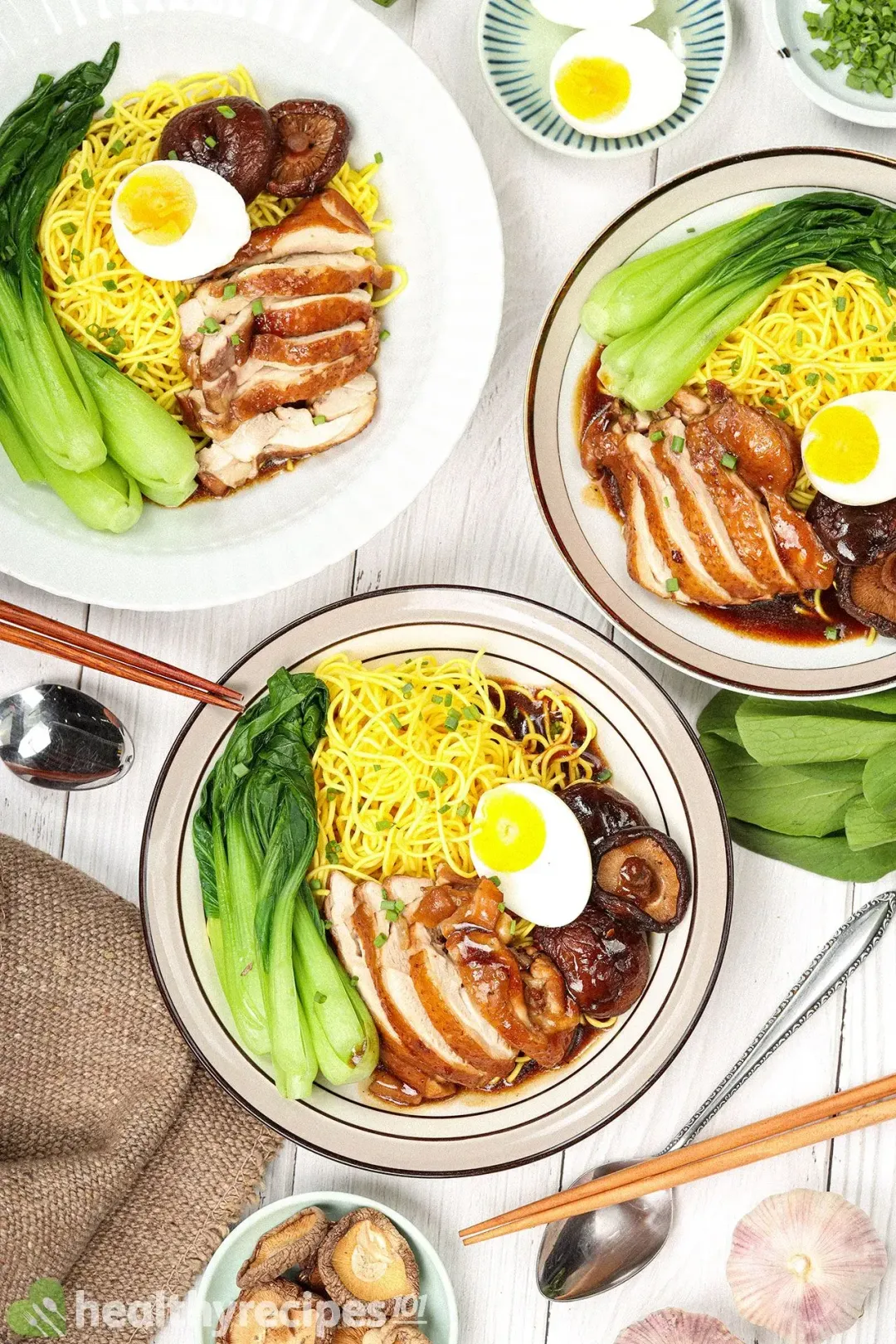 Change Things up With These Chicken Noodle Recipes
Our basic chicken spaghetti recipe is made with fresh cherry tomatoes, chicken breasts, and cheddar cheese. This recipe is quick to make and doesn't require any hard-to-find ingredients, making it a perfect option for those busy weekdays.
This chicken scallopini recipe is a quick and easy Italian-style main dish that comes together in under 30 minutes. It consists of chicken breasts breaded with Parmesan cheese and served with a tasty mustard cream sauce.
How to Make Chicken Noodle
Comforting and addicting, this chicken noodle recipe is the perfect choice for casual dinner nights. It's a homemade classic consisting of tender chicken, earthy bok choy, and soft egg noodles—all immersed in a deeply savory sauce.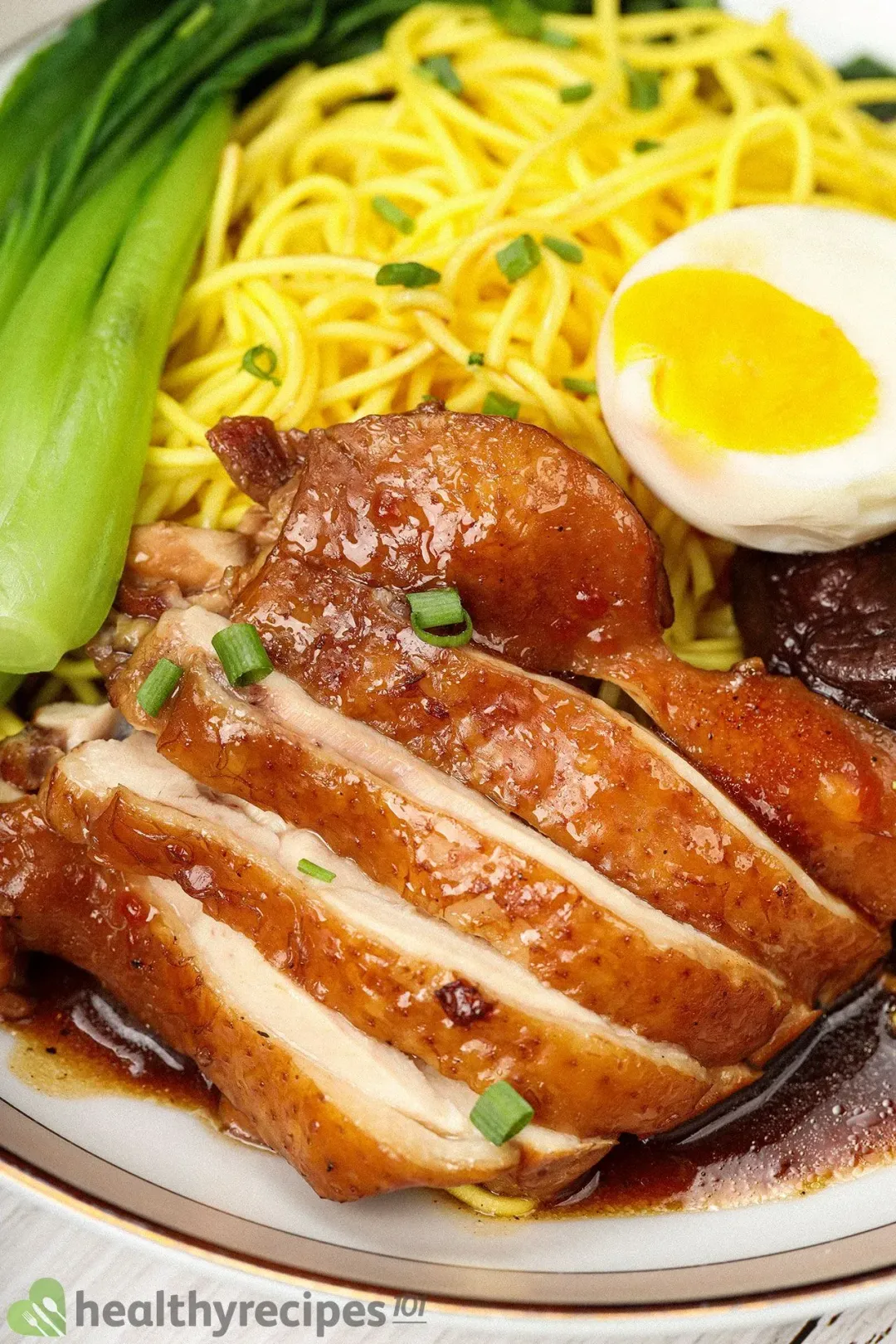 cook TIME

40 mins

prep TIME

10 mins

total TIME

50 mins
COURSE

Main Course

CUISINE

Chinese

SERVINGS

CALORIES

508 kcal
INGREDIENTS
14 oz

skin-on boneless chicken thighs

2

large eggs

(hard-boiled)

1 oz

shallots

(quartered)

0.5 oz

dried shiitake mushrooms

1/4 cup

scallions

(chopped)

3 tbsp

reduced-sodium soy sauce

1/4 tsp

five-spice powder
INSTRUCTIONS
Prep:
1
Boil the Eggs: Bring water to a boil in a saucepan, then gently drop the eggs in, one at a time. Reduce to a simmer; when the surface starts bubbling, cover with a lid and let the eggs sit for 10-12 minutes. Transfer them into ice water when done.
2
Boil the Noodles: Check the noodle packaging and boil accordingly until al dente. When done, remove the noodles from the pot and quickly run them through cold water.
3
Quarter the Shallots: Cut the shallots in half, lengthwise, then cut each half crosswise into quarters.
4
Prepare the Chicken: Gently pat with paper towels to remove any excess moisture.
5
Chop the Scallions: Slice off the white roots and 1-2 inches from the top. Bunch the scallions together, and thinly slice the stalks into small pieces.
6
Slice the Ginger: Slice off the top, then thinly slice the ginger, crosswise.
Cook:
1
Rehydrate the Mushrooms: In a small bowl filled with cold water, drop 0.5 oz dried shiitake mushrooms and leave to soak for 10 minutes until softened. Remove them when done but don't discard the water.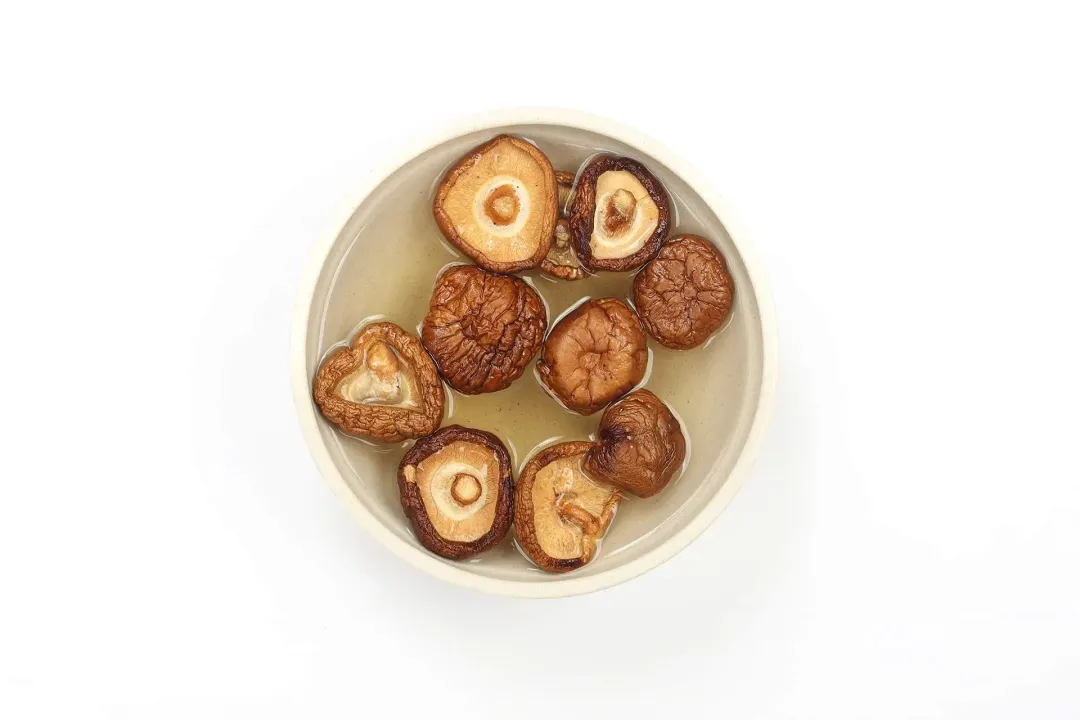 2
Cook the Aromatics: In a saucepan over medium heat, add 1 1/2 tbsp canola oil, 2 star anise, 4 garlic cloves, 0.5 oz ginger, and 1 oz shallots. Stir for 2 minutes until fragrant.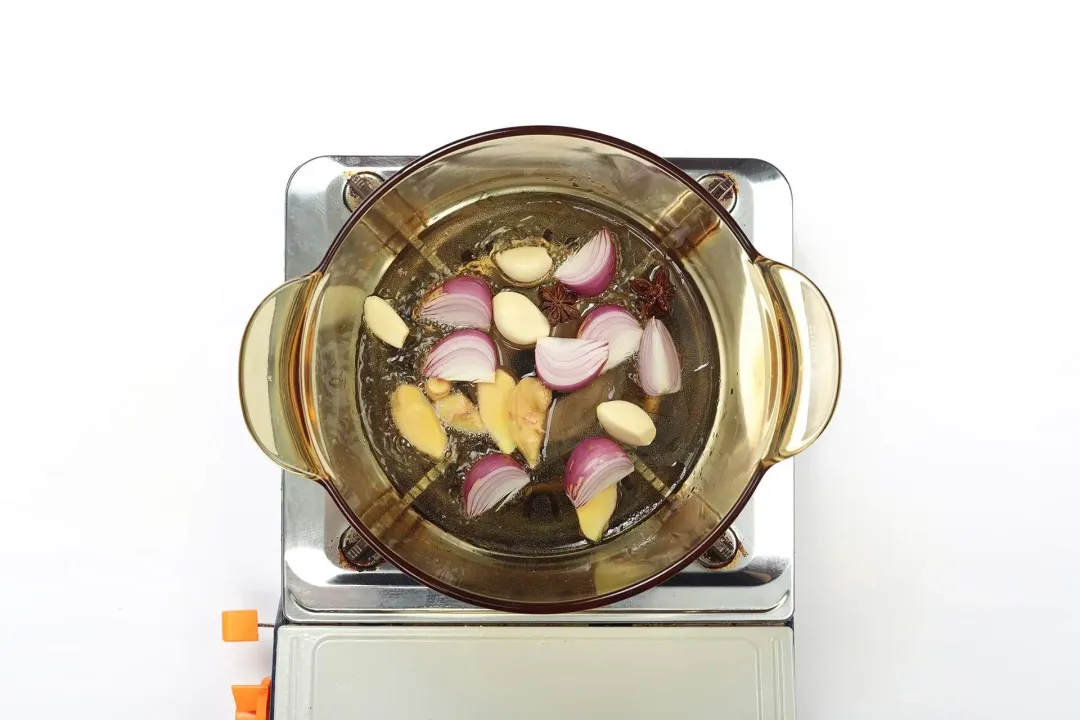 3
Add the Mushrooms and Condiments: In the same saucepan, add the water used to hydrate the mushrooms, 3 tbsp reduced-sodium soy sauce, 1/2 tsp hoisin sauce, 1/2 tsp sesame oil, 1 fl oz white wine, 1 tsp brown sugar, 1/4 tsp five-spice powder, and 1/4 tsp white pepper. Stir till well mixed.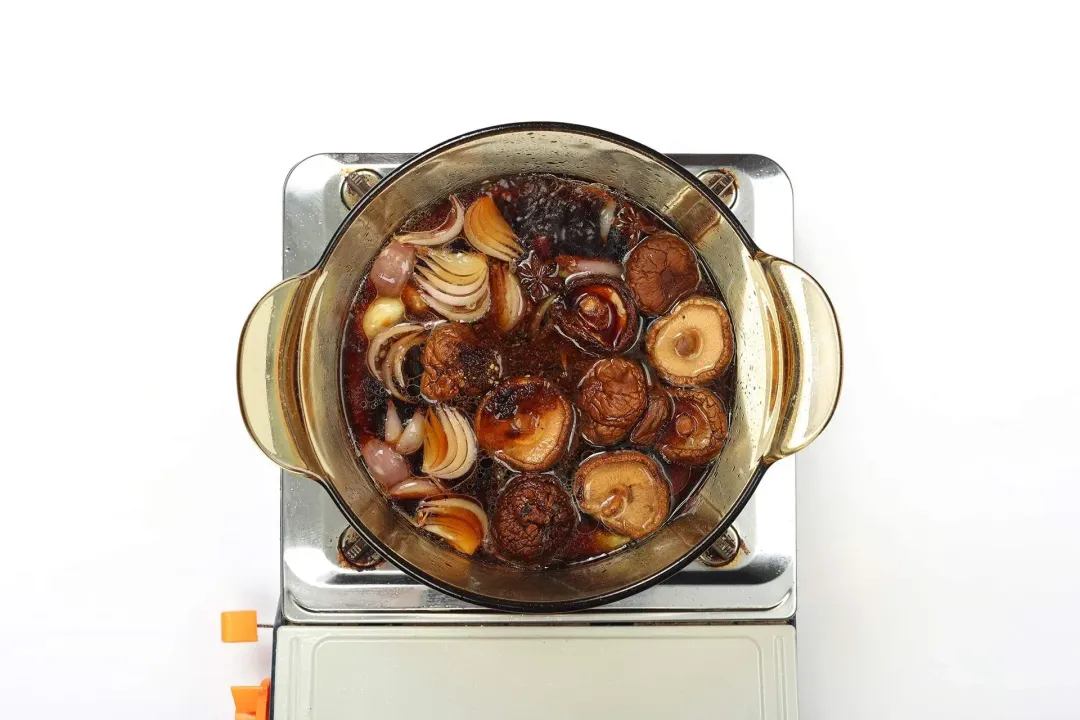 4
Add the Chicken: Add 14 oz skin-on chicken thighs into the mixture, and allow to simmer on low heat for 20 minutes.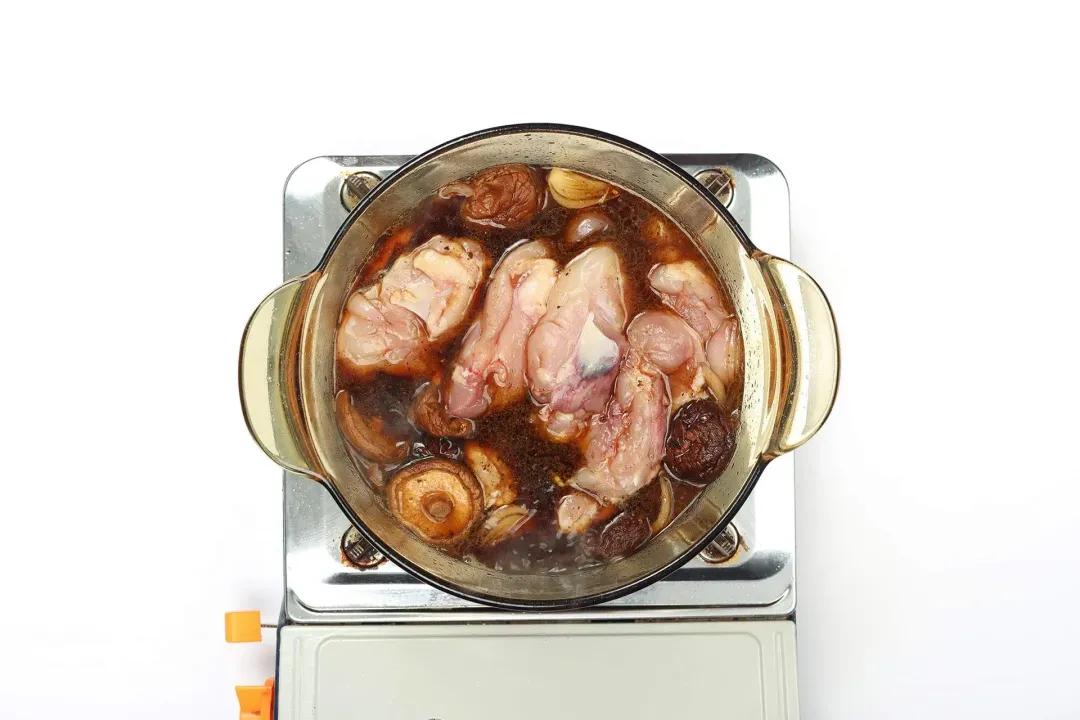 5
Remove the Food: Use a mesh skimmer to remove the food and transfer onto a separate plate; leave the sauce in the saucepan.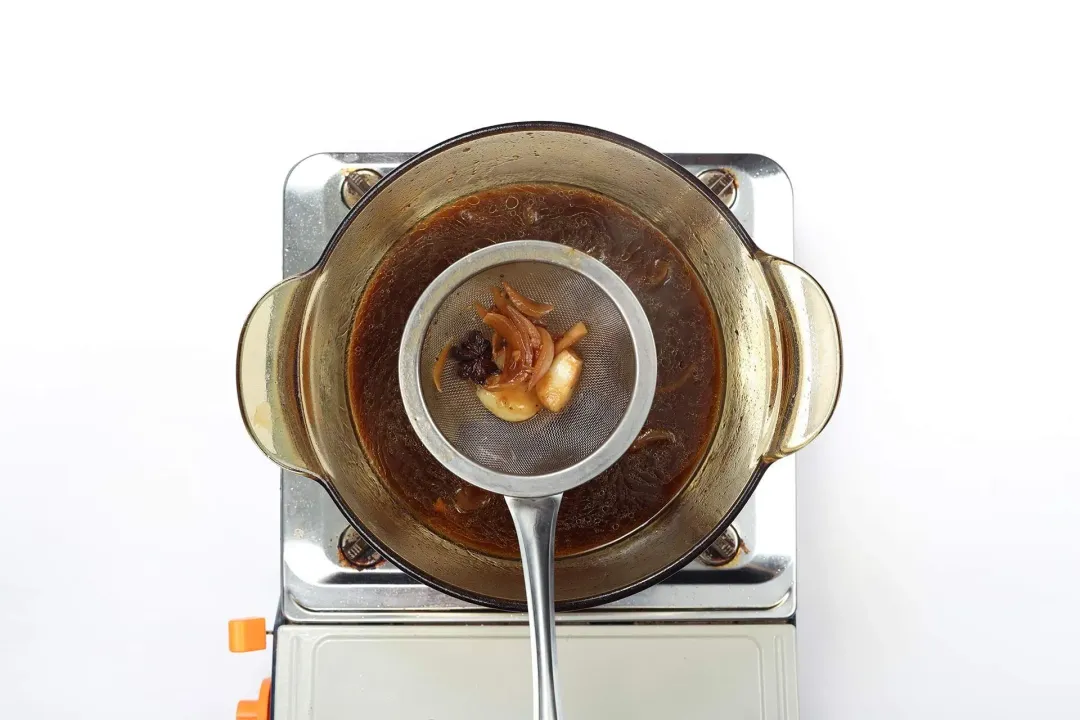 6
Add the Cornstarch: Add a little water into 1 tsp cornstarch and mix gently. Pour the mixture into the saucepan, and stir for 5 minutes until slightly thickened.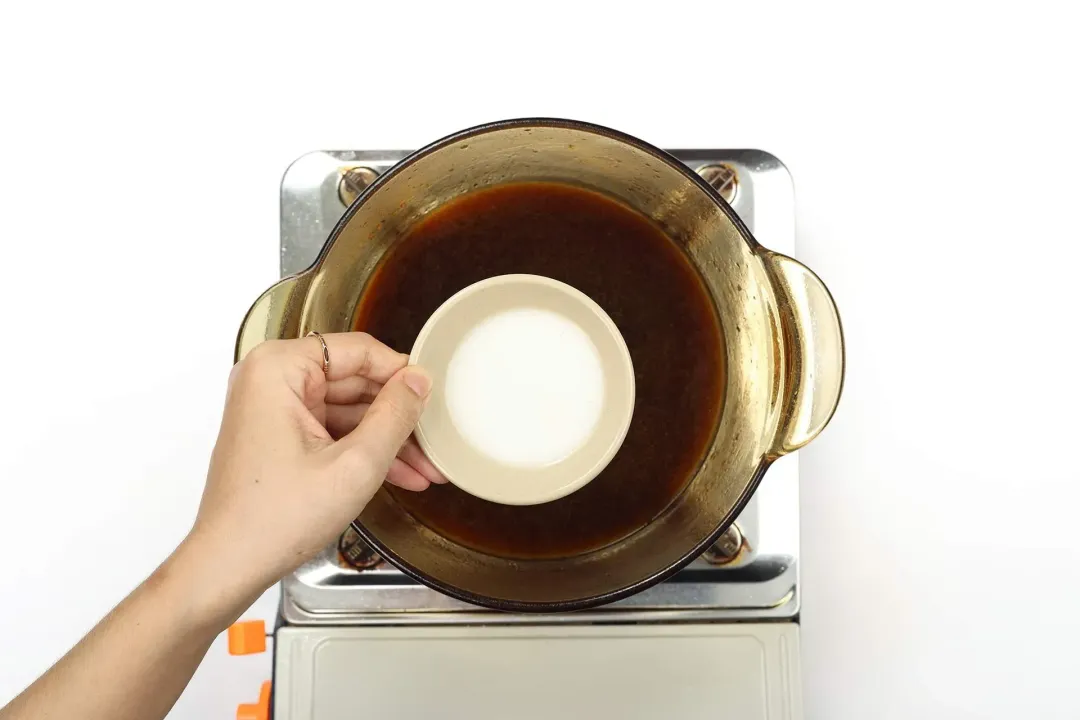 7
Cook the Bok Choy: In a pan, bring 1 1/2 cups water to a boil then add 6 oz bok choy and cook for 2 minutes. When done, remove the veggie and gently run it through water.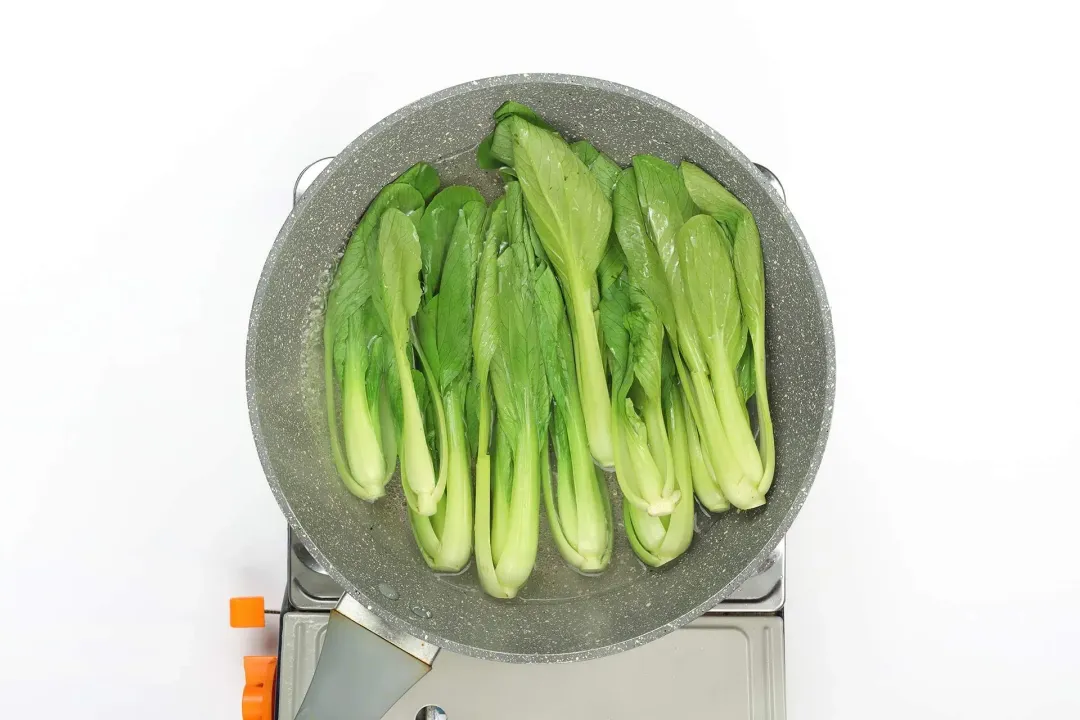 8
Slice the Chicken: Lay the cooked chicken thighs onto a cutting board, then slice them into 1/2-inch-thick pieces.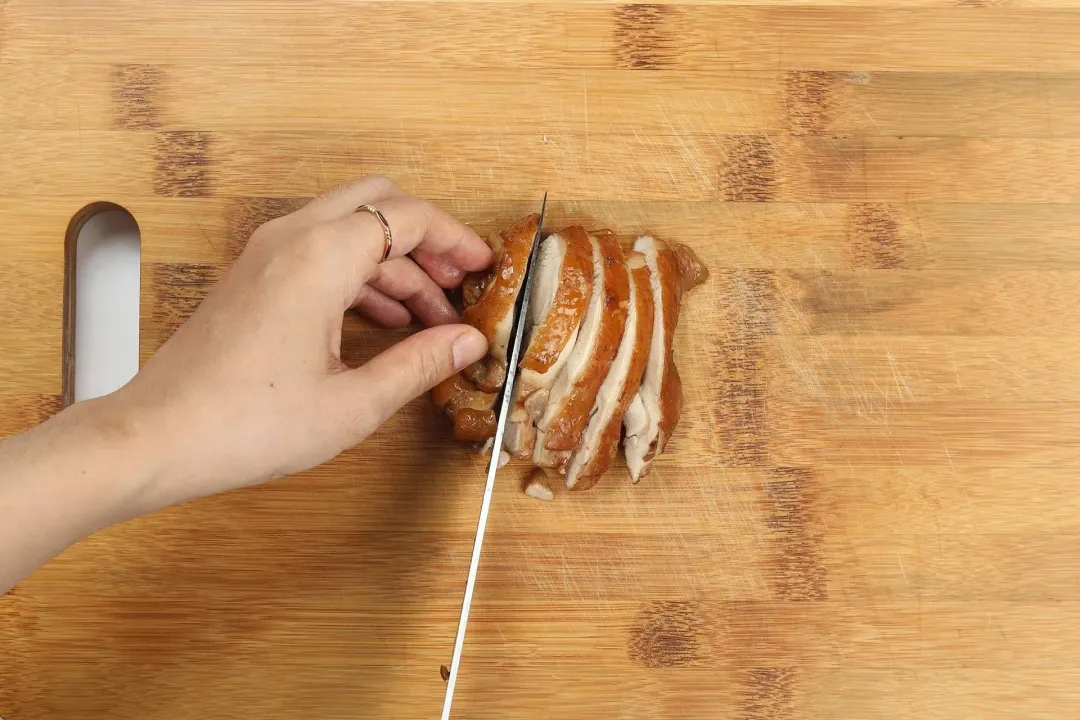 9
Transfer Onto Serving Plates: Scoop the sauce onto the serving plates, then spread the cooked egg noodles, 2 large eggs, cooked chicken thighs, bok choy, and mushrooms. Garnish with 1/4 cup scallions. Serve hot.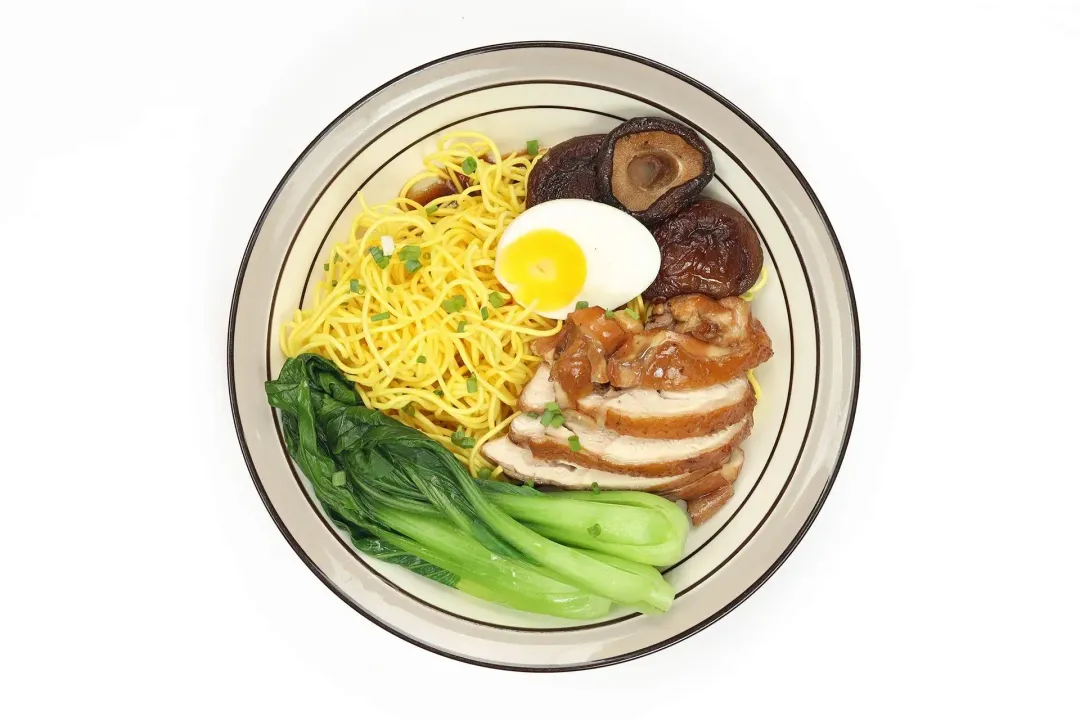 NUTRITION
Nutrition Facts
How to Make Chicken Noodle
Amount Per Serving (1 serving)
Calories 508
Calories from Fat 251
% Daily Value*
* Percent Daily Values are based on a 2000 calorie diet.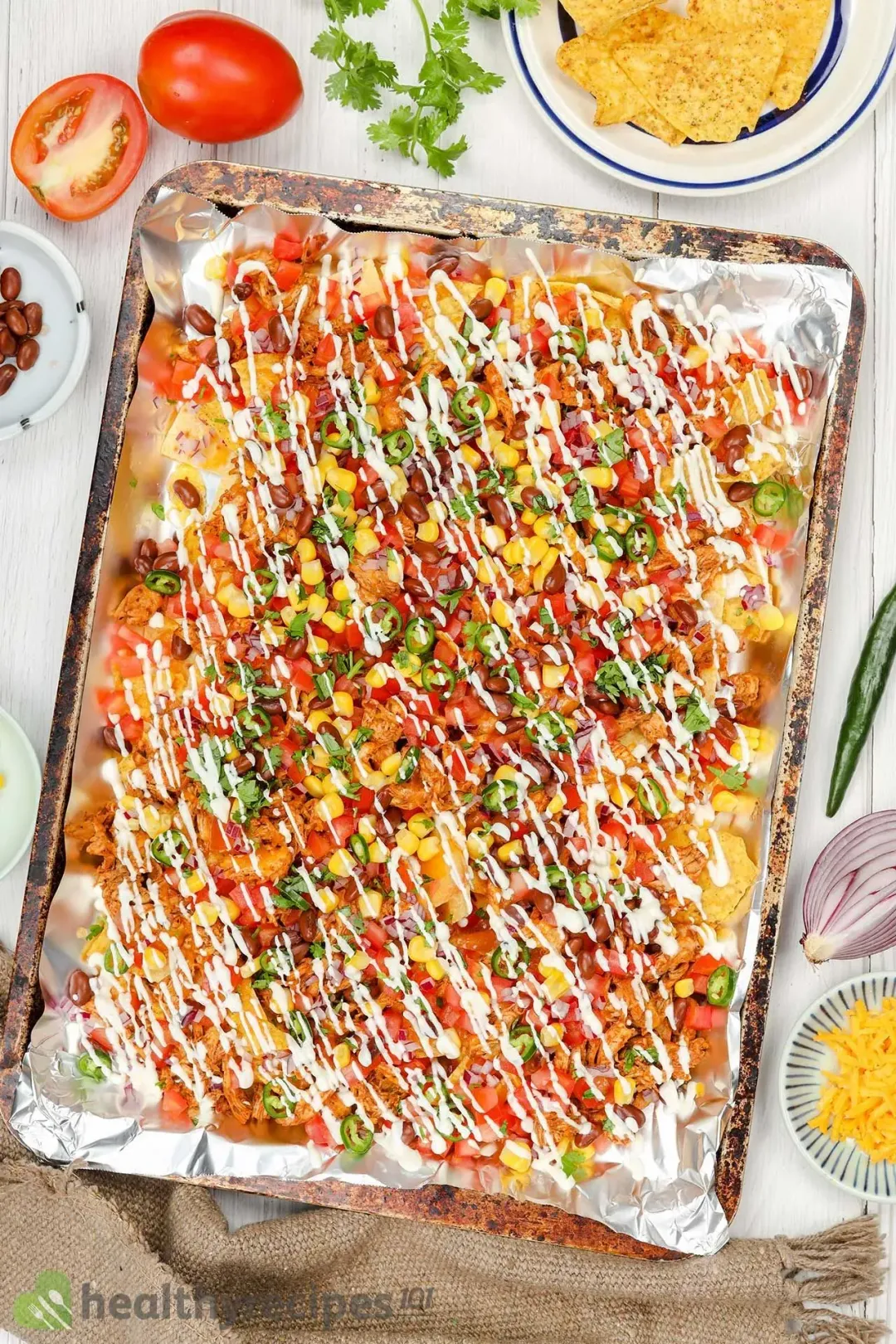 Previous Recipe
Chicken Nacho
Chicken Nacho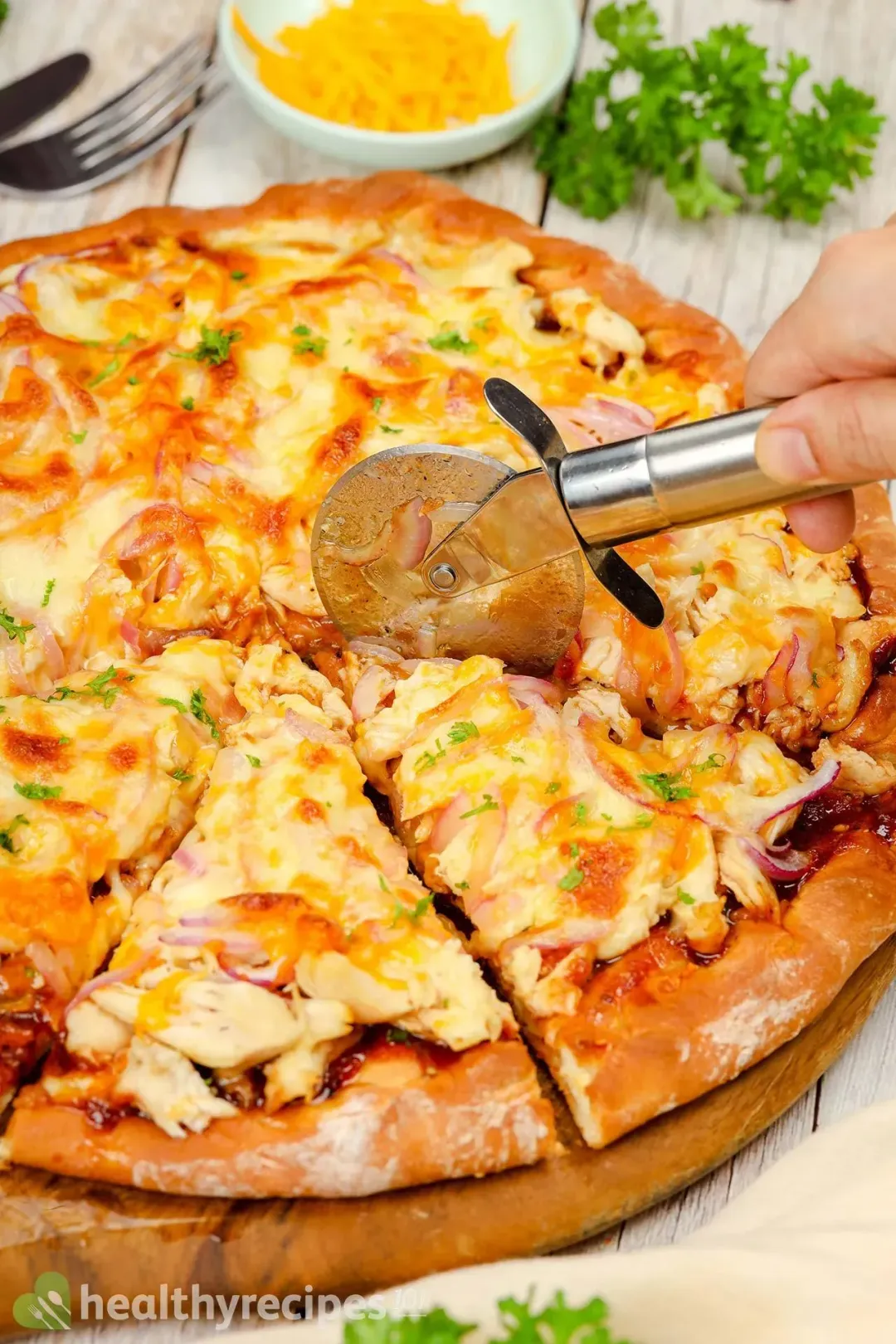 Next Recipe
BBQ Chicken Pizza
BBQ Chicken Pizza
Head Chef, Culinary Consultant
Tuyet Pham is an award-winning Saigonese chef who believes that joy is the secret ingredient to delicious food. At Healthy Recipes 101, Tuyet personally tests and simplifies every recipe, ensuring maximum flavor with minimal effort. With a background at prestigious French restaurants P'TI Saigon and Le Corto, Tuyet knows how to make every dish exceptional.
Writer, Author
Luna Regina is an accomplished writer and author who dedicates her career to empowering home cooks and making cooking effortless for everyone. She is the founder of HealthyKitchen101.com and HealthyRecipes101.com, where she works with her team to develop easy, nutritious recipes and help aspiring cooks choose the right kitchen appliances.
Nutrition Reviewer
Natalie Butler is a registered dietitian nutritionist with a passion to help others live their best life through food, fitness, safer beauty and a healthy lifestyle. She has expertise with a variety of diets and diseases and believes that there is no one-size-fits-all approach for health.
A classic and easy-to-follow dish that's perfect for a comforting meal. Its versatility and simplicity make it a great option for any occasion.