Chicken and potatoes? This popular combo has been well-loved for as long as we can remember. They're super easy to cook with and pair deliciously together! Using only simple everyday ingredients, our chicken and potatoes recipe offers nothing less than another delightful dish to enjoy.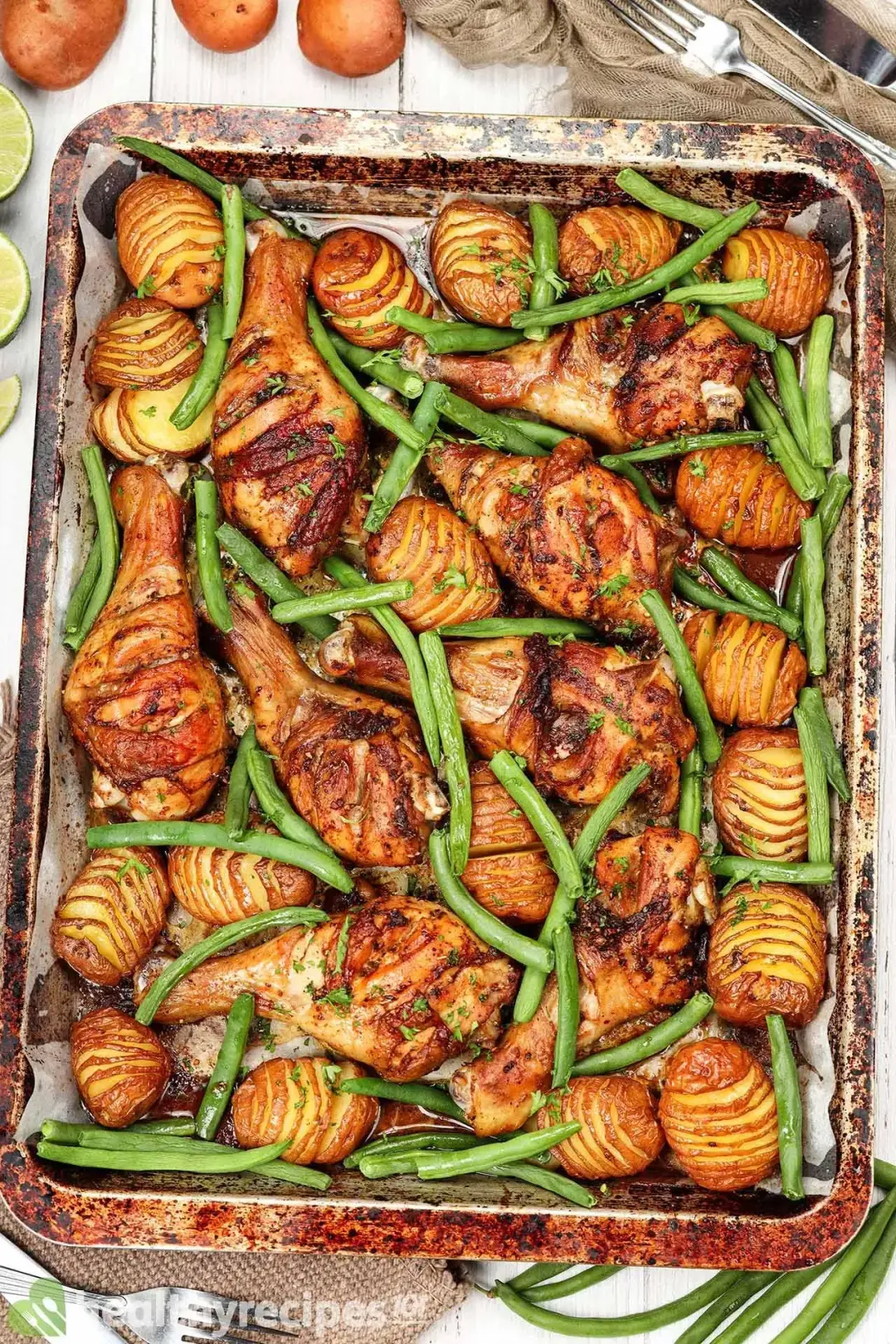 Follow along for a satisfying meal with this classic kitchen duo.

Is Our Chicken And Potatoes Healthy?
Yes, this chicken and potatoes recipe makes a nutritious meal.
For the main source of protein, our recipe calls for chicken drumsticks. Specifically, the total amount of protein for one serving is around 30 grams, up to 59% of the recommended daily value.
And as the name suggests, our dish also includes potatoes. Potatoes are rich in antioxidants and high in fiber, offering many health benefits. And since there are more minerals in their outer skin than their flesh itself, we take full advantage by leaving the potatoes' skin on.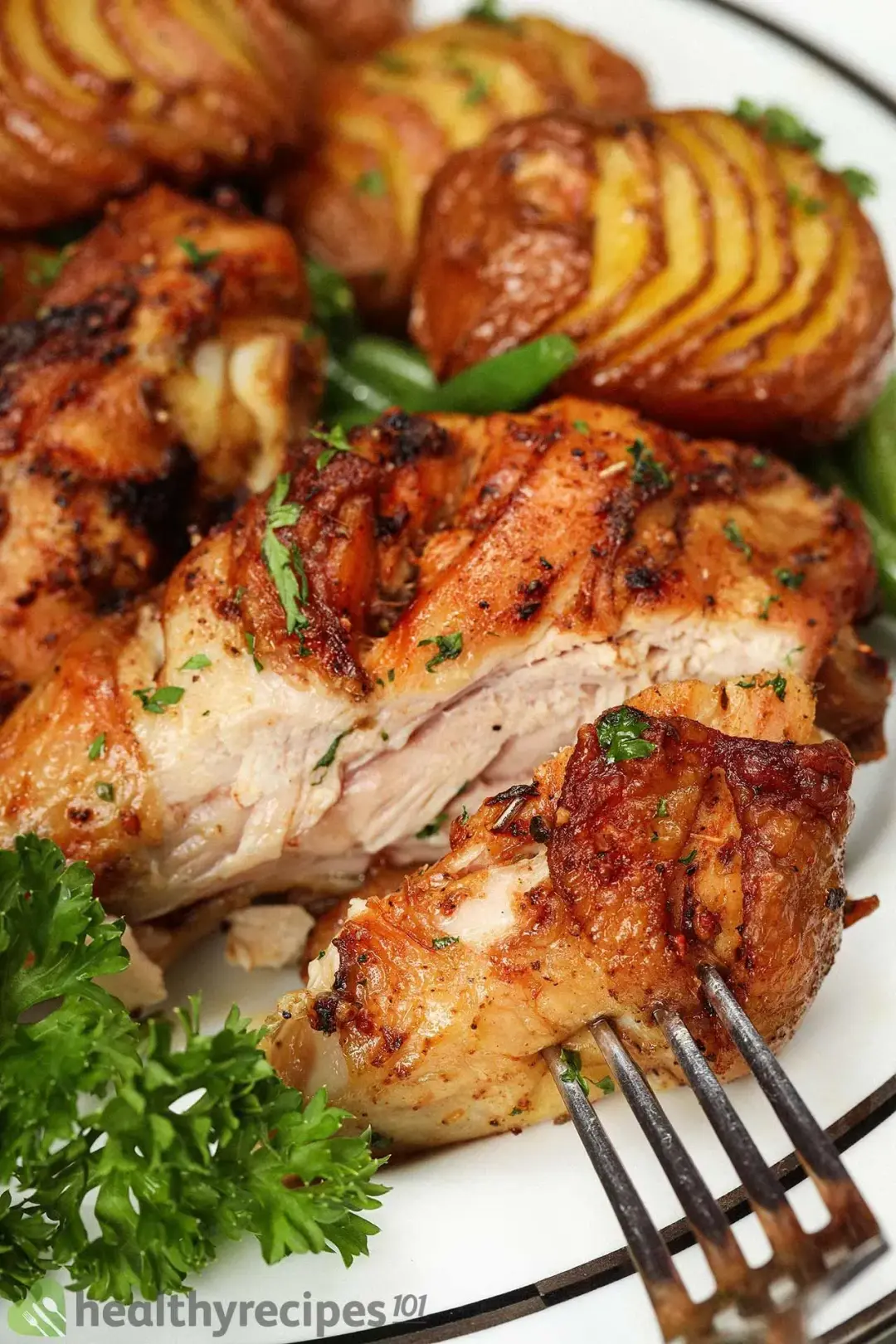 The addition of green beans also contributes to the amount of fiber and vitamins in our dish.
This recipe makes a hearty meal, one serving of which contains a fair amount of around 450 calories: a good number for dinner, based on a 2000-calorie per day diet.

Ingredients for Chicken And Potatoes
The ingredients required for our dish are incredibly simple—only chicken, potatoes, green beans, and a few other seasonings, and you're good to go. Let's jump in for a closer look.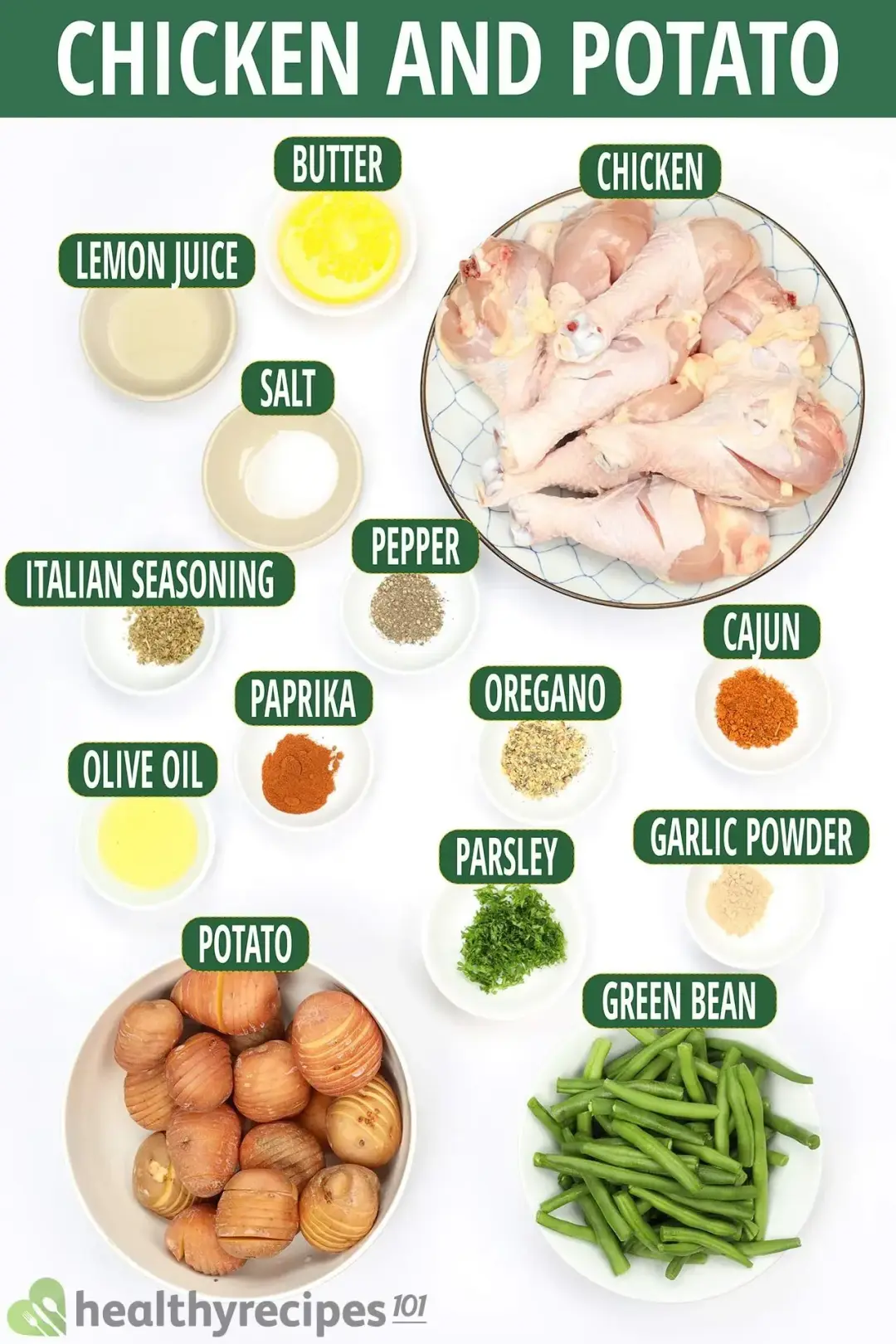 This recipe calls for chicken drumsticks, scored and tossed in salt, pepper, garlic powder, Cajun seasoning, Italian seasoning, paprika, olive oil, lemon juice, and oregano.
The reason we score our chicken drumsticks is to allow them to absorb the seasonings before baking. The result is flavorful chicken that is deliciously savory and slightly spicy!
We choose baby potatoes for their beautiful waxy texture and mildly sweet taste.
We leave the skin on and thinly slice each potato halfway through into a fan-like shape (Hasselback style) before brushing it with butter. This technique gives the potatoes a gorgeous look and a firm texture with slightly crispy edges when baked.
These hearty greens add more texture to our chicken and potatoes. Snappy and crunchy, they make each bite more fresh and funky!

How to Store the Leftovers
You can store the leftover chicken and potatoes in the fridge for around 4 to 5 days. For reheating, simply microwave them at high heat for 1 to 2 minutes or bake them in a preheated oven at 400°F for 10 minutes.
This dish also freezes beautifully. Simply microwave them at high heat for about 3 minutes or bake in a preheated oven at 400°F for 15 minutes.

What to Serve With Chicken And Potatoes Recipe
How about some refreshing salads to pair with our hearty chicken and potatoes? These wonderful recipes are a breeze to make: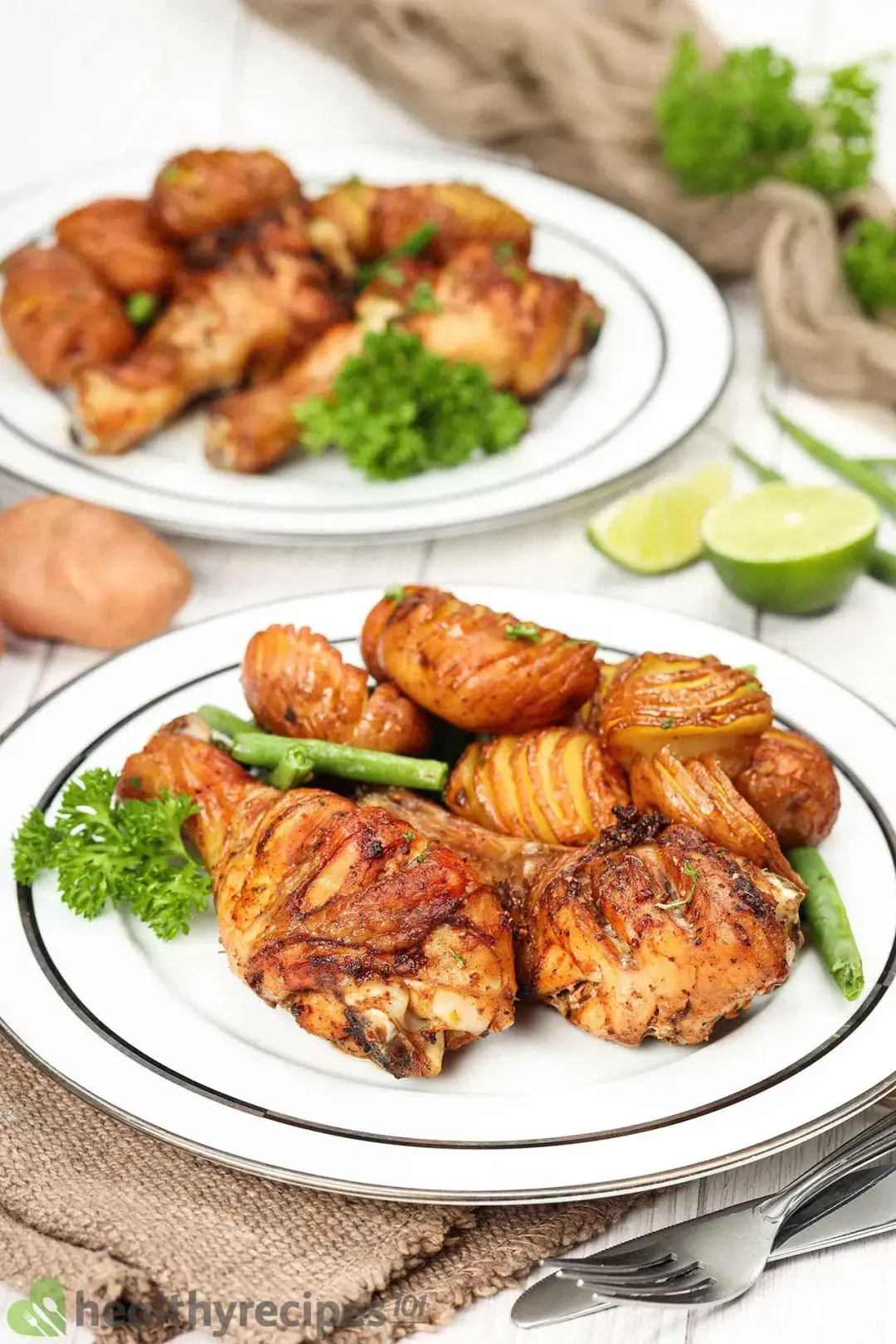 How to Make Chicken and Potatoes
Today's chicken and potatoes recipe features moist flavorful chicken drumsticks baked with gorgeous Hasselback potatoes—a beautiful weeknight staple for a satisfying meal.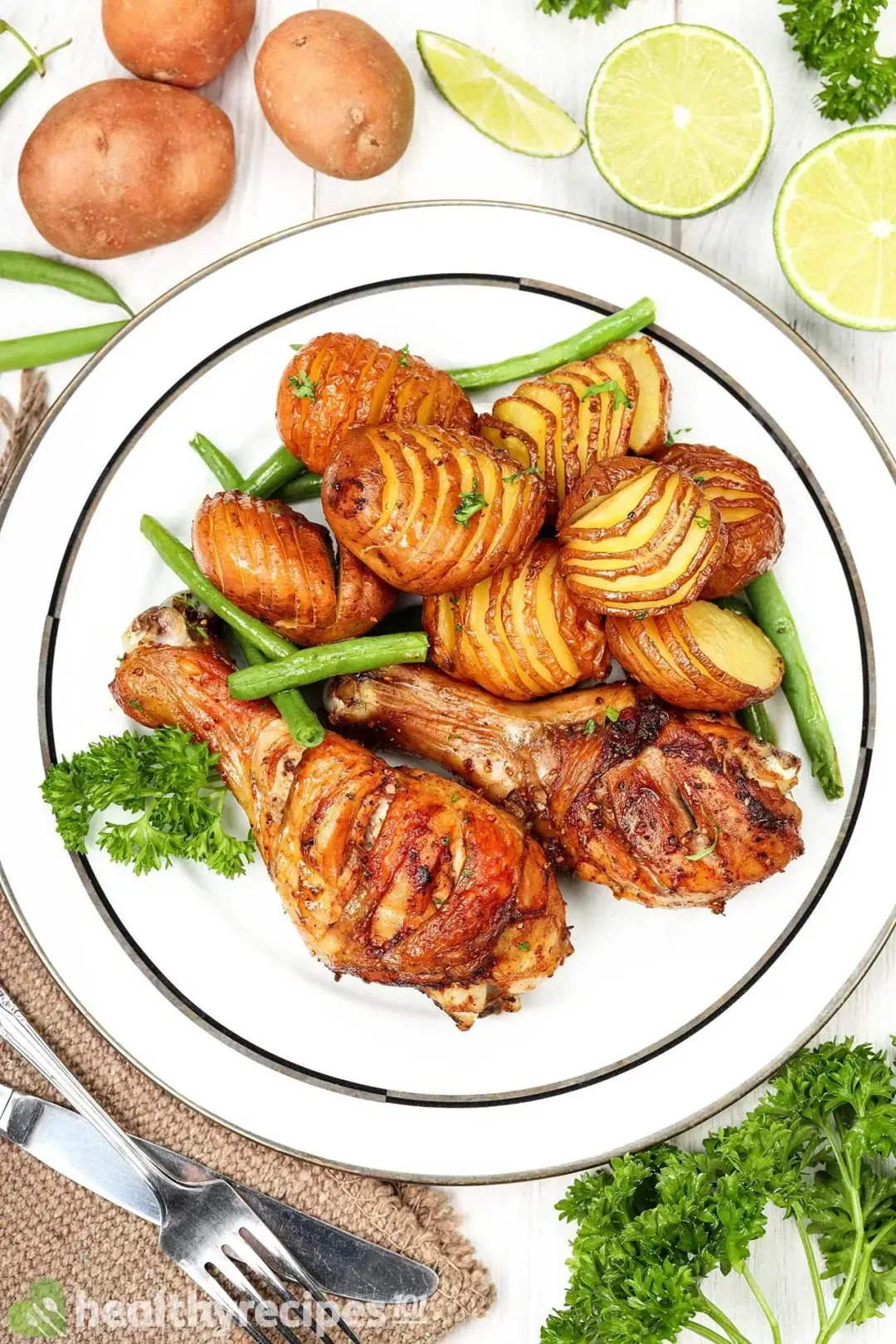 cook TIME

55 mins

prep TIME

5 mins

total TIME

1 hr
COURSE

Main Course

CUISINE

American

SERVINGS

servings

CALORIES

455 kcal
INGREDIENTS
0.5 tsp

salt divided

26 oz

baby potatoes sliced in a Hasselback style

0.5 tsp

ground black pepper

1 tsp

Cajun seasoning

1 tsp

oregano

1 tsp

paprika

1 tbsp

Italian seasoning

1 tbsp

olive oil

1 tbsp

lemon juice

4 oz

green beans trimmed

2 tbsp

parsley chopped

0.5 tsp

garlic powder

20 oz

chicken drumsticks meat & skin, scored

2 tbsp

unsalted butter melted
INSTRUCTIONS
Prep:
1
Score the chicken drumsticks.
2
Slice the potatoes in a Hasselback style: Secure one potato on a pair of wooden chopsticks, then use a sharp knife to cut slits in it. The pair of chopsticks help prevent the knife from slicing all the way through. Repeat for the remaining potatoes.
3
Wash and trim the green beans.
Cook:
1
Microwave the potatoes: Add 26 oz baby potatoes to a medium bowl. Cover with plastic wrap and microwave for 10 minutes.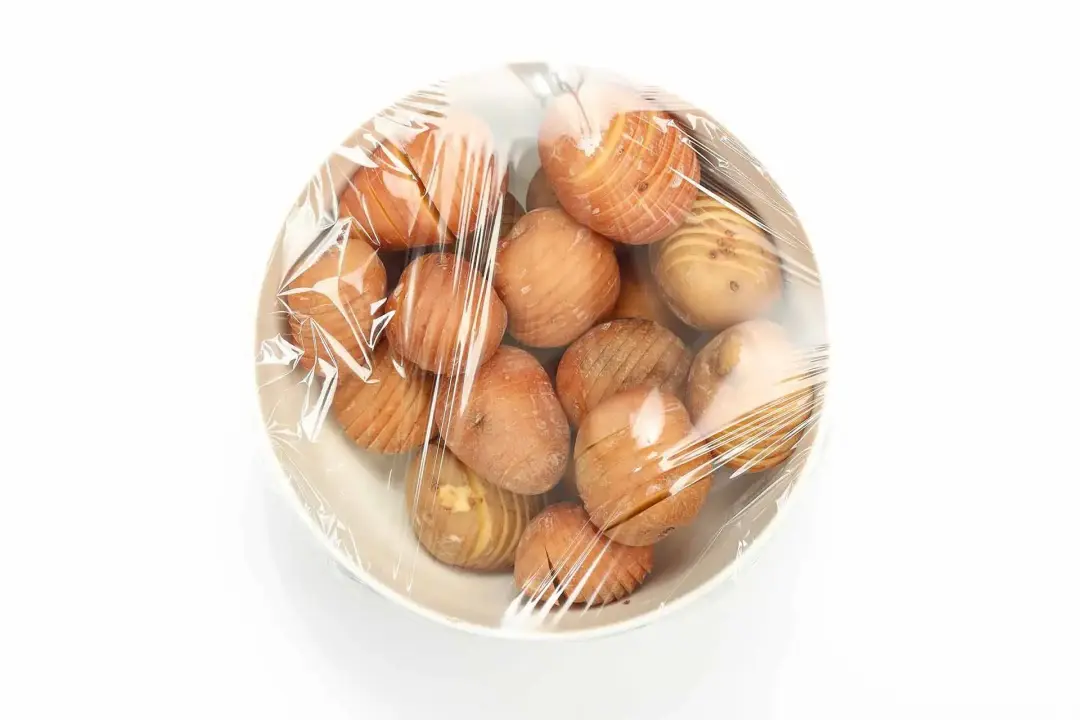 2
Marinate the chicken: Place 28 oz chicken drumsticks on a parchment-lined baking sheet. Add 1/4 tsp salt, 1/2 tsp ground black pepper, 1 tsp Cajun seasoning, 1 tsp oregano, 1 tsp paprika, 1 tbsp Italian seasoning, 1 tbsp olive oil, 1 tbsp lemon juice, and 1/2 tsp garlic powder. Toss well to coat evenly.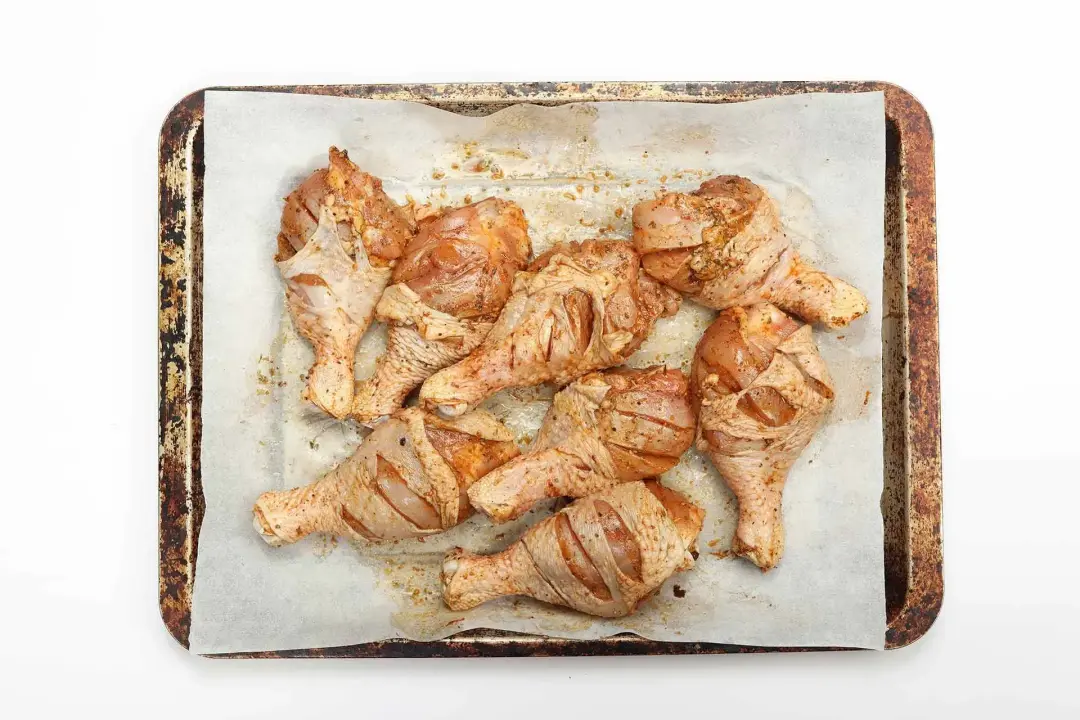 3
Add the microwaved potatoes: Place the microwaved potatoes on the sheet with the chicken. Brush 2 tbsp melted butter over the potatoes. Then sprinkle the remaining 1/4 tsp salt on the potatoes.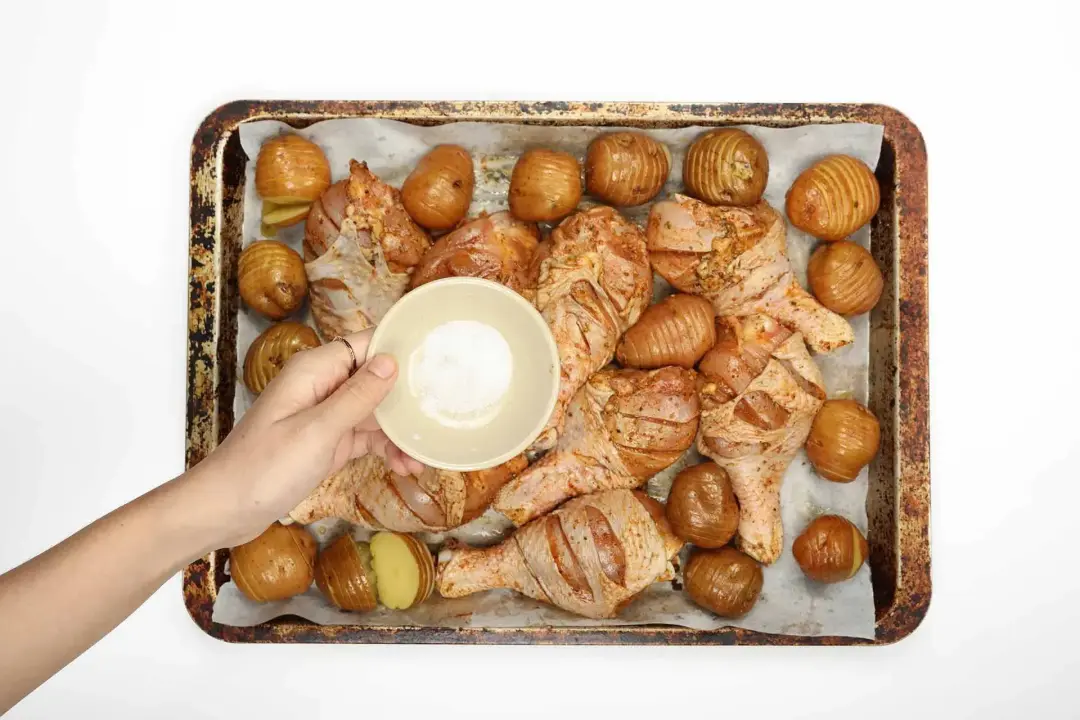 4
Bake the chicken and potatoes: Place the chicken and potatoes in a preheated oven and bake at 425°F for 30 minutes.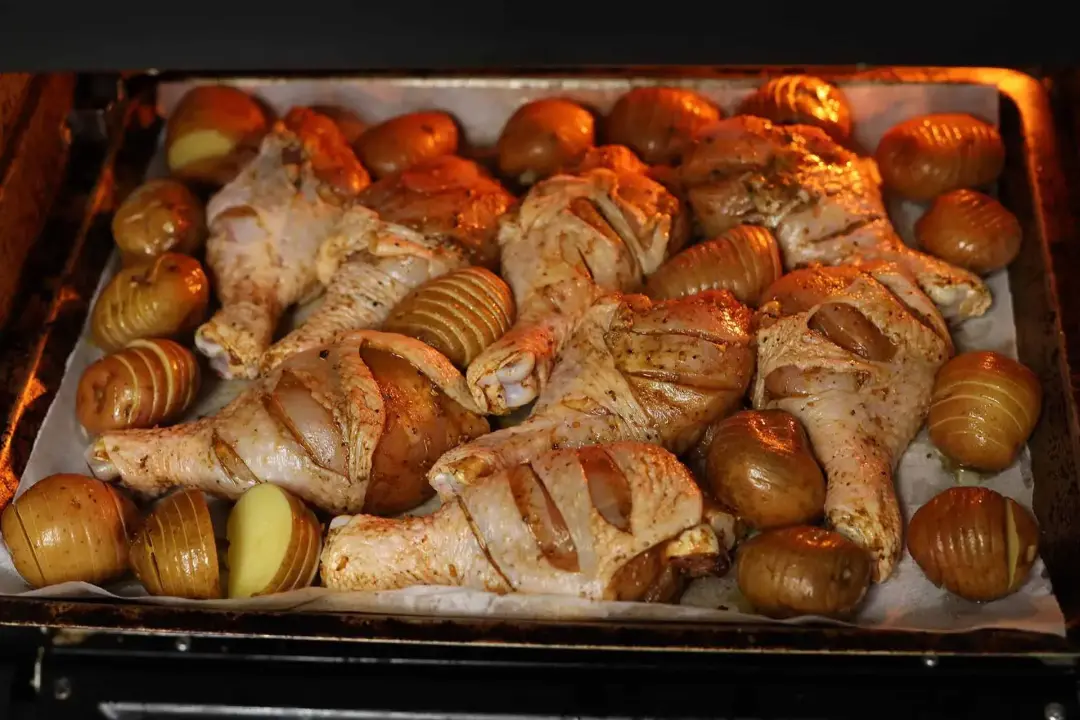 5
Add the green beans: Take out the chicken and potatoes and add 4 oz green beans to the sheet. Continue to bake at 425°F for another 7 minutes.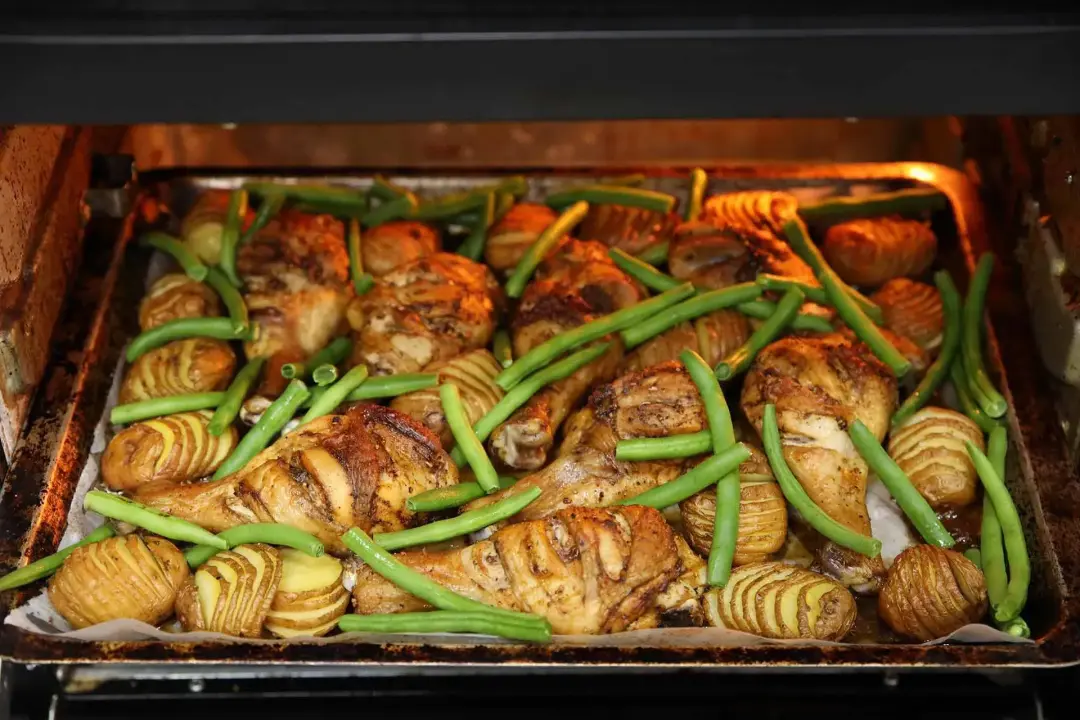 6
Garnish and serve: Remove from the oven and garnish with 2 tbsp chopped parsley on top. Enjoy.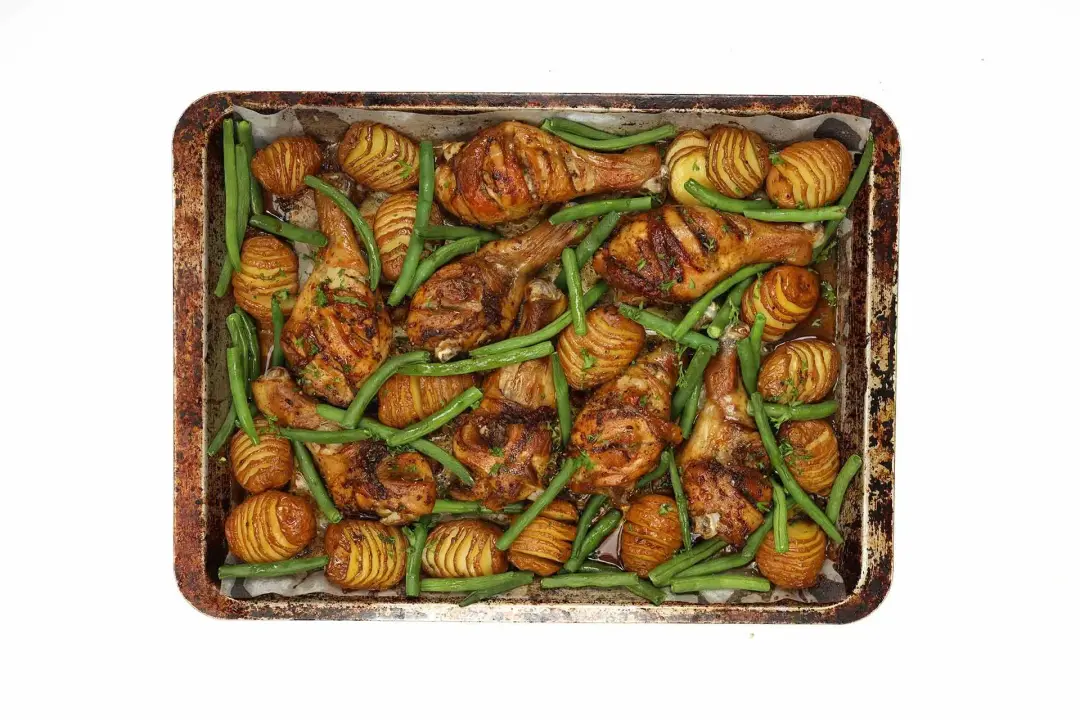 NUTRITION
Nutrition Facts
How to Make Chicken and Potatoes
Amount Per Serving (1 serving)
Calories 455
Calories from FDA
% Daily Value*
* Percent Daily Values are based on a 2000 calorie diet.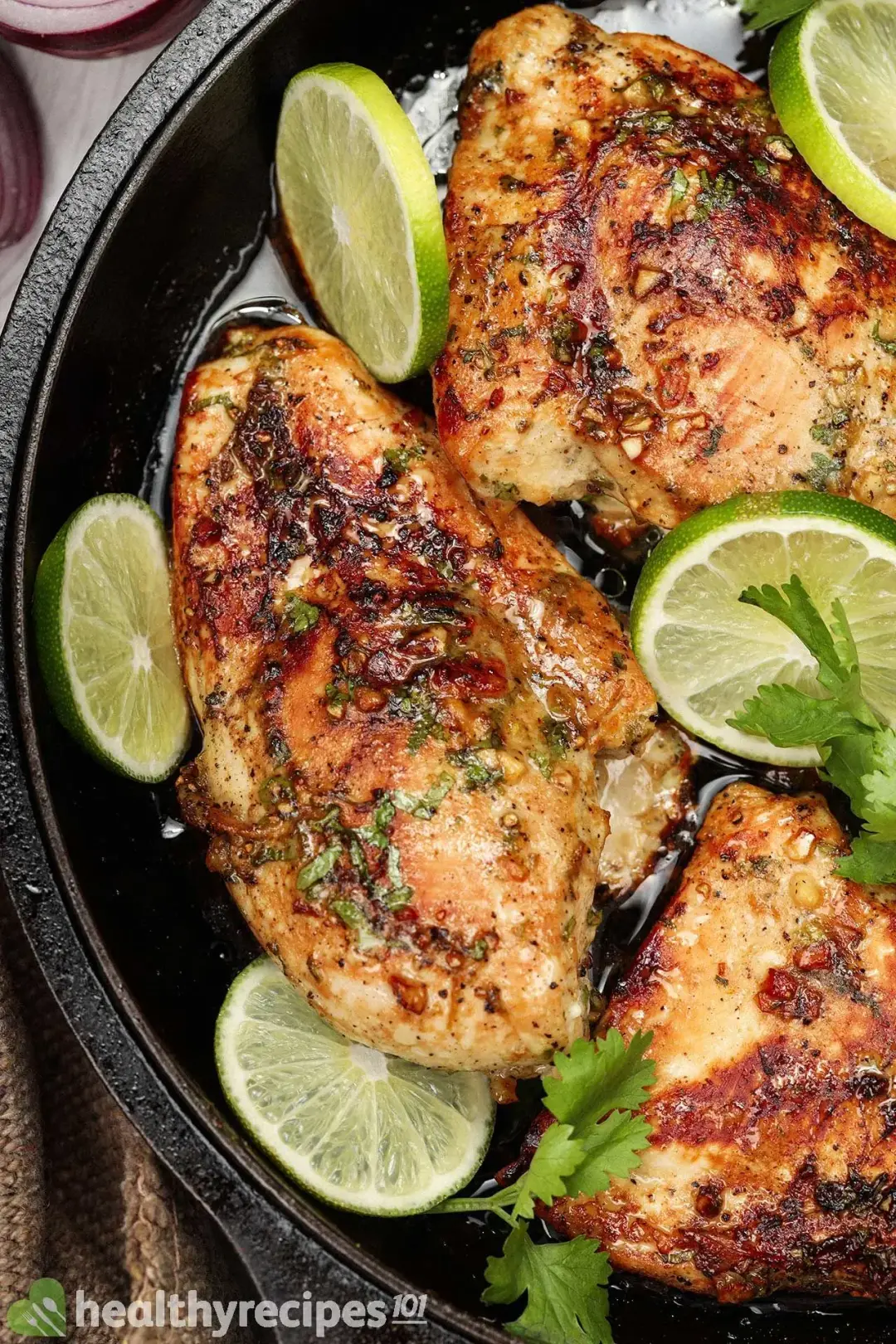 Previous Recipe
Cilantro Lime Chicken
Cilantro Lime Chicken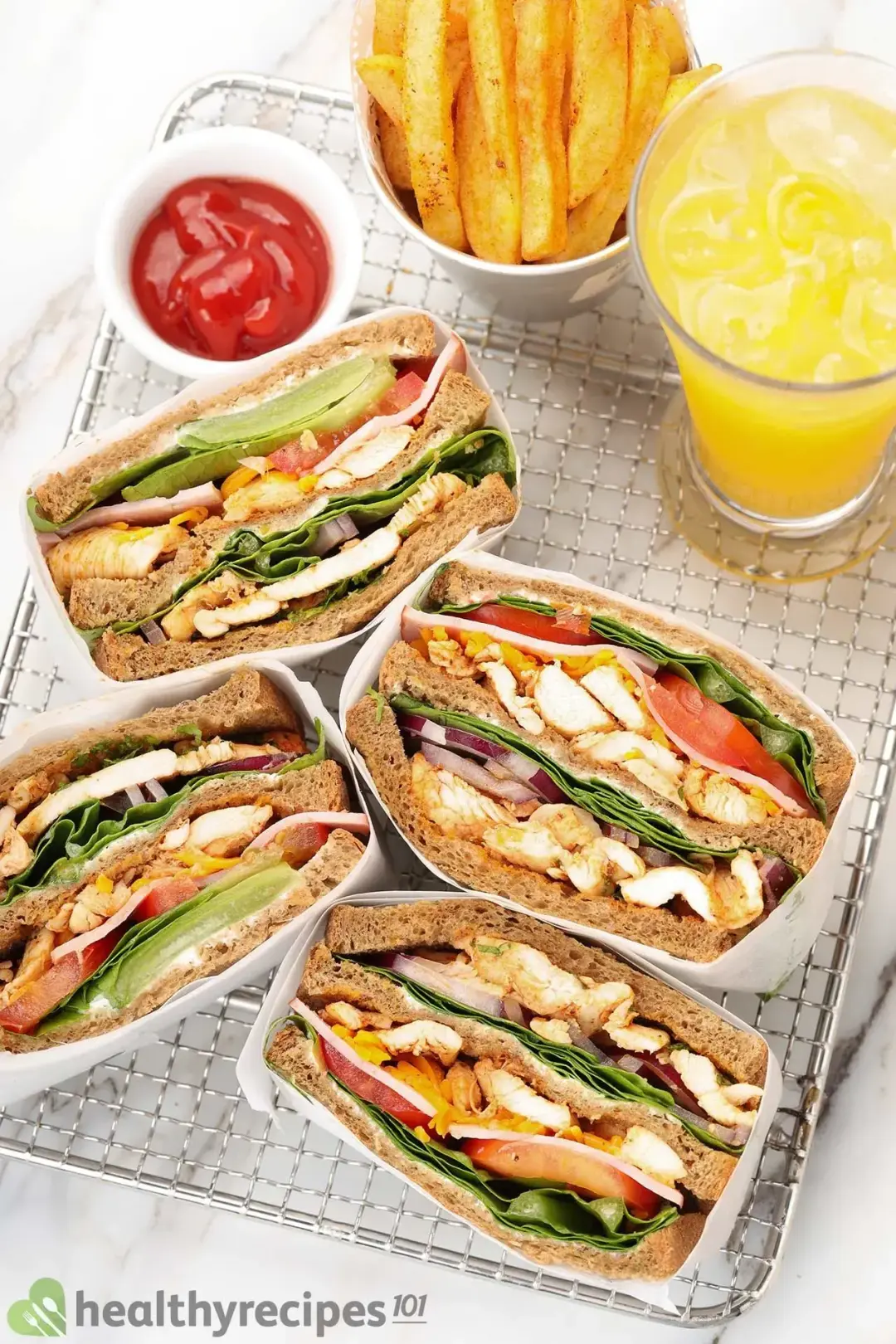 Next Recipe
Club Sandwich
Club Sandwich
Luna Regina
A writer and entrepreneur, Luna's day doesn't start at the computer keyboard, but in the kitchen.
Half of her working hours are spent on mixing ingredients for her recipes. The other half involve working with the tech team to research and test the tools and appliances that promise to make kitchen work effortless and mess-free. From a kitchen knife or water filter to the Instant Pot, if it can help save time and effort for the home cook, Luna and her team are on it.
Luna's extracurricular pastimes include camping, travel, and photography.