For those who like a little bit of spice, creamy Cajun chicken pasta is right up your alley. Al dente conchiglie and chunks of chicken thighs are tossed in a deluxe Cajun sauce, making an irresistible dish. This Cajun pasta is restaurant-quality at its finest yet takes hardly any time to pull together.
So, why not give it a whirl?
Is This Chicken Pasta Healthy?
The answer is yes. Our creamy Cajun chicken pasta is loaded with nutrients — protein, vitamins, minerals, and fiber.
Sometimes people question if pasta and other carbohydrate-rich foods can be part of a healthy diet. However, carbohydrates from grains are essential in supporting human body functions, so you shouldn't remove them from the menu.
In this recipe, dairy items and chicken contribute a significant amount of protein, at 28.6 g per serving. High protein intake has been seen to have positive effects on preventing lean muscle breakdown.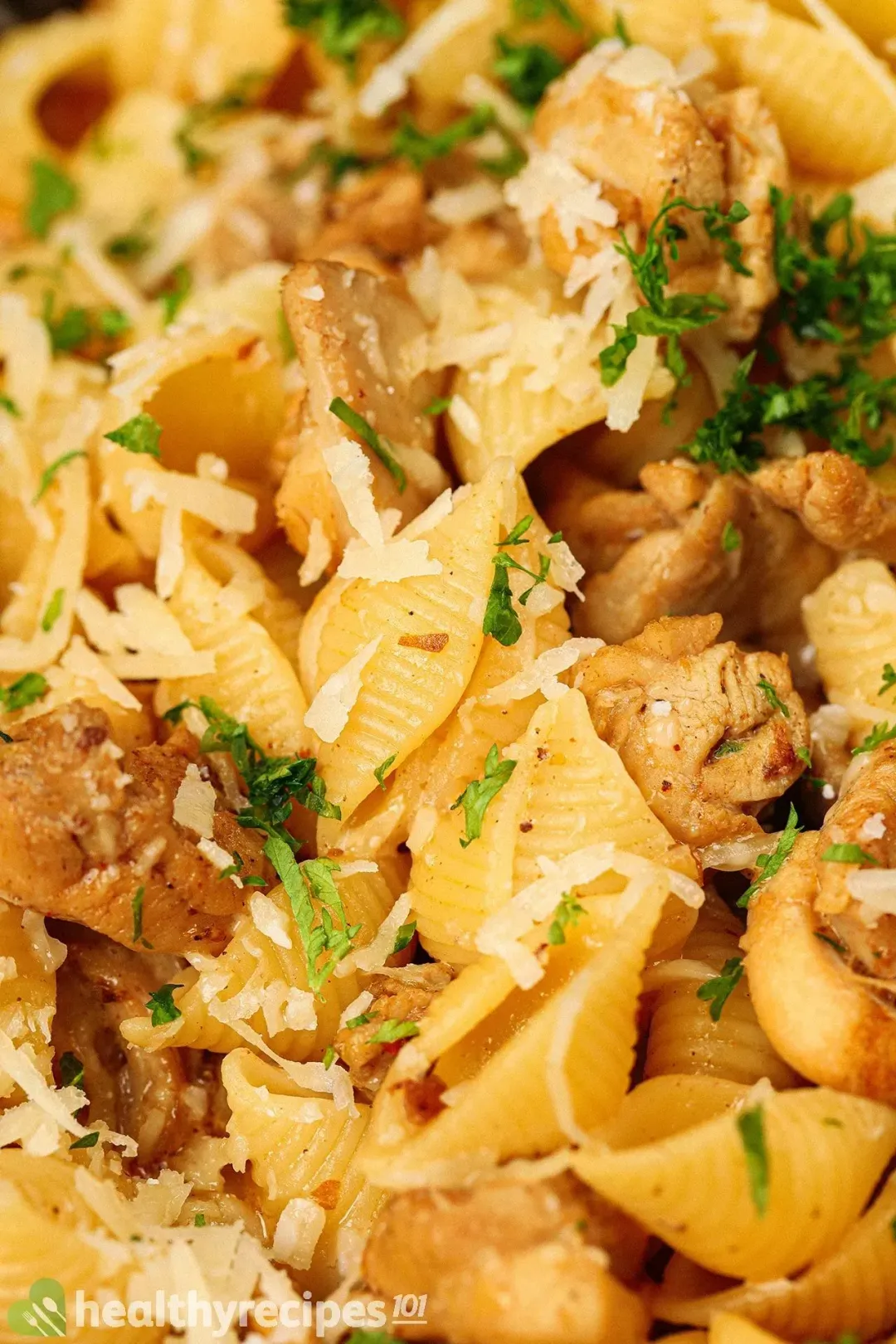 Our chefs also keep a strict eye on the amount of sodium and saturated fat, at 567.8 mg and 8.7 g per serving, to create a healthier home version. Also, this creamy Cajun chicken pasta only yields 459 calories per serving, which is very reasonable.
Ingredients You'll Need
This restaurant-standard Cajun chicken pasta only requires some standard fresh ingredients and pantry staples that you can buy at any supermarket.
Pasta: Shell pasta is our top choice for this recipe. Its shell-like shape and ridged texture provide a great base for a thicker and chunkier sauce. If you prefer other varieties, rigatoni, ziti, or rotini also work well.
Chicken: It's not an overstatement to say that chicken pairs excellently with any seasoning. We opt for boneless chicken thighs over chicken breasts, as they are such a forgiving cut to cook. Even if you overdo the thighs, you still come away with moist and tender chicken.
Chicken broth: Chicken broth is a much-employed ingredient for adding a boost of flavor to pasta, soups, or stews. In this recipe, we use unsalted chicken broth to reduce the amount of added sodium.
Milk and heavy cream: Dairy ingredients not only help temper the heat from the chili and Cajun seasoning, but also improve the consistency of the sauce, making it thicker and silkier.
Cheese: Parmesan possesses a robust flavor with nutty undertones, making it a fantastic add-in for pasta. Still, you can substitute Parmesan with any other cheese of your choice if you fancy something different — cheddar is excellent for a sharper aftertaste.
Butter: Melted butter gives off an irresistible fragrance and flavor. For convenience, we use the regular unsalted butter that you may already have on hand. However, if you want to add more depth of flavor and sophistication to the dish, you can go for unsalted herb butter.
Onion and garlic: Sautéed onion and garlic make for an incredible flavor base. Caramelized onion gives off a strong aroma and subtle sweetness — irreplaceable by any other ingredients.
Paprika: We sprinkle a pinch of paprika onto the pasta for a mild kick of heat and a rustic look.
Chili powder: The moderate heat from chili is enough to balance the creaminess of the cheese sauce without overpowering the other ingredients.
Black ground pepper: A Cajun specialty is not complete without some freshly ground black pepper. This spice also offers brilliant health benefits — the dark horse of seasonings.
Cajun seasoning: Usually consists of paprika, cayenne, garlic powder, pepper, thyme, and oregano. You can make a quick homemade mix or purchase some at the grocery store.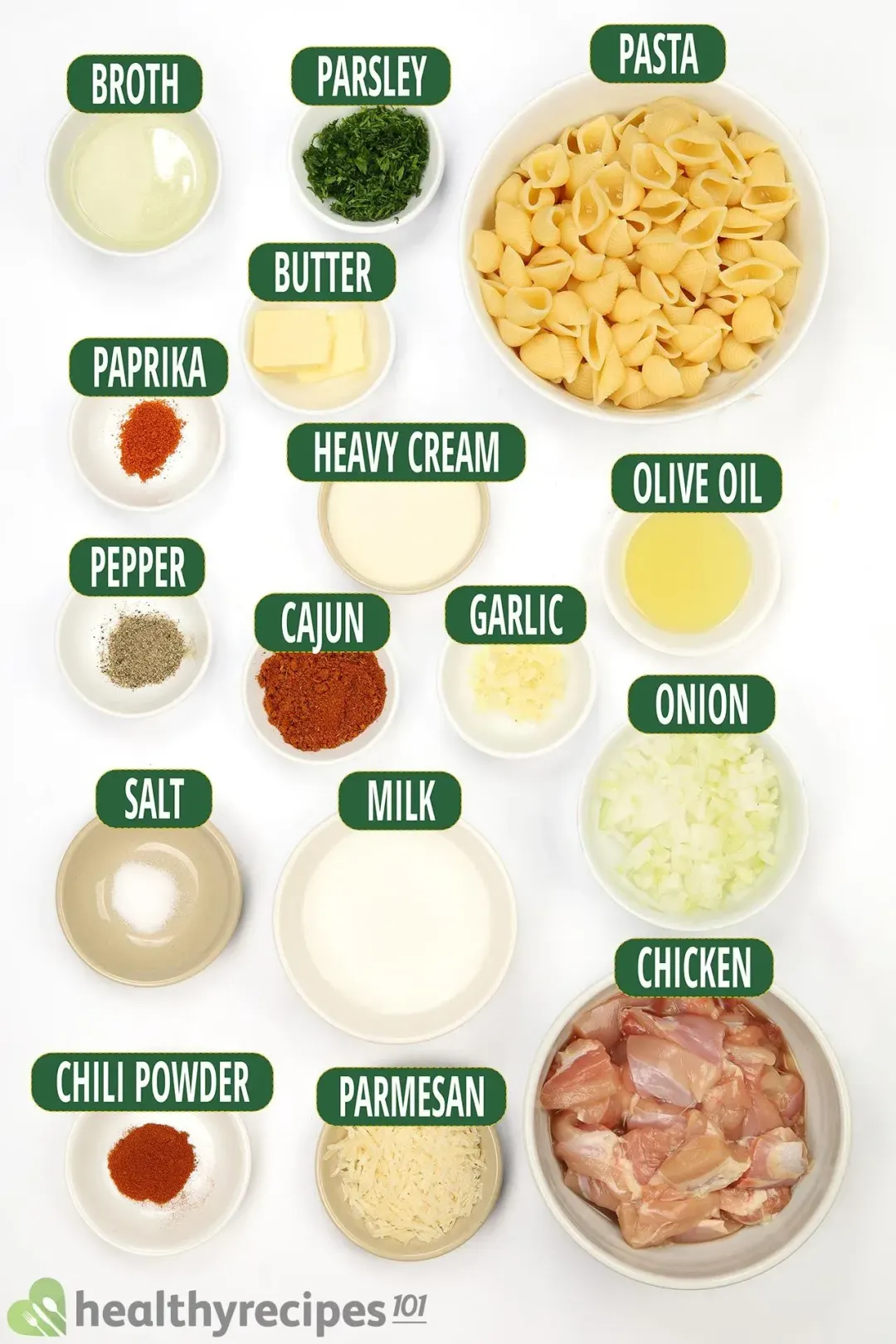 Tips for Making Homemade Cajun Seasoning
For those who want to make authentic Cajun seasoning (not just a hot mess in the kitchen), we have some great tips to help you:
Go for the classic spices: paprika, onion powder, dried oregano, dried thyme, garlic powder, ground black pepper, cayenne pepper, and salt.
Use less salt: Making your own seasoning allows you to have better control over what goes into your diet. You can cut down the amount of sodium or don't add any to your spice mix.
Adjust the heat: You can customize the amount of cayenne powder to your liking — more for direct heat and less for tongue-tingling kicks.
Store the spice blend: Airtight jars or zip-lock bags can be used to store your Cajun seasoning. Make sure to sanitize the container before using it to keep the spice free from bacteria. These spices can last up to 3 years if stored properly.
How to Store and Reheat Leftovers
1. How to Store
Unlike tomato-based sauces, this dairy-rich pasta recipe isn't suitable for freezing, as the texture and flavor can be affected. The thawing process can often lead to separated sauce and soggy pasta.
Instead, you can place the leftovers in an airtight container and store them in the fridge for up to 3 days. However, it's best to consume your pasta on day one or two as the longer it stays stored, the less appealing it tastes.
2. How to Reheat
The microwave method is perfect for any busy bees. Place your pasta in a microwave-safe bowl and cover tightly with a reusable microwave cover. Microwave until heated through.
If you have a little extra time, you can go the traditional way. Turn your stovetop on to very low heat, put the leftovers in a pan, add some olive oil or water, and toss until hot, about 2 minutes max.
What to Serve With
Such a scrumptious Louisiana pasta dish deserves only the best accompaniments. Our chefs have selected a list of must-have pairings for you.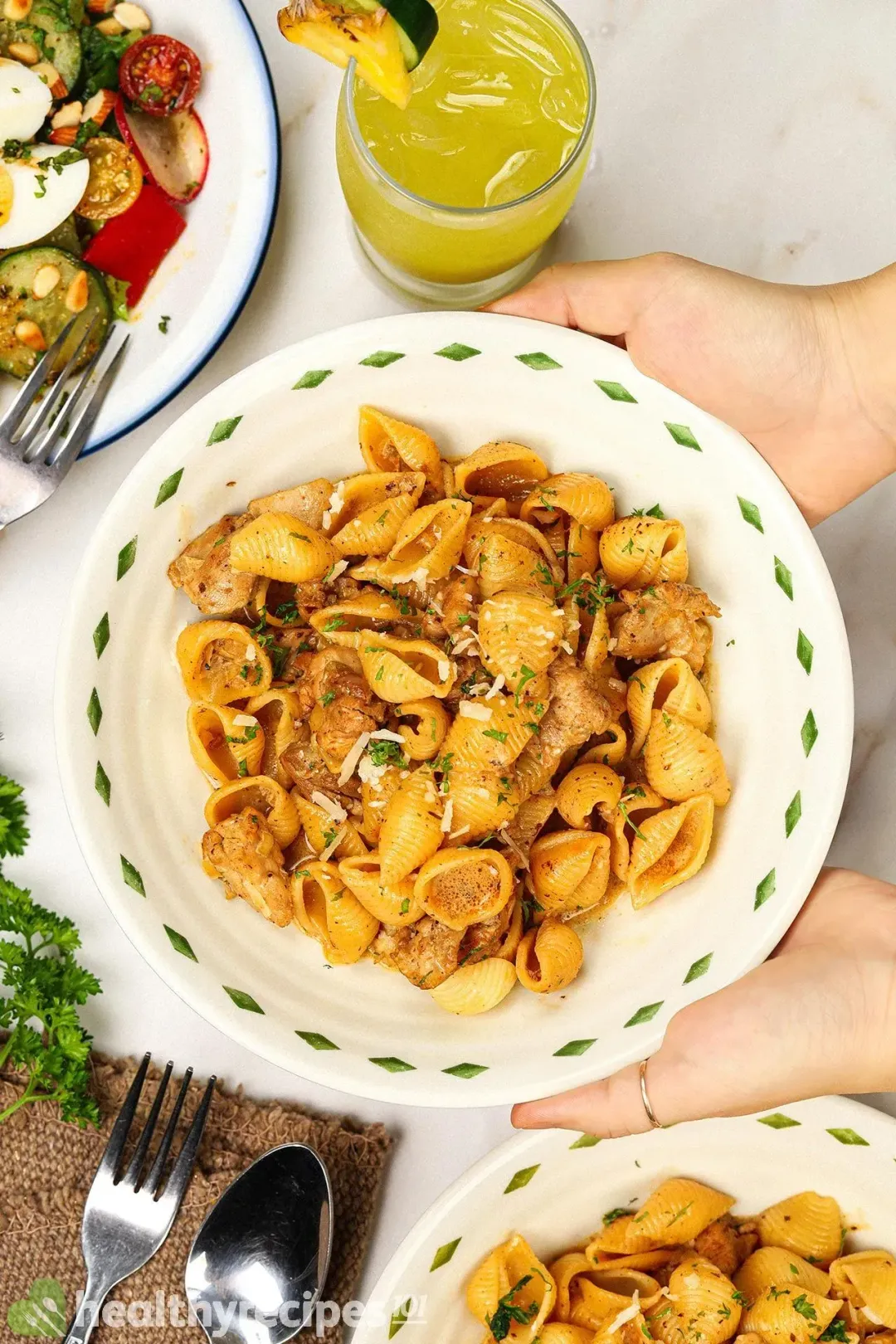 Pastas With Ground Chicken
This recipe features all the common ingredients: spaghetti, creamy tomato sauce, and tender meatballs. To separate this dish from the original one, we replace beef with chicken for the meatballs.
Before simmering in a homemade tomato sauce, our chefs season ground chicken with simple spices and herbs. Meanwhile, in another pan, whisk together whole flour, olive oil, and whole milk to make a creamy white sauce. That is, our ground chicken lasagna.
How to Make Creamy Cajun Chicken Pasta
Today's creamy Cajun chicken pasta will satisfy your cravings to the fullest. Plus, it's super quick and easy to make — prepping and cooking are done in 20 minutes!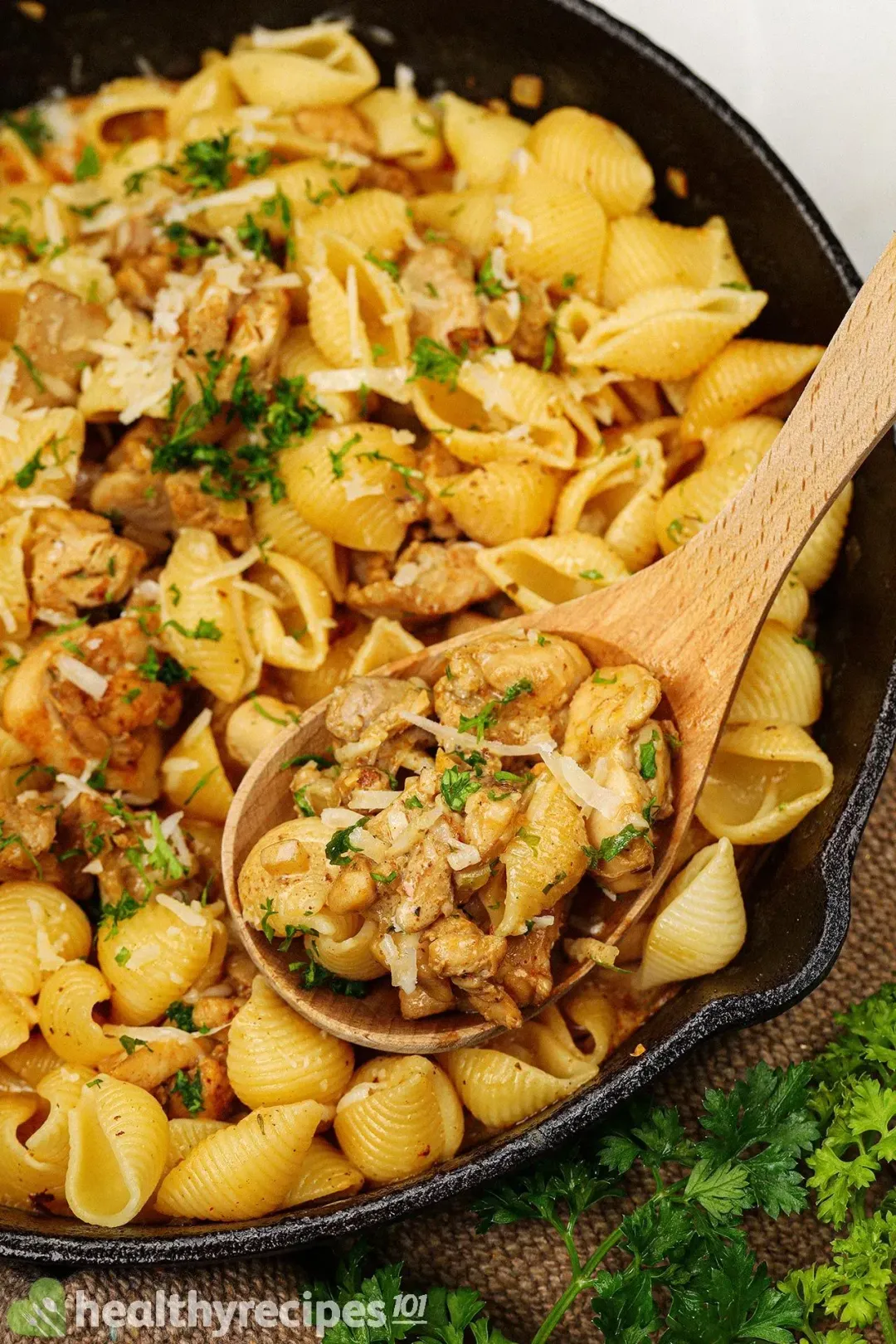 cook TIME

8 mins

prep TIME

12 mins

total TIME

20 mins
COURSE

Main Course

CUISINE

American-Italian, Louisianian

SERVINGS

CALORIES

459 kcal
INGREDIENTS
14 oz

boneless skinless chicken thighs

0.5 oz

shredded Parmesan cheese

1/4 cup

unsalted chicken broth

2 tbsp

parsley

(finely chopped)
INSTRUCTIONS
1
In a pan over medium heat, add 1 tbsp olive oil and 1 tbsp minced garlic. Sauté them for 30 seconds.
2
Add 14 oz boneless skinless chicken thighs, 1/2 tsp black pepper, 1/2 tsp paprika, 1 tbsp Cajun seasoning, and 1/4 tsp chili powder. Stir fry for 3 minutes. Transfer cooked chicken thighs onto another plate.
3
In the same pan, add 1 tbsp olive oil and 2 oz diced onion. Sauté until translucent, about 1 minute.
4
Pour in 1/4 cup unsalted chicken broth, 1/2 cup whole milk, and 4 tbsp heavy cream. Stir occasionally for 30 seconds.
5
Add cooked chicken thighs, 1/4 tsp salt, and 1 tbsp unsalted butter. Cook for another 30 seconds.
6
Stir in 14 oz cooked conchiglie and let simmer for 2 minutes.
7
Remove from heat. Garnish with 0.5 oz shredded Parmesan and 2 tbsp chopped parsley.
NUTRITION
Nutrition Facts
How to Make Creamy Cajun Chicken Pasta
Amount Per Serving (1 serving)
Calories 459
Calories from Fat 198
% Daily Value*
* Percent Daily Values are based on a 2000 calorie diet.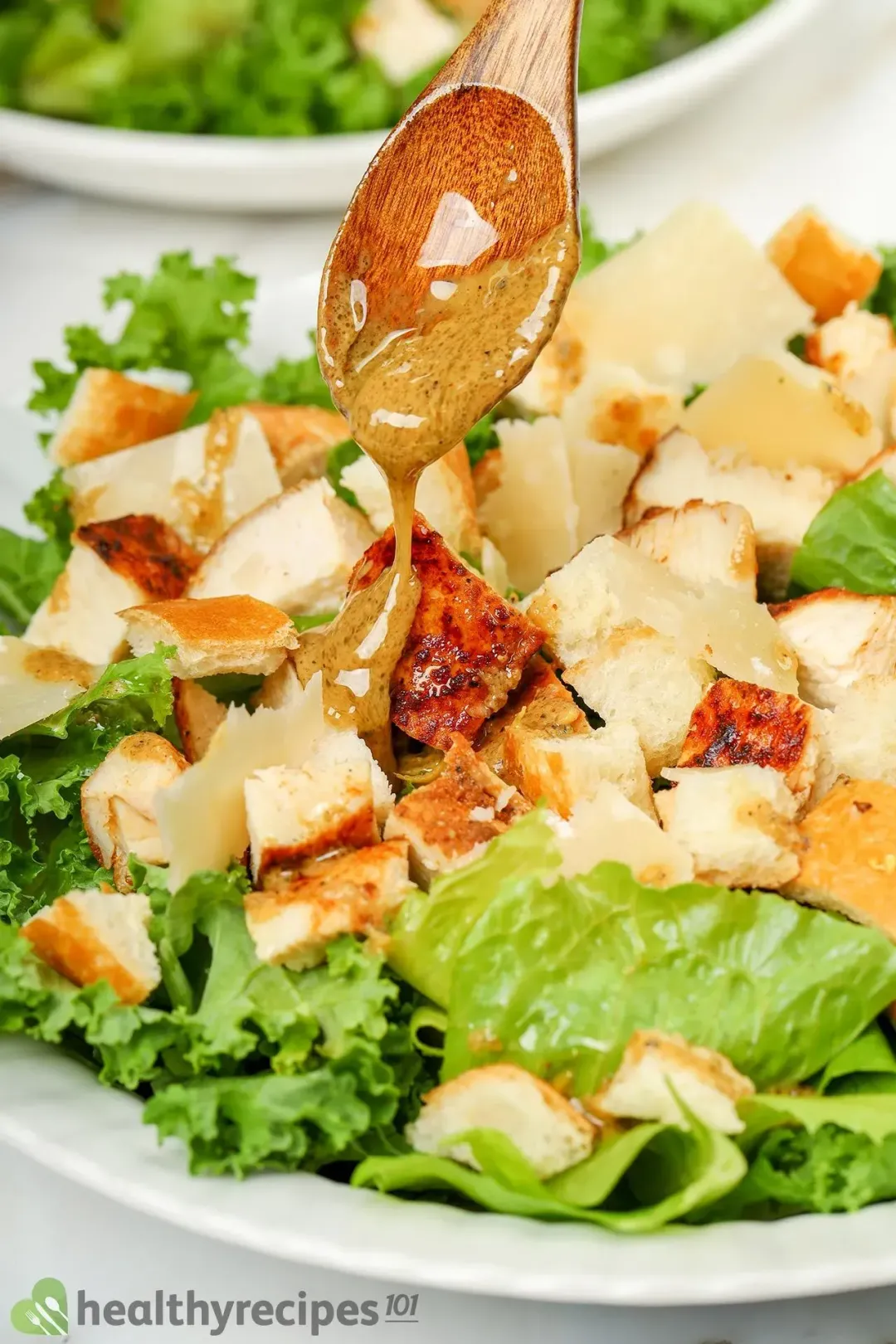 Previous Recipe
Lemon Kale Caesar Salad
Lemon Kale Caesar Salad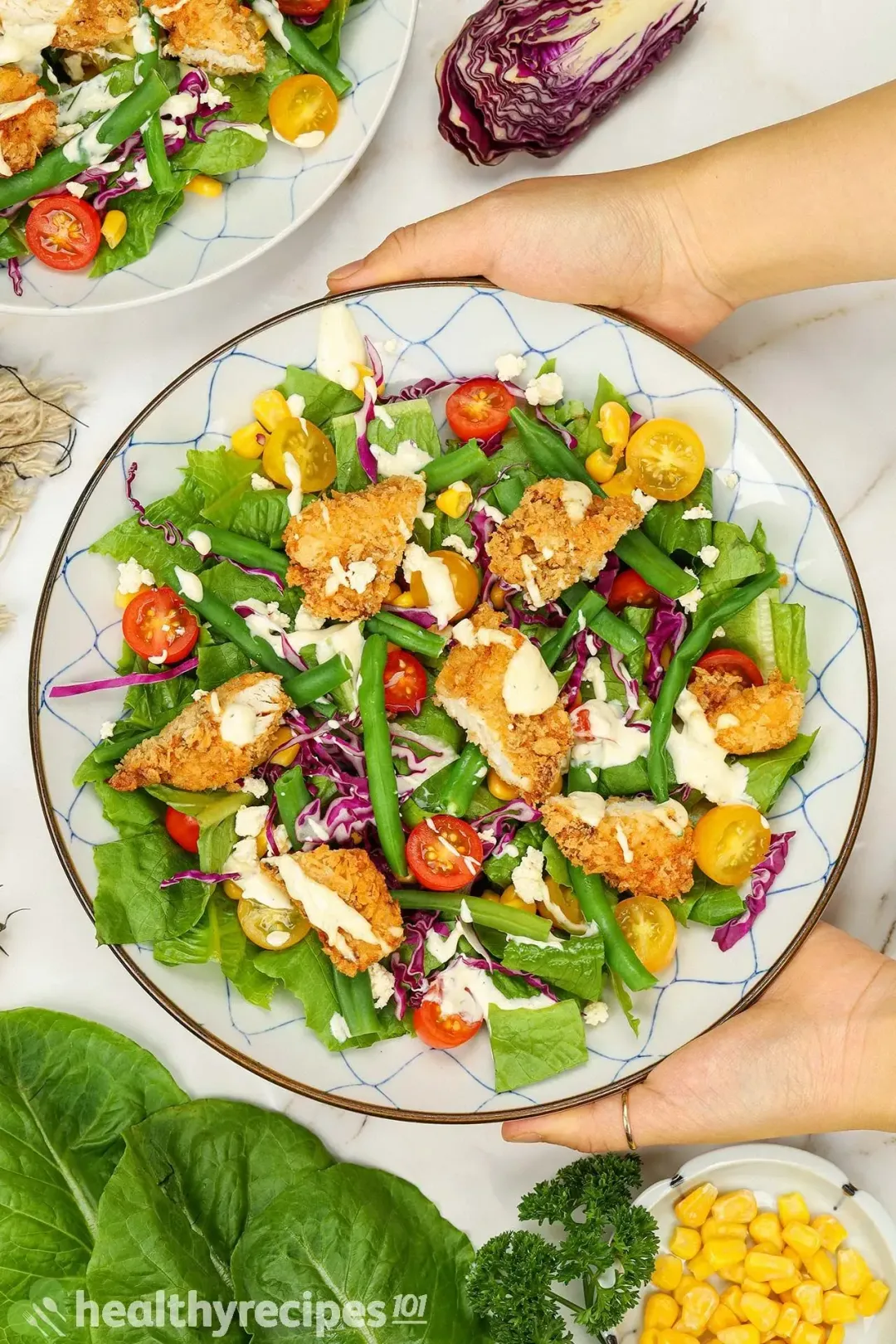 Next Recipe
Fried Chicken Salad
Fried Chicken Salad
Head Chef, Culinary Consultant
Tuyet Pham is an award-winning Saigonese chef who believes that joy is the secret ingredient to delicious food. At Healthy Recipes 101, Tuyet personally tests and simplifies every recipe, ensuring maximum flavor with minimal effort. With a background at prestigious French restaurants P'TI Saigon and Le Corto, Tuyet knows how to make every dish exceptional.
Writer, Author
Luna Regina is an accomplished writer and author who dedicates her career to empowering home cooks and making cooking effortless for everyone. She is the founder of HealthyKitchen101.com and HealthyRecipes101.com, where she works with her team to develop easy, nutritious recipes and help aspiring cooks choose the right kitchen appliances.
Nutrition Reviewer
Natalie Butler is a registered dietitian nutritionist with a passion to help others live their best life through food, fitness, safer beauty and a healthy lifestyle. She has expertise with a variety of diets and diseases and believes that there is no one-size-fits-all approach for health.
This is a flavorful and satisfying dish that's perfect for a cozy night in.