Some nights just call for a steamy bowl of meat and veggies, cooked up in a soul-warming liquid, and what better choice for them than this brown stew chicken recipe?
Embracing the colorful diversity of Caribbean cuisine, this dish carries an abundance of flavors, ranging from a deep sweetness to a subtle mixture of spicy and savory.
However, it's surprisingly simple, featuring only tender chicken and crunchy veggies, smothered in a lusciously caramelized sauce. The heavenly combination comes together with little effort, giving you a comfort food with downright irresistible flavors.
What Is Brown Stew Chicken?
As evident from the name, this classic Jamaican dish has a vibrant brown shade that comes from stewing chicken and veggies in various herbs, spices, and a browning sauce. The sauce—made from a caramelized concoction of sugar and water—has a sweetly burnt taste that gives the dish its irresistible and unique flavors.
The slow cooking gives the chicken enough time to fully absorb all the delectable flavors, resulting in deeply savory and darkly sweet meat with a slightly bitter and smoky undertone. Submerged in the thick sauce, the chicken is beautifully tenderized, giving you delectable juiciness in every bite.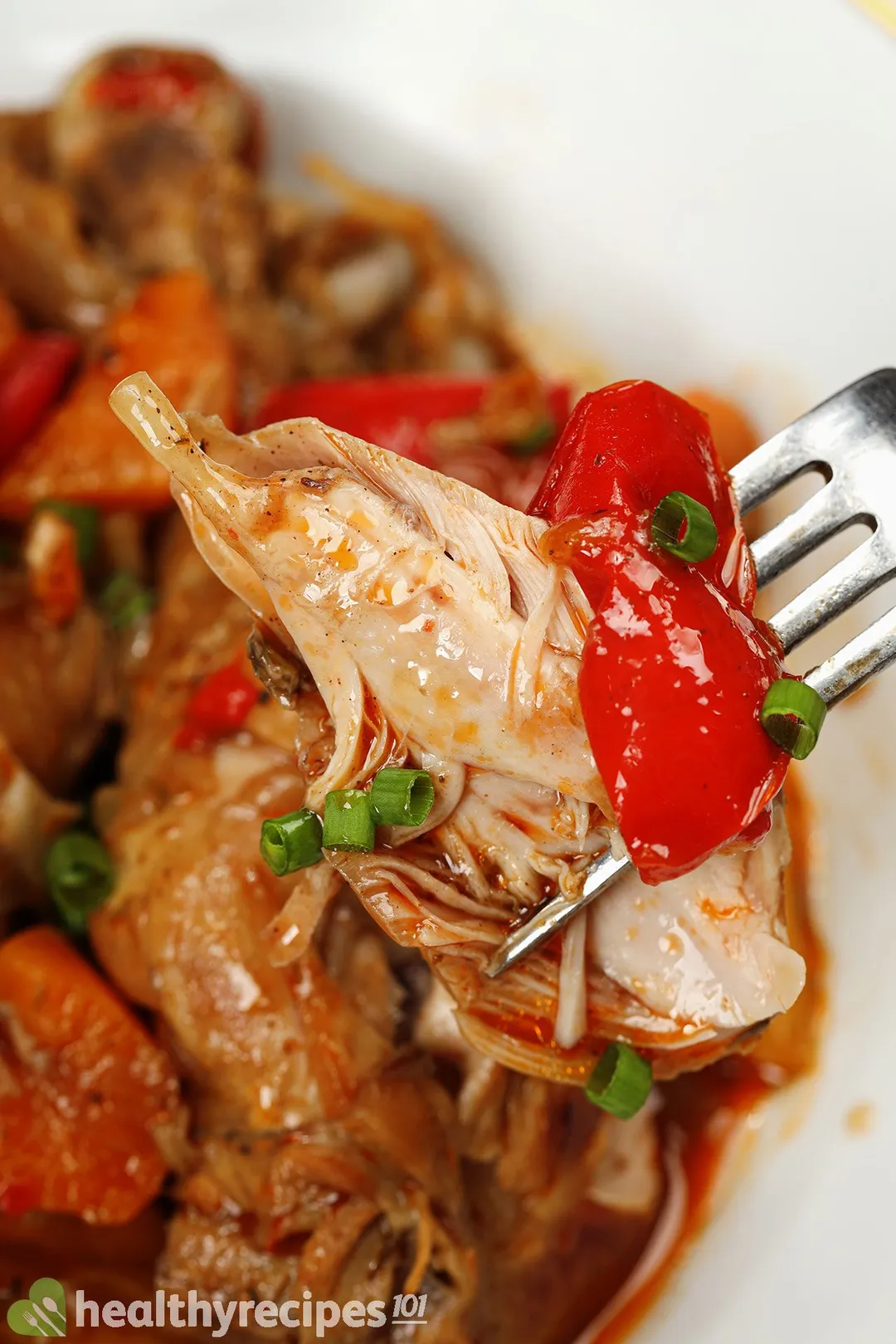 Is This Chicken Recipe Healthy?
Loaded with meat and various vegetables, this brown stew chicken is not only flavorful but also quite healthy.
Chicken is a fantastic source of lean protein, providing around 36 g for each serving. You can also obtain other nutrients like vitamins B6, B12, and B3, selenium, phosphorus, collagen, etc. from this amazing white meat.
In addition to protein, this dish is also relatively high in vitamins C and A. This is largely due to the carrots and red and yellow bell peppers, which are also rich in fiber, potassium, magnesium, and calcium, besides many other nutrients.
Furthermore, we made sure to keep everything to moderate amounts and within limits so there's no over-consumption of any ingredient. Following our nutrition guidelines, each serving contains approximately:
457 calories
5.6 g saturated fat
597 mg sodium
Ingredients You Will Need
You'll be needing the following ingredients to put together this brown stew chicken:
Chicken: We went with bone-in skin-on drumsticks for this recipe since they hold up well—both in flavor and texture—when cooked for a long period of time. Plus, with the bones left in, the meat's flavor deepens significantly thanks to the marrow that seeps out during the stewing process. It also adds a nutritional boost of collagen to the dish.
Vegetables: The brown stew's deep flavors are brightened by pops of vivid carrots and bell peppers. These veggies' sweetness also complements the sauce's dark caramelized taste incredibly well.
Chicken Broth: This warm and subtly savory ingredient helps to lay a flavorful base for the stew while also mellowing out the thick intensity of the remaining ingredients.
Spices: This stew's primary highlight is the brown sauce with a thick consistency and dark sweetness that comes from caramelized sugar. We used brown sugar, which has added molasses that help it to caramelize better than white sugar. The sauce also consists of salt, pepper, paprika, and allspice, filling it with a range of spicy, earthy, and cinnamon-like flavors.
Sauces: In addition to the spices, we also added some Worcestershire sauce, ketchup, and apple cider vinegar to enrich the browning sauce's overall taste and texture.
Aromatics: We used garlic, onion, and ginger to infuse the sauce with a fragrant undertone and add more layers, giving the dish an exquisite flavor complexity.
Herbs: Enhancing the fragrant element of the sauce—and the stew in general—we infused it with the minty and peppery notes of dried bay leaves and dried thyme.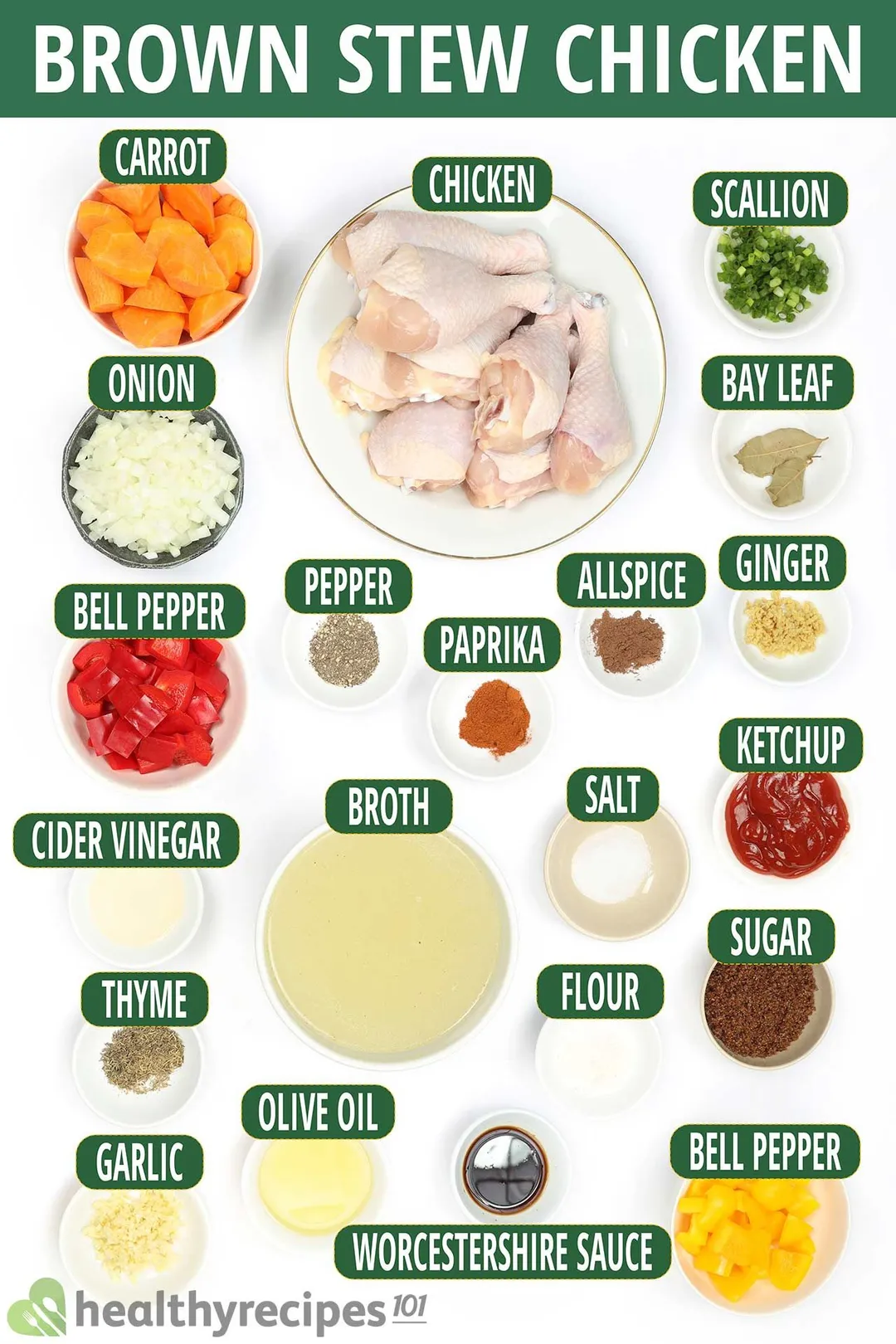 Why Does Brown Stew Chicken Taste Bitter?
You may detect a mildly bitter undertone that comes from the caramelized sugar when eating this brown stew. If the bitterness is too prominent, this means you have burned the sugar and need to start over. Make sure you keep a careful eye on the pot when you're caramelizing the sugar to prevent this.
How to Store and Reheat the Leftovers
This stew should last for up to 3 days when kept in airtight containers in the fridge. When you want to eat it again, reheat in the microwave or on the stovetop over medium heat.
What to Serve With
Serve this brown stew chicken over a steamy bed of rice for a hearty dinner. If you want to switch things up, roasted vegetables, mashed potatoes, or toasted bread are also fantastic choices.
For a complete meal, here are some of our side dish recommendations:
Healthy Mashed Potatoes Recipe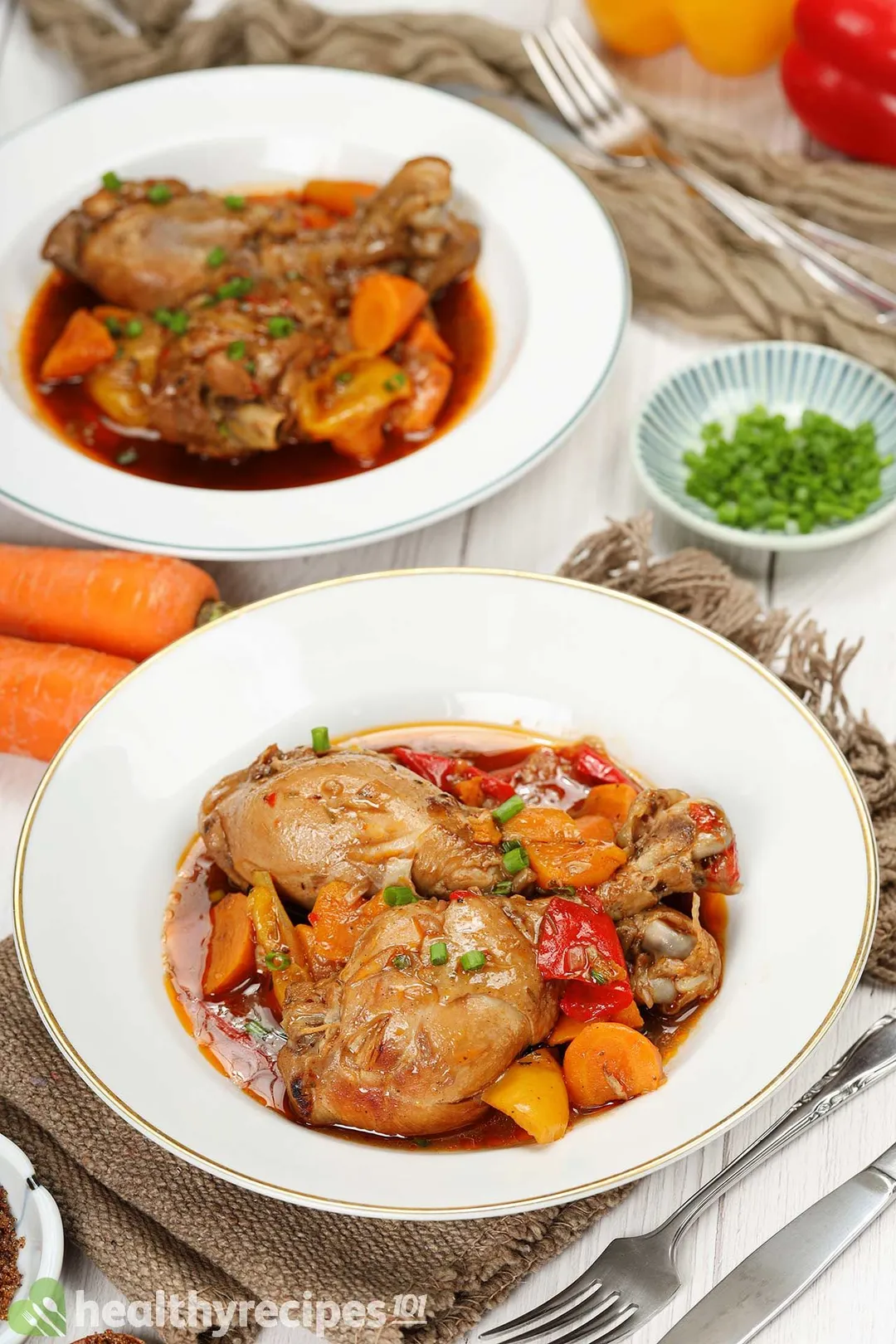 Other Chicken Skillets That Are Engulfed With Sauce
Spend just 25 minutes and this Italian chicken recipe will amp up your daily eating routine. It's a fine Italian touch to your weeknight dinner, with savory flavors from tender chicken breasts, moist spinach, all cooked in a luscious creamy sauce.
Make this butter chicken to keep with the Indian theme. The sauce gets its gorgeous look from tomato sauce and spices, and it's also enriched with healthy Greek yogurt. You might want to make a lot because you might not be able to get enough.
Brown Stew Chicken
Embracing the colorful diversity of Caribbean cuisine, this brown stew chicken recipe creates great flavor complexity. The deep, caramelized sweet sauce seamlessly harmonizes with the subtle aromatic and savory spices, giving you a downright irresistible and comforting main course to enjoy on cold nights.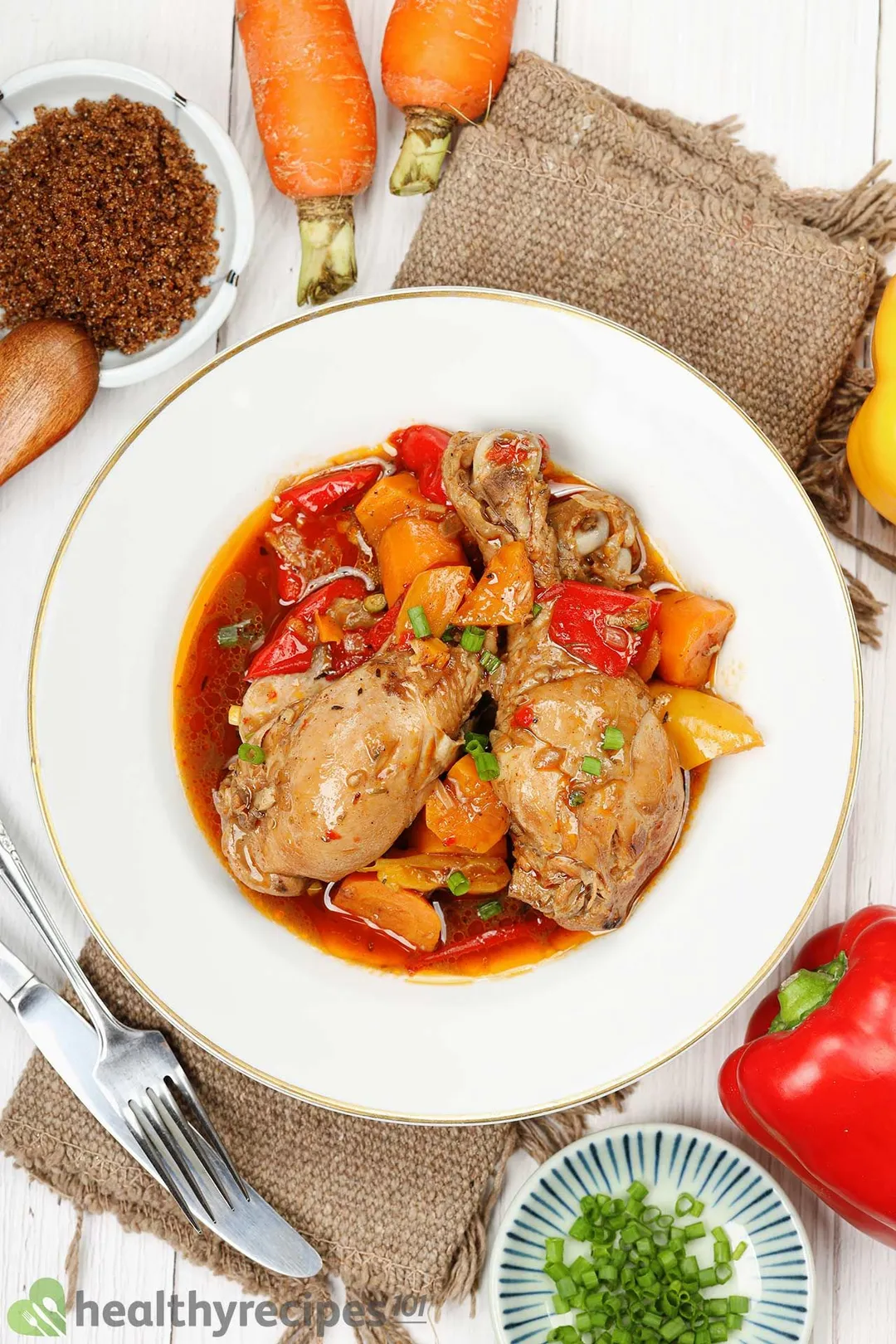 cook TIME

50 mins

prep TIME

7 mins

total TIME

57 mins
COURSE

Main

CUISINE

Caribbean

SERVINGS

CALORIES

450 kcal
INGREDIENTS
34 oz

bone-in skin-on chicken drumsticks

2 oz

yellow bell pepper

(coarsely diced)

4 oz

red bell pepper

(coarsely diced)

8 oz

carrot

(sliced into large chunks)

1/4 cup

scallion

(chopped)

2 cups

unsalted chicken broth

1 tbsp

apple cider vinegar

2 tsp

Worcestershire sauce

1/2 tsp

ground black pepper
INSTRUCTIONS
Prep:
1
Slice the Bell Peppers: Lengthwise slice the sides of the bell peppers, then cut each slice into large strips. Line the strips horizontally and slice them into large cubes.
2
Slice the Carrots: Peel the carrot and slice off its top, then hold the knife on a diagonal angle and slice into large chunks.
3
Dice the Onion: Lengthwise halve the onion then lay the half-sliced side down and thinly slice without touching the root. Then, turn the onion horizontally and push the knife crosswise into the slices. Finally, thinly slice lengthwise to make diced pieces.
4
Mince the Garlic: Bash the garlic with the side of the knife to remove the skin, then thinly slice each clove. Rock the knife back and forth over the sliced pile until the pieces are finely minced.
5
Mince the Ginger: Scrape the skin off using a spoon then slice crosswise into thin pieces. Cut the pieces into matchsticks then gather the sticks and cut crosswise until finely minced.
6
Chop the Scallions: Slice off the white roots and the first 1-2 inches at the top. Bunch the scallions together and thinly slice the stalks into small round pieces.
Cook:
1
Cook the Aromatics: In a saucepan over medium heat, stir 1 tbsp garlic and 1 tsp ginger with 2 tbsp olive oil around for 30 seconds until fragrant.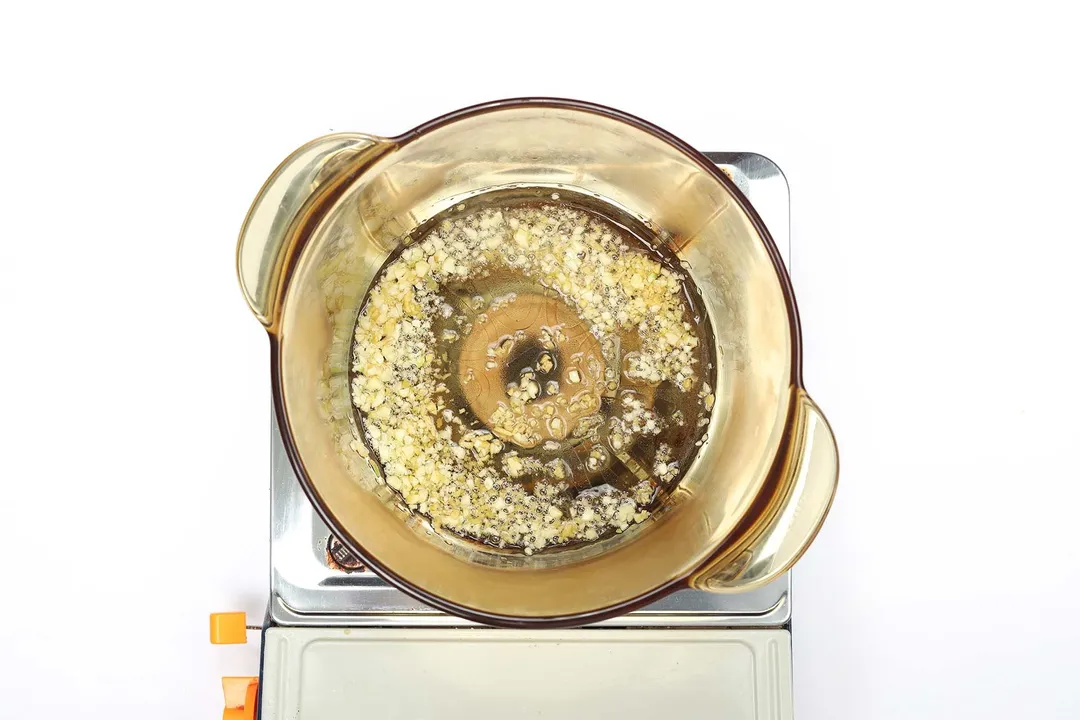 2
Add the Brown Sugar: When the aromatics turn golden, add 1 tbsp brown sugar, and cook for 1 minute or until caramelized into a thick, dark, and glossy mixture.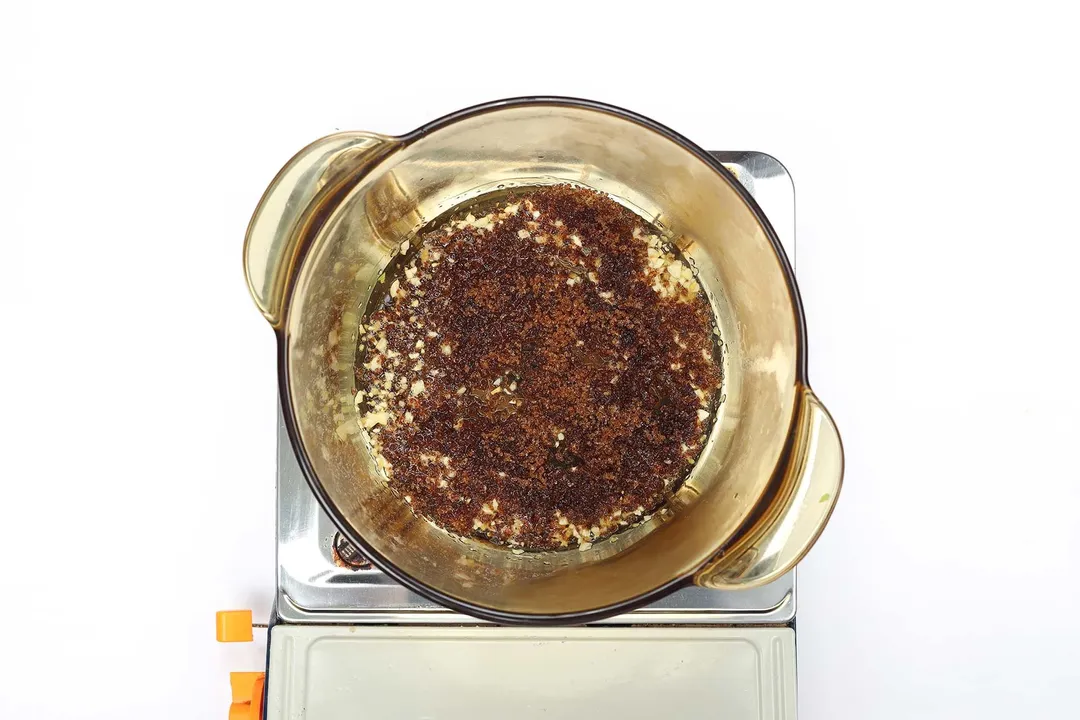 3
Add the Onion: When the mixture starts to thicken, add 4 oz onion, and stir around for 1 minute.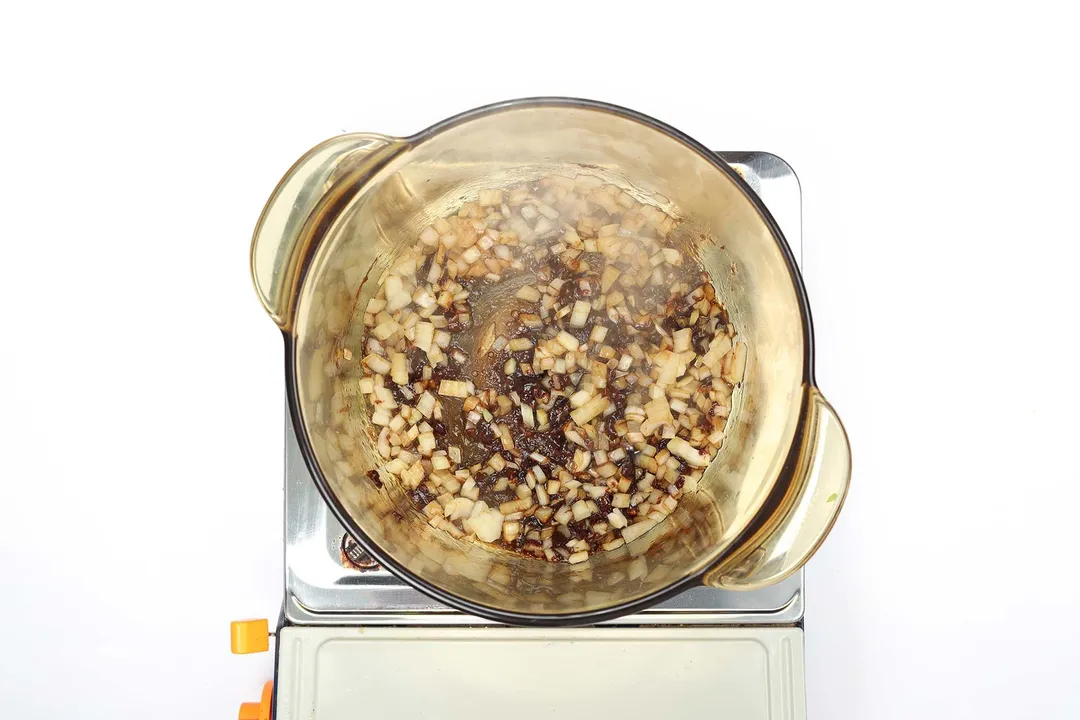 4
Add the Condiments: Continue adding 4 tbsp Heinz ketchup, 2 tsp Worcestershire sauce, 1 tbsp apple cider vinegar, 1 tbsp all-purpose flour, 2 bay leaves, 1 tsp dried thyme, 1/4 tsp salt, 1/2 tsp ground black pepper, 1 tsp paprika, and 1/2 tsp allspice and stir for 1 minute until everything is well mixed.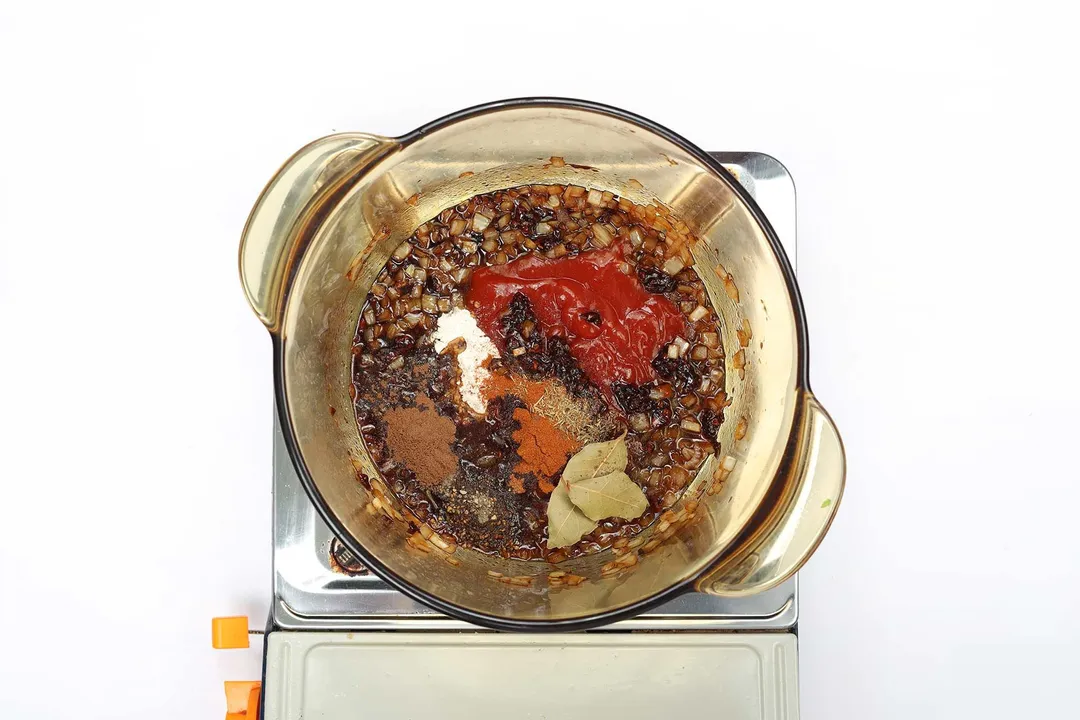 5
Add the Chicken: Add 34 oz bone-in chicken drumsticks to the mixture and move them around to evenly coat with the sauce.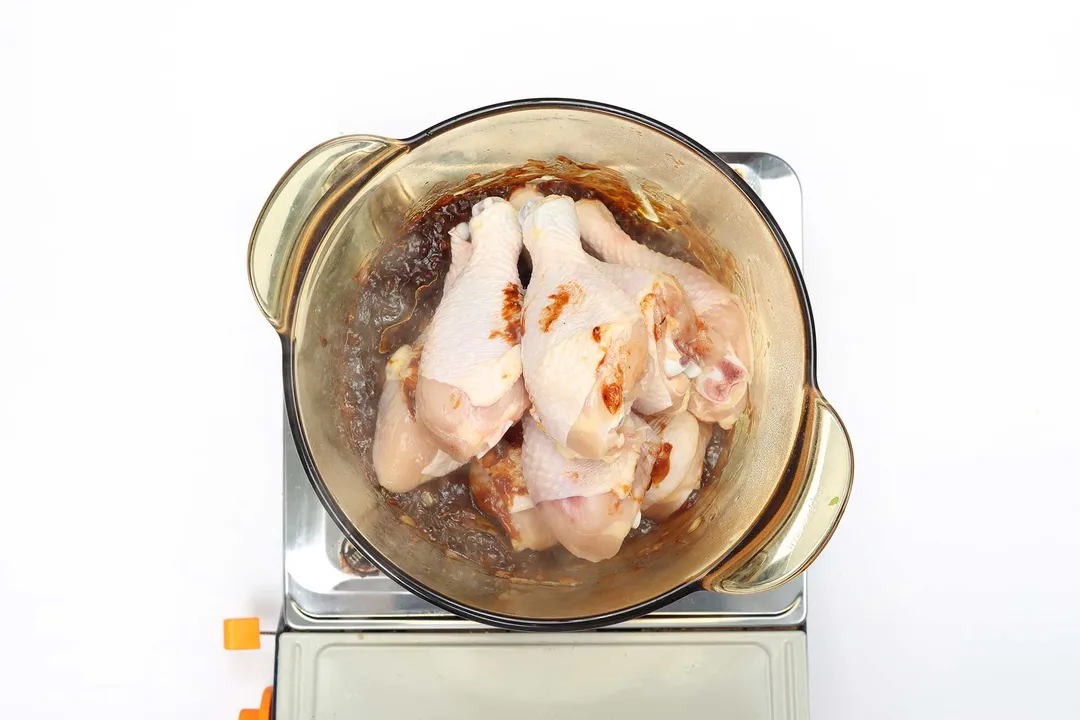 6
Add the Veggies: Continue adding 2 oz yellow bell pepper, 4 oz red bell pepper, and 8 oz carrot, and repeat the same motions for 2 minutes.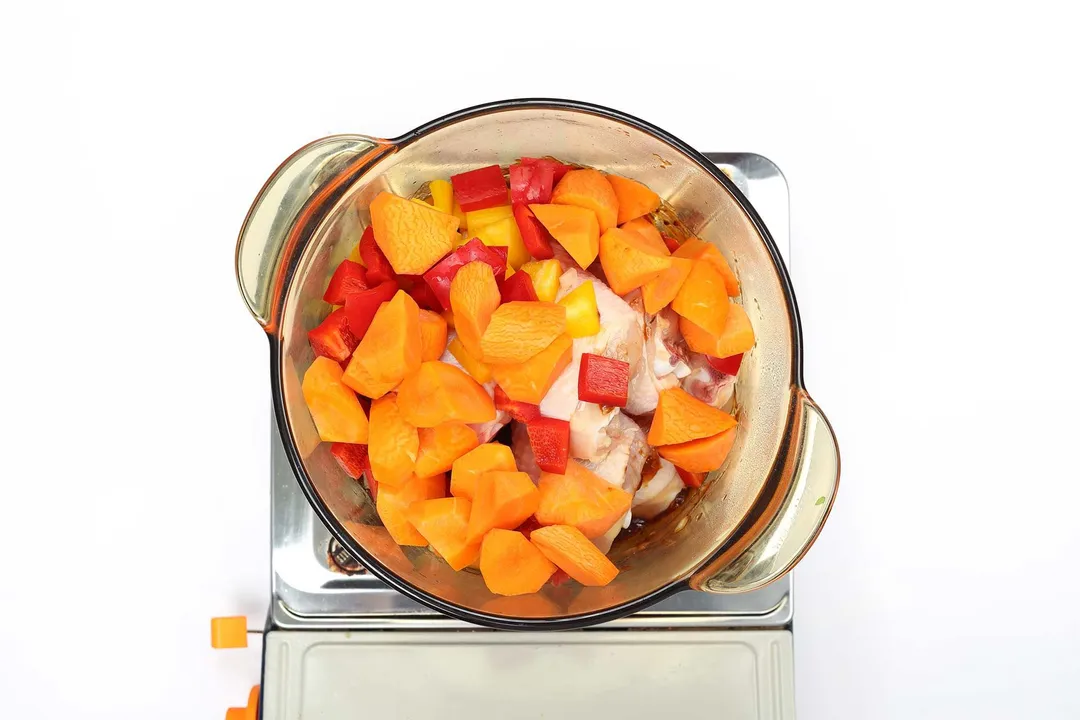 7
Add the Broth: Add 2 cups unsalted chicken broth to the saucepan and bring to a boil then reduce to a simmer and cook for another 45 minutes until the meat turns white and the skin appears brown.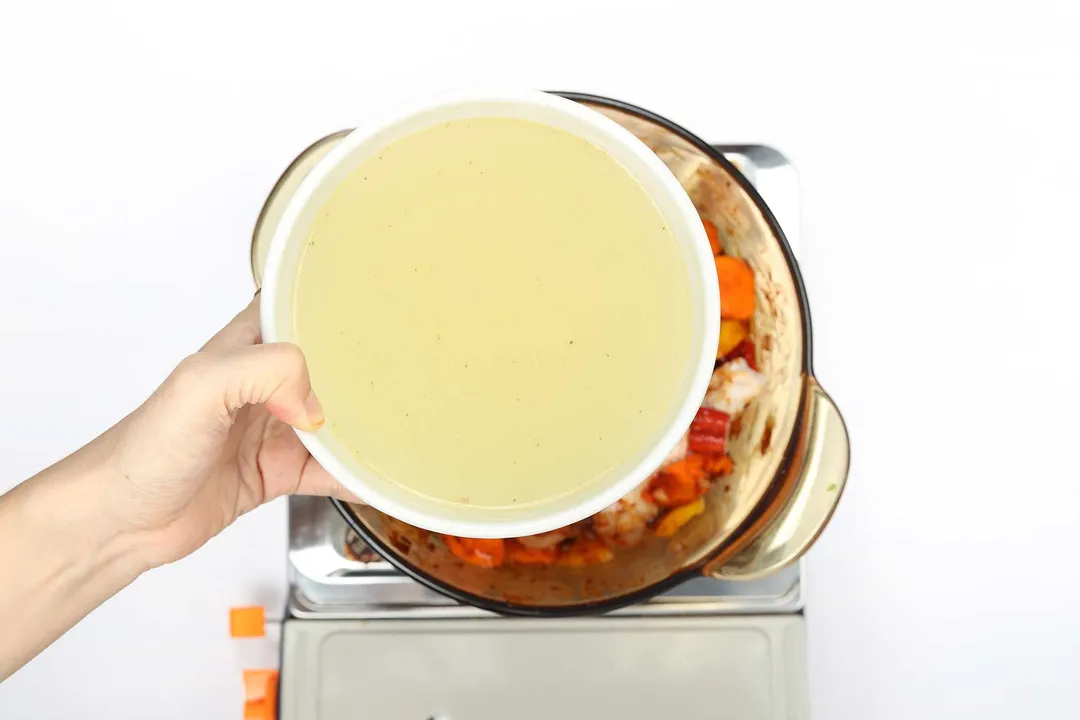 8
Garnish and Serve: Sprinkle in 1/4 cup scallion to garnish, then serve hot with preferred sides.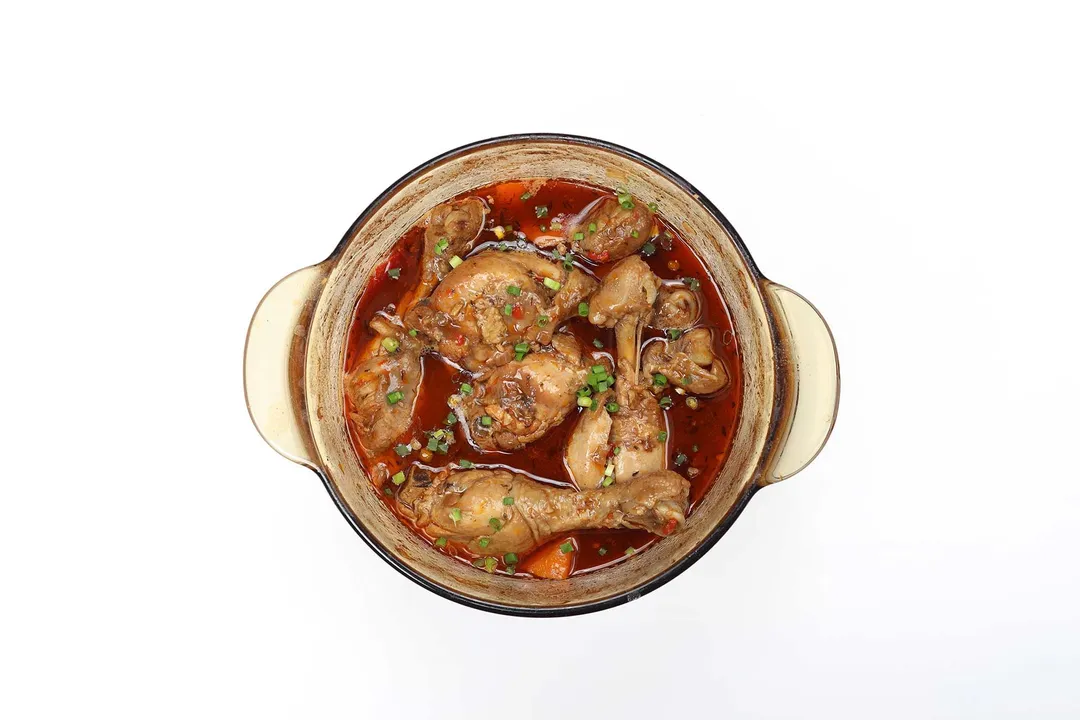 NUTRITION
Nutrition Facts
Brown Stew Chicken
Amount Per Serving (1 serving)
Calories 450
Calories from Fat 218
% Daily Value*
Monounsaturated Fat 11.8g
* Percent Daily Values are based on a 2000 calorie diet.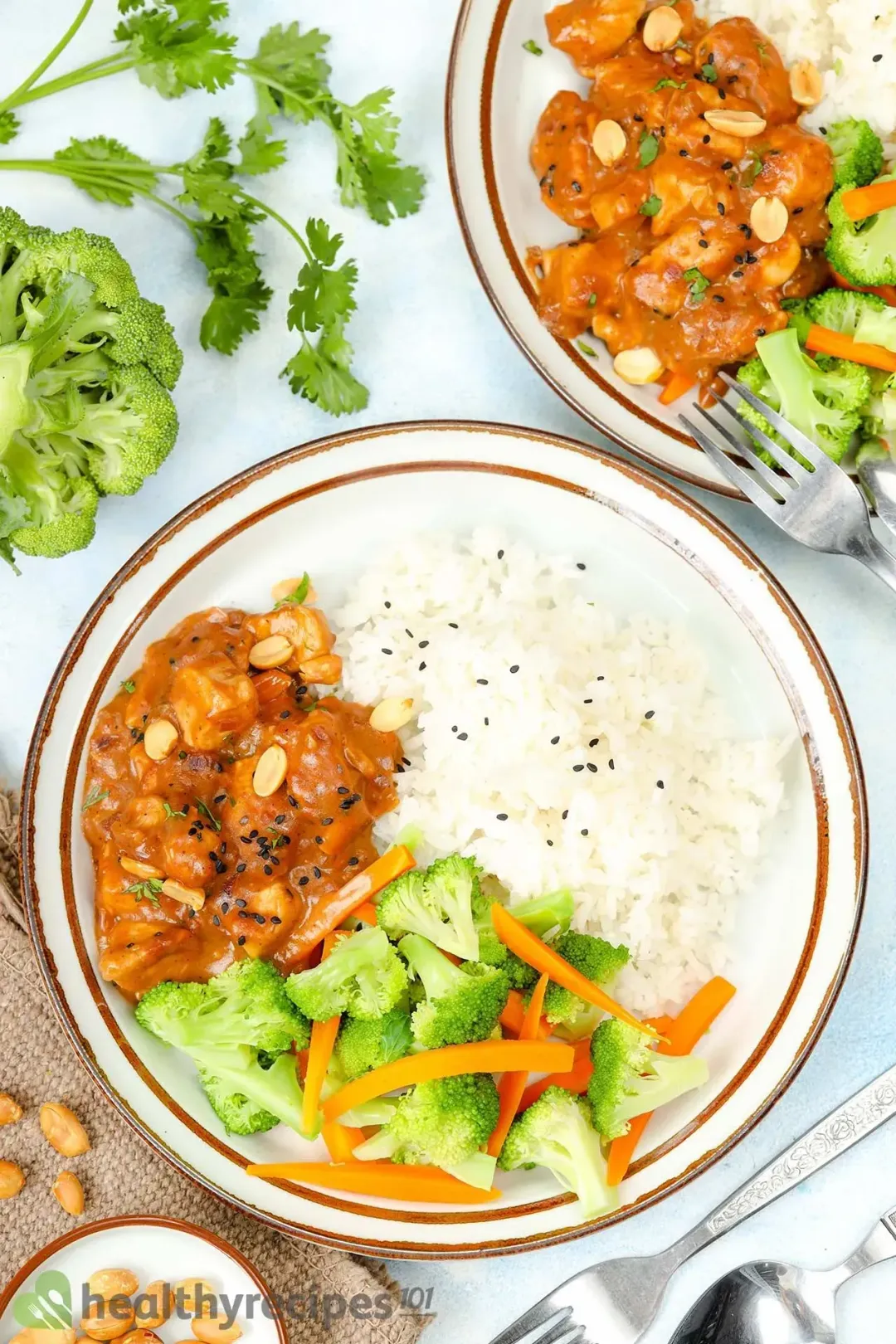 Previous Recipe
Peanut Butter Chicken
Peanut Butter Chicken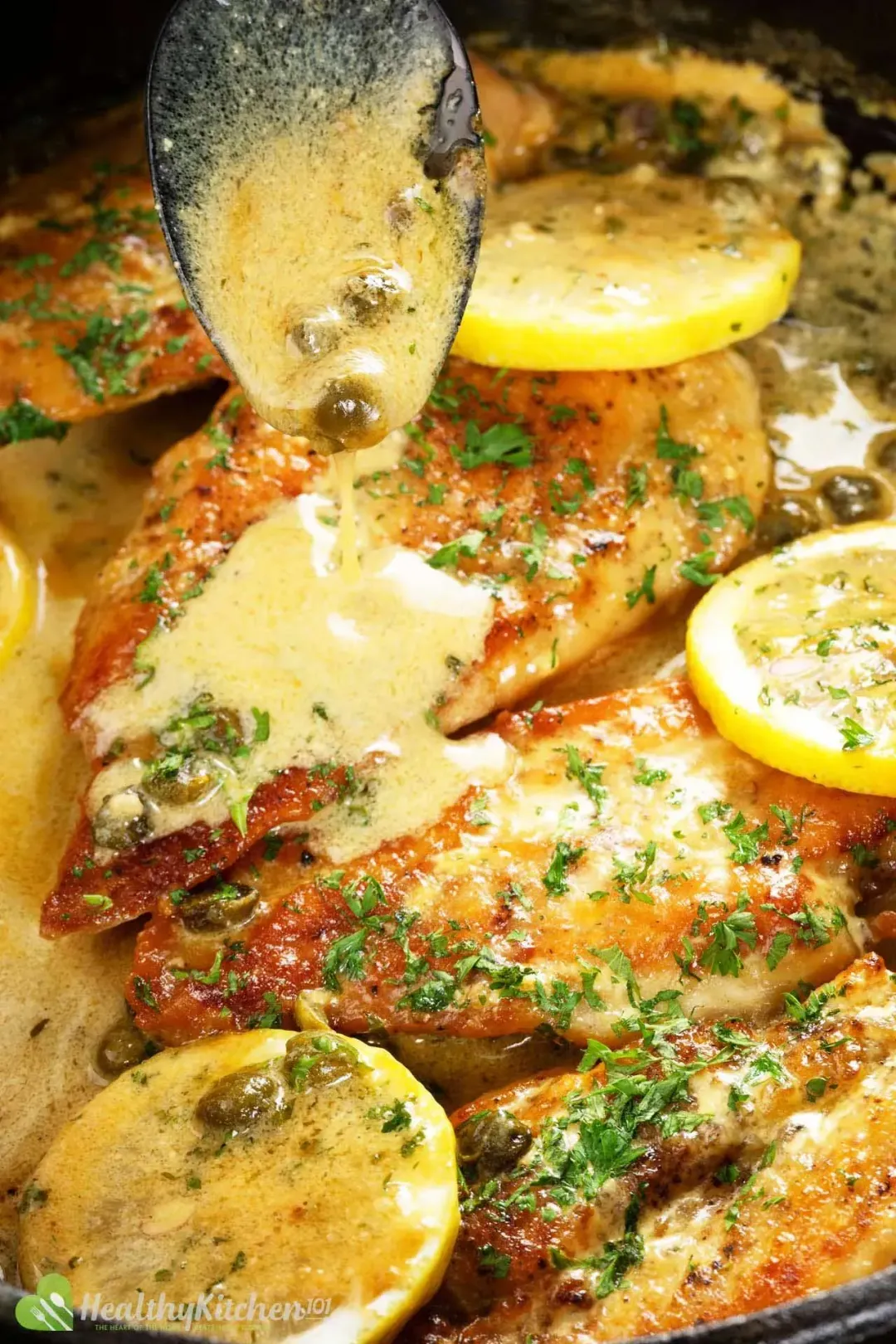 Next Recipe
Healthy Chicken Piccata
Healthy Chicken Piccata
Head Chef, Culinary Consultant
Tuyet Pham is an award-winning Saigonese chef who believes that joy is the secret ingredient to delicious food. At Healthy Recipes 101, Tuyet personally tests and simplifies every recipe, ensuring maximum flavor with minimal effort. With a background at prestigious French restaurants P'TI Saigon and Le Corto, Tuyet knows how to make every dish exceptional.
Writer, Author
Luna Regina is an accomplished writer and author who dedicates her career to empowering home cooks and making cooking effortless for everyone. She is the founder of HealthyKitchen101.com and HealthyRecipes101.com, where she works with her team to develop easy, nutritious recipes and help aspiring cooks choose the right kitchen appliances.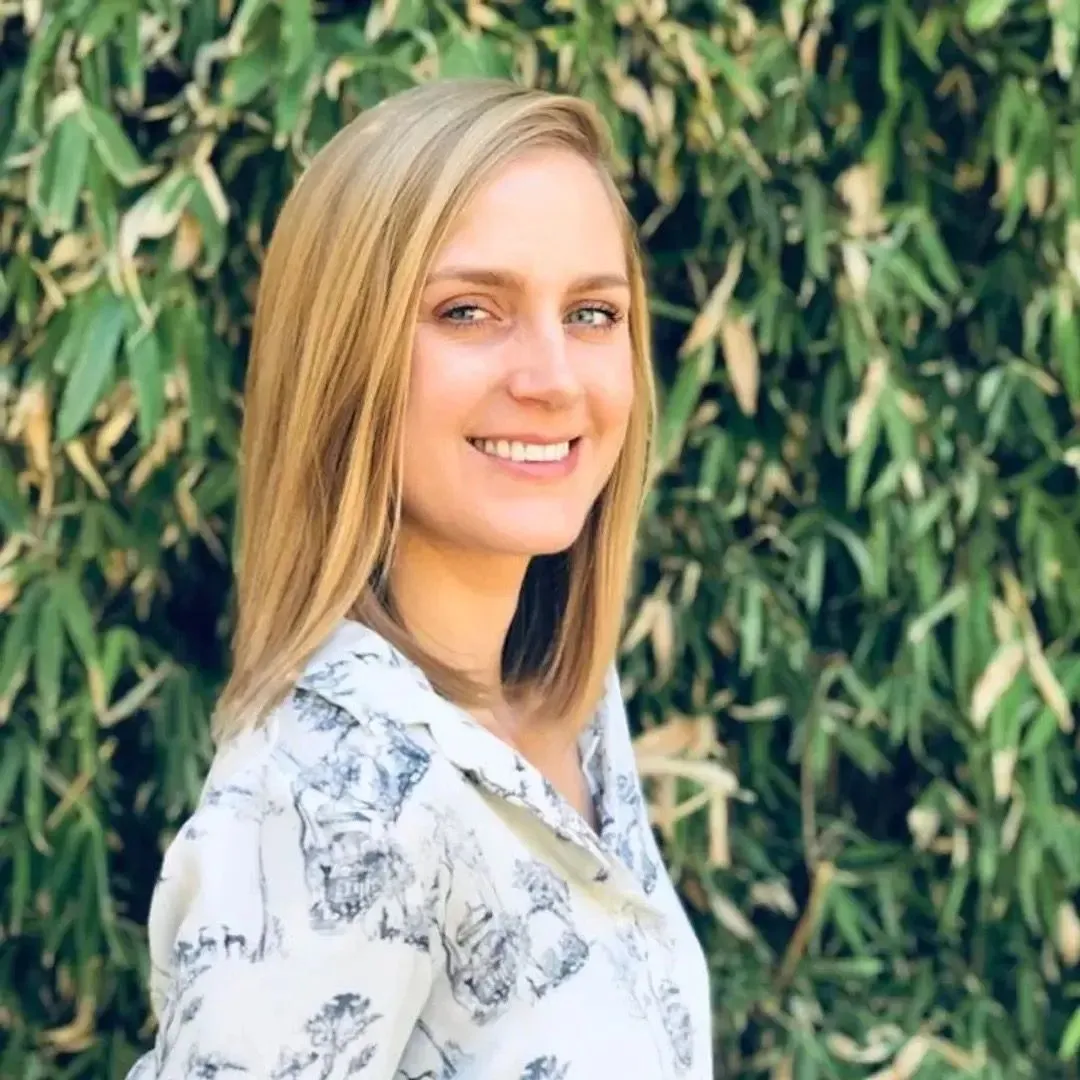 Nutrition Reviewer
Emily Rogers is a California-based Registered Dietitian Nutritionist who specializes in Public Health Dietetics. She has had an eclectic career working as a health educator, nutrition counselor, recipe developer, clinical dietitian and outpatient dietitian. Emily is currently a full-time Public Health Nutritionist with the County of Orange where she teaches Nutrition Education and Community Nutrition courses.
Brown stew chicken had all sorts of flavors dancing around on my tongue: sweet, savory, spicy... you name it! This stew makes for an incredibly satisfying one-pot meal that will fuel your whole family through their days comfortably satiated until dinner time rolls around again tomorrow night again happily anticipating another bowlful each..

I cooked brown stew chicken in no time at all—it was done before I knew it! Deliciously tender and full of flavor.