Our Instant Pot chicken tikka masala is a quick and effortless version of the authentic Indian staple. The dish features bite-size chunks of chicken slowly simmered in a rich and spicy tomato-based sauce.
The result is a buttery, aromatic tikka masala with a uniquely exotic hint of garam masala. The leftovers taste even more delicious the next day.
Is Instant Pot Chicken Tikka Masala Healthy?
Yes, our Instant Pot chicken tikka masala is healthy.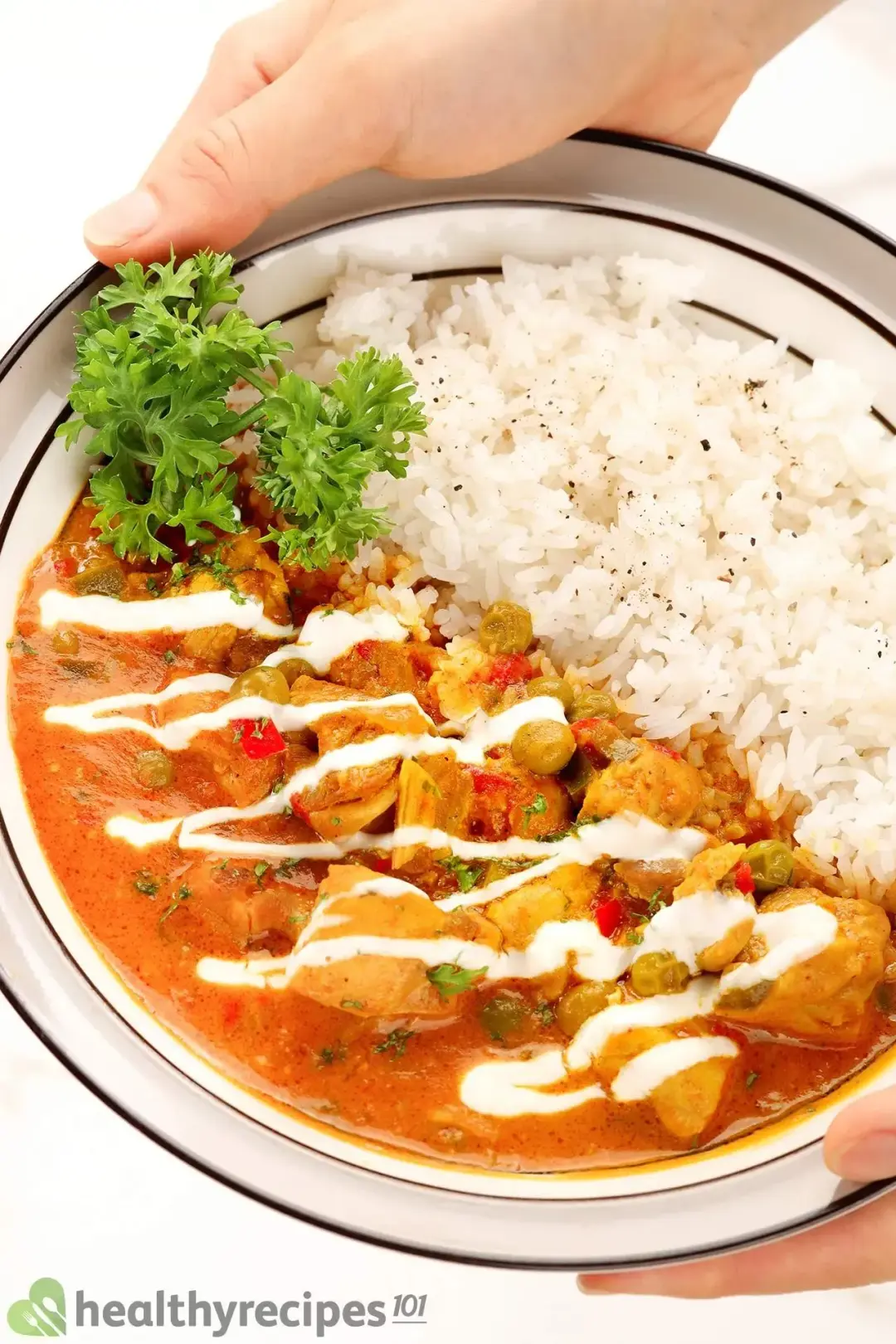 While a traditional tikka masala could be considered high in calories, our lightened-up version is packed with nutrients and remains relatively low in calories. Each serving of the dish contains only 499 calories. If you serve our chicken tikka masala as the main dish, we encourage you to pair it with a side and drink for a 750-calorie meal.
We used Greek yogurt as a healthier alternative to cream and substituted regular chicken broth with an unsalted one. This helps keep the saturated fat at 6.1 g and sodium at 518 mg —  within the healthy limit.
Plus, the dish is packed with anti-inflammatory spices. In other words, our chicken tikka masala is a nutritious dish that will nourish both your body and soul.
Difference Between Butter Chicken and Chicken Tikka Masala?
Originating from Indian cuisine with quite similar ingredients, butter chicken and chicken tikka masala have the same appearance but distinctively different flavors. 
Butter chicken is richer and less spicy. Chicken tikka masala, on the other hand, is more tomato flavored and has a stronger kick from its long list of spices.
Main Ingredients
There is no singular authentic recipe for chicken tikka masala, and actually, you can find dozens of versions online. Our recipe calls for simple ingredients, most of which may already be in your pantry.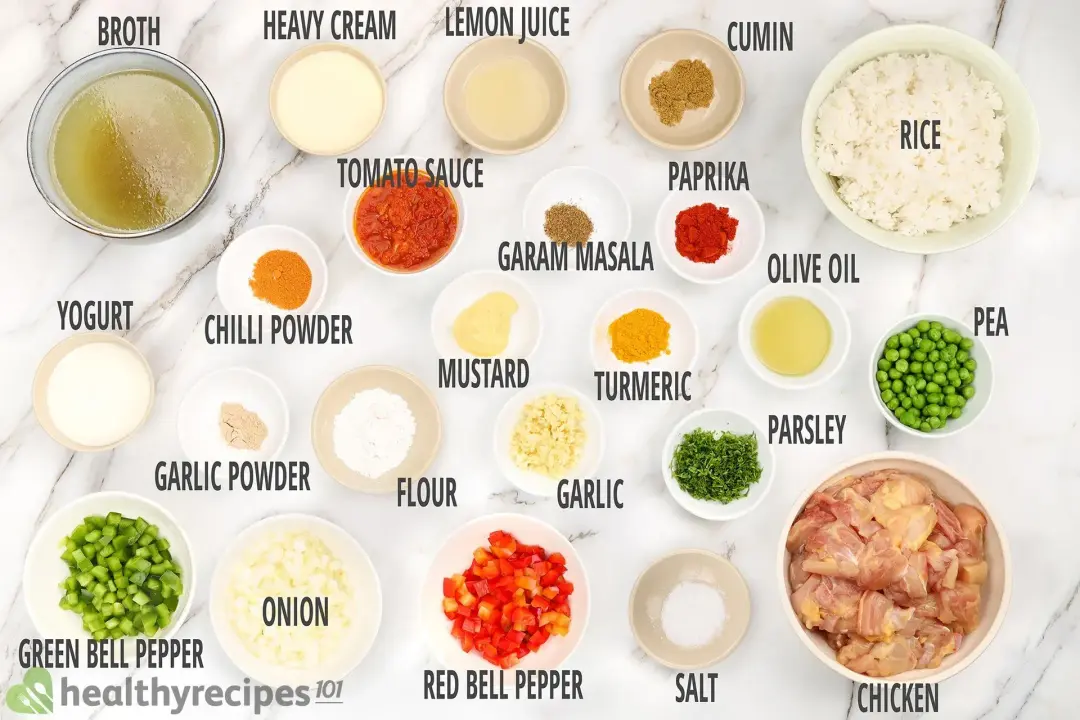 Chicken: Skinless, boneless chicken thighs will become perfectly tender and moist when cooked in the Instant Pot. However, if you want to make it vegetarian, substitute chicken for tofu.
Vegetables: Add whatever your favorite choice of veggies is to the pot for additional texture and a nutritional punch.
Tomato Sauce: We used homemade tomato sauce for a flavorful base with a richer tomato flavor than the commercial products.
Heavy Cream: Cream helps thicken and enrich the sauce. In some variations, coconut milk is used instead of a dairy-based cream.
Greek Yogurt: For an extra boost to the richness with a slight tangy touch that beautifully balances out the overall flavor.
Garam Masala: Garam masala is a blend of various spices, including cinnamon, mace, peppercorn, cardamom, and coriander. It is quite popular, and you can easily find it at any local grocery store.
Indian Spices: Spices are the secret to an ultra-richly-flavored tikka masala. We've added extra spices into the marinade: cumin, paprika, turmeric, garlic, chili, and mustard for a complex flavor that you would expect from an irresistible sauce. Adjust the amount of chili if necessary to reach your desired level of spiciness.
If you want more chicken dishes, feel free to try our traditional chicken tikka masala, best delicious chicken roundup and 20+ chicken thigh recipes.
Homemade Chicken Tikka Masala in The Instant Pot
Chicken tikka masala often starts with sauteing chicken and vegetables in the spice blend. Then everything is simmered in the tomato and dairy sauce until perfectly cooked. Here is how we made the dish: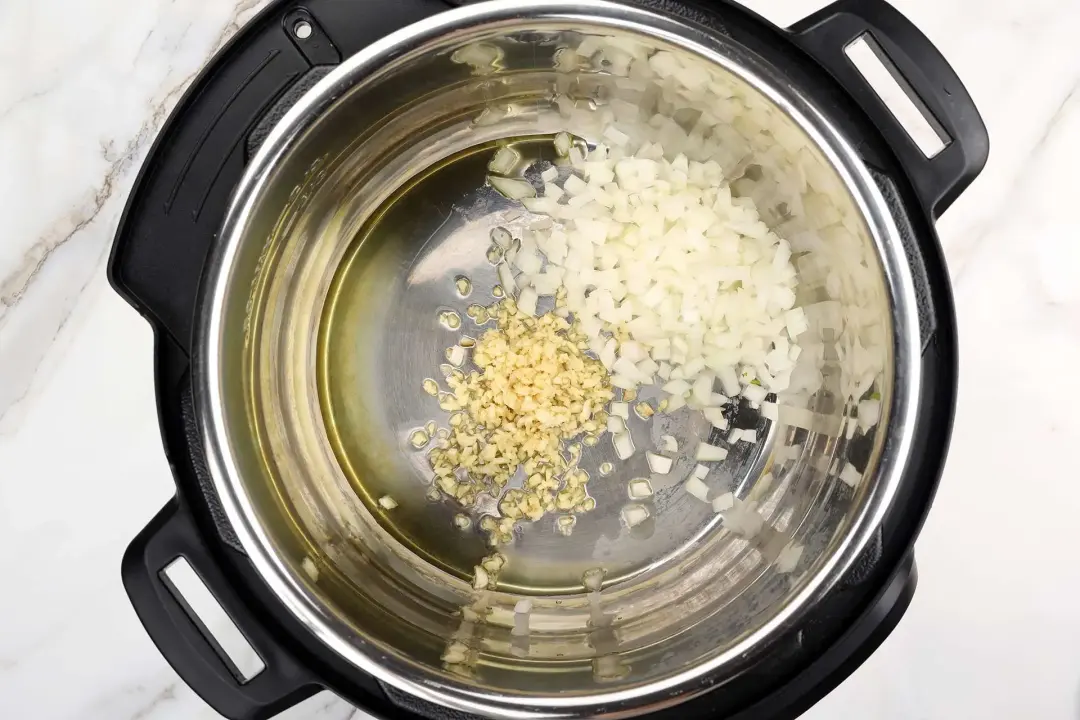 Sauté the garlic and onion.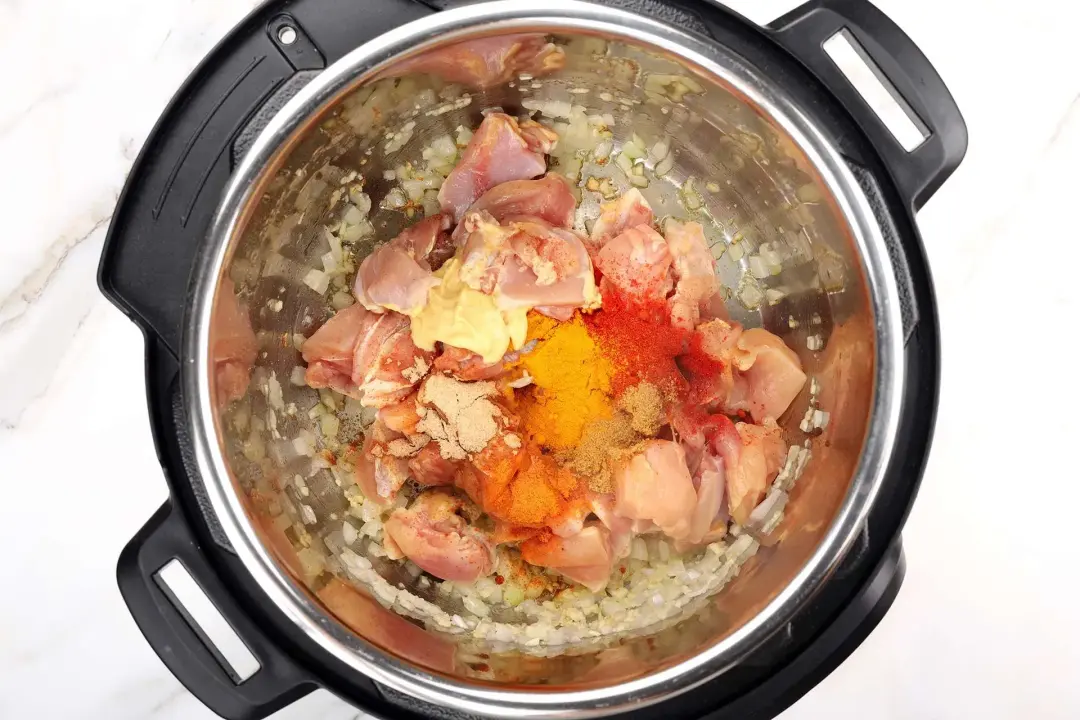 Stir fry the chicken with spices.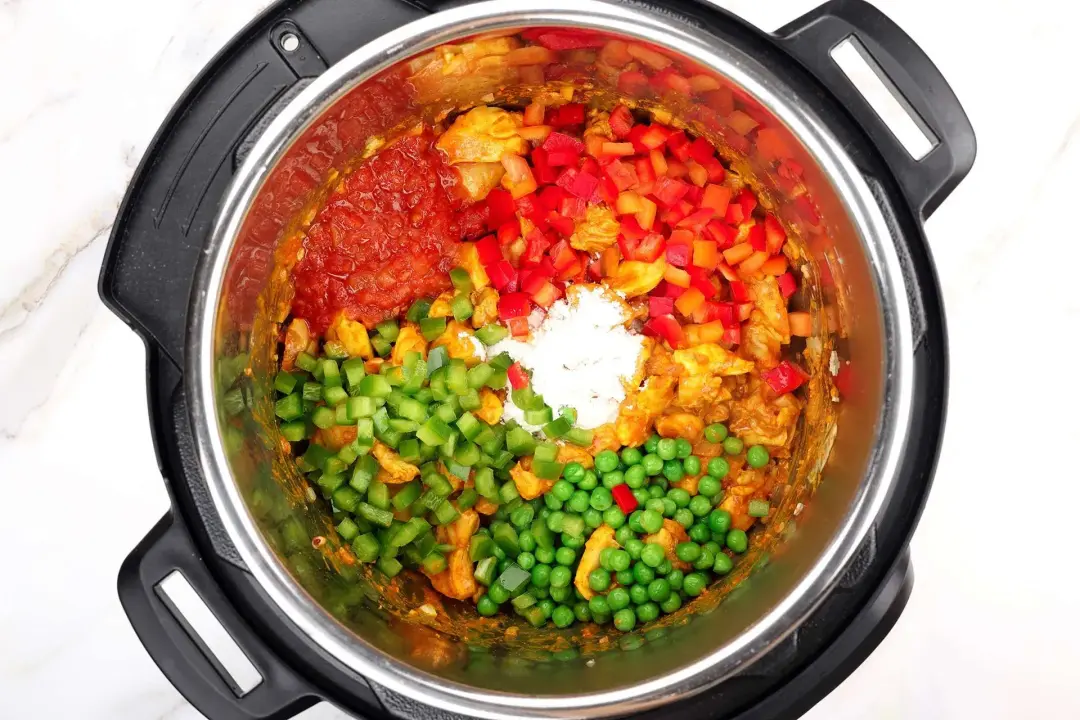 Add the vegetables.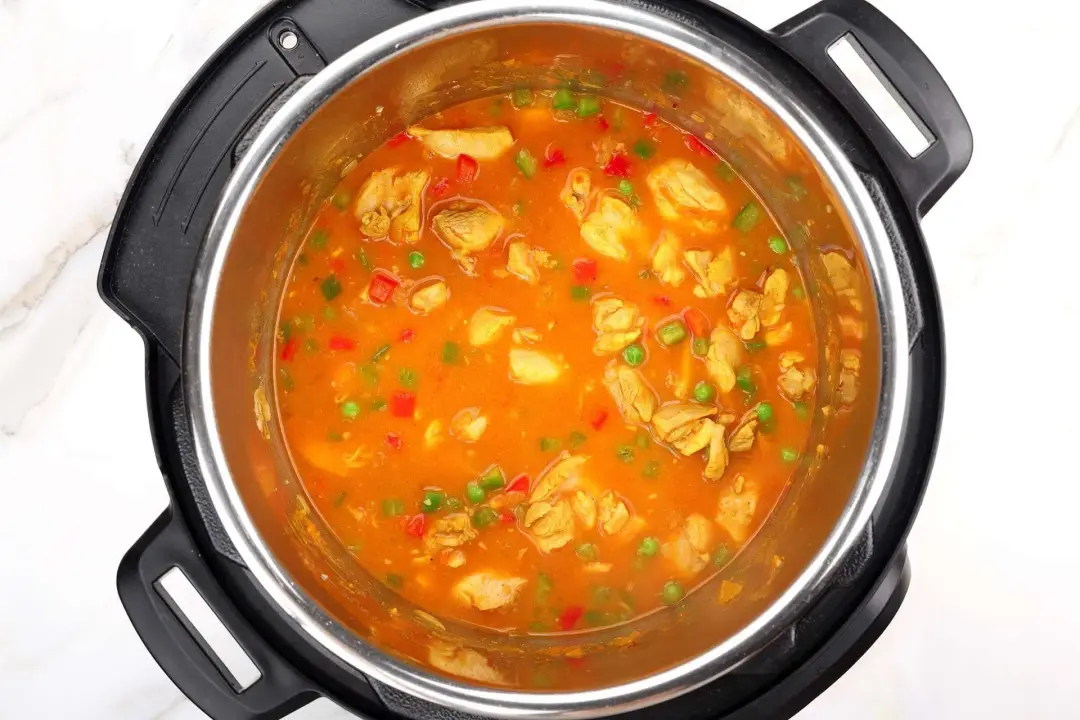 Pour in the chicken broth. Set the "stew meat" mode.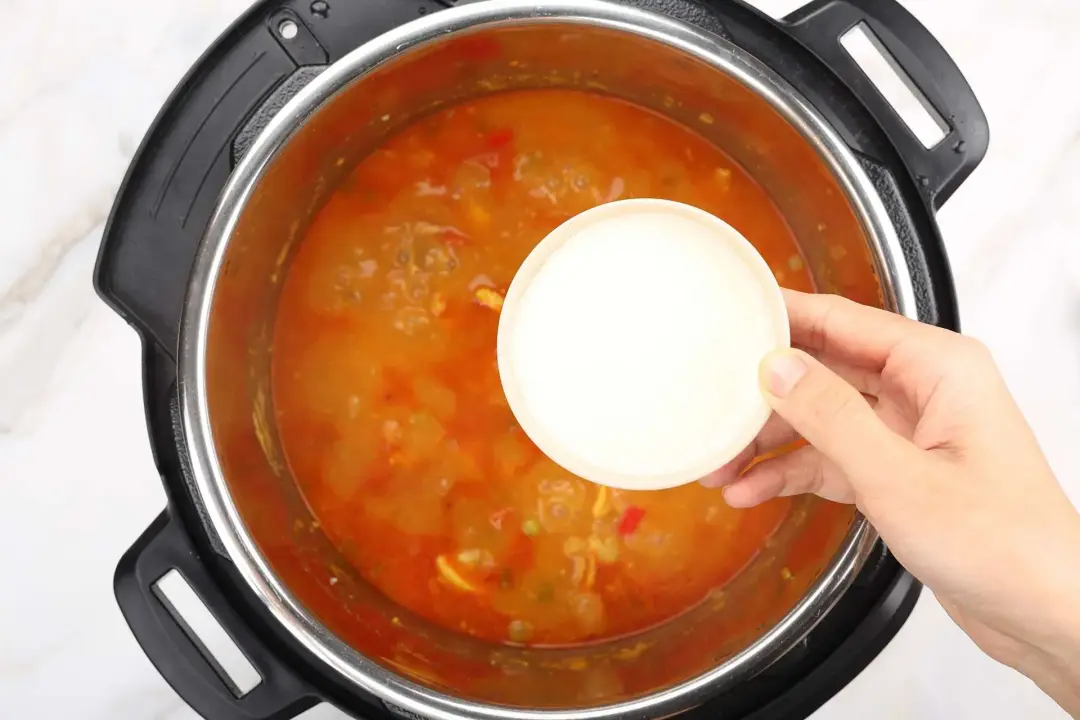 Add the cream and simmer the dish.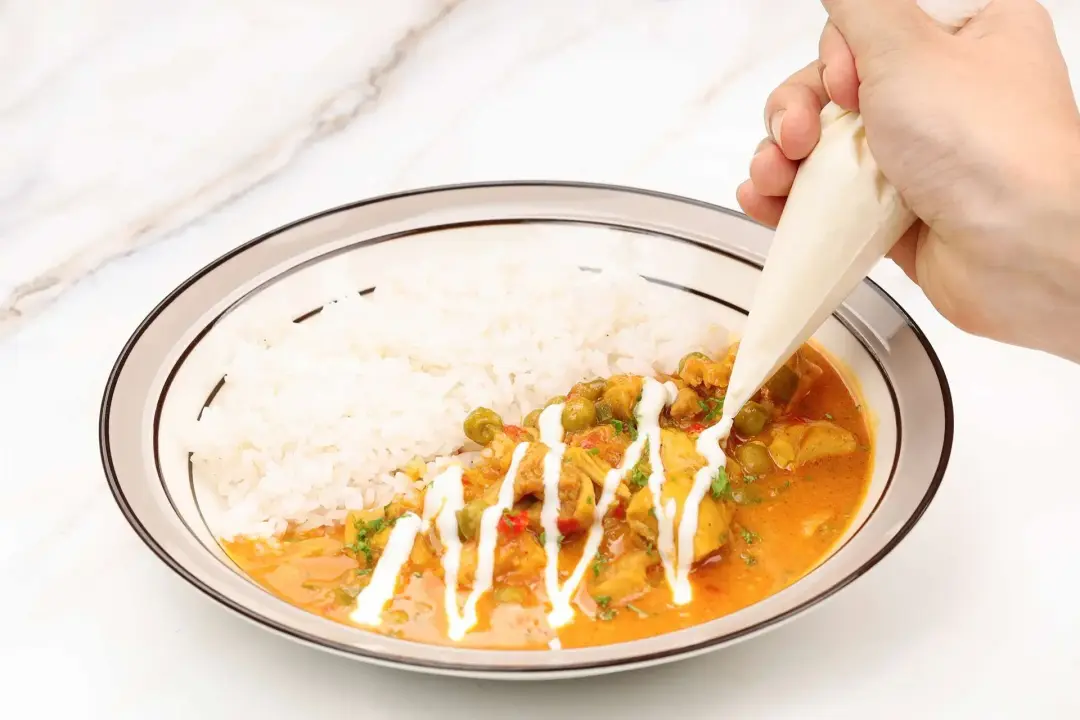 Top with the yogurt and serve over steamed rice.
For more detailed steps with ingredient measures, please refer to the recipe card below.
Tips for Perfect Chicken Tikka Masala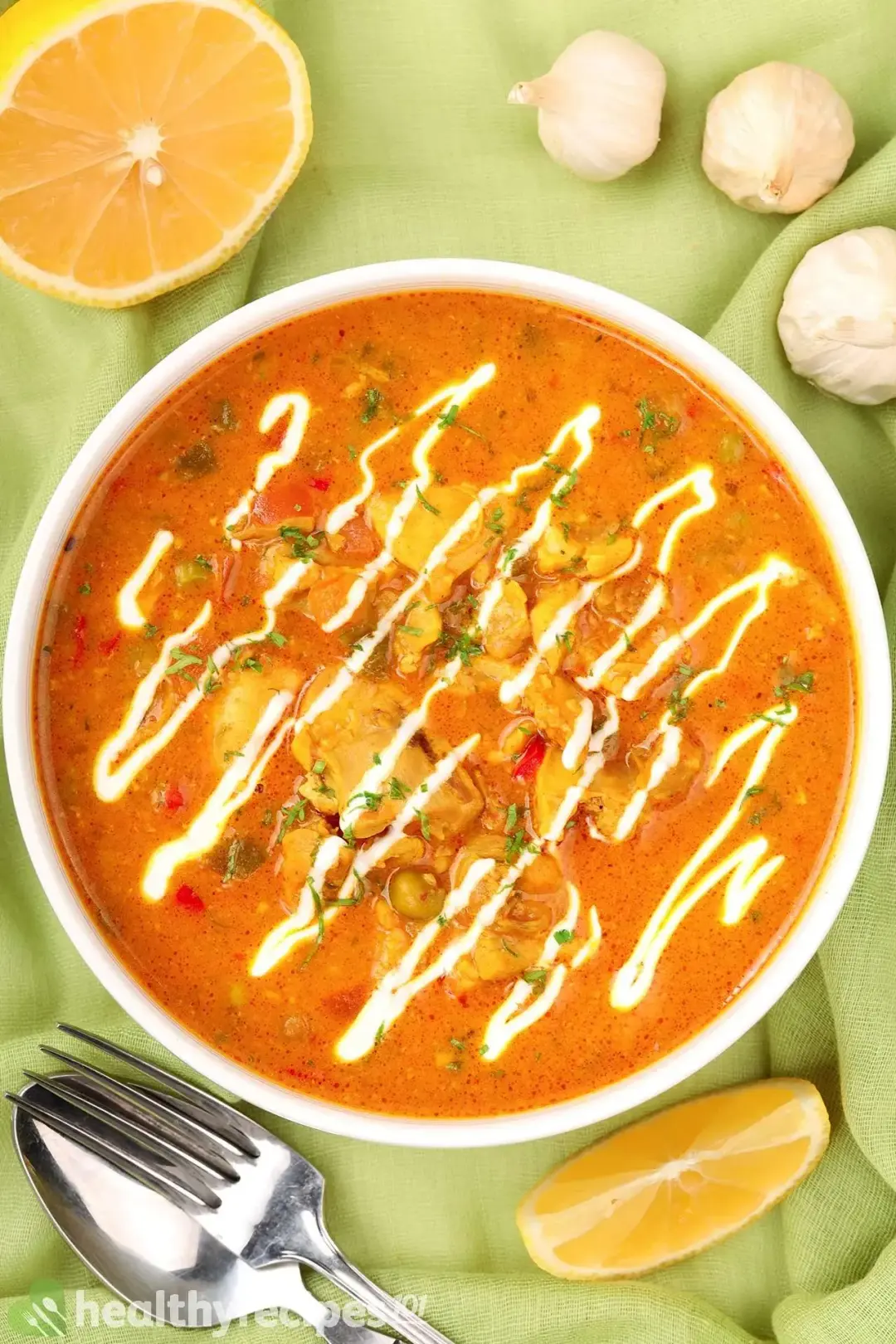 Greek yogurt gives an extra layer of creaminess but do not add it until you serve the dish. This helps prevent separation, which often happens when you add dairy to the pot.
Chicken tikka masala tastes even better on the days following since it has had extra time to infuse and meld the flavors. You can double the recipe and keep the leftovers as a later lazy-yet-tasty dinner.
How to Store and Reheat
Store: Keep your leftover chicken tikka masala in an airtight container to eliminate air exposure and refrigerate for up to 4 – 5 days. The leftovers can also last for up to 3 months in the freezer.
Reheat: Thaw the chicken tikka masala in the refrigerator the night before you plan to eat it. It's best to reheat tikka masala in a pot on the stovetop over medium-low heat. Gently stir occasionally until hot.
You can also quickly reheat the dish in the microwave. Simply place the food in a microwave-safe container, cover it with plastic wrap, and cook until warmed through.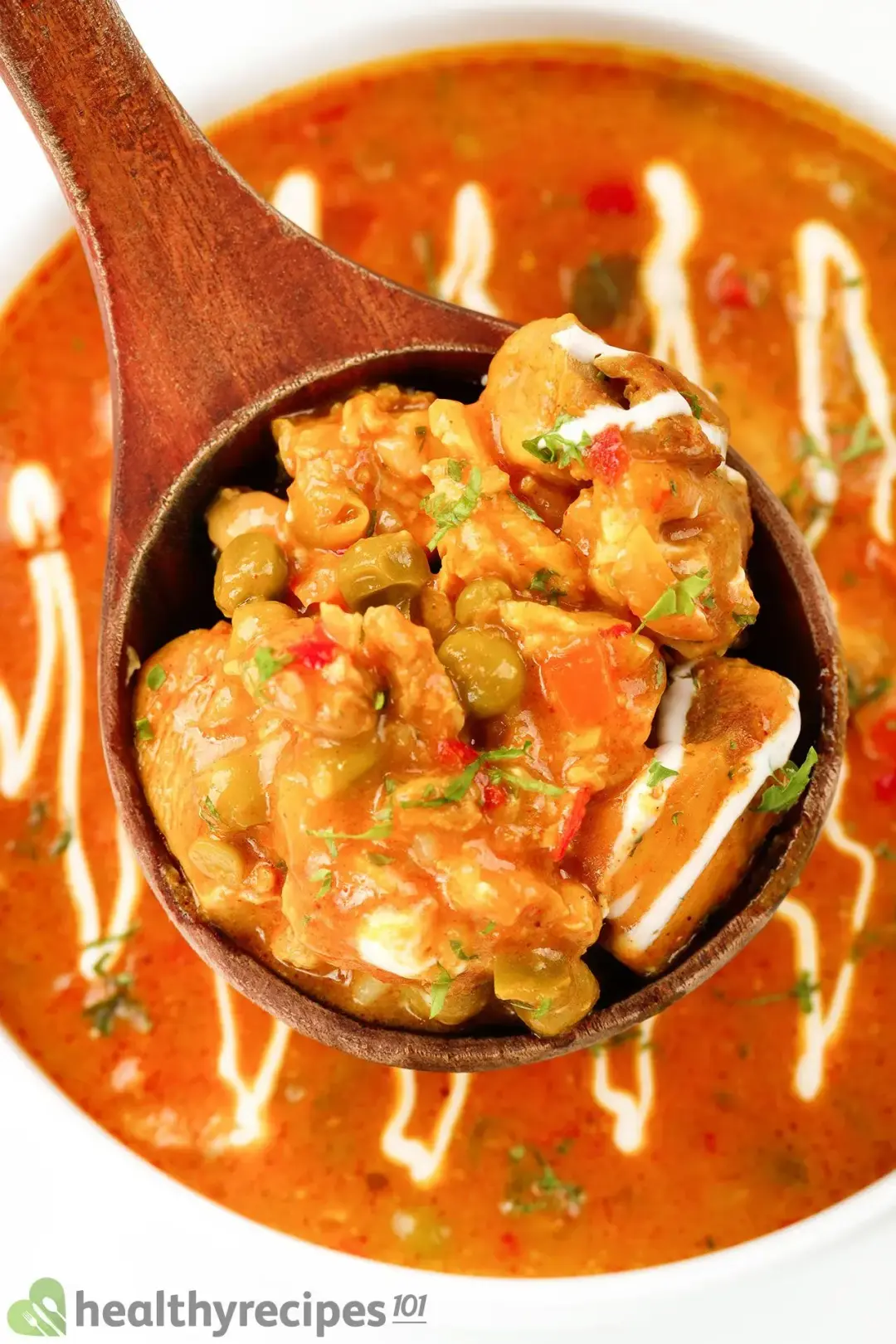 Side Dishes This Instant Pot Chicken Tikka Masala
Rice: Rice of all types from white, brown, and jasmine to basmati all go perfectly with tikka masala. If you're watching your carb intake, try serving the dish over cauliflower rice instead.
Naan: This traditional Indian flatbread will soak up the scrumptious sauce and scoop up all the tasty morsels left on the plate.
Salad: To bump up the meal's nutritional profile, it's best to pair the tikka masala with a green salad or roasted vegetables. These veggie side dishes are refreshing and flavor-packed on their own and will complement the creamy dish perfectly.
Love this dish? You can find similar ideas from our easy-to-cook chicken breast recipes.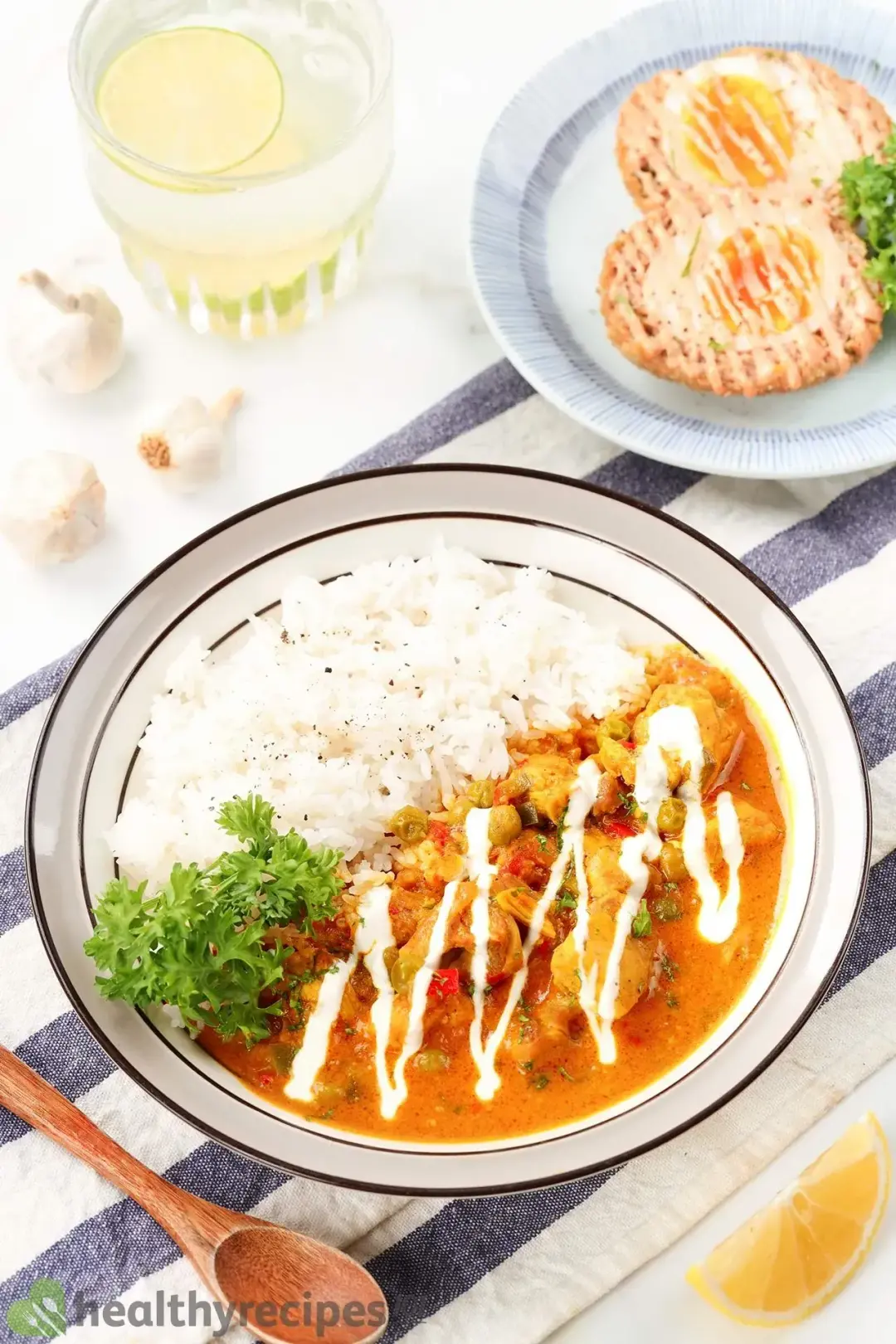 Love This Recipe? There's More!
Chicken can be a real craving sometimes. Check out these 5 Instant Pot chicken recipes to plan your next days' menu with ease:
Instant Pot Chicken Tikka Masala Recipe
Inspired by Indian cuisine, our Instant Pot chicken tikka masala recipe features delicious and herby flavors but in half of the cooking time.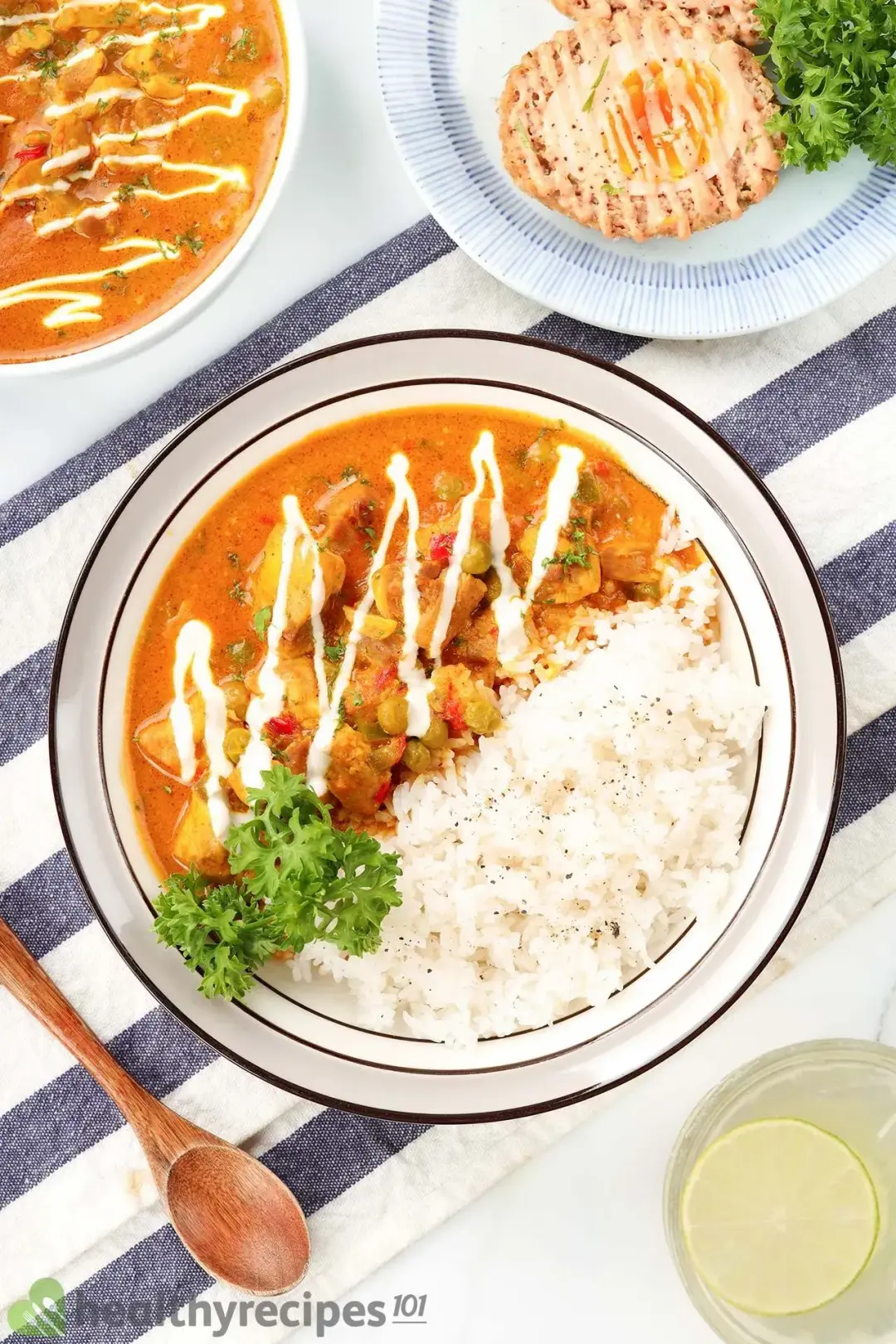 cook TIME

25 mins

prep TIME

15 mins

total TIME

40 mins
COURSE

Main Course

CUISINE

Indian

SERVINGS

servings

CALORIES

499 kcal
INGREDIENTS
18 oz

skinless boneless chicken thigh (cubed)

1 tbsp

olive oil

2 tbsp

garlic (chopped)

2 oz

onion (chopped)

0.5 tsp

cumin powder

1 tsp

paprika

1 tsp

turmeric

0.3 tsp

garam masala

0.5 tsp

garlic powder

1 tbsp

lemon juice

0.5 tsp

chili powder

0.5 tsp

salt

0.5 tbsp

traditional Dijon mustard

2 oz

frozen peas (thawed)

0.3 cup

homemade tomato sauce

2 oz

green bell pepper

2 oz

red bell pepper

1 tbsp

all-purpose flour

1.5 cup

unsalted chicken broth

4 tbsp

heavy cream

3 cups

cooked medium-grain rice

3 tbsp

plain Greek yogurt

2 tbsp

parsley (chopped)
INSTRUCTIONS
1
Set the Instant Pot to 'sauté' mode, add 1 tbsp olive oil, 2 tbsp garlic, and 2 oz onion to the pot. Stir and cook for 1 minute until the onion is soft and translucent.
2
Add 18 oz chicken, 1/2 tsp cumin powder, 1 tsp paprika, 1 tsp turmeric, 1/4 tsp garam masala, 1/2 tsp garlic powder, 1 tbsp lemon juice, 1/2 tsp chili powder, 1/2 tsp salt, and 1/2 tbsp mustard. Cook and stir often for 3 minutes.
3
Add 2 oz peas, 1/4 cup tomato sauce, 2 oz green bell pepper, 2 oz red bell pepper, and 1 tbsp all-purpose flour. Stir to combine and cook for another 2 minutes.
4
Pour 1 1/2 cup chicken broth into the Instant Pot. Close the lid and set the pot to 'stew meat' and set the timer for 7 minutes.
5
Release the pressure naturally, open the lid, and add 4 tbsp heavy cream. Set the 'sauté' mode and let the dish continue simmering until the sauce thickens slightly, about 10 minutes.
6
Serve the chicken tikka masala warm over steamed rice. Top with 3 tbsp Greek yogurt and 2 tbsp chopped parsley.
NUTRITION
Nutrition Facts
Instant Pot Chicken Tikka Masala Recipe
Amount Per Serving (1 serving)
Calories 499
Calories from FDA
% Daily Value*
* Percent Daily Values are based on a 2000 calorie diet.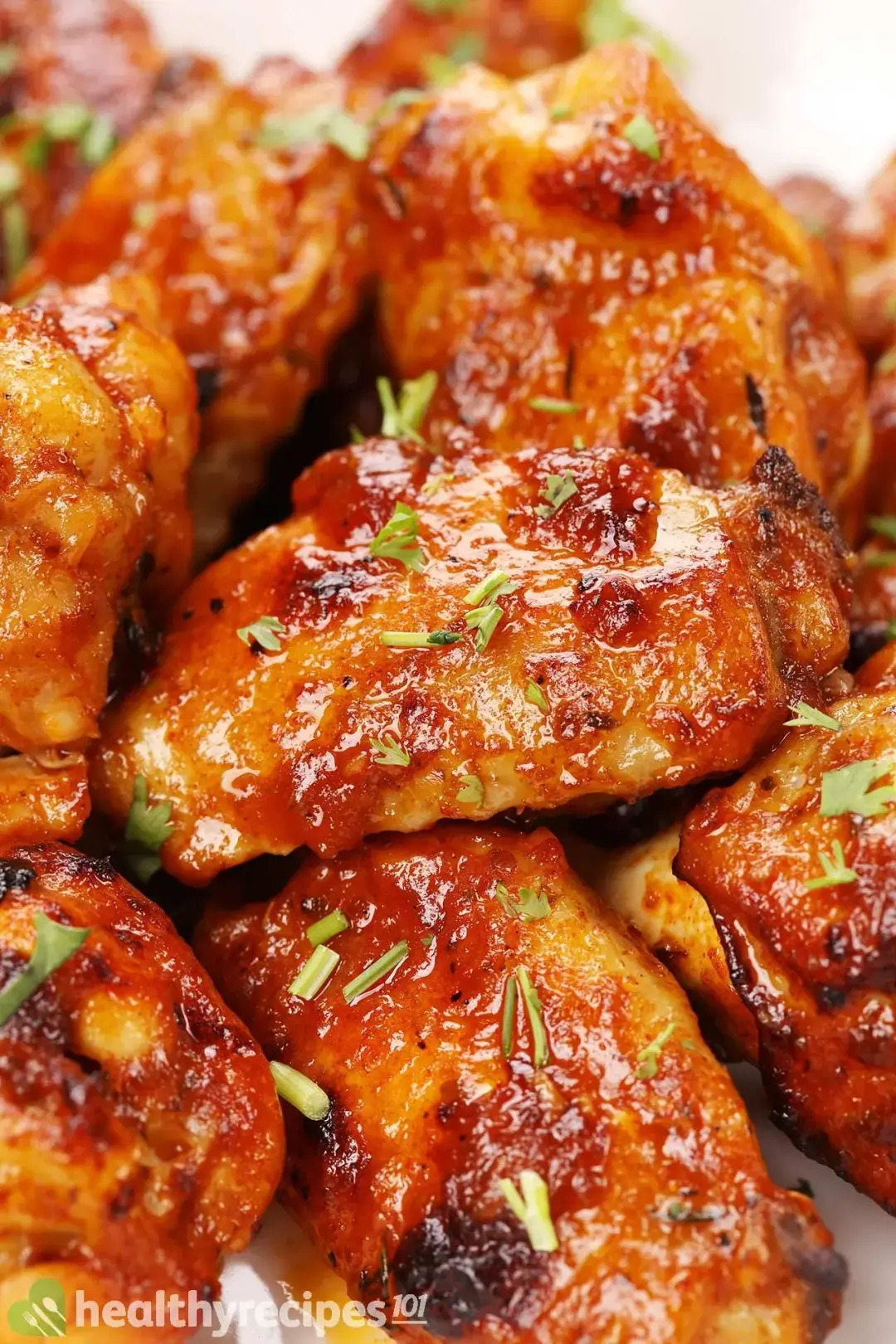 Previous Recipe
Instant Pot Chicken Wings
Instant Pot Chicken Wings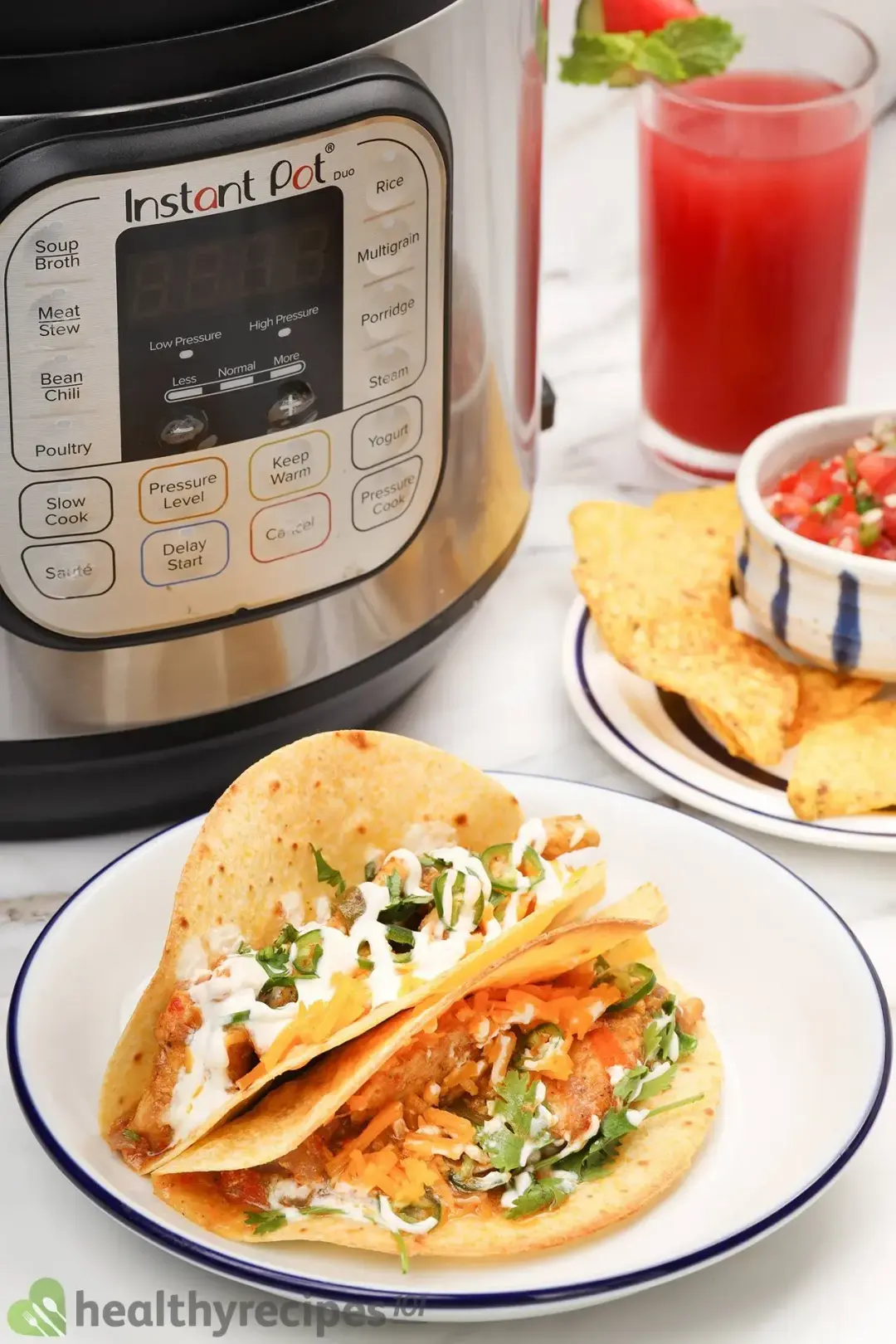 Next Recipe
Instant Pot Chicken Fajitas
Instant Pot Chicken Fajitas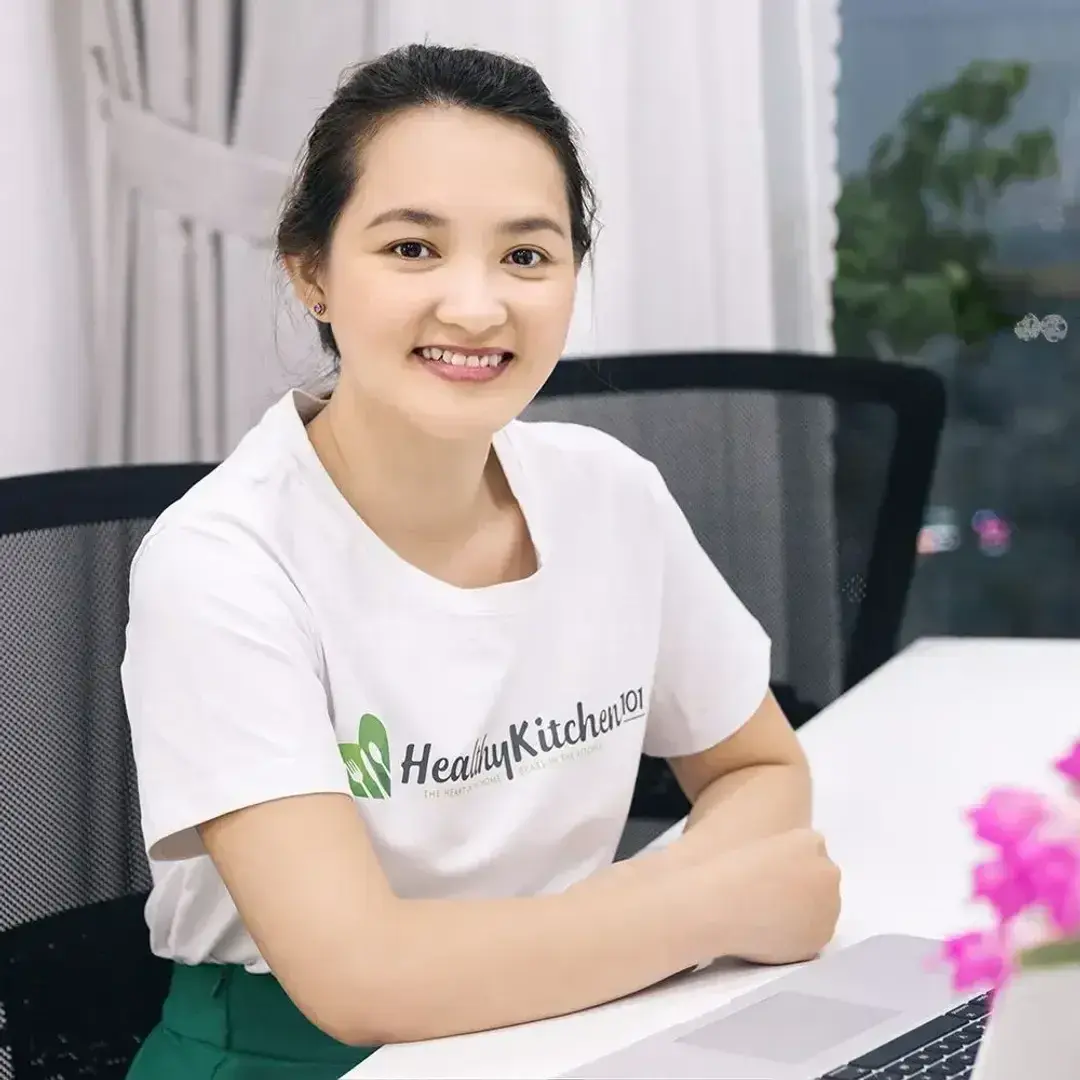 Founder
Luna Regina is an accomplished writer and author who dedicates her career to empowering home cooks and making cooking effortless for everyone. She is the founder of HealthyKitchen101.com and HealthyRecipes101.com, where she works with her team to develop easy, nutritious recipes and help aspiring cooks choose the right kitchen appliances.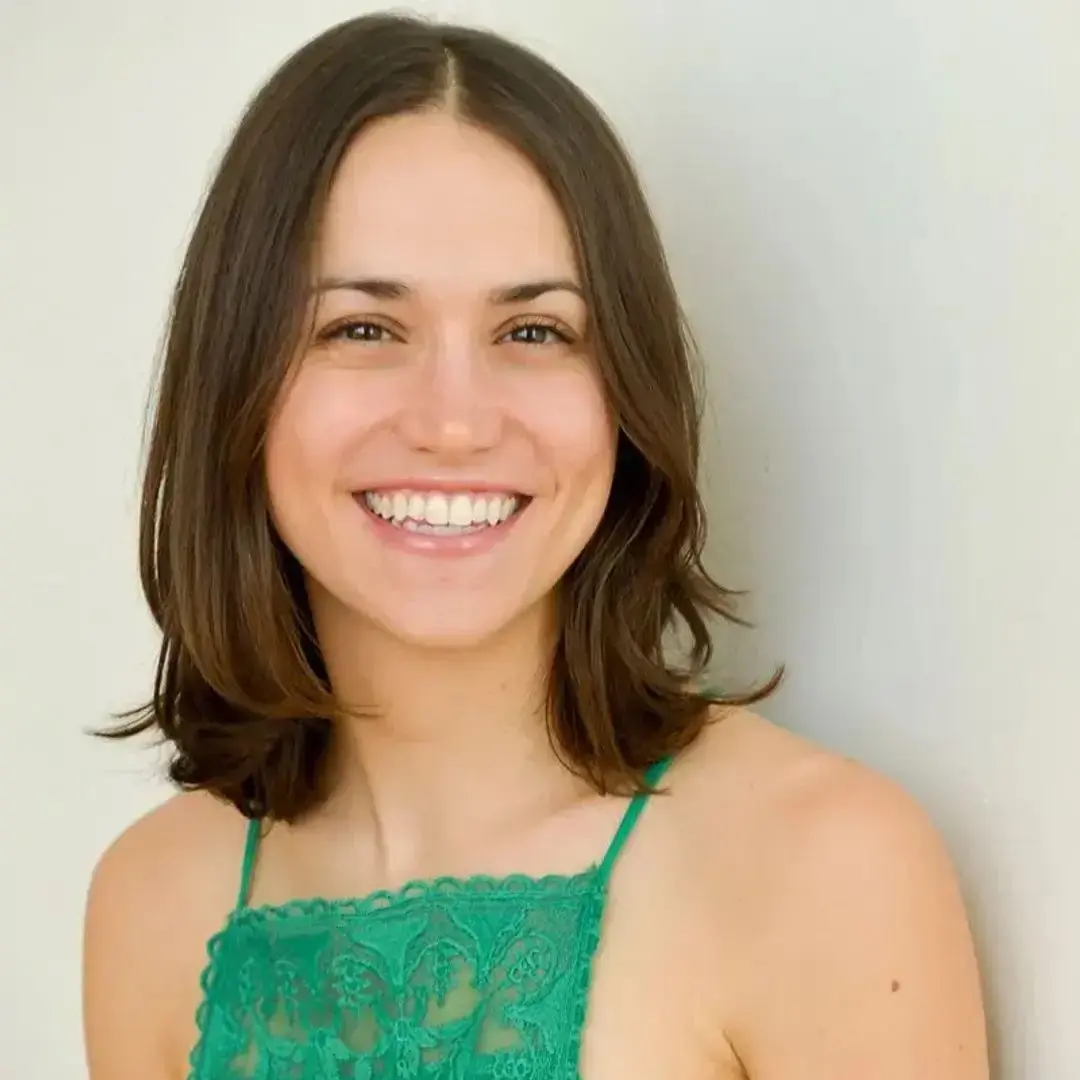 Nutrition Reviewer
Lizzie is a Minneapolis-based dietitian and founder of It's a Veg World After All. She completed her MS in Human Nutrition from Drexel University, and is an expert in culinary nutrition, recipe development, and nutrition communications.
Comments/ Reviews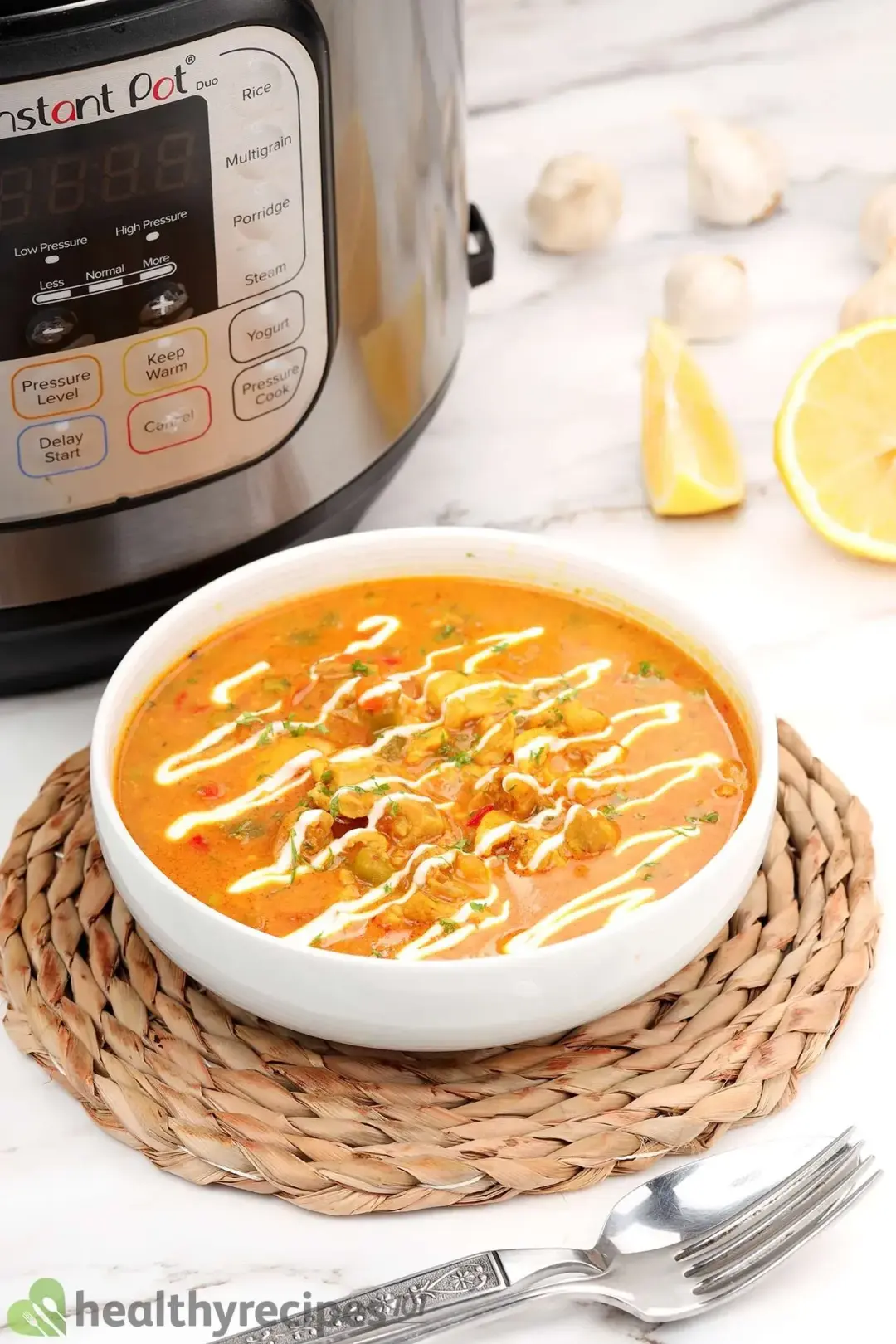 Instant Pot Chicken Tikka Masala Recipe