Give your meal a zesty twist with this cilantro lime chicken recipe. You'll love the lively aroma of the fresh limes and the savory taste of tenderly baked chicken breasts. The Pico de Gallo adds a refreshing, colorful touch, while the hot white rice makes it more filling.
Is Cilantro Lime Chicken Healthy?
Yes, ours is a healthy recipe. Here are some reasons why:
First, it is high in protein, with one serving containing an impressive 37 grams. The reason we go with skinless boneless chicken breasts is that the breast contains more protein and also fewer fats and calories than the other cuts, such as thighs or drumsticks.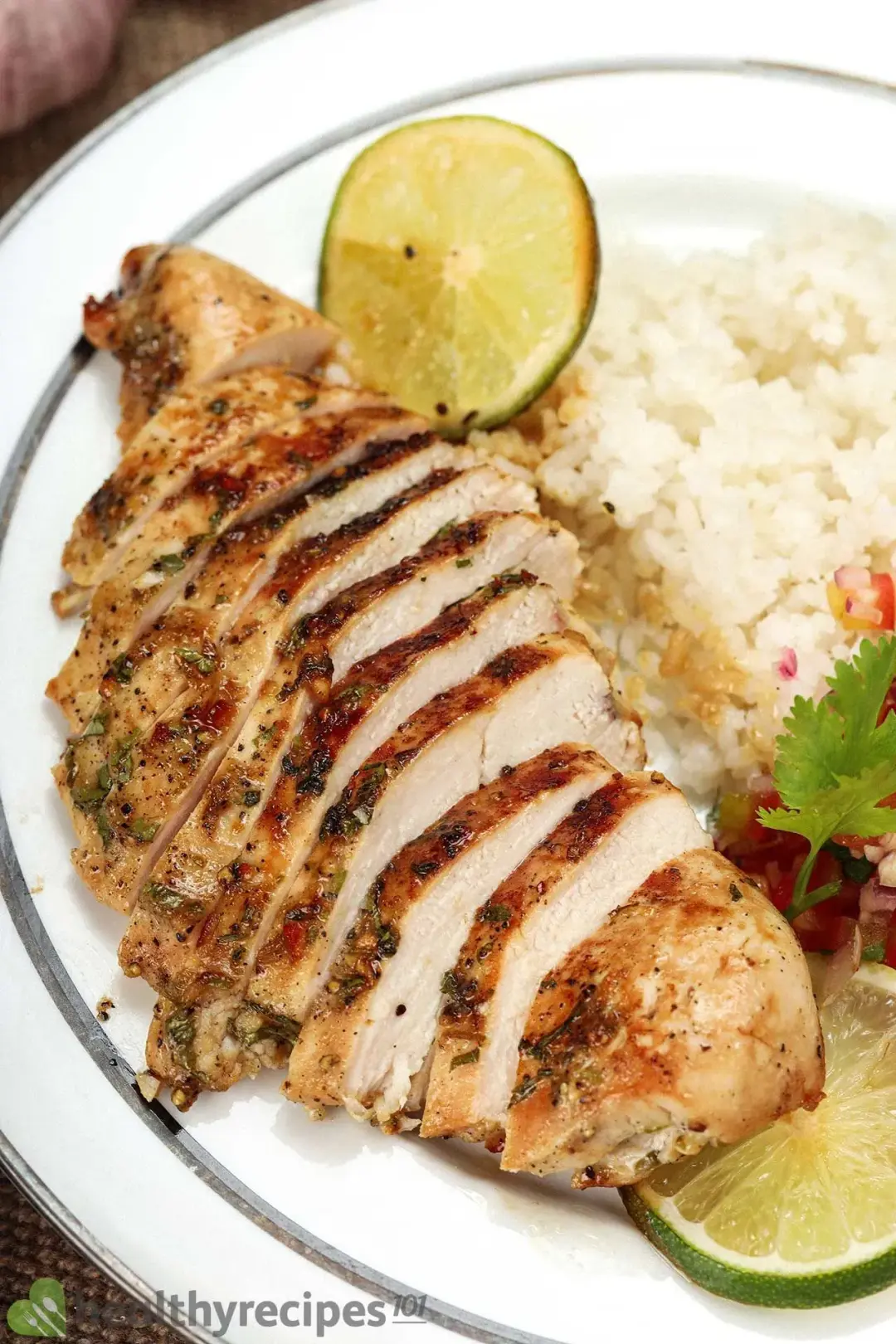 Then, with the addition of lime, including its juice and zest, our dish is enriched with vitamin C and other antioxidants. This green citrus fruit can bring amazing health benefits, such as boosting your immune system, promoting skin health, and reducing inflammation.
On top of the two main ingredients, we also add tomatoes, corn kernels, and red onions for an extra boost of vitamins and minerals.
Ingredients for Cilantro Lime Chicken
With only simple everyday ingredients, you can whip up this light and wonderful dish in no time. Let's take a look.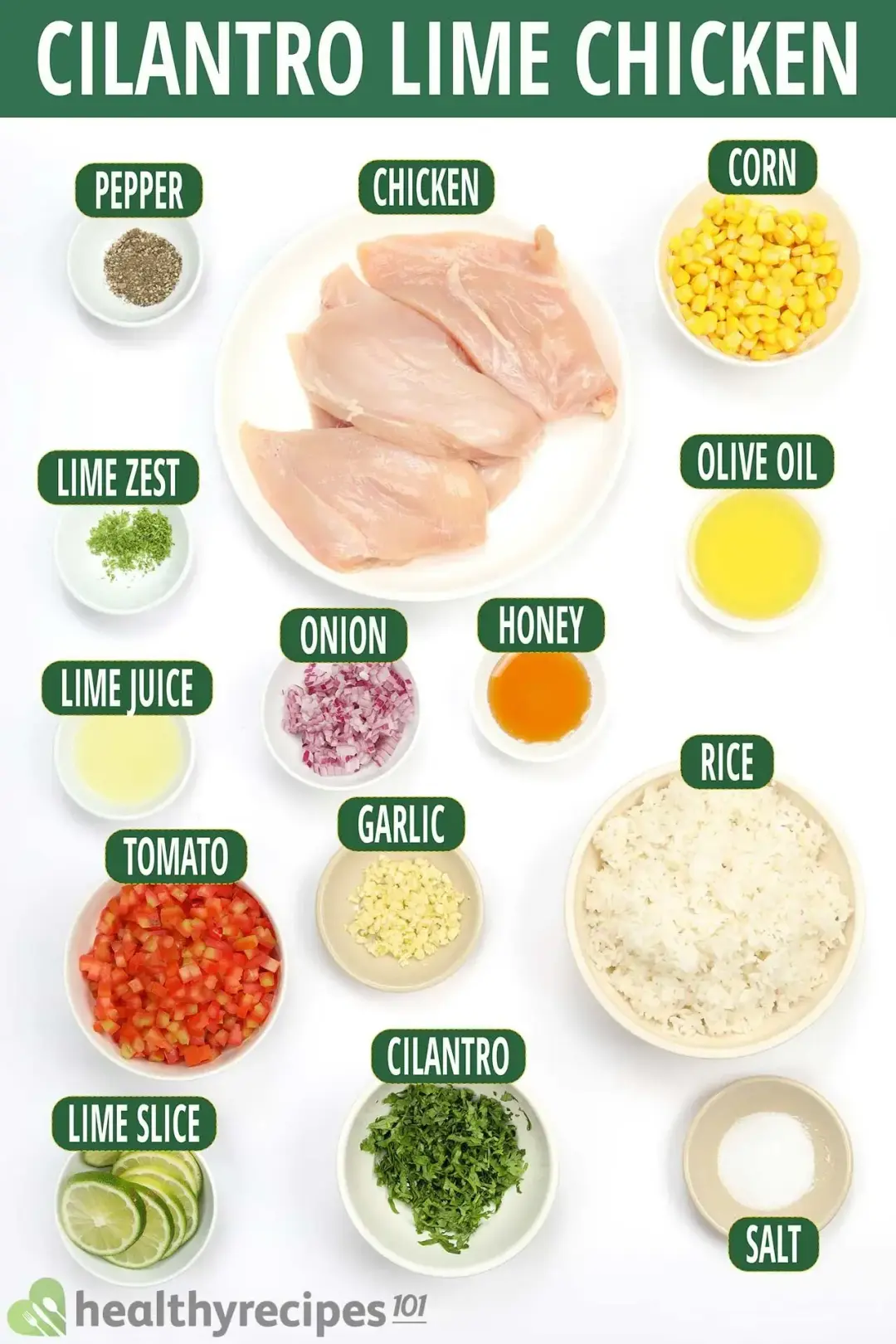 Our recipe calls for skinless boneless chicken breasts for a light and lean taste.
We recommend using fresh chicken breasts over frozen ones since chicken breasts are low in fat, which will cause them to dry out easily if stored in a freezer for a long time.
To give our chicken a nice boost of flavor, we toss them in a marinade made of salt, pepper, garlic, cilantro, honey, olive oil, lime zest, and lime juice.
The result is tender chicken breast with a slightly tart and peppery flavor, plus a lively, citrusy aroma from fresh limes. 
Bright, fresh, and fun, this Mexican-style salsa makes a wonderful addition to our cilantro lime chicken. Simply toss diced tomatoes, red onions, and corn kernels with minced garlic, chopped cilantro, salt, and lime juice for colorful bits full of flavor and textures.
We serve our chicken with hot white rice for a well-rounded meal. It's best that you buy or cook a new batch of rice for the freshest taste.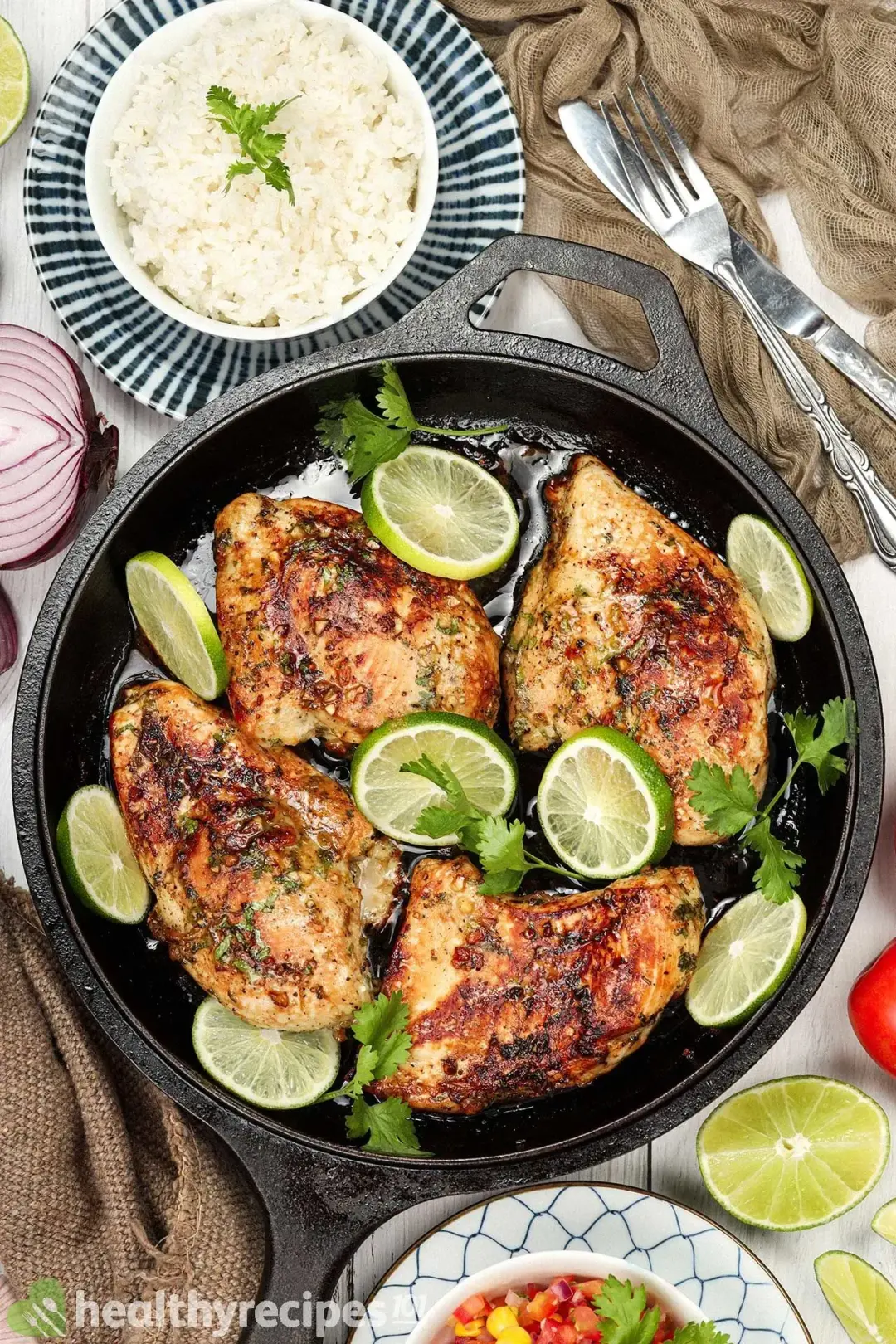 How to Store the Leftovers
Since our chicken recipe uses lime, which has acidic properties, it's best to keep the leftovers in the fridge and consume them within 24 hours for the freshest experience.
What to Serve With Cilantro Lime Chicken
Here are some recommended sides to serve with our cilantro lime chicken: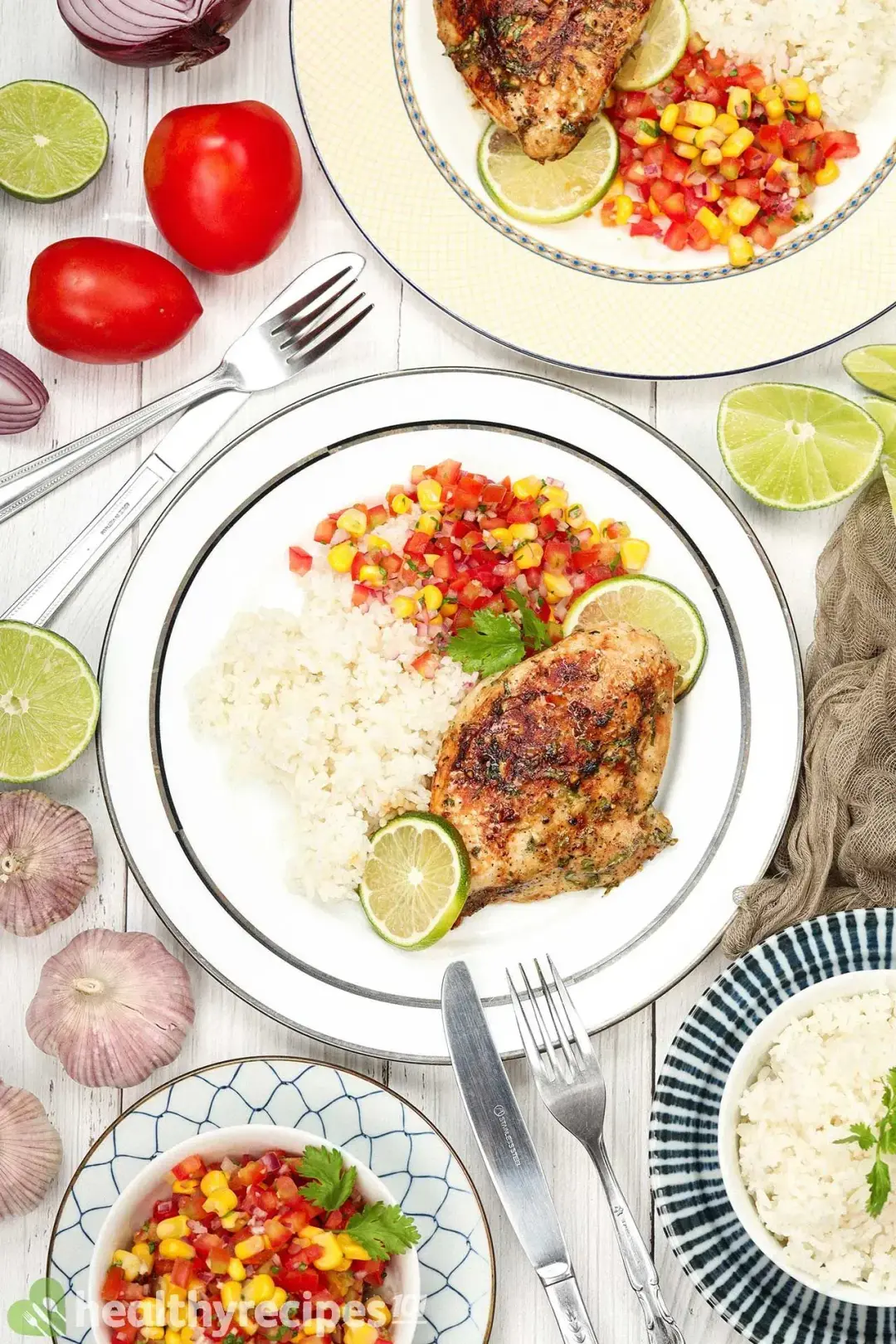 How to Make Cilantro Lime Chicken
Using simple everyday ingredients, this cilantro lime chicken recipe combines fresh limes and tenderly baked chicken breasts for a filling and flavorful meal, served over hot white rice and Pico de Gallo.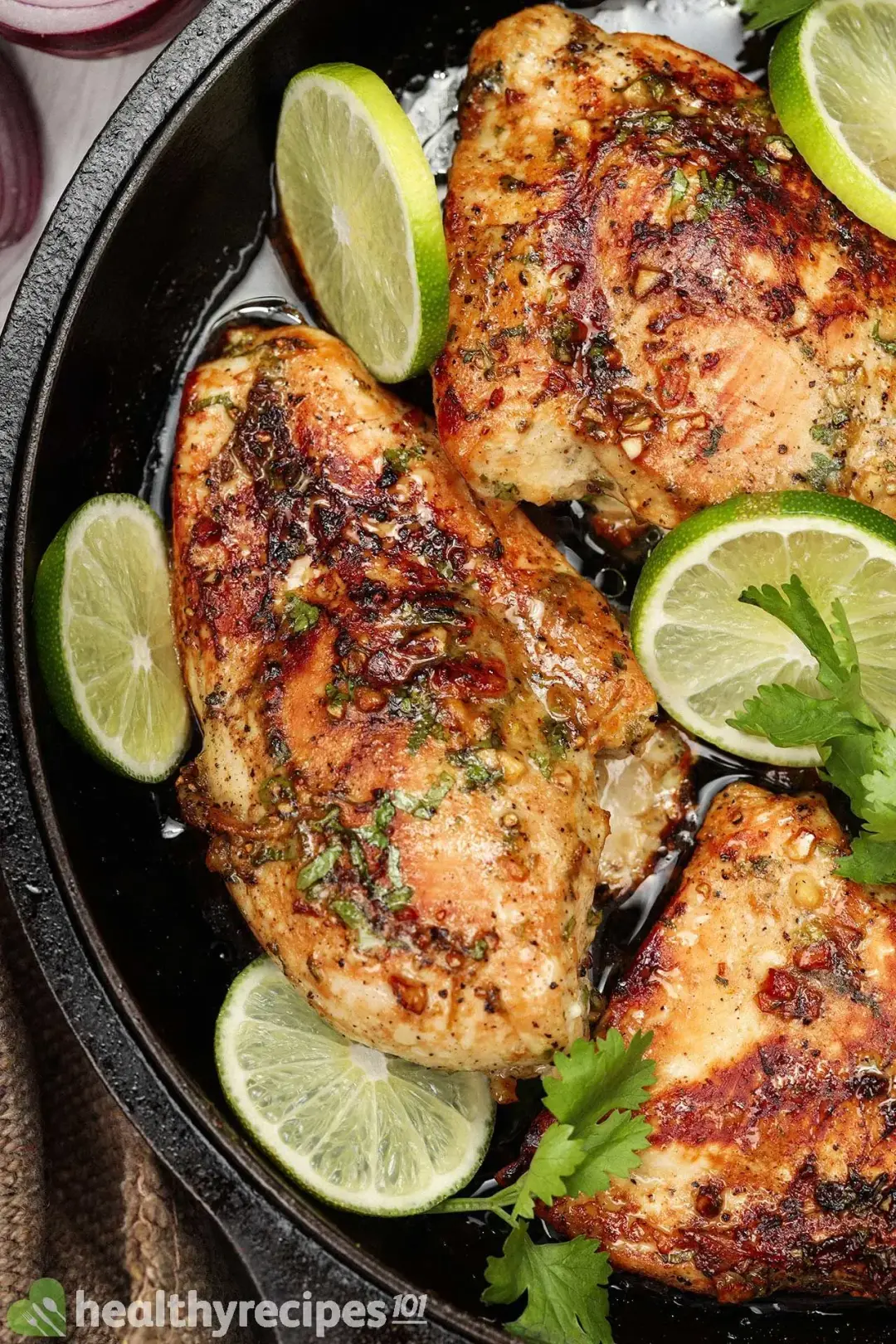 cook TIME

30 mins

prep TIME

15 mins

total TIME

45 mins
COURSE

Main Course

CUISINE

Mexican

SERVINGS

servings

CALORIES

499 kcal
INGREDIENTS
0.8 tsp

salt divided

0.5 tsp

ground black pepper

2 tbsp

garlic minced, divided

0.5 cup

cilantro chopped, divided

1 tbsp

honey

3 tbsp

olive oil divided

1 tsp

lime zest

2 tbsp

lime juice divided

6 oz

tomato diced

3 oz

corn kernels

3 cups

cooked medium-grain rice from 1 1/2 cups uncooked rice

1 oz

red onion diced

2 oz

lime slices

20 oz

skinless boneless chicken breasts butterflied
INSTRUCTIONS
Prep:
1
Butterfly the chicken breast: Place the chicken breast on a cutting board. From the long side of the chicken breast, slice the meat in half using a sawing motion, but leave about 1/4" so that the two pieces are still intact. Set it aside and repeat with the remaining pieces.
2
Cook the rice: Rinse the rice with clean water. Gently massage to remove any debris or excess starch. Change the water a few times until it becomes clear, then drain it out. After that, cook the rice using a rice cooker or an instant pot.
3
Dice the red onion: Half the onion lengthwise and peel the skin. Make vertical slices 1/8" apart from each other towards the root, but leave about 1/8" so they're still intact. Turn the half 90 degrees, and grip the root. From the bottom, make horizontal cuts 1/8" apart from each other into the onion, also leaving 1/8" to keep everything intact. Slice the onion to have even cubes.
4
Dice the tomato: Half the tomato lengthwise, slice to remove the stem, and scoop the seeds out. Cut each half into 1/4" strips, then each strip into small cubes.
5
Finely chop the cilantro.
Cook:
1
Make the chicken marinade: In a large icing bowl, add 1/2 tsp salt, 1/2 tsp ground black pepper, 1 tbsp garlic, 1/4 cup cilantro, 1 tbsp honey, 1.5 tbsp olive oil, 1 tsp lime zest, and 1 tbsp lime juice. Stir to combine.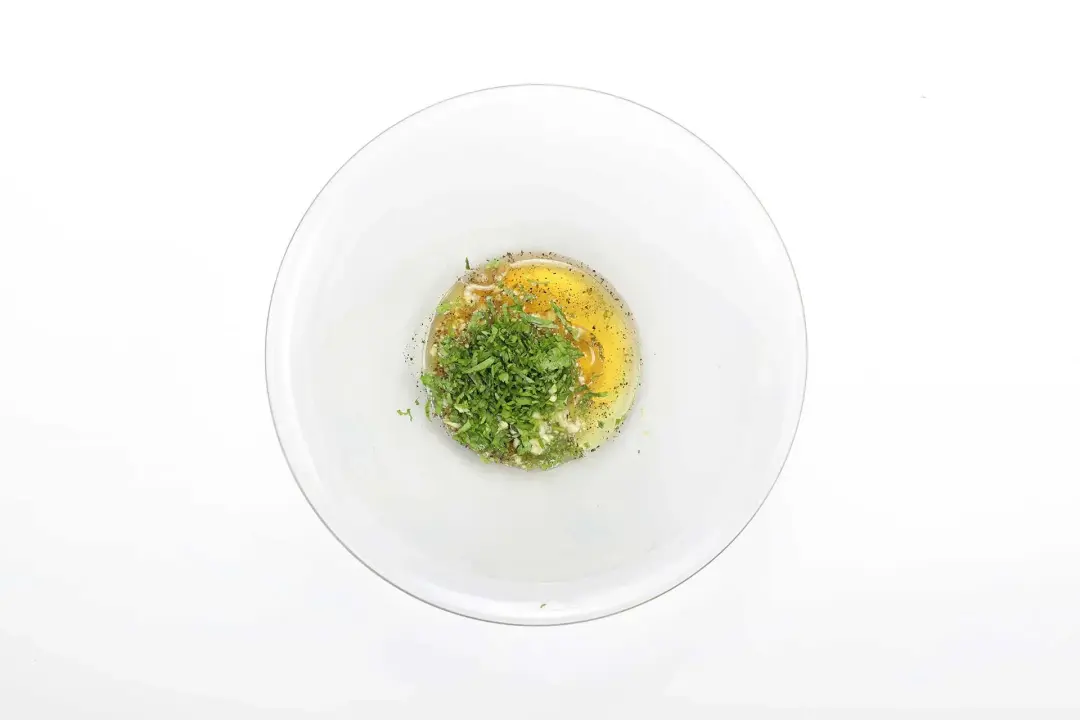 2
Marinate the chicken: Add 20 oz skinless boneless chicken breasts and toss to coat evenly. Let sit for 5 minutes.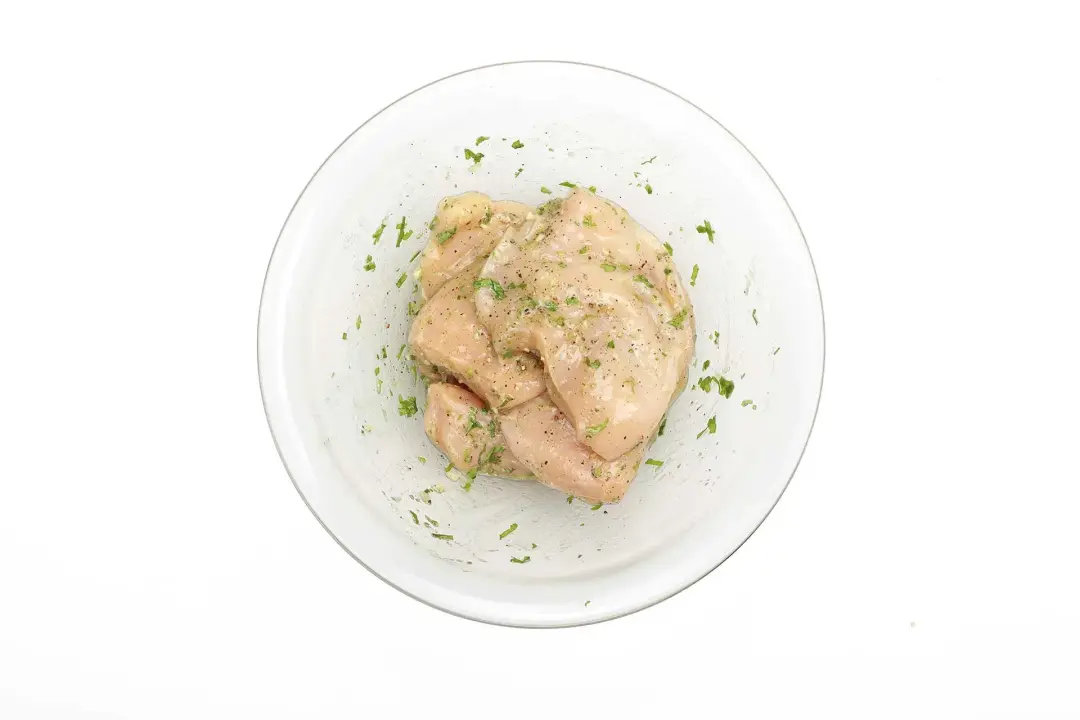 3
Make the salad: In a large mixing bowl, add 6 oz tomato, 3 oz corn kernels, 1/4 tsp salt, 1 tbsp garlic, 1/4 cup cilantro, 1 tbsp lime juice, and 1 oz red onion. Mix well.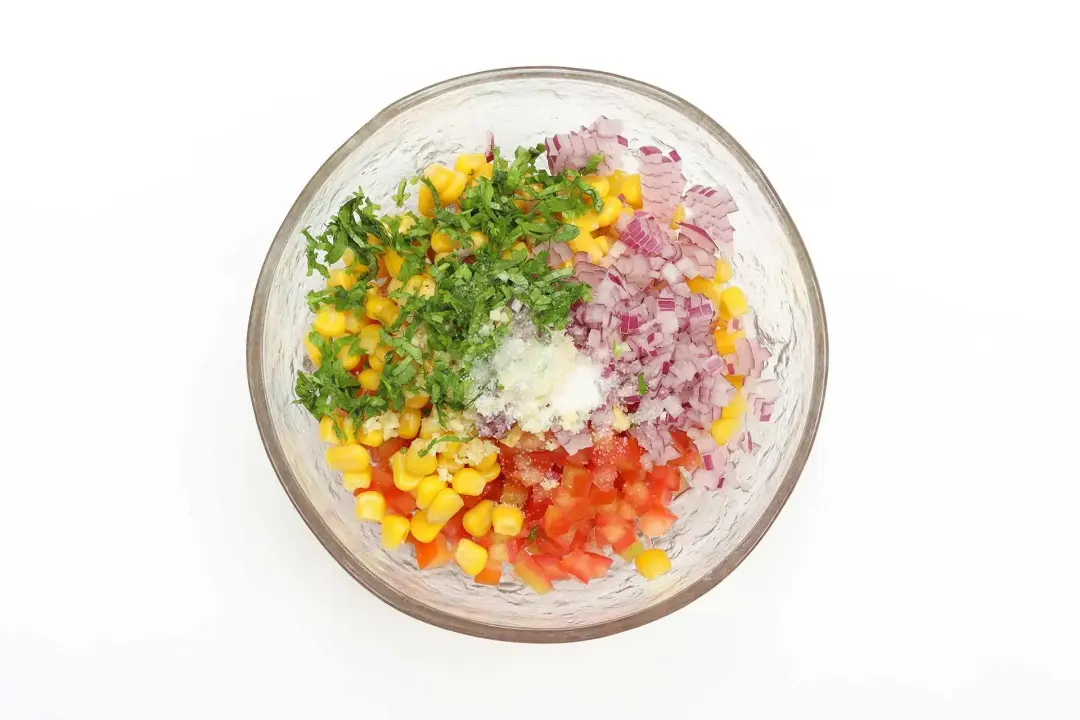 4
Pan-sear the chicken: In a skillet over medium heat, add 1.5 tbsp olive oil. When the oil is hot and ready, add the marinated chicken breasts and pan-sear both sides for a total of 5 minutes.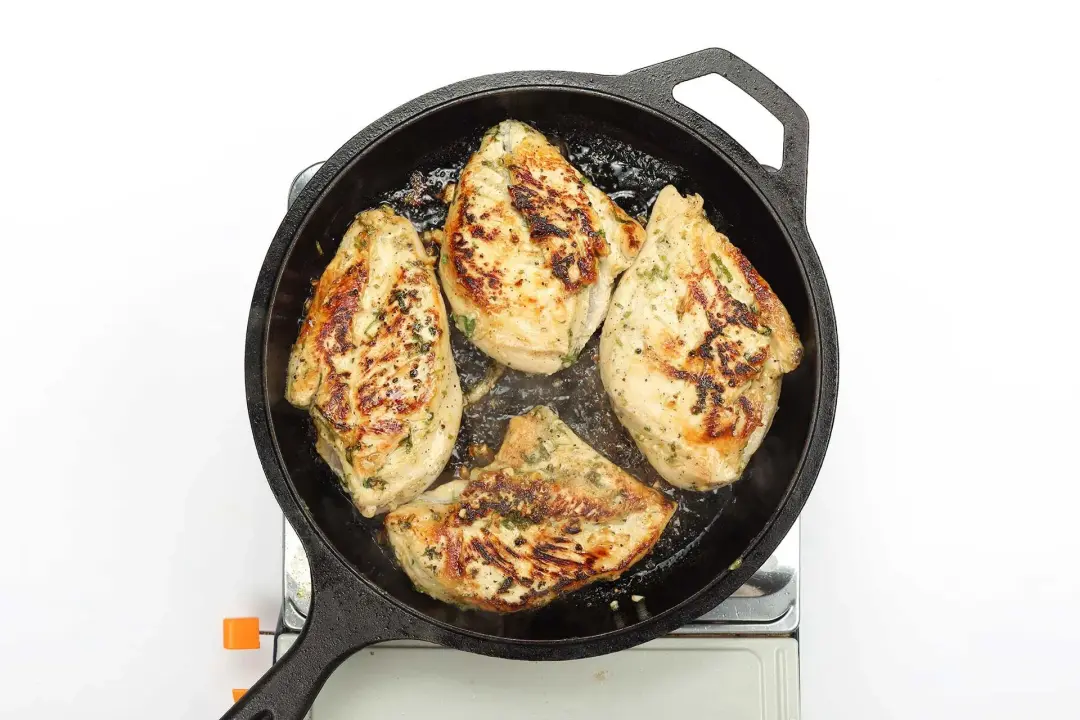 5
Bake the chicken: Place the skillet with chicken in a preheated oven and bake at 375 °F for 10 minutes.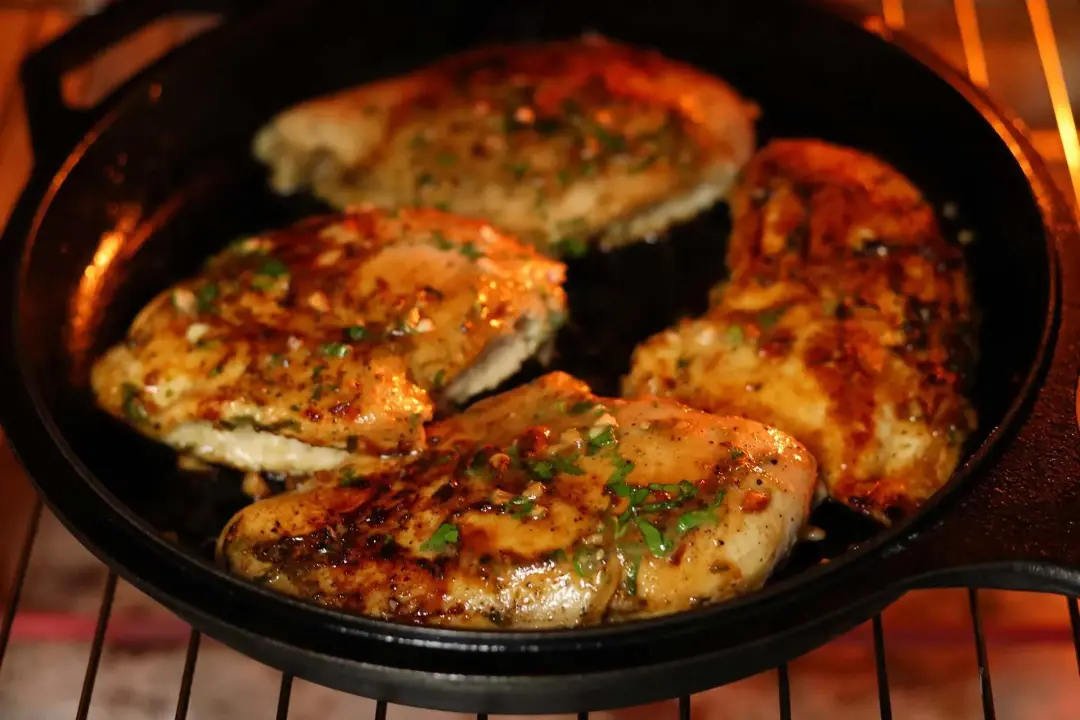 6
Garnish and serve: Garnish with lime slices and chopped cilantro on top. Serve with rice and Pico de Gallo.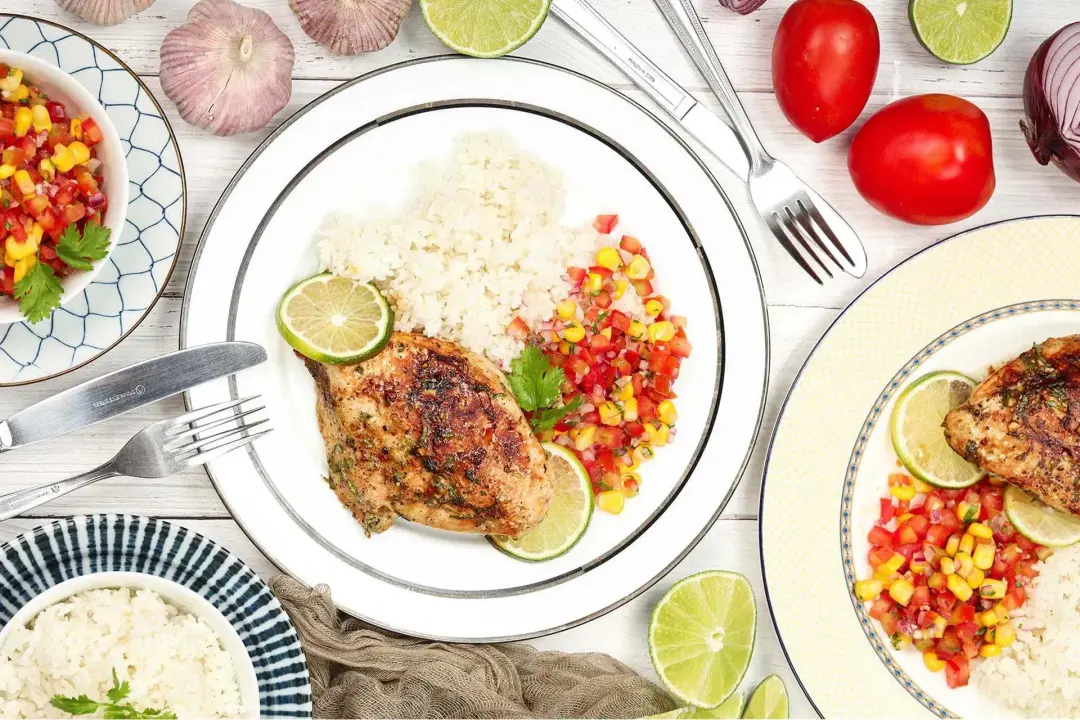 NUTRITION
Nutrition Facts
How to Make Cilantro Lime Chicken
Amount Per Serving (1 serving)
Calories 499
Calories from FDA
% Daily Value*
* Percent Daily Values are based on a 2000 calorie diet.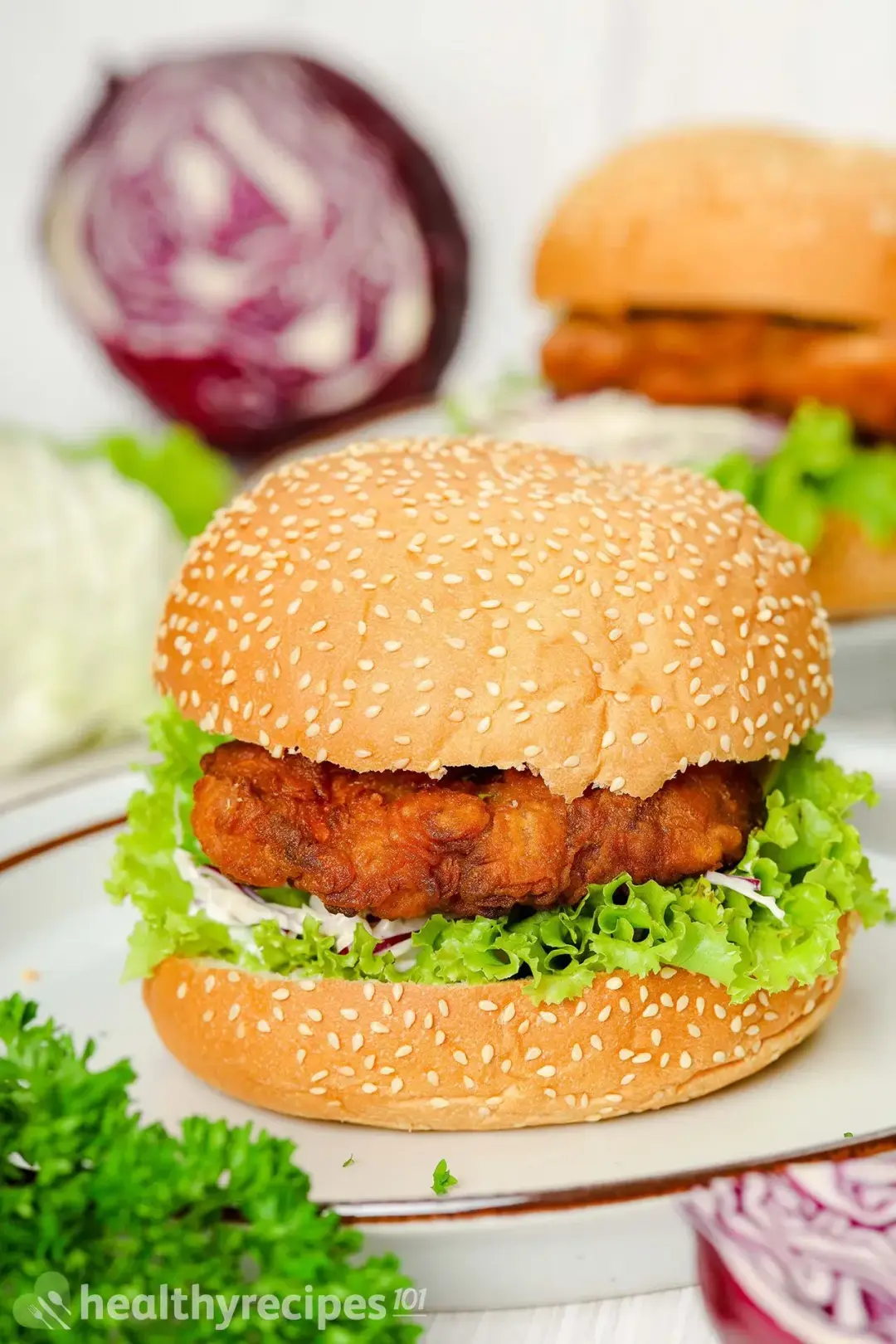 Previous Recipe
Chicken Burger
Chicken Burger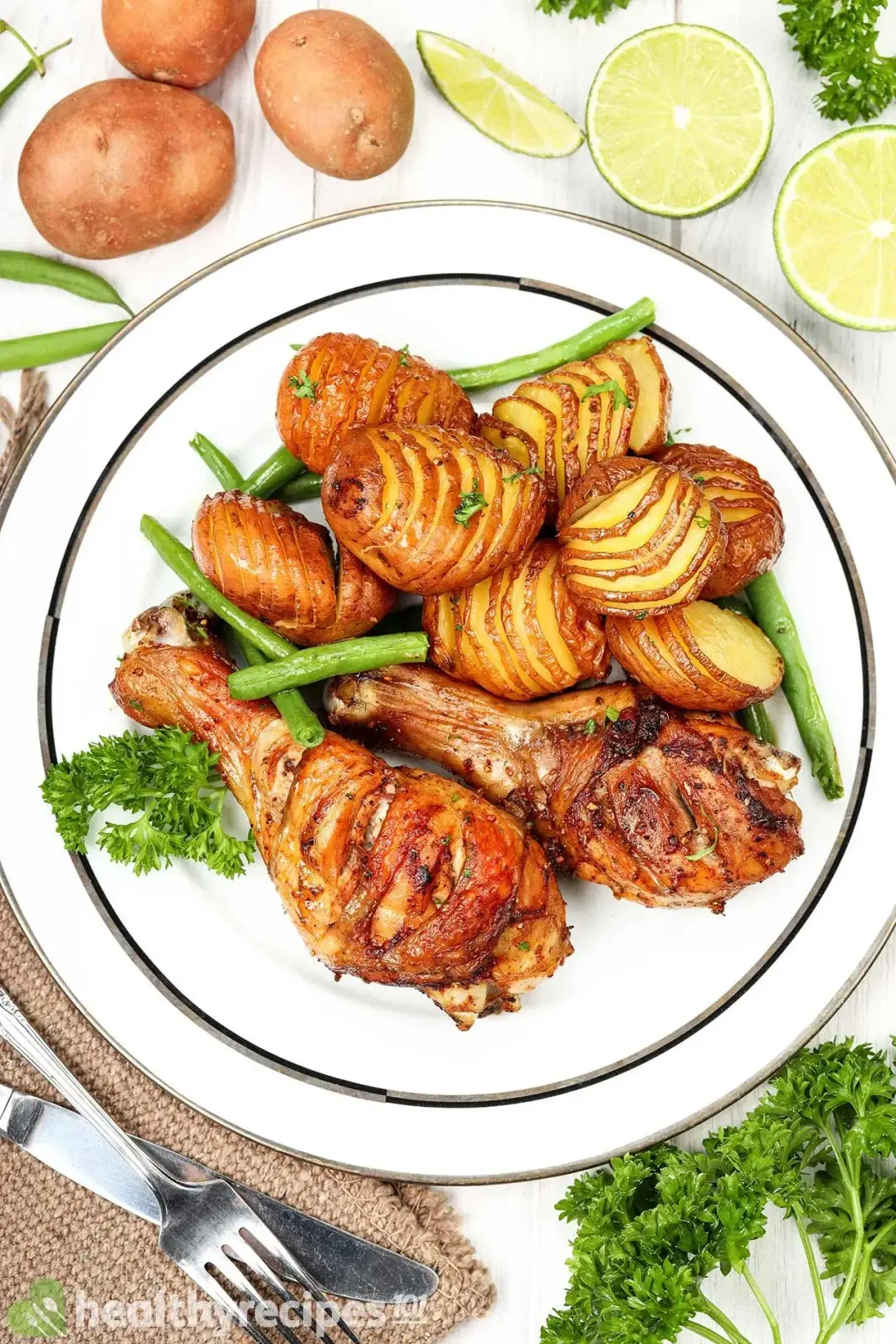 Next Recipe
Chicken And Potatoes
Chicken And Potatoes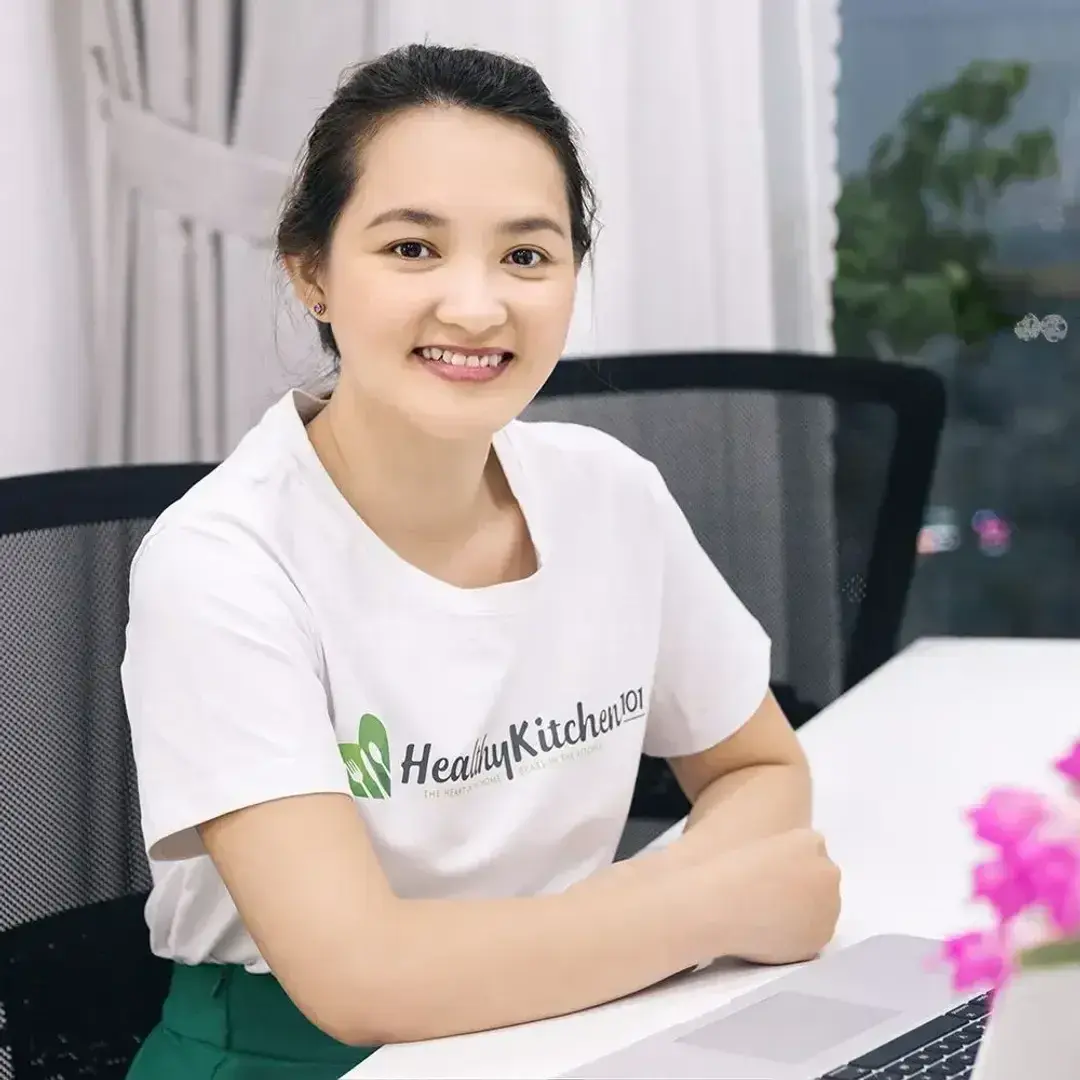 Luna Regina
Luna is the founder and chief recipe developer of Healthy Recipes 101. Apart from cooking, she also loves reading, programming, exploring the outdoors, and collecting useless facts about everything.