This chicken breast is an everyday staple, so it can be hard to think of it as something special, but this one-pan healthy stuffed chicken breast recipe will bring you a new sense of wonder around this regular dish.
In terms of method, splitting the chicken breast is a simple technique to help the chicken cook more quickly, while including a filling adds moisture to the meat. The result is tender chicken filled with a cheesy, wholesome filling that will melt in your mouth.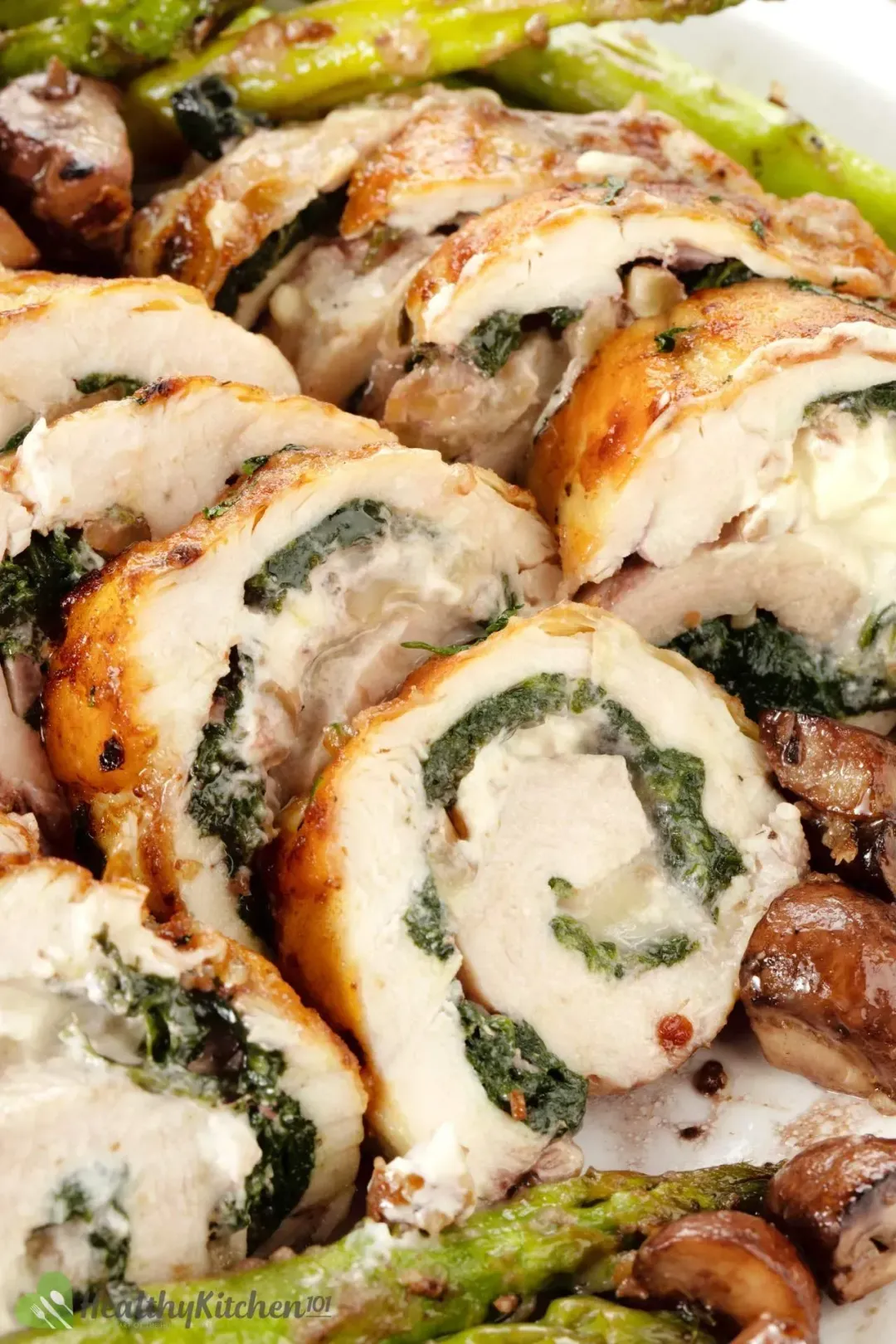 Whether you are looking for an easy stuffed chicken recipe or a restaurant-quality dish to serve your guests, this recipe is for you!
Is Stuffed Chicken Breast Healthy?
Combining fresh spinach, creamy cheese, and crunchy walnuts, this healthy stuffed chicken breast recipe has quickly become one of our all-time favorite recipes. 
The mozzarella and cream cheese add tons of flavor and smooth mouthfeel to your chicken while spinach brings a sense of freshness. Not only is this dish amazingly tasty,it also offers you tons of health benefits:
1. Chicken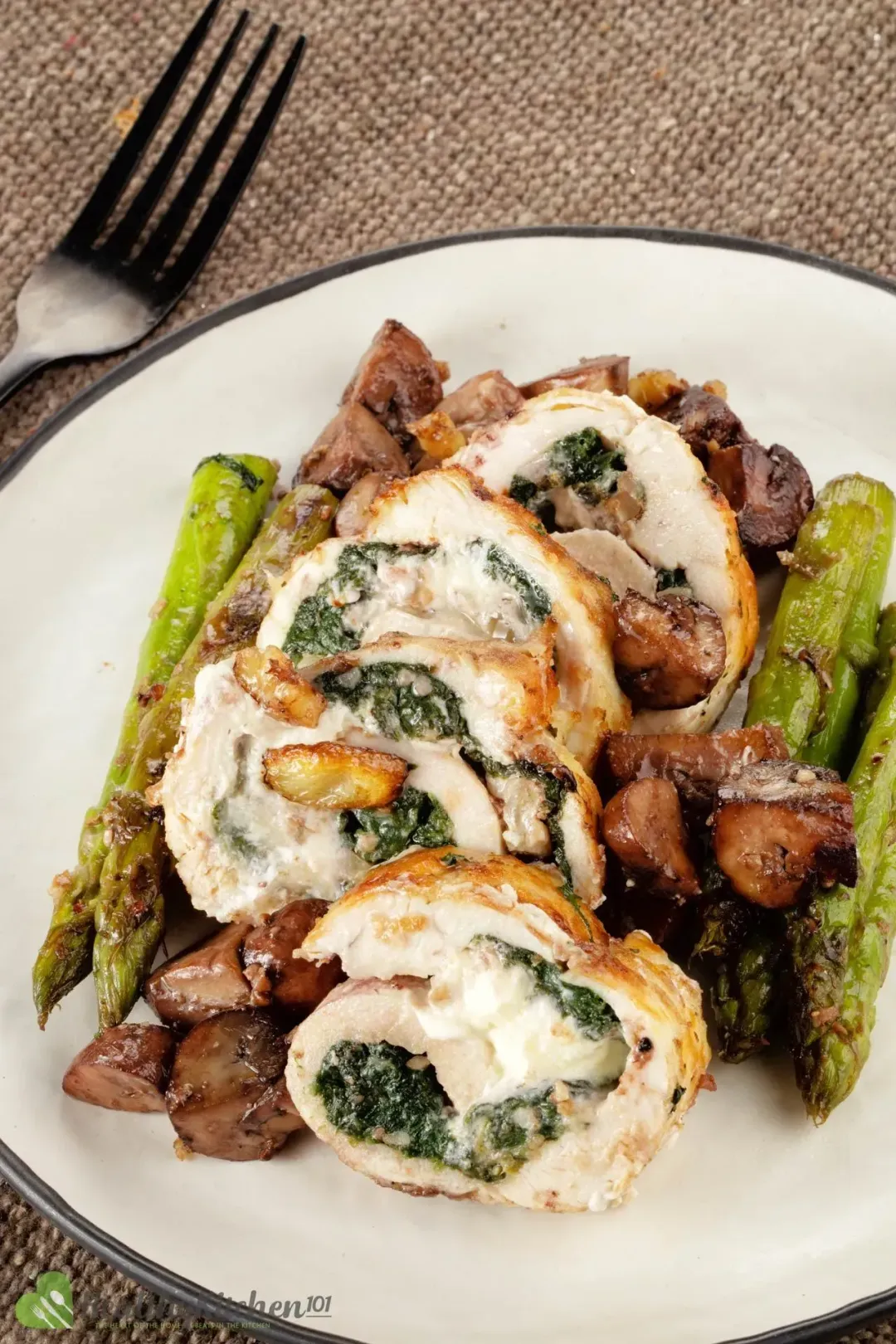 Chicken is full of essential nutrients that your body needs. A 4-oz boneless, skinless chicken breast contains 25.4 grams of protein and important micronutrients like vitamins, calcium, and zinc. 
Protein is a major component in building muscle in your body, including skeletal muscle and heart tissue. Proteins are also responsible for maintaining other structures in the body like cells and bones. 
2. Spinach
Spinach is an excellent source of iron, manganese, and vitamins A, C, and K. Iron plays a key role in the function of red blood cells which help transport oxygen from your lungs to all the organs and tissues throughout your body. 
3. Walnuts
Like other tree nuts, walnuts are considered to be a great source of polyunsaturated fat and omega-3 fatty acids. Consuming omega-3 helps to support the development and function of the brain system and maintenance of heart health.
Chicken breasts are a common dinner choice for many people. Stuffing the breast is fun and flavorful (and nutritious!) way to get rid of a boring daily meal. Splitting the breast also helps the chicken cook quickly while the filling adds more moisture and flavor to the bland meat. 
Stuffed chicken breast recipes might sound and look fancy, but not to worry, the cooking process is not that complicated. And we are here to help you.
How Long to Bake Healthy Stuffed Chicken Breast
How long and at what temperature should you bake chicken so that it can come out perfectly tender, moist, and delicious? That's the question on the mind of most home cooks before trying a stuffed chicken recipe. 
The time your chicken needs to be cooked throughout depends on how big it is. We use a 4-oz chicken breast. You can adjust the timing based on the number of breasts as well as how thick they are.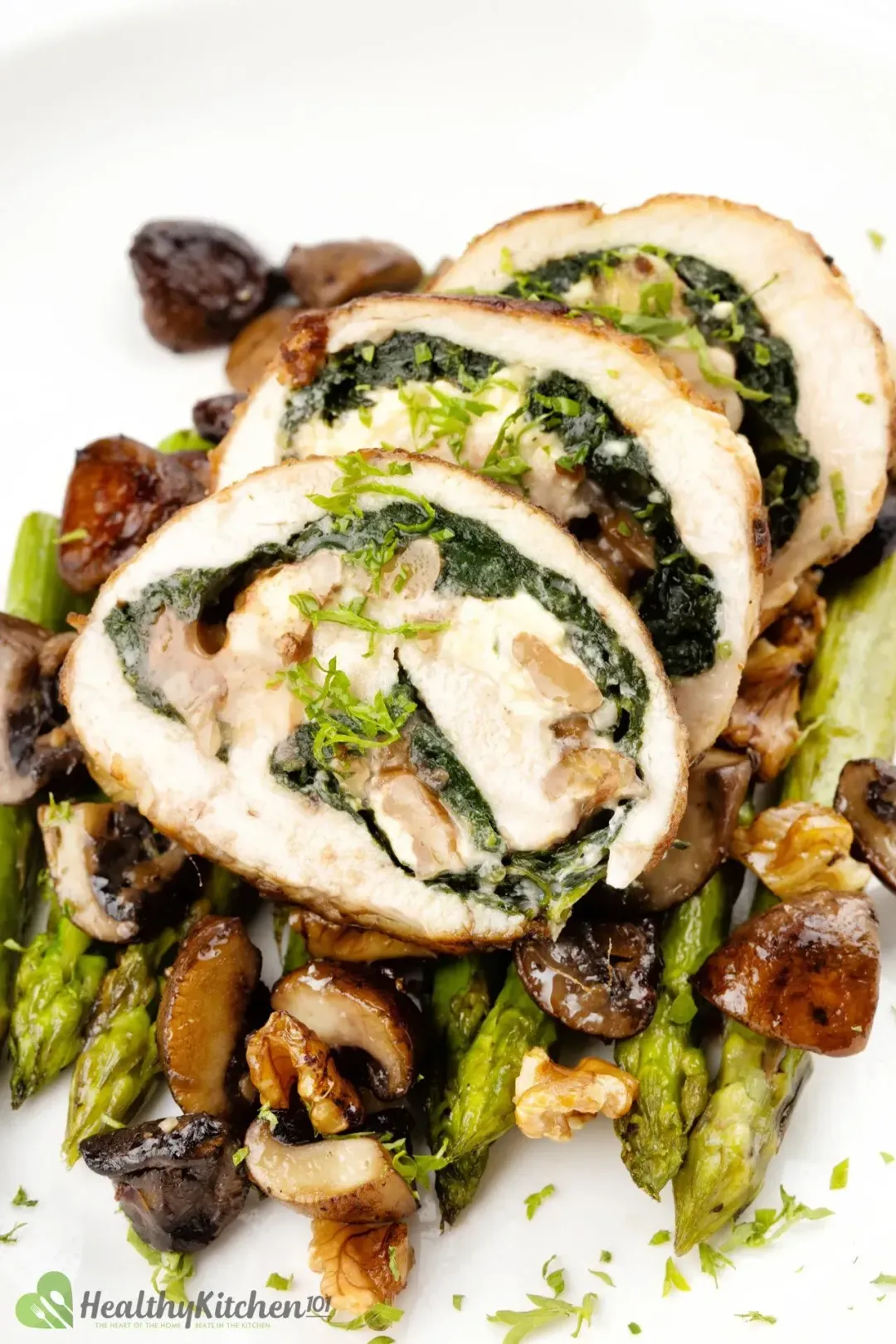 At 400°F 
It usually takes no more than 15 minutes to get your chicken fully cooked at this high temperature. 
At 375°F
Chicken breast takes about 20 minutes when baked at 375 degrees to become well cooked. Increase the time to 25 minutes if you fancy tougher chicken meat.
At 300°F
If you bake the chicken at 300 degrees, leave the chicken in the oven for at least 30 minutes or until the chicken is no longer pink.
Besides the temperature you set your oven at, there is also the internal temperature of the chicken. This temperature should be at least 165°F for safety. 
If you're worried about the chicken not being fully cooked through, simply cut into it with a knife and take a look. There should be no raw pink left in the meat and any juices should be clear.
For a quick and detailed guideline for baking chicken, visit Luna's ultimate guide of how long to bake chicken.
What Ingredients Can Be Used for Stuffing?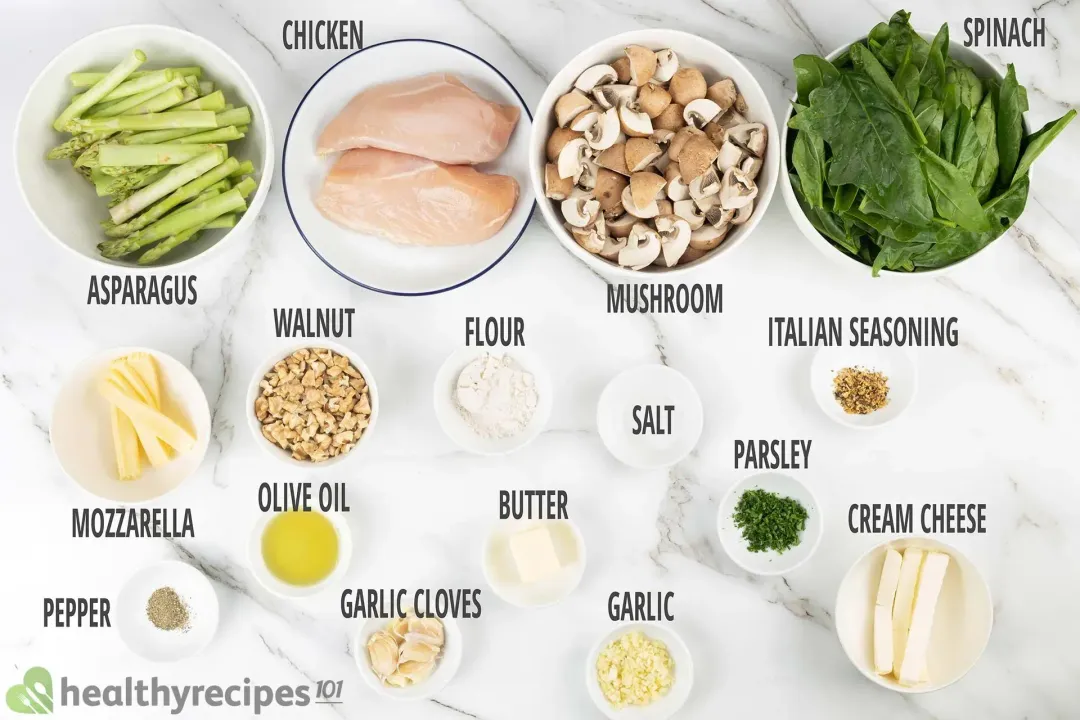 One of the best ways to play with chicken breast is to stuff it with all sorts of your favorite ingredients. There are lots of interesting combinations when it comes to the stuffing for chicken breast.
1. Asparagus
We recommend cooking with fresh vegetables, and asparagus works well in this recipe. Simply season your chicken and stuff it with a little cheese and asparagus, and then bake. A healthy dinner will be ready for you in 45 minutes!
Tender stuffed chicken filled with melty cheese and crunchy asparagus. A nice thing about cooking with fresh ingredients is that all the nutrients are well preserved and you can choose the method of cooking.
2. Broccoli
Broccoli (or cauliflower) works so well as chicken filling. You should remember that your broccoli has to be chopped into small pieces for easy stuffing and proper cooking.
If you only have frozen broccoli on hand, it's not a big problem. Thaw first before stuffing.
3. Bacon
If you're worried about dry chicken, wrapping bacon around the outside of the meat is a simple solution. The creamy cheese filling offers plenty of moisture on the inside while the bacon helps to prevent the chicken from drying out too fast in the oven. 
Bursting with cheese and bacon, a bacon stuffed chicken breast recipe can easily become your new favorite healthy stuffed chicken breast recipe. 
4. Mushrooms
You can use any type of mushroom for stuffed chicken. We choose cremini for a rich and earthy flavor. 
A key tip here is that you should simmer all the excess water from the mushrooms before you add them. If not, your dish may end up with a watery stuffing. 
5. Walnuts
The nutty flavor from walnuts lifts your regular stuffed chicken breast recipe into something special. You can also substitute walnuts for pecans or other tree nuts. 
Additionally, this will add more nutritional value to your stuffed chicken breast. Enjoy!
Which Cheese Should Be Used for Stuffed Chicken Breast Recipe?
Chicken breasts are usually too dry if they are cooked or baked too long in the oven. Moisture is essential to preserve the natural flavor of this tasty meat. 
For this healthy stuffed chicken breast recipe particularly, we suggest these kinds of cheese:
1. Mozzarella
Shredded mozzarella cheese has low-moisture content. When melting, it doesn't completely liquify but keeps well in a stuffed mixture. 
2. Parmesan
Good-quality parmesan cheese is categorized as good smooth melting cheese. The combination of parmesan with higher moisture cheese like ricotta is quite common in lasagna or stuffed shells as it adds more intense cheese flavor when mixed with more mild cheese.
3. Ricotta
Ricotta is a type of cheese that can be heated without melting. It is a nice choice for stuffed ravioli and cheesecake. We are more than happy to use ricotta in this recipe; it brings in a nice creamy texture for the filling. 
4. Cream cheese
Slightly salty and pleasantly tangy, who can resist this soft creamy "cloud"?
For more healthy chicken recipes perfect for weeknight dinners, visit our healthy baked chicken recipe collection and start pinning your favorites. Happy cooking!
What to Serve With This Healthy Stuffed Chicken Breast Recipe
Nutrients aside, these breasts are quite a tasty treat (how can they not be with chicken and cheese?!). Smoking hot sliced chicken slices give off an aroma that promises a high-end gourmet experience.
Wondering what to serve with this beautiful stuffed chicken breast recipe? You can try some grains like rice or quinoa. They also pair well with salad and pasta. 
We suggest serving it with home fries on the side. Here are the nutrition facts for the whole meal: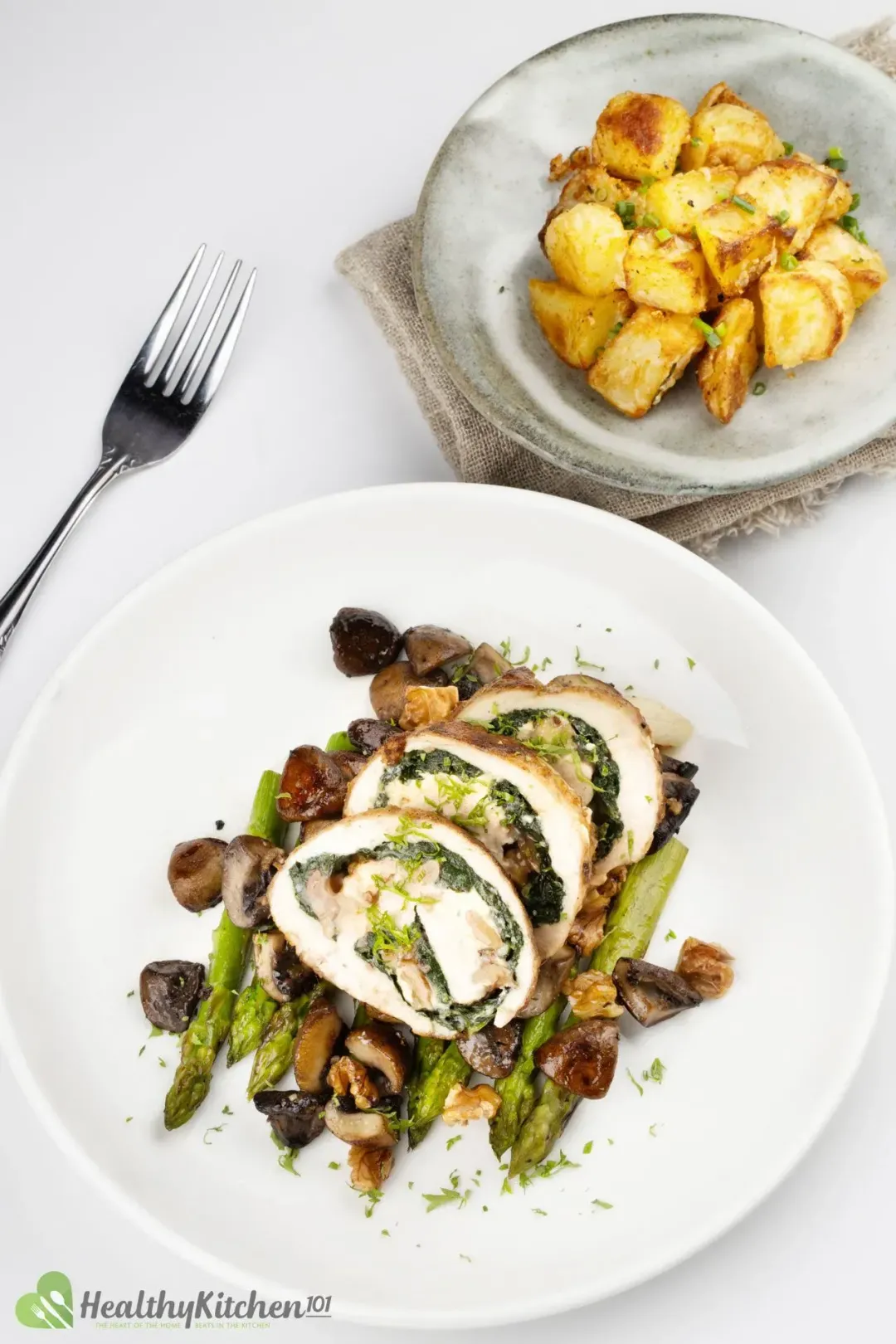 You may want to switch things up with this popcorn chicken. It comes in these bite-sized pieces that are crispy on the outside and moist on the inside, perfect for any dipping sauce.
We also have another crispy chicken with a savory, tantalizing sauce for you: chicken katsu. You can eat it alone if you wish, or as our recipe has shown, serve it with rice and a side salad for a full meal.
Healthy Stuffed Chicken Breast
Easy to make, yet hearty and fulfilling, these healthy spinach stuffed chicken breasts recipe deserve a place on your list of foods to serve when there are guests over, or at a special family party.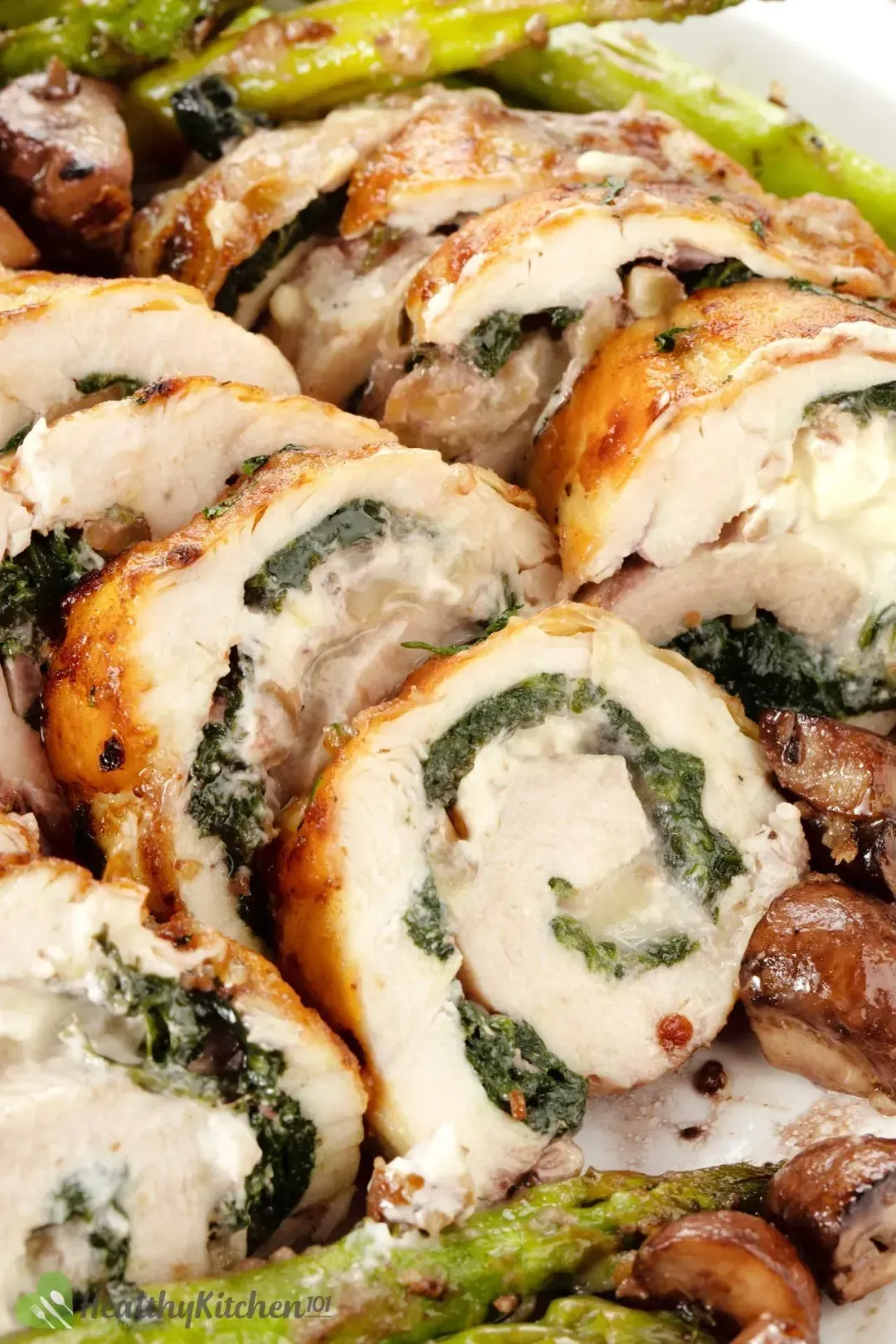 cook TIME

25 mins

prep TIME

15 mins

total TIME

40 mins
COURSE

Main Course

CUISINE

American

SERVINGS

CALORIES

489 kcal
INGREDIENTS
12 oz

skinless boneless chicken breast
INSTRUCTIONS
1
Preheat the oven to 375°F.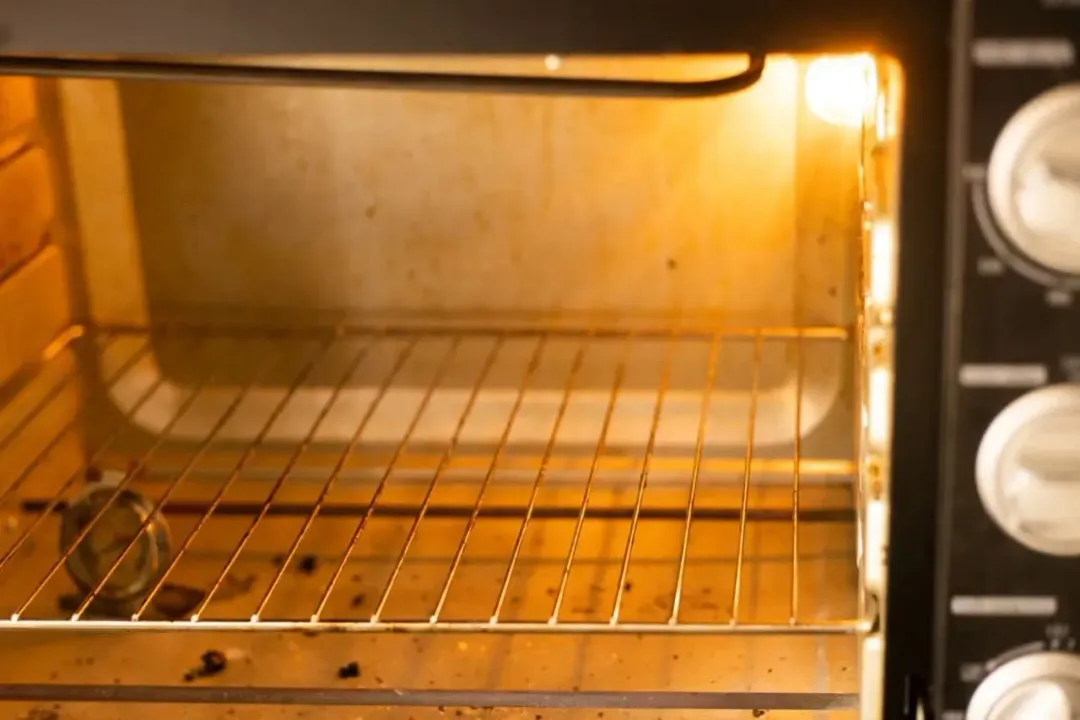 2
Use a sharp knife to cut the side of the chicken breast to split it. Season both sides of 12 oz chicken with 1/4 tsp of salt, 1/8 tsp of pepper, and 1/2 tsp of Italian seasoning. Set aside.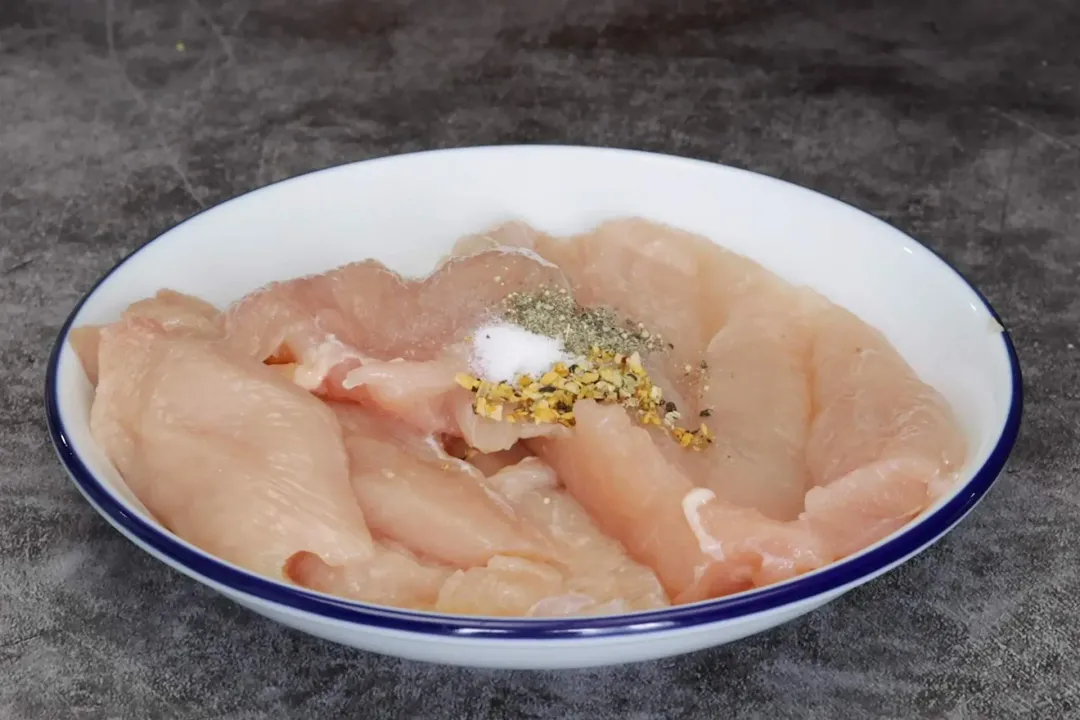 3
Place 6 oz spinach in a non-stick pan over medium heat. Add 1/2 tsp of olive oil and 1 tbsp garlic. Stir-fry until wilted. Press spinach in a sieve to extract all of the excess juice from it.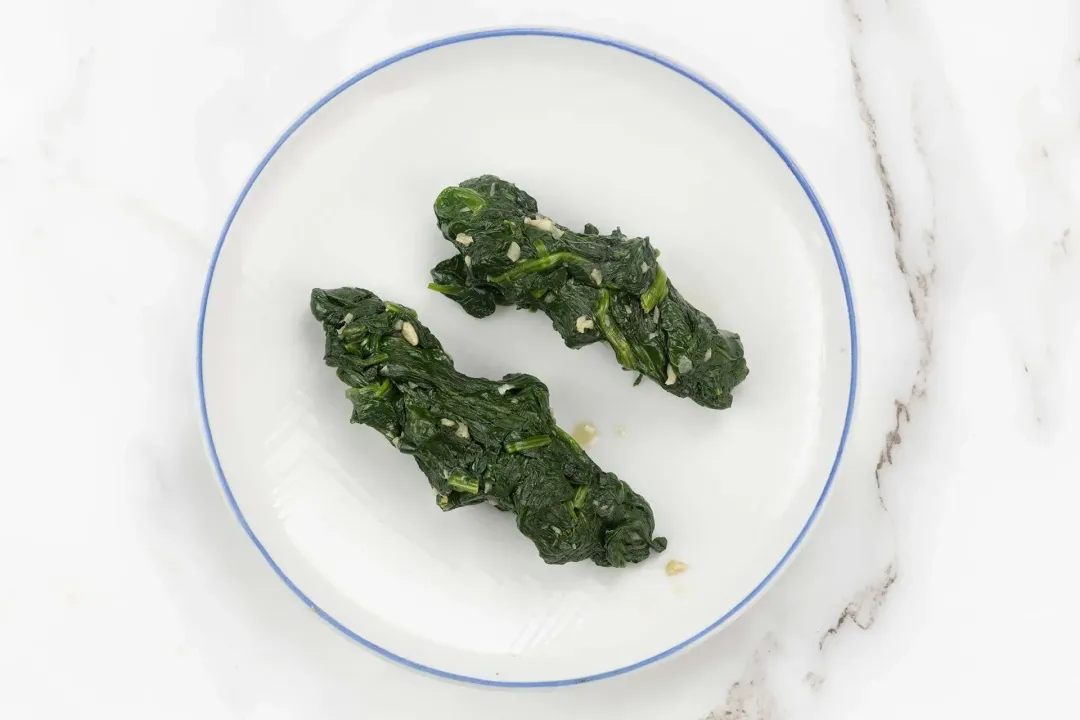 4
Place spinach onto the chicken breast. Then spread 2 oz cream cheese, 1.5 oz mozzarella and 1 oz walnuts in an even thin layer on top of the spinach. Roll up chicken from a short side. Use toothpicks to secure the stuffing inside.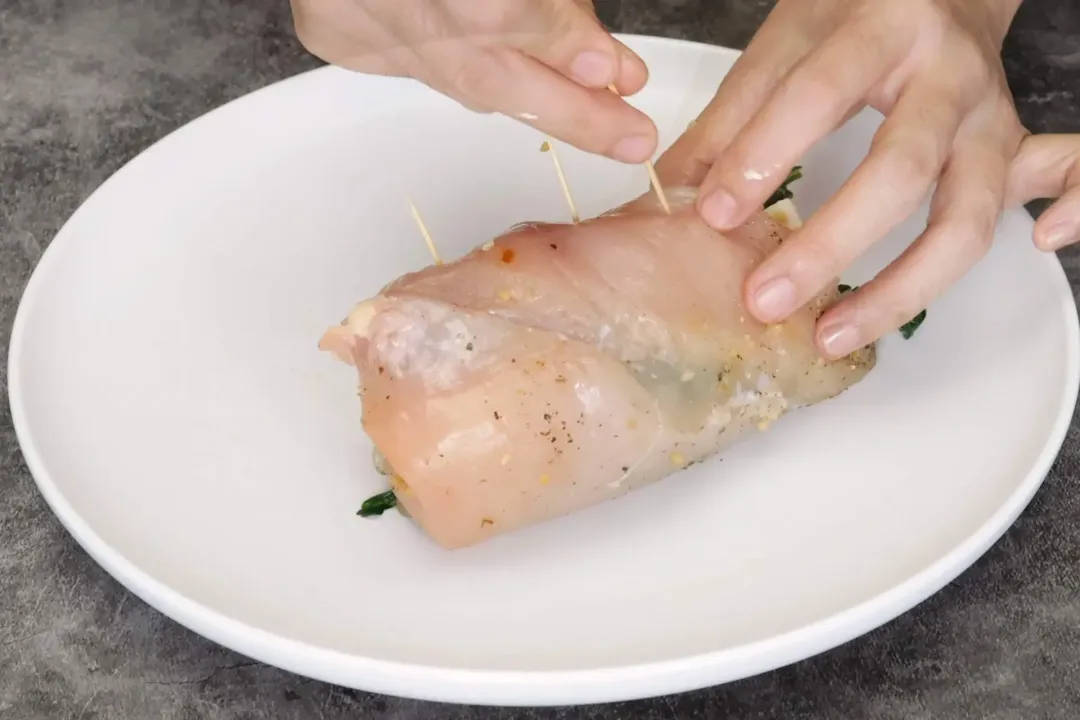 5
Roll the chicken through a shallow plate of flour.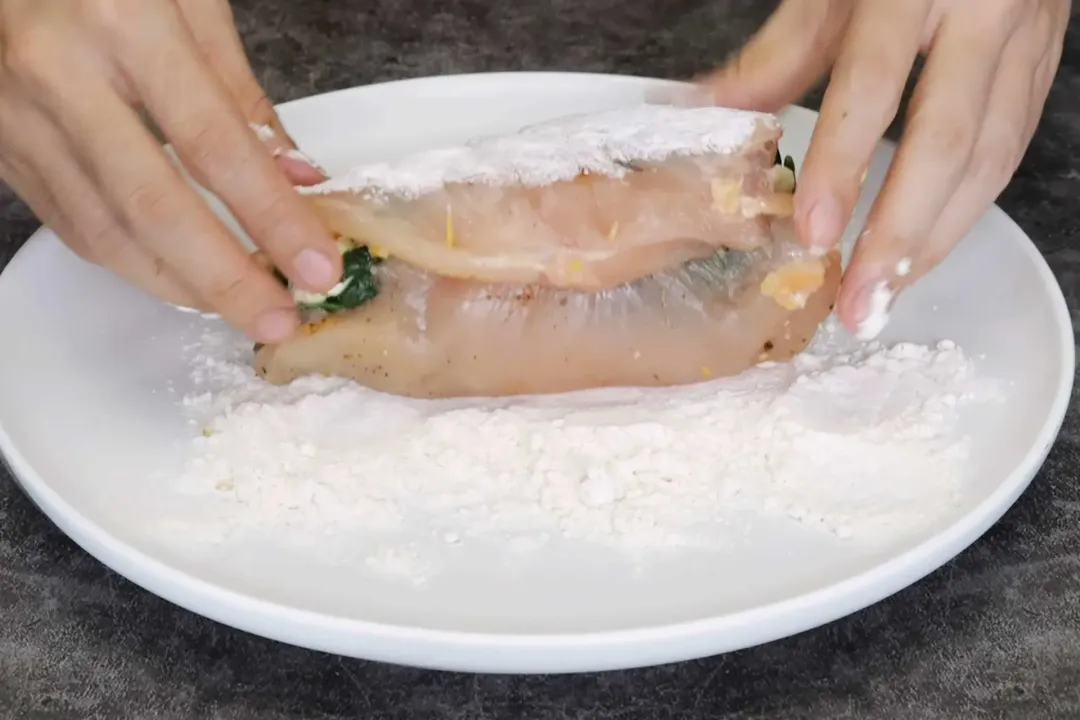 6
Heat a cast-iron pan on medium heat. Add 1 1/2 tbsp of olive oil and 1 tbsp of butter. Sear the chicken with 5 garlic cloves for about 3-4 minutes per side or until golden brown. Set aside.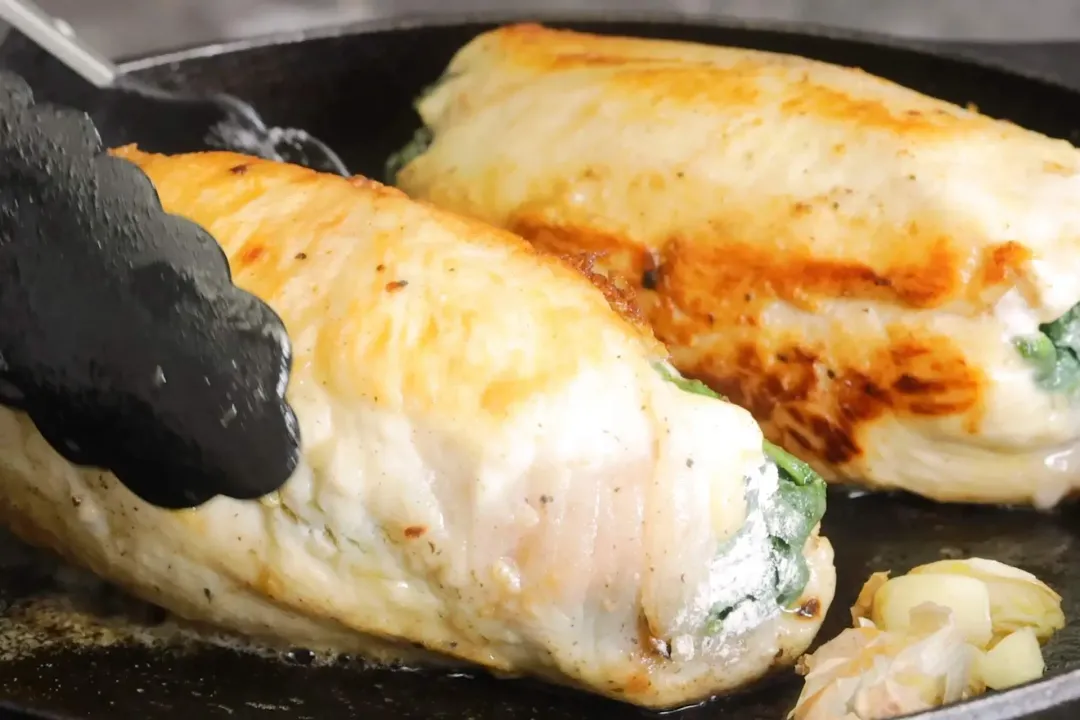 7
Stir fry 14 oz mushrooms and 12 oz asparagus with 1 tbsp of butter in the same pan on medium heat for about 5 minutes. Season with the remaining 1/4 tsp salt, 1.5 oz walnut, 1/8 tsp pepper, and 1/2 tsp Italian seasoning. Then combine chicken and vegetables in the same pan, bake in the oven for 15 minutes.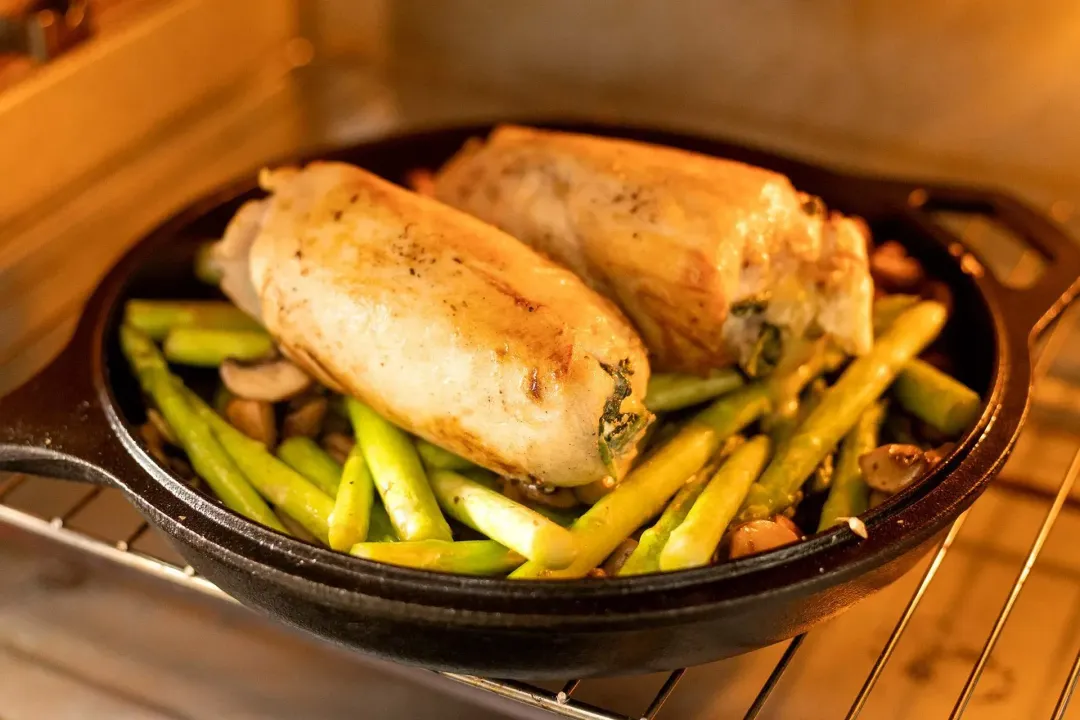 8
Remove chicken from the oven and let it stand for 5 minutes, discard toothpicks. Top with 1 tbsp parsley. Serve chicken sliced, with vegetables.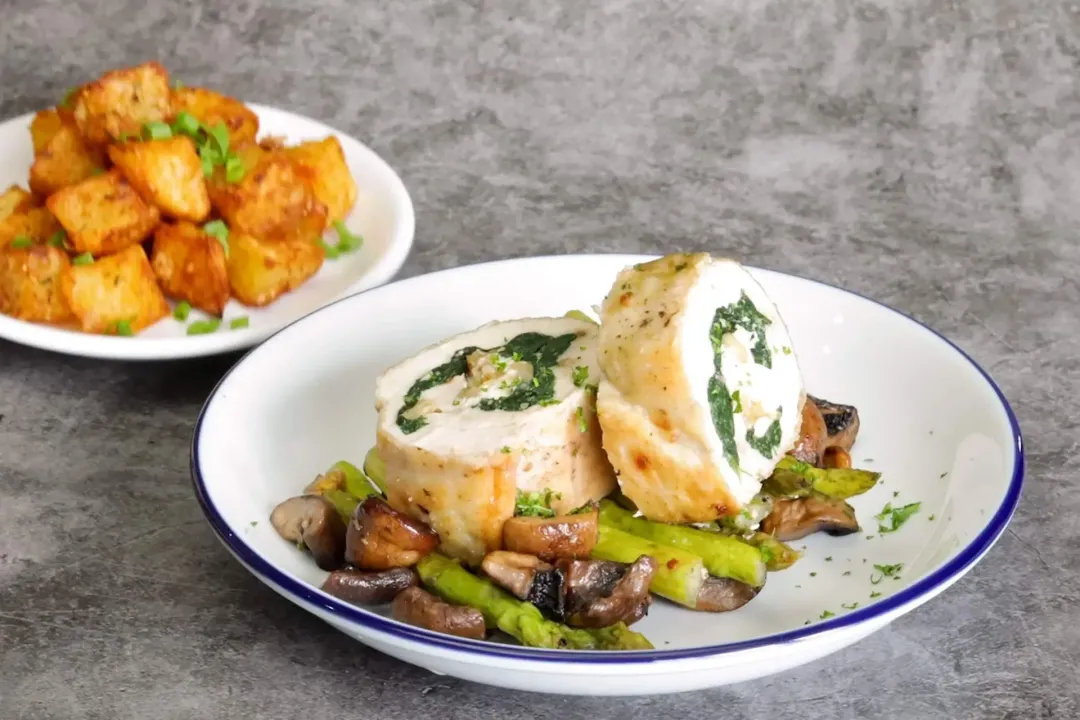 NUTRITION
Nutrition Facts
Healthy Stuffed Chicken Breast
Amount Per Serving (1 serving)
Calories 489
Calories from Fat 306
% Daily Value*
* Percent Daily Values are based on a 2000 calorie diet.
Keywords: Chicken Breast, spinach stuffed chicken, stuffed chicken, stuffed chicken breast, stuffed chicken breast recipe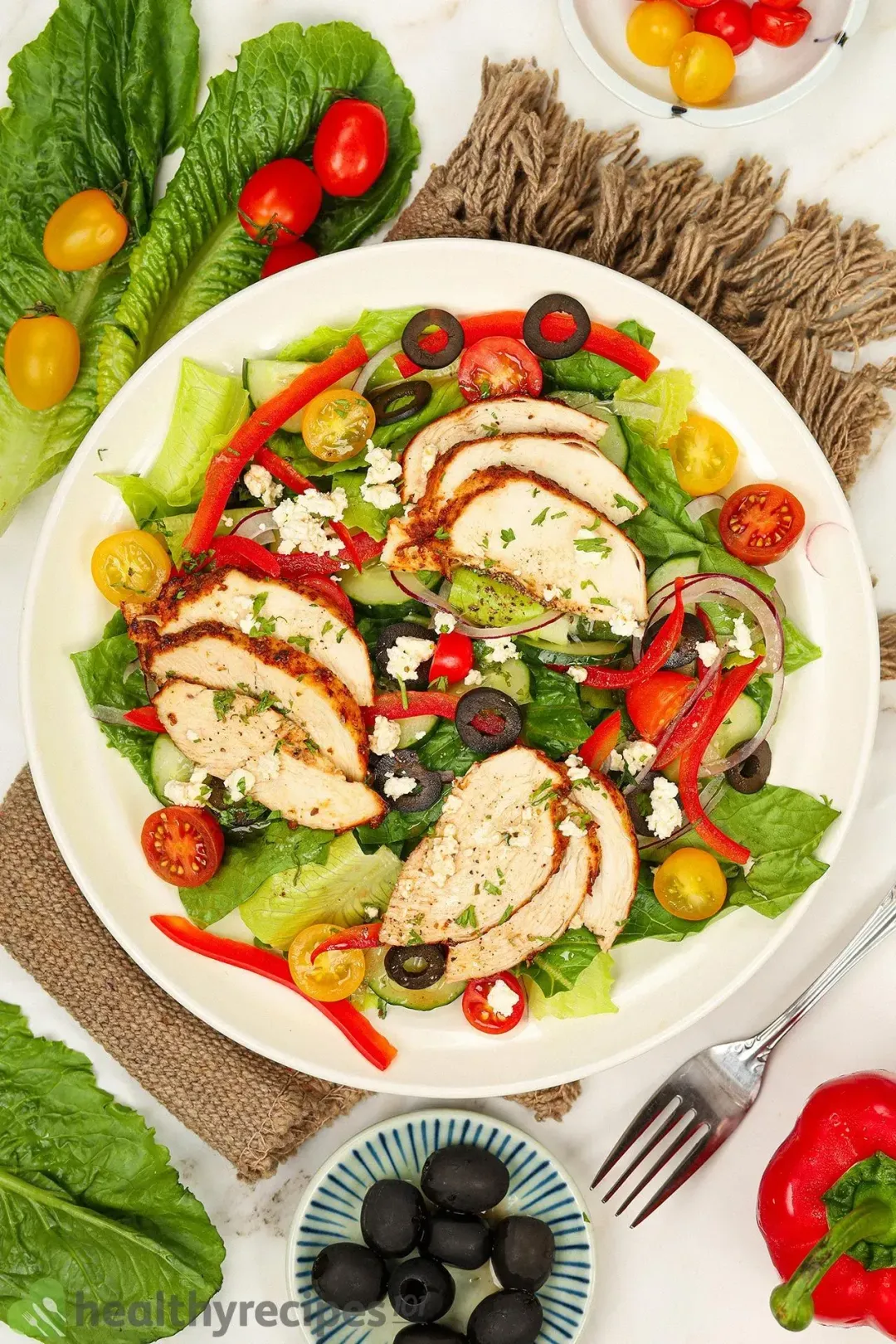 Next Recipe
Greek Chicken Salad
Greek Chicken Salad
Head Chef, Culinary Consultant
Tuyet Pham is an award-winning Saigonese chef who believes that joy is the secret ingredient to delicious food. At Healthy Recipes 101, Tuyet personally tests and simplifies every recipe, ensuring maximum flavor with minimal effort. With a background at prestigious French restaurants P'TI Saigon and Le Corto, Tuyet knows how to make every dish exceptional.
Writer, Author
Luna Regina is an accomplished writer and author who dedicates her career to empowering home cooks and making cooking effortless for everyone. She is the founder of HealthyKitchen101.com and HealthyRecipes101.com, where she works with her team to develop easy, nutritious recipes and help aspiring cooks choose the right kitchen appliances.
Nutrition Reviewer
Lizzie Streit is a Minneapolis-based dietitian and founder of It's a Veg World After All. She completed her MS in Human Nutrition from Drexel University, and is an expert in culinary nutrition, recipe development, and nutrition communications. Lizzie's philosophy is centered around making nutrition recommendations, and especially the advice to eat more vegetables, approachable and realistic. She is excited to be working with the team at Healthy Recipes 101 to ensure that their recipes are both nutritious and delicious.
Oooh, that spinach filling sounds wonderful! I love stuffed chicken breasts–easy and elegant!

Looks good, can you leave the mayo out? I don't use a lot of Mayo and would hate wasting money on it if I don't use it a lot, thanks. I'll save this recipe for a future recipe.

Hi Stephanie, I guess it's ok to not use the mayo but the texture will be a bit thicker without it. Let me know how it turns out for you, I'd love to know!

can you stuff it with Cilantro?

Yes sure do, Ronald. You can totally substitute spinach with any other greens you love, still with the same cooking process as above. But then you would have to call it Cilantro Stuffed Chicken instead hehe 😛