Tangy, spicy, and seriously herbaceous, this chili lime shrimp recipe might just be your new healthy obsession.
Chili Lime Shrimp — Quick and Full of Flavor
With so much work to do and very little time on our hands, we probably have one thing in common: a liking for quick, easy meals. Those that come together in just one pan are even better — easy to make loads of, easier to clean.
Today, we're sharing just that kind of fool-proof, hassle-free recipe but with a healthy addition: chili lime shrimp. Loaded with spice and cooked just so in butter and garlic goodness, these tangy and spicy shrimp are great over cooked rice or tossed with angel hair. It's also filled with the fresh aroma of cilantro, which pairs perfectly well with the buttery garlicky sauce.
Even better, you can add as much lime juice or chili powder as you want, tailoring the experience to your preference.
It's Also a Healthy Treat.
Healthy eating, according to the USDA, involves the gaining of sufficient micronutrients while setting out certain dietary limits. This recipe may not be packed with tons of veggies, but it is still a healthy dish with a moderate nutritional profile.
In particular, it contains 476 calories, 4.6 g saturated fats, and 564.7 mg sodium within each serving. These are the aspects we want to regulate when formulating main dishes, and these numbers are within the upper limits.
At Healthy Recipes 101, we like to pair dishes to make meals that are both delicious and nutrient -rich. This shrimp and rice dish is paired with an avocado salad and orange juice, providing plenty of vitamin C, among many more nutrients in various amounts.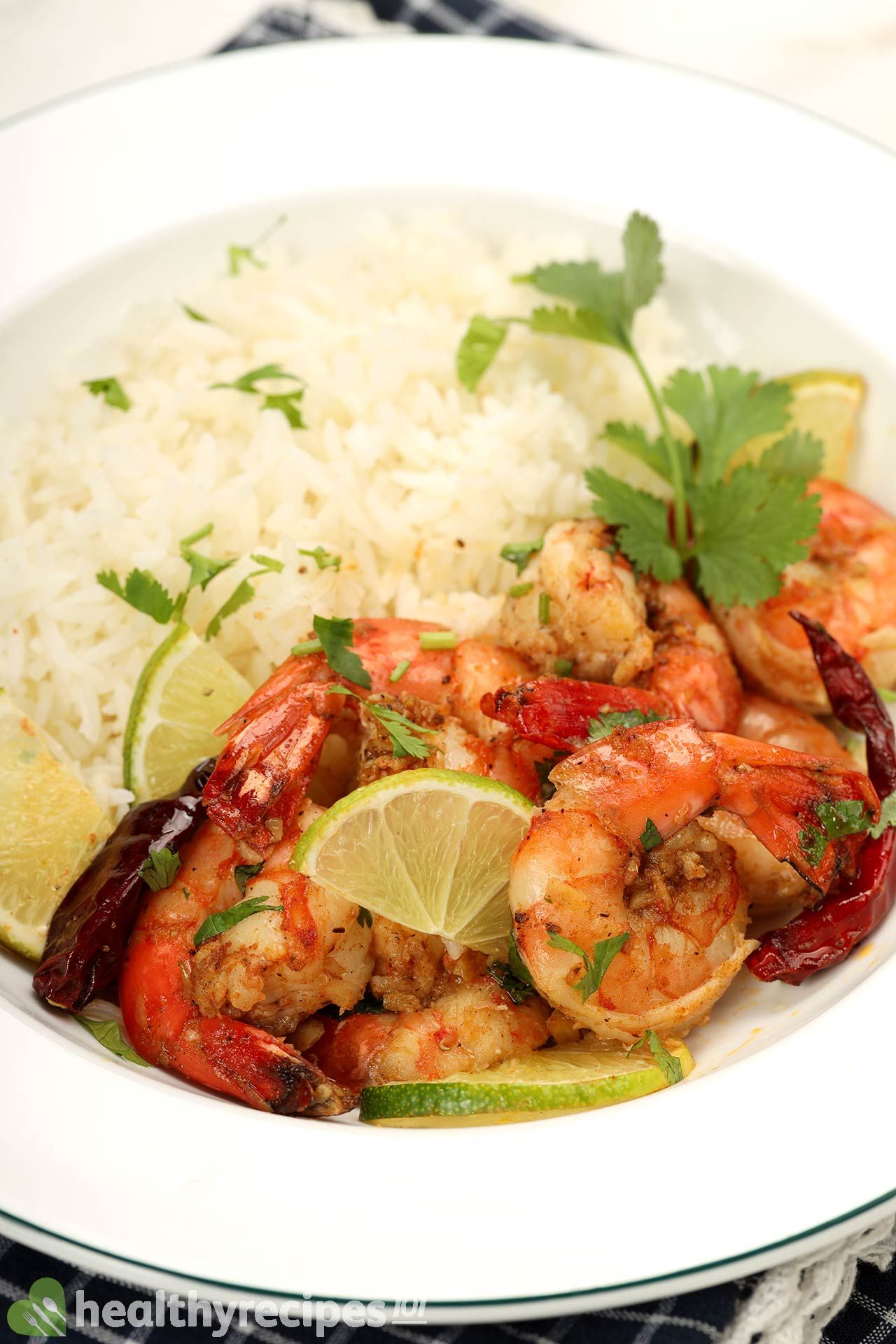 The Ingredients Are Very Basic.
There are peeled shrimp, limes, garlic, butter, spices, lots of cilantro, and of course, cooked rice:
If convenience is your top priority, add frozen shrimp to your shopping list. Unlike fresh shrimp, they come already peeled and deveined and don't need to be thawed prior, either. Fresh shrimp, however, will work just as well — we list both the measurements for whole shrimp and peeled shrimp in the recipe card.
Limes and shrimp are the perfect pair — some people even eat boiled shrimp with a lime juice, salt, and pepper dip. Make sure to buy plenty of limes as you'll also need some slices for decoration.
Besides the garlic and butter, you'll need some hot spices like cayenne or red chili powder. We also use paprika, but for its red shade rather than its heat. Cajun also complements the shrimp nicely. Finally, some cumin to complete the flavor profile.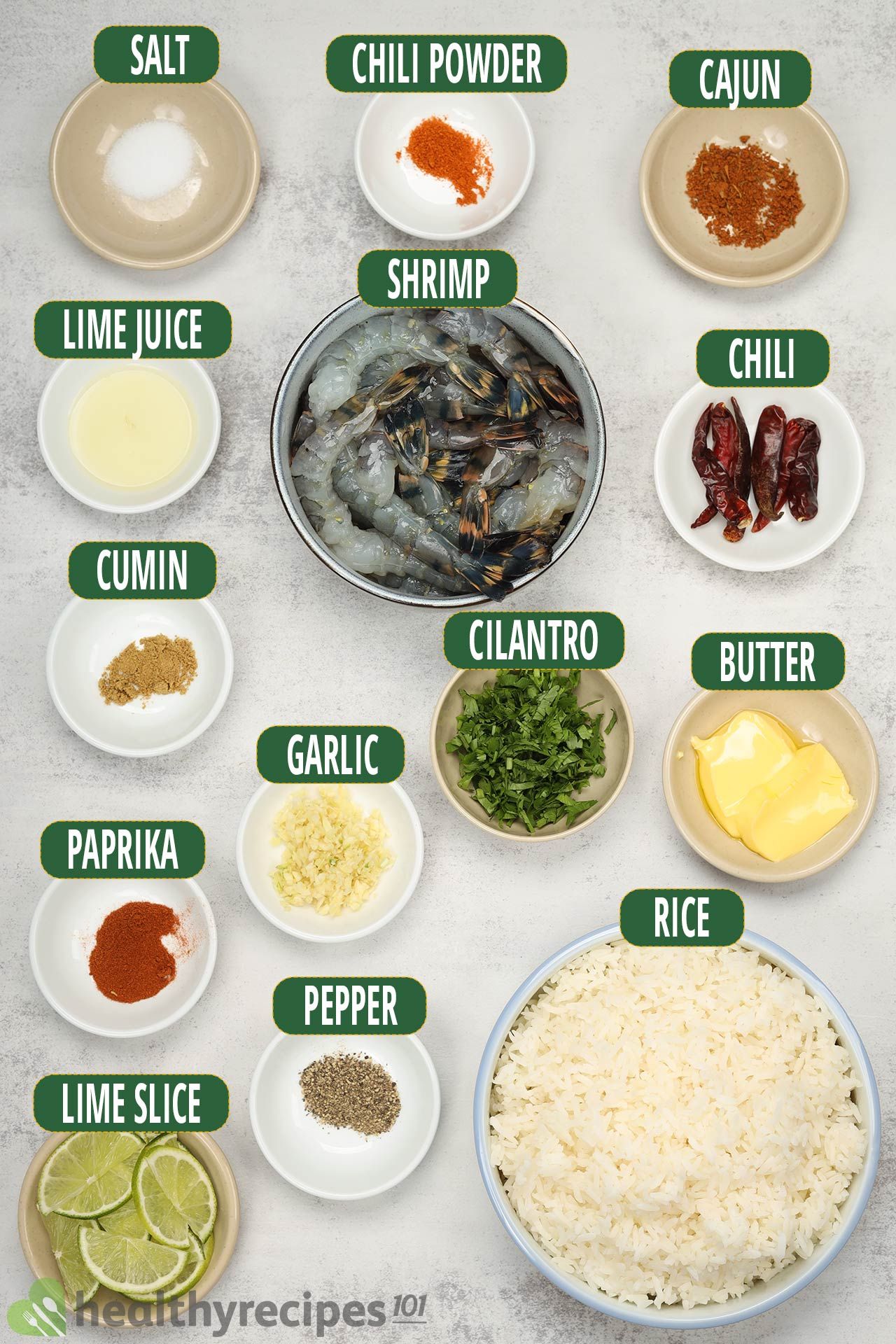 For measurements, check out our 'chili lime shrimp recipe' card at the bottom.
Jump to Recipe
How We Make Chili Lime Shrimp
This is a no-marinade chili lime shrimp recipe, meaning it'll come together effortlessly with everything added to one pan. But before that, get some rice ready because it will be done before you know it.
Here's the order: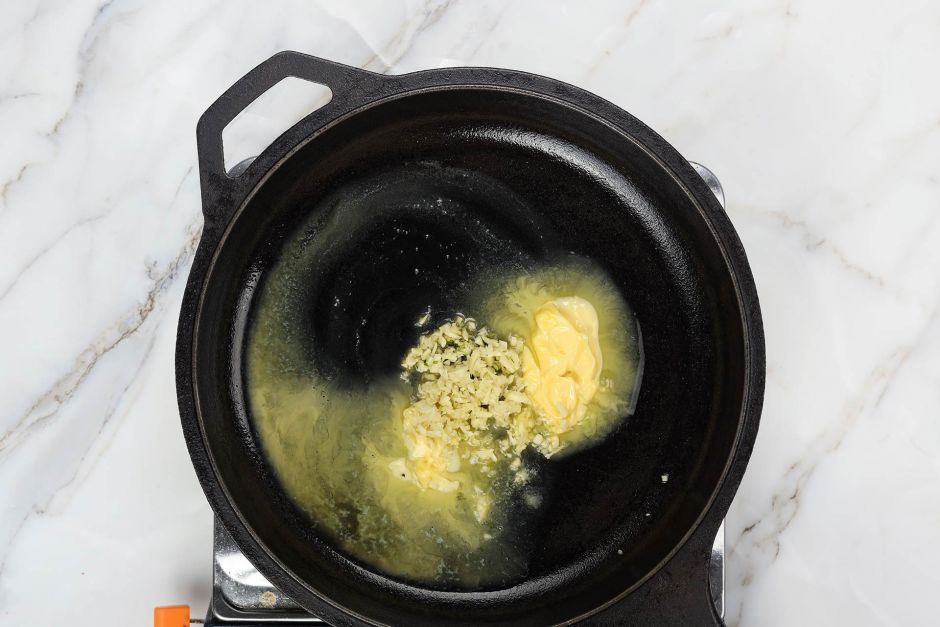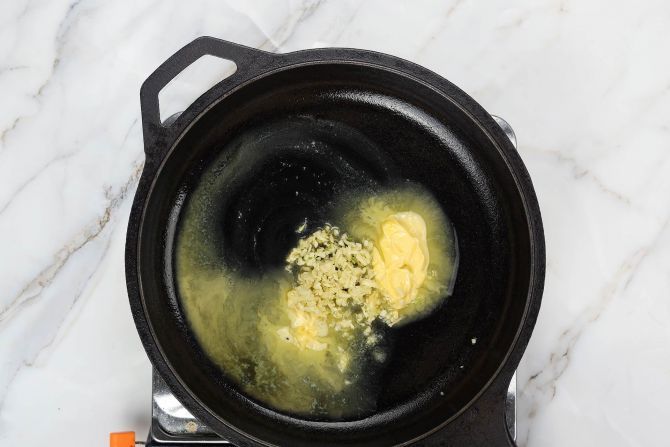 Sauté butter with garlic.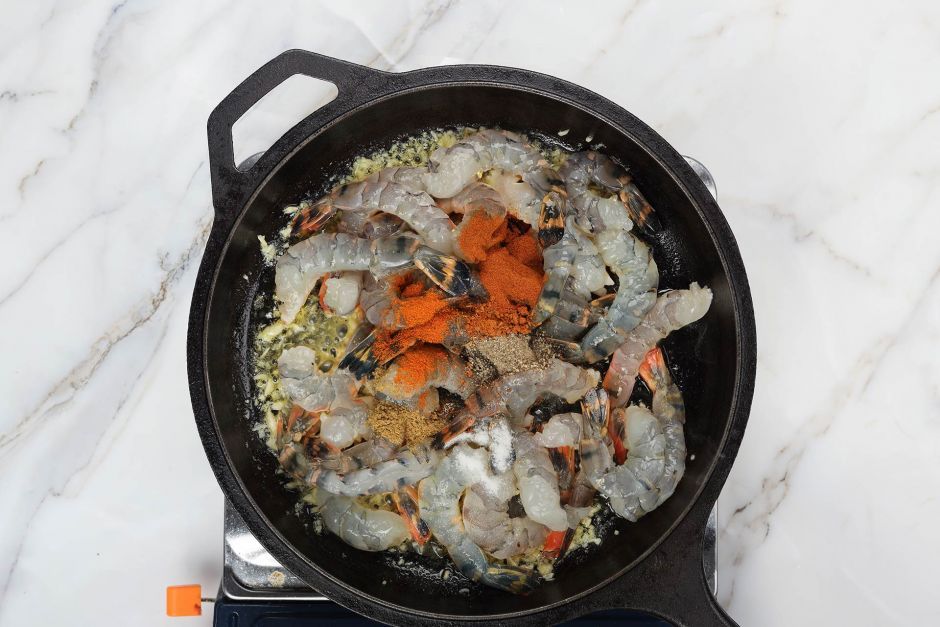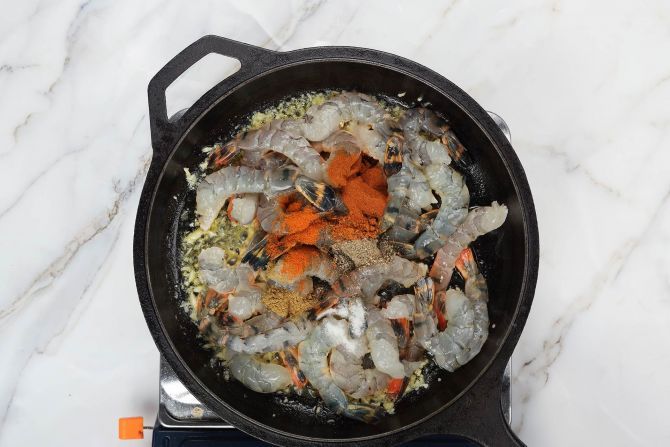 Add shrimp and seasonings.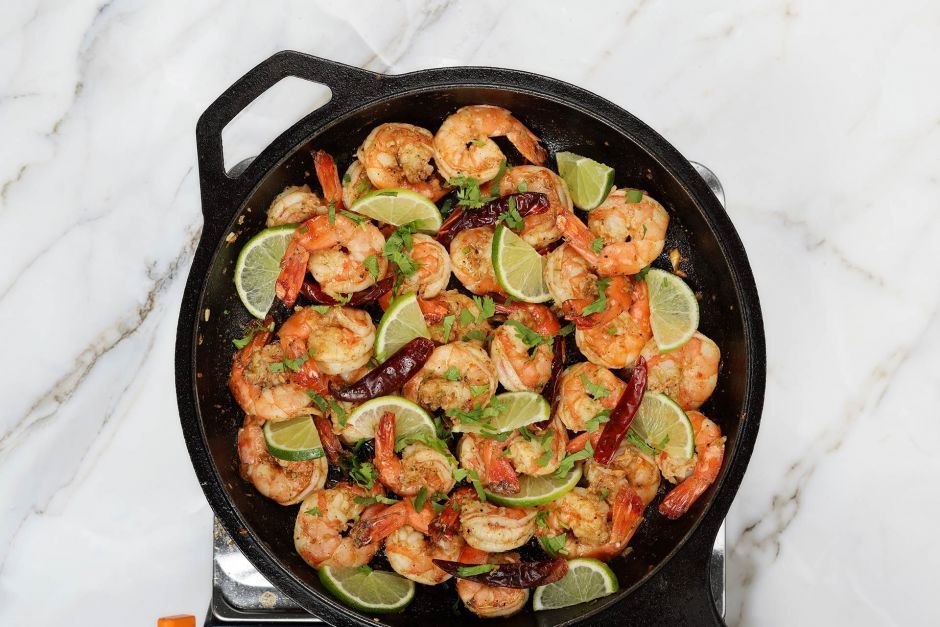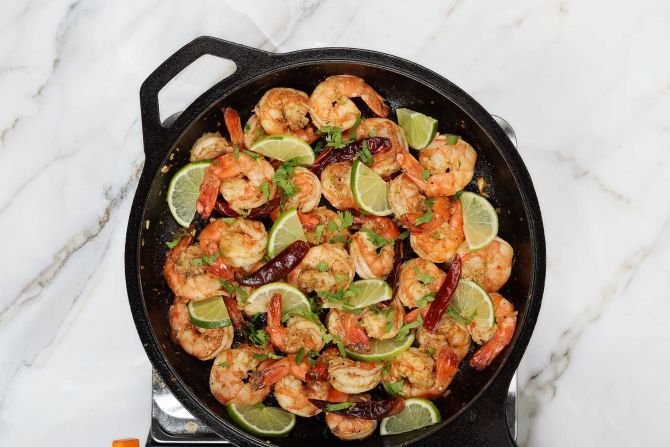 Add garnishings.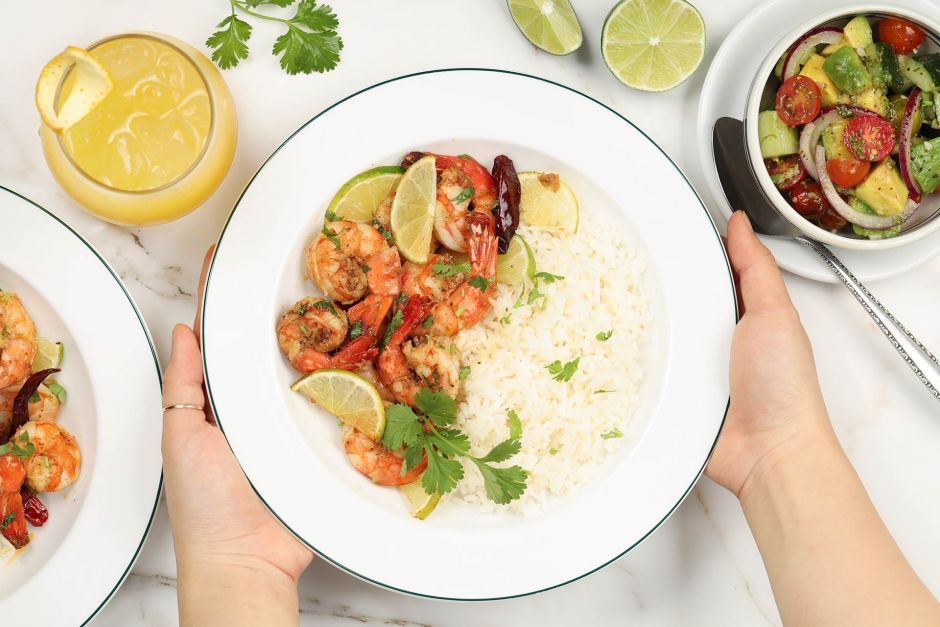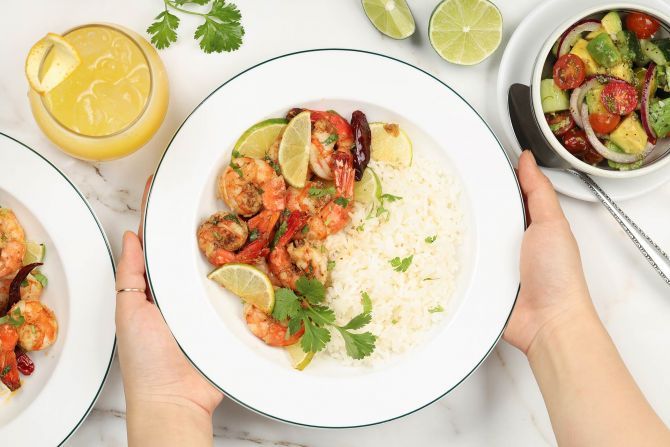 Serve with rice.
Was that easy? If you're into easy meal preps, check out these recipes:
Storage and Reheating
This meal is both fridge and freezer friendly. Seal it up in airtight containers and store it in the fridge for 5 days, or place it in the freezer for up to 3 months. Label the containers with dates so you'll know when they expire.
To reheat, simply stir this dish in a saucepan with some water, until the shrimp is heated through. It's usually 2 minutes if refrigerated, and up to 5 minutes if frozen.
The rice, also, can be stored in the same manner. To serve, either steam the rice for about 10 minutes or microwave it with some hot water, 1 tbsp per 1 cup.
If your fridge is already filling up, start using sealable bags instead of containers. You can divide the dish into small portions, each placed into a different bag so you can thaw just the amount you want.
What to Serve With Chili Lime Shrimp
We're pairing the tangy, hot-spiced dish with a creamy avocado salad with fresh tomatoes and a basic lemon dressing. All is completed with a glass of 'simply' orange juice, a classic tart-sweet refresher.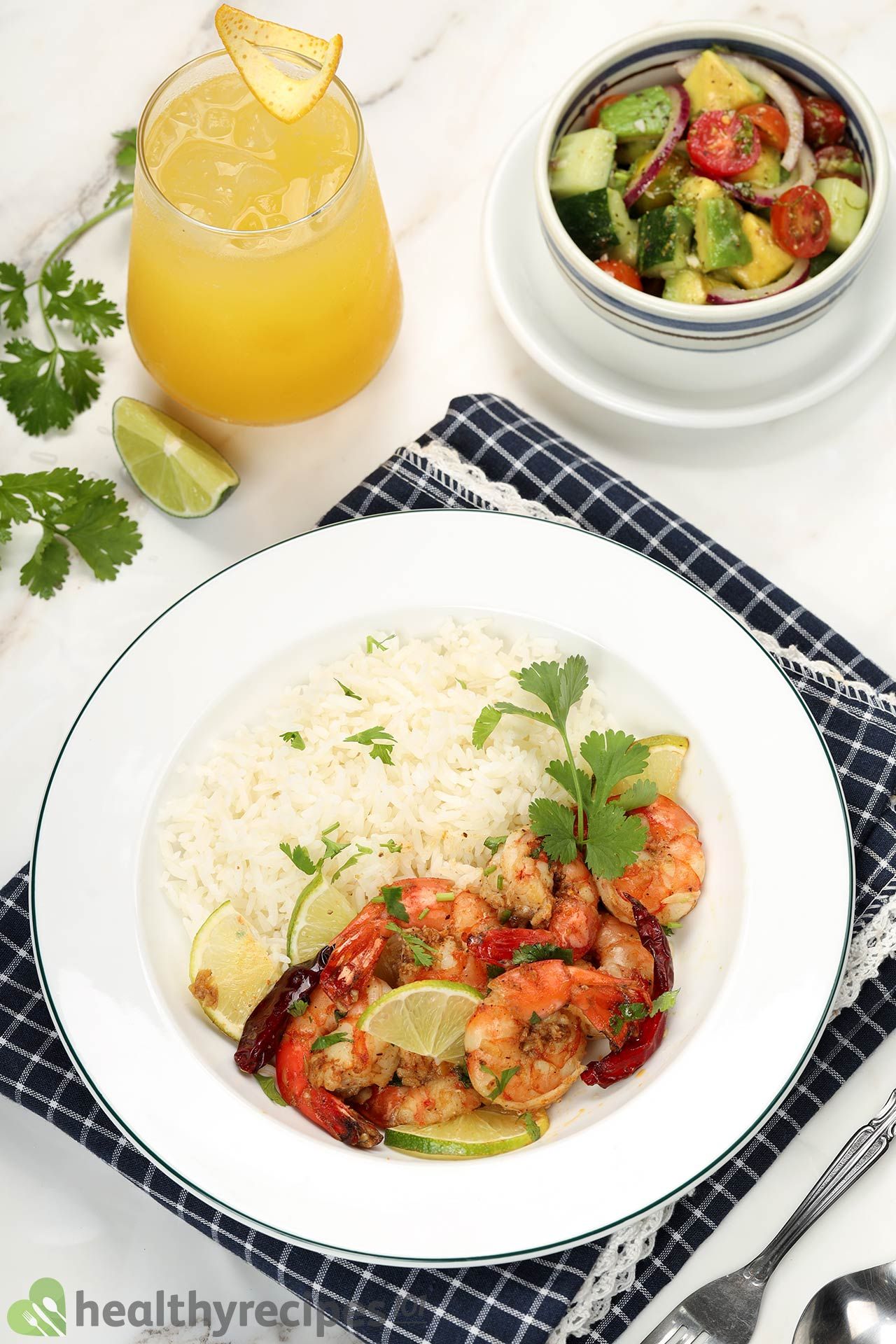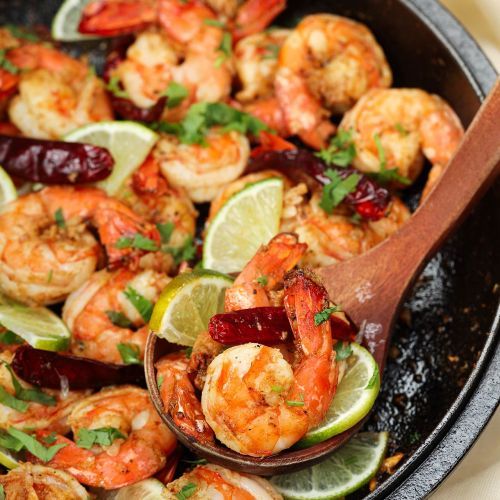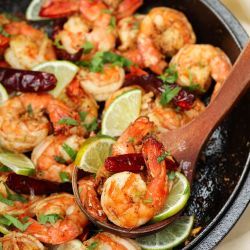 Chili Lime Shrimp Recipe
Save our chili lime shrimp recipe for easy, delicious meals whenever you run short on time. It literally takes 15 minutes.
Ingredients
2 1/2

tbsp

unsalted butter

1

tbsp

garlic

minced

13

oz

peeled shrimp

from 26 oz whole shrimp

1

tbsp

lime juice

1/2

tsp

salt

1/2

tsp

paprika

1/2

tsp

ground black pepper

1/2

tsp

Cajun seasoning

1/4

tsp

chili powder

1/4

tsp

cumin

1/4

cup

cilantro

chopped

2

oz

limes

sliced

6

dried chilis

4

cups

cooked medium-grain rice
Instructions
Melt 2 1/2 tbsp butter in a non-stick skillet over medium heat, until melted. Stir in 1 tbsp garlic and sauté until fragrant.

Add 13 oz peeled shrimp along with 1 tbsp lime juice, 1/2 tsp salt, 1/2 tsp paprika, 1/2 tsp ground black pepper, 1/2 tsp Cajun seasoning, 1/4 tsp chili powder, and 1/4 tsp cumin. Stir to cook for about 5 minutes.

Turn off the heat and garnish with 1/4 cup cilantro, 2 oz lime slices, and 6 dried chilis.

Enjoy with 4 cups of cooked rice.
Nutrition
Nutrition Facts
Chili Lime Shrimp Recipe
Amount Per Serving (1 serving)
Calories 476
Calories from Fat 81
% Daily Value*
Fat 9g14%
Cholesterol 316mg105%
Sodium 558mg24%
Potassium 602mg17%
Carbohydrates 57g19%
Protein 42g84%
Vitamin A 451IU9%
Vitamin C 6mg7%
Calcium 139mg14%
Iron 4mg22%
* Percent Daily Values are based on a 2000 calorie diet.