Our Mongolian shrimp recipe whips up a flavorful, crunchy shrimp dish that's served with rice and steamed broccoli. It can be made ahead of time and saved for the next day's lunch.
Is This Mongolian Shrimp Healthy?
Yes, our Mongolian shrimp recipe makes a healthy meal.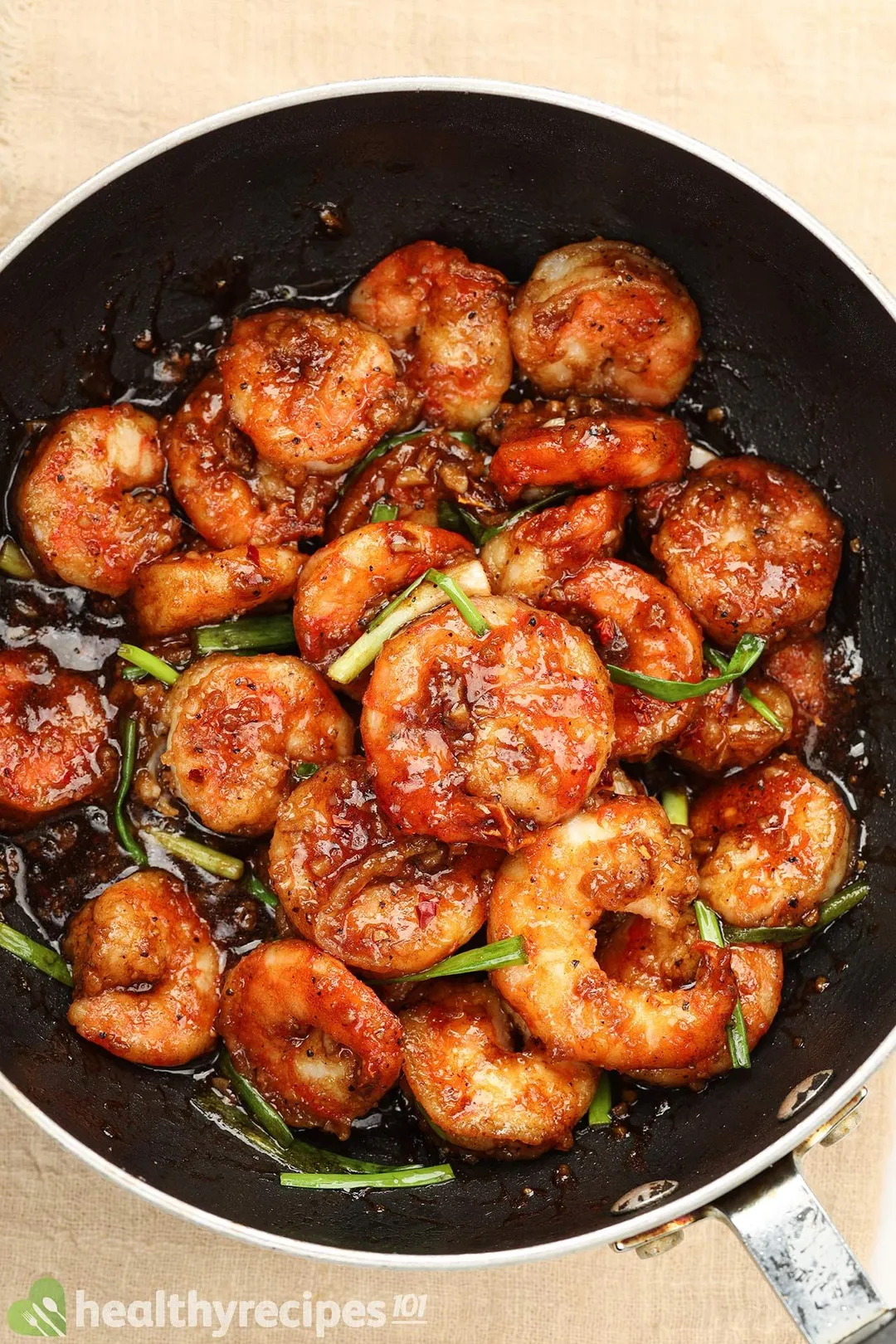 First of all, shrimp is a good source of protein because, unlike meat, most of its fats are unsaturated fats. They also contain omega 3s, 6s, and 9s, which not only aid in controlling your bad cholesterol level but also benefit your brain health as well.
The shrimp is often served with rice and cooked vegetables, good sources of complex carbs and micronutrients. We are using broccoli, which contains lots of vitamin C, iron, magnesium, and other crucial nutrients.
We portion the meal so that each serving contains around 500 calories, 0.8 g saturated fats, 554 mg sodium, and about 2 g added sugar. These numbers indicate that this recipe complies with our healthy eating guidelines and the USDA's recommendations.
Although these shrimp are deep-fried, they can still fit a healthy diet if they're done the right way. We used an oil with a high smoke point and neutral taste (canola oil). To fry the shrimp, scoop them out when they're golden, and lay them out on paper towels to blot off excess oil.
Ingredients for Mongolian Shrimp
Our Mongolian shrimp recipe calls for peeled shrimp, cooked rice, broccoli, and several condiments/seasonings:
1. Mongolian Sauce for Shrimp
Garlic, ginger, soy sauce, sugar, and hoisin sauce are the main ingredients, providing a balance in flavor and aroma. It's also thickened with a cornstarch slurry, so it coats the shrimp better.
If you want this dish to be spicy, you can always add some Sriracha or Tabasco to the mix, but not too much because they contain sodium. Instead, we used some red pepper flakes, which gave the meal a finer appearance.
You can find other variations of this Mongolian sauce in our Mongolian Beef Recipe and Air Fryer Mongolian Chicken Recipe.
2. Shrimp
For recipes that serve shrimp with rice, we often go for small- to medium-sized shrimp. The smaller they are, the more you can pack in, making it look like you get more shrimp per bite.
Still, if you prefer larger shrimp, they work just as well.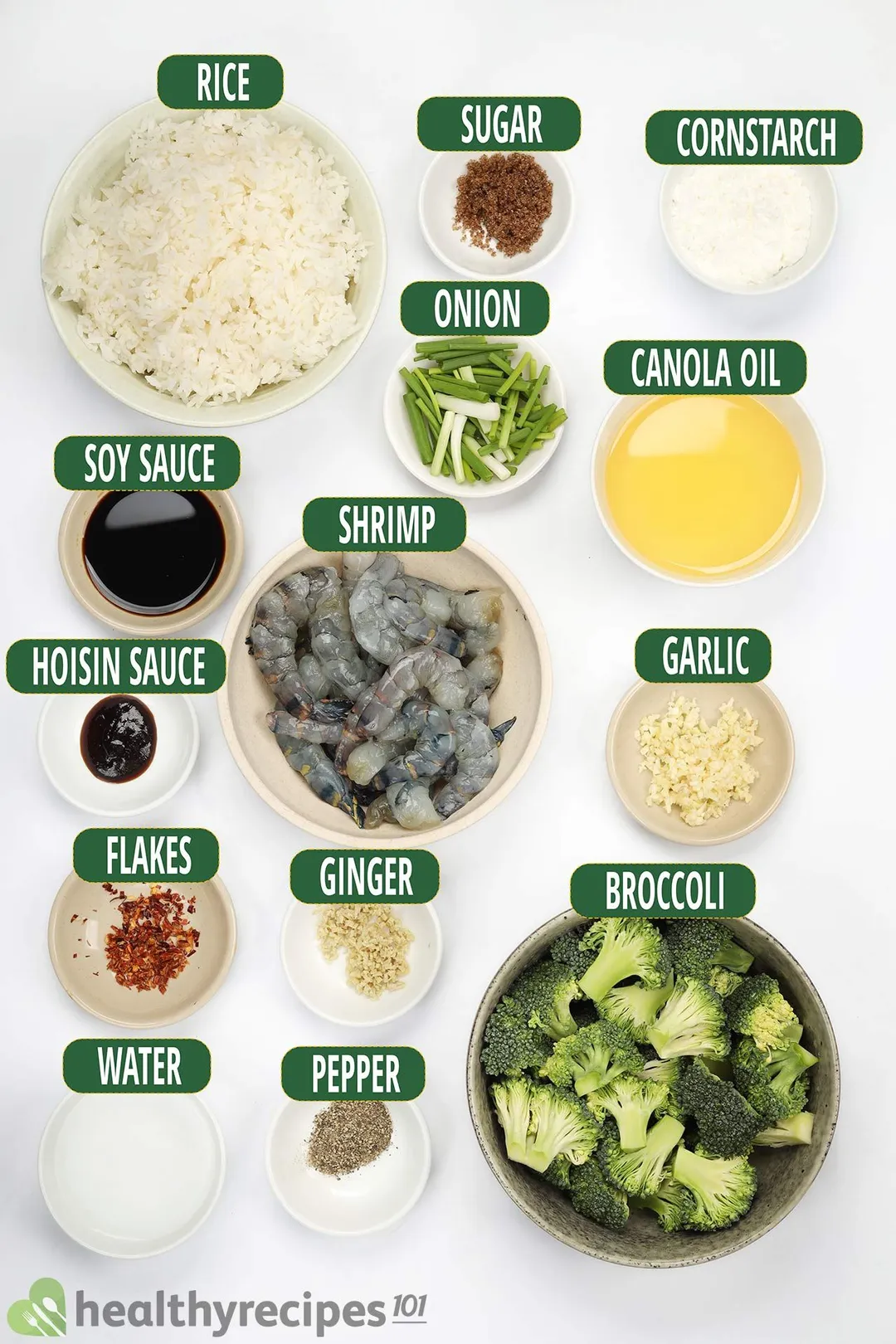 3. Vegetable
We try to sneak some cooked greens into most of our Chinese dishes, and for today's recipe, it's broccoli. All it needs is a simple 2-minute blanch.
4. Cooked Rice
As is customary, this meal is served with medium-grain white rice. If you want extra vitamins and minerals, you can replace it with a whole-grain alternative.
You should have some rice ready before preparing the shrimp because this recipe will require your full attention. If necessary, consider grabbing some frozen rice packets at the grocery store.
5. Can You Cook Frozen Shrimp?
Rock-hard frozen shrimp are not suitable for our Mongolian shrimp recipe, but they work fine if you thaw them first. Place your shrimp in a Ziploc bag, remove as much air as possible, submerge the bag in a bowl of water, and allow it to sit for 20 minutes. The shrimp should be pliable and ready to cook (or peel).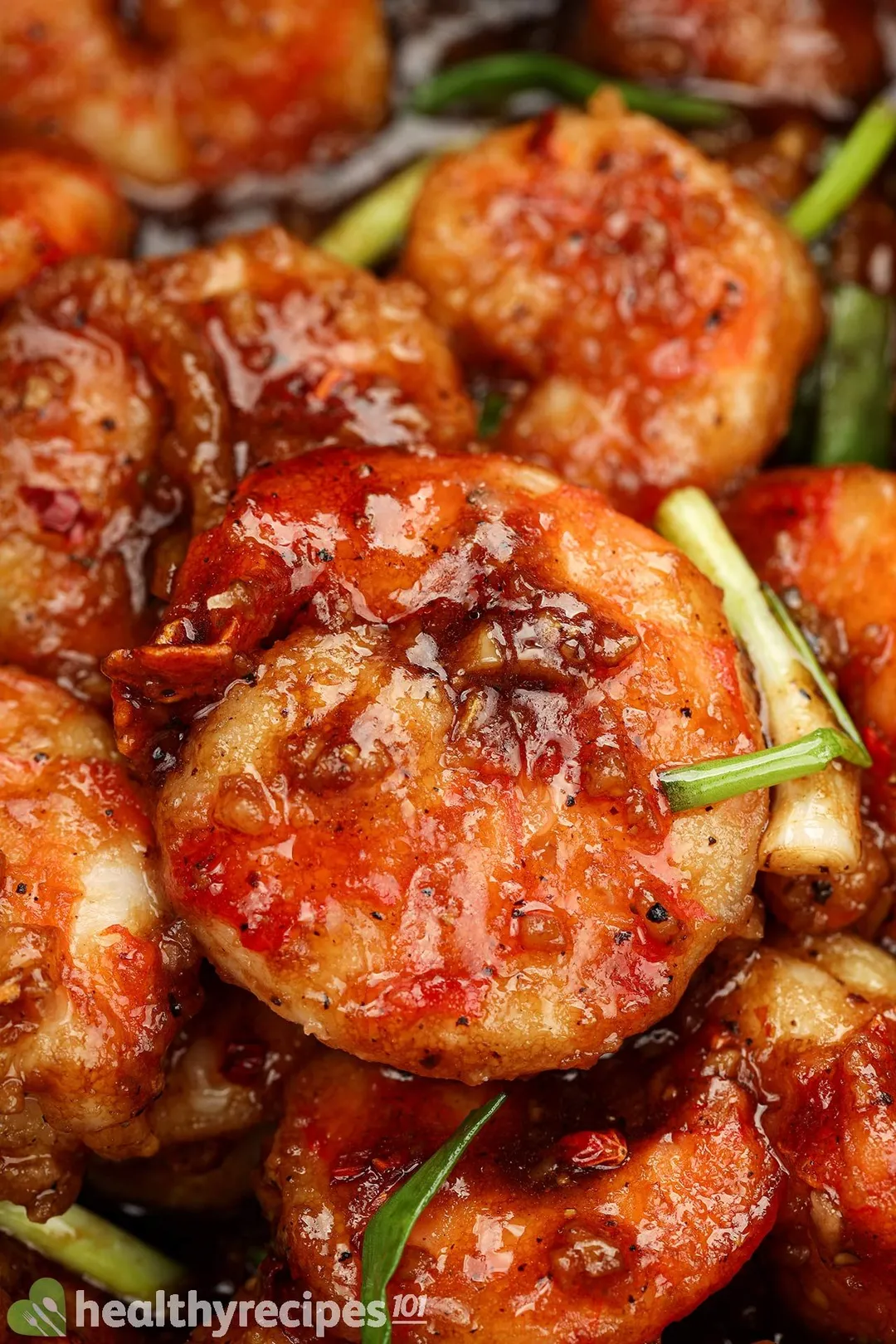 Cold shrimp demand extra attention while frying. You don't want to crowd the pan and lower the oil's temperature too much. Our next section will discuss in detail how to fry cold shrimp.
How to Make Mongolian Shrimp
We start by mixing the sauce ingredients. Dilute the cornstarch with water first, then stir in soy sauce, sugar, and hoisin sauce. Set aside.
Next, bring a pot of water to a boil and cook the broccoli florets for about 2 minutes. Drain and flush them with cold water so they stay crisp and green. Let them dry in a colander.
Heat some canola oil in a non-stick frying pan over medium heat and dust your shrimp with cornstarch while waiting. Once the oil is hot and ready to fry, add your shrimp, one at a time, and see how the oil reacts. You want strong sizzling sounds. If the intensity of that sizzling drops by about half, stop adding shrimp. More shrimp at that point will cool the oil too much and make the frying less effective.
When the batch is nice and golden, scoop all the shrimp out and spread them on paper towels to remove excess oil. Continue to fry the uncooked shrimp.
Finally, make the sauce by sautéing some garlic and ginger, then adding the sauce mixture to thicken it. It's best to use a separate pan for your sauce since your frying pan will be hot and will need some cleaning.
Since the crisp texture will fade quickly, toss your fried shrimp with the sauce only when you're ready to serve. Sprinkle them with red pepper flakes and sliced scallion for garnish, and your beautiful Chinese meal will be ready.
How Long Can Cooked Shrimp Stay in the Fridge?
Properly stored, cooked seafood will generally last for up to 4 days in the fridge. Details on storage are below.
Storage and Reheating Leftover Mongolian Shrimp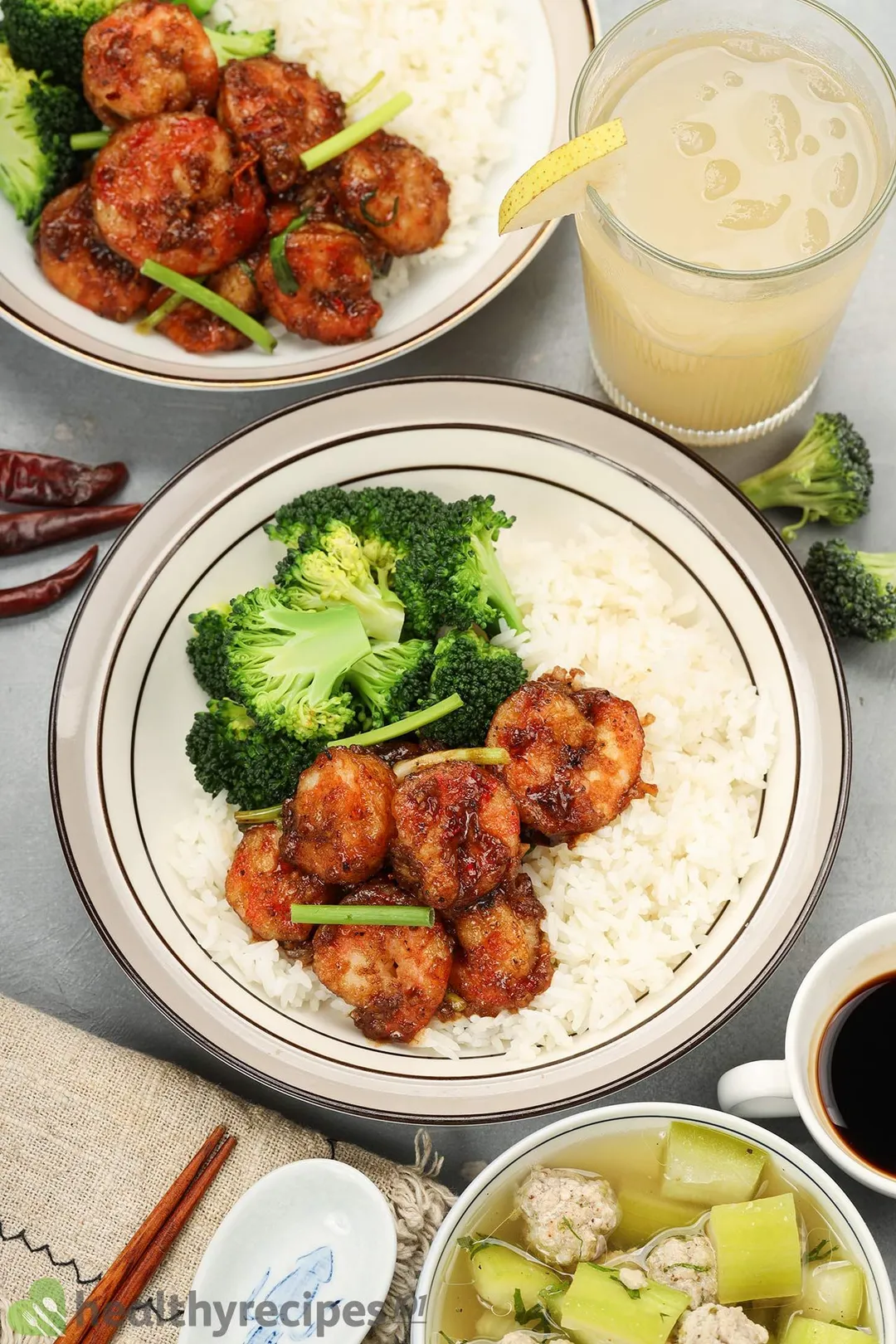 The shrimp, sauce, rice, and vegetables should be stored in separate containers. We use air-tight containers, clean bowls covered with plastic wrap, or Ziploc bags.
At a maximum, each ingredient can be stored for the following time periods:
Rice: 5 days in the fridge or 3 months in the freezer.
Shrimp: 4 days in the fridge or 3 months in the freezer.
Sauce: 5 days in the fridge or 3 months in the freezer.
Broccoli: 5 days in the fridge (don't freeze your cooked broccoli).
To reheat:
Rice: stir it in a non-stick pan over low heat with about 2 tbsp water and turn the heat off when steam appears. Alternatively, microwave with 2 tbsp water for 1 minute if refrigerated, 3 minutes if frozen.
Shrimp: if refrigerated, fry in hot oil for 1 minute or in the air fryer for 3-4 minutes. Frozen shrimp can take 2-6 minutes depending on size and reheating method.
Sauce: simmer over low heat until it bubbles. Toss the shrimp with this sauce before serving.
Broccoli: no need to reheat.
What to Serve With Mongolian Shrimp
This dish is best paired with a soup and drink. We thought these were an ideal combination:
Mongolian Shrimp
Winter Melon Meatball Soup
Pear Juice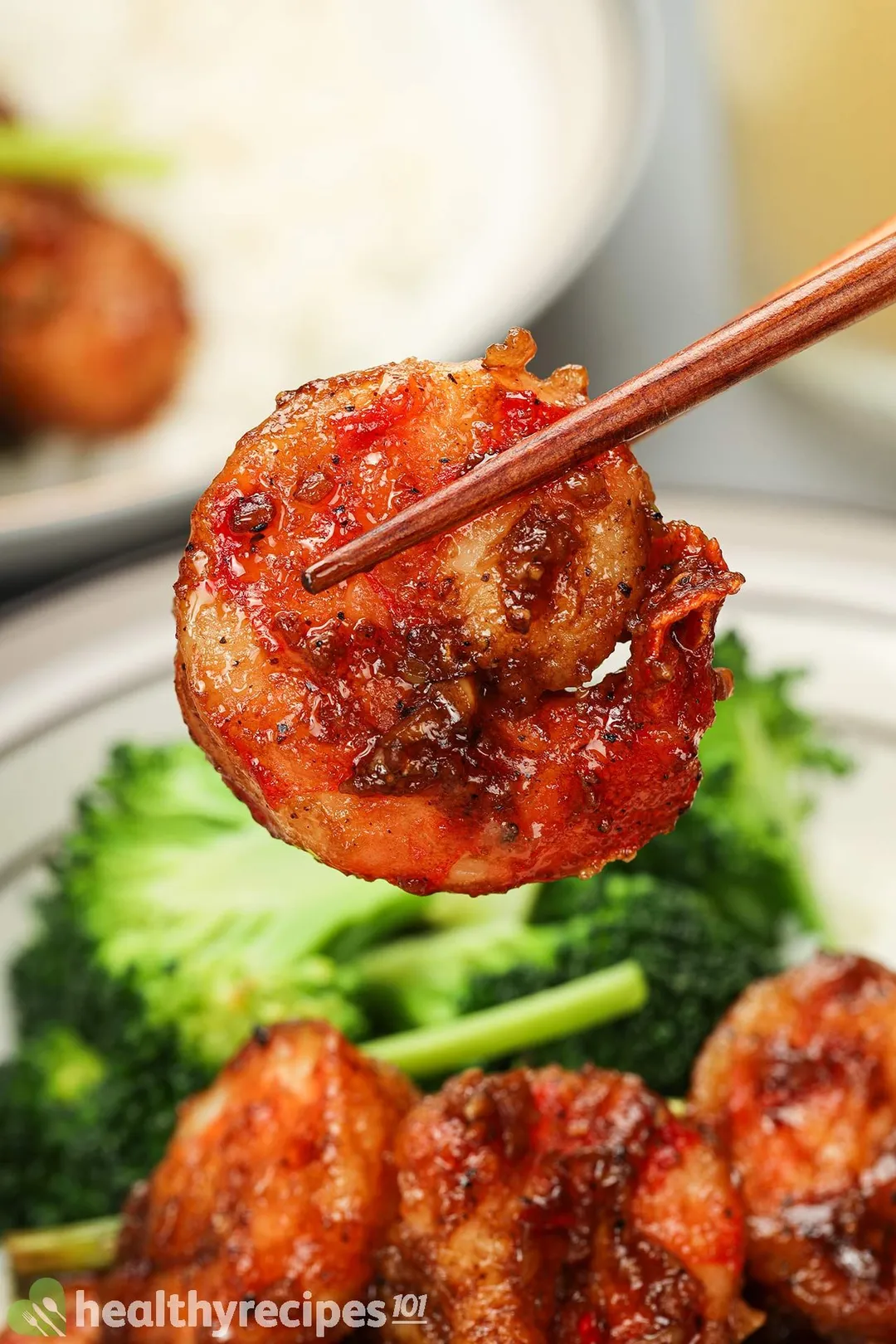 You May Also Like
Mongolian Shrimp
Our Mongolian shrimp recipe makes a delicious meal of crispy, flavorful shrimp served with cooked rice and broccoli. It all comes together in 30 minutes.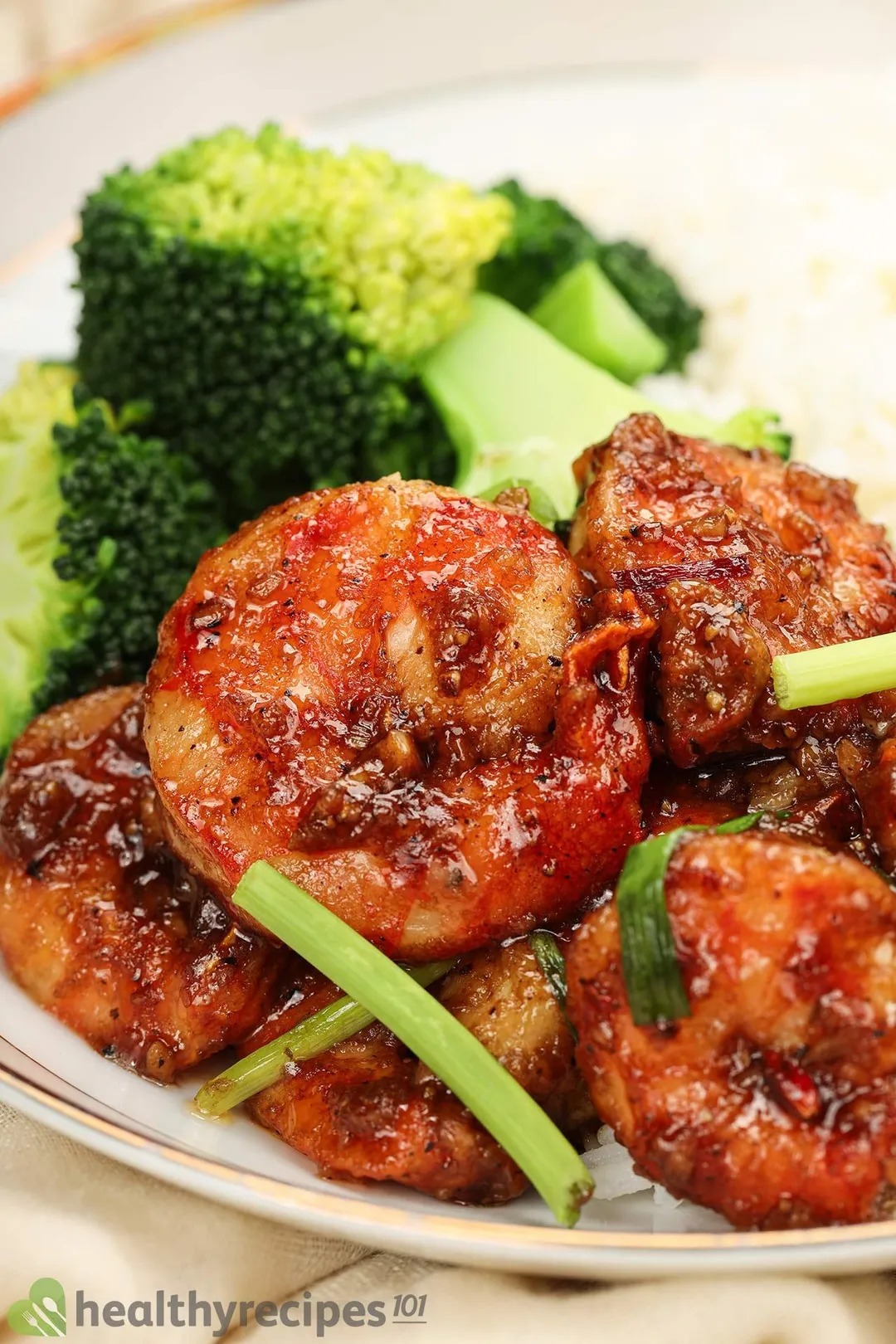 cook TIME

25 mins

prep TIME

5 mins

total TIME

30 mins
COURSE

Main Course

CUISINE

Asian, Mongolian

SERVINGS

CALORIES

504 kcal
INGREDIENTS
12 oz

peeled shrimp

(from 24 oz whole)

8 oz

broccoli

(cut into florets)

3 1/2 cups

cooked medium-grain rice

1/4 cup

green onions

(chopped)

1/4 cup

cornstarch

(save 1 tsp for the sauce)

1 cup

canola oil

(save 1 1/2 tbsp for the aromatics *)

2 tbsp

reduced-sodium soy sauce

1/2 tsp

ground black pepper

1/2 tsp

red pepper flakes
INSTRUCTIONS
1
Combine the sauce ingredients in a bowl: 1/4 cup water, 2 tbsp soy sauce, 2 tsp brown sugar, 1 tsp cornstarch, 1 tsp hoisin sauce, and 1/2 tsp ground black pepper. Set aside.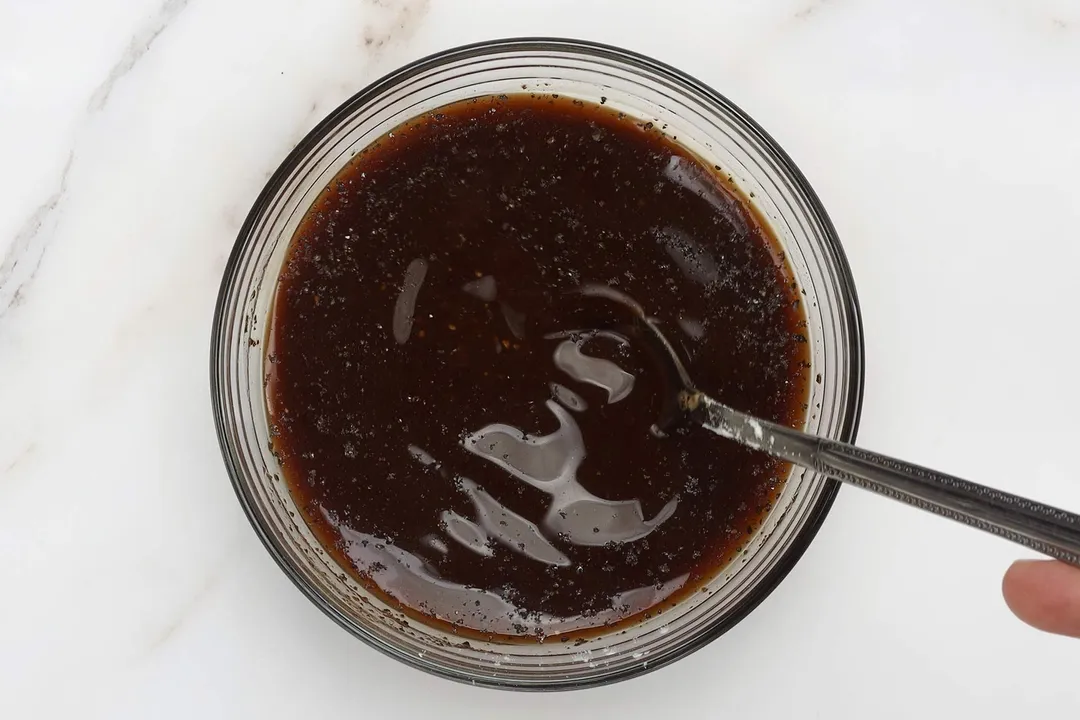 2
Bring a pot of water to a boil. Blanch 8 oz broccoli for 2 minutes, then shock them in cool water. Leave to dry in a colander.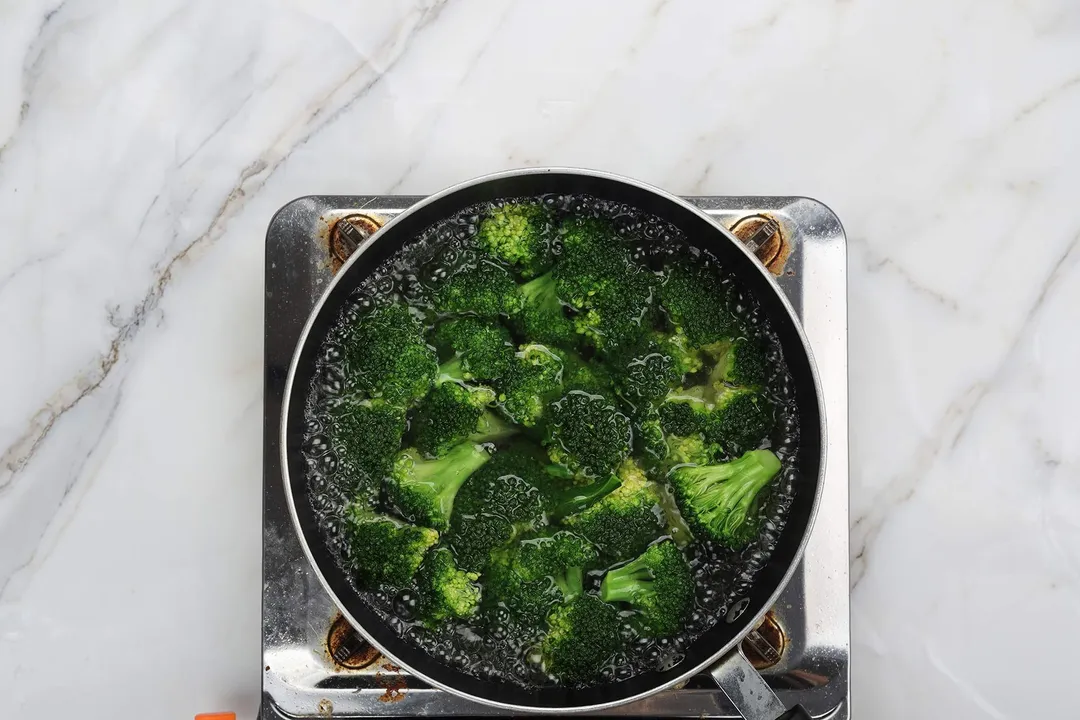 3
Toss 12 oz peeled shrimp with the remaining cornstarch (less than 1/4 cup).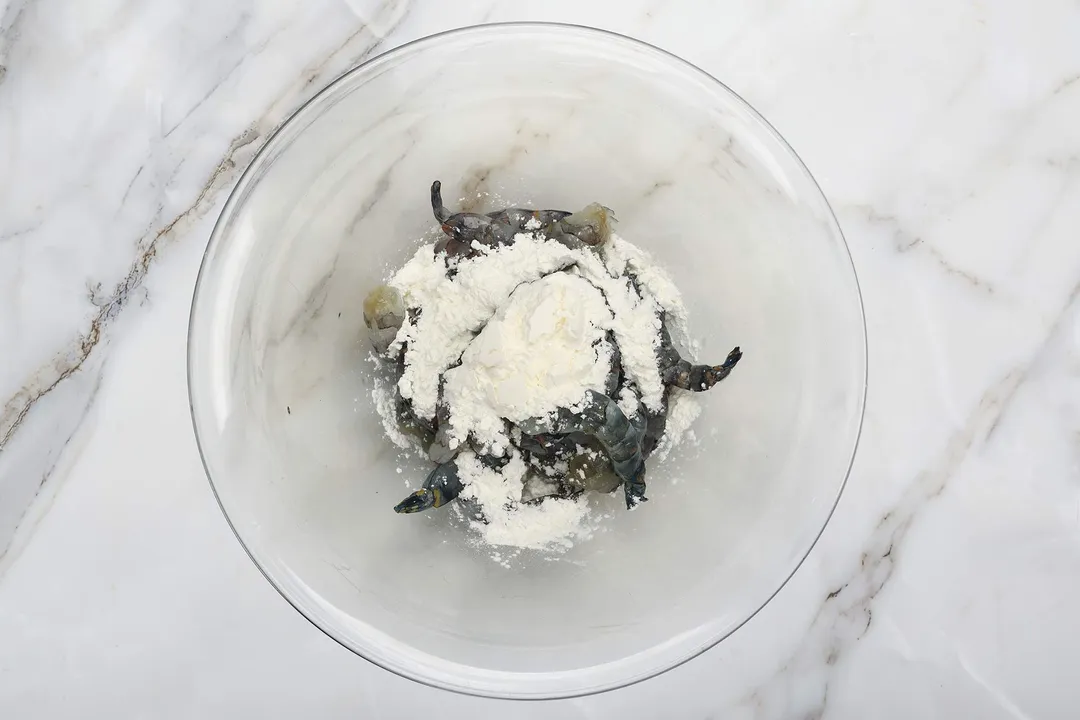 4
Pour 1 cup canola oil into a non-stick frying pan and scoop out 1 1/2 tbsp to save for later. Heat the oil over medium heat for about 2 minutes. Shake each shrimp to remove excess flour, then gently place each one into the oil. Try not to crowd the pan. Scoop the shrimp out when golden brown (about 2 minutes for each). Place them into a bowl lined with paper towels to blot off excess oil.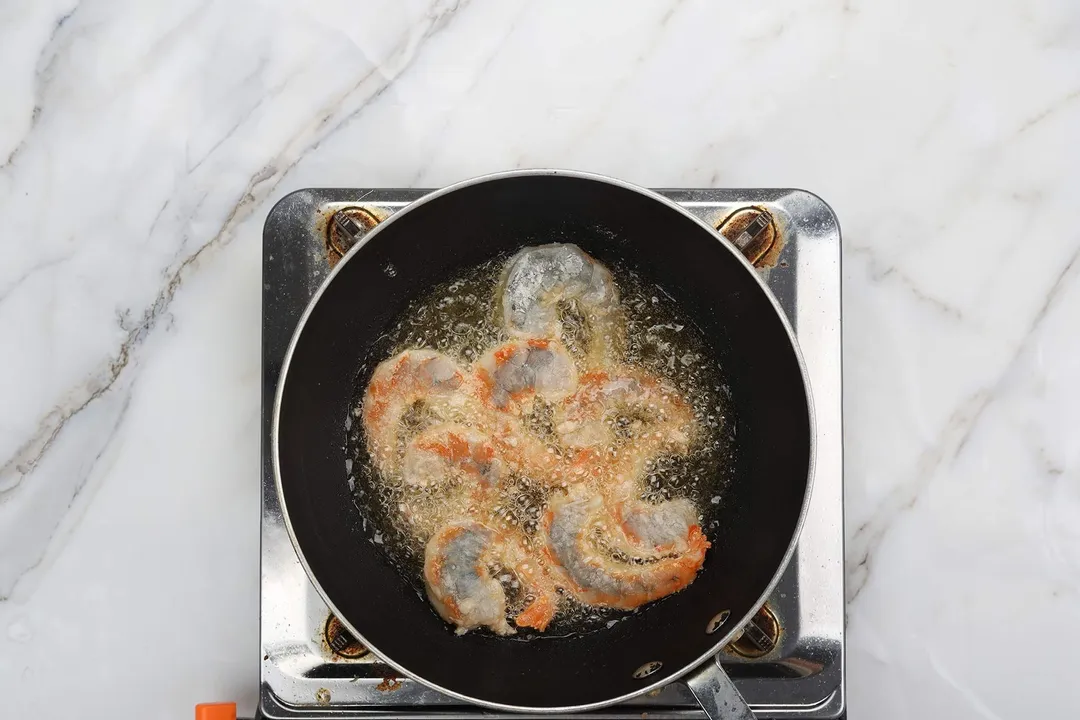 5
Add the 1 1/2 tbsp oil you saved earlier to a new, clean non-stick frying pan. Heat it over medium heat and sauté 1 tbsp garlic and 1 tsp ginger for about 30 seconds or until fragrant.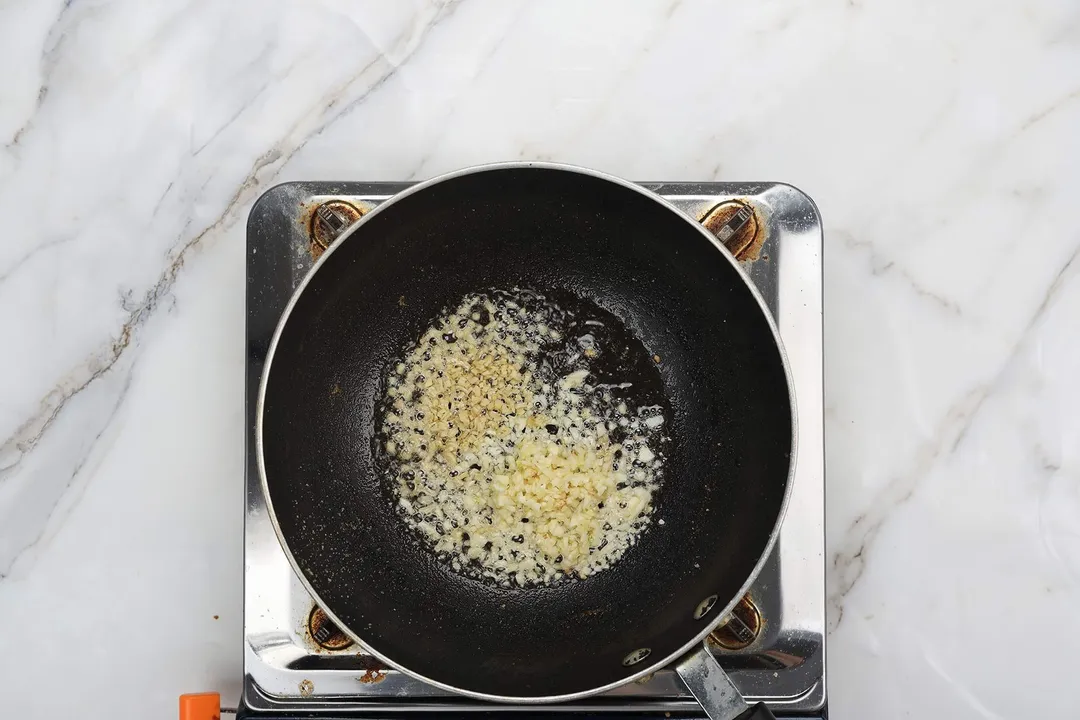 6
Stir the sauce mixture in and turn the heat down to simmer. Once the sauce is reduced (about 1 minute), you have two options: turn off the heat if you're not ready to serve right away, or toss this sauce with the fried shrimp.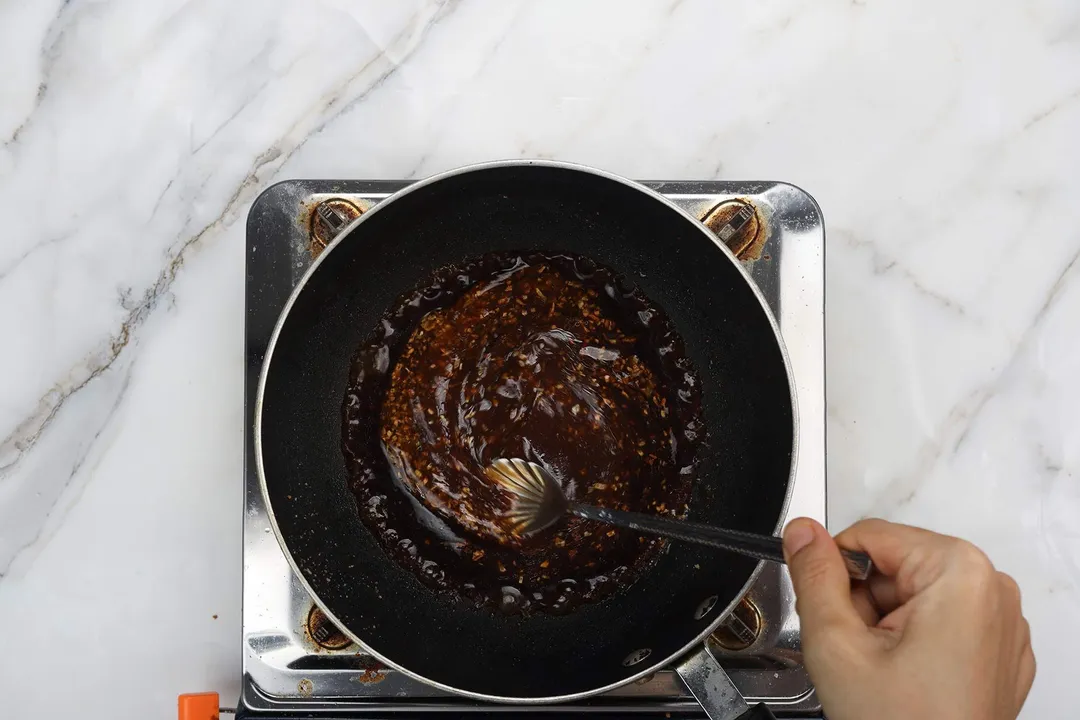 7
Toss the shrimp and chopped green onions with the sauce just prior to serving.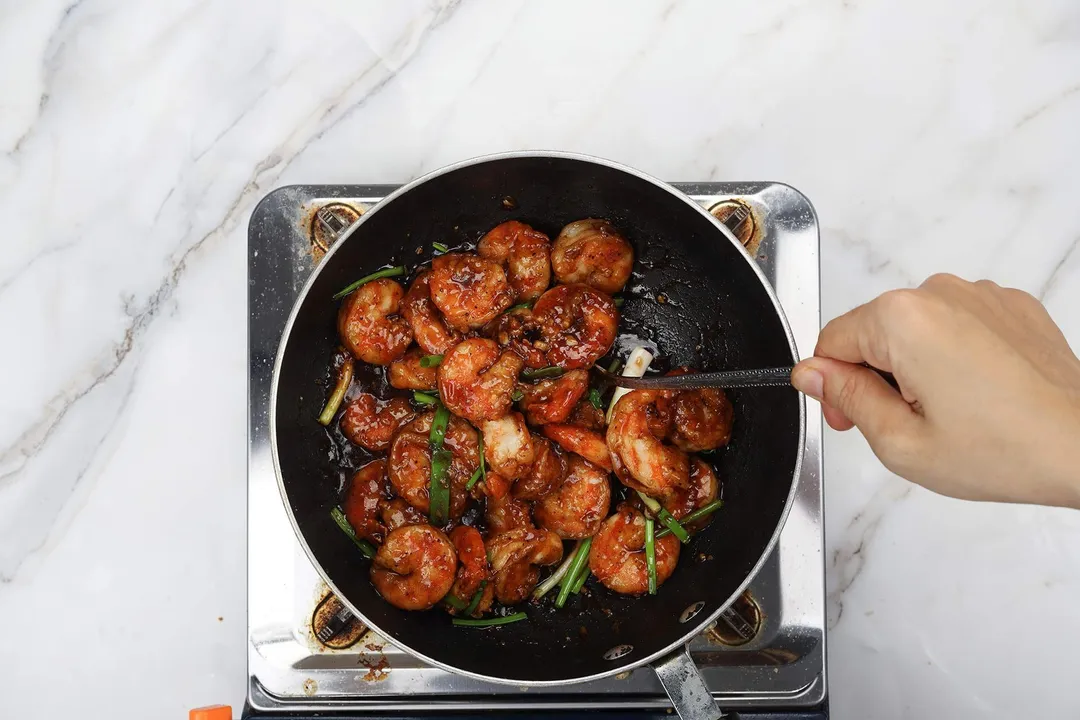 8
Once the shrimp is coated, sprinkle red pepper flakes on top. Serve with 3 1/2 cups cooked rice and 8 oz cooked broccoli.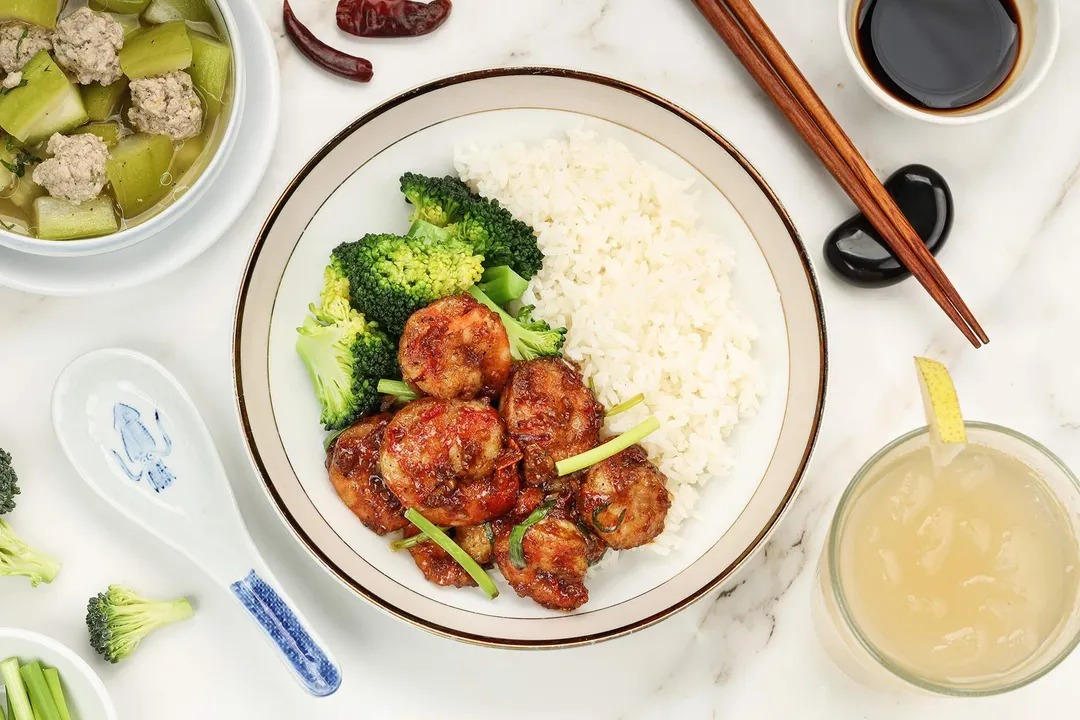 (*) Only a part of the frying oil will end up in the final product, and we have calculated nutritional values based on that amount. The whole amount is needed for the cooking process, but what actually ends up being consumed is 1 tablespoon of oil, plus another 1 and a half for sauteing the aromatics.
NUTRITION
Nutrition Facts
Mongolian Shrimp
Amount Per Serving (1 serving)
Calories 504
Calories from Fat 90
% Daily Value*
* Percent Daily Values are based on a 2000 calorie diet.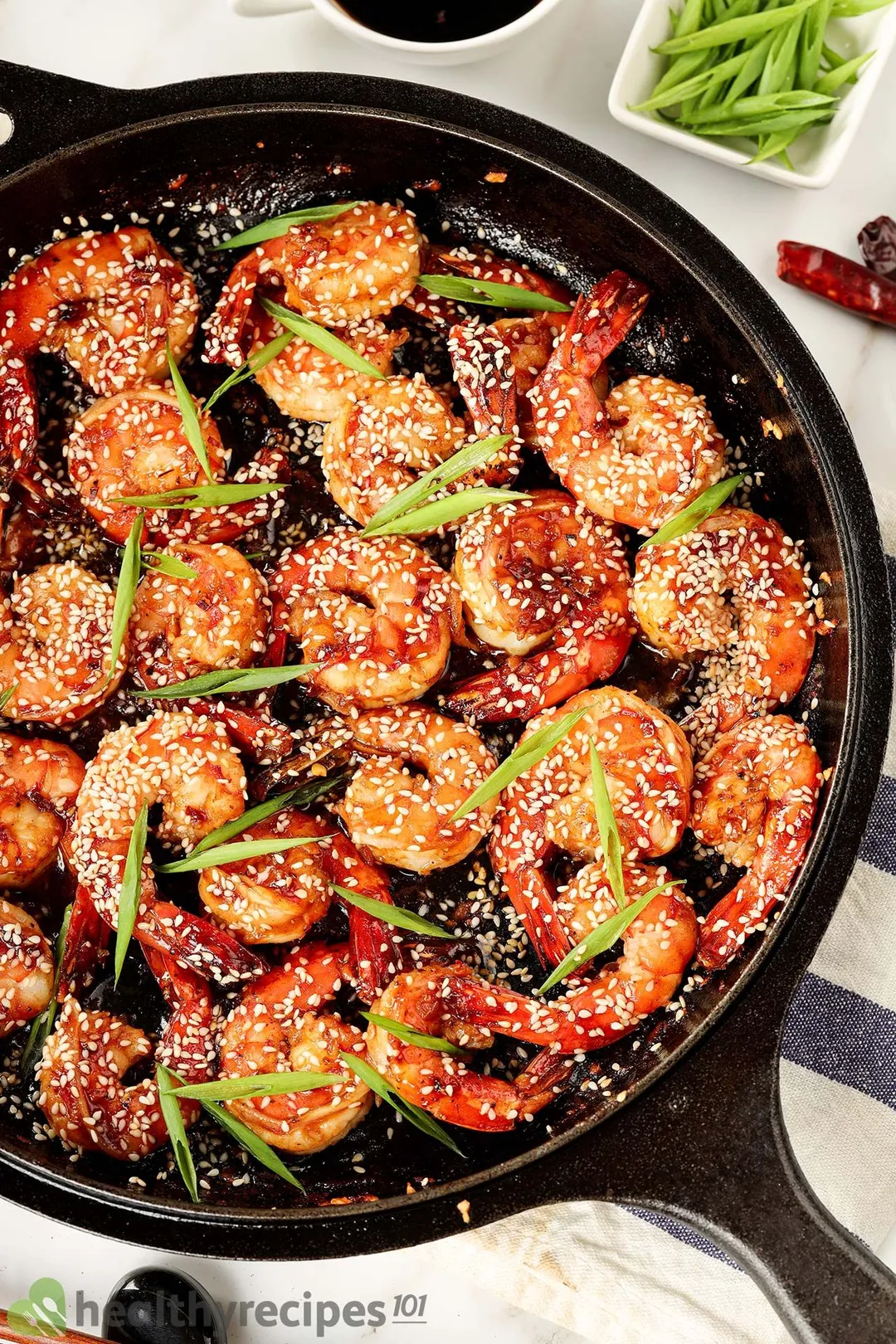 Previous Recipe
Sesame Shrimp
Sesame Shrimp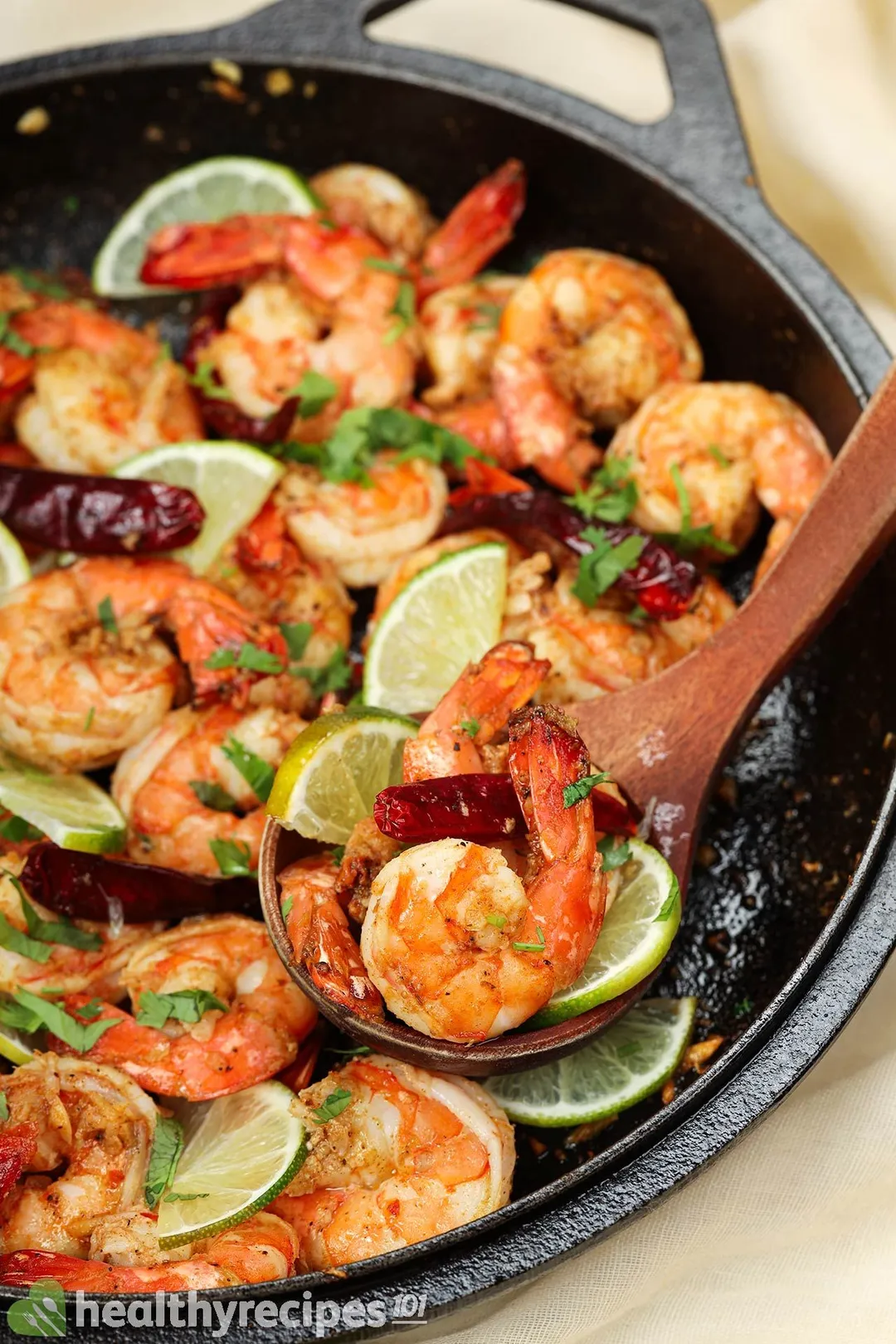 Next Recipe
Chili Lime Shrimp
Chili Lime Shrimp
Head Chef, Culinary Consultant
Tuyet Pham is an award-winning Saigonese chef who believes that joy is the secret ingredient to delicious food. At Healthy Recipes 101, Tuyet personally tests and simplifies every recipe, ensuring maximum flavor with minimal effort. With a background at prestigious French restaurants P'TI Saigon and Le Corto, Tuyet knows how to make every dish exceptional.
Writer, Author
Luna Regina is an accomplished writer and author who dedicates her career to empowering home cooks and making cooking effortless for everyone. She is the founder of HealthyKitchen101.com and HealthyRecipes101.com, where she works with her team to develop easy, nutritious recipes and help aspiring cooks choose the right kitchen appliances.
Nutrition Reviewer
Natalie Butler is a registered dietitian nutritionist with a passion to help others live their best life through food, fitness, safer beauty and a healthy lifestyle. She has expertise with a variety of diets and diseases and believes that there is no one-size-fits-all approach for health.
First, i love the photos, and i thought this recipe was absolutely beautiful.

Sweet and spicy Mongolian shrimp.