Today's eggnog cocktail recipe marks the opening of this year's holiday season. It's silky, frothy, and comforting— it's all you need for this winter.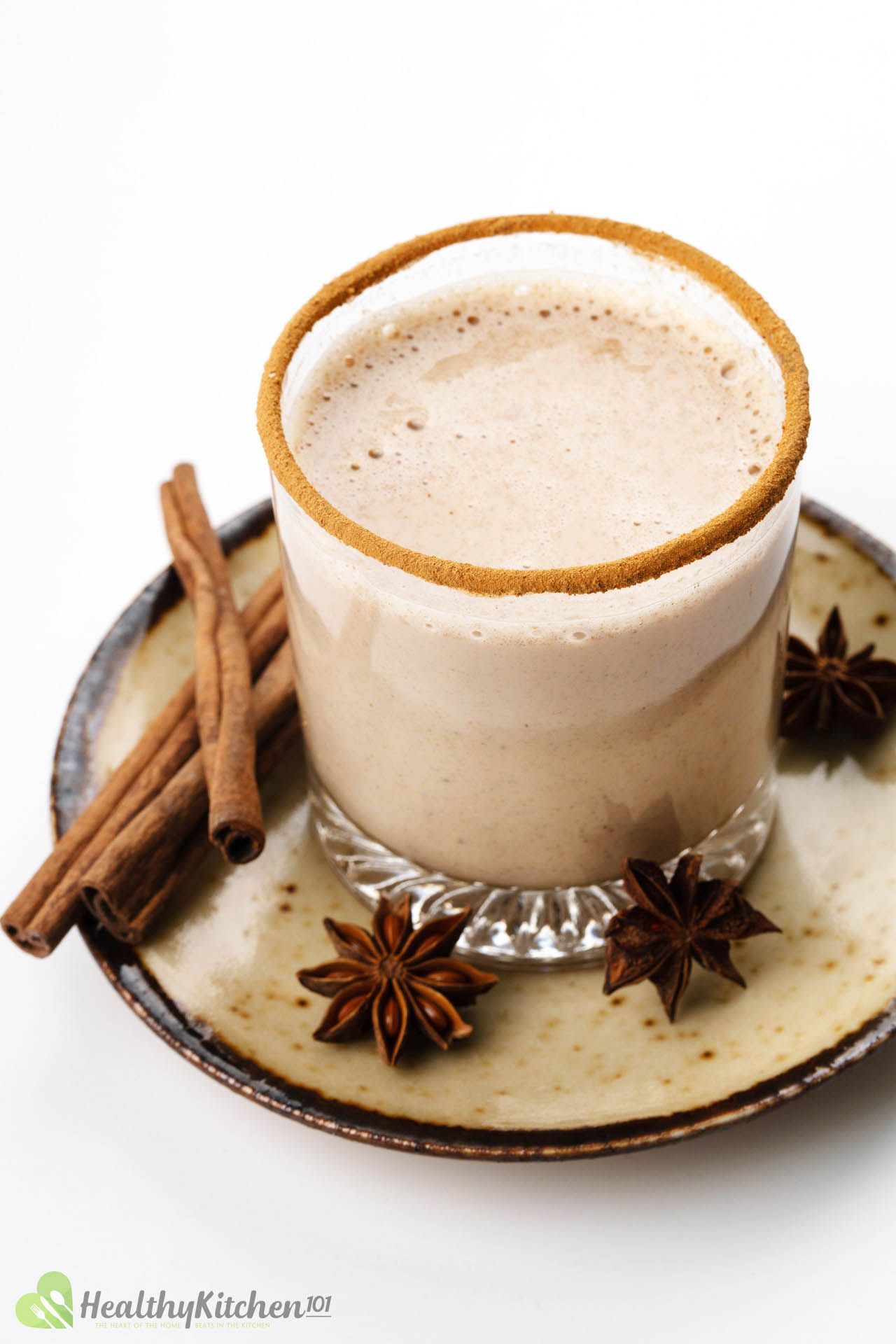 What Is Eggnog Cocktail?
Eggnog is a type of alcoholic, dairy-based beverage. The drink mainly consists of sugar and egg yolks cooked in milk, cream, and a touch of alcoholic spirits.
Whipped egg whites can also be mixed into this custard-like mixture— giving the drink a frothy texture. The drink is garnished with warm spices and served warm or chilled with ice.
Traditionally, eggnog is a comforting holiday beverage as it is enjoyed especially during the Christmas season.
Is Eggnog Healthy?
Our eggnog cocktail recipe does contain alcohol— it would be misleading to claim this drink healthy.
That being said, we do follow USDA guidelines and limit the amount of alcohol in this recipe. According to their guidelines, the limit for 80 proof distilled alcohol is 1.5 fl oz per drink per day.
Our eggnog only contains 0.5 fl of 80 proof rum per serving. We recommend having only one drink to ensure you don't excess your alcohol limit.
In addition, we limit the amount of added sugar in this recipe to only ½ tablespoon of sugar per drink. This is to ensure that you don't consume too much sugar and excess calories.
1. Calories in Eggnog Cocktail
Our eggnog contains 150 calories per serving. One serving yields about ⅔ cup of eggnog.
2. Is Eggnog Good for Weight Loss?
As mentioned, eggnog contains mostly eggs, dairy, and alcohol— giving it a high amount of saturated fat and calories. Technically, eggnog may not be suitable for those who are on a diet.
However, you can make it more diet-friendly by customizing the recipe. Here's how you do it:
Use low-fat milk: whole milk and other dairy products tend to be high in saturated fat. Using low-fat milk can lower your calorie and saturated fat intake.
Reduce sugar: sugar contributes to your calorie and carb intake. We use 2 tablespoons of sugar for a 4-serving recipe, but you can cut down to 1 ½ tablespoons.
Reduce or omit alcohol: like sugar, alcohol is the source of calories and carbs. It would be best to reduce or leave it out if you follow a strict diet.
Eggnog Cocktail Ingredients
Here are the main ingredients in an eggnog cocktail recipe: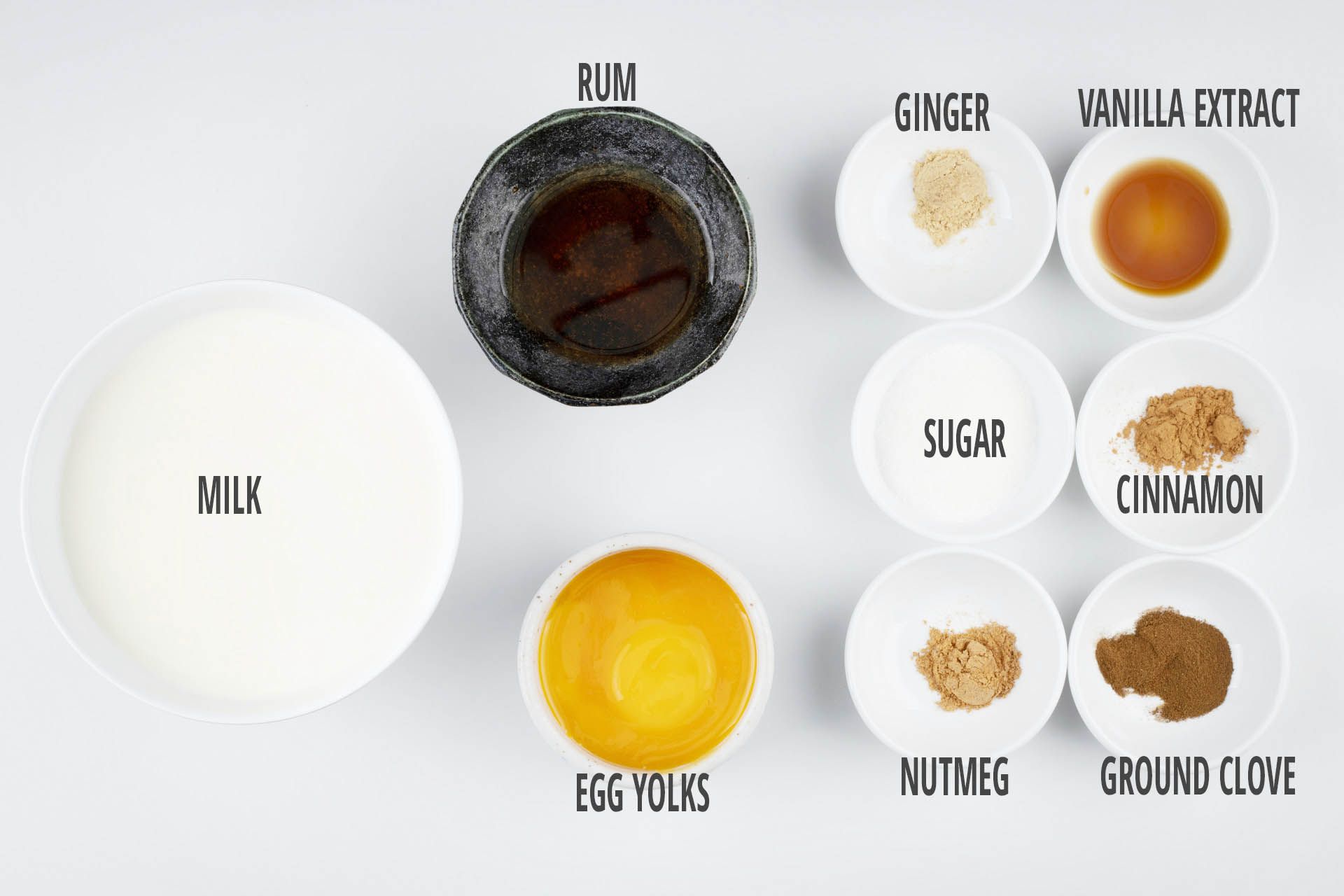 Dairy: we use milk but you can also add heavy cream.
Eggs: for today's recipe, we only use egg yolks.
Spirits: dark rum (optional.)
Spices: clove, ginger, cinnamon, nutmeg, and vanilla.
Customize the Recipe to Your Taste
1. Milk
We use whole milk for today's recipe but you can use whichever type of milk you prefer.
If you're trying to cut down on your calorie consumption, you can use 1% fat or skimmed milk. For those who are lactose-intolerant, we recommend using either almond or cashew milk.
2. Egg Whites
Traditionally, a good cup of eggnog often has a layer of foam on top of it. This layer is made from egg whites.
To make that foamy layer, start with whisking egg whites and sugar until stiff. After that, gently fold the silky egg whites into the cooled eggnog.
The whipped egg whites will enhance the drink texture— a luscious, light, and frothy consistency.
3. Spices
The most common spices in eggnog include cinnamon, nutmeg, and vanilla. Other spices such as cardamom, clove, ginger, or even pumpkin pie spice can be added to the drink as well.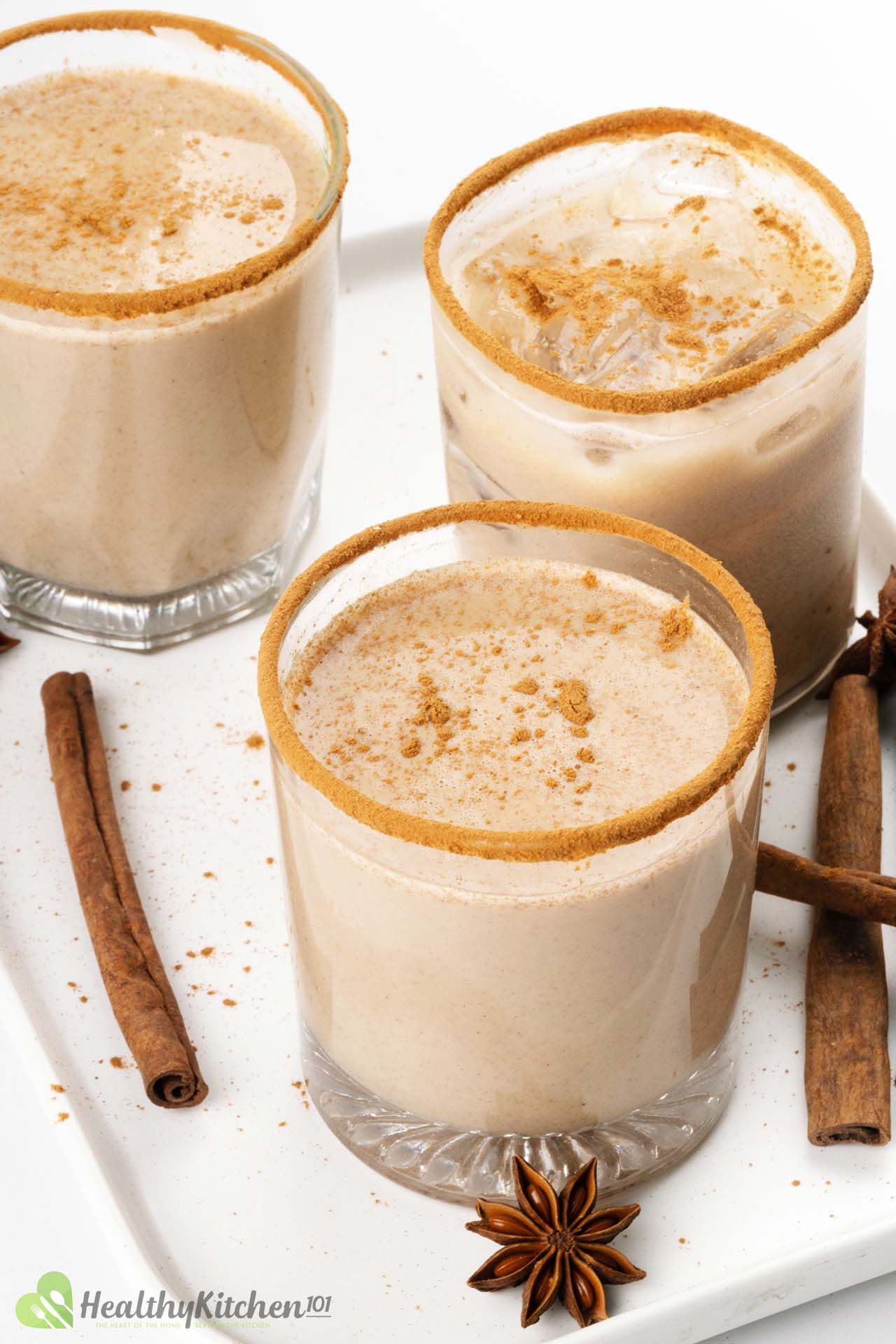 Types of Alcohol for Eggnog
1. Dark Rum
This particular type of rum has a complex taste. It has a scent of caramelized sugar, earthy, woody flavor, and a sharp, slightly bitter taste.
The bitterness is almost invisible when mixed with eggnog, leaving only the smell of caramel behind in every sip.
2. Brandy
Brandy is a type of distilled alcohol with a mix of fruity, flowery, and citrusy flavors. If you add brandy to eggnog, it would be best to serve it chilled with ice to compliment their flavors.
3. Flavored Liqueurs
We'd like to introduce two types of liqueur that we think you'll love in your eggnog: Kahlúa and Baileys.
Kahlúa is a type of Mexican coffee liqueur. It adds a strong coffee aroma and a hint of sweetness that will pair flawlessly with your eggnog.
Baileys, on the other hand, is a type of liqueur made from Irish whiskey, cream, and cacao. Add this to your eggnog and it will be extra rich, creamy, and flavorful with a touch of alcohol.
Can You Make Vegan Eggnog?
Yes, you can. Here's how you make a vegan-friendly "nog":
Leave out non-vegan ingredients: particularly in today's recipe, granulated sugar, egg yolks and whole milk.
Look for vegan alternatives: we recommend using cashew milk and agave or maple syrup.
Thicken the texture: you can mix in flour or cornstarch to the drink and heat it up to cook. Or, blend warm cashew milk with freshly roasted cashew for an extra thick consistency.
Fortunately, alcohol is vegan so you don't have to find an alternative for it.
How to Make Homemade Eggnog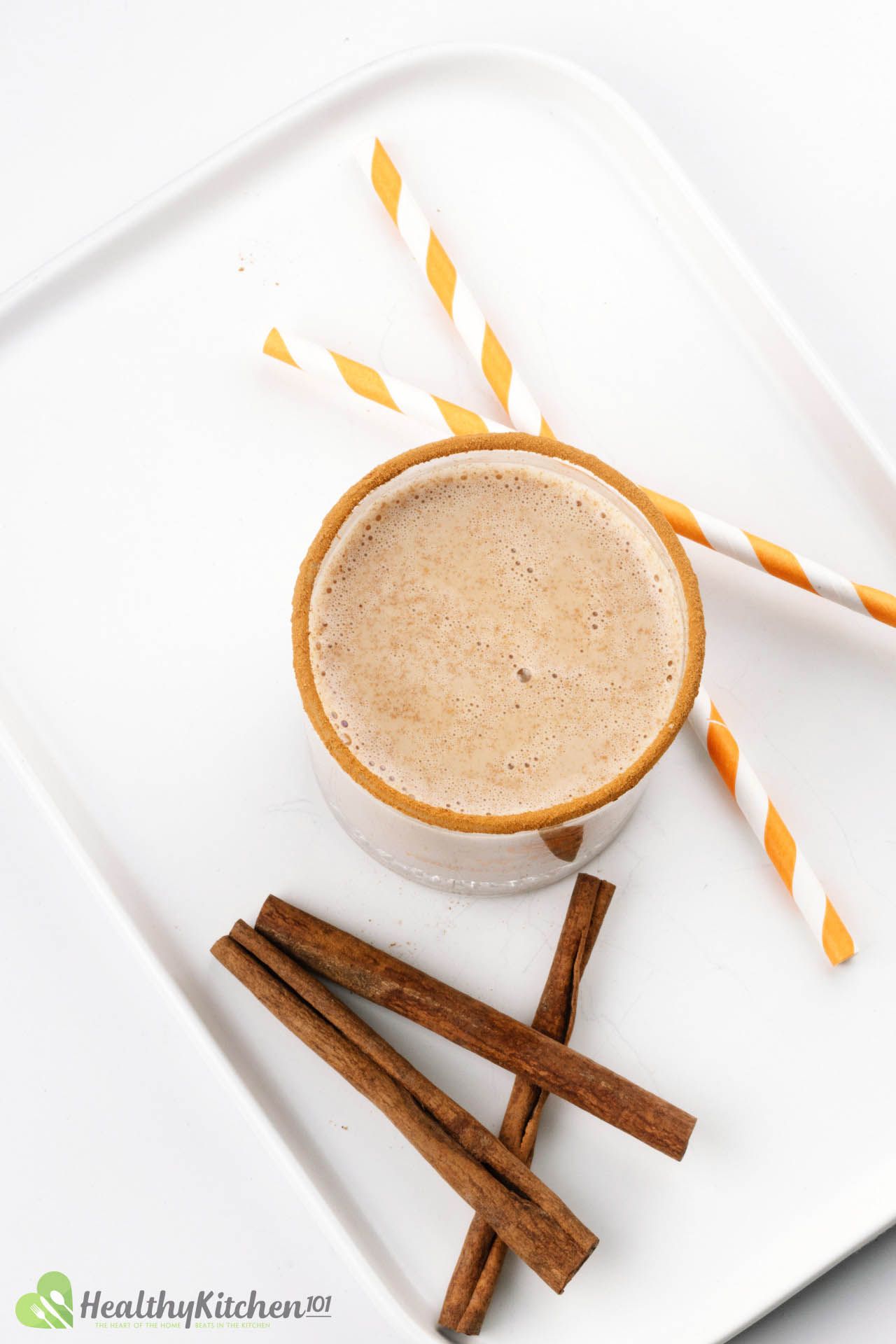 Step 1: Heat the milk.
Step 2: Whisk the egg yolks.
Step 3: Temper the egg.
Step 4: Cook the eggnog.
Step 5: Serve.
Tips for Making Eggnog
Here are a few things to keep in mind when making eggnog:
Don't boil the milk: you want the milk to heat up gently over low heat. When you notice steam coming off from the milk, it's warm enough.
Don't put hot milk into eggs all at once: it's best to put it in one ladle at a time. If you put all the milk into the eggs, the eggs will be cooked and you'll have to start over.
Garnishes
You can make the drink more aesthetic by decorating the glasses. Use a dampened paper towel to lightly wet the rim of your serving glasses and dip it into cinnamon powder.
The cinnamon powder will stick to the rim of the glass, creating a nice visual effect. It will also give you an extra kick of cinnamon in every sip.
Can You Freeze Eggnog?
Yes, you can. However, we wouldn't recommend freezing homemade eggnog.
Freezing homemade eggnog can prolong its shelf life for about a month, but it will not guarantee the flavor.
Homemade eggnog has a silky, frothy texture thanks to the air bubbles forming when you whisk the nog. Freezing eggnog will destroy all those tiny air bubbles— ruining the drink texture.
Store-bought eggnog, on the other hand, freezes well and can last 3 to 6 months, depending on expiration date.
How Long Does Eggnog Last?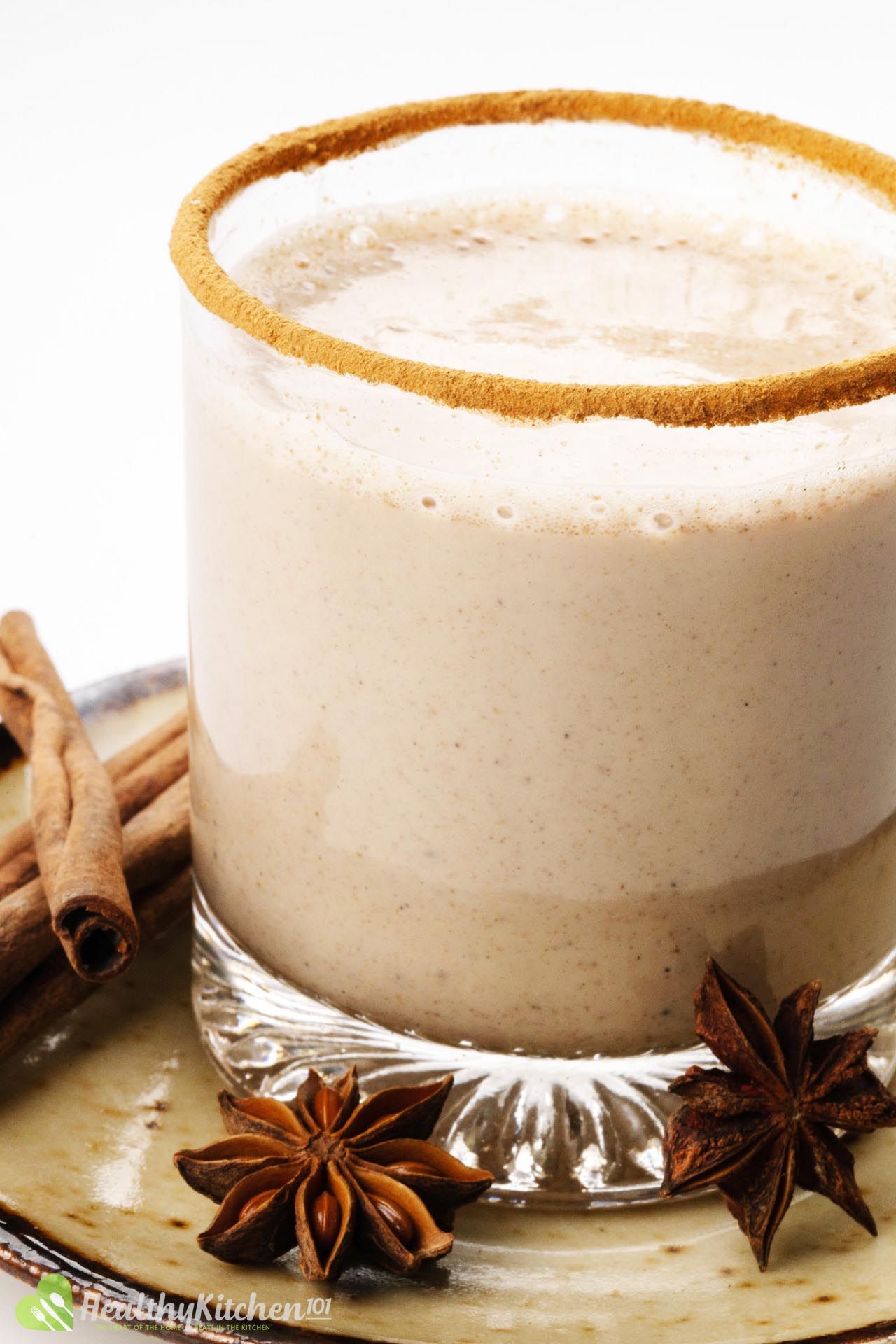 Our homemade eggnog can last from 3 to 5 days in the fridge, provided you store it properly.
We recommend keeping the drink in a clean airtight jar or bottle. Wash the container clean and rinse it with hot water before leaving it to dry completely.
You should also allow your eggnog to cool before putting it said container.
If you put warm eggnog into a bottle and seal it, it releases steam and the steam will be trapped. This will create moisture inside the container— creating an ideal environment for bacteria to grow.
So, to store eggnog properly, leave it to cool before putting it an airtight container and into the fridge.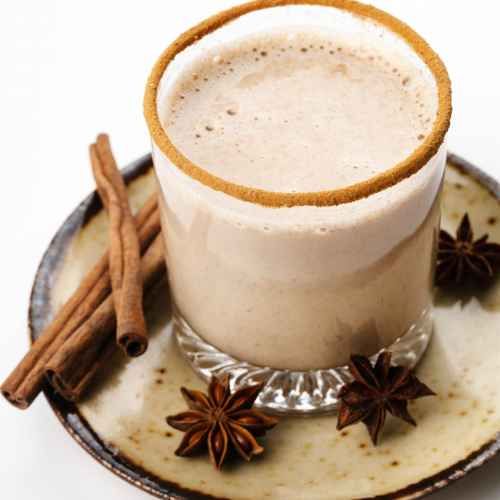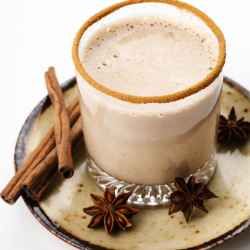 Eggnog Cocktail Recipe
Print
RATE
facebook share
twitter share
pinterest share
This eggnog cocktail recipe contains less sugar, but still tastes amazing. It only takes a few ingredients and minutes to make!
Ingredients
2

cups

whole milk

3

large egg yolks

2

tbsp

granulated sugar

1/2

tsp

ground clove

1/2

tsp

ginger powder

1/2

tsp

cinnamon powder

1

fl oz

80-proof rum

1

tsp

vanilla extract

1/2

tsp

nutmeg

freshly ground
This post may contain links to Amazon or other partners; Purchases made via these links may benefit us at no additional cost to you. Read our Affiliate Disclosure.
Instructions
Heat the milk: in a small saucepan, add milk and heat over very low heat for 5 minutes. The milk should be warm and not boiling.

Whisk the egg yolks: while the milk is heating, add egg yolks and sugar in a mixing bowl. Whisk vigorously for 3-5 minutes or until frothy.

Temper the egg: slowly add the warm milk to the egg yolk, ladle by ladle, whisking constantly. Repeat with the rest of the milk.

Cook the eggnog: Once finished, add the mixture back in the saucepan and put it back on the stove on very low heat. Add ground clove, ginger powder, cinnamon powder and cook for 5 minutes, stirring gently and constantly. Turn off the heat. Add rum, vanilla extract, and nutmeg. Stir to combine.

Serve: divide the eggnog into 4 glasses and serve hot. Or refrigerate and serve chilled with ice.
Nutrition
Nutrition Facts
Eggnog Cocktail Recipe
Amount Per Serving (1 serving)
Calories 162
Calories from Fat 72
% Daily Value*
Fat 8g12%
Cholesterol 158mg53%
Sodium 58mg3%
Potassium 171mg5%
Carbohydrates 13g4%
Protein 6g12%
Vitamin A 386IU8%
Calcium 151mg15%
Iron 1mg6%
* Percent Daily Values are based on a 2000 calorie diet.
Hello! All photos and content are copyright protected. Please do not use our photos without prior written permission. Thank you!