If perfectly-cooked, tender beans are what you're craving, you'll want to check out our Instant Pot black beans recipe.
Using the high-pressure cooking method, these black beans are made with minimal active time and effort. They hold their shape marvelously and retain their creamy yet firm inside texture without breaking or becoming mushy. 
Instant Pot black beans are super adaptable and can be easily incorporated into any kind of meal — as a side dish, an appetizer, or a hearty filling for wraps. They are also the perfect ingredient for meal-prepping during busy weeks and for National Eat Your Beans Day (July 3rd)!
Are Instant Pot Black Beans Healthy?
Absolutely.
Black beans are small, shiny legumes known for their dense texture and earthy flavors. They are also called "turtle beans" or "black turtle beans".
Black beans are native to the Americans and can be found in many cuisines, including Latin American, Mexican, and Cuban. They are a cultural staple across South America.
Nowadays, black beans are seen as a versatile and healthy ingredient in various types of dishes worldwide. Known for their hearty, creamy taste, they're considered a low-cost yet highly-nutritious superfood by many dieters.
Being an excellent source of plant-based protein, soluble fiber, and antioxidants, black beans are also low-fat, vegan, and gluten-free.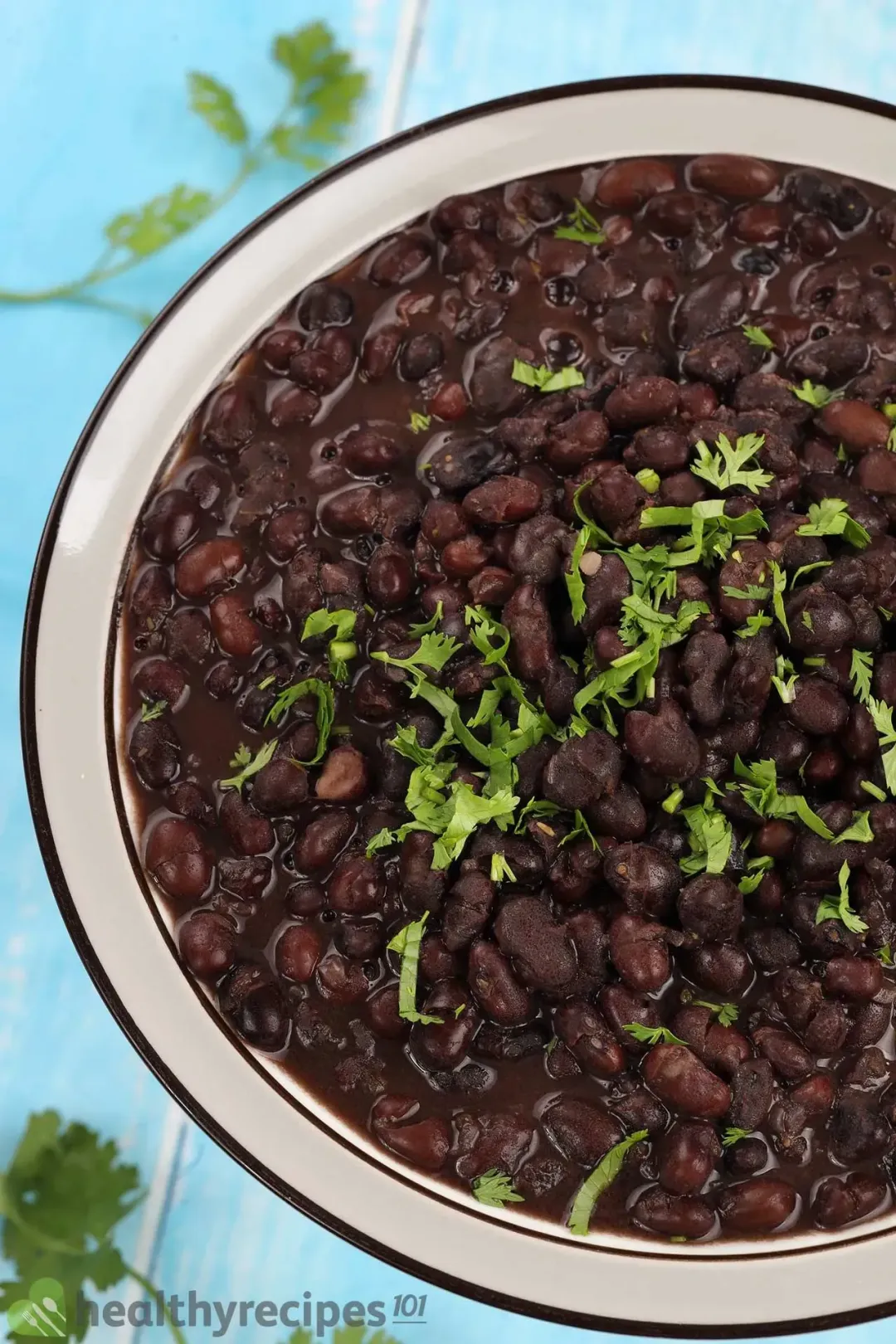 Here are just a few benefits of addingblack beans to your diet. Black beans can:
Support digestive function, help your body absorb nutrients and aid weight loss.
Improve blood sugar control and lower the levels of "bad" cholesterol in your blood, thus reducing the risk of developing heart disease.
Prevent the risk of certain types of cancer, including stomach, kidney, colon, breast, and prostate cancers.
Improve eye health by protecting against age-related macular degeneration and cataracts.
Black Beans vs. Pinto Beans
Both black beans and pinto beans are hearty, nutritious, and versatile in various types of dishes. But a few characteristics make them distinct from one another.
1. Appearances
Black beans are small, oval-shaped, and almost entirely black on the exterior. Their centers are creamy-white colored kernels.
Pinto beans, on the other hand, are larger in size and are brownish or light-caramel colored with white speckles.
Black beans remain black even when cooked, while pinto beans lose some of their dark brown pigments and get pinker after exposure to high heat.
2. Texture & Taste
Compared with pinto beans, black beans are firmer and have a nuttier flavor. After cooking, their texture becomes dense, similar to that of a mushroom.
Black beans can hold their shape and resist moisture when cooked in high-heat. They're sturdier than pinto beans in general.
Softer and more susceptible to moisture than black beans, pinto beans require less cooking time as they're more likely to turn mushy or watery in high temperatures. When mashed, they have a similar texture to boiled potatoes.
While black beans offer a starchier feel, pinto beans are slightly earthier and mushier.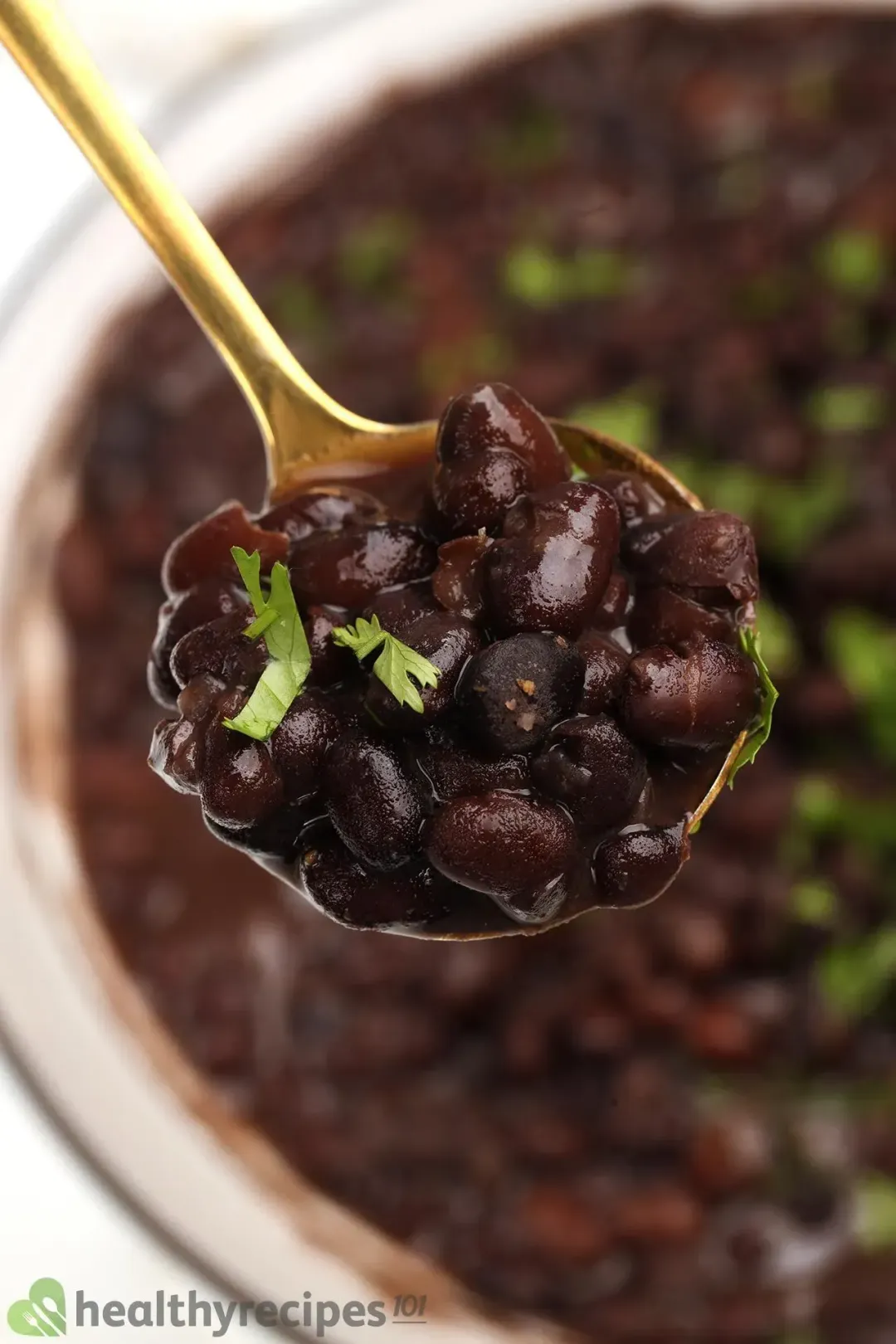 3. Nutrients
Both black beans and pinto beans are low-fat, low-calorie, and great plant-based sources of protein and dietary fiber. They're also both packed with a wide range of essential vitamins and nutrients.
Nevertheless, dry black beans come with larger amounts of macronutrients and vitamin B-6 than their light brown counterparts. Dry pinto beans are significantly higher in sodium.
4. Uses
Both types of bean are staple ingredients in many Latin American dishes. They offer rich amounts of protein and fiber and can be used as meat replacements or served with rice and meat as a side.
However, due to the difference in texture, each is best used in distinct types of dishes.
Black beans are commonly served as a side to rice or added into chili (Ground Chicken Chili), soup (Chicken Tortilla Soup), or even a salad (Corn Black Bean Salad) due to their thickness and density. Popular throughout South America, they are used in many Brazilian dishes, including its national dish, "Feijoada."
Creamy pinto beans on the other hand are most commonly used in spreads as well as wraps, mashed dips, and refried beans. You can compare the two types of beans yourself and choose your favorite by checking out our Instant Pot pinto beans recipe.
How to Prepare Black Beans for Instant Pot Black Beans
When buying dry black beans, first, make sure they're fresh and whole, not moist or leaking liquids. They should not be dry, cracked, or chalky.
Dry black beans taste better and are cheaper than canned ones. They can keep for up to 2-3 years without losing nutrients if stored in a cool, dry, dark place.
Black beans can cook much faster in the Instant Pot than on the stovetop, so soaking them before cooking is optional.
However, pre-soaking dry black beans, if possible, can bring certain benefits, such as removing tannin and phytic acid on the exterior. These substances are hard to cook, and removing them may help your body absorb the minerals in the beans better.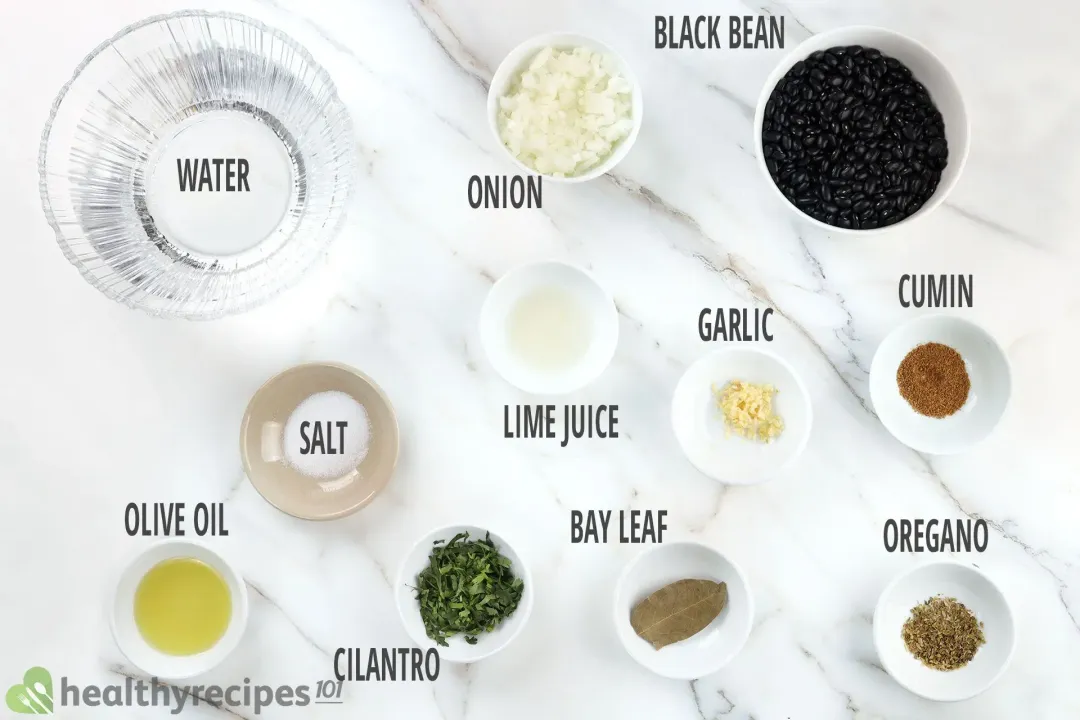 How Long to Soak Black Beans?
To soak dry beans, first prepare a large bowl of hot water (following the ratio of 3 parts water to 1 part dry beans). Soak them for a maximum of 2 hours, then drain the excess water.
You can also soak beans in cool, filtered water and store them overnight in the fridge. During soaking, the beans will triple in size, so you may need to use an extra-large soaking bowl or boiling pot.
If the beans are not soaked, be sure to rinse and drain them well before cooking. Consider picking over them to remove small stones and debris that may be contained in the bag.
Can Cooked Black Beans Be Frozen?
Yes, cooked black beans are very freezer-friendly. They are also ideal for meal-prepping. Cook a large batch and portion it into individual servings for easy meals throughout the week.
Kept in a sealed container, cooked black beans can stay fresh for 3-5 days in the refrigerator. Frozen, they'll remain edible for up to 3 months.
We advise letting the beans cool down completely before storing them to preserve their optimal freshness.
How to Serve Instant Pot Black Beans
Any Latin-inspired dish can be paired with this Instant Pot black beans. Here are some tasty ideas:
Instant Pot Black Beans
This Instant Pot black beans recipe requires 45 minutes of high-pressure cooking for a large batch of beans that can be served throughout the whole week. It takes just 6 steps (and most of the heavy lifting is done by the Instant Pot!)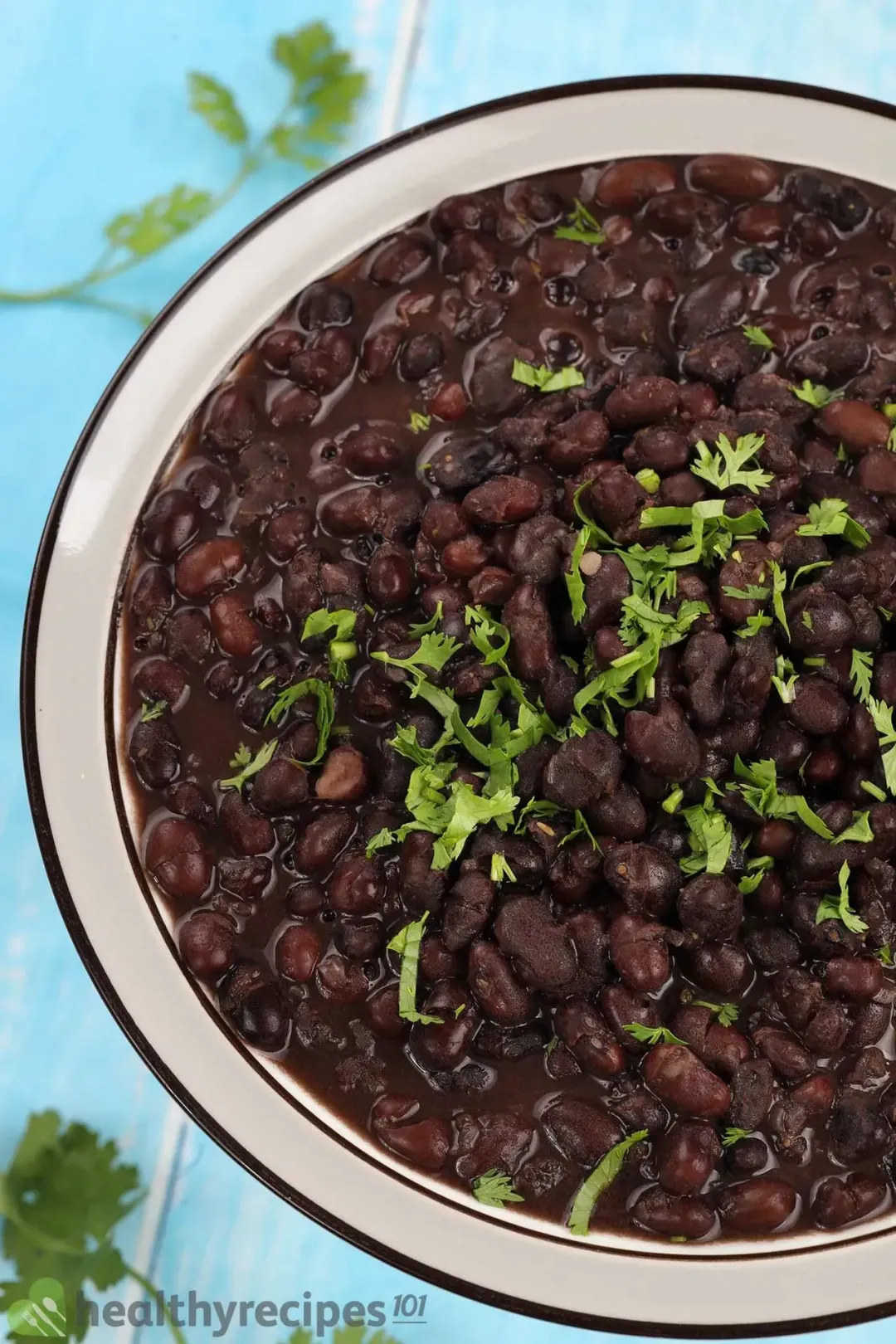 cook TIME

45 mins

prep TIME

5 mins

total TIME

2 hr 50 mins

INACTIVE TIME

2 hr
COURSE

Side Dish

CUISINE

American, Mexican

SERVINGS

CALORIES

232 kcal
INGREDIENTS
6 cups

hot water

(3 cups for soaking)

2 tbsp

cilantro

(chopped)
INSTRUCTIONS
1
Soak the black beans in 3 cups hot water for 2 hours. Drain them and set them aside.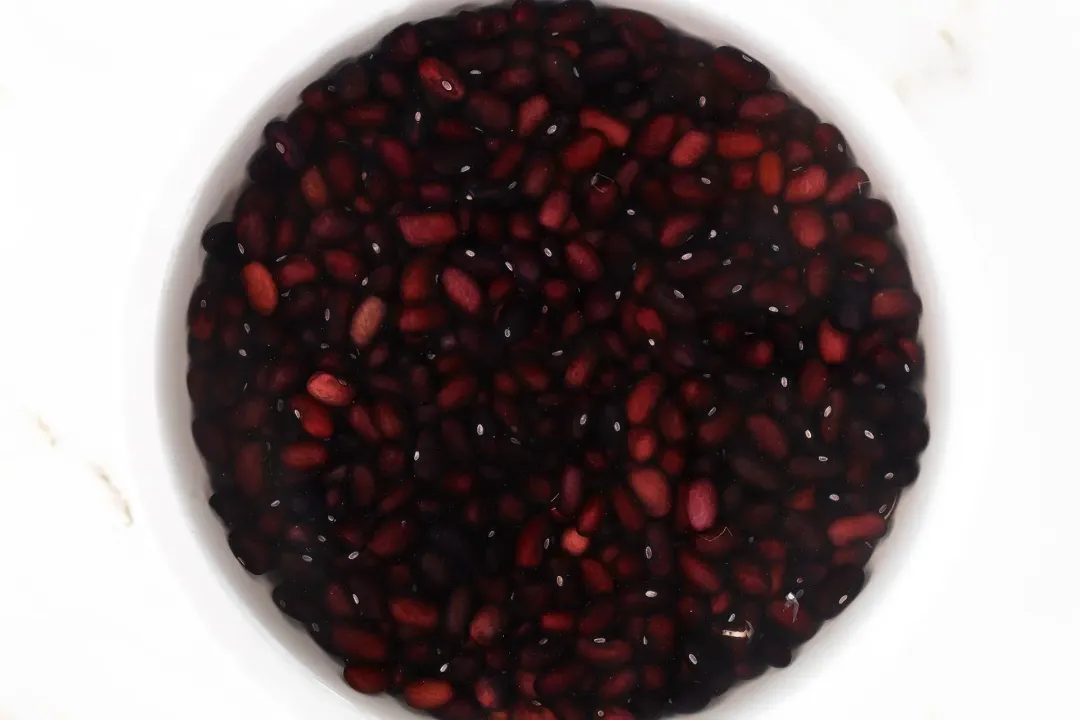 2
Add 1 tbsp olive oil, 1 bay leaf, 1 tsp garlic, and 2 oz onion to the Instant Pot. Sauté for 2 minutes on the "Sauté" setting until fragrant.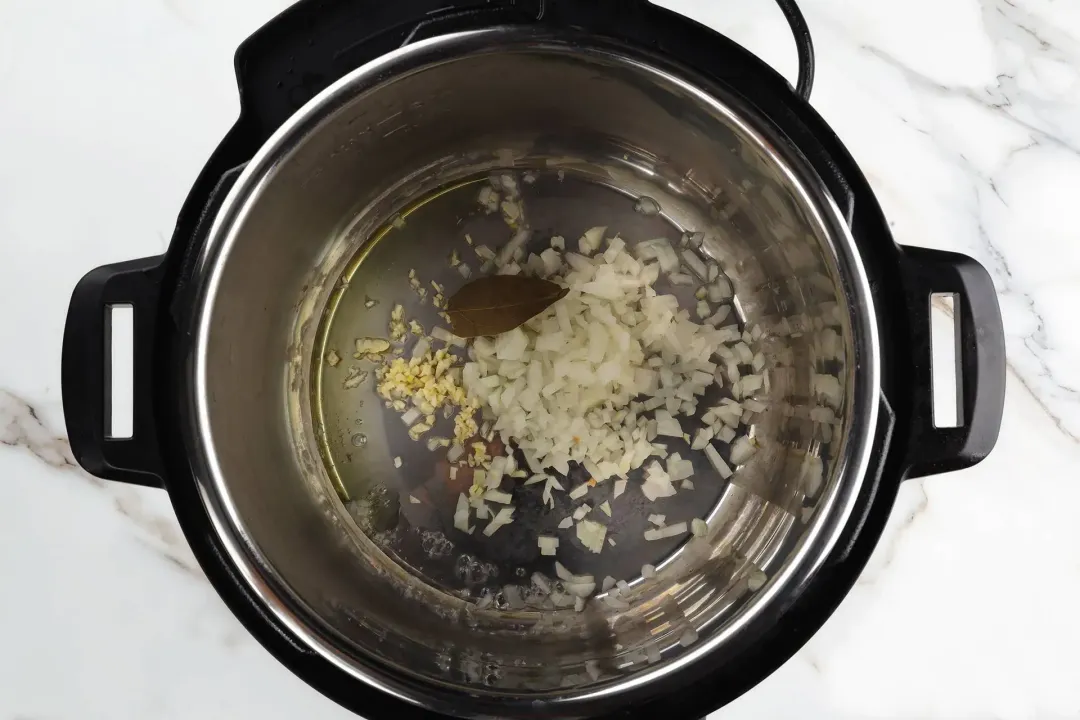 3
Turn to "Meat/Stew" mode. Add 8 oz black beans and 3 cups hot water to the Instant Pot. Cover and seal the lid. Set the pressure release valve to the sealing position. Cook on high pressure for 25 minutes.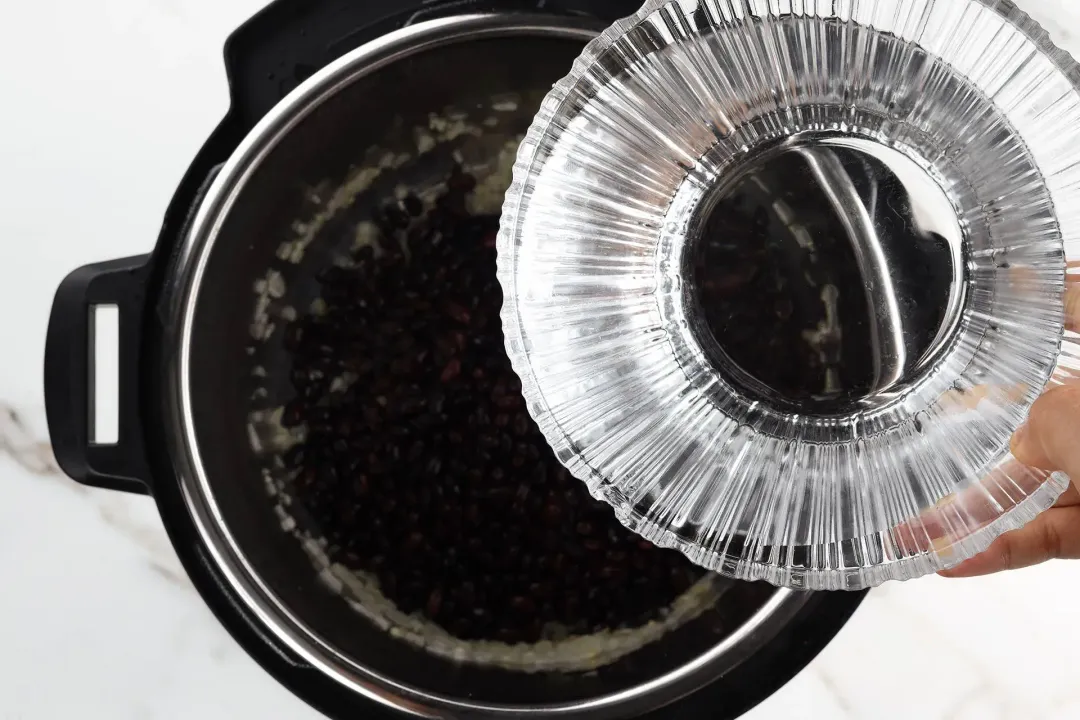 4
Allow the steam to release by turning the venting knob to the venting position. After the steam has fully escaped, carefully open the lid.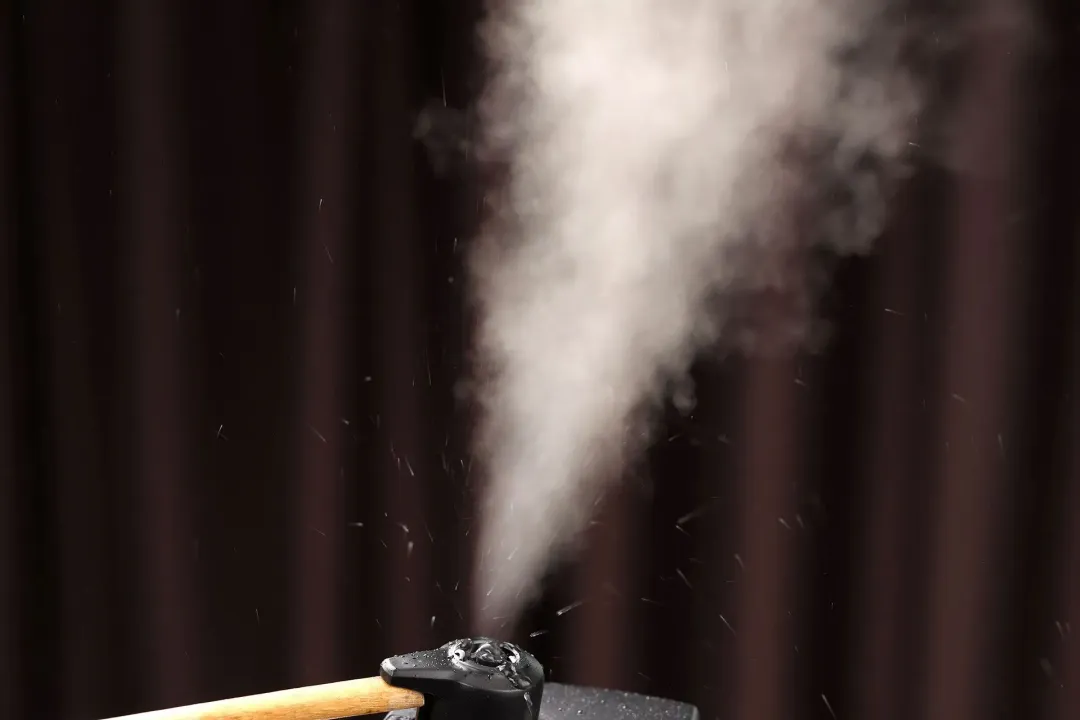 5
Set the Instant Pot back to "Sauté" mode. Continue to add 1/2 tsp salt, 1/2 tsp oregano, and 1 tsp lime juice to brighten up the flavors. Cook for 10 more minutes.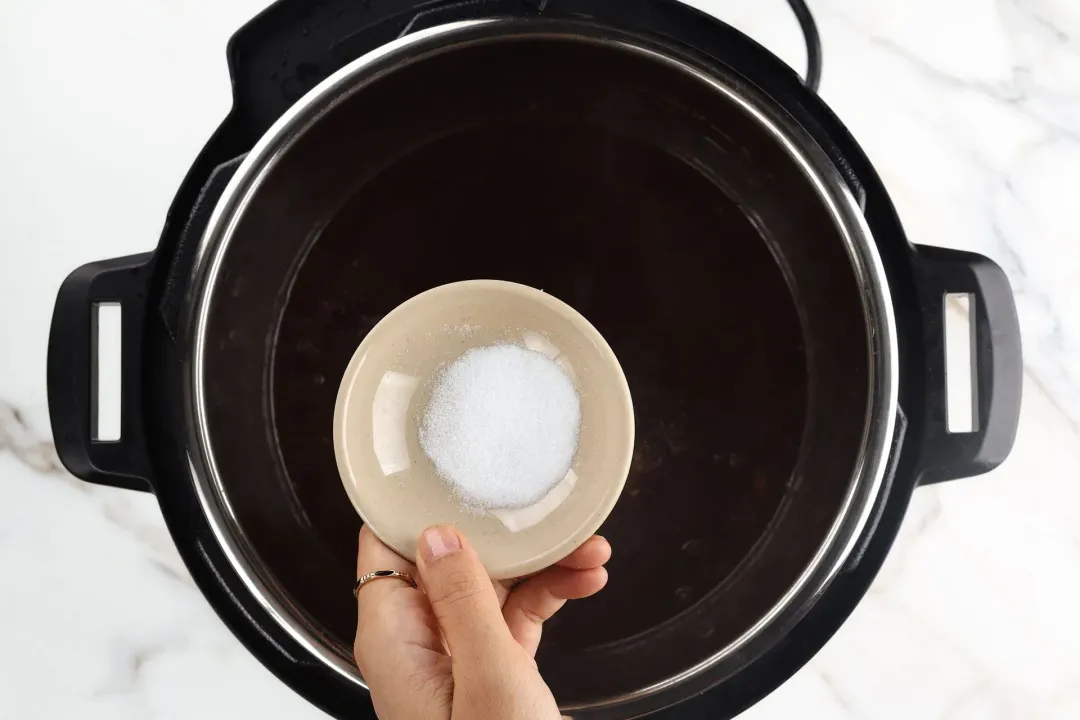 6
Remove the bay leaf (There is no need to drain liquid). Garnish with 2 tbsp chopped cilantro. Divide into single portions and serve hot.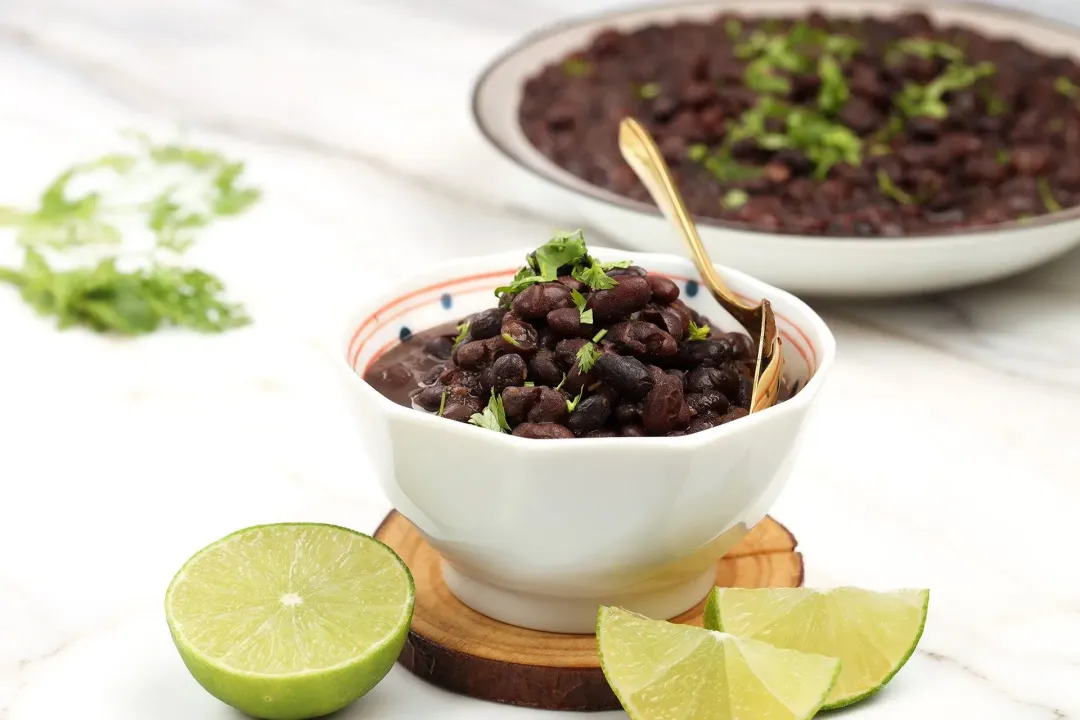 NUTRITION
Nutrition Facts
Instant Pot Black Beans
Amount Per Serving (1 serving)
Calories 232
Calories from Fat 36
% Daily Value*
* Percent Daily Values are based on a 2000 calorie diet.
Keywords: black beans in instant pot, how to cook black beans in an instant pot, instant pot black beans, instant pot black beans recipe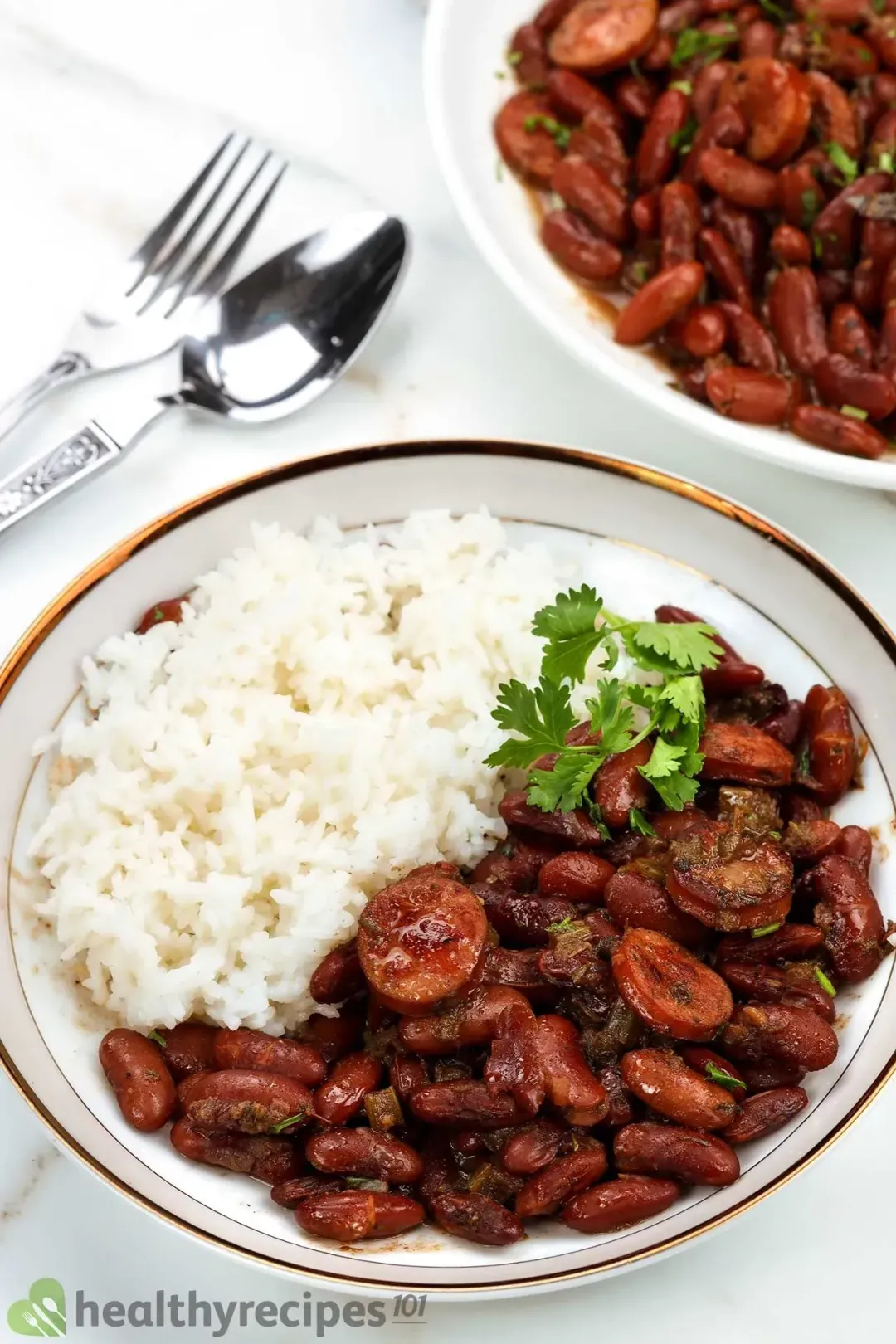 Previous Recipe
Instant Pot Red Beans and Rice
Instant Pot Red Beans and Rice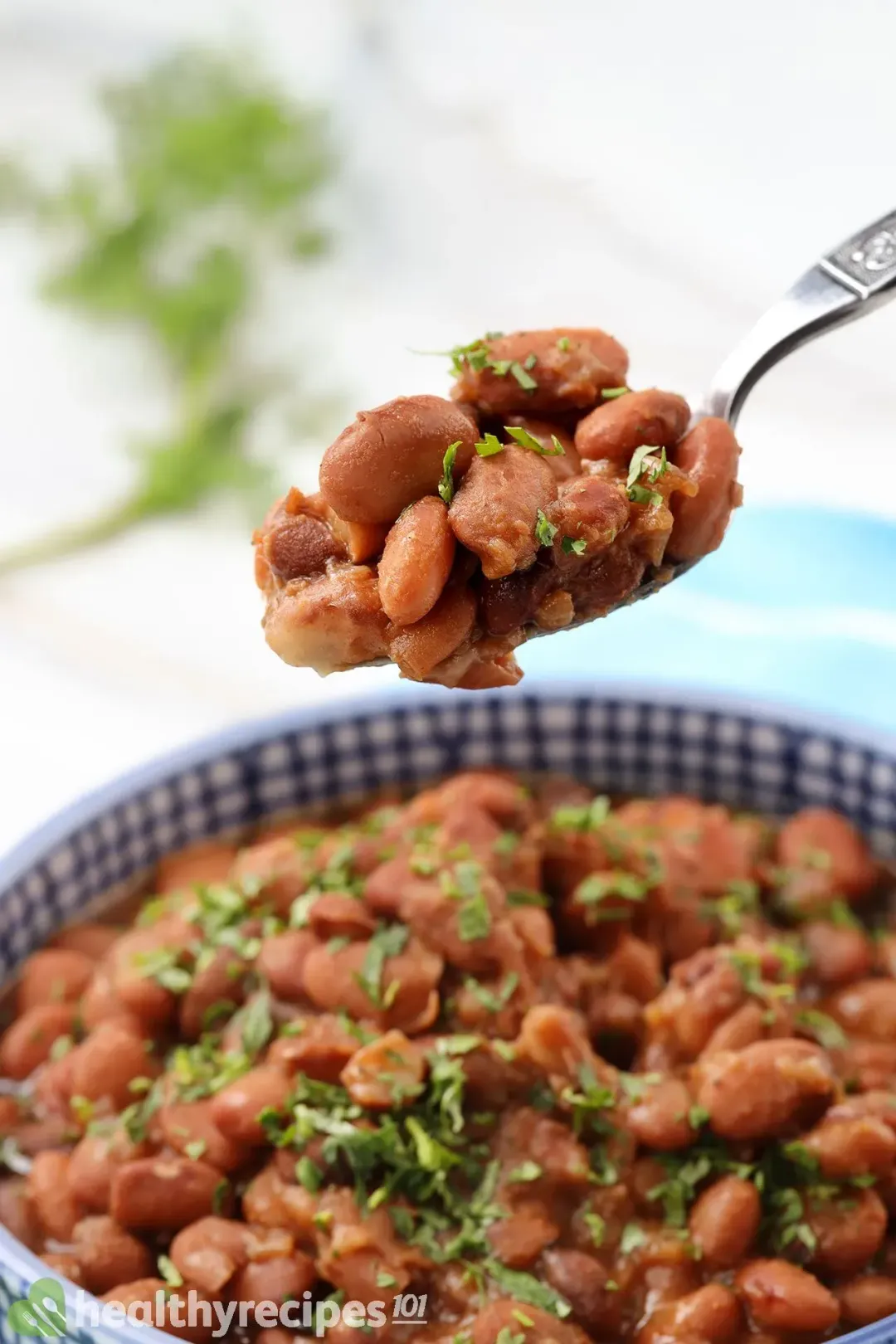 Next Recipe
Instant Pot Pinto Beans
Instant Pot Pinto Beans
Head Chef, Culinary Consultant
Tuyet Pham is an award-winning Saigonese chef who believes that joy is the secret ingredient to delicious food. At Healthy Recipes 101, Tuyet personally tests and simplifies every recipe, ensuring maximum flavor with minimal effort. With a background at prestigious French restaurants P'TI Saigon and Le Corto, Tuyet knows how to make every dish exceptional.
Writer, Author
Luna Regina is an accomplished writer and author who dedicates her career to empowering home cooks and making cooking effortless for everyone. She is the founder of HealthyKitchen101.com and HealthyRecipes101.com, where she works with her team to develop easy, nutritious recipes and help aspiring cooks choose the right kitchen appliances.
Nutrition Reviewer
Lizzie Streit is a Minneapolis-based dietitian and founder of It's a Veg World After All. She completed her MS in Human Nutrition from Drexel University, and is an expert in culinary nutrition, recipe development, and nutrition communications. Lizzie's philosophy is centered around making nutrition recommendations, and especially the advice to eat more vegetables, approachable and realistic. She is excited to be working with the team at Healthy Recipes 101 to ensure that their recipes are both nutritious and delicious.
Quick, easy, and flavorful black beans.