With this Instant Pot Jambalaya recipe, you will have a classic, comforting Louisiana dish to share with your loved ones.
Before we start cooking, here are some interesting facts about this delicious dish.
What Is Jambalaya?
Jambalaya is a Louisiana rice dish packed with meat, sausage, vegetables, and spices. It takes on a beautiful red color and, unlike most rice dishes, is rather moist (but not soggy like risotto.)
A typical jambalaya recipe calls for:
Protein: Chicken, pork, sausage, seafood, or crawfish. A type of French smoked sausage known as "andouille" is often preferred.
Vegetables: Onion, celery, and bell peppers — the "holy trinity" vegetables in Cajun and Creole cooking. There might also be okra, carrots, tomatoes, and chilis.
Spices: Cajun spices, paprika, chili powder, garlic powder, and onion powder. These are the basic spices used in Louisiana cuisine.
Broth: The key to the dish's signature flavor.
After the meat and vegetables are thoroughly sauteéd, the rice, seasonings, and broth are added and simmered until the rice is cooked. The rice gets to absorb all of the seasonings and flavors from the sauteéd meat and veggies, making it special and inviting.
With the instant pot, you can make this delicious staple much faster.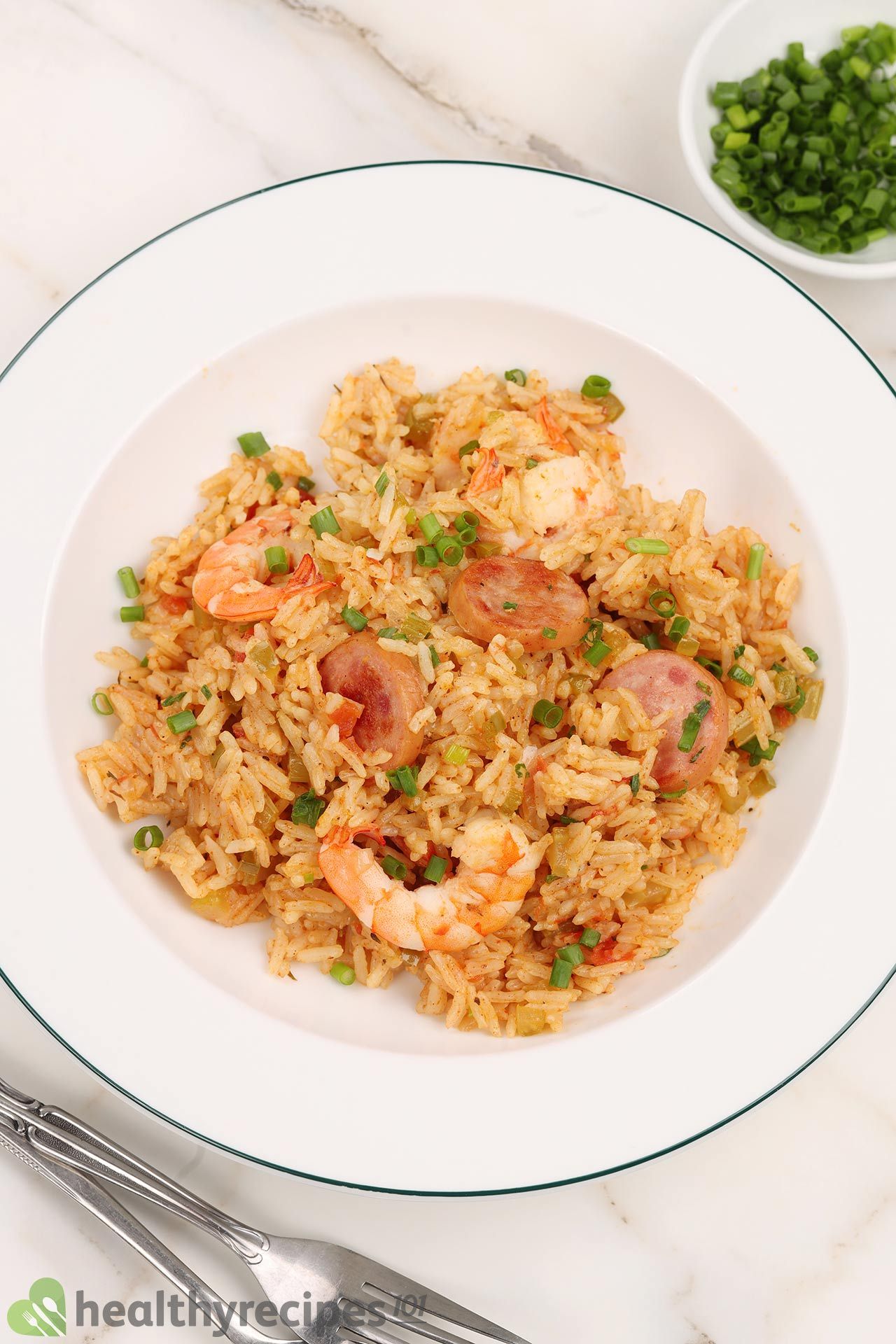 The Differences Between Gumbo and Jambalaya
While the two call for similar ingredients, they are actually very different dishes.
Jambalaya, as mentioned, is rice cooked in a stew, whereas gumbo is a thick soup that is served with rice that was cooked separately. The flavors combine differently and give each dish its own character.
Is Jambalaya Healthy?
Yes, our instant pot jambalaya recipe is healthy. Here's why:
First of all, this recipe is packed with protein: one serving can provide you with nearly 25 grams. Protein takes a lot of time to digest, so you will feel full for longer.
This is a rice dish, so it's relatively high in carbs but low in calories (only 467 calories per serving).
Next, let's look at the amount of saturated fat. There's only 3 grams per serving due to the limited use of olive oil and sausages.
And since sausages are naturally high in sodium, we need to pay attention to the amount of salt we add as well. In the end, we reduced it to only ¼ teaspoon of salt for the whole recipe.
Finally, our recipe doesn't require added sugar because some ingredients such as onions, celery, and bell peppers are naturally sweet. Once cooked, these vegetables will give the rice a mildly sweet, umami taste.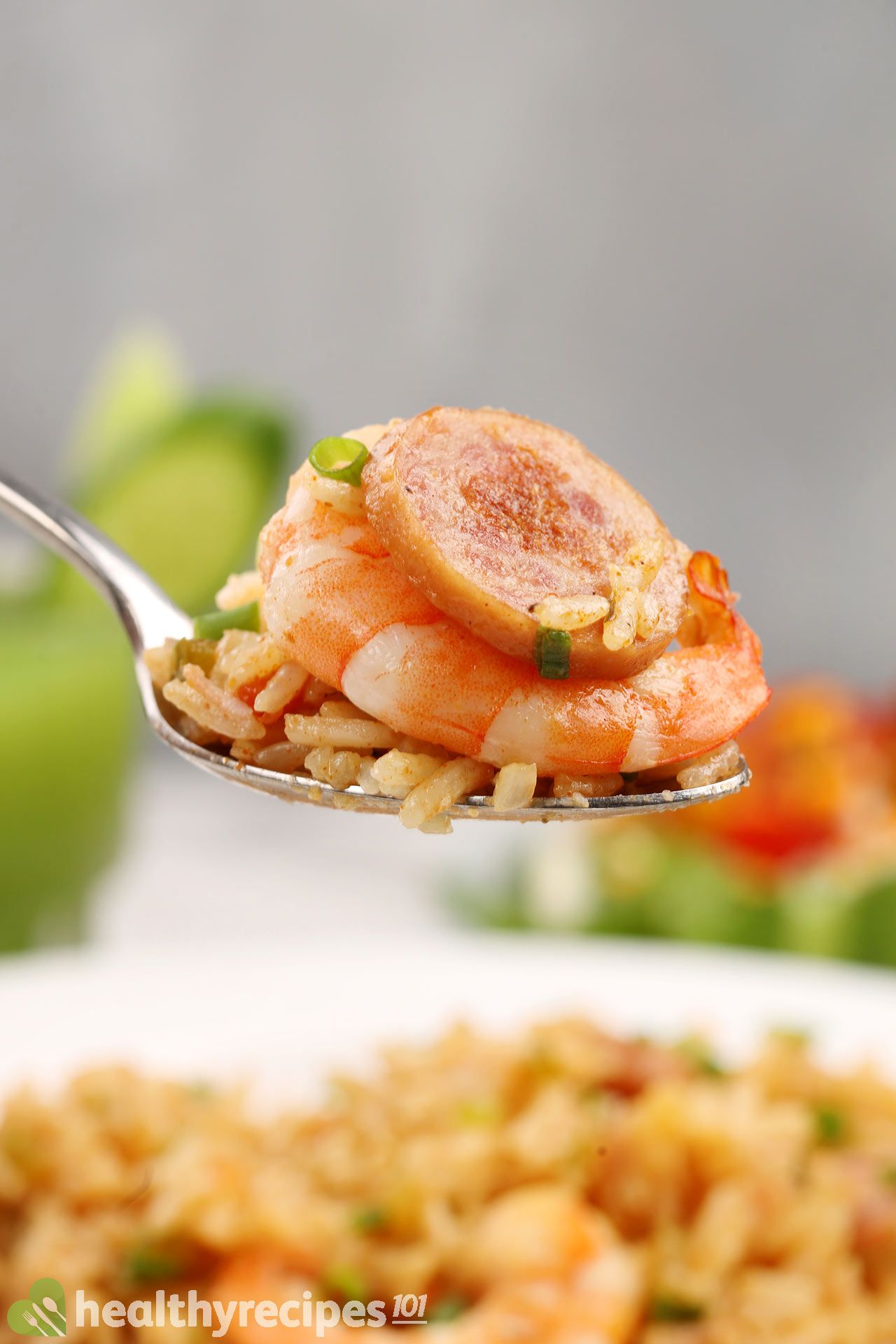 Instant Pot Jambalaya Ingredients
Let's take a look at the main ingredients to our jambalaya recipe:
Protein: We used smoked sausage and shrimp.
Olive oil: You don't need much because we will render the fat out of the sausage and use that to cook.
Flavorants: Garlic, onions, celery, and green bell pepper are essential ingredients in Louisiana cooking.
Chopped tomatoes: This is not a common ingredient in Cajun cuisine, but is popular in Creole cooking. If you want your jambalaya to be more authentically Cajun, leave the tomatoes out.
Rice: Long grain white rice is the best fit for today's recipe.
Broth: Unsalted chicken broth is our favorite pick here at HealthyRecipes101, but you can use vegetable broth or water as well.
To garnish, we sprinkled chopped scallion on top of the jambalaya to make it more aesthetically pleasing.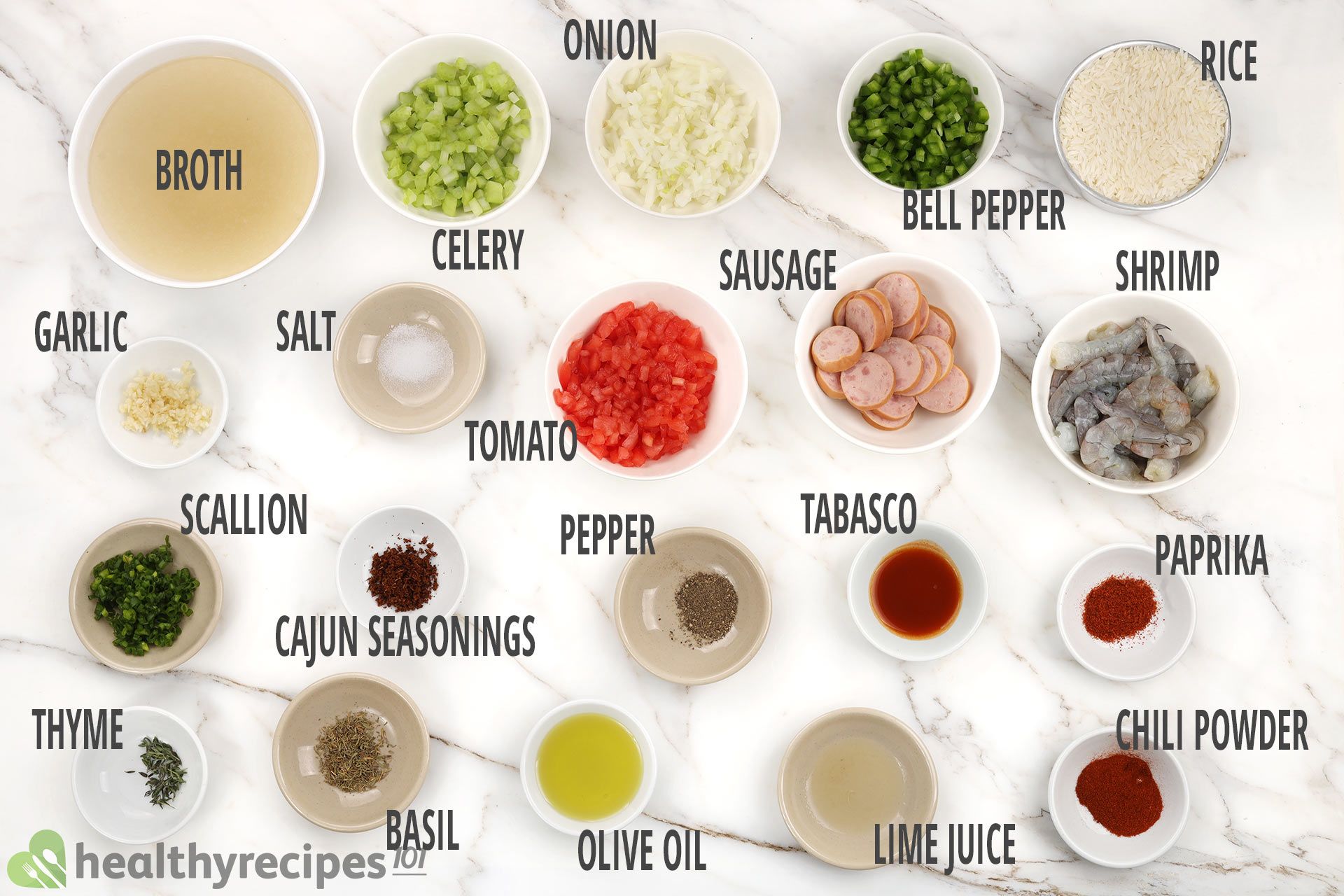 Spices for Jambalaya
Here are the seasonings we used in our Instant Pot jambalaya recipe:
Premixed Cajun seasoning
Fresh thyme
Dried basil
Paprika and chili powder
Lime juice
Tabasco sauce
Salt and black pepper
As always, our recipe is simply a guide for you. You can adjust the ingredients and make the dish suit your taste better.
For more delicious Instant Pot ideas, check out our healthy Instant Pot breakfast roundup.
How to Store and Reheat Jambalaya
If you have leftover jambalaya, you can simply cover the bowl or plate with plastic wrap. Put it in the refrigerator and you'll have a quick meal to eat the following day.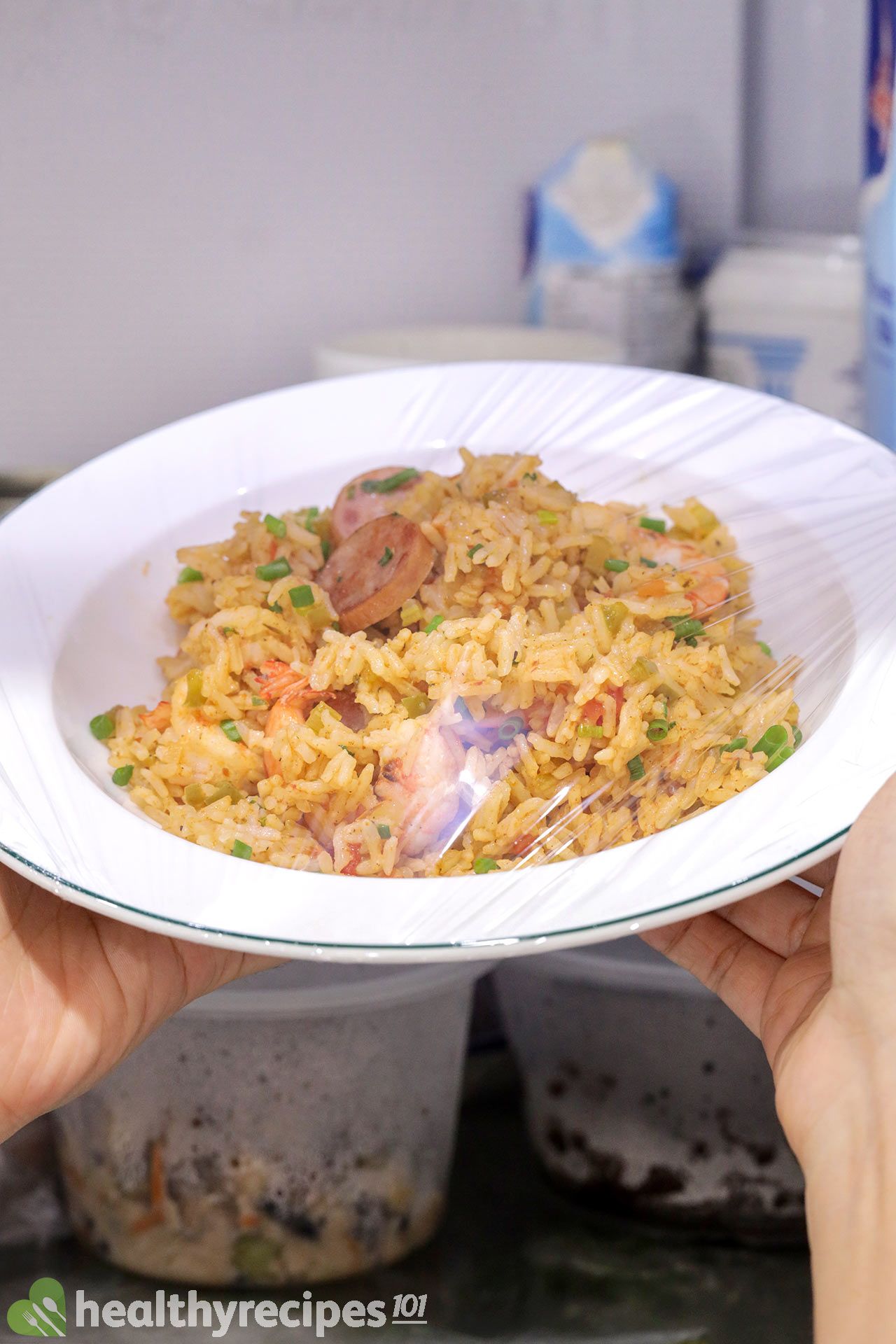 You can also store the jambalaya in an airtight container and it will last up to 5 days in the fridge.
To reheat jambalaya, simply put it into the microwave for 2 minutes. Be sure to transfer it all to a microwavable container if needed.
If you love this recipe, our healthy dirty rice recipe or shrimp jambalaya recipe are definitely worth a try.
What to Serve With Instant Pot Jambalaya
Jambalaya often seems like a wholesome dish on its own as it's packed with protein, carbs, and fiber. But as always, we encourage you to add a small salad on the side to give your body more fiber.
We recommend pairing your jambalaya with our very own chef salad and celery cucumber juice.
This fresh salad has lots of flavors and contrasting textures which can stimulate your palate and increase your appetite. Both the rice and salad are packed with fiber and protein.
After that, have a glass of refreshing celery cucumber juice to cleanse your palate. With this wholesome meal, you will stay full and satisfied for longer.
Here are the combined nutrition facts of the meal:
Nutritional values in this table vary somewhat to those below due to different app calculations. Read more...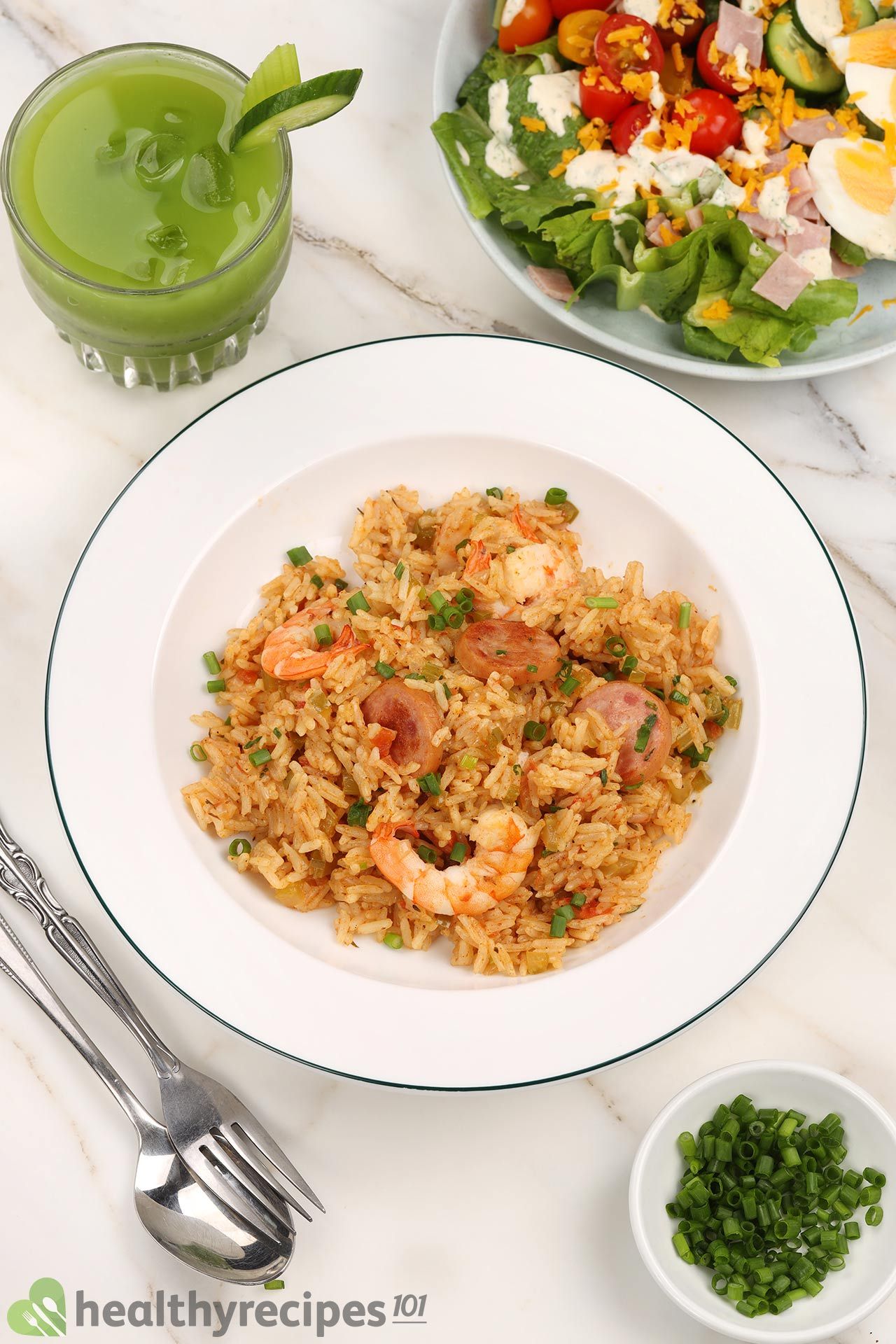 3 Easy & Healthy Instant Pot Recipes: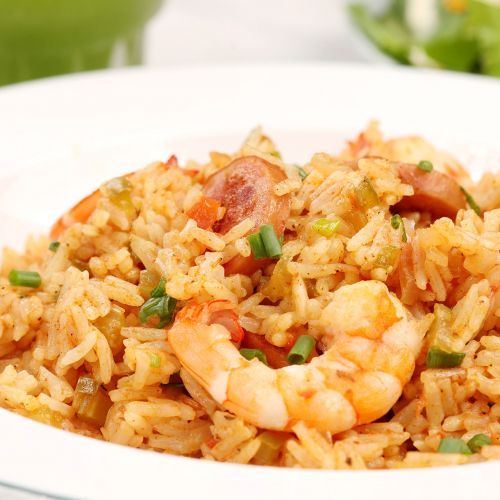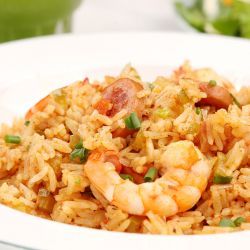 Instant Pot Jambalaya Recipe
Our Instant Pot jambalaya recipe will show you how to cook this delicious rice dish from scratch. It only takes 35 minutes to make.
Ingredients
3

oz

smoked sausage

sliced

2

tbsp

olive oil

2

tsp

garlic

minced

10

oz

raw shrimp

whole

2

oz

onions

diced

2

oz

celery

diced

2

oz

green bell pepper

diced

4

oz

tomatoes

deseeded, diced

1

tsp

Cajun seasoning

1/4

tsp

thyme

fresh

1/2

tsp

dried basil

1

tsp

paprika

1/2

tsp

chili powder

1

tsp

lime juice

freshly squeezed

1 1/2

tsp

Tabasco sauce

1/4

tsp

salt

1/4

tsp

black pepper

1 1/2

cups

uncooked long-grain rice

2

cups

unsalted chicken broth

2

tbsp

scallion

chopped
Instructions
Sear the sausage: Turn on your Instant Pot to "Sauté" on "Normal" setting. Once it's hot enough, add sausage and sear for 2 minutes on both sides. Transfer to a plate and set aside.

Sear the shrimp: Add olive oil to the pot. Add peeled shrimp and garlic, and cook for 3 minutes, stirring constantly to avoid burning the garlic. Once cooked, transfer to a plate and set aside.

Sauté the vegetables: Add onion, celery, bell pepper, and tomatoes to the pot. Cook for 5 minutes, stirring constantly. Add Cajun seasoning, thyme, basil, paprika, chili powder, lime juice, Tabasco, salt, and black pepper. Cook and stir for another 5 minutes.

Toast the rice: Add rice to the pot and stir constantly for a couple of minutes to avoid sticking to the bottom of the pot.

Cook the jambalaya: Add chicken broth to the pot. Stir to distribute the rice evenly into the broth. Cover and seal the lid. Turn the venting knob to sealing position. Choose the "rice" cooking setting program and cook for 12 minutes.

Add finishing touches and serve: Carefully turn the venting knob to release steam. Open the lid and add cooked sausage, shrimp, and freshly chopped scallions. Mix everything together. Transfer the jambalaya to a plate or bowl and serve.
Nutrition
Nutrition Facts
Instant Pot Jambalaya Recipe
Amount Per Serving (1 serving)
Calories 467
Calories from Fat 126
% Daily Value*
Fat 14g22%
Cholesterol 127mg42%
Sodium 545mg24%
Potassium 595mg17%
Carbohydrates 61g20%
Protein 24g48%
Vitamin A 766IU15%
Vitamin C 18mg22%
Calcium 97mg10%
Iron 4mg22%
* Percent Daily Values are based on a 2000 calorie diet.