Our Instant Pot shrimp pasta recipe adapts another family-friendly meal to the pressure- cooking method. The process has been changed up a bit for the Instant Pot, but the dish's flavor is as delicious as the stovetop version.
The seafood, garlic, and butter are cooked simultaneously, allowing the flavors to mingle together for a rich and savory dish. This meal is perfect for a quick dinner for yourself or even to impress your guests at a party.
Is Our Instant Pot Shrimp Pasta Recipe Healthy?
We moderated the amount of each ingredient and seasoning in this recipe to fit with our healthy eating guidelines, so yes, our Instant Pot shrimp pasta is healthy.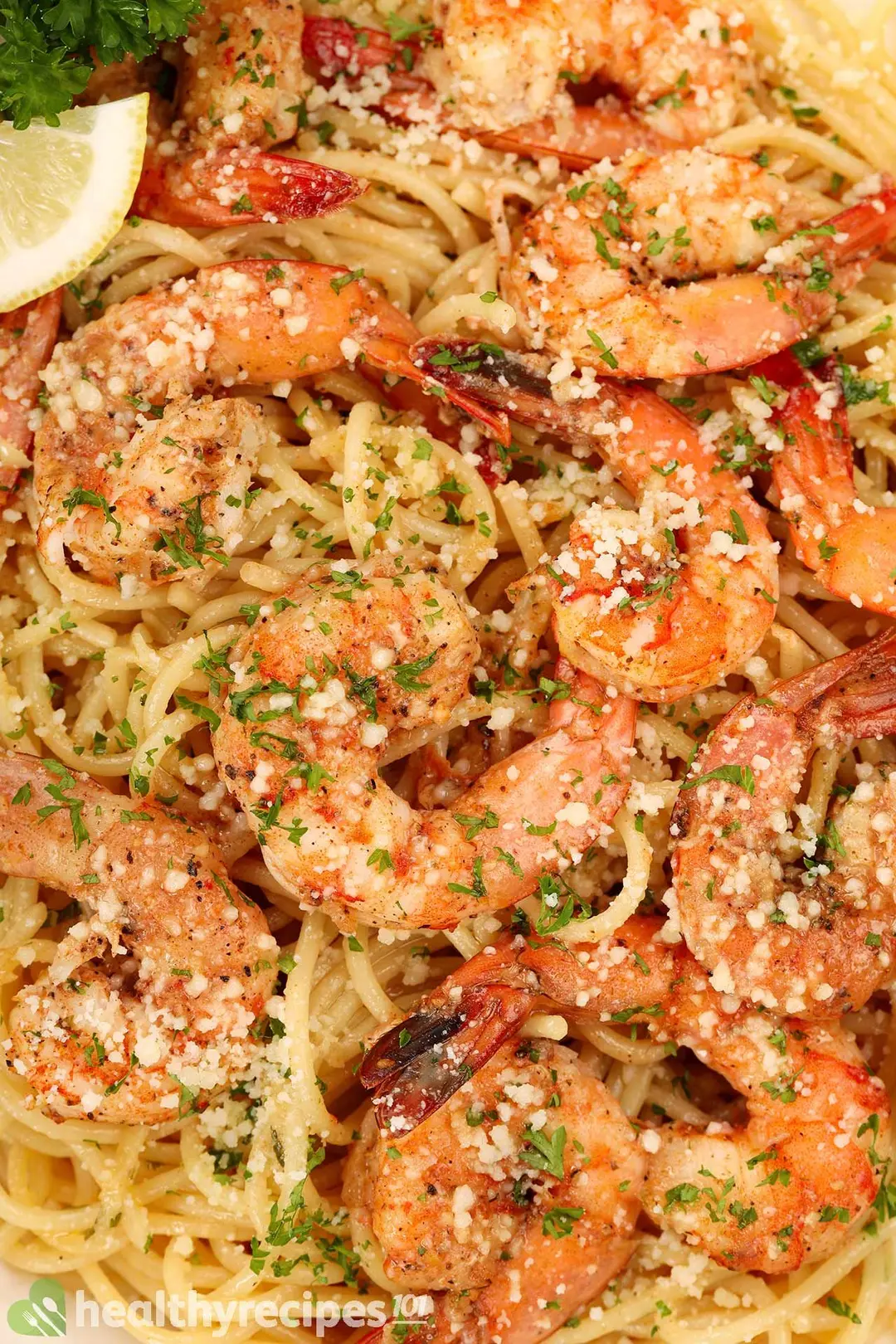 Nutritionally speaking, this Instant Pot shrimp is a protein-packed dish. Each serving provides 48 g protein — approximately 95% of the recommended daily intake from the USDA's Dietary Guidelines.
Despite containing a lot of protein and filling carbs, the dish has only about 500 calories per serving. This leaves a decent amount of space for a salad side dish to boost the mineral, vitamin, and fiber content, creating a balanced and nourishing meal.
Types of Shrimp to Use for This Recipe
You could use either fresh shrimp or the frozen variety in this Instant Pot shrimp recipe. Frozen shrimp are hugely convenient as they thaw quickly and cook in just a few minutes. Another great bonus is that many home cooks already have frozen shrimp in their freezer.
That being said, we actually prefer fresh shrimp with tails in this pasta recipe. Once stir-fried along with pasta, the shrimp tail lends additional flavors and makes the dish more visually appealing.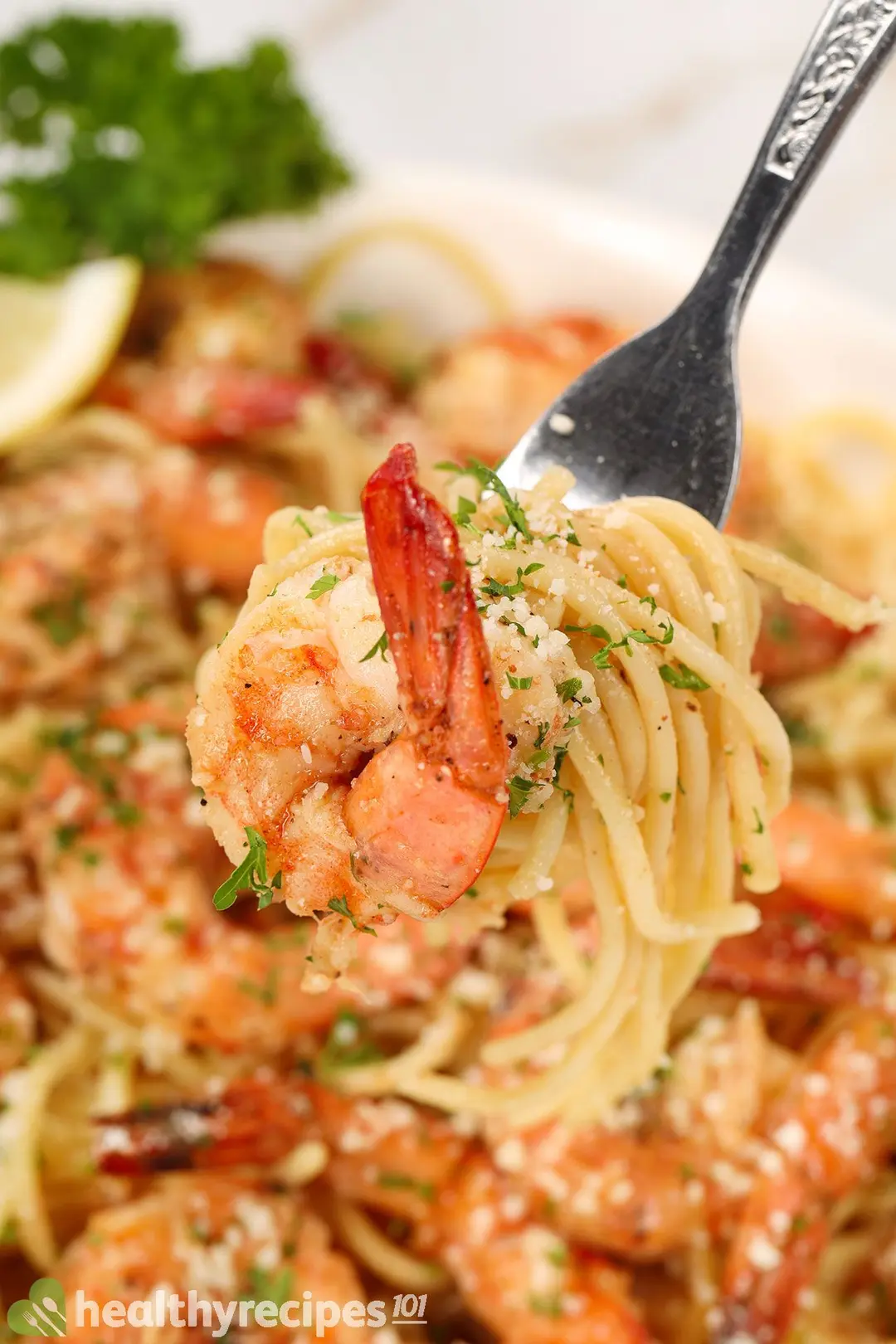 What to Season Shrimp With
When it comes to seafood, we believe in tasting the pure flavor. Instead of sautéing, we steamed the shrimp as this method allows you to intensify the taste and lock in the juices.
The recipe starts with a blend of salt, pepper, garlic powder, and onion powder. These everyday simple-yet-essential seasonings enhance the natural sweetness and umami of the shrimp. We added a little butter to the steaming bowl to coat the shrimp and create a creamy base for the meal.
A great pasta wouldn't be complete without garlic. Our recipe calls for two tablespoons, but you can certainly add more if you prefer a more robust garlicky aroma.
To elevate the finished dish, squeeze a touch of lemon juice over the top. It lends freshness and vibrance to your elegant homemade shrimp pasta.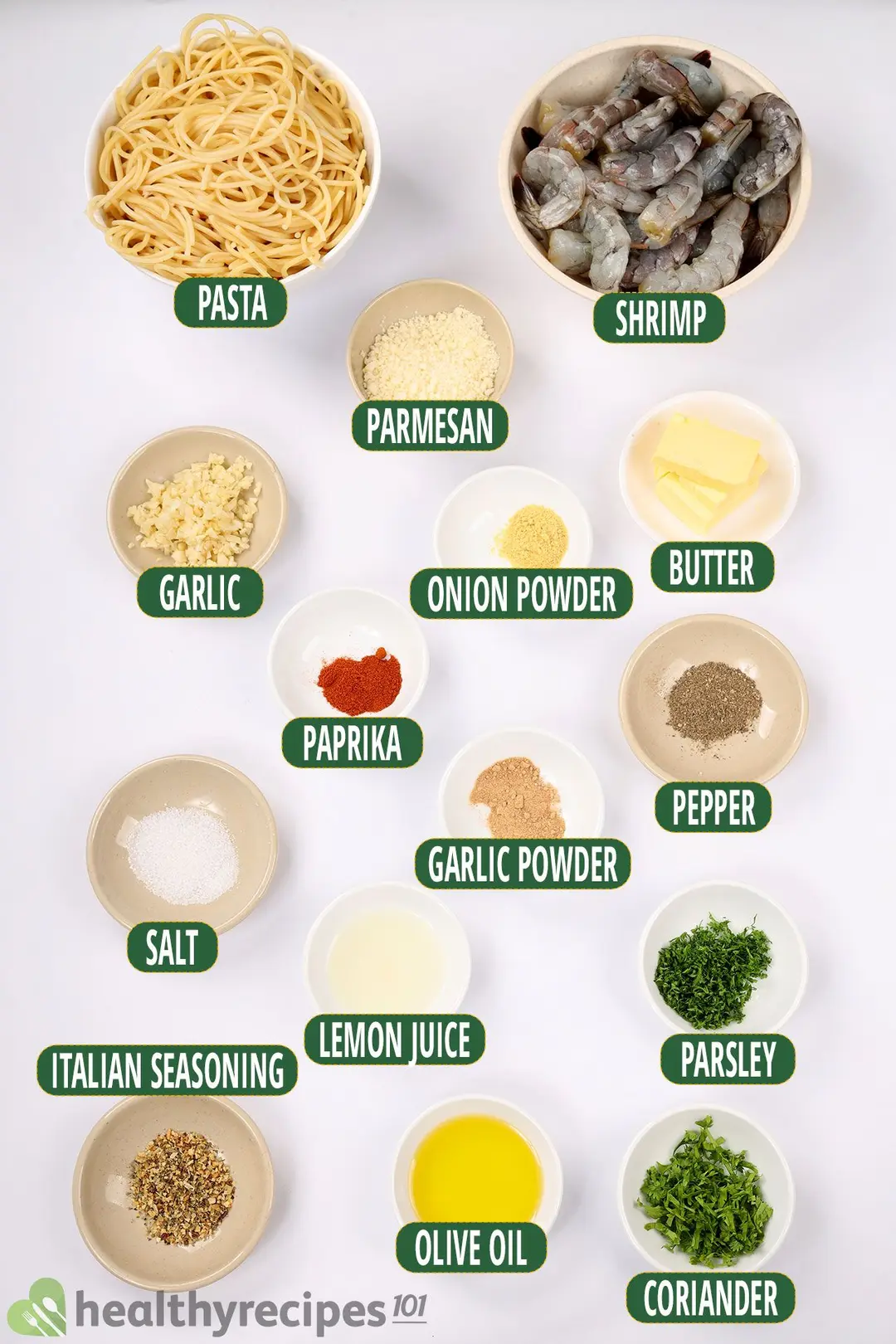 How to Cook This Shrimp Pasta Recipe in the Instant Pot
The combination of shrimp, garlic, and butter is a classic. The dish requires multiple steps, but they are easy to follow, and everything ends up in the pot together. 
Here's how we make the dish:
Step 1:  Season the shrimp with seasoning and spices.
Step 2: Add butter to the shrimp.
Step 3: Steam the shrimp in the Instant Pot.
Step 4: Transfer the shrimp bowl from the pot.
Step 5: Discard the remaining water.
Step 6: Sauté the garlic.
Step 7: Stir in the pasta and the shrimp.
Step 8: Turn off the heat and add cilantro.
Step 9: Sprinkle parmesan and parsley over the pasta and shrimp. Serve.
Full ingredient measurements and detailed instructions are available in the recipe card below.
How to Store and Reheat Leftovers
This shrimp pasta can be stored in an airtight container for up to 4 days in the refrigerator. For more extended storage, consider keeping it in the freezer for 3 months.
To reheat the dish, you have several options depending on which appliance you prefer:
Microwave: It's best to reheat the shrimp and pasta separately since they have different heating times. Remove the shrimp from the pasta and add a splash of water to the pasta bowl. Heat the pasta on high mode for 1 - 2 minutes, then the shrimp for 20 seconds before returning them to the pasta.
Stovetop: You should warm a little oil or butter in a pan over medium heat. Add the leftover pasta and stir occasionally until everything is heated through. Then add the shrimp at the end of the cooking time, just to warm them up. You can also do this in your Instant Pot using the 'Sauté' mode.
What to Serve With This Instant Pot Shrimp Pasta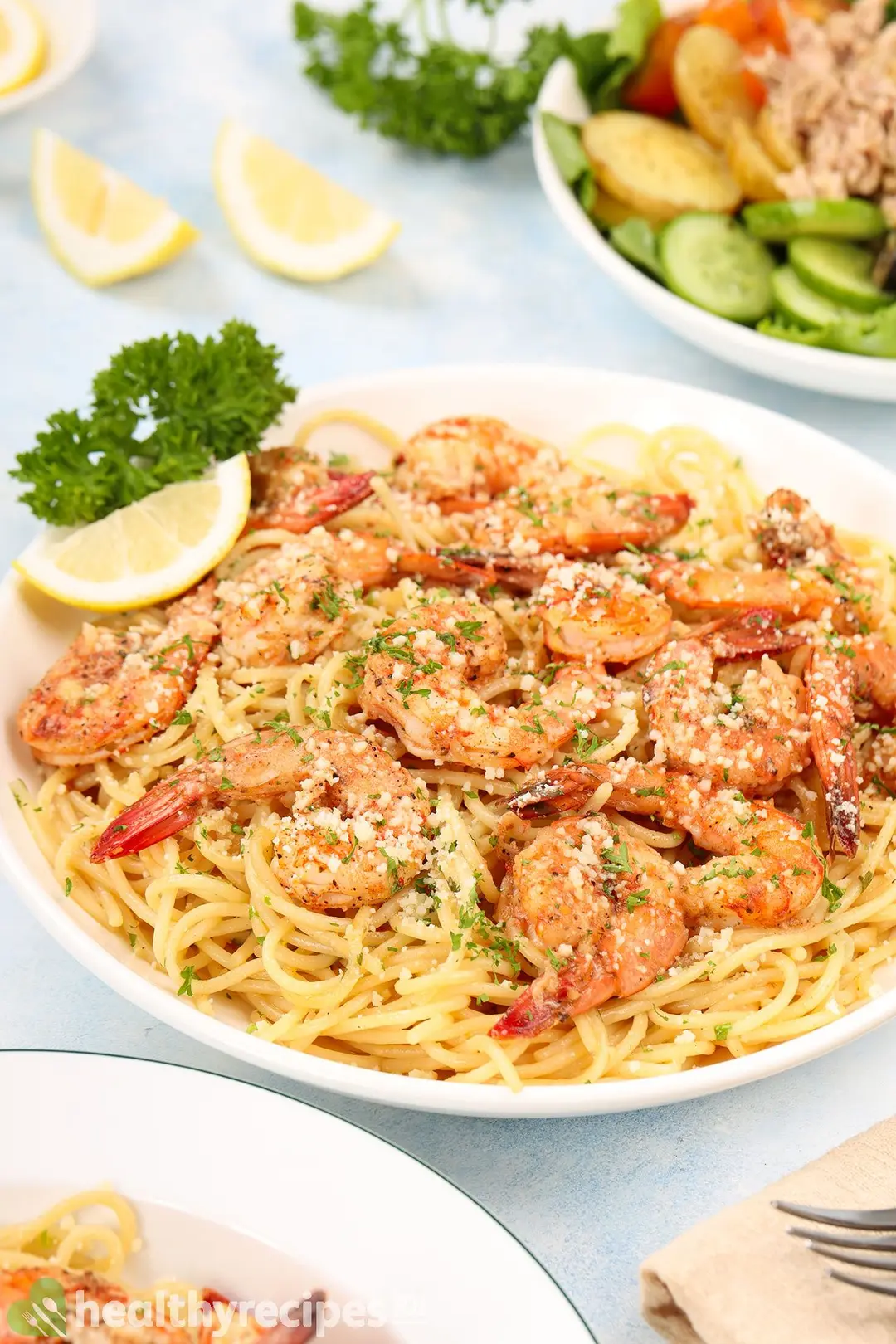 Since today's shrimp recipe is buttery and rich in flavor, we wanted to keep the side dish simple. A no-nonsense tossed green salad lightens the dish and adds brightness to the plate.
Our choice for today is Nicoise salad. Nicoise is a French salad made with a delicious mix of green beans, black olives, cherry tomatoes, boiled eggs, tuna, and olive oil dressing. They are all arranged in sections over a bed of green lettuce.
Shrimp pasta and Nicoise salad offer a variety of flavors and textures. With such diversity, this meal is guaranteed to leave everyone satisfied.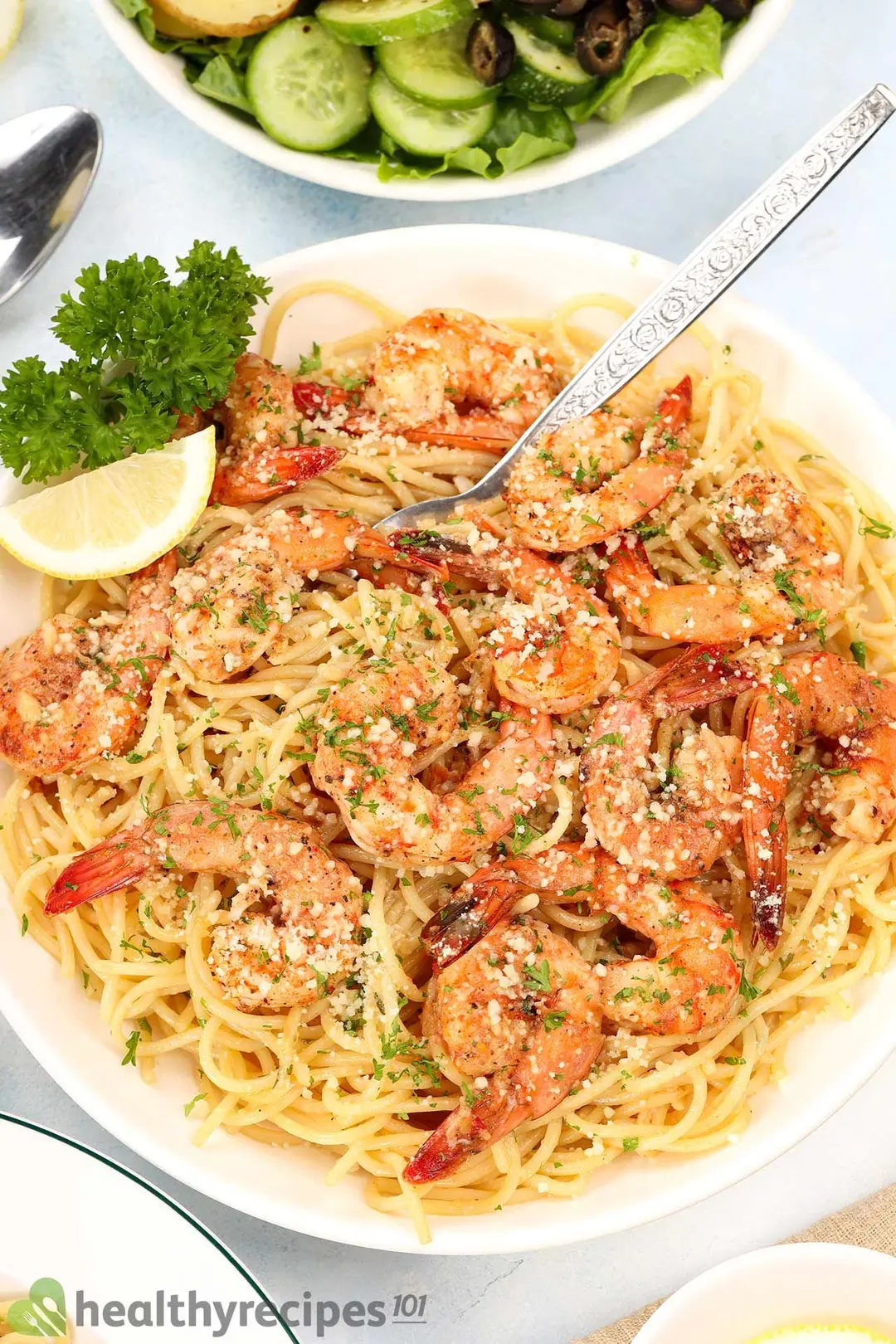 Instant Pot Shrimp Pasta Recipe
Our Instant Pot shrimp pasta recipe could be your new favorite weeknight pasta recipe. It's tasty, easy, and ready in less than 30 minutes.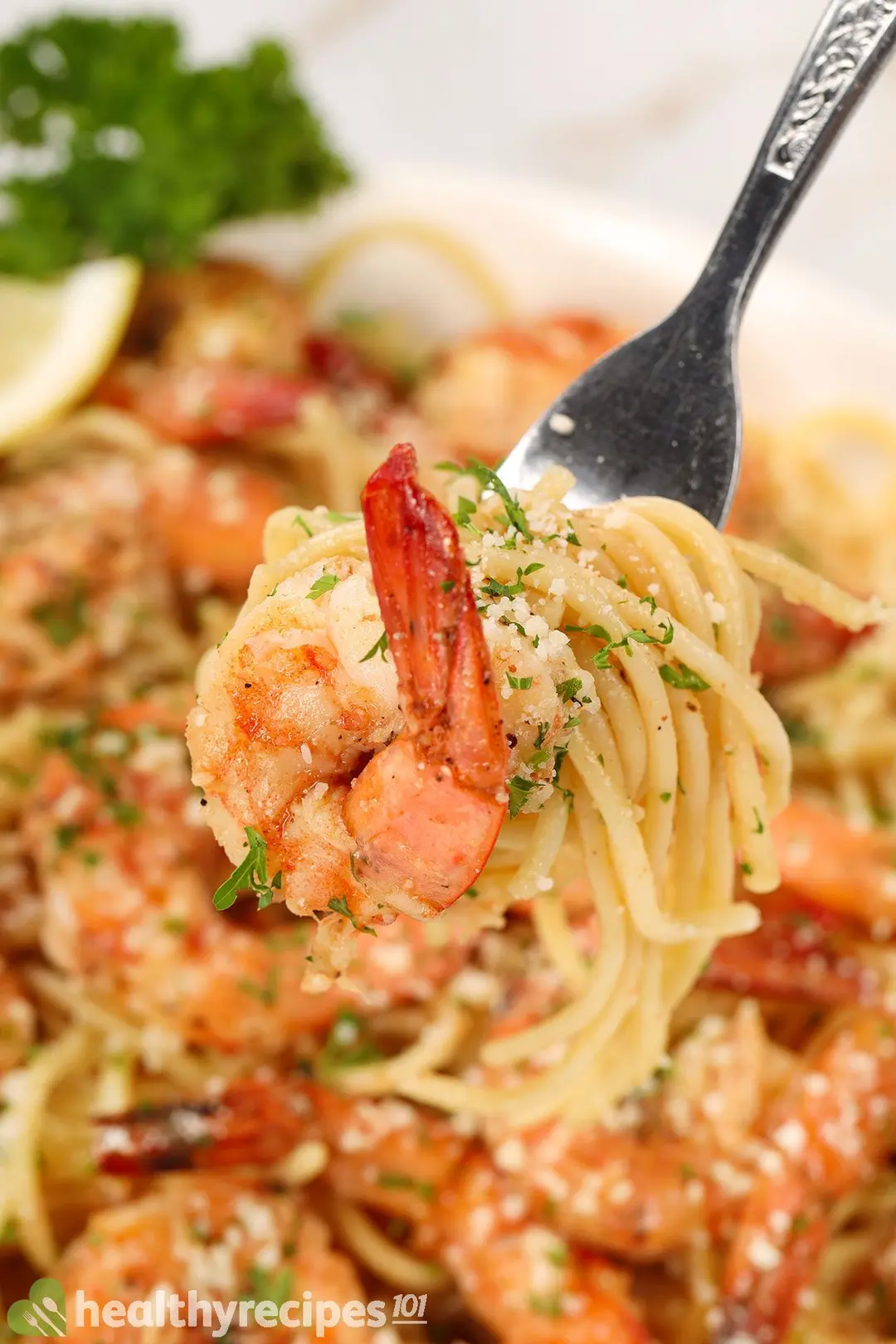 cook TIME

15 mins

prep TIME

10 mins

total TIME

25 mins
COURSE

Main Course

CUISINE

American

SERVINGS

servings

CALORIES

497 kcal
INGREDIENTS
14 oz

peeled and deveined shrimp 28 oz raw shrimp

1 tsp

Italian seasoning

0.5 tsp

salt divided

0.5 tsp

garlic powder

0.5 tsp

onion powder

0.5 tsp

black pepper

0.5 tsp

paprika

1 tbsp

lemon juice

3 tbsp

unsalted butter divided

1.5 tbsp

olive oil

2 tbsp

garlic chopped

16 oz

cooked pasta

1 fl oz

unsalted chicken broth

2 tbsp

cilantro chopped

0.5 oz

grated parmesan cheese

2 tbsp

parsley chopped
INSTRUCTIONS
1
In a small Instant Pot-safe bowl, season 14 oz shrimp with 1 tsp Italian seasoning, 1/4 tsp salt, 1/2 tsp garlic powder, 1/2 tsp onion powder, 1/2 tsp black pepper, 1/2 tsp paprika, and 1 tbsp lemon juice.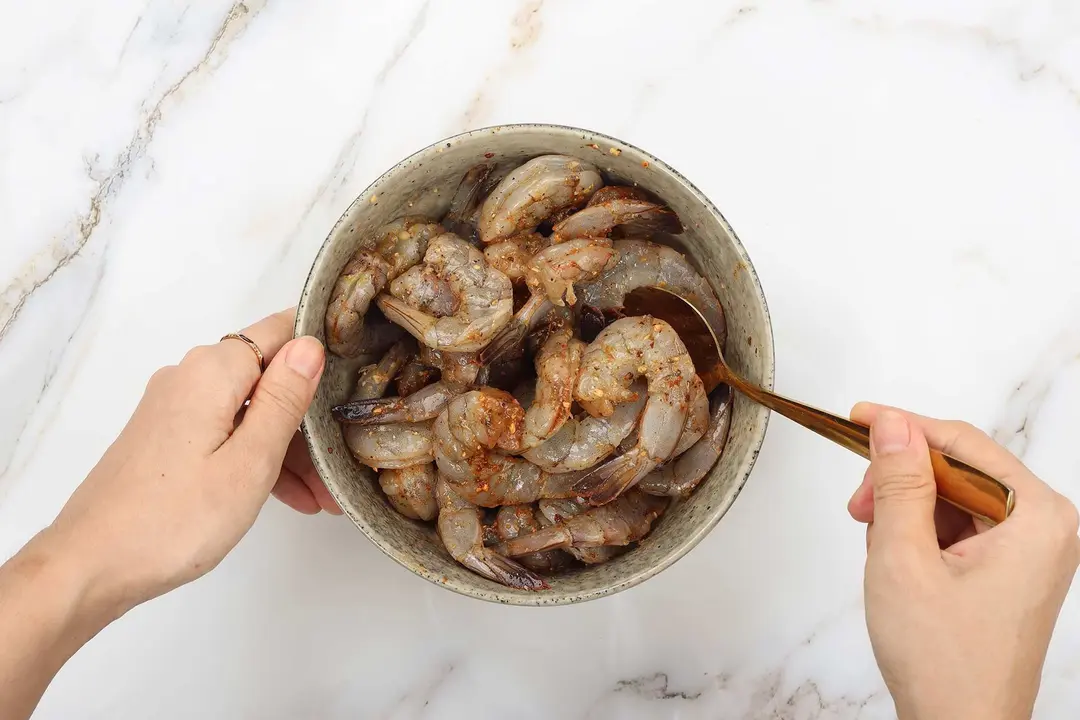 2
Add 1 tbsp butter to the shrimp bowl.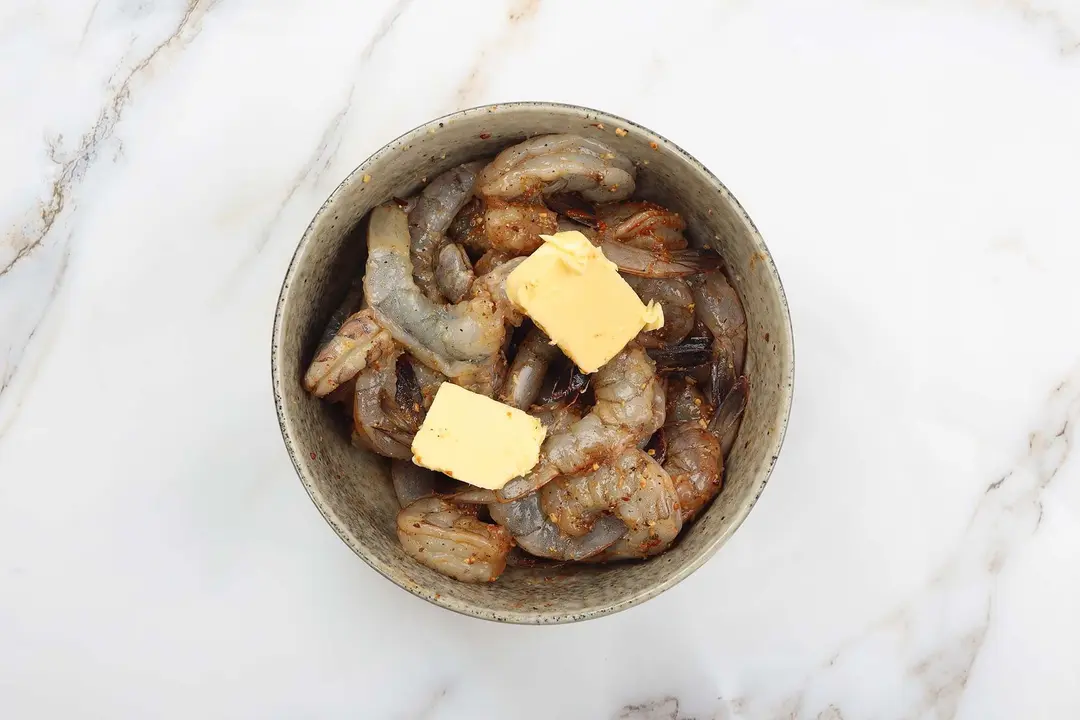 3
Pour 1 cup of water into your Instant Pot. Place the shrimp bowl on the wire rack and secure the lid. Set the Instant Pot to 'Meat Stew' for 7 minutes.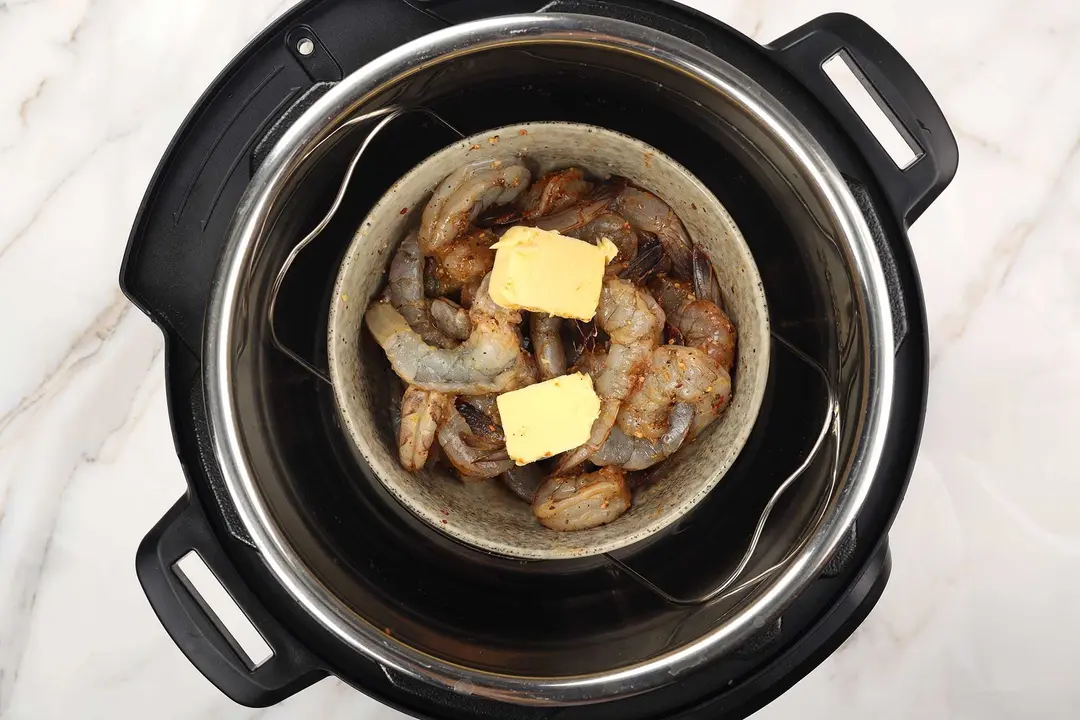 4
Manually release the pressure and carefully remove the bowl from the pot. Set aside. Discard the remaining water in the Instant Pot.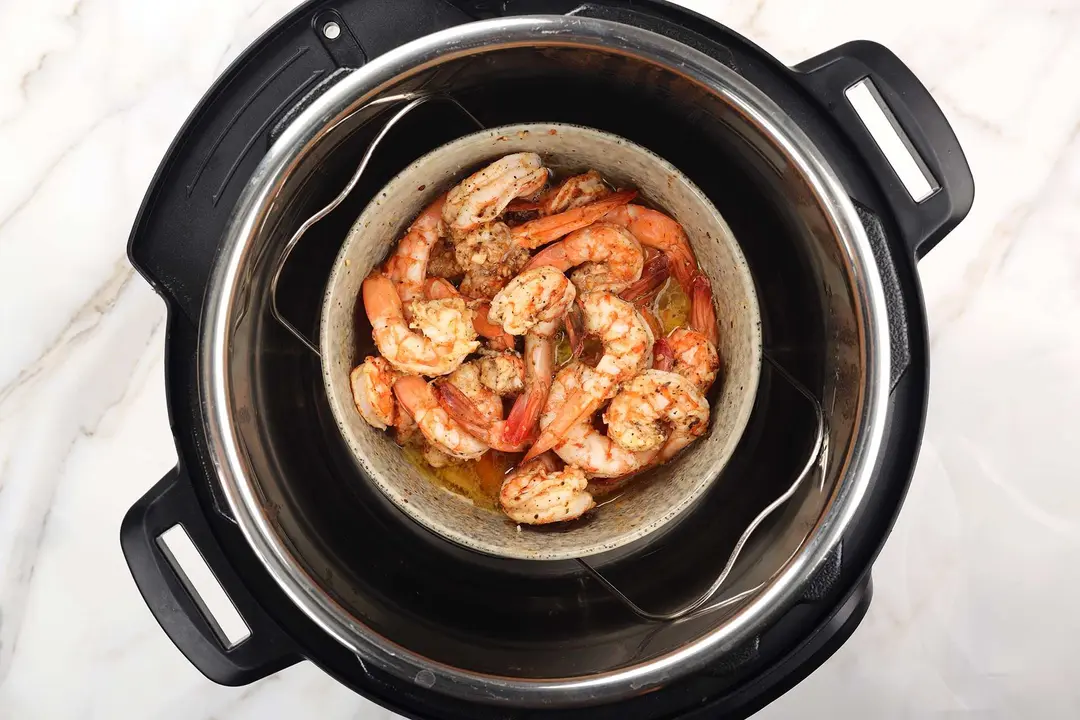 5
Turn on the 'Sauté' mode, add 1 1/2 tbsp olive oil and 2 tbsp garlic. Sauté for 30 seconds.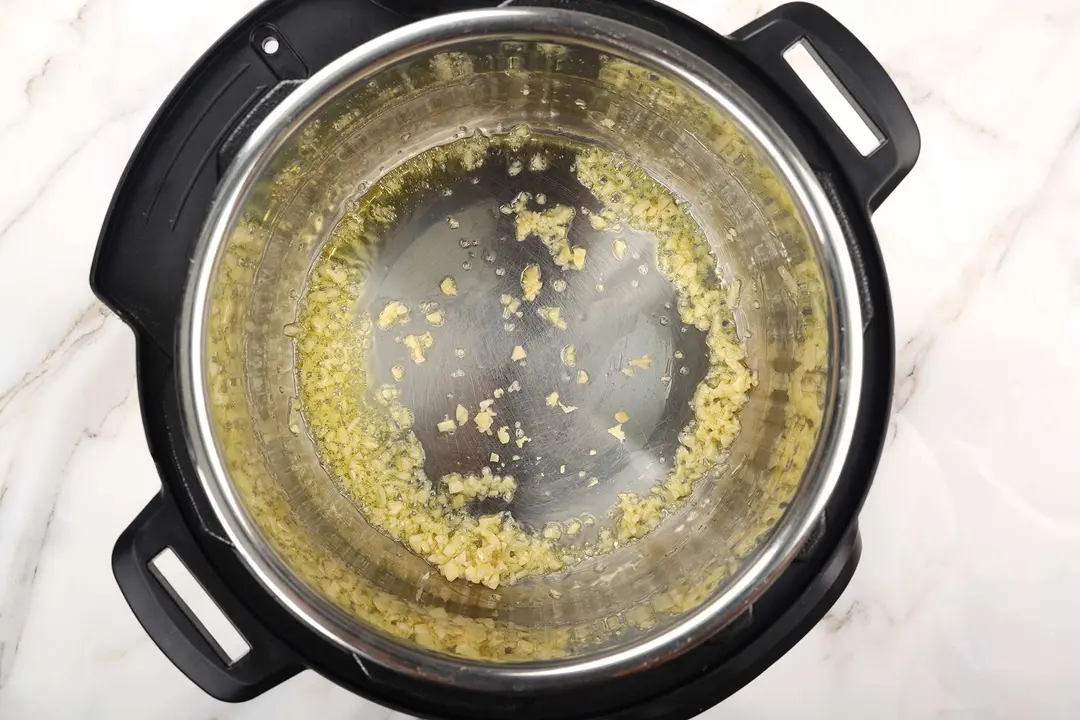 6
Add 16 oz boiled pasta and season with 1/4 tsp salt, 2 tbsp butter, 1 fl oz chicken broth, and the juice from the shrimp bowl. Cook and stir occasionally for another 3 minutes.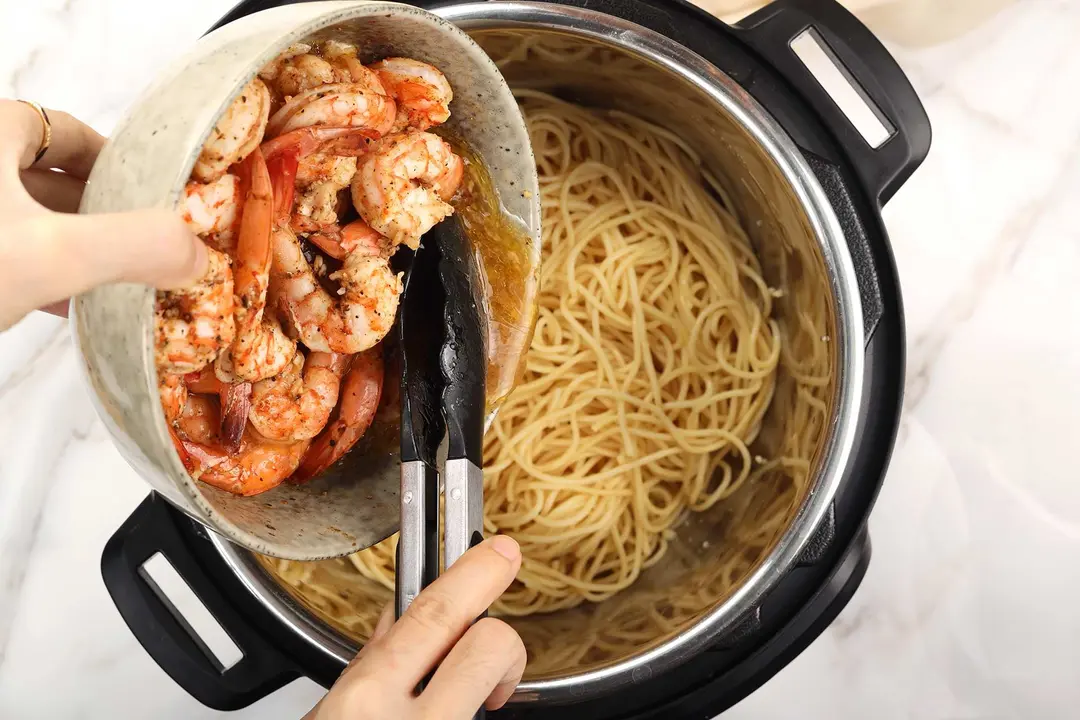 7
Turn off the pot. Stir in 2 tbsp cilantro.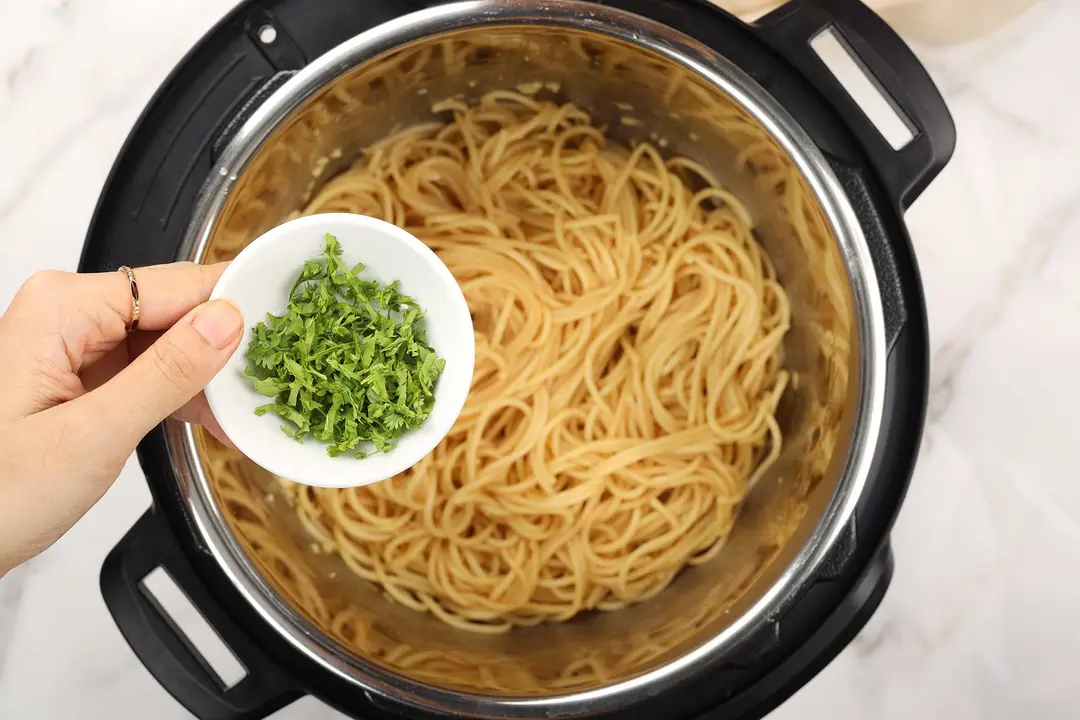 8
Transfer the stir-fried pasta and steamed shrimp to serving plates. Sprinkle with 0.5 oz parmesan cheese and 2 tbsp parsley. Serve.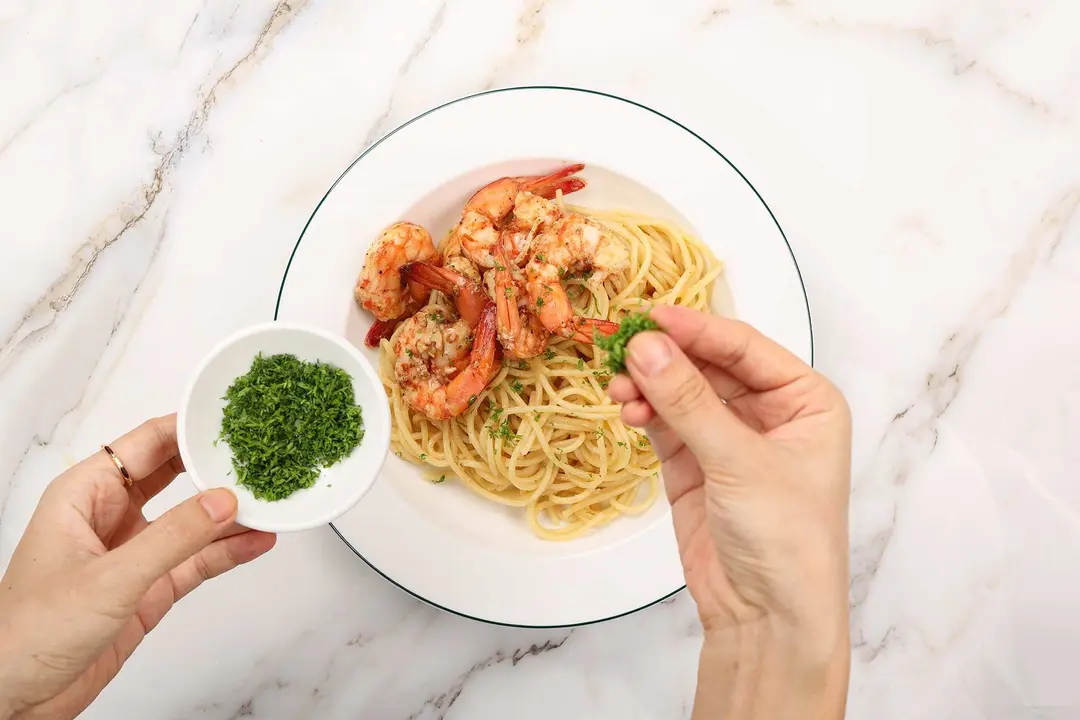 NUTRITION
Nutrition Facts
Instant Pot Shrimp Pasta Recipe
Amount Per Serving (1 serving)
Calories 497
Calories from FDA
% Daily Value*
* Percent Daily Values are based on a 2000 calorie diet.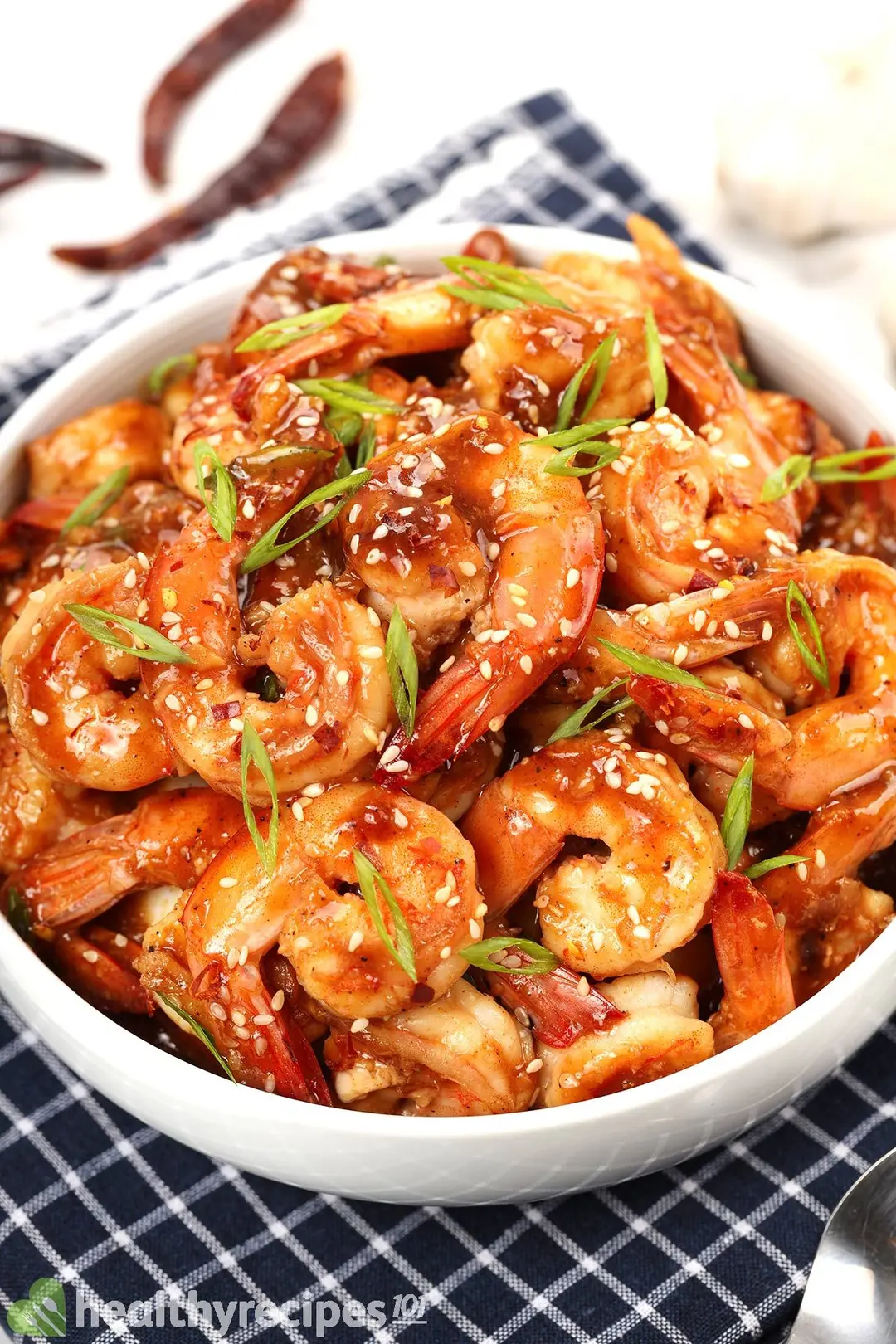 Previous Recipe
Japanese Teriyaki Shrimp
Japanese Teriyaki Shrimp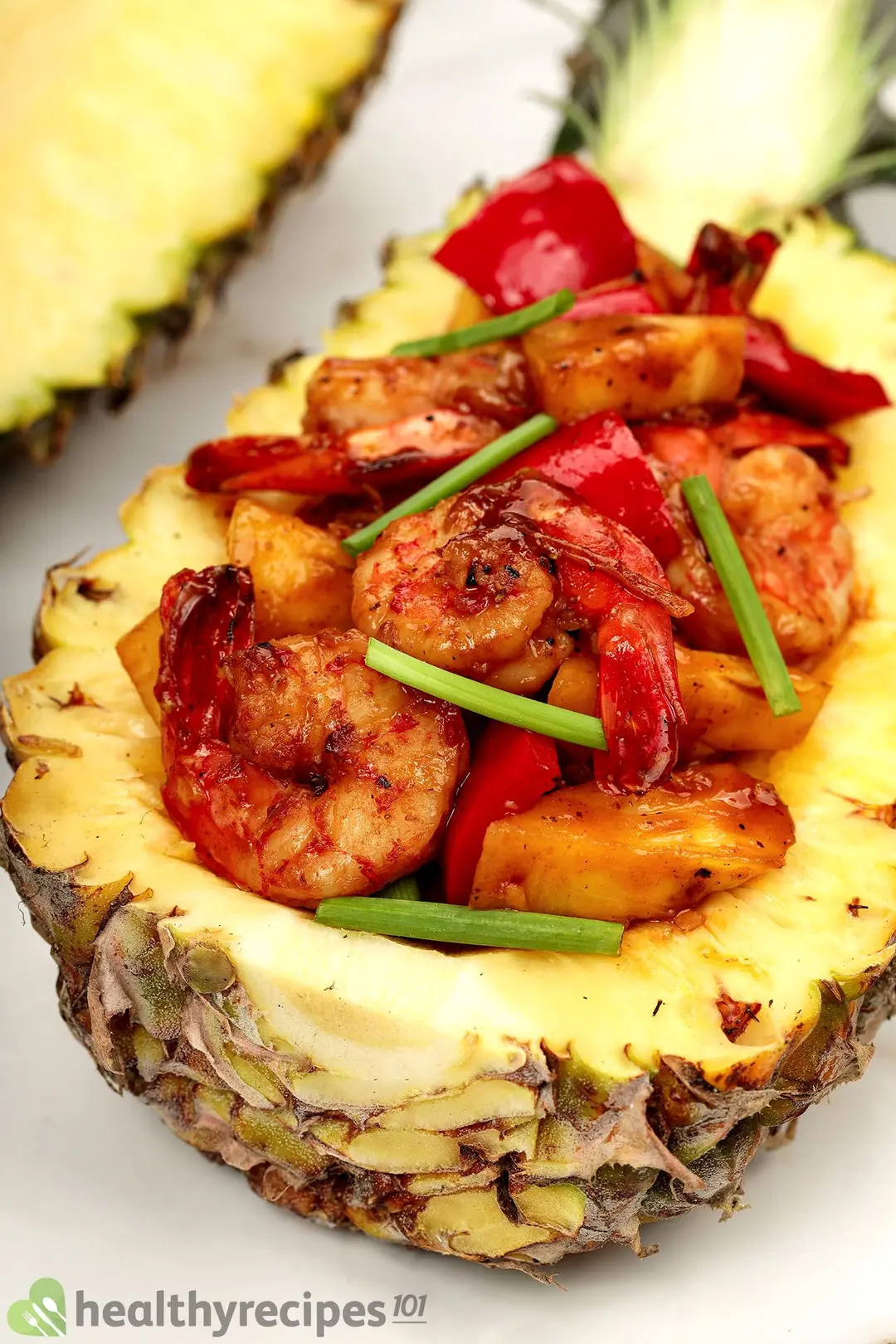 Next Recipe
Pineapple Shrimp
Pineapple Shrimp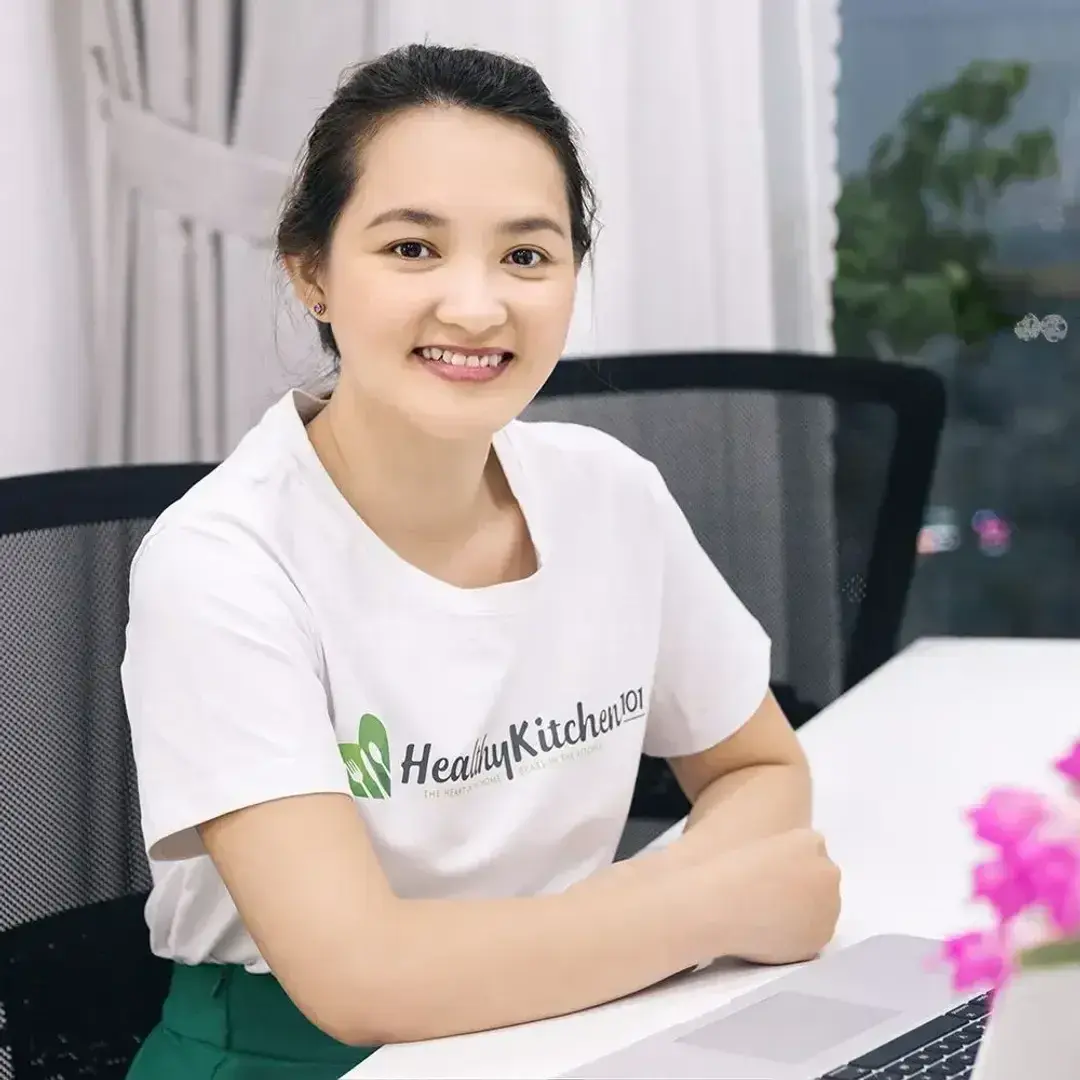 Luna Regina
Luna is the founder and chief recipe developer of Healthy Recipes 101. Apart from cooking, she also loves reading, programming, exploring the outdoors, and collecting useless facts about everything.