Our Instant Pot Paella recipe cooks rice, chicken, and sausage in with delicious vegetables and spices. The result is gorgeous and savory, with a hint of aromatic saffron.
What Is Paella?
Paella is a Valencian staple that gets its iconic beautiful golden color from the world's most legendary spice: saffron. A classic paella contains a type (or types) of meat, vegetables and rice, all infused with spices and herbs, and finally, cooked down in a savory, flavorful broth.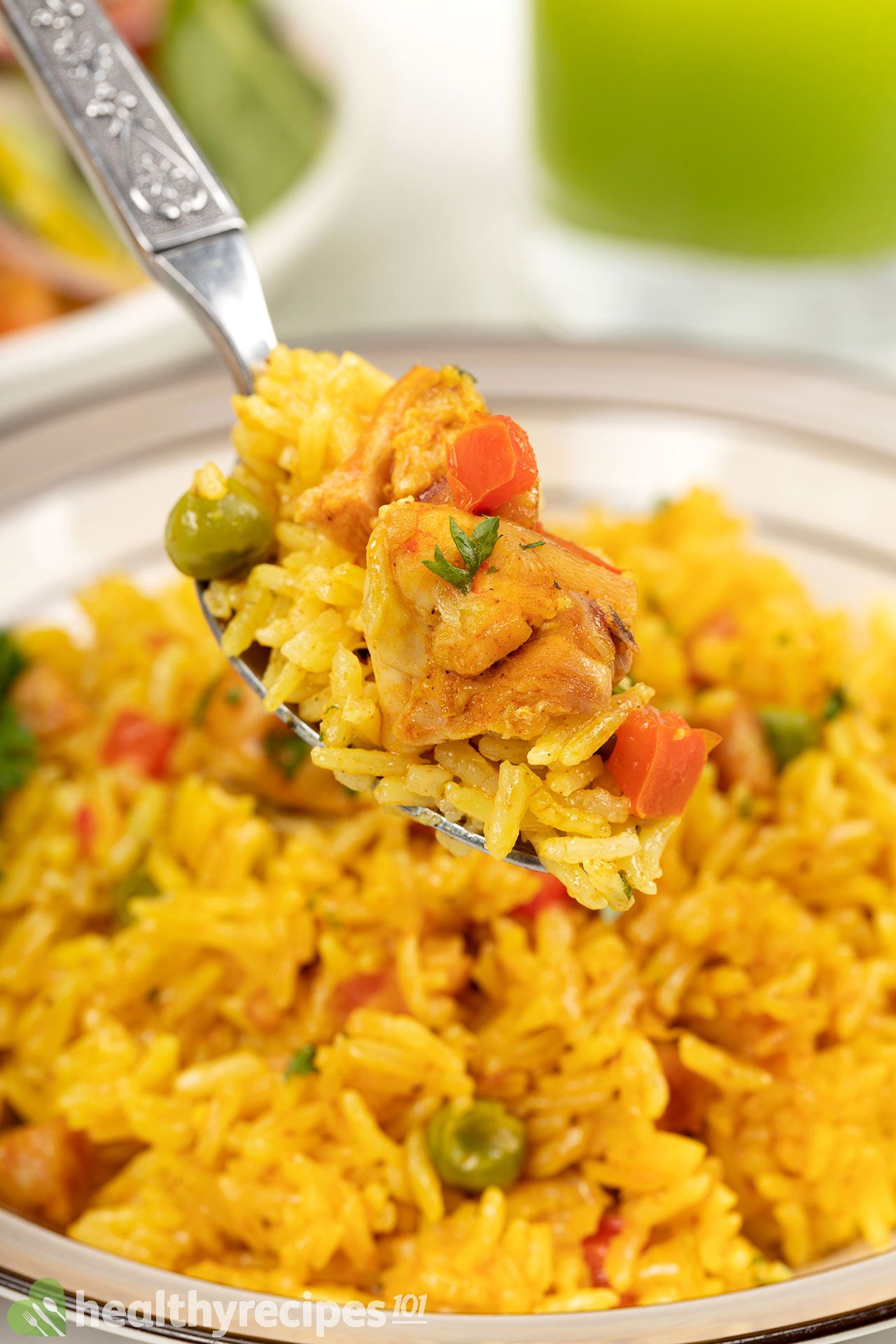 Paella is sometimes mistaken for jambalaya, a Louisianan rice dish cooked with meat, veg, broth, and Cajun seasonings. The key difference is the rice itself: jambalaya looks red and uses long-grain rice, while paella is golden and is traditionally prepared with short-grain rice.
Saffron is responsible for the classic golden color of paella, but as it's a rather luxurious ingredient, it is sometimes replaced with turmeric to achieve a similar rice color. When we made it, we also wanted the strong floral, earthy aroma of saffron to gently disperse throughout the dish, so we used both. You can use whichever works for you.
Besides chicken and sausage, paella can also be prepared with rabbit or seafood. Mussels, crab, shrimp, and calamari are excellent options, however, they don't usually include vegetables like the other options do.
Is Paella Healthy?
Despite any protein choice, paella is still a wholesome rice dish that is packed with muscle-building proteins, carbs, and tons of micronutrients necessary for cell growth and maintenance. Different from proteins and fats, carbs are the top thing that fuels your brain. They are a crucial component for a healthy diet as long as you eat them right.
Eating right also includes watching your sodium, saturated fat, and calorie intake. Paella is low in (saturated) fat but may be high in sodium and calories if not moderately seasoned and portioned.
To solve this problem, we adjusted the portion size once we were happy with how our test batch tasted. As a result, each serving now has the recommended amounts of sodium and calories: 556 mg and 489, respectively.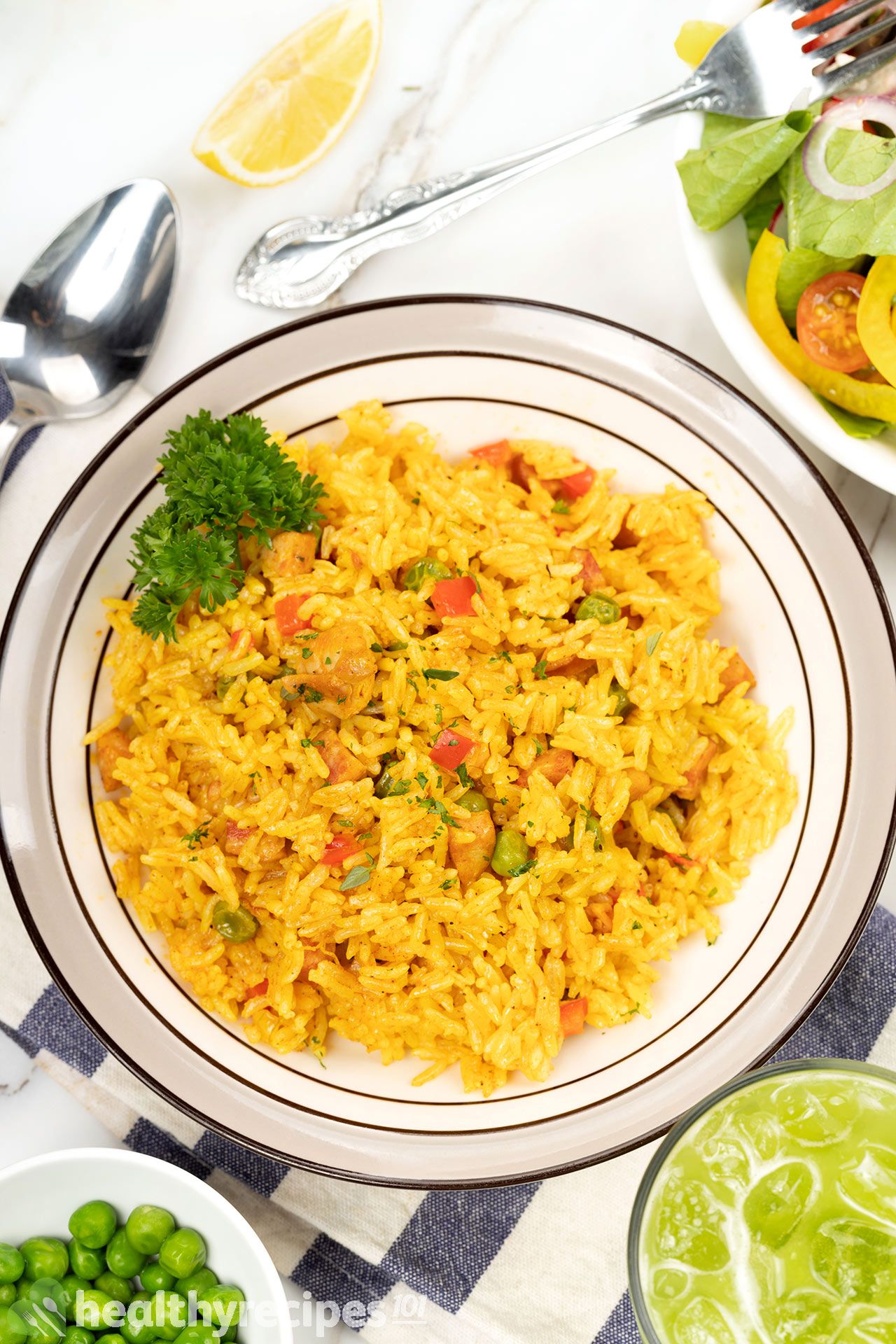 There are other things to keep in mind to maintain a healthy diet, such as added sugar and alcohol consumption. Please have a look at our dietary guidelines for more information.
Paella Ingredients
1. Rice for Paella
Although both risotto and paella are prepared with a short-grain rice, they have a different texture. People would stir the rice when making risotto, so it releases starch and turns super sticky. For paella, however, the rice is meant to be added and left alone, so no starch is released.
When you use the Instant Pot, regardless of whether or not you stir the rice, the pressure will force the starch to come out. To avoid a risotto-paella crossover, we use a less starchy long-grain rice. Its texture might not be as authentic, but in exchange, you get a quicker meal with the same delicious flavors.
If you don't mind, feel free to use bomba rice for our Instant Pot paella recipe. Arborio works as well.
2. Meat for Paella
Paella is often prepared with what's available that day. Our Instant Pot paella recipe uses chicken thighs, the most flavorful and highly available cut.
Chicken paella sometimes includes chorizo, harnessing its pork flavors, chewy texture, heat, and fragrance. We're just using smoked sausages today as they share characteristics and are easier to find. To make up the extra punch of heat, we rely on the spices.
3. Paella Seasonings
Like most dishes, we start off with salt and pepper. You can add as much pepper and the other seasonings as you'd like, except for the salt (to keep the sodium low).
We cooked our rice with turmeric to retrieve its golden color and saffron for its luxurious floral notes. Turmeric can taste slightly bitter, and saffron smells super strong, so we don't recommend being generous here — a little goes a long way.
For that enjoyable kick of heat, we used chili powder and paprika. You can add more or less of these spices to your liking.
Although not originally called for, a sprig of thyme complements the chicken nicely. We used fresh, as dried thyme can be overpowering.
We also added a dash of white wine for a bit of fragrance. It's optional but makes a big difference, in our opinion.
Lastly, we squeezed some lemon juice over the rice to brighten the flavors and tie it all together.
4. Vegetables for Paella
Typical options for paella are green peas and red bell peppers. They not only add more variety of texture and flavor, but also enticing color with their green and red.
How to Make Paella in the Instant Pot
The steps are straightforward: once the veg and chicken are cooked, stir in the rice and seasonings, and pressure-cook everything with chicken stock.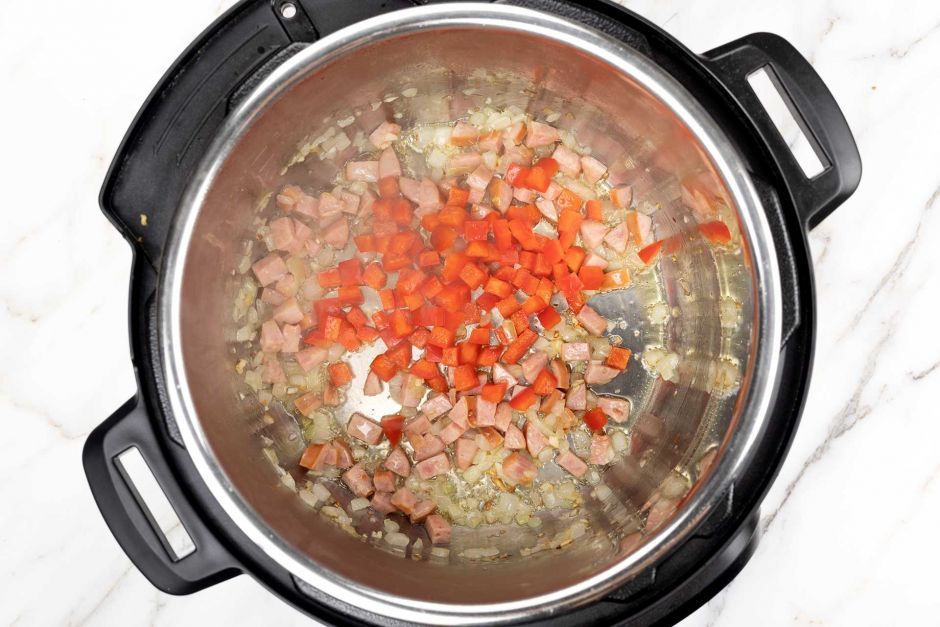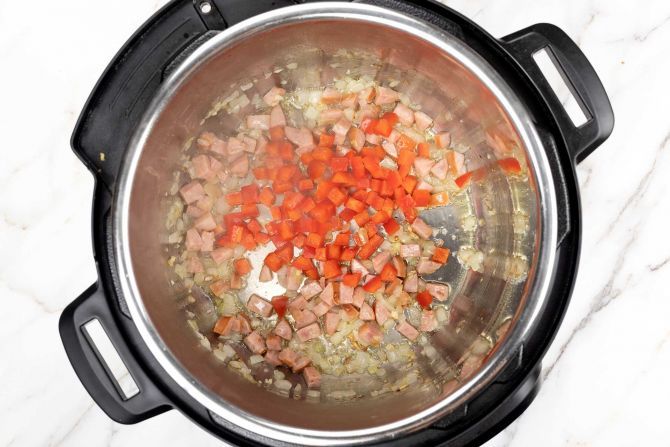 Sauté the aromatics and veg.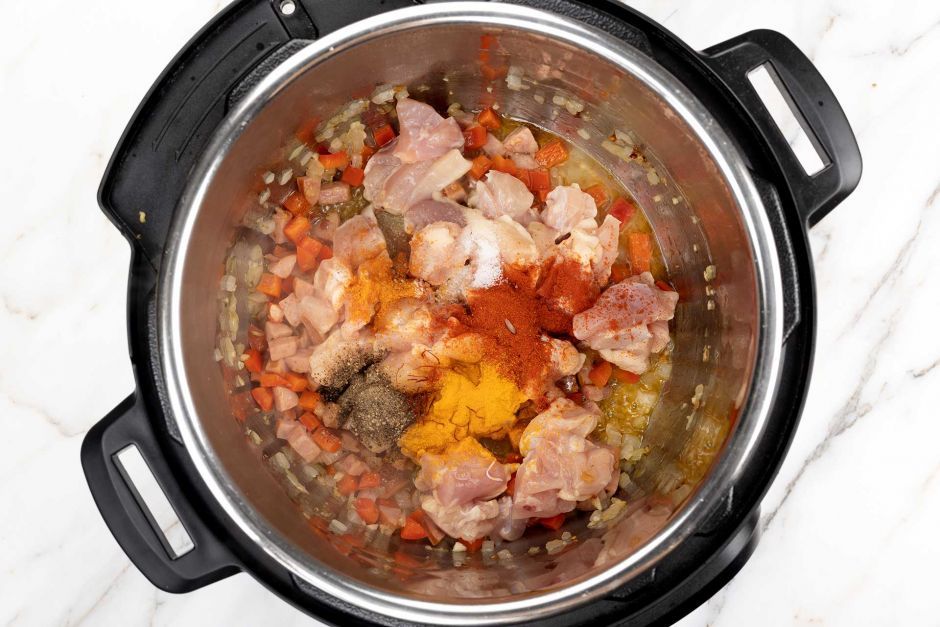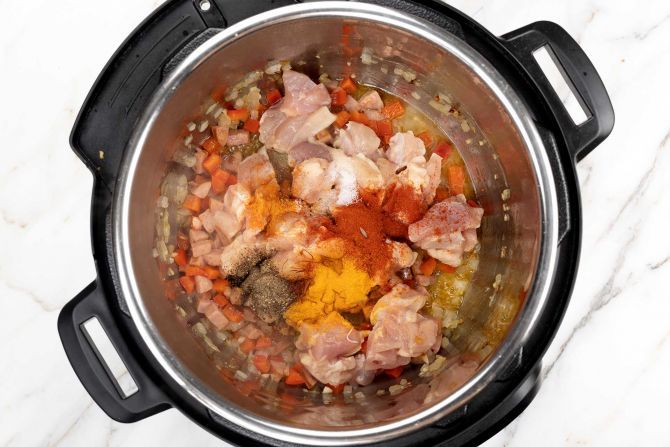 Sear the chicken and add seasonings.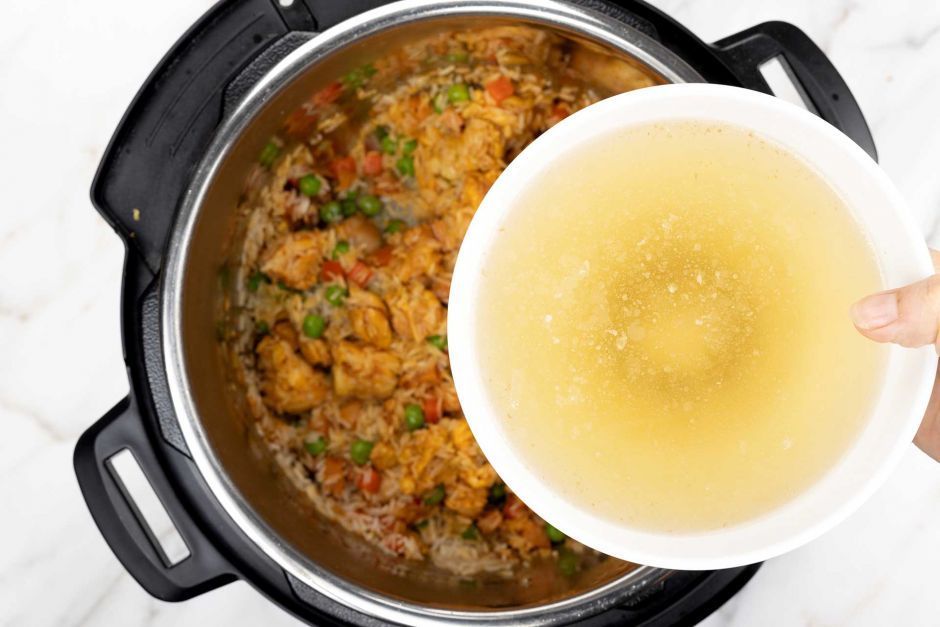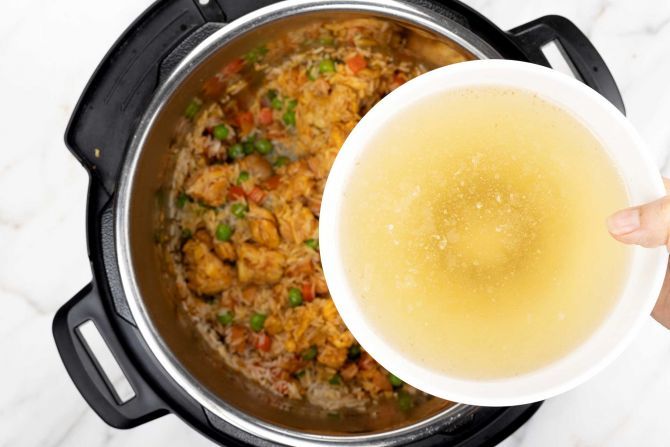 Stir in the rice, add the broth, and pressure cook.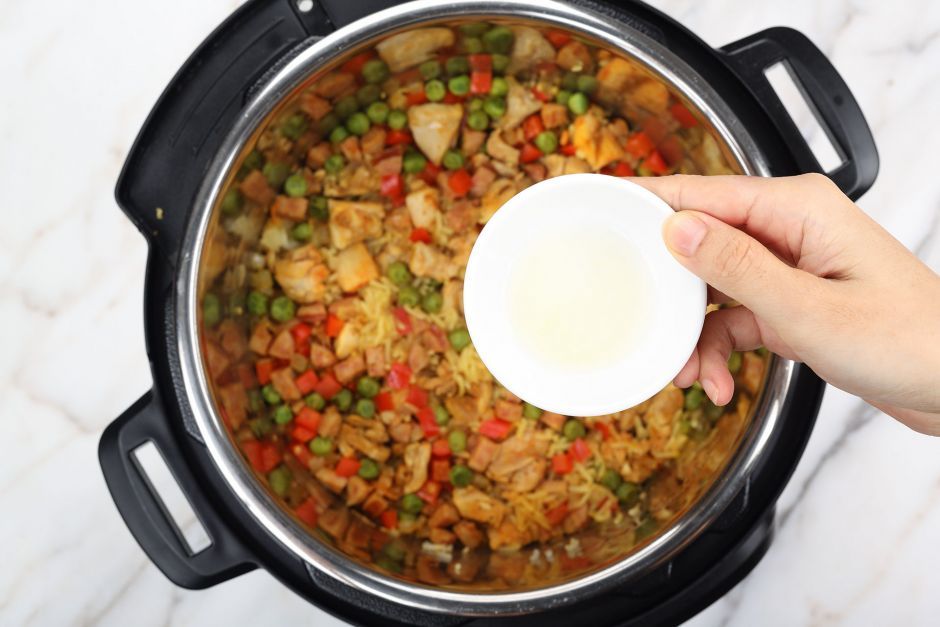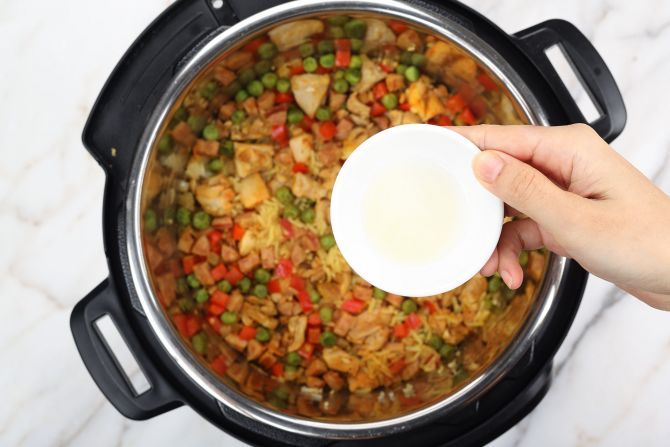 Fluff the rice and stir in lemon juice.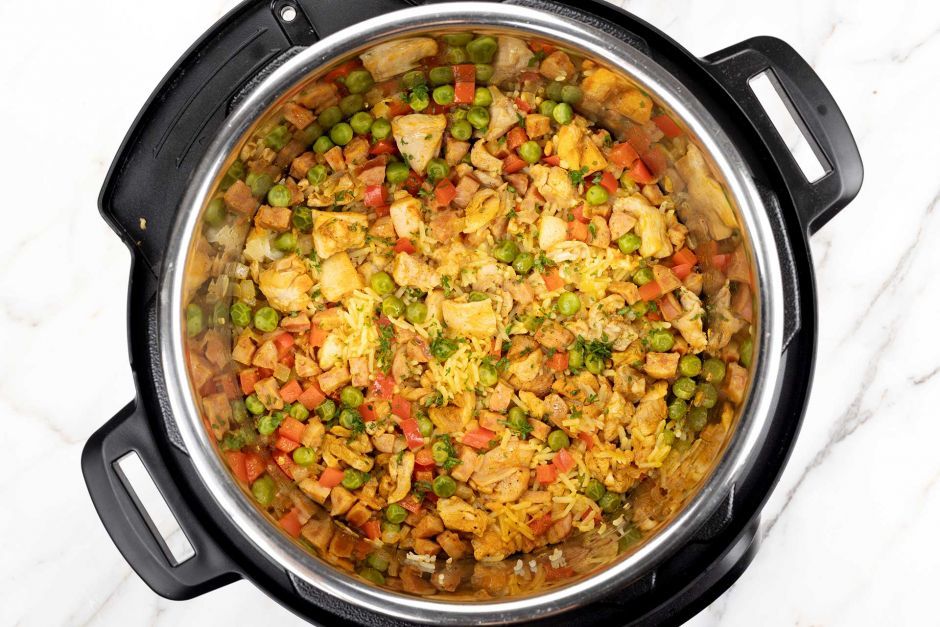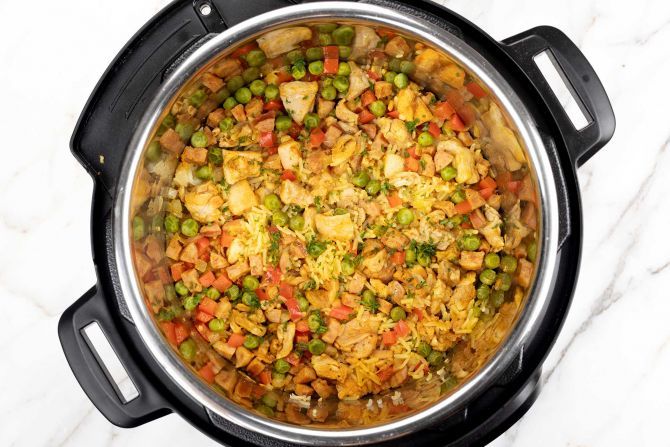 Garnish and serve.
How to Store and Reheat Paella
This rice keeps well in the fridge for five days, maintaining its delicious texture once reheated. You can store it in air-tight containers or use plastic wrap to cover any dishes.
To reheat the paella, add it to a non-stick pan and stir over low heat until hot. It should take 4-5 minutes.
We don't recommend freezing as it alters the texture, making it taste cheap and grainy instead of fluffy and soft. If you don't mind this texture, freeze your paella to keep it edible for three months. Reheat as you would with refrigerated rice.
What to Serve With Paella
Our tangy, fresh Greek salad is the perfect match for the bold flavors of paella. It also lightens the dish's carby nature, making your eating experience more enjoyable.
We finished it off with celery cucumber juice. Its mild flavor and gentle sweetness are exactly what this flavorful dinner needs.
Nutritional values in this table vary somewhat to those below due to different app calculations. Read more...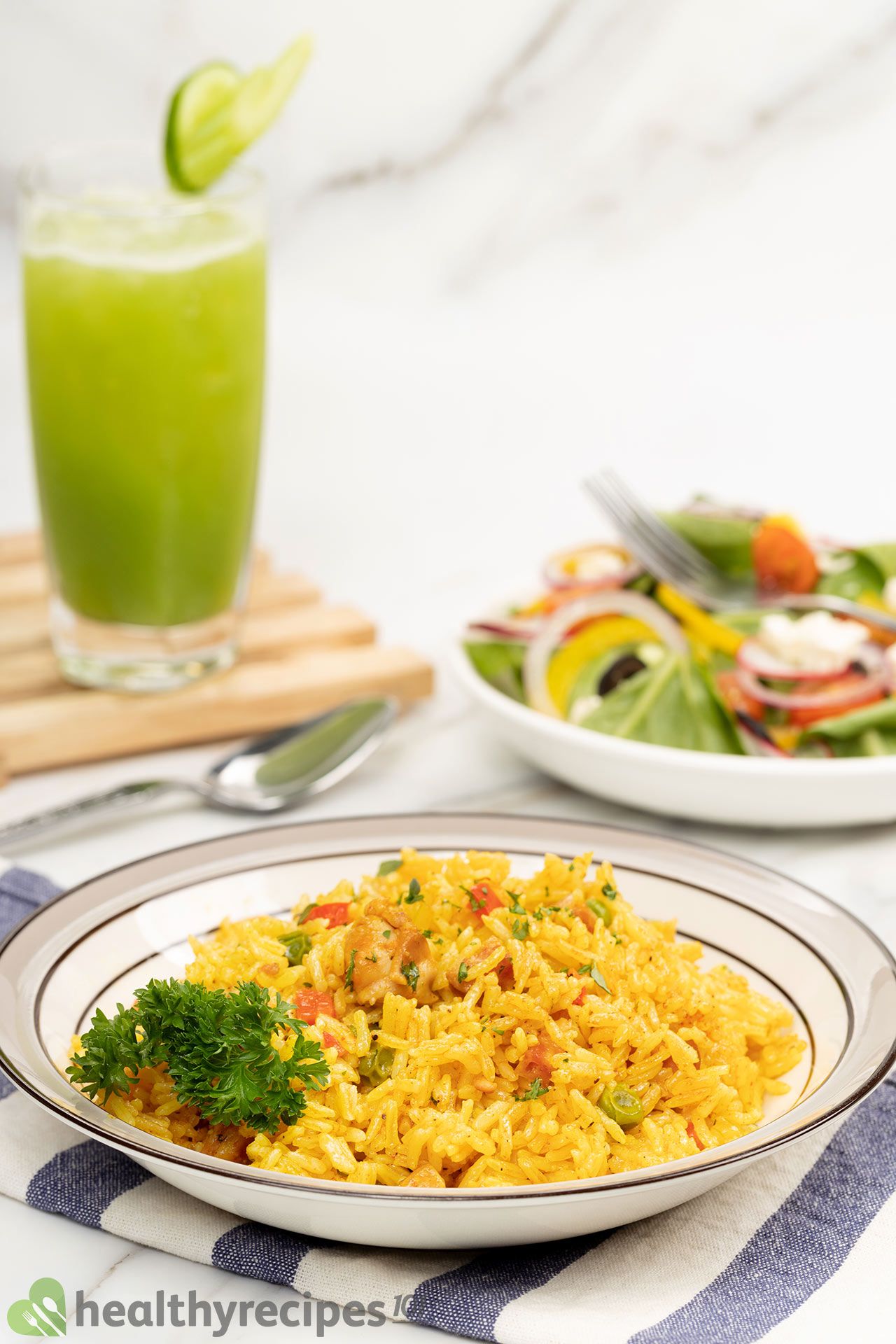 More Instant Pot Ideas:
For more Instant Pot recipe ideas, have a look at these three recipes: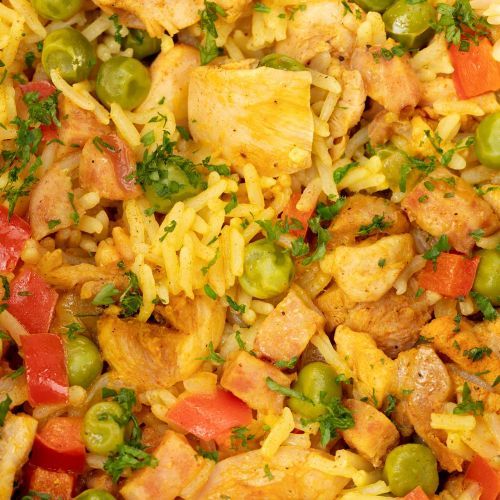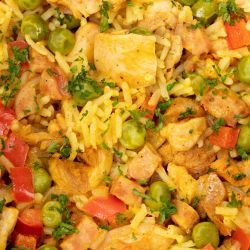 Instant Pot Paella Recipe
Our Instant Pot Paella recipe cooks a gorgeous main dish in just 30 minutes. It's fluffy, tender, and filled with exquisite flavors.
Ingredients
2

tbsp

olive oil

2

oz

onion

about half a medium, chopped

1/2

tbsp

garlic

about 2 cloves, minced

2.5

oz

smoked sausage

cut into chunks

2

oz

red bell pepper

about half a medium, chopped

10

oz

skinless boneless chicken thighs

sliced

1

tbsp

white wine

1

tsp

thyme

fresh

1

tsp

paprika

1/2

tsp

chili powder

1/2

tsp

salt

1/2

tsp

ground black pepper

1/4

tsp

turmeric

1/8

tsp

saffron

2

oz

green peas

frozen or fresh

1 1/2

cups

uncooked long-grain rice

2

cups

unsalted chicken broth

1

tsp

lemon juice

2

tbsp

parsley

finely chopped
Instructions
Select 'sauté' and heat 2 tbsp olive oil in your Instant Pot. Add 2 oz onions and 1/2 tbsp garlic to sauté for about a minute, then add 2.5 oz sausage and 2 oz red bell peppers and sauté similarly.

Make room in the pot and add 10 oz sliced chicken, 1 tbsp white wine, 1 tsp thyme, 1 tsp paprika, 1/2 tsp chili powder, 1/2 tsp salt, 1/2 tsp pepper, 1/4 tsp turmeric, and 1/8 tsp saffron. Leave to sear for about 2 minutes, then stir for another 3 minutes to cook (5 in total).

Stir in 2 oz green peas and 1 1/2 cups uncooked rice and cook for about a minute, then add 2 cups chicken broth. Close the lid, seal the steam valve, select 'rice' mode, and set the timer to 12 minutes.

When it finishes cooking, place a kitchen towel on top of the steam handle, and turn it to 'venting' using a spoon. Once the steam stops escaping, open the lid, and fluff the rice. Gently mix in 1 tsp lemon juice.

Tip the cooked rice into a large serving dish. Garnish with 2 tbsp finely chopped parsley, and serve.
Nutrition
Nutrition Facts
Instant Pot Paella Recipe
Amount Per Serving (1 serving)
Calories 489
Calories from Fat 135
% Daily Value*
Fat 15g23%
Cholesterol 77mg26%
Sodium 556mg24%
Potassium 490mg14%
Carbohydrates 62g21%
Protein 23g46%
Vitamin A 1281IU26%
Vitamin C 26mg32%
Calcium 50mg5%
Iron 5mg28%
* Percent Daily Values are based on a 2000 calorie diet.