Our ginger ale and orange juice recipe makes a refreshing drink. It's tangy, sweet, gingery, and really fizzy.
What Is Ginger Ale?
Ginger ale is a non-alcoholic, ginger-flavored carbonated beverage sold in cans or bottles. It's often drunk as is, but we prefer making non-alcoholic cocktails out of it, like this one.
Since we're preparing a sweet drink, we picked the golden kind instead of pale dry for its sweetness. Ginger juice (from about a knob of ginger) is also added because we feel it needs to be more fragrant.
You can make ginger ale at home with a few simple steps, but for convenience, we're using canned goods today.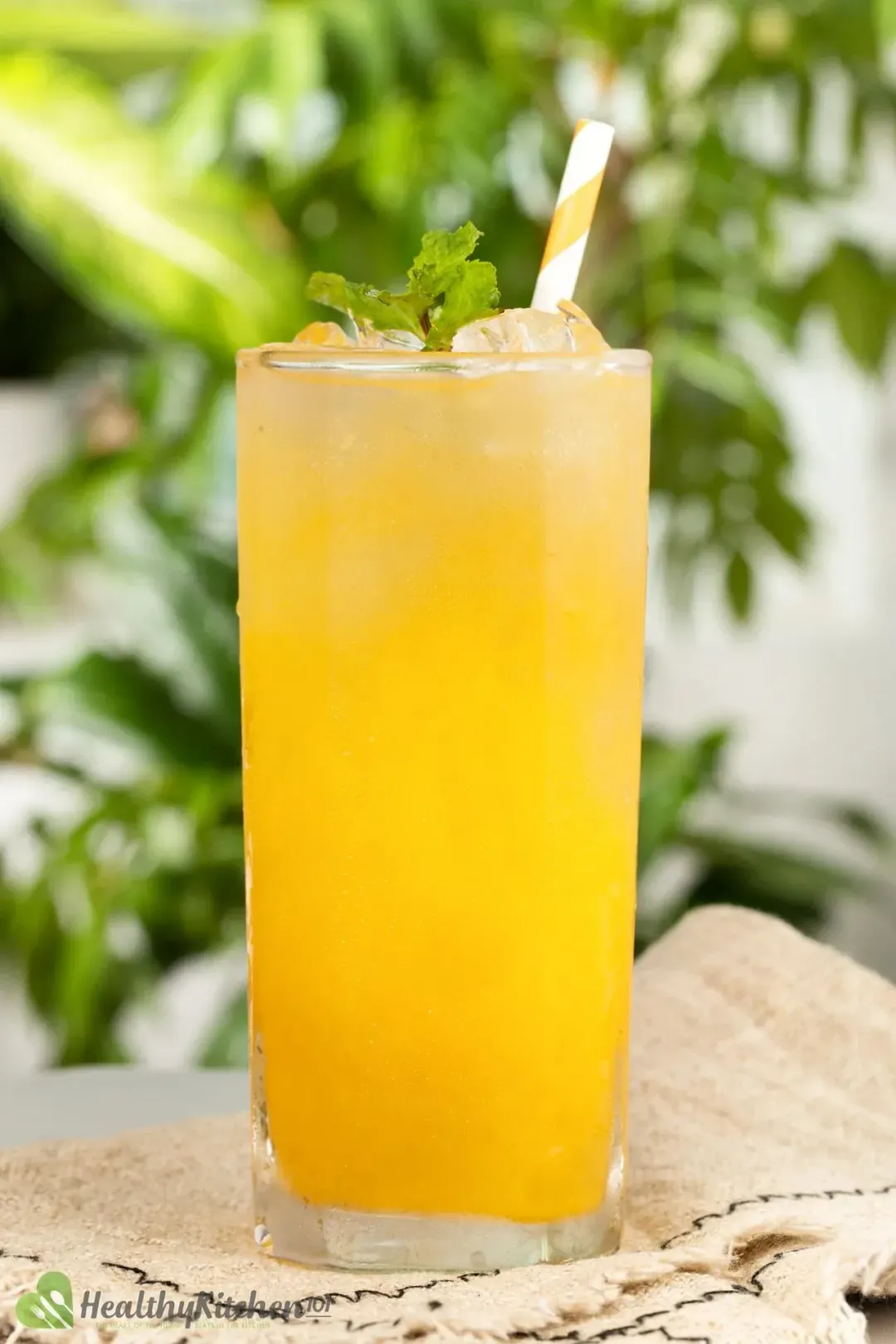 Ginger Ale and Ginger Beer
To put it simply, the beer is the one with alcohol in it, while the ale doesn't contain any.
If you're thinking, "That's strange," so are we, because the usual ale has a higher alcohol content than beer. Ironically, ginger ale is an exception and we, too, don't understand how it got its name.
Originally, this carbonated drink was fermented with yeast, and the product often contained both alcohol and carbon dioxide. So, it used to be an alcoholic beverage back in the day.
Now, the drink is not fermented, but rather, carbonated by dissolving carbon dioxide directly in the liquid. Since fermentation doesn't take place, the drink does not contain a single particle of alcohol.
Ginger beer, on the other hand, has always been a product of fermentation, and used to be 11% alcohol! For some reason, regulations have been passed and they are now only 0.5%.
Is This Juice Healthy?
1. Benefits of Ginger Ale
Ginger has been widely known for its medicinal benefits throughout the ages. It can help treat nausea, reduce muscle pain, soreness, and more.
It also contains decent amounts of vitamins and minerals.
However, we're not going to sugarcoat this— ginger ale isn't as nutritious as real ginger. Assuming the ginger ale brand makes ginger ale from real ginger, there is still very little ginger.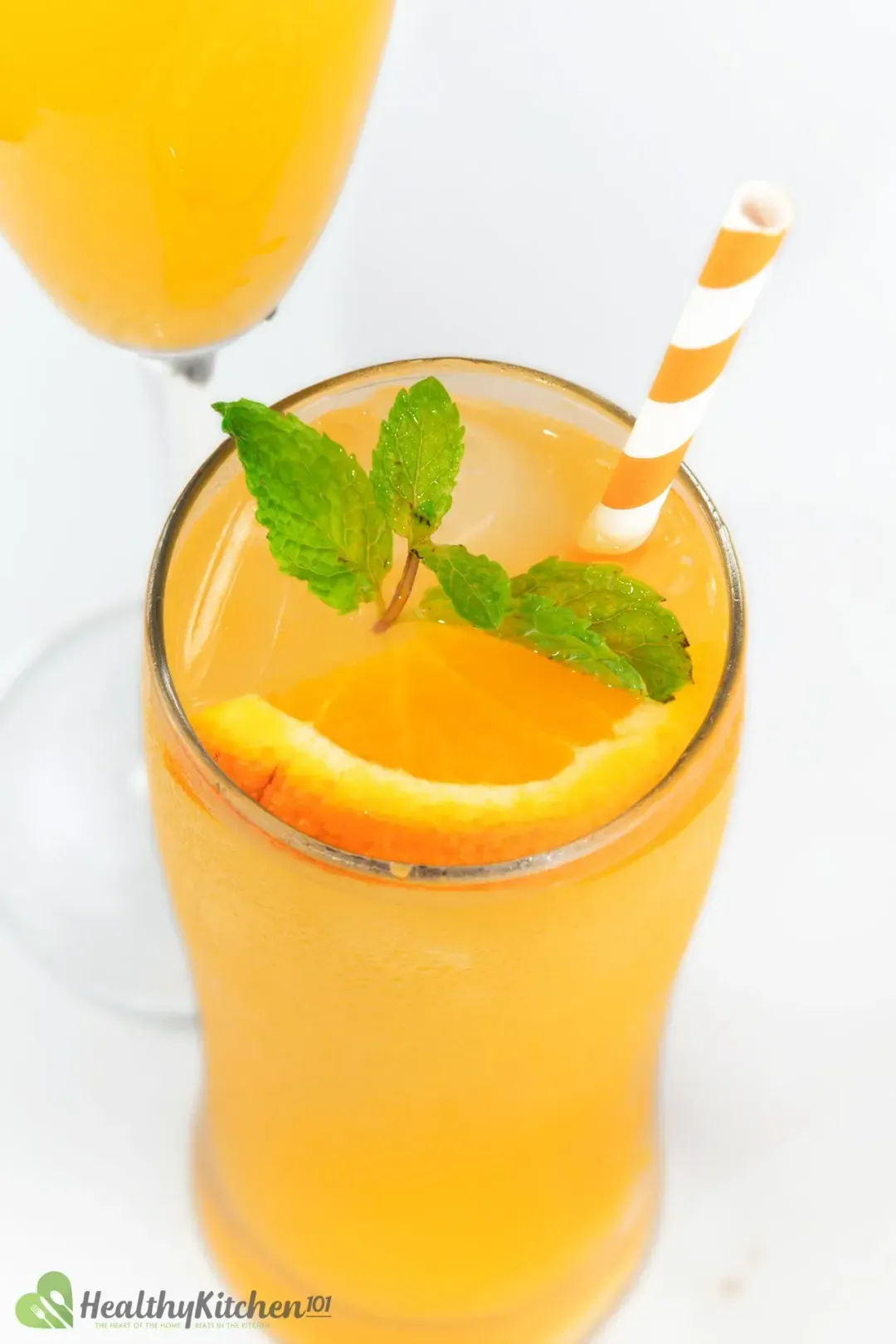 This is why we include ginger in our recipe. It adds a stronger fragrance, warmth, and definitely more nutrients.
Despite its low ginger content, we still wanted to share this ginger ale and orange juice recipe. It's still a tasty beverage and better than other sodas because of the nutrition from real ginger and orange juice.
2. Benefits of Orange Juice
Orange juice is packed with ascorbic acid, often referred to as vitamin C. One cup of orange juice can assure you of 75%-100% of the nutrient's DRI (Daily Recommended Intake).
Vitamin C, along with flavonoids and carotenoids found in orange juice, is considered an antioxidant. They are substances that help your cells recover faster when damaged.
Orange juice is also a good source of vitamin A, folate (vitamin B6), and magnesium. The body needs them in small amounts, but they are important nonetheless.
For more ideas on mixing drinks with orange juice, include it as the best mixer for vodka or try our healthy Morir Soñando, typically an orange juice and condensed milk beverage, but we mixed in low sugar alternatives.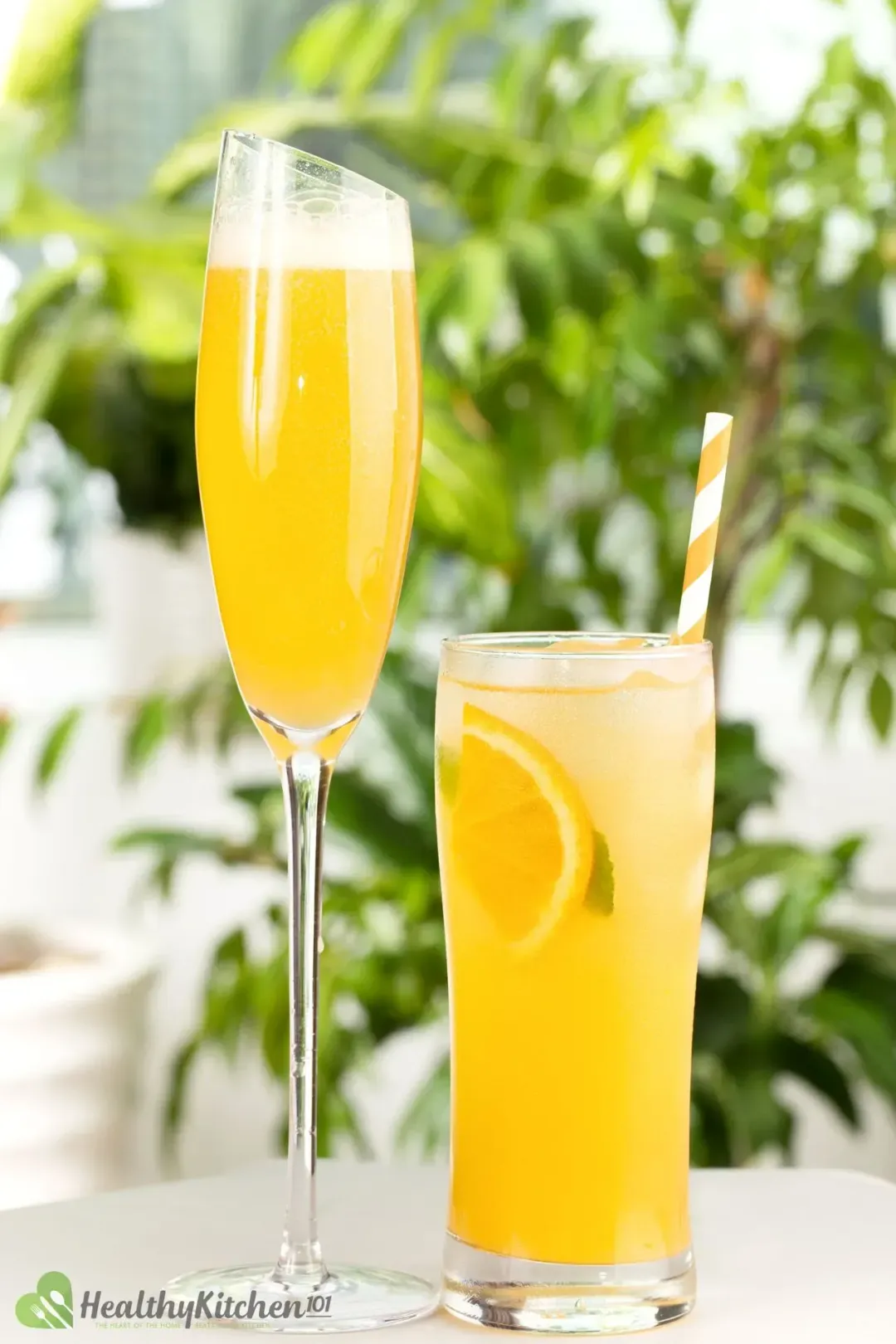 Check out our top 10 ginger juice recipes for more ideas!
Calories
This refreshing beverage yields around 62 calories per serving. More than 90% of the calories are from fresh orange juice and ginger ale.
To reduce the calories, you can omit the sugar or use less-sweetened ginger ale. If you somehow find a sweet orange, then the sugar doesn't need to be included at all.
Is It Bad to Drink Ginger Ale Every Day?
As with most soft drinks, it is bad to drink ginger ale (with sweeteners) too frequently.
"Blood sugar spike" is a common term you'll see in articles regarding the downside of sodas. As the sugar in these drinks is delivered without fiber, our body absorbs it very quickly.
This raises the level of glucose, a.k.a blood sugar, in your bloodstream, and it is bad for your health if it happens consistently.
You can feel the "spike" as a sudden surge of energy, which then goes away a few minutes after and leaves you tired.
However, drinking ginger ale every day is possible. Moderate consumption is key.
One can of ginger ale is usually 12 fluid ounces in volume— meaning lots of sugar. You don't need to drink all of it.
Use it in healthy recipes like this one, and you'll reduce your added sugar intake.
Also, by drinking it with a fiber-packed meal instead of "just because," you're doing the body a favor.
Other drinks are less taxing on your system and can be regularly incorporated. Like this immuno-boost drink with pomegranate or our pineapple and freshly squeezed orange juice. These are full of health benefits that will help to improve your diet.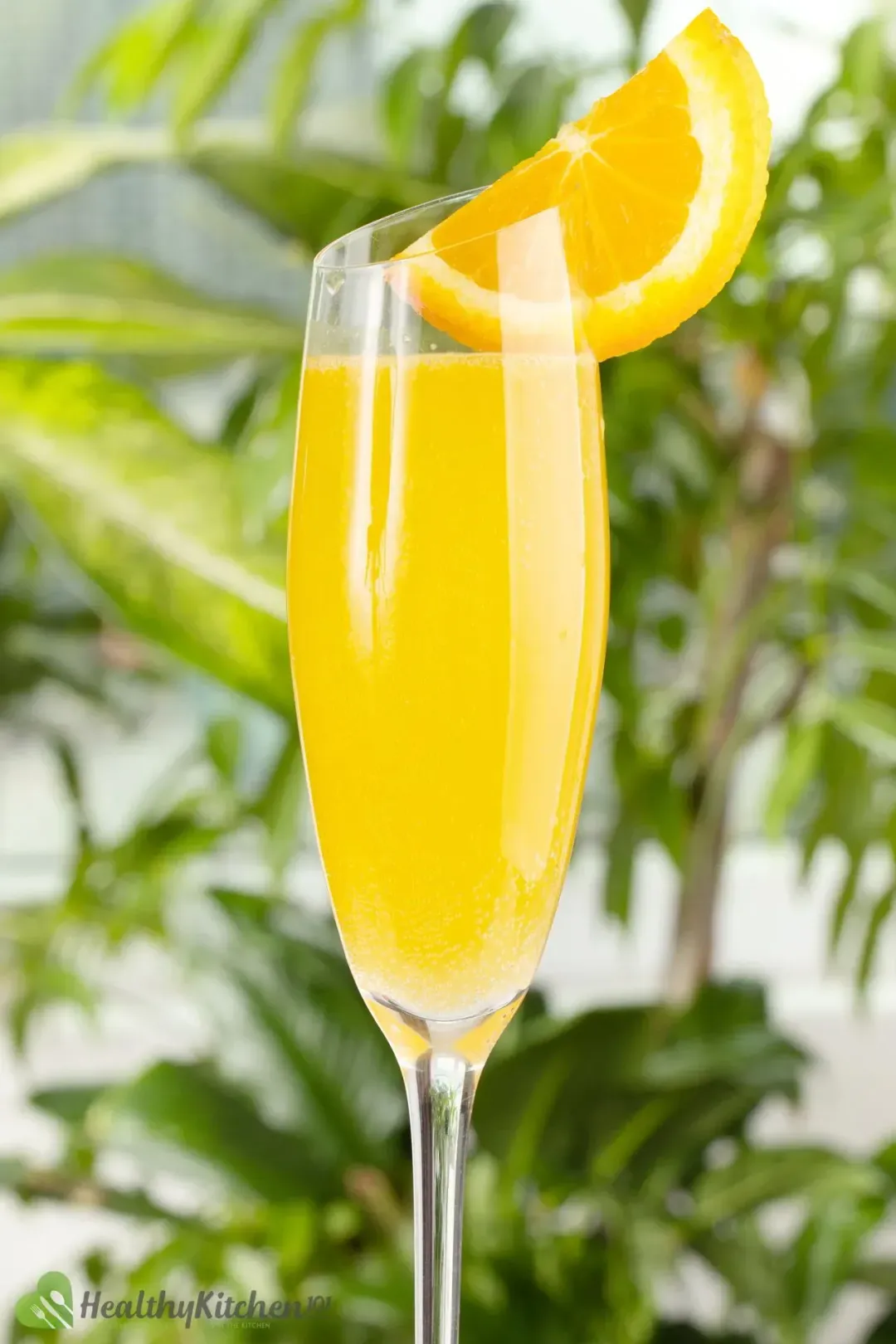 How Long Does Ginger Ale and Orange Juice Last?
Since ginger ale is a kind of carbonated drink, this "cocktail" gets duller and duller as it sits. We recommend drinking it right after making for the best experience.
Ginger Ale and Orange Juice
This ginger ale and orange juice recipe is really fragrant and not over-sweetened. It is a healthier alternative to other sodas.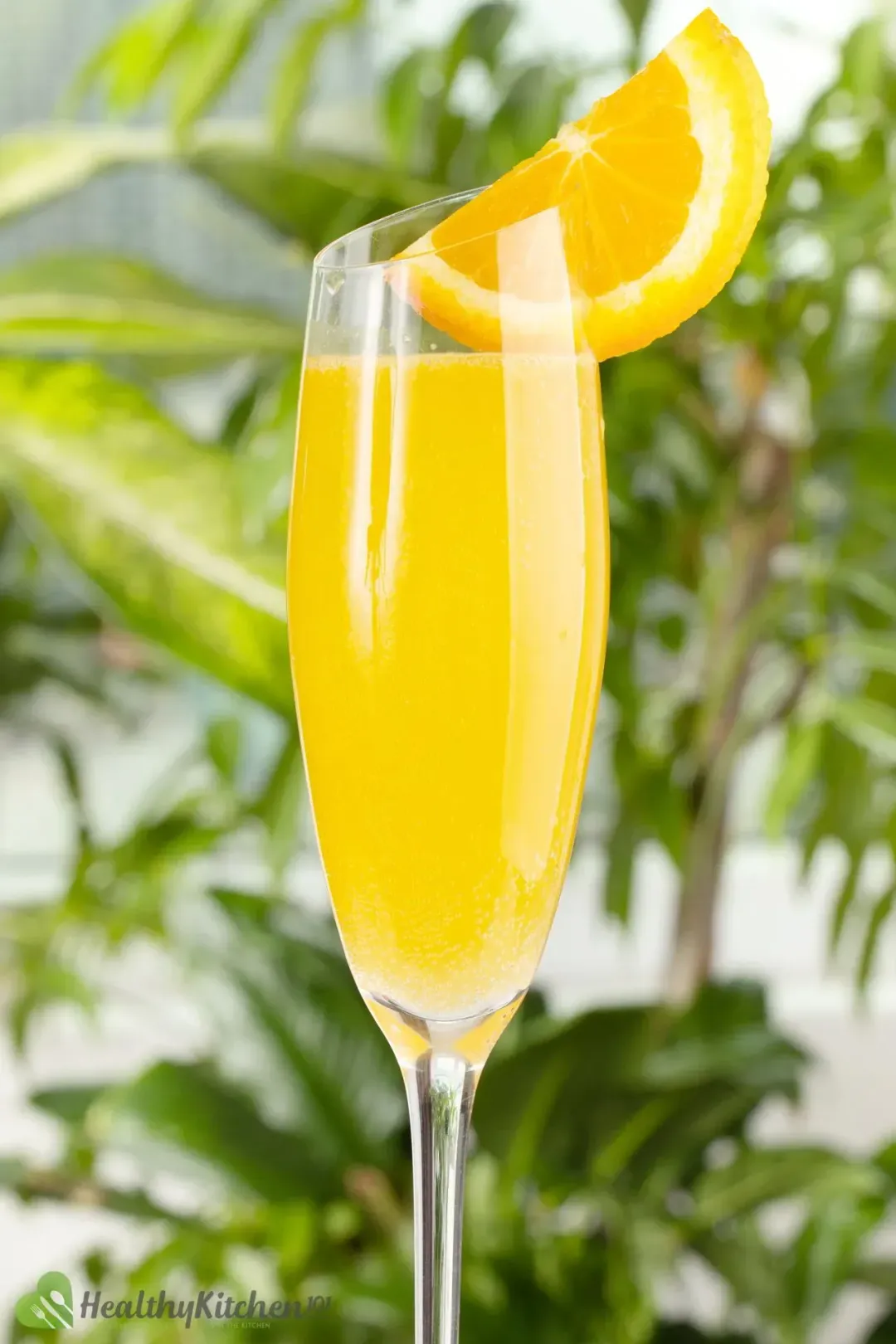 prep TIME

10 mins

total TIME

10 mins
COURSE

Beverage

CUISINE

American

SERVINGS

CALORIES

62 kcal
INSTRUCTIONS
1
Juice 0.5 oz ginger and collect the juice in a large pitcher.
2
Fill pitcher with 1 tsp sugar, 1/2 cup orange juice, and stir until the sugar dissolves.
3
Add ice and slowly pour 2 cups ginger ale in.
NUTRITION
Nutrition Facts
Ginger Ale and Orange Juice
Amount Per Serving (1 serving)
Calories 62
% Daily Value*
* Percent Daily Values are based on a 2000 calorie diet.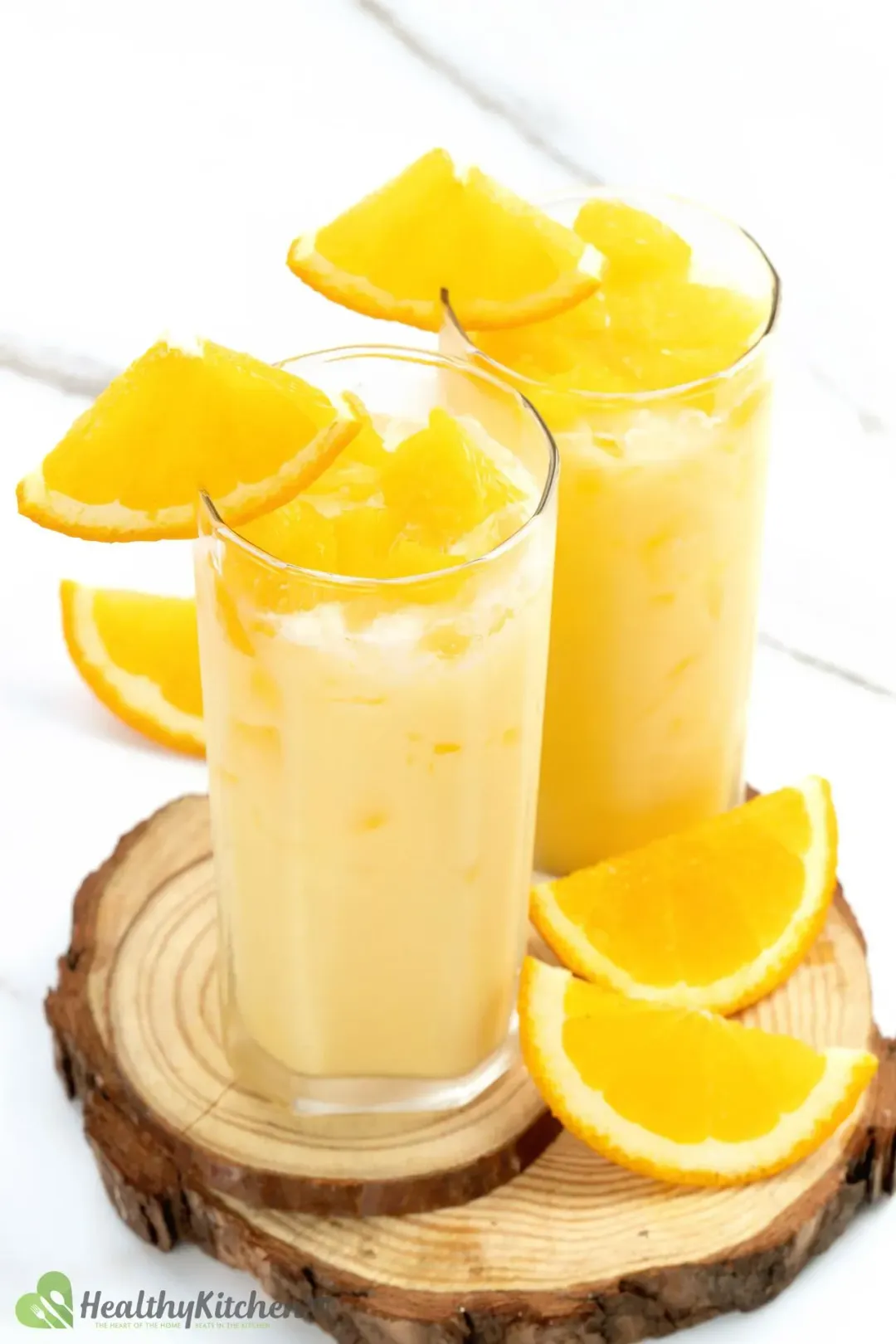 Previous Recipe
Milk And Orange Juice (Morir Soñando)
Milk And Orange Juice (Morir Soñando)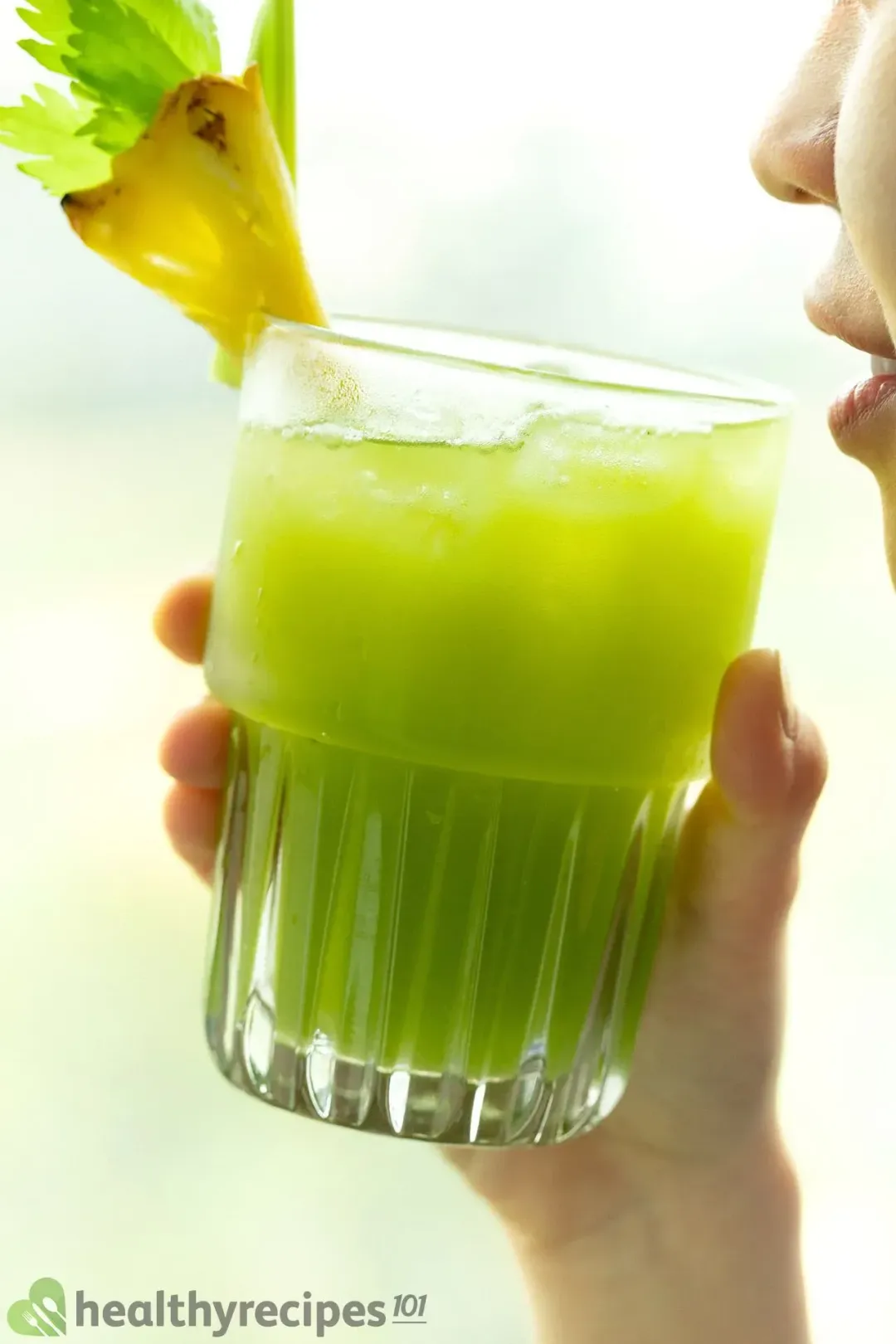 Next Recipe
Pineapple Celery Juice
Pineapple Celery Juice
Head Chef, Culinary Consultant
Tuyet Pham is an award-winning Saigonese chef who believes that joy is the secret ingredient to delicious food. At Healthy Recipes 101, Tuyet personally tests and simplifies every recipe, ensuring maximum flavor with minimal effort. With a background at prestigious French restaurants P'TI Saigon and Le Corto, Tuyet knows how to make every dish exceptional.
Writer, Author
Luna Regina is an accomplished writer and author who dedicates her career to empowering home cooks and making cooking effortless for everyone. She is the founder of HealthyKitchen101.com and HealthyRecipes101.com, where she works with her team to develop easy, nutritious recipes and help aspiring cooks choose the right kitchen appliances.
Nutrition Reviewer
Lizzie Streit is a Minneapolis-based dietitian and founder of It's a Veg World After All. She completed her MS in Human Nutrition from Drexel University, and is an expert in culinary nutrition, recipe development, and nutrition communications. Lizzie's philosophy is centered around making nutrition recommendations, and especially the advice to eat more vegetables, approachable and realistic. She is excited to be working with the team at Healthy Recipes 101 to ensure that their recipes are both nutritious and delicious.
My family loves it! Thanks!