This five-ingredient. orange pineapple juice recipe is a minimalist formula for creating a refreshing juice at home. The drink's digestion-aiding properties can also help to improve your diet and health.
Read on to learn about pineapple and orange fruits, how this juice can benefit you, and how to prepare it.
Is Pineapple a Fruit?
Two things are clear about fruits: they are a fleshy substance, and they contain seeds. So, why do we define the pineapple as a fruit if it doesn't have seeds?
A closer look at the scientific or botanical definition tells us that the fleshy part— which determines a fruit— develops from a flowering plant.
The spiky foliage at the top of a pineapple is its crown (flower) and can be planted to produce fruit. The resulting pineapple is not a single fruit, but a collection of fruits (roughly 200!) emerging from the flower.
Thus, the pineapple fits the description of a fruit. That and its sweet taste that goes well with other high-fructose produce make it a fruit in both culinary and botanical terms.
Do Pineapple And Orange Go Together?
Yes. Pineapples and oranges are two high-fructose fruits that can combine to form a flavorful dish with sweet notes.
Extracting their juices will produce a sweet, refreshing beverage. But it's the citrus and tropical contrast that makes them an excellent pair.
Adding pineapple juice to orange juice enhances the sweet citrus notes to create a pleasant beverage rich in fruity aromas.
But pineapple is not the only fruit that pairs well with orange juice. We experimented with more exotic produce and achieved a perfect orange pomegranate juice that's refreshingly delicious.
Add ginger ale to get a yummy recipe using orange juice, or see these tasty pineapple juice combinations that'll have you covered all through summer!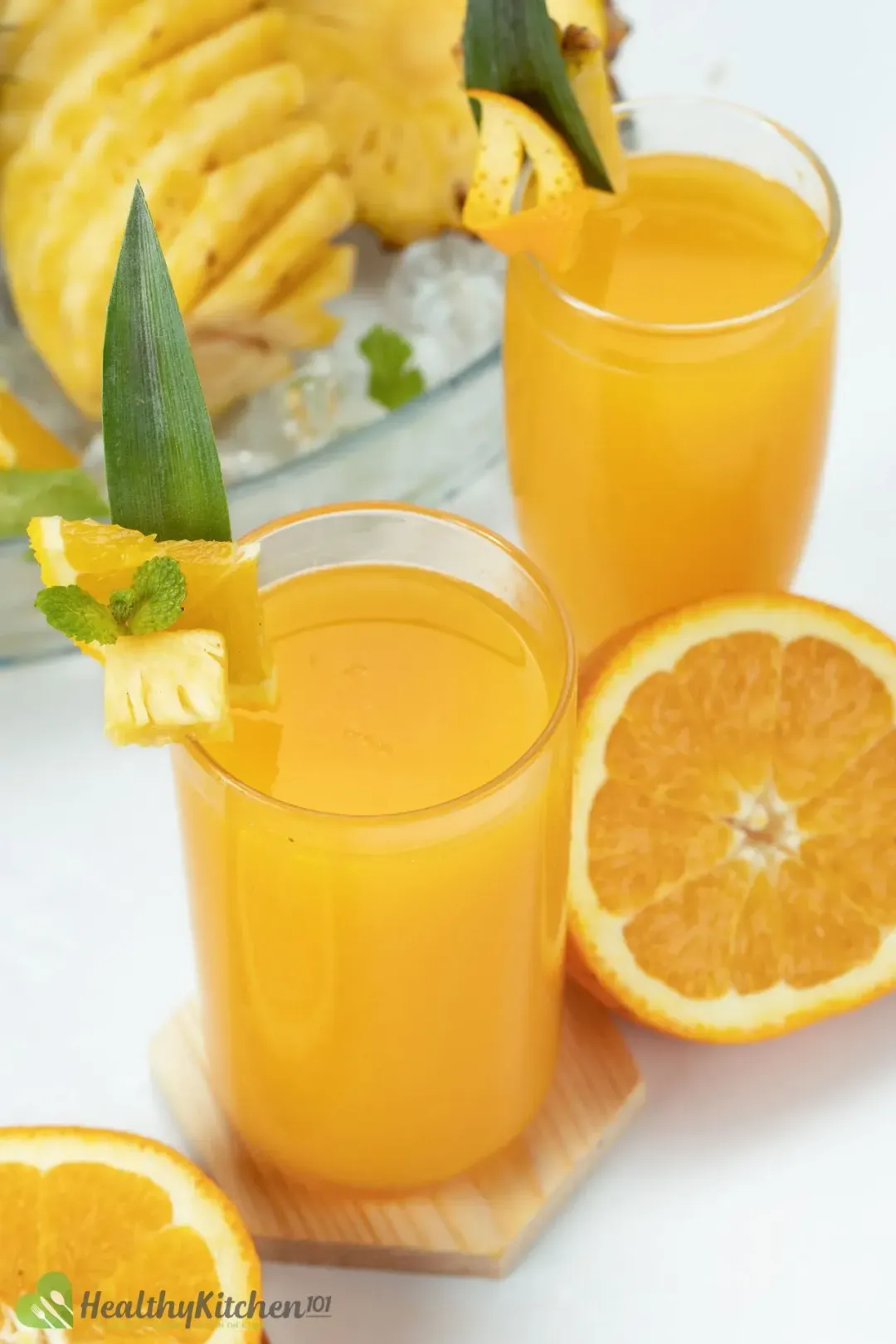 As a bonus, orange juice drinks provide nutrients to give you health benefits, some of which we explain below.
Benefits of Orange Pineapple Juice
The two main components that offer benefits in this drink are pineapple and orange juices. Individually, they provide immune-boosting nutrition and maintain their qualities when combined.
1. For Hyperuricemia
Hyperuricemia is a condition that signifies increased uric acid levels in the blood. It results from factors such as insulin resistance, obesity, and excessive alcohol intake.
Despite its sugar content, orange juice may help to lower uric acid levels to manage hyperuricemia. This is contrary to the belief that natural fruit juices raise uric acid levels and increase the risk of gout.
2. For Digestion
Pineapple juice holds plenty of nutritional value too. It contains vitamins C and B6, as well as manganese.
Its most beneficial feature, however, might be its bromelain enzyme. This has been shown to aid digestion by improving intestinal disorders in people with an undersupply of digestive enzymes.
Please note that drinking pineapple juice alone will not cure digestive issues. But you can try pairing it with a fiber-rich meal to make it more effective.
3. What Is the Best Time to Drink Orange Pineapple Juice?
You can enjoy orange pineapple juice at any time of day. But having it with a meal is especially beneficial since it aids in digestion.
The only precaution is to avoid having too much in a bid to combat hunger. That's because orange juice mainly consists of sugars that can work up your appetite instead of suppressing it.
Types of Oranges
There are several types of oranges, but the two popular ones are blood and navel oranges.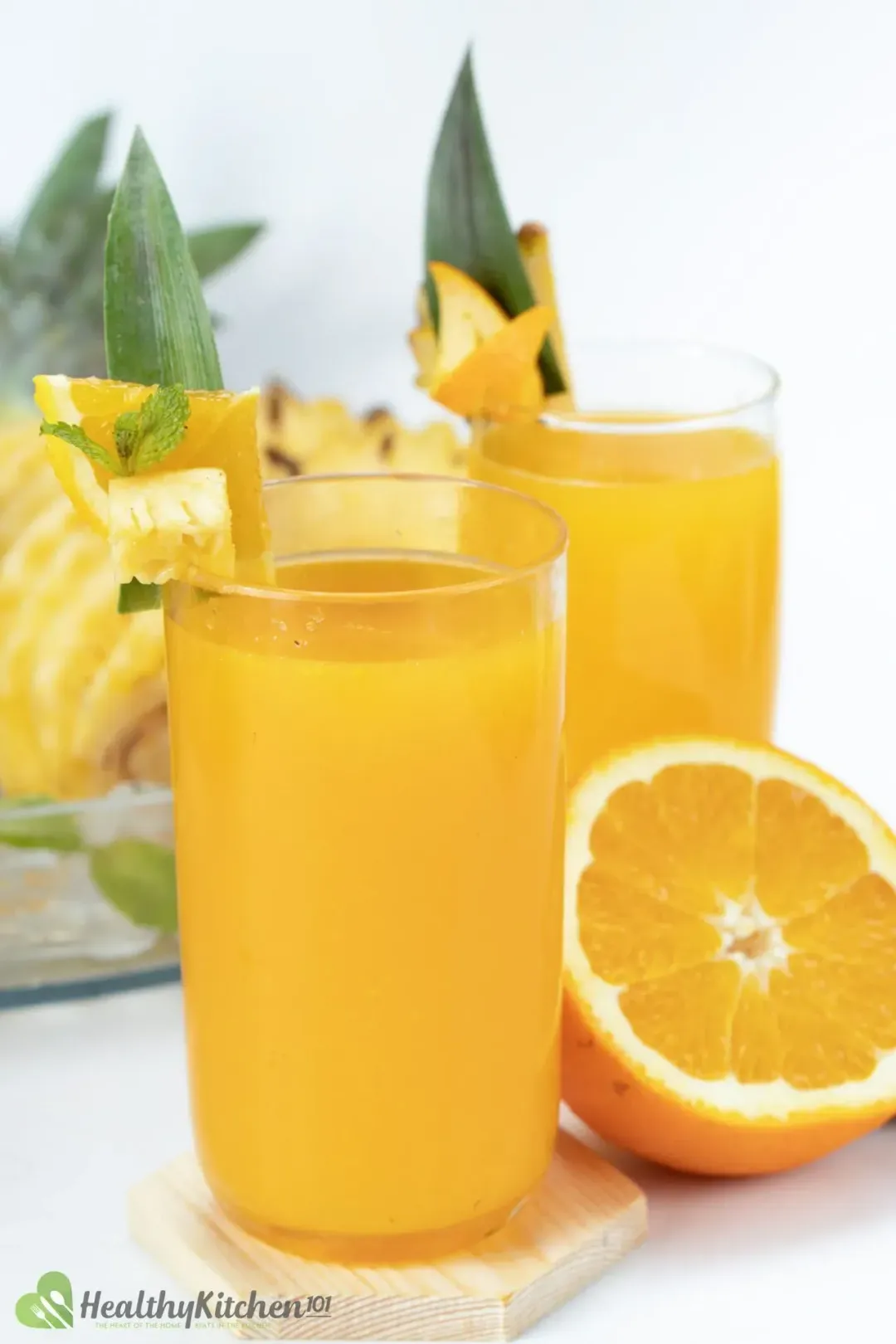 1. Blood Orange
The blood orange gets its name from its crimson red flesh. But what sets it apart is the polyphenols that lend its color, which are not present in other citrus fruits.
These polyphenols shift their taste to an orange-raspberry flavor and grant them antioxidant benefits. It makes them great for juicing when you're looking to create a distinct and unique orange pineapple juice flavor.
2. Navel Orange
Strangely enough, the navel orange got its name from the human belly button. Its blossom end resembles a navel and results from an undeveloped second orange growing inside the first.
Navel oranges are popular for their seedless property that makes them excellent for juicing. You won't have to spend time deseeding them.
Plus, navel oranges are naturally sweet, juicy, and delicious, making them perfect in this recipe.
See our best healthy juice recipes for more tasty drinks.
How to Make Orange Pineapple Juice
Our orange and pineapple drink is a five-ingredient beverage that relies on two fruits to deliver robust flavors. So, use only fresh ingredients if you can; we promise the result will be worth it.
Start by washing the oranges and pineapple, and use a kitchen towel to pat them dry. Next, peel and cut the pineapple into chunks that fit into your juicer chute and run them through the juicer.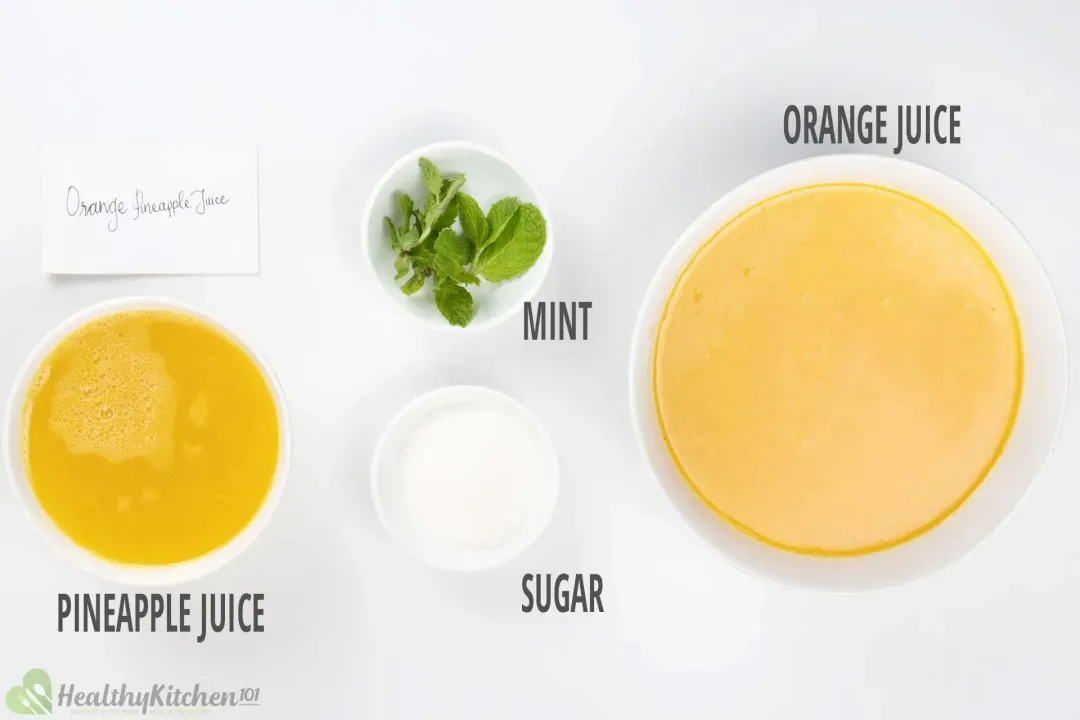 Cut the orange in half and either squeeze the fruit or use a reamer to extract its juice. You can even blend orange pieces (after peeling) to make a pulpy drink.
In a large pitcher, mix the two juices and add sugar to seal the flavors. Mix until the sugar dissolves, then pour into glasses with ice.
Finish off with some fresh mint for garnish and serve the drink immediately. Don't leave the juice at room temperature for more than 2 hours, and if you have any left over, store in the refrigerator.
It doesn't take much to change this drink into a cocktail or party beverage. Substituting pineapple with rum can create another orange juice recipe.
Even if you're not into rum, we have other great recipes to help you make the best alcohol with orange juice while keeping your health in mind.
How Long Does Orange Pineapple Juice Last?
Our orange pineapple drink can last for 48 hours in the refrigerator. Its shelf life is shorter compared to store-bought juices because it doesn't have any preservatives.
So, the best way to preserve it is to use an air-tight container like a mason jar or Ziploc bag. These will minimize the decrease in nutrient content and conserve the freshness of this drink without extra additives.
If you enjoy healthy, preservative-free beverages, we've got a morir soñando drink recipe for an interesting milk addition. You can also try out a few more orange juice recipes that we guarantee will add variety and flavor to your diet.
Orange Pineapple Juice
This orange pineapple juice is a five-ingredient beverage that's also great for kids. Whether for breakfast, parties, or as starters, you will best enjoy it cold and fresh.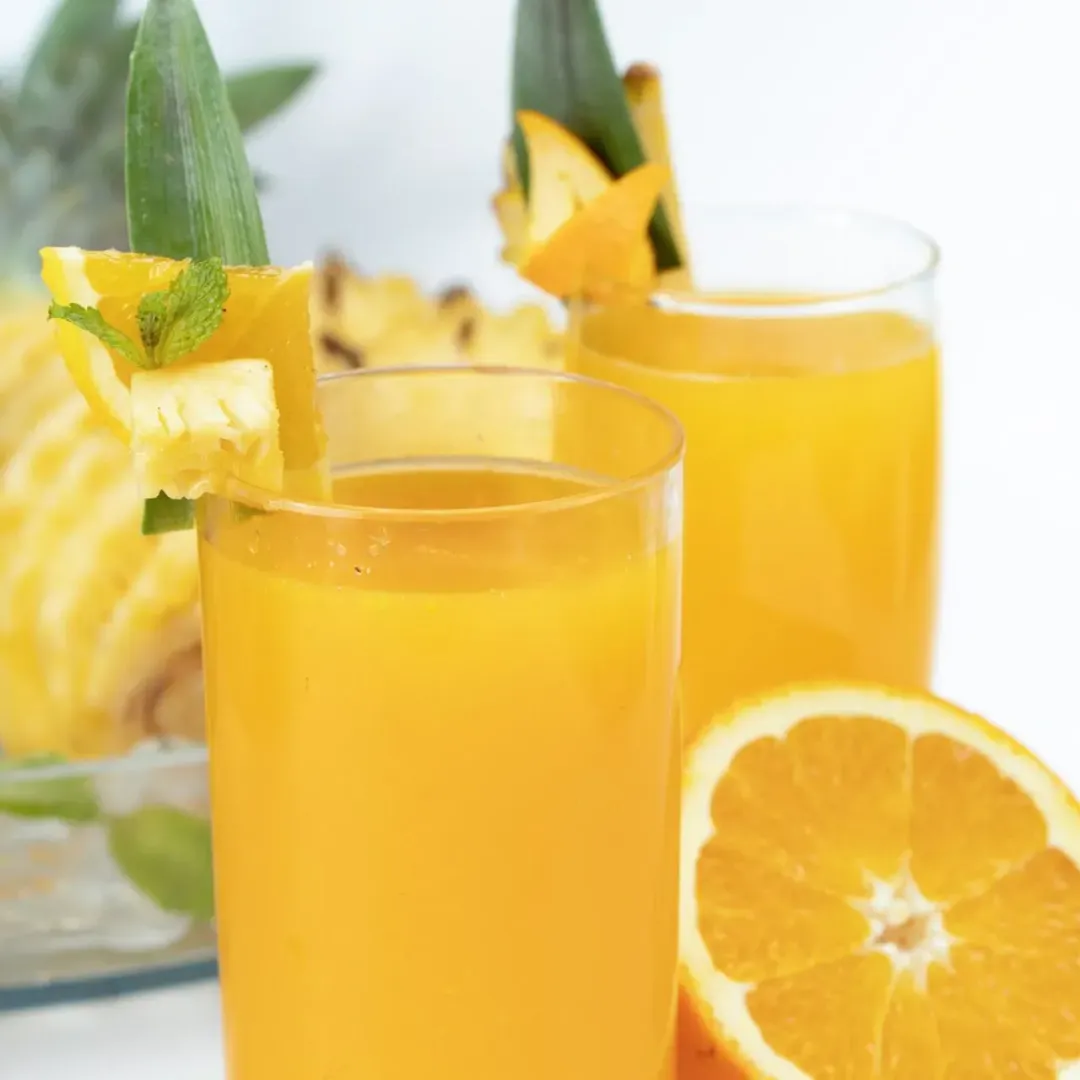 prep TIME

7 mins

total TIME

7 mins
COURSE

Beverage

CUISINE

American

SERVINGS

CALORIES

112 kcal
INGREDIENTS
18 fl oz

orange juice

(from 26 oz oranges)

8 fl oz

pineapple juice

(from 9.6 oz pineapple)
INSTRUCTIONS
1
Wash and pat dry oranges and pineapple. Peel pineapple and cut into chunks. Run pieces through a juicer and collect liquid in a pitcher.
2
Slice oranges in half. Use a reamer to extract orange juice and add it into the pitcher.
3
Add sugar. Stir to dissolve.
4
Fill glasses with ice and pour mixture. Garnish with mint leaves. Serve.
NUTRITION
Nutrition Facts
Orange Pineapple Juice
Amount Per Serving (1 serving)
Calories 112
% Daily Value*
* Percent Daily Values are based on a 2000 calorie diet.
Keywords: Carrot Orange Pineapple Juice, Homemade Orange Pineapple Juice, How to make Orange Pineapple Juice, Orange Pineapple Juice Recipe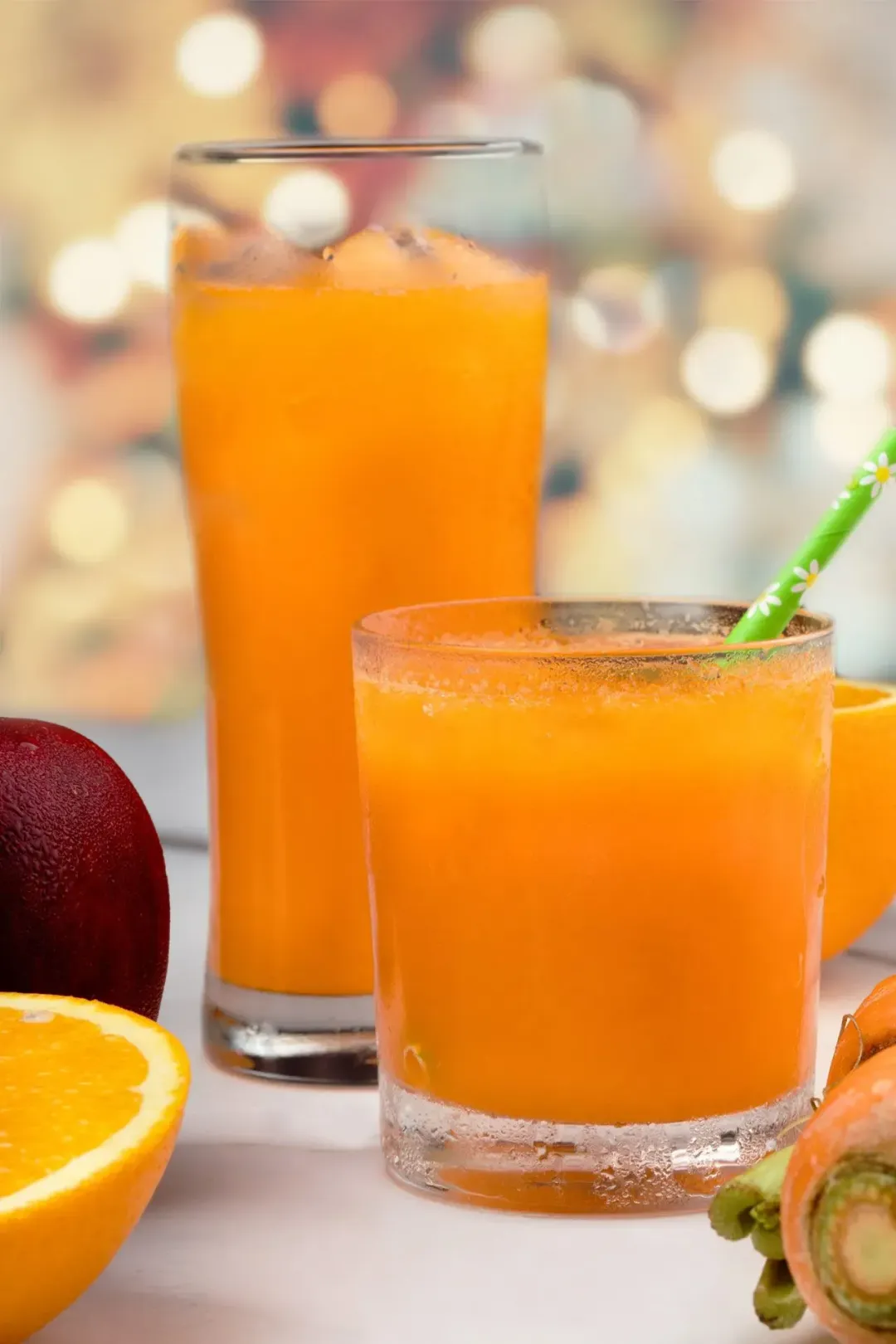 Previous Recipe
Carrot Apple Juice
Carrot Apple Juice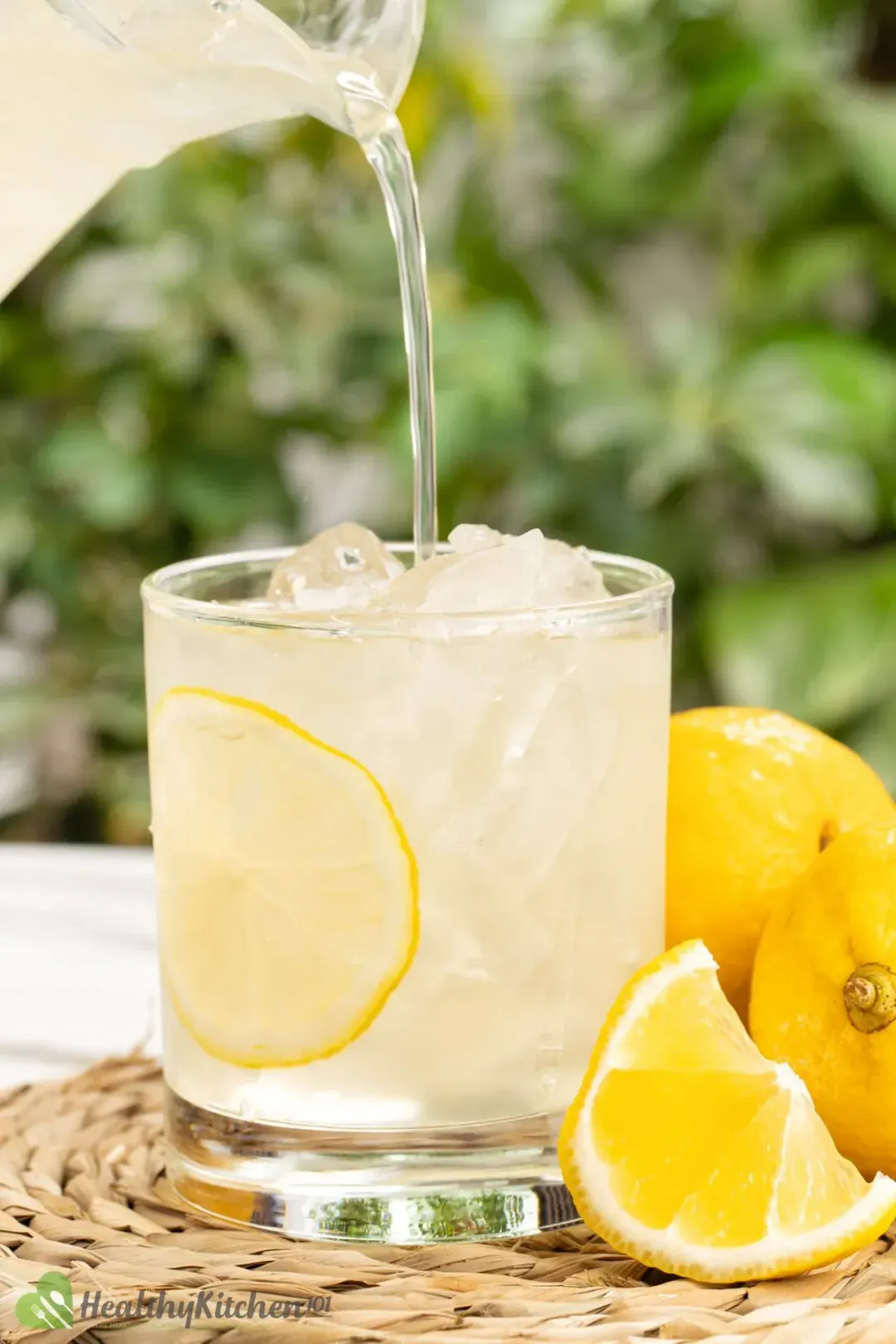 Lemonade
Okay, I'm lazy when it comes to juicing but this was pretty easy. Glad it's not too sweat either!

This turned out exquisite.