Summer and lemonade go hand in hand, but there are other lemon juice recipes too. In fact, there's a lemon juice recipe for every occasion.
Whether you're looking for cocktails, party drinks, or breakfast beverages, this recipe collection gives you a variety of options.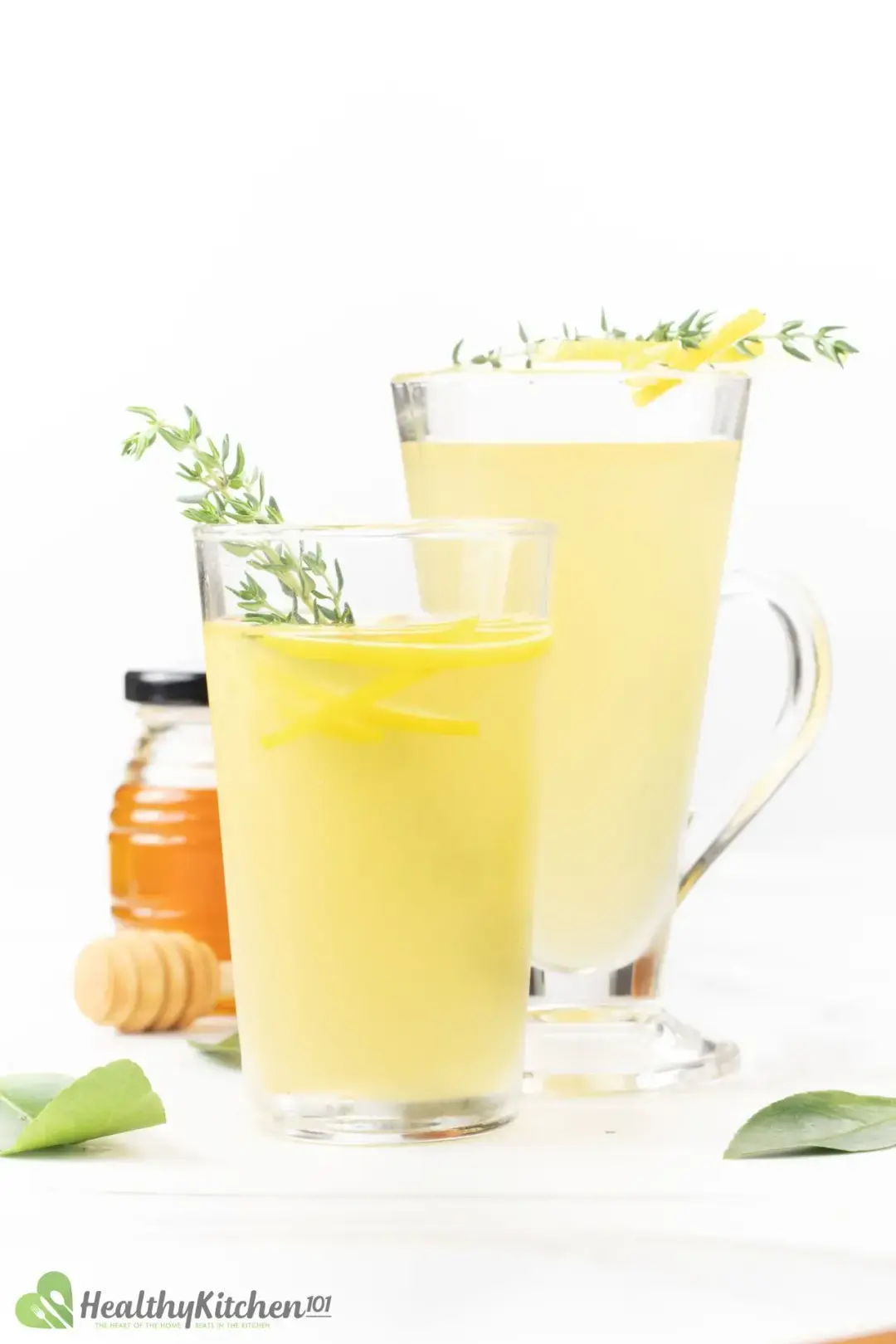 On top of being refreshing, these drinks can contribute to your health. Ingredients like ginger and honey are remedial, helping to fight off cases of flu and colds.
And even more simplistic beverages, like lemon water, are free from calories while providing micronutrients, such as vitamin C. Zesty, punchy, sweet, or sour, we've got you covered.
Whichever lemon juice recipes you decide to try out, we're sure you'll appreciate the refreshing flavors and healthy perks. Perhaps you can even have them as a go-to on those sweltering summer days.
Lemon Juice Benefits
Lemons have long been a part of remedial practices, including supporting heart health, controlling weight, and preventing kidney stones.
1. Antibacterial
Lemon juice has antibacterial properties. It has been proven to inhibit the growth of Salmonella, a group of bacteria common in foods such as eggs.
It has also been linked to cucumbers, tuna, and various other foods. So it's good to drizzle some juice on uncooked foods like salads and ceviche.
2. Low-Calorie
You can combine lemon with water to make a low-calorie beverage. Lemon water is not as intense as plain lemon juice.
You only need a small amount of lemon juice to receive health benefits. And drinking it undiluted will leave you with a very sour taste in your mouth.
3. Hydration
Combining it with water makes it more palatable and could also help you drink more water during a day. You might find you appreciate the teasing bitterness, and it makes you want more.
Increasing your hydration can help you to sleep better, maintain joint lubrication, and enhance your mood.
4. Vitamin C
You also get 18.6 mg of vitamin C— almost 25% of the Daily Value (DV) from the juice of one lemon.
Vitamin C is essential to rebuilding and growing body tissue. Better yet, pair it with iron-rich foods, like kale, for maximum iron absorption.
5. Antifungal
Lemon juice can also be used topically for its antifungal properties. Its citric acid has been proven to inhibit the growth of Malassezia, a yeast-like fungus that grows on the skin.
However, its high acidity may irritate the skin, so take precautions when using it.
For example, you can dilute it with water and only apply it to affected areas. Try on smaller patches before trying on larger patches.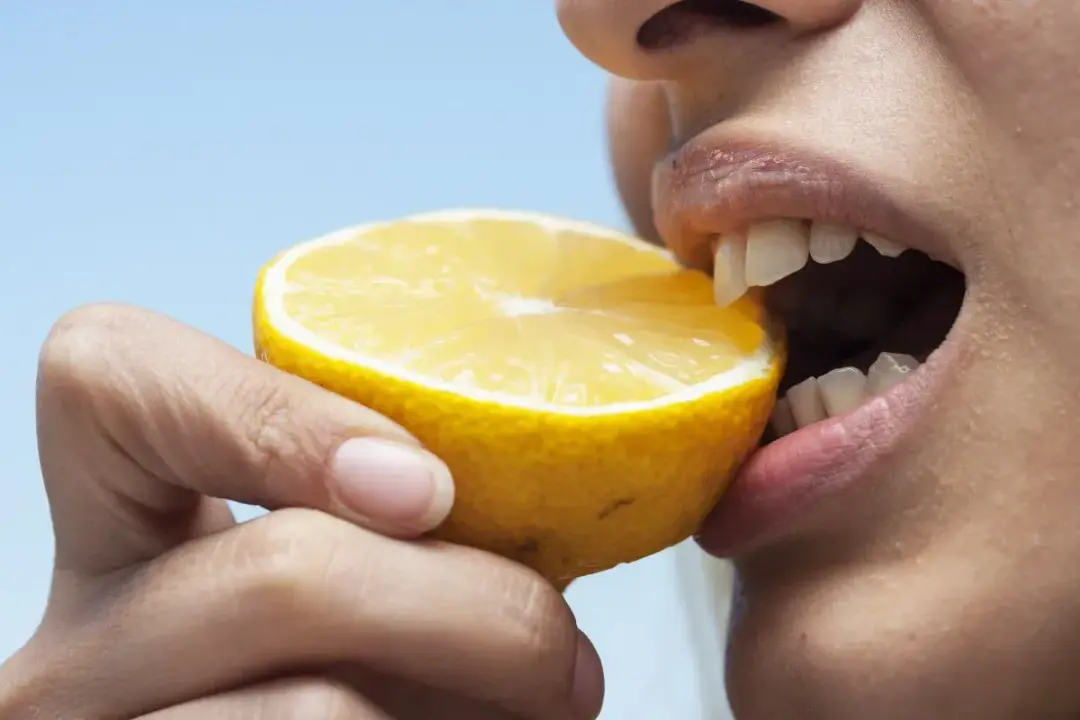 How Much Juice is There in One Lemon?
The juice of one medium lemon yields about two tablespoons of lemon juice. You can squeeze 48 grams or 3.5 tablespoons of juice from one large lemon.
When a recipe calls for the juice of one lemon, substitute it with 2-3 tablespoons of bottled juice.
For the sake of uniform measurements, most, if not all, lemon juice recipes refer to a medium-sized lemon. To get a better idea of juice yields, here's a summary of common lemon juice amounts:
one lemon = two to three tablespoons juice
1/2 a lemon = one and a half tablespoons juice
two lemons = six tablespoons juice
eight lemons = one cup juice
one lemon = 1 to 1.5 fl oz juice
1/2 a lemon = 1/2 fl oz juice
How to Make Lemonade With Lemon Juice
Making lemonade is easy. The key is to balance lemon's acidity with a sweet element, usually sugar.
But it comes down to your preference. Because it's such a simple recipe, you can adjust the taste of lemonade by increasing or reducing ingredient amounts.
Freshly squeezed lemon juice recipe is best for delivering a vibrant flavor that makes lemonade refreshing.
Start by washing some lemons— the Meyer variety is excellent for its tangy sweetness. Roll the fruit back and forth against a hard surface to loosen its membranes.
Place a mesh sieve over a bowl. Then, slice the lemon across its width and put one half into your palm, positioning it above the mesh.
Use your other hand to scrape the lemon half with a fork while collecting the juice in the bowl.
For juicing larger quantities of lemons, use a manual juicer like a hinged squeezer. Slice the fruit across its width and place one half into the hinger cup and squeeze over a bowl.
If you like your lemonade sweet, add a cup of sugar for every cup of lemon juice. If you prefer it less sweet, add half a cup of sugar and stir the mixture until the sugar dissolves.
Next, pour the mixture into a large pitcher. Add cold water, about 6 cups for every cup of this juice.
Taste as you add the fourth cup and stop diluting if you're happy with the level of flavor. If not, continue pouring in cups of water to achieve your desired flavor.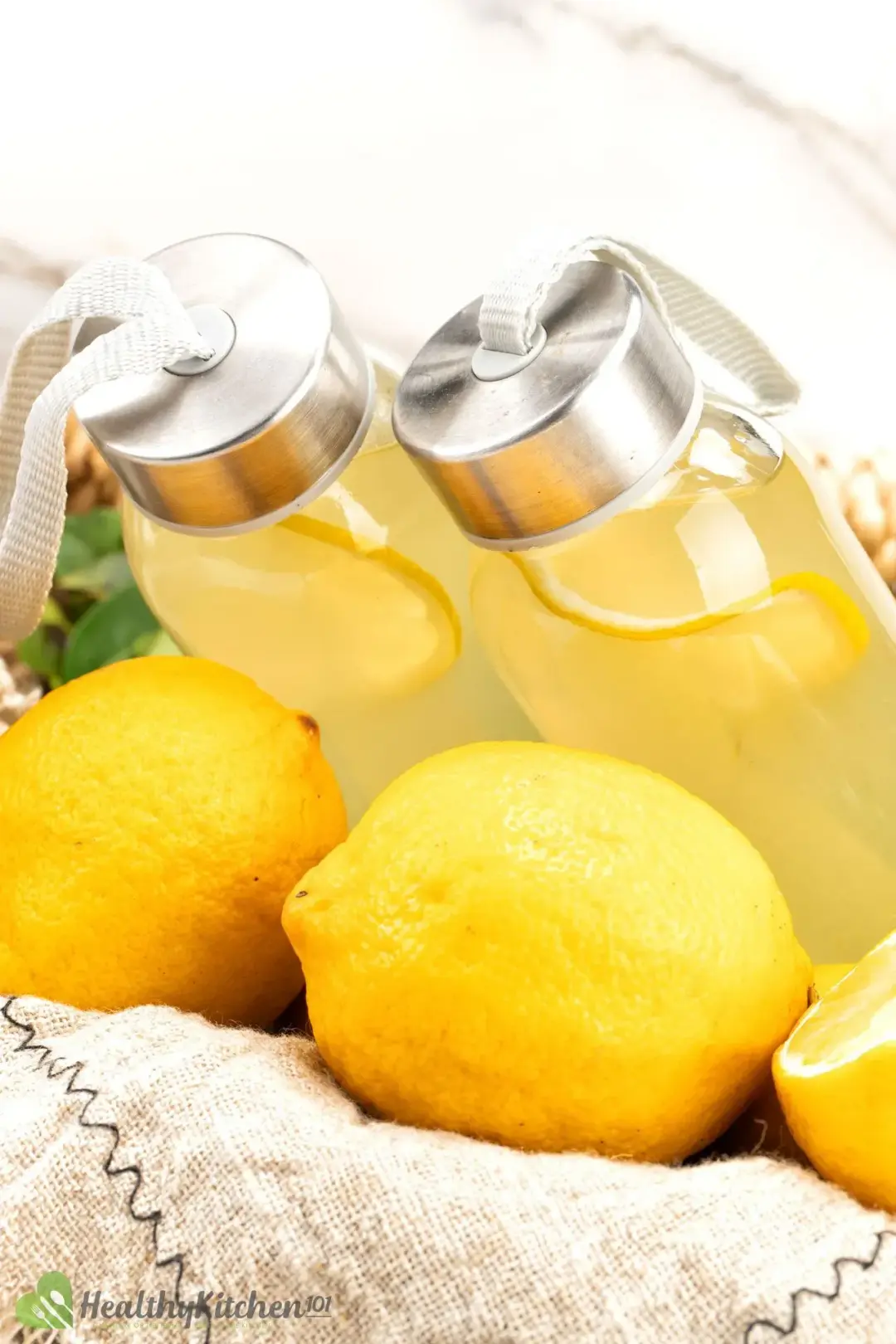 You can improve the taste by adding more lemon juice if it's too sweet, and sugar if it's too sour. Don't forget to serve it over some ice, or to chill it before serving.
Lemon Juice Nutrition
1. Calories
Lemon juice is extremely low in calories. A one-cup serving (224g) contains only 53.7 calories.
Which is why you can get away with drinking lemon water throughout the day without the risk of gaining weight.
Lemon water, with the juice of one lemon, amounts to 10 calories (which take less than 30 minutes to burn!)
Additionally, this juice has a low amount of sugar, taking up only 2.5% of its total calories. It has three times less the amount than other fruit drinks like orange juice, making it close to sugar-free.
2. Carbs
Consequently, lemon juice is a low-carb drink. You can substitute higher-carb beverages with lemon water, especially for weight loss.
Not only that, but it's also an excellent addition to many dishes.
You can use it for mixing into salads. A lemon dressing or vinaigrette is an excellent way to pep up your greens with minimal calories.
It's also perfect for drizzling on sweet or savory foods too. A tiny amount of this juice will drastically alter the flavor of a dish.
It's good to always have some on hand for added flavor, especially to complete a low-carb recipe.
3. Vitamin C
Lemon juice is an incredible source of vitamin C. One fluid ounce yields 11.8mg, equivalent to 15% DV.
Including it in your daily routine with other vitamin C-rich foods can help you to fulfill 100% of the DV. It's comparable to the amount in orange juice, which has slightly more vitamin C at 21% DV per fluid ounce.
Vitamin C provided by lemon has been helping people for centuries. Sailors in the 18th century used this juice to treat scurvy, a disease arising from a chronic vitamin C deficiency.
Limes were also found to help.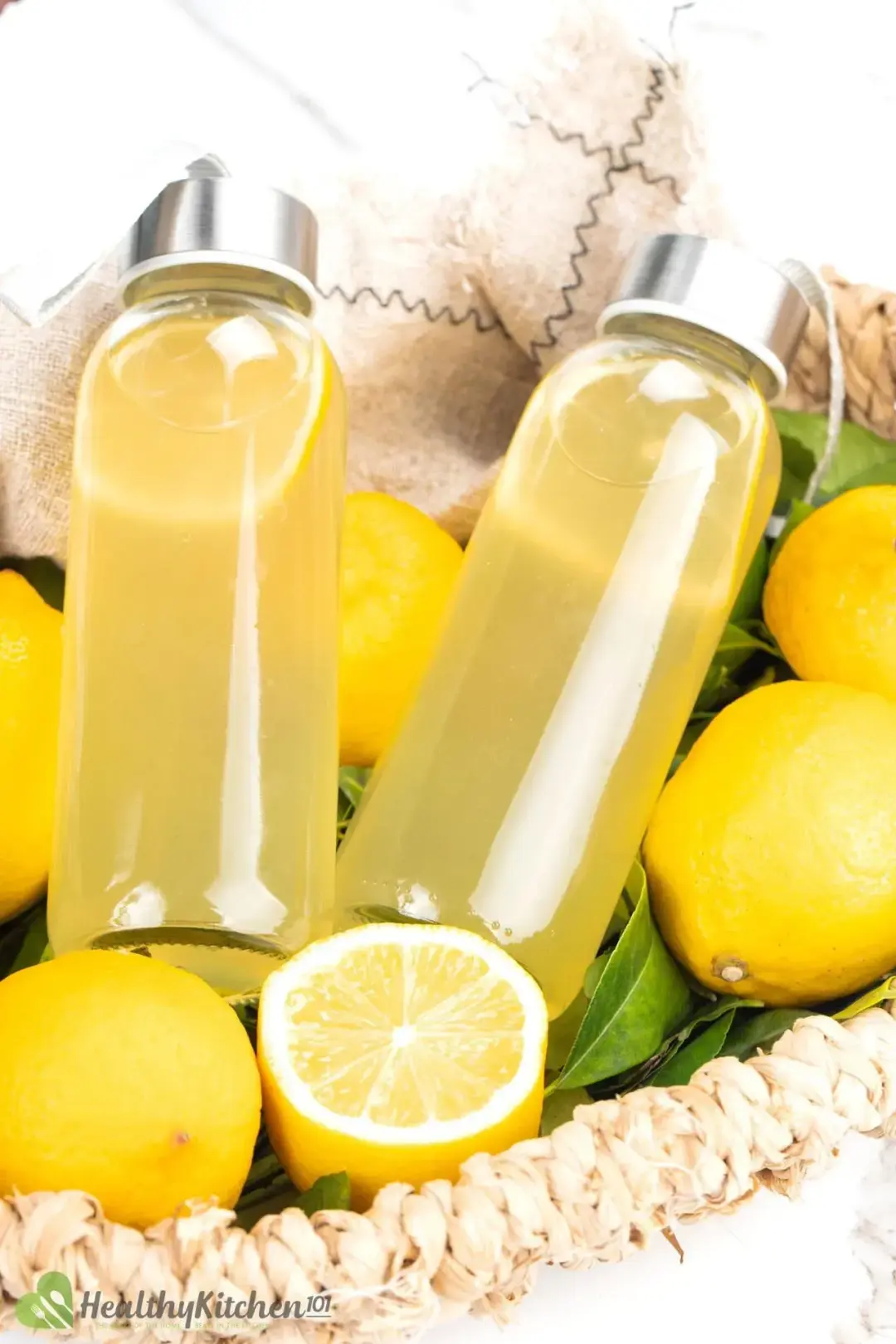 Is Lemon Juice Good for You?
Yes, lemon juice is healthy for you. It contains a high amount of citric acid (1.10g), even more than that of orange juice.
Studies deduce that daily consumption of this juice increases the excretion of citrate. Citrate is a salt that hinders kidney stones from forming in the body.
Adding it to your drinking water increases your total fluid intake and urine output. As a result, it reduces urine salts, helping to lower the risk of stone formation.
Patients are usually advised to drink large amounts of this juice to treat hypocitraturia (low citrate excretion).
Lemon juice can also contribute to weight loss.
It doesn't burn belly fat, but it can help you stay hydrated when taken as lemon water. And increasing your hydration may be linked to losing weight.
Lemon Juice in Hair
1. To Lighten Hair
One unconventional use of lemon juice is as a hair dye.
Because lemon's citric acid is a lightening agent, many are adopting it as a natural brightening treatment for hair. They claim that it's a quick working, inexpensive alternative to box dyes.
This practice is common to Palestinian women. They use natural ingredients, like lemon juice, to lighten hair to a blonde shade.
And though the sun naturally lightens hair, adding lemon can enhance the process to reduce your hair's melanin. The result is a permanent dye, so be sure lightened hair is something you want before going for it.
2. How to Lighten Hair With Lemon
First things first, using lemon juice recipe on your hair is not the best way to lighten it. It can potentially damage your hair strands and result in split ends.
Also, there are cases in which using lemon did not result in brighter hair color. So it may work for lighter shades of hair as opposed to, say, dark blonde hair.
The first method includes mixing lemon juice (two tablespoons) and water (one cup). Rinse your hair with the lemon water and let it air dry in the sun.
It's good to note that any bleaching, chemical or natural, will leave your hair dry and prone to breakage. Deep conditioning after your hair has dried may help to prevent further damage and breakage of your hair.
The second method includes lemon and a carrier oil, like olive oil.
Add both ingredients into a spray bottle and shake until it's well mixed. Then spray the mixture onto damp hair and allow it to air dry in the sun.
3. How Long Does it Take for Lemon Juice to Lighten Hair?
After one to two hours in the sun, your hair should be dry. But you'll have to repeat the same process for three to four days to allow your hair to lighten.
Top 10 Best Lemon Juice Recipes
1. Best Recipe: Lemonade (4 Servings)
This sweetened lemon-flavored beverage is a must-have summer drink. This particular one is rich with typical tangy and sweet flavors that create a classic lemonade.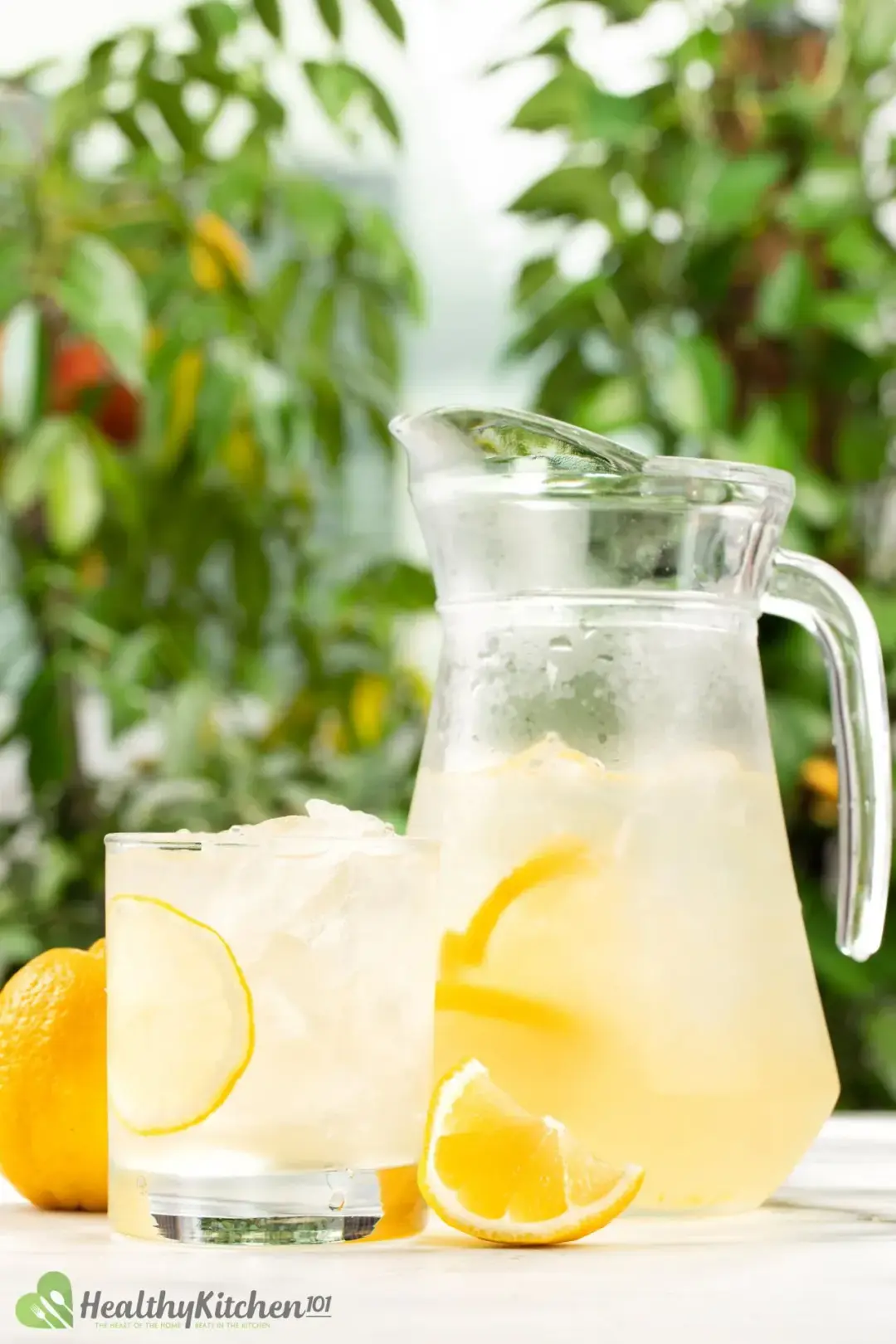 The addition of basil gives a fresh aroma and cooling sensation that goes exceedingly well with the lemon.
Ingredients
3 tbsp lemon juice
1 tbsp honey
1.75 cups water
3 tbsp sugar
6 basil leaves
2 cups ice cubes
Instructions
Add sugar and basil leaves to a large pitcher and use a muddler to crush the leaves and release the fragrance (a spoon could also work).
Add lemon, honey, and 3 tablespoons of water to dilute the mixture. Mix well to combine.
Add the rest of the water into the pitcher and stir. Add ice and serve.
2. Apple Cider Vinegar and Lemon Juice (4 Servings)
Apple cider vinegar and lemon juice is a tart drink that's bright and refreshing. It also has heart-health benefits.
Together with lemongrass, honey, sugar, and lemon, you have a zesty beverage with a perfect balance of sweetness.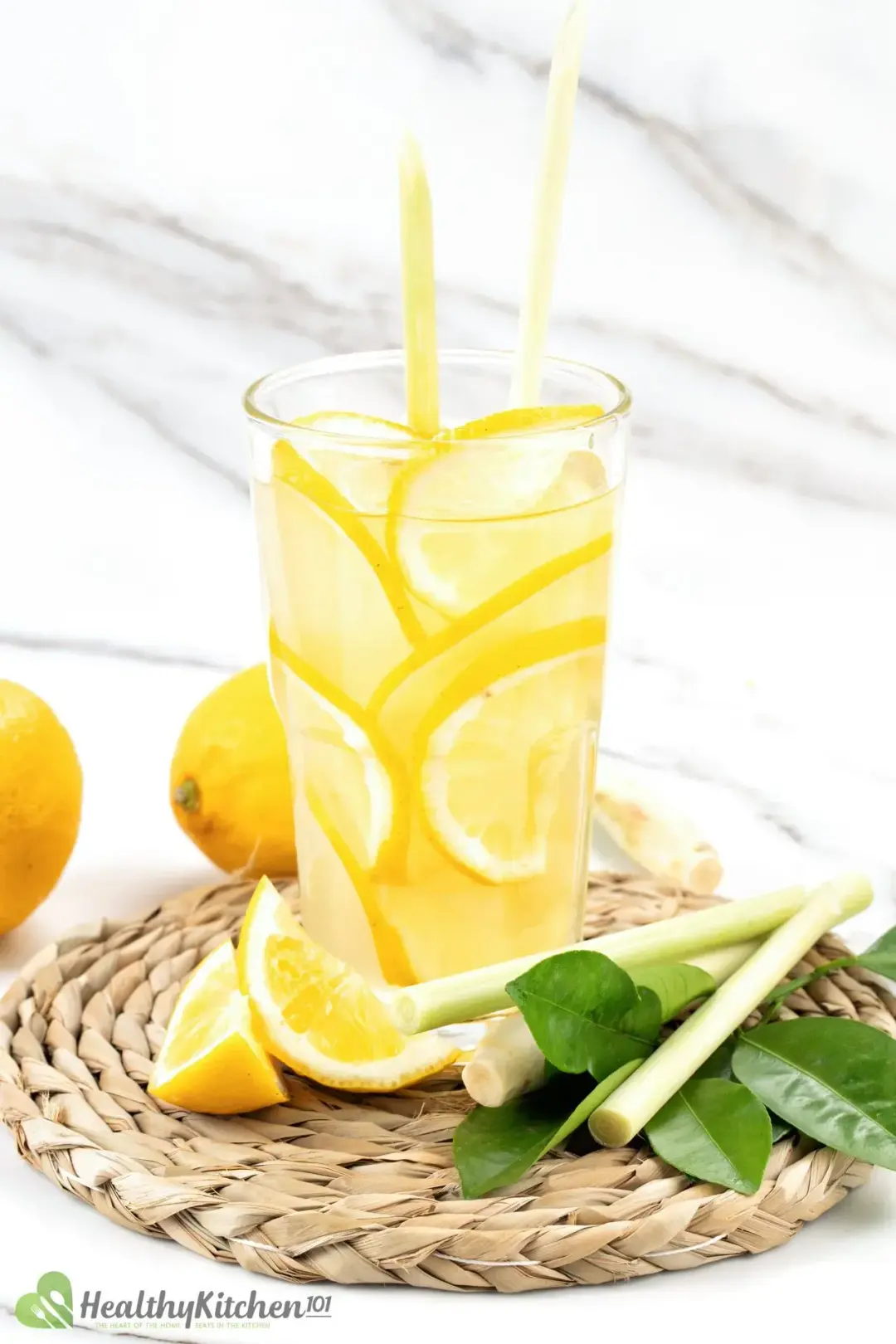 Ingredients
1.5 tbsp lemon juice
2 tbsp apple cider vinegar
2 cups water
3 tbsp sugar
1 tbsp honey
2 oz lemongrass
2 cups ice cubes
Instructions
Use a knife to remove the outer layer of lemongrass. Cut into chunks. Use the back of a knife and gently pound each stalk about 4-5 times until it releases a fragrance.
In a large pitcher, add the apple cider vinegar, lemon, water, sugar, and honey. Stir until the sugar dissolves.
Add lemongrass and ice, stir and serve.
3. Milk and Lemon Juice (4 Servings)
Milk and lemon juice is not a common combination of flavors. However, this recipe doesn't fall short of delicious.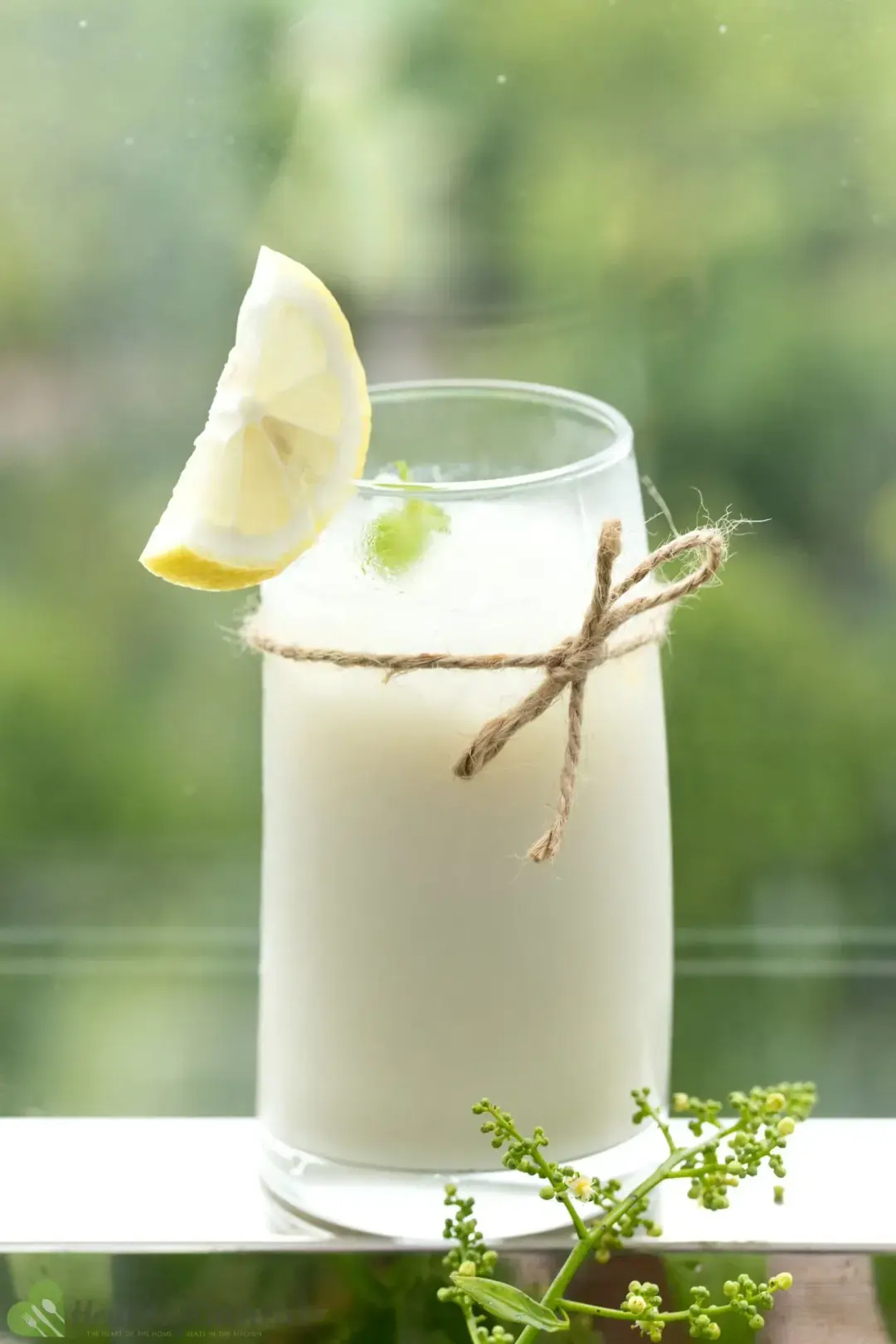 It's bursting with sweet, succulent notes of maple syrup, milk, and sugar. Mint and lemon add zest and emulsion that make this beverage a creamy refreshment, perfect for accompanying any breakfast.
Ingredients
3.5 tbsp lemon juice
16 fl oz milk
½ cup water
2 tbsp maple syrup
2 tbsp sugar
6 mint leaves, fresh
2 cups ice cubes
Instructions
In a large bowl, add water, milk, honey, and sugar. Use a wooden spoon to stir until all the sugar has completely dissolved.
Serve over ice and garnish with mint leaves.
4. Honey and Lemon Juice (4 Servings)
This honey and lemon juice recipe is a therapeutic beverage with the remedial effects of honey's soothing properties. Lemon and thyme, too, provide nutrition to support the immune system, making this beverage perfect for combatting a cold.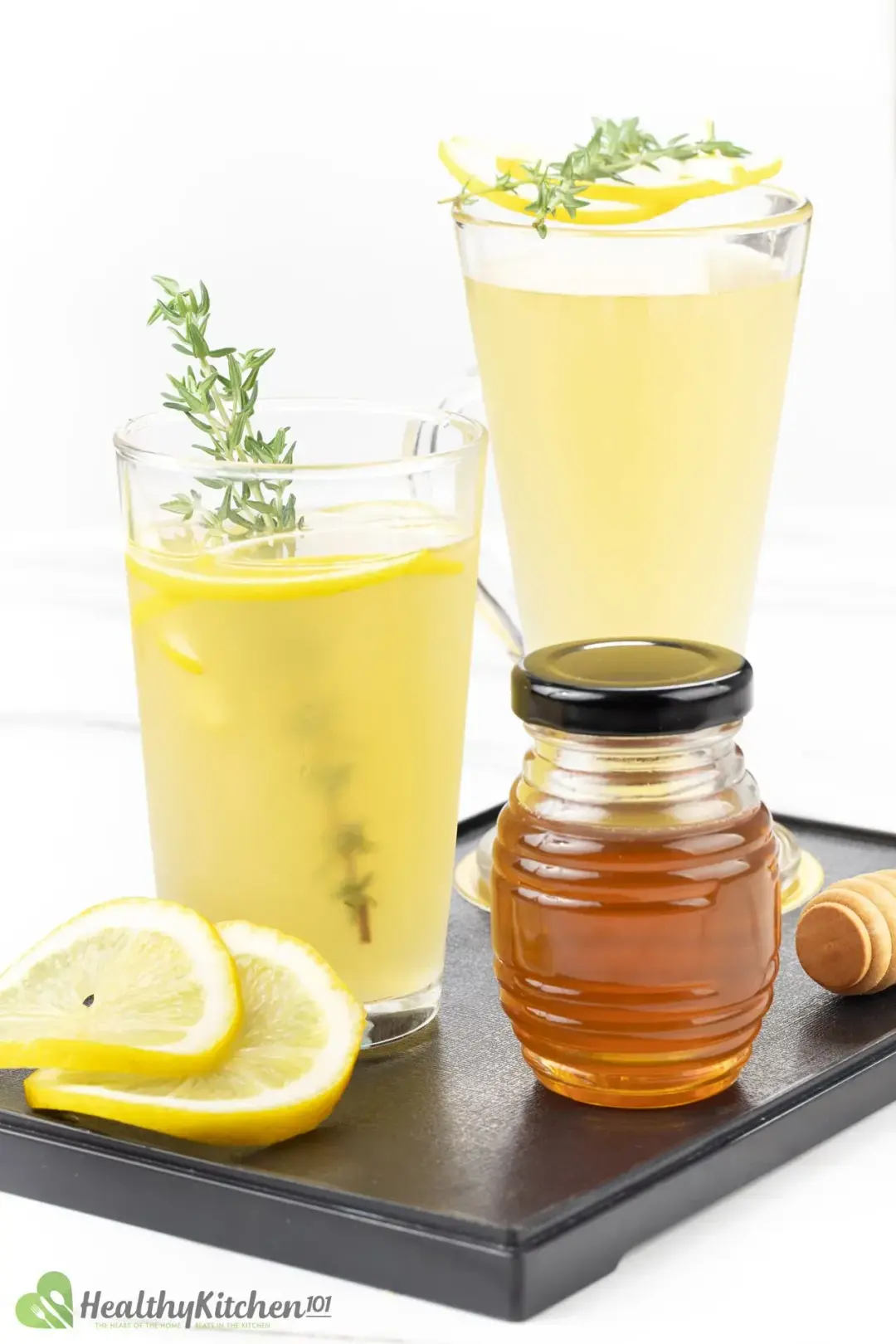 The mixture results in an earthy-herbaceous essence owed to the thyme, with sweet and tangy notes that resemble a lemonade.
Ingredients
2.5 tbsp lemon juice
4 tbsp honey
1.5 cups water
2 cups ice cubes
1 tbsp fresh thyme
3 lemon leaves, for garnish
Instructions
Add lemon, honey, and water into a large pitcher and stir to combine.
Add ice, thyme, and lemon leaves. Serve.
5. Lemon and Watermelon Juice (4 Servings)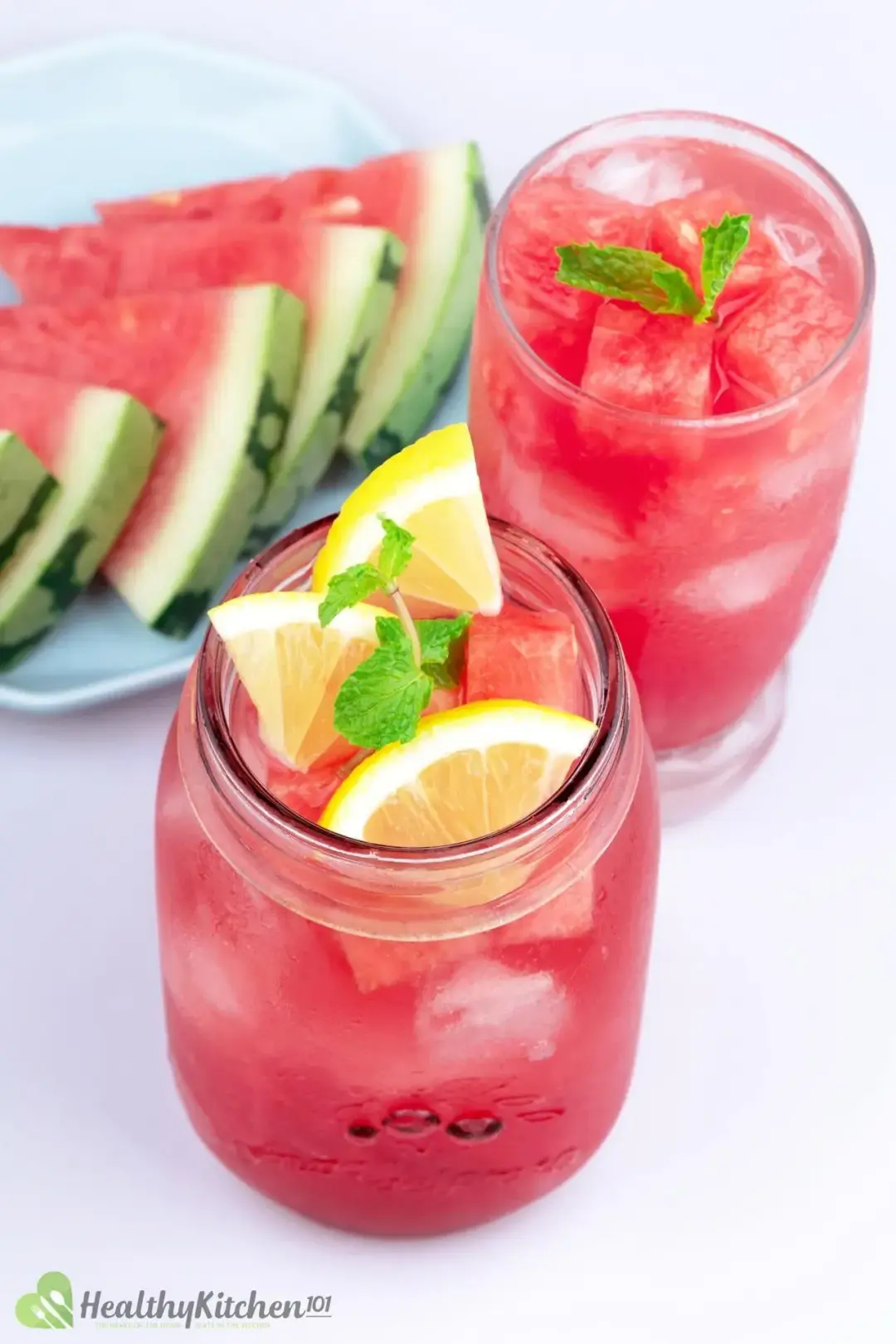 This lemon and watermelon juice is a nutrition-packed beverage that promotes heart health, thanks to watermelon juice's antioxidant properties. It's a sweet-sour combination enriched by refreshing notes of mint that give this drink a neat finish.
Ingredients
1 tbsp lemon juice
24 oz watermelon, peeled, deseeded
8 mint leaves
2 tbsp sugar
2 cups ice cubes
Instructions
Juice watermelon and collect the juice in a pitcher. Add lemon and sugar, and stir until sugar dissolves.
Add ice to the pitcher and serve.
6. Cucumber and Lemon (4 Servings)
This cucumber and lemon juice is a light beverage with calm, refreshing notes. Cucumber and lemon go well together, and you can omit the sugar for a skinny drink.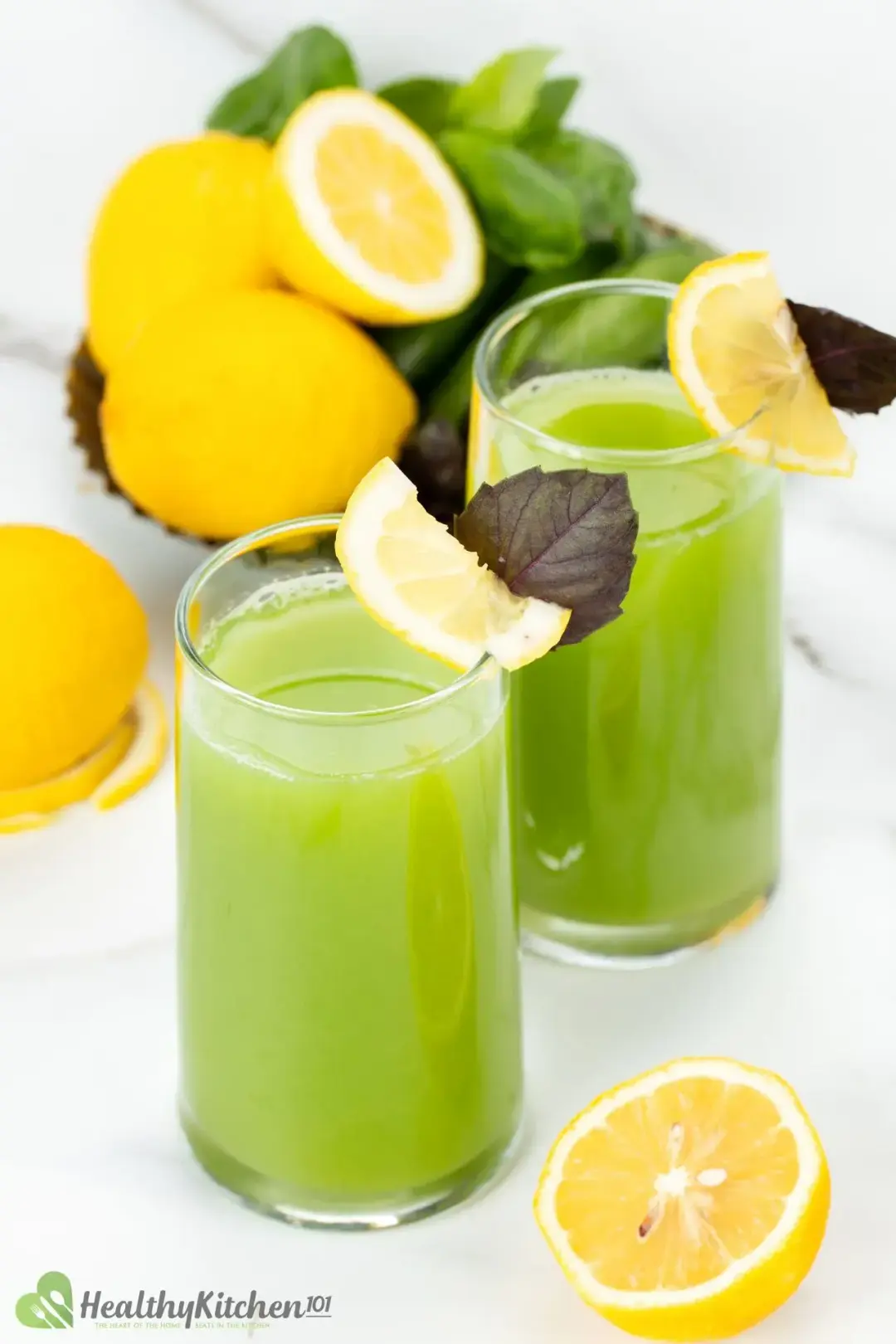 You'll love it for combating the summer heat. Cucumbers are highly hydrating, while mint leaves a fresh, crisp feeling on your tongue.
Ingredients
30 oz cucumbers
6 basil leaves
3 tbsp sugar
2 1/2 tbsp lemon juice
2 cups ice
Instructions
Slice cucumbers in half and use a spoon to scrape off the seeds, lengthwise.
Feed prepped cucumbers and basil leaves into a running juicer. Collect the juice in a large pitcher.
Add juice and sugar to the pitcher and stir to dissolve.
Pour and serve with ice.
7. Apple Cider Vinegar Lemon Juice and Honey (1 Serving)
This healthy infusion is a warm beverage with combined earthy flavors. The apple cider vinegar adds a tartness while ginger adds warm, spicy notes.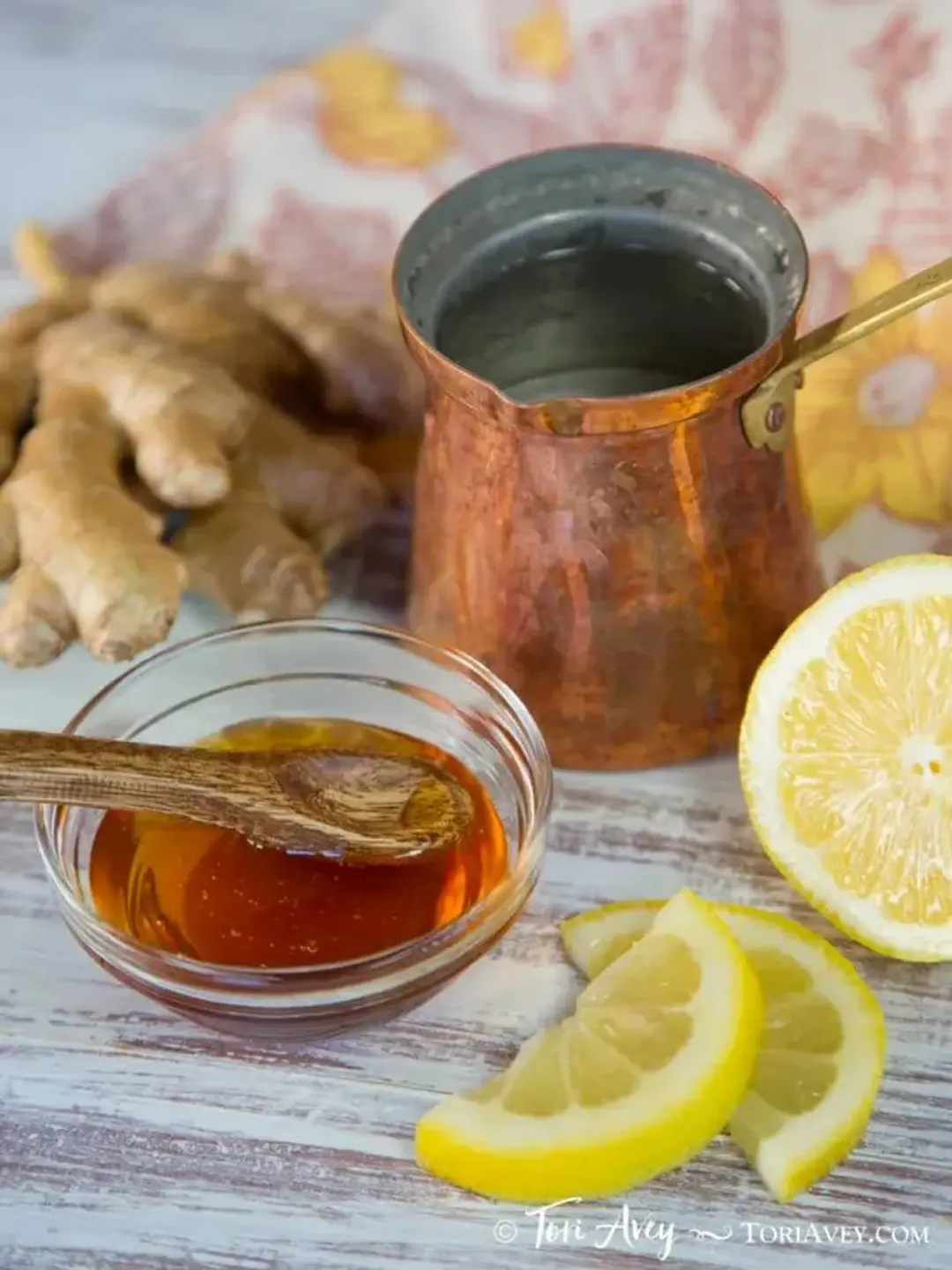 Lemon and honey is a therapeutic combination too. It brings soothing properties that make this beverage excellent for fighting a cold.
Ingredients
1 tbsp lemon juice, freshly squeezed
12 fl oz hot water
1 tsp apple cider vinegar, raw, unfiltered
1 tbsp honey
1 tsp ginger juice, fresh/ 1/2 tsp powdered ginger spice
Instructions
In a glass, combine water, lemon, vinegar, honey, and ginger. Serve hot.
8. Water and Lemon (8 Servings)
Lemon water is a beverage that's suitable for any occasion. It's a 1-calorie beverage that you can use to replace plain water.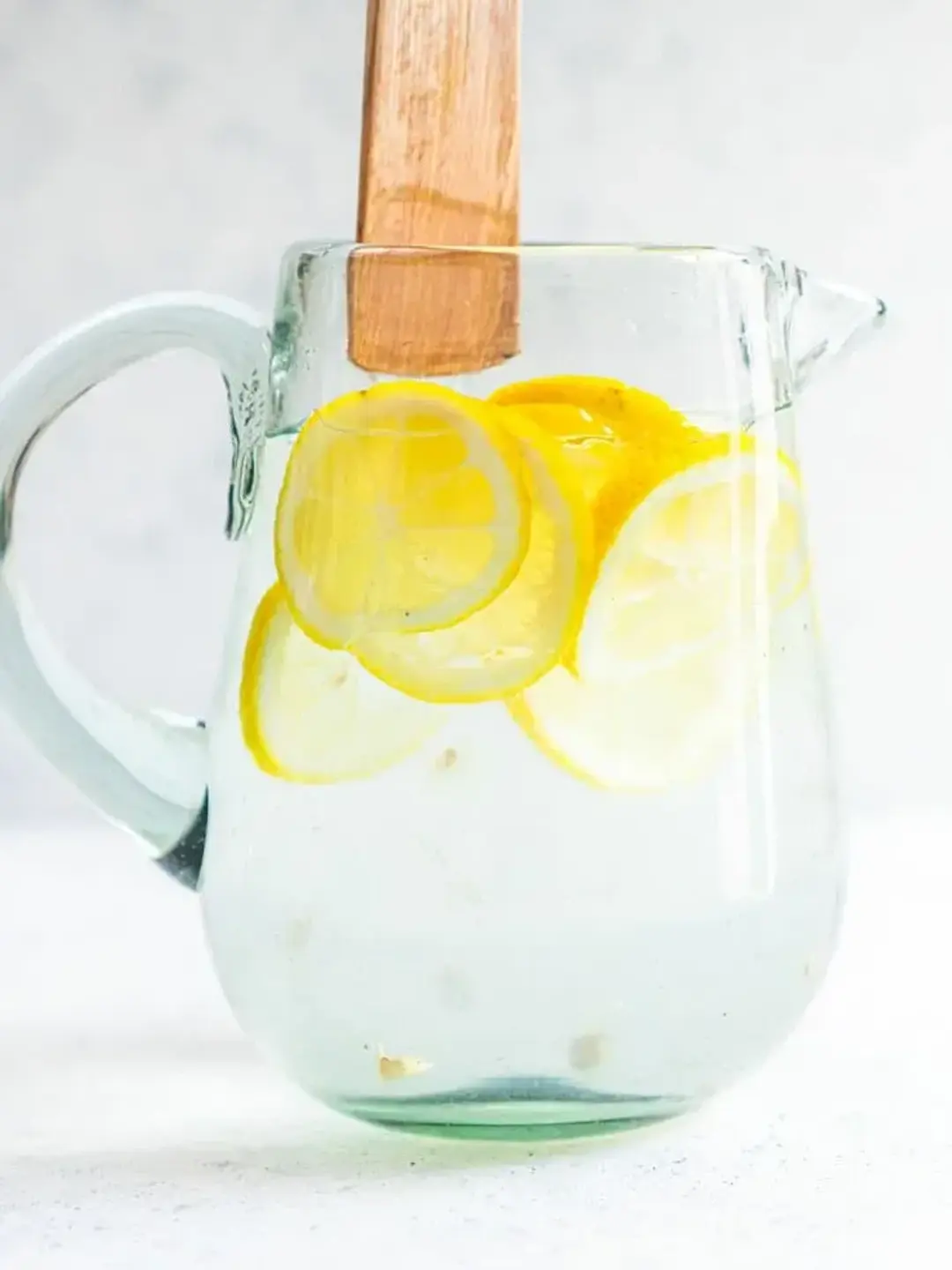 And it tastes good too! You can add cucumbers for a subtle aroma while keeping it low in calories and healthy.
Ingredients
1 lemon, washed and thinly sliced
64 fl oz cold water
Instructions
In a pitcher, add lemon slices and use a wooden spoon to mash them to release juices.
Add cold water and refrigerate for at least one hour. Serve.
9. Ginger Lemon (2 Servings)
Ginger and lemon are both renowned for their immune-boosting properties.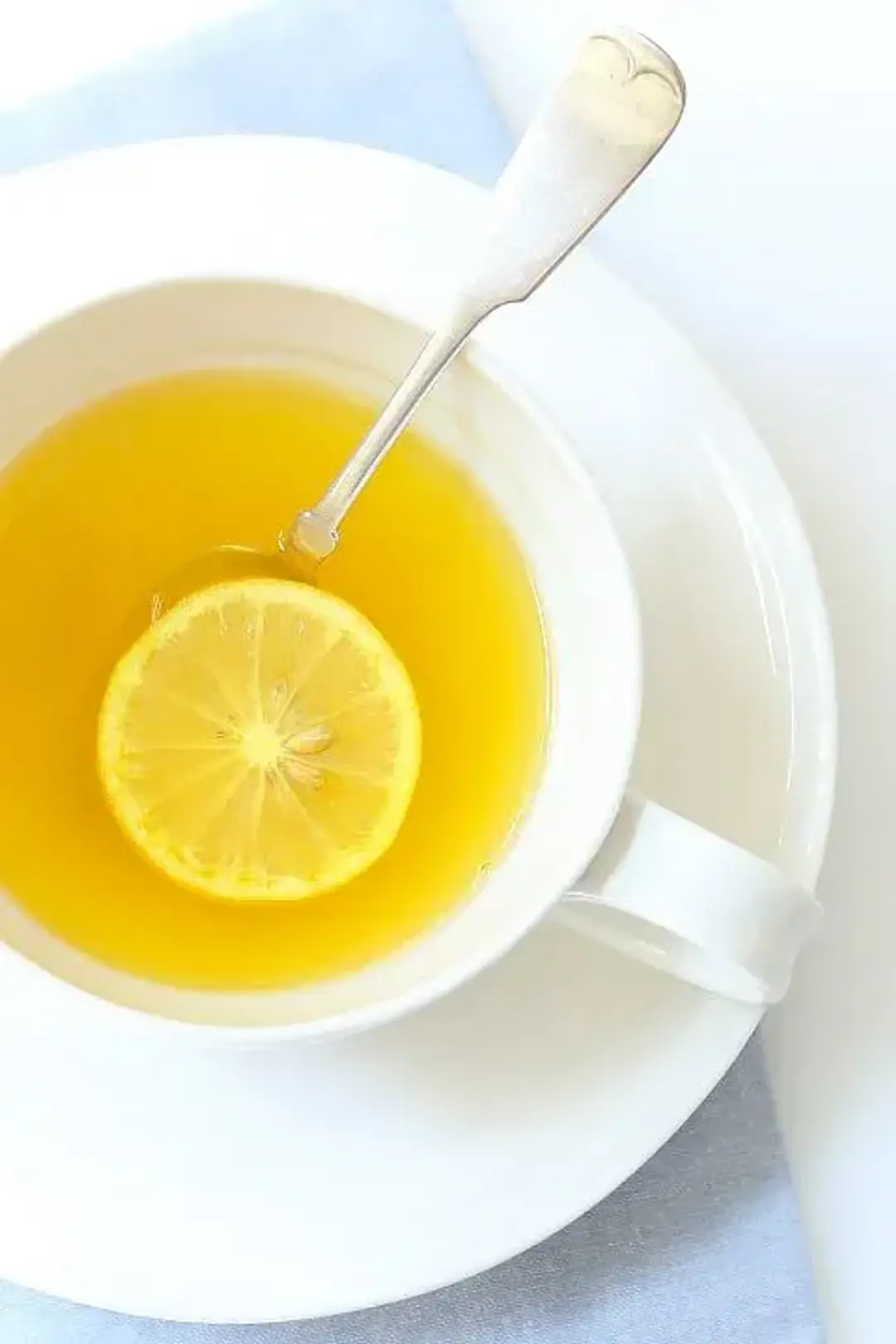 This ginger lemon juice recipe packs plenty of vitamin C and antioxidants that promote health. It's a warming blend of sweet, spicy, and citrus flavors that are perfect for a morning beverage.
Ingredients
20 fl oz boiling water
1 lemon, sliced
1 tbsp fresh ginger, sliced
1/8 tsp ground turmeric
2 tsp honey (optional)
Instructions
Add lemon, ginger, and turmeric to boiling water. Leave to steep for 30 minutes.
Strain and serve at room temperature.
10. Vodka with Lemon Juice (1 Serving)
This refreshing martini is a tasty balance of sweet and sour flavors. It has tangy lemon essence and bitter Cointreau to form a citrus palate mixed with vodka.
The simple syrup brings a much-needed sugary element to balance the flavors. And to maintain your overall health, have a glass of water whenever you drink alcohol like vodka.
It helps to keep you hydrated while counteracting the dehydrating effects of alcohol. And you'll appreciate water more, especially in the summer heat!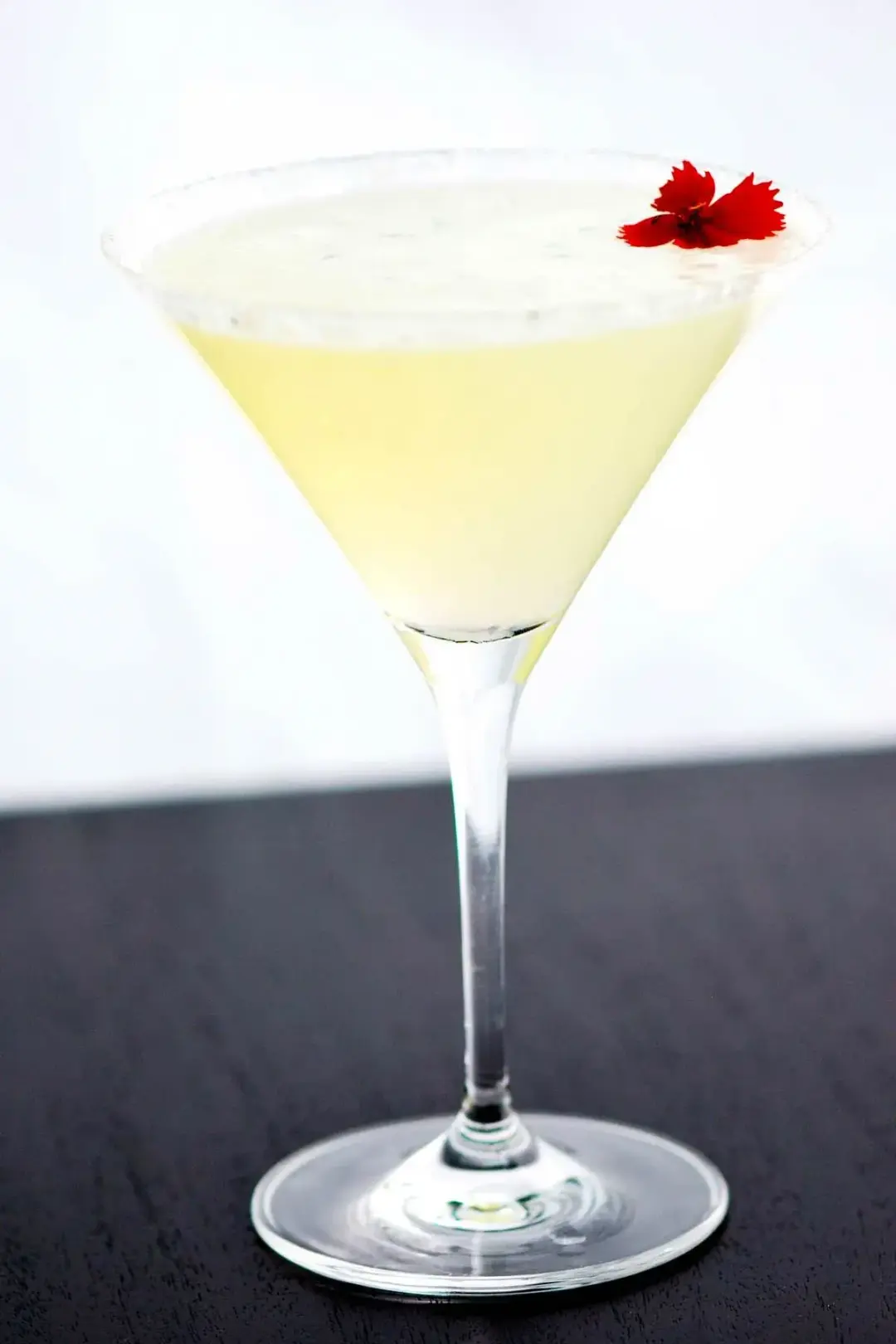 Ingredients
Lemon Sugar
½ cup sugar
1 tbsp lemon zest, grated
Lemon Drop Martini
2 fl oz vodka
1.5 tbsp Cointreau/Triple sec
2 tbsp lemon juice, freshly squeezed
1.5 tbsp simple syrup
1/2 cup ice
lemon sugar, for glass rim
Instructions
Start by making the lemon sugar rim. On a plate, rub sugar and lemon zest together until it turns yellow.
Moisten the rim of a martini glass with some lemon, turn it upside down, and twist the glass rim in the lemon sugar. Turn upright and set aside.
To make the martini, add vodka, Cointreau, lemon, simple syrup, and ice into a cocktail shaker/mason jar. Shake for 30 seconds and strain into a martini glass. Serve.
With this mouth-watering collection of lemon juice recipes, your summer can begin at any time. Whether you make one or all of them, we hope you enjoy.
You can even add your own fruity flavors to vary your favorite recipes. And you can keep these recipes long after summer as simplistic beverages for occasional consumption.
The pH of Lemon Juice
Because it contains citric acid, lemon juice has a pH of 2.2, meaning it's acidic. However, it produces alkaline residue once metabolized by the body.
Thus it's considered to alkalize and make urine alkaline.
Consequently, this juice is thought to be an effective treatment for hypocitraturia, low citrate levels in urine. Consuming lemon juice and other citric acid-containing juices may enhance urinary citrate excretion to prevent kidney stone formation.
Lemon's pH doesn't affect your blood, but it does affect your teeth. The acid attacks the tooth enamel that protects your teeth.
So avoid sucking away at lemons or limes, or leaving the juice on your teeth for long periods.
Also, because of its low pH, lemon is used for canning high pH products. It prevents the formation of microorganisms that cause botulism, a rare poisoning caused by toxins.
Thus adding lemon to food, like pickles and tomatoes, lowers their pH to make them safe for canning.
FAQ
1. Does This Juice Go Bad?
Yes, fresh lemon juice expires.
You can keep it at room temperature for up to 2 hours. After that, keep it refrigerated for 2-3 days.
Temperature plays a huge role in the storage of juice. At higher temperatures it will lose ascorbic acid, causing it to spoil.
For this reason, you can alternatively freeze juice if you need to store for prolonged periods— about 3-4 months.
2. Does Lemon Juice Break Up Mucus?
Mucus, or phlegm, can be irritating. You often cough it up when you have a cold.
Unfortunately, there's little supporting evidence that lemon juice alone can break up mucus.
However, drinking lemon water can help keep you hydrated and improve your mucus flow to help clear your sinuses. And drinking hot lemon tea with honey can also help to reduce mucus.
3. Can It Kill Viruses?
Citric acid from lemon may inhibit or reduce some virus infections, namely norovirus. Norovirus infection arises from raw or undercooked food and causes diarrhea and vomiting.
However, the best way to prevent norovirus infection is to wash fruits thoroughly and cook seafood, like oysters, before consuming.
This juice is also used in home remedies to treat flu virus symptoms. Lemon water and honey is one example of a blend that soothes the throat and prevents dehydration.
It's also important to note that there's no proof that lemon juice prevents infection when it comes to coronavirus.
It contains vitamin C, which helps to support the immune system. But there's no evidence to show that consuming lemon juice kills the virus.
4. Does It Dissolve Blood Clots?
Lemon has anticoagulant effects that could potentially prevent thrombosis, the formation of a blood clot. There is, however, no supporting evidence yet to show that lemon juice dissolves blood clots in the body.
5. Does Hot Water with This Juice Help Constipation?
One of the best treatments for constipation is warm water.
And as already mentioned, drinking lemon water is an excellent way to increase water intake. Thus a glass of warm lemon water can contribute to easing constipation.
6. Is Realemon Real Lemon Juice?
Realemon uses real juice to make its bottled lemon. They squeeze juice from high-quality lemons and then concentrate the liquid.
After this, they add water and lemon oil to rectify the natural juice flavor.
Sulfite is also added to Realemon to preserve the lemon juice. So though it's labeled as 100% lemon, take note of the ingredients label to avoid unwanted additives and allergens.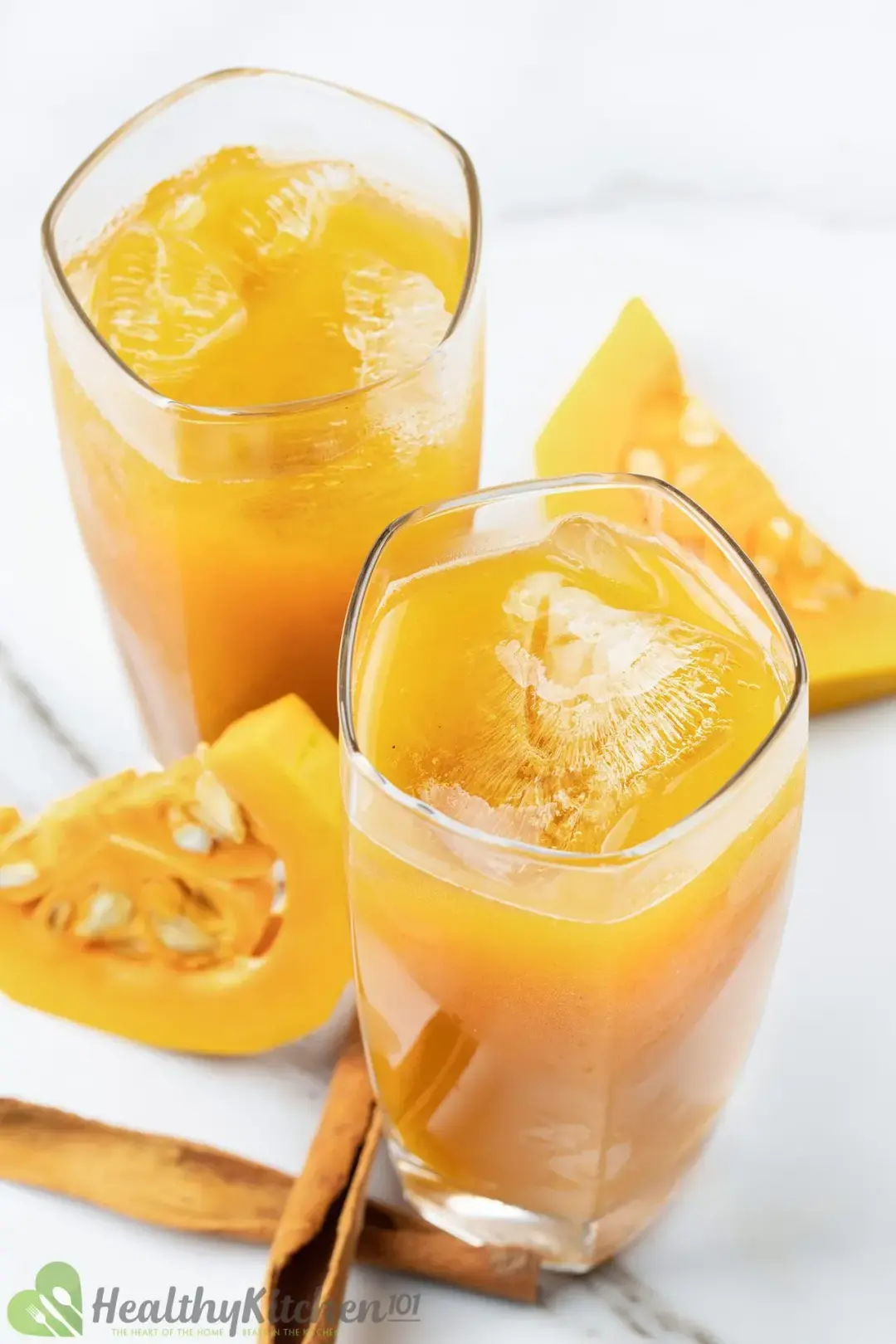 Previous Recipe
Best Pumpkin Juice Recipes
Best Pumpkin Juice Recipes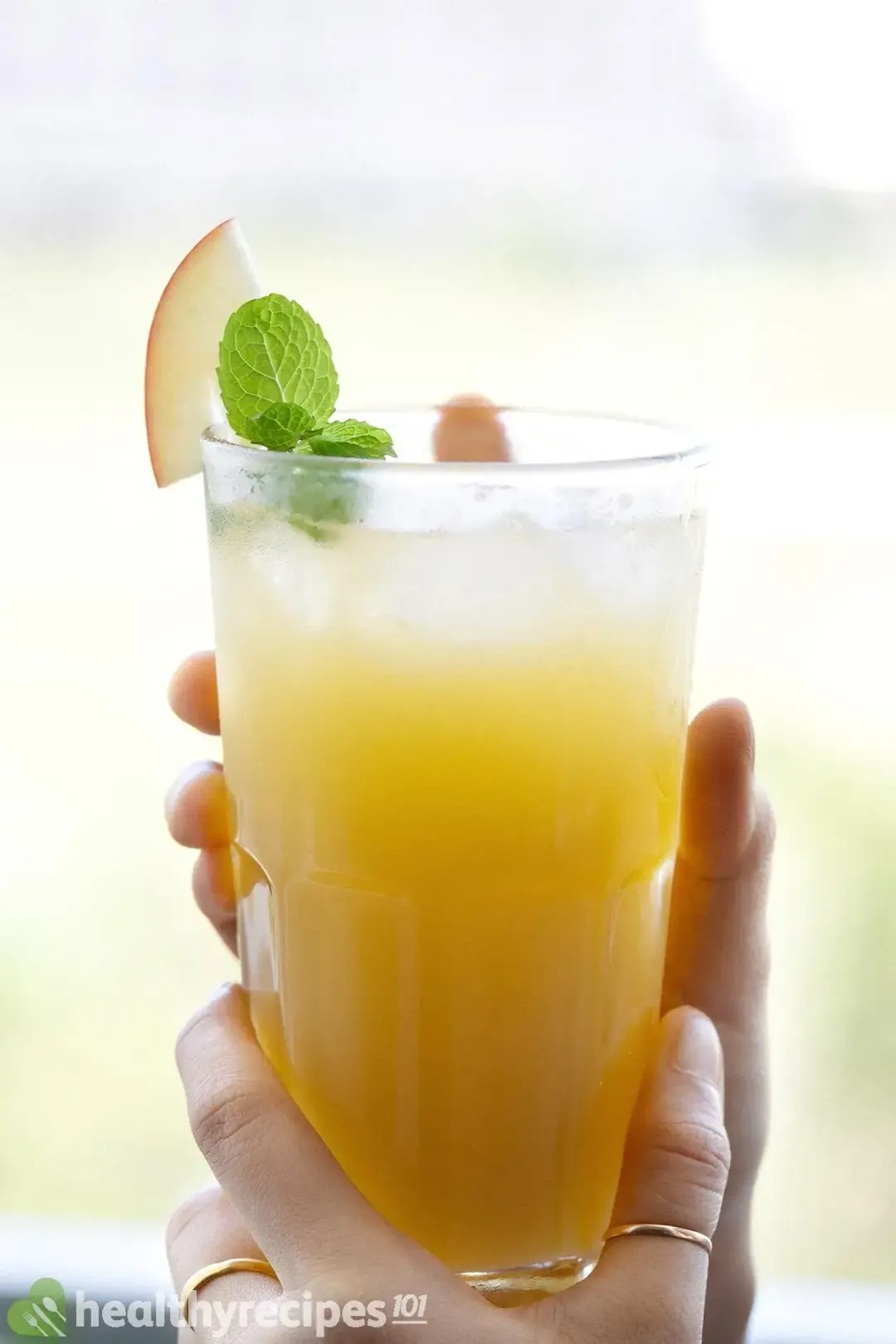 Next Recipe
Delicious and Healthy Juice Recipes
Delicious and Healthy Juice Recipes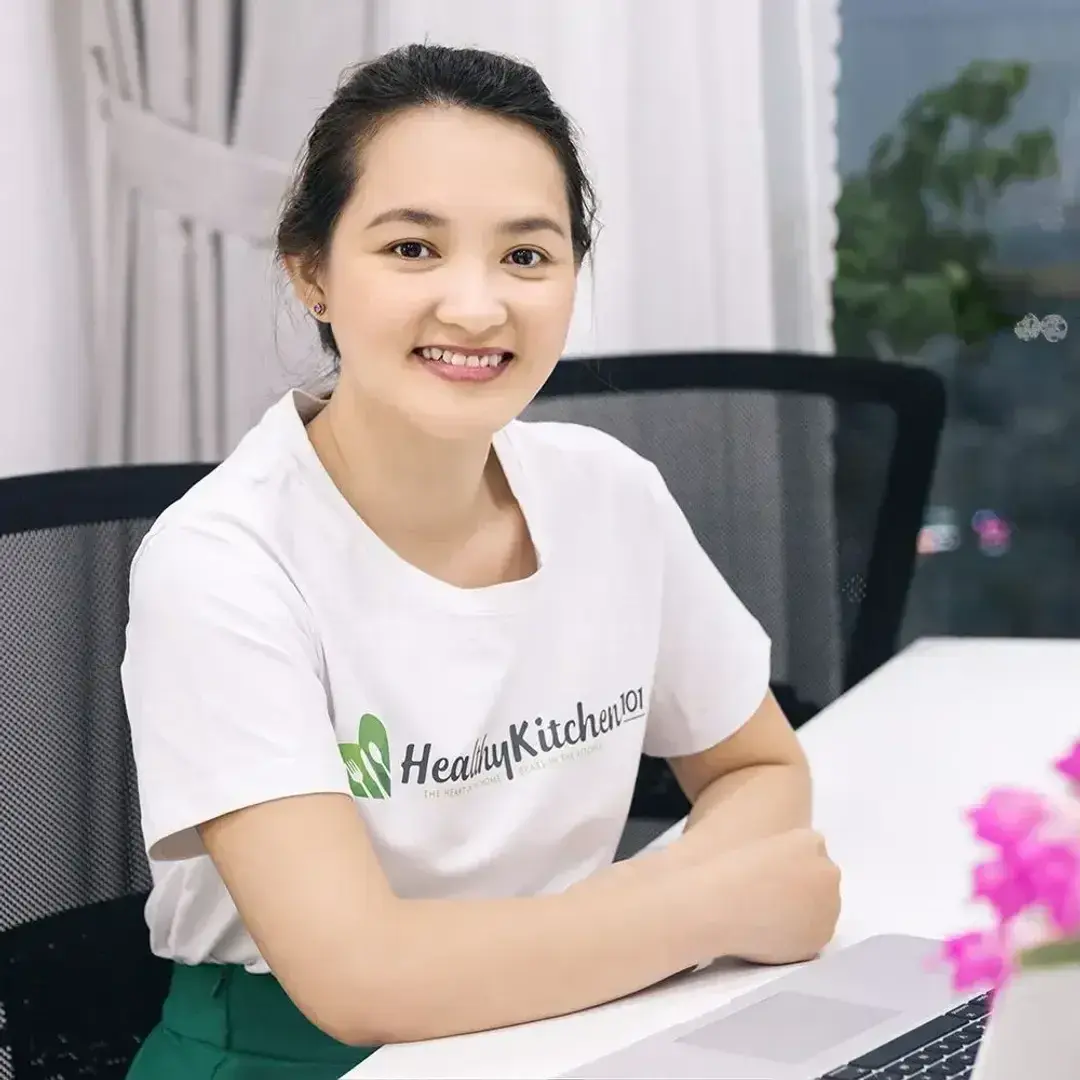 Luna Regina
Luna is the founder and chief recipe developer of Healthy Recipes 101. Apart from cooking, she also loves reading, programming, exploring the outdoors, and collecting useless facts about everything.