Kick-start your summer with this healthy watermelon juice and lemon recipe. It makes a delicious drink with immune-supporting vitamin C and electrolytes for promoting muscle health.
If you're one of those people who find it hard to fulfill your nutrient quota throughout the day, this drink can help you stay nourished on the go.
It's as easy as juicing it in just ten minutes for breakfast- no fuss, no mess.
Plus, it's tasty and excellent for kids. This is a great way to keep them healthy (without having to put in hours of effort).
Read on to find out the benefits of watermelon juice and lemon. Also learn how to make and safely store it for future use.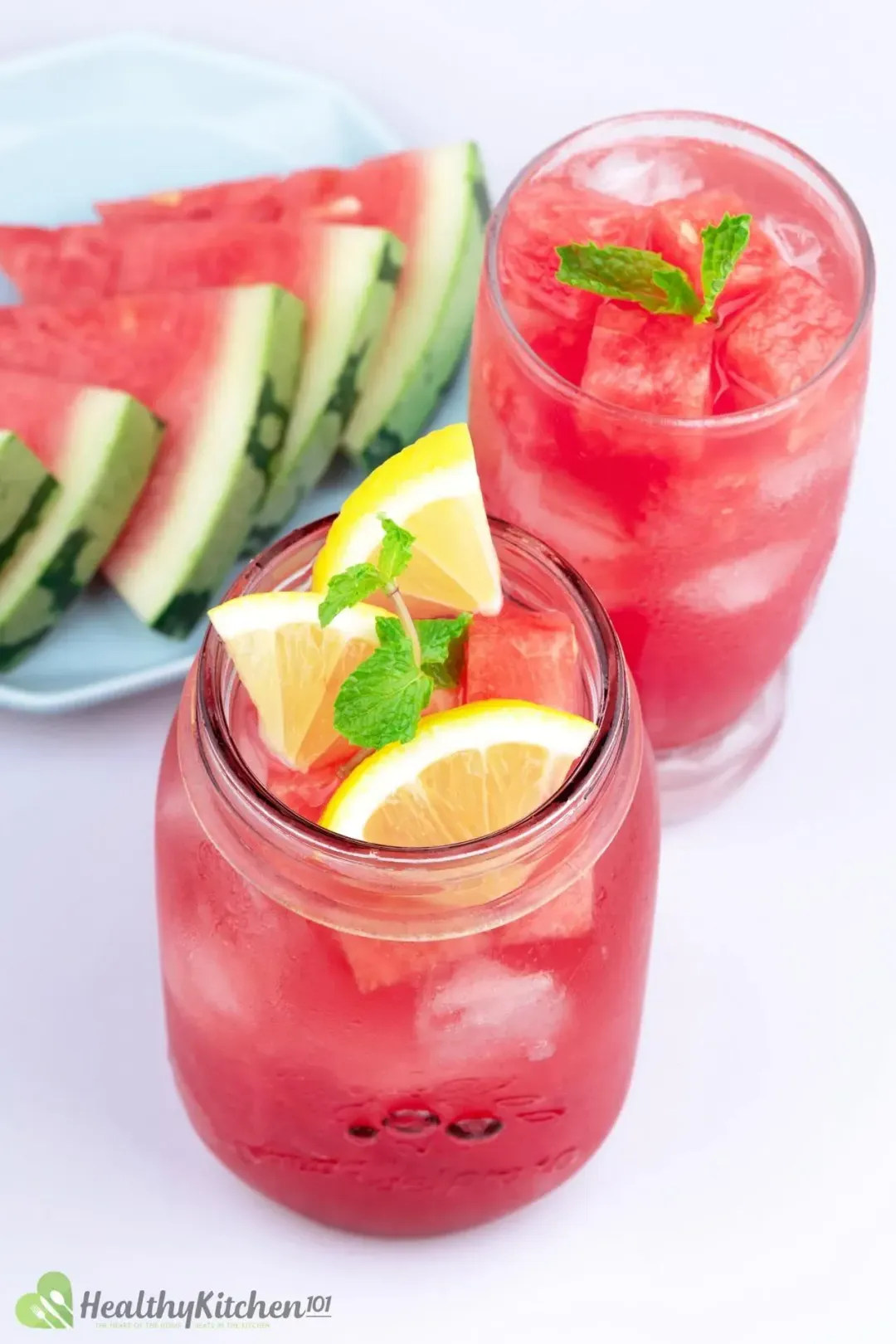 Is Watermelon Juice & Lemon Healthy?
Yes, this lemon watermelon juice recipe ensures a healthy drink for ample nourishment.
1. Vitamin C
Lemons are an abundant source of vitamin C. The juice of one lemon fruit contains 25% of the vitamin C you need in a day.
That's a lot more than you'll get from this drink. But consuming it will add to your daily nutrient intake.
Vitamin C, also known as ascorbic acid, helps to toughen up your immune system and prevent the occurrence of scurvy. Often termed an 'old' disease, scurvy is still relevant and associated with vitamin C deficiency.
Lemon juice has been used for centuries for its ascorbic acid properties. Sailors relied on it to help cure their scurvy symptoms such as bleeding gums and loss of teeth.
Nowadays, it's rare to experience this deficiency. But it's best to incorporate vitamin C sources, like lemon juice, to avoid a weak immune system.
2. Anti-Bacterial
Lemon juice is also known for promoting food safety. Studies confirm its ability to inactivate E. coli in food.
Try drizzling some lemon juice on your salad for both a tasty and healthier meal!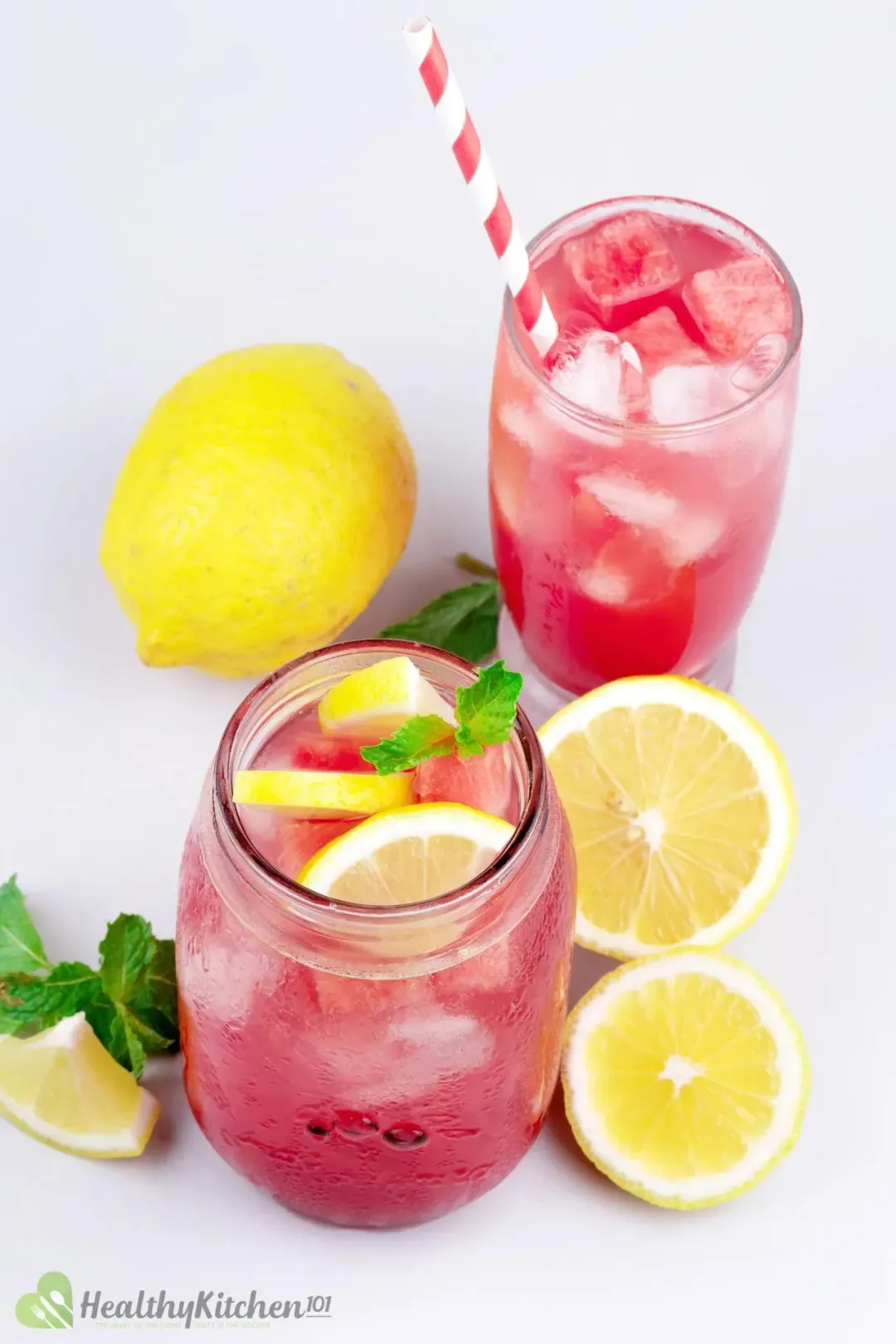 This watermelon juice and lemon drink combines two fruits high in antioxidants to give your immune system a tremendous boost.
3. Electrolytes
In addition to vitamin C, watermelon juice contains electrolytes. Electrolytes like sodium, potassium, and calcium help maintain essential functions in your body.
They ensure muscle activity, a regulated heartbeat, and successful hydration. So it can easily pass as a sports and summer drink!
4. Less Sugar
Lastly, look out for large amounts of sugar. Added sugar is acceptable in a healthy diet as long as it's moderated.
According to USDA guidelines, this recipe contains 1/4 of the added sugar limit, giving you a small amount you can readily burn in under 10 minutes!
How to Make Watermelon Juice & Lemon
Making this lemon watermelon juice is as easy as cake— only healthier. Plus, you won't need as many ingredients!
Start with some freshly-squeezed lemon juice. Fresh juice makes for a more refreshing drink; bottled juice just won't cut it.
To find other ways to extract lemon juice, click here for lemon juice recipes that also explore other healthy drinks.
And because there are not many ingredients in this recipe, all elements should be fresh for a tasty outcome.
Peel a seedless variety of watermelon and cut it into chunks. Run the pieces through a juicer chute and collect the juice in a pitcher.
You can find other ways to extract watermelon juice in our Top 10 Watermelon Juice Recipes article. It also illustrates ways to incorporate watermelon juice for delicious and healthy drinks.
Next, add your lemon juice and sugar into the pitcher. Mix until all the sugar has dissolved.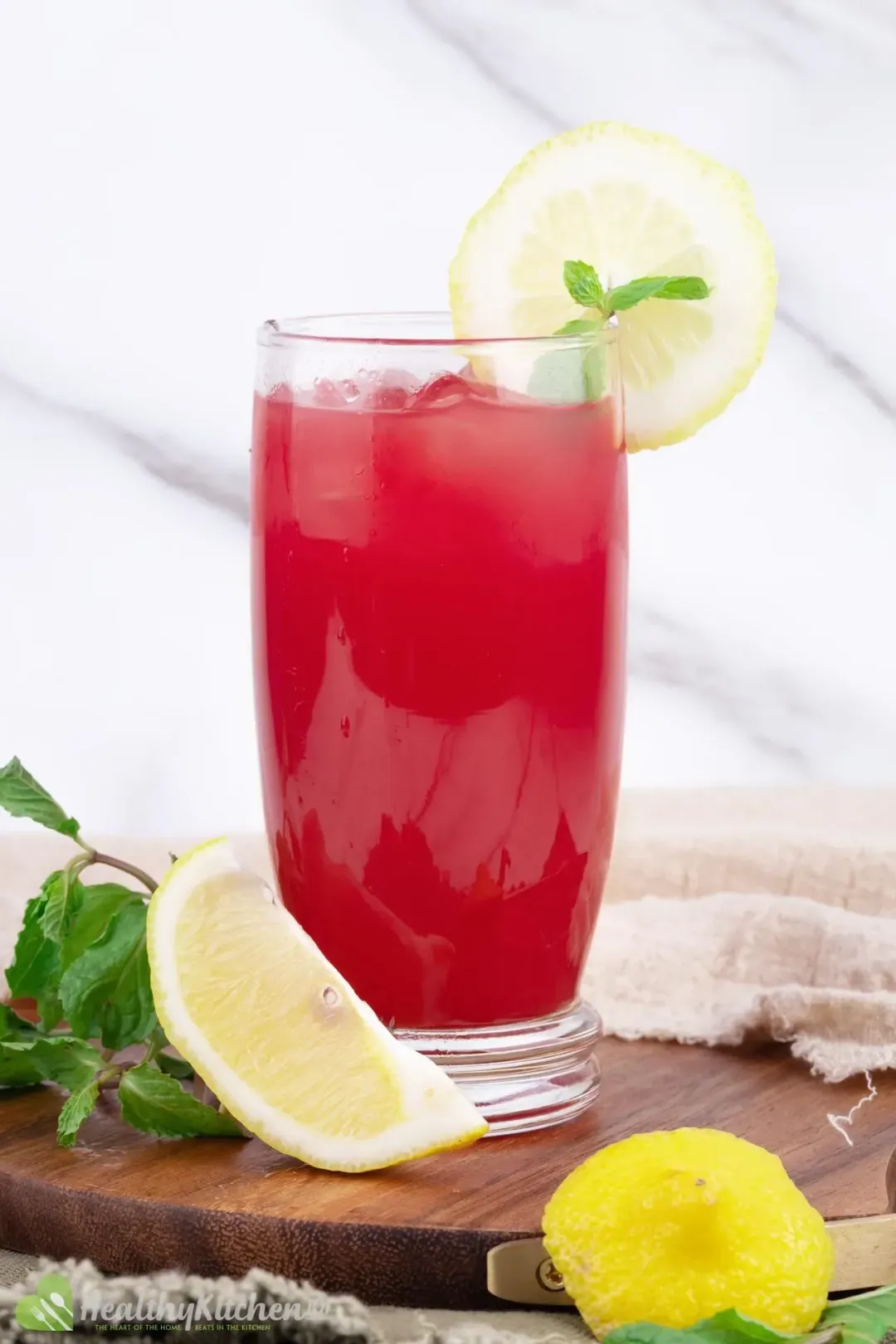 Finally, add ice to drinking glasses and pour in the juice. Garnish it with mint leaves and enjoy it immediately for a cold and refreshing summer drink.
We have other variations, where you can swap watermelon juice to end up with an ACV drink or replace it with a dairy product to make a buttermilk drink.
Check out our best healthy juice roundup for more delicious drinks.
Can You Freeze Watermelon Juice & Lemon?
Yes, you can store any leftover watermelon juice and lemon in the freezer for up to three months.
Freezing fruit juice can help to retain nutrients better than at higher temperatures. But keeping it longer than three months could result in a tasteless liquid with even fewer nutrients.
To safely store, pour the mixture into a freezer-safe jar. Make sure to leave some space at the top to accommodate expansion.
Or you can freeze it in popsicle molds for a fun and kid-friendly experience.
When ready to use, run it under some warm water for thirty seconds. Remove and leave it out at room temperature to defrost.
Once defrosted, serve it and, if you wish to, garnish as you would with freshly-made watermelon juice and lemon.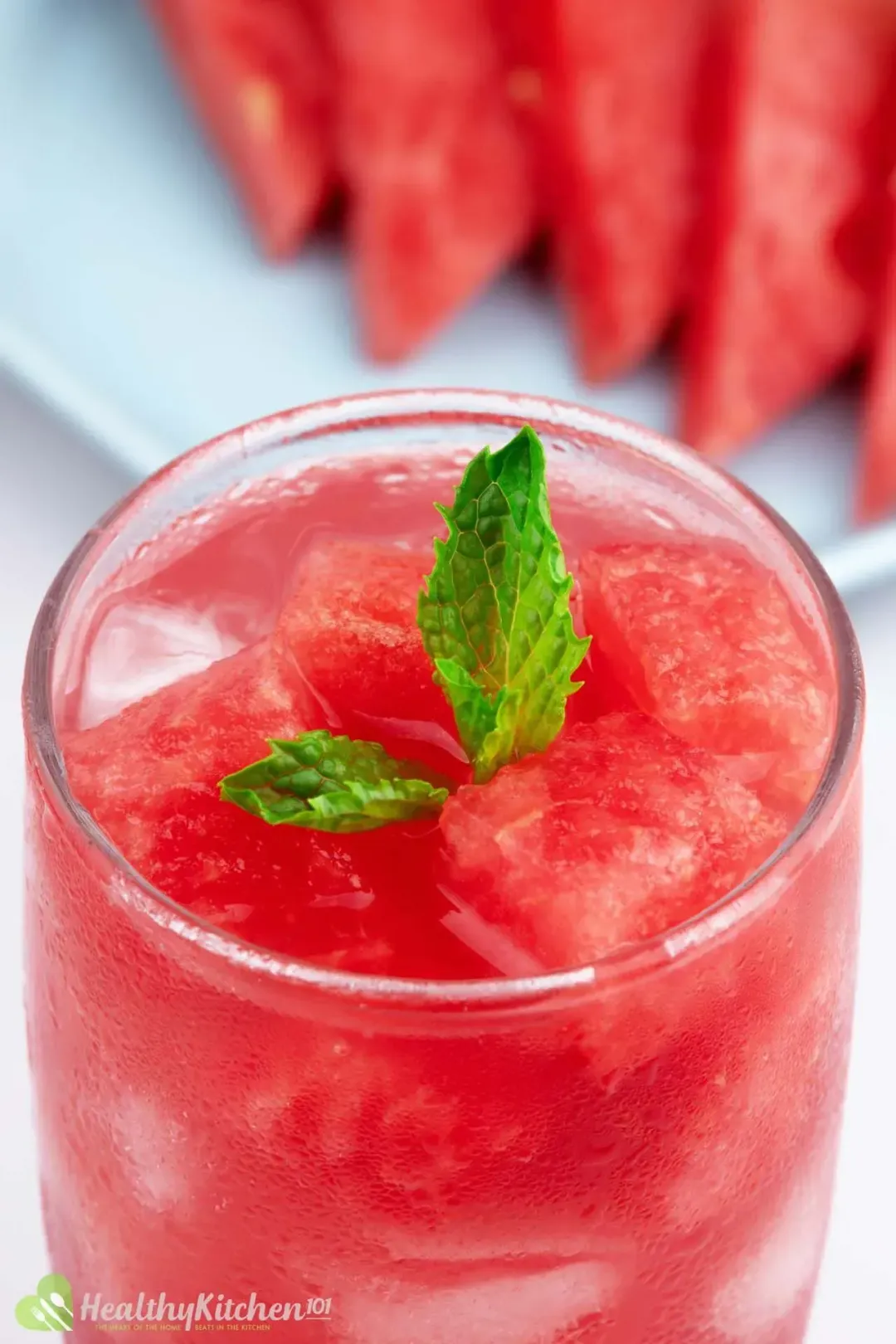 Calories
This watermelon juice and lemon drink contains 95 calories per serving, the equivalent of two small oranges.
Liquid calories are a quick way to pile calories. But they're also one of the best ways to fulfill daily nutrients.
This drink will give you a tiny amount of protein along with some carbs. You can use it to charge yourself with some energy for a good workout and electrolyte recovery!
And you can always reduce the sugar in this recipe to suit your preferred calorie intake. Watermelon juice is naturally sweet, so you'll still achieve a well-balanced flavor.
Lastly, watermelon juice and lemon drink's low calories make it great as a breakfast filler or appetizer. Its sweet and tangy flavors will get your taste buds tingling and work up a keen appetite.
Alternatively, pair it with a delicious meal for a well-rounded lunch or dinner.
For other healthy options, see our homemade lemonade, this lemonade recipe using cucumber, or our delicious honey and lemon drink.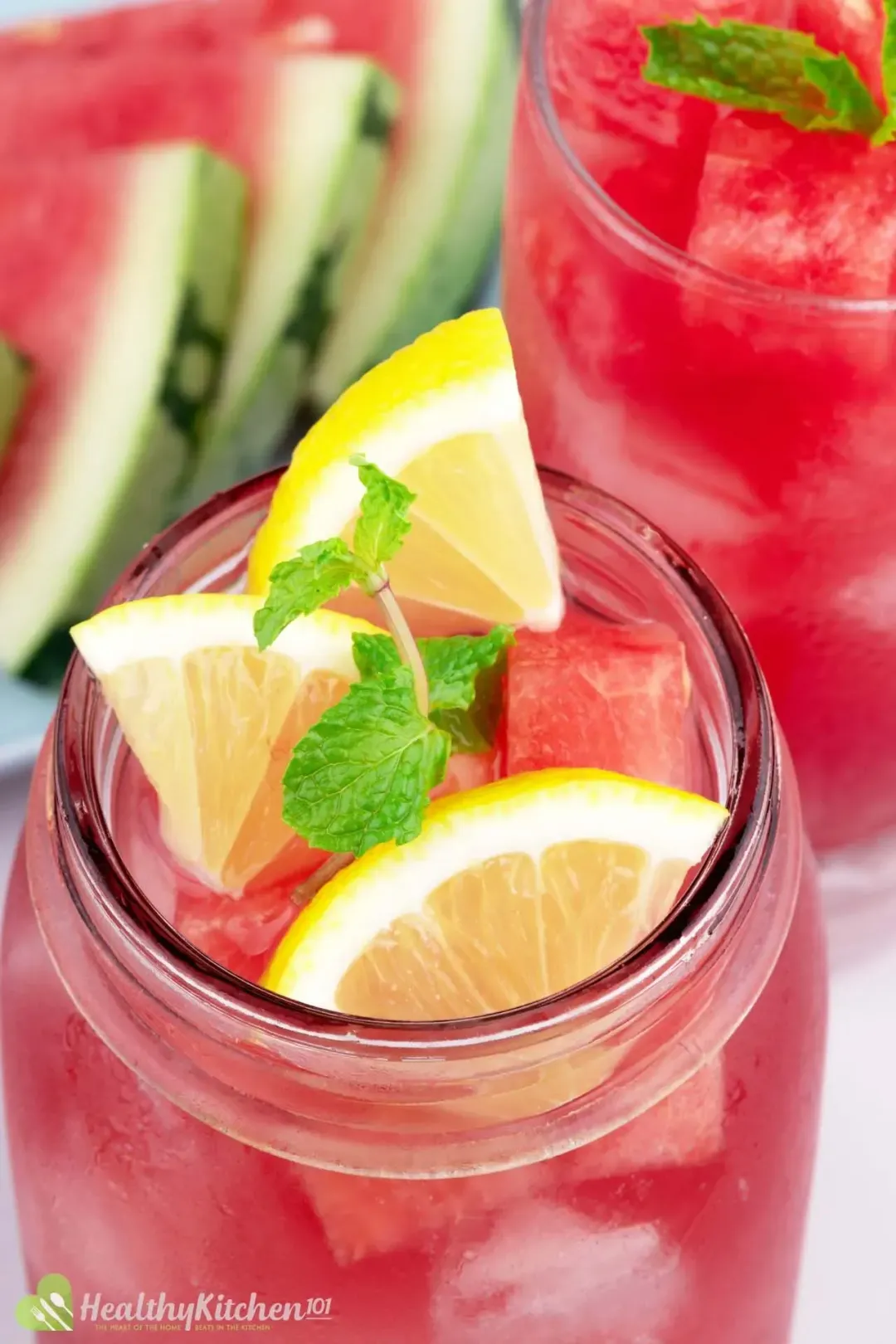 Healthy Watermelon Juice and Lemon
This watermelon juice and lemon recipe makes a tasty toast to summer. Serve it iced for a cooling, refreshing, and energizing effect against the warm weather.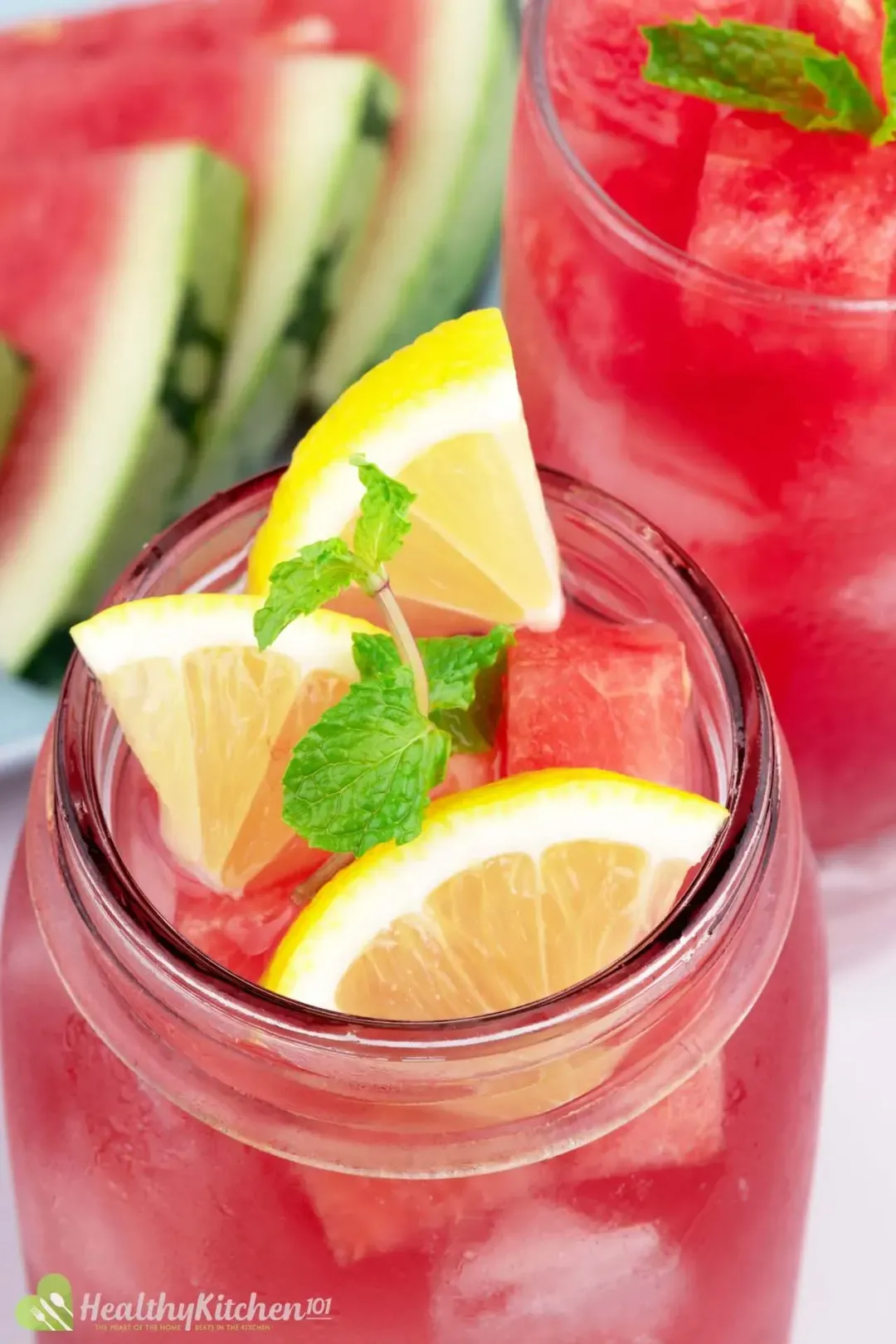 prep TIME

7 mins

total TIME

7 mins
COURSE

Beverage

CUISINE

American

SERVINGS

CALORIES

95 kcal
INGREDIENTS
32 oz

watermelon

(chunks)

3 tbsp

lemon juice

(fresh)

5 leaves

spearmint

(fresh)
INSTRUCTIONS
1
Juice watermelon and collect the juice in a pitcher. Add lemon juice and sugar, and stir until the sugar dissolves.
2
Add ice to glasses and serve. Garnish with mint leaves.
NUTRITION
Nutrition Facts
Healthy Watermelon Juice and Lemon
Amount Per Serving (1 serving)
Calories 95
% Daily Value*
* Percent Daily Values are based on a 2000 calorie diet.
Keywords: How to make Lemon Watermelon Juice, Lemon Watermelon Juice, Lemon Watermelon Juice Recipe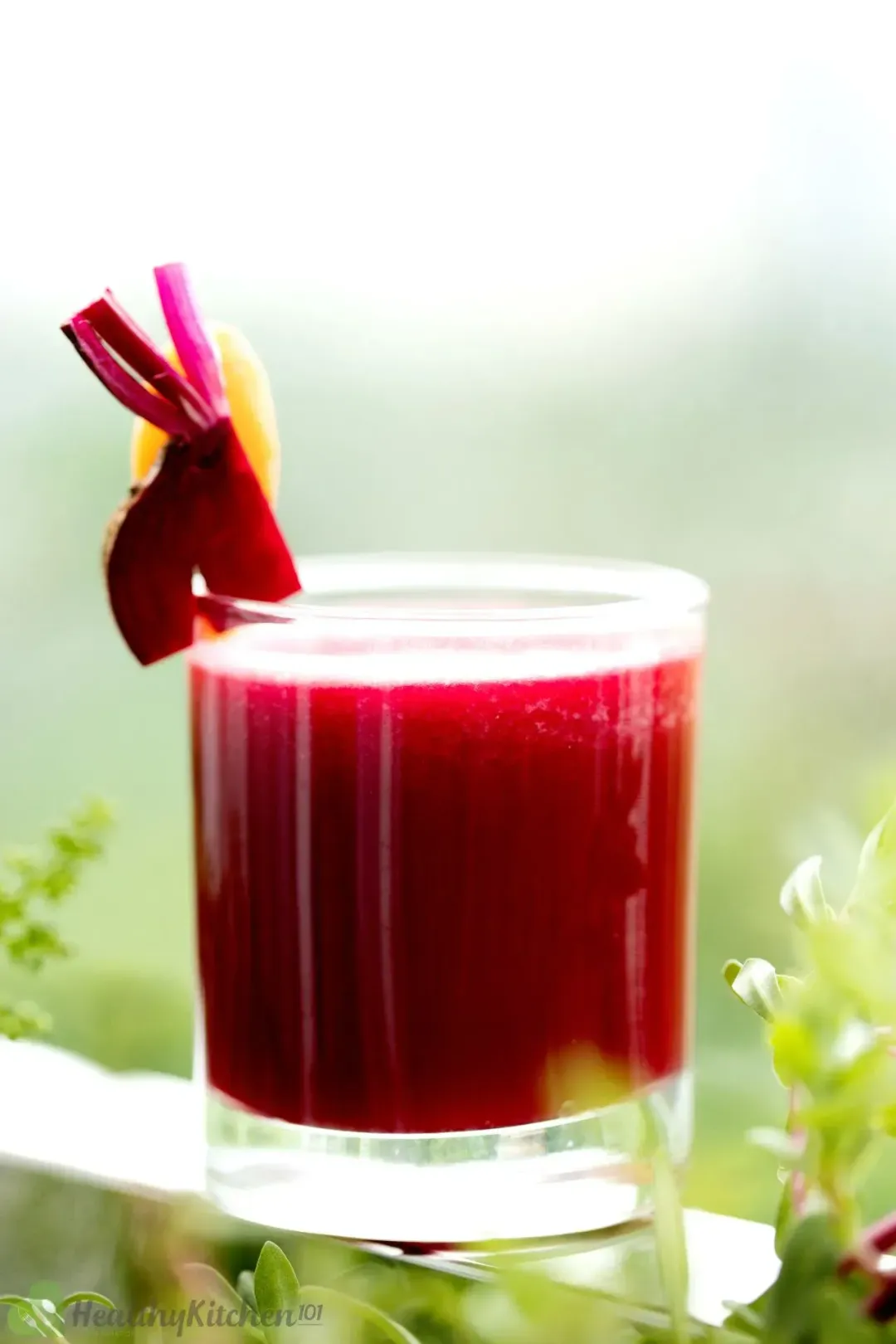 Previous Recipe
Carrot Apple Beet Juice
Carrot Apple Beet Juice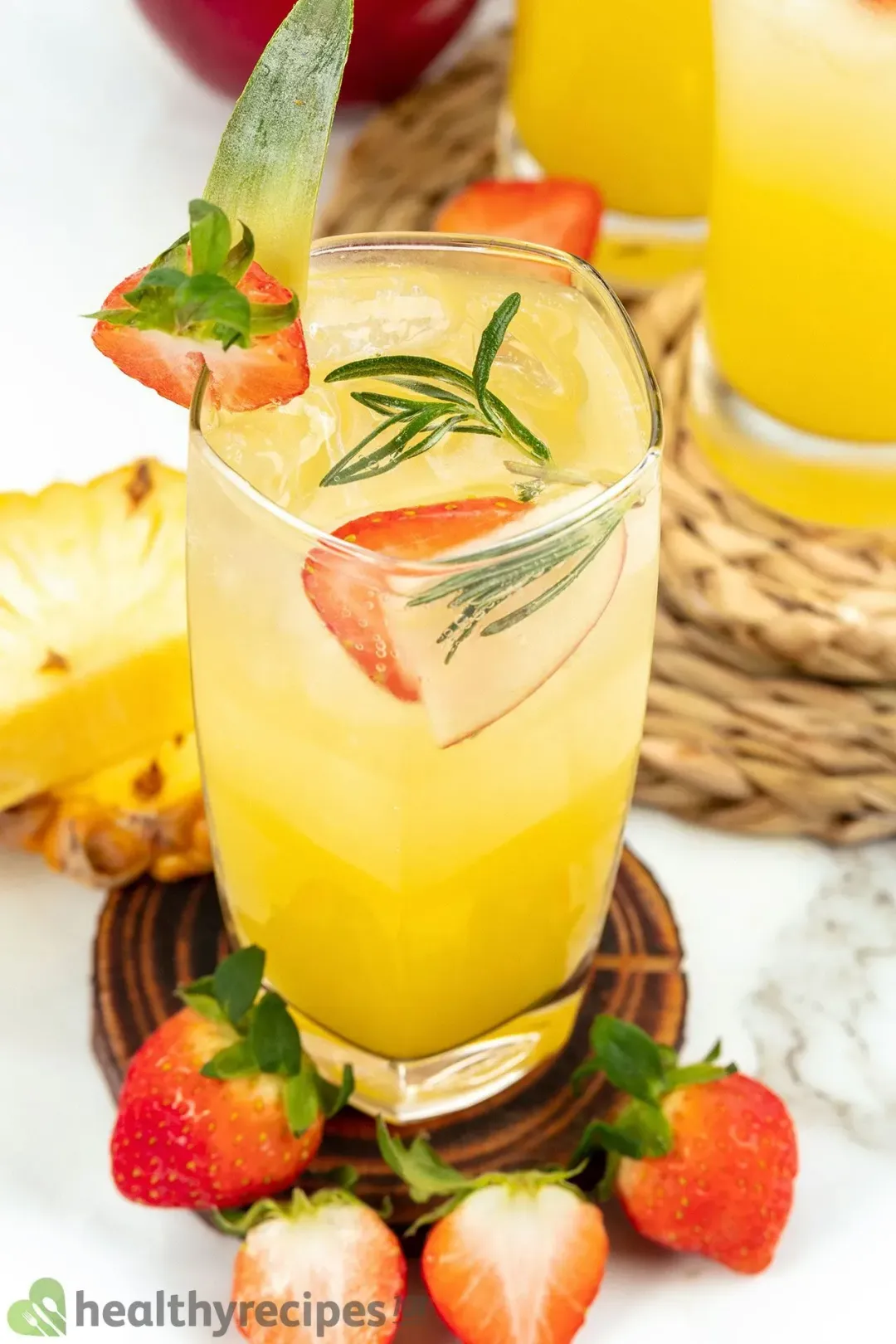 Next Recipe
Vodka Jungle Juice
Vodka Jungle Juice
Simple and delicious! Wonderful on a hot day.

I absolutely loved it, a delicious and nutritious drink!