Are you looking for a low-calorie, refined sugar-free pineapple juice recipe to accessorize your summer? Ours could help with just that.
It's a mix of sweet pineapple, coconut, apple, and grape juice flavors. And with no added sugar, you can drink it without accruing excessive carbs and calories.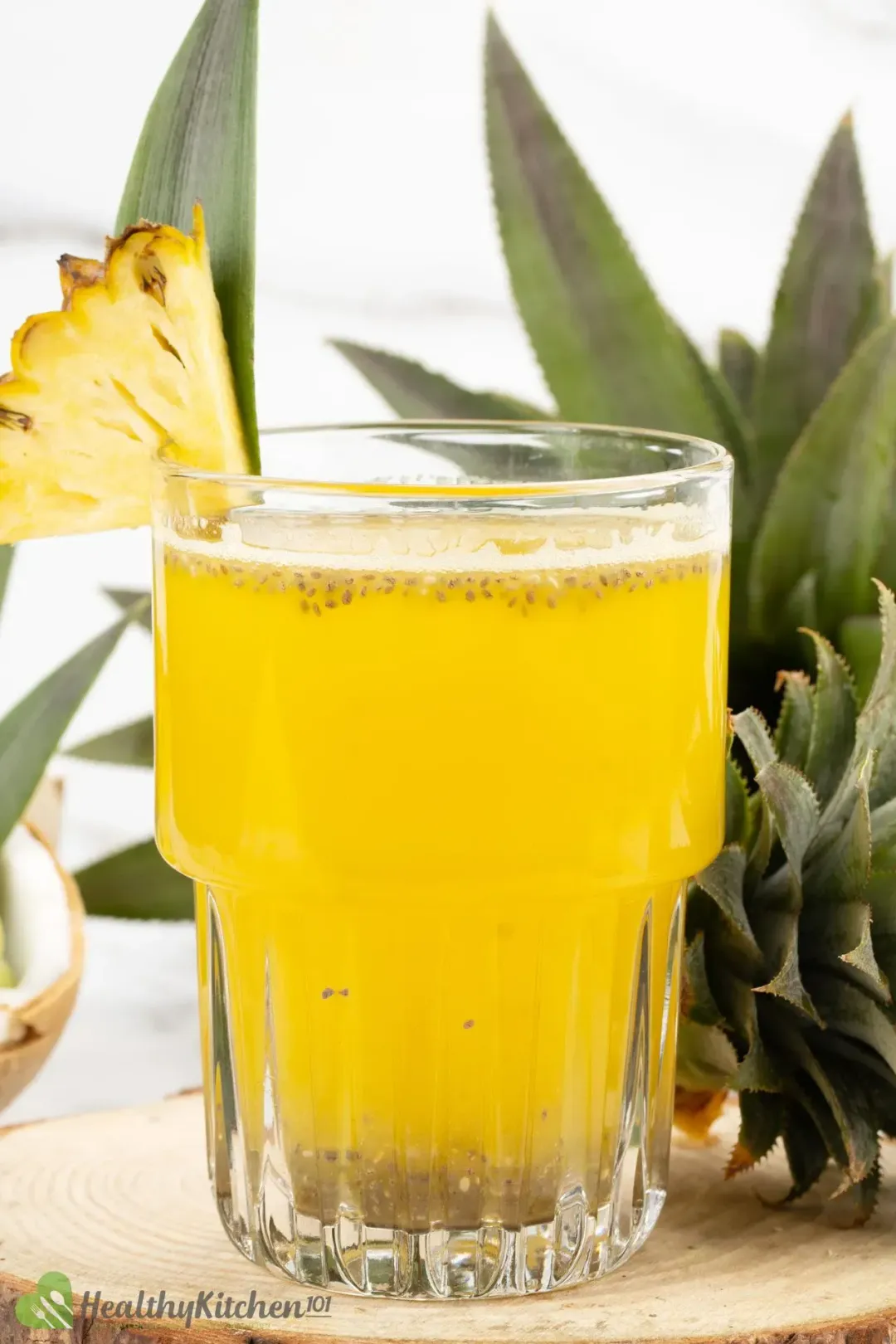 We've added nutritious chia seeds to give texture and taste. You can include them in almost any drink for additional nutrition and a fun chew.
Drink it in moderation, however, as too much of a good thing can turn out to be bad.
Read on to learn the benefits of unsweetened pineapple juice and how to prepare and store it for prolonged periods.
Is Sugar-Free Pineapple Juice Healthy?
1. Vitamin C
Pineapple juice is a rich source of antioxidants, especially vitamin C. Vitamin C is an essential nutrient, meaning humans must consume it daily to maintain adequate levels.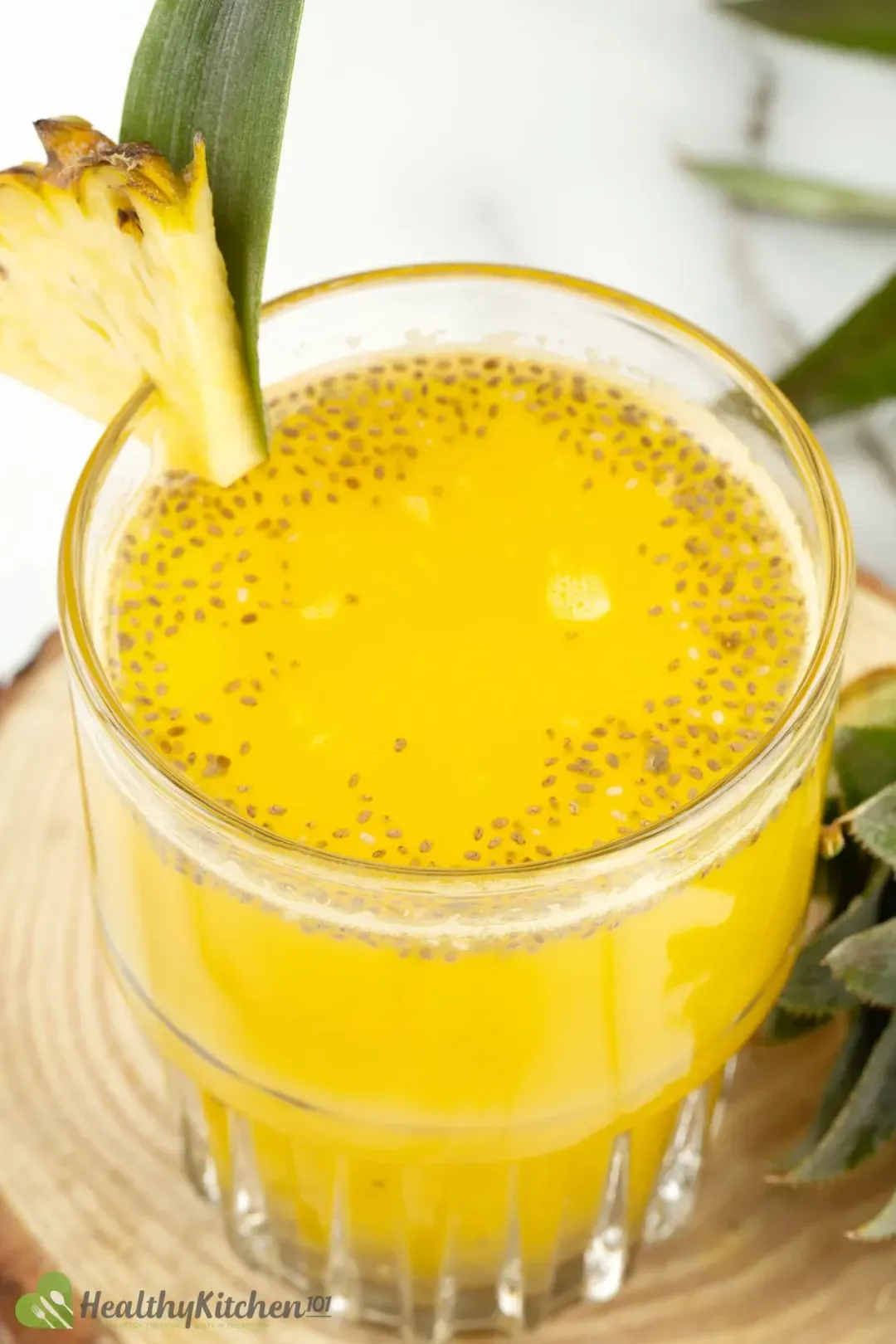 Drinking a cup of pineapple juice will earn you 14% of the daily value (DV) for vitamin C.
Your body uses it to support your immune system and stave off conditions like anemia. By aiding the metabolization of iron, vitamin C helps the body to absorb more iron and prevent its deficiency (anemia).
You can thereby incorporate pineapple juice into your diet to help fight against poor immunity and anemia.
2. No Added Sugar
Cutting down on added sugars can be a life-changing practice. It lowers your total calorie intake and the risk of diseases like obesity.
But our recipe is not just free of added sugars. We've combined grape, apple, and coconut juices for nutritional elements and wholesome flavors.
3. Fights High Blood Pressure
Grape juice is rich in flavonoids. These are plant chemicals with antioxidant properties (also found in dark chocolate and pomegranate juice).
Daily consumption of grape juice has been shown to lower fasting blood glucose levels. It has the potential to manage sugar levels, which often peak an hour after eating.
This suggests that consuming grape juice may help your body lower the amount of glucose during fasting between meals.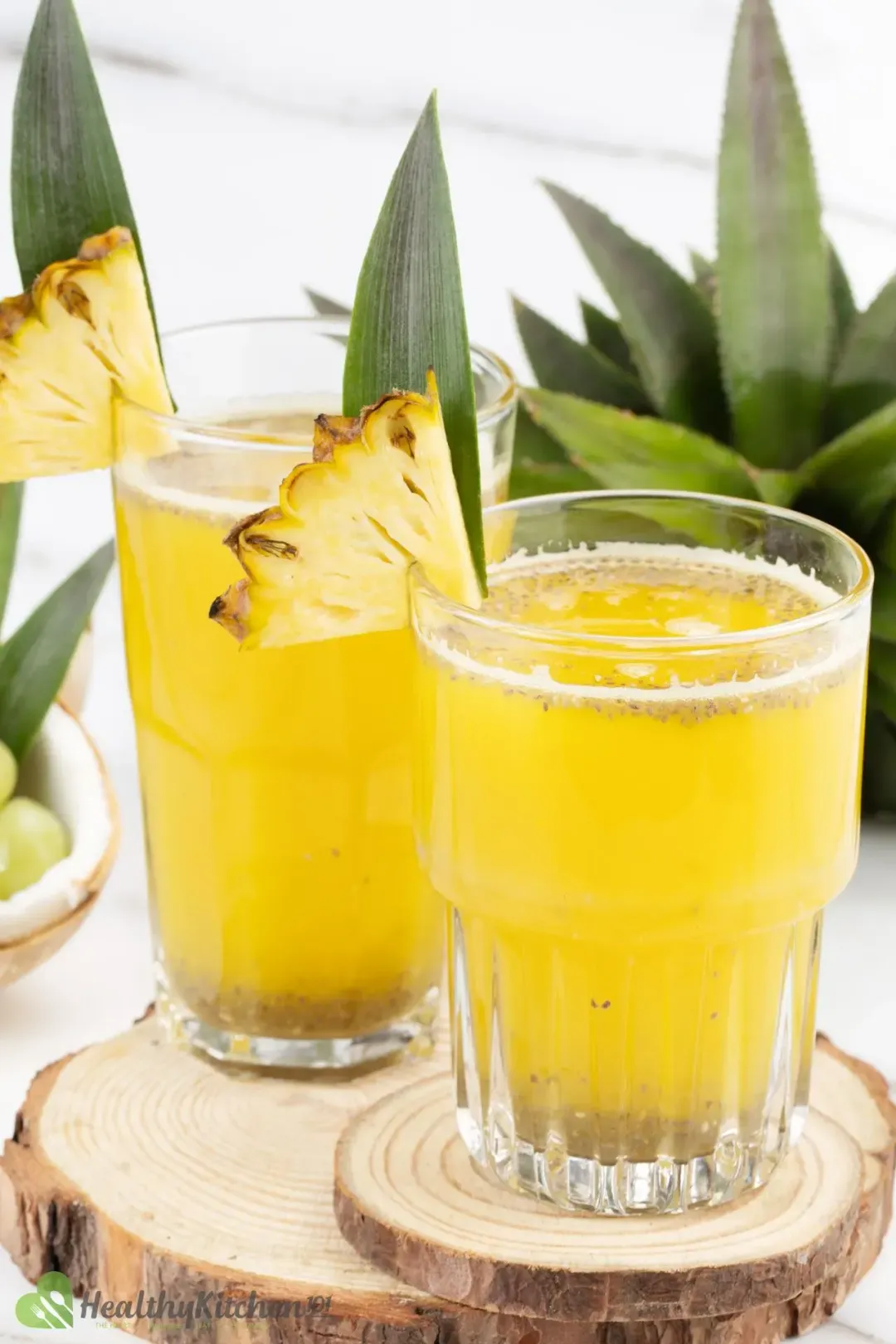 4. Antioxidants
Apple juice's polyphenols add more antioxidant benefits. Studies show that consuming apple (and fruit) juice may suppress oxidative stress effects.
Consuming it could promote a better lifestyle that helps to protect your DNA and cell structure.
Coconut juice is a great way to add refreshing flavors with minimal natural sugars. Compared to other fruit juices, coconut juice is very low in calories, giving you sweet flavors at half the cost.
5. Aids Digestion
Lastly, chia seeds are an excellent source of fiber. Fiber aids digestion and can leave you feeling full in between meals.
So, even though this is a low-calorie drink, it could help you prevent hunger and promote weight loss.
If you're looking for more tasty, healthy beverages, check out these nutrient-packed, pro-metabolism drinks made with pineapple juice.
How to Juice a Pineapple
You can juice your own pineapples at home using a centrifugal juicer. Start with fresh pineapple for a healthy, refreshing juice.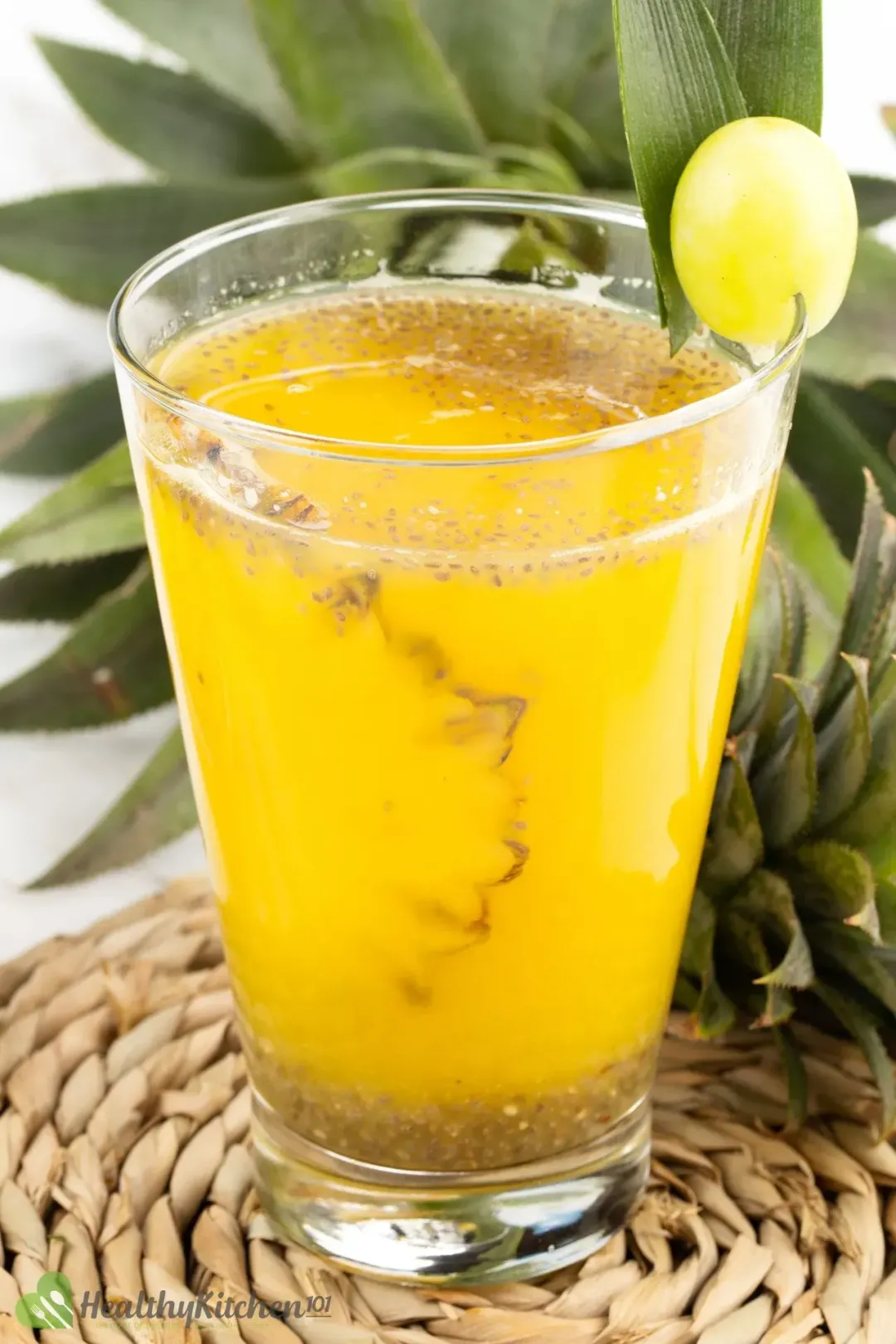 Wash and use a sharp knife to peel the fruit. Cut it into chunks that will fit into the juicer feed chute.
Next, run the pieces through the chute and collect the liquid in a pitcher. Mix in ingredients of your choice to add more flavor to your drink.
To follow this recipe, run grapes and apple pieces through the juicer chute. Collect the liquid in a pitcher and pour in the coconut water.
Then, stir in the chia seeds. Finish by pouring the drink over ice and garnishing it with mint leaves for an appealing look.
Note that you can easily change this into another anti-inflammatory drink or even an alcoholic drink with pineapple juice. For instance, pineapple juice makes one of the best mixers for vodka in our tropical version of a Screwdriver.
How Long Does Added Sugar-free Pineapple Juice Last?
Pineapple juice can last in the refrigerator for up to three days.
Homemade fruit juices have no preservatives. Thus, they have a shorter shelf life than store-bought varieties.
To prolong your added sugar-free pineapple juice's storage time, keep it in an airtight container. This minimizes exposure to oxygen, which could potentially lower the quality of your juice.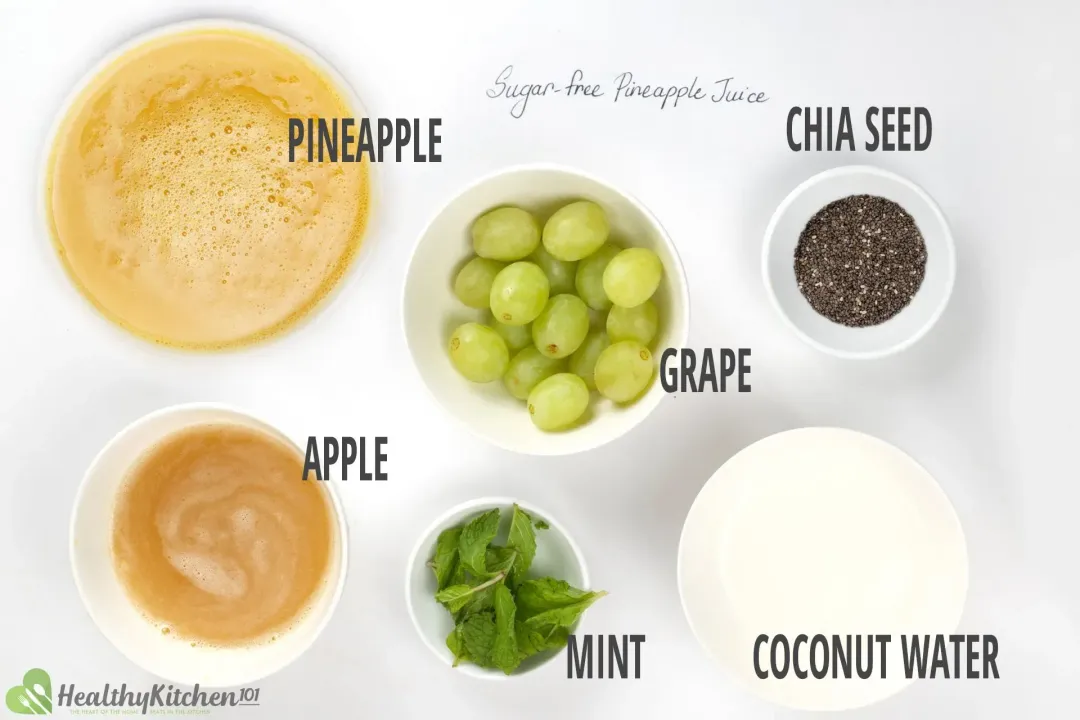 Also, try to limit your juice's exposure to heat and light. Fruit juices contain light- and heat-sensitive nutrients like vitamin C.
Leaving your juice outside the refrigerator for long periods (more than two hours) can deplete its nutrient content. The result is a less nutritious beverage with very little taste.
For extended storage periods, you can store your Added Sugar-free Pineapple Juice in the freezer. Transfer it into an airtight, freezer-safe container, remembering to leave an inch of space to allow expansion.
Keep it in the freezer for up to three months. When ready to use, leave it at room temperature to thaw and serve it cold for a refreshing feel.
Check out this delicious juice compilation for more tasty drinks.
Calories in Added-Sugar-Free Pineapple Juice
This refined sugar-free pineapple juice recipe contains only 99 calories per serving. No added sugars means lower calories and carbs.
You can do away with high-sugar beverages like sodas and replace them with this drink. It's great for low-carb diets and excellent for your weight loss routine.
Fruit juices with excessive amounts of added sugar could be just as detrimental to your health as sodas. Many of them pose as healthy drinks while secretly piling on liquid calories.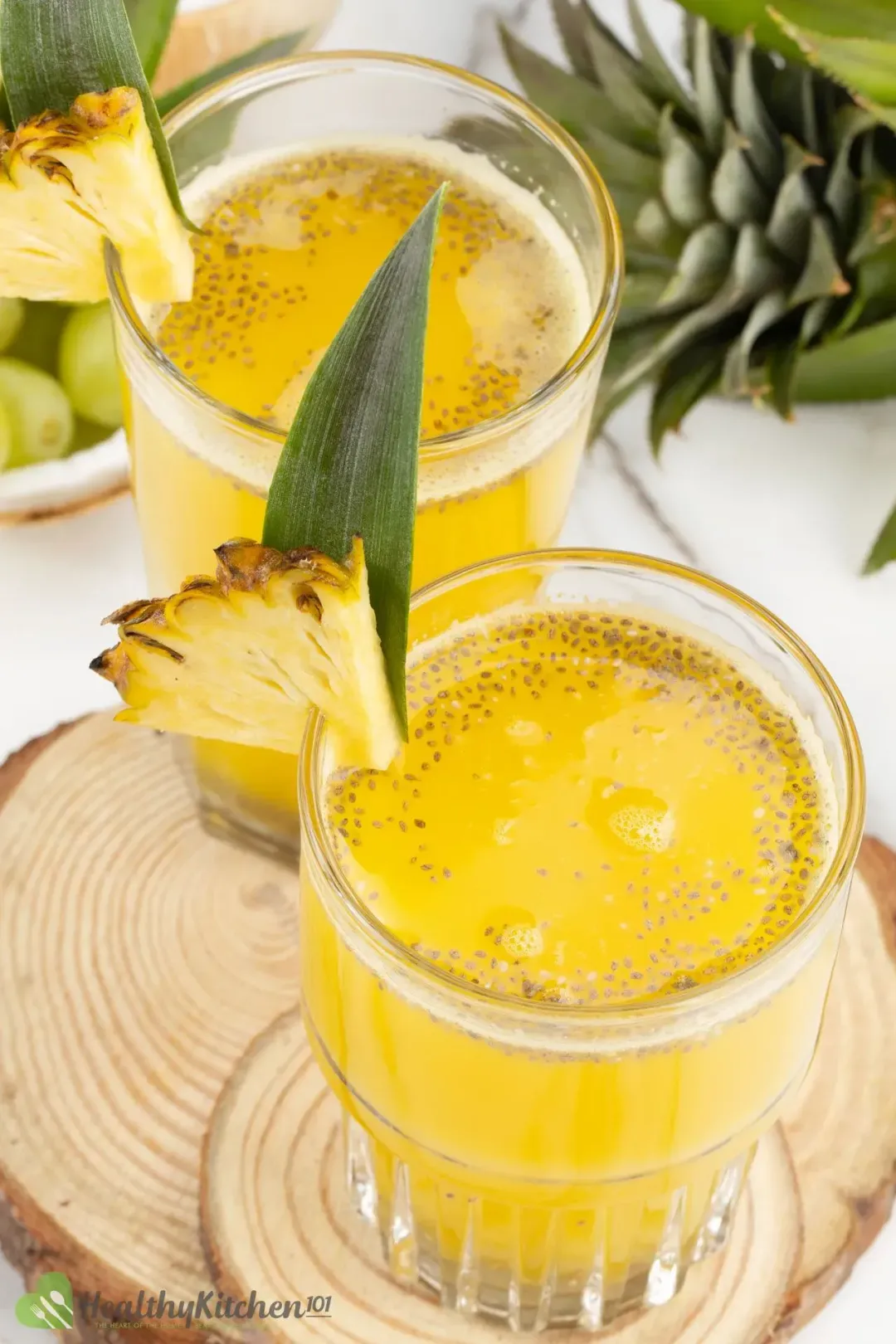 For a drink with added sugar amounts that fit within the USDA guidelines, try out our cucumber and pineapple juice.
Our recipe cuts both your calories and your gym time, so you can have it as part of a well-rounded diet to promote a nourishing, healthier lifestyle.
Added Sugar-Free Pineapple Juice Recipe
This refined sugar-free pineapple juice is a delightful, low-calorie drink with naturally sweet notes of grape, apple, and coconut juice. Serve it cold and enjoy with a nourishing meal.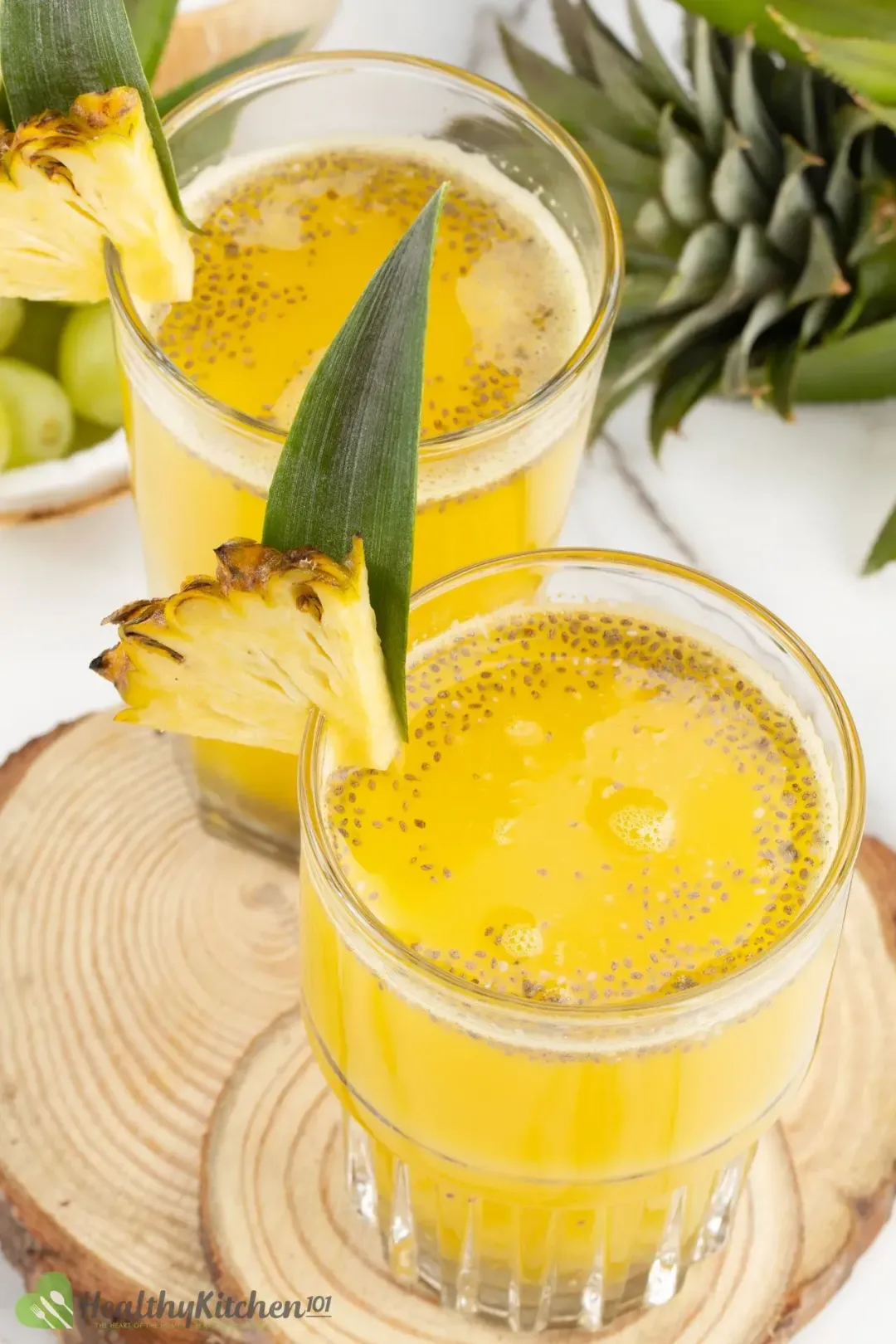 prep TIME

10 mins

total TIME

10 mins
COURSE

Beverage

CUISINE

American

SERVINGS

servings

CALORIES

99 kcal
INGREDIENTS
18

fl oz pineapple juice

(from 24 oz fresh pineapple)

4

fl oz red apple juice

(from 5 oz fresh gala apples)

4

fl oz grape juice

(from 10 oz fresh grapes)

6

spearmint leaves

(fresh)
INSTRUCTIONS
1
Wash pineapples, apples, and grapes separately. Peel and cut pineapples and apples into chunks (you can leave apples unpeeled).
2
Run pineapple pieces through the juicer and collect the liquid in a jar. Run apple pieces, then grapes through the juicer. Similarly, collect the juice in separate jars.
3
In one large pitcher, add pineapple, apple, coconut, and grape juice. Stir to mix.
4
Add in chia seeds and stir until well combined. Serve over ice and garnish with mint leaves.
NUTRITION
Nutrition Facts
Added Sugar-Free Pineapple Juice Recipe
Amount Per Serving (1 serving)
Calories 99
Calories from FDA
% Daily Value*
* Percent Daily Values are based on a 2000 calorie diet.
Keywords: pineapple juice no sugar added, Sugar-Free Pineapple Juice, Sugar-Free Pineapple Juice Recipe, unsweetened pineapple juice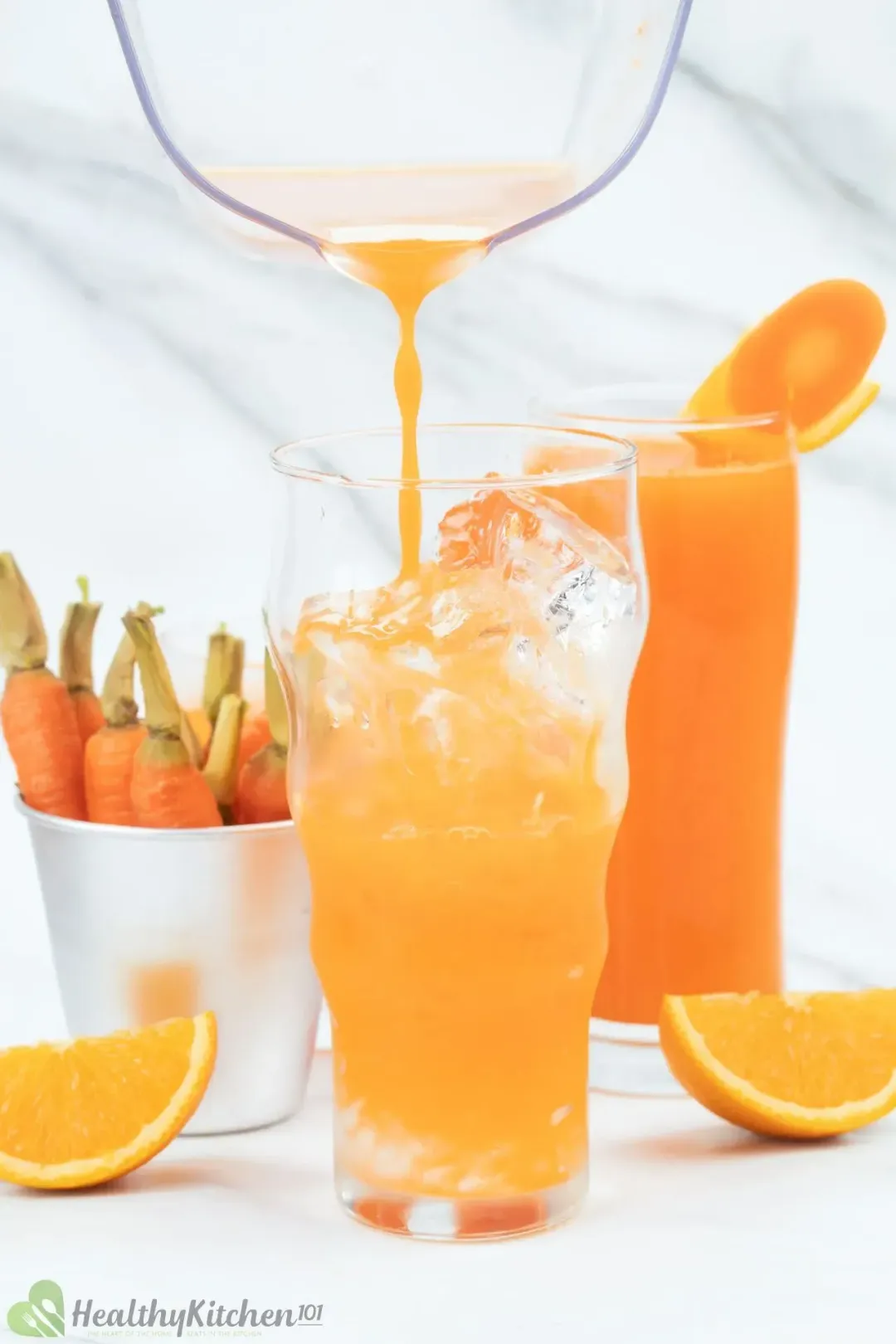 Previous Recipe
Carrot Orange Juice
Carrot Orange Juice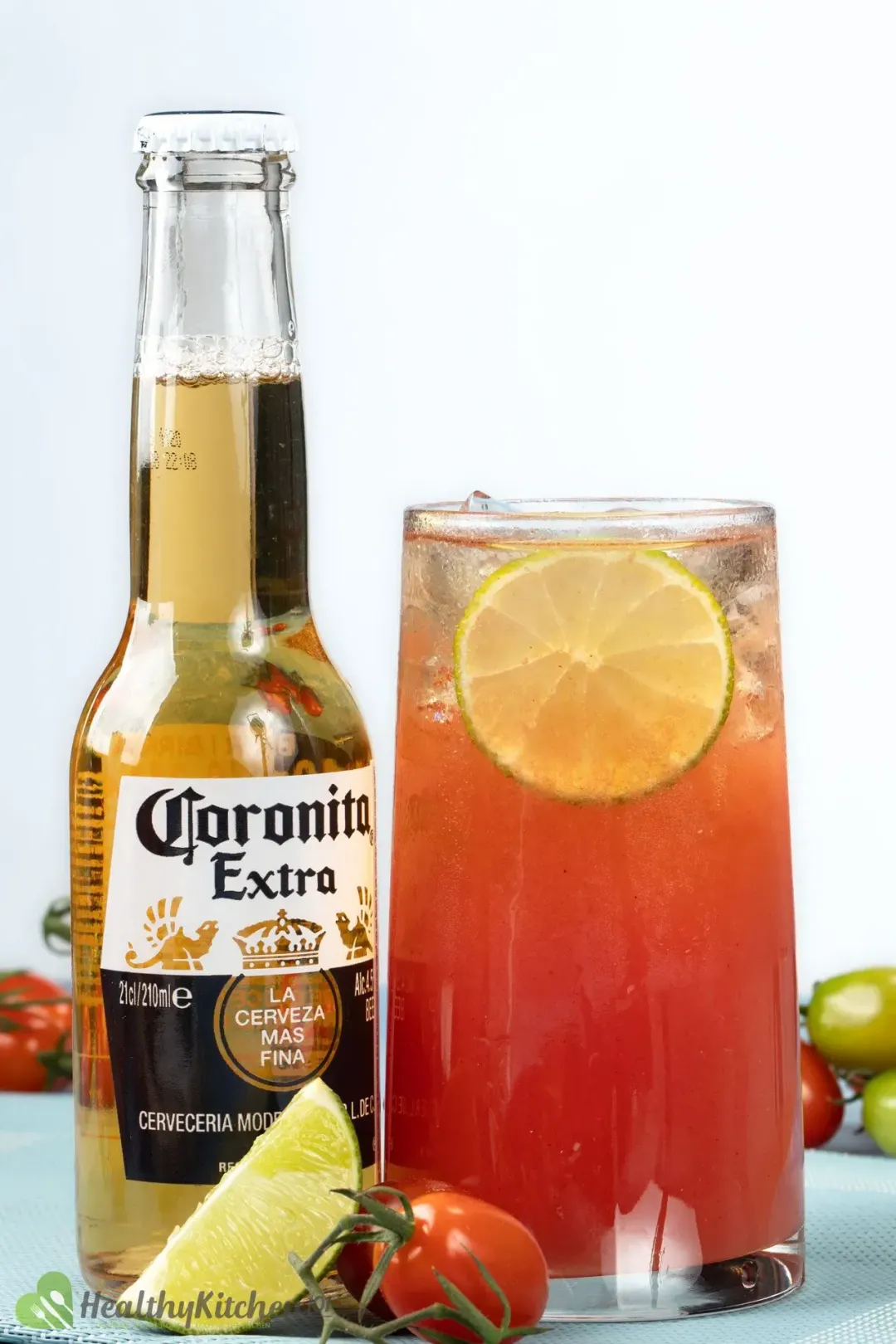 Next Recipe
Beer and Tomato Juice
Beer and Tomato Juice
Comments/ Reviews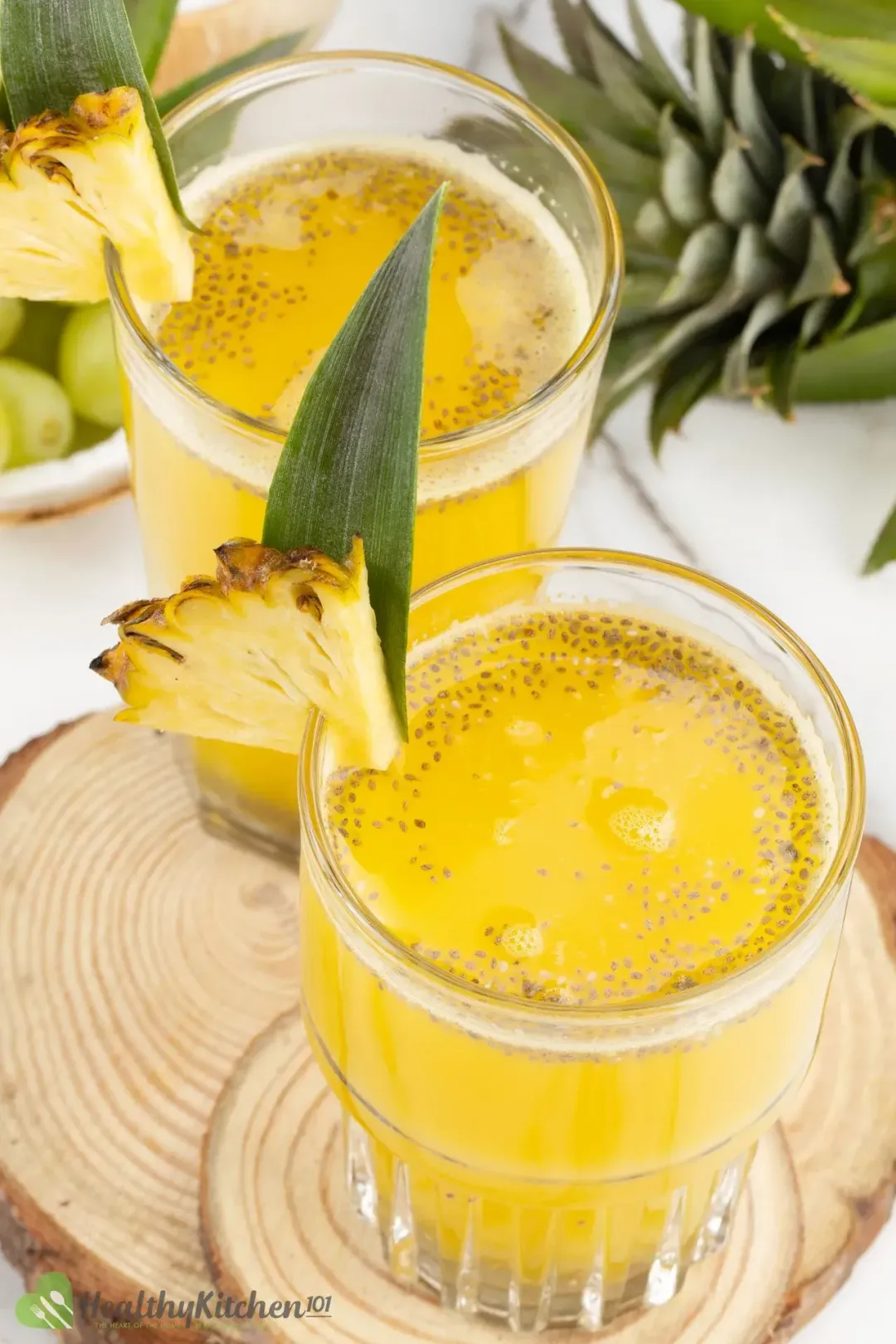 Rebecca

March 23, 2023 at 2:30 AM

This juice looks so refreshing and healthy! A great way to get a natural sweet boost of nutrition.