Our rum and pineapple juice recipe makes a simple drink you can enjoy during fall or National Rum Day (August 16). It's fresh, sweet, and sour, and leaves a faint hint of warmth on your taste buds.
Today's recipe includes step-by-step instructions on how to peel pineapple like a professional chef. But first, let's start with some interesting health and nutritional facts.
Is Our Recipe Healthy?
Since this rum and pineapple juice recipe contains alcohol, it would be misleading to claim that this drink is healthy.
For alcoholic beverages, it is best to maintain a moderate consumption. According to USDA dietary guidelines, you should only consume 1.5 fl oz of 80 proof distilled spirit per day.
We try to adhere to the USDA guidelines while crafting the best drink possible. Our rum and pineapple juice recipe ended up containing 1 fl oz of 80 proof distilled rum per serving.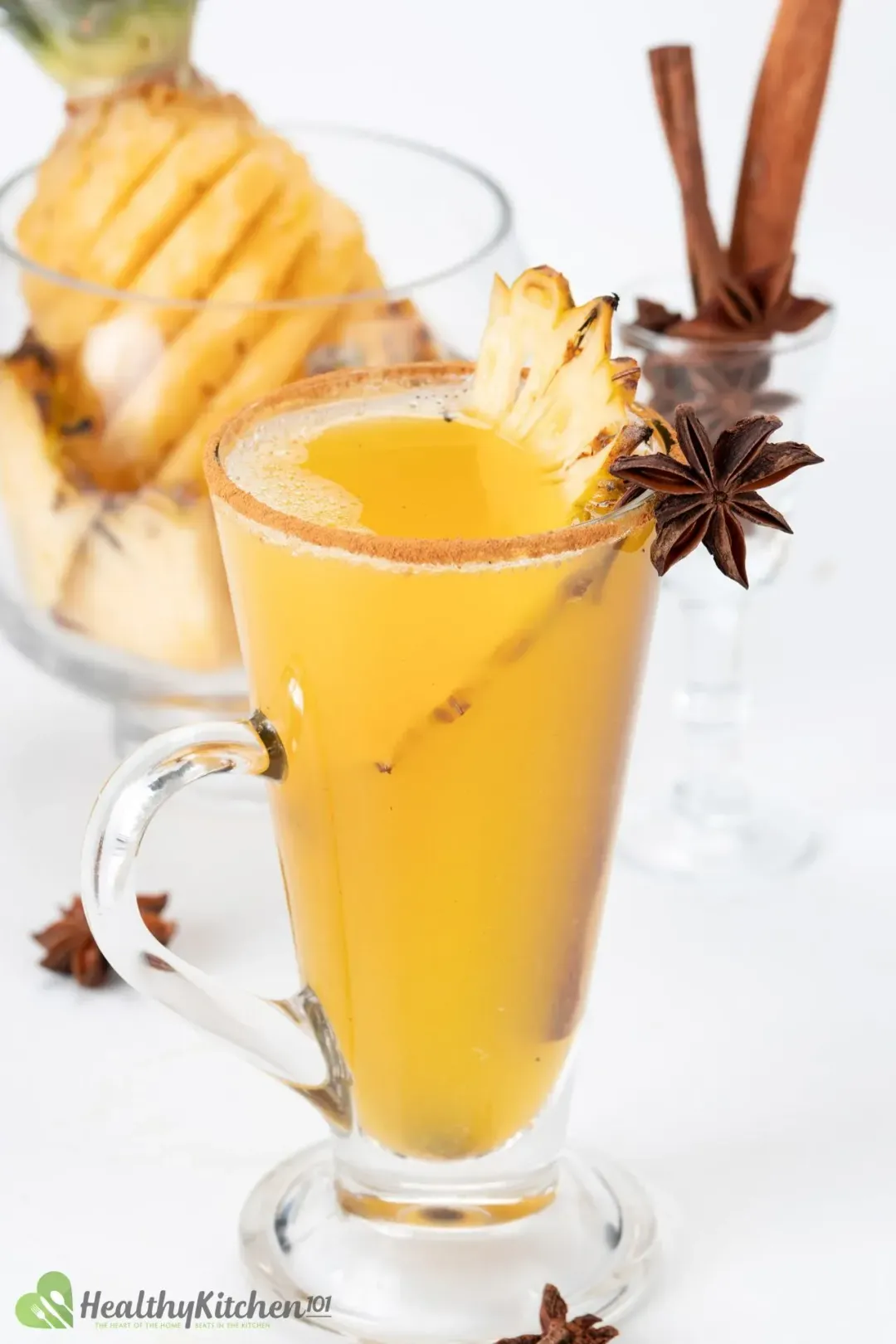 Calories
There are 128 calories in one serving of our rum and pineapple juice.
Most of those calories come from the rum. If you're not a fan of alcohol or are trying to cut down on calories, reduce or omit the rum to end up with a simple pineapple juice recipe.
Here, our pineapple vodka is a mixed drink with a good balance of alcohol and fruit juice.
How to Peel a Pineapple
Peeling an exotic-looking fruit like pineapple can be a puzzle, but it's actually easy. Here's a step-by-step demonstration of how to peel a pineapple with a knife:
Cut off the leafy top and the bottom of the pineapple with a sharp knife.
Place the pineapple standing upright on the cutting board. Make vertical cuts around the edge of the pineapple and cut off the peel, following the curve of the fruit.
Continue to slice the pineapple further to remove the hard brown spots (or "eyes").
Cut the pineapple into quarters lengthwise.
Continue to cut them into chunks that fit your juicer.
This method is quick and simple, but cutting off the pineapple eyes like so may remove too much of the flesh.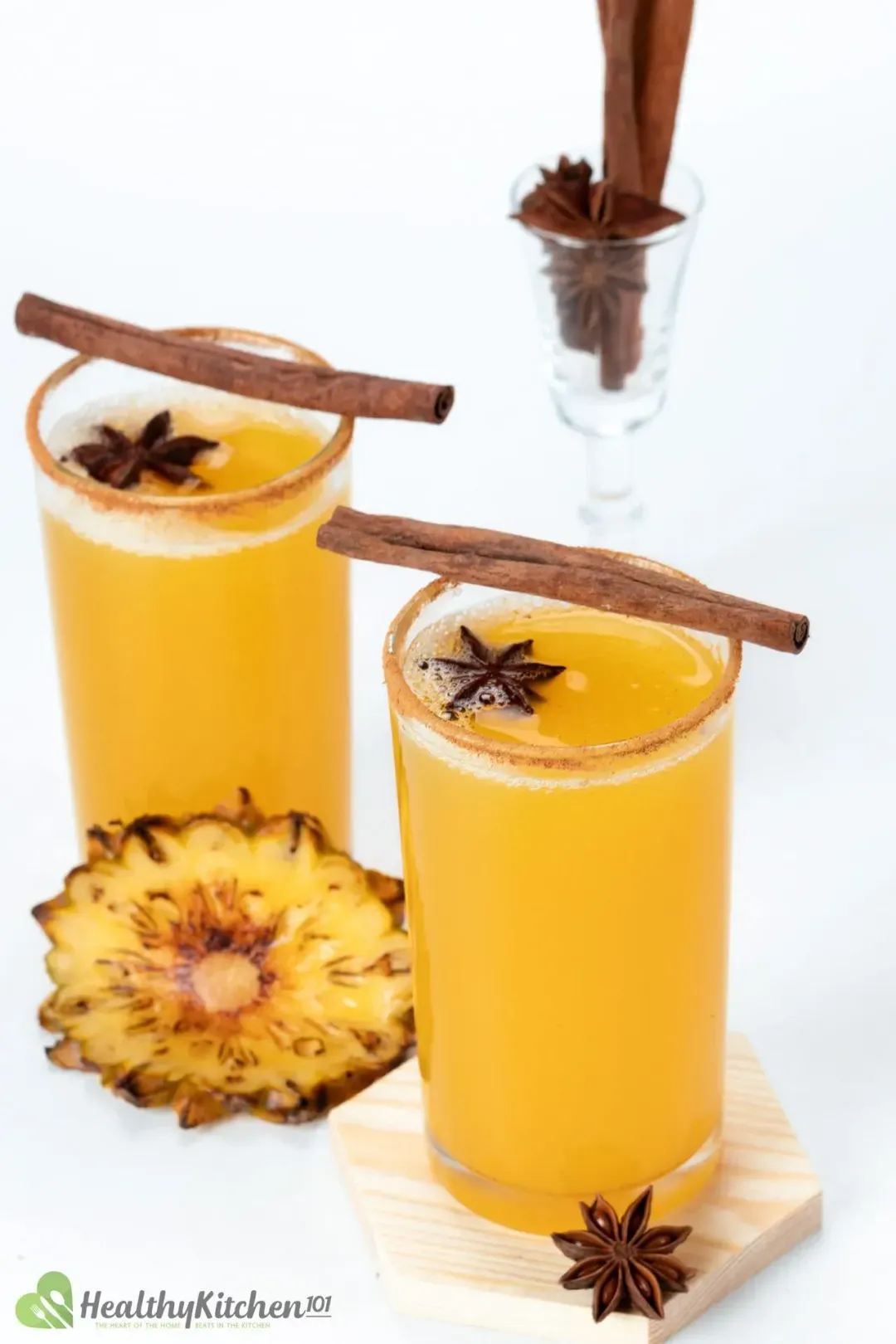 You can use a paring knife and carve off the hard spots instead. But carving from spot to spot can be time-consuming.
There's a way for you to remove pineapple eyes faster without losing too much of the flesh. Here's how you do it:
After cutting off the top and bottom, make thin cuts around the pineapple and remove the peel. Each cut should be enough to reveal the "eyes" of the pineapple.
Notice how the "eyes" form diagonal lines that run around the pineapple. Make shallow, diagonal V-shaped cuts following the "eyes."
Once you've finished, you will have beautiful diagonal ridges that run around the pineapple.
This method may take a bit more time than the first, but it minimizes the loss of pineapple flesh. It's also a great way to practice and improve your knife skills.
Now that you know how to prep a pineapple like a pro, let's make this cocktail.
What to Mix with Pineapple and Rum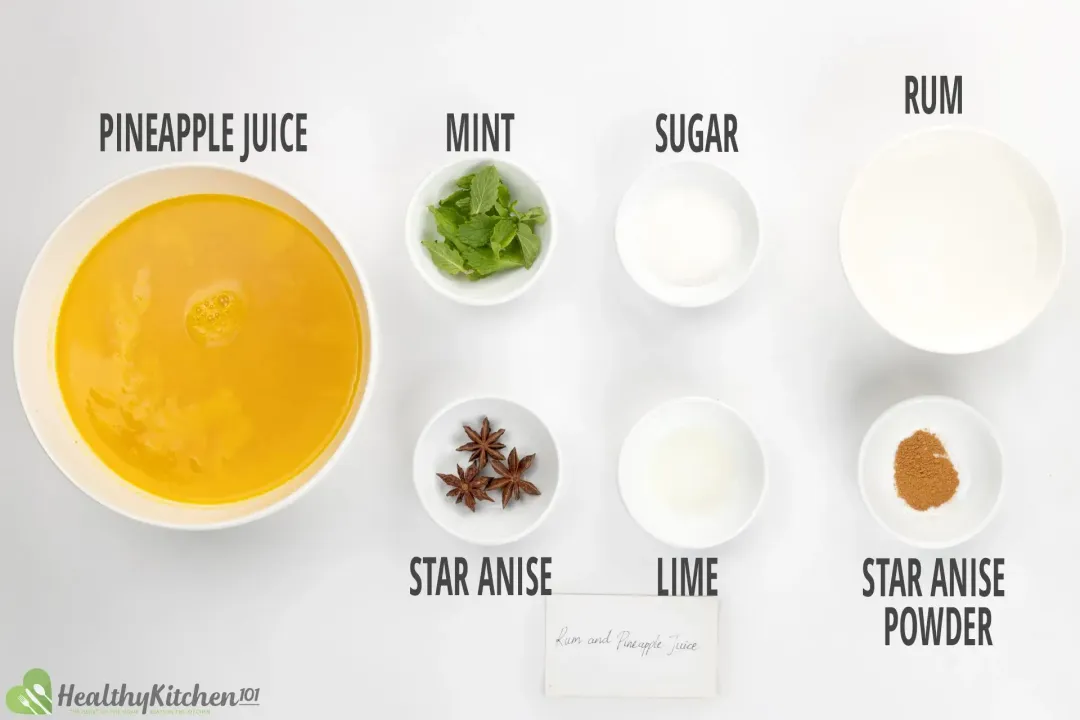 If you're looking for ways to tweak the recipe to your liking, we have a few ideas:
1. Alcohol
We use 80 proof white rum for today's recipe, but feel free to switch to whatever booze you have. That being said, brandy, bourbon, gin, or citrus liqueur would make the best substitutes for rum.
You can also adjust the amount of alcohol to your liking. Reducing or leaving out the alcohol will also lower the calories per serving as well.
On the other hand, if you want to add more, there are a few things to keep in mind.
As mentioned, you are advised to consume no more than 1.5 fl oz of 80 proof distilled alcohol per day.
There's already 1 fl oz of 80 proof rum per serving of our rum and pineapple juice. So, if you want to add more spirits, you can only add 0.5 fl oz.
Our healthier options include this pineapple drink that may help the body detox, this refreshing summer drink with cucumber, and a list of fresh juices with pineapple.
2. Spices
For today's rum and pineapple recipe, we use star anise to spice up our drink. However, you can experiment with other spices as well.
We recommend a few spices that can pair nicely with today's drink: cinnamon, cardamon, and cayenne pepper. Herbs such as rosemary, basil, or thyme can be added to the cocktail as well.
3. Citrus
If you're a regular reader here on Healthy Kitchen 101, you've probably noticed we love adding citrus to our drinks.
It's because citrus juice can brighten up any drink and make it fresher. And you utilize the whole fruit in your drink.
For example, you can add grated citrus zest and its juice to your drink and change its flavor profile. Once you've finished making the drink, use its peel and a slice/wedge of the fruit to decorate your cocktail.
Lime, lemon, and orange fit today's recipe perfectly.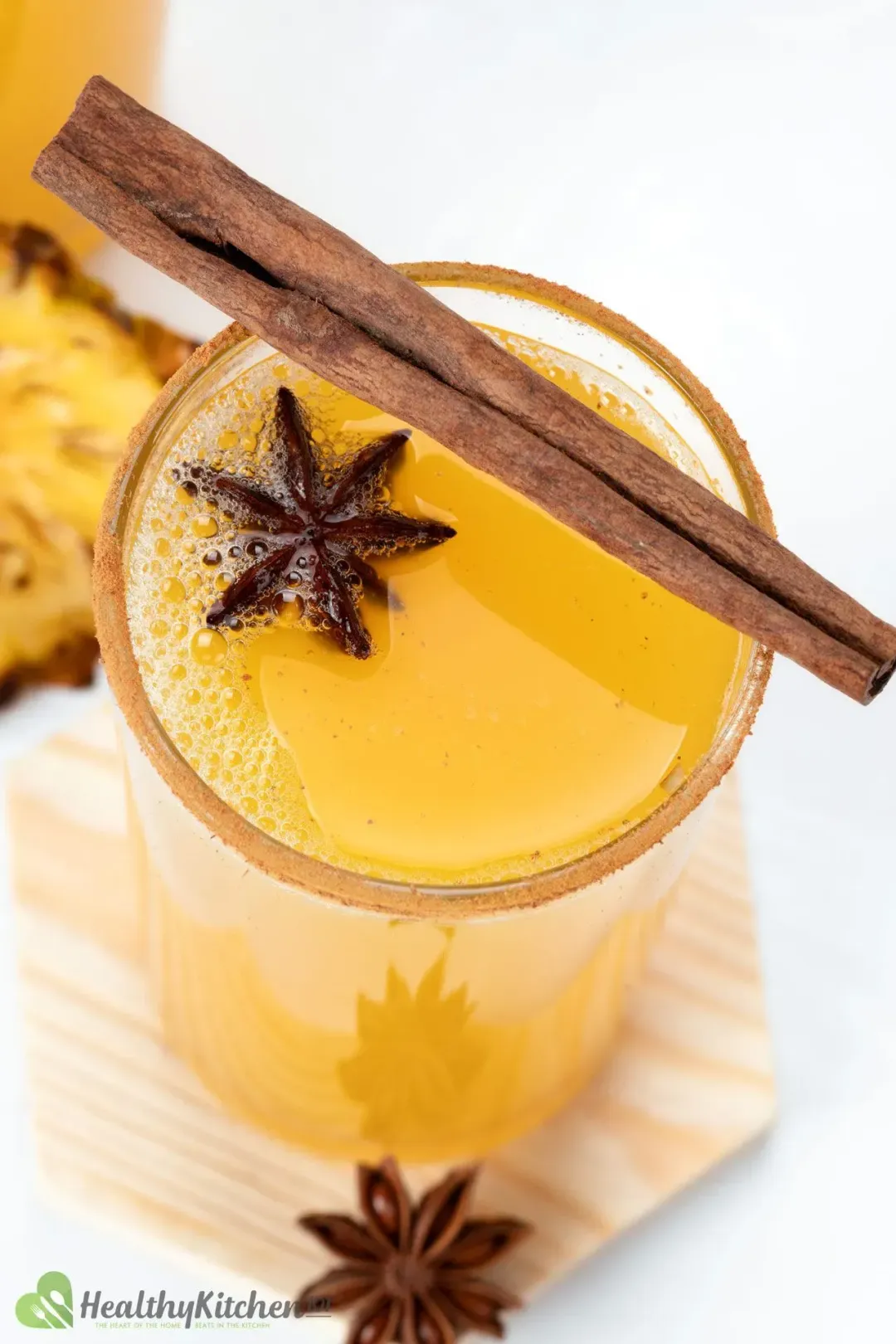 How Long Does It Last?
Our rum and pineapple juice contains freshly made fruit juice, so it can only stay good for about 48 hours. That being said, we highly recommend drinking it all up within the first 2 hours for the best quality.
If you're planning on having a party and making the drink the night before, we don't encourage doing so.
However, you can make a big batch of pineapple juice and put it into an airtight container. Keep the juice in the fridge overnight and it'll be ready for your party the following day.
Doing so can improve the quality of the juice— making it fresher than mixing it with alcohol. When it's party time, all you need to do is mix in the alcohol, sugar, and spices with the juice.
For more drinks for a crowd, see our list of the top juice recipes and enjoy.
Rum and Pineapple Juice
Our rum and pineapple juice recipe may be simple, but it makes a refreshing drink with a complex flavor profile. Let's check out the ingredients.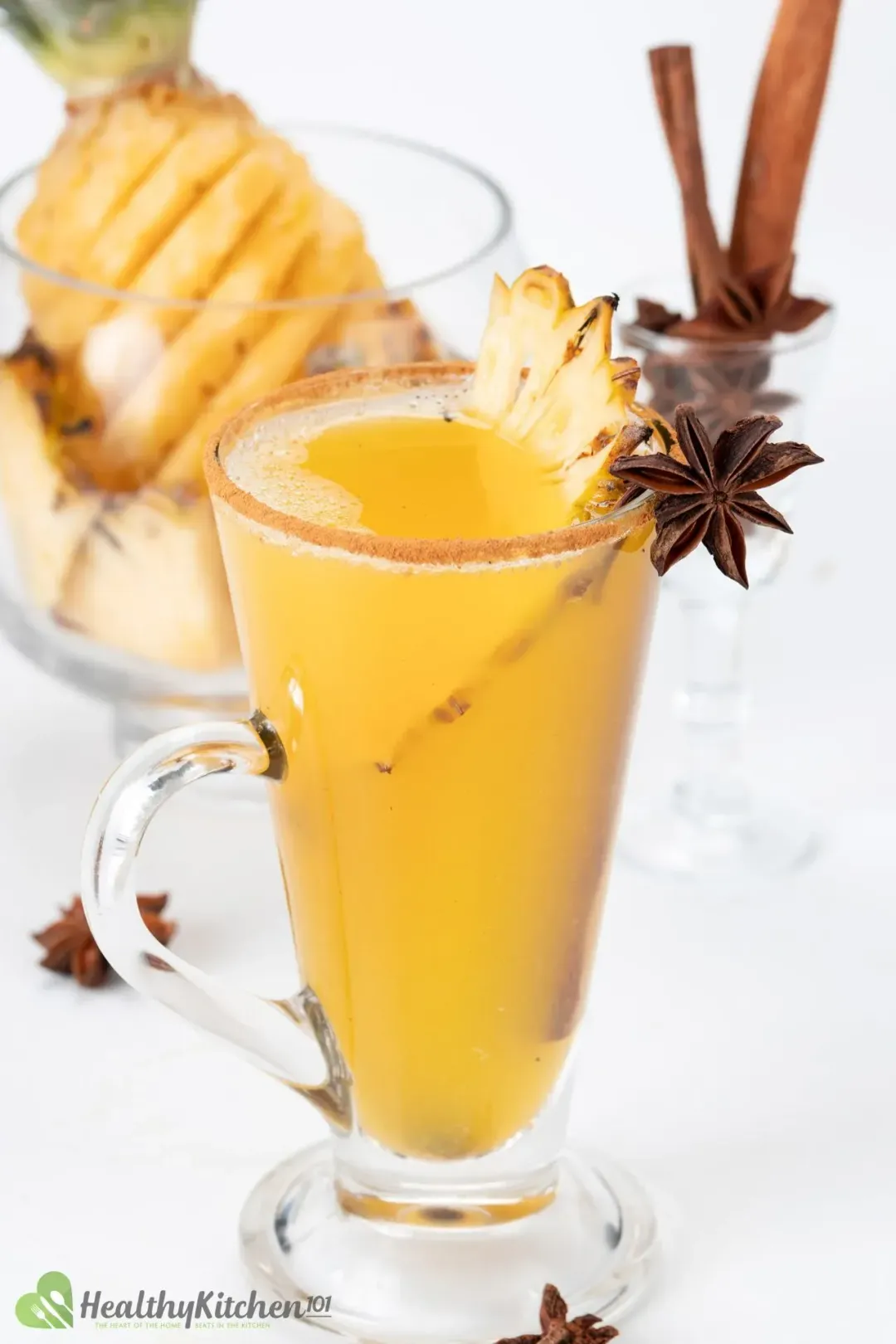 prep TIME

10 mins

total TIME

10 mins
COURSE

Beverage

CUISINE

Global

SERVINGS

CALORIES

128 kcal
INGREDIENTS
16 fl oz

pineapple juice

(from 18 to 20 oz fresh pineapple, about 1 large fruit)

4

whole star anise

(for garnish)

8

mint leaves

(for garnish)
INSTRUCTIONS
1
Peel and cut pineapple into chunks that fit the chute of your juicer.
2
Put 18 to 20 oz fresh pineapple in a juicer and collect the juice in a large pitcher.
3
Add 4 oz rum, 1/2 tsp lime juice, 1 tbsp sugar, and 1 tsp star anise powder to the pitcher. Mix well to dissolve the sugar.
4
Divide the drink into 4 glasses and add ice. Garnish with whole star anise, mint, and serve.
NUTRITION
Nutrition Facts
Rum and Pineapple Juice
Amount Per Serving (1 serving)
Calories 128
% Daily Value*
* Percent Daily Values are based on a 2000 calorie diet.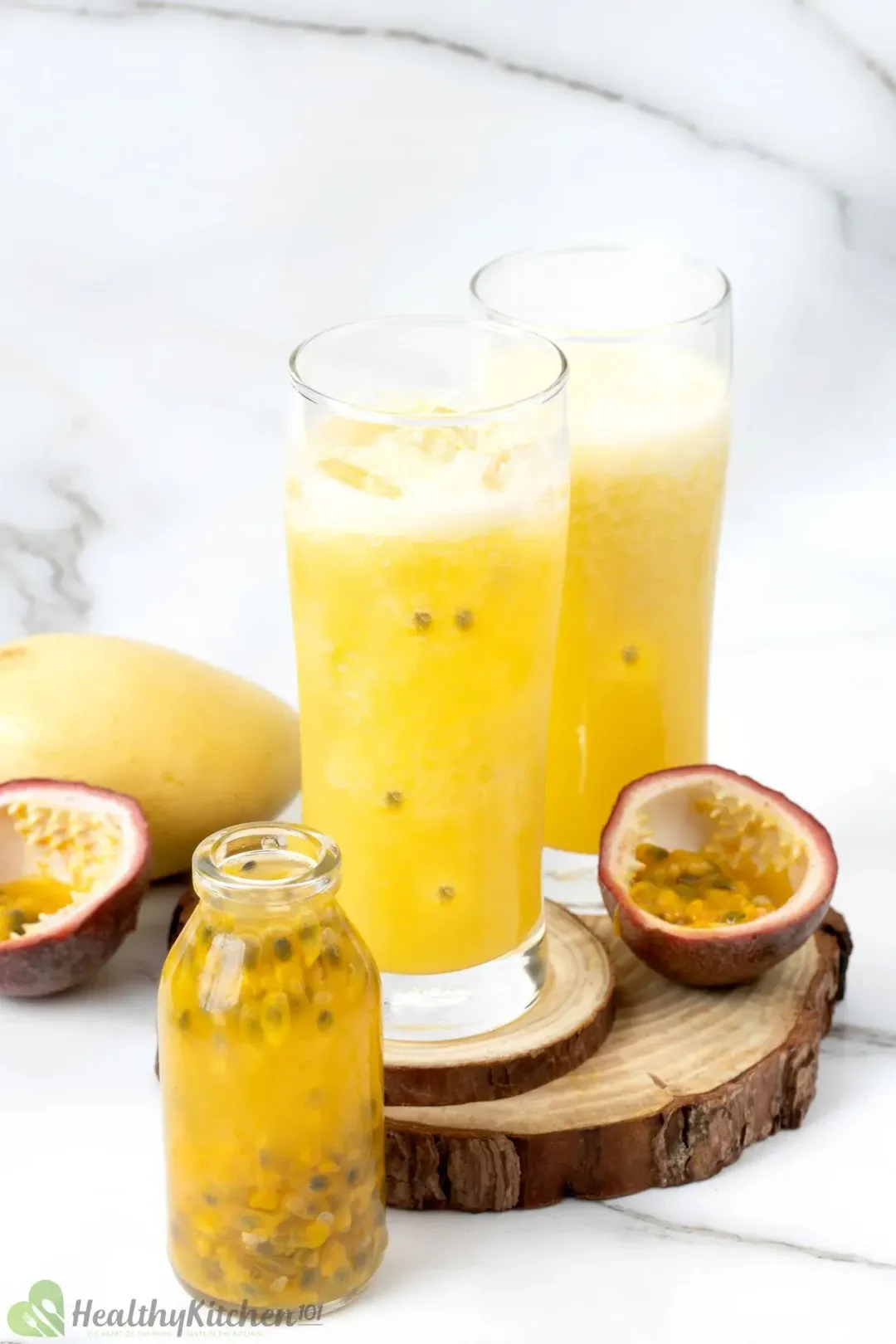 Previous Recipe
Passion Fruit Mango Juice
Passion Fruit Mango Juice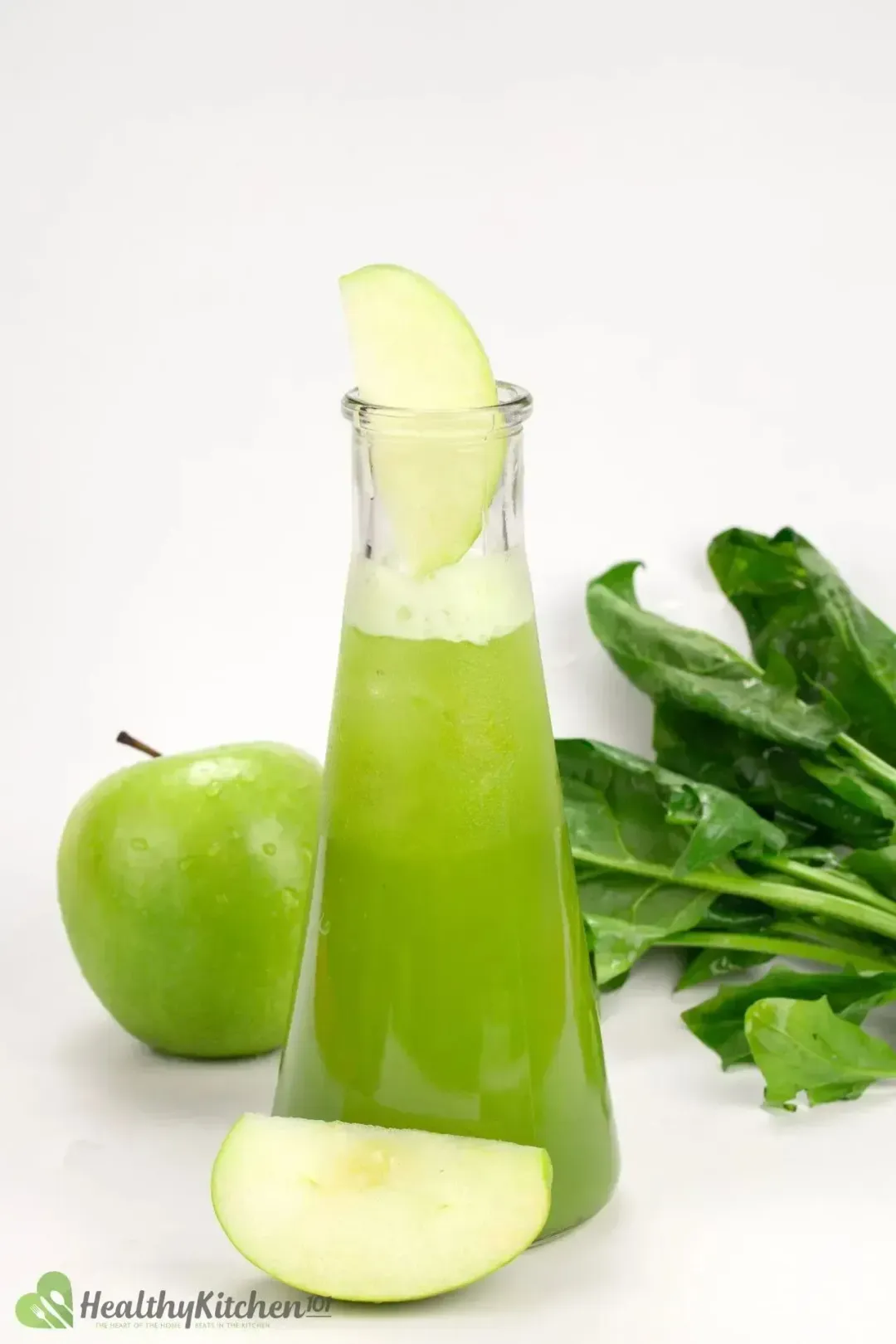 Next Recipe
Green Apple Juice
Green Apple Juice
Head Chef, Culinary Consultant
Tuyet Pham is an award-winning Saigonese chef who believes that joy is the secret ingredient to delicious food. At Healthy Recipes 101, Tuyet personally tests and simplifies every recipe, ensuring maximum flavor with minimal effort. With a background at prestigious French restaurants P'TI Saigon and Le Corto, Tuyet knows how to make every dish exceptional.
Writer, Author
Luna Regina is an accomplished writer and author who dedicates her career to empowering home cooks and making cooking effortless for everyone. She is the founder of HealthyKitchen101.com and HealthyRecipes101.com, where she works with her team to develop easy, nutritious recipes and help aspiring cooks choose the right kitchen appliances.
Nutrition Reviewer
Lizzie Streit is a Minneapolis-based dietitian and founder of It's a Veg World After All. She completed her MS in Human Nutrition from Drexel University, and is an expert in culinary nutrition, recipe development, and nutrition communications. Lizzie's philosophy is centered around making nutrition recommendations, and especially the advice to eat more vegetables, approachable and realistic. She is excited to be working with the team at Healthy Recipes 101 to ensure that their recipes are both nutritious and delicious.
Wow, this rum pineapple juice is unbelievably good! I'm usually not one for cocktails, but this recipe has quickly become one of my favorites - it's citrusy and sweet with a hint of rum at the end that makes it so unique. Definitely going to make this again!