This carrot orange pineapple juice recipe features fruits and vegetables you may already have at home or could easily get at the store. Not only balanced in taste, this juice is also a nutritional powerhouse to kick start your day.
Before we start, we'd like to mention two of our similar recipes: our carrot orange juice recipe and this carrot juice recipe with orange and ginger. You can check it out if you're love the concept of easy, healthy, vibrant, citrusy juice.
Are Carrot and Pineapple Fruits?
Most fruits and vegetables are easy to classify, however, some are more challenging in terms of where they should be placed. 
Botanically speaking, a fruit is the mature ovary of a plant, that has usually developed from a flower. A vegetable, on the other hand, is a plant or part of a plant that is edible.
Accordingly, carrots are a vegetable and pineapples are a fruit.
For more orange juice ideas, have a look at our healthy orange juice roundup.
Benefits of Carrot Orange Pineapple Juice
Carrots are an excellent source of vitamin A, fiber, and antioxidants, which can provide you with some impressive health benefits:
Strengthens eyesight: carrot is high in beta-carotene which is converted into vitamin A through the digestive process. A high amount of lutein and vitamin A helps to protect the surface of your eyes and contributes to good vision.
Boosts immunity: carotenoid— an antioxidant that gives carrots their orange color, builds up your immune system by defending it from viruses and destructive bacteria. Other antioxidants like alpha-carotene and anthocyanins help reduce your chances of getting minor ailments, and even serious illnesses like cancer.
Improves skin health: antioxidants in carrots may help prevent lines and wrinkles. The vitamin C in carrots also helps to aid the production of collagen which protects the skin from aging and makes it glow.
We have another healthy drink with carrot and apple juice benefits and one with beets to make a drink to help you detoxify. They are both just as easy and palatable, and most importantly, just as healthy.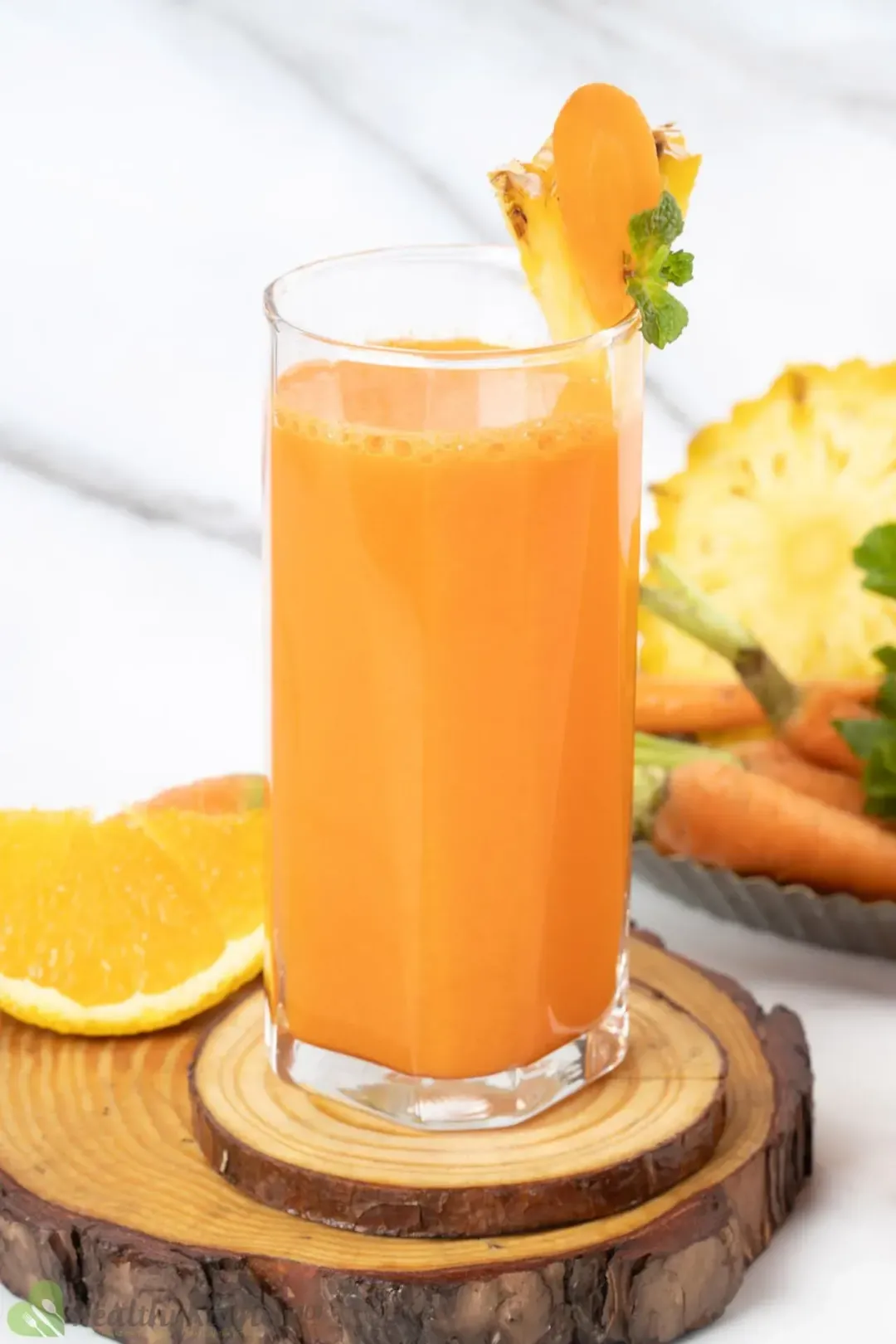 1. Is It OK to Drink Carrot Orange Pineapple Juice Everyday?
Juice is sometimes viewed as an unhealthy drink because it can contain high amounts of sugar. However, one serving of our carrot orange pineapple juice has only about 3 grams of added sugar (¼ tablespoon) which is relatively low when you consider the limit of 48 grams of recommended added sugar daily.
This juice also has the same nutritional value of whole fruits, sans the fibers. For those who find it hard to consume enough fruits and vegetables each day, drinking juice can provide a healthy dose of vitamins and other micronutrients.
As long as you keep an eye on the amount of added sugar, drinking carrot orange pineapple juice everyday is a convenient way to get some essential nutrients.
2. What Is the Best Time to Drink It?
The nutrients are quickly absorbed when your stomach is empty. However, consuming juice on an empty stomach can result in high acidity and discomfort.
The best time to have this carrot orange pineapple juice is after a main meal. This way you can get all the nutrients from the drink without experiencing any harmful side effects.
Calories in Carrot Orange Pineapple Juice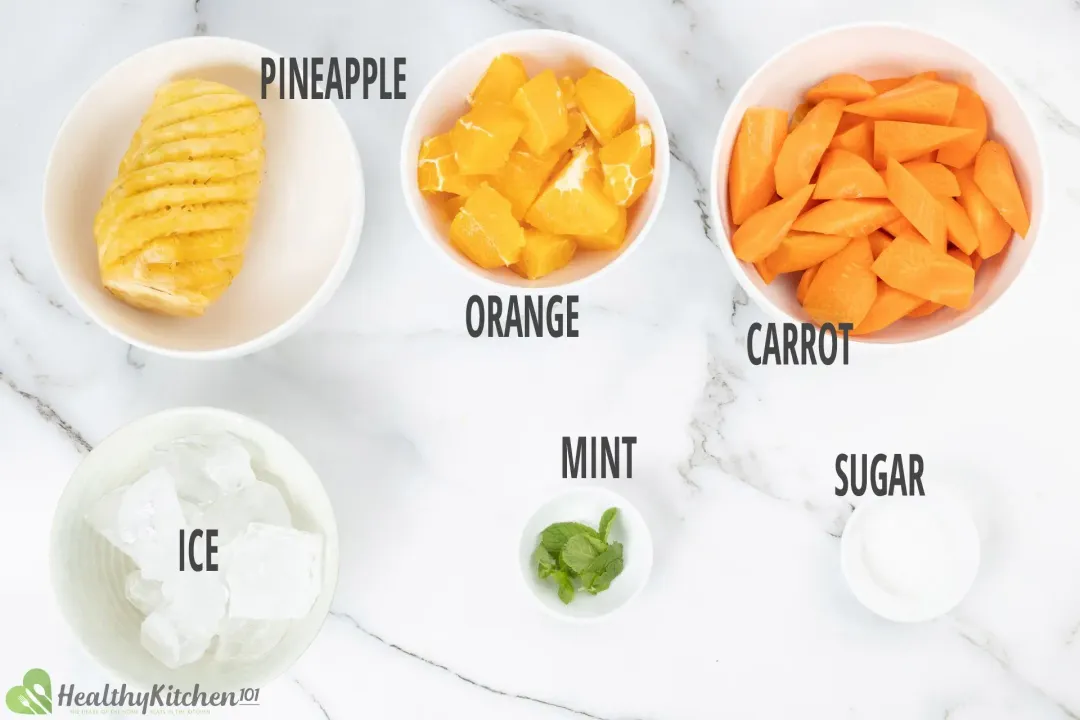 One serving of our carrot orange pineapple juice recipe yields 90 calories. Carrots, oranges, and pineapple have natural sweetness, so we only add about 3 grams of sugar per serving to help balance the flavor.
How to Make Carrot Orange Pineapple Juice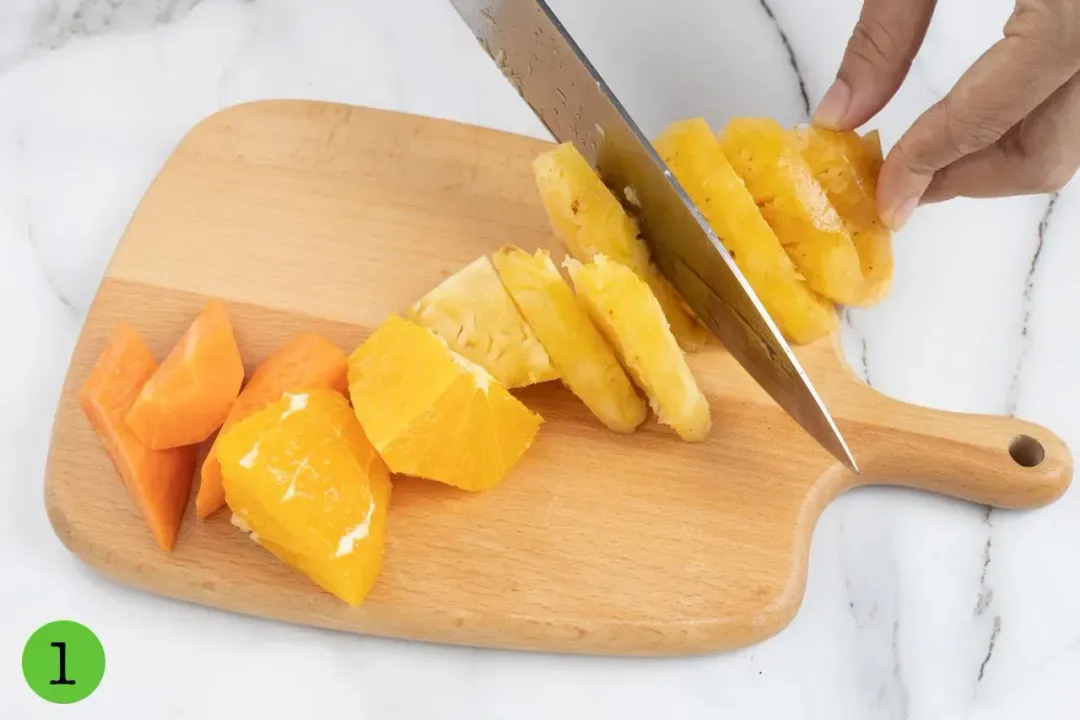 Prep the fruits: Wash all the fruits and vegetables. Cut them into small pieces if necessary to fit the juicer chute.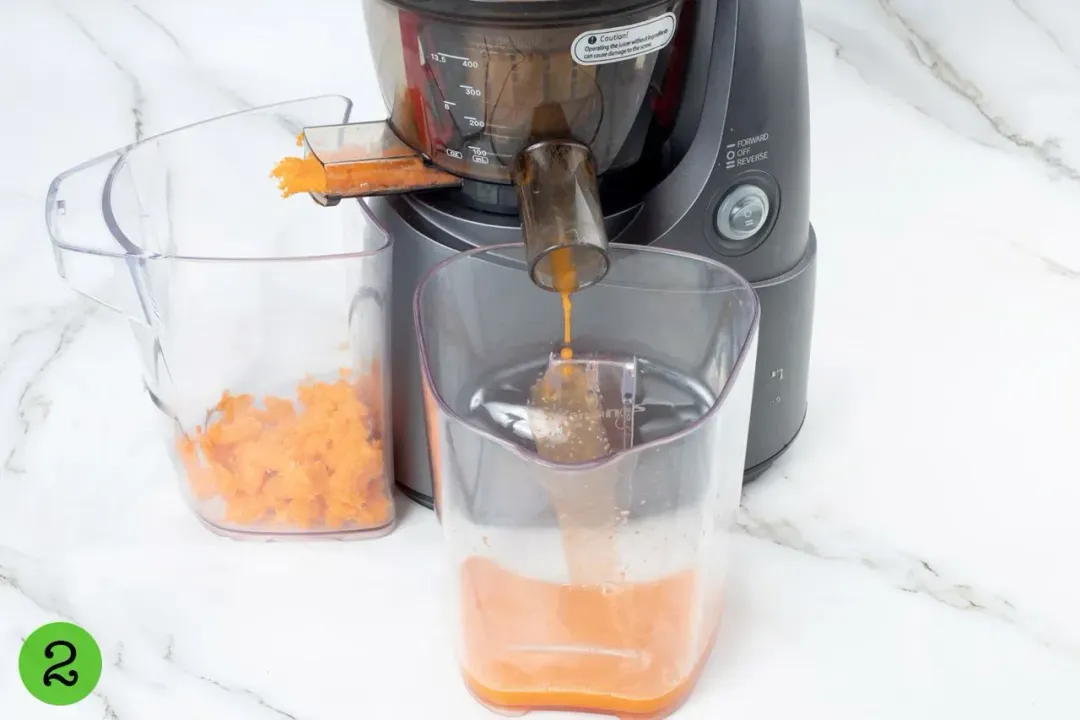 Juice the fruits: Feed all the produce through a juicer.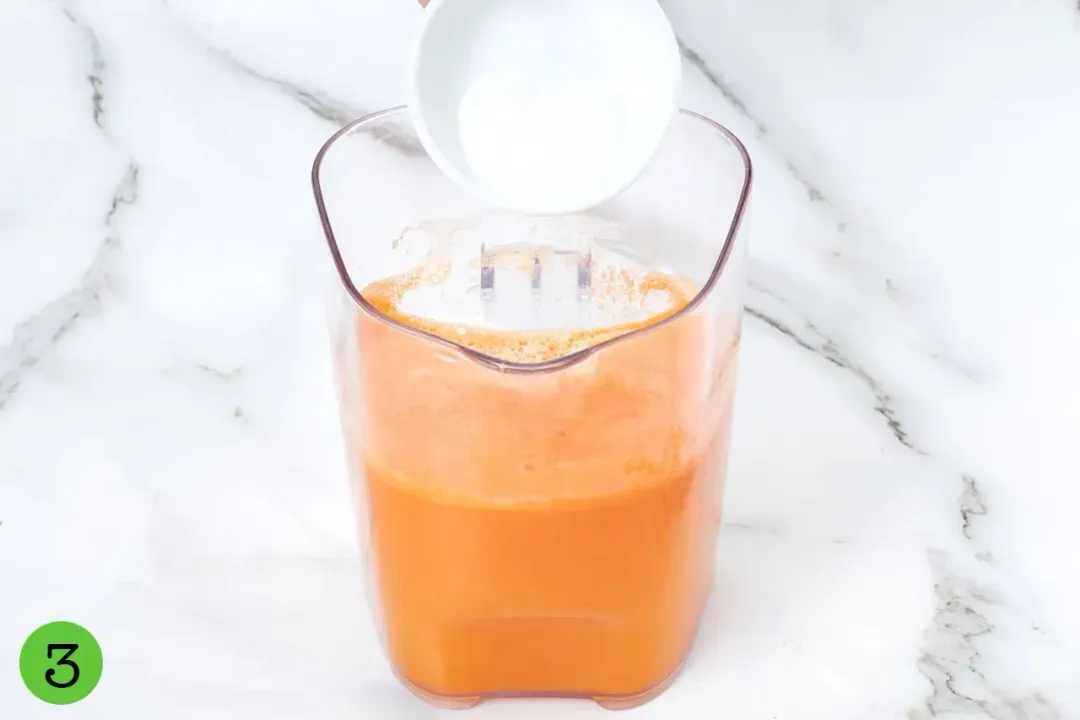 Add sugar: Pour into a pitcher and add sugar. Stir until the sugar has dissolved.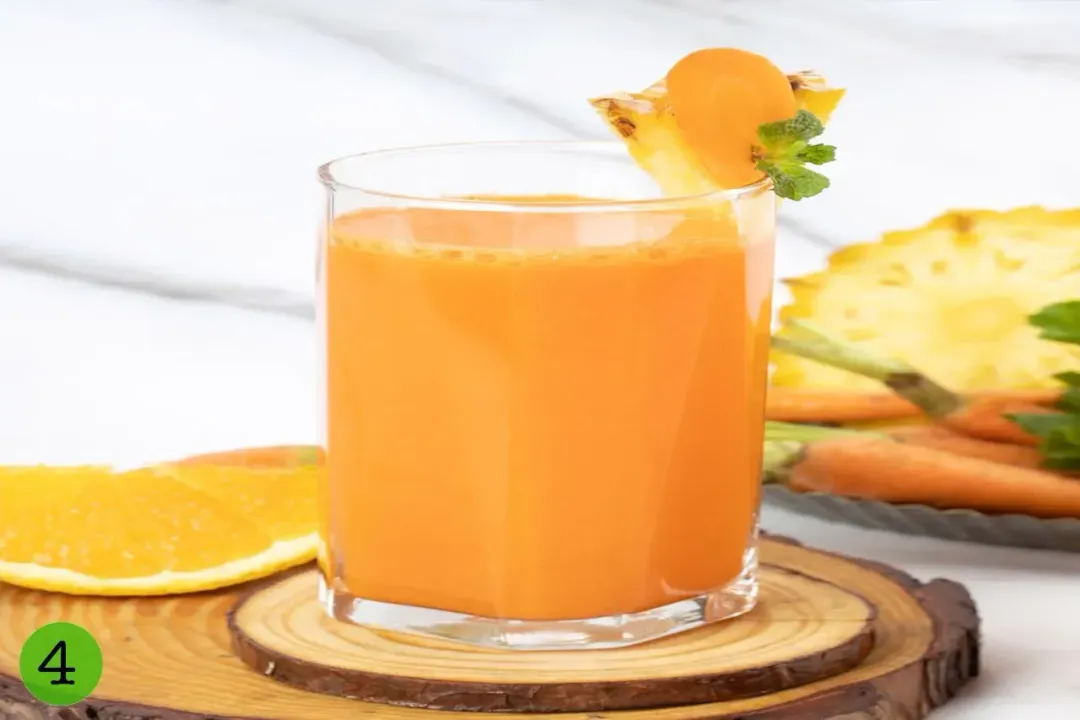 Garnish and serve: Serve over ice and garnish with mint leaves.
Should You Peel Carrots Before Juicing?
Unpeeled carrots have an earthier and slightly bitter taste in comparison to their peeled counterparts. We suggest peeling carrots before juicing them so you can better enjoy the natural sweetness of this root vegetable.
For more easy and nutritious pineapple drinks, take a look at our healthy pineapple juice roundup.
Adding Other Ingredients To Your Carrot Juice
Plain carrot juice can be boring sometimes, that's why we paired ours with other healthy produce. You can add additional ingredients to make yours more flavorful. 
This carrot orange pineapple juice recipe is so versatile and forgiving, it pairs well with just about anything. Have fun experimenting with your favorite fruits and veggies! Here are some of ours:
Orange: a little bit of natural sugar from orange helps to create a delightful flavor combination with the carrot. 
Pineapple: fresh pineapple adds a nice touch of acidity to keep your juice from becoming overly sweet. 
Ginger: fresh ginger adds spicy, warm notes. This is especially perfect for winter when our bodies need an extra boost in the morning.
Tomato: We tried adding fresh tomato and loved it. Its refreshing acidity pairs so well with carrot's earthiness that it may just end up being your absolute favorite juice.
Chia seeds: adding chia seeds to your juice is a great way to improve the fiber content which is lost during the juicing process.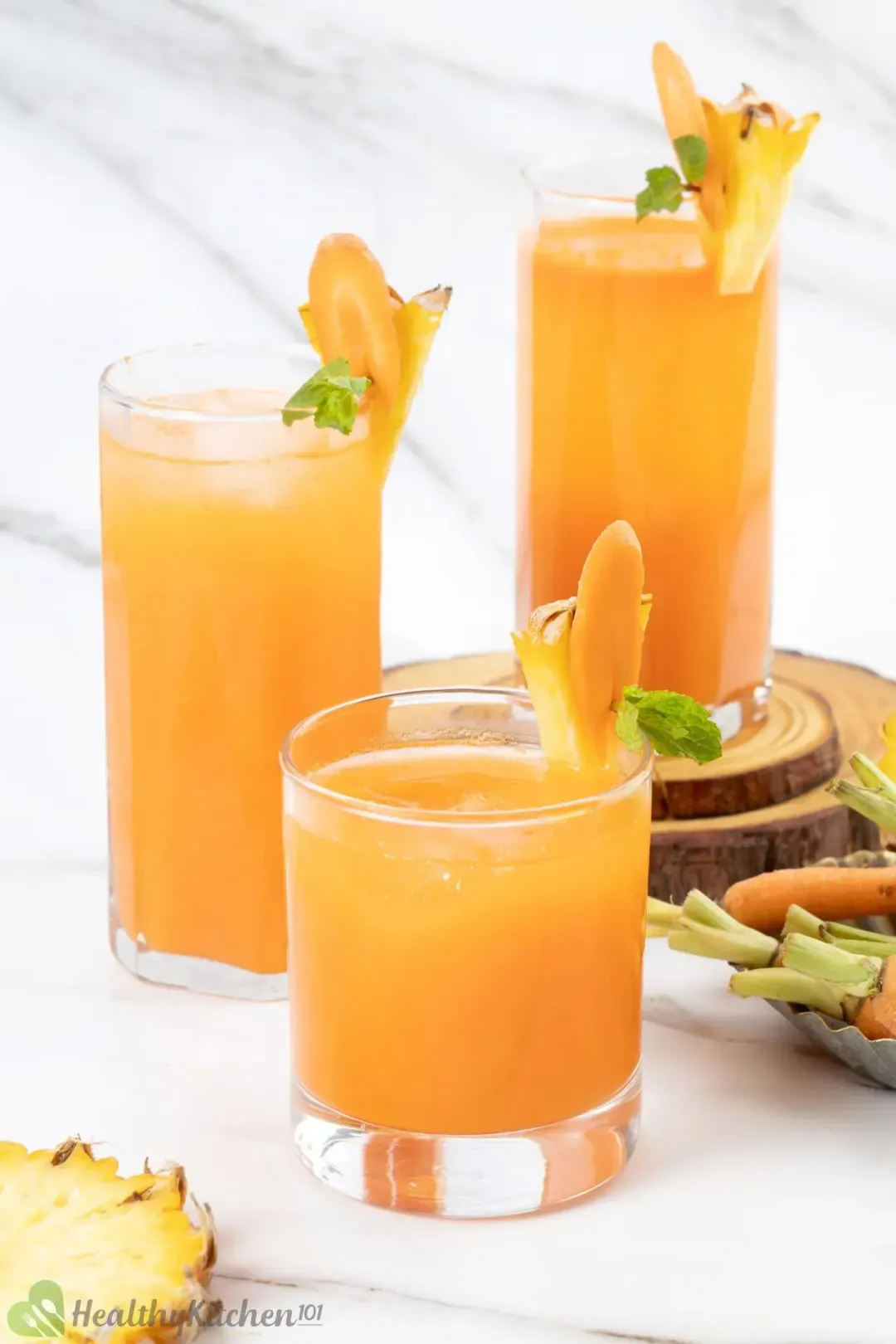 How Long Does Carrot Orange Pineapple Juice Last?
In most cases, homemade juice can last from 1 day to 6 months depending on the way you preserve it.
Since the natural oxidation process happens more quickly at room temperature, the carrot orange pineapple juice should be consumed within the first 24 hours. 
To lengthen the shelf life of your juice, you can bottle it up and keep it in the refrigerator. Your juice can last for up to 3 days.
Another way to keep your juice longer is to freeze it. This method helps your drink last for up to 6 months. However, remember that the freezing and thawing process might reduce the quality of the juice.
For more juice recipes with carrots, please visit our diverse list of juicing recipes using carrots.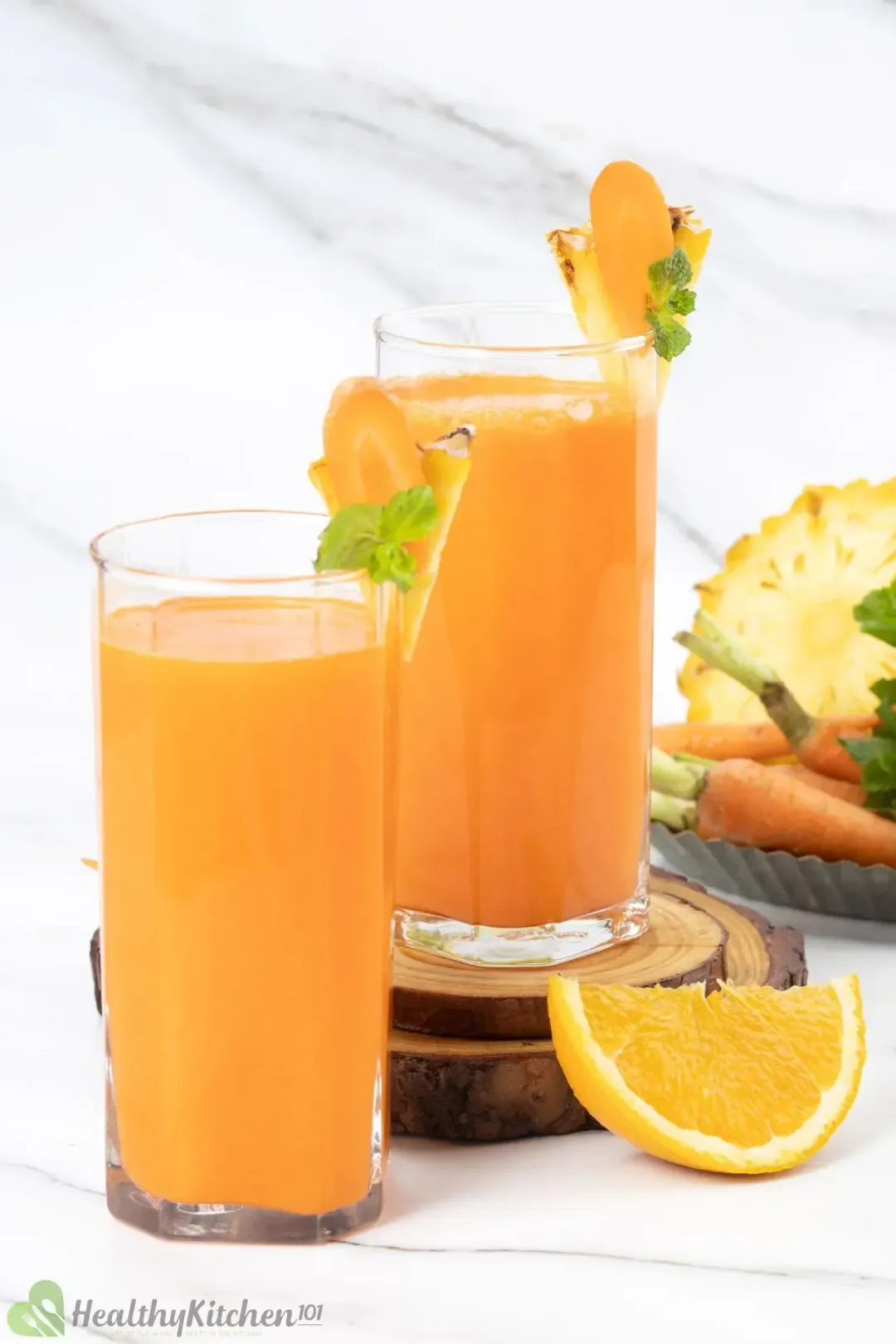 Healthy Carrot Orange Pineapple Juice
Three basic ingredients and a juicer are all that you need to make this carrot orange pineapple juice recipe. Slightly sweet and perfectly balanced, carrot orange pineapple juice gives you an antioxidant boost and a decent kick start for the day.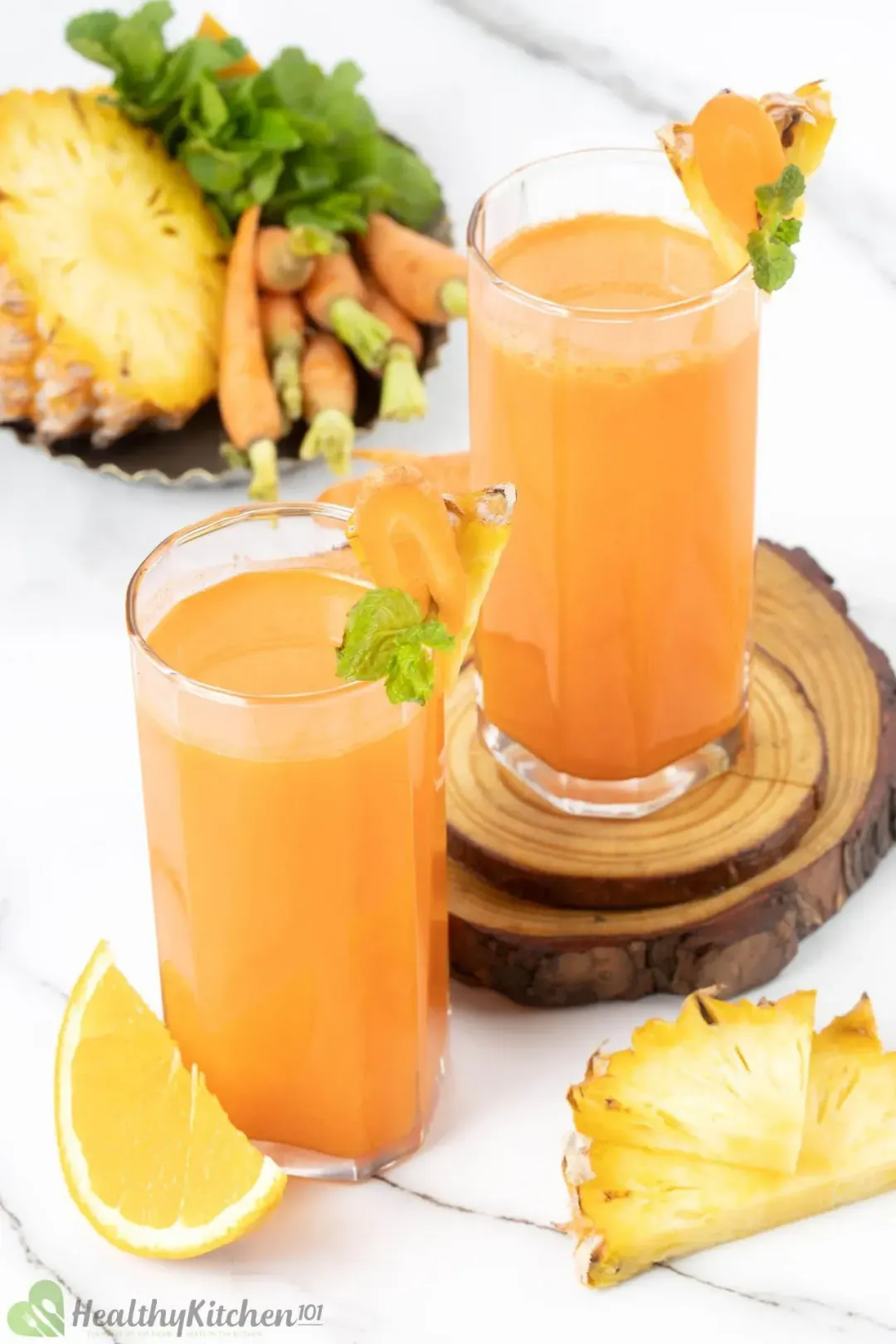 prep TIME

15 mins

total TIME

15 mins
COURSE

Beverage

CUISINE

American

SERVINGS

CALORIES

90 kcal
INGREDIENTS
8 fl oz

carrot juice

(16 oz carrot)

10 fl oz

navel orange juice

(12 oz orange)

6 fl oz

pineapple juice

(8 oz pineapple)
INSTRUCTIONS
1
Wash all the fruits and vegetables. Cut them into small pieces if necessary to fit the juicer chute.
2
Feed all the produce through a juicer: 16 oz carrot, 12 oz orange, 8 oz pineapple.
3
Pour into a pitcher and add sugar. Stir until the 1 tbsp sugar dissolves.
4
Serve over ice and top with mint leaves.
Notes:
To maximize the nutrients in the carrot orange pineapple juice, it's always recommended to drink it immediately after juicing.
If you don't have a juicer, use a blender and a sieve. They will work the same as an expensive juicer.
NUTRITION
Nutrition Facts
Healthy Carrot Orange Pineapple Juice
Amount Per Serving (1 serving)
Calories 90
% Daily Value*
* Percent Daily Values are based on a 2000 calorie diet.
Keywords: Carrot Orange Pineapple, Carrot Orange Pineapple Juice, How To Make Carrot Orange Pineapple Juice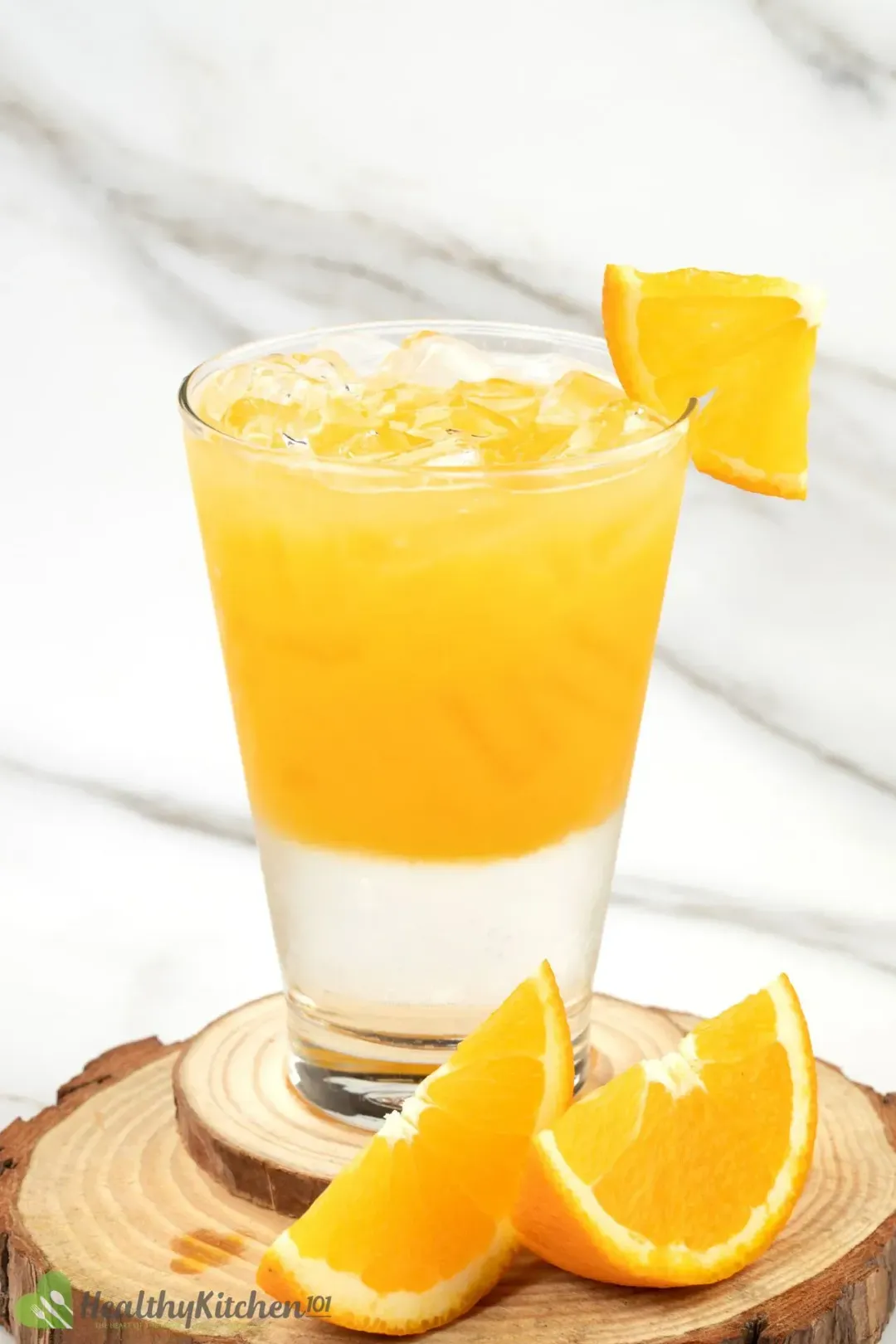 Previous Recipe
Vodka and Orange Juice (Screwdriver)
Vodka and Orange Juice (Screwdriver)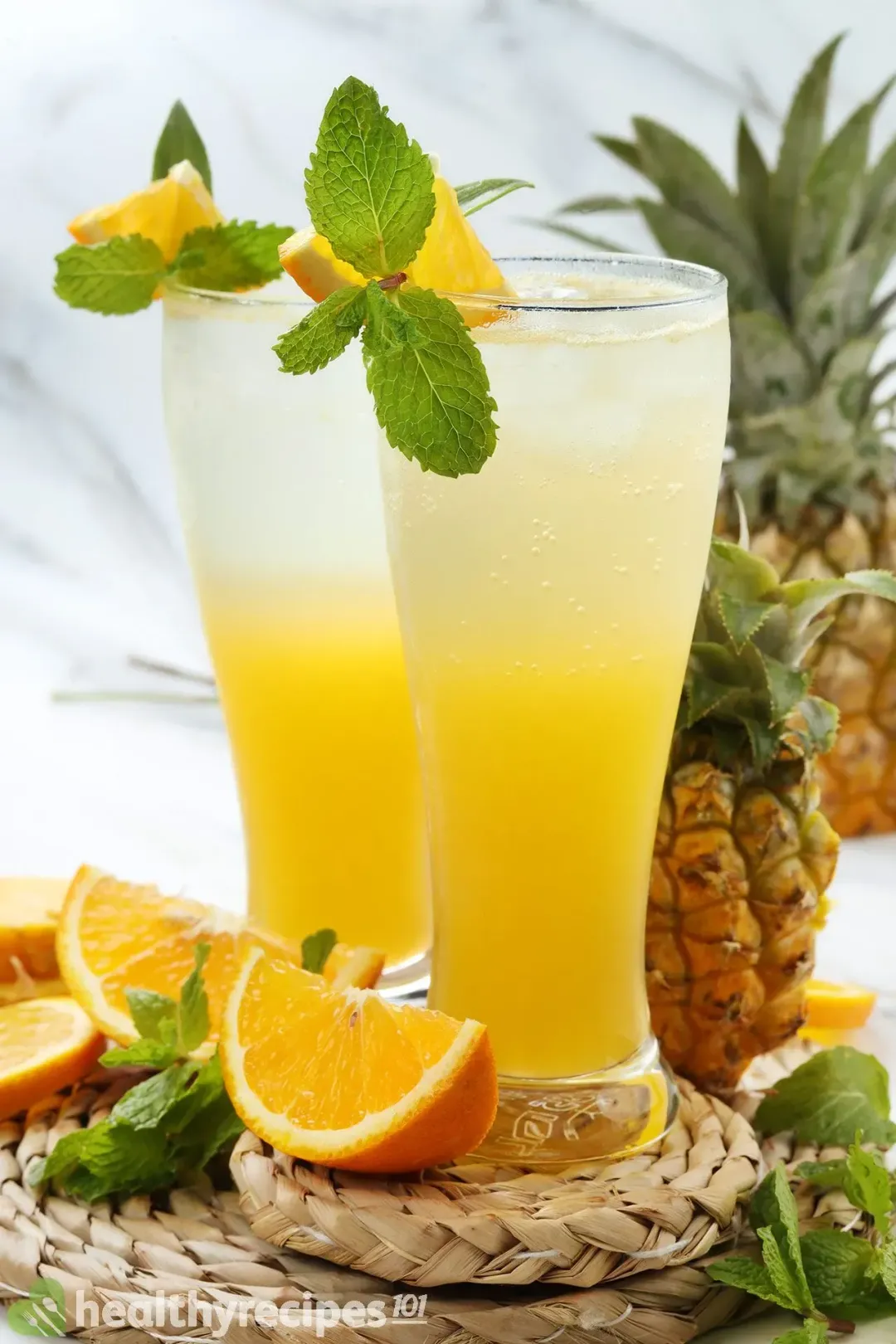 Next Recipe
Rum and Orange Juice
Rum and Orange Juice
Head Chef, Culinary Consultant
Tuyet Pham is an award-winning Saigonese chef who believes that joy is the secret ingredient to delicious food. At Healthy Recipes 101, Tuyet personally tests and simplifies every recipe, ensuring maximum flavor with minimal effort. With a background at prestigious French restaurants P'TI Saigon and Le Corto, Tuyet knows how to make every dish exceptional.
Writer, Author
Luna Regina is an accomplished writer and author who dedicates her career to empowering home cooks and making cooking effortless for everyone. She is the founder of HealthyKitchen101.com and HealthyRecipes101.com, where she works with her team to develop easy, nutritious recipes and help aspiring cooks choose the right kitchen appliances.
Nutrition Reviewer
Lizzie Streit is a Minneapolis-based dietitian and founder of It's a Veg World After All. She completed her MS in Human Nutrition from Drexel University, and is an expert in culinary nutrition, recipe development, and nutrition communications. Lizzie's philosophy is centered around making nutrition recommendations, and especially the advice to eat more vegetables, approachable and realistic. She is excited to be working with the team at Healthy Recipes 101 to ensure that their recipes are both nutritious and delicious.
Made this using the ingredients above, but omitted the sugar. The juice is sweet and delicious without it!

That's wonderful to hear, Gloria! I agree, it also tends to cure my sweet tooth at times without the sugar.