Don't overlook the health benefits of adding a carrot apple juice recipe to your diet; you'll soon discover why this delicious and simple juice recipe packs a nutritious punch! A single serving of this drink could fulfill 50% of your nutritional requirements for the day, all by breakfast.
Read on to learn about carrot and apple juice, the health benefits, and how to easily prepare your own drink.
Is Carrot a Fruit?
Carrots are not fruit, neither in scientific or culinary terms.
Under the scientific definition, a fruit is the seed-bearing product of a flowering plant. For instance, apples and tomatoes emerge from a plant and contain seeds, which makes them fruits.
In culinary terms, a fruit is high in fructose; making sweet produce like mango and oranges unmistakably fruits. But by the scientific/botanical definition, this rules out carrots, as they are low-fructose and generally served as a savory dish.
Because they're neither seed-bearing nor sweet, carrots are grouped as vegetables.
Vegetables are generally considered to be the remaining parts of a plant. This includes the roots, stems, and leaves; all non-seed-bearing parts.  This definition then includes the carrot root.
Benefits of Carrot Apple Juice
We love this drink not only for its pleasant taste but its salubrity as well. Below are some advantages of incorporating carrots into your diet.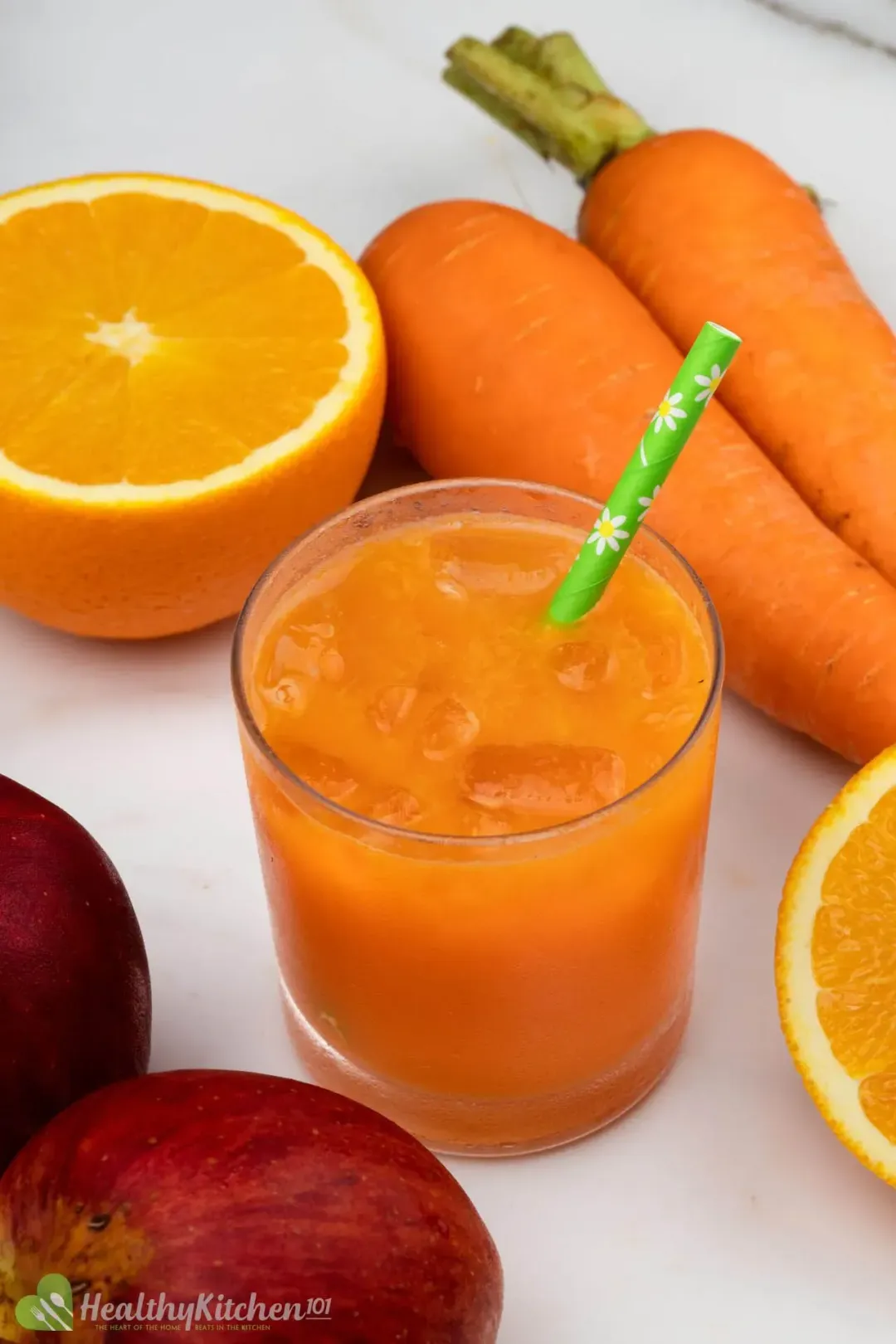 1. Heart Health
Apple juice is replete with antioxidants such as polyphenols. Drinking it may nurture your heart health and lower the risk of Alzheimer's disease.
Carrot juice also contains potassium, which has been shown to combat high blood pressure and increase antioxidant capacity. Though not guaranteed, consuming it may also help reduce the risk of heart disease.
2. Eye-Health
We can't discuss carrots without mentioning eye health. Carrot juice contains beta carotene, a type of vitamin A which helps ward off disorders like cataracts and blindness.
So you'd have to drink it to see the benefits! (Get it?)
Those are only some of the perks of consuming carrots and apples in your diet; discover our best carrot juice recipes or apple juice roundup and learn plenty more.
3. Anti-Inflammatory/Antioxidant
Ginger, in this carrot-apple juice recipe, has both anti-inflammatory and antioxidant properties. These may prevent chronic kidney diseases such as uremia and help prevent symptoms of allergic diseases such as hay fever.
Orange juice also packs plenty of vitamin C. An 8-ounce serving provides over half of the adult Reference Daily Intake (RDI).
Regularly drinking it may contribute to improved gum and bone health— but don't neglect your practitioner and entirely rely on it. We believe carrot apple juice can enhance your lifestyle but may not address underlying health issues, so always check with your doctor first.
Now that you know the health benefits of this drink let's get started on preparing this simple and delicious recipe.
How to Make Carrot Apple Juice
We love this carrot apple juice recipe for its minimal ingredients which celebrate natural fruit and vegetable flavors. You'll only need five ingredients: carrots, apples, oranges, ginger, ice.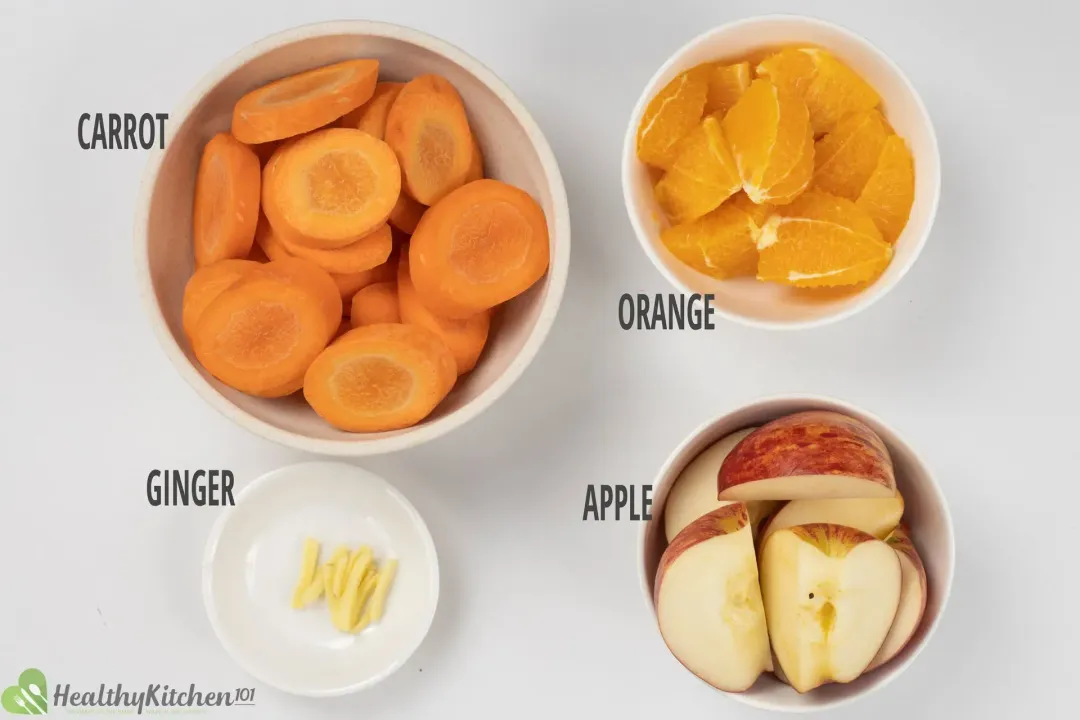 No sugar and no additives. This drink could not get any simpler, especially if you are balancing a busy and healthy lifestyle.
Start with healthy, fresh produce; we like to ensure a refreshing drink by using the best ingredients.
Then peel the carrot, apple, orange, and ginger and cut them into appropriate pieces for a juicer. (Depending on your juicer, you may not have to peel any of these ingredients.)
Use one large pitcher as you run all ingredients through the juicer chute and collect it in a pitcher. Then stir it to combine.
Fill your glasses with ice and pour in the mixture before serving.
We found the flavors cool and inviting with a pure essence that you'll enjoy during scorching hot days. You can add to this list another one of our favorite recipe with carrot and ginger and healthy carrot orange juice for additional summer beverages.If you are feeling adventurous, you can even replace the orange with tomato for an equally delicious and refreshing juice.
How to Juice Apples and Carrots
Start by washing carrots and apples. Then remove the ends of the carrot before cutting.
Don't worry much about the apple seeds; leaving them in is fine. Our other recipes still achieve a fresh and sweet drink even with the apple core.
Then slice the carrots cross-wise into round pieces, and cut apples into wedges. Finish by running them through a juicer and collecting the liquid in a pitcher.
What Is the Best Time to Drink Carrot Apple Juice?
Our carrot apple juice can improve the quality of your diet immensely, especially when coupled with other meals. So you can drink it along with a main dish or on its own, to help fulfill your nutrient RDIs.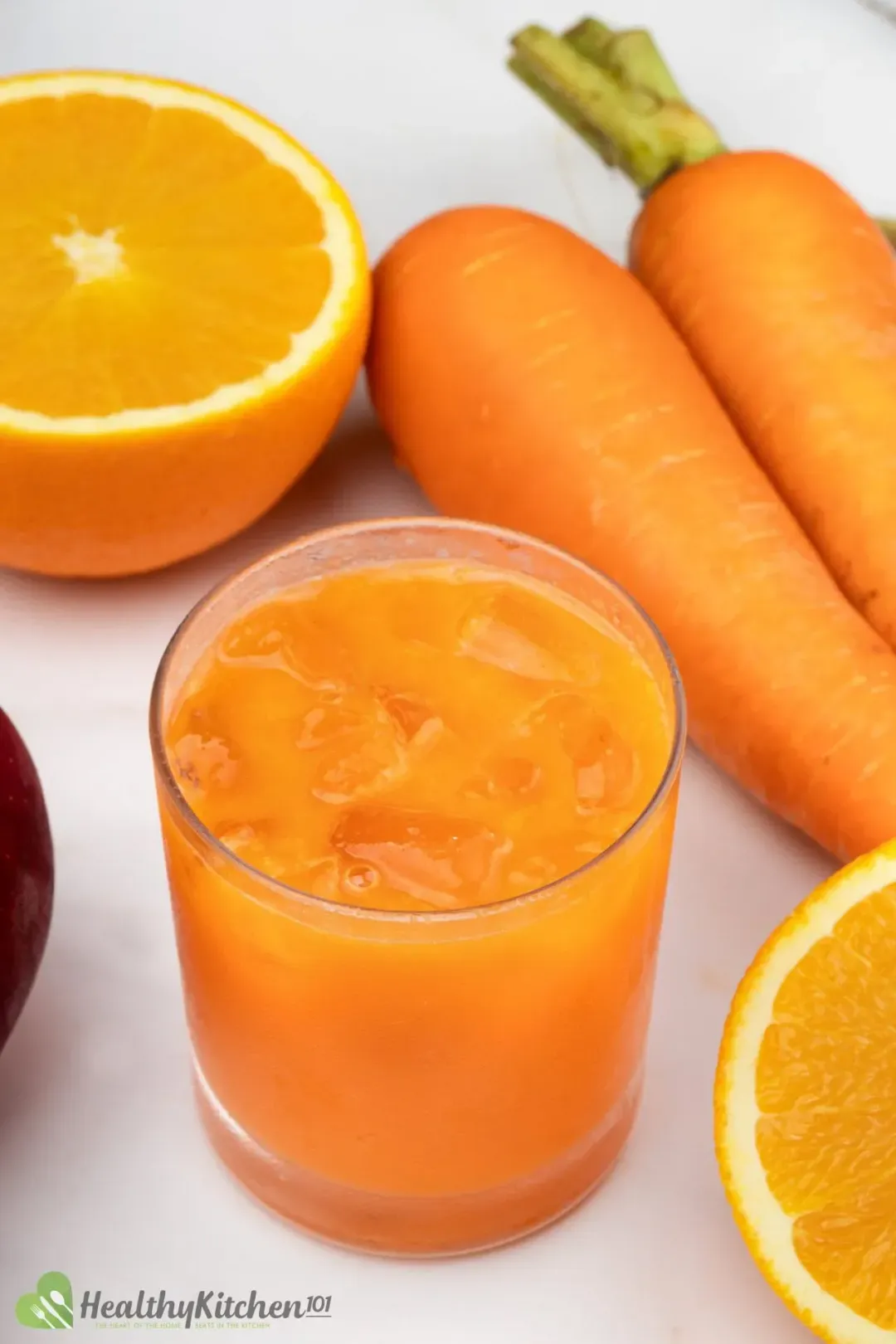 Breakfasts will taste better with this sweet accessory, and its five-ingredient simplicity will save you much time. Many people recommend having the juice first thing in the morning so that your body more effectively absorbs the nutrients on an empty stomach.
We only advise that you pair the juice with some fiber to lower the risk of your blood sugar spiking.
Fruit juices are a light-calorie treat, but their lack of fiber poses the risk of piling "empty" calories into your diet. And when it sits enticingly in your refrigerator waiting to be gulped down, you may drink more than planned; so be diligent!
View our healthy juice recipes for more tasty drinks.
How Long Does Carrot Apple Juice Last?
Our carrot apple juice can last for two days in the refrigerator. However, it's best enjoyed within two hours after preparing, while the flavors are still fresh.
We suggest you keep it at room temperature no longer than this. When storing, transfer it into a mason jar or any airtight container that will limit air exposure.
You can also make this recipe for storing in batches using Ziploc bags. Pour a serving into each bag and keep them in the freezer for up to 3 months.
This way, you can defrost one serving before use and avoid remaking the drinks.
Try to include another easy carrot orange pineapple juice to add variety and exotic flavors to your batch.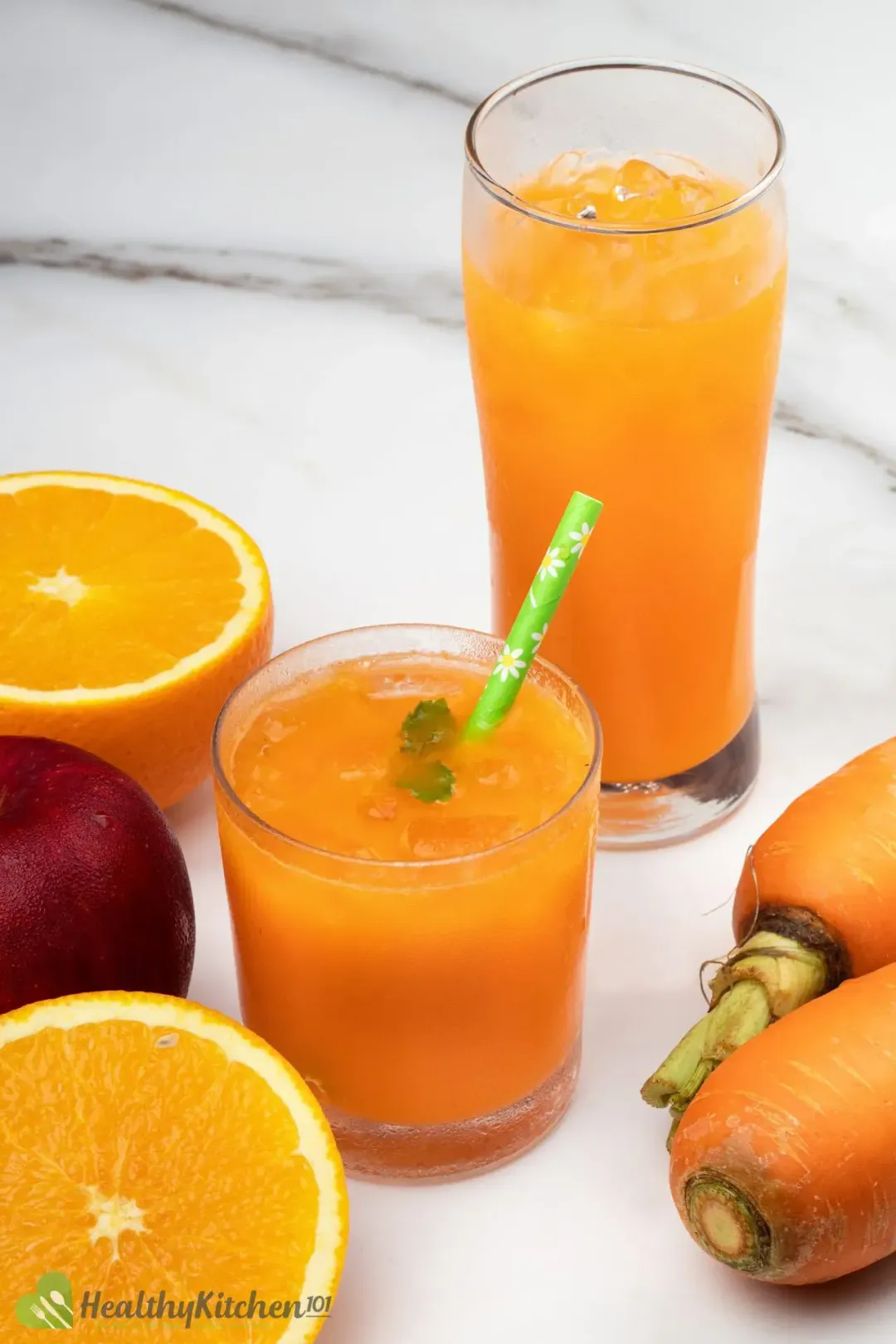 Carrot Apple Juice
This carrot apple juice recipe is a refreshing drink suitable for kids and adults. Serve it cold for a satisfying, healthy treat.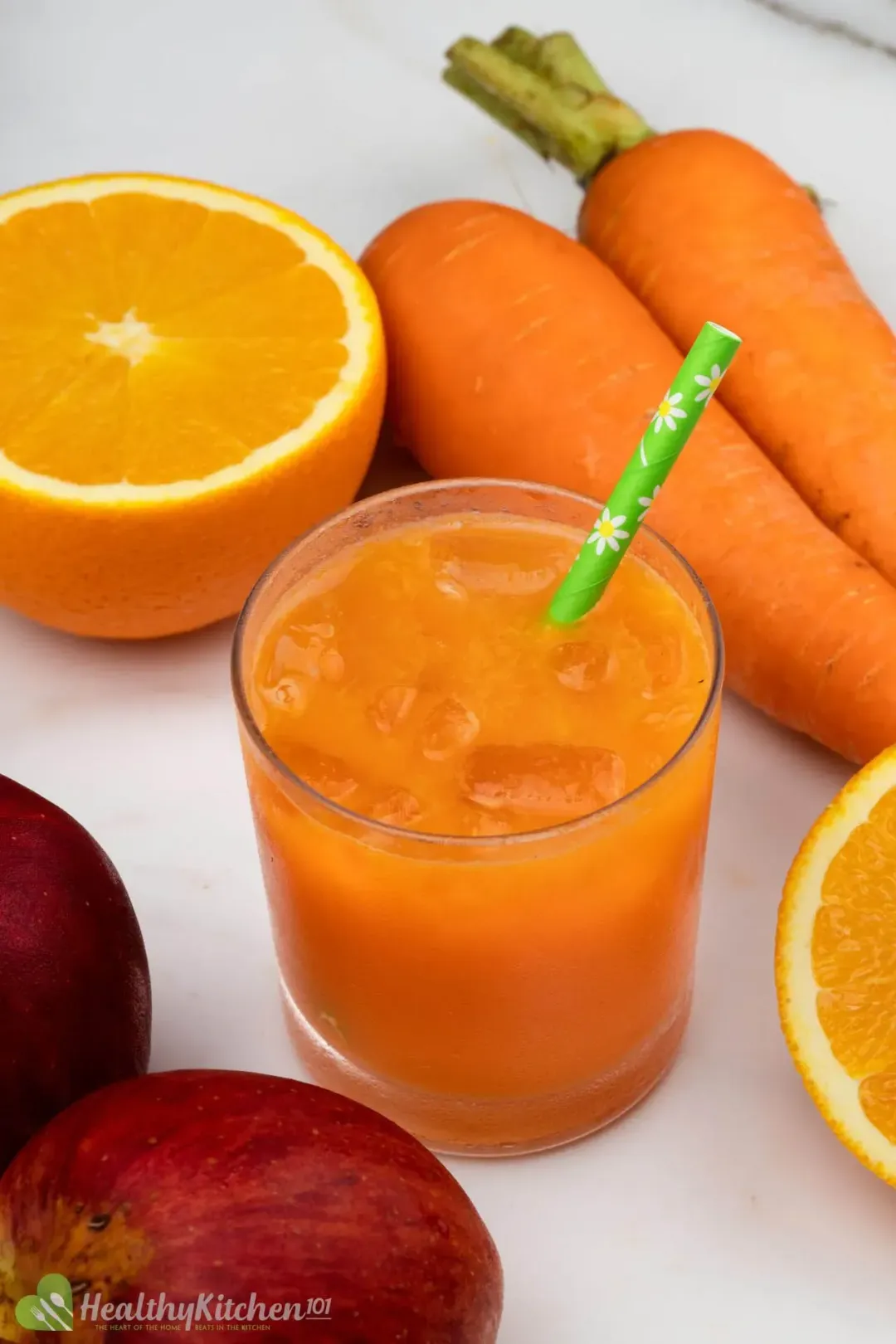 prep TIME

10 mins

total TIME

10 mins
COURSE

Beverages

CUISINE

American

SERVINGS

CALORIES

106 kcal
INGREDIENTS
12 fl oz

carrot juice

(from 26 oz carrots)

12 fl oz

apple juice

(from 16 oz apples)

8 fl oz

orange juice

(from 14 oz oranges)
INSTRUCTIONS
1
Wash all ingredients thoroughly. Peel carrots, oranges, and ginger.
2
Remove ends and slice carrots into circles. Cut apples into wedges and oranges into quarters. Remove seeds (optional).
3
Switch on the juicer and pass all ingredients through the feed chute.
4
Once all the juice is collected, stir it to mix, add 1/2 a cup of ice to each glass and pour in the fruit and vegetable juice.
NUTRITION
Nutrition Facts
Carrot Apple Juice
Amount Per Serving (1 serving)
Calories 106
Calories from Fat 9
% Daily Value*
* Percent Daily Values are based on a 2000 calorie diet.
Keywords: Carrot Apple Juice Recipe, How to make Carrot Apple Juice Recipe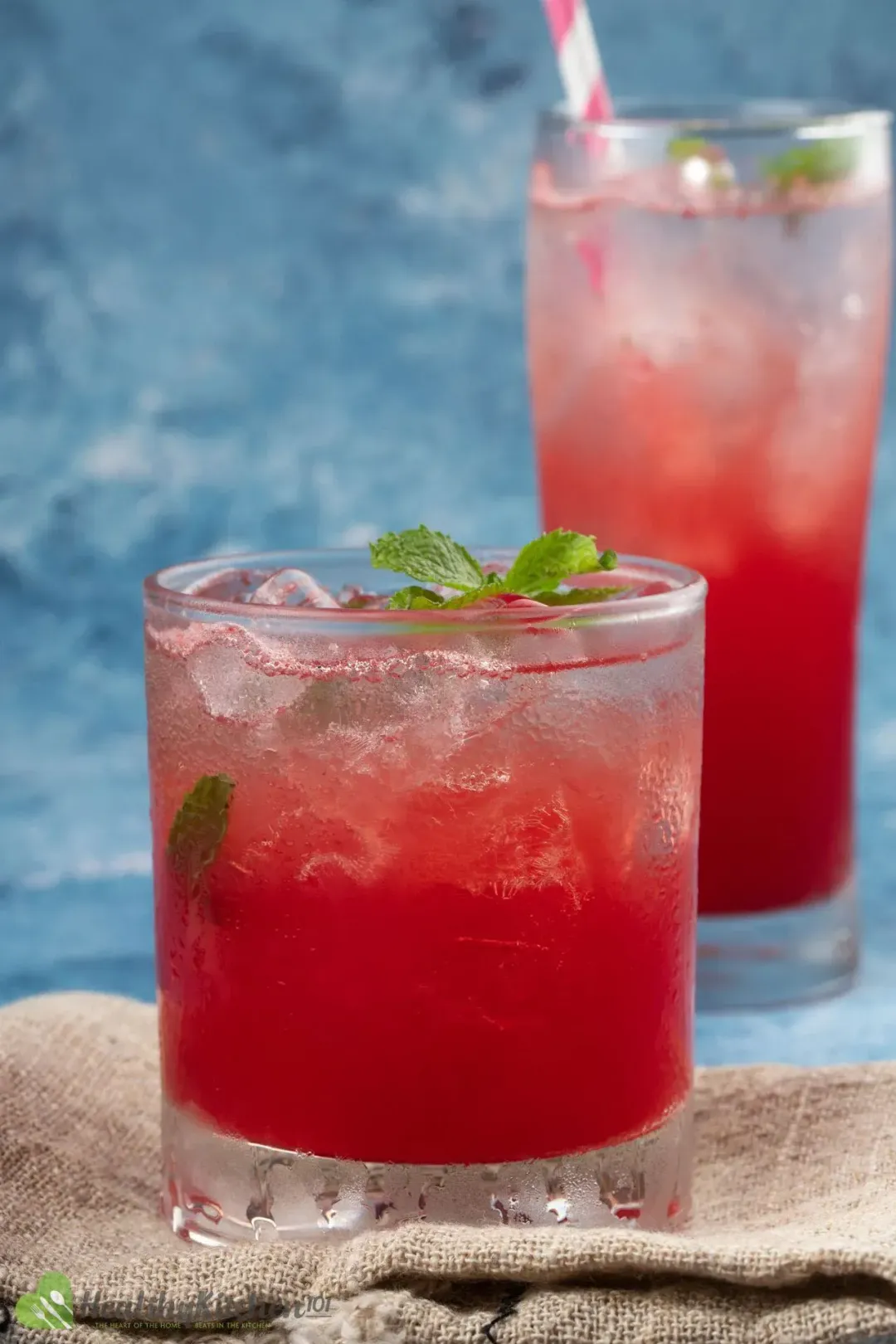 Previous Recipe
Watermelon Juice
Watermelon Juice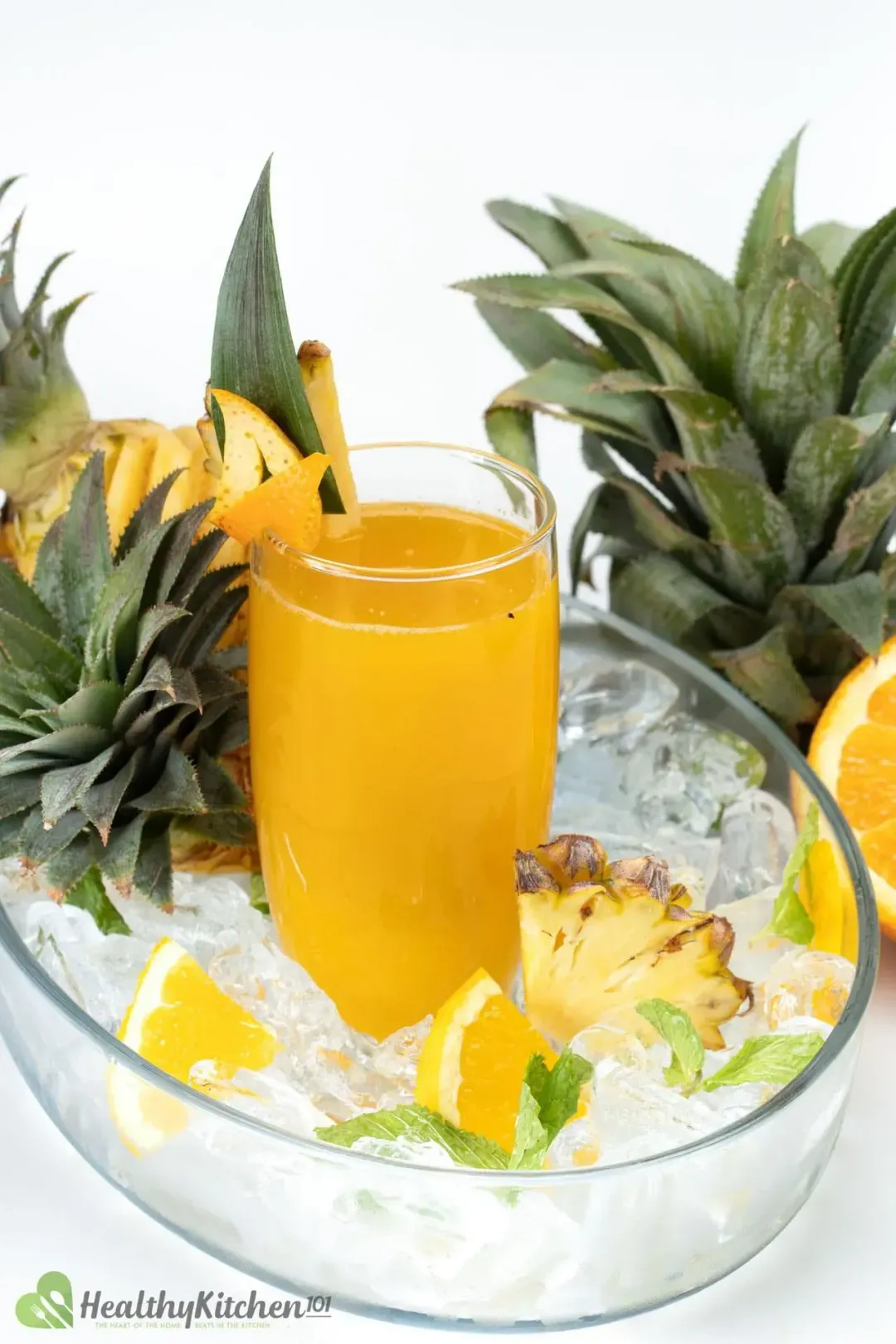 Next Recipe
Orange Pineapple Juice
Orange Pineapple Juice
Nice recipe. it tastes so refreshing.

Refreshing,i love to have it in an empty stomach.

Lovely – that's one way to enjoy it!

So glad you enjoyed it, Nalwamba!