This pineapple water recipe makes a simple, healthy, refreshing drink to keep you hydrated in the heat of summer. Let's check it out.
What Is Pineapple Water?
As the name suggests, this drink contains pineapple and water as the two main ingredients. It also contains fresh lime slices, mint, and ice to make it more refreshing and flavorful.
In other words, this drink contains nothing but water and fresh fruits. If you love fruit-infused refreshments like this, you may also enjoy these drinks: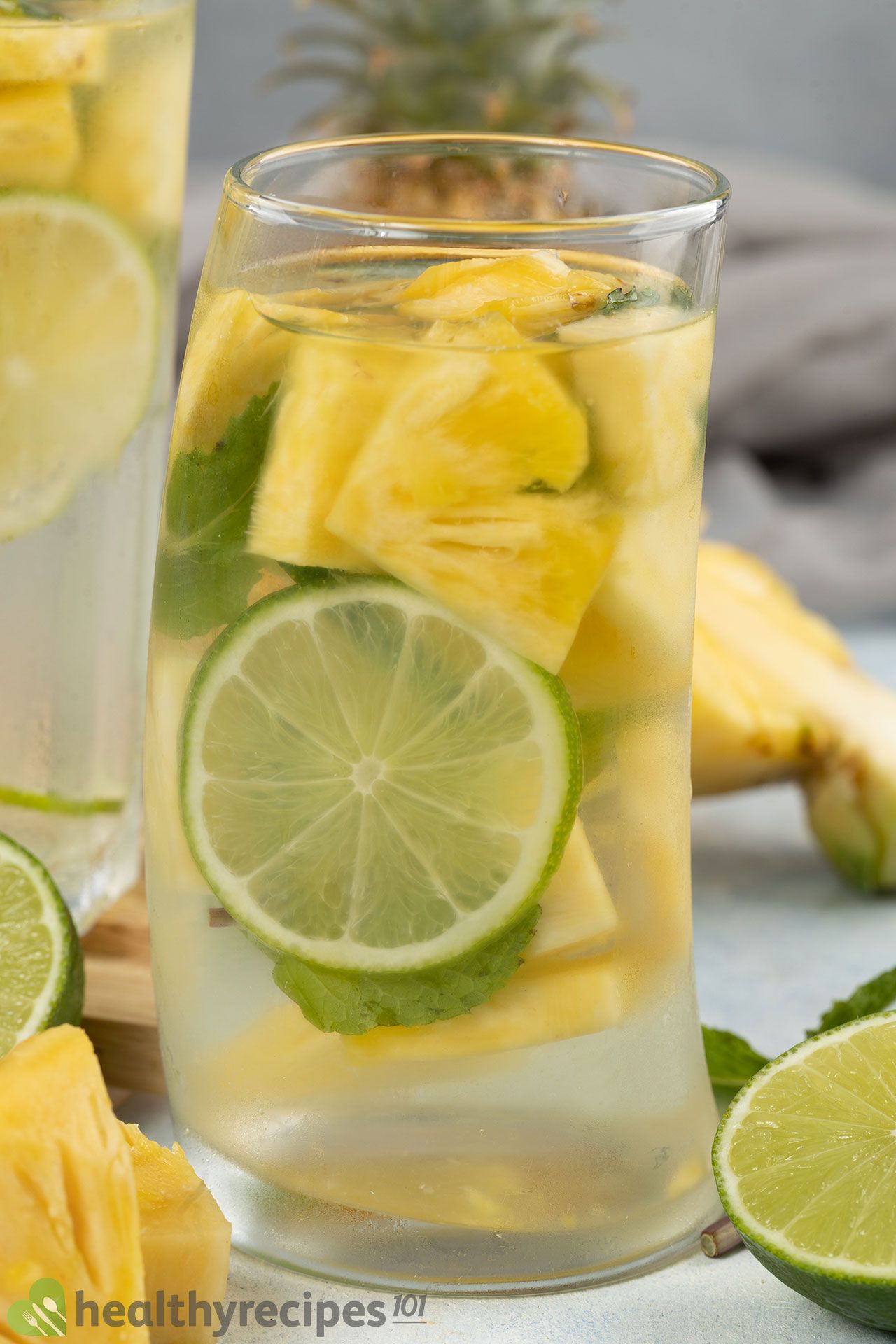 Benefits of Pineapple Water
Let's take a quick look at the nutrition facts of today's pineapple water. 1 serving contains:
Calories: 31
Total fat: 0g
Saturated fat: 0g
Sodium: 13.8mg
Carbohydrates: 8.2g
Dietary fiber: 1g
Sugar: 5.7g
This makes it a healthy, low-calorie, low-carb drink with no added sugar, perfect for any healthy diet you're pursuing.
This pineapple and mint-infused beverage can also stimulate your palate, making water more pleasant to drink. It can also help ease your cravings and steer you away from those sugary, artificial flavored soft drinks.
As well as that, this drink also contains lots of minerals and micronutrients, such as vitamins C and B1. However, the amount of micronutrients per serving is fairly low so enjoy it as part of a wholesome diet.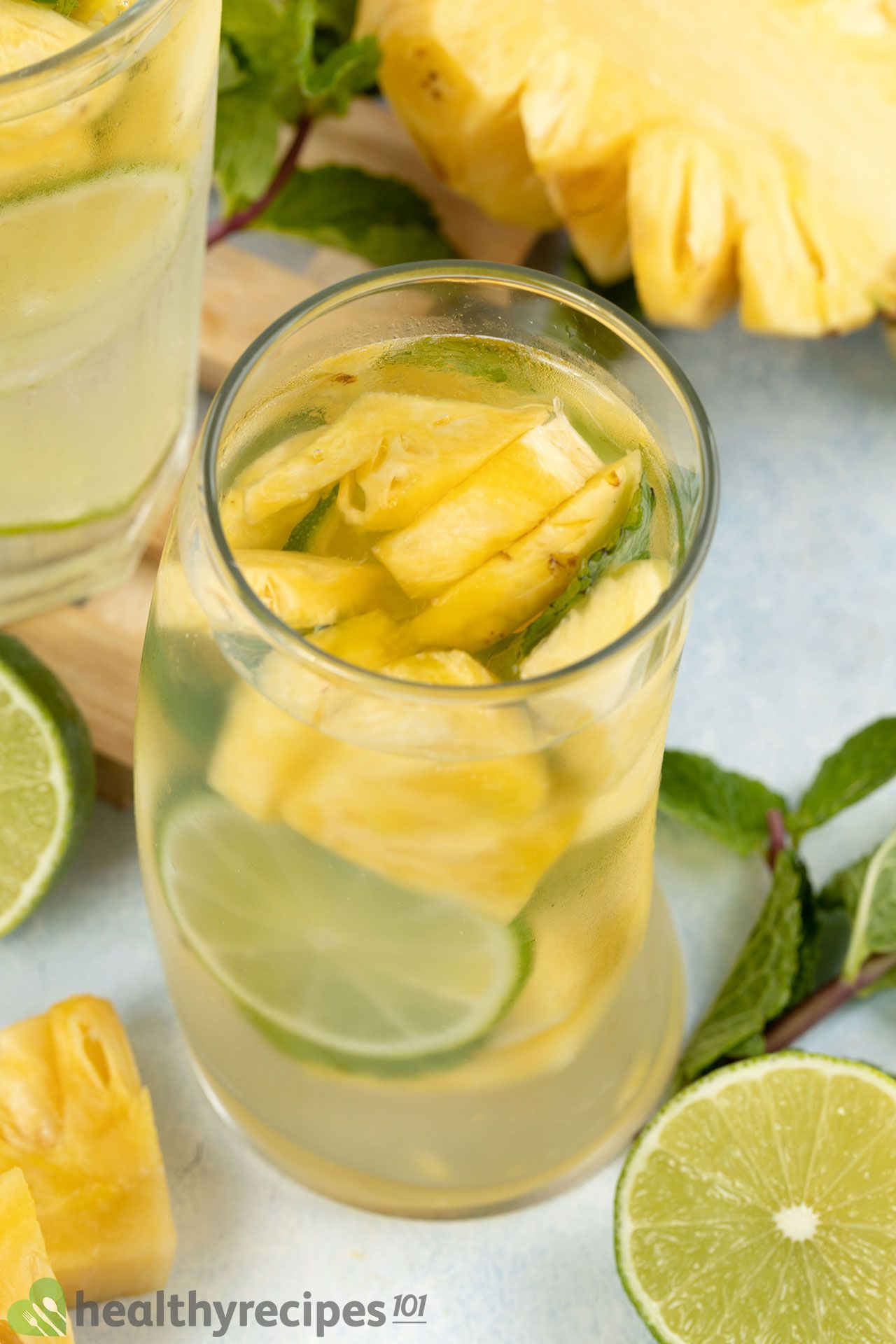 Ingredients for Pineapple Water
To make this pineapple water, you will need:
Fresh pineapple: Steer away from canned pineapple if possible as it often comes with sugary juice and contains more calories. In addition, its texture is not as firm and its flavor is not as bright.
Lime: We're adding slices of lime to our drink to make it aesthetically pleasing and give it a citrusy scent. Rather than making it sour, the lime adds a tangy quality to the refreshment.
Fresh mint: These peppery herbs add a lovely, refreshing aroma to your pineapple water.
Water and ice.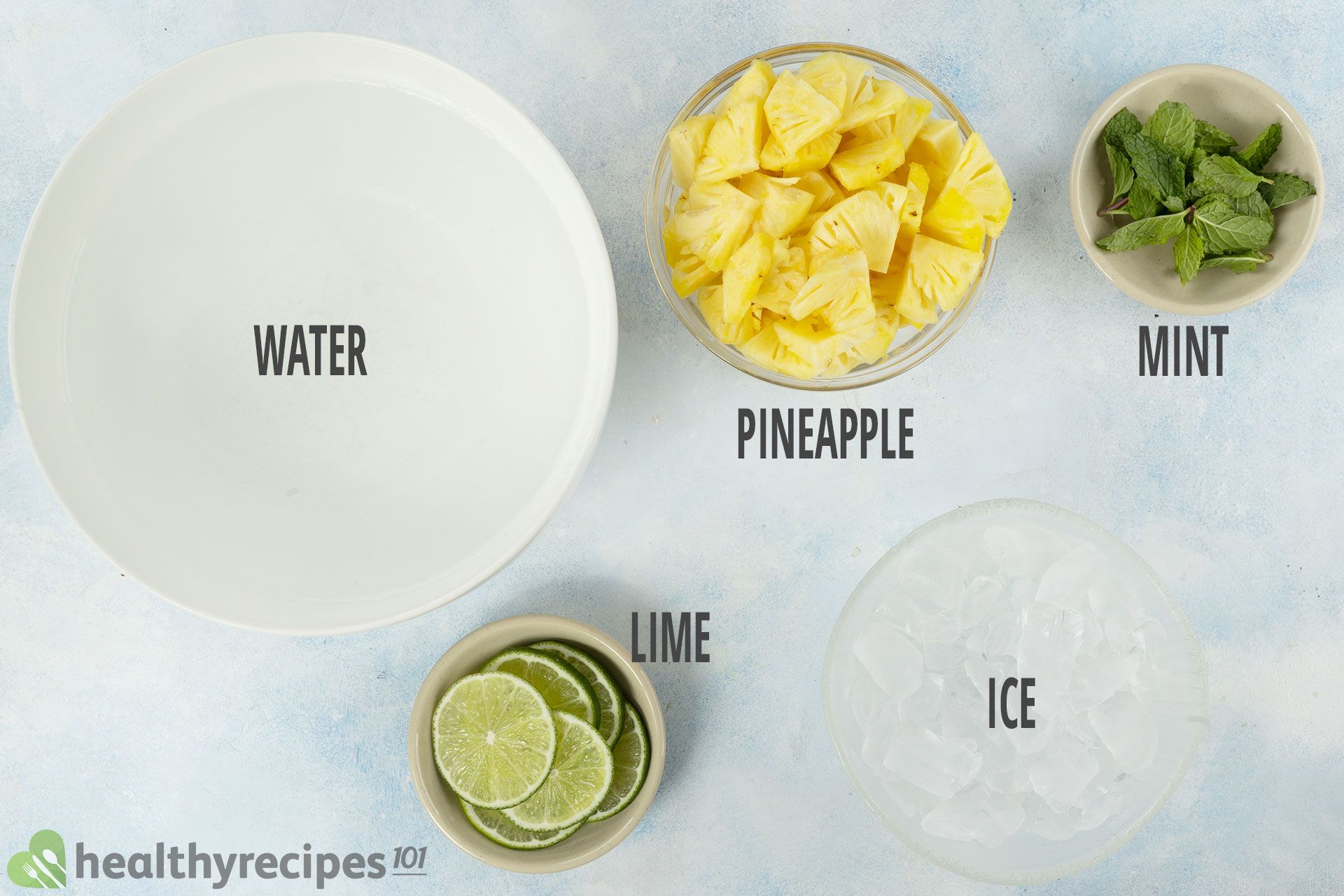 How to Make Pineapple Water
Once your ingredients are ready, you can proceed to make the drink:
Start by cutting the pineapple into small ¼-inch thick wedges and slicing the lime thinly. Add the cut fruits to a large pitcher and top it off with water and voilà — fresh pineapple water.
You can put the pitcher into the fridge to chill for a few hours, or serve immediately with ice.
Here's a summary of our pineapple water recipe: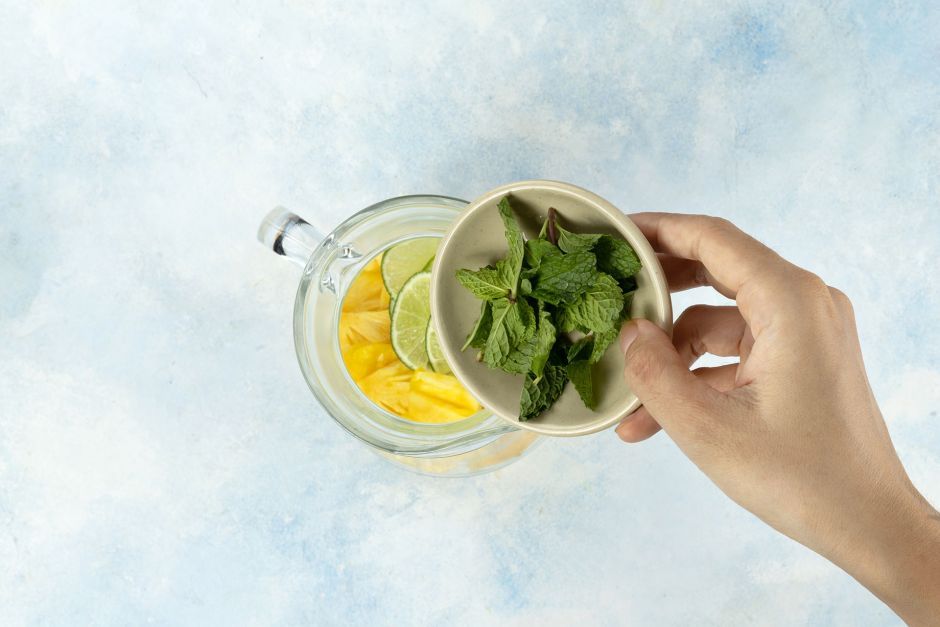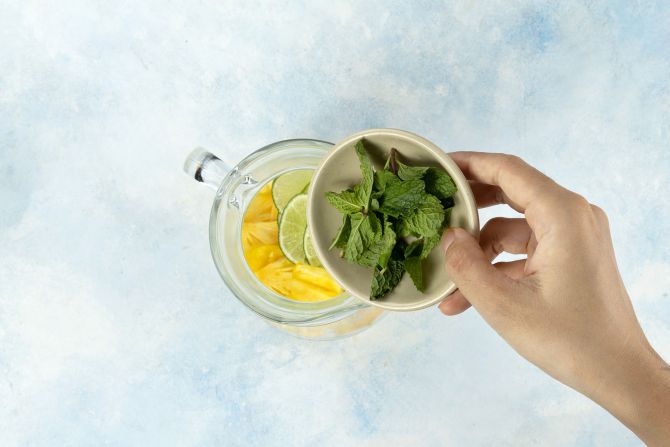 Add fruits to a pitcher.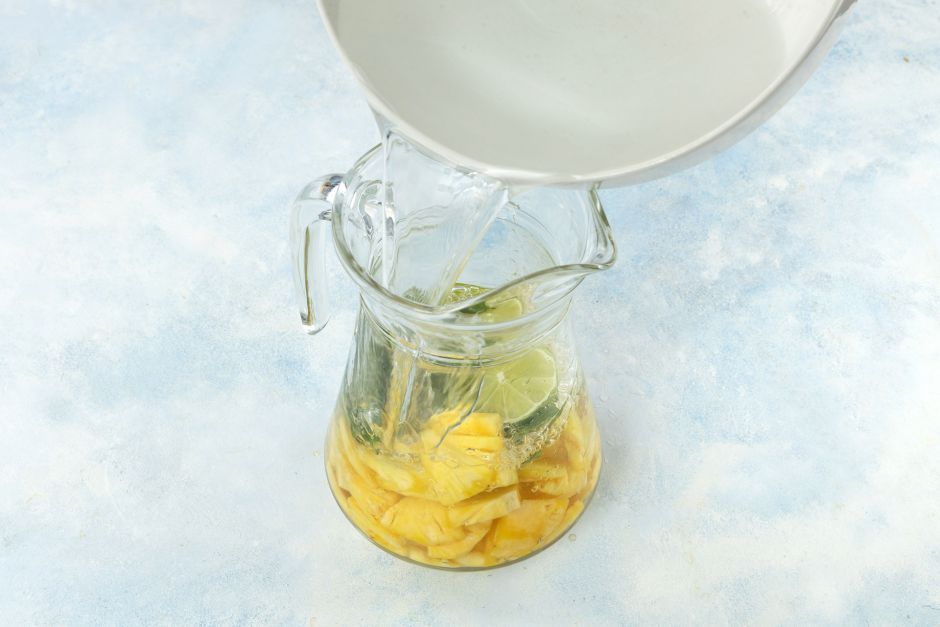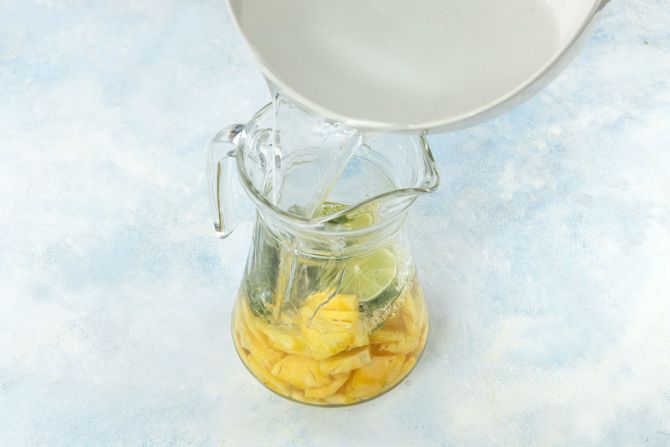 Fill the pitcher with water.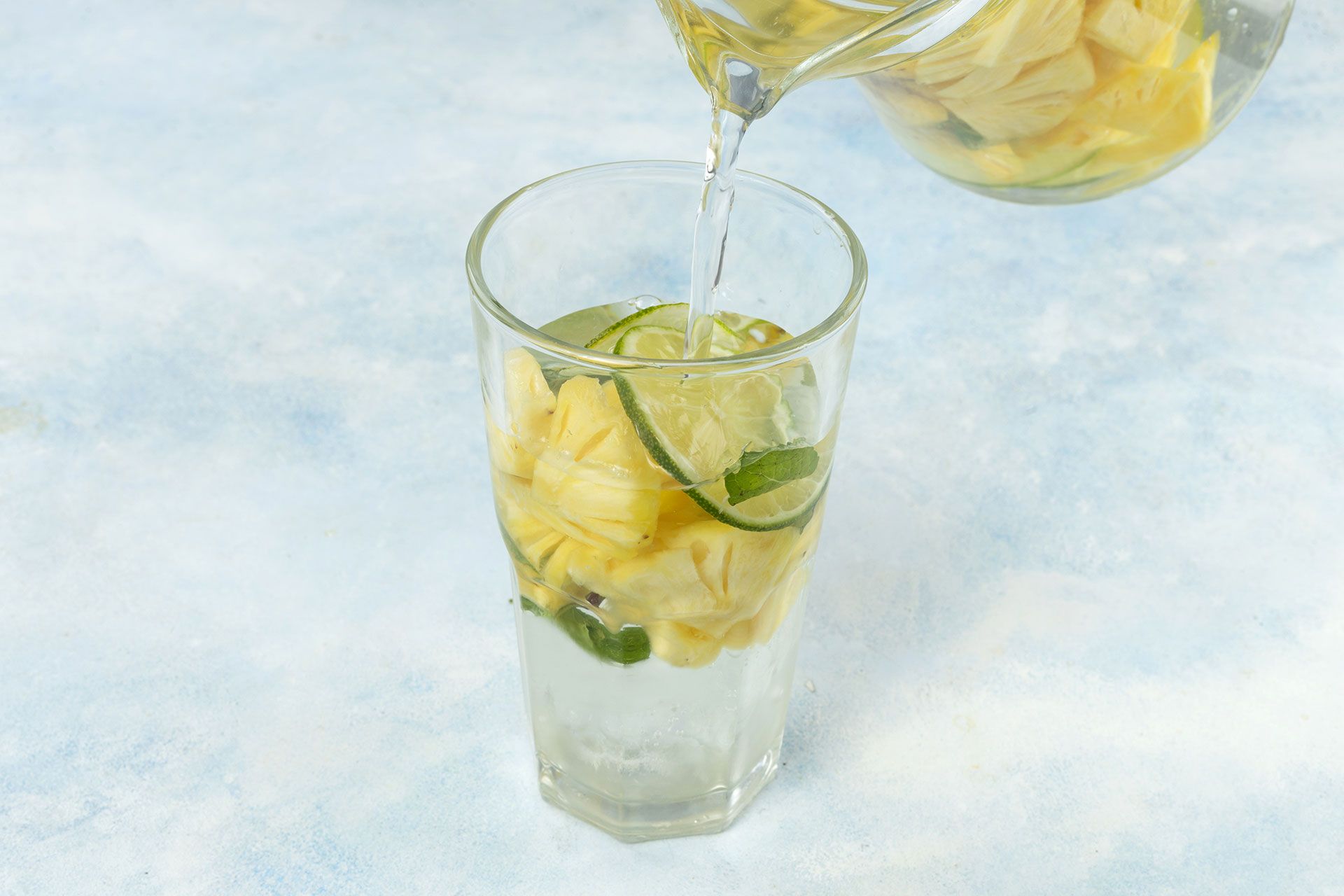 Serve.
Full ingredient measurements are available in the recipe section below.
What Else Goes Well in a Pineapple Water Recipe
If you want to tweak your pineapple water, we have a few ideas you may like:
Cucumber: This oblong fruit doesn't have a strong flavor or smell, which is perfect to add to any drink.
Strawberries: These plump, red fruits add sweetness and a vibrant, pretty color to your drink.
Lemon: It may be hard to tell, but lemons are actually a bit sweeter than limes. These larger, yellow fruits are also less bitter, making them more enjoyable when added into drinks.
Orange: Another citrus to add to your water. However, unlike lime and lemon, you can eat this sweet and sour fruit once you finish your drink.
Other types of herbs: Mint may seem to be everyone's favorite herb of choice when it comes to beverages, but give others a chance, too. Try adding thyme or rosemary to fruit-infused drinks like today's pineapple water for added unifying flavor.
How Long Does This Water Last?
This pineapple water can only last for a day in the fridge. If you keep it longer, the fruit will go mushy and the lime will become unpleasantly bitter.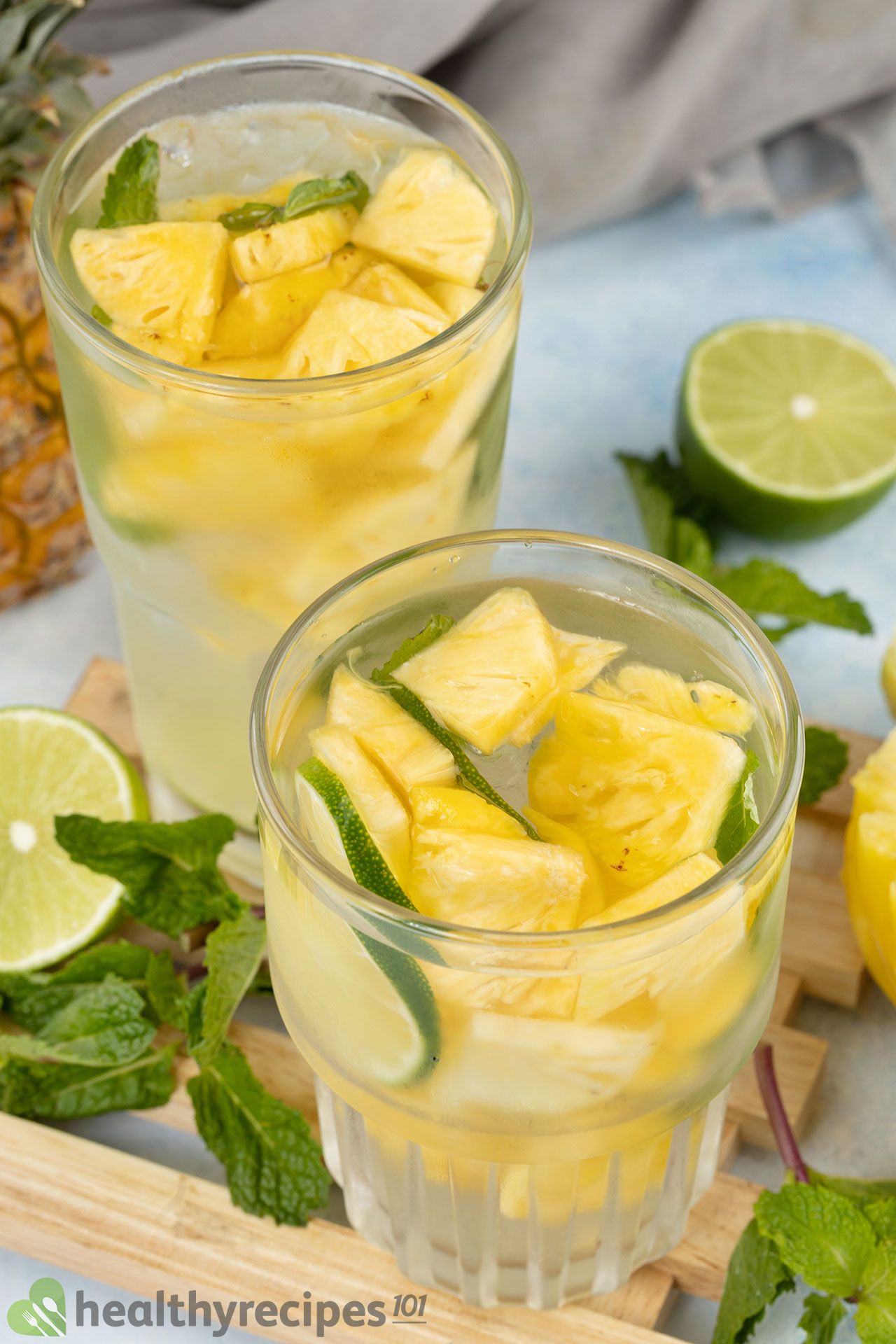 If you want to have this fragrant, fruity water available for a whole week, here's what you can do:
Cut the pineapple into chunks beforehand: You can store them in an airtight container. Without getting soaked in water, the fruits can last up to a week in the fridge.
Keep the mint fresh: After rinsing and allowing your mint to dry, gently wrap a bouquet of the herb in paper towels. Then, wrap cling film loosely around the bouquet and it'll last 5 days in the fridge.
Avoid cutting the lime into slices in advance: Pre-cut limes tend to be bitter and dry after a few hours. Keep your limes fresh and juicy by cutting them just before you serve the drink.
Whenever you have a sudden craving for this fruity drink, add the prepared fruits and cold water into a pitcher.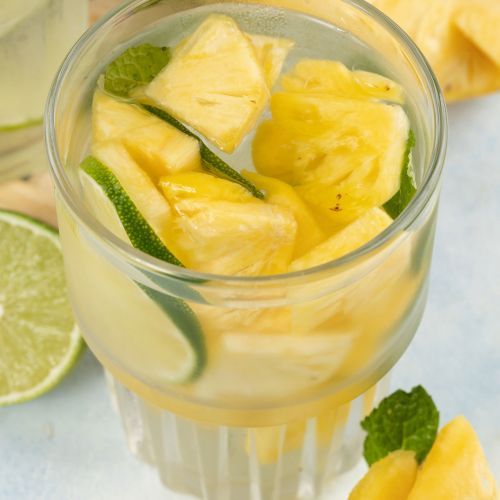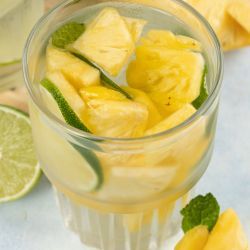 Pineapple Water Recipe
This pineapple water recipe requires only 5 ingredients and hardly any effort to make. Find out how to make this healthy drink.
Ingredients
8

oz

pineapple

cut into slices

1

oz

lime

sliced

2

tbsp

mint leaves

3 1/2

cups

water

2

cups

ice
Instructions
Add fruits to a pitcher: Add 8 oz sliced pineapple, 1 oz sliced lime, and 2 tbsp fresh mint leaves to a large pitcher.

Fill the pitcher with water: Add 3 1/2 cups water to the pitcher and stir. Optional: Put the pitcher into the fridge for a couple of hours to chill.

Serve: Divide the drink into 4 glasses. Top with ice and serve.
Nutrition
Nutrition Facts
Pineapple Water Recipe
Amount Per Serving (1 serving)
Calories 31
% Daily Value*
Sodium 16mg1%
Potassium 83mg2%
Carbohydrates 9g3%
Protein 1g2%
Vitamin A 143IU3%
Vitamin C 30mg36%
Calcium 26mg3%
Iron 1mg6%
* Percent Daily Values are based on a 2000 calorie diet.
FAQ
1. Can You Drink This Water Everyday?
Yes, you can drink this pineapple water on a daily basis. It's a great way to stimulate your palate and encourage yourself to stay hydrated.
As previously mentioned, the amount of vitamin C per serving in this drink may not be very high, but every little bit helps!
2. How to Tell If a Pineapple Is Ripe
If you're shopping at a supermarket, you can easily find canned pineapple. But how can you tell if a pineapple is ripe when you're buying it whole?
Here are a few tips to help you:
Check the appearance: A ripe pineapple should have an orange or deep yellow color on the outside.
Press it: You should feel a slightly soft texture indicating the fruit is ripe. Don't worry — despite the prickly appearance, it won't hurt you when you press it.
Sniff the pineapple: Generally, ripe fruits give off a sweet scent. The bottom of a ripe pineapple is where you can easily smell its sugary aroma.
Unripe pineapples with a green or light yellow appearance usually don't have a sweet aroma. Although you can still eat them, they will likely taste bland and fibrous rather than juicy.
Also, avoid ones that have a fermented, wine-like smell as they could be going bad.