If you want a dish that is easily thrown together but still healthy and delicious, give our salmon loaf recipe a try.
The loaf is fork-tender, moist, and holds together beautifully when cut. Every bite is loaded with salmon, aromatic herbs, and the perfect seasonings.
Is This Salmon Loaf Recipe Healthy?
The short answer is yes, our salmon loaf recipe is healthy.
Salmon being the primary ingredient, today's recipe is protein rich. Each meal provides around 43 g of protein, which accounts for up to 86% of the daily required consumption.
To maintain a healthy balance of primary nutrients, we used only a moderate amount of fat: 0.5 tablespoon of olive oil for searing the shrimp and 1.5 tablespoons of unsalted butter for the baked potatoes. Each serving includes only about 6.9 g of saturated fat.
Apart from the saturated fat, the sodium, and calorie content are also within healthy limits, at approximately 580 mg and 460 calories, respectively. In other words, this recipe is carefully constructed to produce a delectable and nutritious dinner.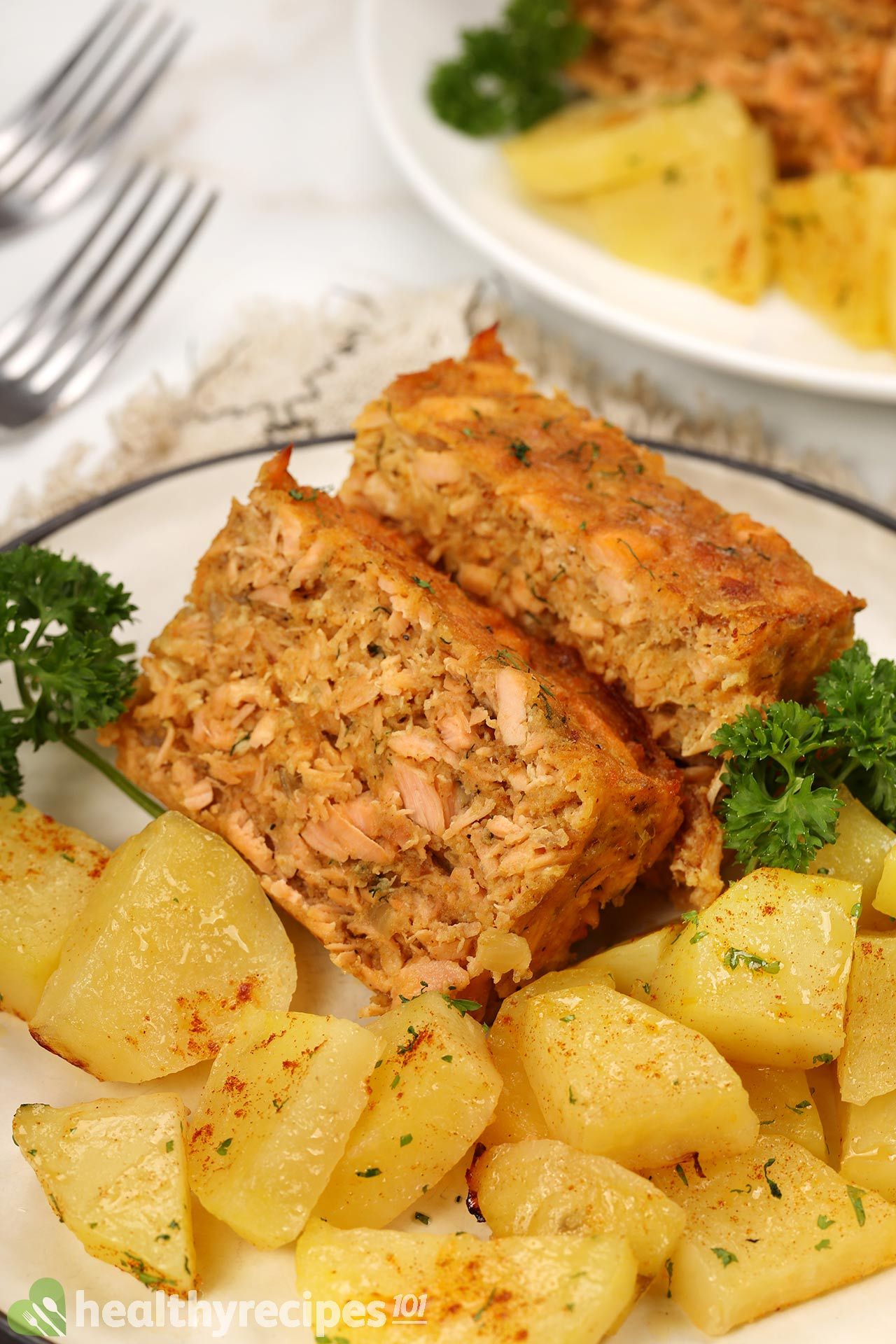 If you're looking for another healthy loaf, check out our Meatloaf Recipe. This classic dish is satisfying and ensures to be a hit on the table.
Ingredients for Salmon Loaf
Salmon: For sure, canned salmon at stores would be more convenient and timesaving, but it can't be compared to fresh salmon. We sautéed onions and garlic to add sweet and umami flavors to the loaf, as well as for extra nutrients and fiber.
Binding Agents: Like our meatloaf recipe, our salmon loaf uses eggs and breadcrumbs to bind all the ingredients. We also added milk for extra moisture, preventing the loaf from drying out and falling apart once cut.
Seasonings: Garlic powder and black pepper are essential ingredients to compliment the fish flavor. Cajun seasoning brings out a nice touch of earthiness, while the paprika provides the smoky aroma and lovely heat.
Herbs: Dill lends a fresh flavor to bring out the full taste of the fish.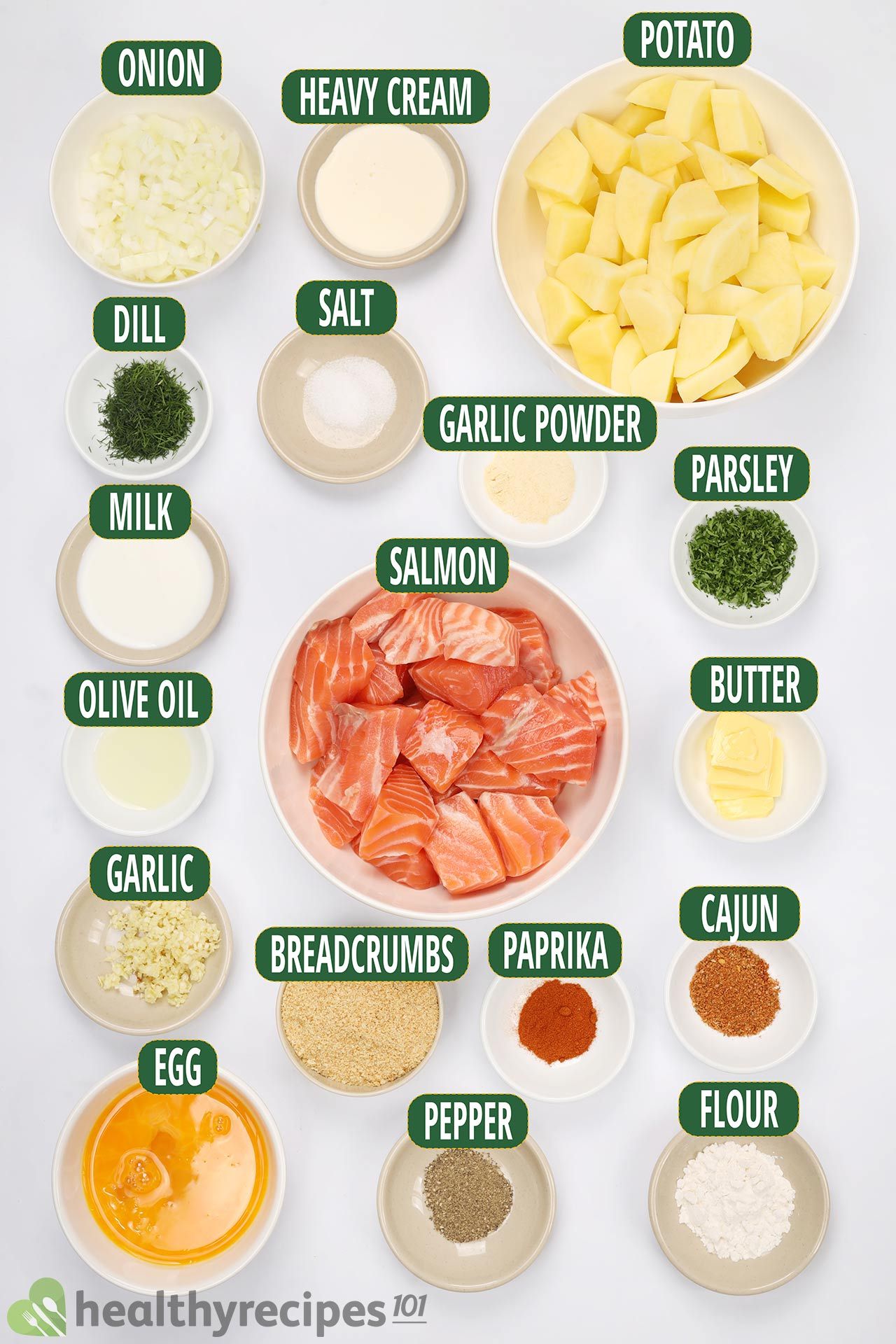 How to Make Salmon Loaf
Salmon loaf is a quick way to get a nutritious meal that doesn't take long to cook. Most of the cooking time is for the baking process allowing you time to spend on side dishes or even desserts.
Here's how we made the dish: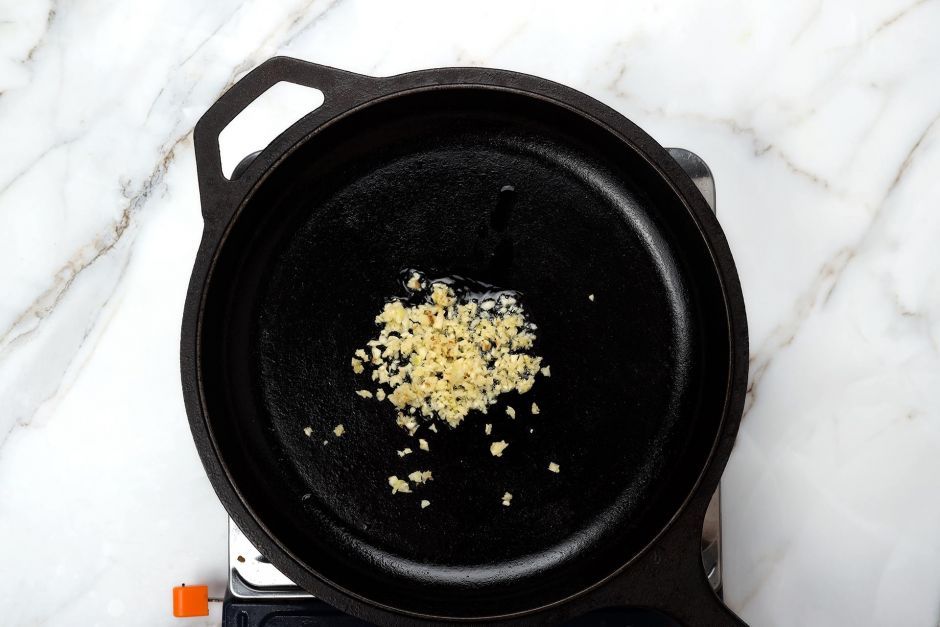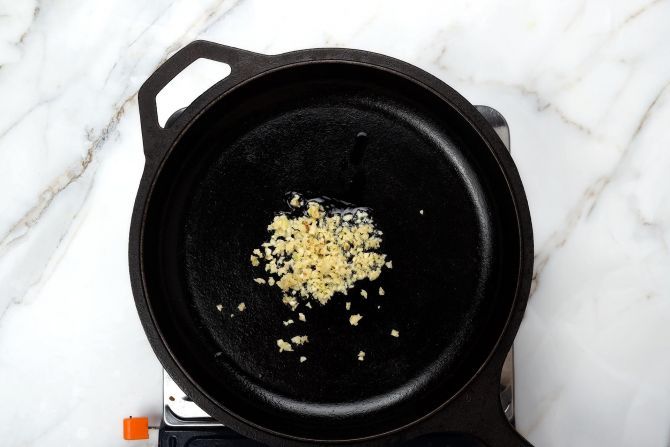 Sauté the spices.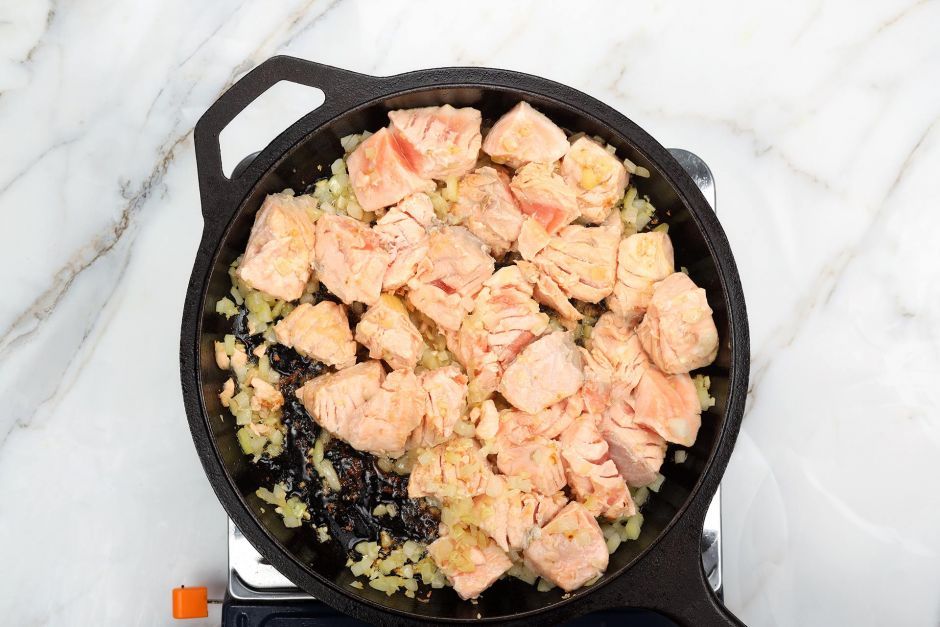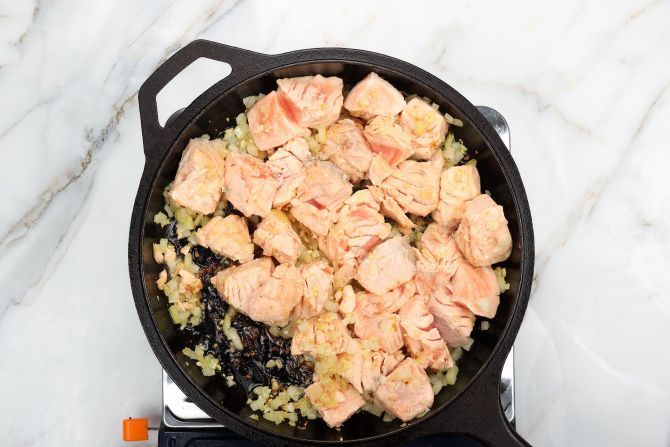 Cook the salmon.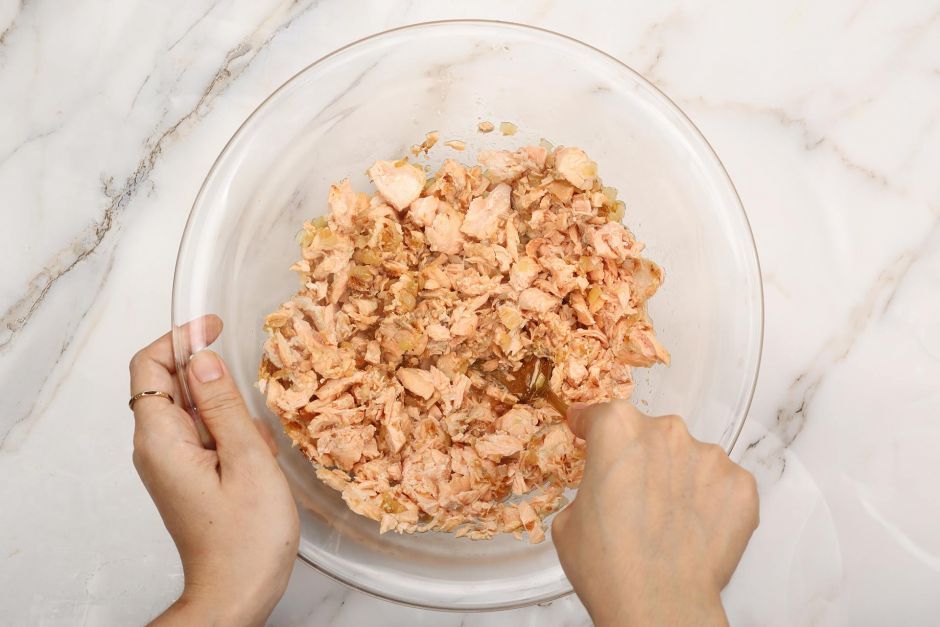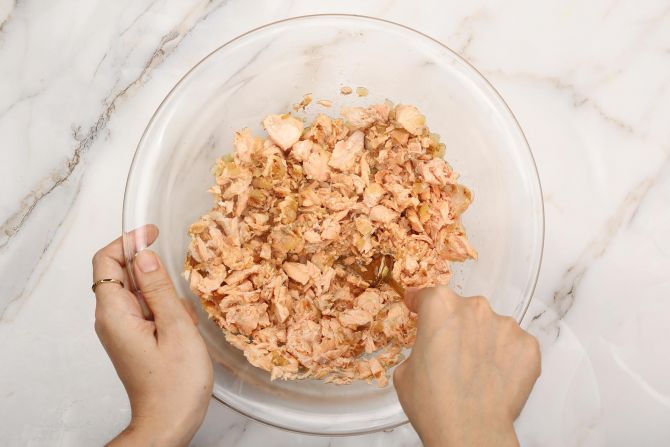 Cool the salmon mixture.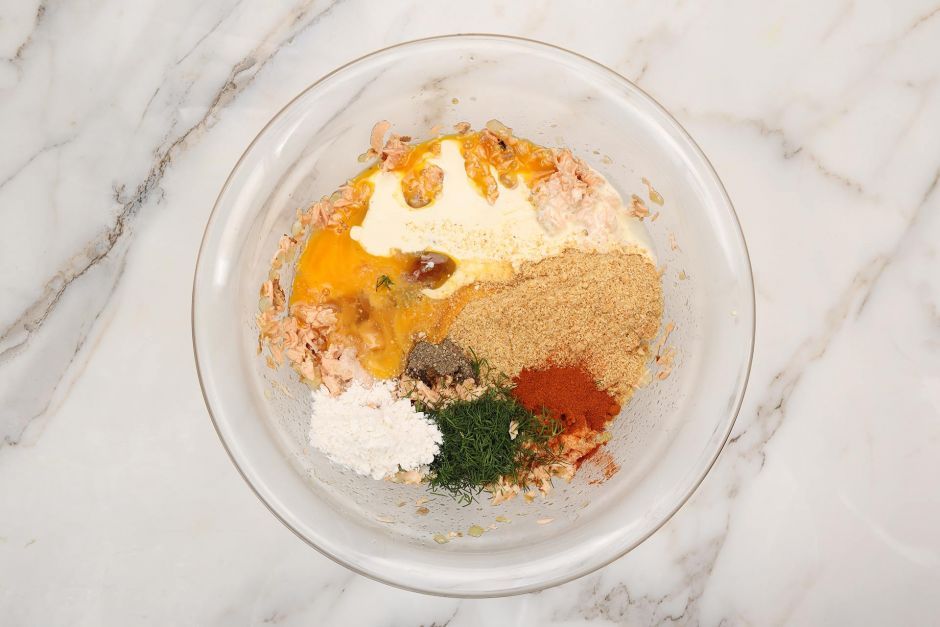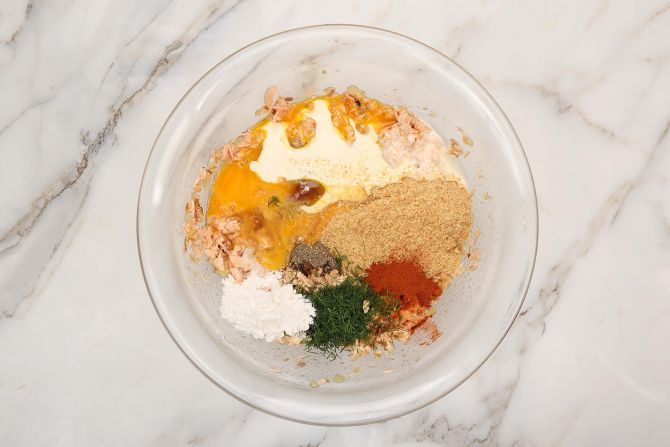 Mix the salmon with spices and seasonings.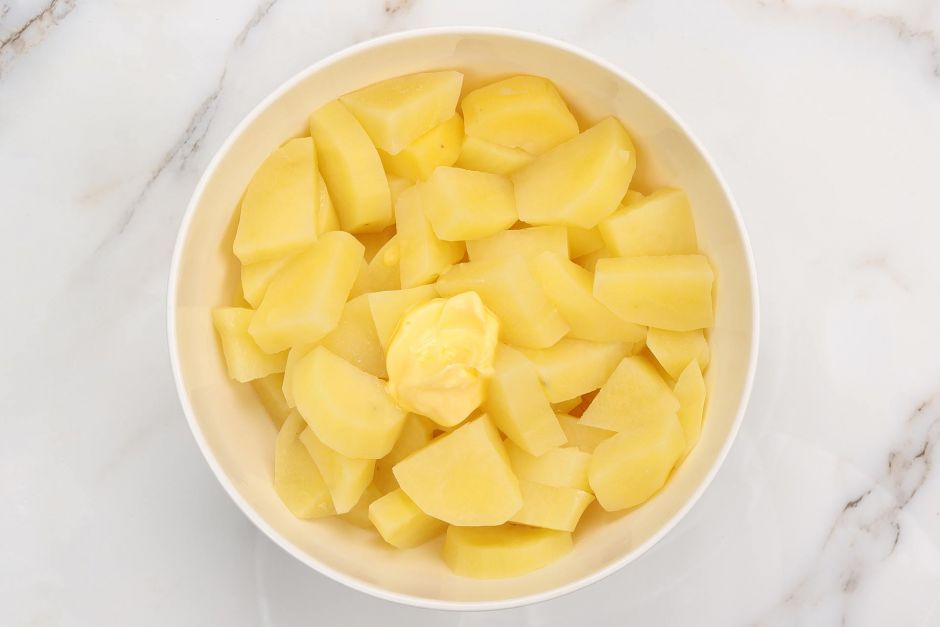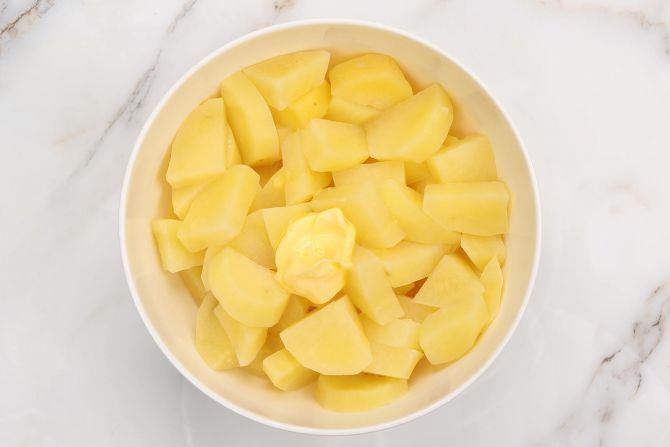 Microwave the potatoes and mix them with butter.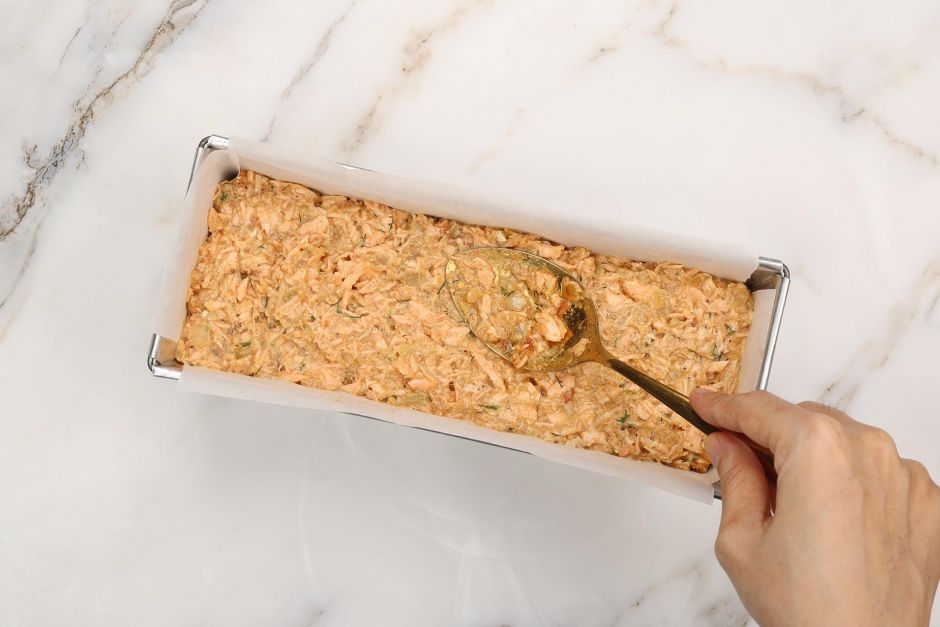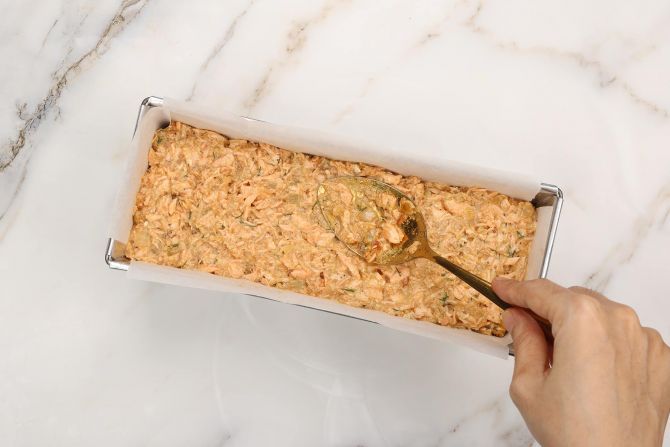 Add the salmon mixture to the loaf pan.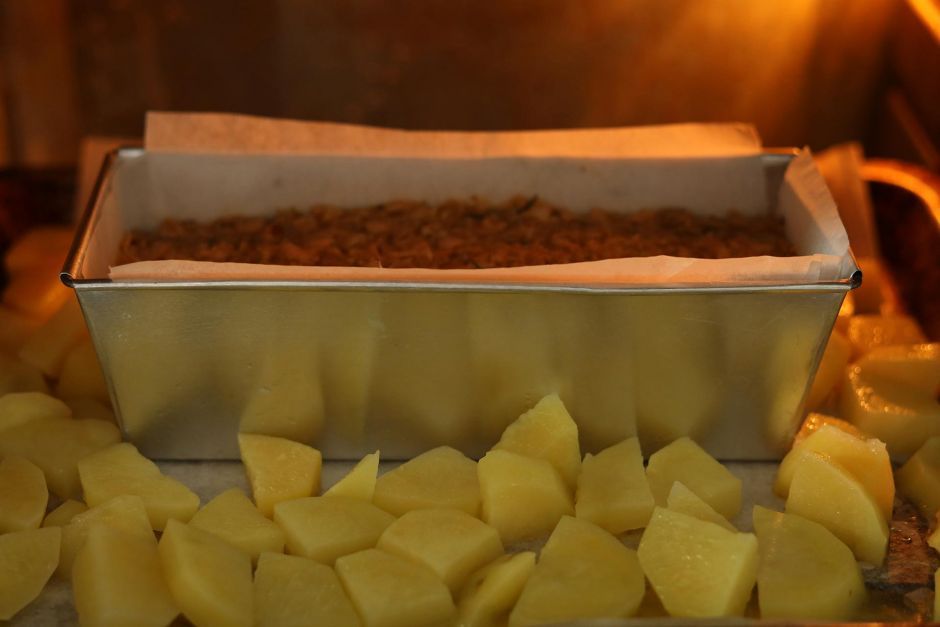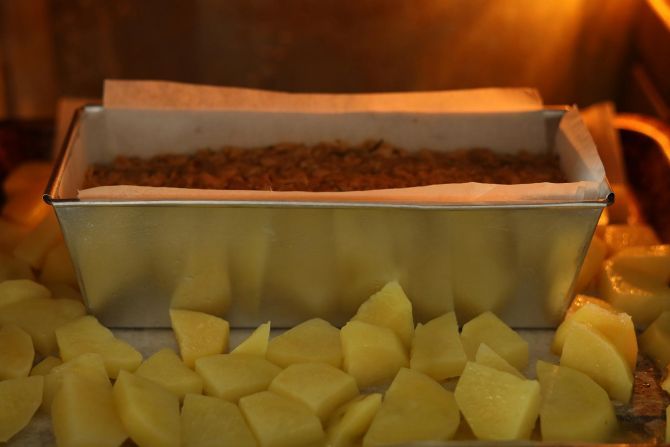 Bake the loaf and potatoes.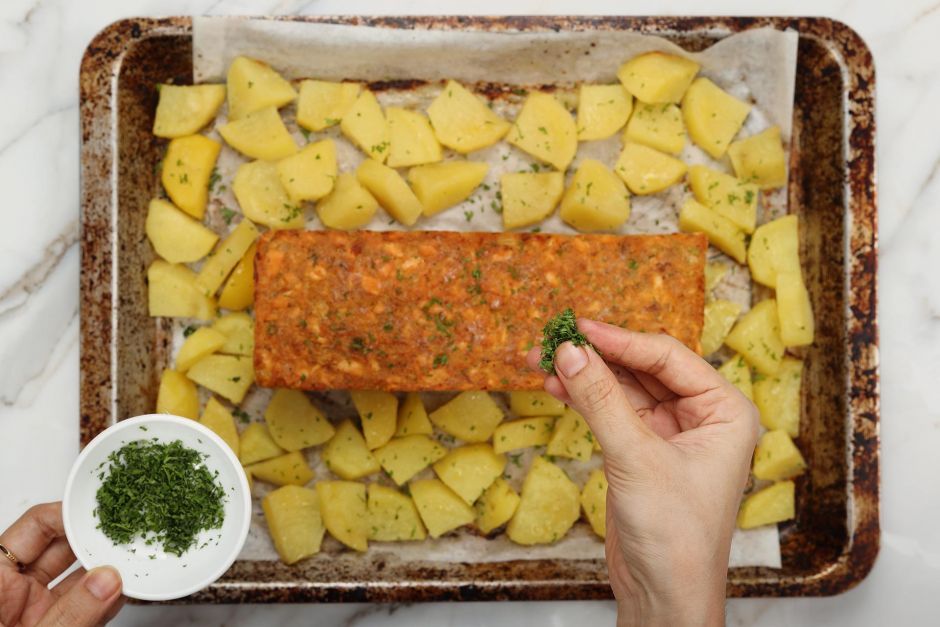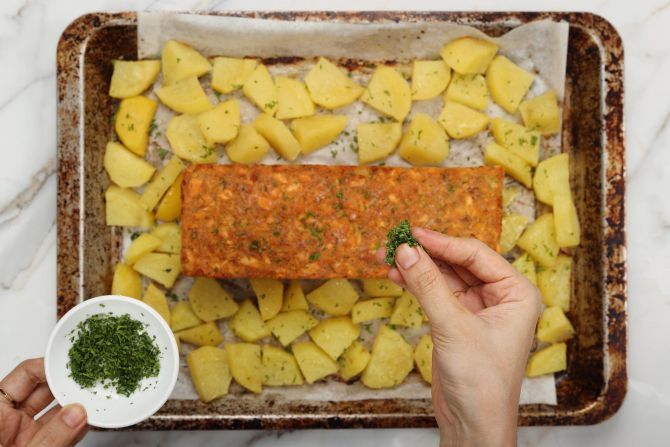 Serve hot.
Can You Cook Frozen Salmon?
It's easy to forget to place frozen salmon filets in the fridge for thawing. Luckily, it's perfectly safe to cook salmon in its frozen state.
The key is to use the two-step method and note that it only works for small salmon pieces. Large filets require proper thawing and cooking.
To cook frozen salmon, use a covered baking dish to warm up the salmon for a few minutes in the oven. Then uncover, remove from the baking dish and use the fish to prepare your dish. In this recipe, you can stir the salmon directly into the sauté pan .
Can You Freeze Cooked Salmon?
Freshly cooked salmon is delicate and tender. Once thawed and reheated, the salmon is delicious but might be a bit tacky.
If you are still determined to freeze the cooked salmon, we advise you to divide the fish into serving-sized portions. Then place them in freezer-friendly zip-top plastic bags or airtight containers and freeze for later use.
Use a pen to label the bag or container with the date frozen. Cooked salmon can be frozen for up to 6 months.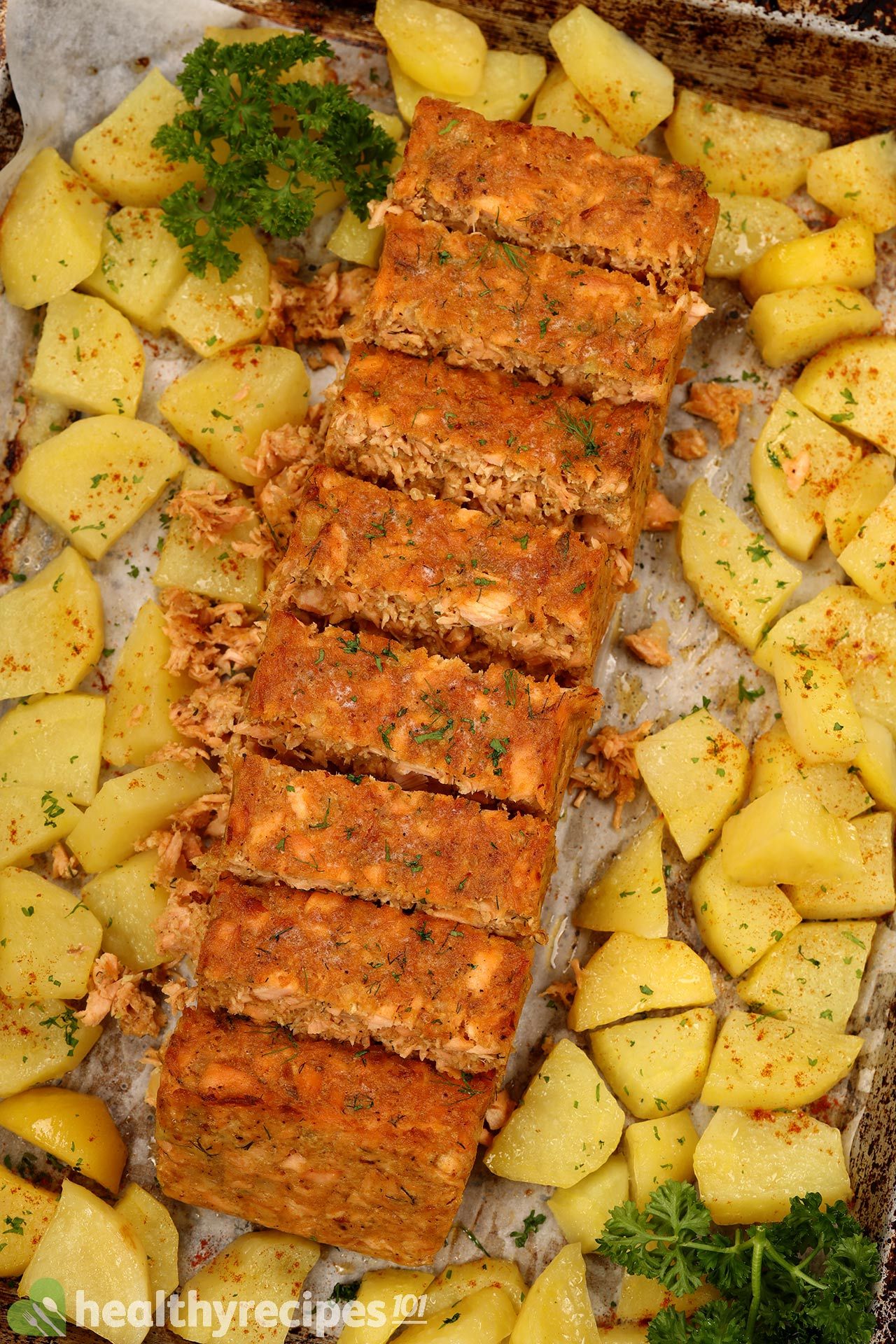 How to Reheat Cooked Salmon Loaf
The key to warming food is to maintain all the flavors. Good news is that it's actually quite easy to recreate the juicy flavor of your freshly baked salmon loaf with these reheating methods.
1. Microwave
Microwaving is the simplest and quickest way to reheat cooked salmon loaf. You need to add a few drops of water to a microwave-safe dish or container, add the salmon loaf and microwave it at medium-high power.
Wait until the end of the cooking time and check whether the interior is warmed through before serving the loaf.
2. Oven
As with the microwave method, you also want to add a splash of water to the bottom of the pan. Then place the loaf pan in the middle rack of the oven and bake at 300°F until the salmon reaches an internal temperature of 145°F.
What to Serve With Salmon Loaf
Our salmon loaf is a flavorful protein-rich dish, so we love to have it with a side of green salad and a juice drink.
[hk101_square_meas]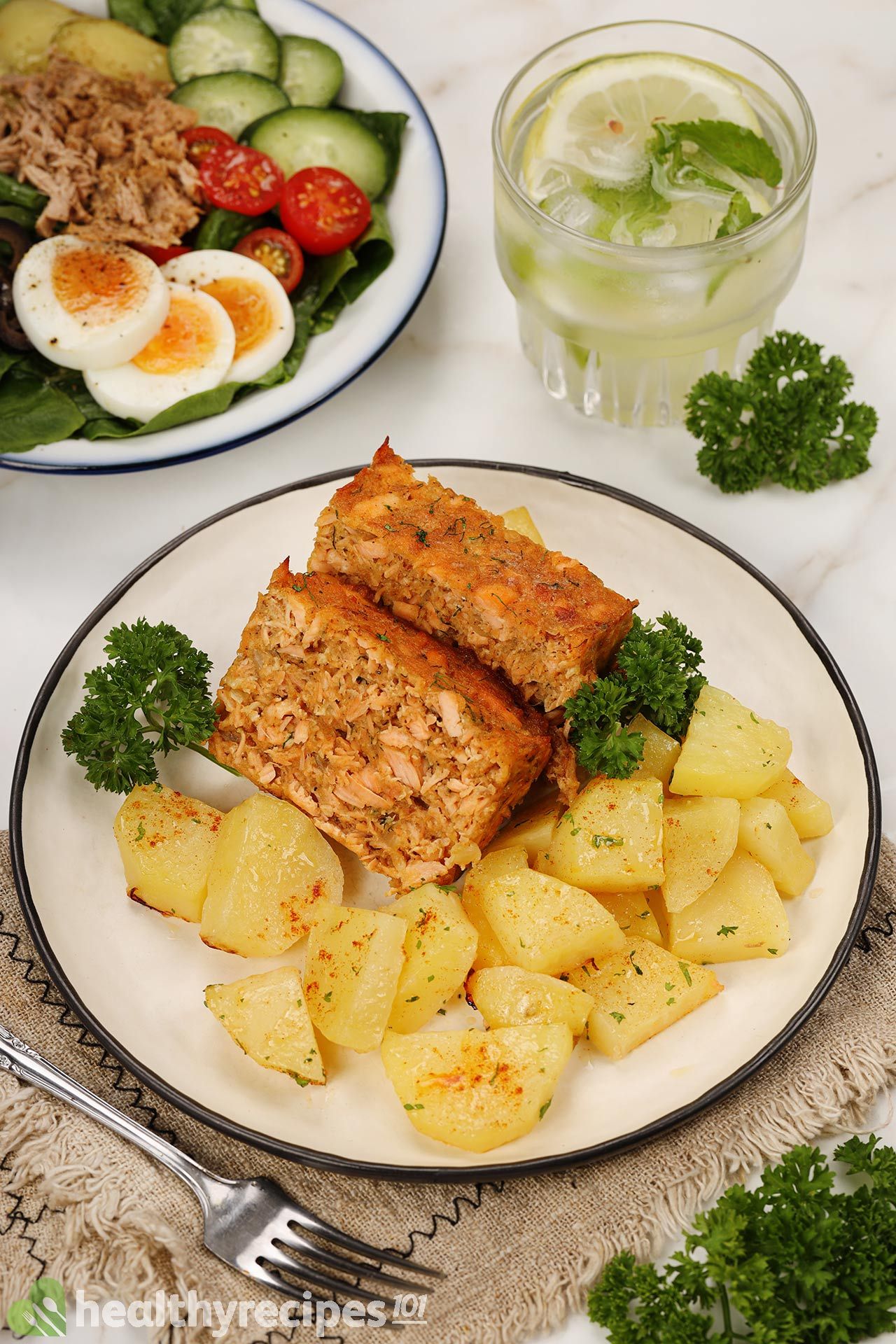 Nicoise Salad: The fresh mix of lettuce, green beans, olives, tomatoes, potatoes, cucumbers, hard-boiled eggs, and canned tuna makes an excellent accompaniment to this salmon loaf. Due to the addition of the olive oil-based dressing, this salad provides an additional boost of healthy fats.
Lime Water: After a few satisfying and fulfilling bites, we love to have a low-calorie juice drink. Our lime juice is a vitamin-rich summer beverage that contains no added sugar, which means you can sip the drink anytime without worrying about managing your calorie intake.
More Perfect Salmon Recipes to Know
If you're interested in other salmon recipes as healthy as this salmon loaf, we've got some seriously delectable ones: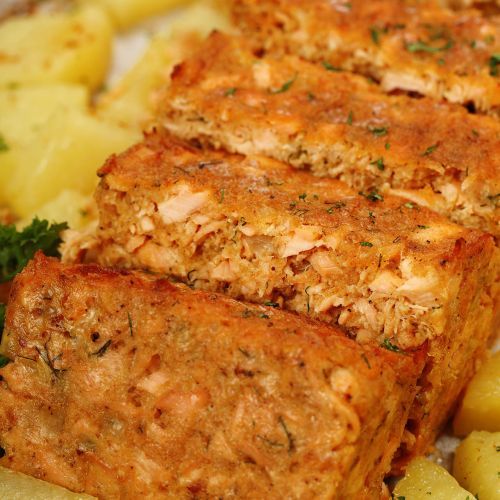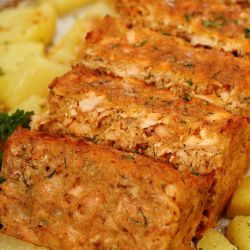 Salmon Loaf Recipe
With our salmon loaf recipe, we're going to introduce you to a different type of baked protein. An easy and flavorful meal for weeknight dinners!
Ingredients
24

oz

skinless boneless salmon

1/2

tbsp

olive oil

1

tbsp

garlic

finely chopped

2

oz

onions

chopped

1

tsp

paprika

1/2

tsp

garlic powder

1/2

tsp

black pepper

1 1/2

tsp

Cajun seasoning

1/2

tsp

salt

2

large eggs

2

tbsp

heavy cream

1/2

cup

panko breadcrumbs

2

tbsp

milk

1

tbsp

all-purpose flour

2

tbsp

parsley

finely chopped

1

tbsp

dill

finely chopped

24

oz

potatoes

cubed

1 1/2

tbsp

unsalted butter
Instructions
Heat a skillet over medium heat. Add 1/2 tbsp olive oil and 1 tbsp garlic and sauté for 30 seconds or until fragrant.

Add 2 oz onions and continue sautéing for 2 minutes. Stir in 24 oz salmon and cook for another 7 minutes.

Transfer the salmon mixture to a big bowl and let it cool down a bit. Then use a fork to flake the salmon.

Season the fish mixture with 1 tsp paprika, 1/2 tsp garlic powder, 1/2 tsp black pepper, 1/2 tsp salt, 2 large eggs, 2 tbsp heavy cream, 1/2 cup breadcrumbs, 2 tbsp milk, 1 1/2 tsp Cajun seasoning, 1 tbsp flour, 1 tbsp dill, and 2 tbsp parsley. Mix until all the ingredients are incorporated. Set the bowl aside.

Put 24 oz potatoes in a microwave-safe bowl and microwave them at high power for 7 minutes. Mix the par-boiled potatoes with 1 1/2 tbsp butter.

Use a spatula to turn the salmon mixture into the loaf pan lined with baking paper.

Place the potatoes and salmon loaf onto a baking sheet and bake at 360 ℉ for 25 minutes.

Remove the loaf and potatoes from the oven. Garnish with chopped parsley if you want and serve the dish hot.
Nutrition
Nutrition Facts
Salmon Loaf Recipe
Amount Per Serving (1 serving)
Calories 490
Calories from Fat 162
% Daily Value*
Fat 18g28%
Cholesterol 240mg80%
Sodium 574mg25%
Potassium 1547mg44%
Carbohydrates 38g13%
Protein 43g86%
Vitamin A 580IU12%
Vitamin C 20mg24%
Calcium 80mg8%
Iron 3mg17%
* Percent Daily Values are based on a 2000 calorie diet.