If you're looking for a snack or appetizer that can satisfy everyone, look no further than today's shrimp balls recipe.
These shrimp balls are made from fresh shrimp alongside shallots, green onions, and breadcrumbs. Serve this dish at your next get-together and take your hors d'oeuvres game to the next level.
Are Shrimp Balls Healthy?
Each serving of shrimp balls has 235 calories, which is perfect for a fun snack or appetizer.
Despite being a deep-fried dish, this dish only contain 0.8 g of saturated fat, thanks to canola oil. It is one of the best options for deep-frying for its high smoke point and low saturated fat level. We also maintain the sodium level at 288.7 mg, adhering to our nutrition guidelines.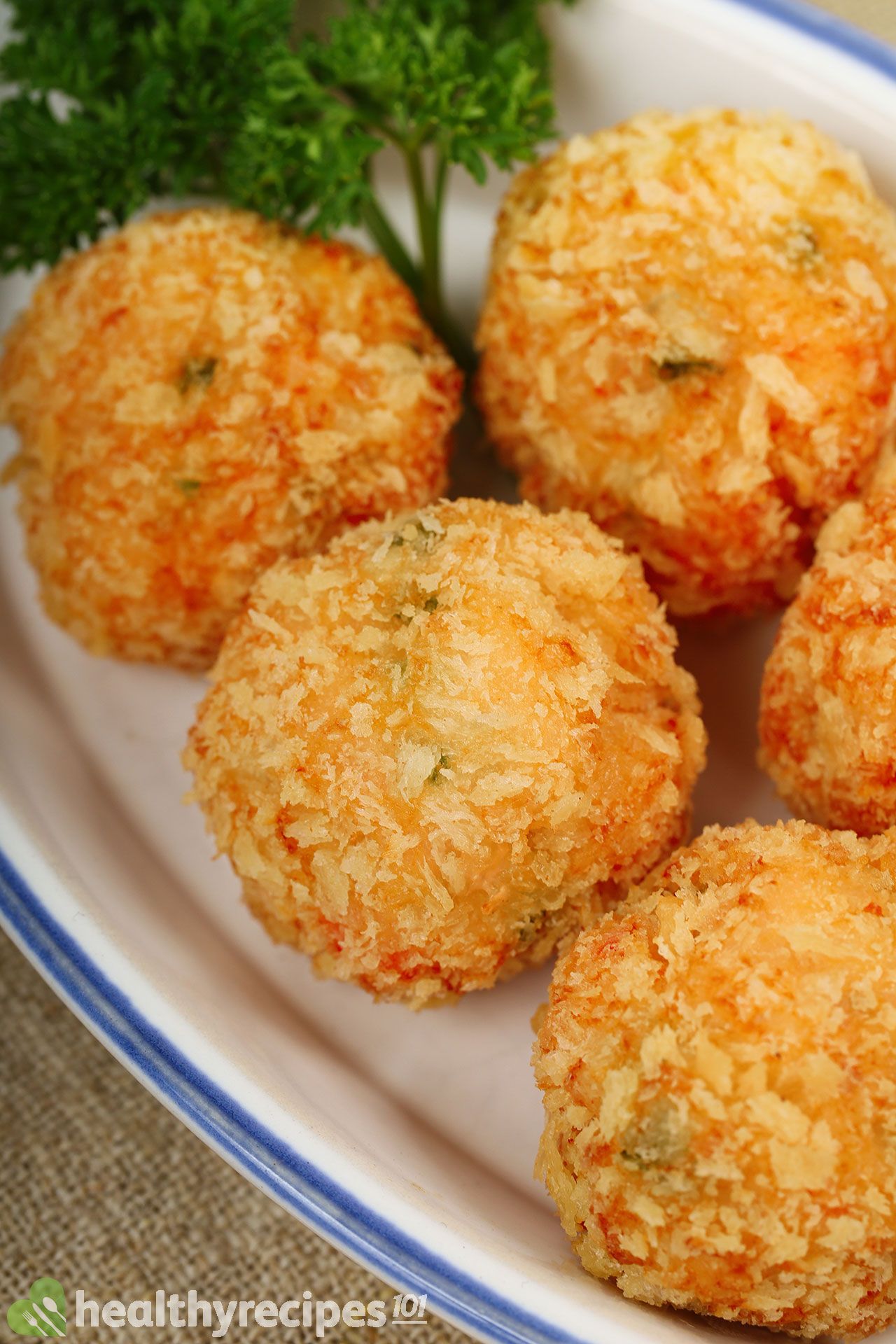 This dish also provides you with 27.6 g of protein. Shrimp is a low-calorie but nutrient-dense ingredient. One of the shrimp's most prominent health benefits is supporting brain and heart health, thanks to a valuable antioxidant called astaxanthin.
If you're allergic to shrimp, we highly advise you to avoid this crustacean altogether.
Ingredients for This Recipe
The first step you should take with the shrimp is the same as usual: clean them thoroughly. Clean the shrimp and remove the heads and legs.
Peeling is more important for this dish because you're going to mince the shrimp in the food processor. Make sure that there's no peel left on the shrimp as it will affect the desired smooth texture of the shrimp balls.
These shrimp balls consist of mostly shrimp itself, but there are two vegetables in the mixture: green onions and shallots. They are incredible aromatics with their own signature flavors and nutrients that complement the shrimp.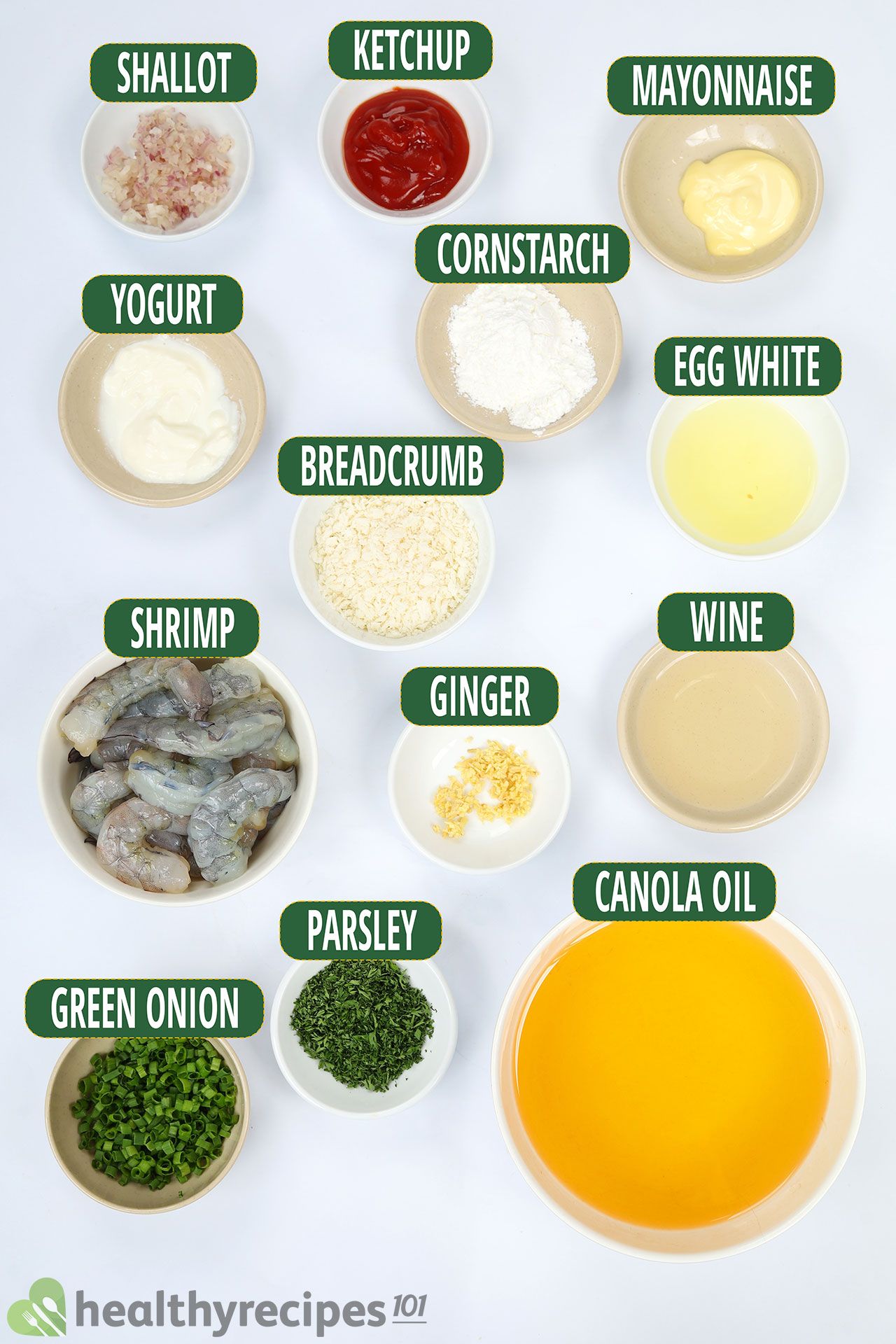 Ginger and white wine add some interesting and unique flavors to the shrimp balls. These two ingredients will put your dish on another level.
Cornstarch and egg whites are added to the mixture to make sure it holds together. The egg whites will also thicken the shrimp mixture.
Lastly, the outer layer of the shrimp balls is made from panko breadcrumbs. Panko is used frequently in Asian cuisine for their crispiness, especially in Japanese fried dishes like tempura. The thing that separates panko from other breadcrumbs is that they absorb less oil than plain breadcrumbs.
We use a mixture of ketchup, mayonnaise, Greek yogurt, and some parsley. You really can't go wrong with the familiar duo of ketchup and mayonnaise. The sweetness of ketchup mixes well with the richness of mayonnaise. Parsley adds a hint of herby flavors and freshness to the creamy sauce.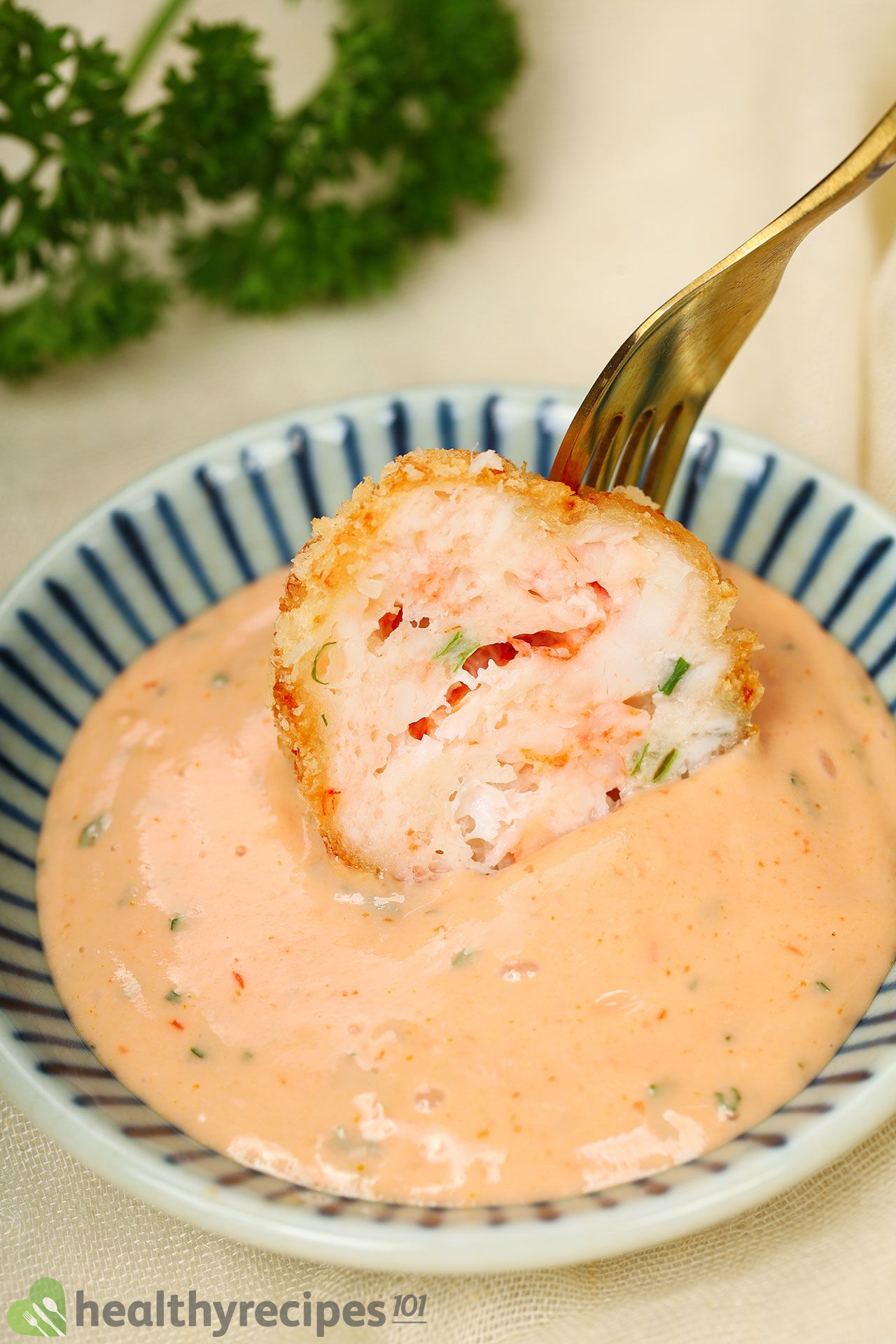 How to Serve Shrimp Balls
Shrimp balls make a great appetizer to start a great meal because they're delicious, bite-sized, and fun to eat.
If you're hosting a get-together, this recipe is an excellent choice for hors d'oeuvres. You can serve them separately, with each ball on a toothpick or skewer.
These shrimp balls also go well with other dishes. Serving them with a salad makes a great pairing of two contrasting dishes.
They also work well with noodles or rice to make a complete and fulfilling meal.
How to Store and Reheat the Leftovers
Store any leftovers in airtight containers and they should last for up to three days in the fridge. You can extend their shelf life by storing them in the freezer with airtight containers or Ziplock bags for up to three months.
To reheat, bake them in a preheated oven at 375°F. The reheating time can vary depending on whether the shrimp balls were in the fridge or frozen. The only thing you need to pay attention to is the internal temperature, which should be 145°F.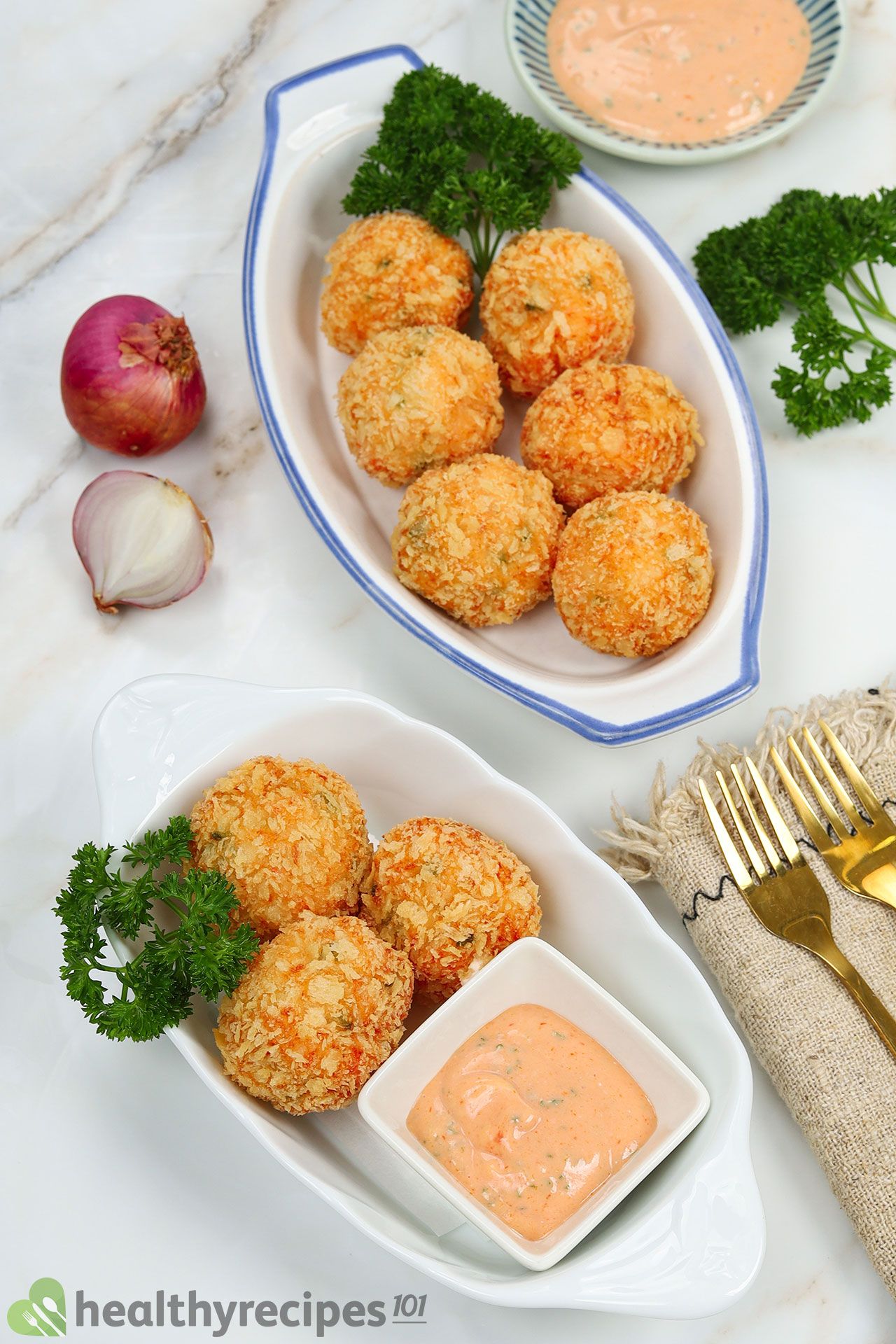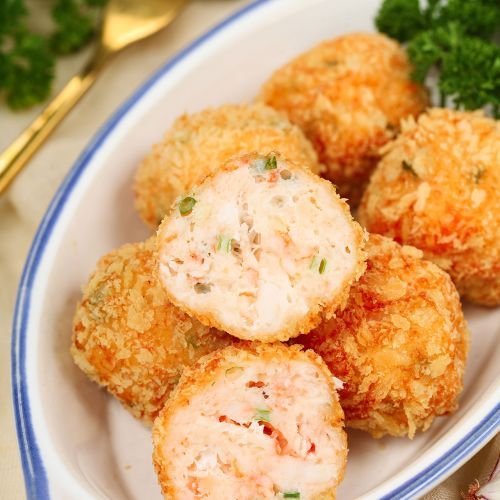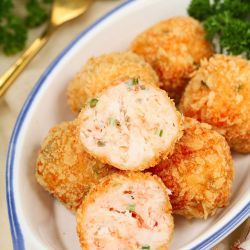 How to Make Shrimp Balls
This shrimp balls recipe is everything that makes a great party snack: fun, tasty, and bite-sized.
Instructions
Blend 8 oz shrimp in the food processor until minced.

Make the shrimp mixture with shrimp, 1 tbsp shallot, 1 egg white, 2 tbsp white wine, 2 tbsp parsley, 1/4 cup green onion, 2 tbsp cornstarch, and 1 tsp ginger.

Roll into 12 even balls and cover them with 1/2 cup panko breadcrumbs.

Make the sauce: Mix 2 tbsp Heinz ketchup, 1 tbsp Japanese mayonnaise, 1 tbsp Greek yogurt, and 2 tbsp parsley.

Deep fry the shrimp balls in 2 cups of canola oil on medium heat for 2 minutes or until golden.
Nutrition
Nutrition Facts
How to Make Shrimp Balls
Amount Per Serving (1 serving)
Calories 235
Calories from Fat 63
% Daily Value*
Fat 7g11%
Cholesterol 211mg70%
Sodium 288mg13%
Potassium 410mg12%
Carbohydrates 14g5%
Protein 28g56%
Vitamin A 231IU5%
Vitamin C 4mg5%
Calcium 91mg9%
Iron 1mg6%
* Percent Daily Values are based on a 2000 calorie diet.