This shrimp rangoon recipe is a fancier take on the Americans' favorite crunchy treat — crab rangoon.
What Are Shrimp Rangoon?
Shrimp rangoon are little wonton wrap pouches filled with well-seasoned cream cheese, minced shrimp, and chopped herbs. Similar to crab rangoon, they're also deep-fried to crispy perfection and served with a sauce.
At first bite, you'll immediately be captivated by the textural contrast between the crispy exterior and soft, melt-in-your-mouth filling. Then, the creamy, slightly sweet, and savory flavors burst onto the taste buds and completely steal the show. There's never a dull moment when it comes to these shrimp rangoons. Simple yet so addictive, this American-Chinese crossover has graced not just casual parties, but fancy restaurants as well.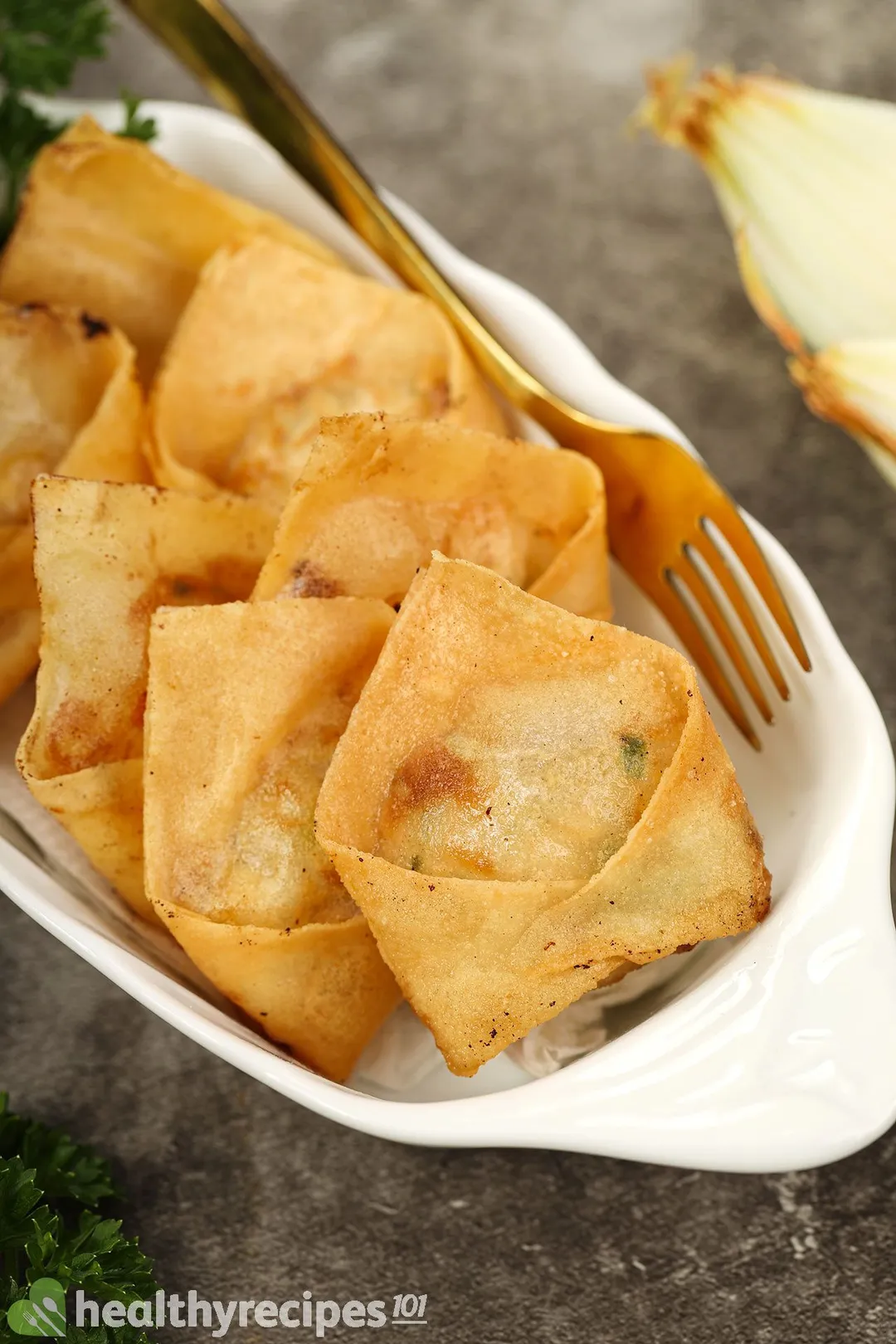 Are Our Shrimp Rangoons Healthy?
Compared to crab imitation, which is made of fish, starch, and additives, shrimp is considerably more nutritious. With shrimp as an ingredient, you'll find whole proteins which are good for muscle synthesis and omega 3 fatty acids, known to benefit the heart as well as the brain.
Filled with mostly cream cheese and seasonings, the dish is typically high in calories, saturated fats, and possibly sodium. It should only be served in small portions as a snack, and yet, many are willing to have several servings until they feel full. A snacking spree feels good, but at the same time, it risks exceeding the nutritional allowance of the day.
With our shrimp rangoon recipe, your guests can enjoy seven crunchy pouches, all containing just 234 calories, 3.6 g saturated fats, and 247 mg sodium. The satisfying serving size and the reasonable nutritional profile are made possible, thanks to one major change in terms of ingredients.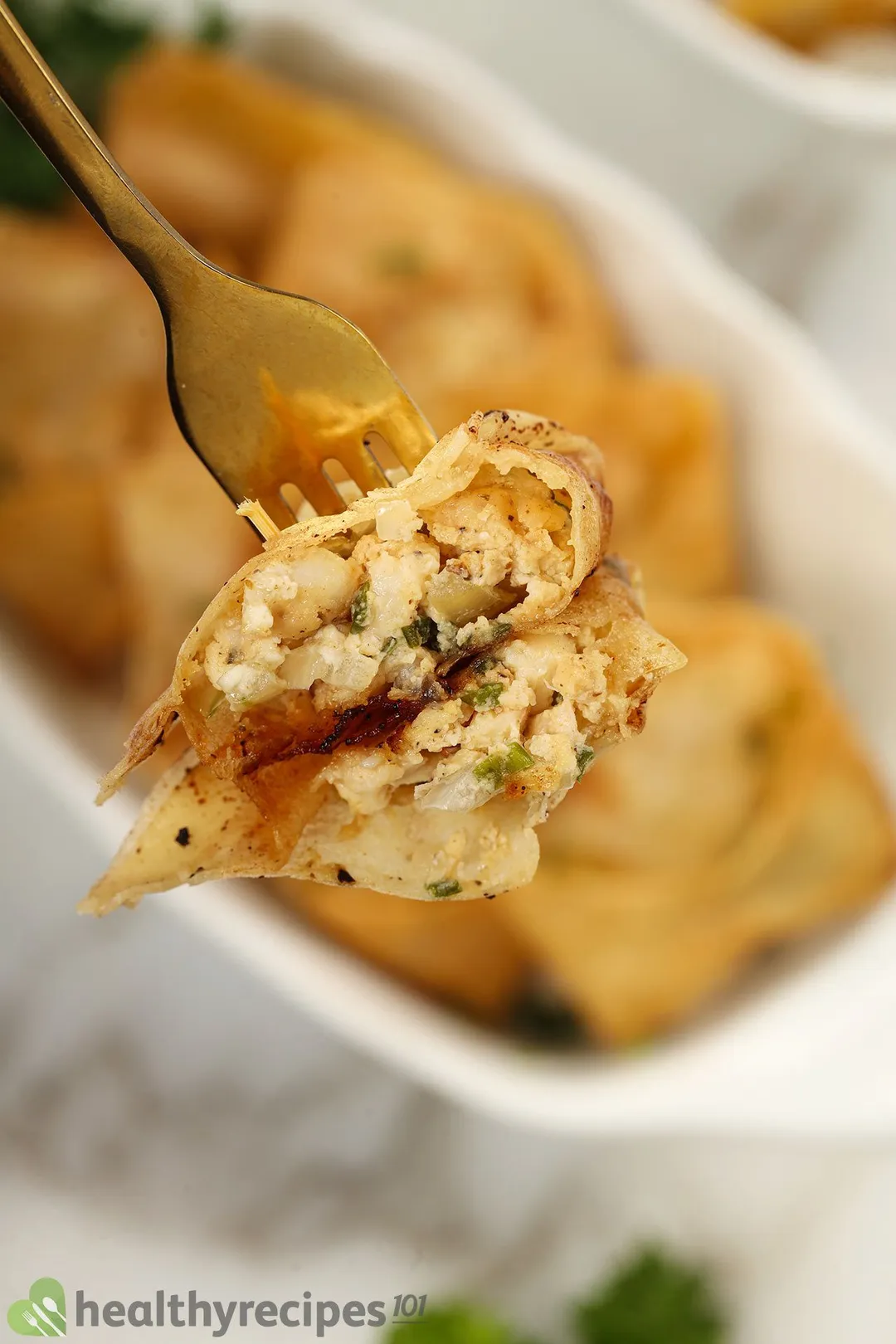 Ingredients You'll Need for Our Shrimp Rangoon Recipe
You'll need spring roll wrappers, shrimp, cream cheese, herbs, several seasonings, and canola oil for frying.
1. The Wrapper
The classic version of crab rangoons calls for wonton wrappers, but after we looked into their nutritional profile, we considered alternatives. The yellow wrap contains eggs, and just like cream cheese, eggs come with considerable amounts of calories and saturated fats. These wraps are completely healthy to use, don't get us wrong, but they leave little room for the cream cheese.
Fortunately, spring roll wrappers behave very similarly to wonton wraps, even though they are made without eggs. The one we found is moderate in calories, and we highly recommend you use it or find something of similar quality.
We use seven pieces of wrappers, but we cut each one into four smaller squares because they're pretty large. It may sound like we would end up with very small pouches, but we're happy with the size of our 28 shrimp rangoons, which are all equally flavorful.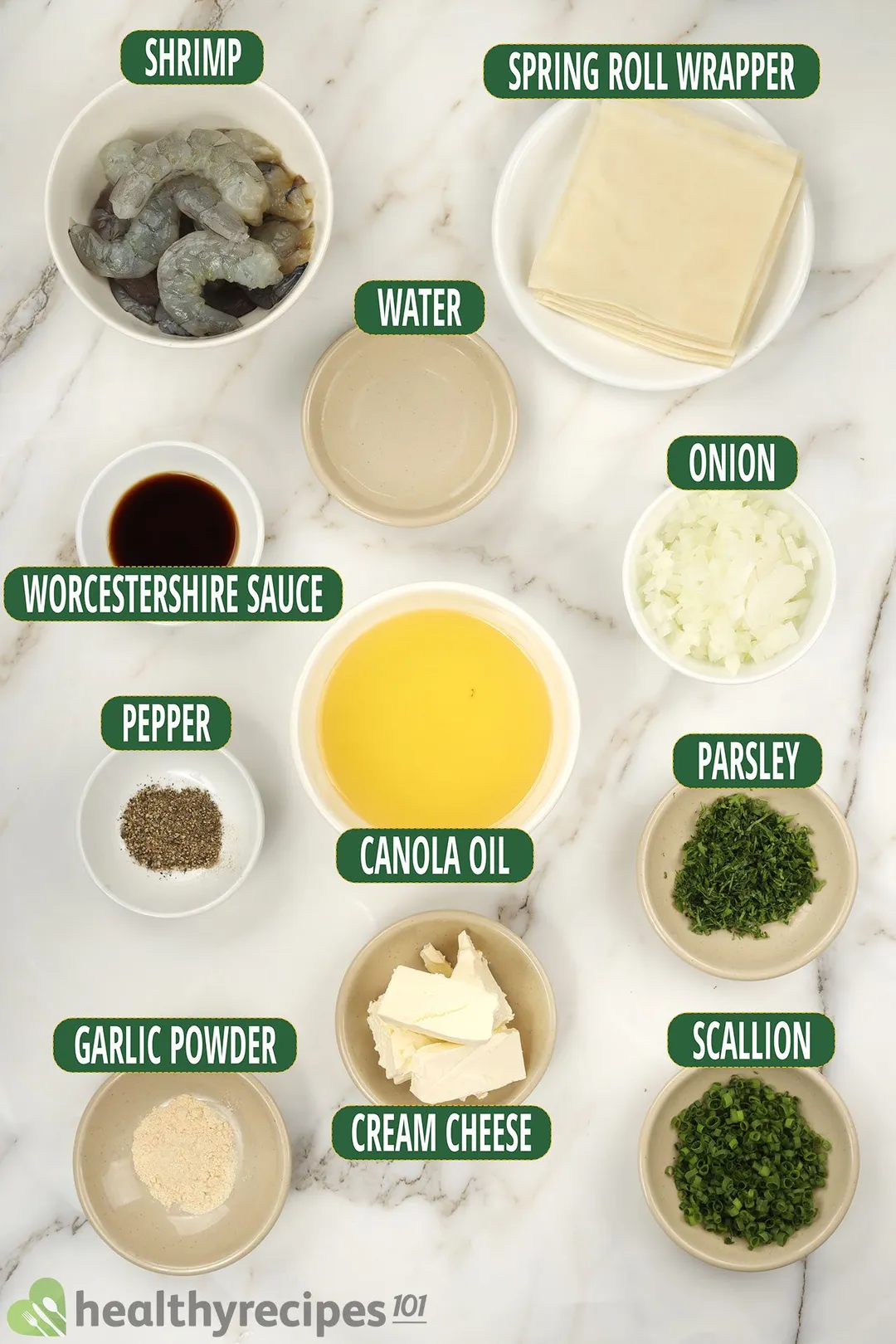 2. The Filling
Unlike crab rangoons with cooked, edible imitation crab in the filling, shrimp rangoons contain raw shrimp. Crab rangoons can be fried over high heat, but shrimp rangoons require medium-low heat to reach inside evenly. This is especially important if you're using refrigerated cream cheese and/ or frozen shrimp to ensure the shrimp is properly cooked.
If you can't manage to use room-temperature ingredients, it's best that you cook your shrimp beforehand. Steaming is our recommended method — it preserves the shrimp's juiciness.
Can I Make Shrimp Rangoons in an Air Fryer?
Considering we have made lots of crispy foods in our air fryer, it is a strong 'yes' from us. However, once the pouches are folded and placed into the basket, they should be brushed with oil before frying.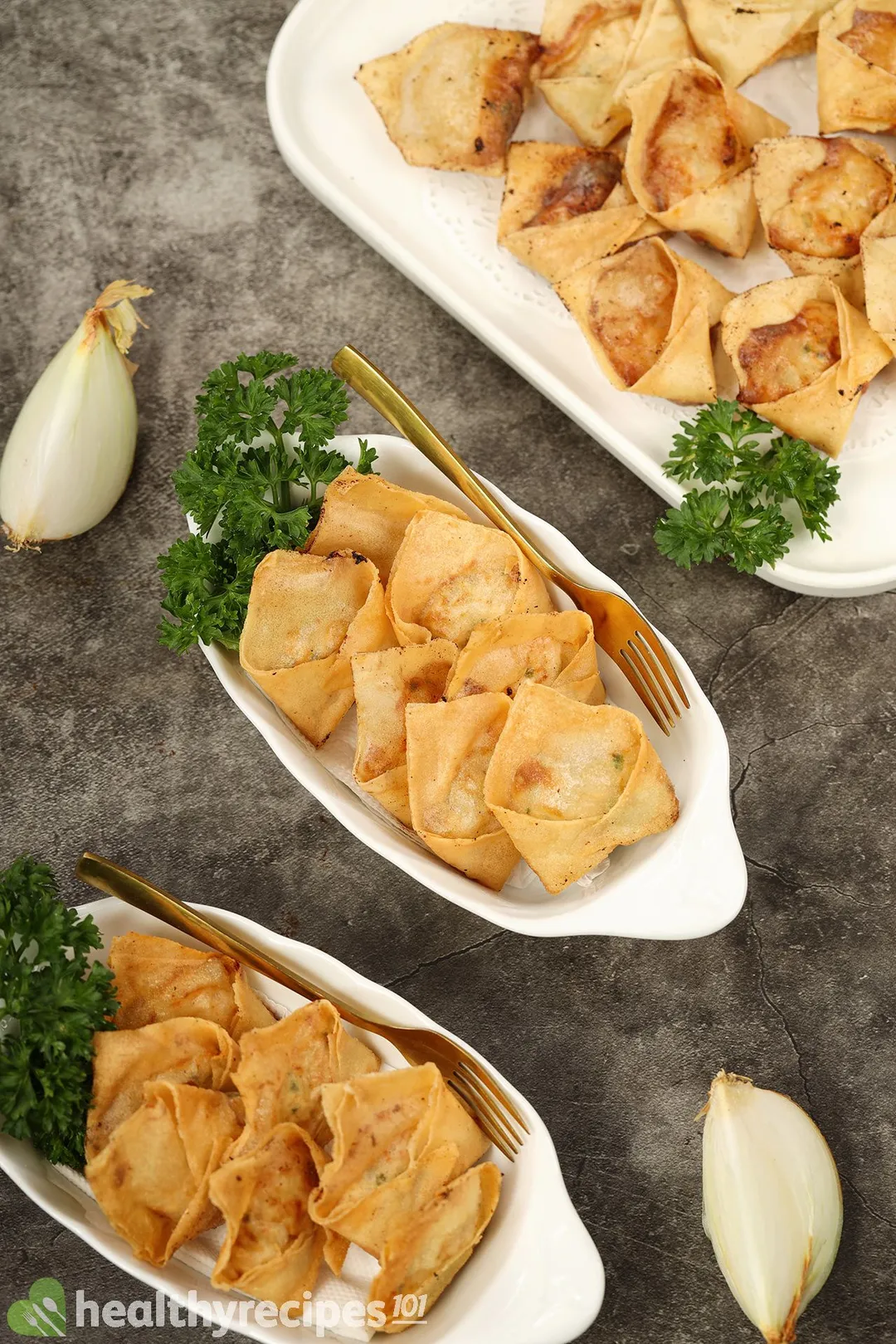 It is oil (or fat in general) that makes foods crispy. When the food is sprayed with oil, it'll expand the tiny air pockets within the starch before hardening it. Crushing these hard bubbles results in a series of breaking sounds, what we describe as 'crispy'. Without oil, the starch just hardens and becomes rather stiff and snappy.
Still, we wouldn't say that air-fried foods are as crunchy as deep-fried ones, because the food is introduced to extremely hot oil in the beginning. The more sudden the change in temperature, the larger those bubbles get and so does the crispy sound. It is totally fine to have deep-fried foods once in a while, especially if it's your favorite treat.
Storing Shrimp Rangoons
Once wrapped, the pouches can be refrigerated for 4 days and frozen for up to 3 months. To cook, we suggest that you fry them over low heat until golden to ensure that the inside is properly cooked.
We don't recommend storing the rangoons after they are fried. Once cooked, the starch can no longer expand and hence, they would become stiff rather than delightfully crispy.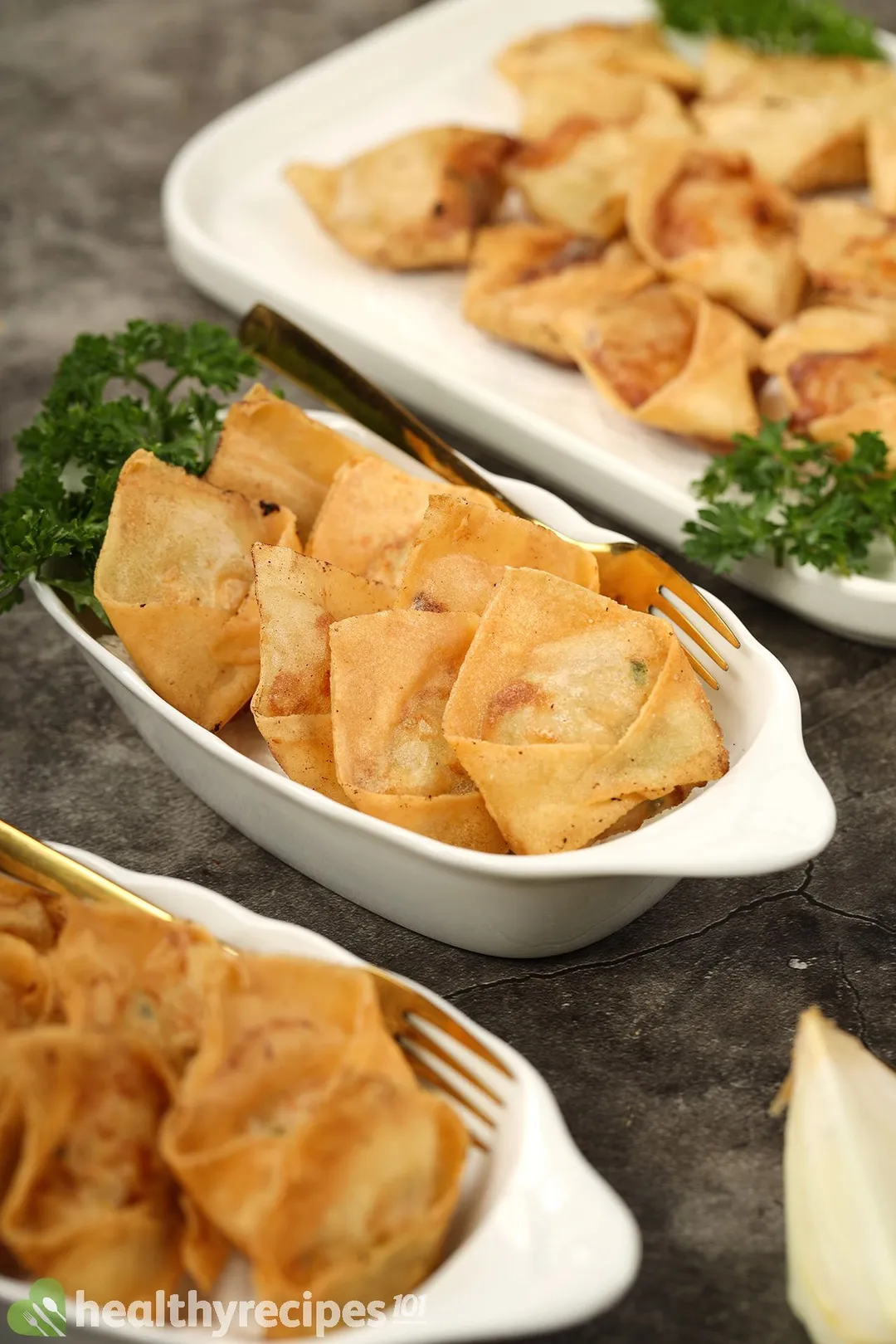 How About Some Shrimp Main Dishes?
For even more ideas and options, check out this Shrimp Recipes for Dinner collection.
Shrimp Rangoon
Our shrimp rangoon recipe will help you make crispy, delicious finger food to treat you, your family, and friends. This recipe makes 28 crispy pouches.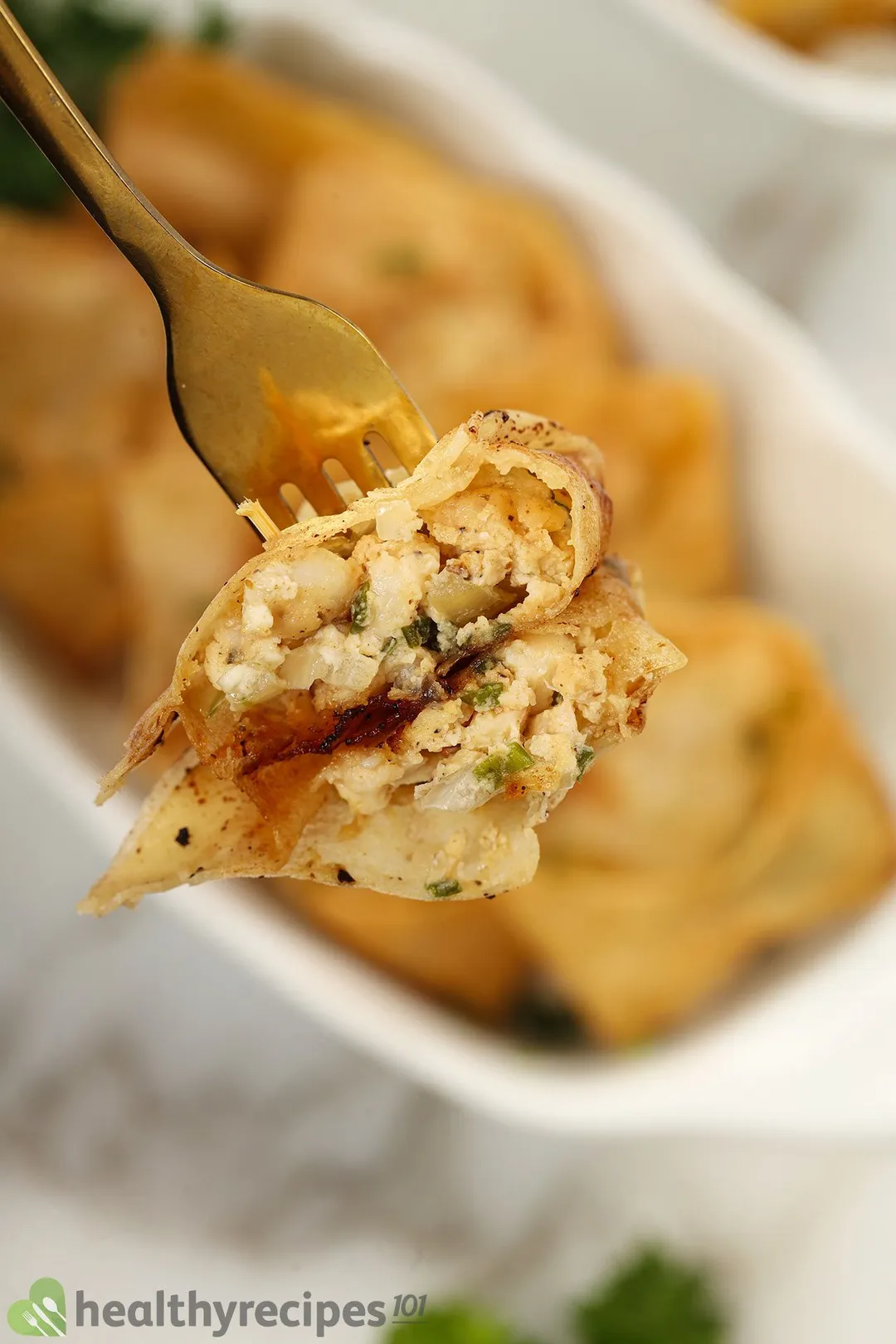 cook TIME

17 mins

prep TIME

8 mins

total TIME

25 mins
COURSE

Side Dish

CUISINE

American

SERVINGS

CALORIES

234 kcal
INGREDIENTS
5 oz

peeled shrimp

(from 10 oz whole shrimp)

7

spring roll wrapper sheets

(cut into 4 smaller squares)

2 tbsp

scallion

(chopped)

1/2 tsp

ground black pepper

1 1/2 tsp

Worcestershire sauce
INSTRUCTIONS
1
Mince the shrimp, like so, and put it in a bowl.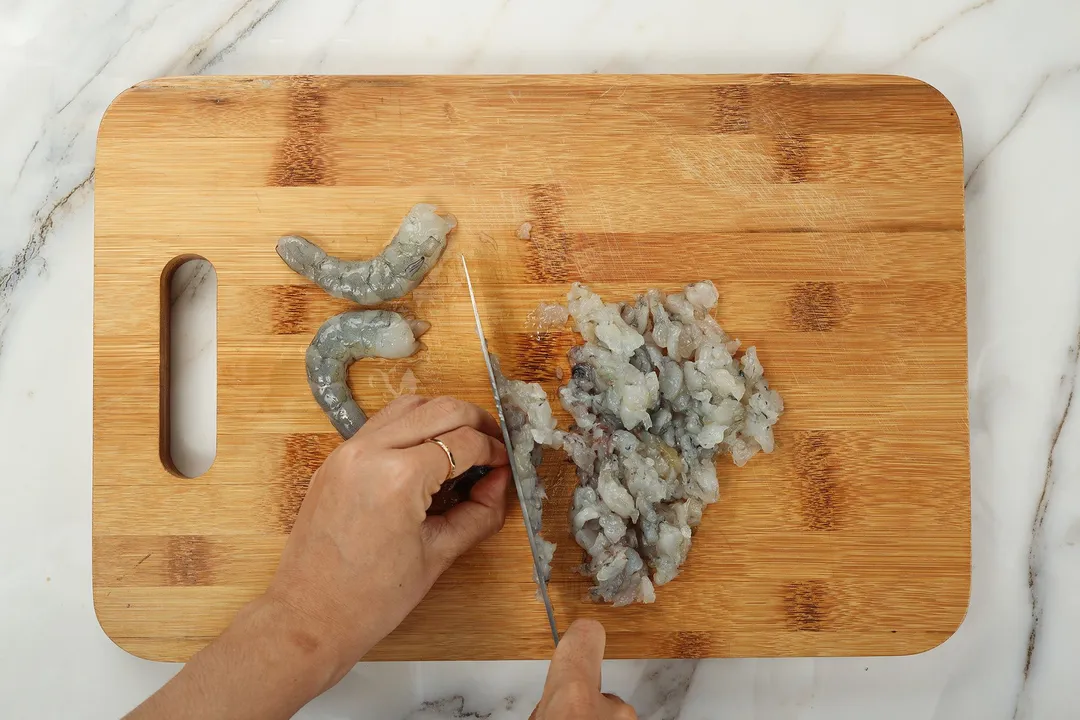 2
Combine the shrimp meat with 2 oz onion, 1.5 oz cream cheese, 2 tbsp parsley, 2 tbsp scallion, 1/2 tsp garlic powder, 1/2 tsp ground black pepper, and 1 1/2 tsp Worcestershire sauce.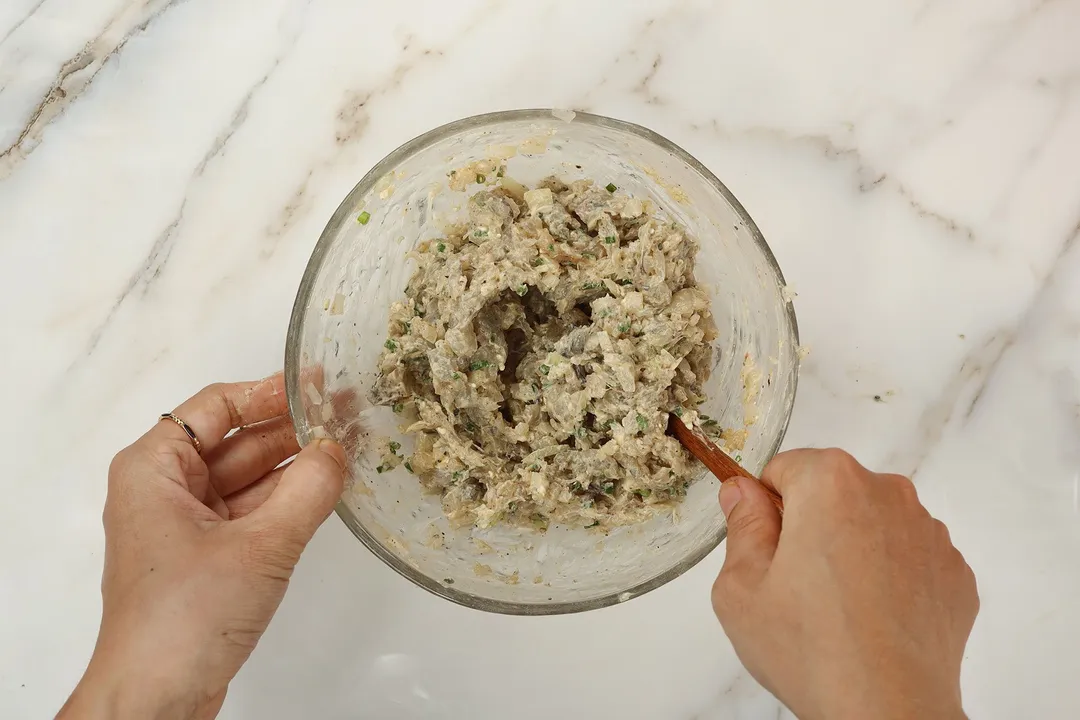 3
Place a bit of the filling in the middle of a wrapper. Dampen two adjacent sides with water.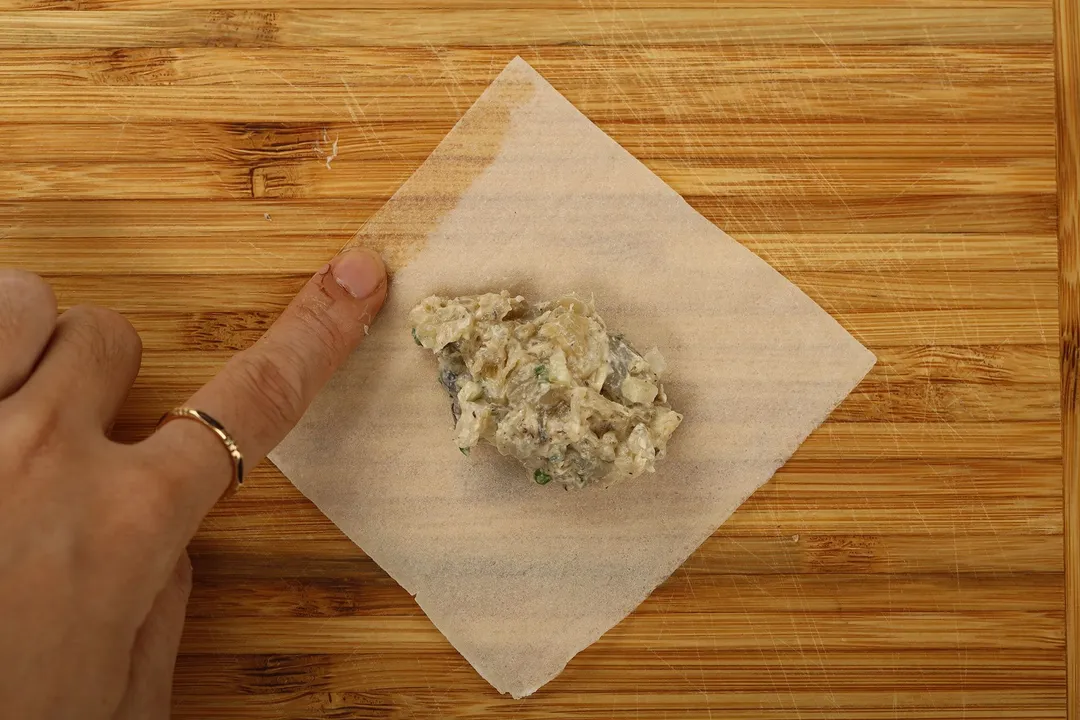 4
Fold the two non-wet sides over, like so. Gently press to seal the sides together.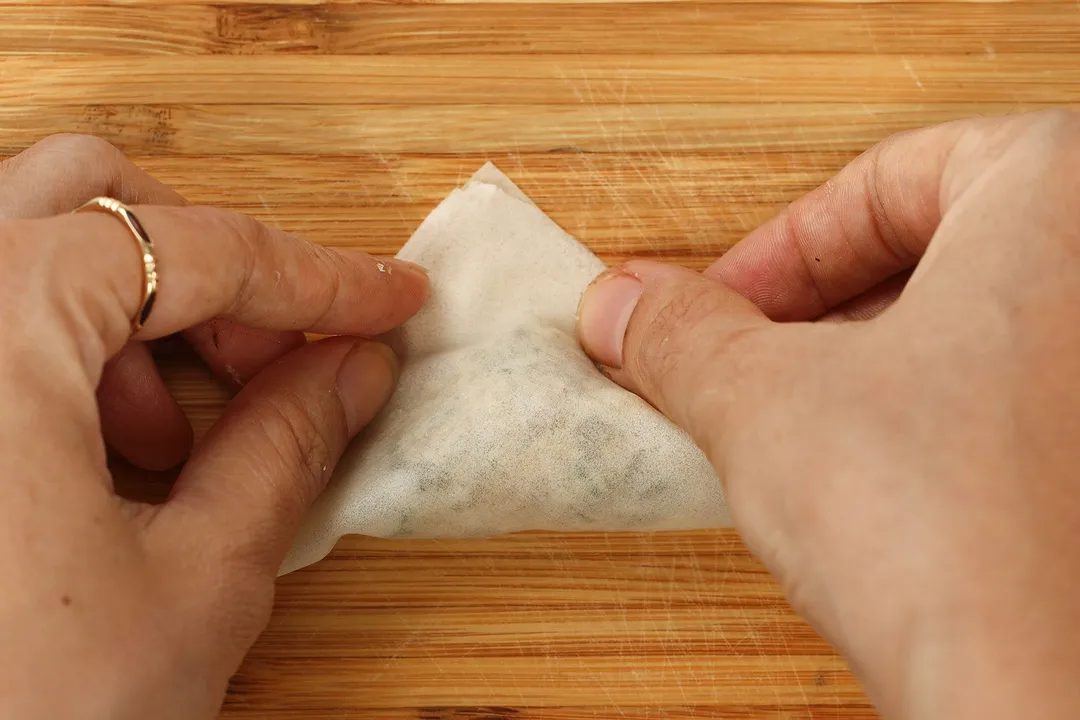 5
Bring the two corners together, like so, and glue them with water, one on top of the other. Repeat steps 3 and 4 until you have 28 pouches.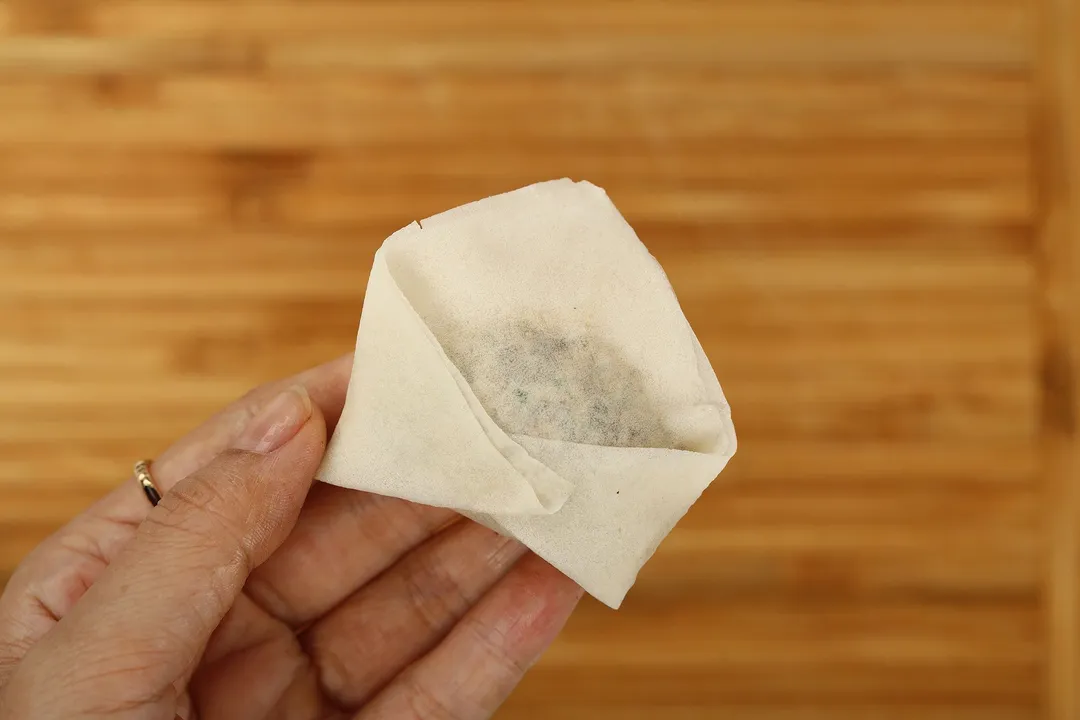 6
Heat 1 1/2 cups canola oil over medium heat. Test the heat by dunking a pair of chopsticks in -- if it bubbles, the oil's ready. Fry the shrimp rangoons for 1 minute or until the outside turns golden.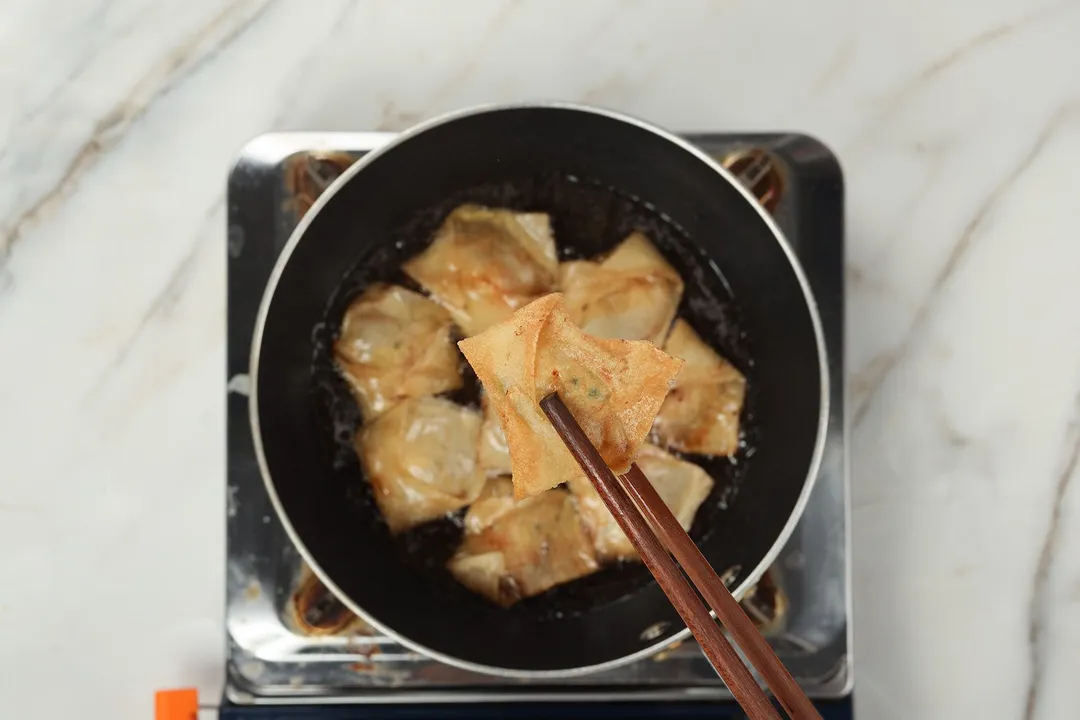 7
Place the fried ones onto a paper towel to dab off excess oil. Serve while it's hot and crunchy.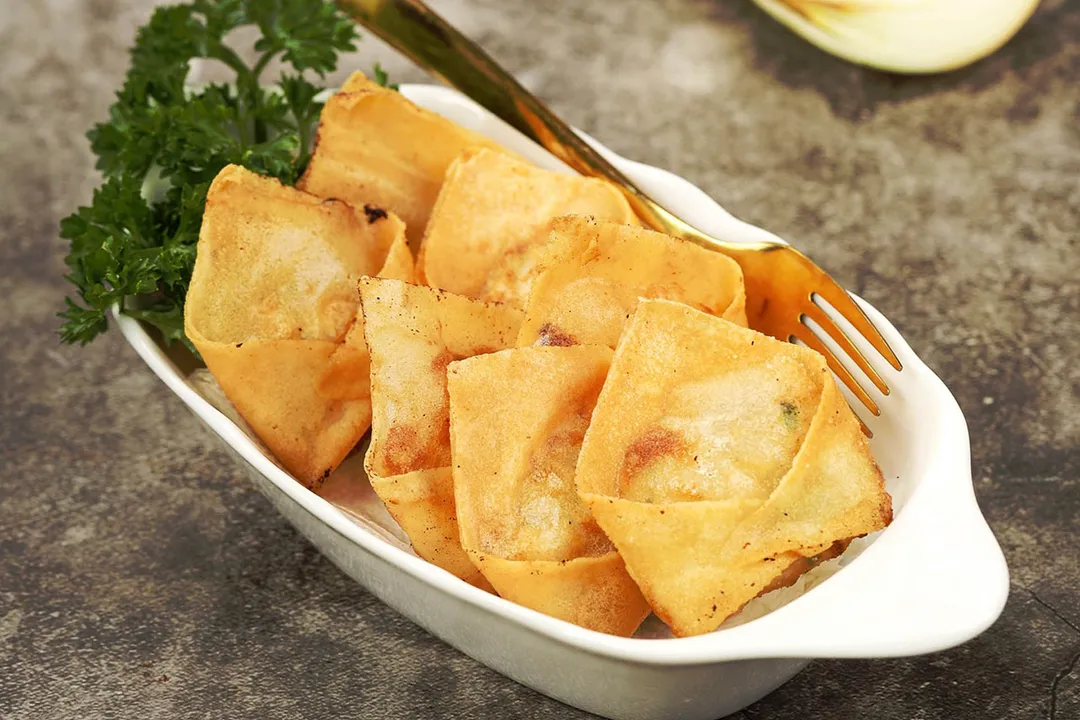 (*) Only a part of the frying oil will end up in the final product, and we have calculated nutritional values based on that amount. The whole amount is needed for the cooking process, but what actually ends up being consumed is 1 1/2 tablespoon of oil.
NUTRITION
Nutrition Facts
Shrimp Rangoon
Amount Per Serving (1 serving)
Calories 234
Calories from Fat 90
% Daily Value*
* Percent Daily Values are based on a 2000 calorie diet.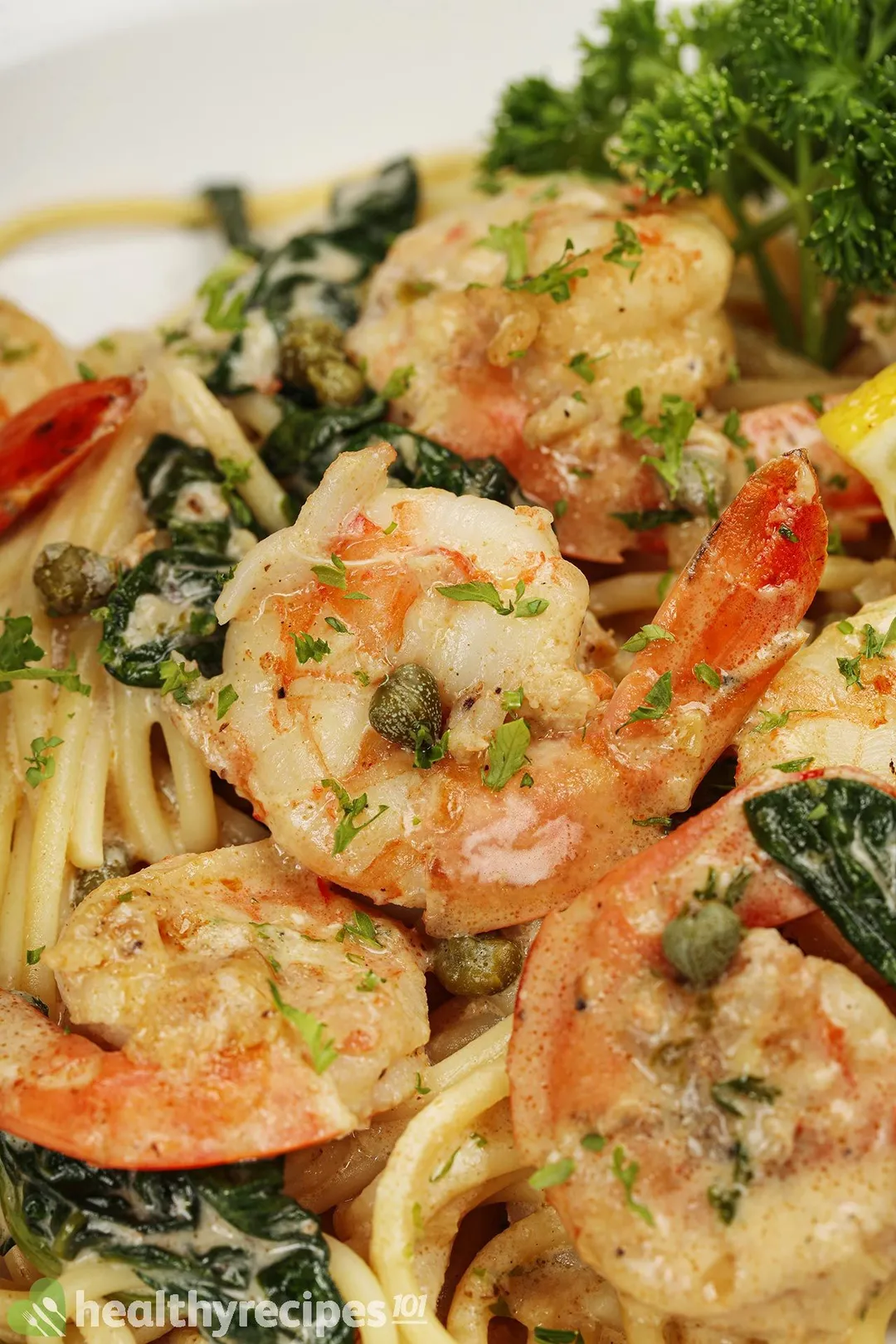 Previous Recipe
Shrimp Piccata
Shrimp Piccata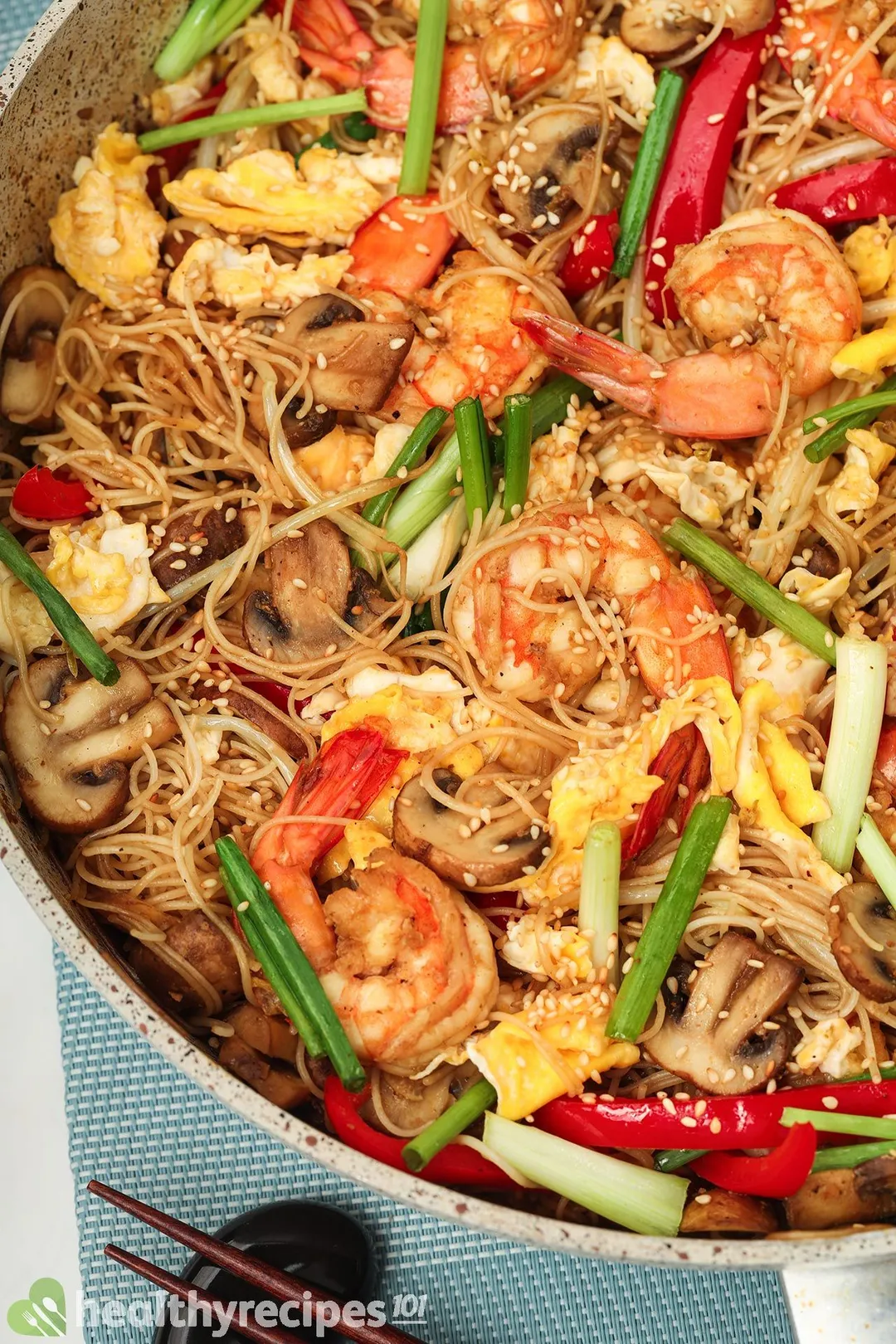 Next Recipe
Shrimp Mei Fun
Shrimp Mei Fun
Head Chef, Culinary Consultant
Tuyet Pham is an award-winning Saigonese chef who believes that joy is the secret ingredient to delicious food. At Healthy Recipes 101, Tuyet personally tests and simplifies every recipe, ensuring maximum flavor with minimal effort. With a background at prestigious French restaurants P'TI Saigon and Le Corto, Tuyet knows how to make every dish exceptional.
Writer, Author
Luna Regina is an accomplished writer and author who dedicates her career to empowering home cooks and making cooking effortless for everyone. She is the founder of HealthyKitchen101.com and HealthyRecipes101.com, where she works with her team to develop easy, nutritious recipes and help aspiring cooks choose the right kitchen appliances.
Nutrition Reviewer
Natalie Butler is a registered dietitian nutritionist with a passion to help others live their best life through food, fitness, safer beauty and a healthy lifestyle. She has expertise with a variety of diets and diseases and believes that there is no one-size-fits-all approach for health.
I tried making it and it turned out so good.