This shrimp Mozambique recipe creates a saucy, flavorful shrimp skillet.
Camarão à Moçambique — A Flavorful Portuguese Classic
Are you looking for a simple and quick shrimp recipe that happens to taste great? If so, you've come to the right place! Our peeled and crispy shrimp are enveloped by a gorgeously hued sauce that features the classic combination of garlic and onion sautéed in butter and cooked in spices. Its brilliant color comes from saffron, which also lends a strong floral aroma to the shrimp.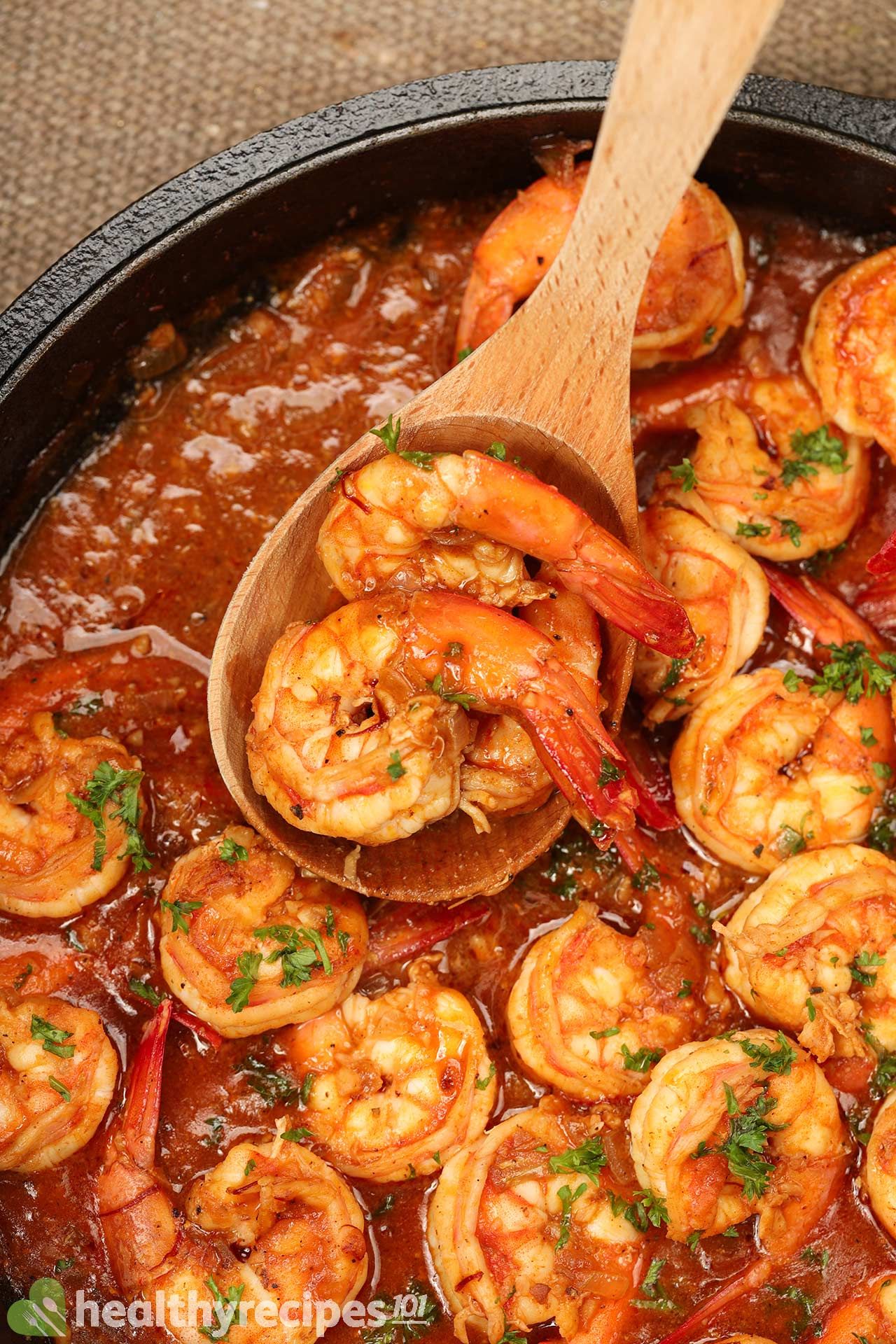 What It Needs
Our shrimp Mozambique recipe calls for shrimp, rice, saffron, tomato paste, butter, garlic, and a few other spices.
We use peeled shrimp, but have seen some recipes that use shrimp caught during their shedding season, when they have a thinner, softer shell. This type of shrimp is hard to find, but if you're lucky enough to have it, it yields a crunchy texture and adds even more flavor to the dish when cooked.
The beautiful sauce it's cooked in features a variety of flavors from caramelized onion and garlic, seared shrimp, white wine, Sriracha, lemon juice, and saffron. The end result is super fragrant, full of umami flavor, and slightly tangy with a mild kick of heat. If you want the shrimp to have more heat, feel free to add as much cayenne as you like.
As saffron is a rather luxury ingredient, you can substitute it with about 1/4 tsp of turmeric powder. Its aroma doesn't quite match, but it sure lends the dish a similar vibrant color.
We thicken the sauce with a little all-purpose flour. If you have corn starch, xanthan gum or something similar on hand, the sauce would be more concentrated and coat the shrimp more beautifully.
The meal would not be complete without some rice to serve the sauce over. We like to cook our rice in a pot, but if you don't cook rice often, there are many quick and easy alternatives, including microwavable rice.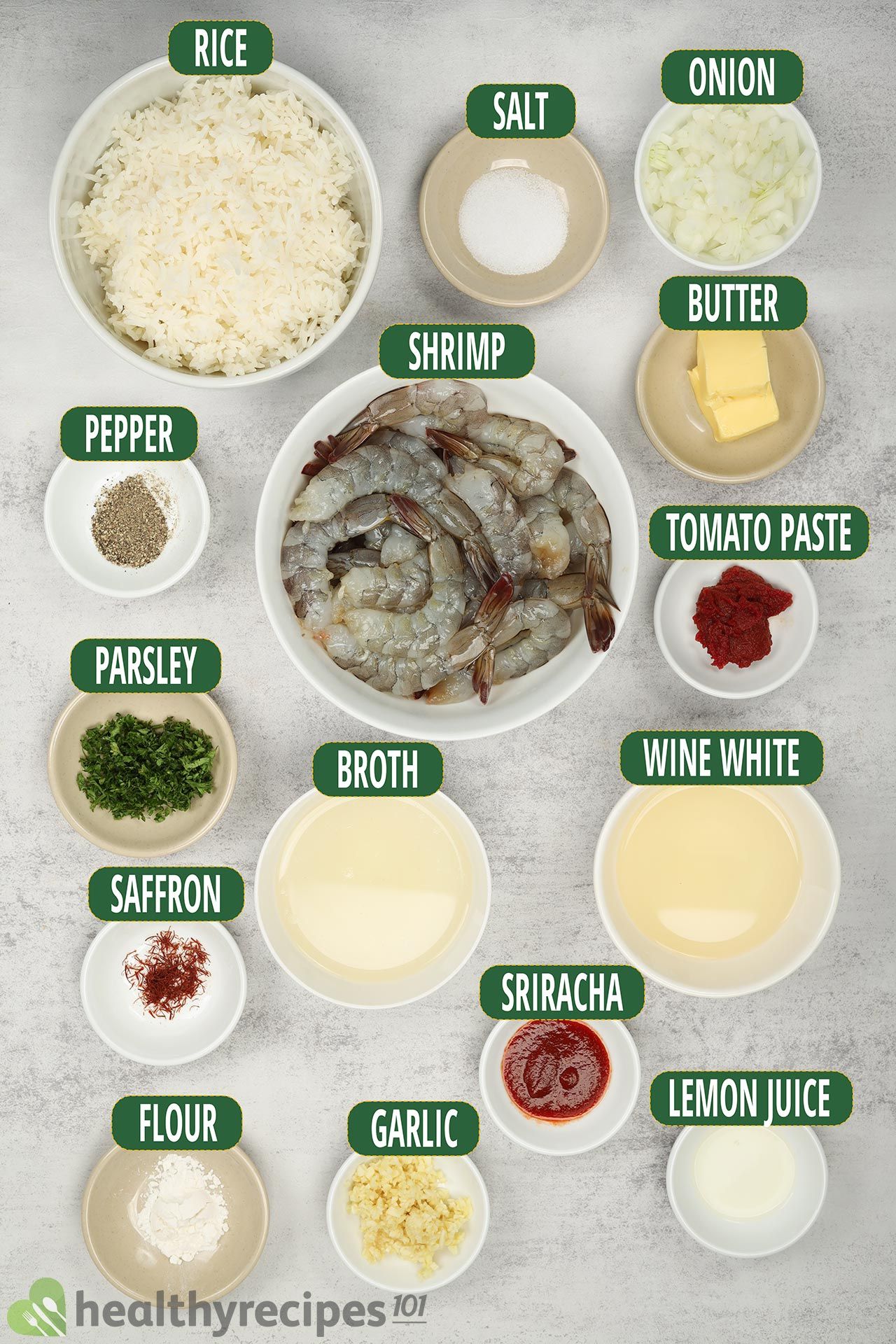 Is Shrimp Mozambique Healthy?
Shrimp itself is a healthy protein, and also provides some omega 3s. These are different from other types of saturated fats found in pork, chicken, or beef, as they are healthy essential polyunsaturated fats that help with controlling your cholesterol levels.
White rice, although the soul of Asian cooking, doesn't yield a lot of nutrients apart from carbs due to the processing it undergoes to make it more shelf stable. Our bodies need carbs, but ideally ones that come with some nutrients and fiber, such as those in brown rice. Brown rice has not only carbs, but also B vitamins and minerals such as magnesium, potassium, and the like, all of which are beneficial to the body.
Saffron is most often known for its high price tag and vibrant color, but it also delivers immense health benefits. It is full of antioxidative compounds that can help your body fight off damage caused by free radicals. As these studies suggest, saffron might also improve mood and aid in weight loss.
A healthy dish requires calories, saturated fat and sodium levels to be regulated, so we made ours by using just enough butter, seasoning, and fitting portion size. Each serving comes with about 489 calories, 3.7 g saturated fat, and 558 mg sodium (we calculate our numbers using the USDA's food database).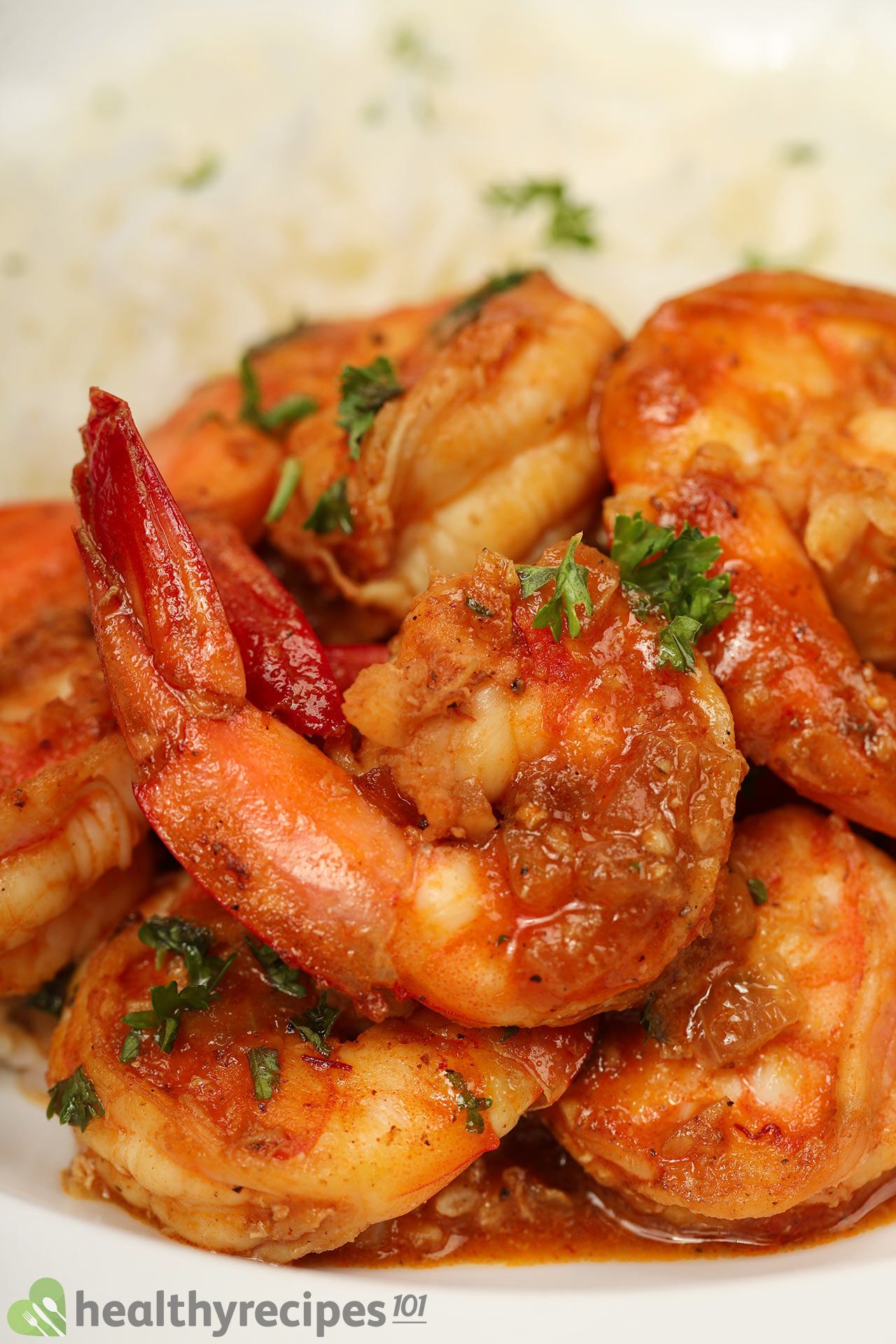 How We Made Our Shrimp Mozambique
Our method is pretty straightforward; we first tackled the aromatics — garlic and onions. Because butter caramelizes quickly, it didn't take much time to get the aromatics soft and beautifully brown.
Next, we added the shrimp and cranked up the heat. This does two things: cooks the shrimp to perfection, and facilitates flavor development.
We then turned down the heat to avoid burning, added tomato paste along with salt and pepper until the paste melted, and coated the shrimp nicely. There were lots of flavors building up in the pan at this stage, so we added some white wine to deglaze the pan., This helped to retrieve those flavors and neutralize the fishy smell of the shrimp.
Next, we added lemon juice and Sriracha for tanginess, saffron for its unique taste, and flour to thicken the sauce. As the flour clumped up after some stirring, we poured in chicken broth and allowed the sauce to simmer.
Finally, heaps of parsley were sprinkled on top, and the dish was ready to serve with cooked rice. Here's the process we used: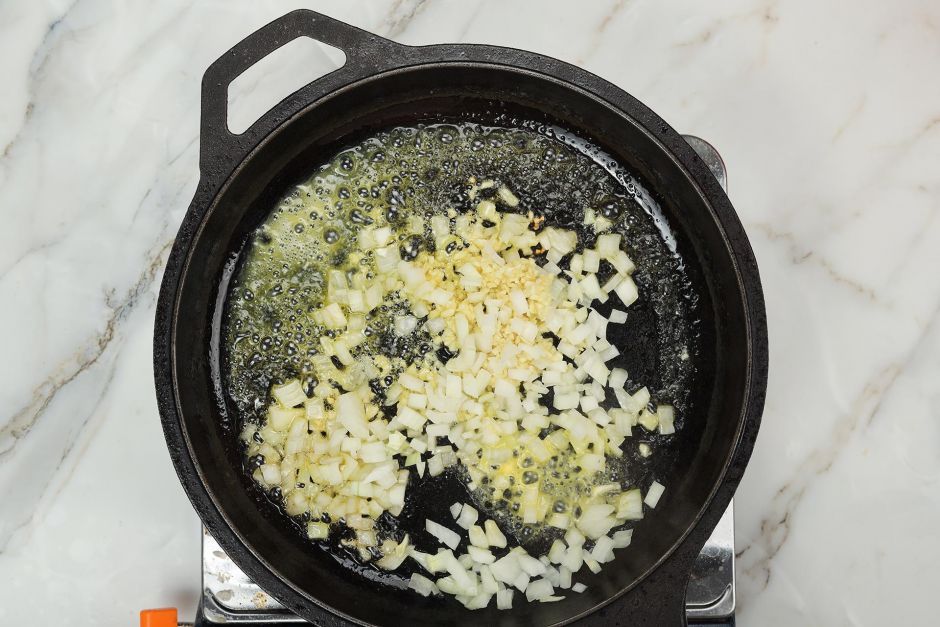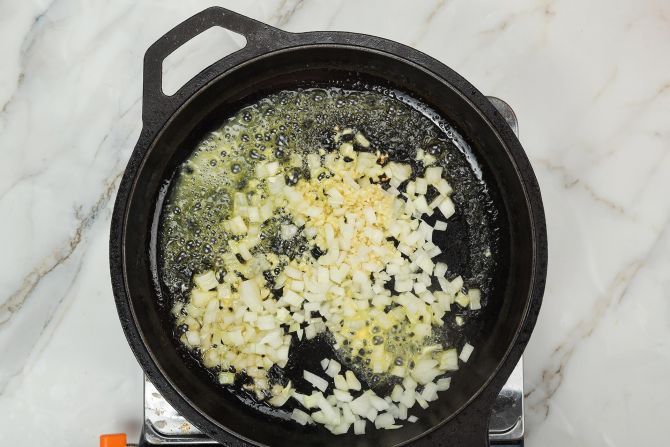 Sauté the aromatics.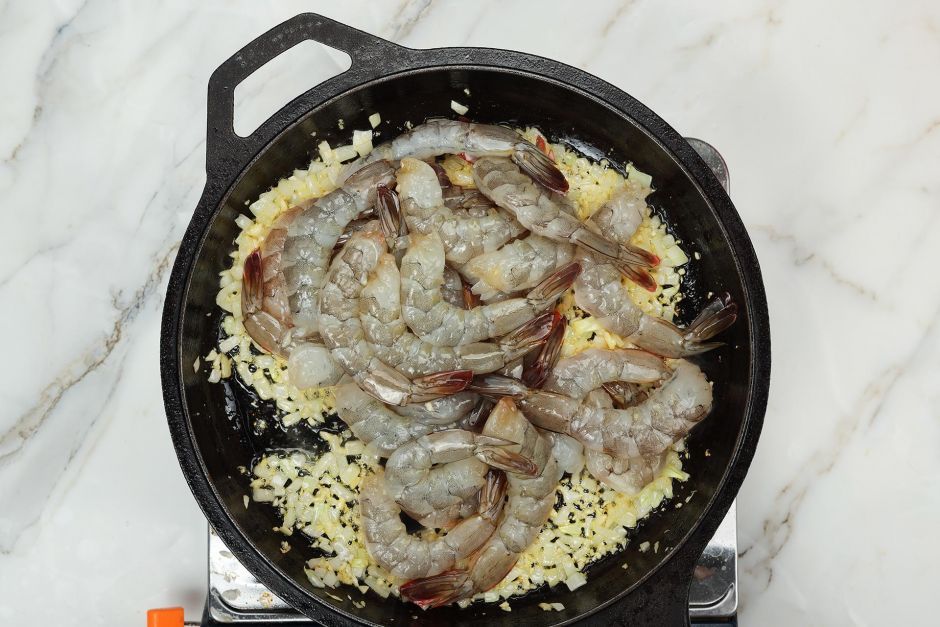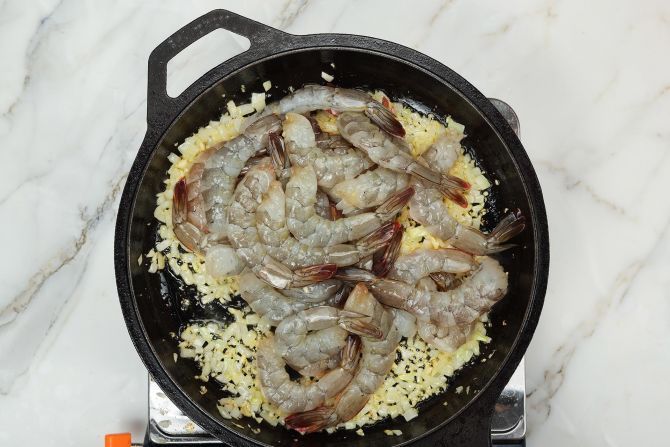 Sear the shrimp.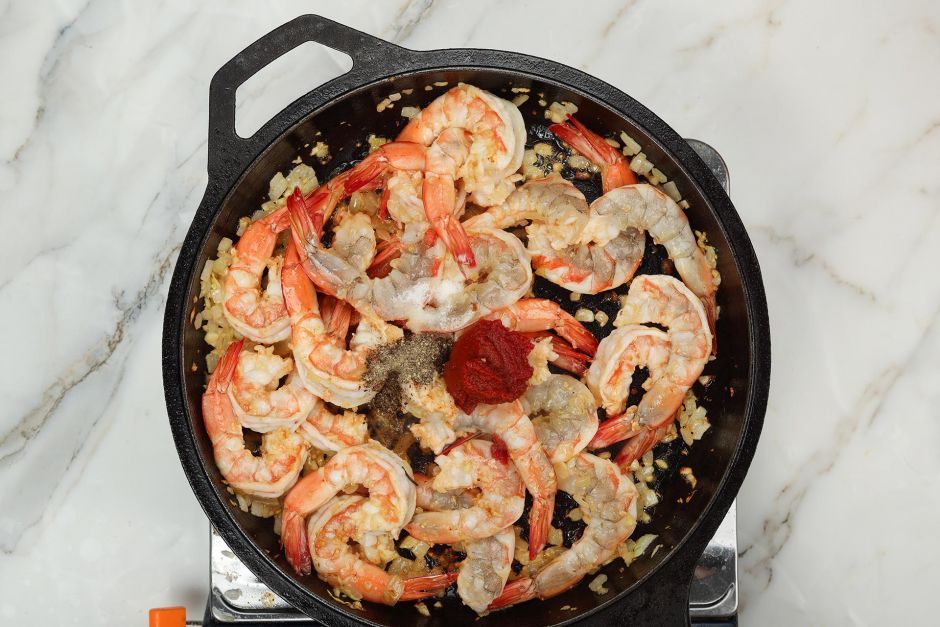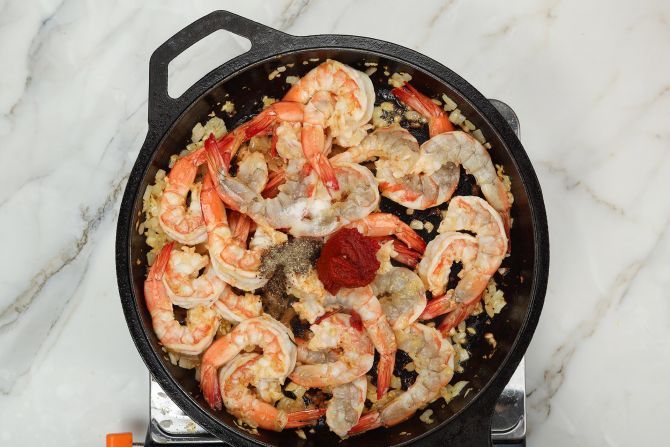 Add tomato paste, salt, pepper, and turn down the heat.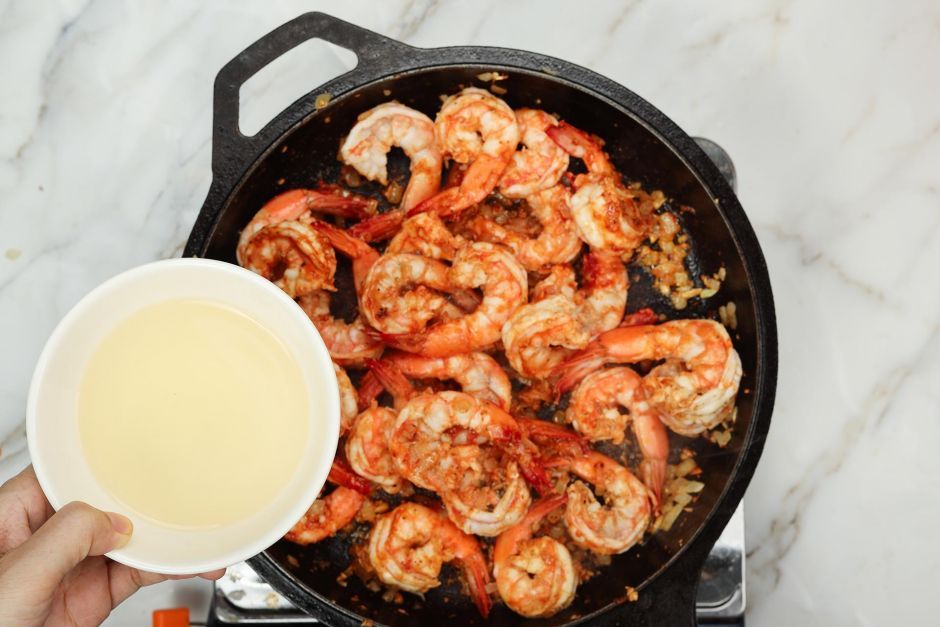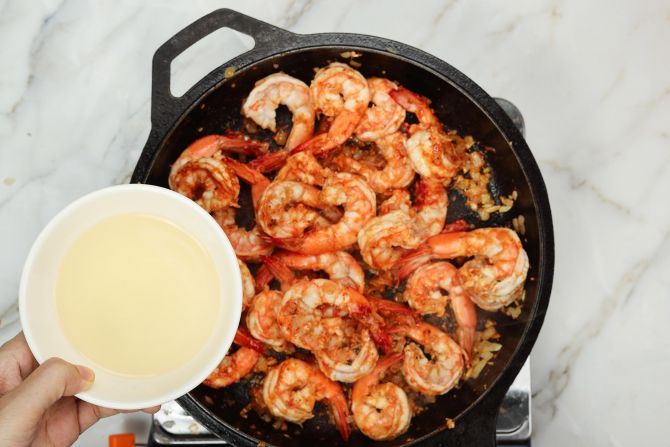 Deglaze the pan with white wine.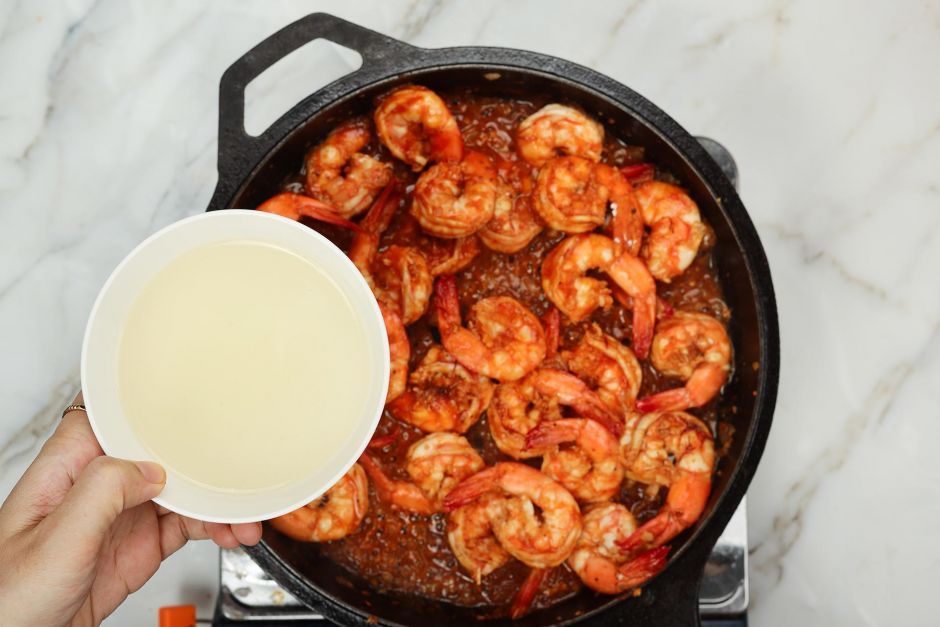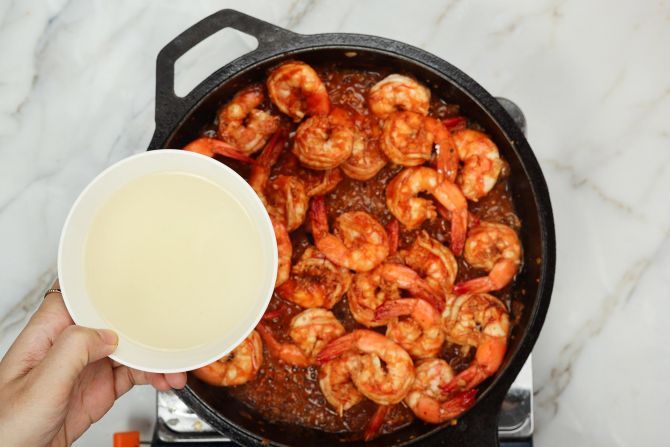 Add the rest of the ingredients and simmer.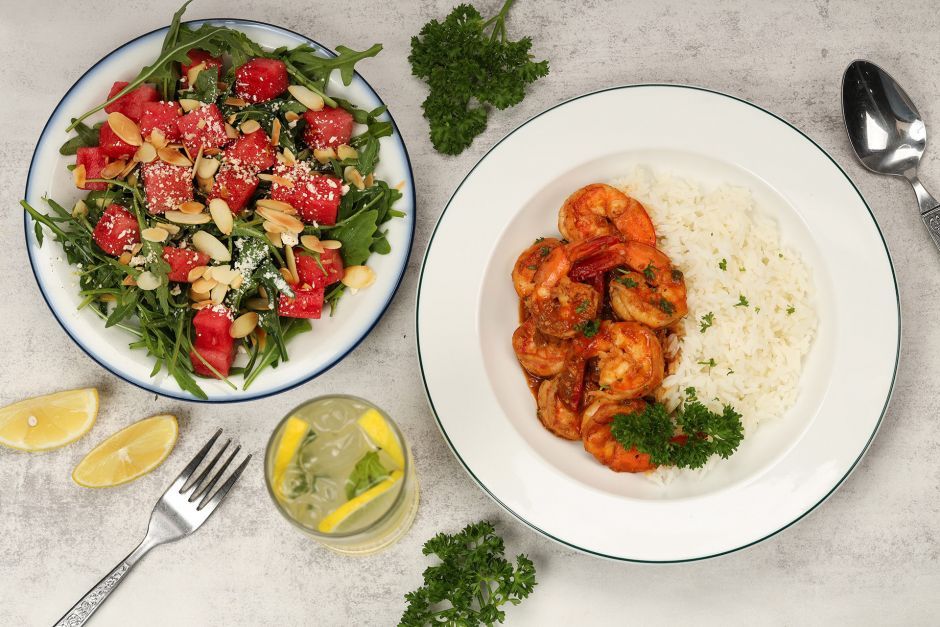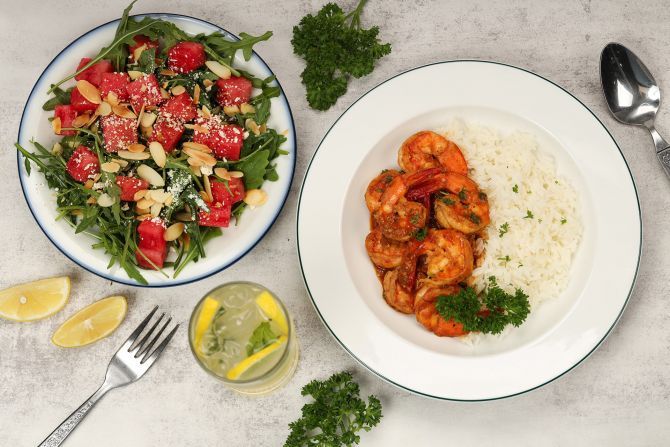 Add parsley and serve with rice.
Jump to Recipe
For the best outcome, get the exact measurements in our 'Shrimp Mozambique Recipe' card at the bottom of this article.
Storage and Reheating
If you place any leftover food in an airtight container, it can be stored in the fridge for up to 4 days, or the freezer for up to 3 months. When you're ready for more, it can be reheated with ease over medium heat with some water until heated through.
What to Serve With Shrimp Mozambique
This meal really benefits from the addition of some crunchy textures and fresh tastes, so we suggest our watermelon arugula salad and lemonade on the side. The salad is full of juicy watermelon cubes that help balance the spiciness from the arugula, and the lemonade helps to bring everything together.
Shrimp Mozambique
Watermelon Arugula Salad
Lemonade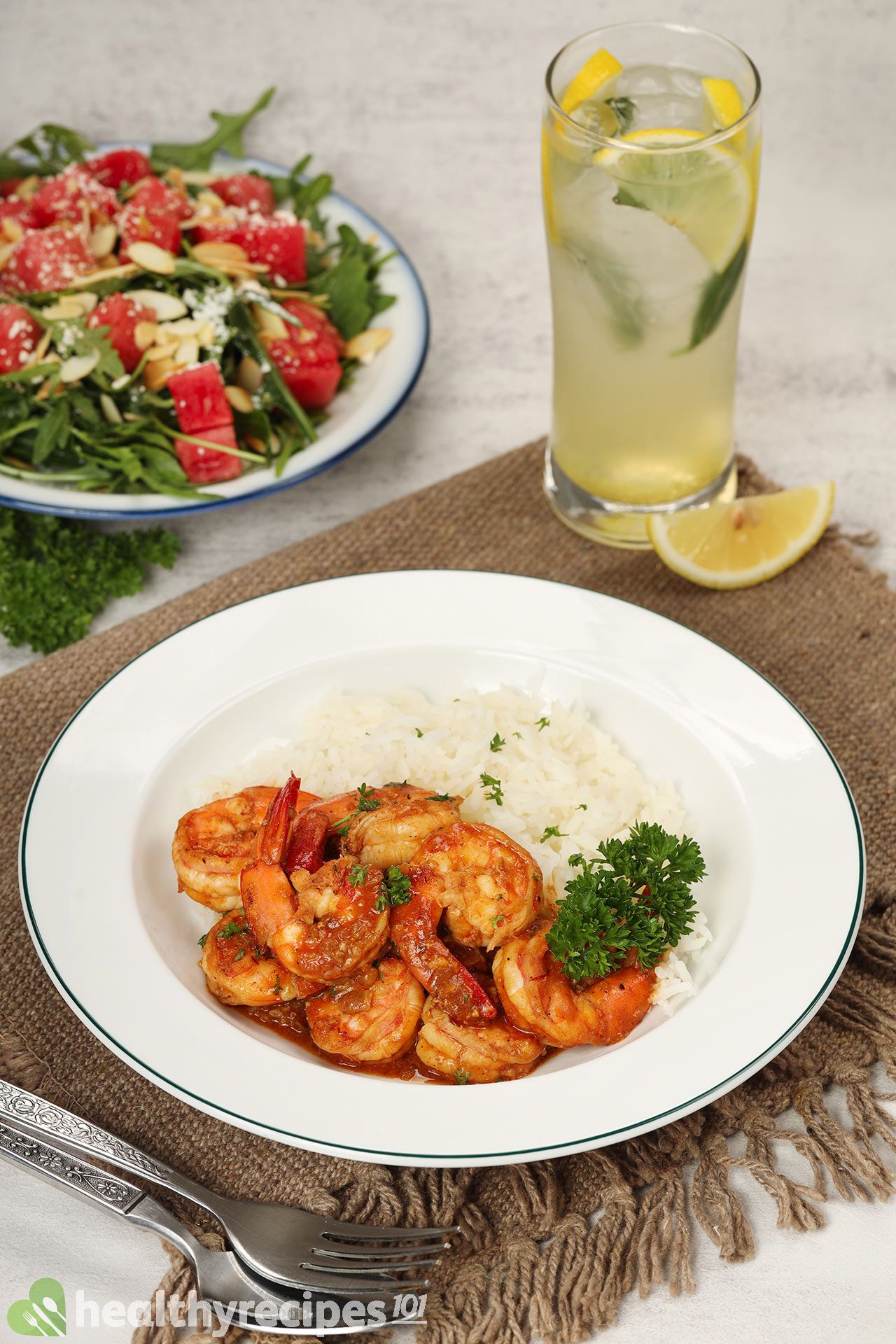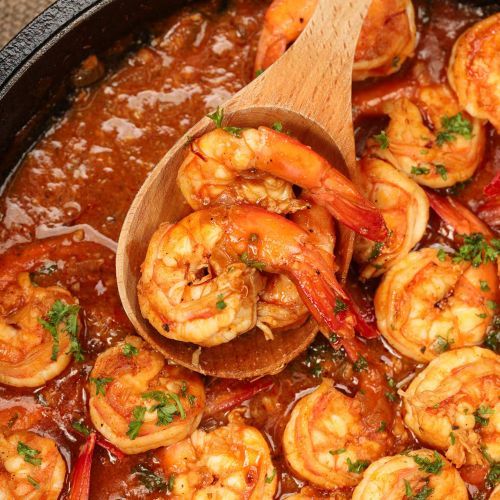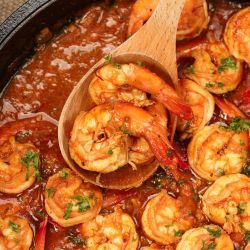 Shrimp Mozambique Recipe
Our shrimp Mozambique recipe features the best ingredients and comes together in just a few minutes. Save it for a quick and easy meal you can make ahead of time or enjoy right now.
Ingredients
2

tbsp

unsalted butter

2

oz

onion

finely chopped

1 1/2

tbsp

garlic

minced

13

oz

peeled shrimp

from 26 oz whole shrimp

1

tbsp

Hunt's tomato paste

1/2

tsp

ground black pepper

1/2

tsp

salt

6

tbsp

white wine

1/2

tbsp

lemon juice

2

tsp

Sriracha

1/2

tsp

saffron

1

tsp

all-purpose flour

1/4

cup

unsalted chicken broth

2

tbsp

parsley

chopped

4

cups

cooked medium-grain rice
Instructions
Heat a non-stick pan over medium heat and add 2 tbsp butter. Once butter has melted, add in 2 oz chopped onion and 1 1/2 tbsp garlic, and stir for 2 minutes or until slightly caramelized.

Turn the heat up to high and add 13 oz peeled shrimp. Sear both sides for about 2 minutes (1 minute for each side) or until lightly browned.

Reduce the heat to medium and add 1 tbsp tomato paste along with salt and pepper (1/2 tsp each). Stir until the red paste is all liquefied.

Add 6 tbsp white wine and scrape the pan with a wooden spoon or heat-proof spatula to deglaze. Wait until the wine is reduced by half.

Add 1/2 tbsp lemon juice, 2 tsp Sriracha, 1/2 tsp saffron, and 1 tsp all-purpose flour. Stir for 30 seconds, then add 1/4 cup chicken broth. Whisk the flour lumps until everything dissolves, and let everything simmer for 2 minutes or until the sauce reaches your desired consistency, then remove from heat.

Stir in 2 tbsp parsley (or more, to your preference) and enjoy with 4 cups cooked rice.
Nutrition
Nutrition Facts
Shrimp Mozambique Recipe
Amount Per Serving (1 serving)
Calories 489
Calories from Fat 63
% Daily Value*
Fat 7g11%
Cholesterol 312mg104%
Sodium 559mg24%
Potassium 650mg19%
Carbohydrates 59g20%
Protein 42g84%
Vitamin A 171IU3%
Vitamin C 6mg7%
Calcium 141mg14%
Iron 5mg28%
* Percent Daily Values are based on a 2000 calorie diet.