Today's BBQ shrimp recipe is an effortless cook-out that takes place in your own kitchen.
The oven may be just a box with hot sticks, but it is thanks to this brilliant innovation that you're able to make BBQ feasts in the comfort of your own kitchen. Blasting the food with hot air, the oven gives it a juicy interior and caramelized finish just like a grill would.
The food may not have that smoky taste of a BBQ, but for busy people, that's a pretty fair trade for convenience. All there needs to be done is season the food, place it in there, turn some knobs, and wait.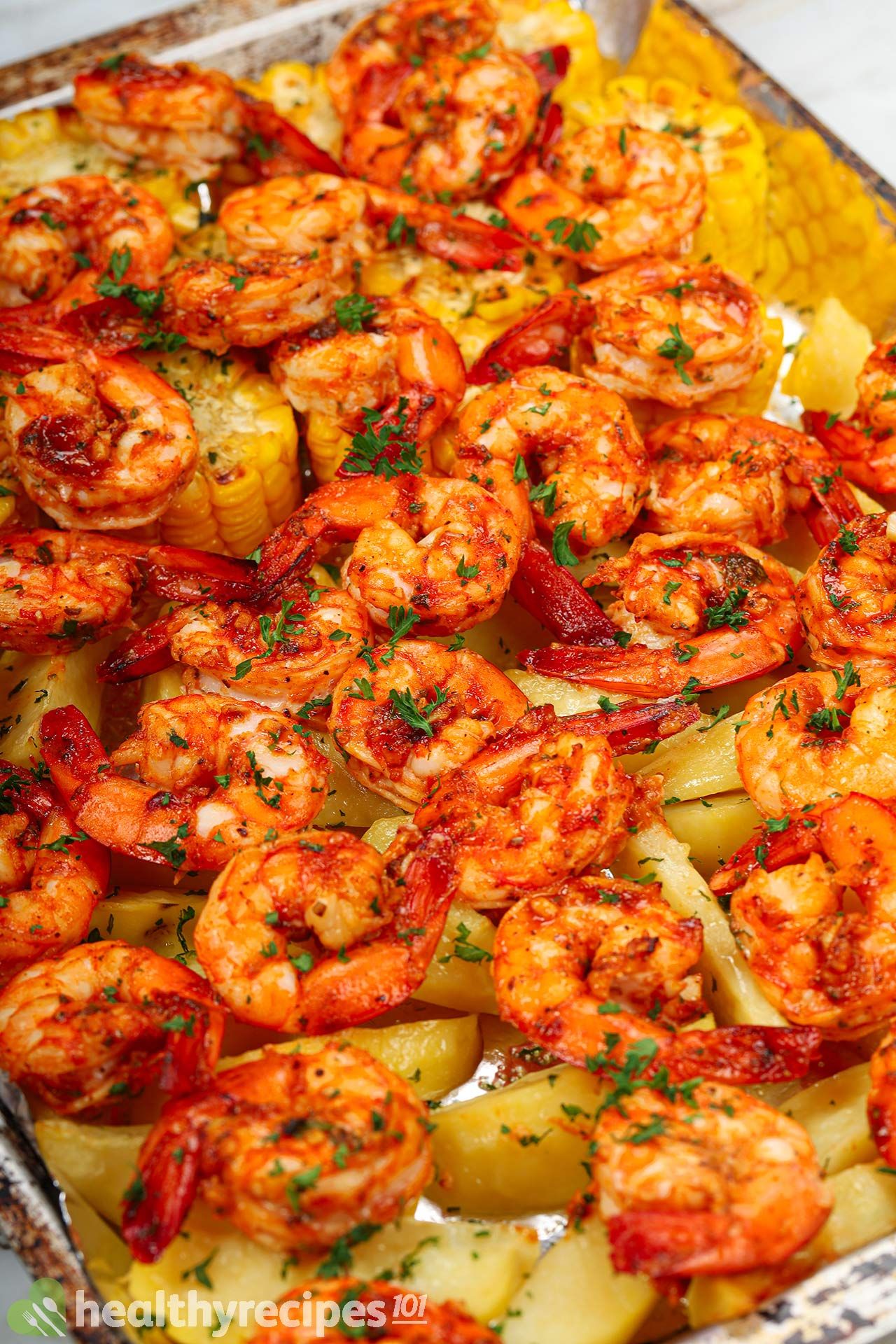 Today's recipe is all about that convenience; plus, we make sure that the shrimp is drenched in the concentrated BBQ sauce before letting it cook effortlessly in the oven. It will come out juicy, sticky, slightly charred, and packed with flavors.
We complement it with tender, juicy textures from some baked (we like to call it grilled, actually) potato wedges and corn on the cob alongside. And yes, they are really buttery.

Is BBQ Shrimp Healthy?
BBQ shrimp tends to be high in sodium. It comes from the sauce, seasonings, possibly butter, and even the shrimp—containing a small amount.
With all sodium sources in mind and several tweaks, we were able to craft this BBQ shrimp recipe to contain only around 572 mg sodium, while still ensuring it's not short on flavor.
Besides certain restrictions, healthy eating also involves adding variety into your diet. That's why we include potatoes and corn alongside the dish, bringing healthy complex carbs and extra micronutrients to the protein-rich meal.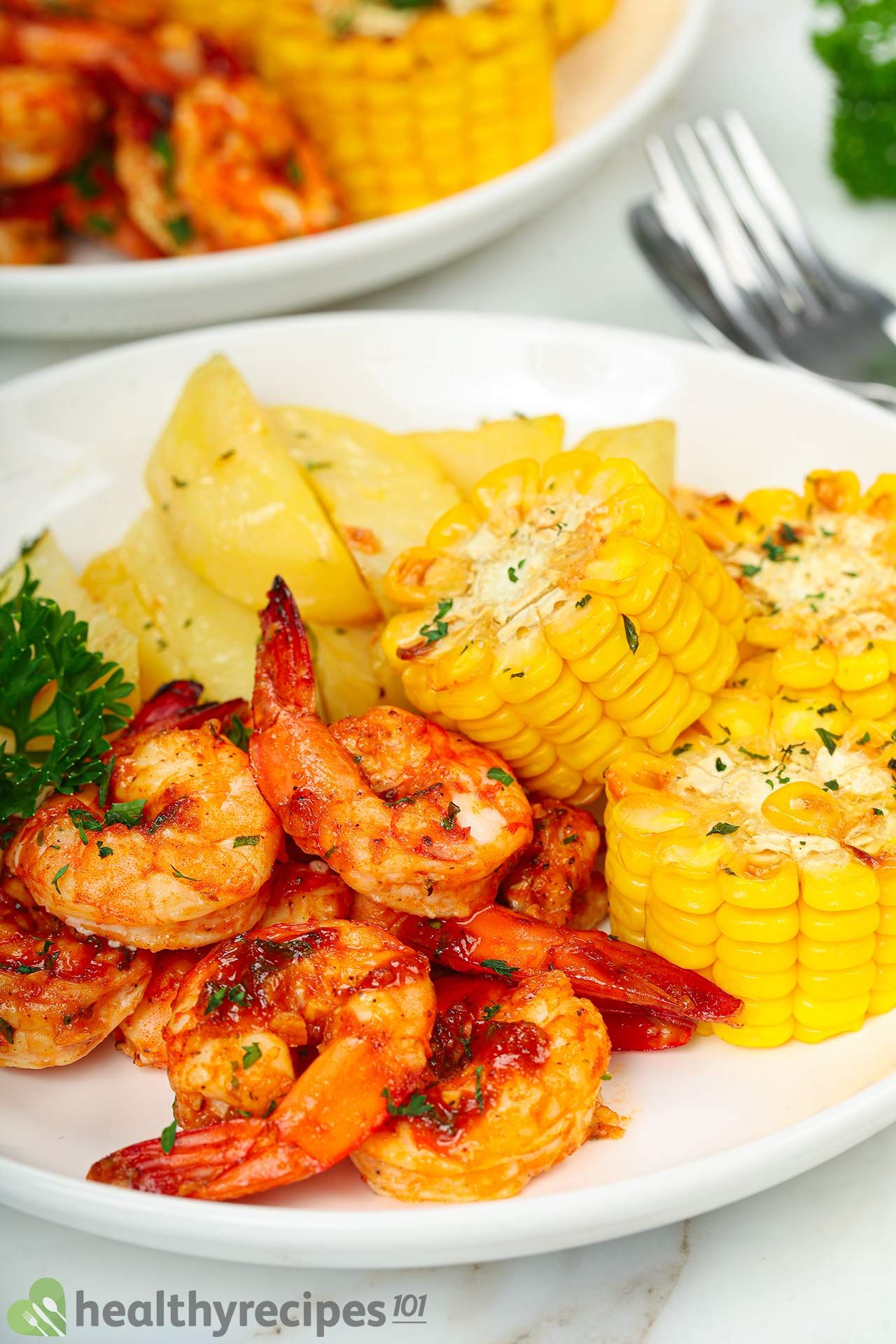 Within them you'll find:
Vitamin C, vitamin B6, potassium, manganese, and more, in potatoes.
Vitamin C, vitamin B1, vitamin B9, magnesium, etc. in corn.

Ingredient Overview
For a BBQ, you want medium to large shrimp as smaller ones just don't cut it — they work much better in a stir-fry or fried rice.
While we prefer our prawns peeled, some enjoy grilled shrimp more shell and head on. They are actually safe to consume and taste great when properly grilled. We provide measurements for both peeled and whole shrimp in the recipe card, in case you want to try cooking with whole shrimp.
They are marinated with:
Chopped garlic
Dried oregano
Ketchup, Sriracha, and honey
Smoked paprika and chili powder. (Sweet paprika may also be used.)
Lime juice
Salt and pepper
Olive oil (or canola oil)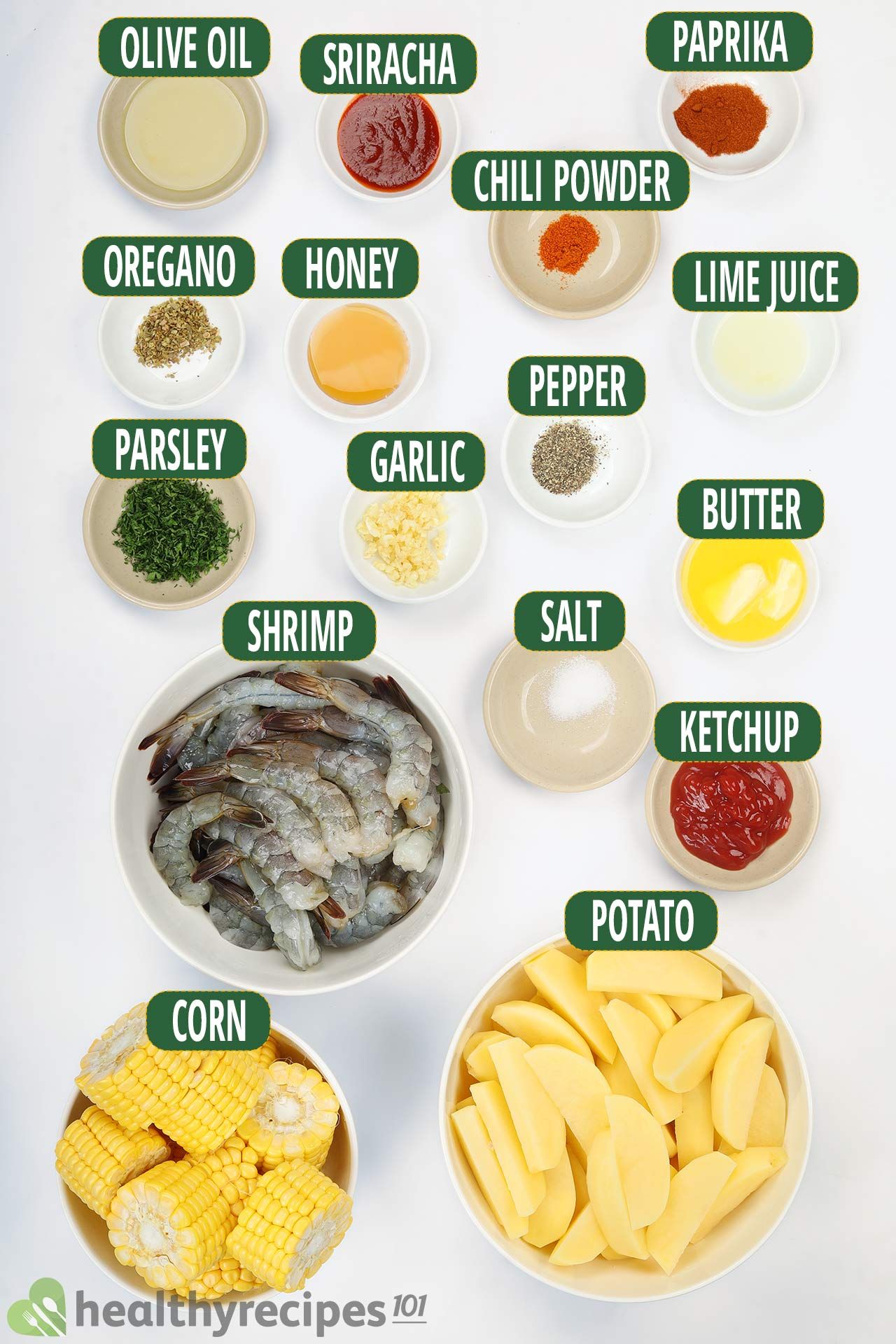 This scented, sweet, tangy, savory concoction might not compare to real BBQ sauce, but it's a very close alternative made from ingredients you might already have at home. Plus, we get to control its sodium content better—the ones we saw were very high in sodium.
Sometimes liquid smoke is added to BBQ marinades to replicate that smoky flavor of on-the-grill meat. The experience is definitely something, but we wouldn't consider it authentic.
We brush the potato wedges and corn with butter, lightly season with salt and pepper, and scatter chopped parsley over the top before baking. For the corn, cut the cobs into rounds about 2 inches in thickness. You can leave them as is or slice each round in half lengthways and face the kernels up so they all grill evenly.
How We Made Our BBQ Shrimp in the Oven
Both the potatoes and corn can take quite some time to cook in the oven. So, while the shrimp were marinating, we placed both in a bowl, covered it with plastic wrap, and microwaved it.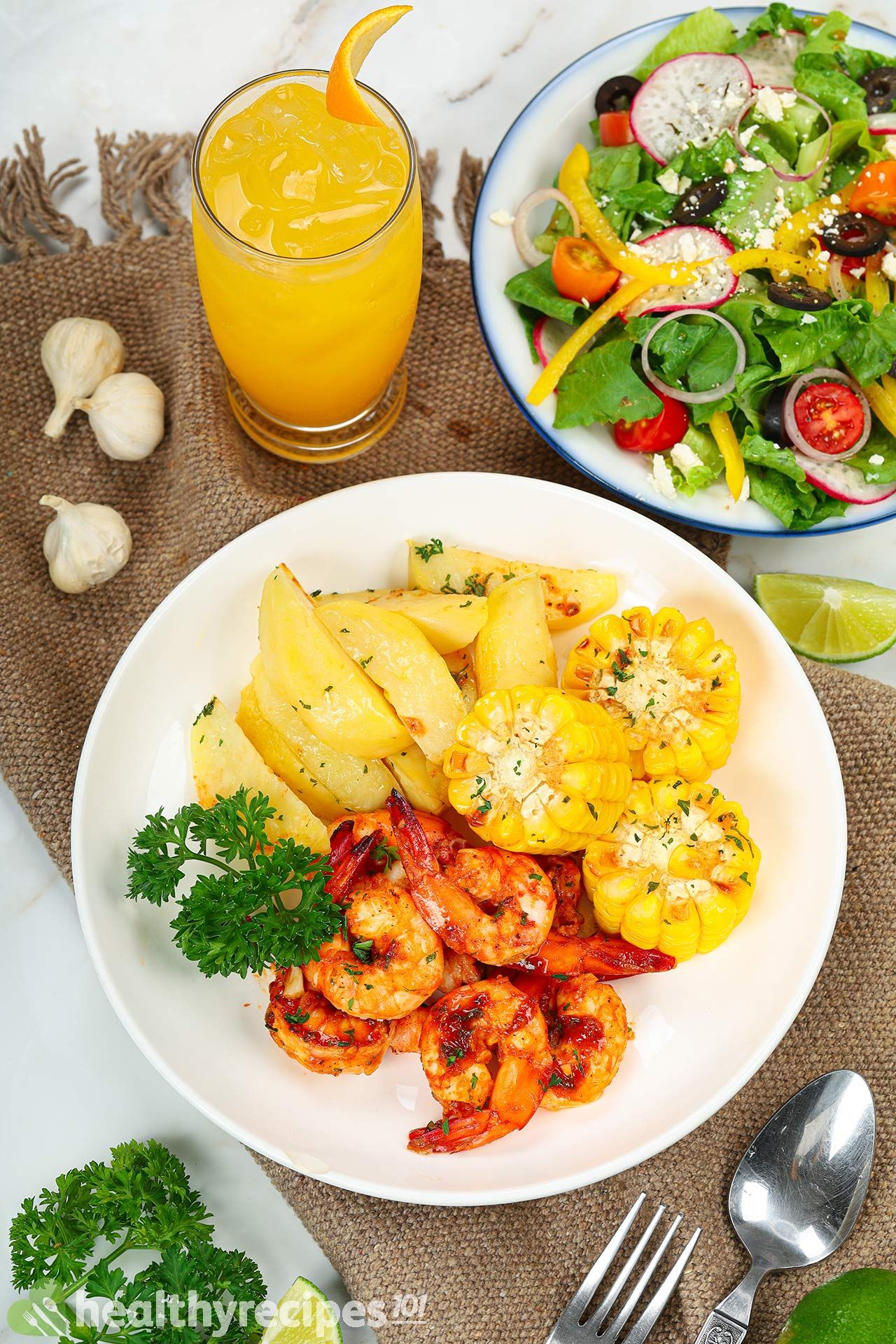 While the vegetables were microwaving, we tossed the shrimp with the marinade and let it sit in the fridge. While waiting, we turned the oven to 450°F and lined the baking tray with foil.
Once the vegetables finished microwaving, we placed them onto the tray and brushed them with room-temperature butter. For easier application, you can microwave the butter for about 10 seconds or until it melts slightly.
The vegetables were then scattered with salt and parsley, and broiled on the top rack. When they were done, we transferred them into a clean bowl, placed the marinated shrimp onto the tray, then broiled the shrimp on the top rack as well.
Here's the entire process:
Microwave the corn and potatoes.
Marinate the shrimp.
Brush vegetables with butter, season them, and broil them.
Broil the shrimp.
Enjoy.
Storing and Reheating BBQ Shrimp
Place any leftovers you have in air-tight containers and store them in the fridge. They should last for about 4 days in the fridge and up to 3 months in the freezer, as with cooked seafood in general.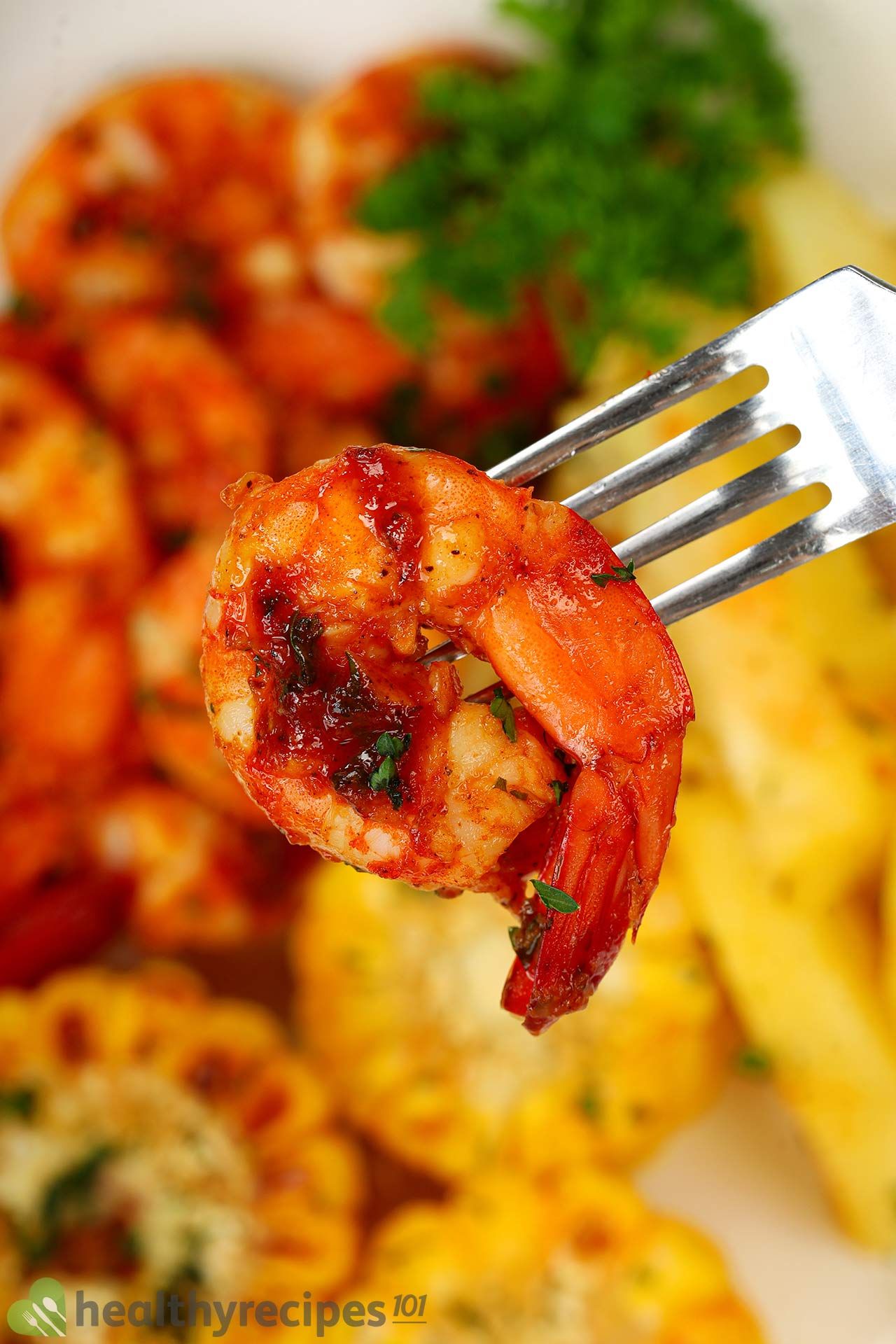 To reheat, transfer your desired portion to a microwave-safe container and microwave it; or bake it once again at the same cooking temperature, until heated through. It should take 1-2 minutes in the microwave and 10-15 minutes in the oven.
Previous Recipe
Voodoo Shrimp
Voodoo Shrimp
Next Recipe
Stir-fried Shrimp and Egg
Stir-fried Shrimp and Egg
Luna Regina
A writer and entrepreneur, Luna's day doesn't start at the computer keyboard, but in the kitchen.
Half of her working hours are spent on mixing ingredients for her recipes. The other half involve working with the tech team to research and test the tools and appliances that promise to make kitchen work effortless and mess-free. From a kitchen knife or water filter to the Instant Pot, if it can help save time and effort for the home cook, Luna and her team are on it.
Luna's extracurricular pastimes include camping, travel, and photography.