Our shrimp tacos recipe makes a flavor-explosion dinner flavor-explosion. The shrimp is sautéed with garlic, layered in a bed of slaw, and topped with avocado, cheese, and homemade sauce.
These shrimp tacos strike the perfect balance of texture and flavor with juicy stir-fried shrimp and crunchy slaw, as well as a spicy hint from the seasoning rub and creaminess from the mayonnaise sauce. They are sure to satisfy your craving for Mexican food and are straightforward to make for everyday dinners or festive occasions.
What Are Tacos?
Tacos are a traditional and authentic Mexican dish made with hand-size tortillas and a variety of fillings, and eaten by hand.
The taco filling often consists of two main components: protein — beef, chicken, pork, or seafood, and vegetables — cabbage, lettuce, onion, avocado, and/or salsa. Sauces like mayonnaise or Tapatío can also be added to enhance the filling's taste.
This Mexican-style dish has endless flavor combinations, and there is no right or wrong when making it. The tortilla is usually a corn or wheat variety, the fillings are whatever you pick, and most importantly, tacos (whatever their shape or type) are always flavorful.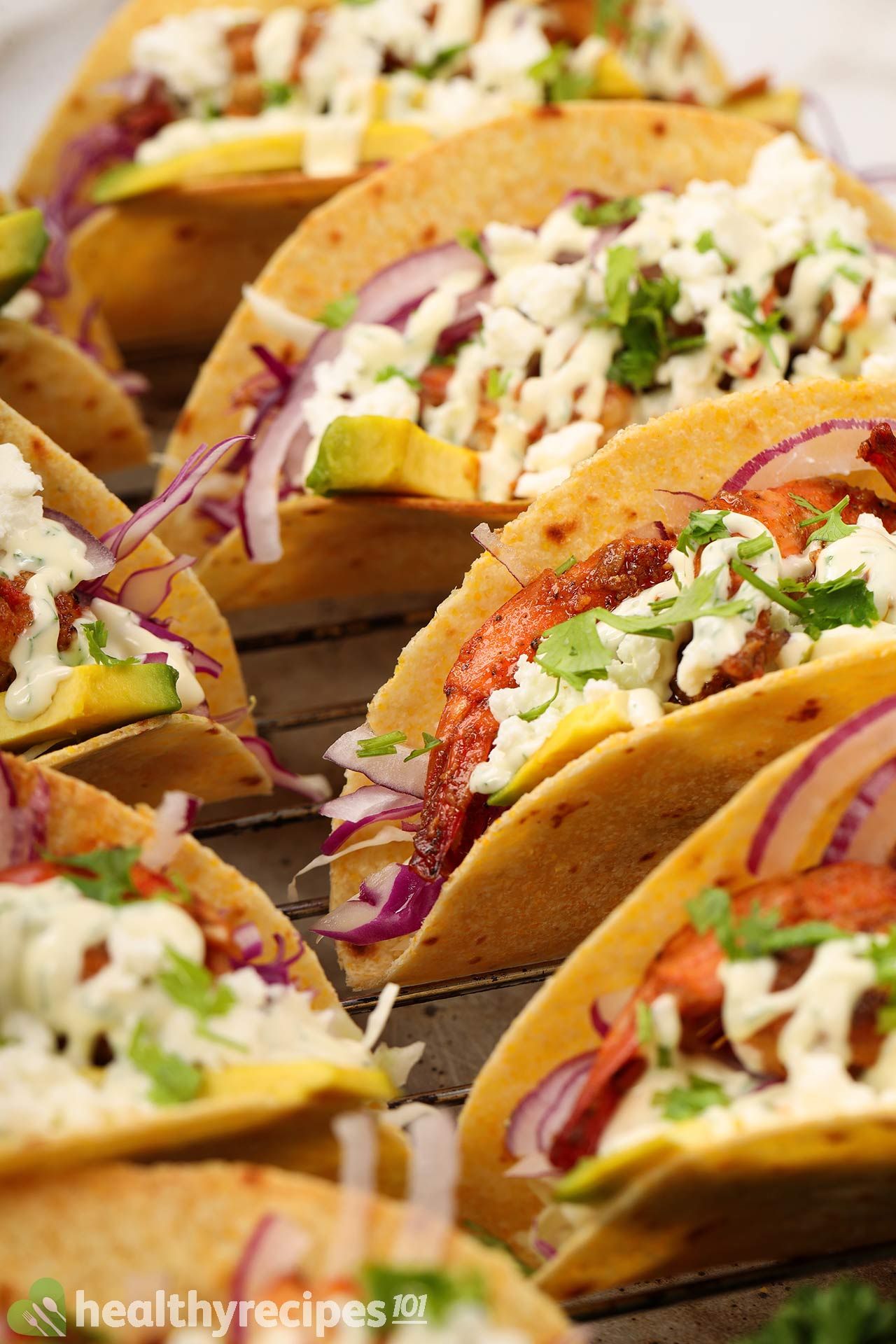 Are Our Shrimp Tacos Healthy?
Made with protein and fresh vegetables, yes, our shrimp tacos are healthy.
Nutritionally, shrimp tacos are packed with protein. Each serving of ours provides 33.2 g protein — up to 66% of the recommended daily intake recommended by the USDA.
Alongside reducing the amount of mayonnaise used for the sauce, we only used 1/16 teaspoon of salt per serving. So the dish ends up containing only 5.8 g saturated fat and 548 mg sodium in each serving.
Plus, with the abundance of veggies included, our tacos yield a noticeable amount of fiber, vitamins, and minerals. These are all essential nutrients to help our bodies be healthy and function optimally.
How to Season Shrimp for Tacos
Shrimp has a versatile flavor and is always a wonderful filling for tortillas, wraps, or burritos. For these shrimp tacos, we used black pepper, cumin and added a bit more paprika and chili powder to add some heat.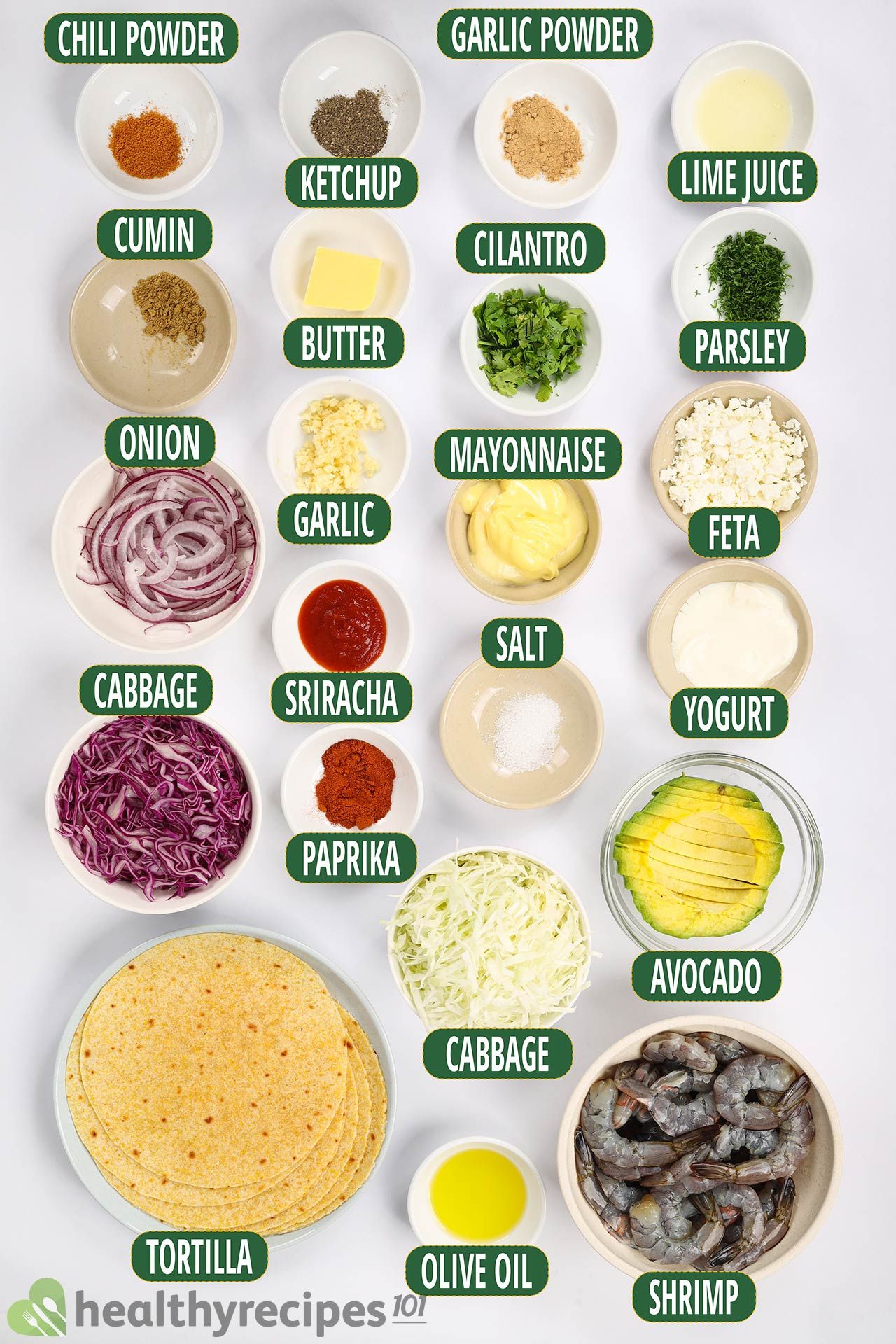 When it comes to recipes that include shrimp, you'll want to be careful with how much salt is added because they naturally contain some sodium. Thus, we only used ¼ teaspoon of salt, just enough to lift the shrimp.
The top secret for irresistible shrimp is a squeeze of lime juice. It will provide an acidic, bright note and make your tacos pop with flavor.
Slaw for Shrimp Tacos
When you combine your shrimp tacos with cabbage slaw, it takes the dish to the next level. The flavors and textures of shrimp and slaw go perfectly together: savory and sweet, meaty, and crunchy.
Our cabbage slaw, with its crunchiness and slight sweetness from red onions, really helps the shrimp to shine in these tacos, and you'll savor every bite of them.
Here's what we use for our slaw:
Green cabbage
Red cabbage
Red onion
Avocado
If you don't want to make your own, you could go for the pre-mixed slaw available at the store. Whatever you pick, we recommend using the fresh and high-quality ones. Using a different slaw will alter the nutritional values of the dish but still complement the shrimp and add a delicious bite to your tacos.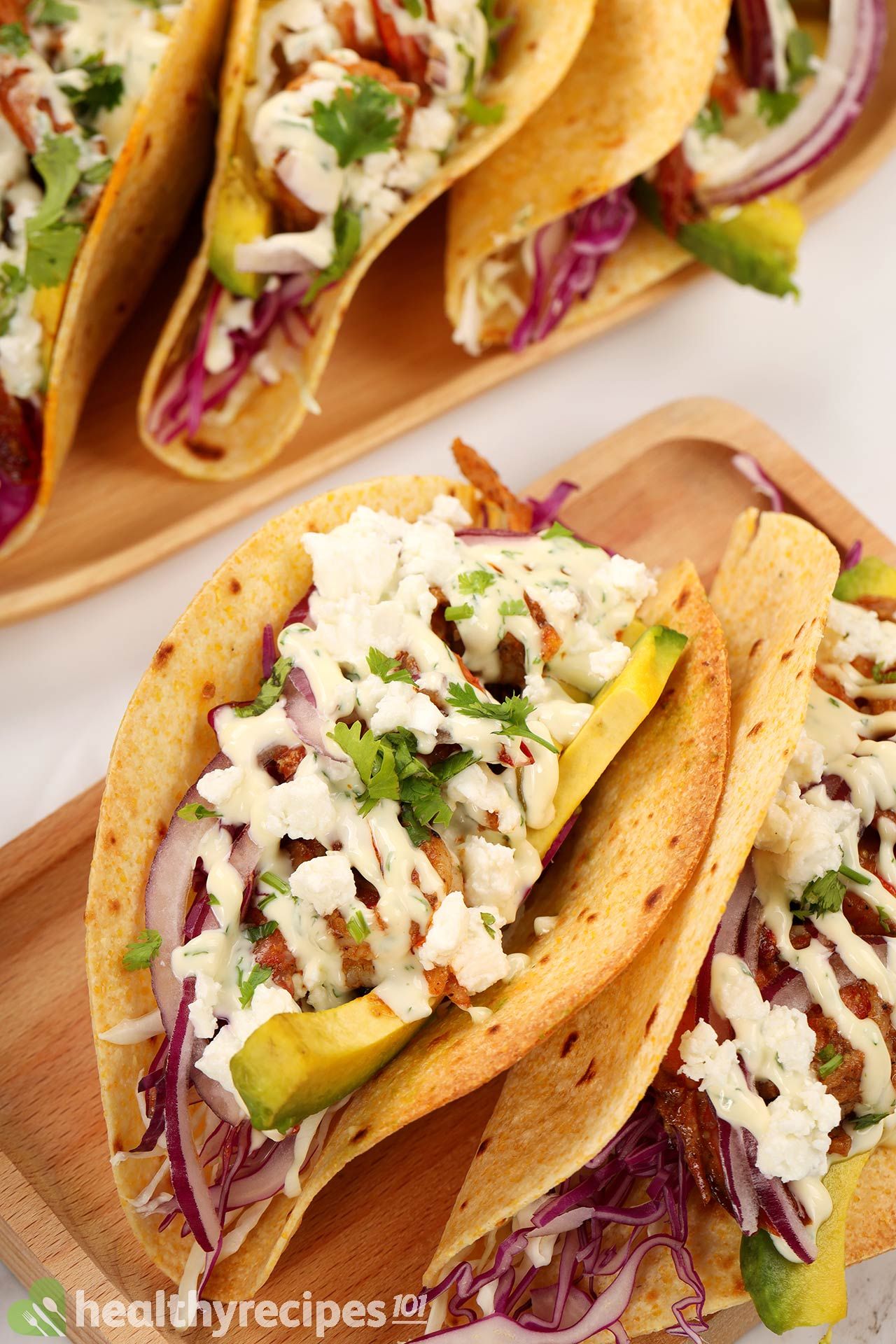 Sauce for Shrimp Tacos
Most tacos are heavy on sour cream because a taco wouldn't be authentic without a creamy sauce. Our goal for the sauce was to keep it healthy and enhance the natural deliciousness of the shrimp and fresh slaw.
So we tried a light combination of mayonnaise and plain Greek yogurt. To finish this super easy sauce, we added a sprinkle of chopped parsley for an appealing garnish and bright note, elevating the sauce. Our homemade taco sauce will be the most simple and tasty one you've tried yet.
How to Make Shrimp Tacos
Our shrimp tacos recipe might look like a lot of ingredients, but everything comes together in just 20 minutes. Shrimp cooks very quickly, so it's best to have all the ingredients ready before heating the pan.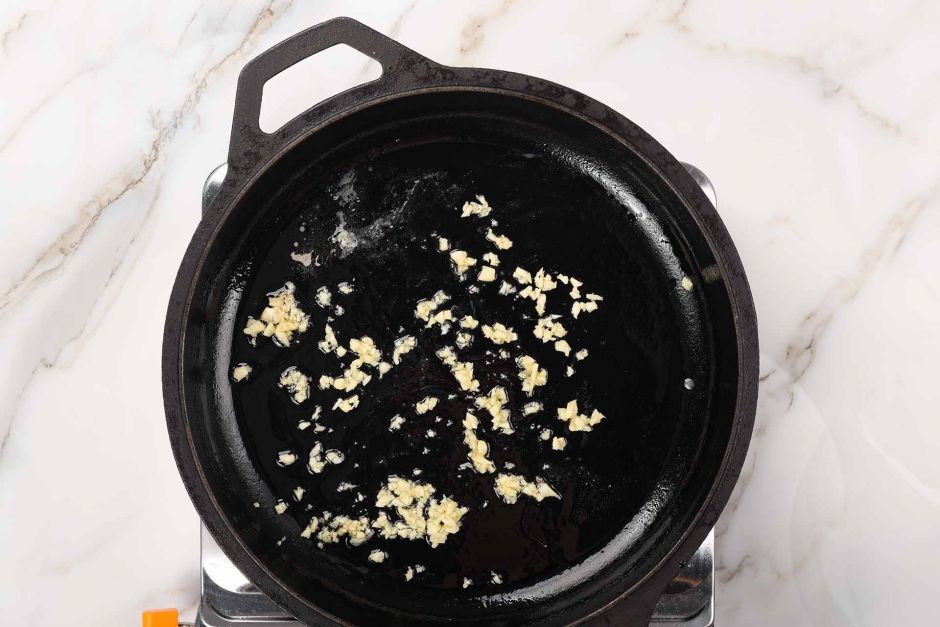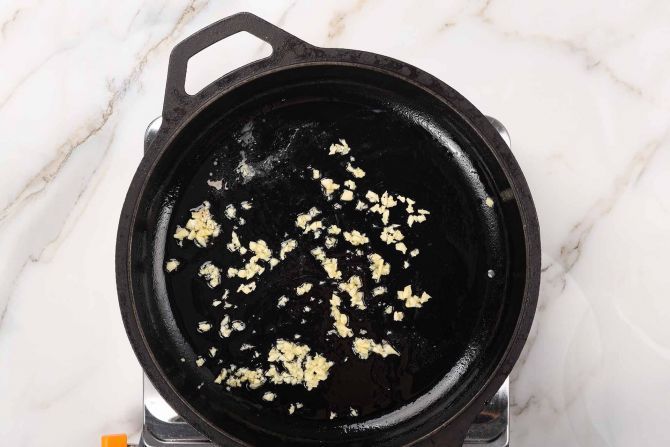 Sauté the garlic.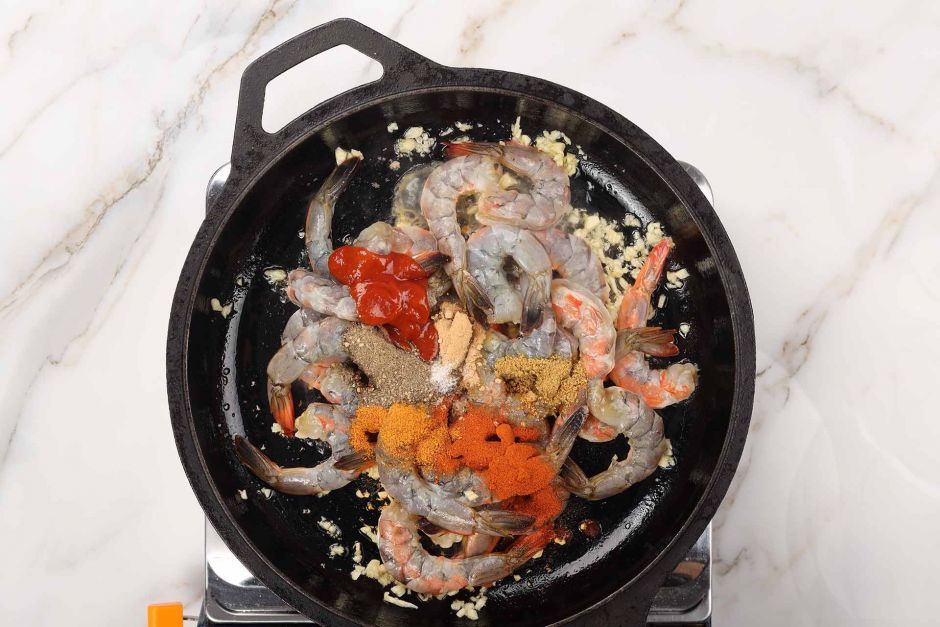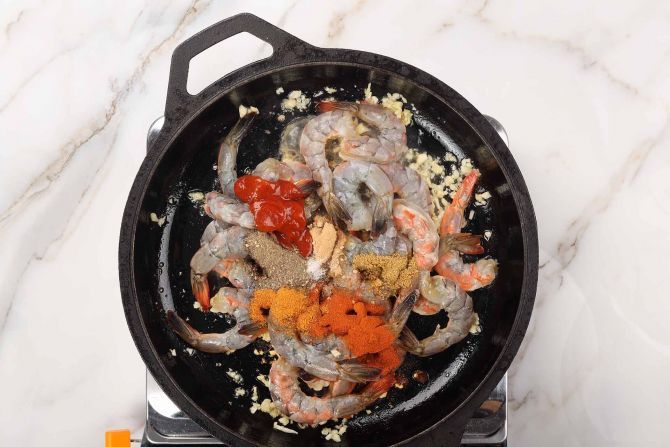 Cook the shrimp.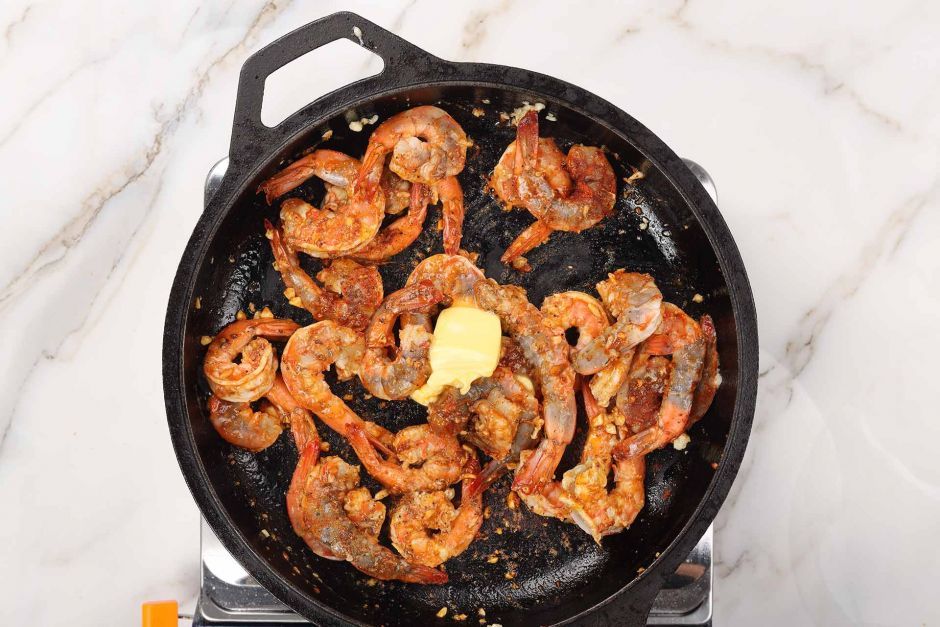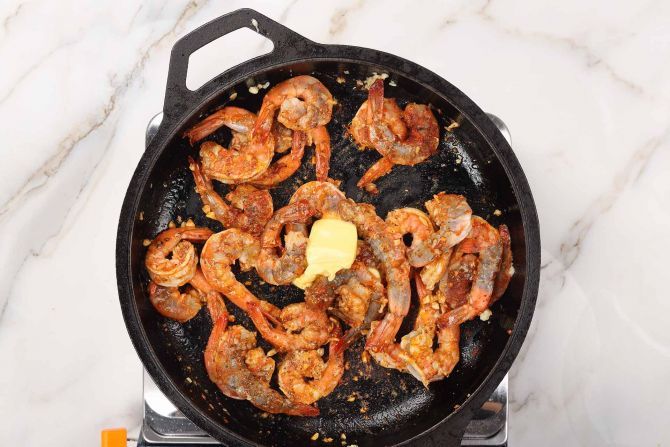 Add the butter.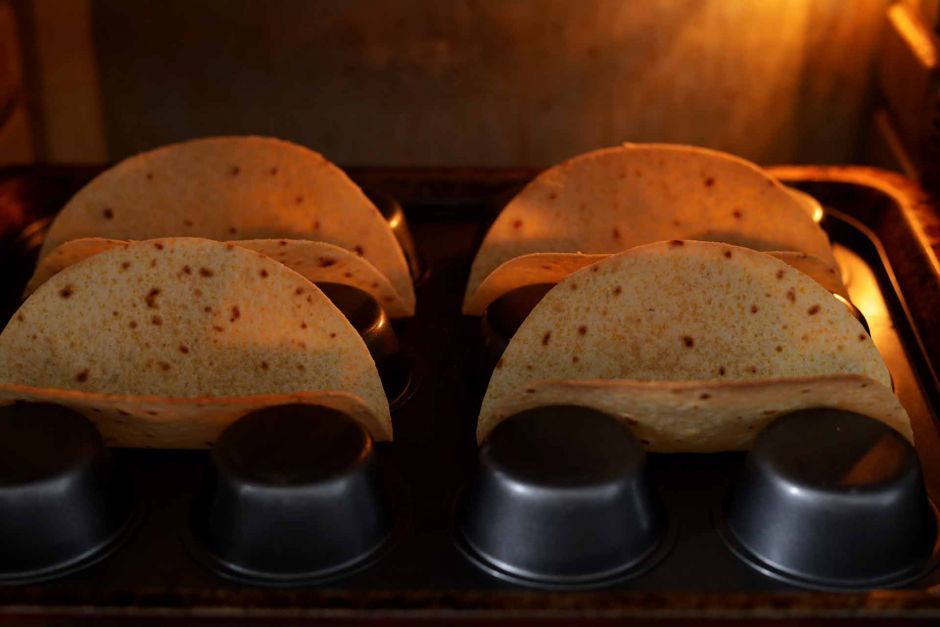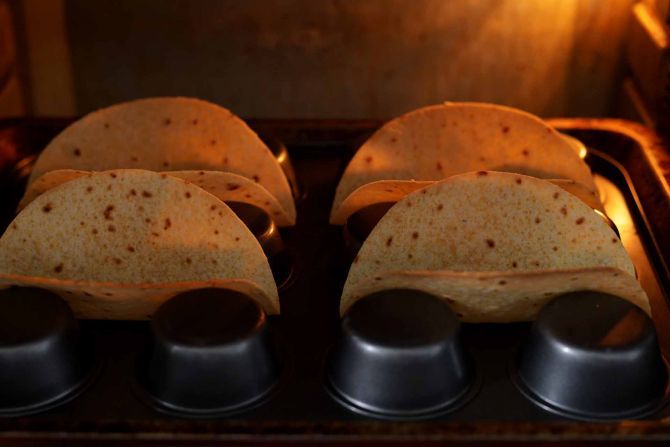 Bake the tortillas.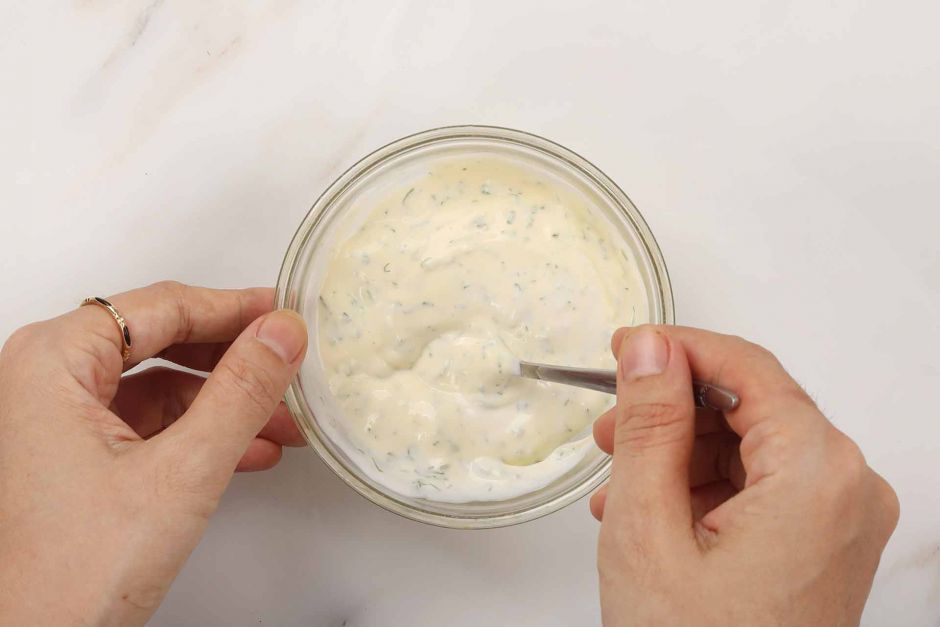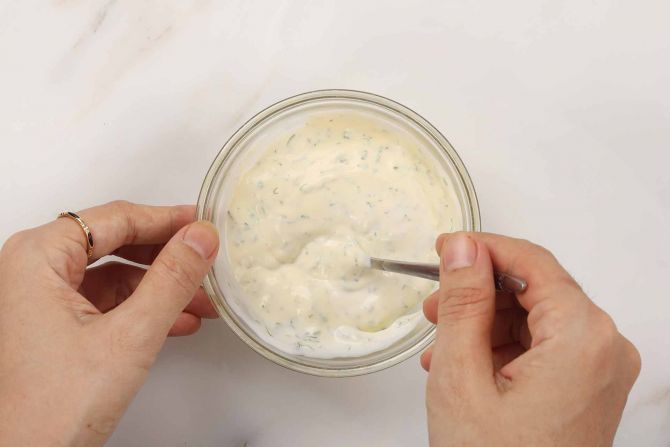 Make the sauce.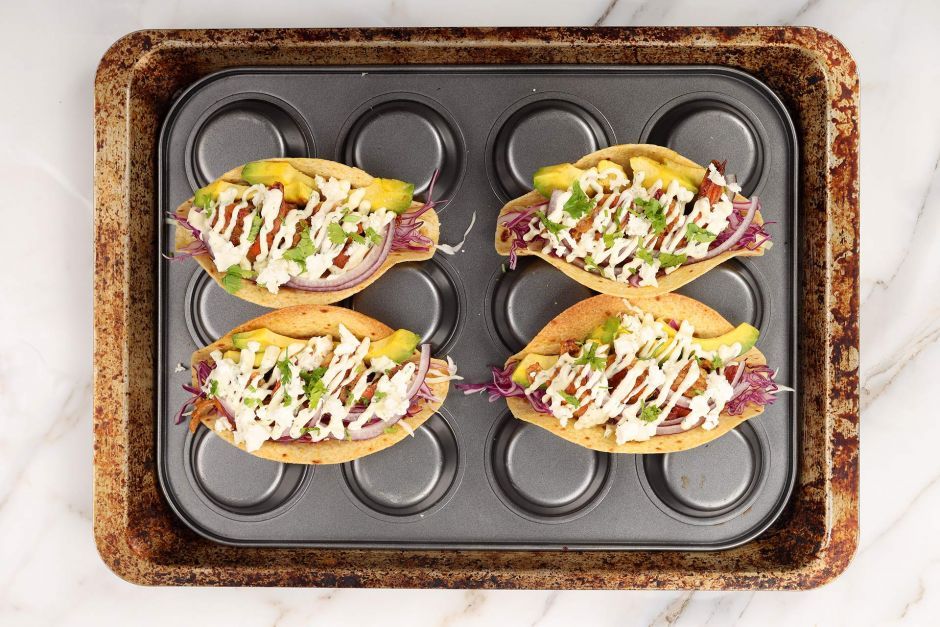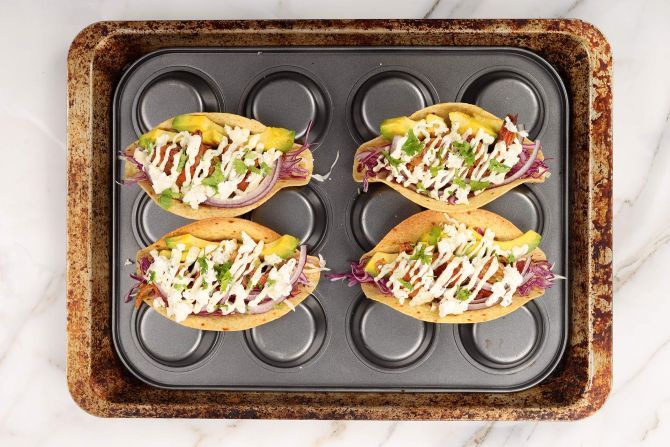 Assemble the tacos and serve.
For the full recipe and measurements, click here.
Jump to Recipe
How to Store and Reheat Leftover
Our shrimp tacos contain various layers, so the leftovers should be kept separately for the best results. In our experience, the best way to store them is:
For the Shrimp: Place the leftover shrimp in an airtight container and keep them in the fridge for up to 3 days. If you choose to freeze it, the frozen cooked shrimp can last for a longer time, about 2 – 3 months.
For the Slaw: Place the premade slaw in a resealable bag or a bowl covered with plastic wrap and put it in the refrigerator for no longer than 2 days. We don't recommend keeping the slaw in the freezer since it will lose its fresh taste and crunchy texture.
For the Sauce: Consisting of dairy, the sauce should be kept in the fridge after making. You can store it for 3 – 5 days.
To reheat the leftover shrimp, warm them up in a skillet with a little oil over low heat. Cook the shrimp for 1 minute on each side, just to heat through and not overcook them.
If this shrimp tacos is of interest to you, you may also find this Ground Beef Taco Recipe and Blackened Salmon Tacos Recipe helpful.
Sides for Shrimp Tacos
Coming from the same cuisine, shrimp tacos pair perfectly with pico de gallo. This Mexican-style salad is made with onions, tomatoes, and tangy dressing.
It's light, fresh, and a perfect side for any savory meal. You can either serve it on the side or add a spoon to the top of your tacos.
We rounded up the meal with a simple orange juice. As the name suggests, this drink couldn't be easier with just orange juice and a little sugar. The combination of tacos, salad, and fresh juice drink is quick to make and absolutely delicious!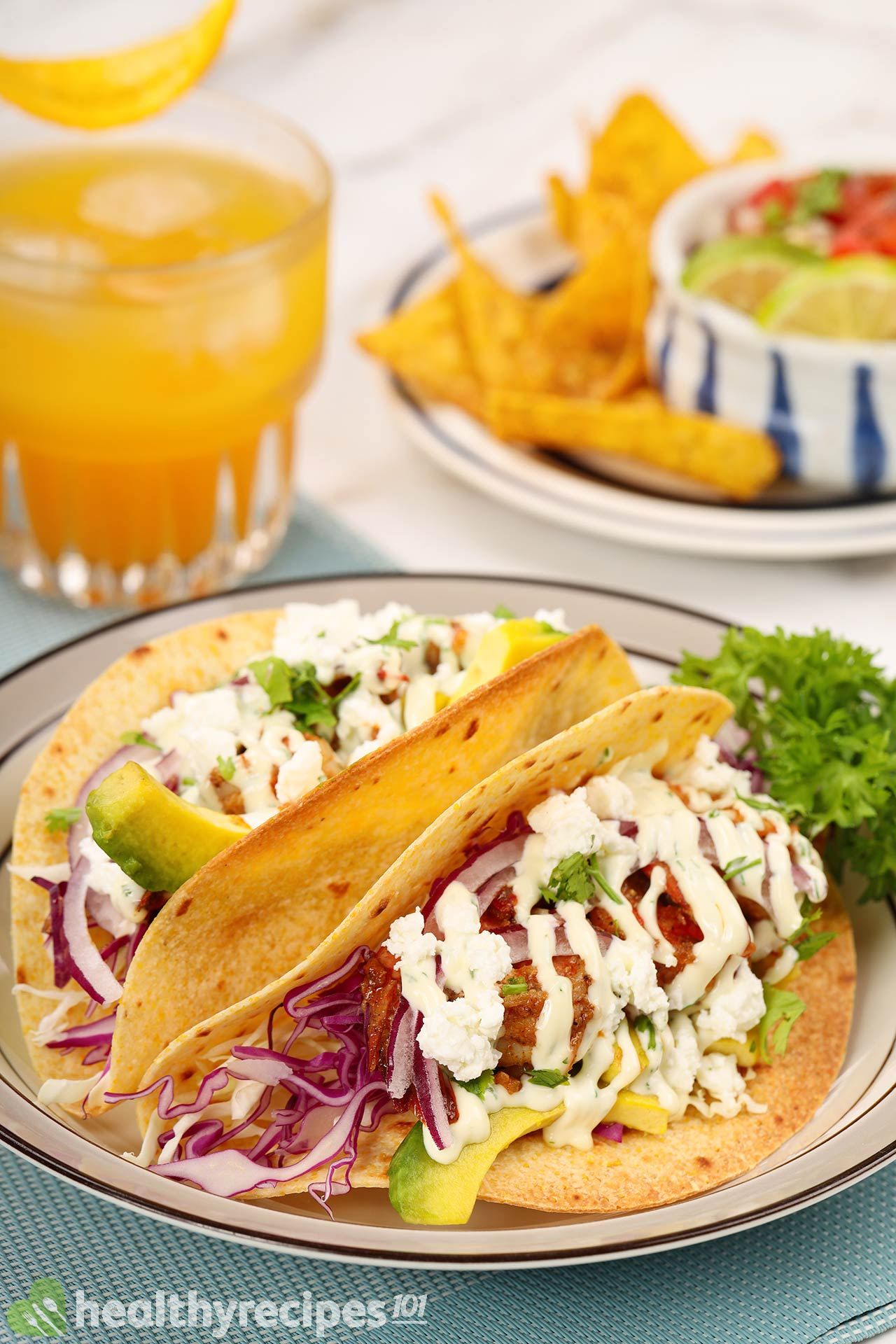 Other Shrimp Recipes To Love: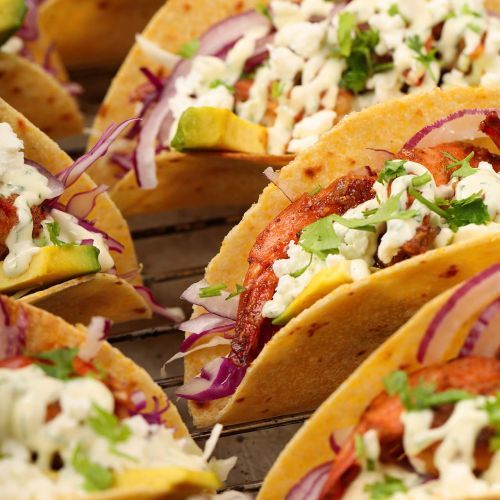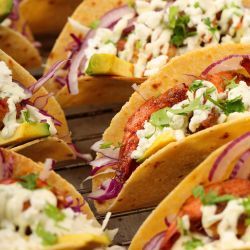 Shrimp Tacos Recipe
Our shrimp tacos recipe is worth making for dinner tonight. The tacos are juicy, sweet, and creamy with just the right amount of heat.
Ingredients
12

oz

peeled and deveined shrimp

20 oz raw shrimp

1

tbsp

olive oil

1

tbsp

garlic

minced

1/2

tsp

black pepper

1/2

tsp

garlic powder

1/4

tsp

ground cumin

1/4

tsp

chili powder

1/4

tsp

salt

1

tsp

paprika

1/2

tbsp

lime juice

2

tsp

Sriracha

1

tbsp

unsalted butter

4

tbsp

Japanese mayonnaise

2

tbsp

plain Greek yogurt

2

oz

green cabbage

shredded

2

oz

red cabbage

shredded

4

oz

avocado

sliced

1

oz

red onion

sliced

1

oz

feta cheese

2

tbsp

cilantro

chopped
Instructions
In a pan, heat 1 tbsp olive oil over medium heat. Add 1 tbsp garlic and sauté for 30 seconds.

Add 12 oz shrimp, 1/2 tsp black pepper, 1/2 tsp garlic powder, 1/4 tsp ground cumin, 1/4 tsp chili powder, 1/4 tsp salt, 1 tsp paprika, 1/2 tbsp lime juice, and 2 tsp Sriracha to the pan. Stir fry for 2 minutes. Remove the pan from heat.

Add 1 tbsp unsalted butter. Cook and stir occasionally for another 2 minutes.

Bake 8 tortillas at 395 ℉ for 3 minutes.

Make the sauce: In a small bowl, whisk together 4 tbsp mayonnaise, 2 tbsp Greek yogurt, and 1 tbsp chopped cilantro until combined. Set aside.

Assemble the tacos: Fill each tortilla with green cabbage, red cabbage, avocado, stir-fried shrimp, red onions, feta cheese, a drizzle of sauce, and a sprinkle of chopped cilantro. Serve.
Nutrition
Nutrition Facts
Shrimp Tacos Recipe
Amount Per Serving (1 serving)
Calories 489
Calories from Fat 234
% Daily Value*
Fat 26g40%
Cholesterol 259mg86%
Sodium 565mg25%
Potassium 642mg18%
Carbohydrates 34g11%
Protein 33g66%
Vitamin A 488IU10%
Vitamin C 18mg22%
Calcium 152mg15%
Iron 1mg6%
* Percent Daily Values are based on a 2000 calorie diet.