Our blackened shrimp recipe is all about the spices and blackening technique. It's pretty straightforward: rub the homemade Cajun seasoning into the shrimp before quickly pan-searing them. The dish ends up with an irresistible combination of savory, salty, spicy, and herby flavors.
These blackened shrimps are spiced in less than 30 minutes, making it an excellent choice for a quick dinner on a busy weeknight.
What Is Blackened Shrimp?
Blackening is a style of cooking that originates from Cajun cuisine. The food is coated in a gorgeous blend of a few bold spices and a touch of dried herbs before sizzling in oil on a hot pan.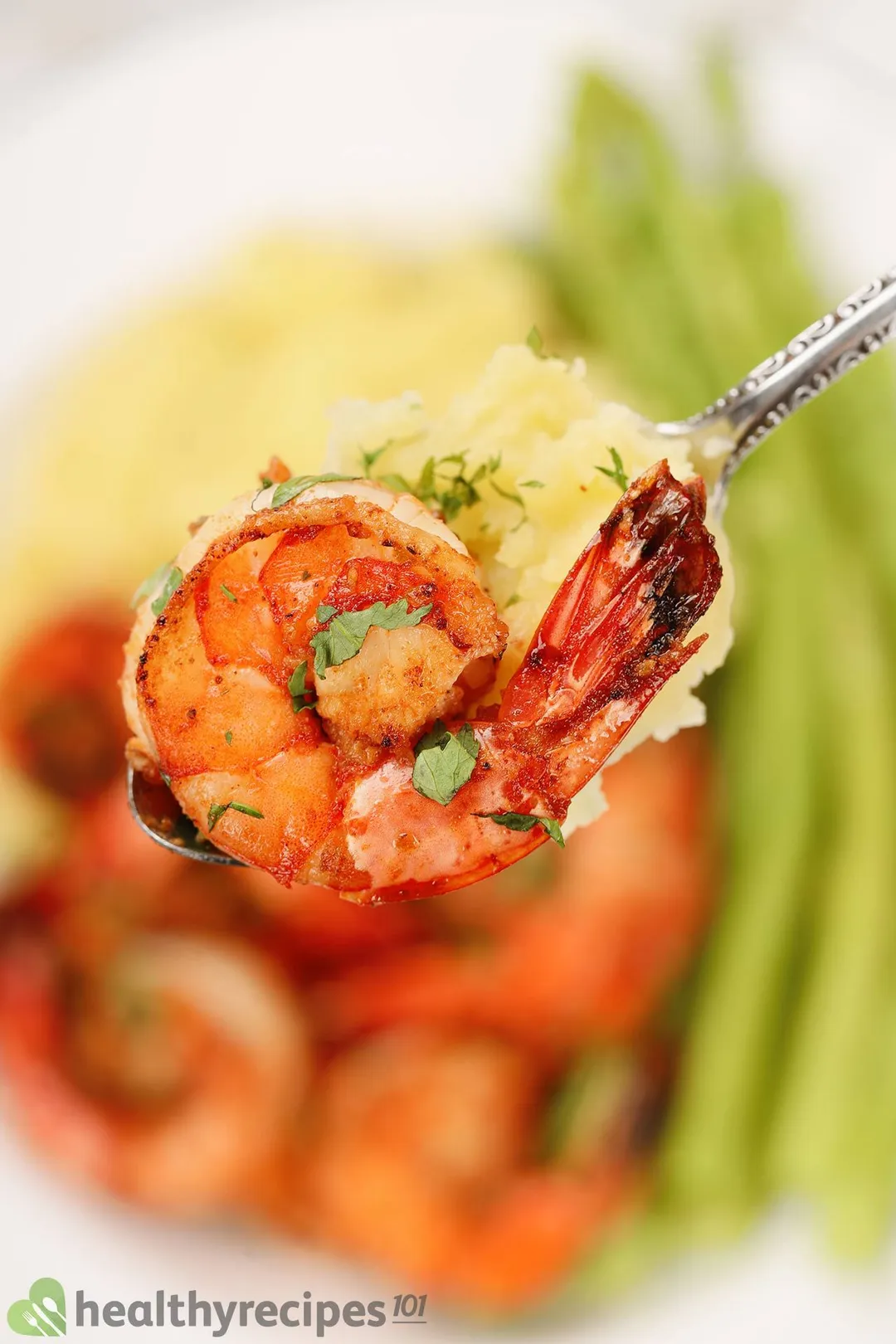 The brown sugar in the spice blend begins to caramelize once it hits the heat, helping the mixture cling to the shrimp and get the signature brown color.
Blackening also works marvelously for other proteins, like chicken and sea bass. Give them a try as well if you want to bring some extraordinary flavors to your meals.
Ingredients for Blackened Shrimp
You will need two main elements to create a savory blackened shrimp at home: fresh, high-quality shrimp and a flavorful blackening spice blend.
1. Shrimp
The soul of the dish, the quality of shrimp decides the final taste and texture of your blackened shrimp. We always recommend fresh shrimp, even though it means you need an extra few minutes of prepping.
Because the shrimp is cooked quickly over high heat, it's important to note that you should use either medium or large shrimp. A smaller size will end up burning on the high heat.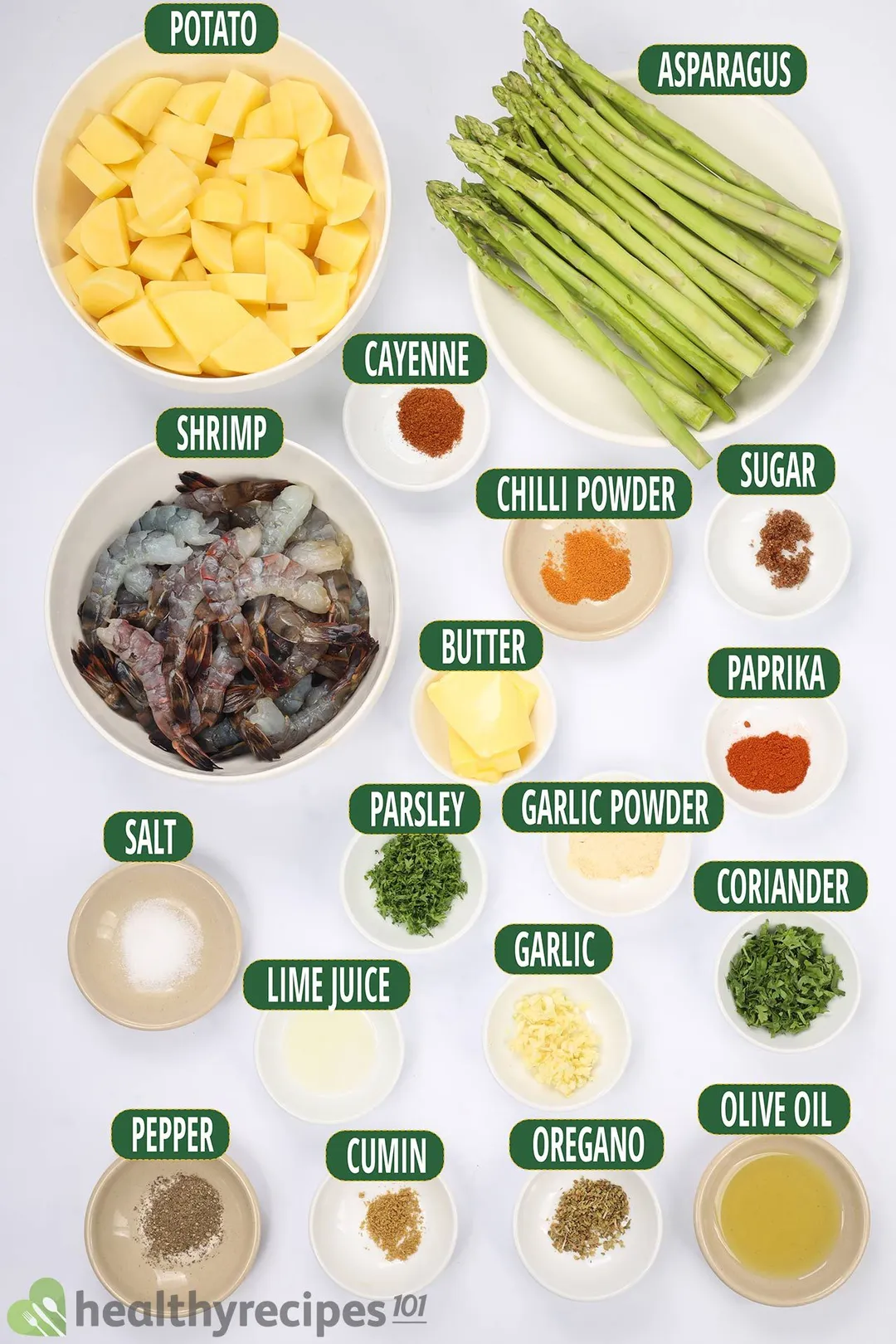 2. Vegetables
We love to serve our blackened shrimp with boiled asparagus and mashed potatoes. They are nutritious and give the bold shrimp a light balance in flavor.
Be assured, our recipe isn't set in stone. If you have other vegetables that you prefer, feel free to cook or roast them. Any way you make it, the meal will still become a family favorite.
3. Blackened Shrimp Seasoning
The seasoning is easy to make, and most people have all the ingredients in their spice cabinet. Our blend contains paprika, cayenne, garlic powder, onion powder, dried oregano, salt, and pepper.
Blackened dishes, in general, feature an enjoyable heat. For our recipe, the main source of heat comes from the cayenne and chili powder. Not to worry, the level of spiciness is noticeable but does not overpower the shrimp's natural flavor or burn your throat.
Is Our Blackened Shrimp Healthy?
The short answer is yes; our blackened shrimp recipe is healthy.
With the main ingredient being raw shrimp, today's recipe is packed with protein and healthy fats. Each serving contains approximately 48 g of protein — up to 95% of the recommended daily intake.
To keep the content of main nutrients aligned with healthy guidelines, we used a reasonable amount of fat: 2 tablespoons of oil for searing the shrimp and 3.5 tablespoons of butter for the mashed potatoes. Each serving ended up having only 7.4 g of saturated fat. 
Besides the saturated fat, the sodium and calorie contents are within healthy limits at about 577 mg and 460 calories, respectively. In other words, the recipe is carefully compiled to make a delicious and healthy dish.
What to Make With the Leftover Blackened Shrimp
Having some leftover blackened shrimp will make your next meal a breeze since you can enjoy this dish in a variety of different ways.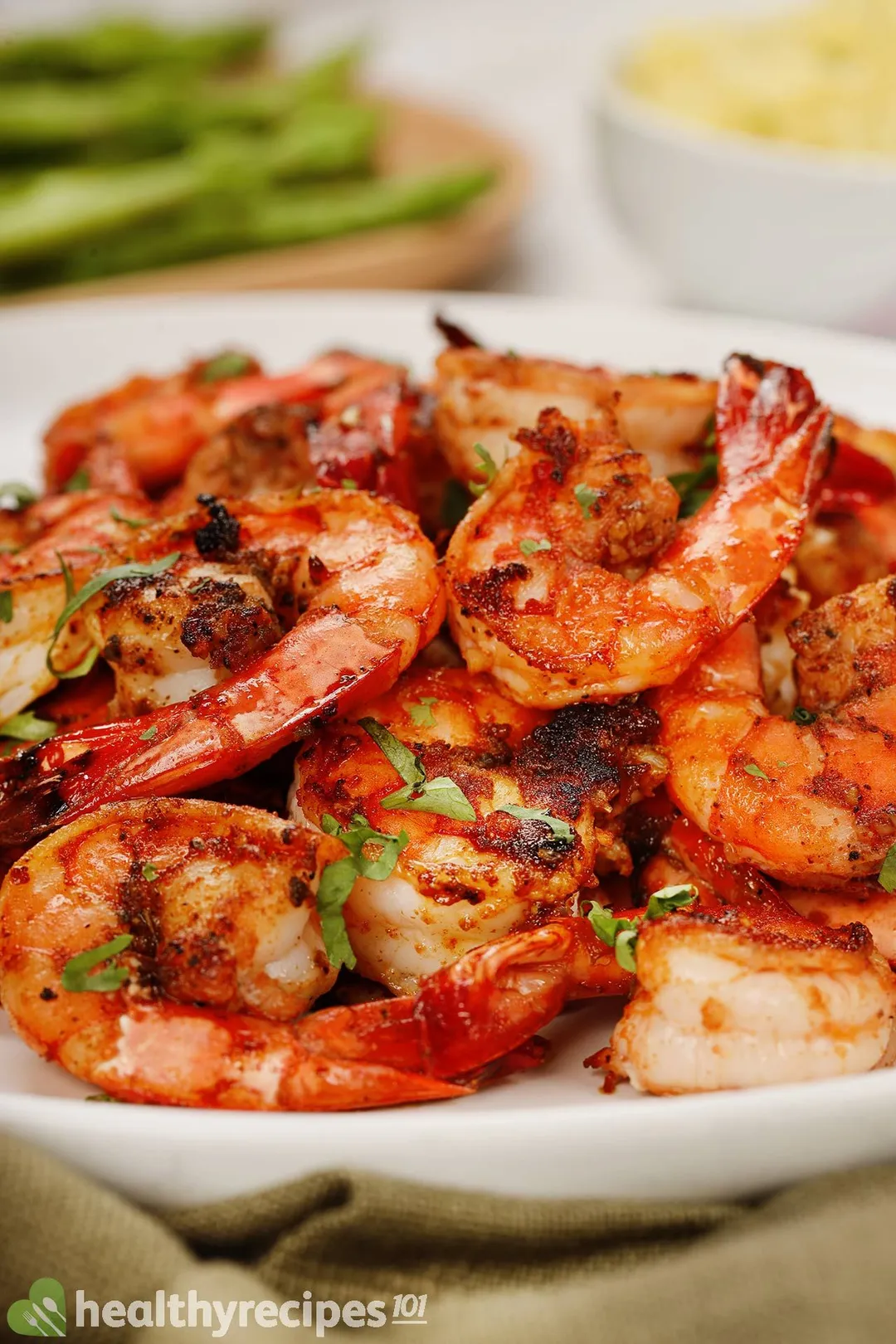 1. Blackened Shrimp Tacos
The cajun seasoning gives our blackened shrimp a bold flavor and makes the spiciest, most flavorful tacos. Fill your tacos with sweet mango salsa to balance the strong taste and finish it with a touch of cheese for extra saltiness. They all complete the flavor profile and level up your homemade tacos.
2. Blackened Shrimp Alfredo
The creamy alfredo sauce is perfect for the smoky heat from our blackened shrimp. Fresh and rich, this spiced-up shrimp alfredo makes a great subtitle for the regular chicken alfredo.
3. Blackened Shrimp Salad
Blackened shrimp salad is packed with tons of flavors. Crunchy lettuce, sweet corn, creamy avocado, juicy cherry tomatoes, and spicy blackened shrimp. It's healthy, quick to prepare, and tastes like summer in a bowl.
Store and Reheat
The cooked shrimp should be transferred to an airtight container and refrigerated for 3 - 4 days. To maximize the shelf life, you can keep them in a freezer for up to 3 months.
There are several ways to reheat the blackened shrimp. Our favorite is on the stovetop. Simply add a bit of oil or butter to the pan along with the shrimp and sauté until heated through.
The process is quick and straightforward, but it works beautifully, with the flavor and texture remaining just as they were on the first cooking.
What to Serve With Blackened Shrimp
We added a simple combination of boiled asparagus and mashed potatoes to bulk up the shrimp and balance out the spicy seasoning. Rich in protein and giving a satisfying texture, the combination can stand alone as the main dish.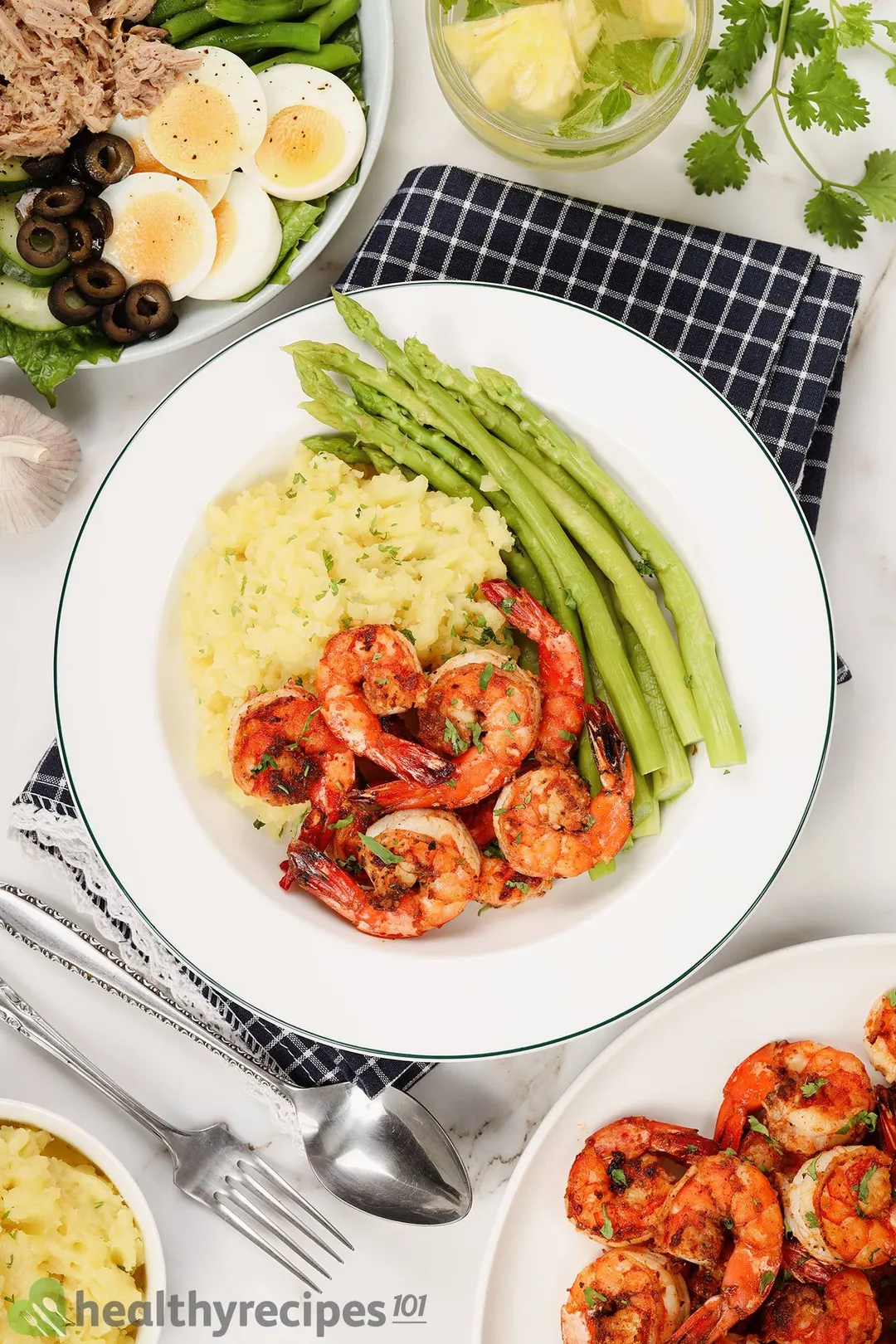 We paired the blackened shrimp with Nicoise salad and finished the meal with pineapple water to boost the calories and nutrient profile. The refreshing taste of salad pairs perfectly with the vivid and robust shrimp, and the simple pineapple water rounds off the meal wonderfully.
Give These Shrimp Recipes a Try!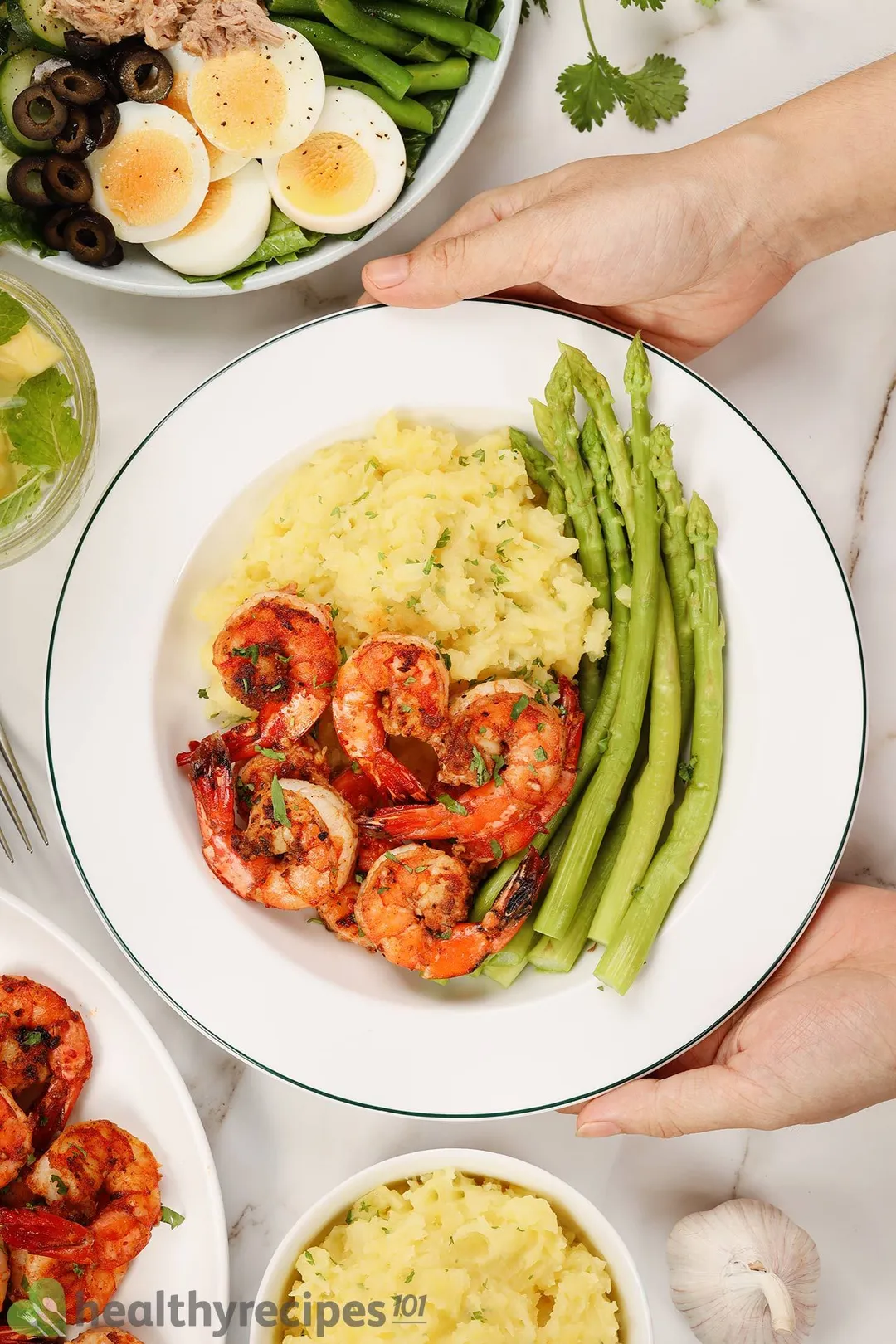 Blackened Shrimp
Nothing says summertime better than our blackened shrimp recipe. The shrimp are nutritious and bursting with bold spices.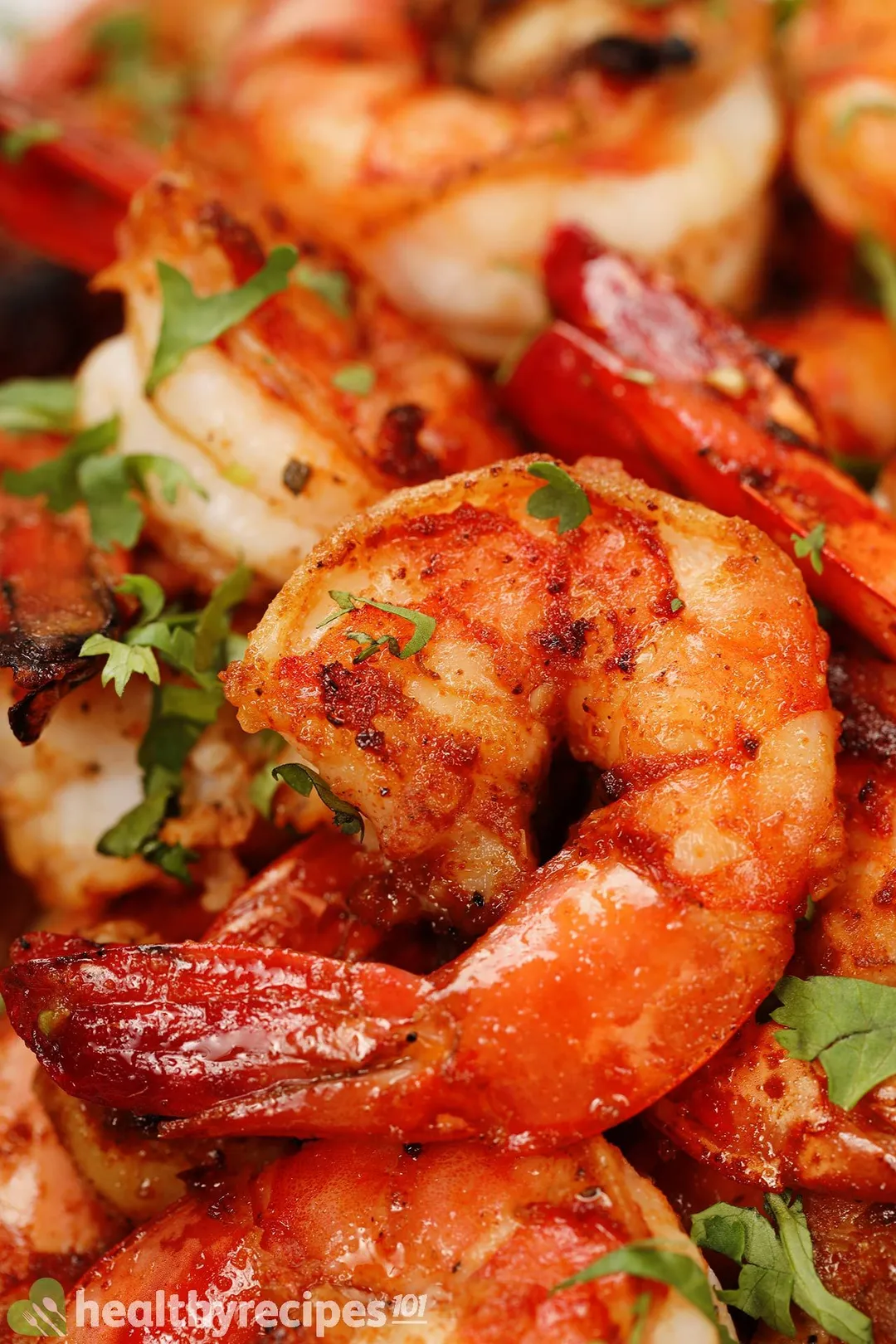 cook TIME

25 mins

prep TIME

10 mins

total TIME

35 mins
COURSE

Main Course

CUISINE

American

SERVINGS

CALORIES

460 kcal
INGREDIENTS
15 oz

peeled, deveined, tail-on shrimp

(30 oz raw shrimp)

3 1/2 tbsp

unsalted butter

2 tbsp

coriander

(chopped)
INSTRUCTIONS
1
Place 20 oz potatoes in a bowl covered in plastic wrapper. Microwave for 7 minutes.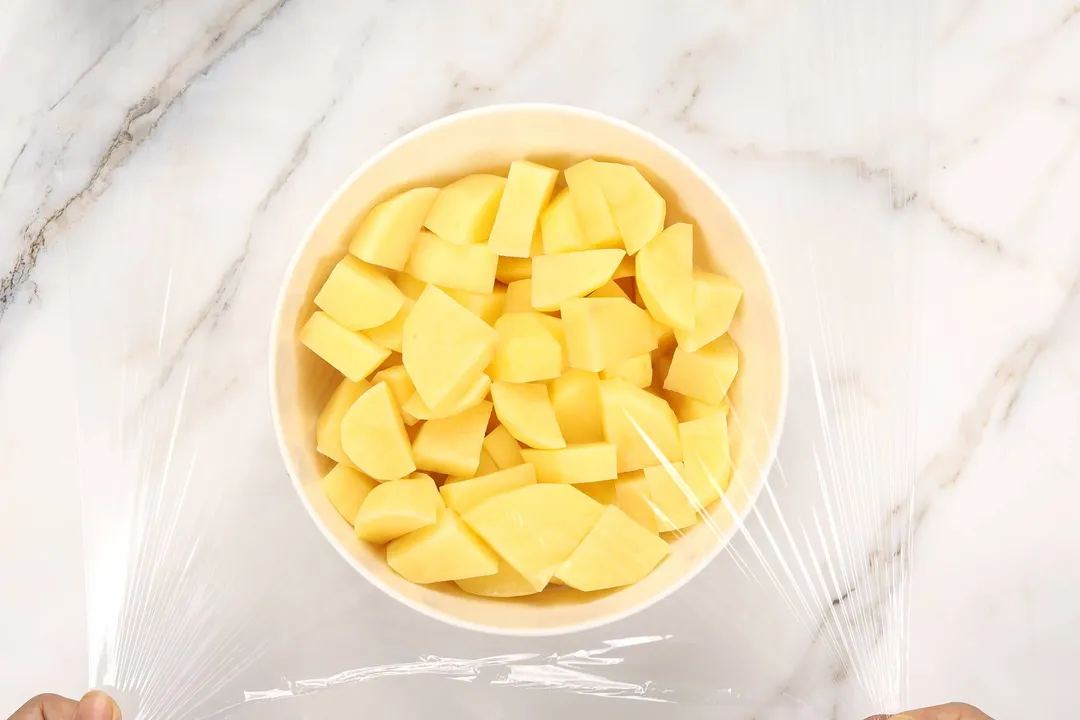 2
Meanwhile, marinate 15 oz shrimp with 1/4 tsp salt, 1/2 tsp black pepper, 1 tsp paprika, 1/2 tsp oregano, 1/4 tsp cumin, 1/4 tsp chili powder, 1 tsp garlic powder, 1/2 tsp cayenne, 1/2 tsp brown sugar, 1 tsp garlic, and 1 tsp lime juice. Set aside.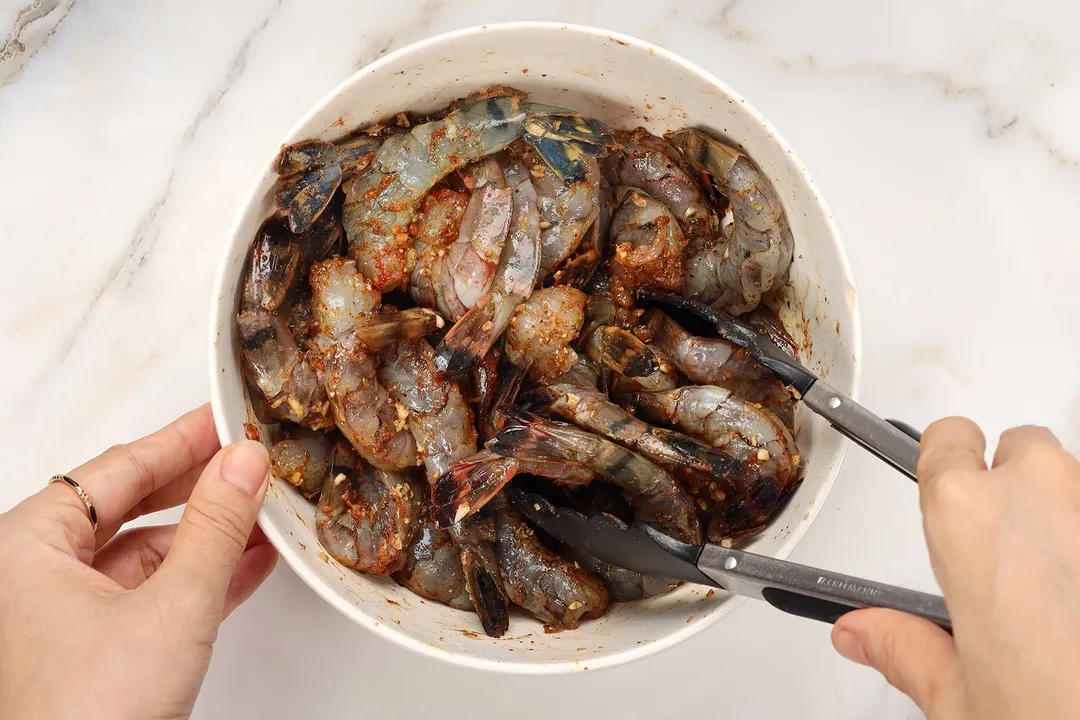 3
Fill a large skillet with 1 - 2 inches of water. Bring the water to a boil over high heat. Add 16 oz asparagus and cook for 2 minutes. Risen the cooked asparagus briefly with cold water and transfer them to a serving dish.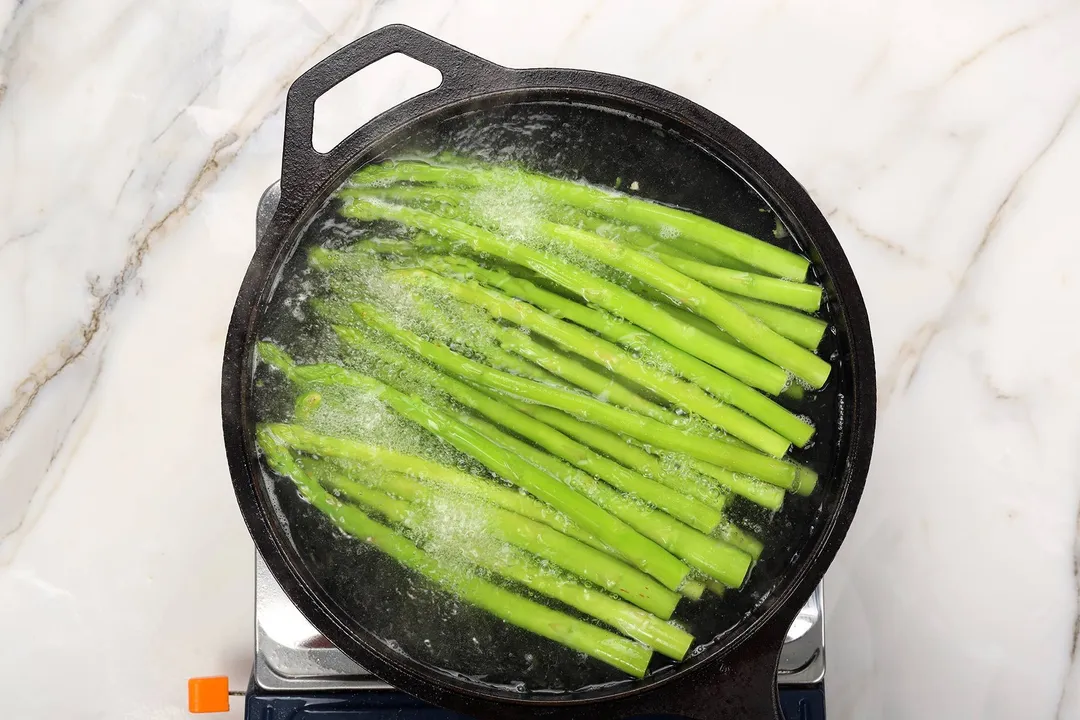 4
Heat a skillet over medium heat. Add 2 tbsp olive oil and the marinated shrimp to the preheated skillet. Cook the shrimp until pink and opaque on one side and flip to the other side. The shrimp will take 10 - 12 minutes to cook all together.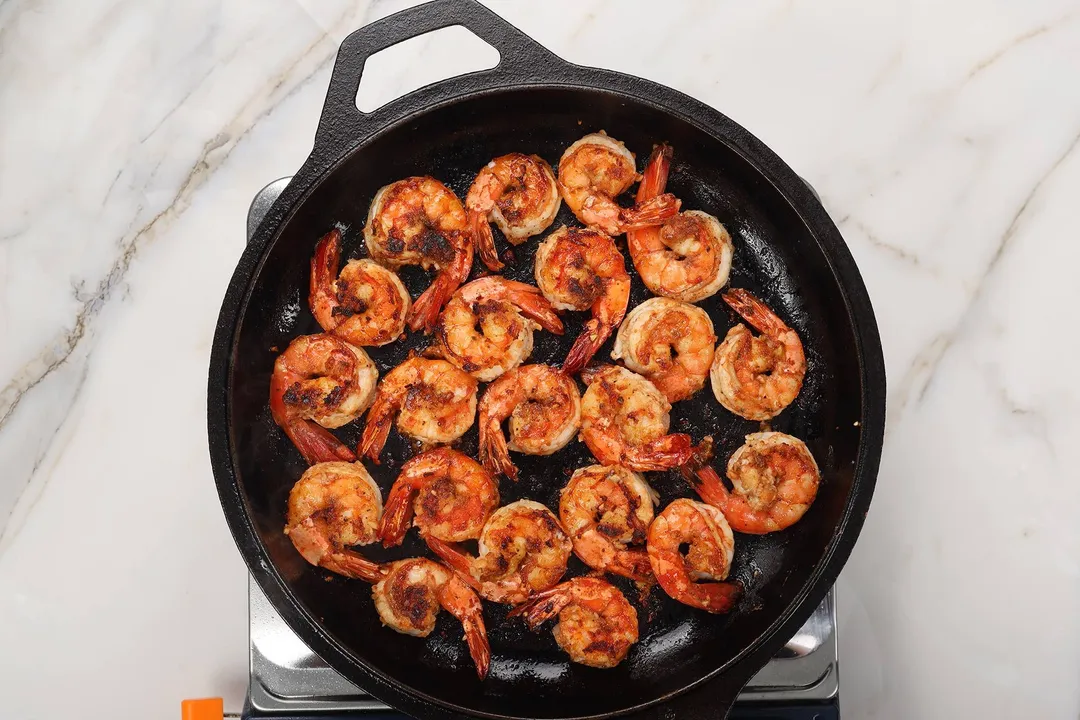 5
Take the potato bowl out of the microwave. Add 3 1/2 tbsp butter, 1/4 tsp remaining salt, and 2 tbsp parsley. Use a large fork to mash the potatoes to your desired consistency.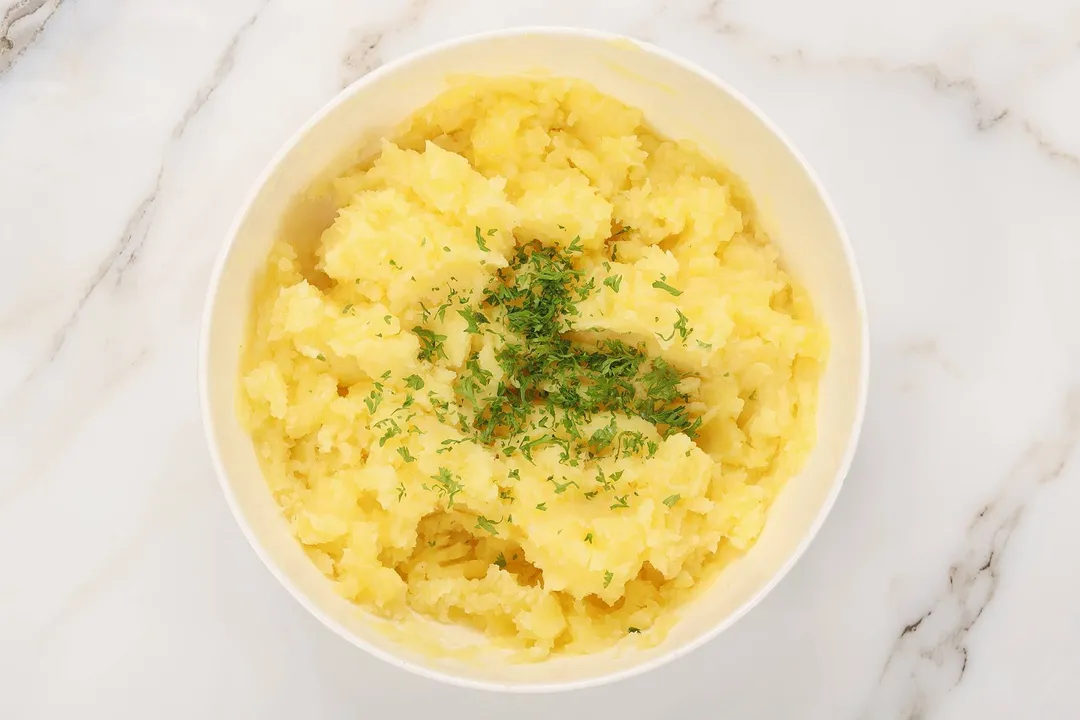 6
Garnish the seared shrimp with 2 tbsp chopped coriander. Serve the blackened shrimp with mashed potatoes and asparagus.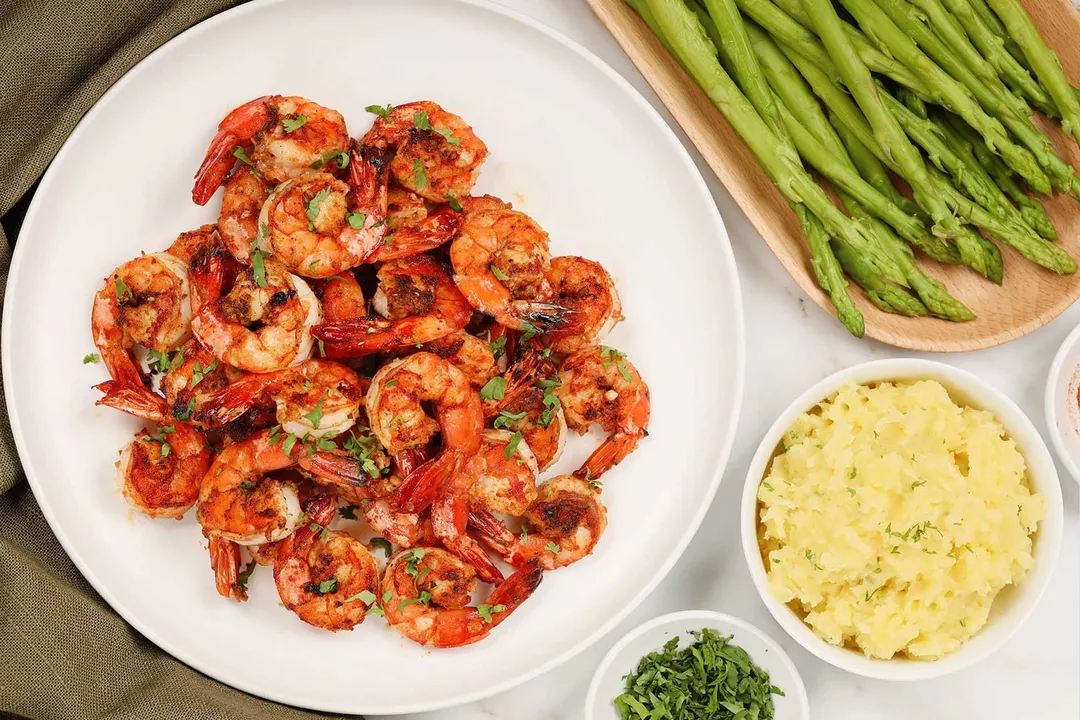 NUTRITION
Nutrition Facts
Blackened Shrimp
Amount Per Serving (1 serving)
Calories 460
Calories from Fat 167
% Daily Value*
* Percent Daily Values are based on a 2000 calorie diet.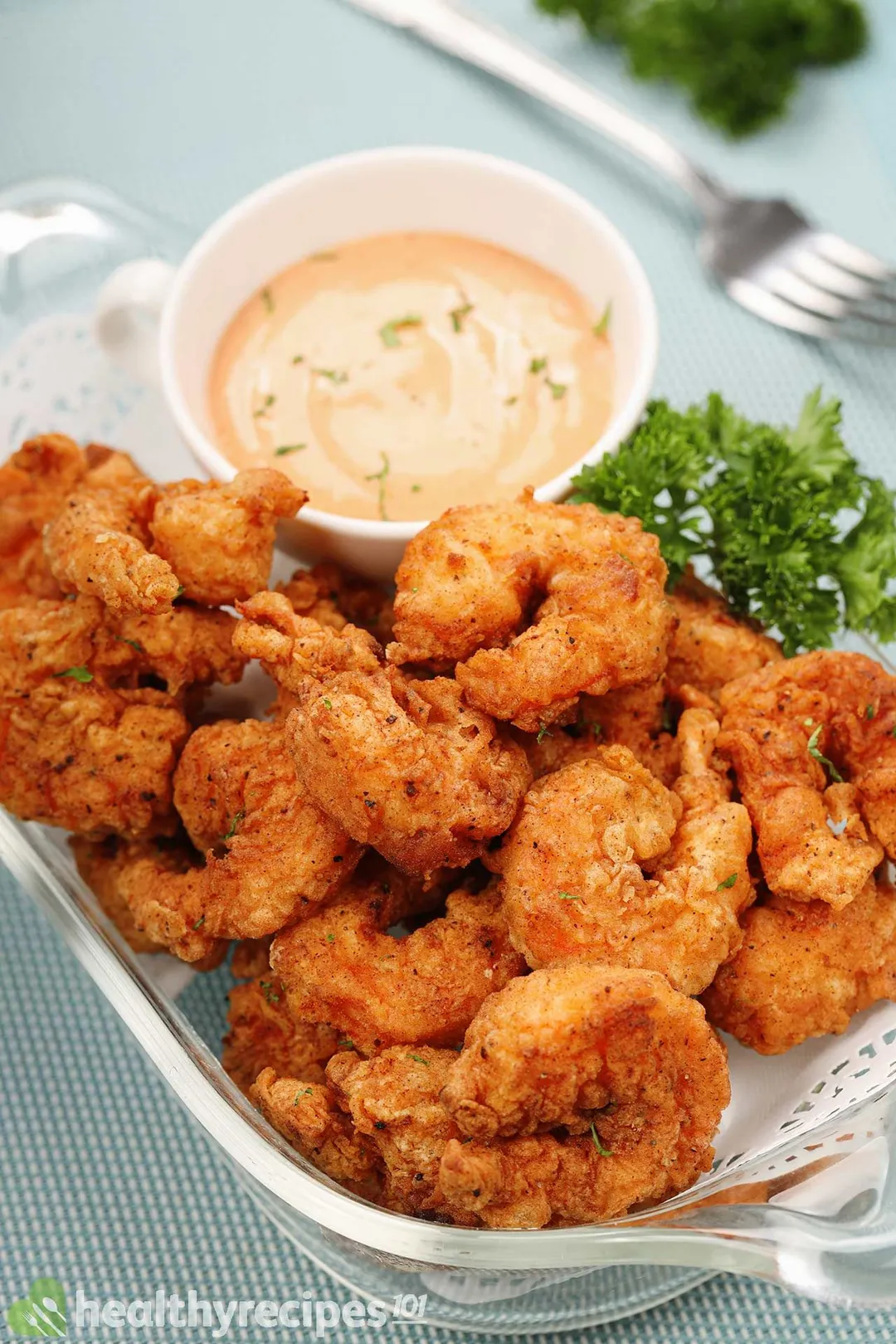 Previous Recipe
Popcorn Shrimp
Popcorn Shrimp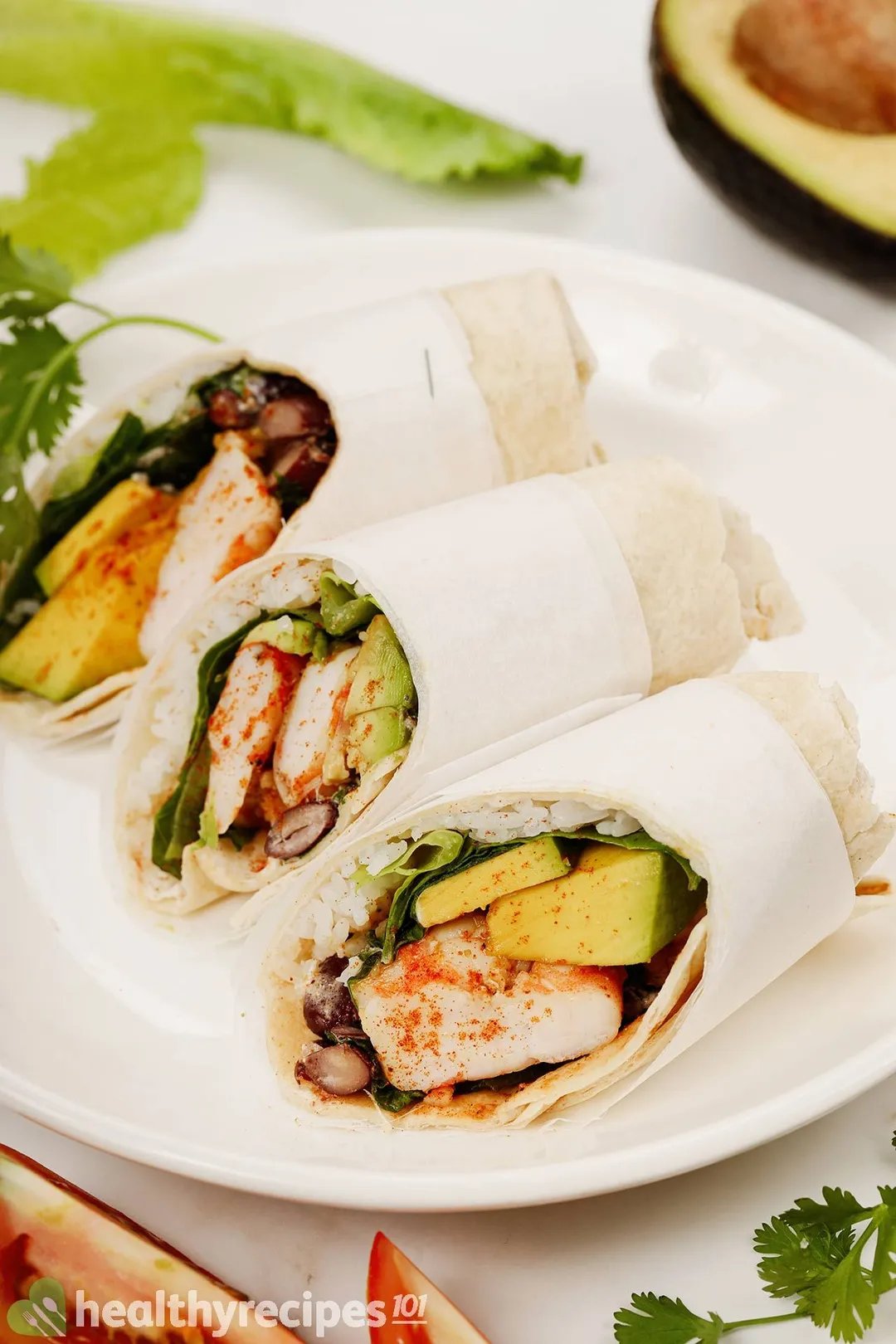 Next Recipe
Shrimp Burrito
Shrimp Burrito
Head Chef, Culinary Consultant
Tuyet Pham is an award-winning Saigonese chef who believes that joy is the secret ingredient to delicious food. At Healthy Recipes 101, Tuyet personally tests and simplifies every recipe, ensuring maximum flavor with minimal effort. With a background at prestigious French restaurants P'TI Saigon and Le Corto, Tuyet knows how to make every dish exceptional.
Writer, Author
Luna Regina is an accomplished writer and author who dedicates her career to empowering home cooks and making cooking effortless for everyone. She is the founder of HealthyKitchen101.com and HealthyRecipes101.com, where she works with her team to develop easy, nutritious recipes and help aspiring cooks choose the right kitchen appliances.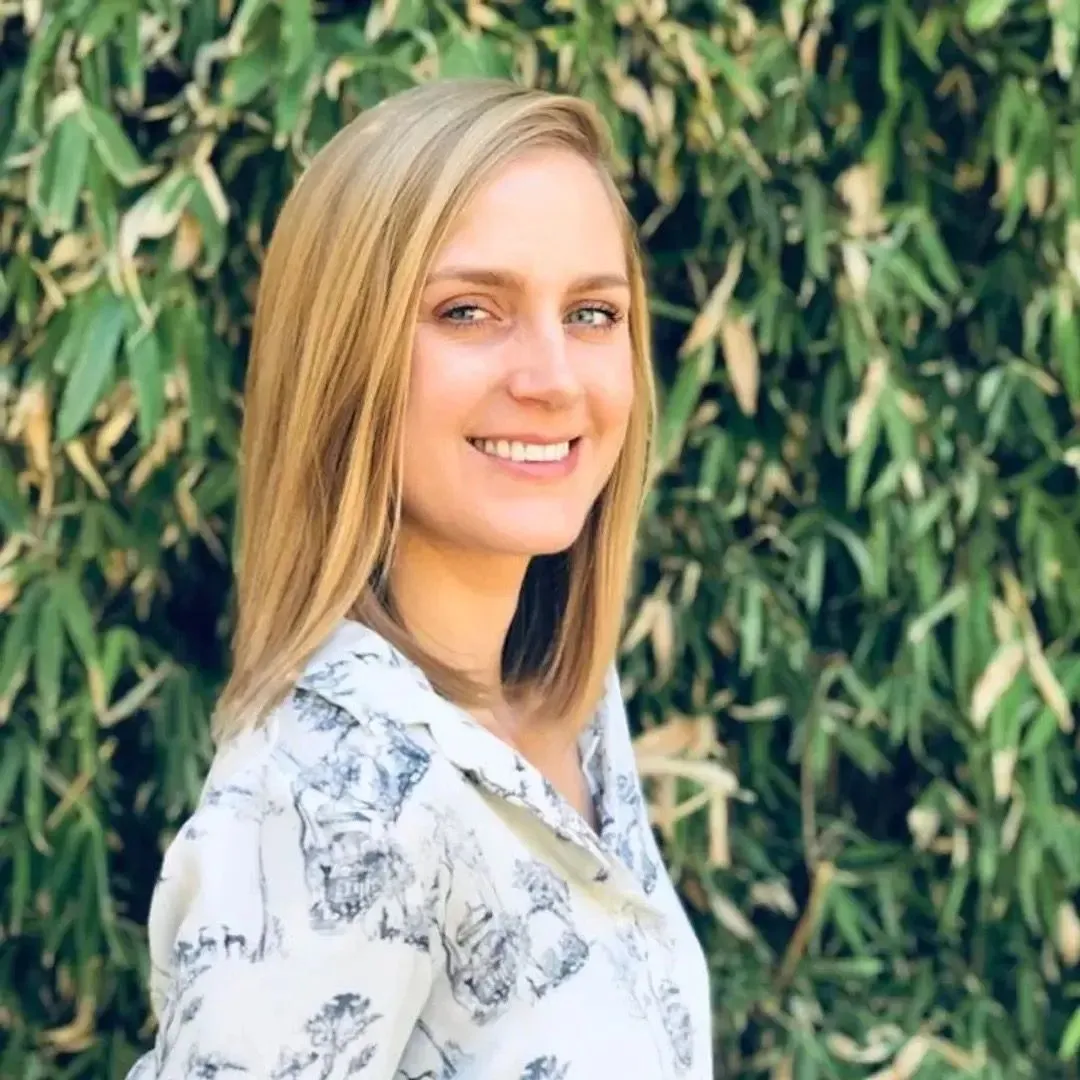 Nutrition Reviewer
Emily Rogers is a California-based Registered Dietitian Nutritionist who specializes in Public Health Dietetics. She has had an eclectic career working as a health educator, nutrition counselor, recipe developer, clinical dietitian and outpatient dietitian. Emily is currently a full-time Public Health Nutritionist with the County of Orange where she teaches Nutrition Education and Community Nutrition courses.
Bold and zesty blackened shrimp recipe, bursting with flavor and easy to make.