This Hunan shrimp recipe recreates the region's staple: plump shrimp and green beans coated in a savory, sweet, hot sauce.
What Is Hunan Shrimp?
Hunan (reads huːˈnæn) is a region in China known for its hot, spicy cuisine. No matter whether it's stewed, deep-fried, stir-fried, pot-roasted, braised, or smoked, the dishes are always fused with plenty of robust spices, especially dry chili powder.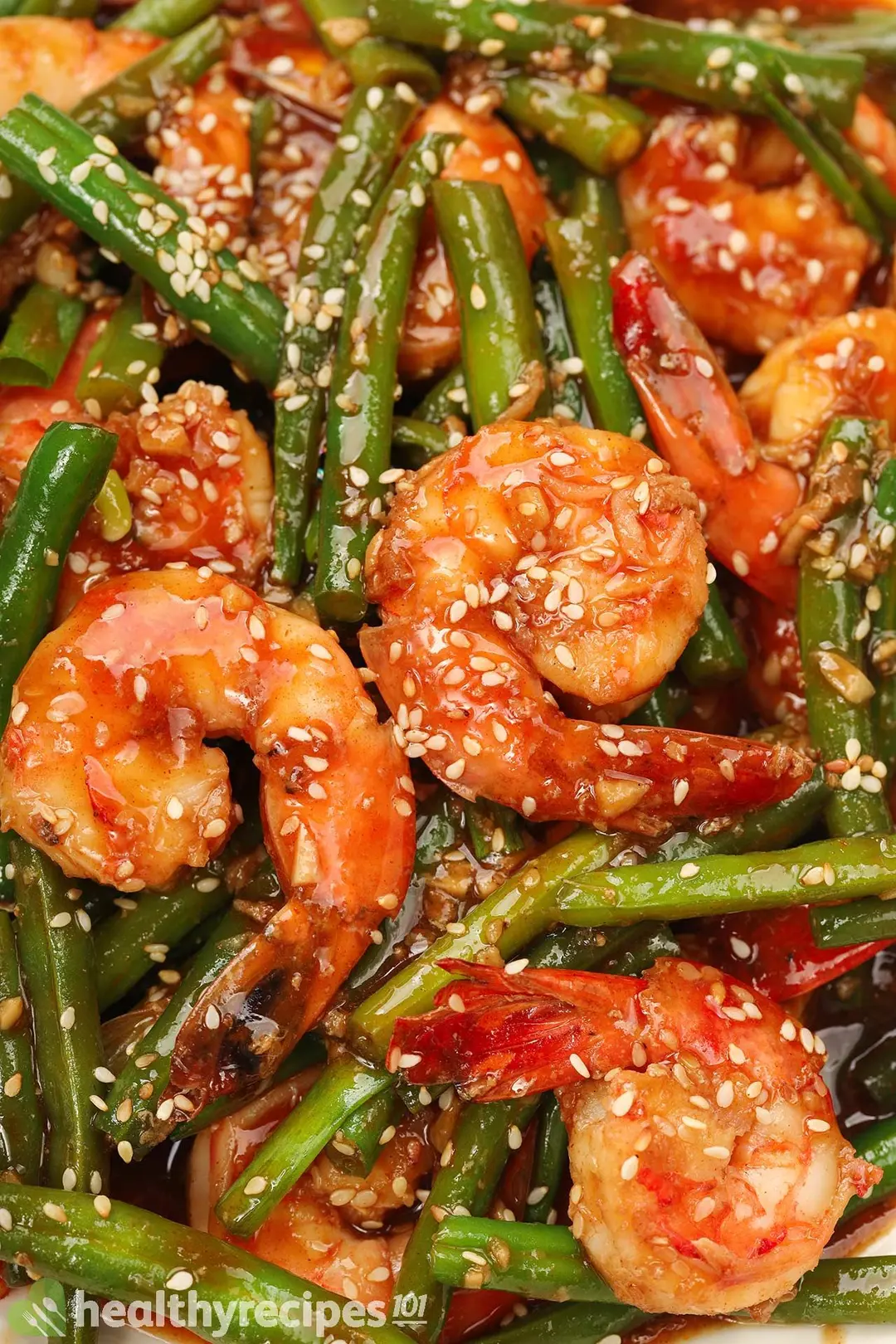 Hunan shrimp is categorized as a saucy, spicy stir-fry. Shrimp is cooked with garlic and green beans, then simmered in a sauce made of soy sauce, oyster sauce, and chili bean paste.
Our Hunan shrimp recipe isn't spicy like the original, as we want everyone to be able to enjoy it. If you prefer it spicy, we'll show you how to achieve the authentic heat in the ingredients section.
Hunan Shrimp vs. Szechuan Shrimp
Both cuisines are famous for using an abundance of hot chili peppers in their foods. However, Szechuan dishes (shrimp included) have Szechuan peppercorns, which taste citrus-like and give the tongue a tingly-numbing sensation. This experience is described as 'mala', and something many people love about the cuisine.
Is Hunan Shrimp Healthy?
The spicy shrimp and green bean stir-fry is often served with cooked rice to make it a wholesome meal. It provides you with an array of necessary nutrients: proteins, fiber, carbohydrates, and tons of micronutrients.
Besides getting necessary nutrients, our definition of healthy eating also requires limiting your intake of calories, sodium, and saturated fat. The dish has almost zero saturated fat, but, being often seasoned with plenty of salt and served without a designated amount, it can contain high levels of sodium and calories.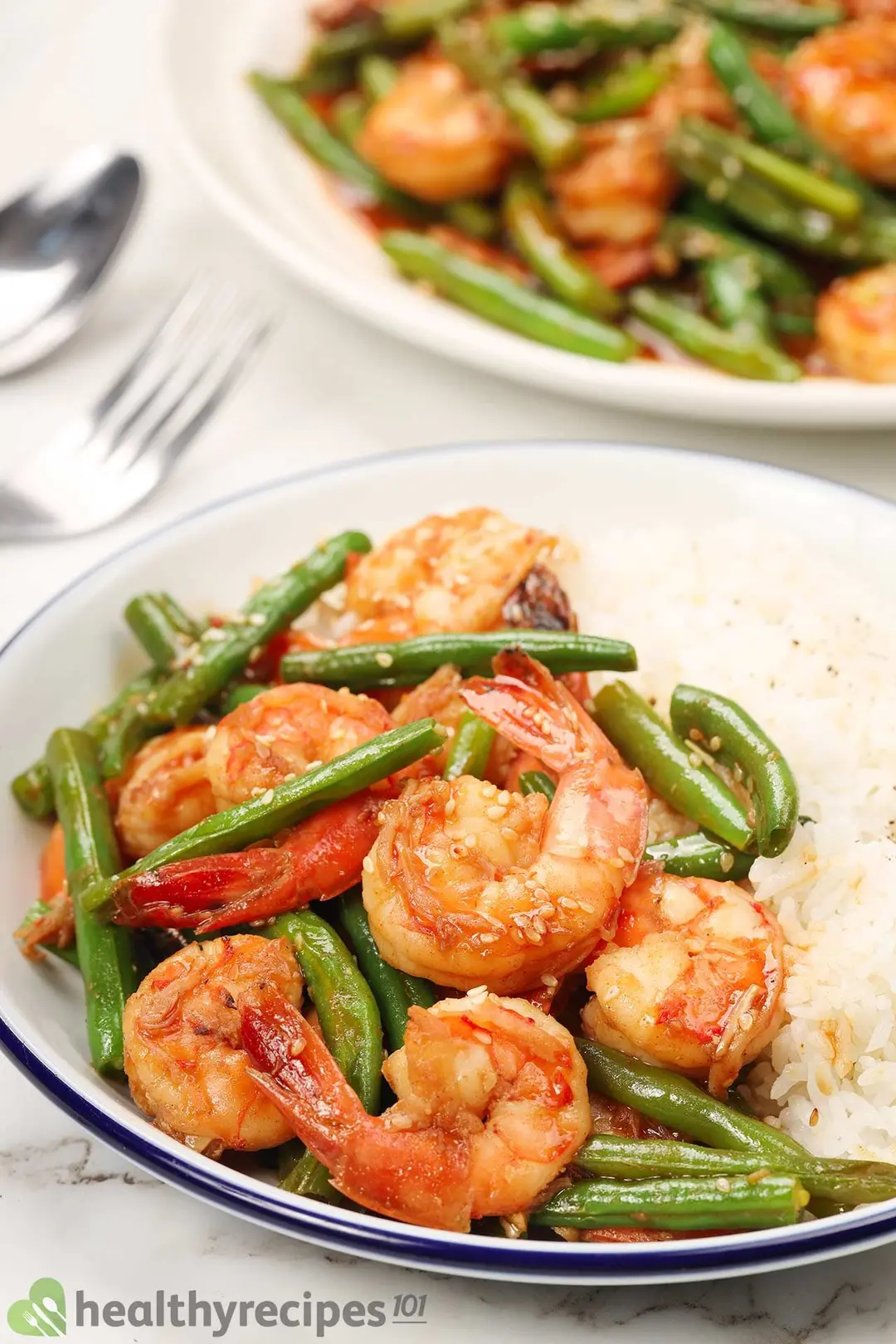 1. Hunan Shrimp Sodium
By going easy on the salt, we designed each serving of the shrimp to yield just 595.3 mg sodium. Compared to the 2300 limitation the USDA suggests on sodium intake, this is a good amount for a main dish.
2. Hunan Shrimp Calories
We also designed each portion of the dish to give you just around 500 calories, 478 to be exact. As you'll be eating it with two side dishes, such a figure is quite reasonable.
You can check our healthy eating guidelines for a clearer view of what you should look out for in your foods.
Main Ingredients for Hunan Shrimp
1. Shrimp
This dish welcomes shrimp of all sizes. Personally, we prefer larger ones as they are equal in size to the green beans and hence improve the aesthetic.
To save time peeling, deveining, and removing the heads, you can look for prepared shrimp in the frozen food section. They often come in jumbo and large sizes.
2. Vegetables
Green beans are the classic option, but similarly green, crunchy vegetables that hold their shape after cooking work too. We can think of snap peas, asparagus, and broccoli.
If green beans are your preferred choice, it's good practice to cut off the pointy ends. They have a bad texture when cooked and don't do anything for the final presentation, either.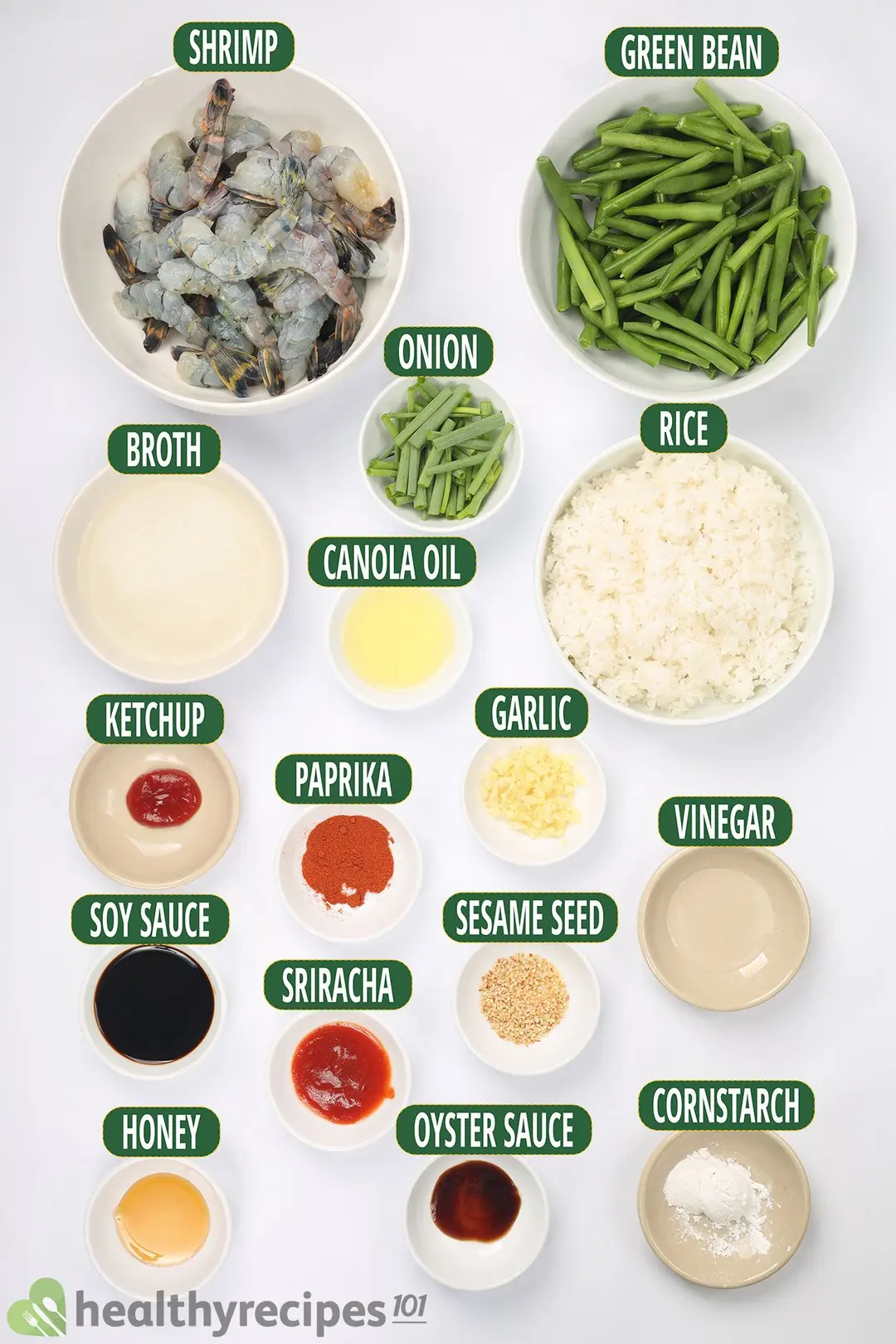 3. Hunan Sauce
The sauce that brings everything together is composed of:
Garlic: the cuisine often puts tons of it into its dishes. Only garlic, no onions — their aroma is replaced with green onions, garnished at the end.
Rice vinegar and honey: it's the balance between the tanginess and sweetness that makes the sauce so addictive. Rice vinegar is substitutable with white vinegar only, as other vinegars' aromas don't match.
Oyster sauce and soy sauce: the main seasoning sauces of Chinese cooking, adding umami, saltiness, and a beautiful dark color — a good salt replacement.
Ketchup: it's a simple ingredient to give your dish an appetizing red color, especially for spicy foods. It also adds some tanginess.
Sriracha and paprika: they're easier to find than chili bean paste and give a warm sensation instead of intense heat. You can use the paste or the original ingredients in the same amounts (or more) for the authentic heat.
Cornstarch slurry: we wanted the flavorful sauce to cling onto the shrimp and green beans, so we used this ingredient. Making it with chicken broth gives more flavor, but you can use plain water instead — the difference should be subtle.
As with most Chinese dishes, the finishing touches include chopped green onions and some toasted sesame seeds. 
How to Make Hunan Shrimp
It's pretty straightforward: green beans, garlic, and shrimp are cooked separately, then combined together with the sauce.
Make the sauce
Sauté the green beans and set aside.
Sauté the garlic.
Add the shrimp to cook.
Add the sauce.
Add the green beans back.
Garnish and enjoy.
We expect that you have cooked rice on hand, so if you haven't, get the rice cooker running before making this sauté. You want both to finish at the same time and be served hot together.
How to Store and Reheat Leftover Hunan Shrimp
Keep this stir-fry in the fridge and try to consume it within 4 days. Or freeze it for up to 6 months, and label it, so you know when it expires.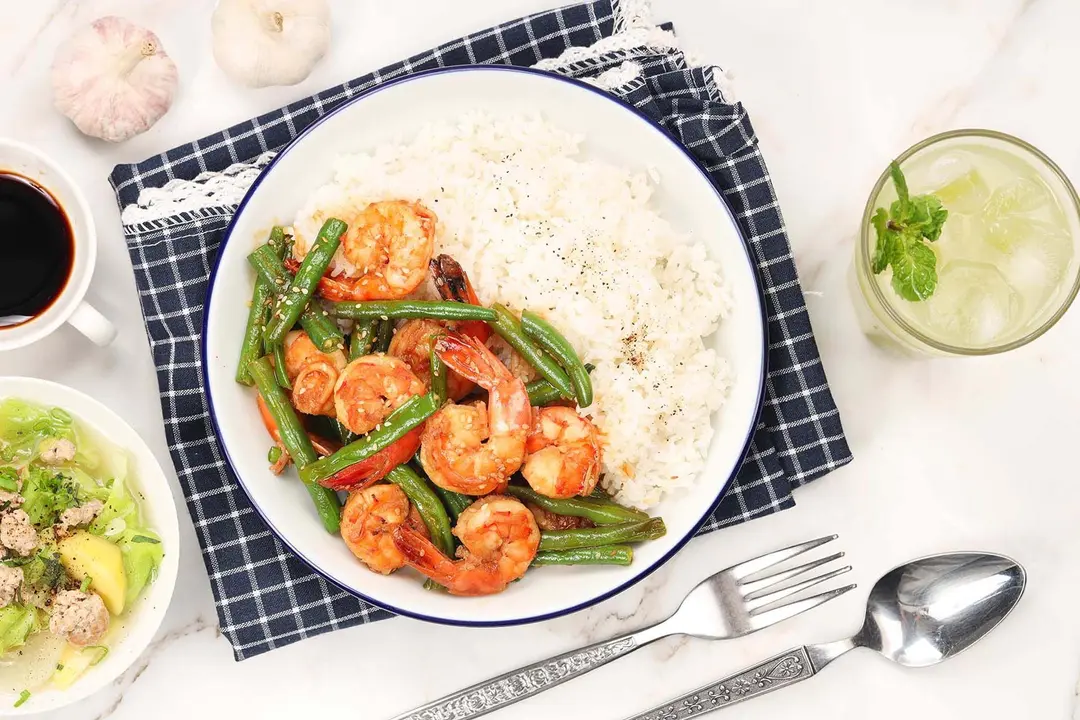 Saucy dishes are difficult to remove from their container once frozen. We find using Ziplocs or biodegradable bags makes the task much easier.
Reheat the dish in a saucepan for 3-4 minutes if refrigerated and 7-8 if frozen.
Cooked rice can be stored in the fridge for up to 5 days and is best reheated by microwaving or steaming. Rice shouldn't be frozen, as it loses its delicious fluffy texture when thawed.
What to Serve With Hunan Shrimp
We toned down the robust flavors with a hearty cabbage potato soup with juicy slices of carrot and white radish. Next, we served a glass of chilled, sweet-and-tangy green grape juice with the meal to round it off.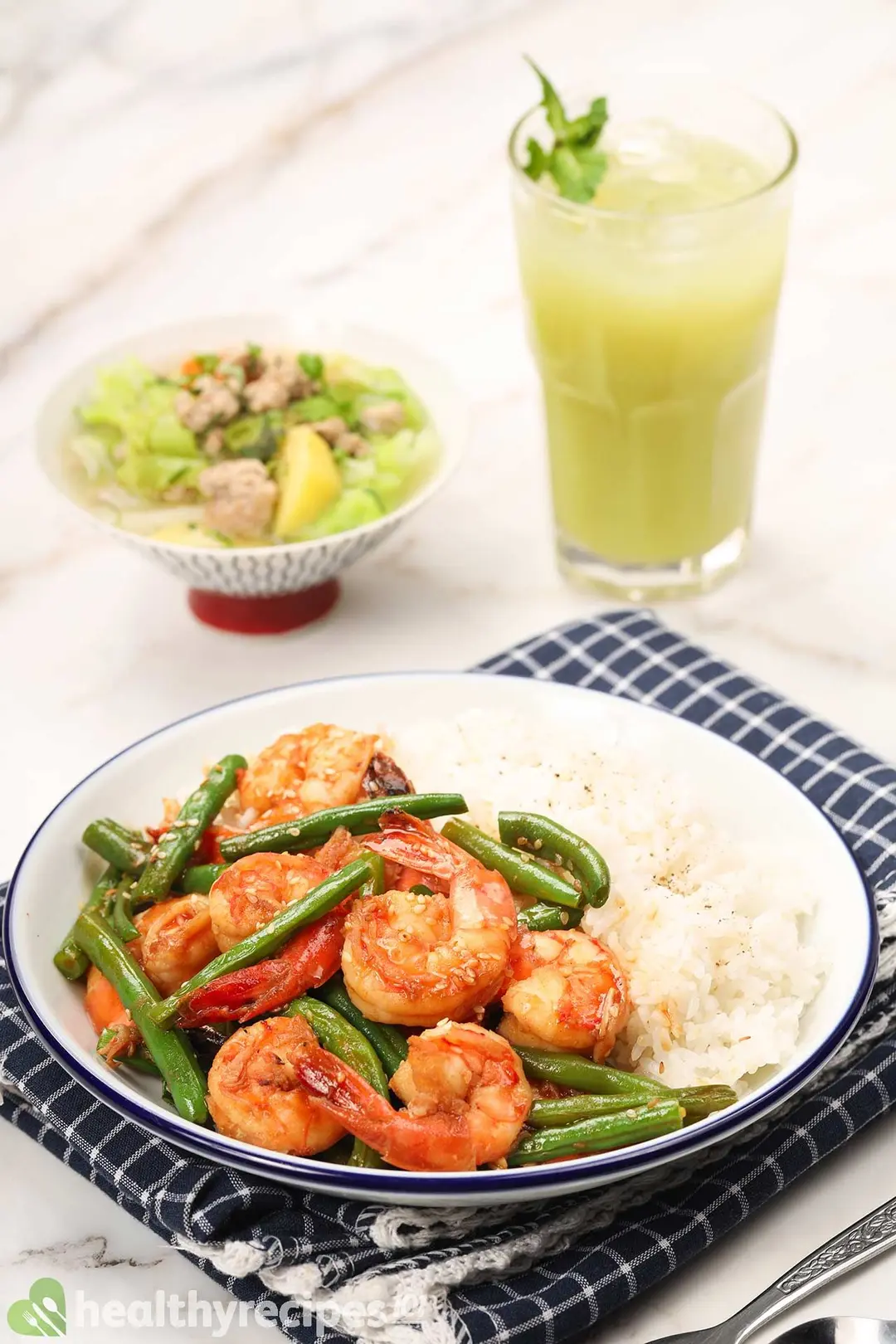 Hunan Shrimp Recipe
This Hunan shrimp recipe combines shrimp, green beans, and a range of amazing flavors. This delicious meal takes less than 20 minutes.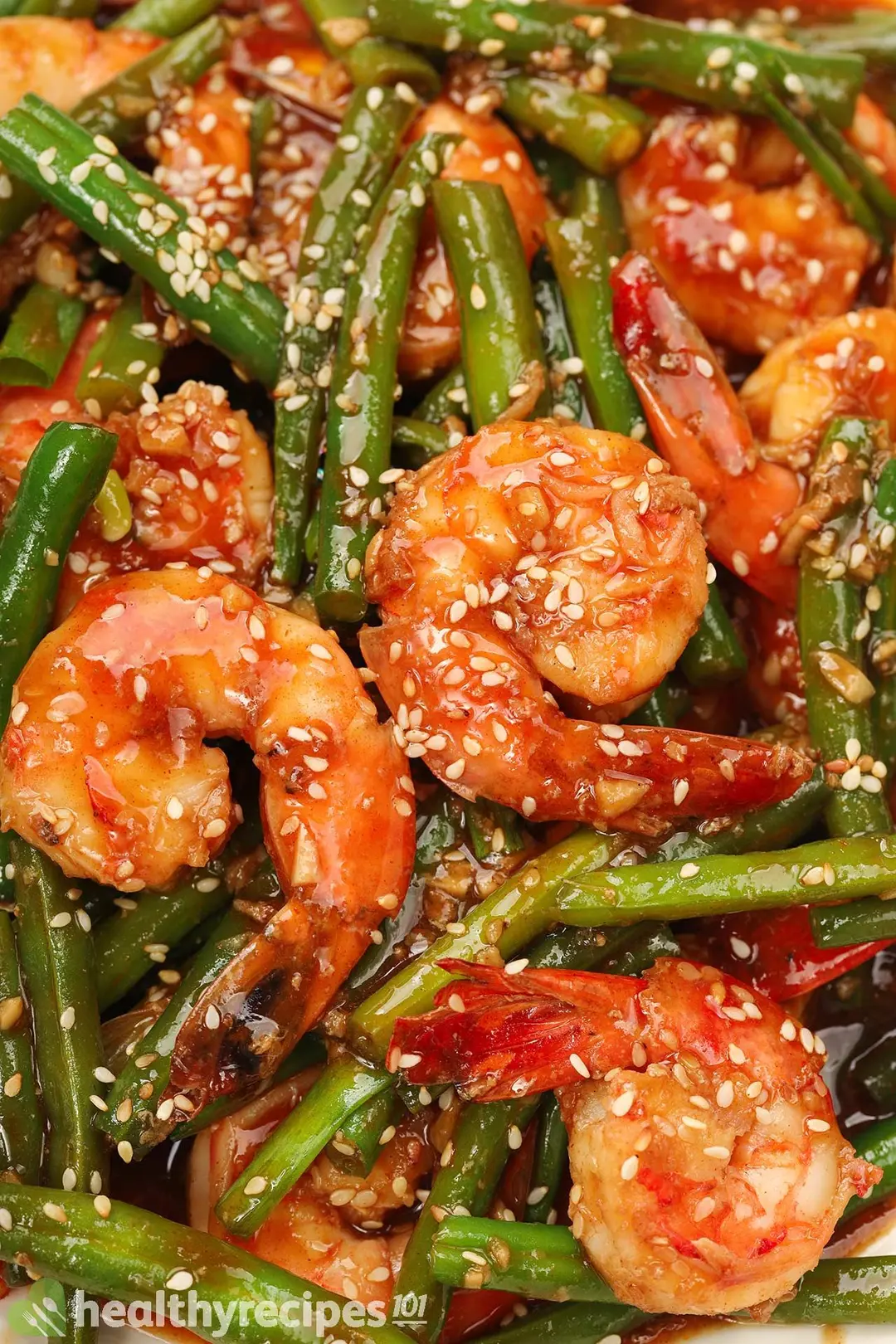 cook TIME

12 mins

prep TIME

5 mins

total TIME

17 mins
COURSE

Main Course

CUISINE

Chinese, Hunanese

SERVINGS

servings

CALORIES

478 kcal
INGREDIENTS
2 tbsp

reduced-sodium soy sauce

2 tsp

sriracha

2 tsp

rice vinegar

1 tsp

honey

1 tsp

Heinz ketchup

0.5 tsp

oyster sauce

0.5 tsp

paprika

0.5 cup

unsalted chicken broth

2 tsp

cornstarch

2 tbsp

canola oil divided

8 oz

green beans both ends trimmed

1 tbsp

garlic about 3 cloves, minced

12 oz

peeled shrimp from 24 oz whole shrimp

1 tbsp

sesame seeds toasted

2 oz

green onions chopped

3.5 cups

cooked medium-grain rice
INSTRUCTIONS
1
In a bowl, combine 2 tbsp soy sauce, 2 tsp rice vinegar, 2 tsp sriracha, 1 tsp honey, 1 tsp ketchup, 1/2 tsp paprika, 1/2 tsp oyster sauce with 2 tsp cornstarch. Slowly dilute the mixture with 1/2 cup chicken broth and set aside.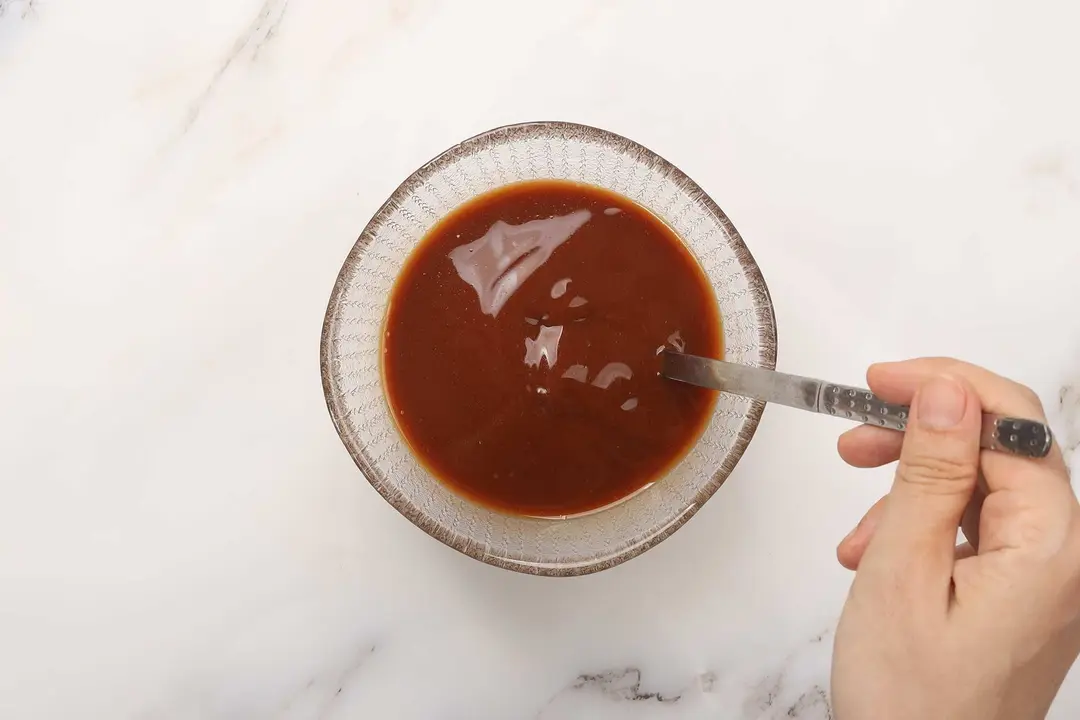 2
Heat 1 tbsp canola oil in a non-stick skillet over medium heat. Sauté 8 oz green beans for about 3 minutes, stir constantly, then set aside.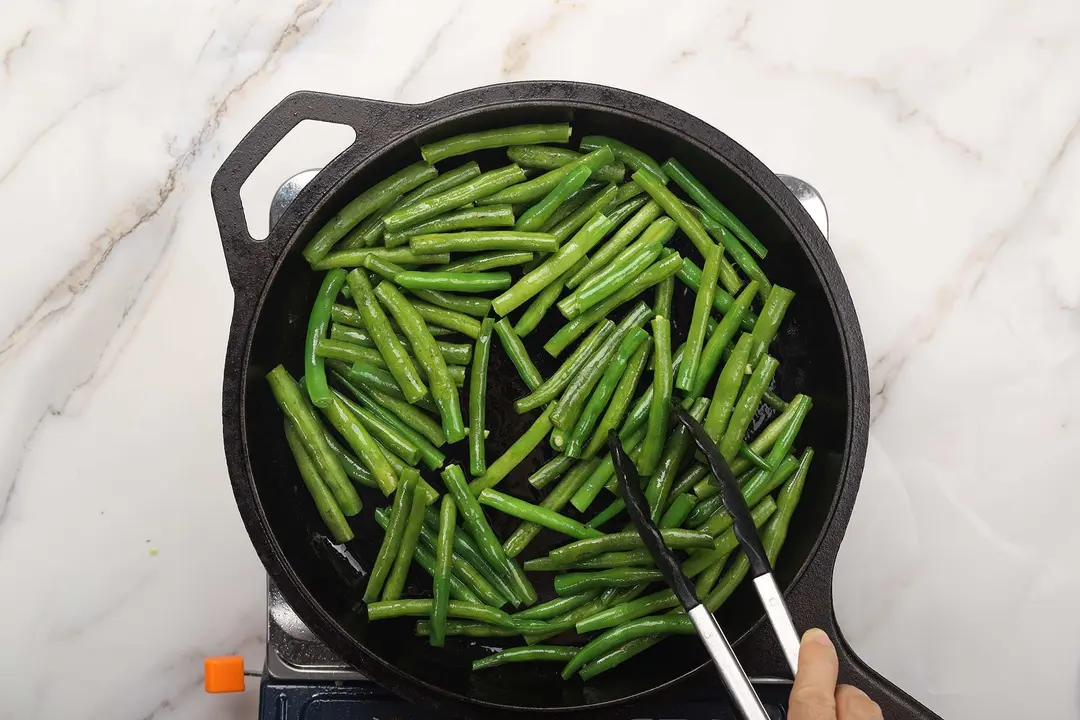 3
Add the remaining oil (1 tbsp) and sauté 1 tbsp minced garlic for about 30 seconds.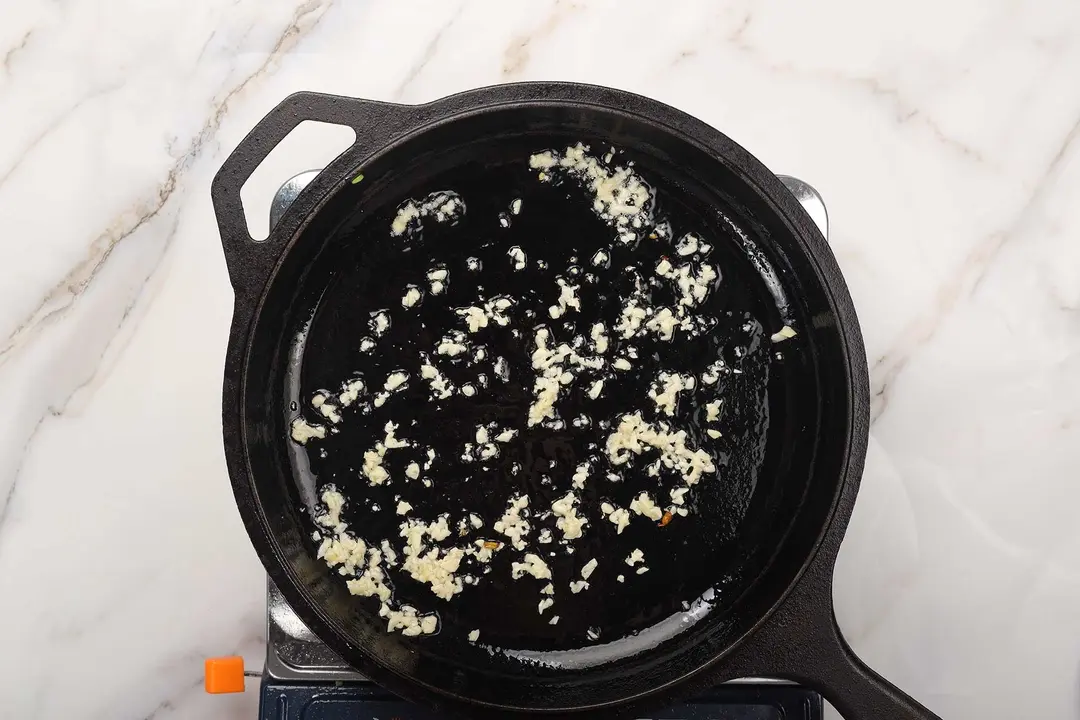 4
Add 12 oz peeled shrimp and stir to cook for 3 minutes.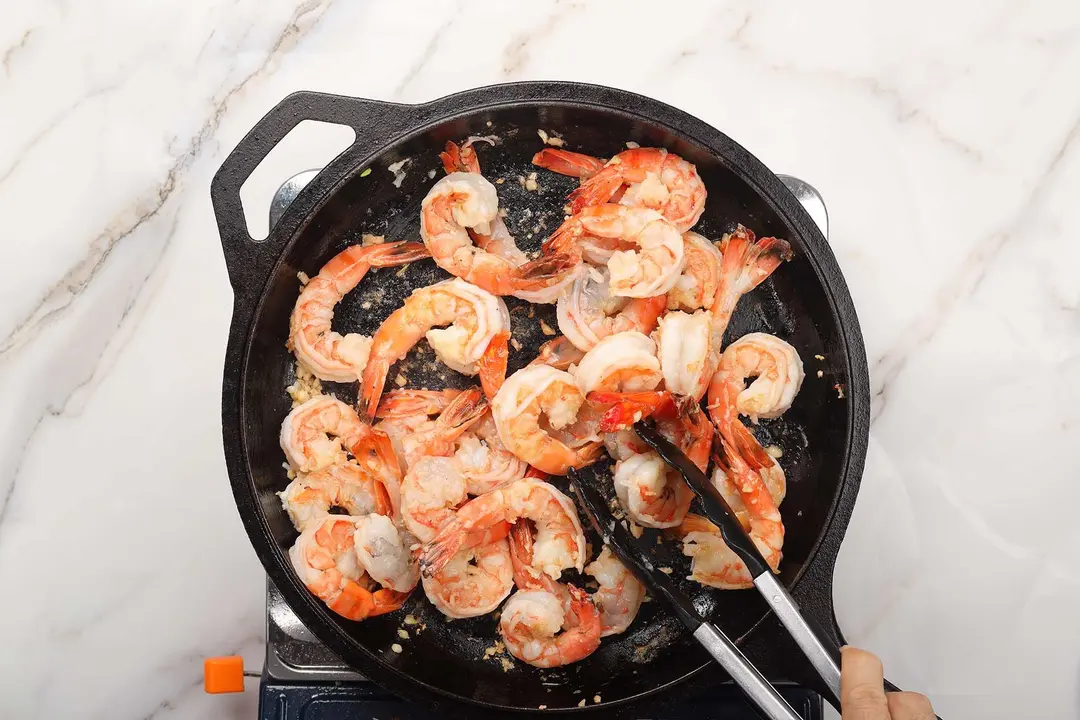 5
Pour in the sauce. Let simmer for 1 minute.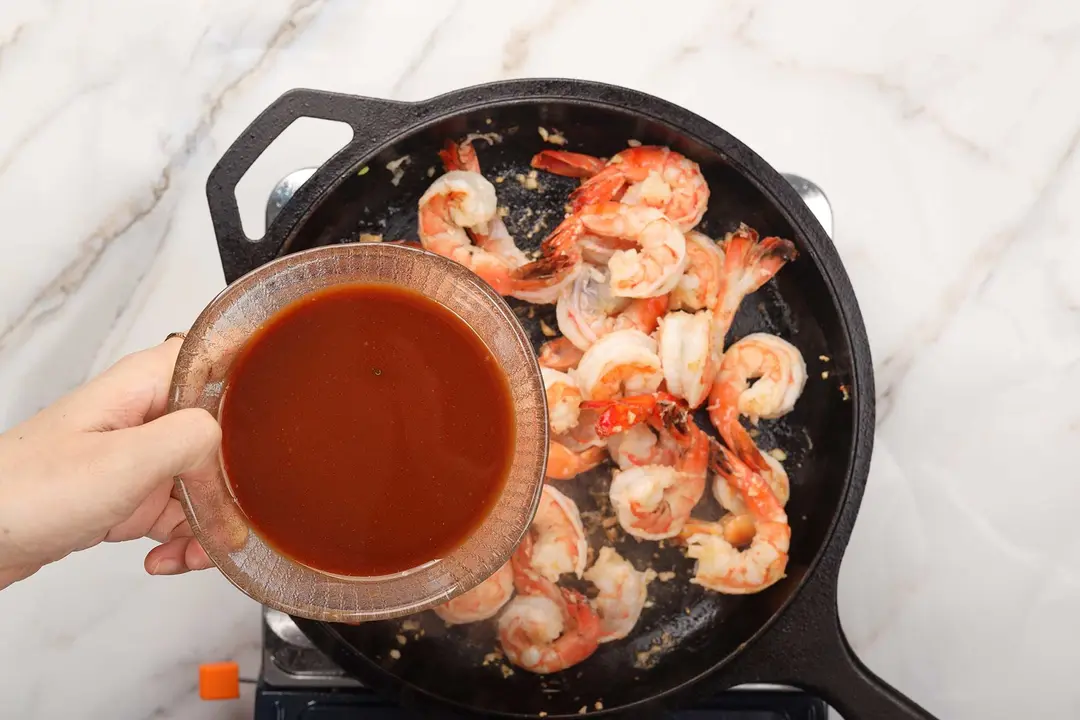 6
Add the green beans back and reduce for another minute or until the sauce reaches your desired consistency.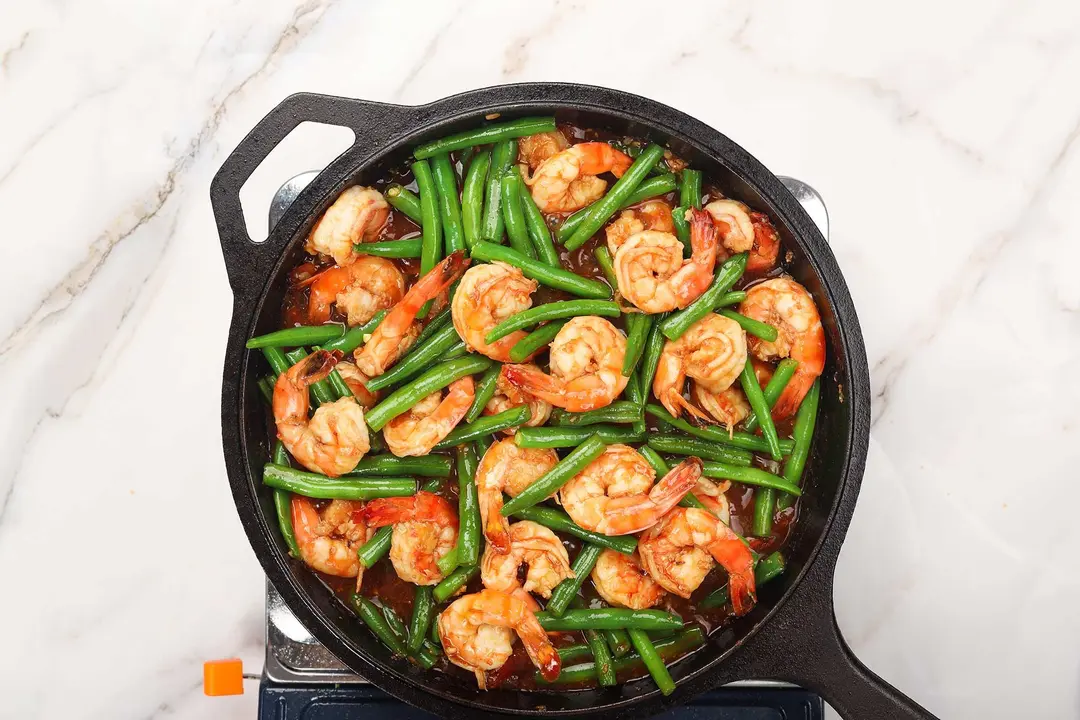 7
Remove the skillet from the heat and garnish with 1 tbsp toasted sesame seeds and 2 oz chopped green onions. Enjoy with 3 1/2 cups cooked rice.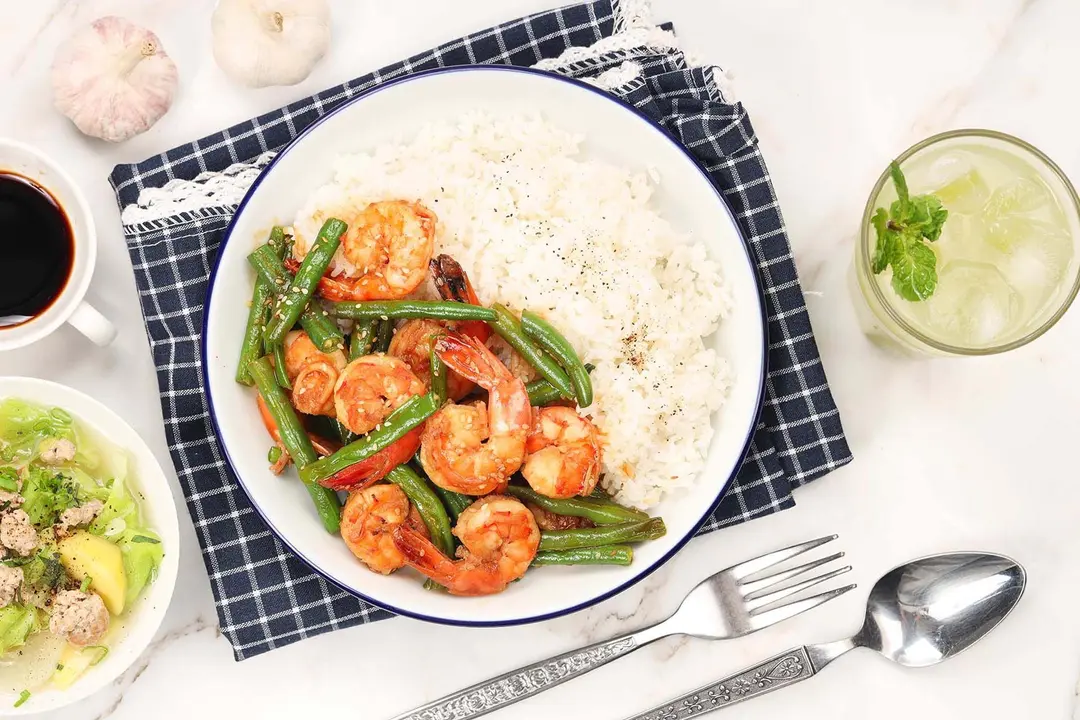 NUTRITION
Nutrition Facts
Hunan Shrimp Recipe
Amount Per Serving (1 serving)
Calories 478
Calories from FDA
% Daily Value*
* Percent Daily Values are based on a 2000 calorie diet.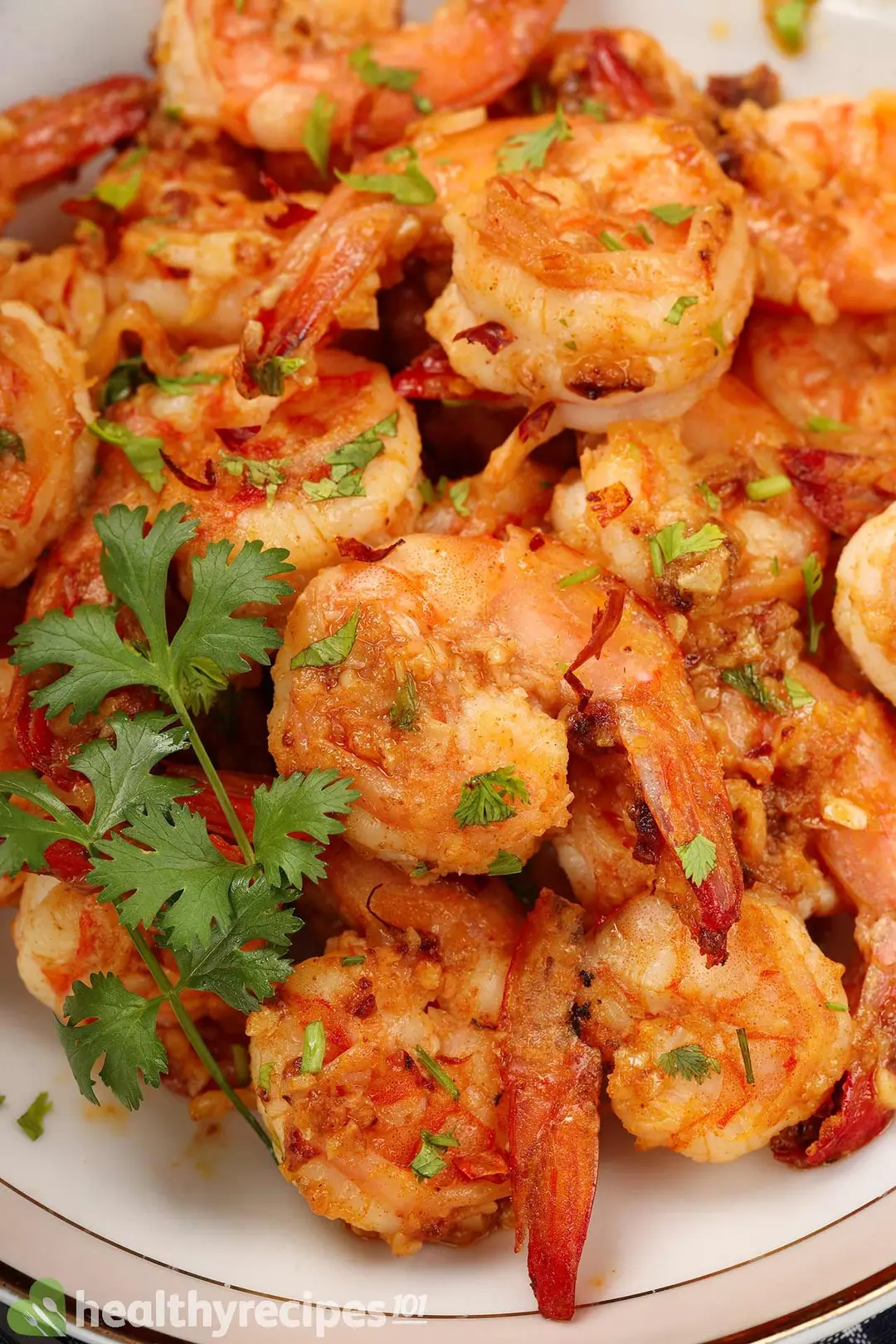 Previous Recipe
Lemon Garlic Shrimp
Lemon Garlic Shrimp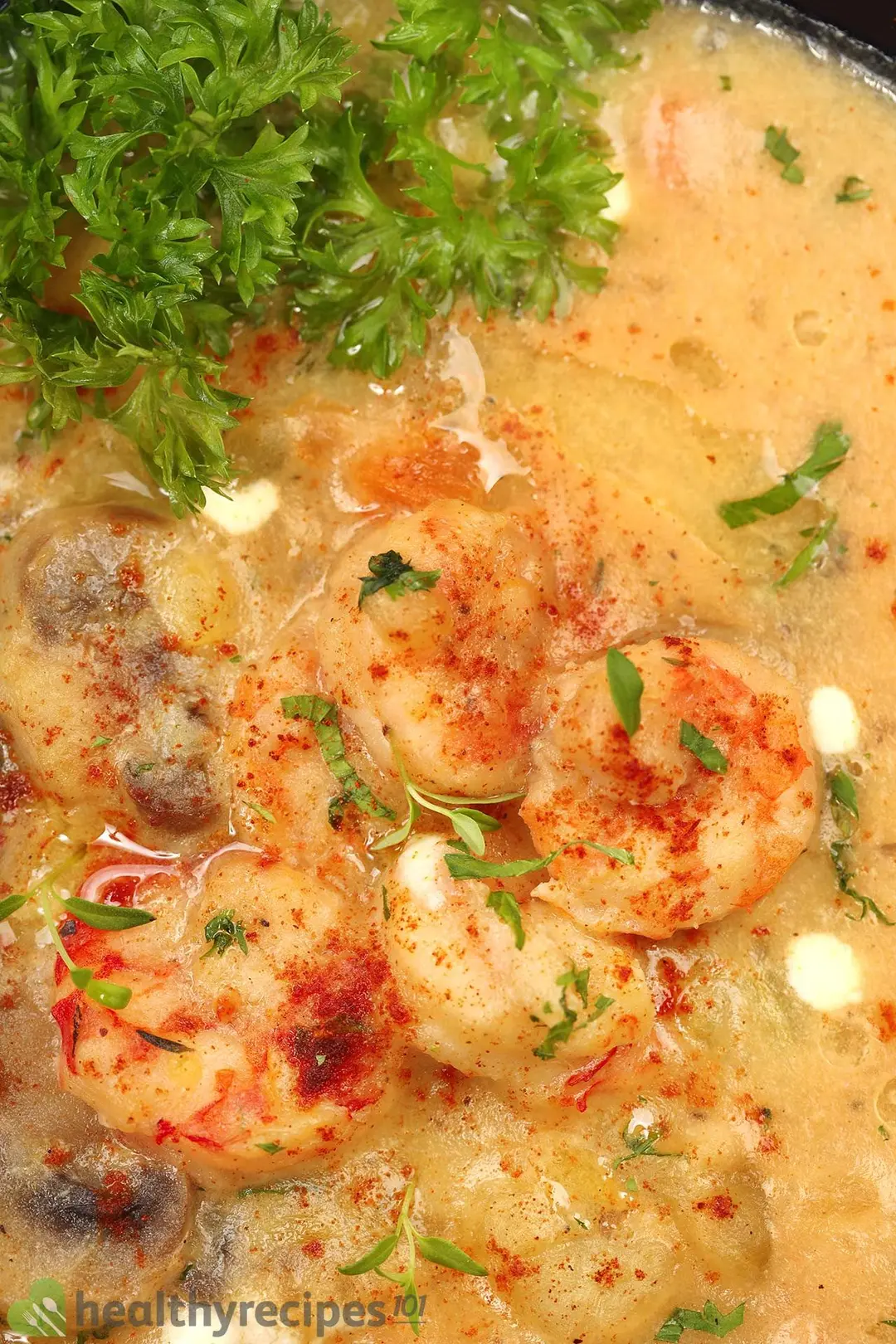 Shrimp Soup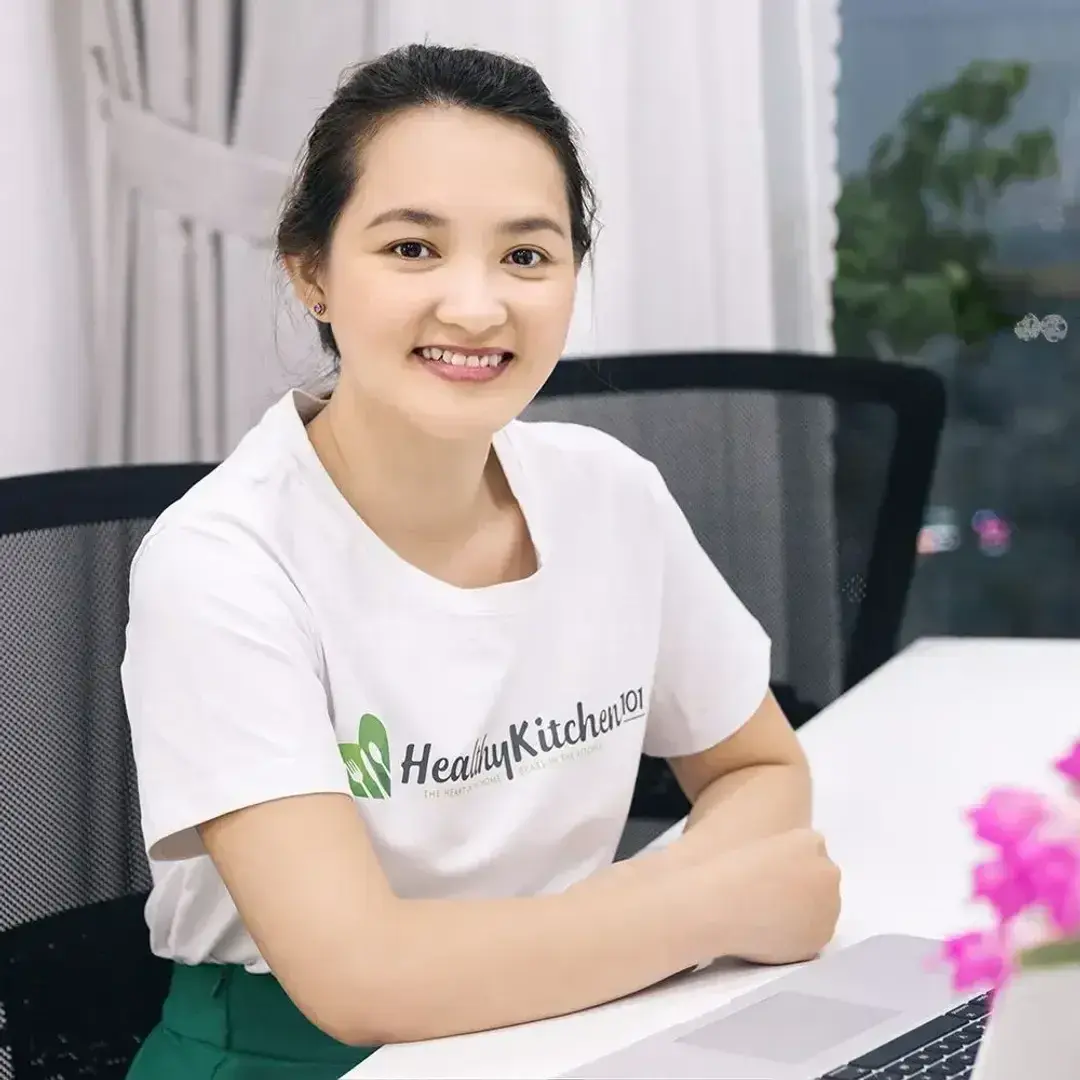 Luna Regina
Luna is the founder and chief recipe developer of Healthy Recipes 101. Apart from cooking, she also loves reading, programming, exploring the outdoors, and collecting useless facts about everything.