Our firecracker shrimp will knock your socks off with its incredible texture and tempting flavor. The shrimp is thinly coated in eggs and cornstarch and fried to perfection. To finish off, the shrimp is tossed in Asian-style condiments such as chili flakes, honey, and fish sauce. This recipe doesn't require a ton of skills to put together, so why not give it a try?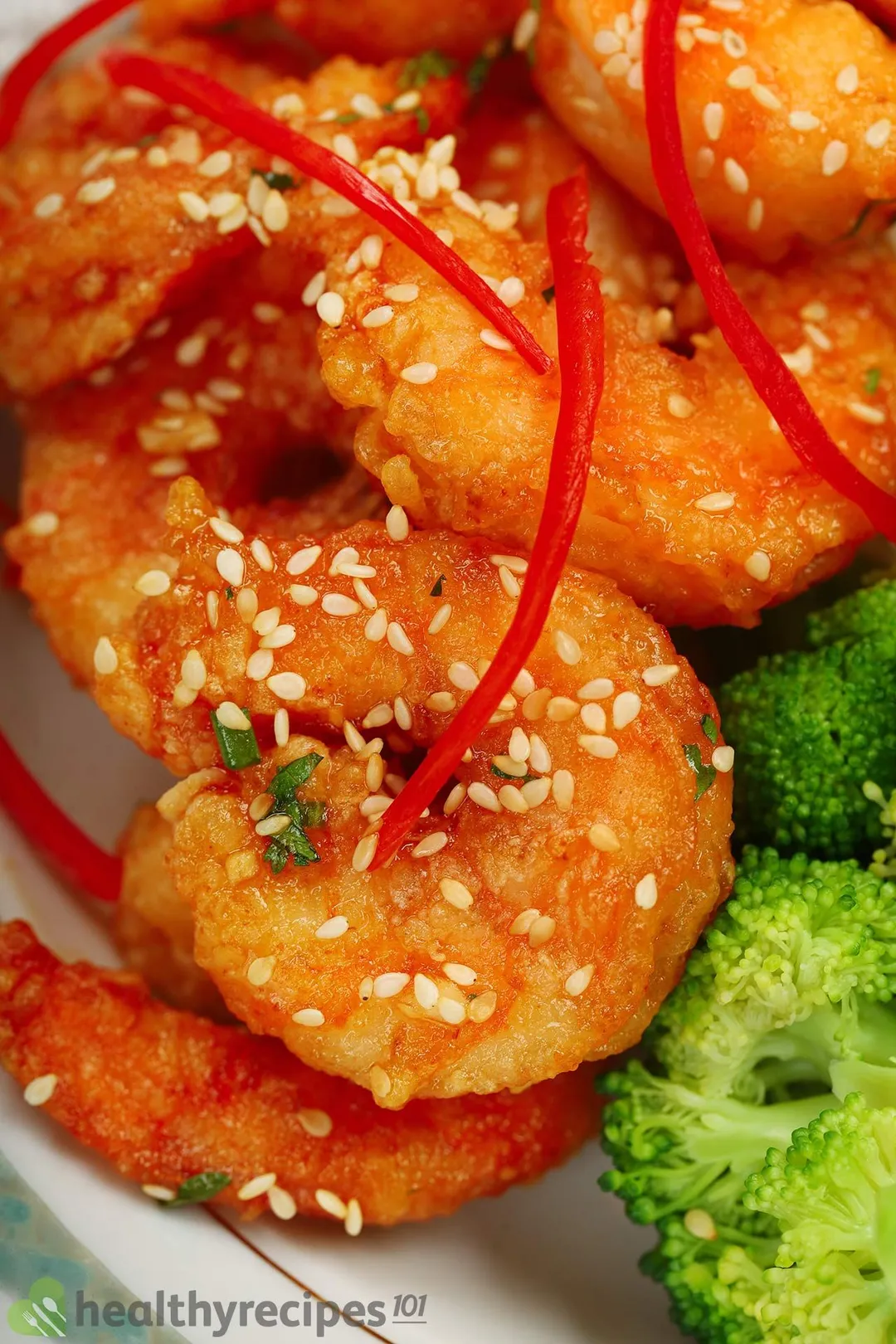 Is Firecracker Shrimp Healthy?
On first impression, firecracker shrimp may not seem too healthy as the frying process usually involves high heat and lots of oil, which add saturated fats and potentially carcinogenic chemicals to the food.
Our team uses canola oil, which is low in saturated fat. Only a small amount of the oil used is absorbed into the food, but it's still best to only eat fried foods occasionally.
We also serve these shrimp with broccoli and rice to fill you up with nutrients - carbs, dietary fiber, vitamins, and minerals.  Our chefs have carefully portioned the meal so that each serving  contains only 529.1 mg of sodium, 292.1 mg of cholesterol, and only 1 g of saturated fat. This firecracker shrimp takes up 506 calories, which is very reasonable for a main dish.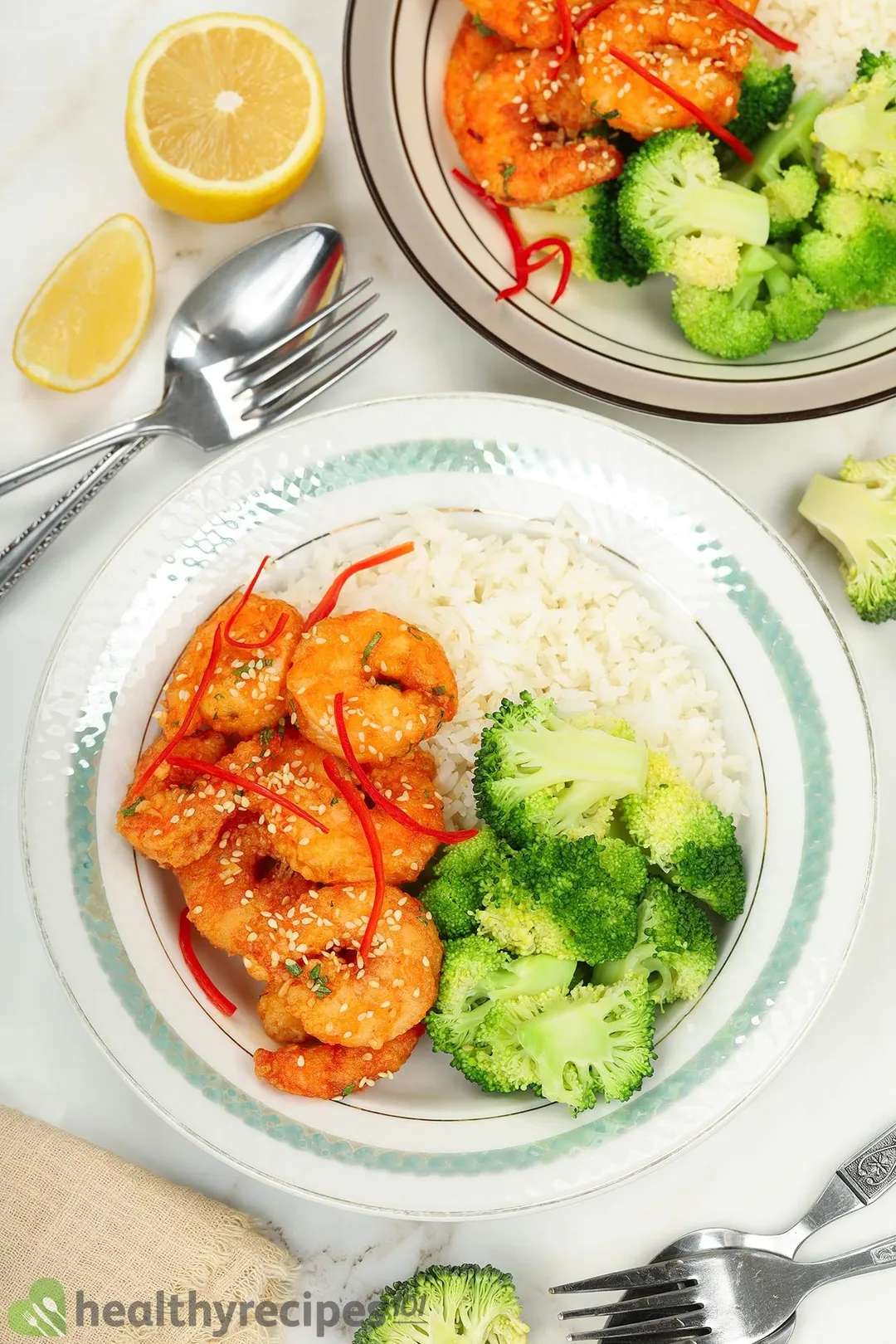 Fresh Shrimp vs Frozen Shrimp
There are many questions surrounding the shrimp and - the most frequently asked is:  "fresh or frozen shrimp?"
Unless you purchase shrimp at the fish market, they are not actually fresh. To retain their freshness, most shrimp sold in grocery stores are frozen soon after they're caught.
For this recipe, our chefs prefer fresh shrimp over the frozen option for their texture and flavor. Fresh shrimp tend to have firmer and snappier flesh, with a noticeable hint of sweetness, compared to thawed shrimp.
However, if you have a bag of frozen shrimp on hand, defrost them properly and they're good to use. We've got a whole collection of Frozen Shrimp Recipes you can make with them too.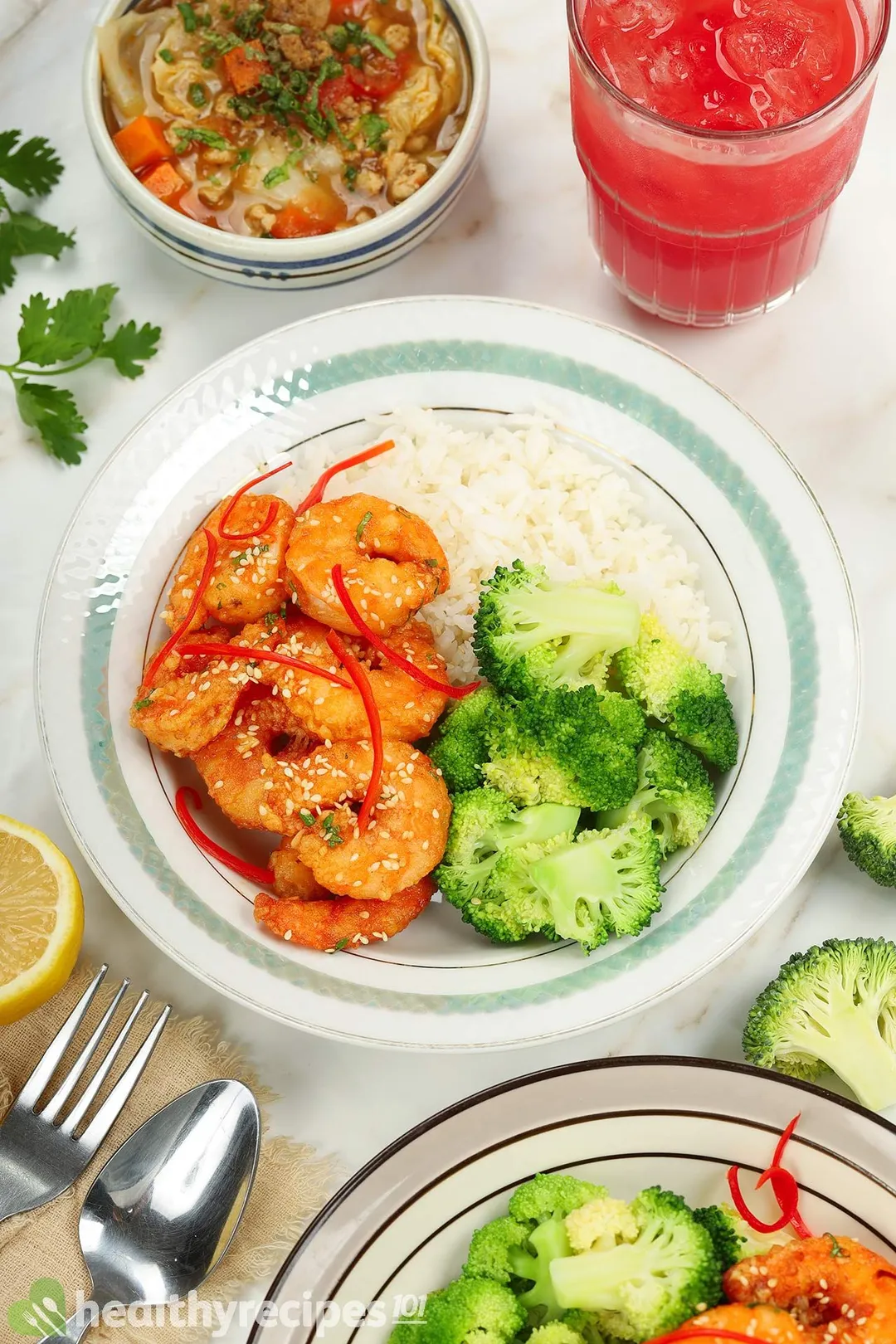 How to Thaw Frozen Shrimp
When working with frozen seafood, it's best to let them thaw slowly in the fridge a day ahead of cooking.
Even if you're in a rush, do not thaw shrimp by immersing them in hot water, as bacteria multiply rapidly in perishable food when the temperature gets warmer than 40°F.
Instead, place the shrimp in an airtight ziplock bag and submerge it in cold water. It takes approximately 30 minutes for one pound of shrimp to defrost completely.
How to Store and Reheat
If you end up making too much for one sitting, store the fried shrimp and sauce in two separate airtight containers. Both can last 3-4 days in the fridge. When serving, place all into a non-stick pan, and cook over medium heat until hot. Remember that reheated battered shrimp is slightly softer and chewier in texture.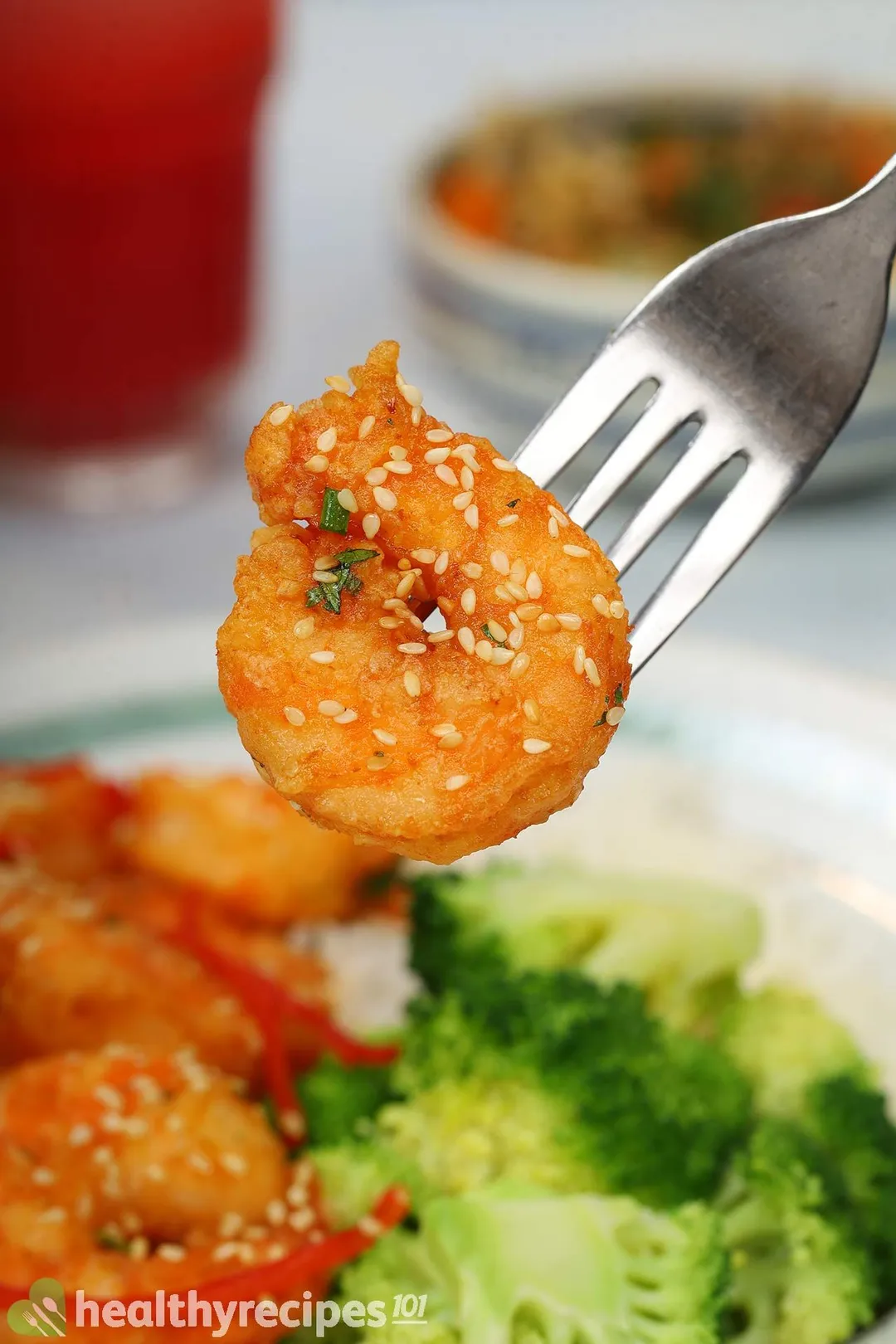 We recommend cooking broccoli just before serving to best maintain its crunchiness. For storing, you can either refrigerate cooked broccoli florets for up to a week or freeze them for up to 6 months.
What to Serve With Firecracker Shrimp?
Here are our top-pick recommendations to pair with firecracker shrimp.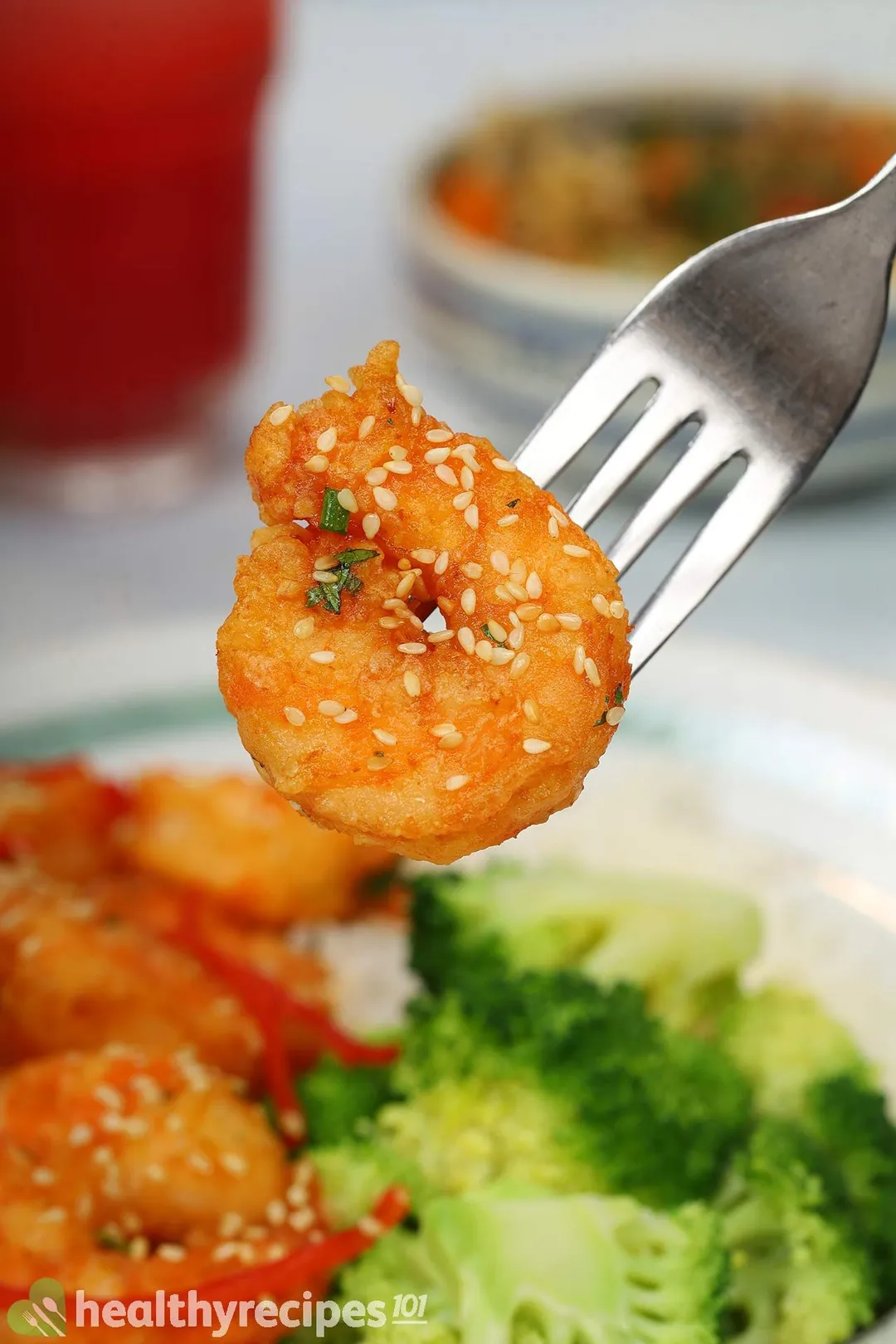 You May Also Like
How to Make Firecracker Shrimp
Today's recipe features crispy fried shrimp tossed in a spicy Asian-style sauce. It takes just 20 minutes to prepare this delectable treat.
cook TIME

10 mins

prep TIME

10 mins

total TIME

20 mins
COURSE

Main Course

CUISINE

Chinese

SERVINGS

CALORIES

506 kcal
INGREDIENTS
11 oz

peeled shrimp

(from 22 oz whole shrimp)

8 oz

broccoli

(cut into florets)

0.5 oz

red chili

(julienned)

3 1/2 cups

cooked medium grain white rice

2 tbsp

scallion

(chopped)

2 tbsp

cilantro

(chopped)

1 tbsp

unsalted roasted sesame seeds

1/2 tsp

red pepper flakes
INSTRUCTIONS
Preparation:
1
Shrimp: Prepare a bowl of ice water to keep your shrimp cold during prep. First, hold the shrimp by the tail and pull off its legs and head. For a more decorative look, you can leave the tail on. Next, start from the head end, and peel off the shell with your hand. Using a paring knife, cut along the back of the shrimp, about 1/4 inch deep. Remove the thin vein. Discard the shell and vein.
2
Broccoli: Use a large knife to cut off the broccoli florets where the hard stems and stalks meet. Cut them into smaller pieces, if desired. Rinse the florets under running water and pat them dry with a paper towel.
3
Garlic: Separate garlic cloves from the bulb. Trim off the tips. Peel and discard the skin. Mince the freshly peeled garlic.
4
Ginger: Use the top of a spoon to scrape off the skin. Cut the ginger into thin slices. Chop these till you attain the texture of minced ginger.
5
Scallion: Use a large knife to cut off the root end and the tough top part. Line the scallions on a cutting board and chop them up. Each chunk is around 1/4 to 1/2-inch long.
6
Cilantro: Place the cilantro bunch on a cutting board. Slice off long stems. Chop up the cilantro with a knife.
Cook:
1
Make the sauce: Combine 1 tbsp honey, 1 tbsp lemon juice, 2 tsp Thai fish sauce, 1 tbsp sriracha, 1/2 tsp ginger, 1 tsp garlic, and 1/2 tsp red pepper flakes. With a wooden spoon, whisk until everything blends together.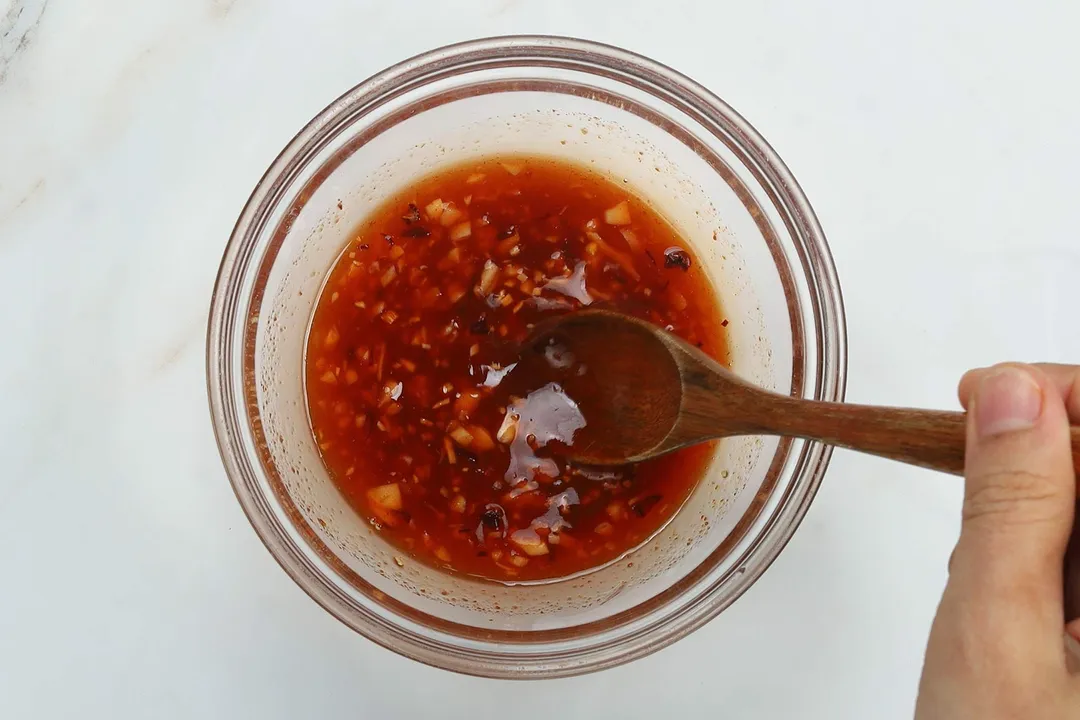 2
Boil the broccoli: Bring a pot of water to a boil. Add 8 oz broccoli and cook until crisp-tender, about 3 minutes. Drain them in a colander.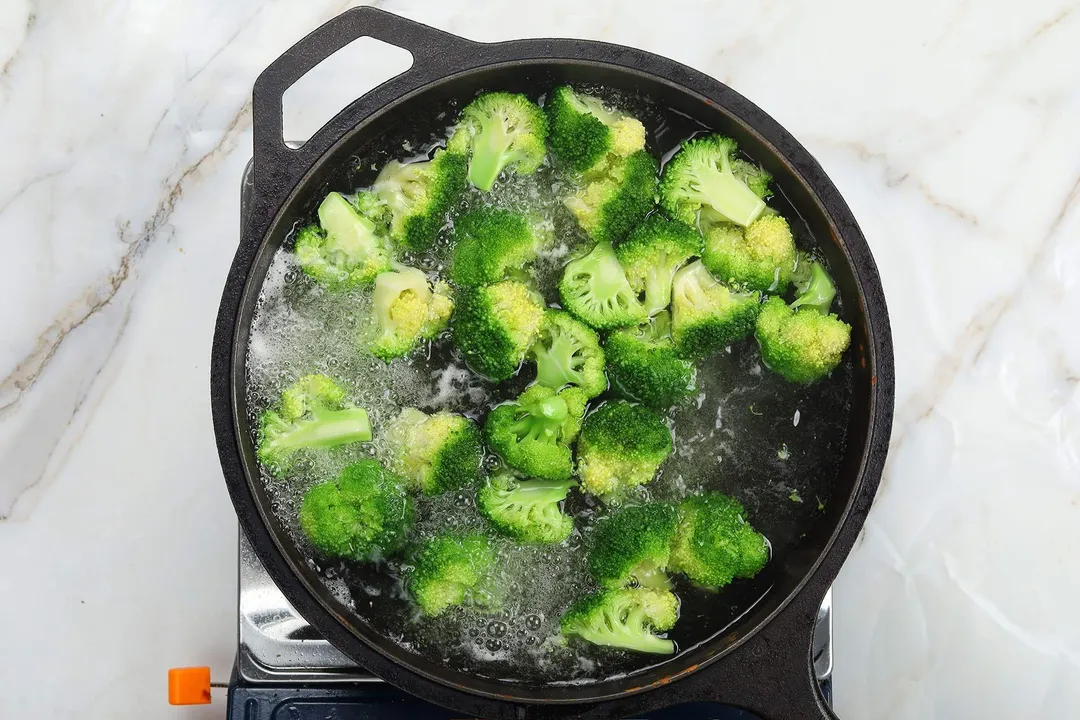 3
Batter the shrimp: Add 1/3 cup cornstarch to a bowl. Lightly beat 1 medium-sized egg in a separate bowl. To coat the shrimp, gently dip each one first in the cornstarch and then in the egg. You can hold the shrimp by the tail and shake off any excess. Place the battered shrimp on a tray.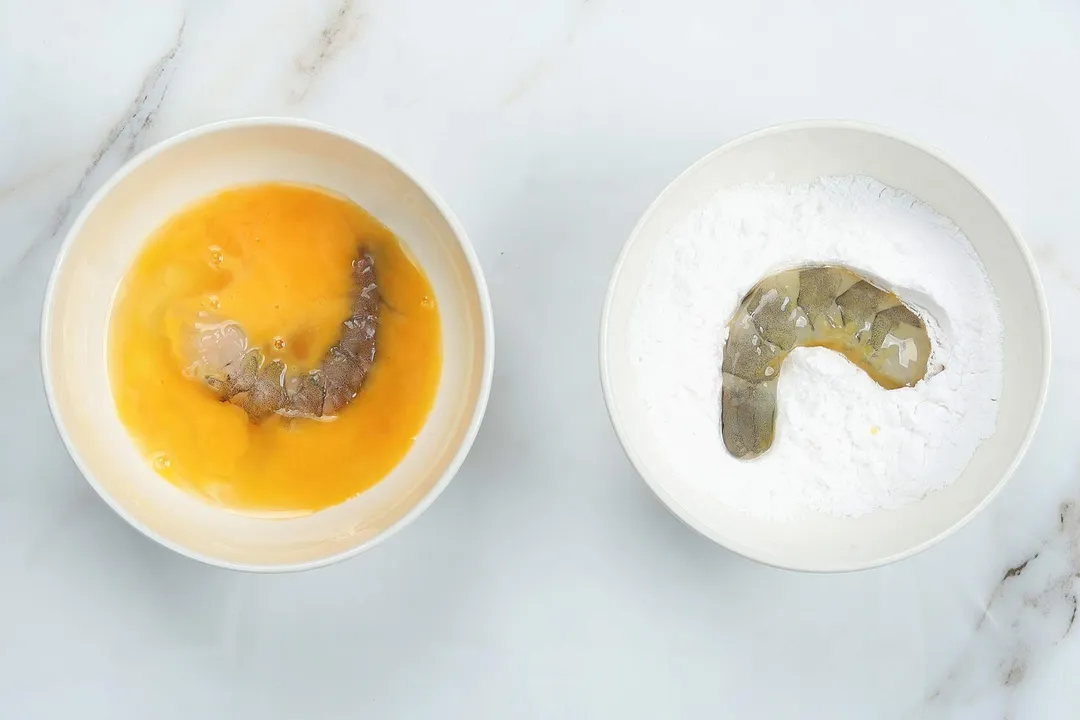 4
Fry the shrimp: Pour 1 cup canola oil in a deep-frying pan. Turn to high heat. To check the readiness of oil, dip a pair of chopsticks in, and when the tips sizzle, lower heat to medium and start frying the shrimp. Deep-fry the shrimp for 5 minutes or until golden, then transfer them to a paper towel to wick away excess oil.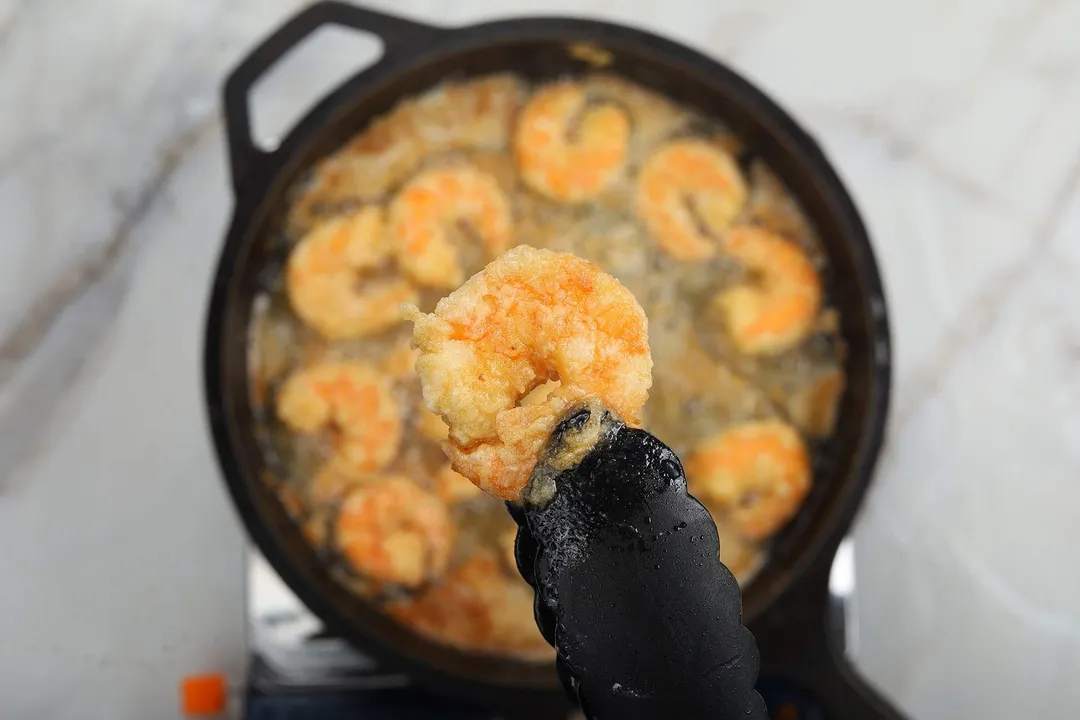 5
Toss the shrimp with sauce: In a large mixing bowl, add fried shrimp, prepared sauce, 1 tbsp chopped scallion, and 2 tbsp cilantro. Toss well with the wooden spoon.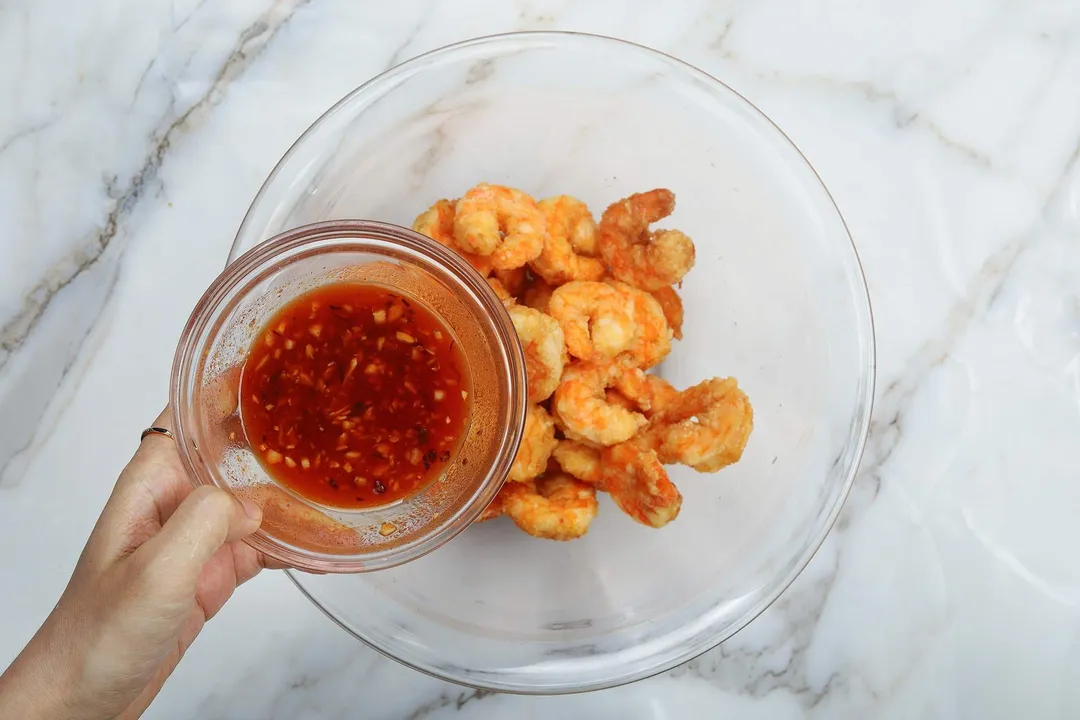 6
Garnish the dish: Transfer the shrimp to a serving plate. Sprinkle 1 tbsp chopped scallion, 0.5 oz julienned red chili, and 1 tbsp unsalted roasted sesame seeds.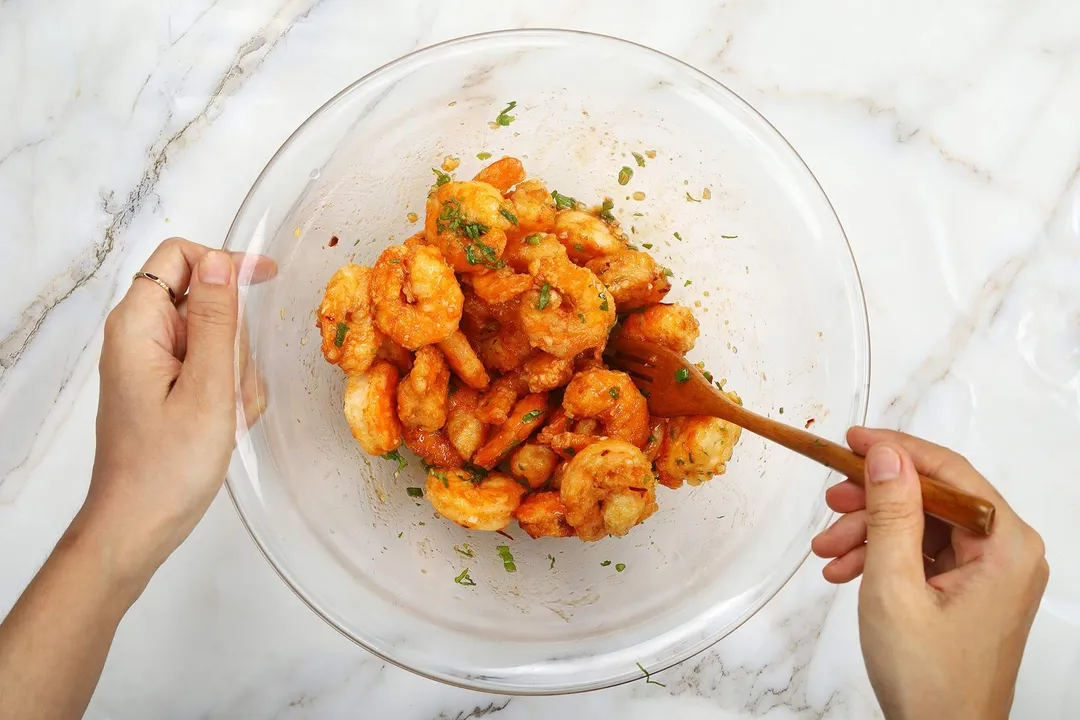 7
Serve: Enjoy with boiled broccoli and white rice.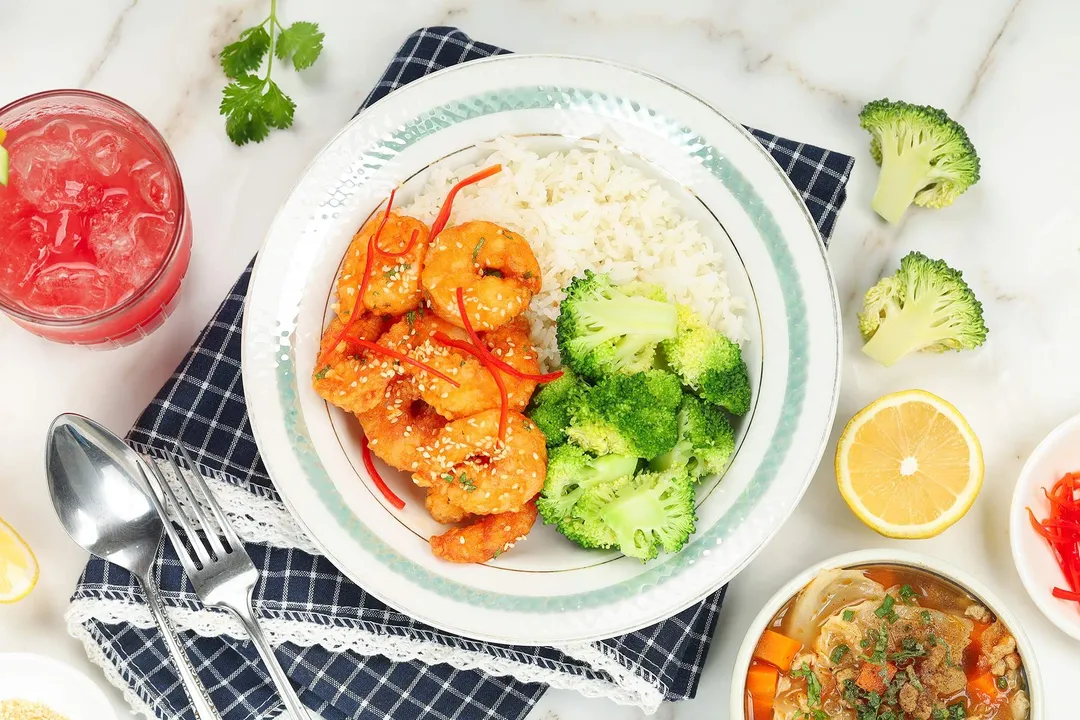 (*) Only a part of the oil will be absorbed in the final product, and we have calculated nutritional values based on that amount. The whole amount is needed for frying, but it's just 1.5 tbsp of canola oil that ends up being consumed for four servings.
NUTRITION
Nutrition Facts
How to Make Firecracker Shrimp
Amount Per Serving (1 serving)
Calories 506
Calories from Fat 81
% Daily Value*
* Percent Daily Values are based on a 2000 calorie diet.
Keywords: firecracker shrimp, firecracker shrimp recipe, how to make firecracker shrimp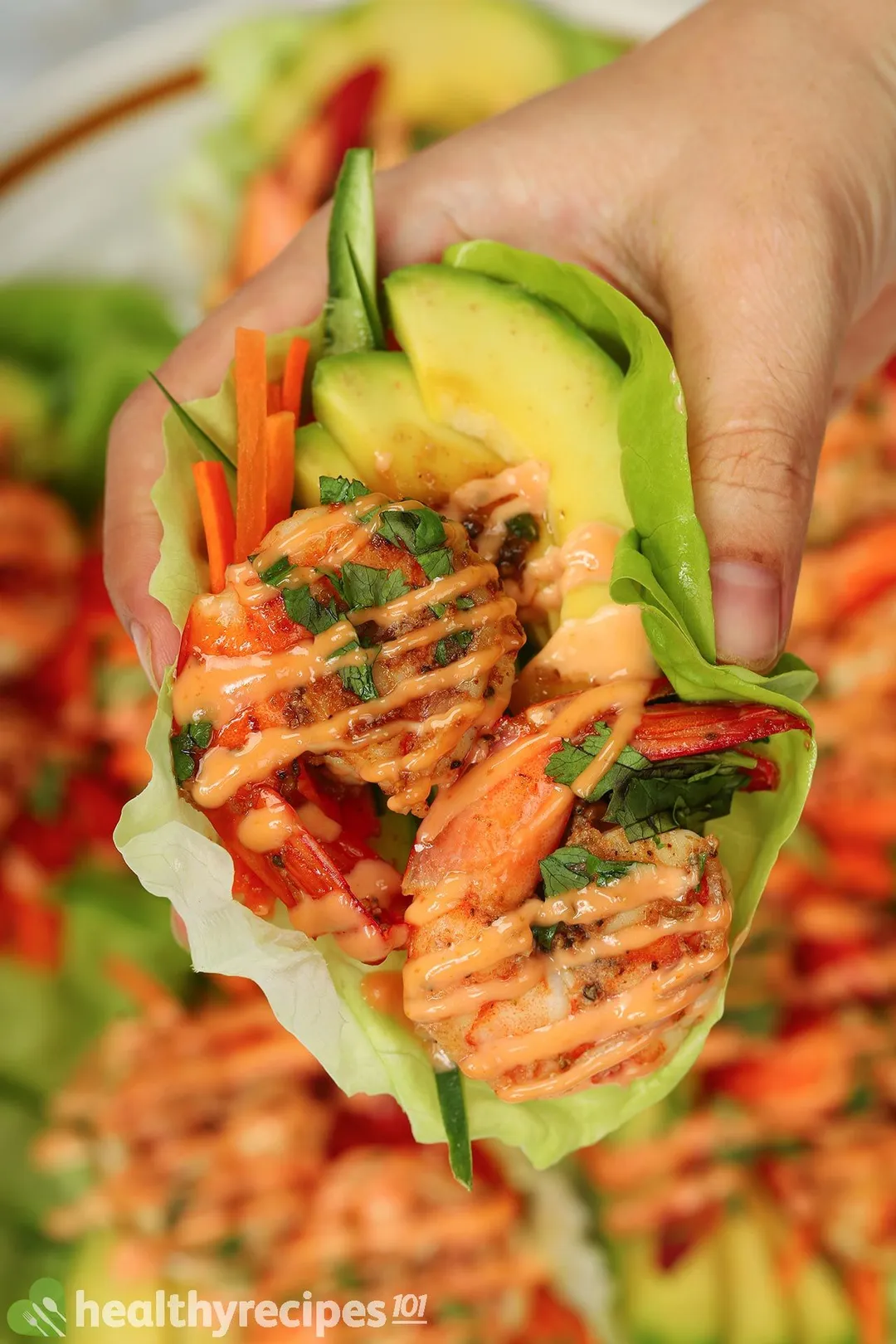 Previous Recipe
Shrimp Lettuce Wraps
Shrimp Lettuce Wraps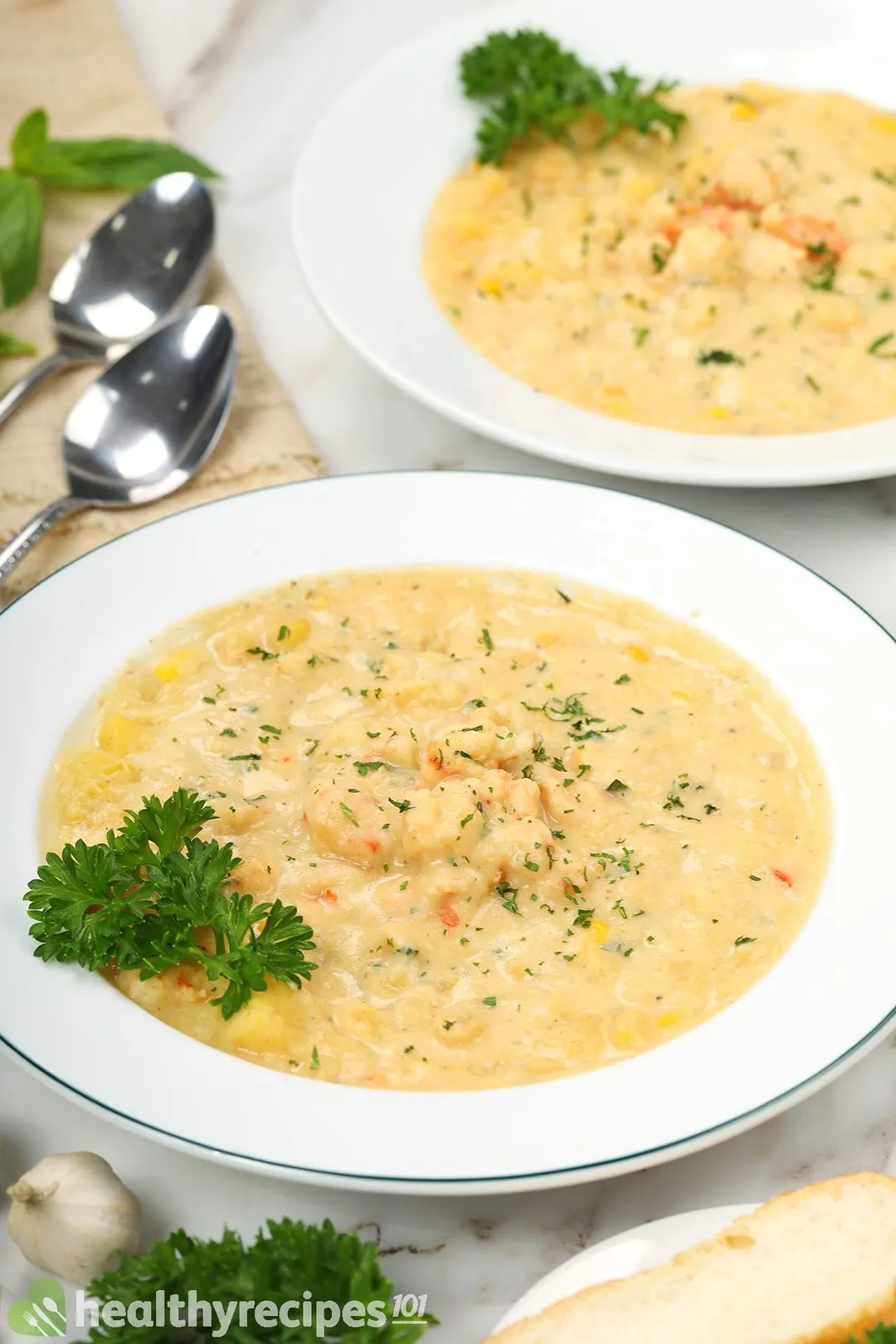 Next Recipe
Shrimp Chowder
Shrimp Chowder
Head Chef, Culinary Consultant
Tuyet Pham is an award-winning Saigonese chef who believes that joy is the secret ingredient to delicious food. At Healthy Recipes 101, Tuyet personally tests and simplifies every recipe, ensuring maximum flavor with minimal effort. With a background at prestigious French restaurants P'TI Saigon and Le Corto, Tuyet knows how to make every dish exceptional.
Writer, Author
Luna Regina is an accomplished writer and author who dedicates her career to empowering home cooks and making cooking effortless for everyone. She is the founder of HealthyKitchen101.com and HealthyRecipes101.com, where she works with her team to develop easy, nutritious recipes and help aspiring cooks choose the right kitchen appliances.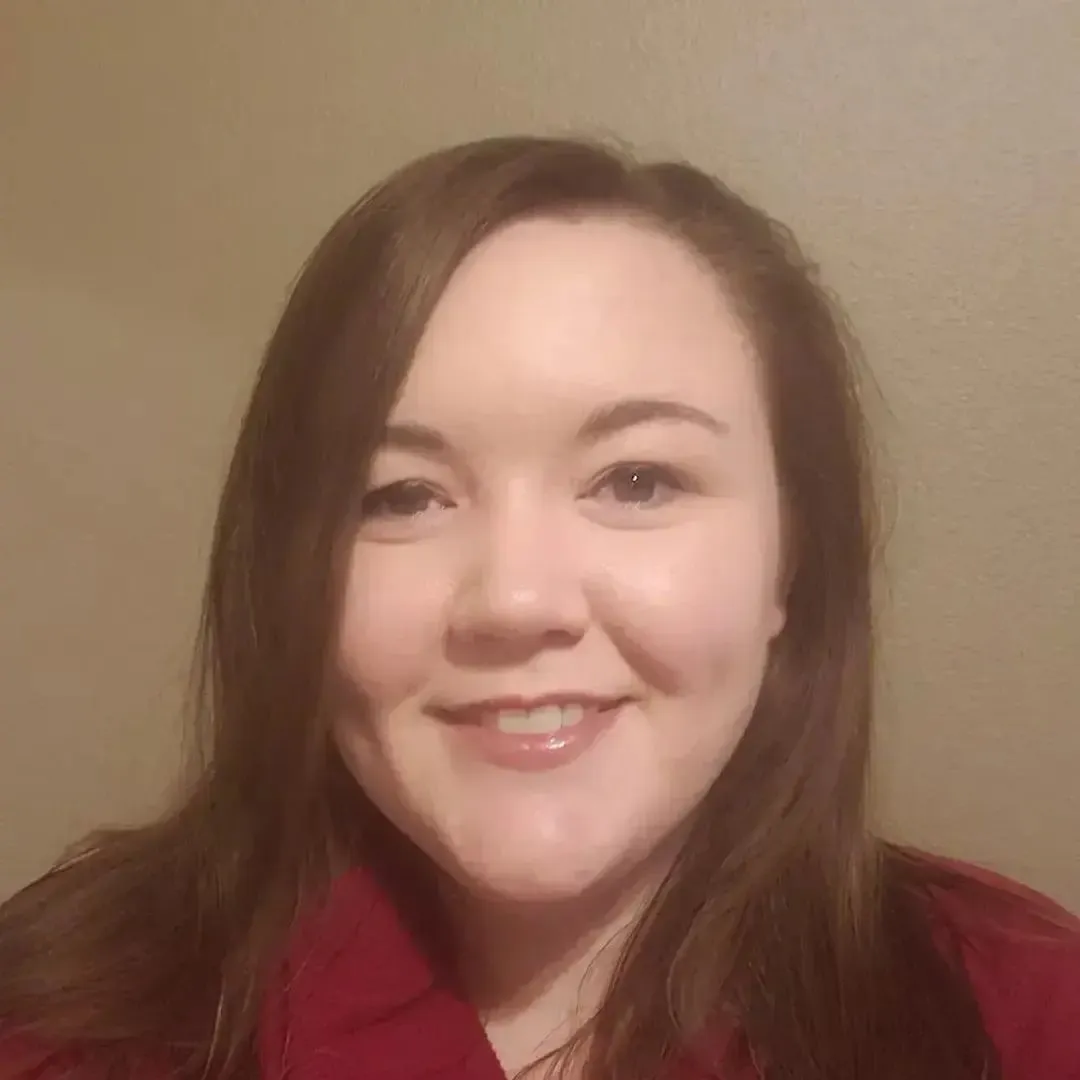 Nutrition Reviewer
SaVanna Shoemaker is a registered dietitian and freelance health and wellness writer. She's passionate about whole food-based eating and holistic nutrition, and uses her platform to help people embrace real food and reduce their sugar and processed food intake. Her work has appeared on Healthline, Greatist, Livestrong, Verywell Health, and more. In her free time, she enjoys gardening, reading, cooking, and weight lifting.
Spicy and delicious firecracker shrimp for seafood lovers.