This classic shrimp egg foo young recipe is easy to make and as versatile as the ingredients you have in your fridge. Basically, any protein or vegetables can be added to the beaten egg and fried to perfection.
Savory and comforting, today's shrimp egg foo young is filled with shrimp, mung bean sprouts, scallions, onions, and smothered in soy sauce gravy. The dish tastes like it's just been ordered from your favorite Chinese restaurant. Let's get started!
What Is Shrimp Egg Foo Young?
Shrimp egg foo young is a type of Chinese omelet. It's a mix of protein and vegetables folded in beaten eggs and fried.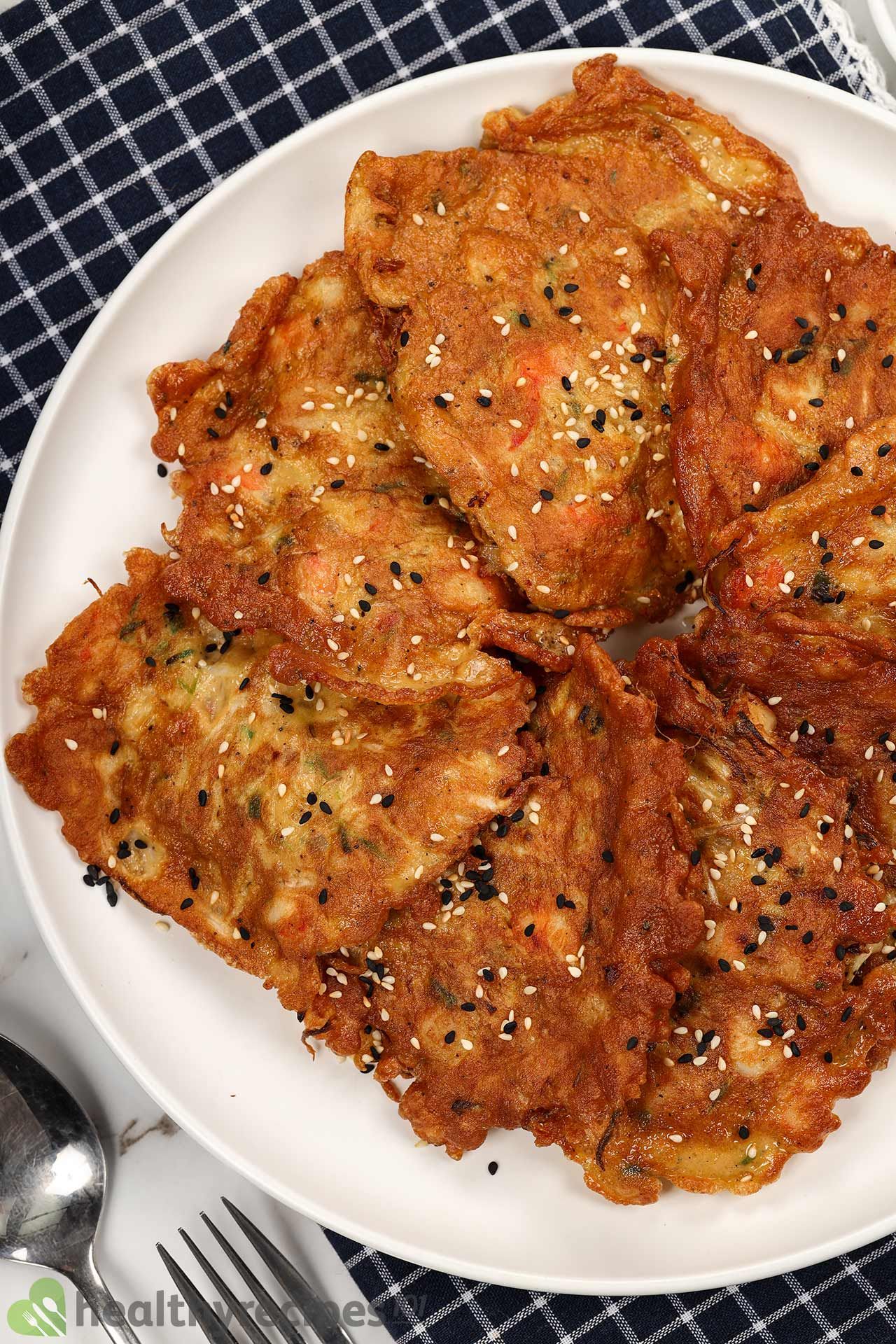 Unlike the Western omelet, egg foo young requires more oil to fry for a fluffy and crispy texture. It's then served with a special soy sauce-based gravy as a finishing touch.

Is Our Shrimp Egg Foo Young Recipe Healthy?
Yes, our shrimp egg foo young recipe is healthy, both in cooking method and nutrient content.
Instead of deep frying, we pan fried for a healthier version. The texture might be slightly less fluffy, but our shrimp egg foo young retains all the original flavors. The dish ends up absorbing only about 1 tablespoon of oil during the frying process which adds only 1.8 g saturated fat to each serving.
To make the recipe even healthier, we kept a strict eye on the added salt — not adding any more to the gravy and just ½ teaspoon for the egg omelet. The result still tastes savory and has a moderate level of sodium (approximately 590 mg).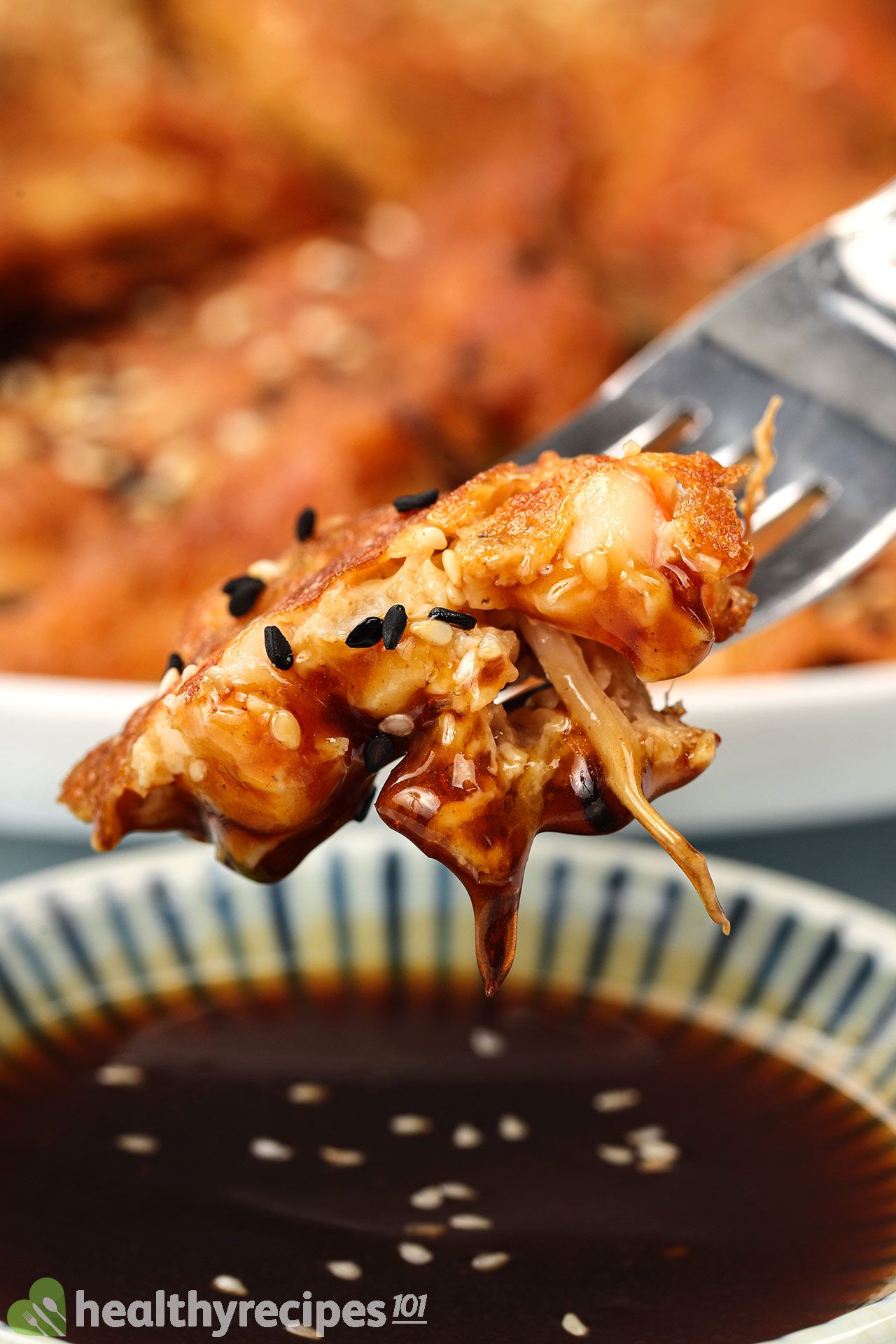 Calories in Shrimp Egg Foo Young
The 490 calories from the egg foo young and rice in our recipe make a satisfying main dish while providing a decent amount of energy. You can easily combine it with a salad or soup to increase the meal's fiber, vitamins, and minerals.

Ingredients for Shrimp Egg Foo Young
A rule of thumb in making egg foo young is that less is more. You shouldn't attempt to fold too many ingredients into the egg mixture. 
The egg consistency needs to be thin enough to bind all the elements, thus the resulting dish still tastes like an omelet dish, not a vegetable stir fry. The recipe below is our favorite combination, and it's quite simple:
Eggs: Eggs help to bind everything else in the mixture and turn out rich and creamy once fried in oil. Egg size doesn't matter in the recipe, just ensure you go with the freshest available for the best tasting experience.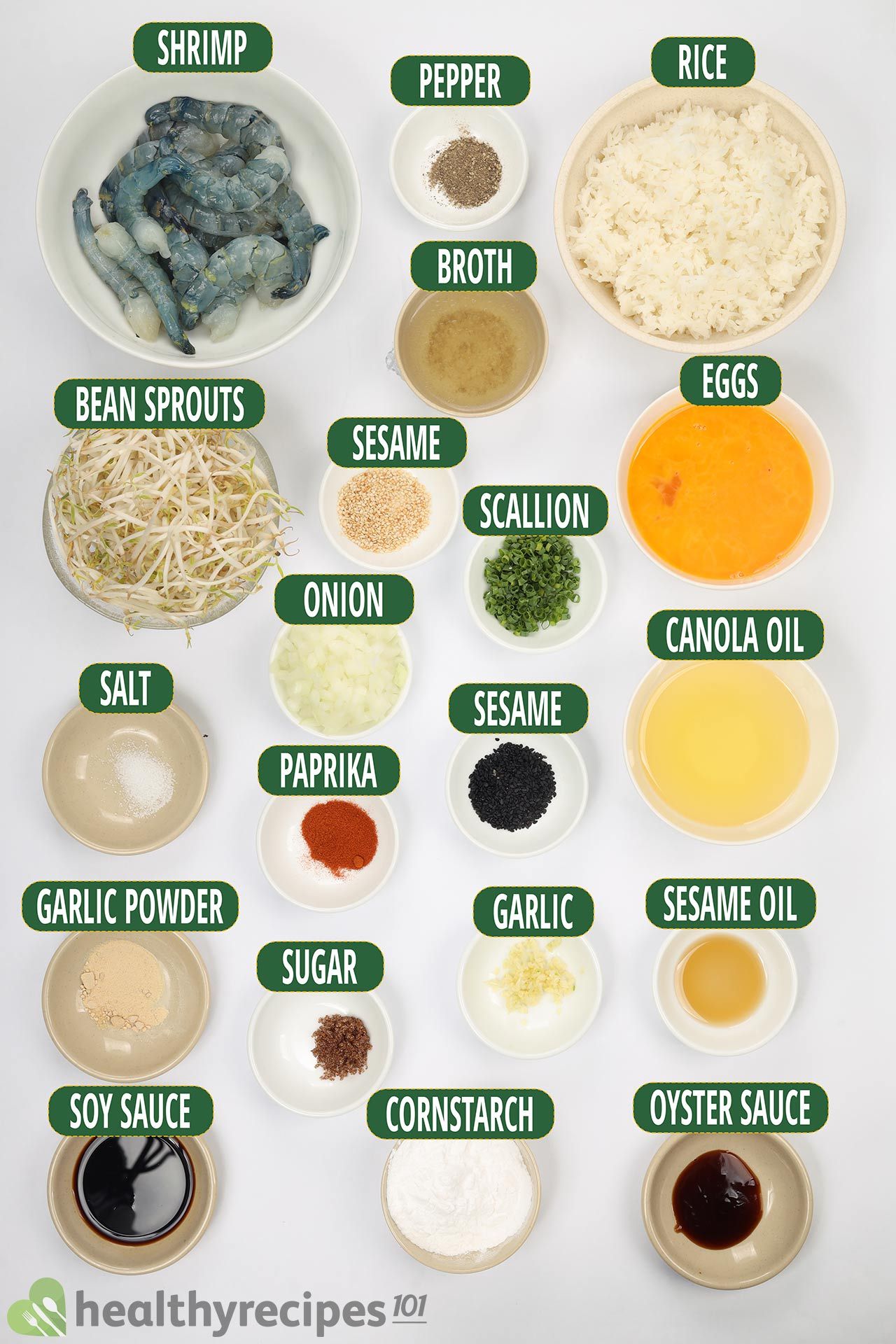 Shrimp: The juicy and chewy pieces of shrimp are great for the egg filling. Other delicious alternatives include ham, bacon, cooked ground pork, or even leftover chicken. You can also eliminate the protein to make a vegetarian egg foo young (or find vegetarian alternatives).
Scallions: The Asian green onion, or scallion, is a must for Asian-style fried eggs. They add flavor and are visually stunning.
Mung Bean Sprouts: The sprouts lend a crunchy texture. Besides mung bean sprouts, you can experiment with any vegetables you have in the fridge, such as mushrooms, carrots, and broccoli florets. 
We suggest chopping the vegetables into smaller pieces so that they can be cooked through in a few minutes in the omelet. This way, every tasty bite is stuffed with a lot of shrimp and veggies.
Sauce: We made the gravy for this Chinese egg foo young by combining soy sauce, oyster sauce, brown sugar, sesame oil, chicken broth, and cornstarch. The sauce is satisfyingly savory and sweet, with a hint of umami flavor.

How to Make Shrimp Egg Foo Young
Though traditional egg foo young is deep fried in oil, we gave it a healthy twist by pan frying. We only used enough oil to cover the bottom of the frying pan.
Once the pan is heated to the proper temperature of 320 ℉ (160 ℃), you will see that the egg starts to bubble immediately once it touches the oil. The cooking process is fast as the egg only takes seconds for the bottom to set and brown.
Here are the steps, illustrated:
Step 1: Chop the shrimp up.
Step 2: Sauté the garlic and onions.
Step 3: Stir fry the shrimp.
Step 4: Season the shrimp mixture.
Step 5: Stir in vegetables, eggs, and cornstarch in the shrimp bowl.
Step 6: Make the sauce.
Step 7: Fry the egg mixture.
Step 8: Turn the omelet over to brown both sides.
Step 9: Drain the omelet on paper towels.
Step 10: Thicken the sauce by simmering it.
Step 11: Sprinkle with sesame seeds.
Step 12: Drizzle the omelet with sauce and serve it over rice.
Store and Reheat
The leftover shrimp egg foo young can be stored in the fridge for 2 - 3 days and in the freezer for up to 2 months.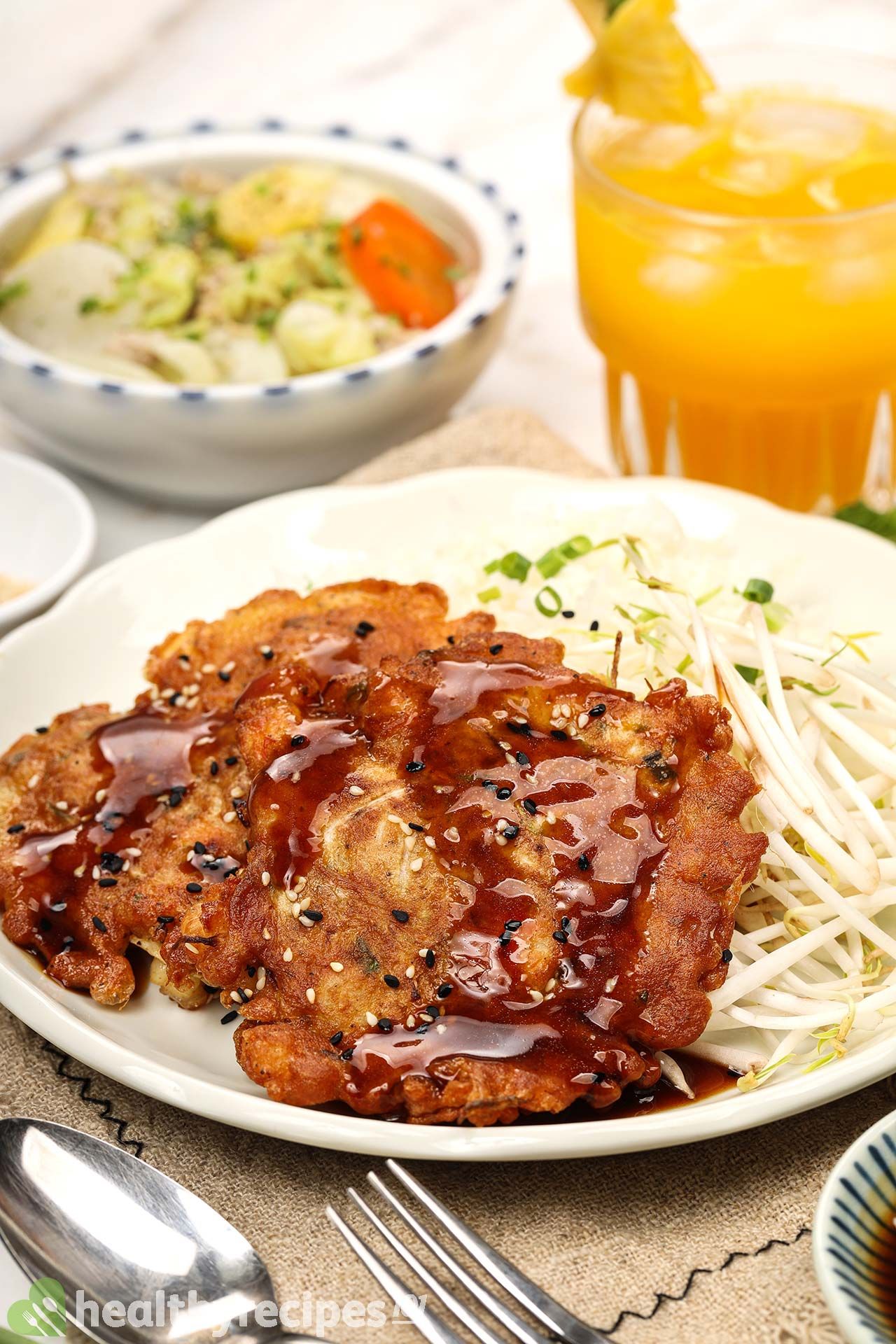 Though the fried eggs are safe to keep for later use, there is a chance that their texture might change during the reheating process, either becoming dry or rubbery-like in texture.
To ensure the omelet remains the same as the first time it's cooked, you can follow our method. Heat a frying pan with aluminum foil on the bottom. This will prevent the omelet from sticking to the pan while heating.
Then coat the foil with a little bit of oil before placing the fried eggs in. Cover the pan with a lid, to help retain the moisture of the omelet. After a few minutes, your eggs should be warm, fluffy, and ready to be served.

What to Serve With Shrimp Egg Foo Young
Our carb-and-protein-rich shrimp egg foo young needs a light side dish to pair with it, and our favorite option is cabbage potato soup. It's warm, light, and filled with fresh veggies.
You can also round the meal off with a homemade juice drink like our orange pineapple juice. The delicious and healthy blend helps you stay nourished and energized during the day and also helps lighten the meal.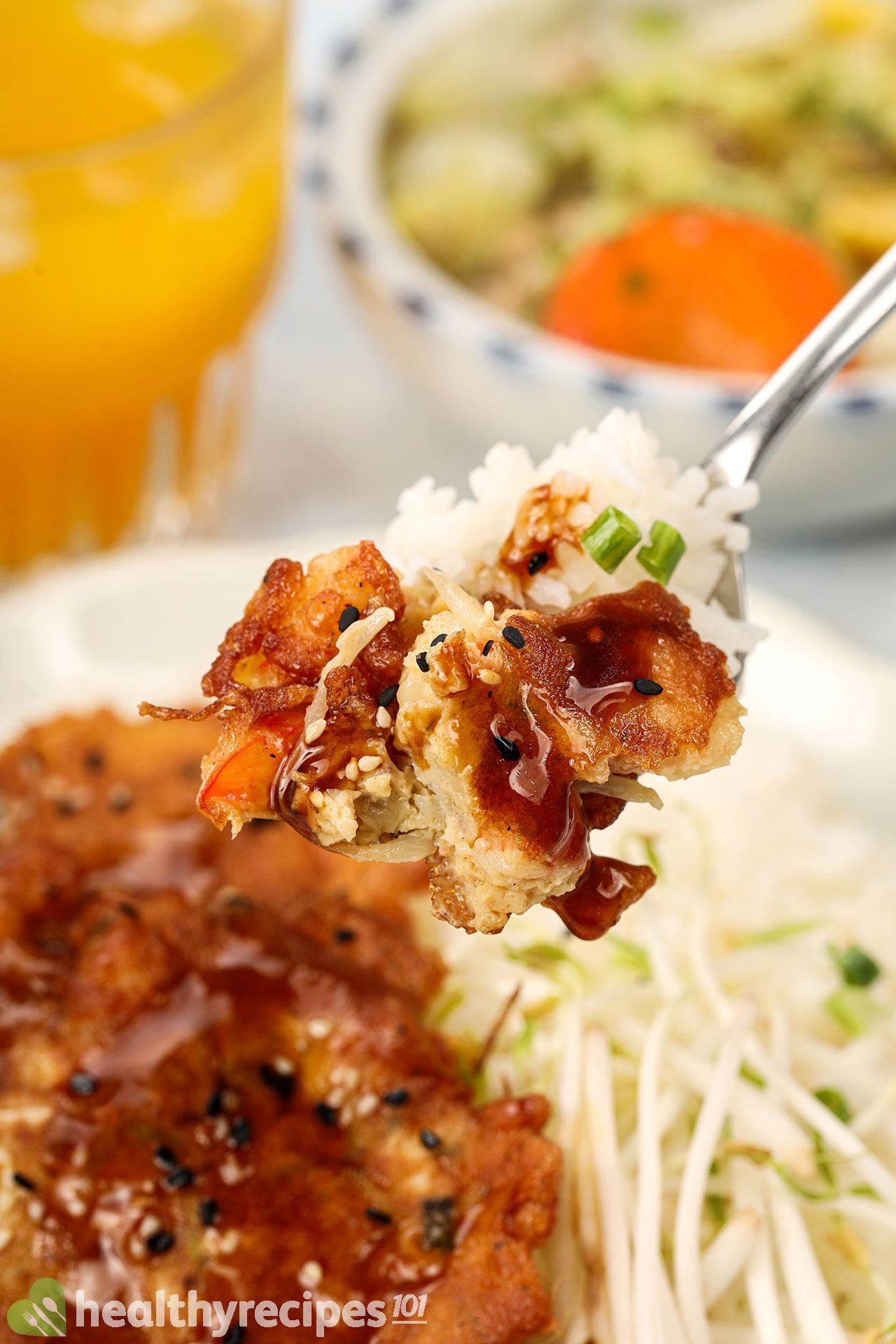 Previous Recipe
Shrimp Chow Mein
Shrimp Chow Mein
Next Recipe
Shrimp Louie
Shrimp Louie
Luna Regina
A writer and entrepreneur, Luna's day doesn't start at the computer keyboard, but in the kitchen.
Half of her working hours are spent on mixing ingredients for her recipes. The other half involve working with the tech team to research and test the tools and appliances that promise to make kitchen work effortless and mess-free. From a kitchen knife or water filter to the Instant Pot, if it can help save time and effort for the home cook, Luna and her team are on it.
Luna's extracurricular pastimes include camping, travel, and photography.