This Moo Shu shrimp recipe creates a delicious sauté that's perfect served with cooked rice. It's part of our diverse collection of Asian Shrimp Recipes, check them out if you're all about simple dishes with beautifully versatile flavors.
What Is Moo Shu Shrimp?
Moo Shu shrimp, a variation of Moo Shu pork, is a Chinese sauté with shrimp, eggs, vegetables, and seasonings. It was introduced to the United States in the 1900s, and since then, has become a staple of American Chinese cuisine.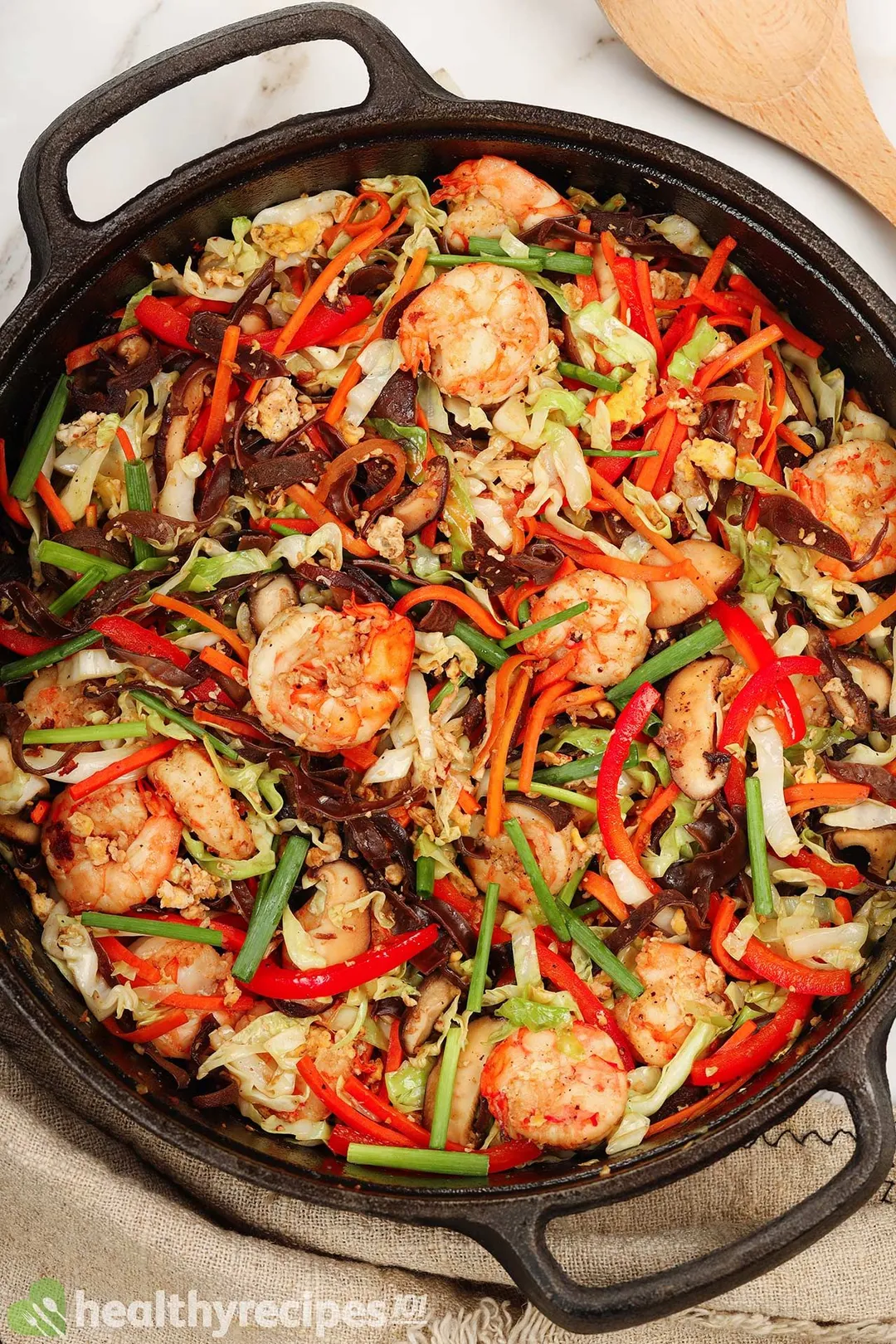 Like many dishes within the cuisine, this dish is prepared with Chinese cooking wine, garlic, ginger, and soy sauce. What distinguishes it from other sautés is the use of scrambled eggs and plenty of wood ear and shiitake mushrooms.
Historically, since the supply for wood ear was scarce in America, half of the mushrooms would often be replaced with other crisp vegetables. Our Moo Shu shrimp recipe uses both types of mushrooms, plus green cabbage, carrots, and red bell peppers, for a variety of texture and enticing presentation.
The dish is often served hot with white rice.
Is Moo Shu Shrimp Healthy?
This dish has shrimp, plenty of vegetables, and rice, healthy components that provide nutrition from each of the important food groups. Such variety also comes with many micronutrients in varying amounts.
Healthy eating is aided by setting daily nutrition goals and trying to achieve them. It's said in the USDA guidelines that you should limit your sodium, saturated fat, and calorie intake each day to suggested healthy amounts.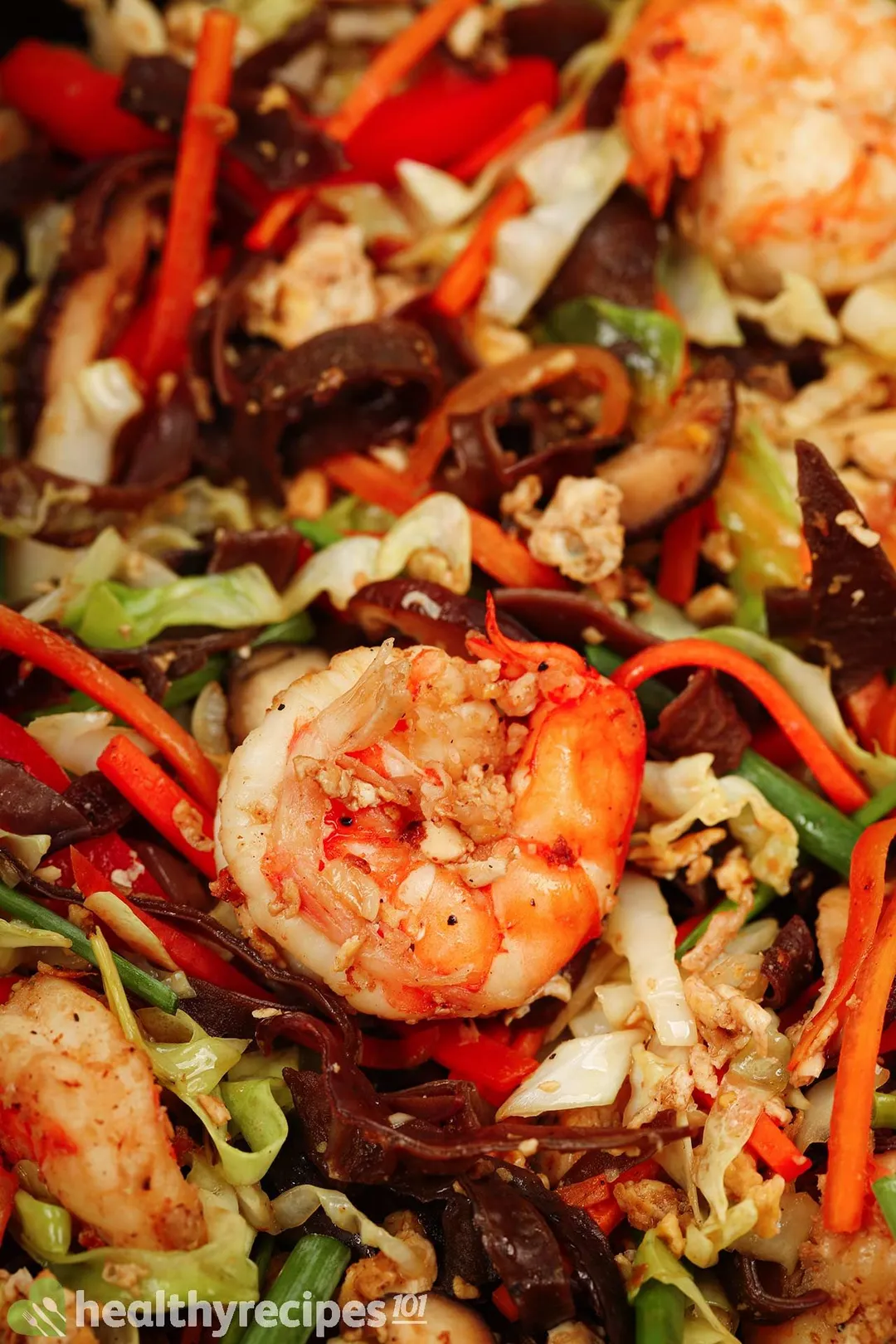 We crafted this recipe with these guidelines in mind to make it easier for you to follow. Each portion contains just a moderate amount of calories, saturated fat, and sodium:
495 calories
1.8 g saturated fat 
553 mg sodium
If you wish to learn more about their precise recommendations, our dietary guidelines list and explain them in detail.
What Is in Moo Shu Shrimp?
1. Shrimp
For this recipe we recommend you pick small to medium shrimp, the kind that's already been peeled and packaged. Shrimp of this size is usually cheaper than larger ones and allows you to skip the hassle of peeling.
If you have access to fresh shrimp that's just been caught, this recipe has clear instructions on how to deal with them.
2. Eggs
Once the shrimp is cooked with garlic and ginger, two important aromatics in Chinese cooking, the eggs are added and scrambled. Their soft texture lightens up the crunchy vegetables, one of the dish's signature features.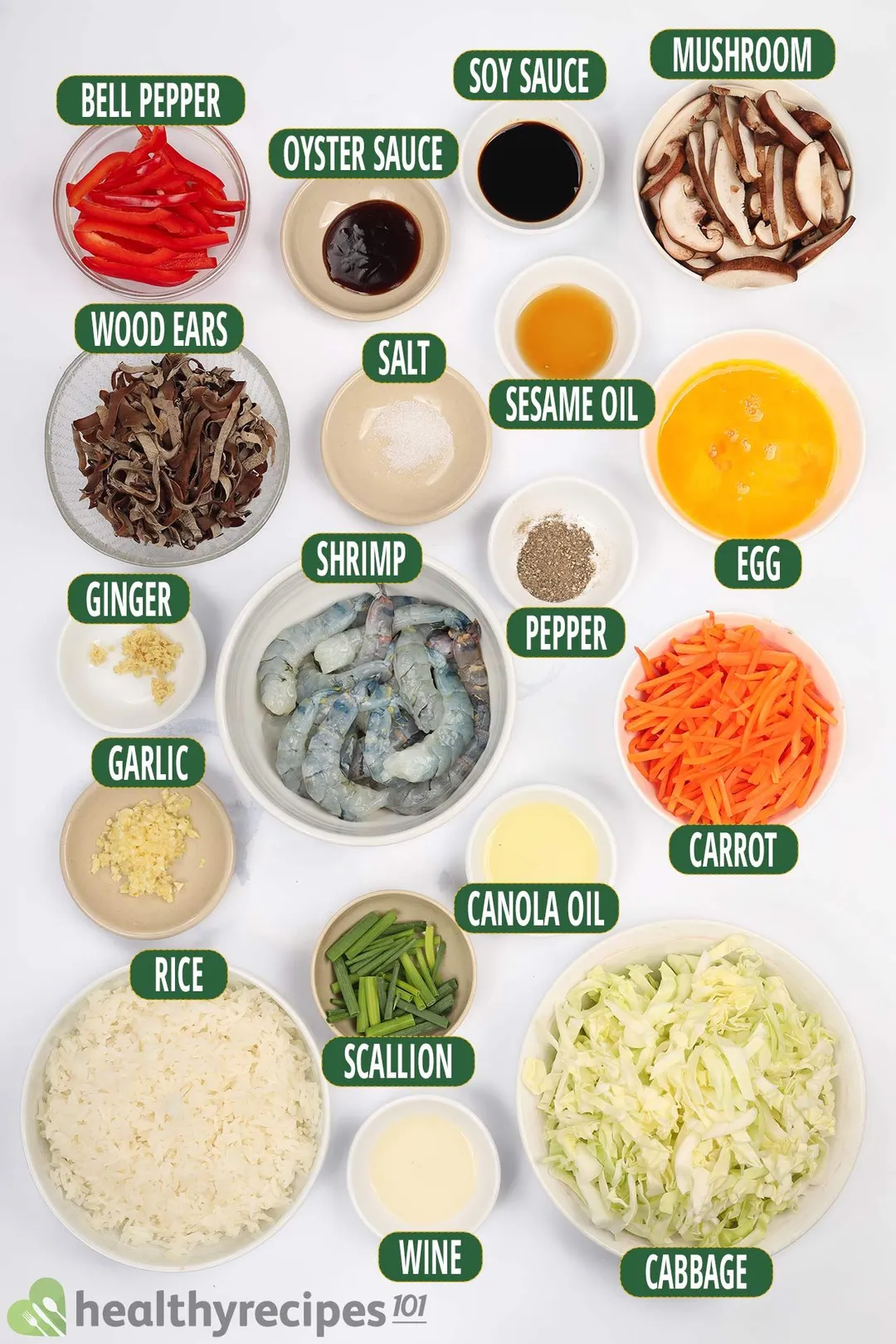 3. Vegetables
The other feature, as aforementioned, is wood ear and shiitake mushrooms along with other crisp veg like carrots, cabbage, and bell peppers. Shiitake is available fresh, but wood ears are often dried and sold in small packages. Don't be intimidated — they'll spring back to life with just 5 minutes of being soaked in plain water.
You can substitute shiitake mushrooms for button or enoki mushrooms.
4. Seasonings
The seasonings are what tie everything together. Here are the main ones used in this recipe:
Cooking wine: can be substituted with white wine.
Sesame oil: unsubstitutable as it possesses a unique aroma. If you're a fan of Asian food, have this item in your pantry.
Soy sauce: we highly recommend Chinese or Japanese brands, like Kikkoman or Lee Kum Kee. These brands are well-known and their soy sauce has an amazing fragrance.
Oyster sauce: adding plenty of umami flavor while thickening the sauce. We also purchased this from the brand Lee Kum Kee.
To increase the dish's saltiness without adding more umami flavor, we added a pinch of salt. Finally, we cracked some pepper on top for a little warmth.
How to Make Moo Shu Shrimp
As a stir-fry, this dish is quite straightforward: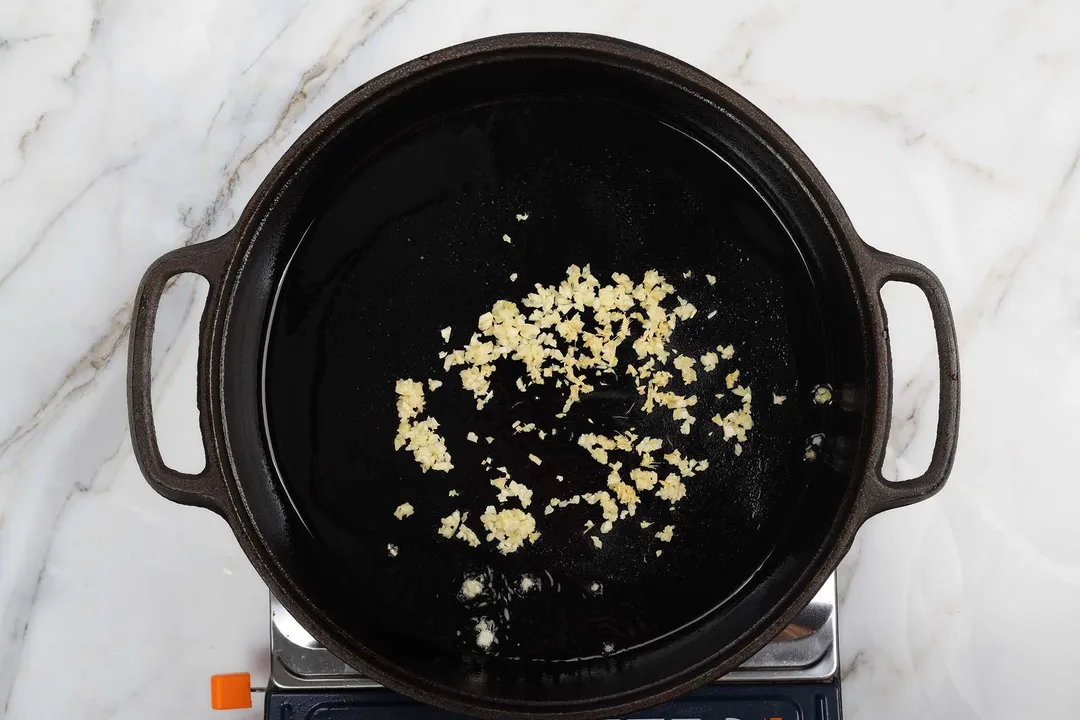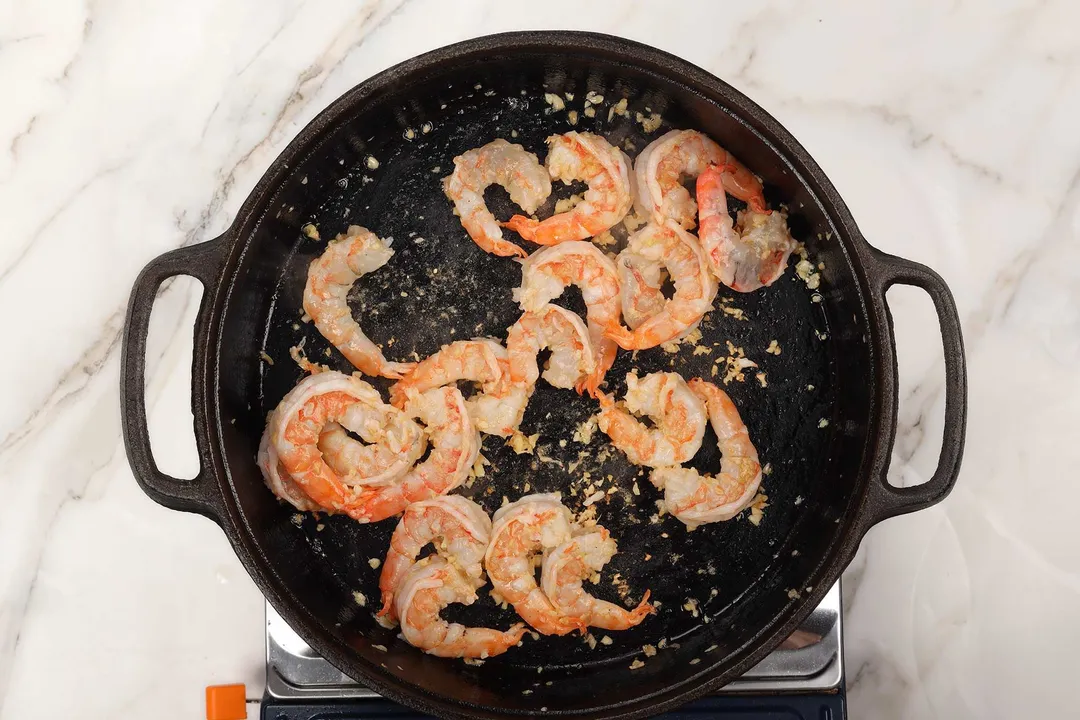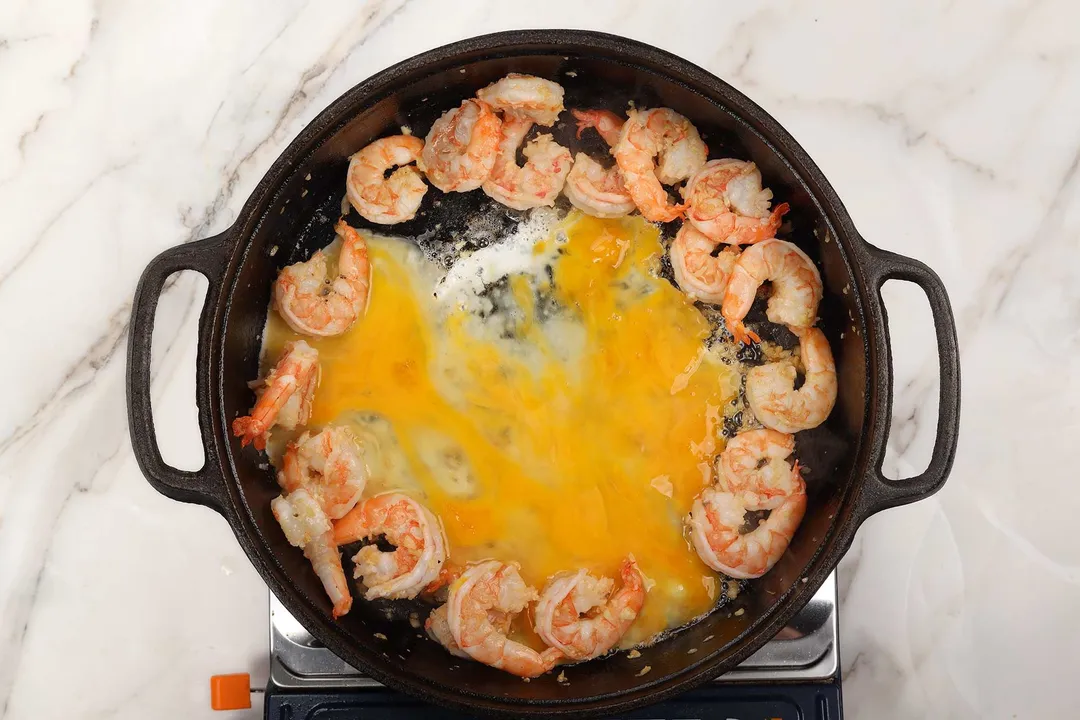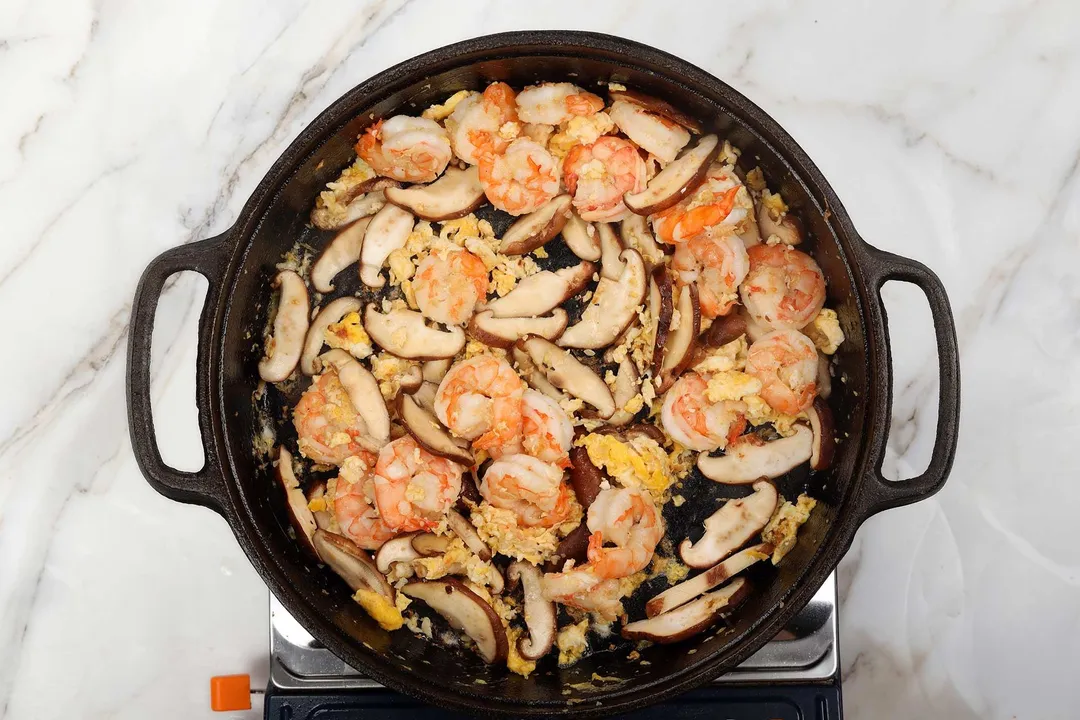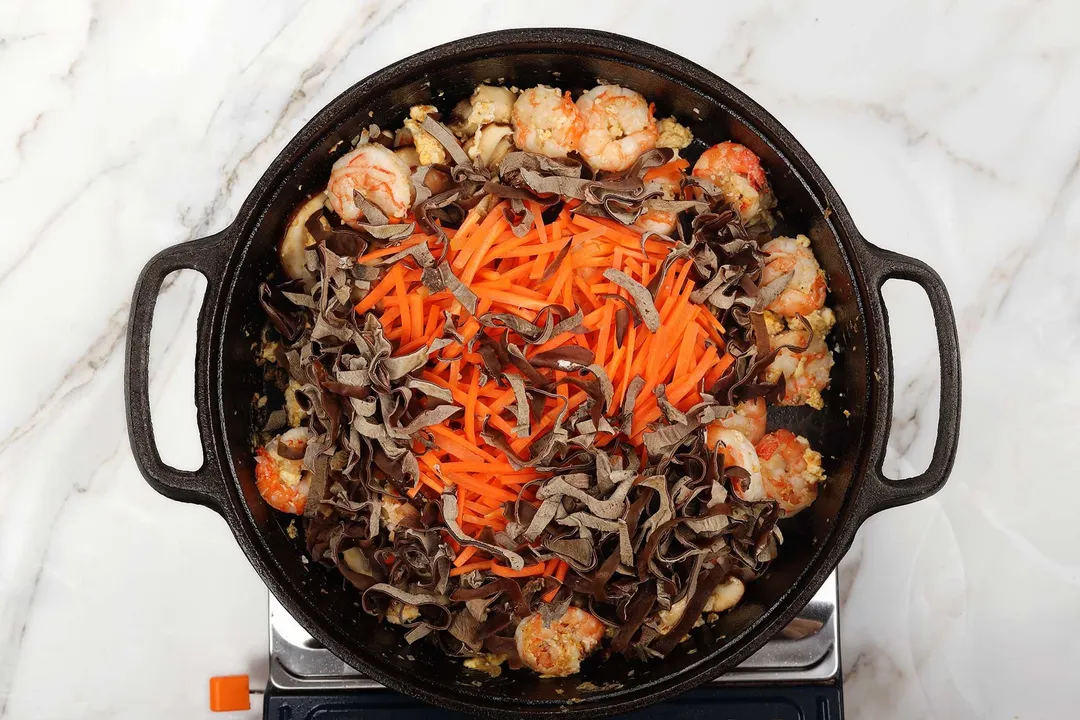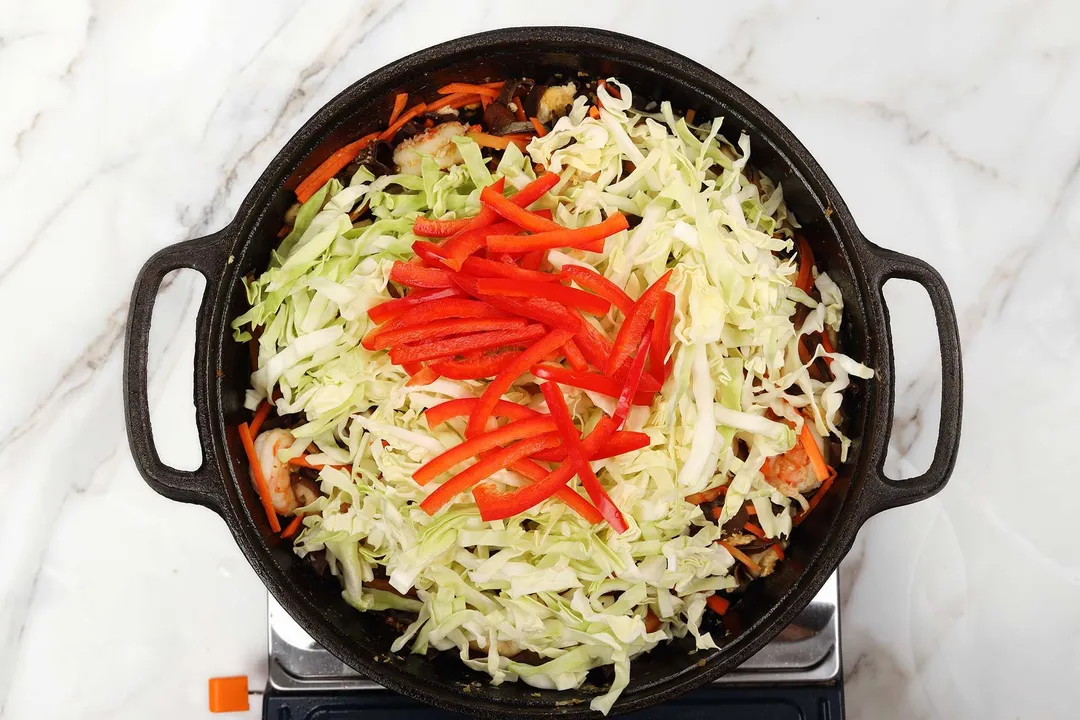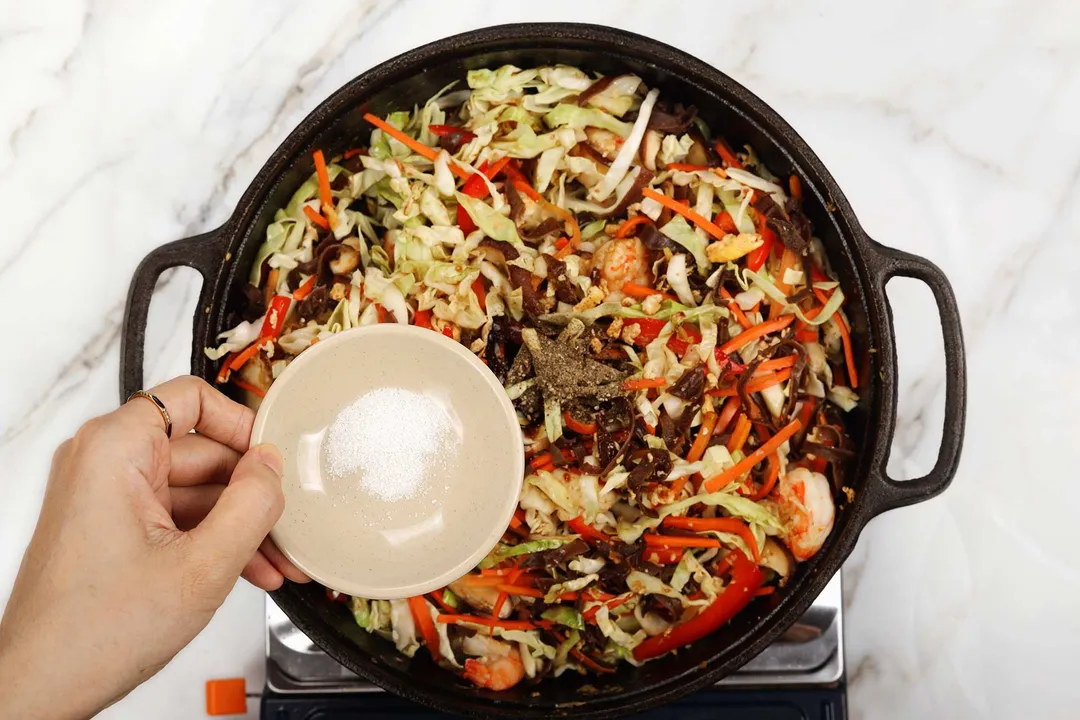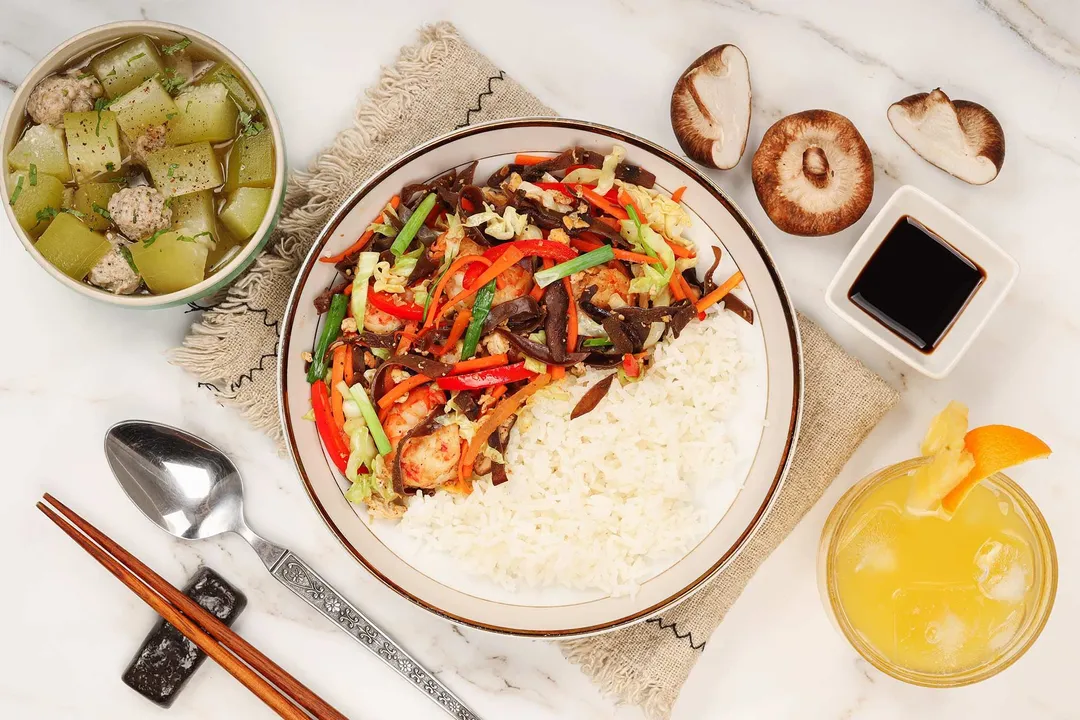 Refer to our printable 'Moo Shu shrimp recipe' card at the bottom for ingredient measurements and other details.
How to Store and Reheat Moo Shu Shrimp
Leftovers can be kept for up to 5 days in the fridge.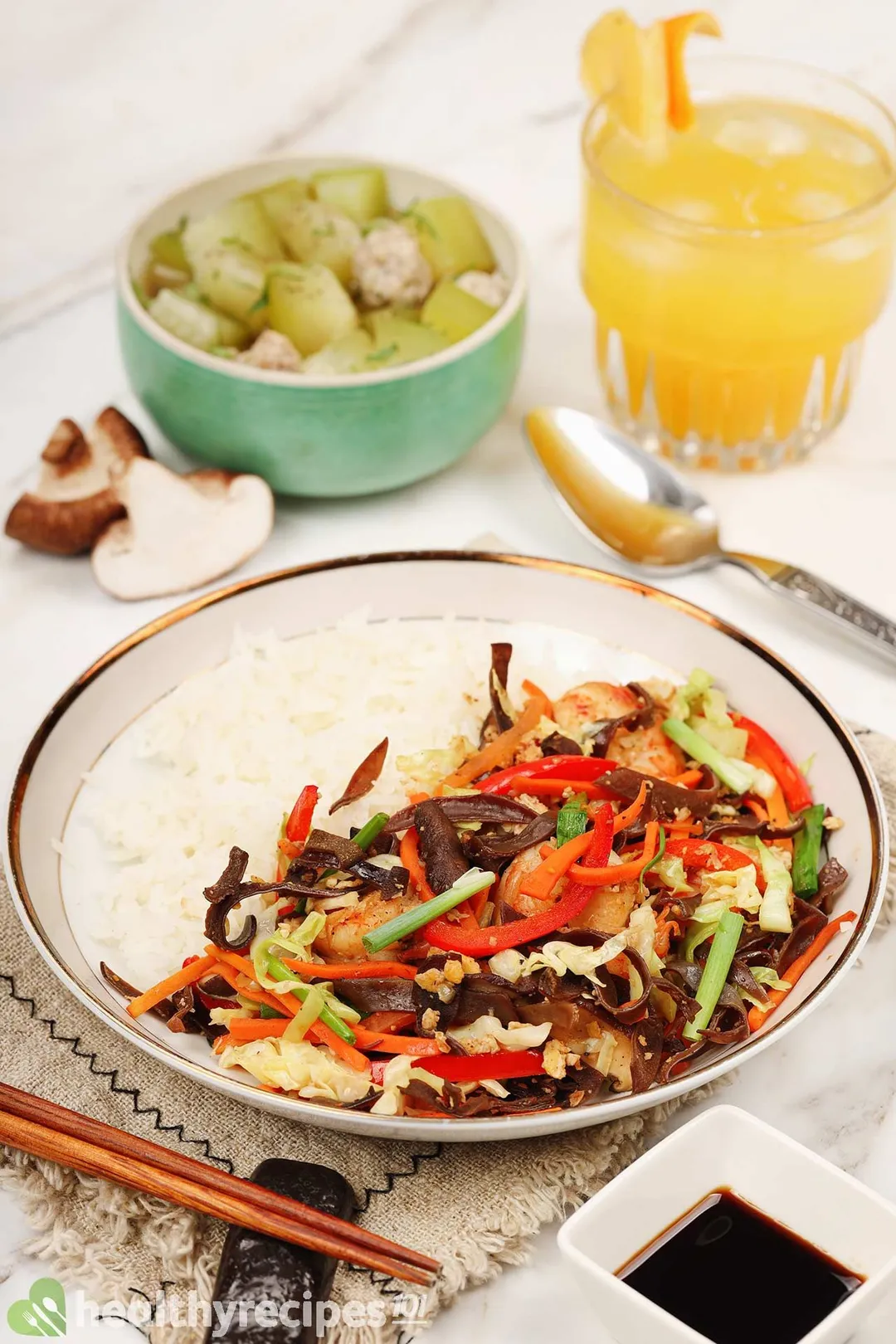 If your fridge has enough space, simply cover the pan with its lid (or foil) and refrigerate away. Otherwise, transfer the leftovers to an airtight container or a large Ziploc/ biodegradable bag. Once the bag is sealed tightly, it can be squashed easily into a tight fridge.
To reheat, transfer the portion you desire to a pan, and stir-fry everything for about 3 or 4 minutes. If you have some rice in the fridge, you can add it to the pan too to make easy fried rice.
As there are plenty of crisp vegetables, we don't recommend freezing. It'll ruin the delicious textures.
What to Serve With Moo Shu Shrimp
Chinese meals are often built around one main dish and complementing sides. We found that a hearty, light soup made of winter melon and meatballs is the best side to eat with this stir-fry and rice.
To round the meal off, we recommend you have a glass of fresh juice. We have many juice recipes, but for this dish we recommend our orange pineapple juice.
You May Also Like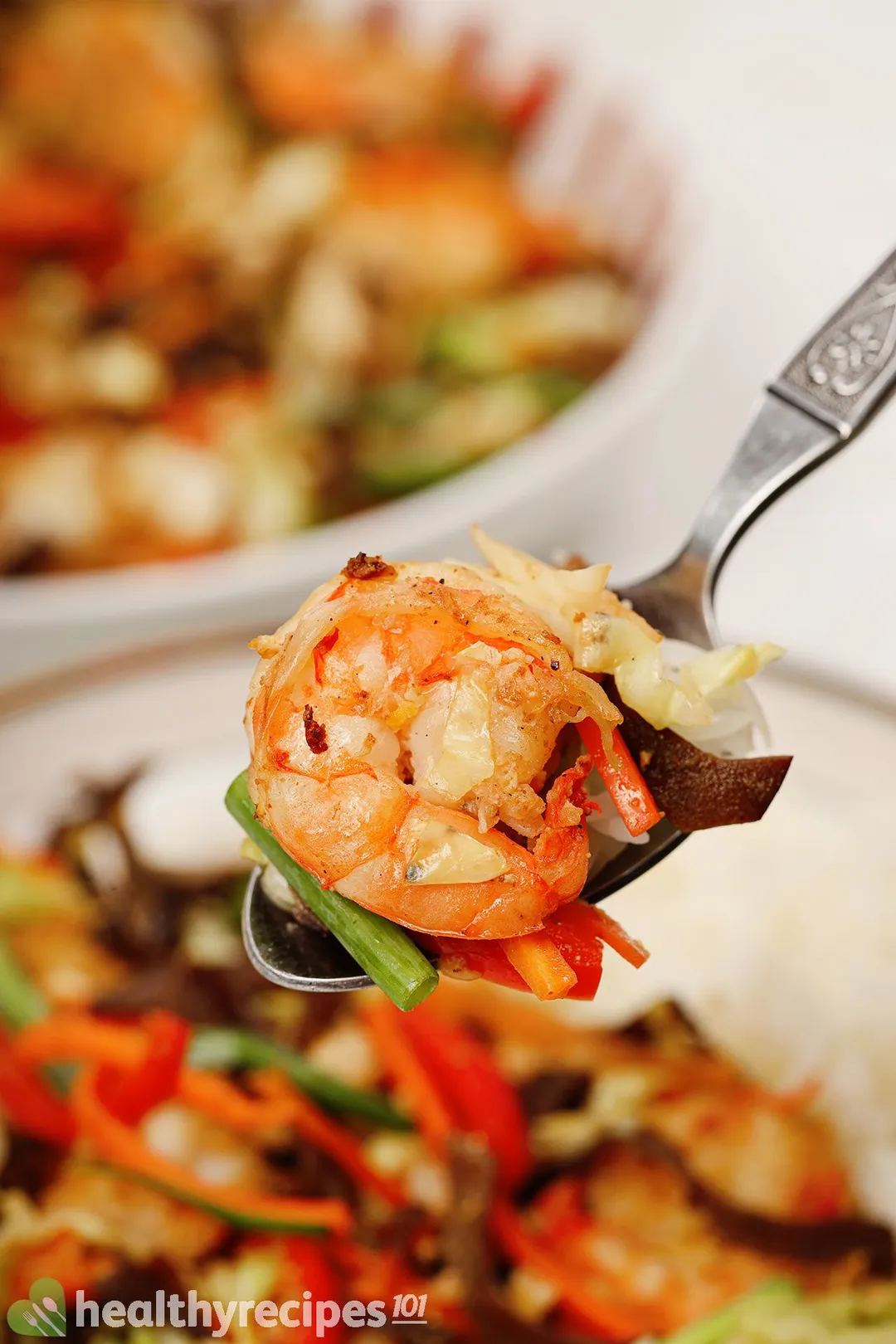 Moo Shu Shrimp
Our Moo Shu shrimp recipe makes a quick and easy Chinese stir-fry to eat with rice. It's perfect for everyday cooking.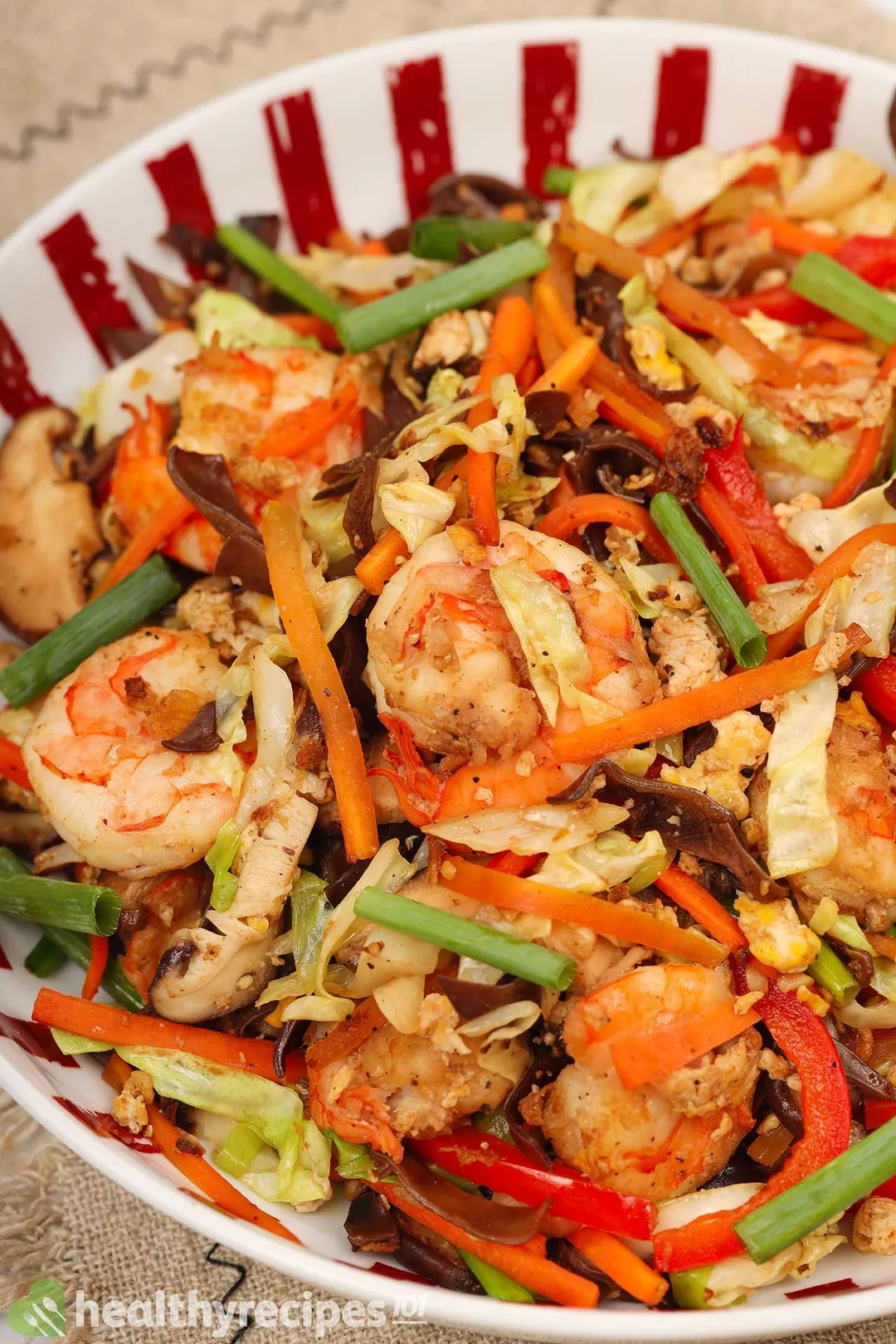 cook TIME

8 mins

prep TIME

7 mins

total TIME

15 mins
COURSE

Main Course

CUISINE

Chinese

SERVINGS

CALORIES

495 kcal
INGREDIENTS
9 oz

peeled shrimp

(from 18 oz raw shrimp)

2 oz

red bell pepper

(about half a medium, sliced)

6 oz

cabbage

(about 1/4 a medium head, sliced)

1 oz

dry wood ears

(soaked)

4 oz

carrot

(about a medium, julienned)

4 oz

shiitake mushrooms

(sliced)

3 1/2 cups

cooked medium-grain rice

1 tsp

ginger

(cut into matchsticks and minced)

1 tbsp

garlic

(about 3 cloves, minced)

1 tbsp

reduced-sodium soy sauce

1/2 tsp

ground black pepper

2 tbsp

scallions

(finely chopped)
INSTRUCTIONS
1
Heat 2 tbsp canola oil in a large skillet (or wok) over medium heat, and sauté 1 tsp ginger and 1 tbsp garlic for 30 seconds.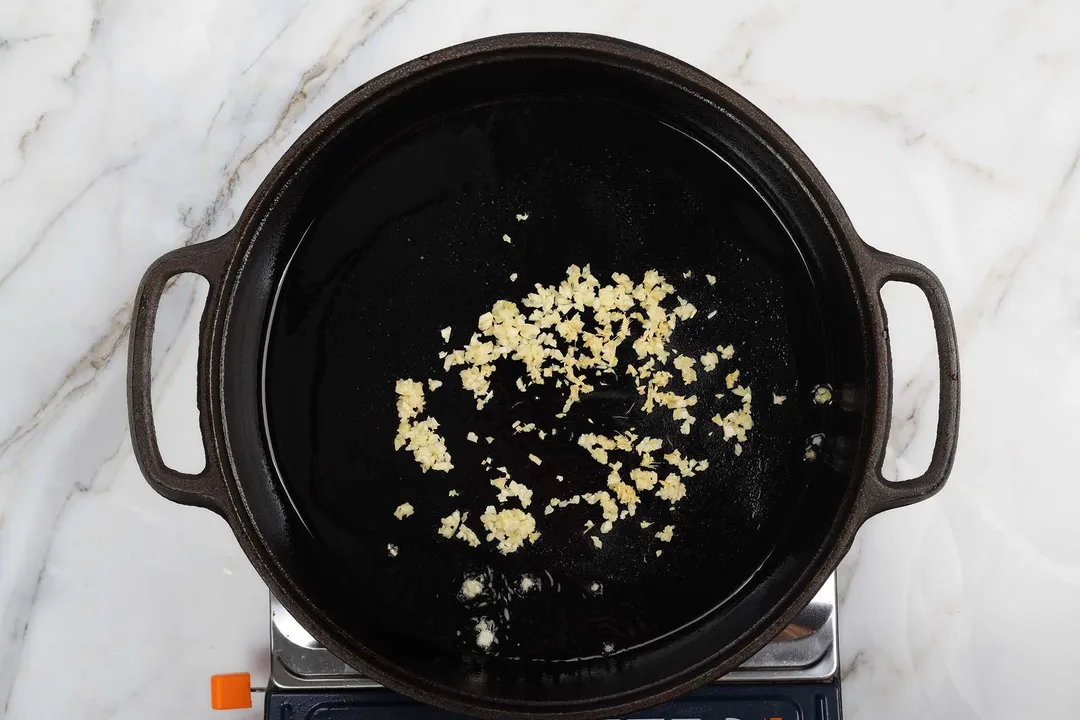 2
Add 9 oz peeled shrimp, let cook for 1 minute, then cook the other side for another minute.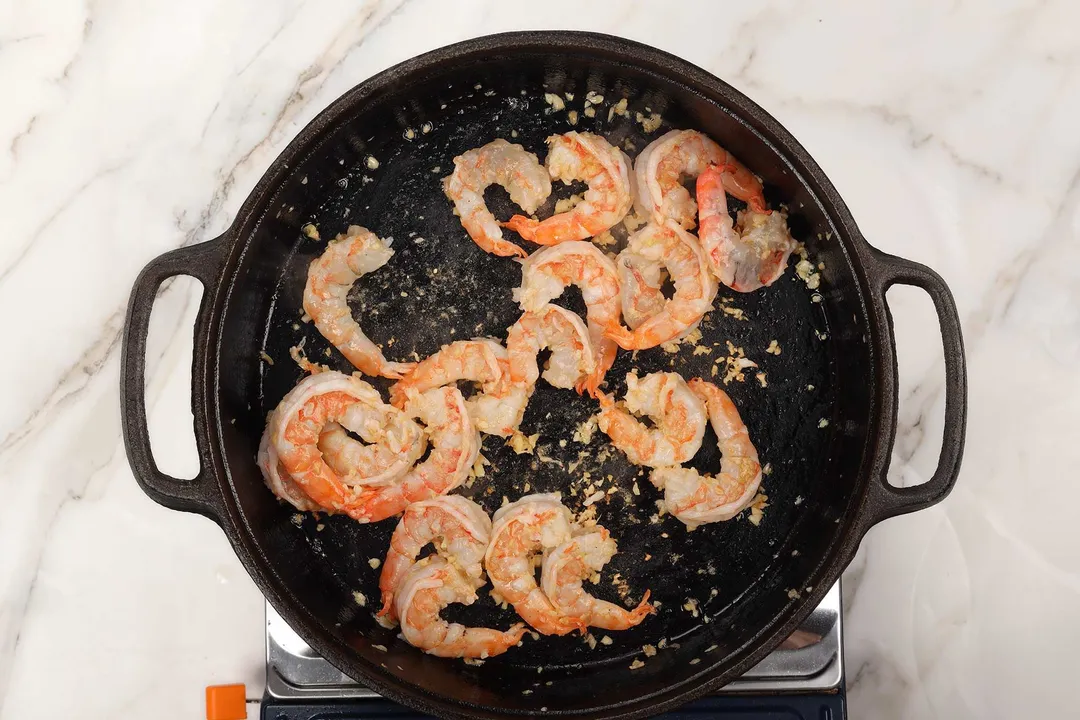 3
Make space in the skillet. Crack 2 eggs in the space and scramble, taking about 1 minute.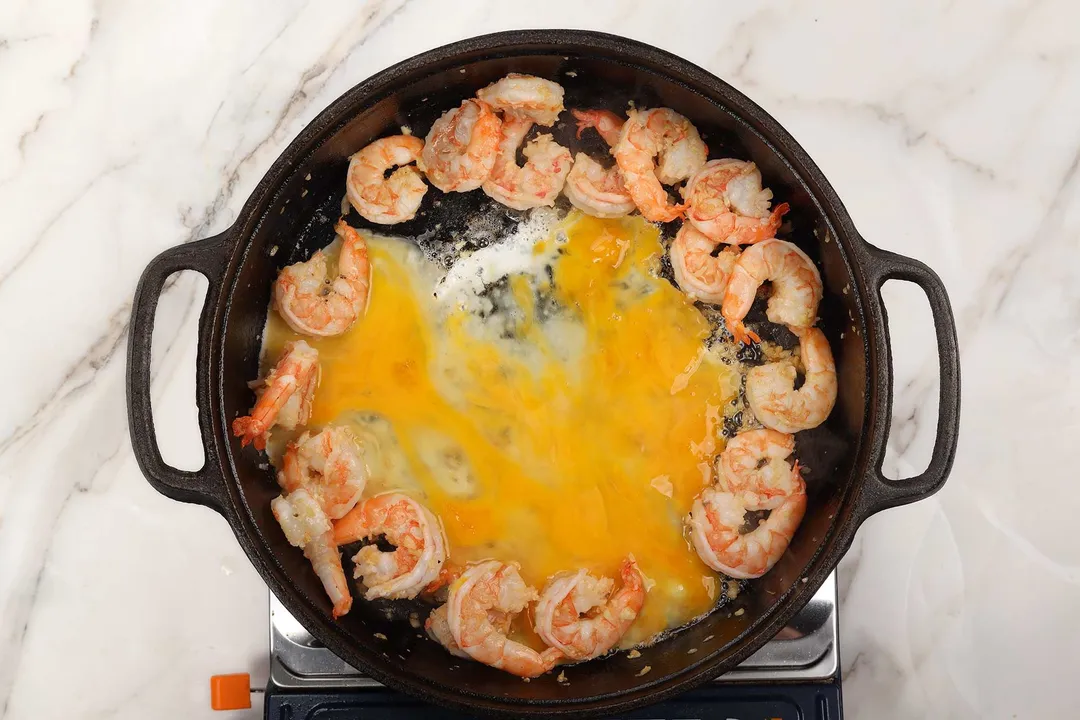 4
Add 4 oz shiitake mushrooms and stir to cook for about 2 minutes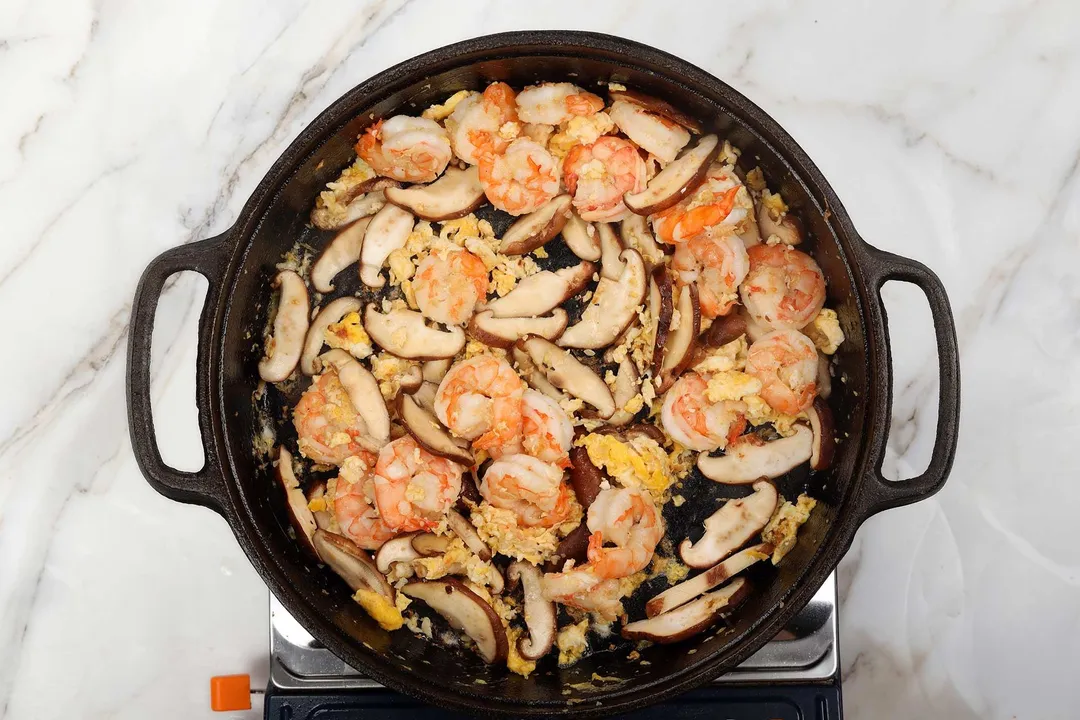 5
Add 4 oz carrot and 1 oz wood ears. Stir to cook for about 2 minutes.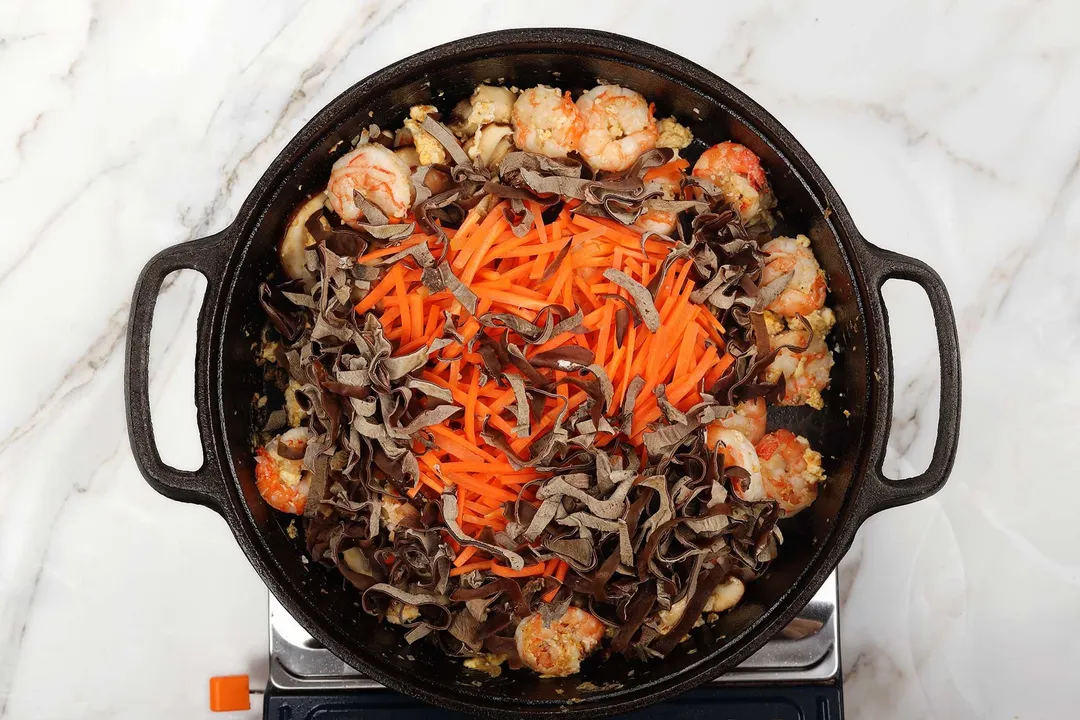 6
Add 6 oz cabbage and 2 oz red bell pepper. Stir to cook for about a minute or so.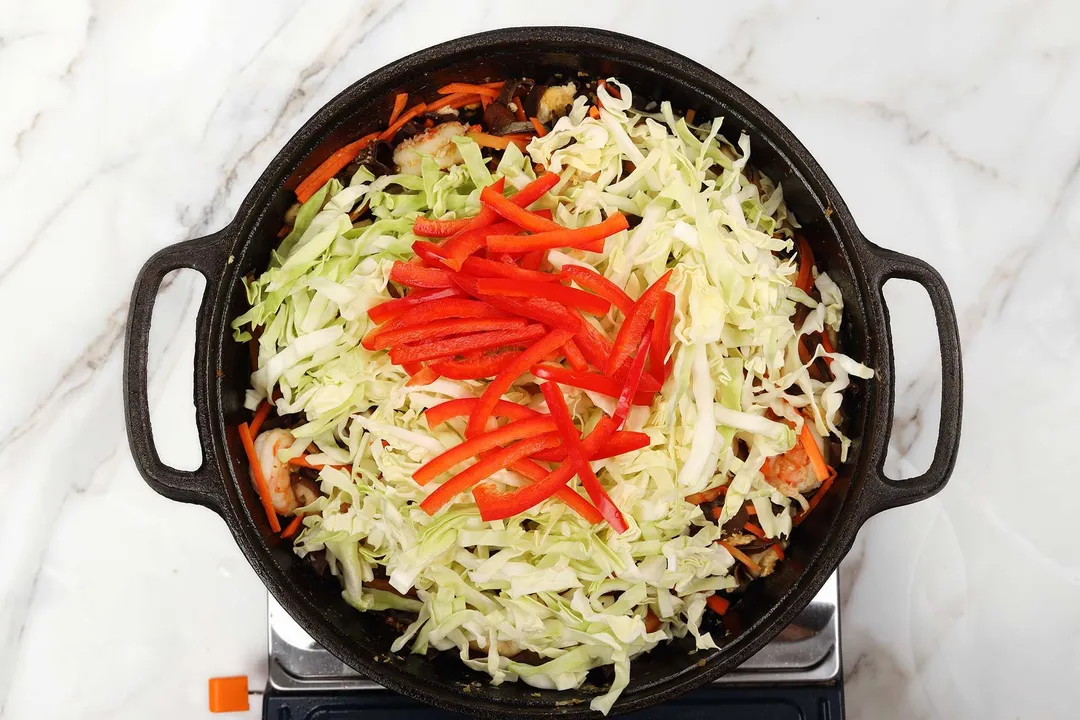 7
Season with 1 tbsp white wine, 1 tbsp sesame oil, 1 tbsp reduced-sodium soy sauce, 1/2 tbsp oyster sauce, 1/2 tsp ground black pepper, and 1/8 tsp salt. Stir for about 1 minute then remove from heat.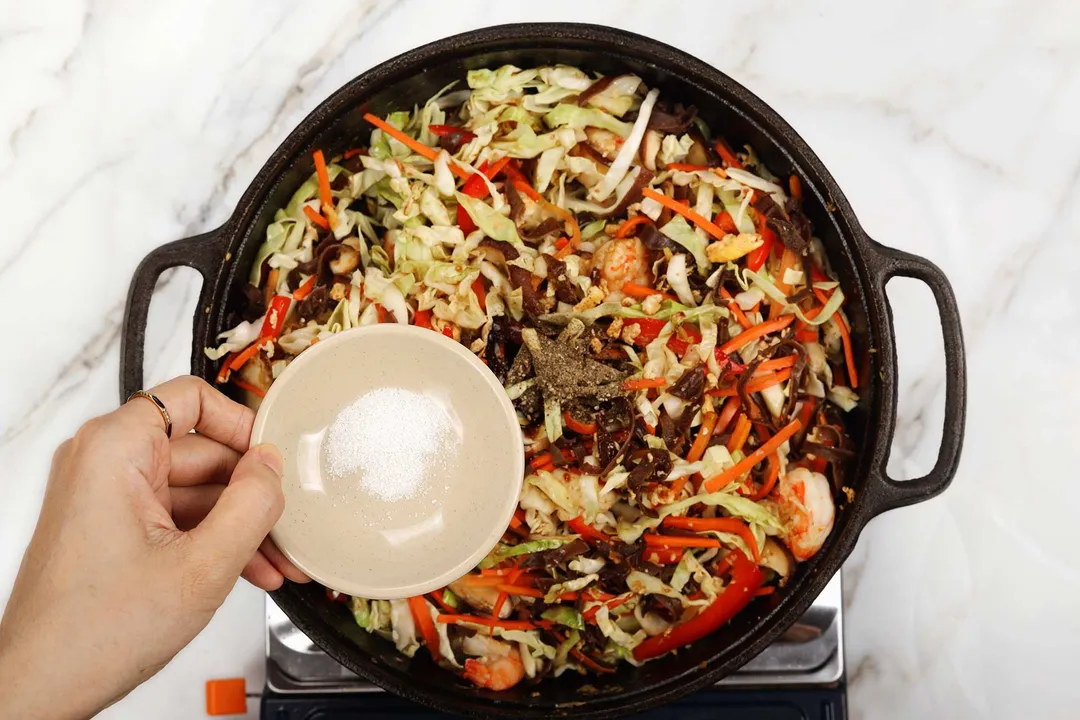 8
Sprinkle 2 tbsp scallions on top and serve with 3 1/2 cups cooked rice (divided into 4 portions).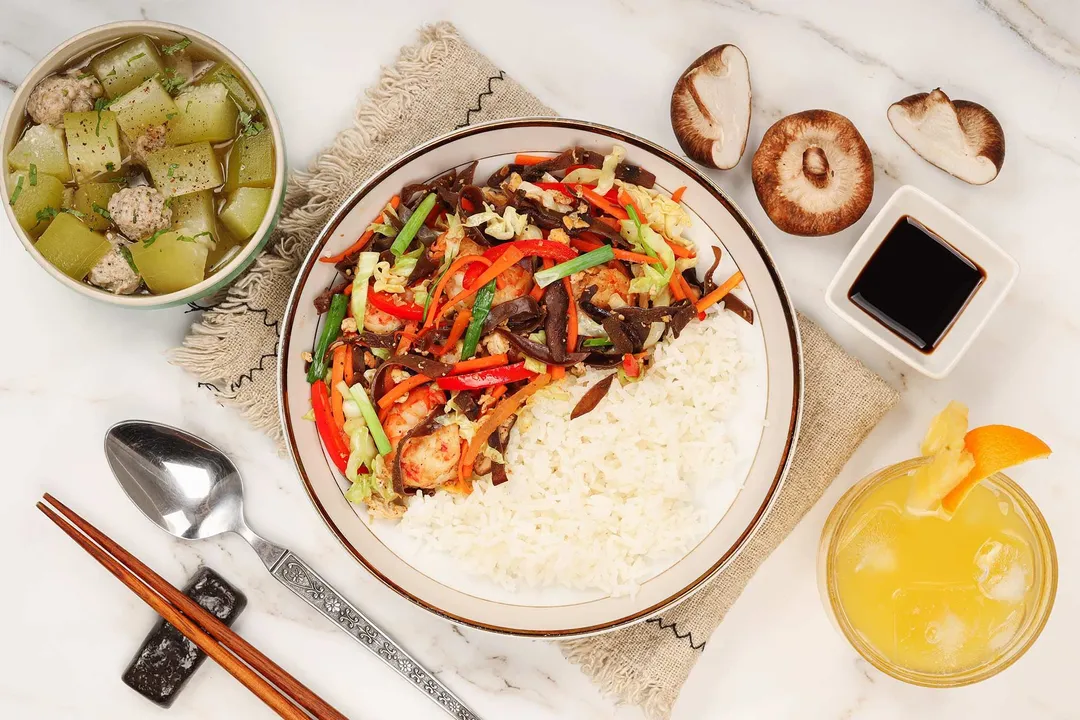 NUTRITION
Nutrition Facts
Moo Shu Shrimp
Amount Per Serving (1 serving)
Calories 495
Calories from Fat 126
% Daily Value*
* Percent Daily Values are based on a 2000 calorie diet.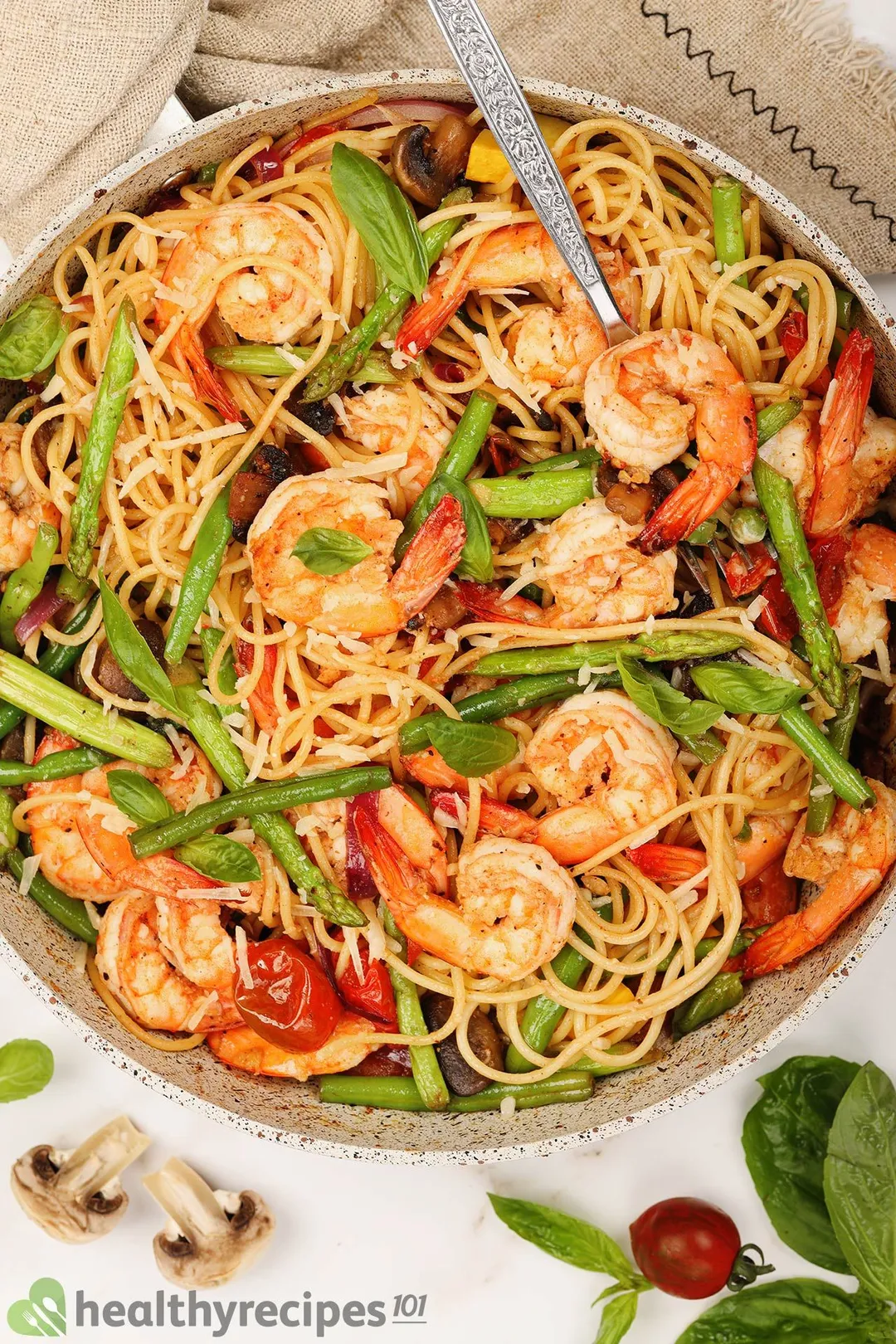 Previous Recipe
Shrimp Primavera
Shrimp Primavera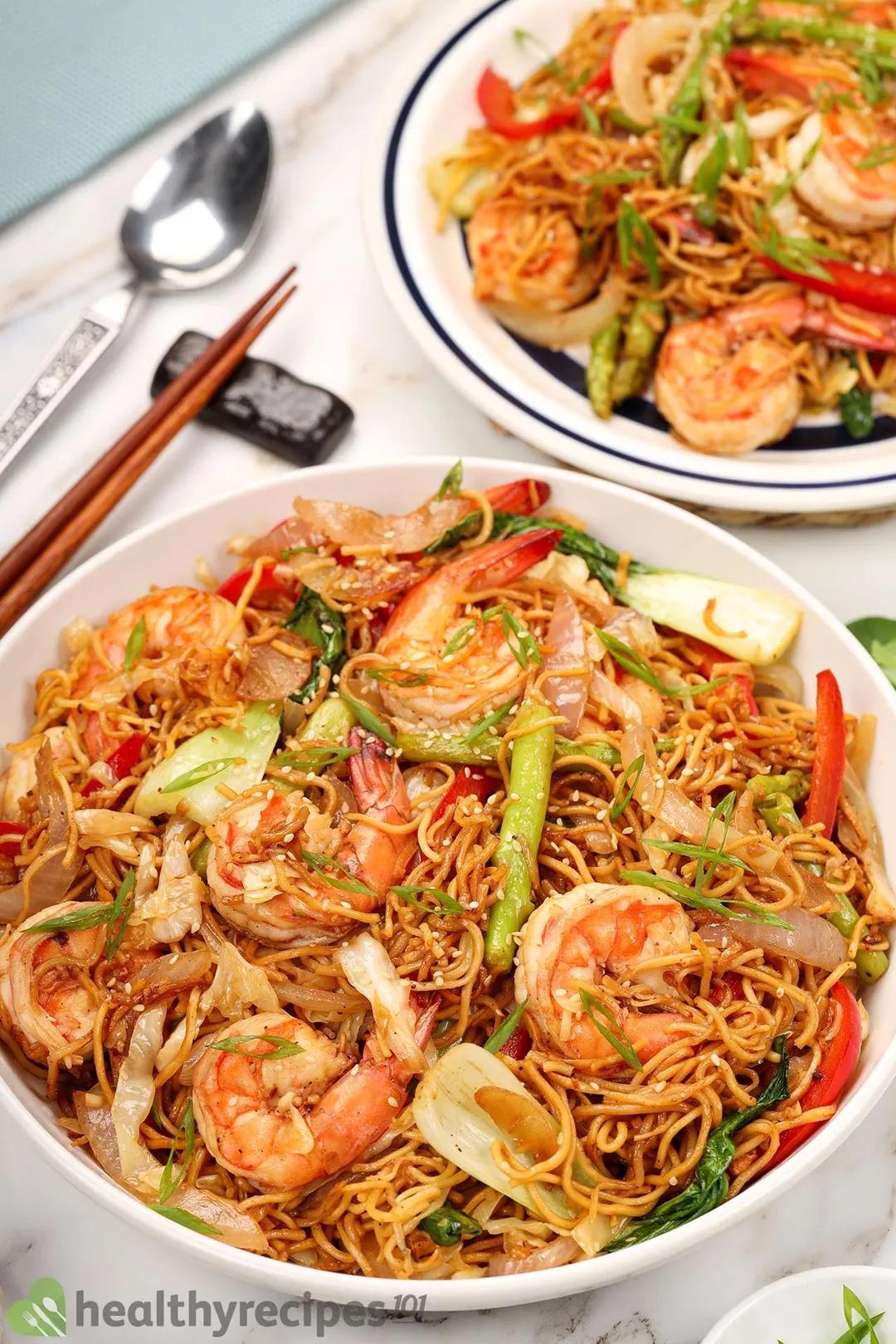 Next Recipe
Shrimp Chow Mein
Shrimp Chow Mein
Head Chef, Culinary Consultant
Tuyet Pham is an award-winning Saigonese chef who believes that joy is the secret ingredient to delicious food. At Healthy Recipes 101, Tuyet personally tests and simplifies every recipe, ensuring maximum flavor with minimal effort. With a background at prestigious French restaurants P'TI Saigon and Le Corto, Tuyet knows how to make every dish exceptional.
Writer, Author
Luna Regina is an accomplished writer and author who dedicates her career to empowering home cooks and making cooking effortless for everyone. She is the founder of HealthyKitchen101.com and HealthyRecipes101.com, where she works with her team to develop easy, nutritious recipes and help aspiring cooks choose the right kitchen appliances.
Nutrition Reviewer
Natalie Butler is a registered dietitian nutritionist with a passion to help others live their best life through food, fitness, safer beauty and a healthy lifestyle. She has expertise with a variety of diets and diseases and believes that there is no one-size-fits-all approach for health.
Now I have a great recipe I can try making with shrimp. Finally.!

Looks like a great and easy way to get a delicious dinner on the table. I added some extra hoisin sauce and a few extra chilis to spice it up, and the result was an absolutely delicious meal. Highly recommend!