Our shrimp omelet recipe whips up a quick and healthy brunch in a flash with only a few simple ingredients.

Is Shrimp Omelet Healthy?
Yes, we believe our shrimp omelet recipe is healthy, considering it's made with fresh and nutritious ingredients.
Shrimp is a good source of healthy omega-3s, such as EPA and DHA . They're low in calories and fat, but rich in protein, and they're an excellent source of vitamins and minerals, including selenium, and vitamin B12.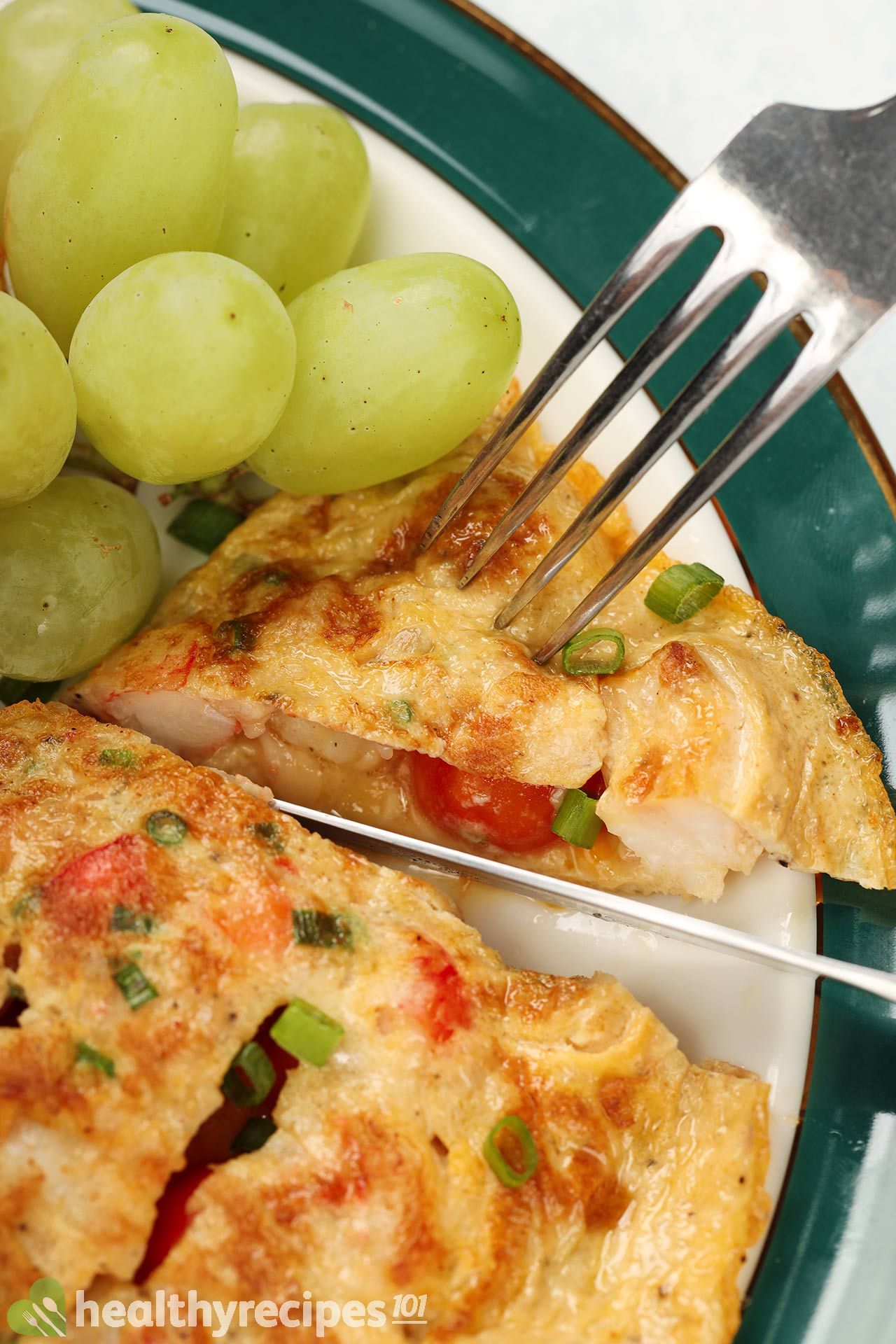 While this dish is minimal in fat and calories, it is not poor in taste. Continue reading to learn more about its flavor profile.

Ingredients for Shrimp Omelet
Today's shrimp omelet recipe requires:
Shrimp: The best part about this ocean protein is that it cooks nicely in less than 5 minutes.
Pro tip: It is preferable to purchase fresh shrimp with the shell still intact and then peel and devein them just before cooking, as the shell helps protect the shrimp's freshness and texture. 
Tomatoes: We prefer cherry tomatoes as they are brightly sweet.
Eggs: You can't make an omelet without eggs!
Seasonings and herbs: We seasoned our shrimp omelet simply with salt, freshly cracked black pepper, and garlic powder.
Wheat bread: We used sprouted wheat bread for our recipe, but you can use any other type of bread you have on hand.
Mixed fruits: We served our shrimp omelet and bread with a side of assorted fruits consisting of fresh strawberries, oranges, and grapes.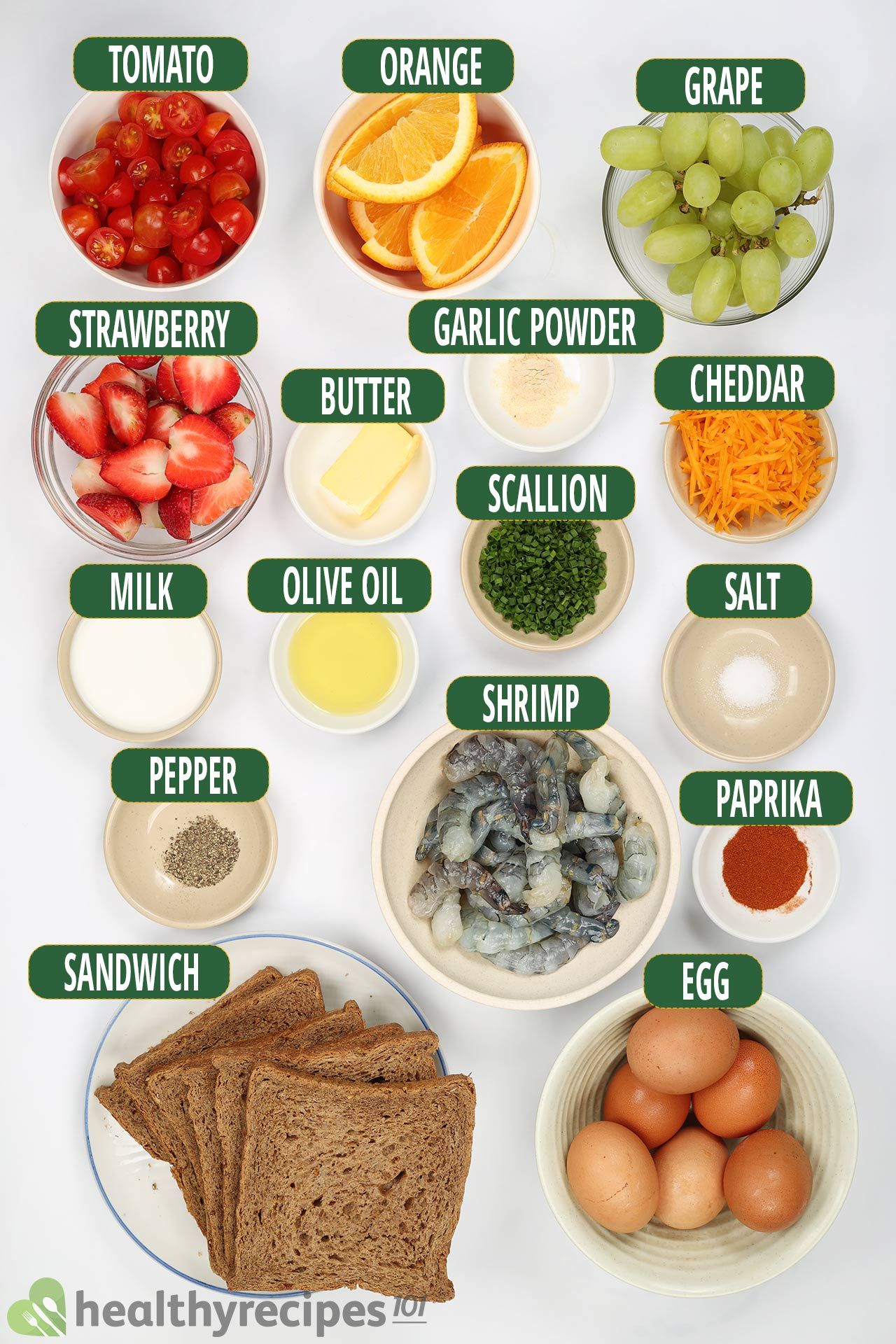 What Other Ingredients Go Well in an Omelet?
Here are some excellent options to level up your omelet game:
Spinach: Blanch the spinach leaves for 30 seconds in boiling water. Remove them with a spider strainer and rinse under running tap water to cool them down immediately. Fold them in a kitchen towel and squeeze to draw all the water out. Once the spinach is as dry as possible, chop it roughly and add it to the pan.
Mushrooms: Sautéed mushrooms would have to be our favorite filling for omelets. You can start with either fresh or frozen mushrooms to sauté with some minced garlic. Canned mushrooms may not be the best option for sautéing, but you can try using them anyway.
If you're looking for inspiration on how to turn shrimp into delicious meals, check out our stir-fried shrimp and egg recipe. We also have another Chinese shrimp recipe — shrimp egg Foo Young. These recipes are proof that good food doesn't require much time and effort to make.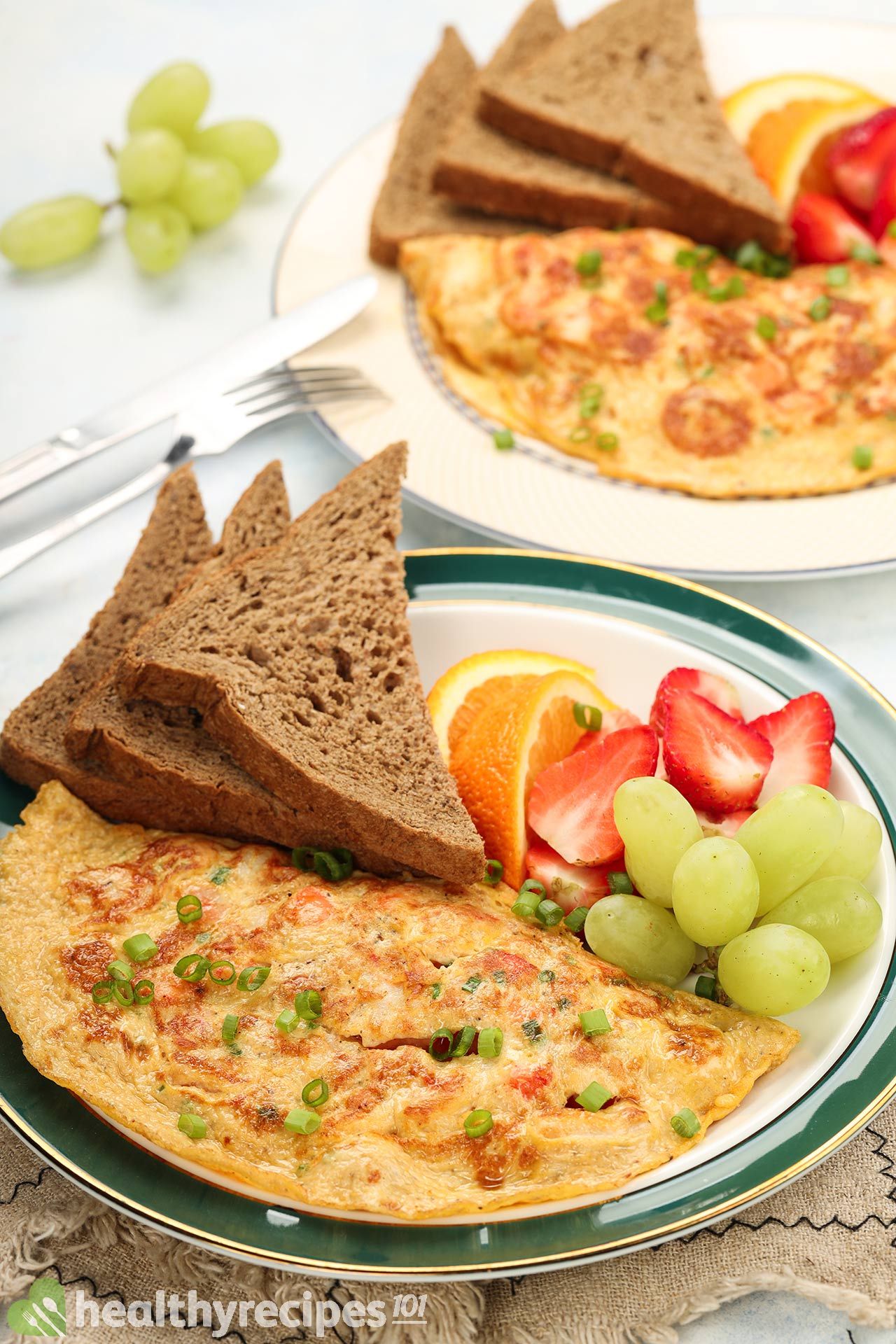 How to Make Omelet with Shrimp
Before you start, we recommend rinsing the fruits and vegetables under running water to make sure that they are clean and free of any dirt. After that, cut them according to the instructions in the ingredient list.
Once you're all done with the fruits and vegetables, you can start preparing the shrimp. We recommend using a different cutting board for the shrimp to avoid cross-contamination.
Peel and devein the shrimp before giving them a quick clean under running water. Shake off the excess water and pat the shrimp dry thoroughly with paper towels.
Then, cut the shrimp into bite-size pieces and place them in a bowl. Set aside and wash your hands with soap and water before you start cooking.
First, add some olive oil to a nonstick skillet. Combine the shrimp and its seasonings. Cook and stir until the shrimp are just cooked through and pink. Transfer the shrimp to a clean bowl and set aside to cool.
Then, beat eggs with chopped scallions, salt, black pepper, and whole milk. Add the cooked shrimp and stir it in.
Next, we will cook the omelet over medium-low heat using the same skillet. We also recommend cooking one omelet at a time, but you can make them on two burners simultaneously if you're in a hurry.
Start by melting some butter before adding a quarter of the egg and shrimp mixture to the skillet. Add cherry tomatoes and grated cheddar cheese to one side of the omelet. Fold it in half and continue to cook over gentle heat.
Once cooked, transfer the omelet to a large plate. Continue with the remainder of the omelet batter.
When you've finished cooking, cut, and toast the bread in the air fryer or toaster oven. Then, transfer the toasted bread and fresh fruits to the omelet plate and serve.
Here is a summary of today's shrimp omelet recipe:
Step 1: Cut the shrimp.
Step 2: Sauté the shrimp.
Step 3: Beat the eggs.
Step 4: Cook the omelets.
Step 5: Cut the bread.
Step 6: Toast the bread.
Step 7: Garnish and serve.

How to Store and Reheat the Leftover Shrimp Omelet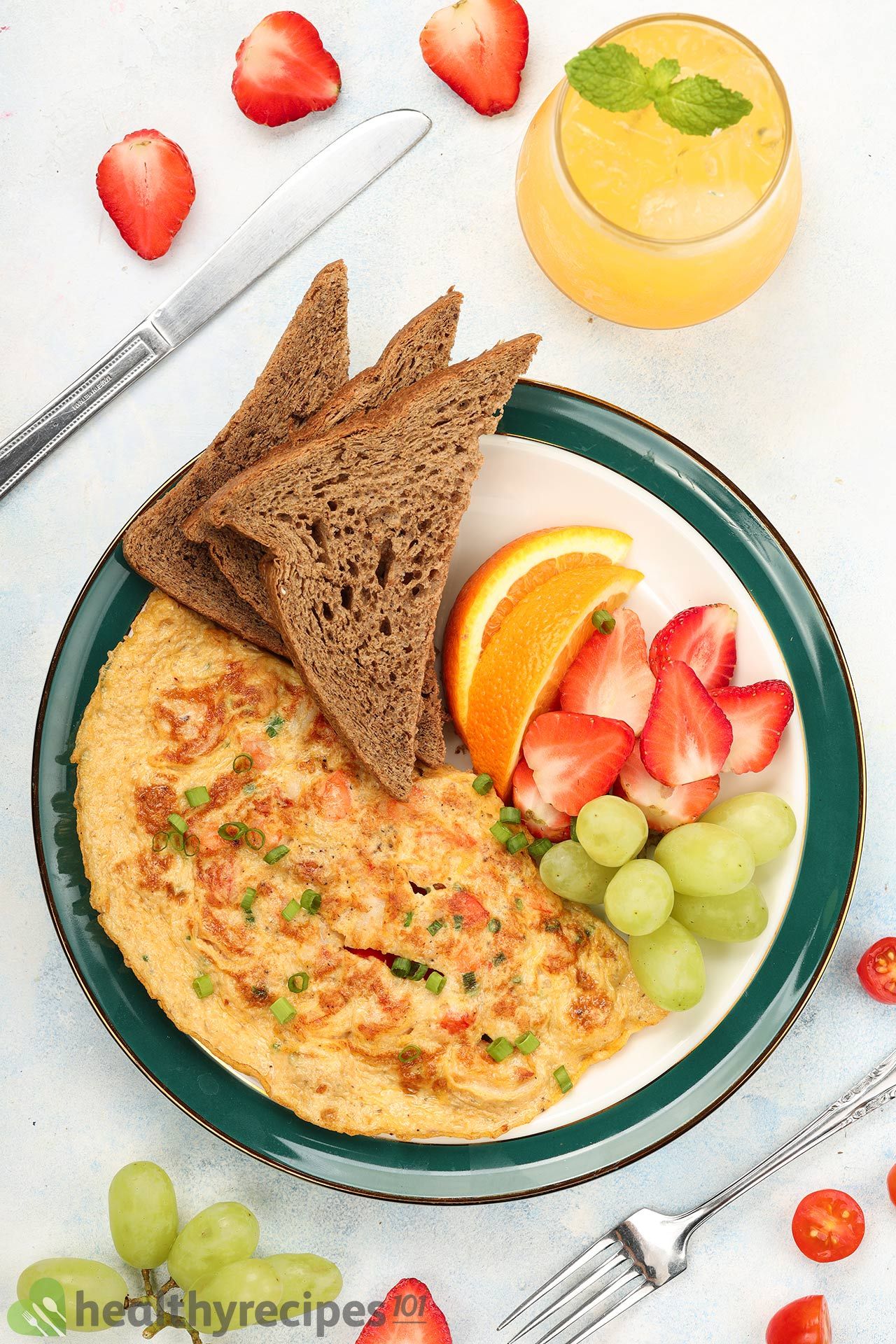 We recommend storing each item separately to keep them fresh longer:
Leftover shrimp omelets: Keep them in an airtight container and store them in the fridge. They should last from three to five days.
Leftover bread: Keep the toasted bread slices in a bread container over the counter for two days. Or store them in a Ziploc bag, and they'll last for a week in the fridge.
Leftover fruits: Put each type of fruit in separate containers and refrigerate them. They should last from three to five days, depending on whether they've been cut or not.

What to Serve with Shrimp Omelet
While this shrimp omelet is delicious on its own, it also makes an excellent breakfast when coupled with a drink of passion fruit juice.
Our passion fruit juice strikes the ideal combination of sweetness and acidity, making it a refreshing accompaniment to hearty meals. This juice contains only four ingredients and delivers robust and delicious aromas to refresh your taste buds after each bite.
Here are the combined nutrition facts of this meal: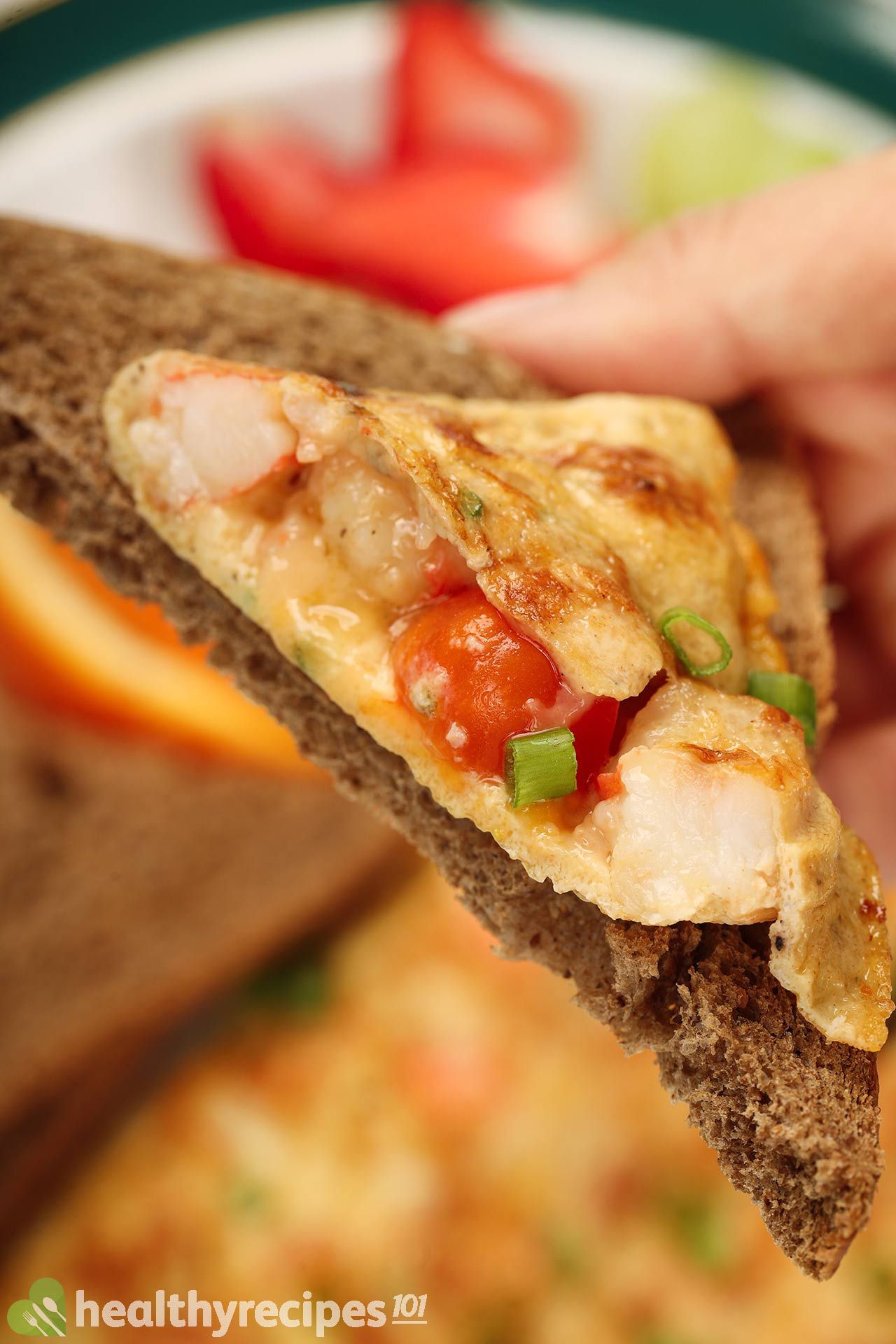 Previous Recipe
Cashew Shrimp
Cashew Shrimp
Next Recipe
Orange Shrimp
Orange Shrimp
Luna Regina
A writer and entrepreneur, Luna's day doesn't start at the computer keyboard, but in the kitchen.
Half of her working hours are spent on mixing ingredients for her recipes. The other half involve working with the tech team to research and test the tools and appliances that promise to make kitchen work effortless and mess-free. From a kitchen knife or water filter to the Instant Pot, if it can help save time and effort for the home cook, Luna and her team are on it.
Luna's extracurricular pastimes include camping, travel, and photography.