Our tamarind juice recipe will help you make a delicious, thirst-quenching drink from the sweet and sour fruit that is tamarind. It's really easy to make and uses budget-friendly ingredients, a perfect solution for those hot summer days.
It's made even better with roasted peanuts or shaved coconut sprinkled on top, if you happen to have these in your pantry. If not, having it topping-free is still delightful.
If this drink tickles your fancy, make a large pitcher and keep it in the fridge. This way you can always be ready, because once you take a sip, it's hard not to take a second… and a third… and you get the idea.
If you want to make the drink right now, click here to get the full ingredients and instructions. Or, read on to explore the world of tamarinds.
What Are Tamarinds?
Tamarinds are a kind of fruit that's native to African countries and some Asian countries. They're often seen as long, brown pods with a fibrous pulp and mushy flesh inside which surrounds their oval, somewhat flattened seeds.
Only ripe tamarinds are brown. The young fruits are actually green and have differing characteristics, including softer skin and hard, crunchy flesh rather than mushy.
To break tamarinds open, snap the fruit like how you would a stick, and peel away the skin like how you would with an egg. Strip away the fibrous parts with your hands and you're ready to make all sorts of dishes with the flesh.
What Does Tamarind Taste Like?
How tamarinds taste really depends on how ripe they are. Green and brown tamarinds have different textures and flavors, so they have different culinary uses as well.
Green tamarinds have a crunchy texture just like carrots and they are very sour. In some countries, they're either pickled, submerged in a sugar syrup, or dipped in salt and then eaten as (amazing) snacks.
As the fruits ripen, the flesh becomes mushy and sweeter but still a little bit sour. They are unique in their aroma and sourness, different from limes, lemons, or any other fruits.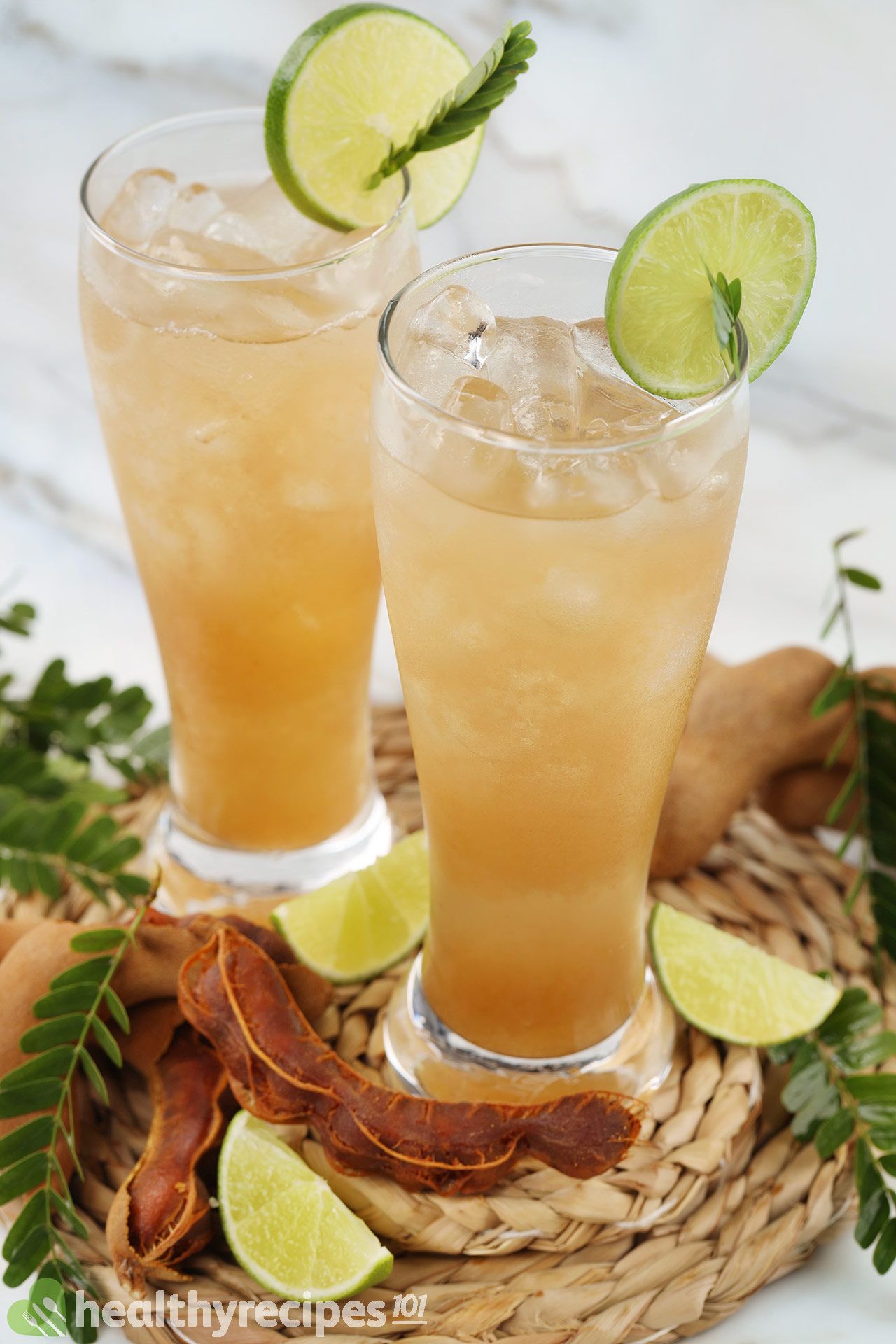 Brown tamarinds found their place in Thai cuisine a long time ago. They make an amazing sour base in several exquisite Thai dishes (Thai Curry for instance) and people will notice the difference if you use citrus fruit instead of tamarind.
The sweet and sour fruit also makes mouth-watering candies and thirst-quenching beverages. What we'll be making in today's recipe is a great example of that.
Benefits of Tamarind Juice
We've all heard that fruit is good for you, and tamarind is no exception with its flesh containing good amounts of B vitamins and several minerals. These nutrients are important for the body, helping to ensure everything is functioning properly and well.
In terms of calorie yield, tamarind is considered a sugary fruit since 95% of its calories are from (fruit) sugar. If you're watching your weight, the fruit should be eaten in moderation.
One cup of tamarind yields 287 calories, almost the same as what 3 small bananas have. In today's tamarind juice recipe, you'll be using just 1 oz, and with added sugar, the drink as a whole has only 67 calories per serving.
How to Make Tamarind Juice
To make tamarind juice, we first need to get brown tamarinds, not the green kind.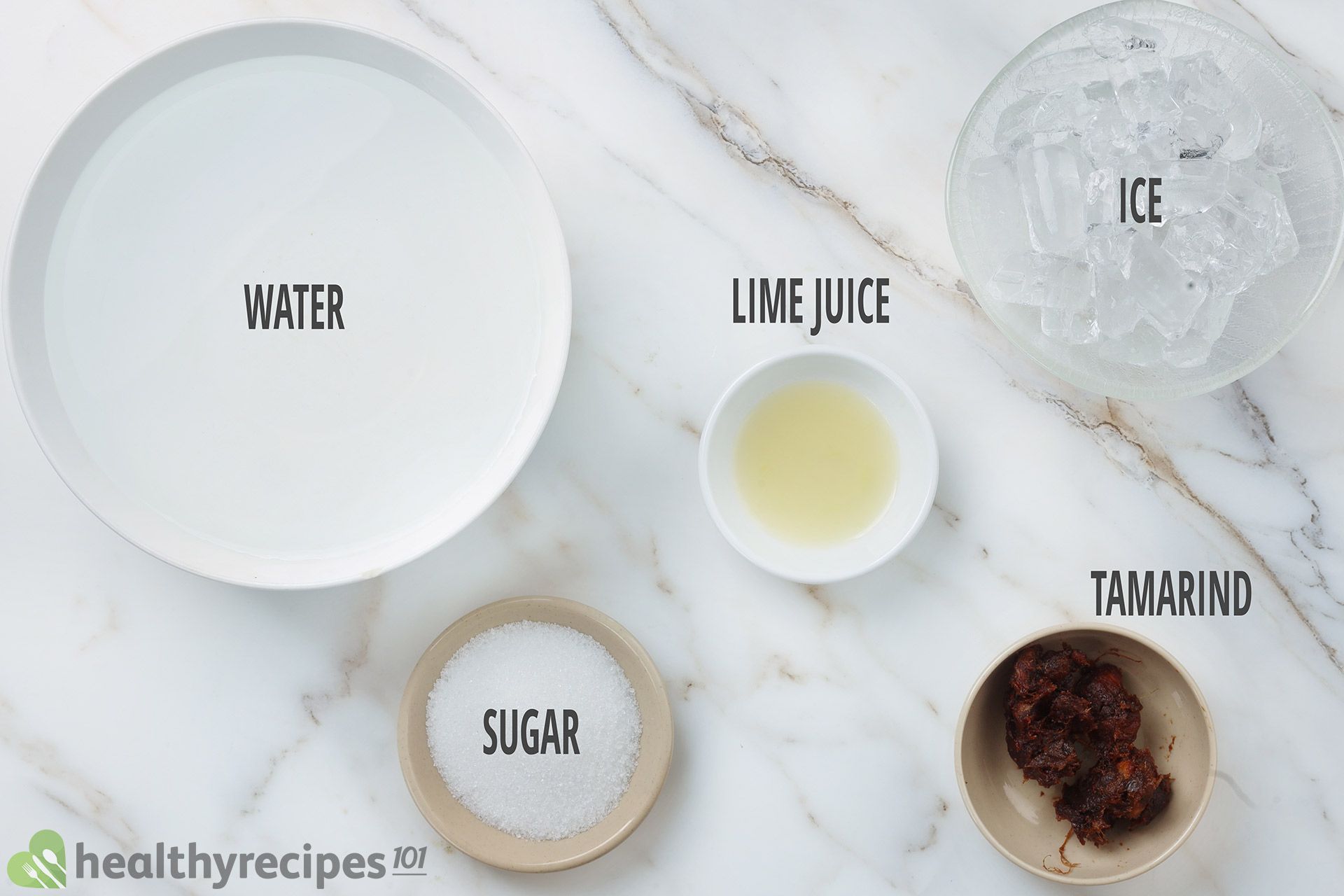 Once you crack the fruit open and discard the fibrous part, you're left with a seedy pulp that seems tricky to work with. Don't worry, it's actually a piece of cake once you know how.
All you need is hot water, cold water, a bowl, and clean hands.
First, place the pulp in the bowl, pour in hot water, and allow the flesh to loosen up. After about 10 minutes, add cold water to cool the mixture down, and use your clean hand to squeeze, extracting all of the flesh from the seeds.
You can add the mixture to a sieve and push it through to separate out any lumps or seeds. However, your hand is the best tool to get the most out of this fruit.
Substitute for Tamarind Juice
The flavor of tamarind is unique so there's not exactly a substitute for it.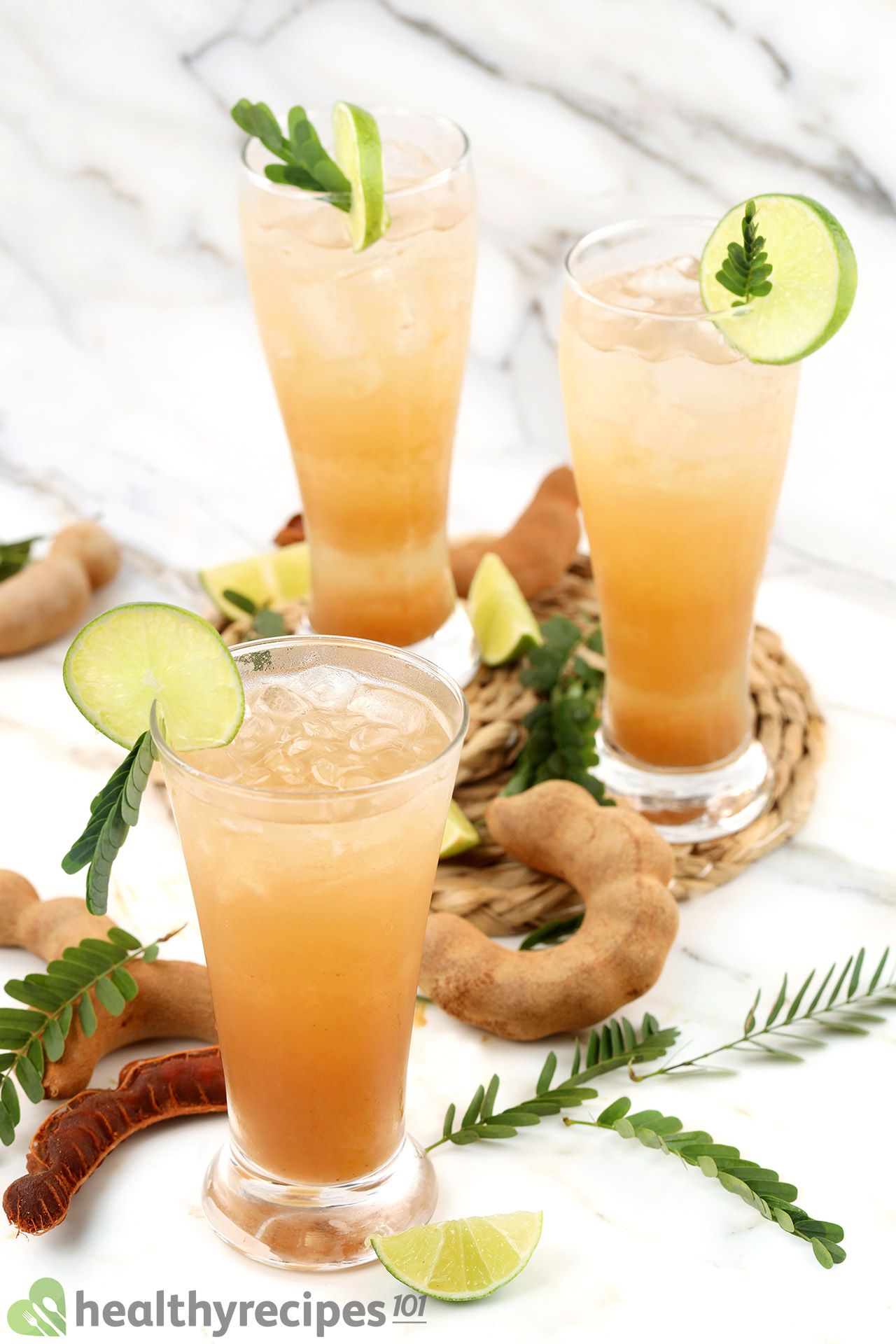 However, the fruit can be difficult to find fresh because it's not grown or widely used in every country. If you can't find fresh tamarinds, look for packaged tamarind or tamarind concentrate/puree/extract — they work as well.
Keep in mind that some products can claim "tamarind extract" and still contain other ingredients. Read the label carefully and skip the ones with added sugar or salt, so the end result won't be affected.
Can I Drink Tamarind Juice Everyday?
Tamarind is safe when consumed in food amounts, so if you love the taste of tamarind juice, you can drink it every day. Just don't let it be the only thing you drink every day!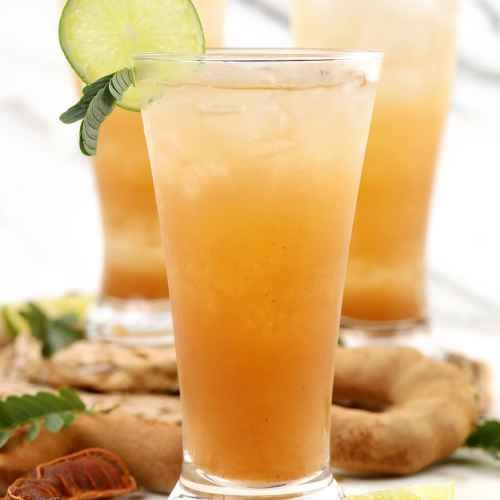 Tamarind Juice Recipe
This tamarind juice recipe will help you make a mouth-watering beverage, perfectly suited to satisfy your summer thirst.
Ingredients
1

oz

tamarind

5-6 fruits

2

cups

water

1 cup cold, 1 cup hot

1

tbsp

lime juice

4

tbsp

sugar

2

cups

ice
Instructions
Add 1 oz tamarinds to a bowl. Then add 1 cup hot water to the bowl and let it soak for 10 minutes.

Hover a sieve on top of another bowl and carefully scoop the mixture to place it in the sieve. Press and scrape around to release all of the juices. Discard the seeds. Alternatively, you can use your hands to squeeze out the juice.

To the bowl, add the cup of cold water, 1 tbsp lime juice, 4 tbsp sugar, and mix to dissolve the sugar.

Add ice cubes to serving glasses. Pour the mixture into each glass and serve.
Nutrition
Nutrition Facts
Tamarind Juice Recipe
Amount Per Serving (1 serving)
Calories 67
% Daily Value*
Sodium 13mg1%
Potassium 49mg1%
Carbohydrates 17g6%
Protein 1g2%
Vitamin A 4IU0%
Vitamin C 1mg1%
Calcium 13mg1%
Iron 1mg6%
* Percent Daily Values are based on a 2000 calorie diet.