This air fryer chicken parmigiana recipe is all you need for a quick, delicious meal. Chicken breasts are coated in a crisp breadcrumb layer, topped with tomato sauce and mozzarella, and baked to perfection.
Chicken Parmigiana vs Chicken Parmesan
Parmigiana is a preparation method that cooks food with parmesan, a type of cheese. The two dishes are actually the same dish, in which chicken breasts are breaded, fried, topped with tomato sauce and mozzarella, then baked until golden brown. It's often served with pasta.
Chicken parmesan is sometimes prepared with Parmigiano Reggiano, the true staple of the Parma provinces made with high-quality ingredients and standards. Your regular parmesan may not compare to this cheese, but it's still a good option since it's more readily available and affordable.
The parmesan is incorporated into the breading. This brings out more of the parmesan's fragrance and distributes it evenly over the chicken.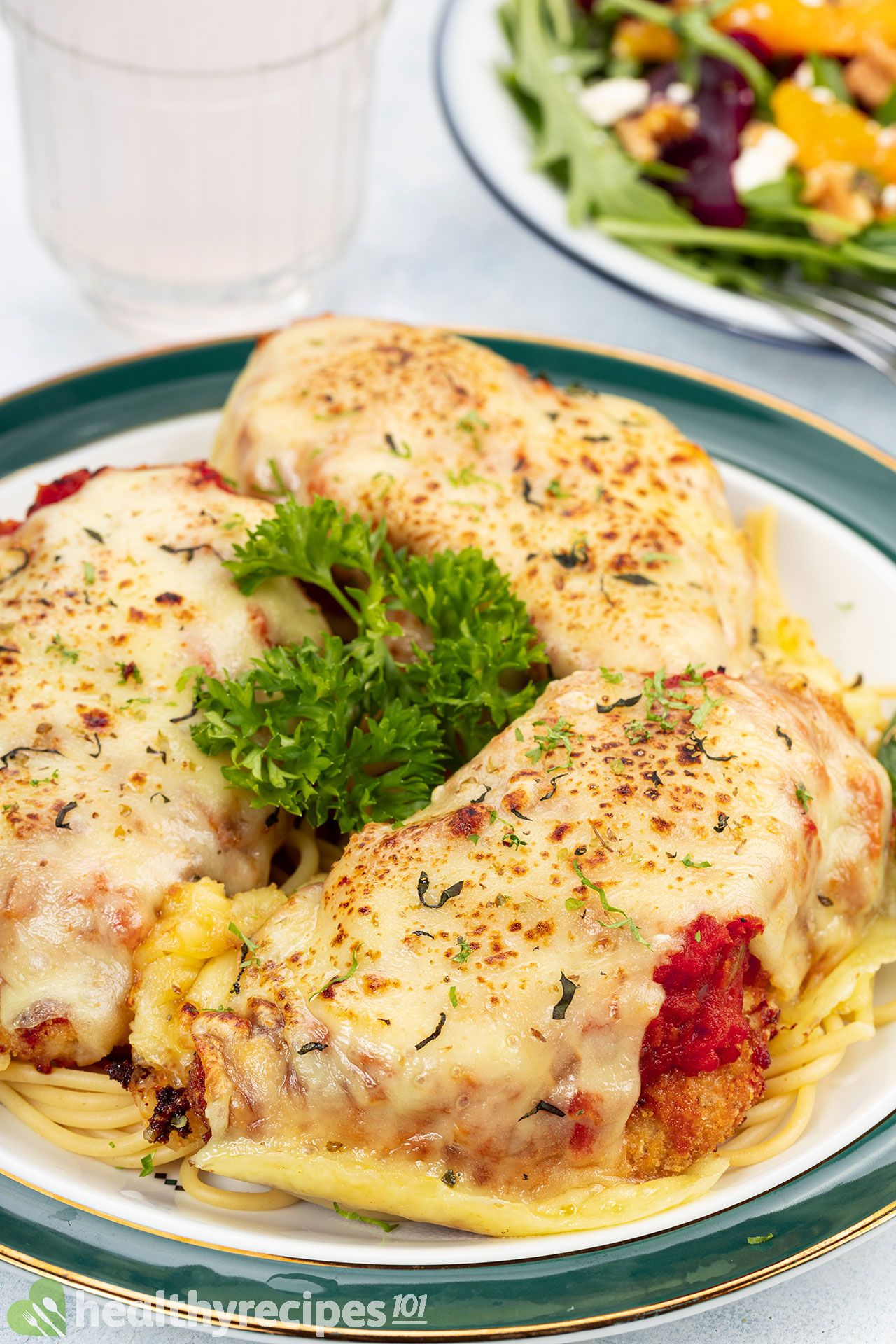 Is Chicken Parmigiana Healthy?
Yes, we believe our chicken parmigiana is a healthy dish.
To begin with, chicken breast is a lean cut of meat and the highest in protein compared to other parts of the bird. It's then cooked with tomato sauce and cheese, which provide an array of nutrients.
Dishes with cheese usually contain a high level of saturated fats. With just a moderate amount of cheese, ours contains only 8 g. We've also portioned it reasonably so each serving only contains 498 calories.
Additionally, we've tried not to be too generous with salt to keep the sodium level within an acceptable range. It now has less than 600 mg sodium.
To up its nutritional value, you can substitute plain pasta with whole-wheat pasta which provides more fiber.
Ingredients for Air Fryer Chicken Parmigiana
Our air fryer chicken parmigiana recipe calls for chicken breasts, seasonings, breadcrumbs, tomato sauce, cheese, cooked pasta, and some herbs:
1. Chicken
We're using skinless, boneless chicken breasts that weigh 4.5 oz each. To ensure the exact weight, we purchase large chicken breasts and do some trimmings. These trimmings can be saved for stir-fries, rice dishes or soups.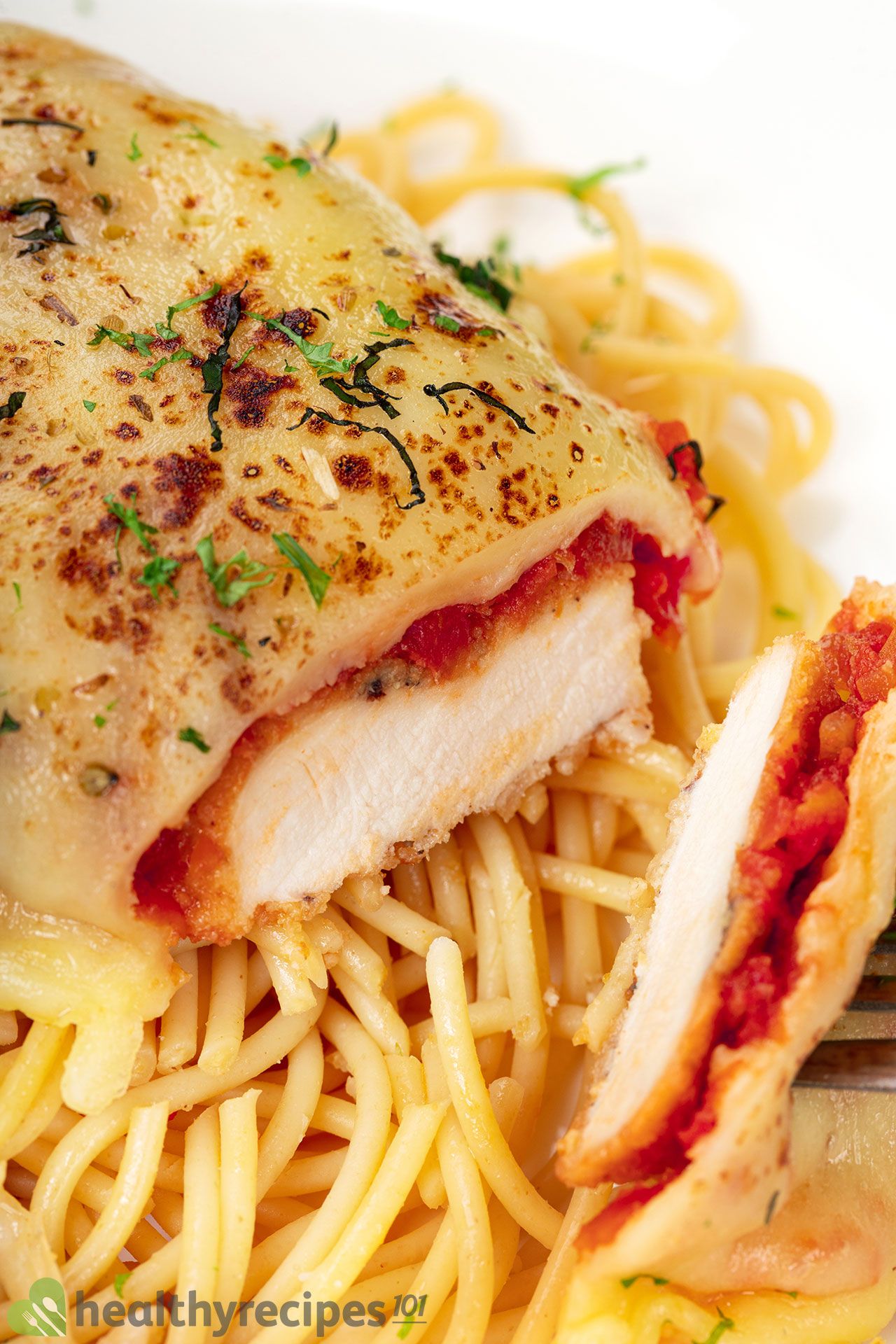 2. Seasonings
We season the chicken breasts with salt, pepper, and a pinch of garlic powder for extra savoriness. If you'd like a little extra heat, feel free to add cayenne to the mix.
3. Breadings
Once seasoned, the chicken breasts are dredged through the beaten egg and breadcrumbs mixture. We add some butter, so they cook more evenly in the air fryer, and some grated parmesan for stronger flavor.
4. Tomato Sauce
After the chicken breasts have become crispy, we spread some tomato sauce on top of them. It's the main source of flavor and aroma in the dish.
We use tomato sauce made from scratch to have better control of flavor and sodium content. It's made with chopped tomatoes, tomato paste, stock, herbs and seasonings, and a touch of paprika for a mild kick.
However, if you can find an unsalted product, feel free to use it for this recipe. One cup should have around 41 mg sodium and 311 calories.
5. Cheese
Besides parmesan, we also use a sizable piece of mozzarella placed on top of the chicken. It should melt in the air-fryer and fuse with the tomato sauce, creating an appetizing final look.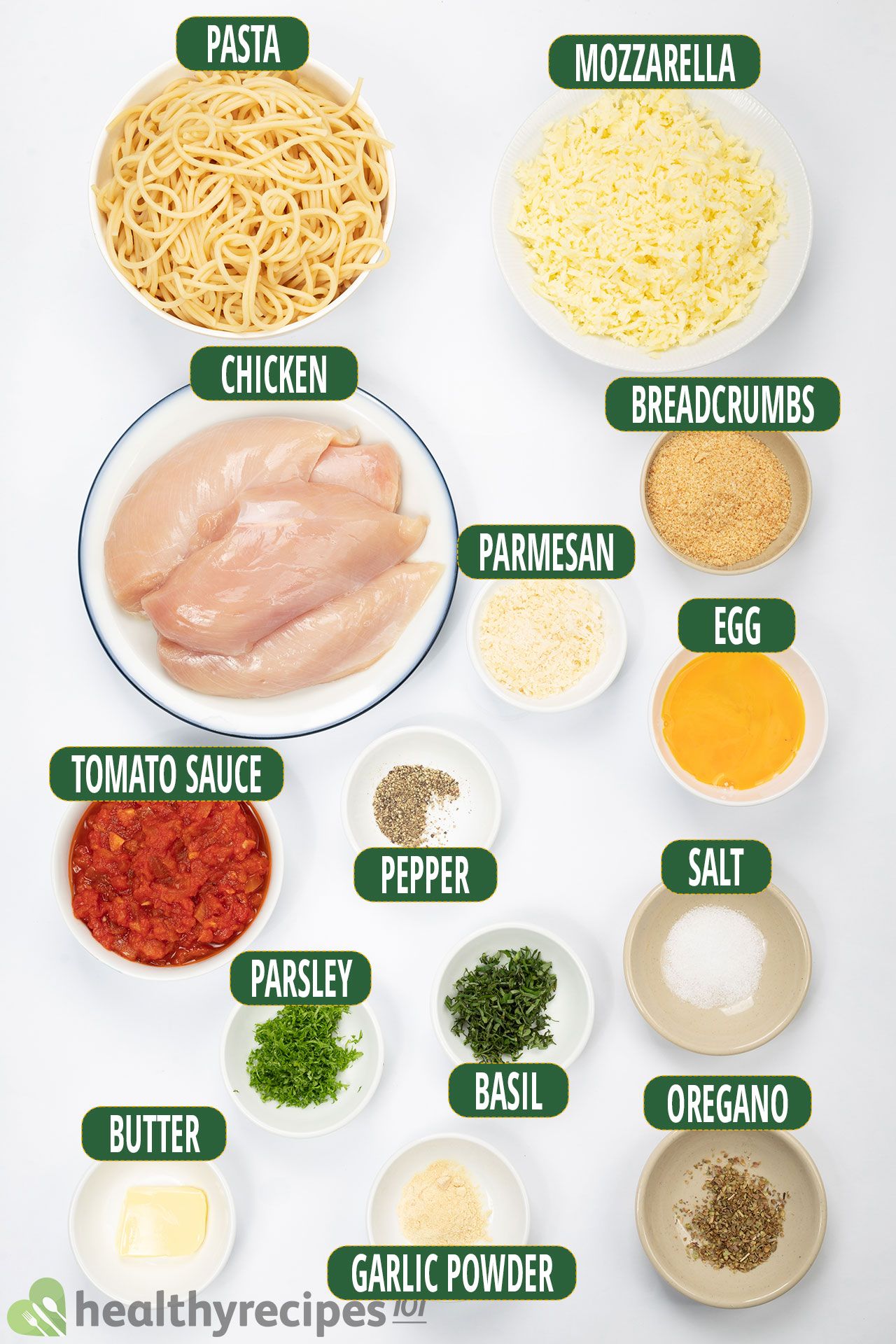 6. Cooked Pasta
Once the chicken is done, we serve it with some cooked pasta.
Spaghetti, angel hair, or fettuccine are our favorite options but short pasta like farfalle, fusilli, or penne also work well.
For this dish the pasta should be cooked al dente for a firm, delectably chewy texture.
7. Herbs
For extra freshness, we garnish the dish with finely chopped fresh basil and parsley. For its great aroma, we top the chicken with a pinch of dried oregano as well.
How To Make Chicken Parmigiana in an Air Fryer
Once you've gathered the ingredients: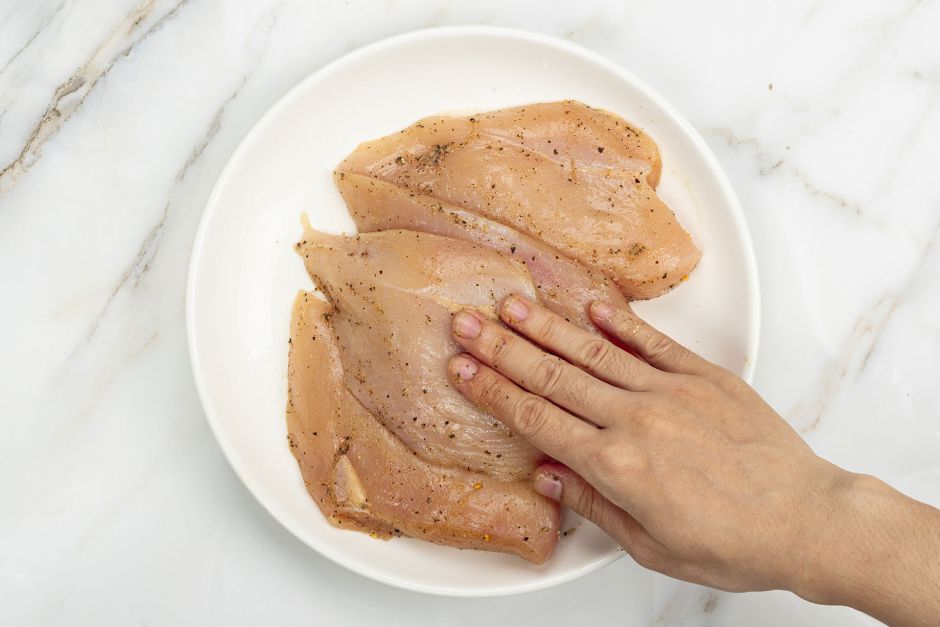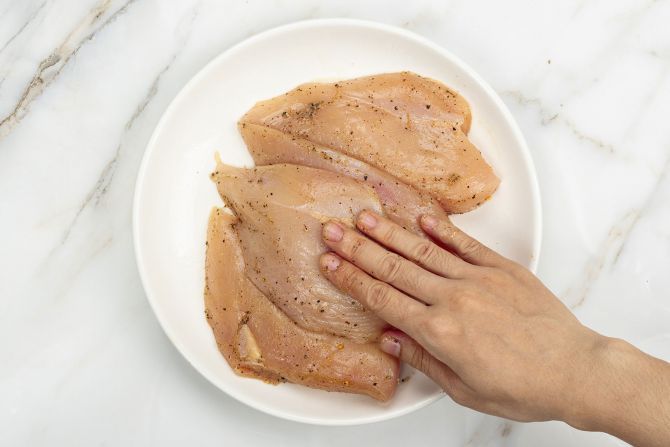 Season the chicken.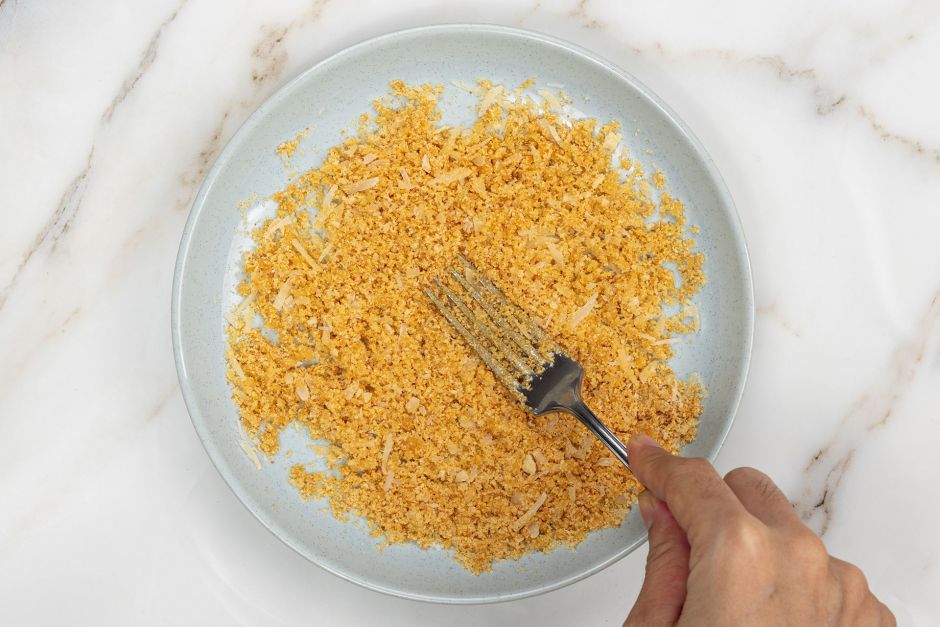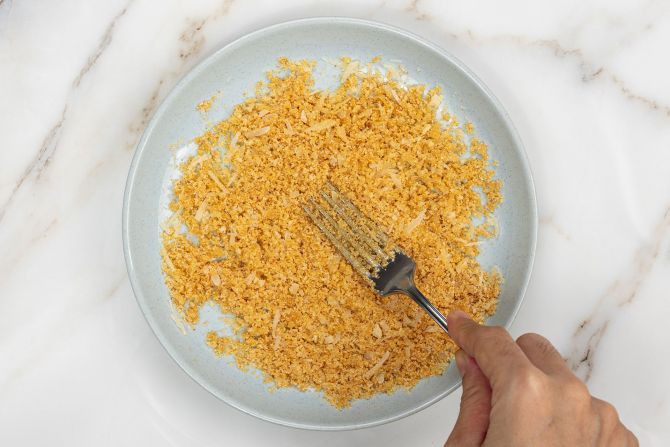 Make the breadcrumbs mixture.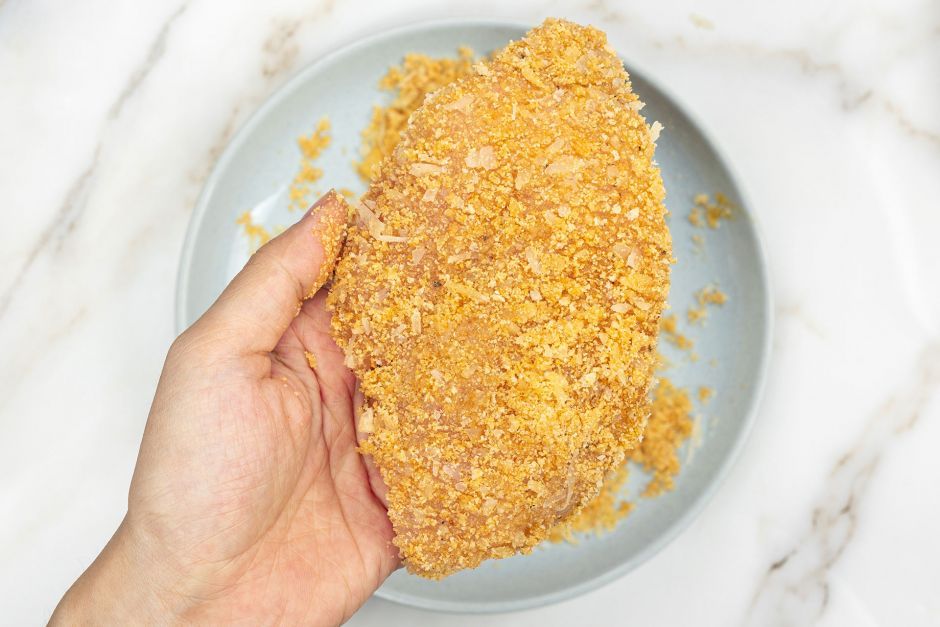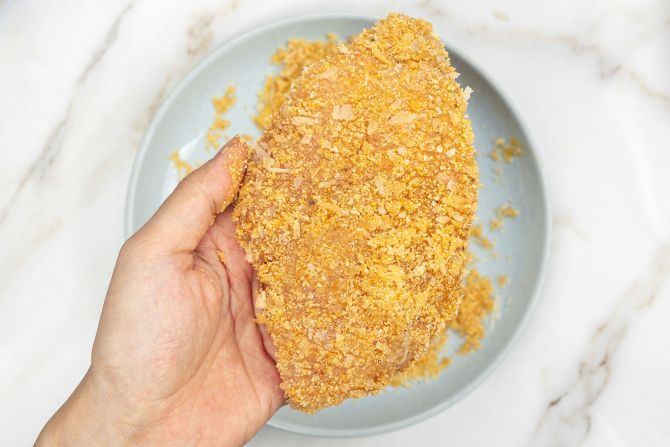 Coat the chicken in egg, then breadcrumbs.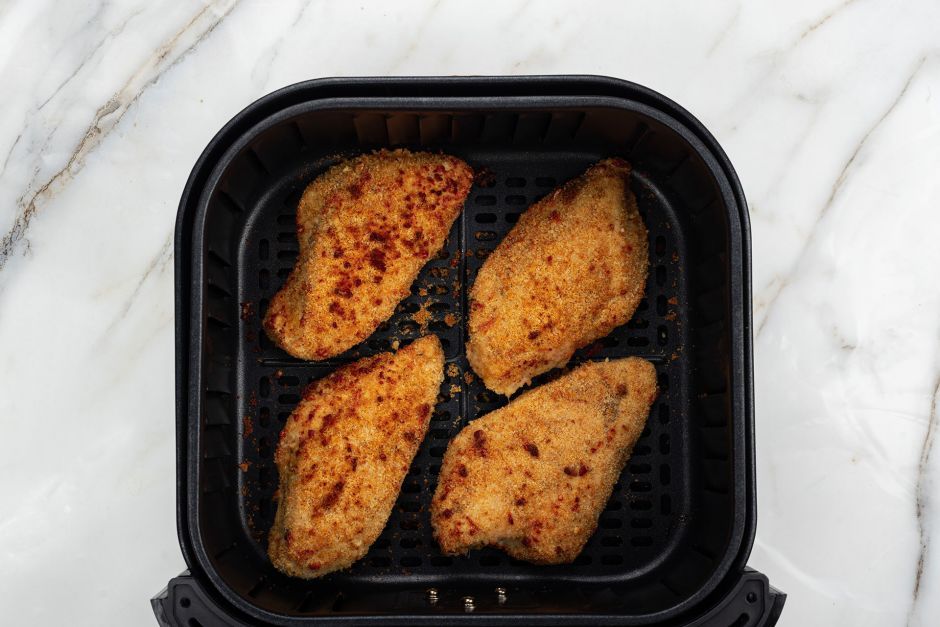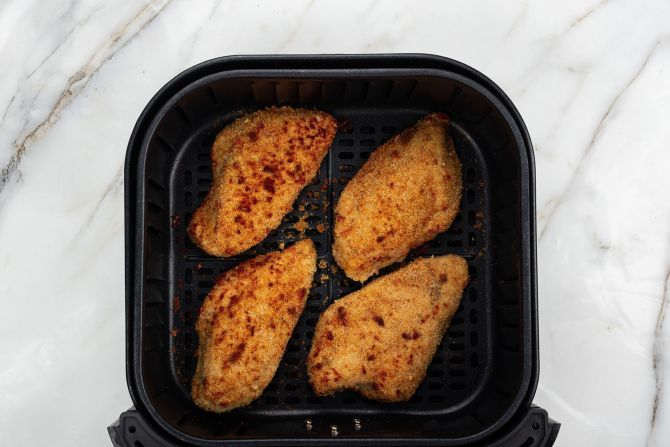 Air-fry them.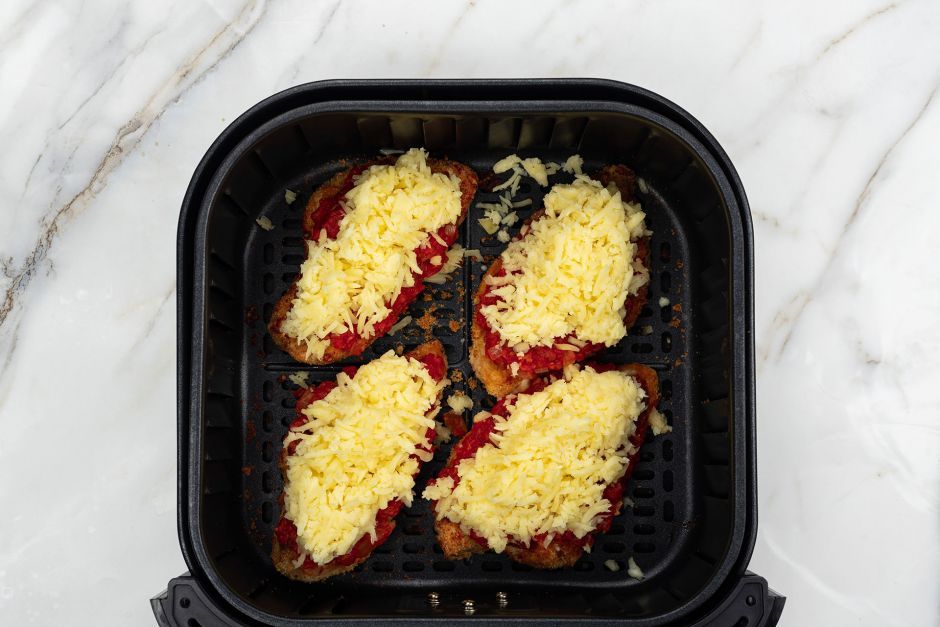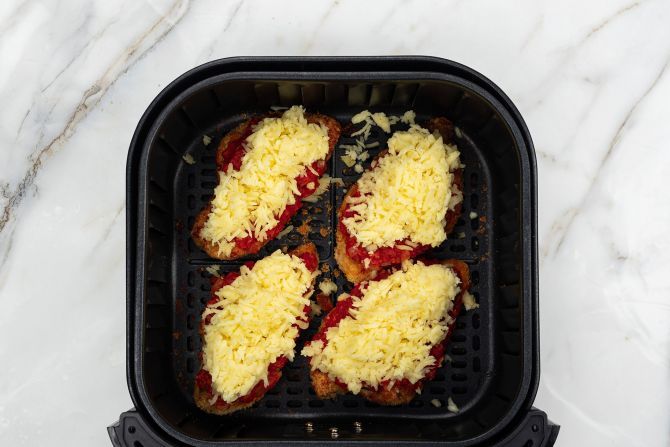 Smear them with tomato sauce and top them with cheese. Air-fry some more.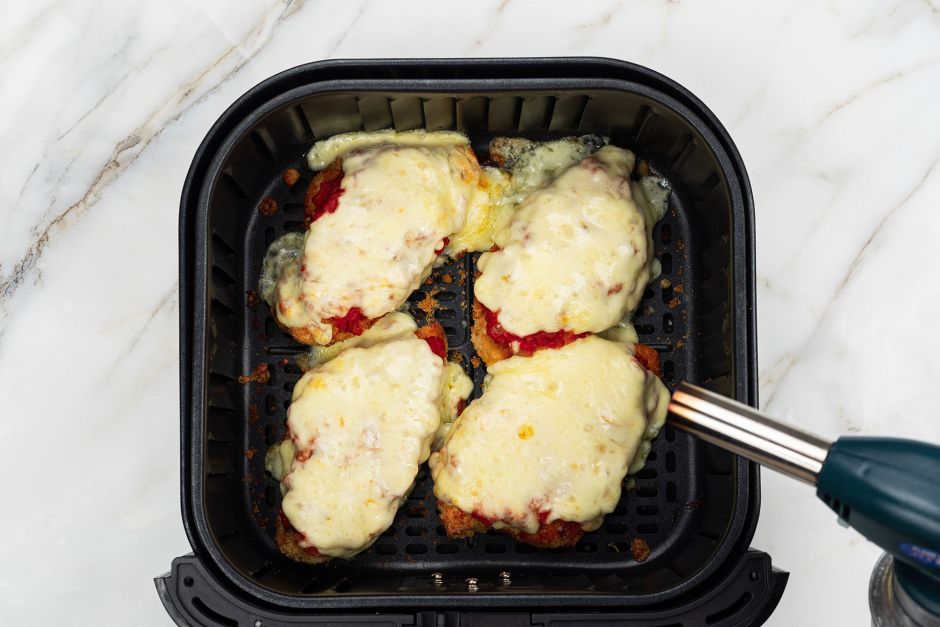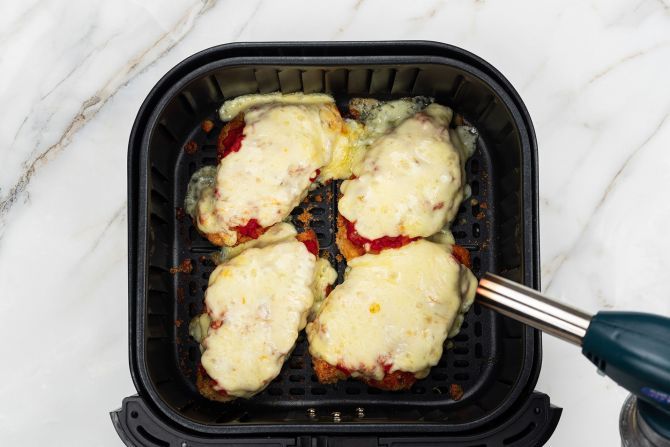 Torch the cheese (optional).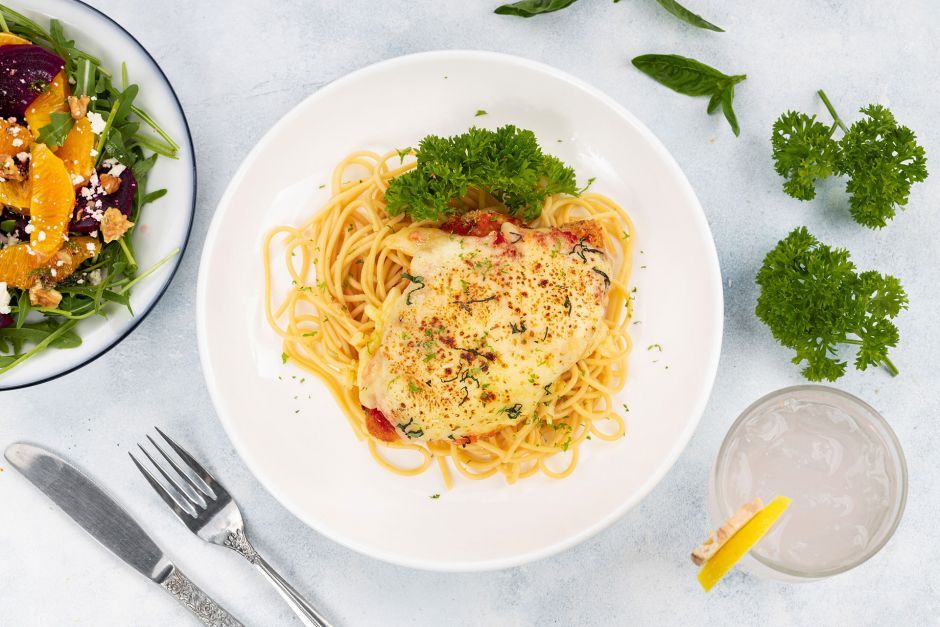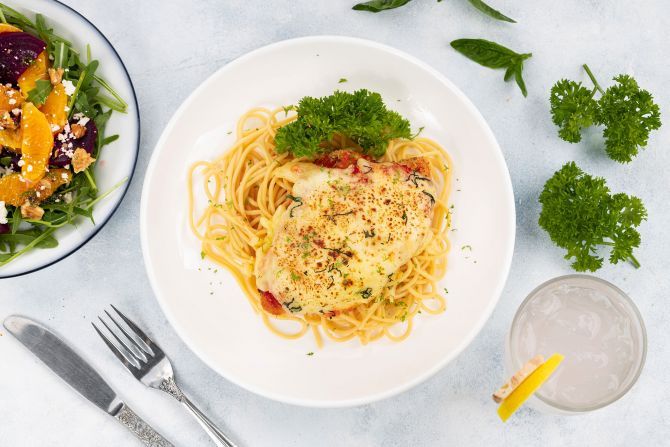 Sprinkle herbs on top and enjoy with cooked pasta.
To save time, you can cook the pasta while the chicken cooks.
For the best results, refer to our ingredients list and instructions in the 'Air Fryer Chicken Parmigiana Recipe' card at the bottom.
Jump to Recipe
Storage and Reheating Air Fryer Chicken Parmigiana
Cooked chicken and cheese will last for about 5 days in the fridge. Since this dish contains cheese and pasta, freezing isn't a good idea.
In terms of containers, you can use air-tight ones or food-safe bags.
To reheat the chicken, microwave for 2 minutes on medium or air-fry for 5 minutes at 350°F. The pasta should be blanched for 30 seconds to restore its elasticity.
What to Serve With Air Fryer Chicken Parmigiana
What this dish lacks is some freshness, so we pair it with our most-popular salad and drink. With juicy orange segments, the salad balances it out perfectly.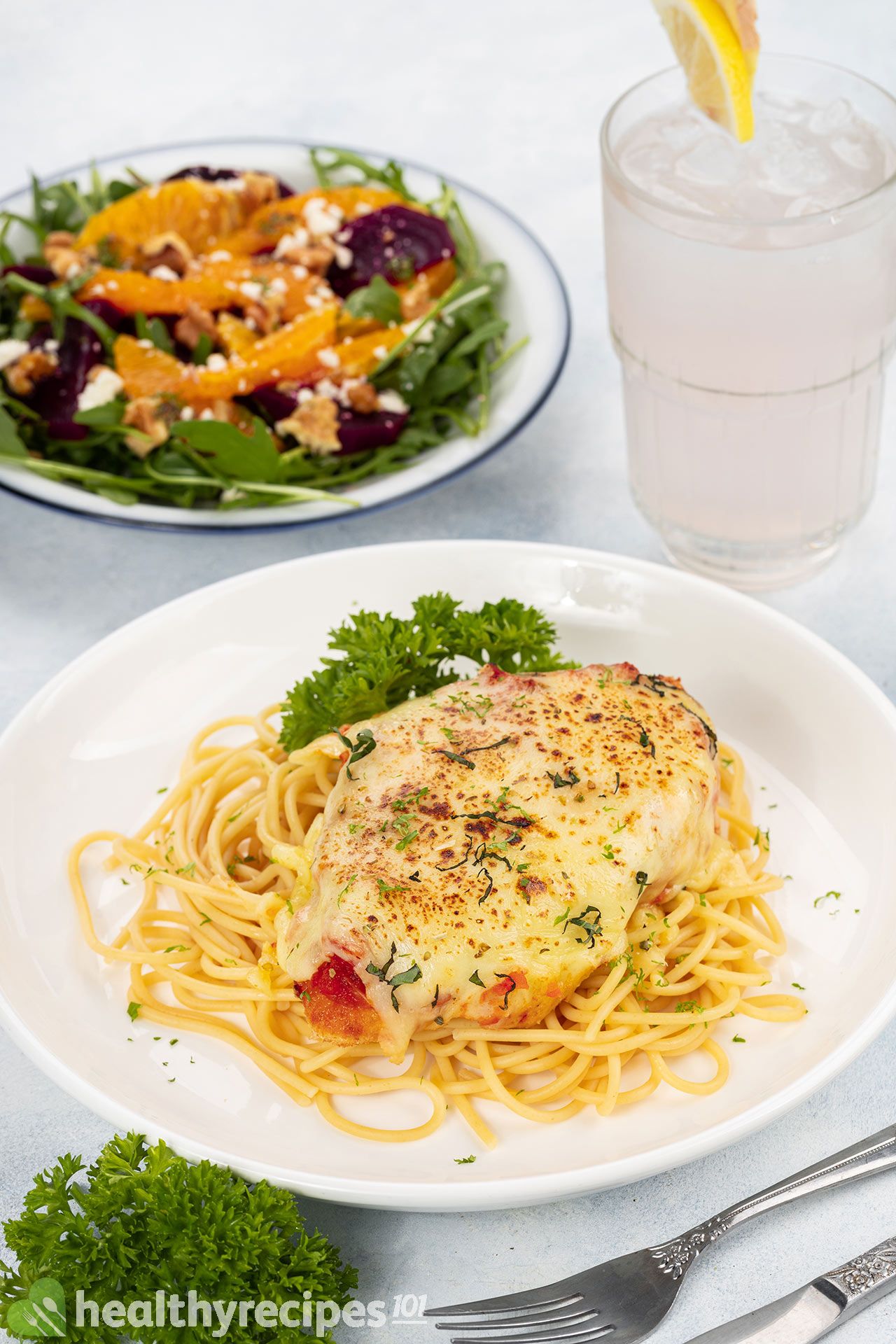 More Easy Air Fryer Chicken Dinner Recipes To Try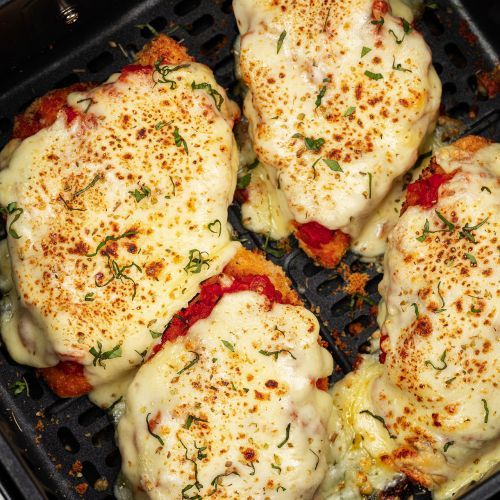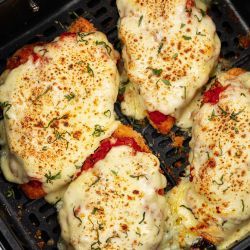 Air Fryer Chicken Parmigiana Recipe
Our air fryer chicken parmigiana recipe takes 37 minutes to turn out a crispy chicken with tomato sauce, cheese, and pasta. It's so easy.
Ingredients
18

oz

skinless boneless chicken breast

about 4 medium, trimmed if necessary

1/2

tsp

garlic powder

1/2

tsp

ground black pepper

1/2

tsp

salt

5

tbsp

plain panko breadcrumbs

1

tbsp

unsalted butter

room temperature

0.5

oz

parmesan

grated

1/2

medium egg

beaten in a dish

3/4

cup

homemade tomato sauce

4

oz

mozzarella

shredded

1/2

tsp

dried oregano

2

tbsp

basil

finely chopped

2

tbsp

parsley

finely chopped

12

oz

cooked spaghetti
Instructions
Season 18 oz chicken breasts with garlic powder, pepper, and salt (1/2 tsp each). Set aside.

In a bowl or plate, mix together 5 tbsp breadcrumbs with 1 tbsp unsalted butter and 0.5 oz parmesan.

Drag the seasoned chicken through the 1/2 beaten egg and breadcrumbs mixture, one by one. Make sure they're coated evenly and shake off the excess. Double coat if there's leftover breadcrumbs.

Air-fry the breaded chicken at 375°F for 15 minutes. If you haven't cooked the pasta, this is the time.

Spread 3/4 cup tomato sauce on top of the chicken, followed by 4 oz shredded mozzarella. Cook for an additional 5 minutes.

(Optional) Torch the cheese for presentation.

Sprinkle on top 1/2 tsp dried oregano, 1/2 tbsp basil, and 1/2 tbsp parsley. Plate the chicken with 12 oz cooked spaghetti and enjoy.
Nutrition
Nutrition Facts
Air Fryer Chicken Parmigiana Recipe
Amount Per Serving (1 serving)
Calories 498
Calories from Fat 171
% Daily Value*
Fat 19g29%
Cholesterol 146mg49%
Sodium 573mg25%
Potassium 756mg22%
Carbohydrates 37g12%
Protein 44g88%
Vitamin A 1234IU25%
Vitamin C 14mg17%
Calcium 224mg22%
Iron 3mg17%
* Percent Daily Values are based on a 2000 calorie diet.