Got a hankering for Chinese noodles? Well, today's beef chow fun recipe is simply a must-try. Tender beef, soft flat rice noodles, meaty mushrooms, and refreshing bean sprouts, all stir-fried in a luscious soy sauce.
What Is Beef Chow Fun?
For those of you who don't know, beef chow fun is a popular Cantonese dish featuring flat, wide rice noodles stir-fried with beef, bean sprouts, and dark soy sauce. This stir-fry noodle dish is usually cooked in a wok or a deep skillet.
As for its cuisine, this recipe is widely eaten in Hong Kong and Guangdong, and can be found in many dim sum restaurants overseas.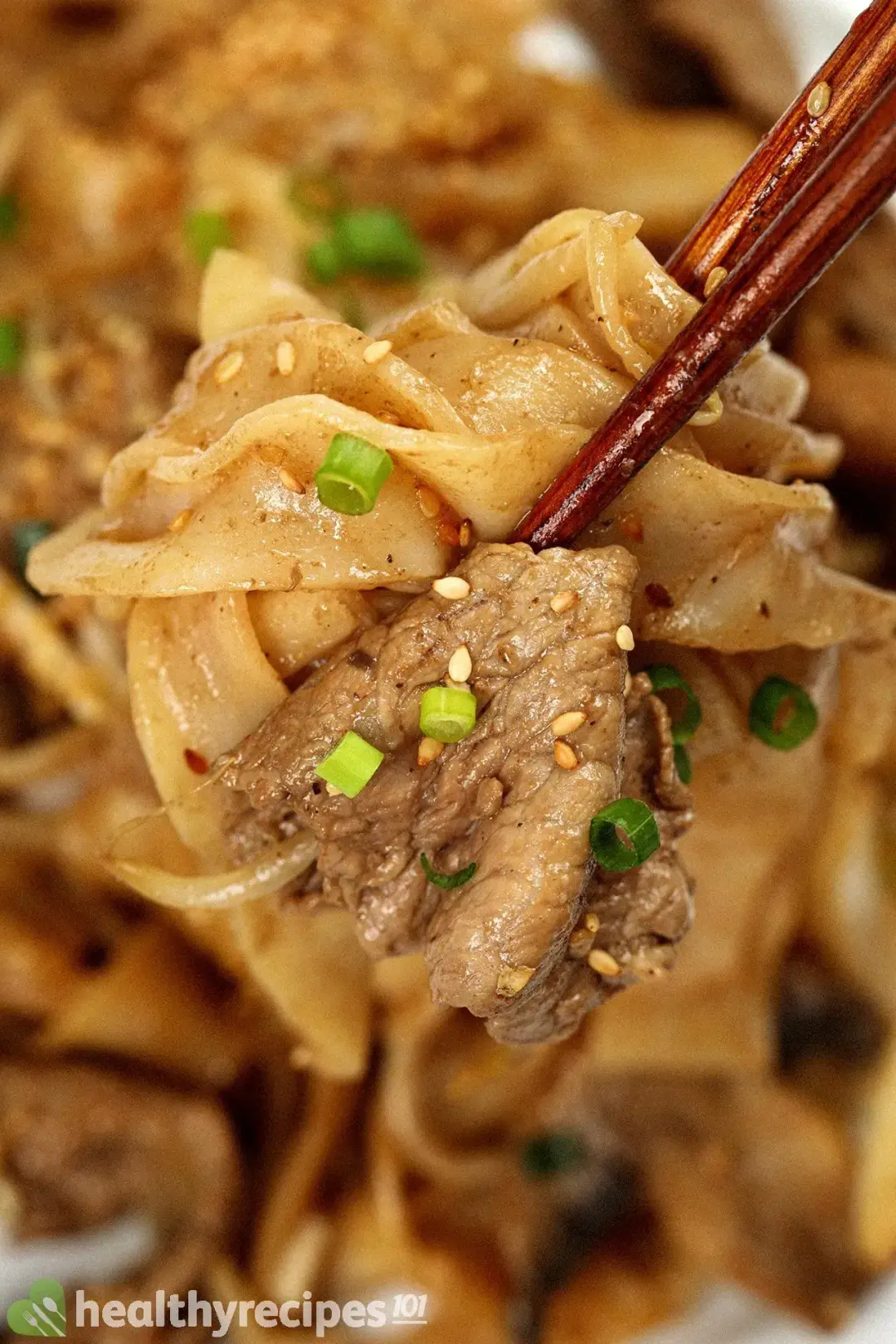 Difference between Chow Mein and Chow Fun
They are both noodle-based, but the key difference is that chow mein recipes call for egg noodles with a thin and round shape, meanwhile, those of chow fun dishes are flat and wide rice noodles with a softer and chewier texture.
Ingredients for This Recipe
Beef: We use flank steak for this recipe. It is a delicious, lean cut of beef from the cow's belly muscles.
Rice Noodles: For this recipe, we use freshly cooked flat wide rice noodles. If you buy uncooked noodles, simply cook them as instructed on the package.
Sauce: This 7-ingredient sauce is what makes our dish taste divine. Simply mix together sesame oil, water, cornstarch, pepper, Sriracha, soy sauce, and Hoisin sauce. This combination results in a savory and slightly spicy taste, packing a punch of umami flavors.
Vegetables and Spices: Fresh mung bean sprouts and tender-crisp white button mushrooms add more taste and texture to our beef chow fun. Other spices such as garlic and onion also give our dish a boost of flavor.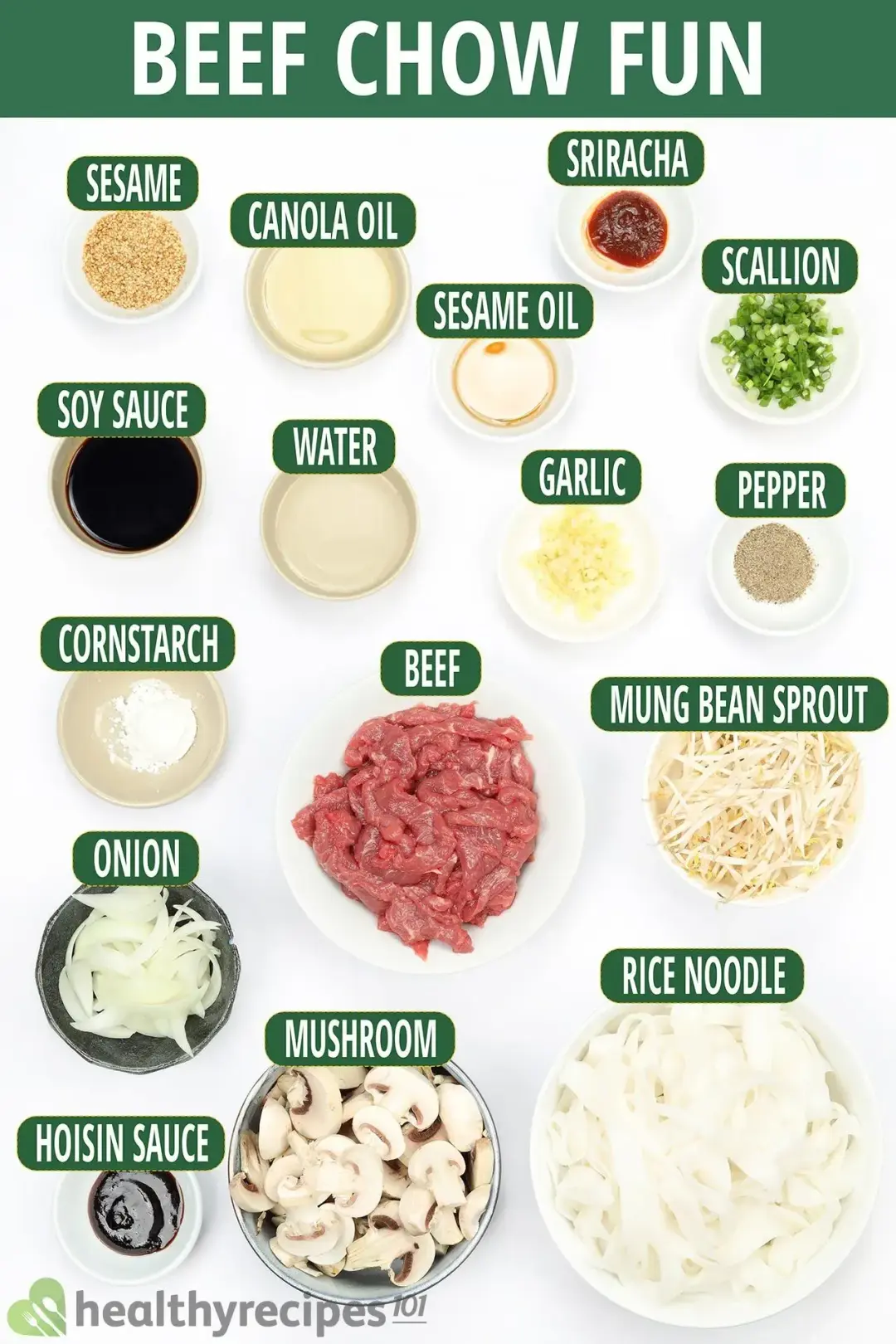 Is Beef Chow Fun Healthy?
Chinese noodle dishes often get a bad rap for the excessive amounts of seasonings and oil used. Rest assured, our version of beef chow fun here makes a moderately healthy meal.
First, we use flank steaks for the beef. Being lean cuts of meat, they are high in protein and packed with essential vitamins and minerals, while having a lesser amount of unhealthy fats.
We have also estimated the amounts of all ingredients to make sure the nutritional value of our dish follows that of the 2020 – 2025 Dietary Guidelines for Americans.
Let's take a look at the "the less the better" indexes: one serving of this recipe provides 466 calories, 3.6 g saturated fats, 590 mg sodium, and 3.7 g sugar. These numbers are substantially lower than many beef chow fun take-outs at restaurants.
However, the key to enjoying satiating dishes like stir-fry is still, of course, moderation.
What to Serve with This Recipe
Here are some recommended sides to serve with our beef chow fun: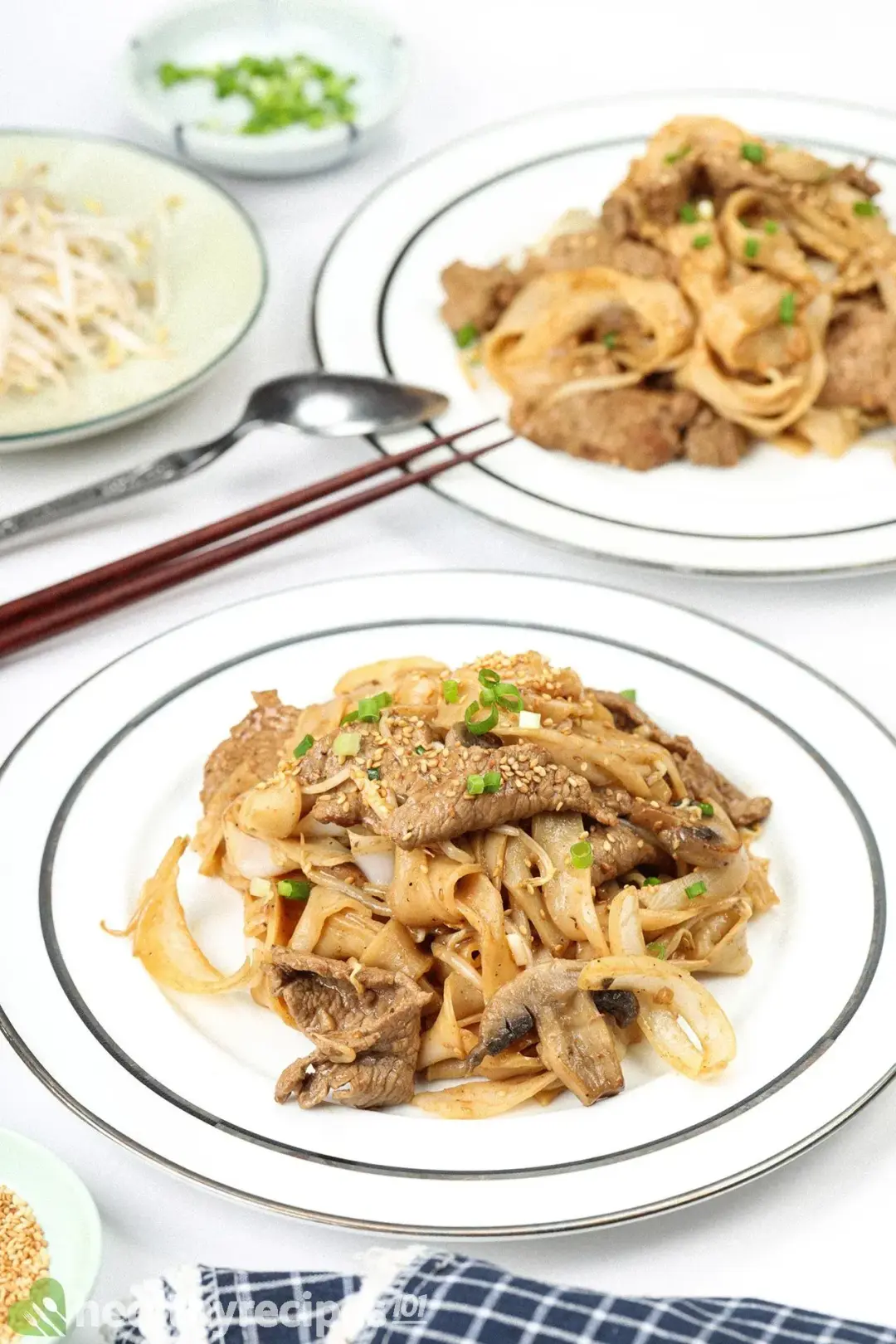 More Our Favorite and Delicious Beef Recipes:
How to Make Beef Chow Fun
Tender beef, juicy mushrooms, soft-chewy flat rice noodles, and fresh bean sprouts. All stir-fried in a luscious savory sauce. Try it today and see how this beef chow fun recipe quickly becomes a favorite for weekday meal rotations.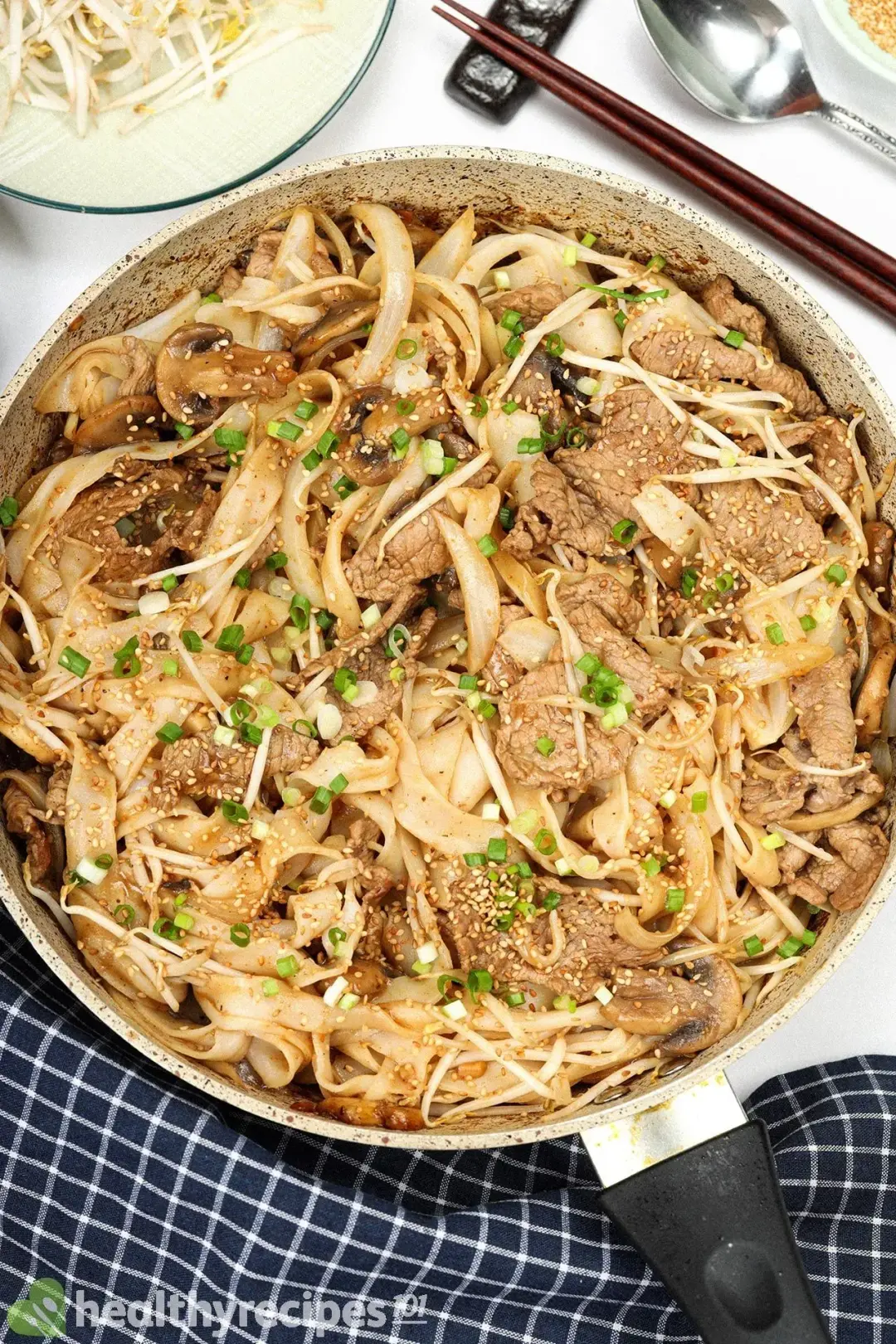 cook TIME

18 mins

prep TIME

7 mins

total TIME

25 mins
COURSE

Main Course

CUISINE

Asian

SERVINGS

servings

CALORIES

466 kcal
INGREDIENTS
3.5 tbsp

canola oil

1.5 tbsp

sesame oil

6 oz

white mushrooms sliced

1 tbsp

unsalted roasted sesame seeds

1 fl oz

water

0.3 cup

scallions chopped

2 oz

mung bean sprouts

2 oz

onion cut into wedges

0.5 tbsp

cornstarch

0.5 tsp

ground black pepper

2 tbsp

garlic minced

12 oz

flank steak

18 oz

cooked wide flat rice noodles from about 9 oz cooked

0.5 tbsp

Hoisin sauce

1 tsp

Sriracha

3 tbsp

reduced-sodium soy sauce
INSTRUCTIONS
Prep:
1
Slice the beef: Trim off the silver skin (the white thin membrane covering one side of the steak), remove all the excess fats from the steak, then slice thinly against the grain.
2
Slice the white mushrooms: Use a clean cloth or tissue paper to wipe the dirt off the mushroom (do not rinse), then cut them into slices.
3
Cook the wide flat rice noodles as instructed on the package. (for uncooked packaged rice noodles only, skip this step if you purchase freshly cooked rice noodles)
4
Cut the onion into wedges: Half the onion lengthwise and slice off the root and head. Lay one half flat, and make a vertical cut right through the center to get two large wedges. Flip the large wedges and cut them into four small wedges.
5
Mince the garlic: Separate the cloves from the bulb and peel the skin off. Use a knife to slice each entire clove lengthwise, then hold the clove and turn 90 degrees to slice it crosswise. Keep mincing each clove to make tiny pieces.
6
Chop the scallions: Rinse the scallions, pat dry, then lay them in an even layer on a cutting board. Remove 2 inches of the tops and the root ends, then slide the blade of a sharp knife in a back-and-forth motion to make scallion rings.
7
Wash the mung bean sprouts until clean.
Cook:
1
Make the sauce: In a small mixing bowl, add 1 1/2 tbsp sesame oil, 1 fl oz water, 1/2 tbsp cornstarch, 1/2 tsp ground black pepper, 1 tsp Sriracha, 3 tbsp reduced-sodium soy sauce, and 1/2 tbsp Hoisin sauce. Stir well to combine.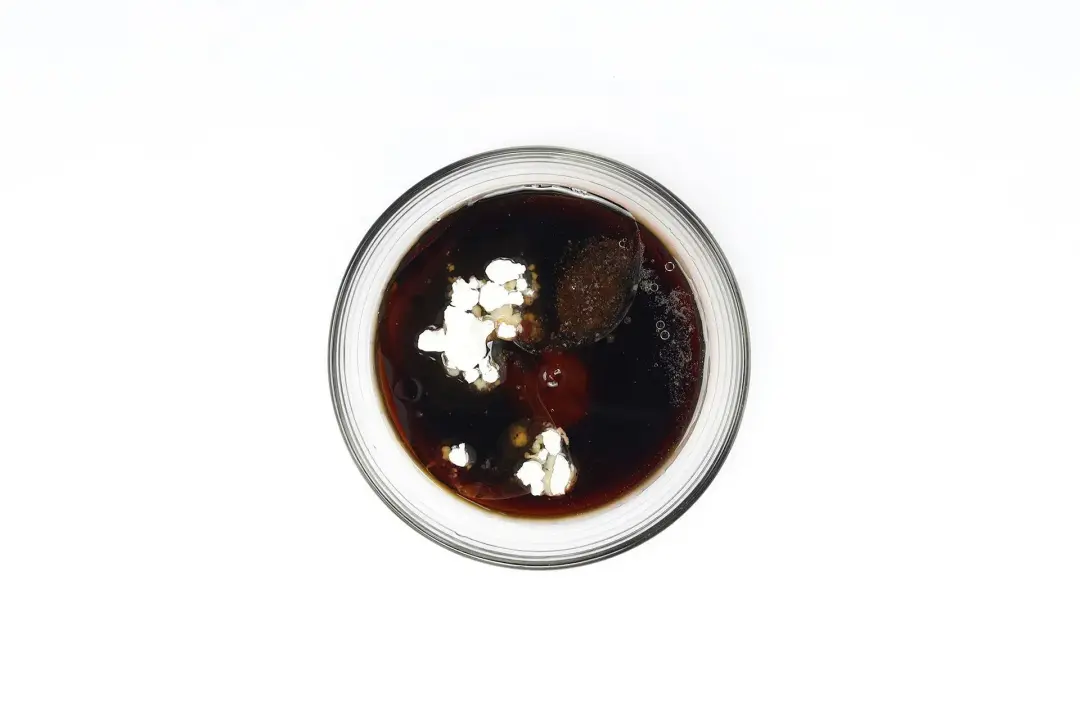 2
Sautee the minced garlic in canola oil: In a skillet over medium heat, add 3 1/2 tbsp canola oil and 2 tbsp minced garlic. Stir for 30 seconds.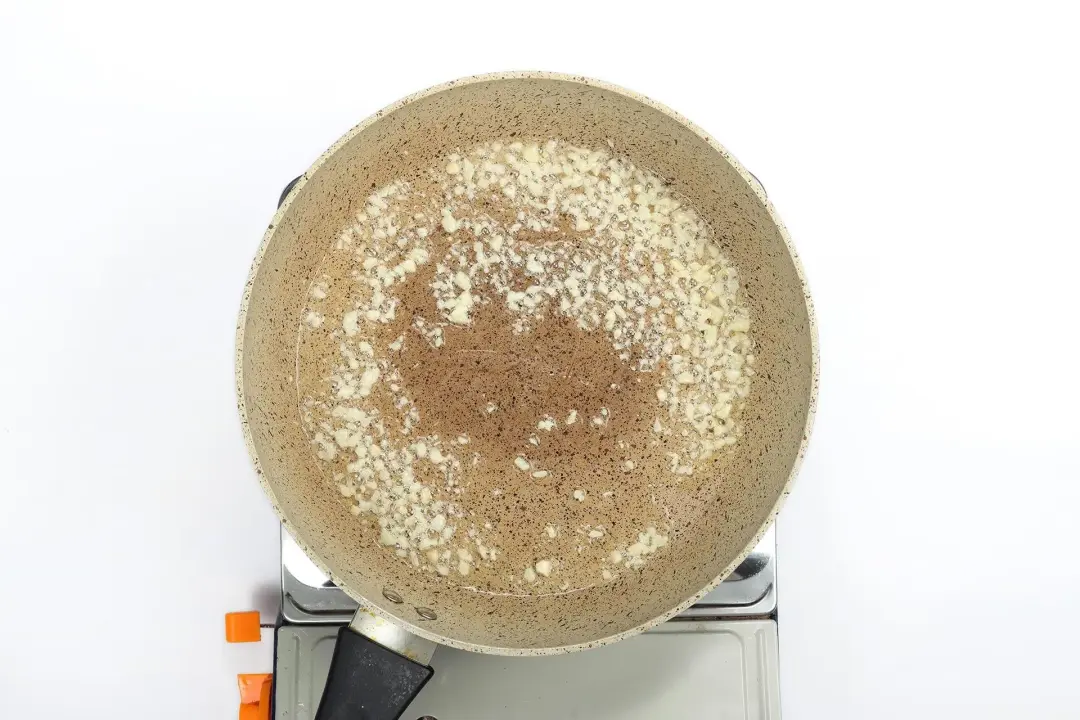 3
Add the white mushroom: Add 6 oz white mushrooms and stir fry for 4 minutes.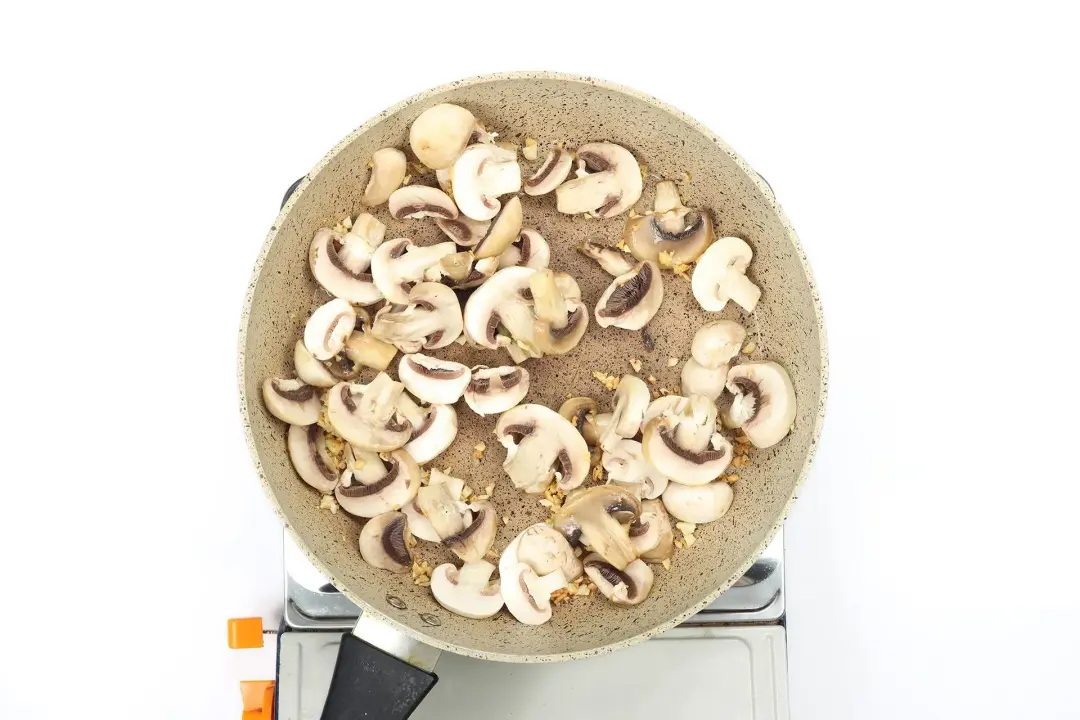 4
Add the beef: Add 12 oz flank steak slices and stir fry for 4 minutes.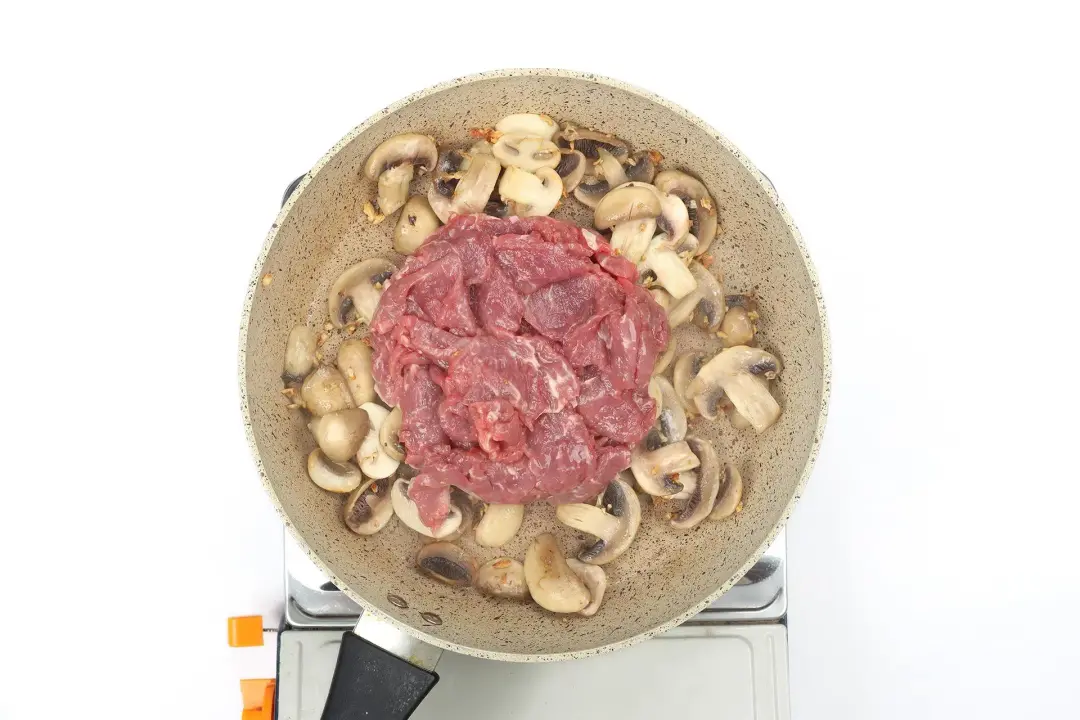 5
Add the sauce and onion: Add the sauce and 2 oz onion. Stir well for 1 minute.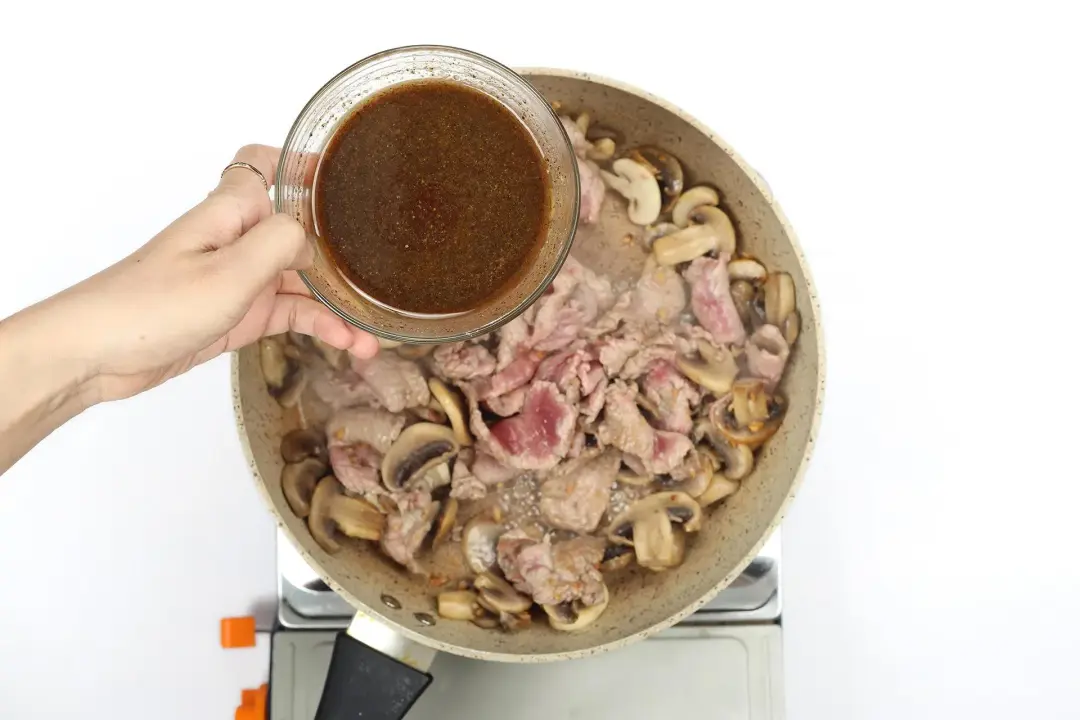 6
Add the cooked rice noodles and mung bean sprouts: Add 18 oz cooked wide flat rice noodles and 2 oz mung bean sprouts. Stir for 5 more minutes, then remove from the heat.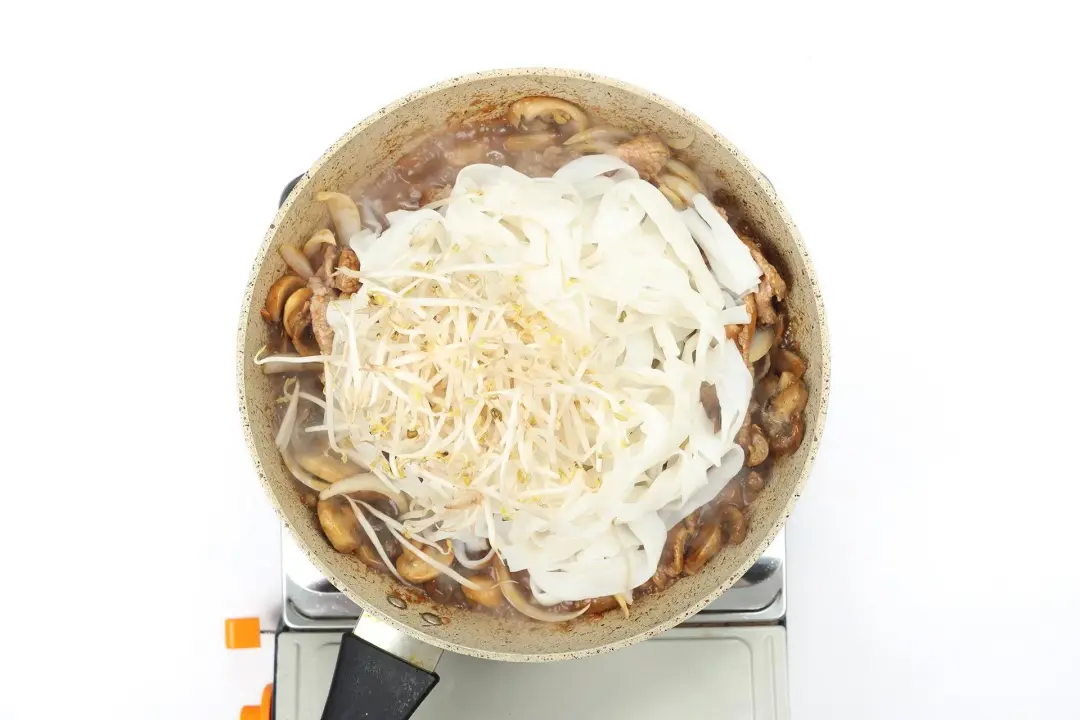 7
Serve: Sprinkle with 1/4 cup scallions and 1 tbsp unsalted roasted sesame seeds. Enjoy!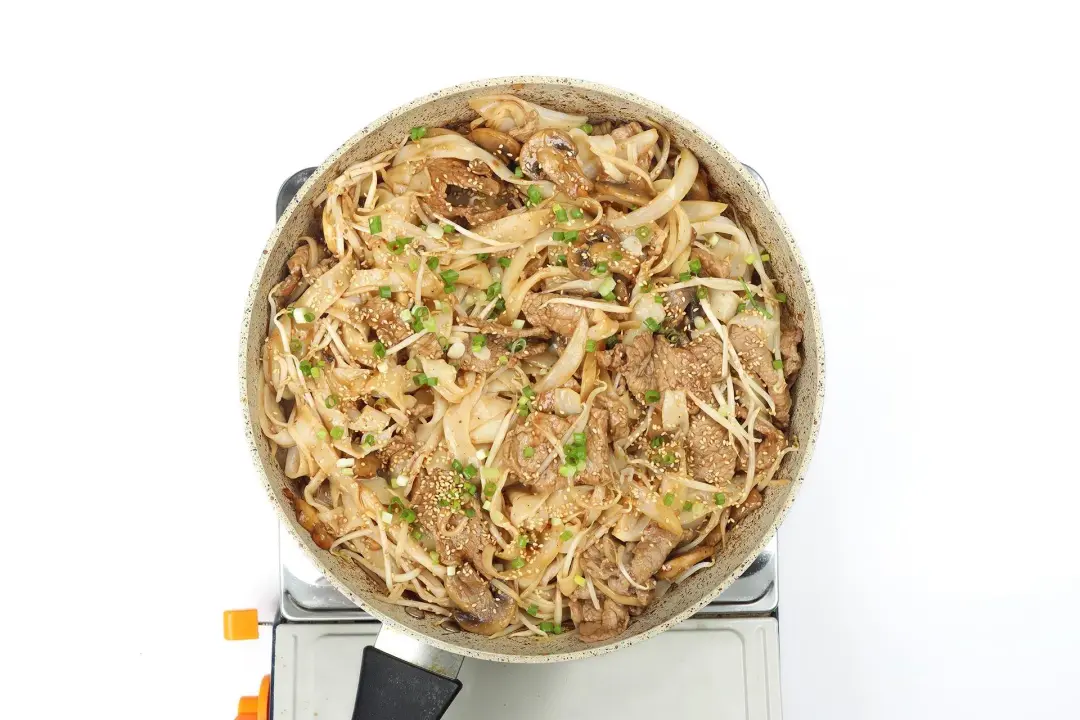 NUTRITION
Nutrition Facts
How to Make Beef Chow Fun
Amount Per Serving (1 serving)
Calories 466
Calories from FDA
% Daily Value*
* Percent Daily Values are based on a 2000 calorie diet.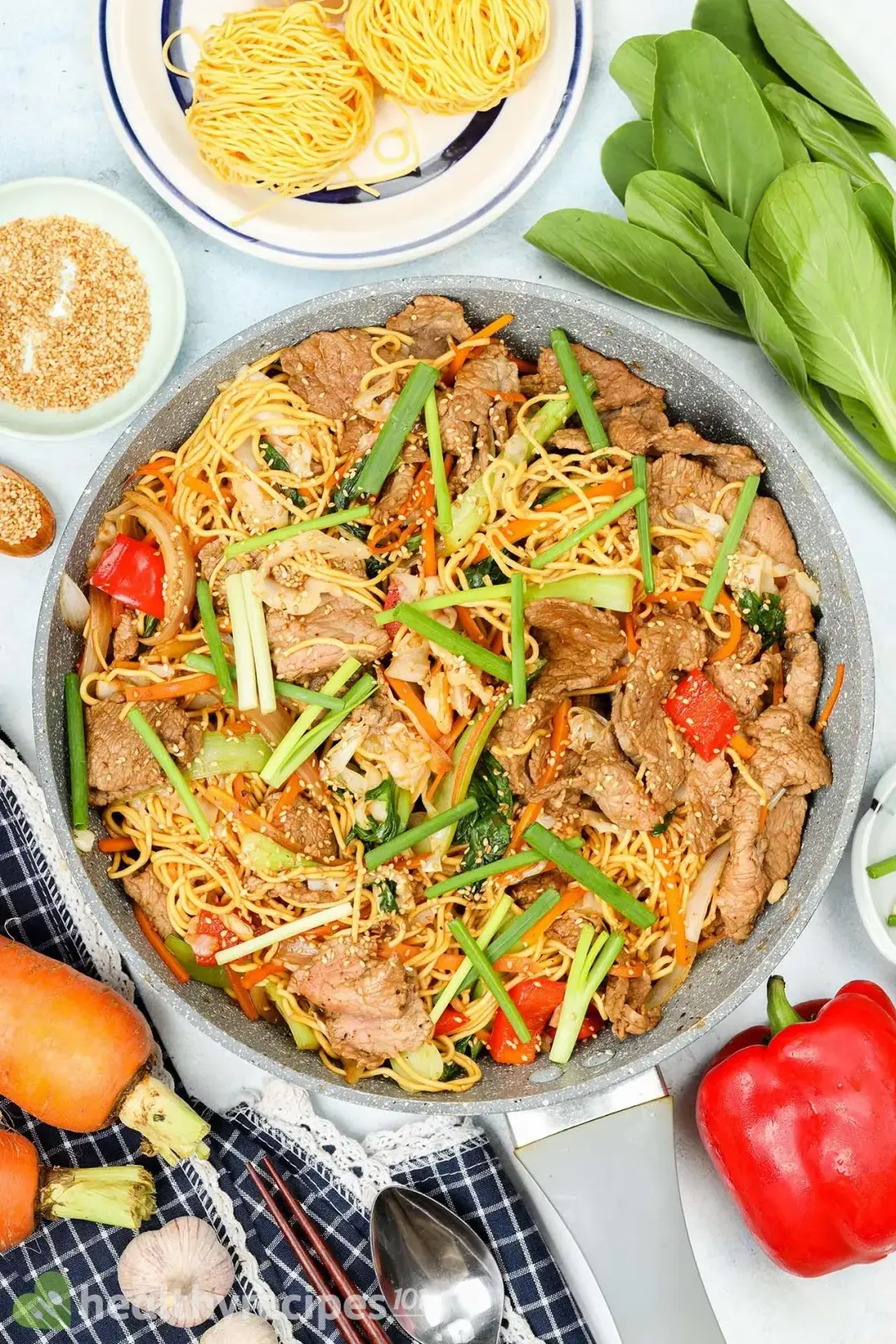 Previous Recipe
Beef Chow Mein
Beef Chow Mein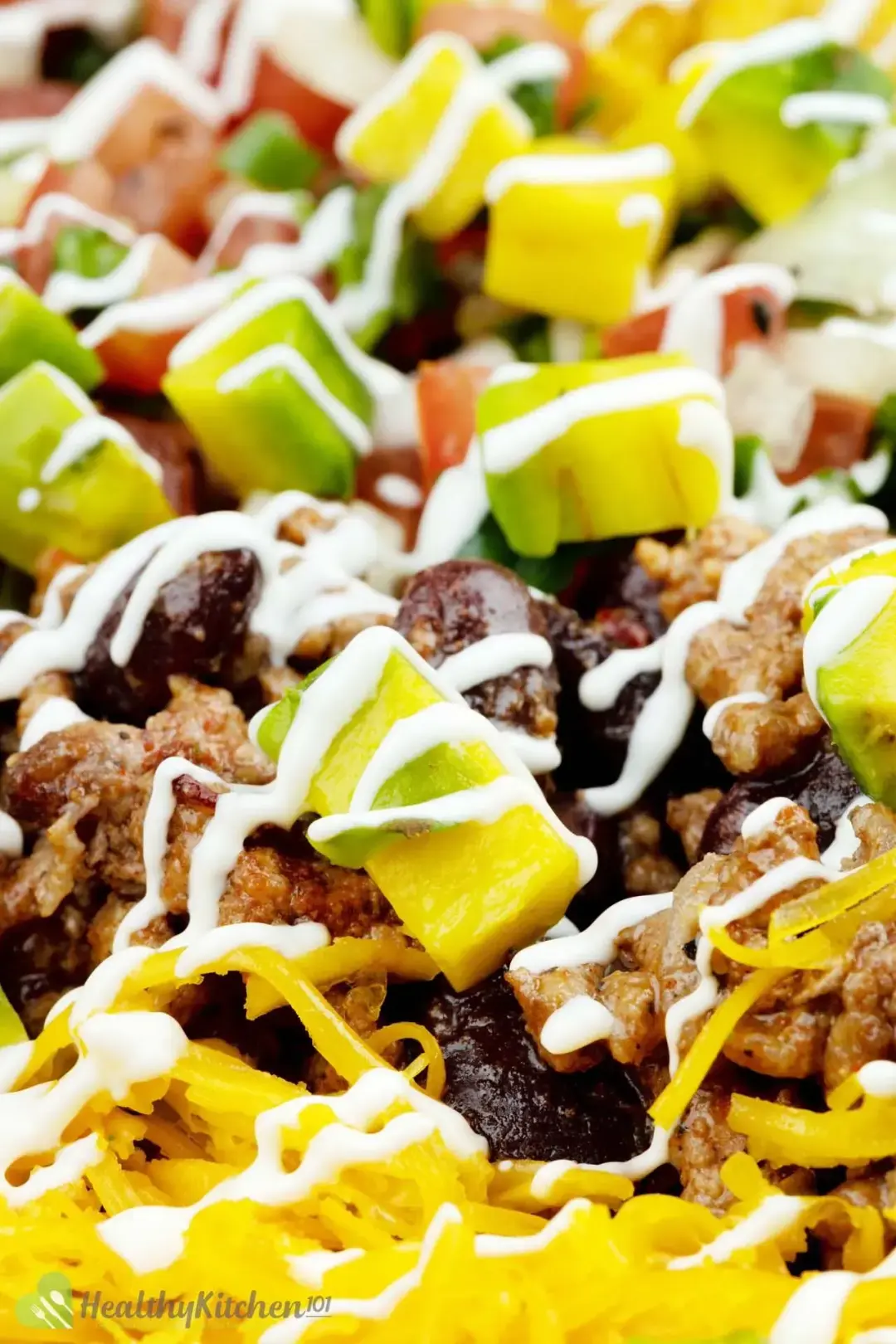 Taco Salad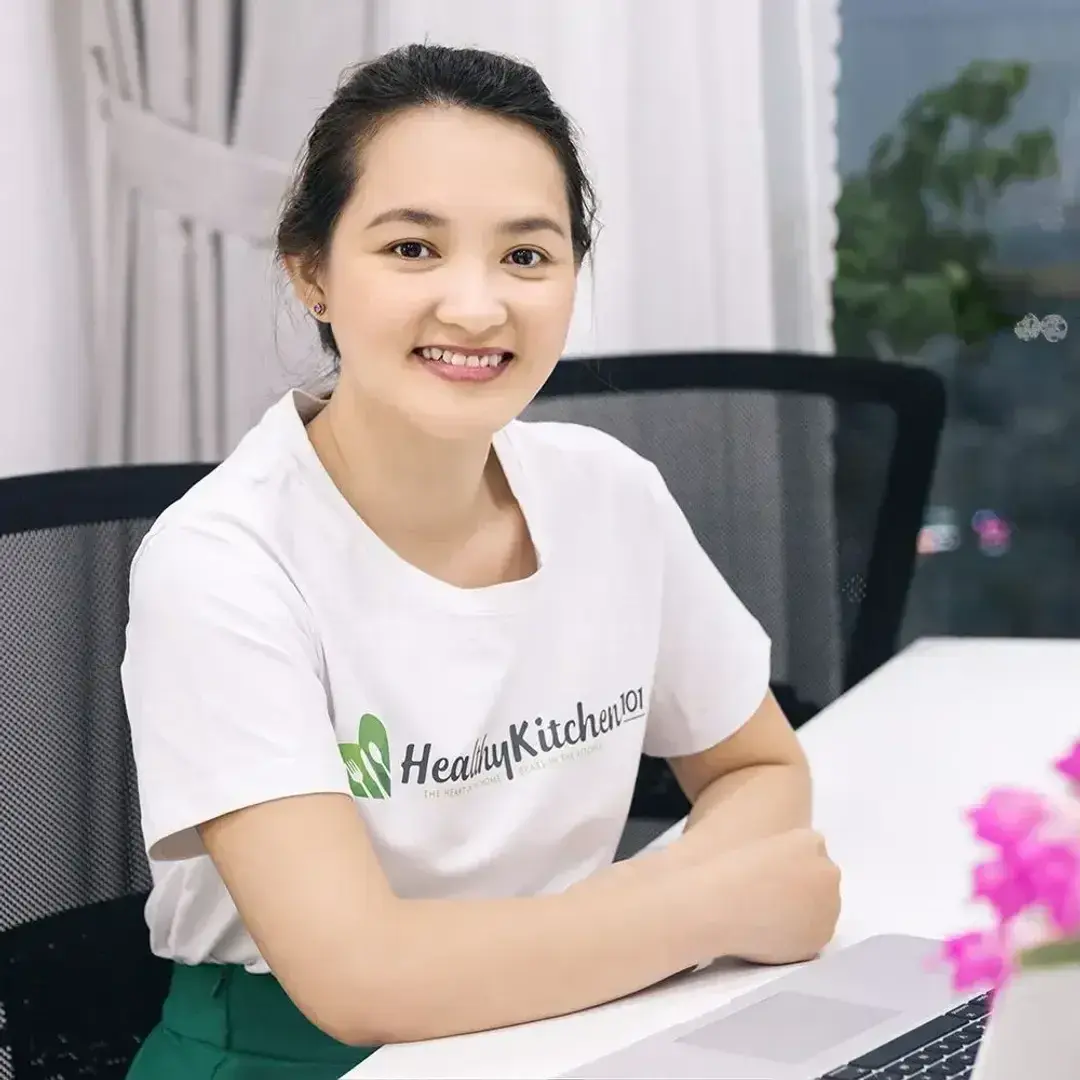 Luna Regina
Luna is the founder and chief recipe developer of Healthy Recipes 101. Apart from cooking, she also loves reading, programming, exploring the outdoors, and collecting useless facts about everything.