The beauty of chow mein dishes is that they include a bit of everything on the same plate, and today's beef chow mein recipe also gives you the full package.
We bring together egg noodles, flank steak, carrots, cabbage, red bell peppers, bok choy, and onion to make this powerhouse of an entree. All those ingredients are then stir-fried in a sweet and savory Asian sauce.
Difference Between Chow Mein and Beef Lo Mein
These two dishes are very similar appearance-wise, but they are two different dishes in terms of execution. Chow mein refers to fried noodles, while lo mein means tossed noodles.
In chow mein, the noodles are boiled until al dente then cooked alongside the other ingredients. On the other hand, you need to fully cook the noodles in lo mein, and then mix them with the sauce and the remaining ingredients without cooking them further.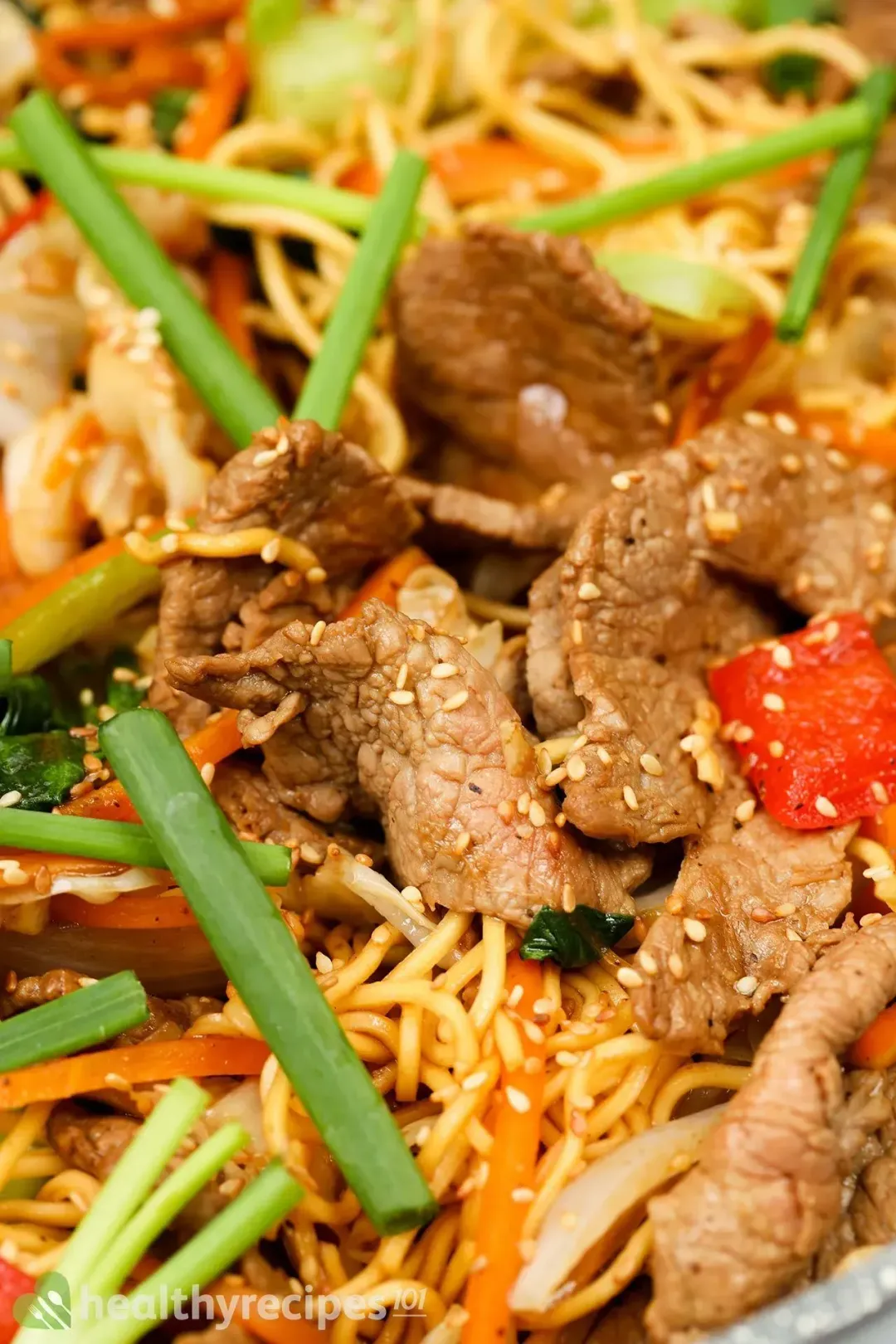 Is This Recipe Healthy?
Featuring many nutritious ingredients, beef chow mein is a healthy option.
With beef as the main source of protein, this dish provides you with 27.6 g per serving.
This dish has only 466 calories and 3.5 g of saturated fat per serving, which is suitable for anyone looking to lose weight. Also, there is only 592 mg sodium in each serving, still within the limits of our nutrition guidelines.
Beef is accompanied by cabbage, carrots, bok choy, bell peppers, and onion. These vegetables contain dietary fiber, minerals, vitamins, and other valuable antioxidants.
Main Ingredients
Beef: We think flank steak is a fitting choice for this dish because it is a lean cut, but still tender and juicy if cooked right. Cut the meat against the grain to make sure that it stays tender when cooked. You can firm up the meat by putting it in the freezer for 20 to 30 minutes to cut it more easily.
Vegetables: We have an array of vegetables to complement beef and noodles: cabbage, carrots, bok choy, red bell pepper, and onion. This is a diverse lineup that makes this dish more complex with its different textures and colors.
Sauce: The mixture of water, soy sauce, hoisin sauce, sesame oil, cornstarch, Sriracha, brown sugar, and pepper make up the sauce of this noodle dish. This Asian-themed sauce has a nice sweet and savory taste thanks to soy sauce, hoisin sauce, and brown sugar. Sesame oil brings its signature fragrance, and cornstarch helps to thicken the sauce.
Noodles: Egg noodles are perfect for this recipe because they are commonly featured in Asian recipes. Make sure not to overcook them because they can turn mushy. If you can't find egg noodles, long pasta like spaghetti will work just fine.
Garnish: For the finishing touches of this dish, we sprinkle scallions and sesame seeds on top of the noodles.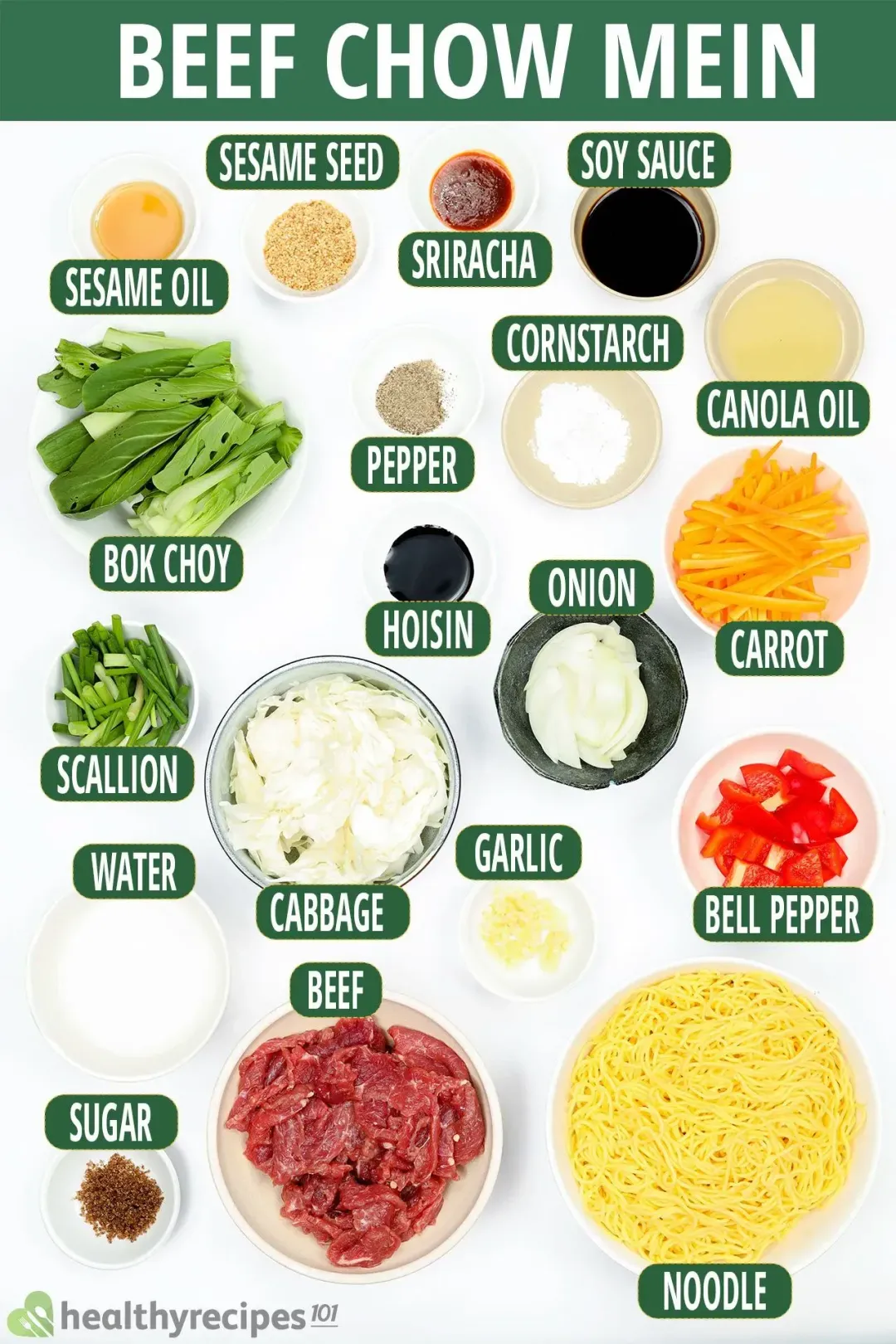 Variations and Add-Ins
This recipe is highly customizable so you can change the ingredients to your preferred ones.
You can replace flank steak with a different cut like skirt steak, sirloin, or ground beef.
Other proteins like pork, chicken, or shrimp will work perfectly in this recipe as well. Here we have some similar recipes with different proteins:
This is where you can let your creativity take over as there are no rules about what vegetables you can use in a chow mein recipe. We recommend mushrooms, zucchini, broccoli, bean sprouts, etc.
How to Store and Reheat Leftovers
When it's cool, transfer the leftovers to airtight containers or Ziploc bags and store them in the fridge or freezer. It can keep for three to four days in the fridge and up to three months in the freezer.
The best way to reheat beef chow mein is stir-frying. Add 1 or 2 tbsp of water to prevent the noodles from drying or sticking to the pan and stir gently until warm.
What to Serve With
We recommend serving beef chow mein with these side dishes: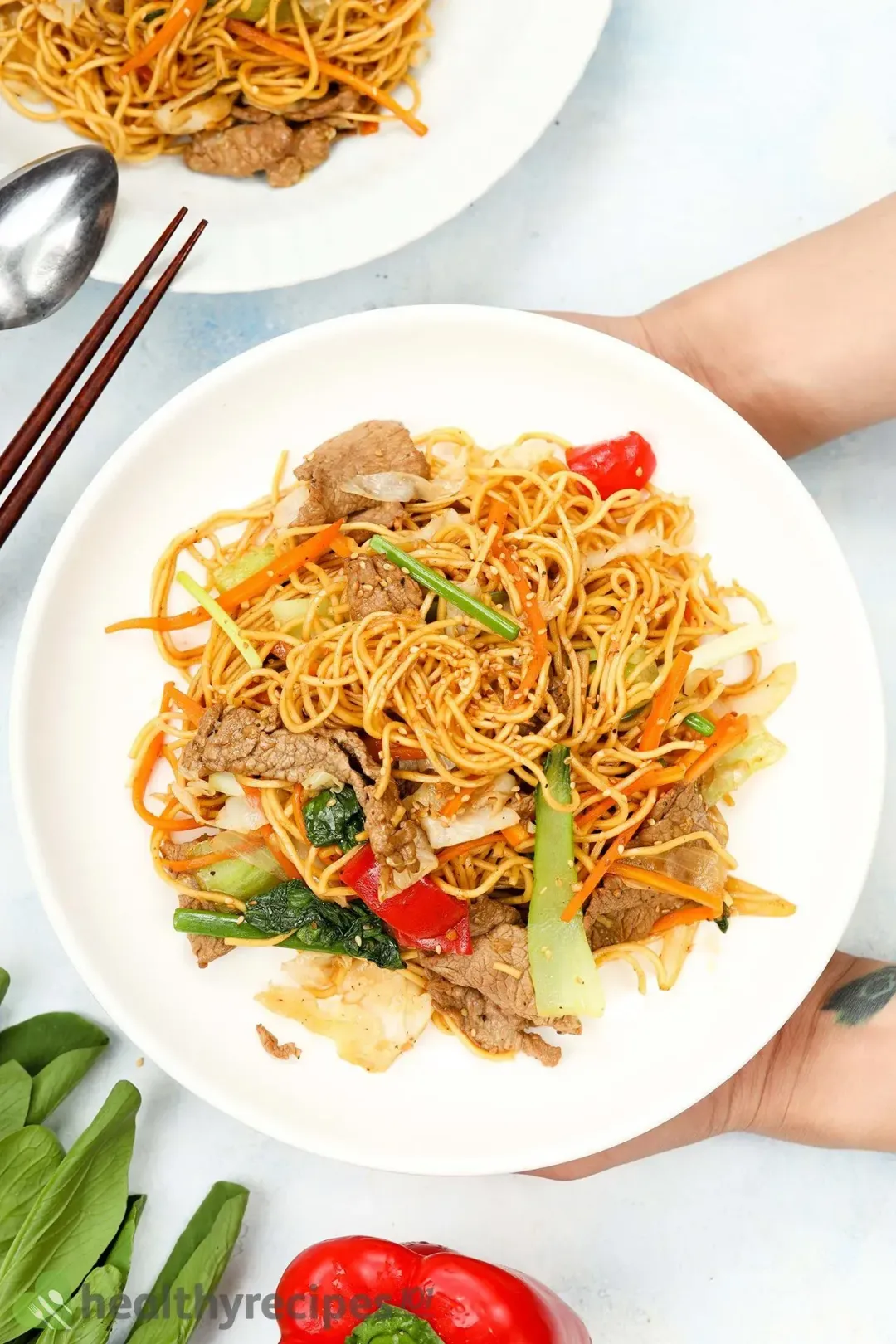 Elevate Your Stir-fry Game with These Mouthwatering Beef Recipes
This article introduces a classic Chinese dish that is beloved by many: pepper steak. The recipe features tender strips of beef cooked with colorful bell peppers, onions, and a savory sauce. The article provides step-by-step instructions on how to prepare this delicious dish at home, along with helpful tips for achieving the perfect texture and flavor.
Beef chow fun is a Cantonese dish that features wide rice noodles stir-fried with tender strips of beef and vegetables. This recipe has a rich flavor thanks to the use of dark soy sauce and oyster sauce, and can be served as a main dish or side dish.
If your taste buds are tickled by the tantalizing flavors of beef stir-fry meals, then explore our handpicked selection of delectable recipes featured in this roundup.
How to Make Beef Chow Mein
This beef chow mein recipe makes a complete and flavorful meal with flank steak, fresh vegetables, stir-fried noodles, and an Asian-inspired sauce.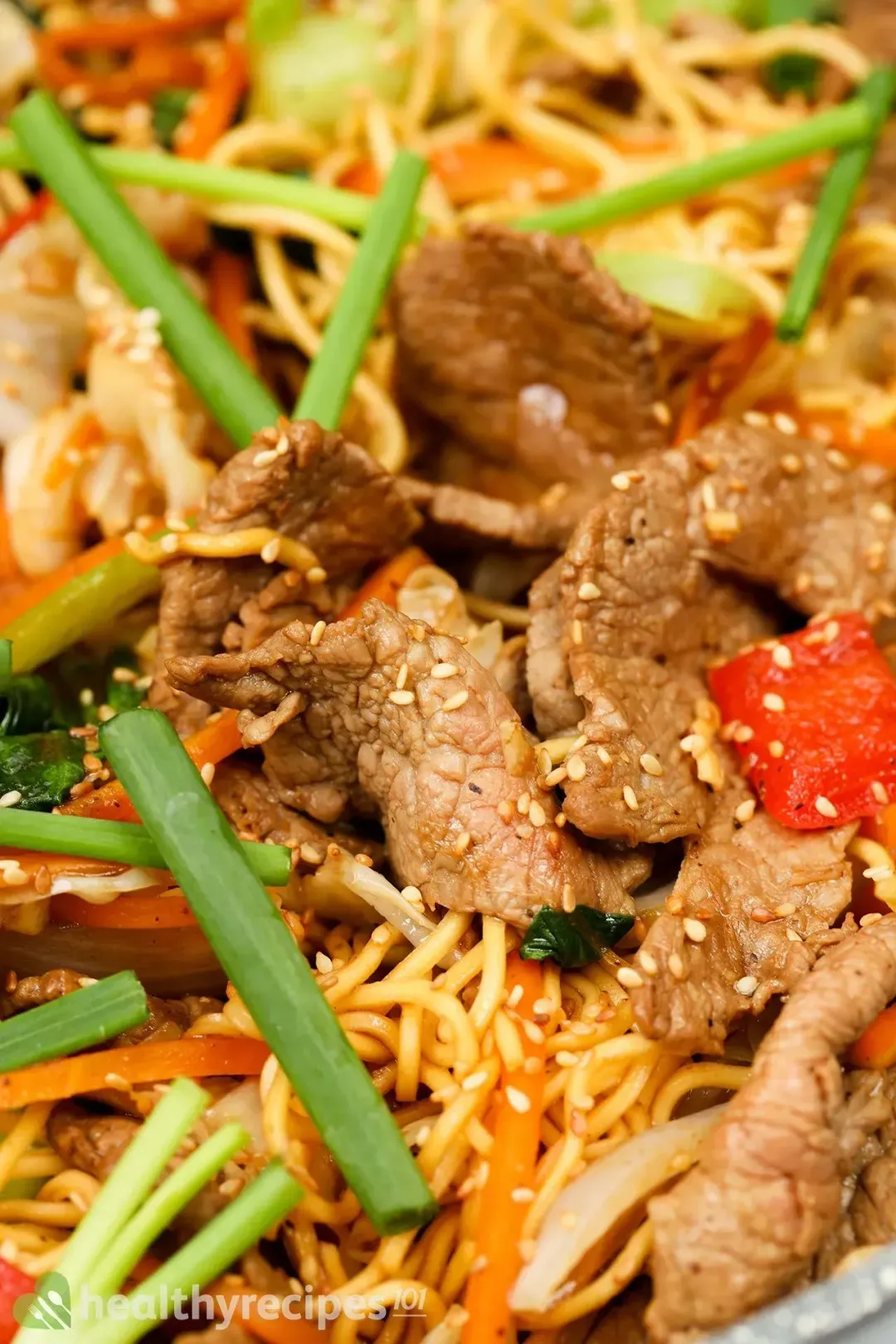 cook TIME

18 mins

prep TIME

7 mins

total TIME

25 mins
COURSE

Main Course

CUISINE

Asian

SERVINGS

CALORIES

466 kcal
INGREDIENTS
12 oz

flank steak

(cut into thin slices)

14 oz

cooked egg noodles

(from 7 oz dry)

2 oz

bok choy

(leaves separated and chopped)

2 oz

red bell peppers

(cut into bite-sized pieces)

3 tbsp

reduced-sodium soy sauce

2 tbsp

canola oil

(devided)

1/4 cup

scallions

(cut into segments)

1 tbsp

unsalted roasted sesame seeds
INSTRUCTIONS
Prep:
1
Cook the noodles: Bring a pot of water to a boil. Cook the dried egg noodles for 2 minutes then drain, shock them with cold water, and set them aside.
2
Slice the beef: Carefully check for the direction of the muscle fibers and use a chef's knife to cut against the grain. Cut the steak into thin slices.
3
Slice the cabbage: Cut the cabbage in half through the middle and remove the core on each half. Lay each half flat and slice thinly to shred.
4
Cut the carrot: Peel the skin with a vegetable peeler and cut off the top. Peel into the carrot to make thin slices, then cut the slices into thin strips.
5
Prepare the bok choy: Slice off the root and separate the leaves. Chop the leaves away from the stem.
6
Cut the bell peppers: Slice off the top and bottom of the pepper then cut it open to remove the seeds. Slice into 1/2 inch strips, and cut those strips into bite-sized pieces.
7
Slice the onion: Cut the onion in half, slice off the head and root, and peel the skin. Slice the onion halves thinly.
8
Mince the garlic: Slice off the root of the cloves and mash them with your knife to easily remove the skin. Mince the garlic with a mincer or a knife.
9
Cut the scallions: Cut the scallions into 2-inch segments.
Cook:
1
Make the sauce: In a small bowl, add 3 fl oz water, 3 tbsp reduced-sodium soy sauce, 1 tbsp sesame oil, 1/2 tbsp hoisin sauce, 2 tsp cornstarch, 1 tsp Sriracha, 1 tsp brown sugar, and 1/2 tsp pepper. Mix until combined. Set aside.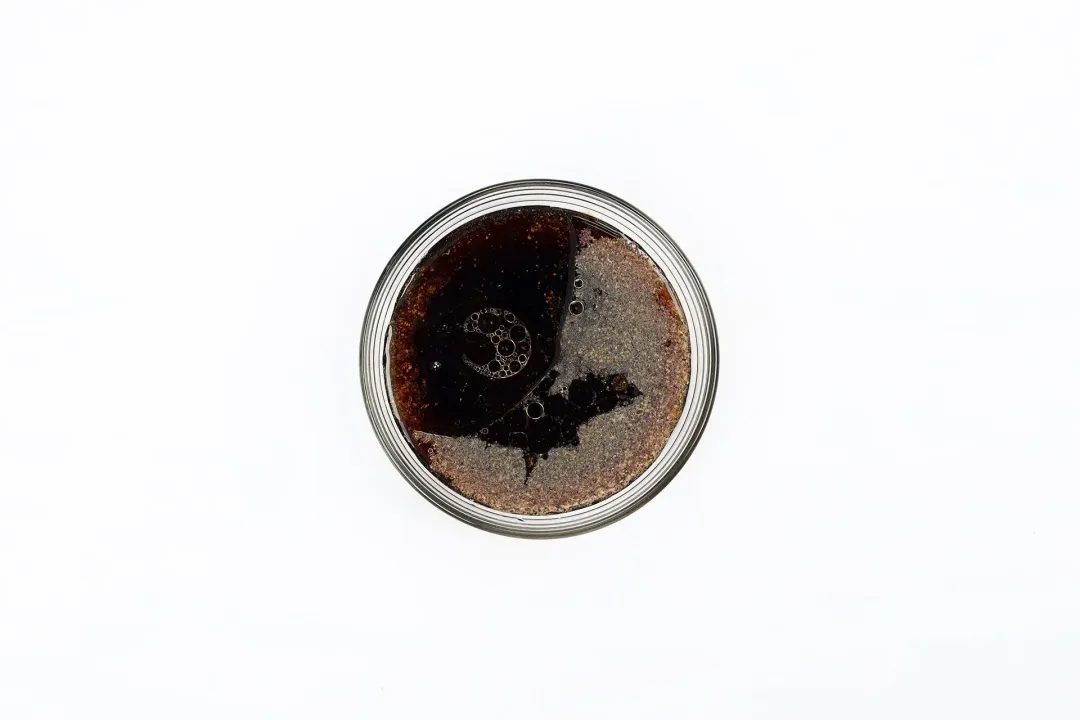 2
Caramelize garlic: In a hot pan, add 1 tbsp canola oil and 1 tbsp garlic. Stir for 30 seconds or until caramelized.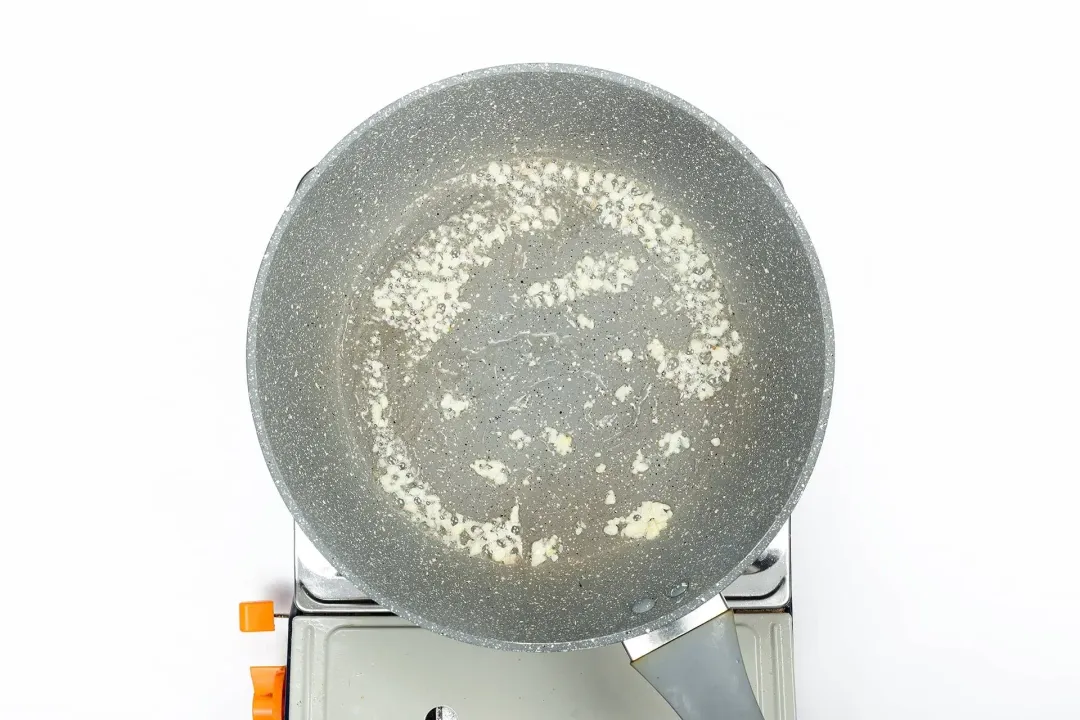 3
Cook the beef: Add 12 oz flank steak, stir thoroughly for 3 minutes, and remove it from the pan.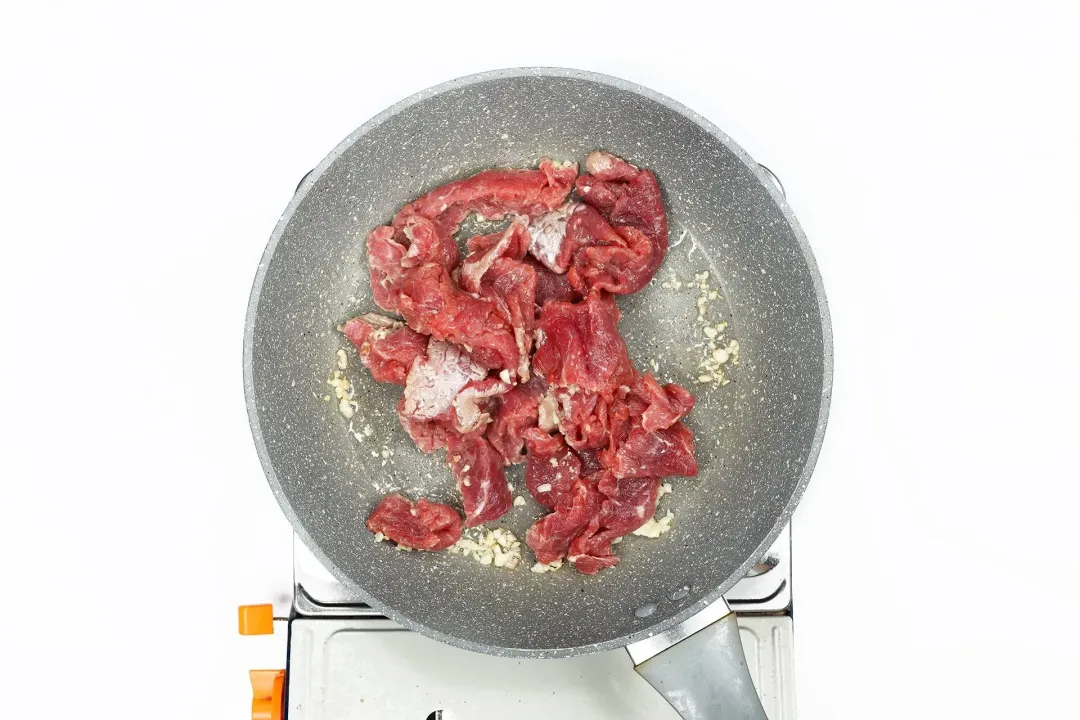 4
Cook the vegetables: In the same pan, add 1 tbsp canola oil, 4 oz cabbage, 2 oz carrots, 2 oz red bell peppers, 2 oz bok choy, and 2 oz onion. Stir for 4 minutes.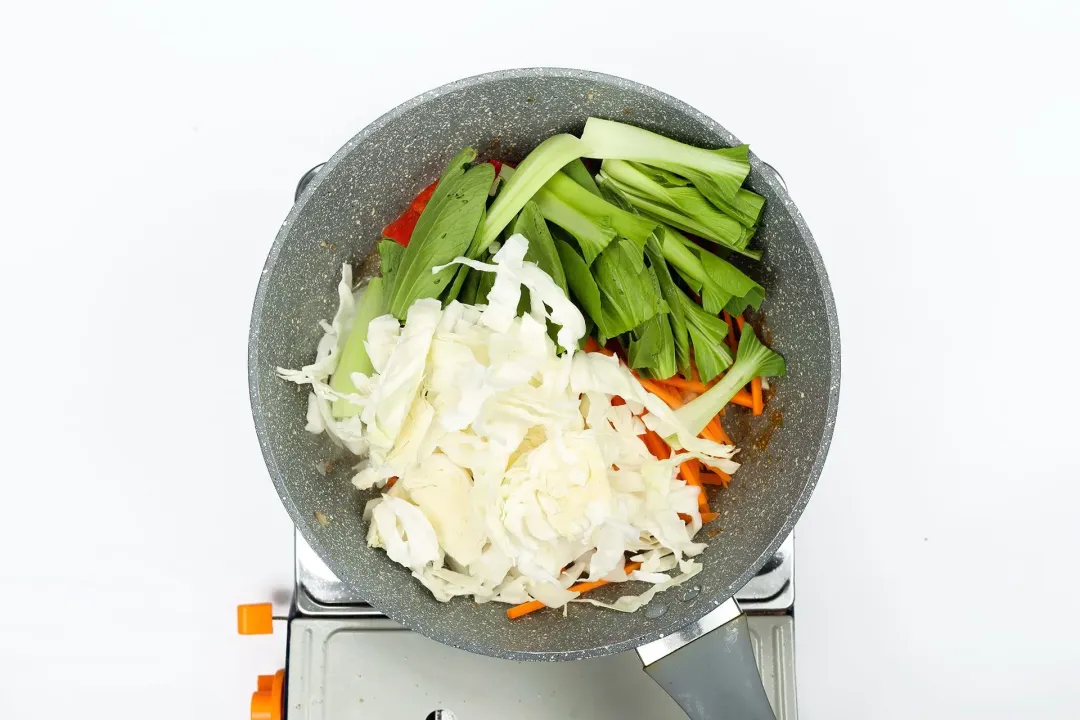 5
Incorporate the noodles and beef: Add the cooked beef and 14 oz cooked egg noodles to the vegetables. Stir for another 4 minutes.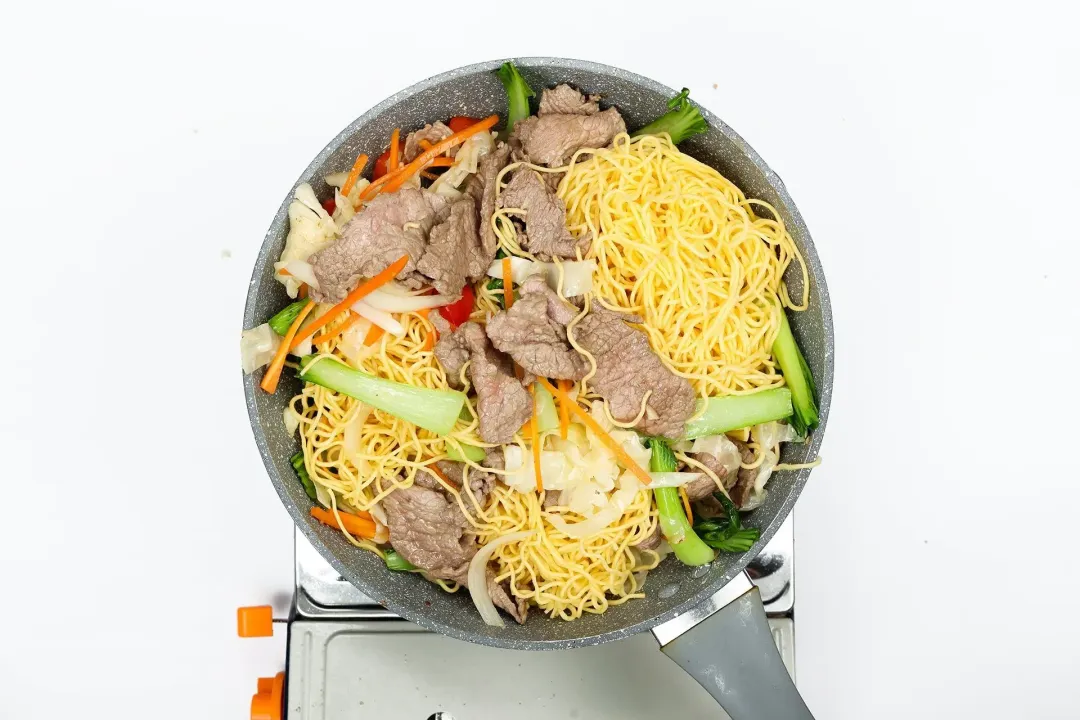 6
Stir in the sauce: Add the sauce and mix thoroughly for 5 minutes. Remove from the heat when done.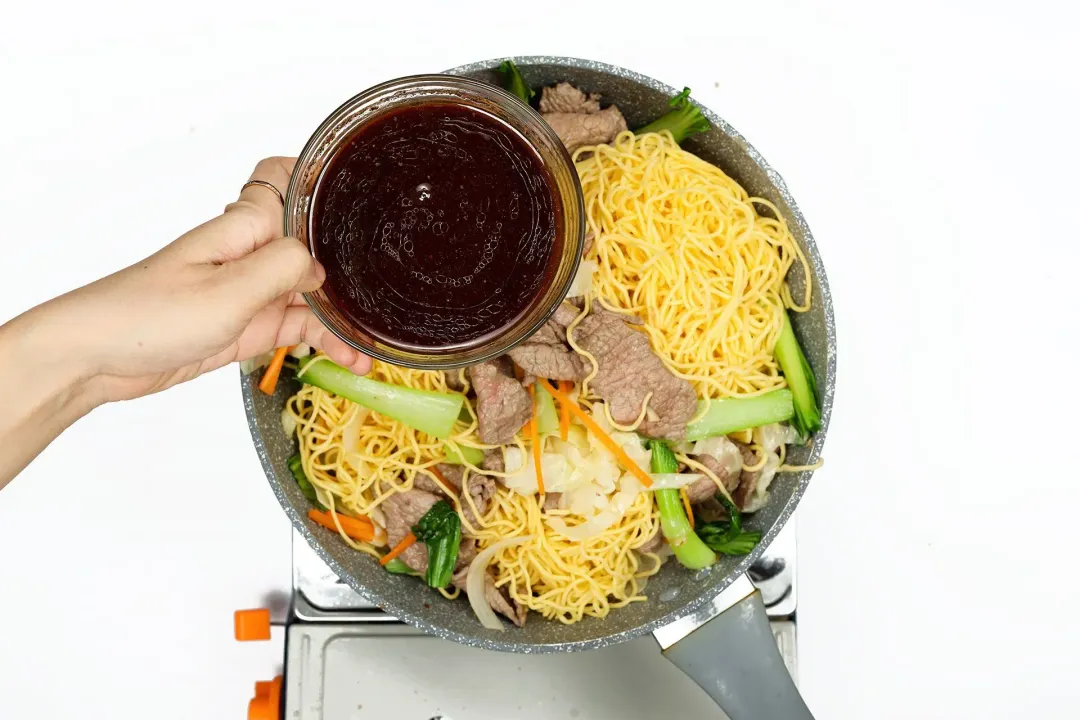 7
Garnish and serve: Sprinkle 1/4 cup scallions and 1 tbsp unsalted roasted sesame seeds on top of the noodles. Enjoy.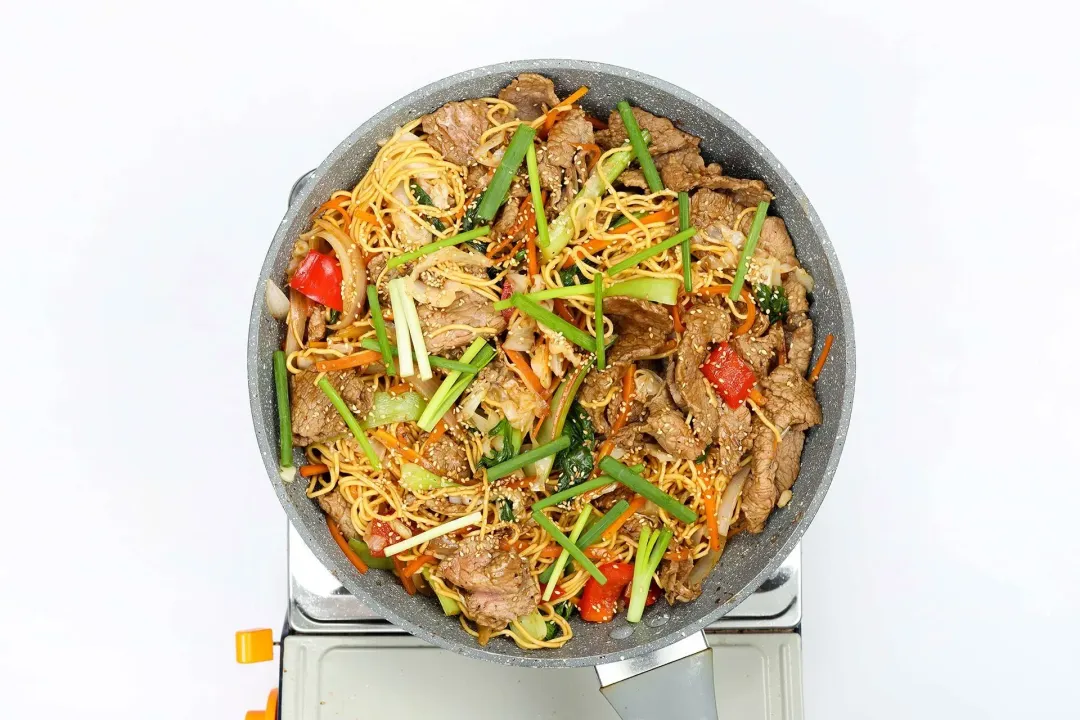 NUTRITION
Nutrition Facts
How to Make Beef Chow Mein
Amount Per Serving (1 serving)
Calories 466
Calories from Fat 164
% Daily Value*
* Percent Daily Values are based on a 2000 calorie diet.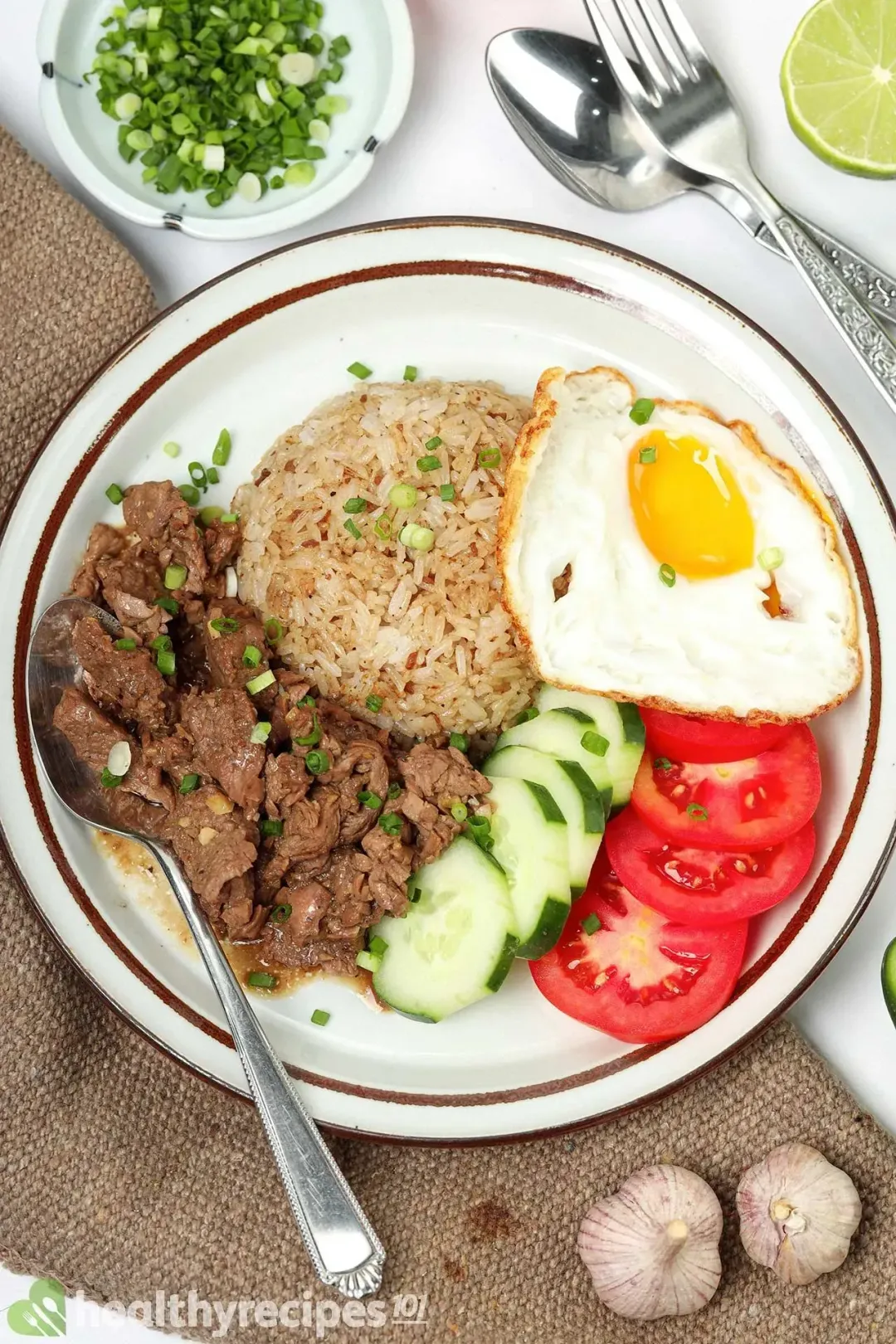 Beef Tapa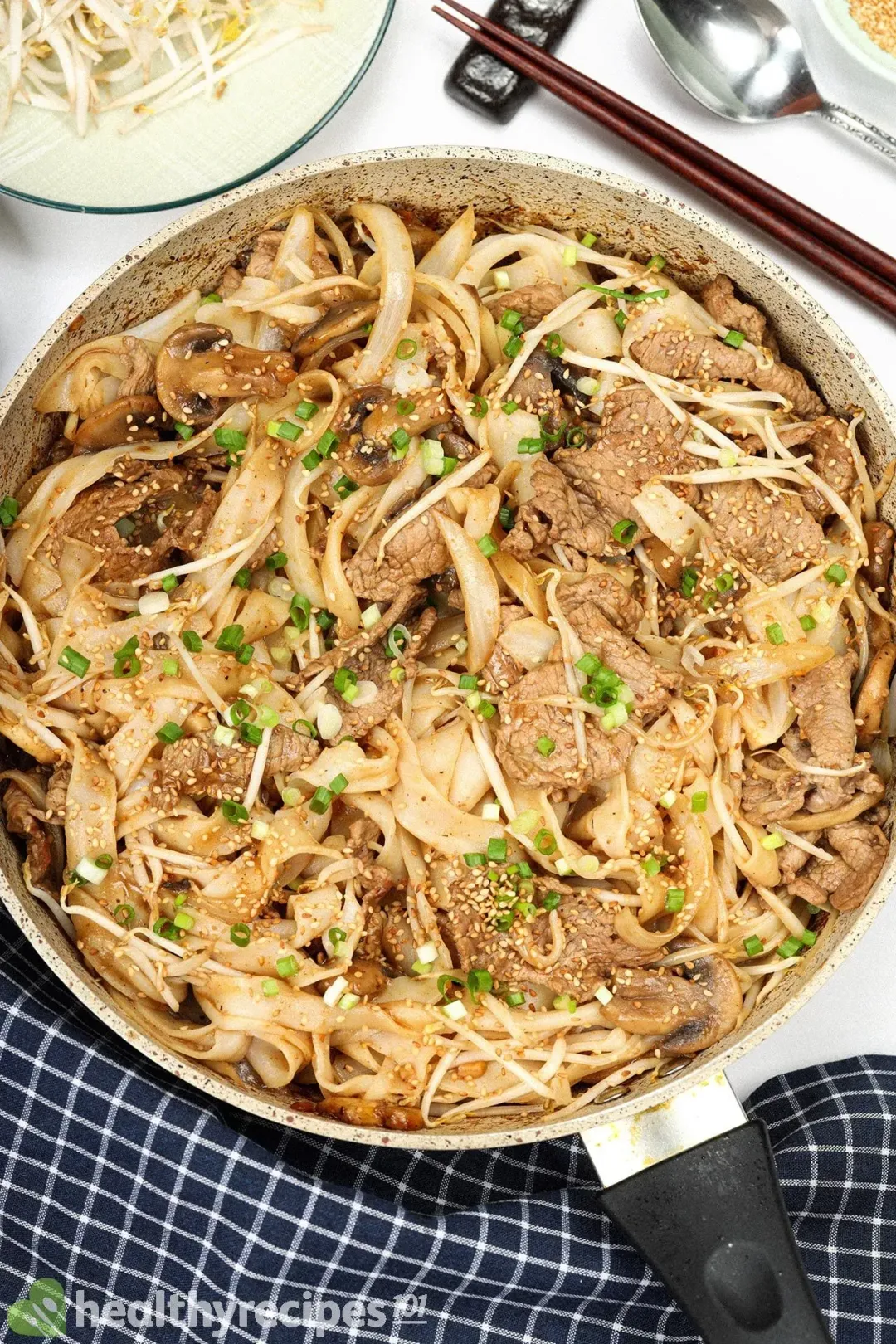 Beef Chow Fun
Head Chef, Culinary Consultant
Tuyet Pham is an award-winning Saigonese chef who believes that joy is the secret ingredient to delicious food. At Healthy Recipes 101, Tuyet personally tests and simplifies every recipe, ensuring maximum flavor with minimal effort. With a background at prestigious French restaurants P'TI Saigon and Le Corto, Tuyet knows how to make every dish exceptional.
Writer, Author
Luna Regina is an accomplished writer and author who dedicates her career to empowering home cooks and making cooking effortless for everyone. She is the founder of HealthyKitchen101.com and HealthyRecipes101.com, where she works with her team to develop easy, nutritious recipes and help aspiring cooks choose the right kitchen appliances.
Nutrition Reviewer
Natalie Butler is a registered dietitian nutritionist with a passion to help others live their best life through food, fitness, safer beauty and a healthy lifestyle. She has expertise with a variety of diets and diseases and believes that there is no one-size-fits-all approach for health.
This meal is perfect for quick and easy weeknight dinners. I made it in just 25 minutes.

Yummy! Classic beef chow mein recipe.